Perfectly-Timed Photobombs That Added a Little Something Extra
Although many of us try so hard to frame the perfect picture, it rarely (if ever) works out. That's especially true if you're outdoors in a crowded place – there's just too much going on to control everything. Sometimes the dog doesn't quite make it out of the frame, other times people make it in the frame but entirely change the mood.
That's the case with our friend Elmo above. His sad and horrified look changed the entire feel of this happy-go-lucky picture with Woody from Toy Story. It also made it hilarious. There's nothing quite like a well-timed photo bomb! Below are 15 of our favorites.
1. Say Cheese 
After a long stressful week at work or after your finals are finished at college, there's nothing quite like going out for a night. The two ladies in front seem to be enjoying themselves on a train ride somewhere. The lady in the back, however, is having a very different night.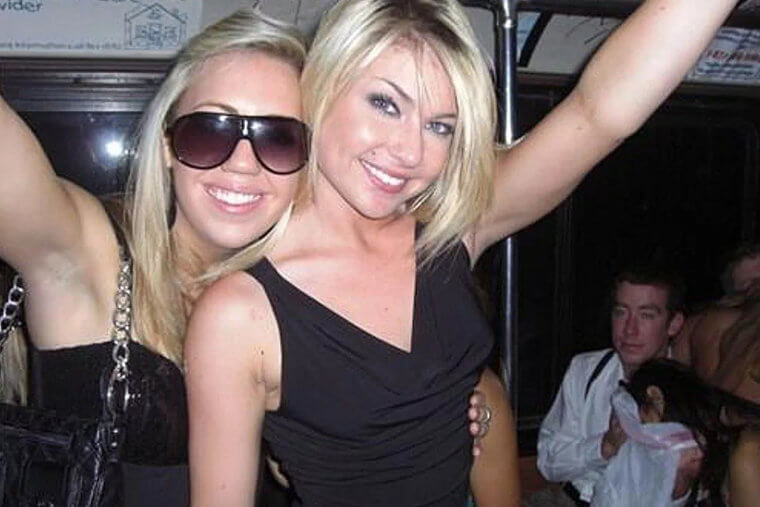 Instead of smiling for a camera, she's throwing up in a bag – and getting inadvertently caught on camera while doing it. Although we don't know who's holding the bag, we know he clearly has something else on his mind.
2. Tower of Peeved People 
Although the Tower of Pisa was built hundreds of years before the invention of the camera, it's pretty much made for funny photos. People love to play with perspective and make it seem like they're holding up the notoriously unsteady tower.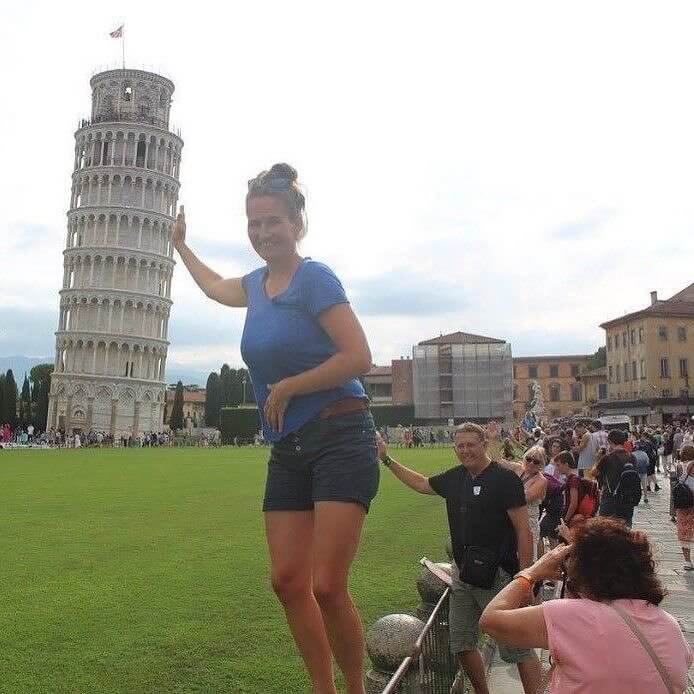 Ready, set, action! The woman above got in her clever pose to make it seem like she was holding up the tower with one hand. However, she didn't notice the guy behind her making it seem like he was holding her up!
3. Elmo Sad 
Toy Story came out in the mid-90s, it took in hundreds of millions of dollars and made hundreds of millions of fans. Most of that money and fandom relied on the character of Woody (voiced by irreplaceable Tom Hanks).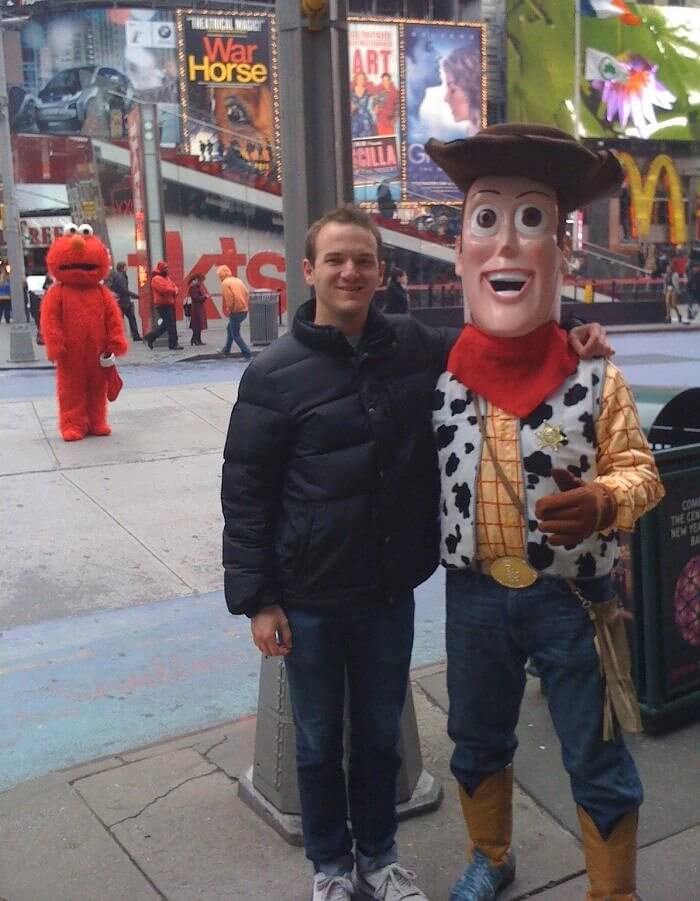 One person who didn't like Woody, however, was Elmo. The reasons why are still unknown but most likely revolve around jealousy and the fact that Woody has a cowboy hat and sheriff's badge. As you can see above, the tall red Muppet monster is saddened by Woody's success.
4. A Doggie Bag 
Although dogs are certainly an important part of the family, sometimes – or, to be honest, most of the time – people like their family photos to be just people. Explaining the situation to dogs can be quite difficult considering there's no shared language. Although the doggo below got the hint, he figured out a clever way to make it into the photo anyway.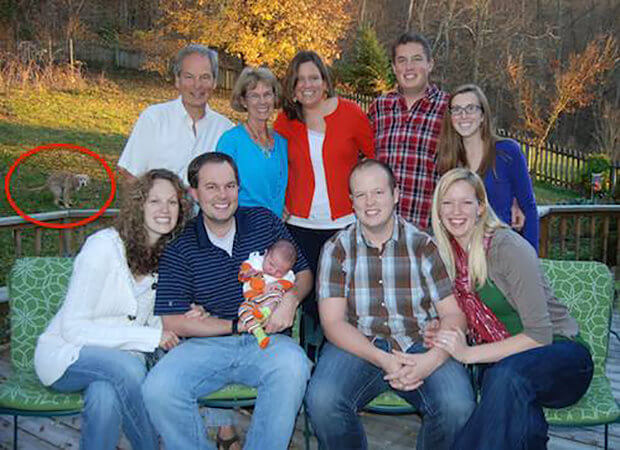 Namely by crouching down and doing his doggie business in plain view of the camera. The fact that the doggo made such focused eye contact is a bit unsettling – but mostly hilarious!
5. Team Photo
Sometimes you just have to let it go at the wrong time. It's a difficult truth that makes for hilarious photos. If you need any proof, take a look at the hockey team photo below.
Everyone but the boy in the top left is full of smiles. He, in contrast, is full of liquid bile. We imagine that very shortly after the shutter clicked, those smiles changed – especially for the two boys sitting directly in front of him! We just hope it made them a stronger team.
6. Photobombing Cat
The tense relationship between cats and dogs has inspired cartoons, movies, and real life. Although they often live under the same roof, they don't always get along. Dogs are loved for their loyalty, cats for their quirky and cute ways.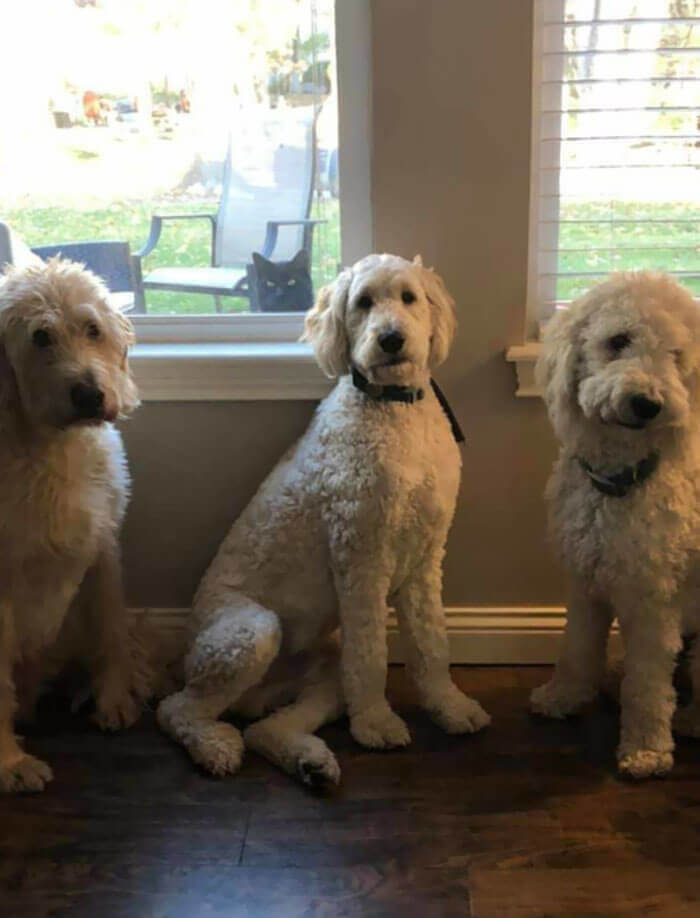 Dogs don't mind hanging out together to snap a few photos. Cats, on the other hand, are mostly loners who aren't too keen on the company of others – especially the company of three dogs. So, they keep their distance and creepily stare through windows as others are taking photos.
7. Wedgie Bombed
You've probably seen the photo before. Someone with long hair dunks their head in the water and then flips it back quickly. If the photo is taken at the right time, a near-perfect circle of water forms. The woman below tried it. It almost worked.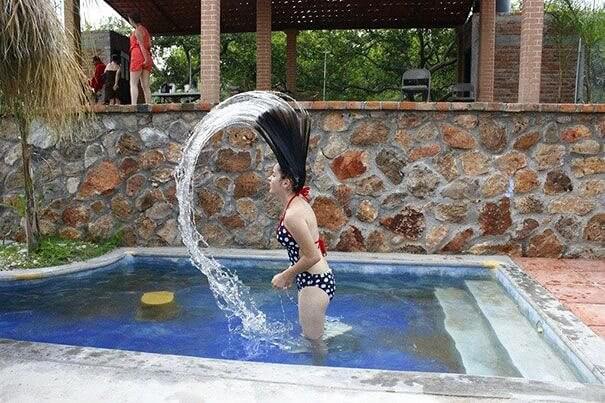 The only minor mistake is the woman in red in the background. It seems like she had a wedgie at the exact moment the photo was taken. Instead of photobombing, this is a case of wedgie-bombing!
8. Time to Eat 
Sure, weddings are mostly about celebrating the love of two people. But they're also about throwing huge parties with plenty of food, drinks, and dancing. Although most people are there to support friends and family, others (like the woman below) are there for the salads.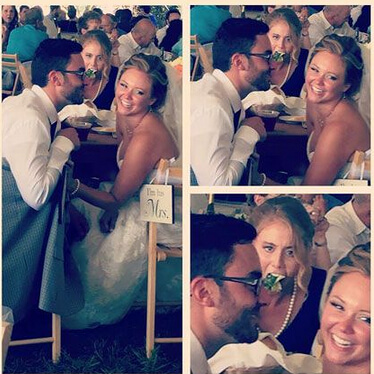 Judging from the photo above, it looks like a delicious caesar salad with dark green lettuce. Clearly, the woman above is thoroughly enjoying the salad – so much so, that she doesn't mind photobombing the lovely couple.
9. Disapproving of PDAs
Some photo bombs – such as the doggo doing a number two in the background – are unintentional. Others, however, are planned in advance and executed with precision. That seems to be the case below. As this couple snapped a lovely photo at a restaurant, the woman behind them had other plans.
Namely, to signal her disgust at the lovebirds. Although it's a pretty low-key display of affection, it might be too much for the woman in blue. Either that or she's pulling off a photobombing prank.
10. When Two Worlds Collide 
Couples love to honeymoon in tropical places because there's nothing quite like paradise. The turquoise waters and clear sky make the perfect background for stunning photos. That being said, there's also another group of people who love the tropics: tourists.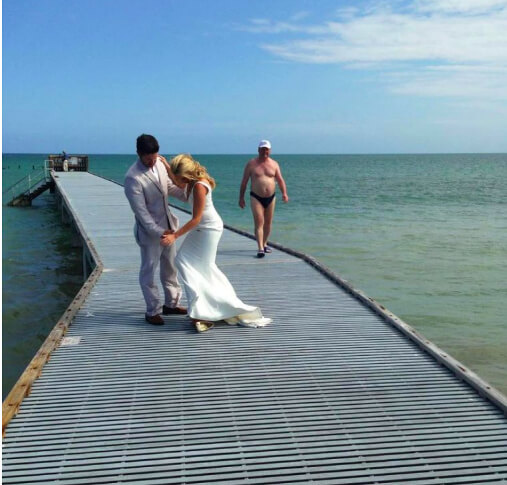 Tourists and honeymooning couples are almost polar opposites. Tourists love to unwind, let out the gut, and relax on the beach. Honeymooning couples love to dress up, hire photographers, and take photos on the beach. The photo above shows what happens when those two worlds collide.
11. Return of the Mud Man
There's nothing quite like taking the boat out on the river and fishing with a good buddy for a few hours. It helps you unwind and get away from family and work stresses. That being said, fishing isn't entirely stress-free – it has its own unique dangers lurking in the water.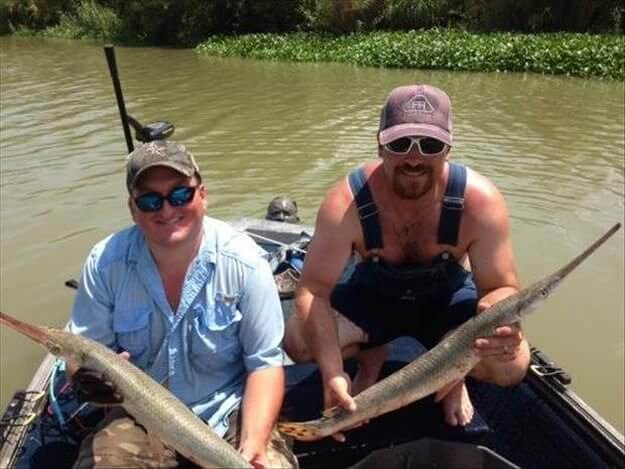 For example, sharks, snakes, or crocodiles may try to attack you. Or, as you see below, a man covered in mud may try to get on your boat – or at least photobomb your daily catch! We just hope they know each other.
12. Dating This Man's Daughter
Although prom night is fun for most high schoolers, the process of getting there can be pretty nerve-racking. It starts with asking someone to be your date, then moves on to dressing up and meeting the parents. This can be difficult for nervous teens trying to make a great impression.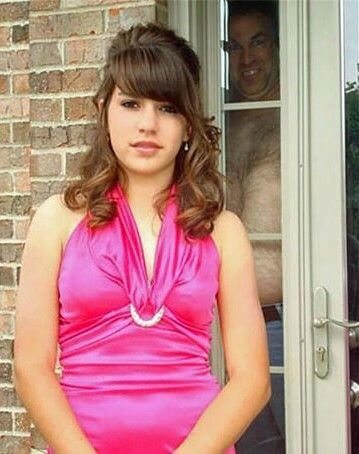 It can be extra nerve-racking if you go to pick up your date and find her dad creepily staring at you from behind a window. Either that, or it could break the tension because you know dad has a wacky sense of humor.
13. Employee of the Month
The smiling woman in the red cardigan is angling to become the new employee of the month in her workplace. That entails working hard, but also leveling up her schmoozing abilities by taking photos with the boss and making friends with all her co-workers. Well, most of her co-workers.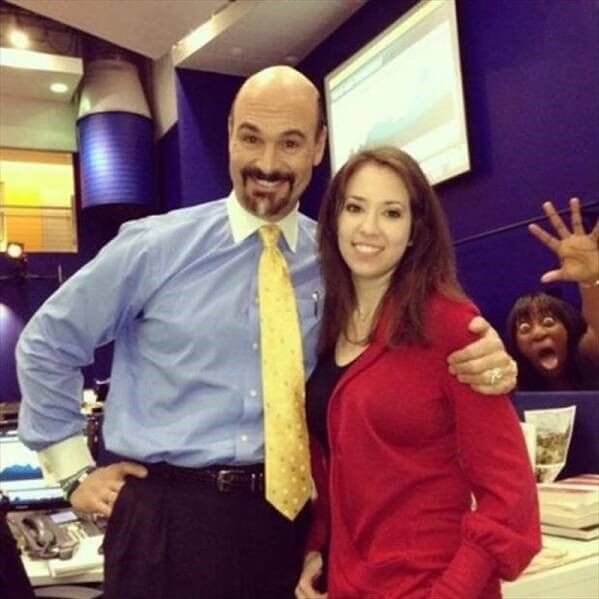 Not the co-worked in the back, however. Her surprised look and outstretched hand could be a warning. Or, it could be her way of saying she doesn't want her photo taken. If that's the case, we suggest ducking down next time.
14. The Zombies Are Coming
Halloween is a great time to dress up, go out, and have fun. Although some people like to really wallow in the scary part of Halloween by dressing as vampires, ghosts, or ghouls, others simply want to wear a festive costume and call it a day (or night).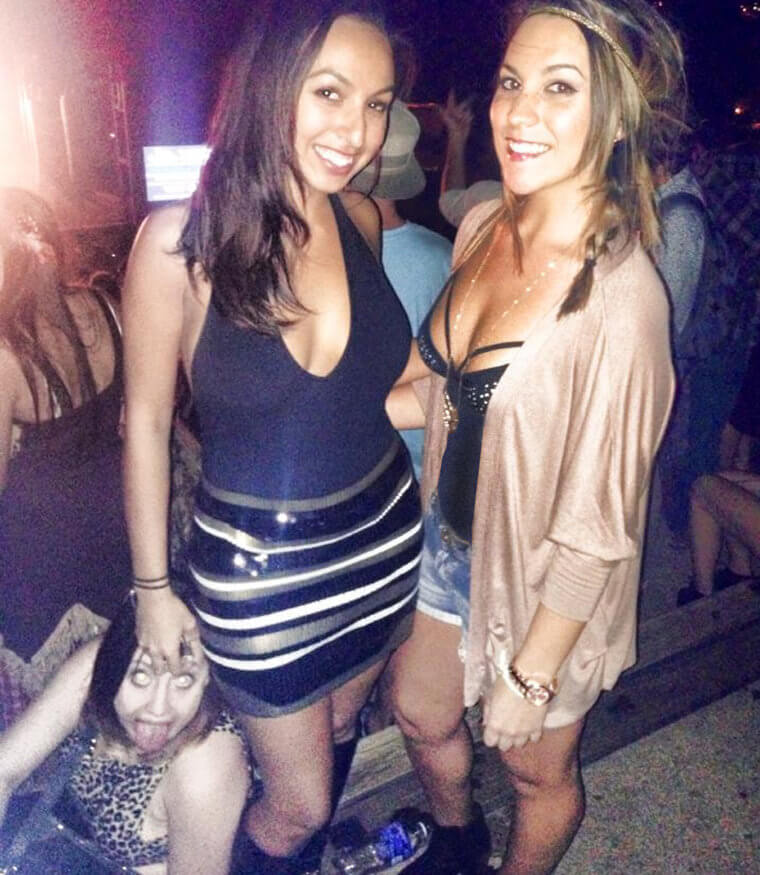 Sometimes, however, the scary part of Halloween ends up finding them anyways. That explains the zombie-like creature in the bottom left. She popped up out of nowhere and seems keen on staying. We just hope it's not the opening scene of a zombie apocalypse.
15. Mickey Is Hungry
Mickey Mouse has been around since 1928's Steamboat Willie cartoon . Since then, he has appeared in a lot more cartoons and movies, as well as in real life at Walt Disney World. If you were wondering how he grew so much over the years, well, we figured it out.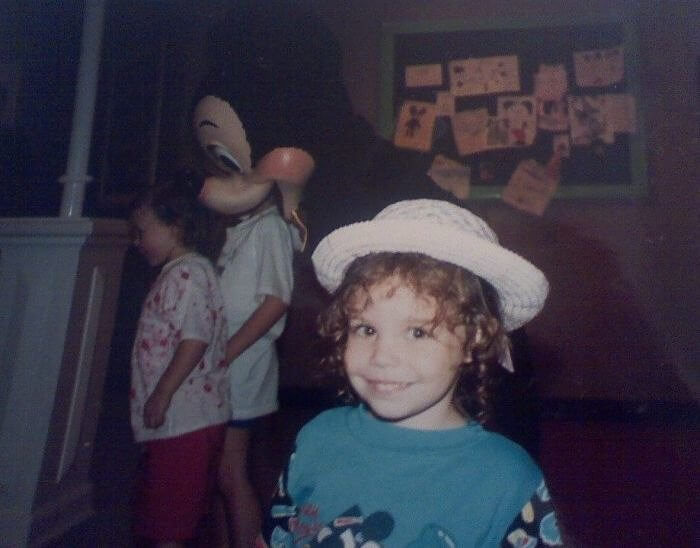 He eats children. We're joking of course, but that's exactly what this photo looks like. The angle is very odd and the smile on the child in front is a bit unsettling when you consider what's going on in the back.