30 Amazon Airplane Must Haves
Are you ready to take to the skies? Whether you're a frequent traveler or hopping on a plane for the first time, it pays to be prepared. You can enjoy a far more comfortable and productive flight when you arrive at the airport armed with comfortable outfits, practical tech items, and other travel essentials.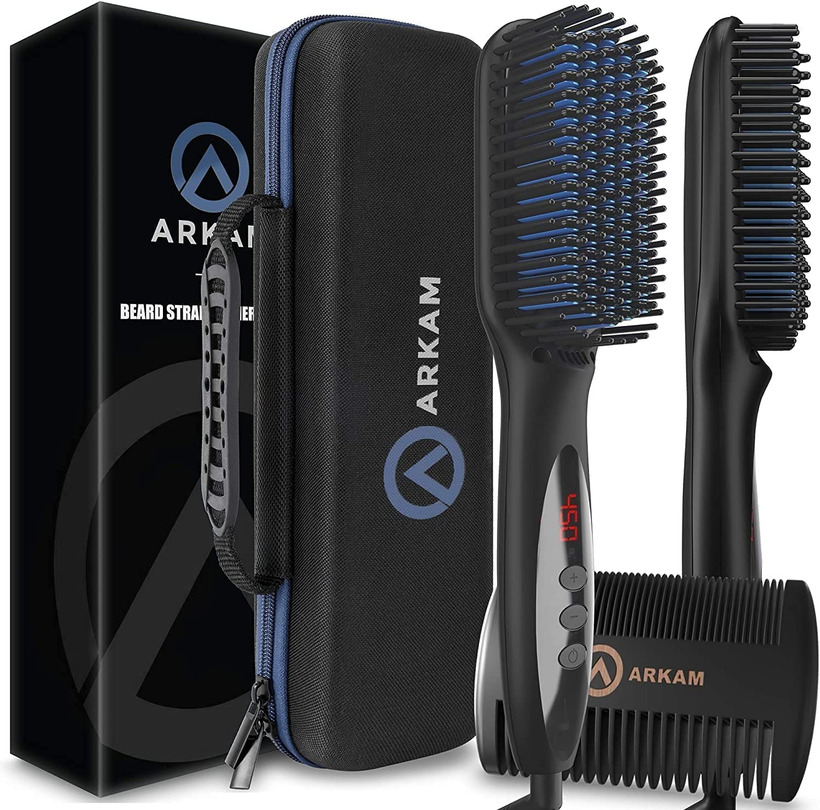 To help you out, we've gathered all the must-haves for your next journey. Whether you're looking for in-flight entertainment, the best noise-canceling headphones, or the perfect carry-on bag, there's something for everyone. Read on to ensure you have all the travel accessories you need to make your trip as smooth as possible. Let's get ready for takeoff with these brilliant Amazon deals! 
The Perfect Gift for Every Travel Enthusiast: The Universal In-Flight Phone Holder Mount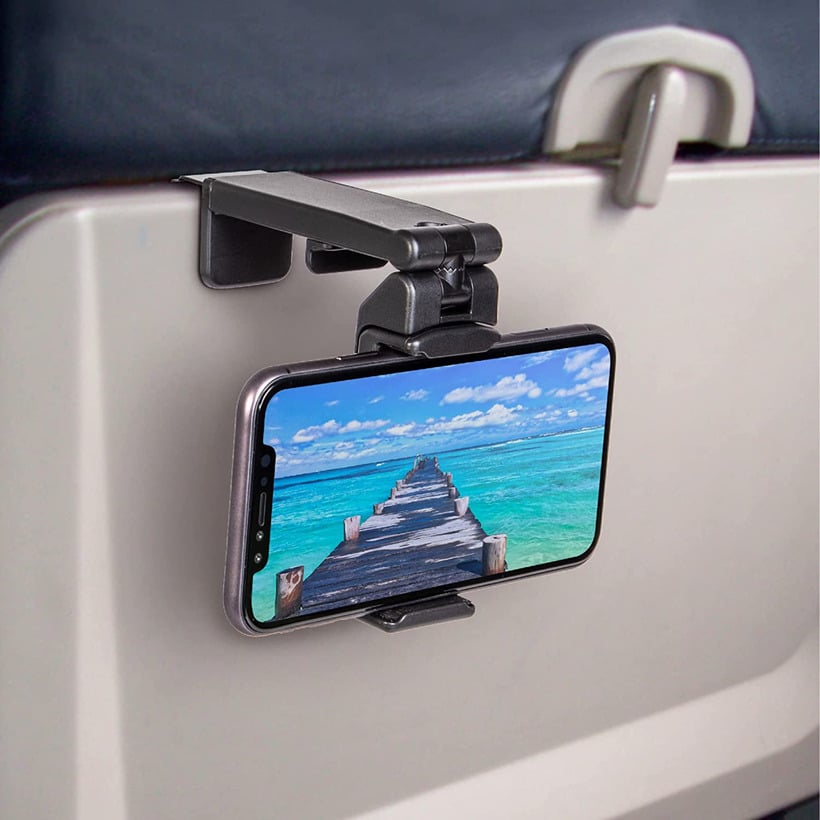 Treat yourself or a loved one to easy travels with this Universal In-Flight Phone Holder Mount. Recommended by more than 100,000 travel enthusiasts, this in-flight essential is the perfect gift for family, friends, and colleagues. With a strong clamp that easily connects to tables, luggage handles, gym equipment, and objects up to 1.5 inches wide, this holder is incredibly versatile. It also features dual joints with 360 degrees of rotation, allowing you to adjust the viewing angle to suit your needs. From the diminutive iPhone Mini to the sizable Samsung Note 20 Plus, this phone holder mount is compatible with a vast range of devices.
Enjoy Supreme Comfort on Long Flights with the Angemay Airplane Footrest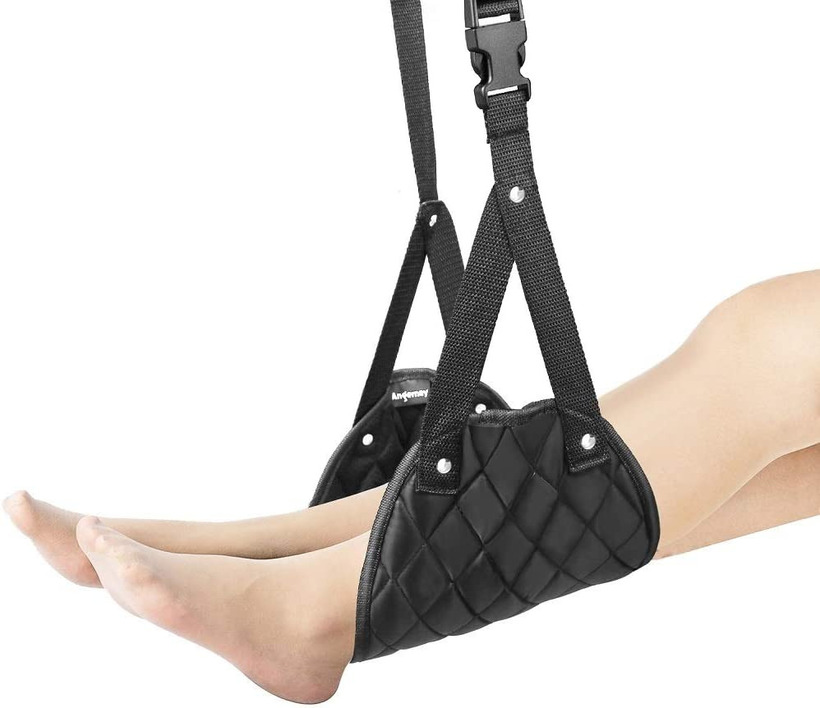 Make your long journeys more comfortable with the Angemay Airplane Footrest. This comfy foot hammock comes with adjustable straps that form a triangle for sturdiness and durability. These straps also ensure you can find the perfect fit for your height, while the rope hooks onto any desk to suit your needs. The footrest is lightweight and compact, making it easy to store in your carry-on luggage or handbag. In the Amazon set, you'll get a handy drawstring pouch to keep the footrest and rope tidy and tucked away when not in use. If you're looking for a way to relieve fatigue and reduce lower back pain, stiffness, and leg swelling during long flights, this footrest is your answer. 
Get Organized and Ready for Your Next Adventure with the MATEIN Carry-On Backpack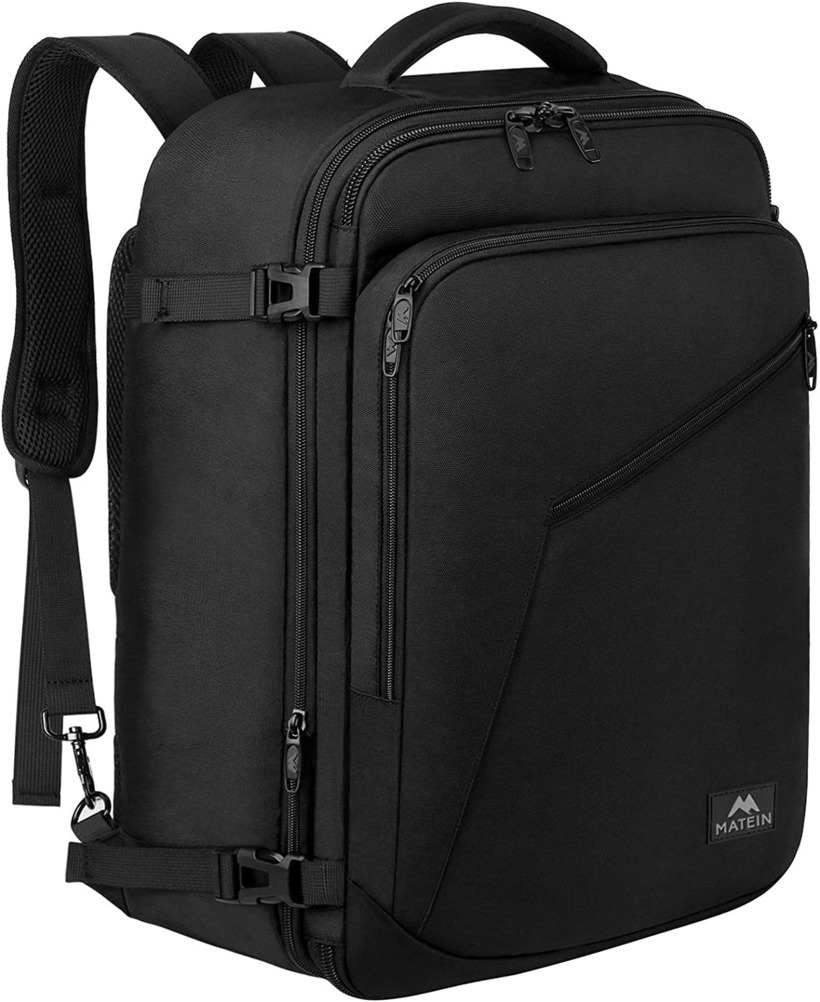 Are you looking for a travel backpack that will keep you organized and ready for your next adventure? The MATEIN Carry-On Backpack is just the ticket. With an expandable packing capacity that goes from compact to extra large, it can easily hold packing cubes, make-up bags, outfits, cameras, and more. Plus, it meets airline carry-on requirements, so you never have to stress about the size of your bag. The backpack also comes with hideaway padded shoulder straps that transform it from a briefcase-style bag into a backpack for easy maneuvering through busy airports. It features a comfortable air-mesh back panel, two padded grab handles, and a luggage strap that fits on suitcases for a more effortless carry-on experience. With its lightweight, water-resistant material and sturdy zippers, this bag is perfect for anyone who loves to travel. 
A Soft and Cozy Travel Companion: The EverSnug Travel Blanket and Pillow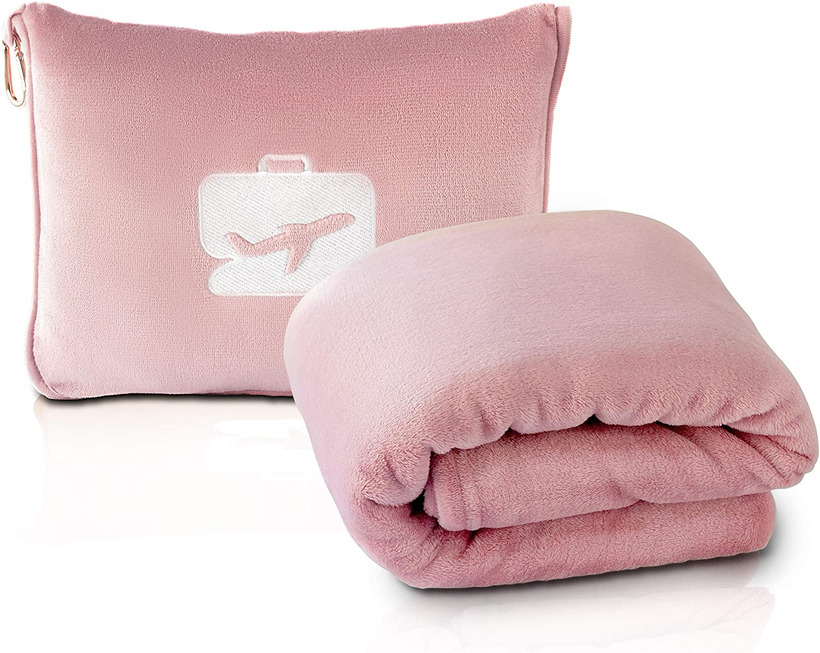 Say goodbye to thin airline blankets and hello to the EverSnug Travel Blanket and Pillow. This lightweight, extra-comfy all-season blanket is the perfect travel companion. Large enough to keep you and a friend warm, it's crafted from premium micro-plush fabric and microfleece yarn. The ultra-soft and velvety material provides a fuzzy, luxurious feel. When it's tucked up in its cover, you can use it as a pillow or attach it to your suitcase or backpack with the included carabiner. EverSnug is so confident you'll adore this pillow-blanket combo that they offer a 100% love it or your money-back guarantee. So, you can buy with confidence and make your travels more comfortable with the EverSnug Travel Blanket and Pillow.
Say Goodbye to Neck Pain While Traveling with the Inflatable Travel Pillow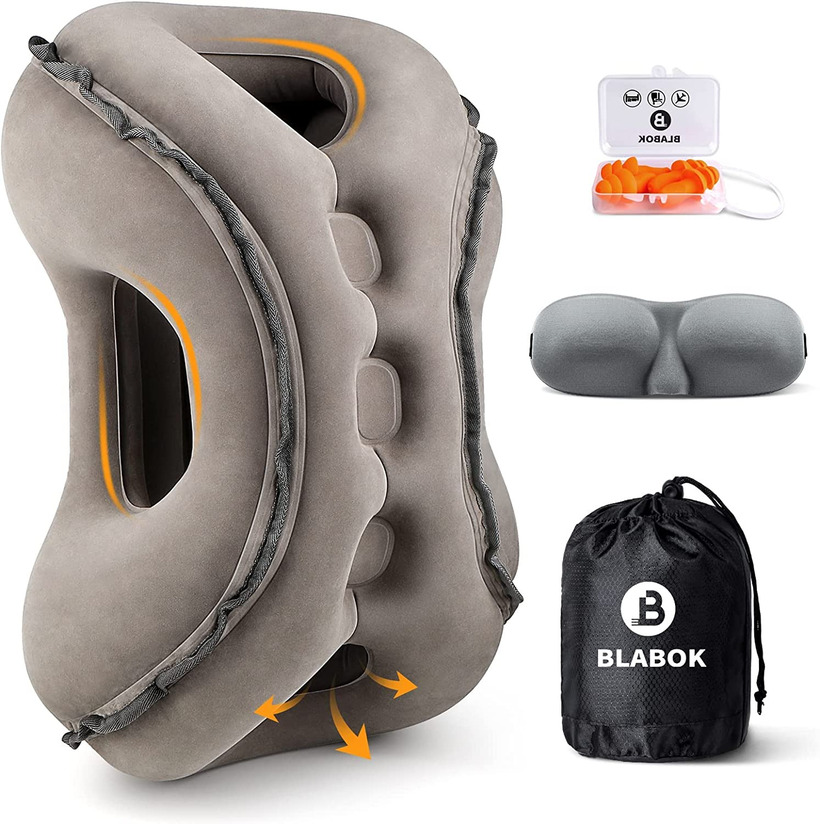 Make your travels more comfortable and enjoyable with the Inflatable Travel Pillow. This unique pillow design provides ergonomic support and protection, with a front that fits the contours of your face to reduce face pressure and arm placement areas on both sides to save you from arm numbness and pain. The compression design in the middle prevents it from pressing against your stomach, allowing you to breathe more smoothly. Plus, it comes with a two-in-one air valve which allows you to inflate and deflate it with just a few breaths of air. You'll receive a portable travel bag with your pillow, so you can easily attach it to your luggage and avoid wasting valuable packing space. Get ready for pain-free travels with the Inflatable Travel Pillow.
Stay Organized and TSA-Compliant with GLOBEGEAR Travel Bottles for Toiletries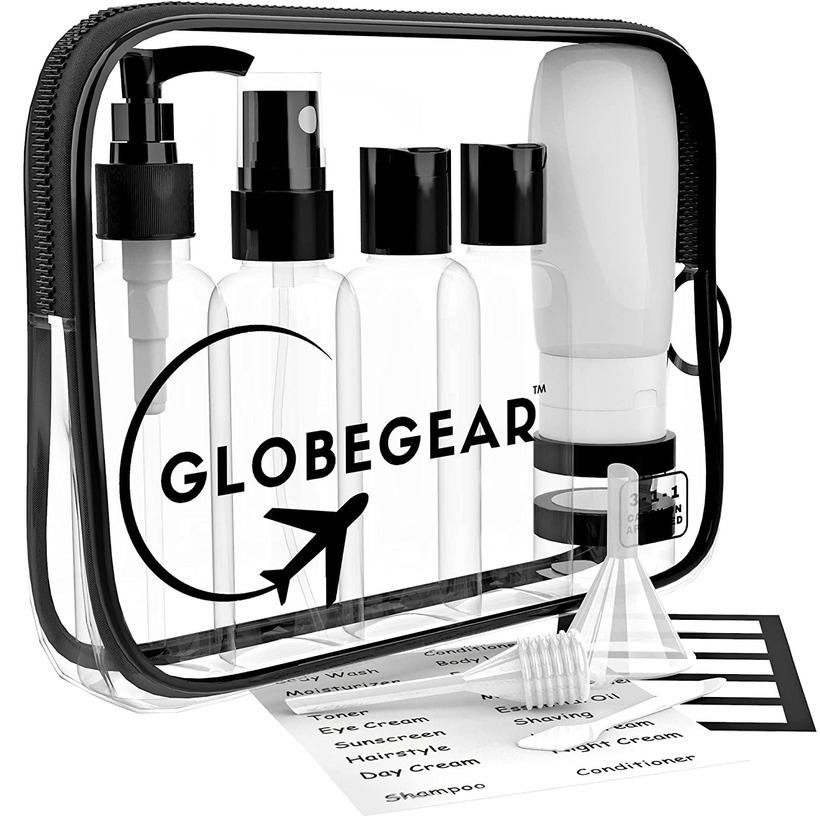 Save yourself from one of the most stressful aspects of air travel with a set of GLOBEGEAR Travel Bottles for Toiletries. This lightweight and portable TSA-approved kit includes four 1.7oz/50ml plastic travel bottles, one 30ml travel container, three 10g small jars for toiletries, a TSA-approved toiletry bag, and a set of pre-printed and blank labels. The kit is compliant with all TSA rules for carry-on liquids, including both domestic and international airplane travel. The bottles and containers are leakproof, odorless, and flexible. Best of all, they're easy to fill thanks to the included tools for transferring liquids. Take the perfect amount of all your personal care essentials with the GLOBEGEAR Travel Bottles.
Stay Neat and Organized on Your Travels with BAGAIL 8 Set Packing Cubes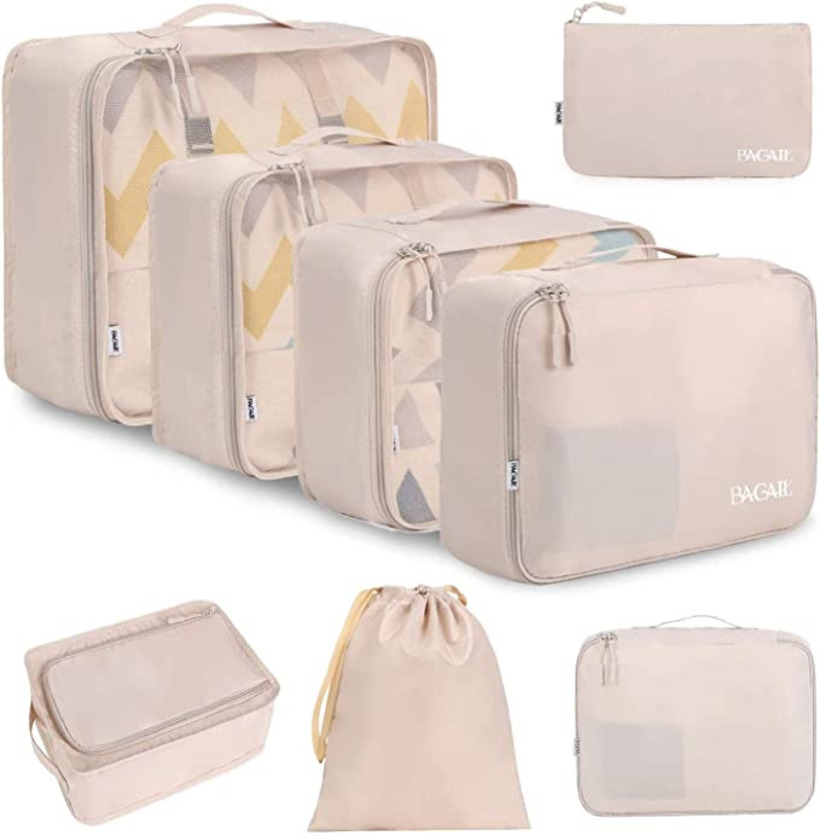 Stay neat and organized on your travels with a set of BAGAIL Packing Cubes. Crafted with premium nylon fabric, the packing cubes are water-repellent and lightweight, protecting your clothes from wrinkles, stains, spills, and leaks. The double-way zippers feature extended cords, making it fast and easy to open and close the cubes. Soft and smooth mesh top panels help you identify your clothes and keep them wrinkle-free and odor-free. Packing cubes are the secret weapon of frequent flyers, helping them make full use of the space in their luggage. They also save you a huge amount of time packing as they make it easy to organize and separate outfits. Best of all, they fit like a glove into most airline carry-on bags, totes, weekender bags, backpacks, duffel bags, and suitcases.
Take Flight in Style with the Sturdy and Chic Laptop Tote Bag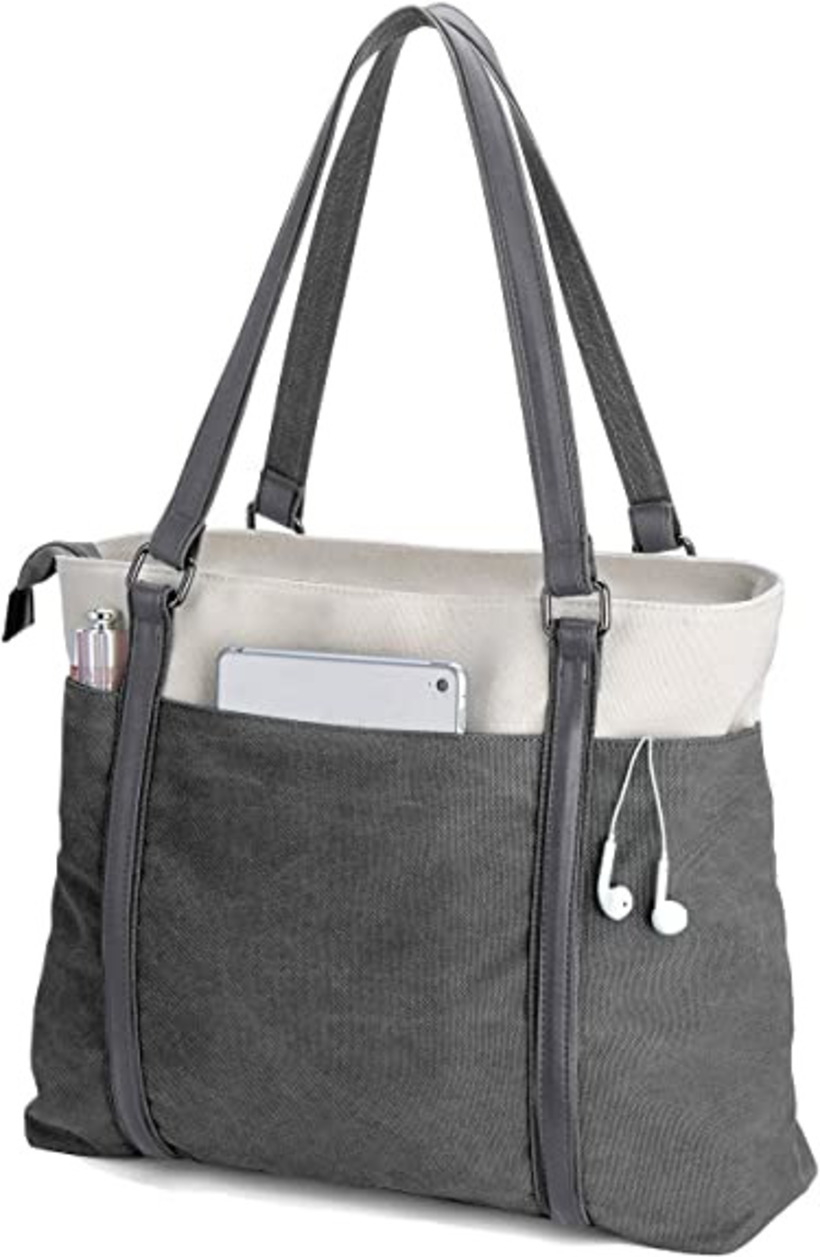 Keep your laptop safe and sound during your travels with this high-quality laptop tote bag. Crafted from sturdy duck canvas, it features a cute striped lining with double-rolled handles and leather stitching. The finely crafted everyday tote bag offers a comfortable shoulder feel and fashionable look, while its versatile design suits a multitude of purposes. The large compartment features a professional laptop padding pocket that can fit a range of laptop sizes up to 15.6 inches. With 12 interior and exterior pockets, you can find a home for all your valuables and travel essentials. This lightweight bag is just 1.5 lbs – much lighter than a leather handbag – making it the ideal carry-on companion.
Identify Your Luggage Easily with Gowraps Luggage Identifiers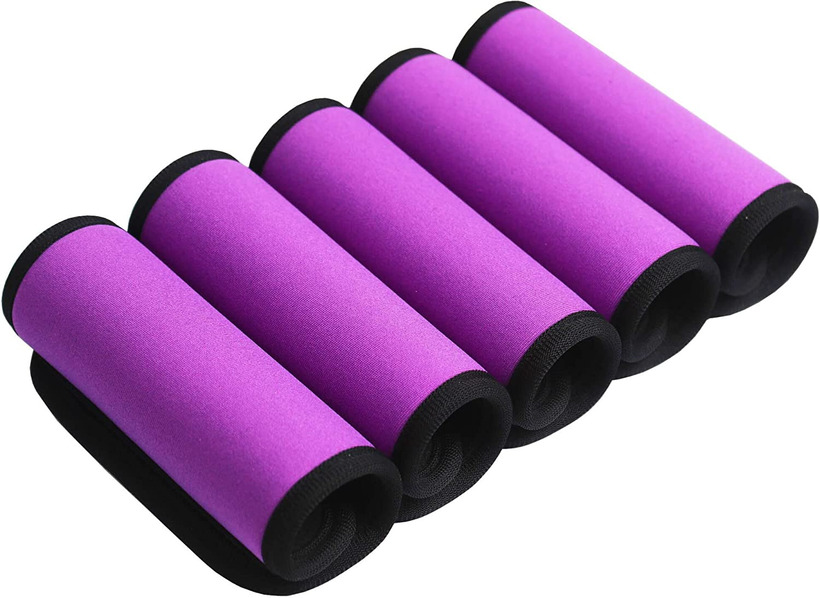 Put your mind at ease and travel in style with Gowraps Luggage Identifiers. Made from 3.5mm SBR neoprene with a touch of elasticity and a splash of bright color, these handle wraps are 5.40 inches x 4.50 inches (unfolded) and 4.50 inches x 1.20 inches in diameter. They can easily fit any size luggage handle, protecting them from wear and tear. With five pieces of the same color, you can quickly identify your luggage or bag at the airport, train station, or hotel. Stand out from the crowd and avoid luggage mix-ups with Gowraps Luggage Identifiers.
Avoid Overweight Fees with Your Etekcity Luggage Scale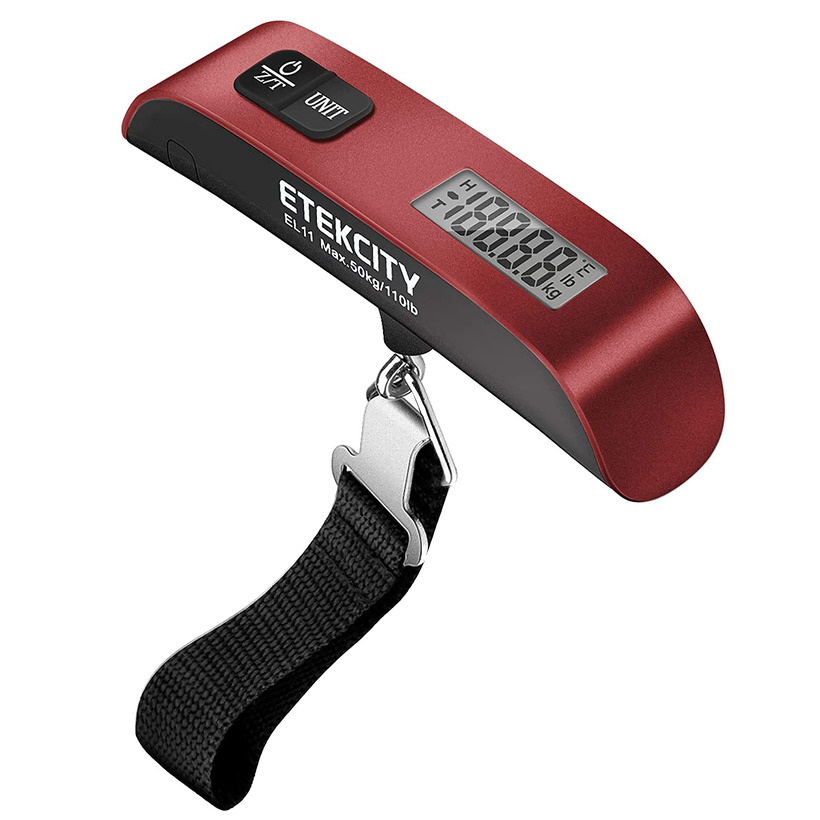 You'll never have to stress about excess baggage fees again with the Etekcity Luggage Scale. Its high-accuracy sensor and rubber-textured handle surface hook onto your suitcase to deliver an instant weight reading. This scale can measure up to 110 lbs (50 kg) and goes to one decimal place, so you have the precision you need to avoid overweight fees. It also features a thermometer with readings in both F° and C° so you can ensure your delicate items remain at the right temperature. With its tare and auto-off functions, you can weigh multiple backs with ease. Take the guesswork out of travel with the Etekcity Luggage Scale.
Keep Your Valuables Safe and Secure with the HERO Neck Wallet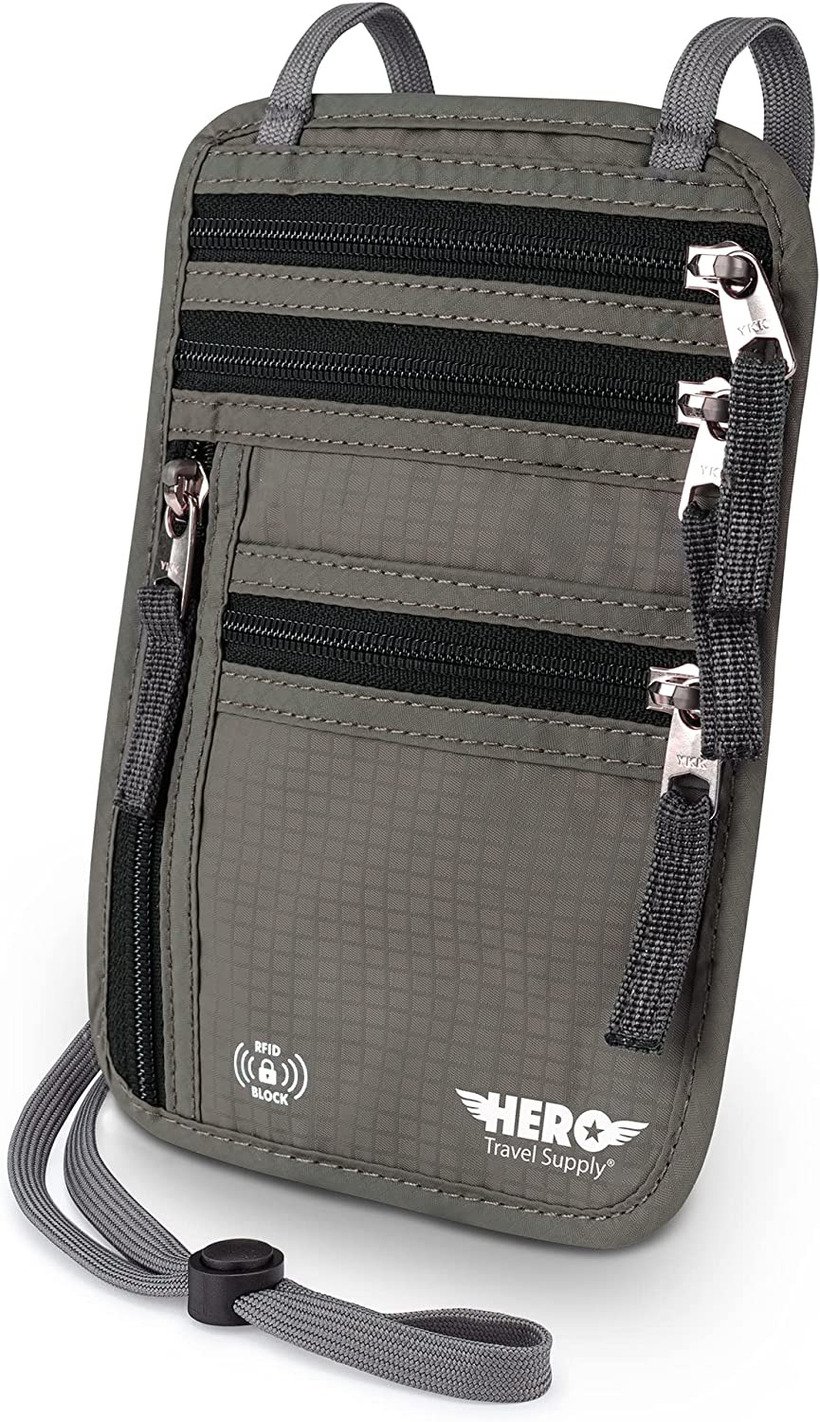 Keep your personal items safe with the HERO Neck Wallet. This universal travel neck wallet conceals passports, IDs, credit cards, cash, iPhones, tickets, and valuables, keeping them discreetly hidden while you're on the go. It features multi-RFID layers that shield credit cards, bank cards, passports, and other personal information from potential e-theft. Crafted with premium ripstop nylon fabric and heavy-duty YKK zippers, this passport travel wallet is durable and resilient for a lifetime of worldwide adventures. Enjoy streamlined access with a stylish and easy-to-use design that's comfortable and lightweight. With a lifetime replacement guarantee, you can be sure your valuables will be safe and secure with the HERO Neck Wallet.
Stay Hydrated Like a Pro with a SPECIAL MADE Collapsible Water Bottle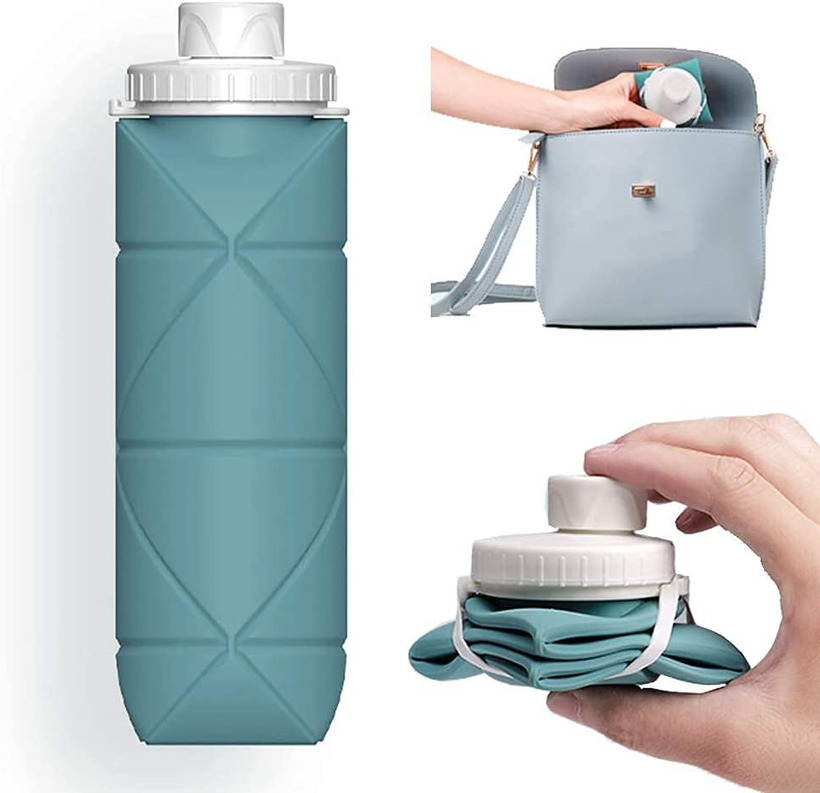 Stay hydrated wherever you go with the SPECIAL MADE Collapsible Water Bottle. This BPA-free and odorless bottle is made from food-grade organic silicone. It meets LFGB and SGS standards and has obtained FDA certification for safe drinking. With its patented sealing screw cap, you won't have to worry about leakage or splashing. You can even add ice or lemon to the wide-mouth design for extra flavor. This product has excellent heat resistance, withstanding temperatures from -50 to 200°C. Lightweight and compact, this 20oz(600mL) portable silicone bottle is perfect for all your activities and ideal for staying hydrated in airports and on long flights. 
Get Creative with the WikkiStix Sensory Fidget Toy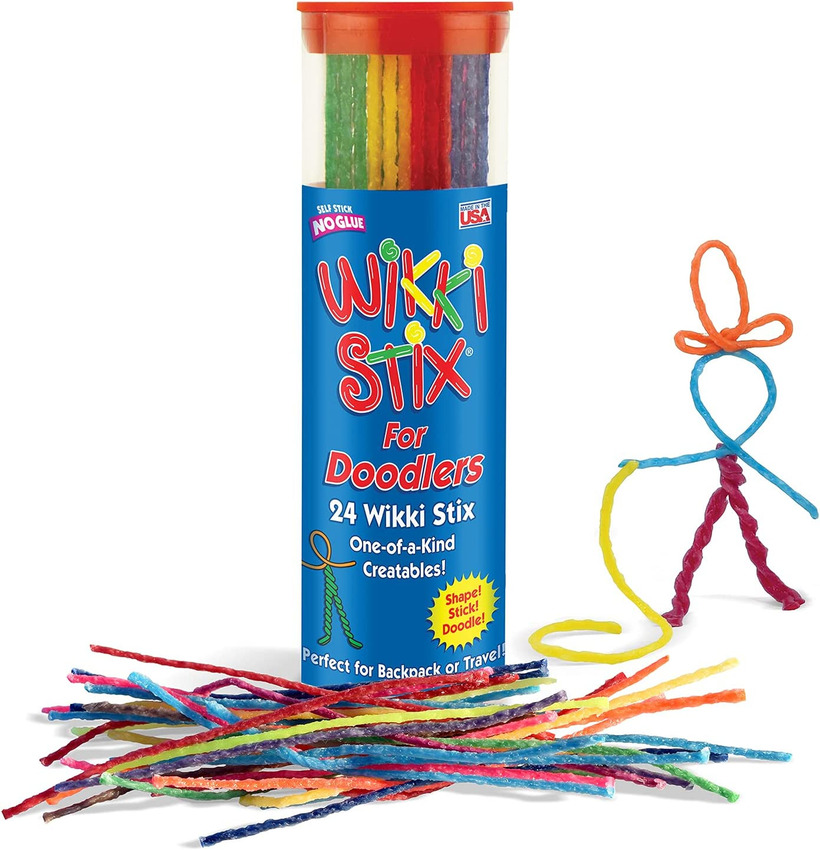 The WikkiStix Sensory Fidget Toy is ideal for kids (and kids at heart) who struggle to sit still on flights. The soft and pliable toy comes in a convenient take-along size tube that features 24 Wikki Stix. These craftable sticks adhere with just fingertip pressure to most smooth surfaces for endless creative fun. You can also stick the Wikki Stix to each other for 3-D creativity. Get extra ideas and step-by-step directions with the QR code included. Made in the USA with non-toxic materials, this toy conforms to ASTM D-4236 & EN-71 standards and is safe for children.
Stay Organized with the FYY Electronic Organizer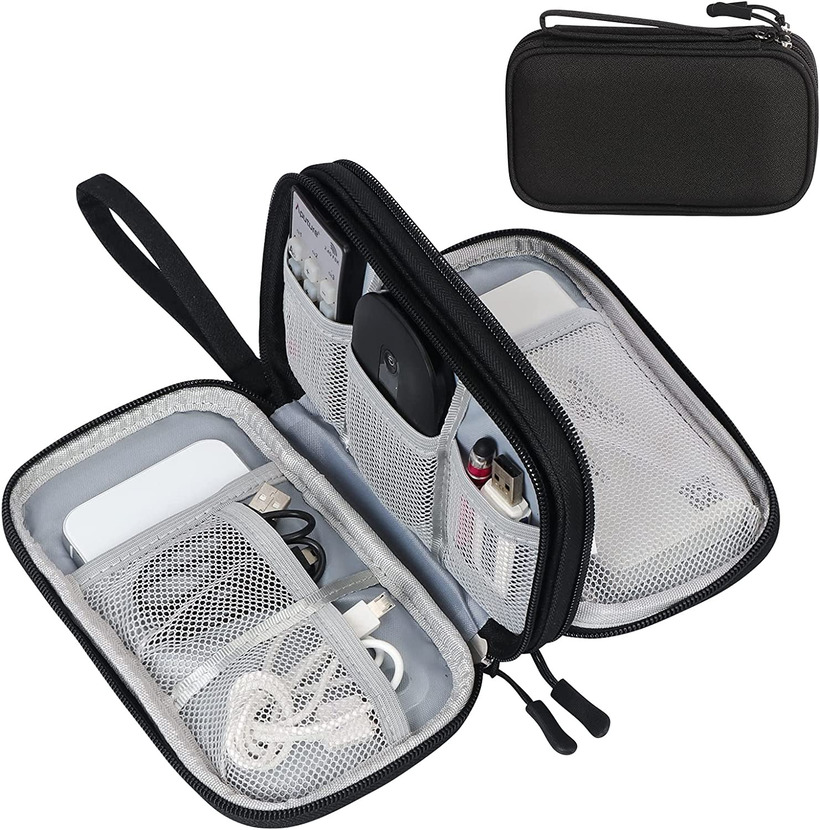 Keep your gadgets and chargers tidy and accessible with the FYY Electronic Organizer. This high-quality, durable waterproof oxford case features a soft sponge interior, offering maximum protection for all your gadgets and electronics. It features a double-layer interior compartment with enough space to fit all your cords, cables, USB drive, cellphone, charger, mouse, flash drive, and other accessories. With a comfortable hand strap for easy carrying, you can take this lightweight and portable case on holiday, business trips, or even to school.
Enjoy Peace of Mind with Relyo 50-Pack Flushable Toilet Seat Covers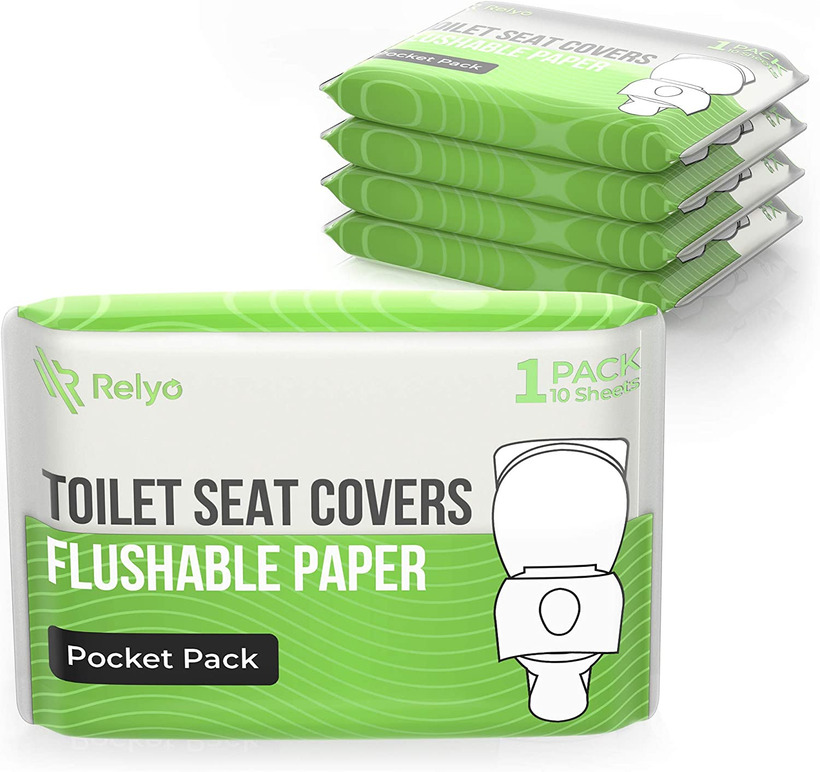 Don't let public restrooms stress you out! Treat yourself to comfort and peace of mind with a 50-pack of Flushable Toilet Seat Covers. Perfectly pocket-sized, Reylo's covers are made from wood pulp that's soft, biodegradable, and easy to use. Simply unfold the cover, lay it on the seat, and flush it when you're done. There's no need to touch anything to dispose of it – the flushable toilet seat covers will take care of themselves. This Reylo 50-pack is perfect for flights, road trips, and any other time you need to use a public restroom. With your 50-pack of Flushable Toilet Seat Covers, you can rest easy knowing you're protected from germs in public restrooms.
NTONPOWER Power Strip – The Perfect Size for Travel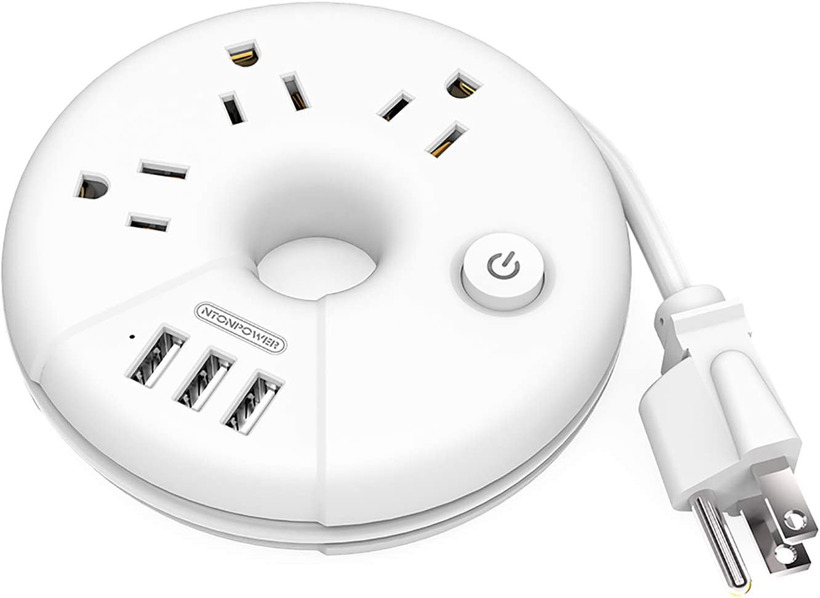 Never be stuck without power when you need it. NTONPOWER's Power Strip is the perfect size for travel, fitting snugly in the palm of your hand. With three outlets and three USB ports, this power strip is perfect for cruise ships, hotels, airports, and any other place with limited or unreachable outlets. With a 15-inch short extension cord that wraps around for easy storage, you won't have to worry about bulky cords. Plus, it's FCC and RoHS-approved with a high temp fire-shield outer shell, ensuring complete protection against electrical short circuits, overheating, overcharging, and more. Purchase via Amazon for a hassle-free 18-month warranty and $300,000 connected device liability insurance. 
Alpine FlyFit Earplugs: Protection Against Painful Pressure Changes for on Flights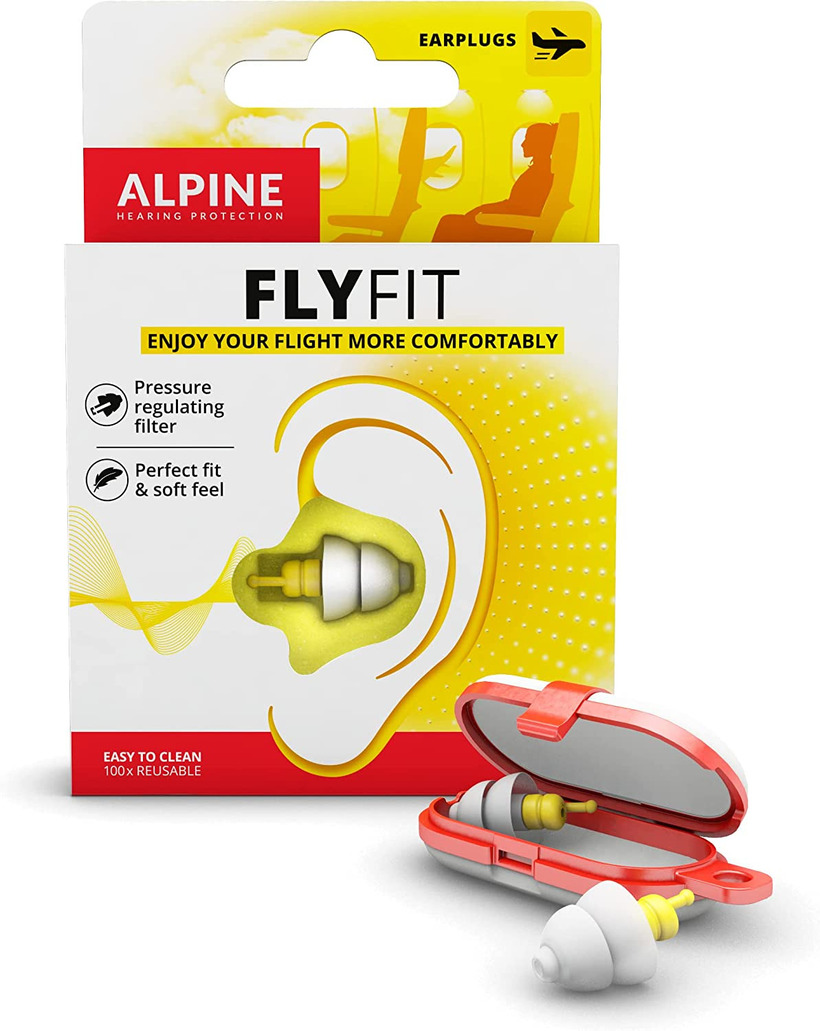 Designed and produced in the Netherlands, Alpine FlyFit Earplugs are the perfect solution for flyers who experience pain when taking off or landing. These earplugs regulate pressure, keeping your ears comfortable and pain-free. Reusable and made of hypoallergenic material, they're light and easy to remove and can be used up to 100 times. Plus, they've been tested and certified to reach noise reduction at 17 dB SNR in accordance with US and EU Regulations. With 25 years of R&D experience behind them, these award-winning earplugs are the perfect accessory for your next flight. Make sure you have Alpine FlyFit Earplugs on hand for your next trip – you won't regret it.
Keep Your Shoes Safe and Secure with YAMIU Travel Shoe Bags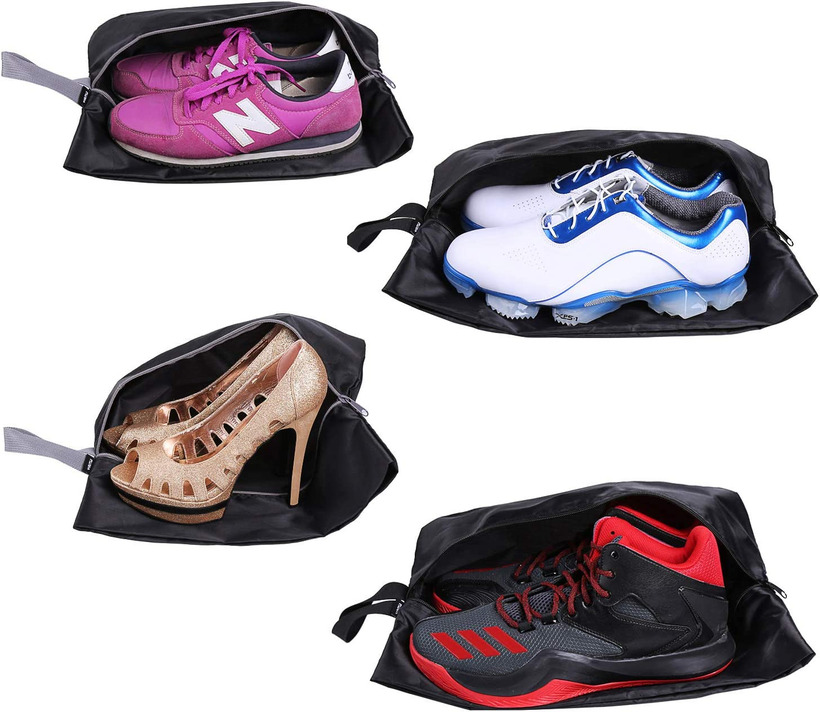 Don't let your shoes suffer the consequences of travel and storage – keep them safe and secure with YAMIU Travel Shoe Bags. You can choose from the standard size for shoes under size ten and an X-large size for shoes between size 10 and 14, making these bags perfect for flights and road trips. They'll also protect your shoes on trips to the gym and keep them dust-free in your closet. Made of waterproof nylon fabric, they feature a specialized custom-made zipper with high-quality, smooth teeth and a center design for easy access. They come with an unconditional lifetime warranty that covers any quality issues. Protect the shoes you love to use with YAMIU Travel Shoe Bags.
SB SOX Compression Socks: Improve Your Blood Circulation and Relieve Leg Pain and Swelling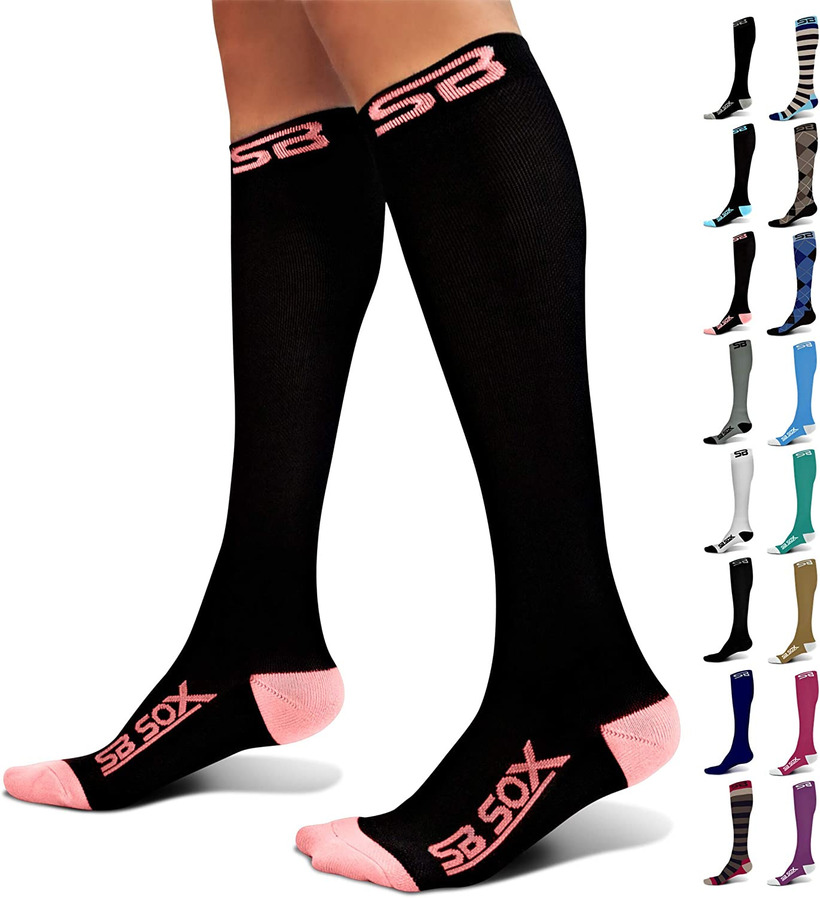 Say goodbye to leg pain, swelling, and fatigue on flights with SB SOX Compression Socks. These 20-30mmHg socks boost blood circulation and provide all-day comfort with their lightweight, breathable design. The cushioned heel and toe support delivers a comfy experience, even if you have to run through the airport. Plus, they decrease swelling and fatigue with the ideal amount of compression to improve blood flow on flights. Highly recommended by repeat customers, the socks come in several different colors and styles. SB SOX also offers four size options to ensure you get a snug fit. Enjoy more comfortable flights and improve blood circulation with SB SOX Compression Socks.
Increase Your Vacation Luggage Space with Chestnut's 8 Space Saver Bags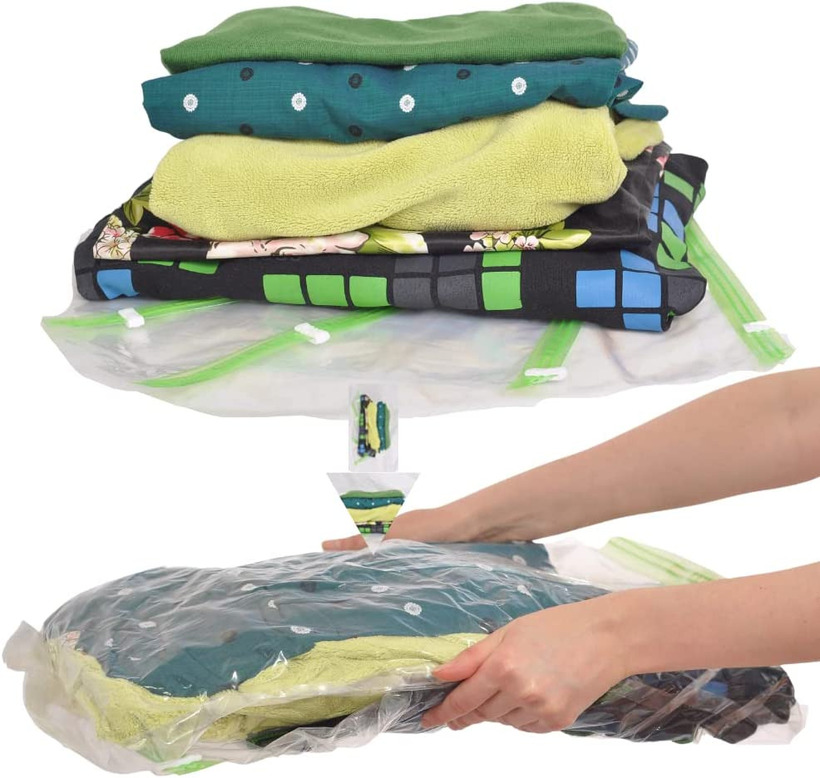 Say goodbye to cramped suitcases and backpacks with Chestnut's 8 Space Saver Bags. This set includes four large (28×20″) and four medium (24×16″) vacuum-sealed bags. You can use them to fit three times more into your luggage without the need for a bulky vacuum or pump. These airtight bags keep your clothing and other items protected from odors, dirt, bugs, and dampness. Plus, Chestnut offers a money-back guarantee if you don't love the bags. With Chestnut's bags, you can easily store seasonal clothing, towels, sheets, and pillowcases at home or bring them along on your next vacation. Make room for more with Chestnut's 8 Space Saver Bags.
Refresh and Cleanse Your Skin with Neutrogena Facial Cleansing Towelettes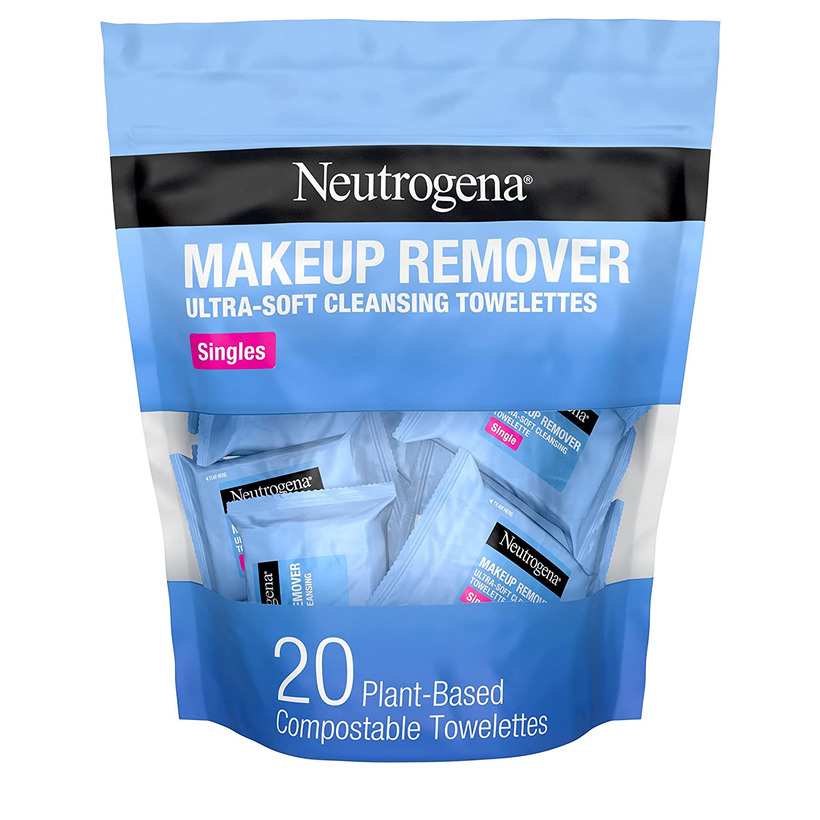 Gently cleanse and remove makeup from your skin with Neutrogena's Facial Cleansing Towelettes. This 20-count pack of individually wrapped towelettes effectively removes dirt, bacteria, oil, makeup, and sunscreen with no need for rinsing. Approved by ophthalmologists and dermatologists and allergy-tested, the formula is gentle on the skin and eyes and leaves no heavy residue behind. Plus, the wipes are formulated without phthalates, parabens, sulfates, alcohols, soaps, or dyes and are made with 100% plant-based fibers.
Get a Good Night's Sleep Anywhere with MZOO's Sleep Eye Mask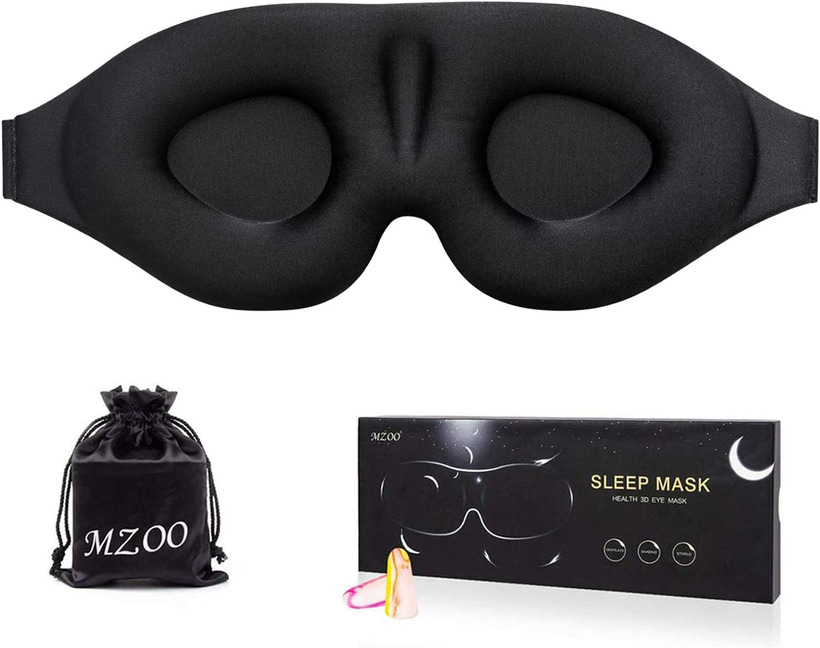 Sleep soundly wherever you go with your MZOO Sleep Eye Mask. This low-rebound memory foam eye mask is incredibly soft and comfortable, and its unique design places no pressure on the eyes. The heat-bonded technology creates a sturdy and durable product that won't fall apart easily. Made from top-quality fabric, this eye mask molds to your face to perfectly block out light. The fully adjustable buckle strap fits all head sizes and won't catch your hair. Block out the light and enjoy a good night's sleep with your MZOO Sleep Eye Mask.
Keep Your Jewelry Safe and Secure with a Small Travel Jewelry Box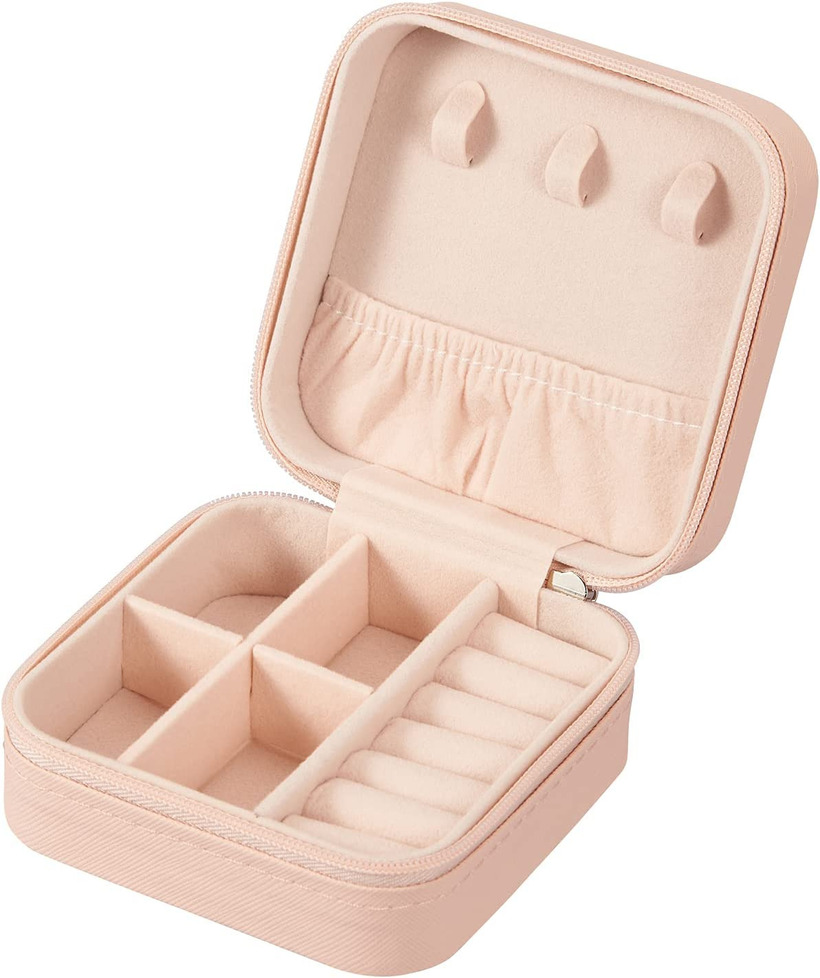 Never worry about losing your jewelry again with this Small Jewelry Box. Made from high-quality deluxe synthetic PU leather and flannel interior, this 3.9 x 3.9 x 2″ jewelry organizer is perfect for storing bracelets, earrings, rings, necklaces, and other keepsakes. Its simple, compact design and elegant exterior make it an ideal gift for Valentine's Day, birthdays, Mother's Day, Christmas, and weddings. Plus, it's portable and lightweight, so you can easily bring it with you on the go.
Get a Glowing, Refreshed Look with Dermora's 24K Gold Eye Masks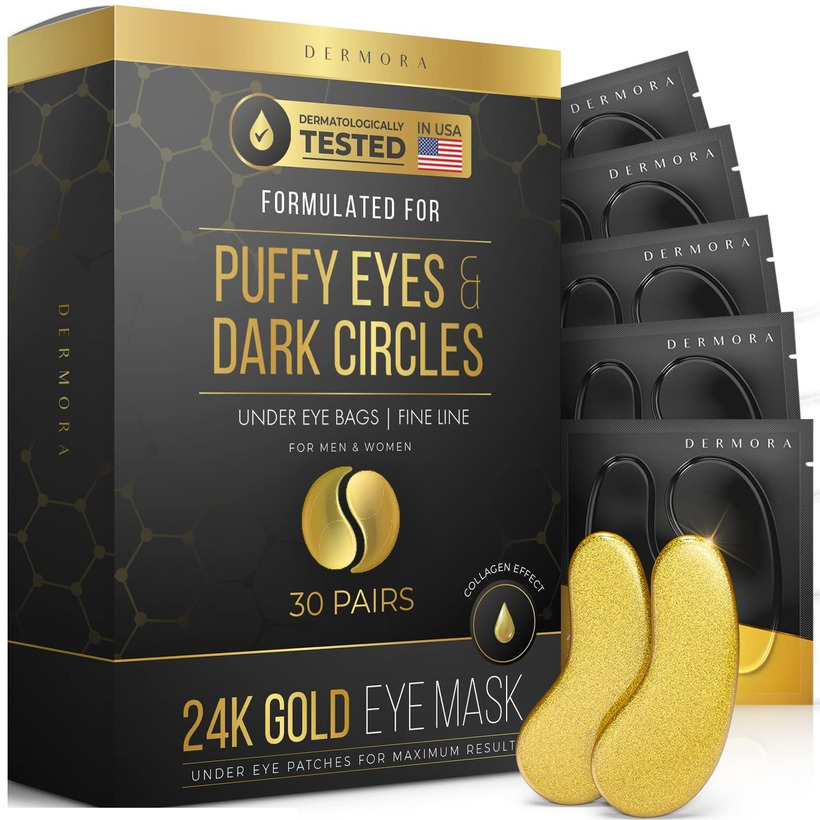 Look and feel your best while traveling with Dermora's 24K Gold Eye Masks. These travel-size packs are small, lightweight, and easy to pack in your carry-on, so you can eliminate puffiness and traces of dark colors under your eyes wherever you go. They offer an easy way to keep up your skincare routine in airports and on long-haul flights. No matter how jet-lagged you feel, you can refresh your skin with a youthful glow and look like you got eight hours sleep. Put your best face forward with Dermora's 24K Gold Eye Mask.
Get the Ultimate Grooming Experience with Arkam's Beard Straightener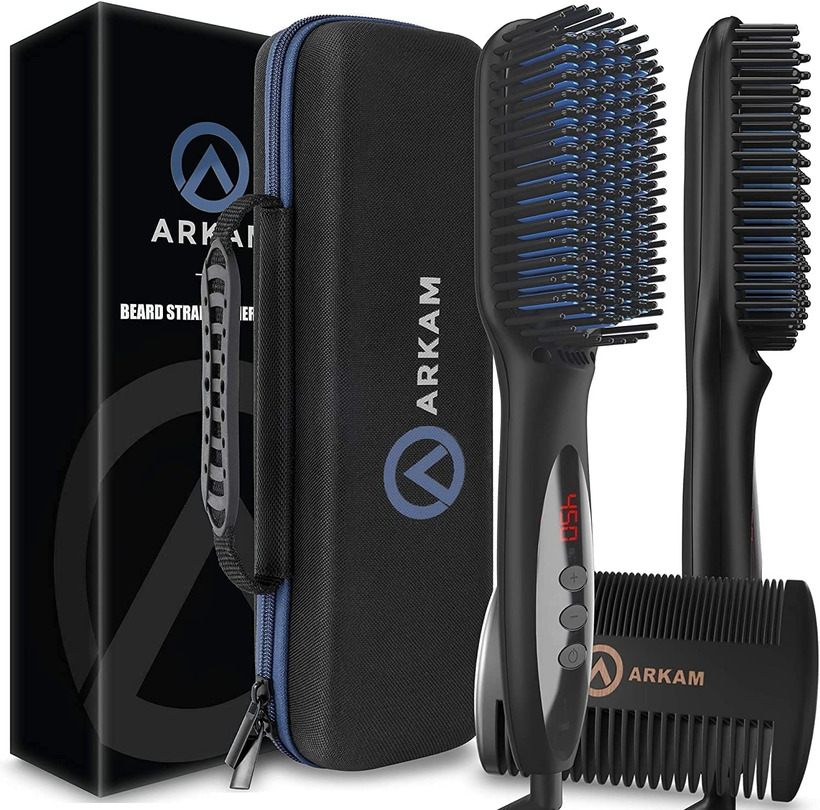 Look and feel confident all day long with Arkam's Beard Straightener. This sleek, heated comb features a digital screen and 12 temperature levels from 250°F to 450°F, making it perfect for any hair type. Thanks to the advanced ionic technology, you can get rid of frizz and lock in moisture in a flash, giving you a smooth, lush-looking beard. The included comb and hard shell travel case make it easy to stay groomed on the go. Treat yourself or help a loved one live their best beard life with Arkam's Beard Straightener.
Keep Your Important Documents Safe with ACdream's Passport and Vaccine Card Holder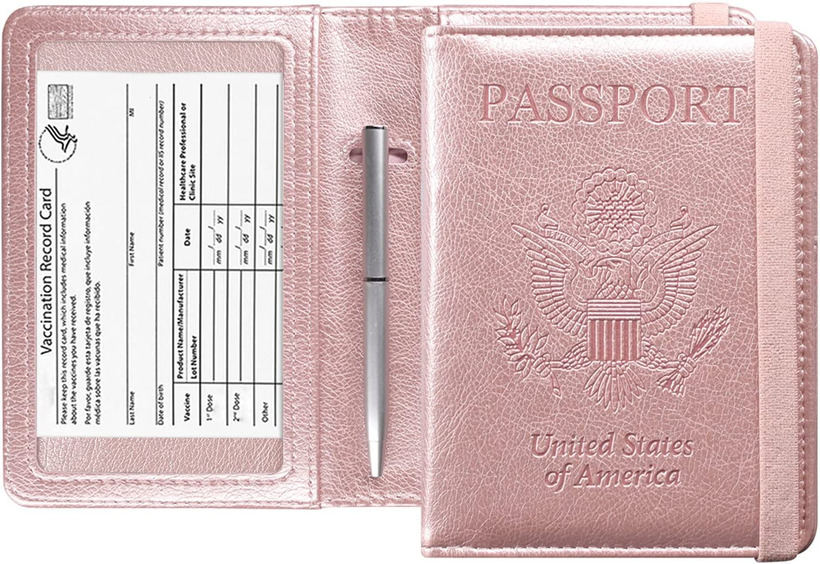 Keep your travel documents safe with ACdream's Passport and Vaccine Card Holder. The stylish design will fit your passport snuggly, making it the perfect accessory to take with you wherever you go. It has room for a passport, business cards, credit cards, boarding passes, and CDC vaccination card and is equipped with advanced RFID-blocking technology. Slim and lightweight, the wallet is made from high-quality, durable PU leather and won't get damaged by water, heat, or cold weather conditions.
Get a Deep Clean with Samseel's Electric Toothbrush for Travelers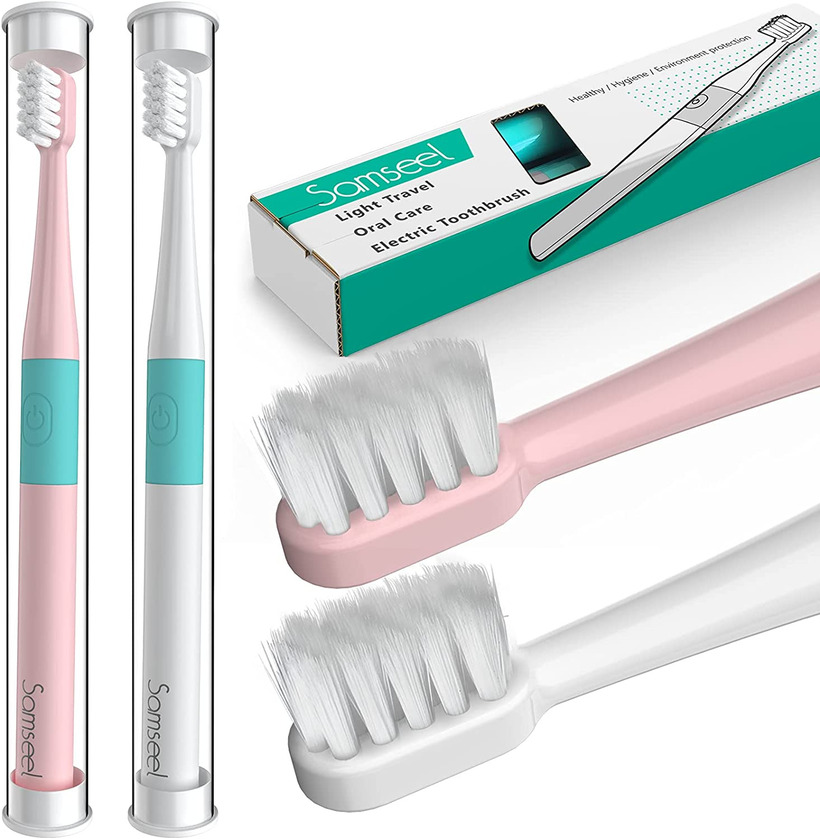 Experience a deep clean on the go with Samseel's Electric Toothbrush. This toothbrush is powered by two super-capacity batteries, and the bristles are made of synthetic resin to clean your teeth thoroughly while protecting your gums. The soft bristles can reach deep between your teeth to remove calculus far more effectively than an ordinary toothbrush. Plus, the 13,000 times/min acoustic vibration and single-mode design make it easy to use. With its compact, lightweight design and individual package with ventilating holes, this toothbrush is perfect for business trips and family holidays. 
Keep Your Makeup Brushes Safe and Secure with a FERYES Travel Makeup Brush Holder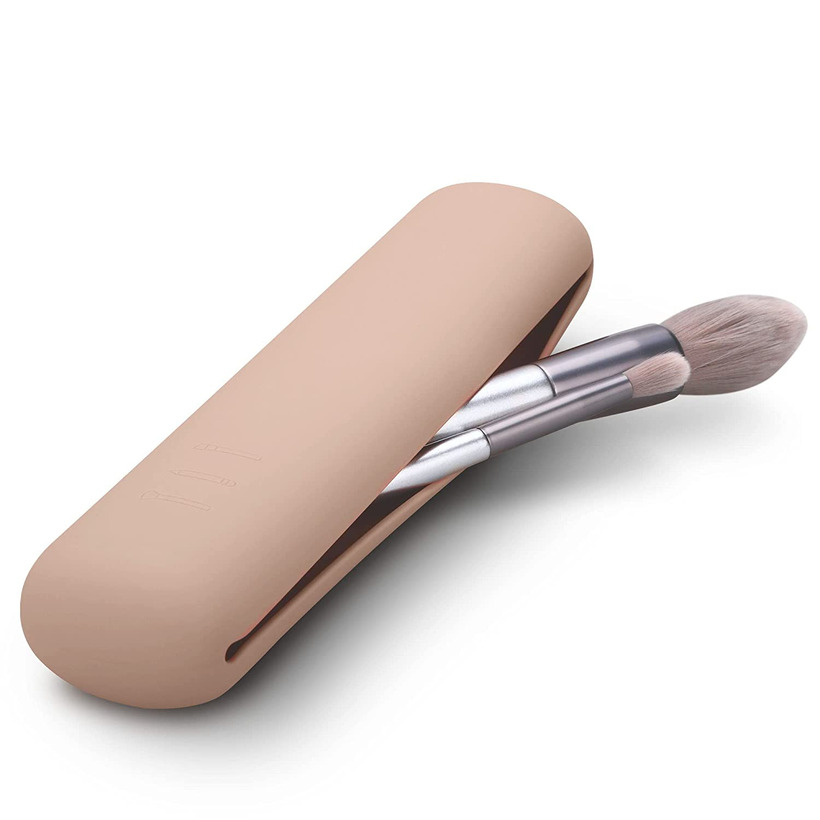 Travel in style and keep all your makeup essentials safe and secure with a FERYES Travel Makeup Brush Holder. This one-of-a-kind holder has a trendy and unique design that is lightweight, compact, and spacious. It's made of soft and skin-friendly polyurethane silicon foam that won't absorb dust like other materials and is easy to clean and rinse with soap and water. The ergonomic design with side openings allows easy access to your makeup brushes and other essentials without the risk of spilling them all over the place. Keep everything organized and avoid makeup stains with the FERYES Travel Makeup Brush Holder.
Hydrate Faster and More Efficiently with Liquid I.V.'s Hydration Multiplier Electrolyte Drink Mix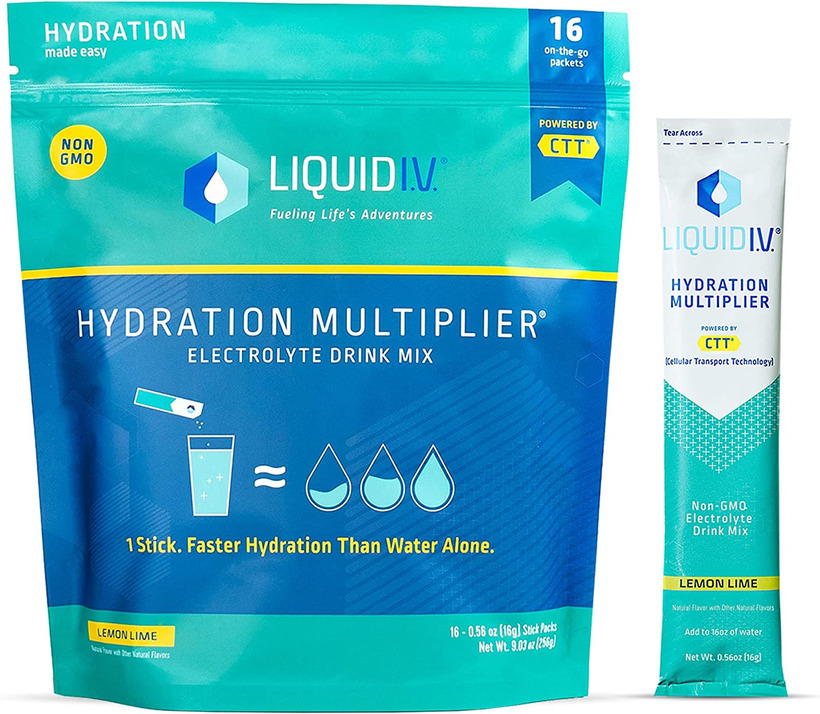 Experience rapid hydration with Liquid I.V.'s Hydration Multiplier Electrolyte Drink Mix. This great-tasting, non-GMO electrolyte drink mix is powered by Cellular Transport Technology (CTT) to deliver hydration to the bloodstream faster and more efficiently than water alone. It contains five essential vitamins and is gluten-free, soy-free, and dairy-free. The single-serving, travel-friendly packets are easy to enjoy on the go. Best of all, with each purchase you make, Liquid I.V. will donate a serving to someone in need around the world. 
Ultra-High Capacity Portable Charger from Anker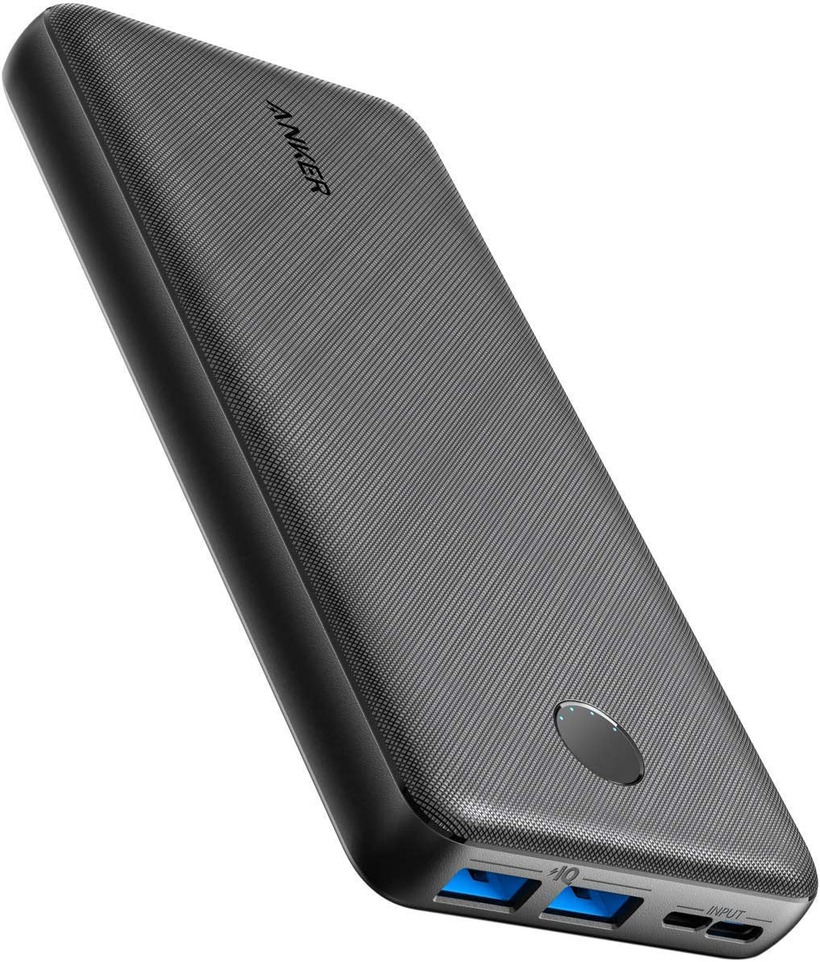 Traveling by air doesn't have to mean sacrificing the use of your favorite devices. With the Anker Portable Charger, you can keep your devices powered up in the air and on the go. This ultra-high capacity charger packs a powerful 20,000 mAh cell capacity, providing between four and five charges for iPhones, Samsung smartphones, and other mobile devices. For iPads and other tablets, you'll usually get between two and four charges. The charging bank features Anker's exclusive PowerIQ and VoltageBoost technology, delivering an extra-fast but totally safe charge to your devices. The 10W charger can charge up to two devices at once with its two USB ports. Plus, it's backed by a lifetime connected equipment warranty, so you can rest assured that your devices will always be safe, powered up, and ready to go. Get the Anker Portable Charger, and never worry about running out of battery again.