30 Unique Pet Products We Found on Amazon
Pets, they're a part of our family, our best friends, our fur babies. In order to keep them healthy and keep ourselves sane we need some things to help us as pet parents out! In this article you will find products such as a pet hair remover to get Fido's hair off the carpet, couch, car seat, and even your shirt! You'll also find a pet odor remover to help keep your house smelling nice even if Sparky piddles in the house, and a back seat cover for when you want to bring Spot along for the ride wherever you go!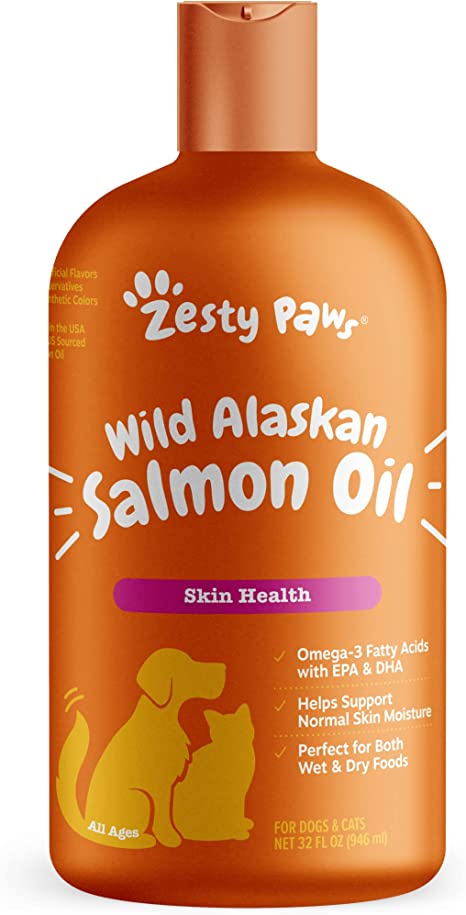 30 products, 30 chances to help your pet stay happy and healthy, and will keep you and your house looking, feeling, and smelling great, instead of like wet dog or cat piddle. Whatever product (or products) you choose from the following list, you and your pet are sure to be purring! 
ChomChom Pet Hair Remover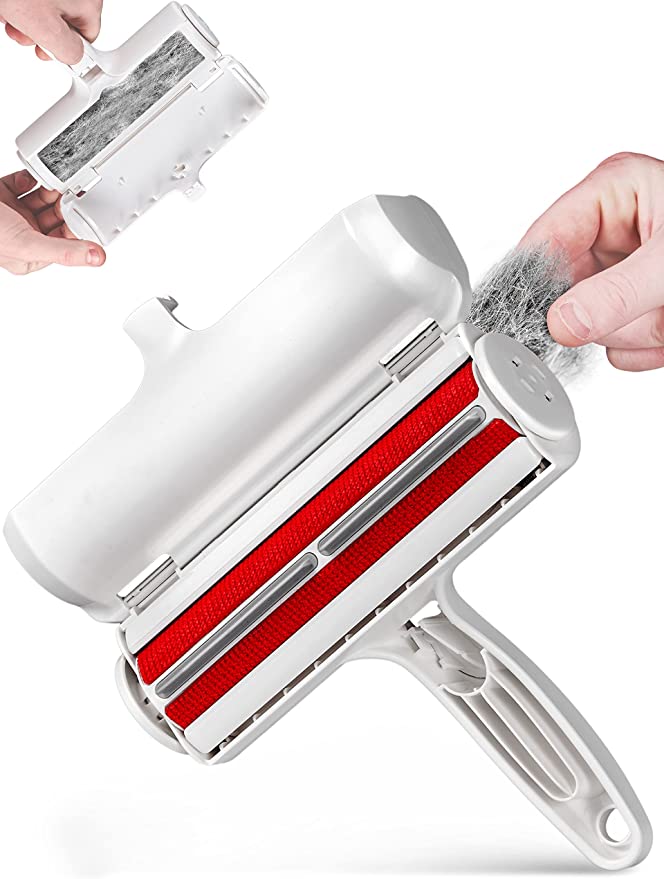 Stop buying  100s of lint roller sheets with this reusable pet hair remover. Made of nylon instead of sticky paper, it's also better for the environment! So go ahead, give your fur baby a cuddle, the ChomChom Pet Hair Remover will keep your clothes, carpet, and furniture pet hair free!
Active Pets Dog Car Seat Cover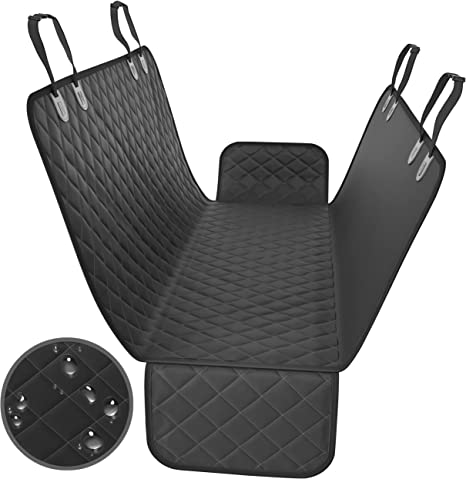 Keep your pet safe while you bring them on fun adventures, however bumpy the ride may be, with the Active Pets Dog Seat Cover's 4 anchors to the headrests and 2 seat anchors you can be sure that your pup is safe in the backseat of the car. Its universal fit and easy to clean fabric make this ideal for anybody!
Angry Orange Pet Odor Eliminator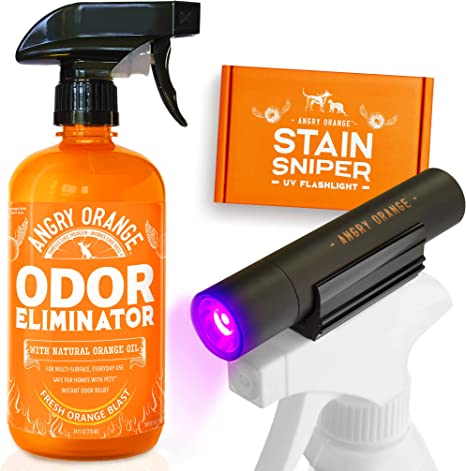 This product includes a UV light as well as the odor eliminating spray to tackle tough, invisible stains to make sure that the smell of cat or dog pee really does get out of your carpet! The spray can be used on most surfaces, from carpet to clothes, to floors and garbage cans, Angry Orange has you covered with a sweet citrus scent!
K&H Small Dog Car Seat with Seatbelt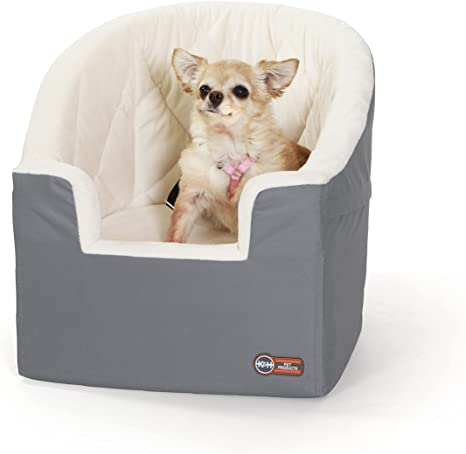 This pet booster seat, complete with seat belt, helps to elevate your small dog so they can see what's going on, and give you a distraction free driving experience because you aren't worried about if your dog is sliding all over the back seat! Plus, the seat is easy to clean when it needs it!
Pure Wild Alaskan Salmon Oil for Dogs & Cats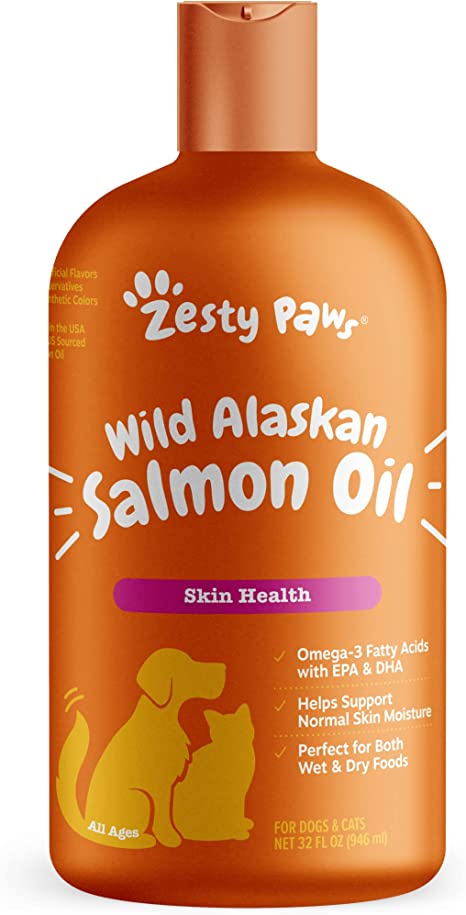 This nourishing fish oil provides essential Omega-3 fatty acids to help keep your dogs and cats coats and skin healthy as well as their joints, hearts, and immune system. Keep your four legged friend feeling lively and active every day without the fuss! Plus the flavor gets a 4.6 out of 5 stars!
Veken Pet Fountain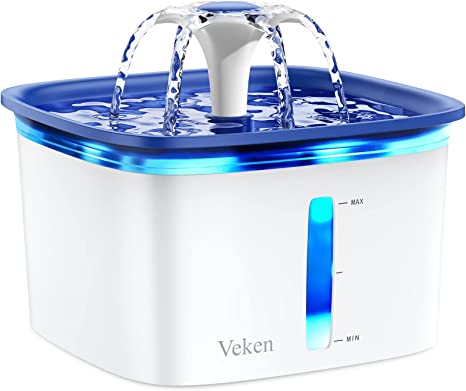 This large capacity fountain is made with food grade materials, and lets you see how much your pets drink in real time with an LED light! It has two flow designs, the flower waterfall for faucet drinking and the gentle fountain. The 4-way filtration system keeps your pets drinking water tasting great and super safe!
Vceoa Cat Carrier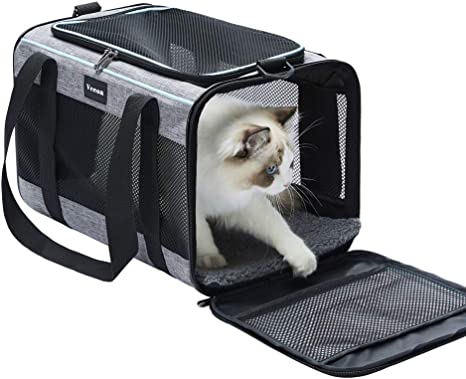 This cat carrier is recommended for pets up to 16 lbs, but you should always measure length and height of your pet before buying a carrier. This carrier also fits under most airline seats, but as every airline has different rules, contact your airline before flying!This carrier also features mesh windows for sleeping and a removable, washable fleece pet bed which gives your pet a cozy sleeping surface.
Organic Hemp Oil for Cats and Dogs
This coconut flavor hemp oil is USDA certified organic, extracted from Kentucky grown USDA organic hemp. This is great for easing aches and pains, joint and hip health, and easing separation anxiety, anxiety from fireworks or thunderstorms, car travel, public places and more! Simply add to food, treats, topically, or oral drops. Gluten and dairy free and free of synthetic ingredients!
BEGRIM Cat Toy Pointer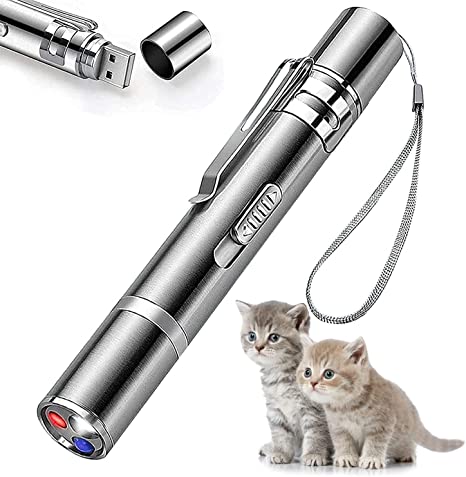 This interactive laser pointer comes with 7 different modes, and 3 different colors, red, purple, and white which can be used as a flashlight. You can also use the purple to identify counterfeit money! It's small and compact meaning you can put it in your pocket or your bag so you have it at the ready any time your kitty is ready to play! Take the back cover off and charge it with the USB charging port for easy charging!
Wisdom Panel Complete: Cat DNA Test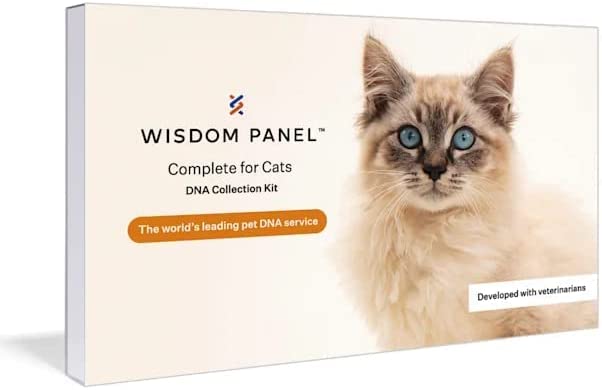 Ever wonder what breed your cat actually is?What about genetic health conditions, wonder if they have or are at risk of any of 45 genetic health conditions that Wisdom Panel Complete tests for? Knowing everything about your cat helps you care for them the best you can. The best part, is it's easy to use, with a 4.2 out of 5 stars for ease of use!
Dexas Mudbuster Portable Dog Paw Cleaner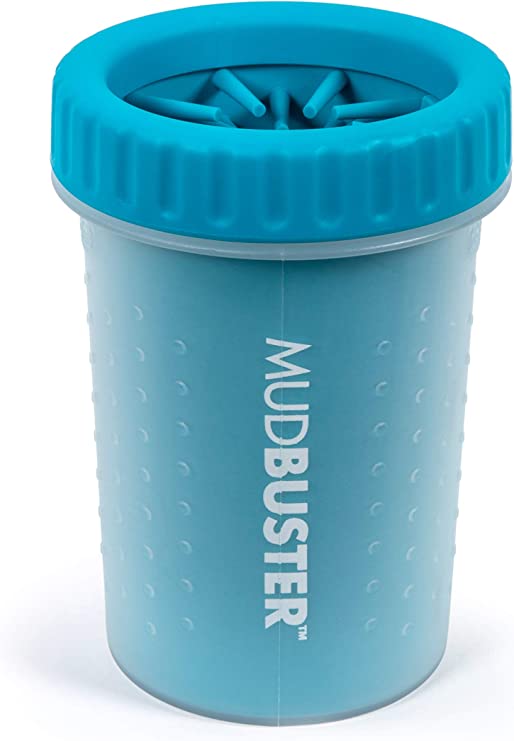 Does your dog track mud through your house, all over your clean floors and carpets? This portable paw cleaner is the answer you've been waiting for! Simply add a little bit of water, add a muddy paw, twist the MudBuster, then remove the paw and dab it dry. Repeat on the other three paws, and just like that, your pup has clean paws. No more muddy paw prints all over your clean carpet!
BLUETREE Dog Doorbells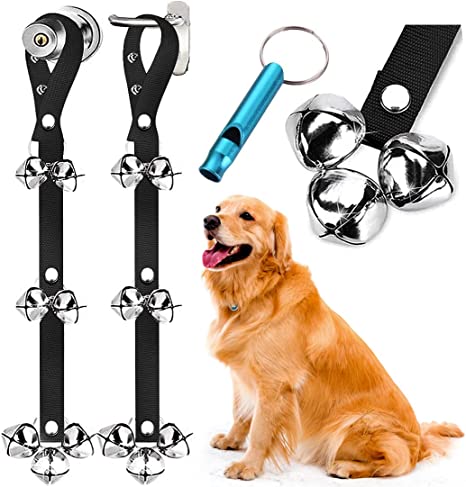 Looking to potty train your dog? Do it the easy way, and never guess if they have to go outside again! With these dog doorbells it's super easy to train your dog to better communicate with you, so easy many dogs get the hang of it the first day. The end result, your dog will ring the bells when he or she has to go out to do their business so you can let them out or take them out. Never guess again!
Hedgehog Treat Variety Pack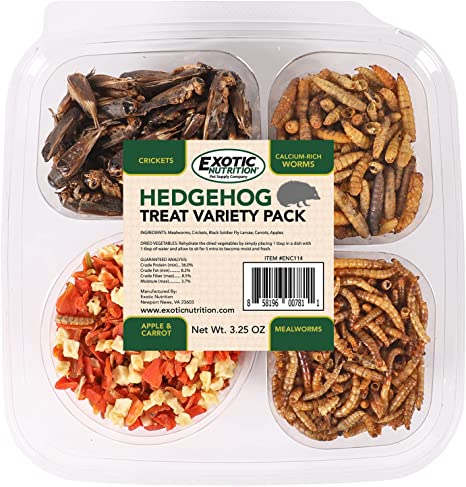 This assortment includes dried meal worms, dried crickets, dried black soldier fly larvae, and mixed dried apples and carrots. Most of these sound pretty icky to us, but they're delicious to your hedgehog! These are a great source of protein and vitamin c. The small size of the treat allows you to put them inside of a treat to encourage their natural foraging behavior!
Sugar Glider Bonding Mitt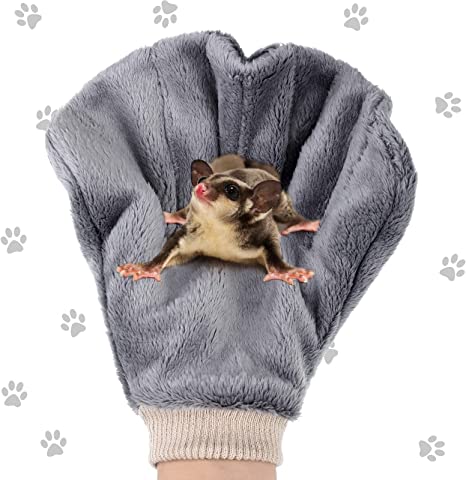 This boding mitt allows you to hold your sugar glider, or other small pet like hamster or rat, in your hand, all comfy and cozy. Made of coral velvet, its nice and soft and keeps you safe from biting. It helps reduce fear and pressure of small pets, and helps calm down the animal in your hands. And at 10″ x 10″ suits most people's hands as you comfort, calm, interact with, and train your small pet.
Natural Timothy Hay Sticks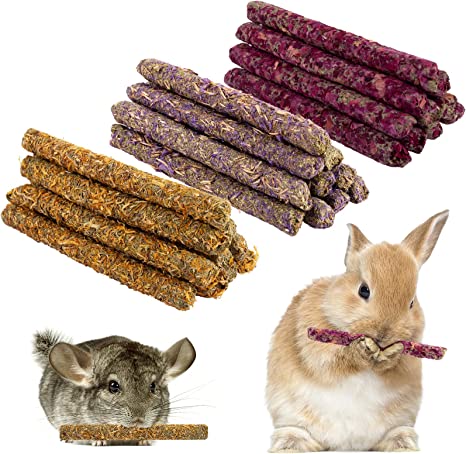 This package of natural Timothy Hay sticks comes 30 to a pack, made with 3 different types of flower petals (10 each), rose, calendula, and forget-me-not. These sticks help rabbits grind their teeth and keep their teeth healthy, and the fiber can help with gastrointestinal health and motility, and digestion.
CooShu Bunny/Guinea Pig Clothes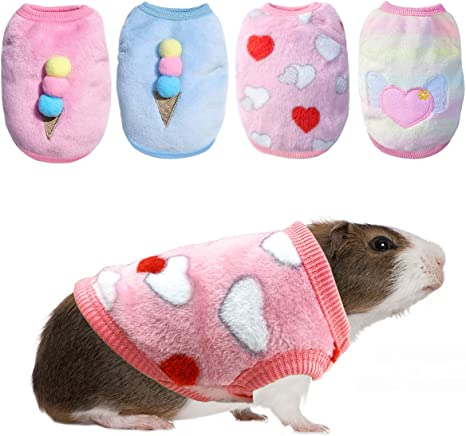 These teeny tiny vests are good for any small animal, as they come in XXS and XS, but are recommended for guinea pigs, rabbits, baby ferrets, chinchillas, chihuahuas, kittens and other similar sized small pets. They're made of soft cotton and have a weight recommendation of under 2 pounds. The adorable designs make these vests a delight!
Embark Dog DNA Test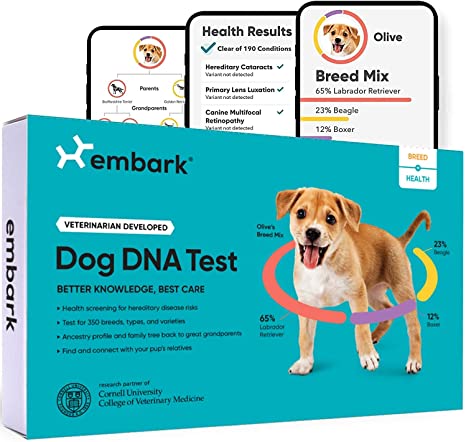 Ever wonder what breed or breeds your pup is? Why not find out with the highest rated and most trusted dog DNA test that also tests for 230+ health issues and provides actionable insights for what you can do to properly care for your specific breed(s) of pup(s)! No more guessing games, and Embark delivers fast results!
JW Pet Company Cuttlebone Holder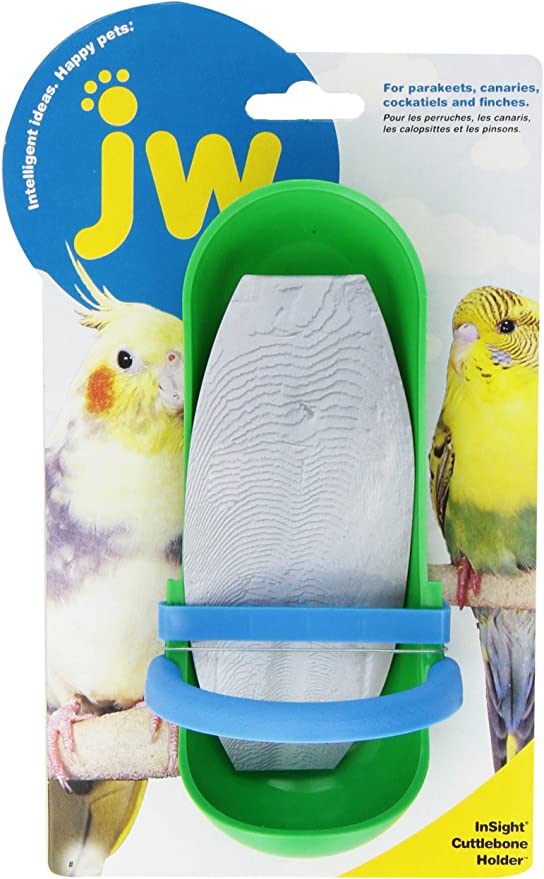 This cuttlebone holder is specifically designed to keep any cuttlebone debris or fragments inside the cage, keeping the surrounding area clean. It holds all cuttlebones, and is suitable for canaries, cockatiels, parakeets and finches. It is designed for a bird's well being and comes in assorted colors!
hygger Aquarium Gravel Cleaner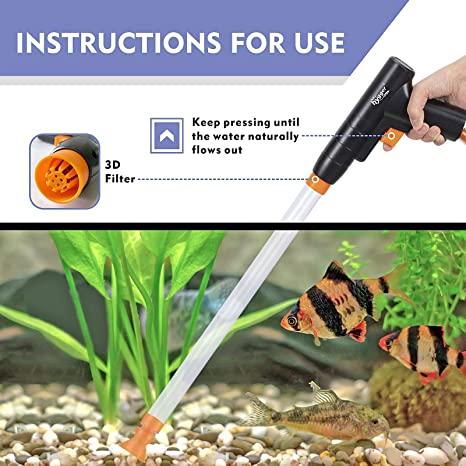 This gravel cleaner comes equipped from a 3 in 1 functionality. A Gravel vacuum equipped with a duck bill suction to suck all the fish poo away. An aquarium siphon complete with 3D filter basket net to keep your fish safe and prevent gravel from being sucked out of the aquarium, and water changing to make cleaning your tank easy and efficient!
Evergreen Pet Supplies Natural Hermit Crab Sea Sponges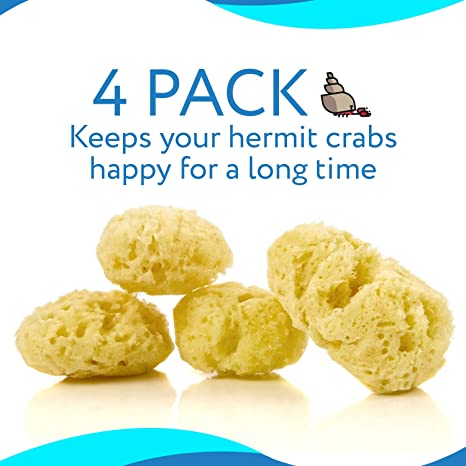 Having hermit crabs is definitely a delight, so you want to be sure they're kept safe. Part of that includes getting sea sponges. You should put them in their water bowl to allow them to drink their water safely. They also provide nutrients, as they have natural minerals from the ocean that will help your hermit crab thrive! Plus, they're a breeze to clean, all you need to do is microwave the sea sponge for 10-15 seconds and viola!
Zilla Turtle Chasers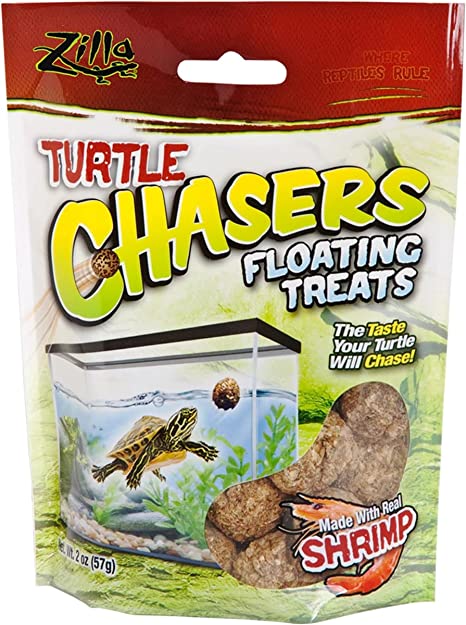 Turtles are adorable, let's be real, so why not get them a treat that lets them show off a little bit. These treats are fun and interactive that come in a tasty shrimp flavor that gets 4 out of 5 stars! Turtles will chase this treat around the habitat and nibble off bites until the treat has been devoured, and the best part is its made with real shrimp!
Tractive GPS Tracker for Dogs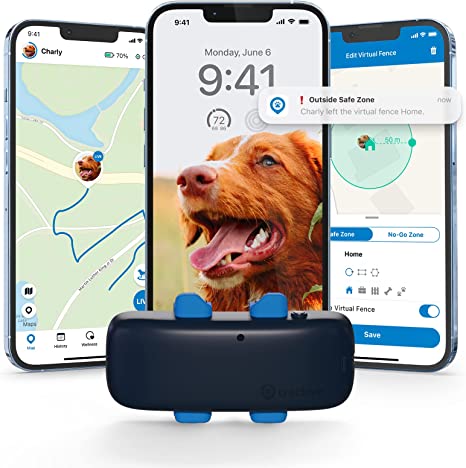 This tracker does require a subscription plan, 1, 2, and 5 year plans are available and start at $4.99 per month. For that, you get live location tracking and location history, a virtual fence that you'll be alerted when they leave and when they come back, but your pup will be tracked even when they aren't inside your virtual fence with global tracking. The tracker is small, lightweight and 100% waterproof!
Laad Extra Large Dog Bed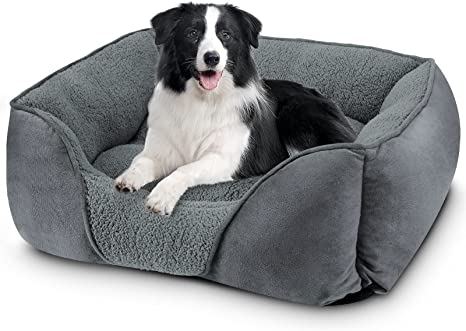 The raised edged of this dog bed provides a sense of safety and security while also providing head and neck support. Made of super soft material and comes in 4 sizes! That's right, don't think that Extra Large is the only size this dog bed comes in! It's also a breeze to wash! While its recommended to hand wash and air dried, it can also be thrown in the washer on a gentle cycle, and tumble dried on low!
Snuggle Puppy Heartbeat Stuffed Toy for Dogs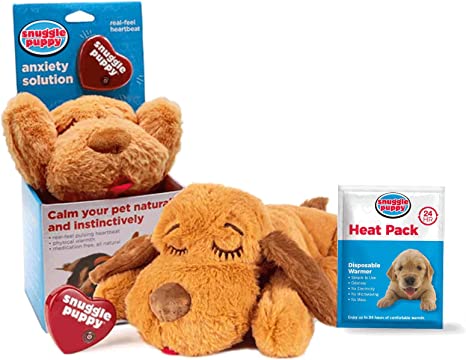 Snuggle puppy is the original pet anxiety and comfort aid, and has helped over 1 million dogs since '97! This toy aids in cage and kennel training, reducing behaviors like barking and whining, allowing you to get a better nights sleep. Made with human safe materials, machine washable, and super easy to clean! Your satisfaction is guaranteed!
Pet Hair Remover for Laundry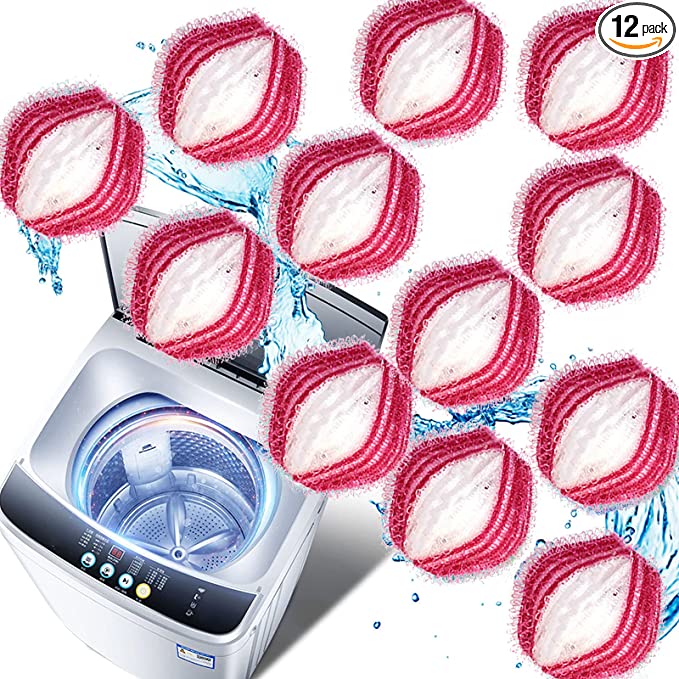 The surface of the pet hair remover contains special microfibers that stick to animal hair, leaving your clothes as clean as new. With 12 dog hair removal dryer balls, there's no need to remove pet hair before putting your clothes in the wash! Throw some of these balls in the washer with your clothes and they'll do it for you! It is not recommended that these balls be used on wool or knits.
VETRESKA Cat Scratching Post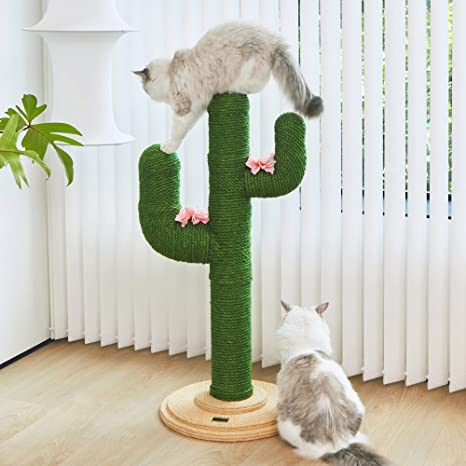 This cactus shaped cat scratcher is safe and durable. Wrapped in high quality, scratch resistant, natural distal rope all the way around, this scratcher is completely harmless to your cat and stimulates their internal vitality. This scratcher attracts your cat and takes the attention away from your furniture, saving it from cats pesky little nails!
Hoki Found- Waterproof Pet Feeding Mat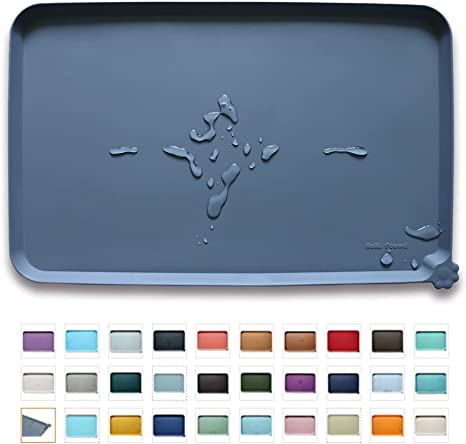 This mat is made from high quality, non toxic silicone, and is easy to clean under the sink or with a wet cloth. The mat dries quickly and is dishwasher safe, so it really is easy to clean! Extra high raised edge keeps food, water, and treats off your clean floors. Anti slip, non skid, waterproof, durable, and easy to take on the go make this mat ideal for any cat or dog!
Cat Window Hammock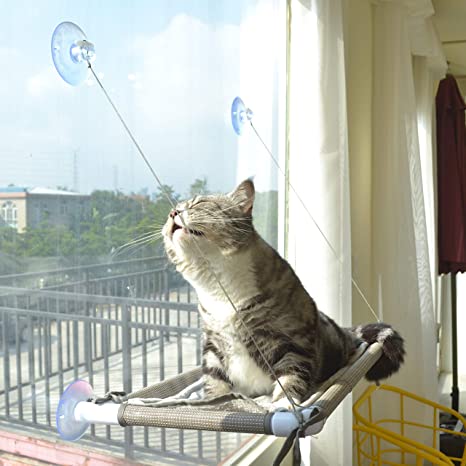 This hammock provides a 360 degree sunbathing spot for your cat, held up by  3 inch suction cups and 2 millimeter thicker stainless steel cables that supports up to 40 lbs, perfect for larger cats or multiple cats! The cat hammock comes with flannel pads, allowing your cat to enjoy the sunshine comfortably! It's easy to assemble and easy to clean.
Exercise Wheel for Cats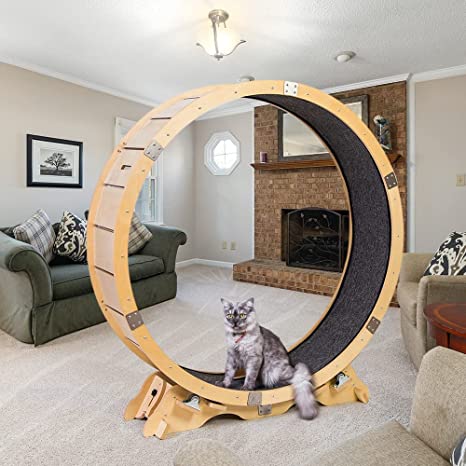 This cat wheel is safe, crafted with multi layer maple craft boards and stainless steel, a seamless runway, and a stable base all work together to keep your kitty safe. Because it's silent, it allows your cat to run day or night without disturbing you, whether you're working or sleeping. Comes with easy to follow installation instructions. Max weight for the wheel is 45 lbs.
Petcube Cam Indoor Wifi Pet and Security Camera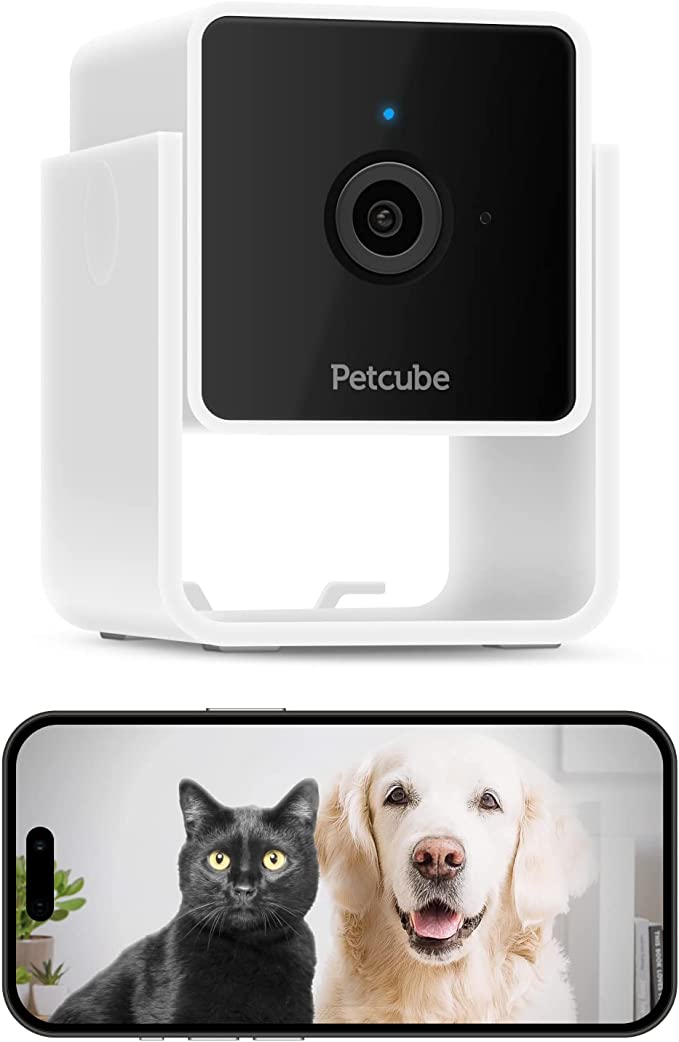 Keep an eye on your pets, and your house, with this 1080p night vision equipped camera that shoots a 110 degree wide angle view, HD live streaming video. Easy 1 minute set up gets your Petcube up and running quick and easy. It is only compatible with 2.4 GHz wifi, and does not run on 5 GHz wifi.