50 Celebrity Mansions You Won't Believe Are Real
Most of us don't own massive mansions with private beaches or beautiful estates with a literal water park. But that's okay because celebrities do — and we have pictures! If you're tired of browsing the basic homes available on your local Zillow page, try living vicariously through this virtual tour of A-lister homes.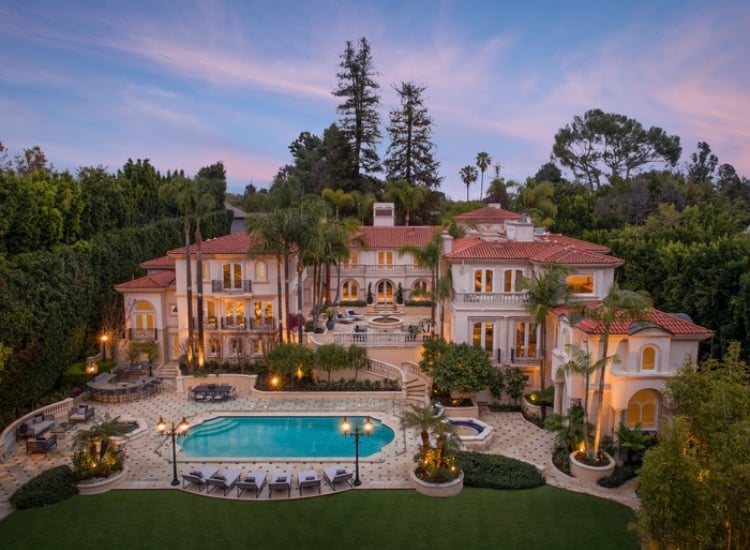 From Tom Brady's resort-like mansion to Selena Gomez's waterslide to Will Smith's sports complex, these stars have taken luxury to a whole new level with their home design.
Enjoy these 50 celebrity mansions you won't believe actually exist:
Kim Kardashian And Kanye West
It makes sense that Kanye West and wife Kim Kardashian would live in a very "extra" home. West bought their Hidden Hills mansion in California for a cool $20 million.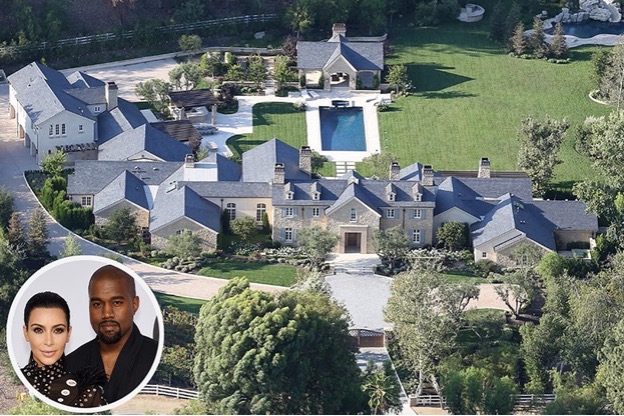 The massive home features private vineyards, two pools, and an "entertainment pavilion" that's 1,050-square-feet. However, it wasn't enough. After purchasing this home, they bought the place next door and expanded another 4.5 acres.
Selena Gomez
A mega-star like Selena Gomez needs a mega-mansion like this to call home. Her Forth Worth mansion has five bedrooms, a tennis court, a golfing green, and a movie theatre.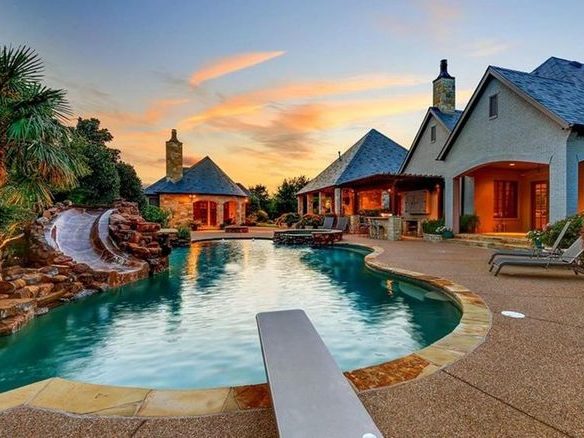 But the real prize to his place is the gorgeous saltwater pool that has a built-in waterslide. However, Selena has moved on to bigger and better mansions. She put this estate up for sale in 2018 for $2.7 million.
Bill Gates
Billionaire Bill Gates, the fourth richest man in the world, owns multiple estates. His main home, seen here, is worth 130 million dollars. This mansion took seven years to construct and spans a total of 66,000 square feet.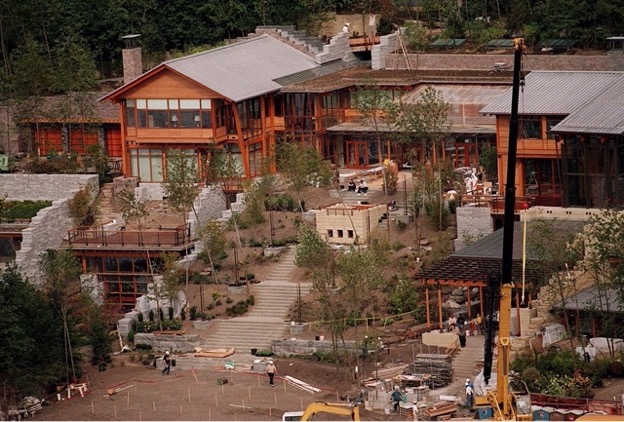 The Microsoft founder's second mansion is located on prime real estate along the ocean in Del Mar, California. This oceanfront mansion includes a jacuzzi large enough for ten adults and is worth over 43 million dollars.
Adele
2016 was a good year for celebrity home-buying as singer Adele took the leap and purchased this mansion for $9.5 million. You get what you pay for when you want to live in the same gated Beverly Hills community as Cameron Diaz, Mila Kunis, Ashton Kutcher, Jennifer Lawrence, and Nicole Richie.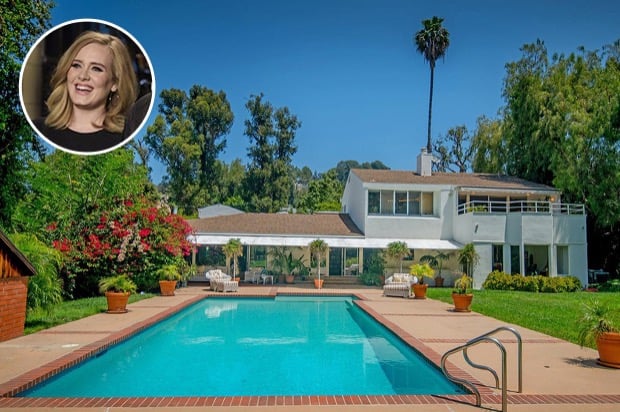 Adele's gorgeous home comes complete with four bedrooms, six bathrooms, and a pool. But the coolest (and most unique) features of the mansion have to be its on-side tree house and outdoor train set. Choo, choo?
Will Smith
The Fresh Prince of Bel-Air himself, Will Smith, owns a dazzling $42 million mansion located in California. This incredible piece of property is perfect for all those sports fans and athletes out there.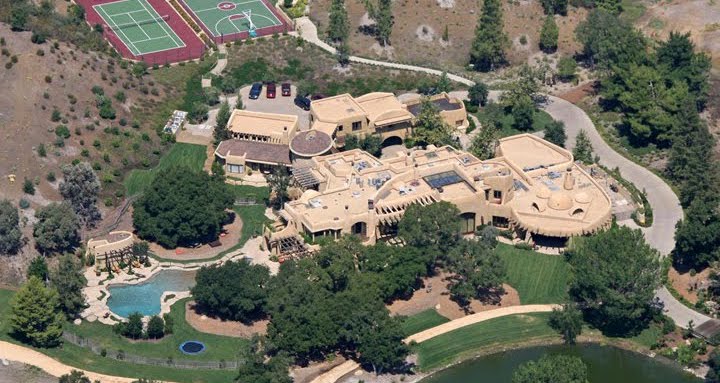 With multiple tennis courses, basketball courts, and even a golf course, this mansion is sure to keep you busy. Not to mention, there also is a state-of-the-art recording studio on the inside.
Kendall Jenner
Back in 2016, the reality TV-turned supermodel took over this West Hollywood mansion for a neat $6.5 million. It was formally owned by beloved celebrity power couple Emily Blunt and John Krasinski.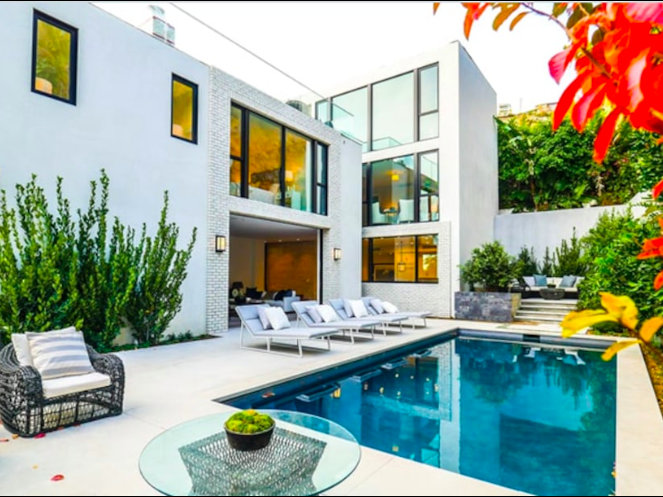 Now it's Kendall who's enjoying the six bedrooms, five bathrooms, and gorgeously manicured private pool. Not bad for a young star like her.
Tom Brady and Gisele Bündchen
It's no surprise that the championship winning football player and his equally successful supermodel wife would have a stunning mansion of their own. Brady and Gisele's beautiful Californian estate is worth over $20 million.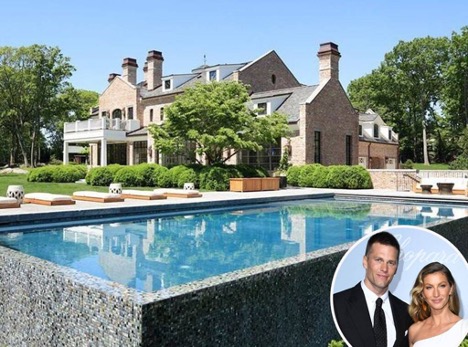 This elaborate home took three years to construct and features a large swimming pool with a resort-like vibe as well as a custom play space for their children. However, the most prominent aspect of the multi-million dollar mansion would be the bridge over the dazzling moat at the entrance of the home.
Taylor Swift
Listen, Taylor Swift has eight homes. There are multiple penthouses scattered through New York City, a condo and an estate in Tennessee, three mansions in Los Angeles, and this masterpiece of a home in Rhode Island.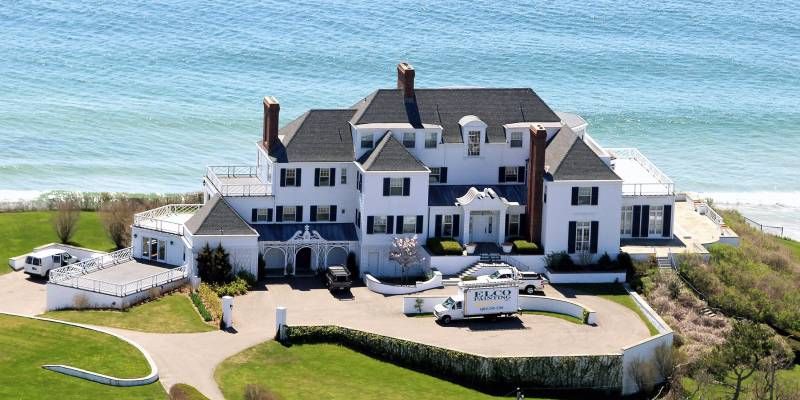 Other than being the spot for her infamous, celebrity-filled Fourth of July parties, this one comes with seven bedrooms, eight fireplaces, and a pool. It also overlooks the ocean and is worth about $17.75 million.
Gigi And Bella Hadid
Gigi and Bella Hadid spent their super-relatable childhoods running through the halls of this mega-mansion in Malibu. Their mother, Yolanda Hadid, sold it for $19.45 million back in 2015, and it's easy to see where the high price comes in.
Not only does this house have six bedrooms, nine bathrooms, and three floors—one of which is a subterranean screening room—but it also has some serious amenities. This house has a recording studio, game room, wet bar, sauna, and massage room. Because, why not?
Kylie Jenner
Most first homes are not like Kylie Jenner's first home. The model and beauty guru purchased her Calabasas estate for $2.7 million back in 2015.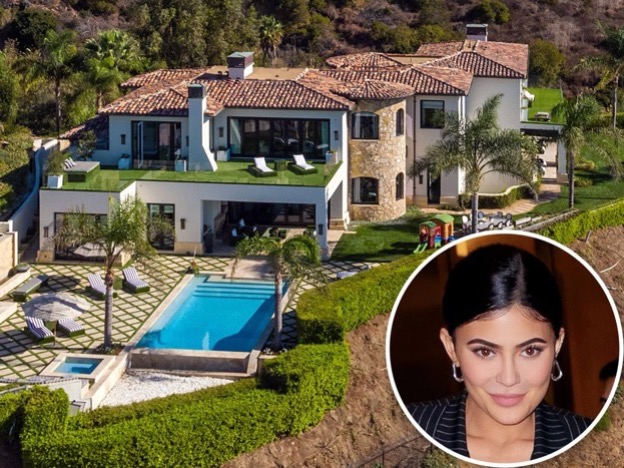 While it has all the typical features of celebrity homes—too many bedrooms, bathrooms, and pools for a single person—it also has some interesting decor. Some fans noticed that she had a framed mugshot of her then-boyfriend Tyga proudly displayed.
Drake
Judging by the size and style of this pool, this home could only belong to rapper Drake. He spent $7.7 million on this Hidden Hills mansion, which he lovingly nicknamed "the YOLO Estate."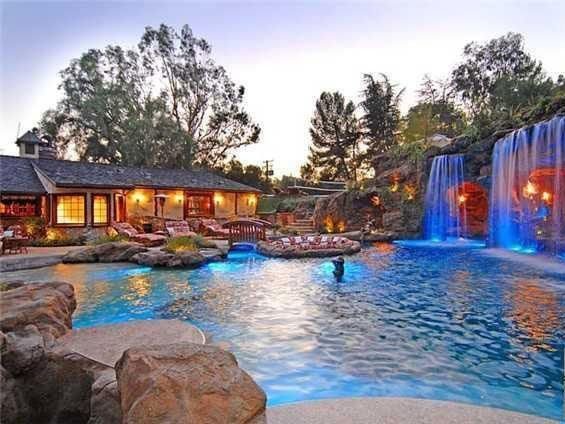 He even posted signs declaring it as such throughout the estate. But eventually, he had to stop because people kept stealing them. The home has a mechanical bull, a tennis court, a basketball court, stables, and a bookshelf that opens to his bedroom.
Gianni Versace
Any home owned by fashion designer Gianni Versace is going to be filled with fine details and luxury, and his Miami Beach home was no exception. Gianni purchased the property in 1992 and spent about $32 million, renovating it to his particular style.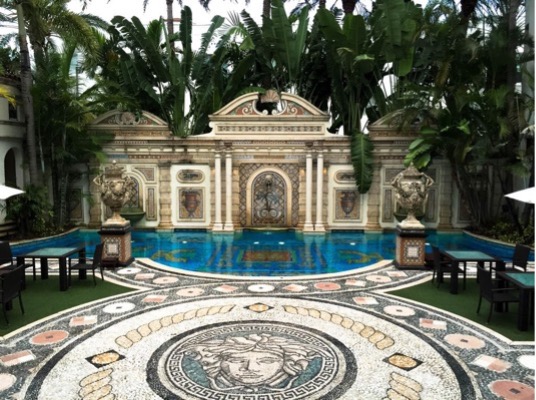 In 1998, he was infamously murdered in this home, but it didn't stay vacant long. It was soon converted into a luxury boutique hotel called the Villa Casa Casuarina, and it's just as swanky as Gianni would have liked.
Alicia Keys
Nestled on the top of Camelback Mountain in Phoenix, Arizona, the views alone are not what make the singer's mansion worth $3.85 million. Alicia Keys and Swizz Beats have dubbed this glass mansion "Dreamland" because it's a "dream come true."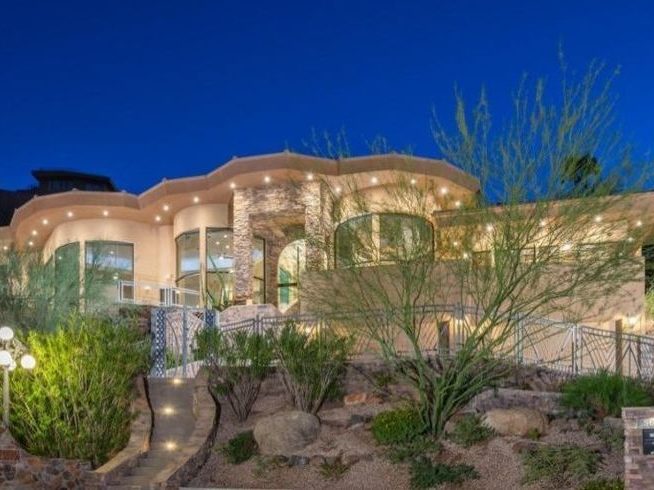 And no wonder—with four bedrooms, five bathrooms, a six-car garage, and an infinity pool, this place really does sound like a dream.
Mohamed Hadid
As a real estate tycoon, it comes as no surprise that Mohamed Hadid lives in an $85 million mansion in Bel Air. That's right — eighty-five million dollars.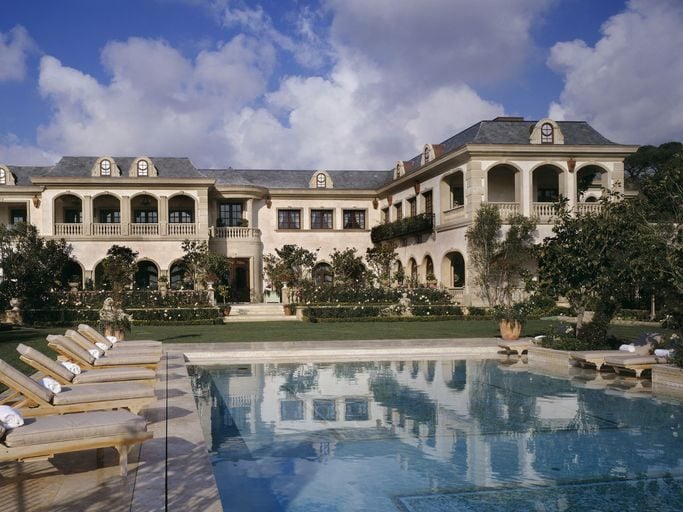 With that heft price tag comes 10 bedrooms, 15 bathrooms, a formal outdoor bath, and, of course, a ballroom to host events that can fit up to 250 people. It also has an elevator, a swan pond, eight rose gardens, and a Turkish hammam, which is like a communal bath.
Angelina Jolie And Brad Pitt
Back when Bran-gelina was a thing, so was their $55 million Long Island home. This beachfront mansion boasts a massive 25 bedrooms in the main house — because what's one house when you can have three?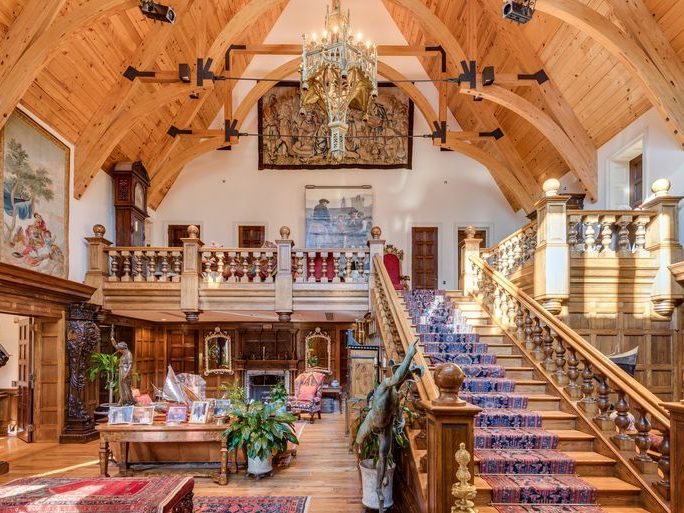 In addition to the two guest homes, there was also a beach cabana and a log cabin. It goes without saying that the beach in front of their home was private and included a piece big enough to host a yacht.
Kylie Jenner (Yes, Again!)
At 19, Kylie Jenner purchased not her second but her third multi-million dollar home. This one is a $12 million mansion located in Hidden Hills.
This massive estate had eight bedrooms and eleven bathrooms all sprawled across 1.2 acres. It also came with a spa room and a home theater because what else would you want at 19?
Usher
Living in Hollywood is all about being near the strip — and singer Usher enjoyed prime views in his bold estate. In 2018, he and wife/manager Grace Miguel sold their Sunset Strip home for $4.2 million.
This restored Spanish Villa (originally built in 1926) right around the corner from the infamous Chateau Marmont. It also has five bedrooms, six baths, a home theatre, and a private pool.
Kelly Clarkson
You don't need a California zip code to enjoy a massive mansion. Singer and famed former American Idol contestant Kelly Clarkson sold her estate in Henderson, Tennessee, for $8.75 million.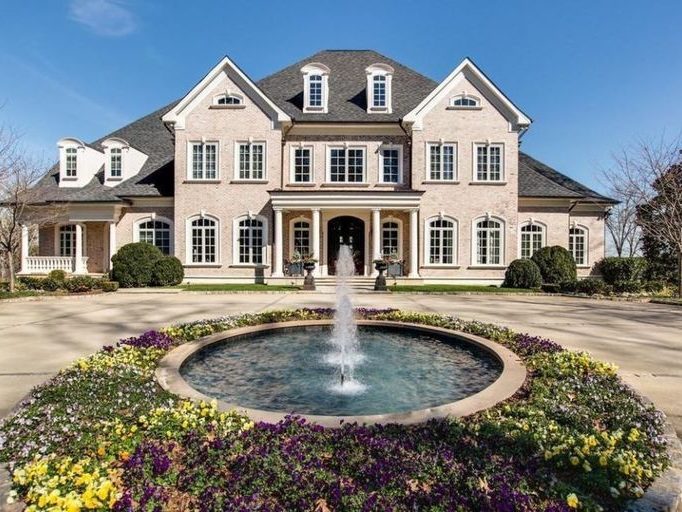 This gorgeous home sits on a lake and comes with its own volleyball court and deep water dock. But the best part is the in-home cowboy bar that includes saddle barstools; very on-brand.
Michelle And Barack Obama
After President Barack Obama and First Lady Michelle Obama left the White House, they went to this Washington D.C. mansion. Purchased for $5.295 million, this gorgeous home sits in the prominent Kalorama neighborhood and boasts some cool features.
This home comes with nine bedrooms, eight bathrooms, a two-car garage, and a gorgeous backyard surrounded by trees. For, you know, a little post-presidency privacy. It also has a courtyard that can fit 10 cars.
Mary-Kate Olsen
Most people in New York settle for one-bedroom walkups they happily share with roommates. But not Mary-Kate Olsen and her fiance Oliver Sarkozy. The couple paid $13.5 million for their four-bedroom townhouse/mansion.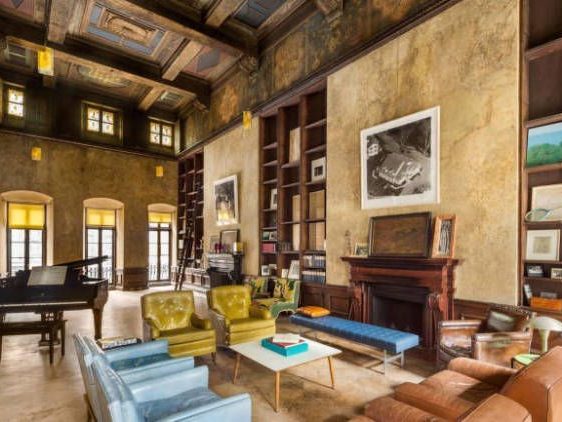 This gorgeous home has not one but seven fireplaces, an elevator, a ballroom, and an artist's studio. As expected, this place is anything but cramped. The ceilings alone are 22-feet.
Jennifer Lawrence
This house may look like it belongs in a quaint, fairytale story—but it's anything but. Actress Jennifer Lawrence purchased it in 2014 for $6.4 million. Once you look at the specs, it's easy to see why.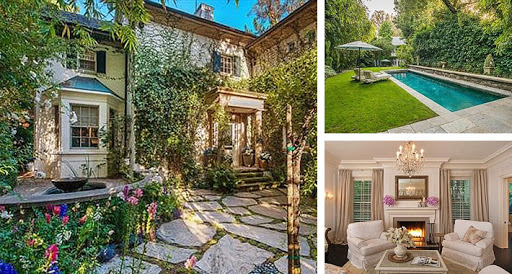 Located in Beverly Hills, this gorgeous, greenery-covered home has five bedrooms, five and a half bathrooms, and its own koi pond. But its real claim to fame is the crazy amount of celebrities that have lived there. Everyone from Ellen Degeneres to Jessica Simpson has called this mansion home.
Celine Dion
Infamous singer Celine Dion built herself a nice estate in Florida—and enjoyed it until she sold it for $62.5 million in 2014. The home, which she also designed, had three pools, a golf range, a fire pit built into the pool, and other standard Florida things.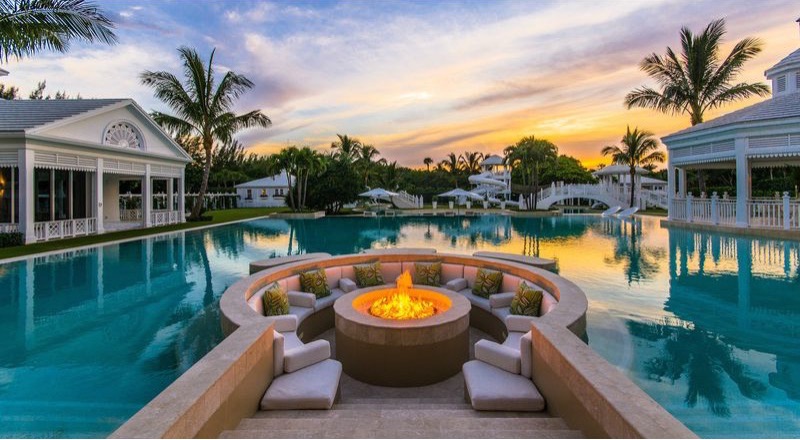 One of those being a full-on water park. With slides and everything. It also has five bedrooms, five bathrooms and sits on 5.5 acres, which is plenty for a personal waterpark.
Lil Wayne
Lil Wayne's Miami Beach mansion is nothing to scoff at. If you thought Celine's waterpark was excessive, wait until you see the rapper's pad. Not only does it have a recording studio and a custom-built rooftop skatepark, but it has an actual indoor shark pool.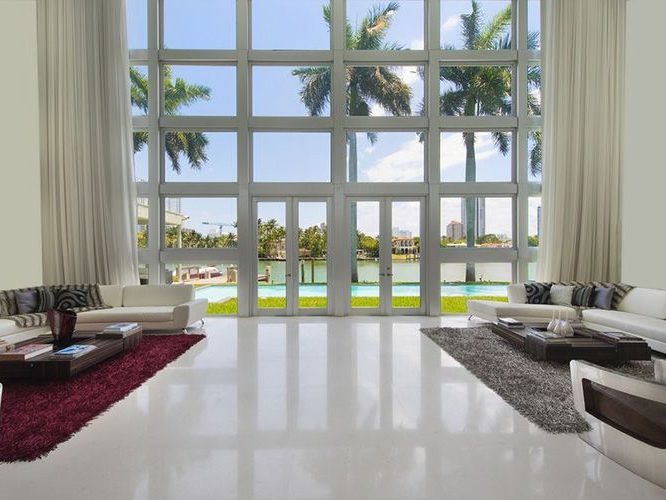 Now, it's unclear if Lil Wayne ever kept any sharks in the pool, but why else have it? Sharks or not, he sold his killer estate for $10 million in 2017.
Oprah Winfrey
Oprah, the American talk show host who also has her own network, owns this gorgeous mansion worth over 100 million dollars. The mansion itself is 23,00 square feet while that land it occupies spans 70 acres.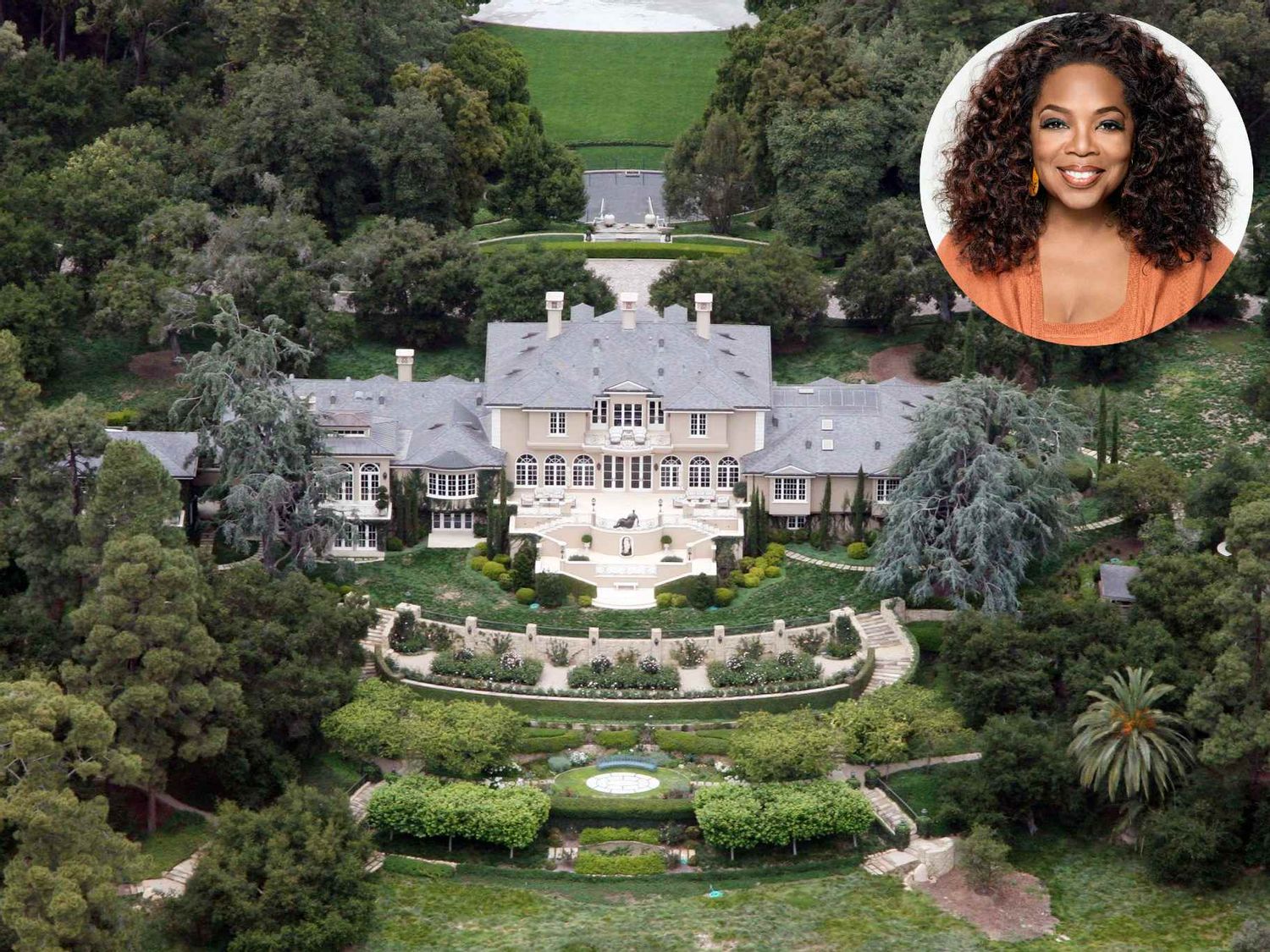 Oprah calls this impressive real estate 'The Promised Land.' This luxurious mansion features six bedrooms, fourteen bathrooms, an indoor and outdoor theater, a tennis court, wine cellar, and so much more.
Robert Pattinson
Actor and Twilight heartthrob Robert Pattinson spent $2.2 million on a dreamy bachelor pad in 2014. Located in Hollywood Hills, this two-bedroom, two-bathroom home comes with features like a double-sided fireplace and vaulted ceilings.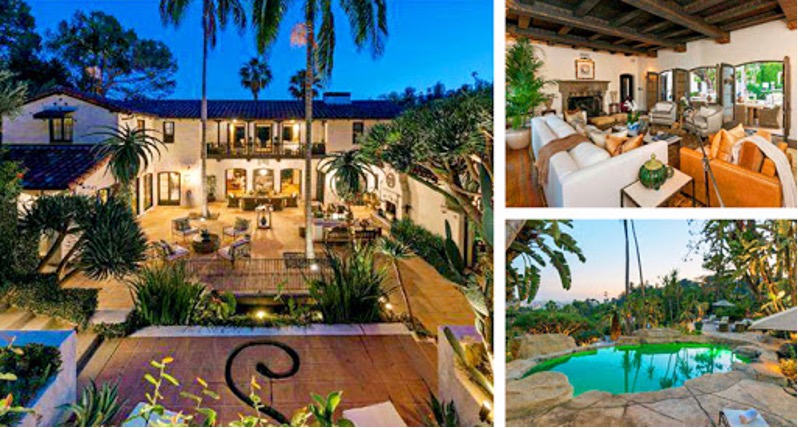 Modest compared to some of the mansions on this list, Robert still enjoyed his private backyard, which came with a small, private pool. There's also a secluded spa that was built into the brick terrace and surrounded by shrubbery.
Iggy Azalea
Rapper Iggy Azaela and LA Lakes player Nick Young enjoyed their six-bedroom, eight-bathroom mansion in Tarzana for a bit. But when they broke off their engagement in 2014, they sold the place for $3.45 million.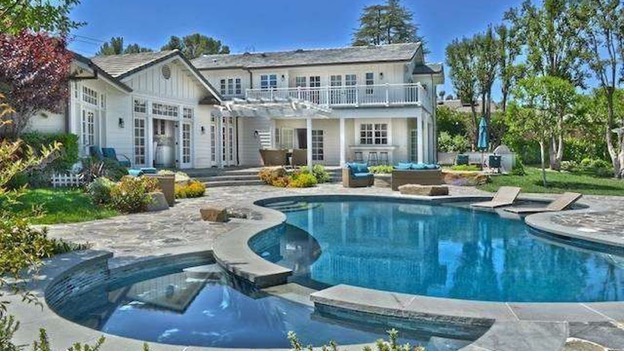 The house came with a basketball court (of course) as well as an in-ground pool and barbecue pit. And they weren't the only celebs who enjoyed this estate. Selena Gomez lived there prior.
Ashley Benson
Actress Ashley Benson recently put her $2.45 million Spanish home on the market. Located in Los Feliz, California, this three-story villa comes with three bedrooms and three and a half bathrooms.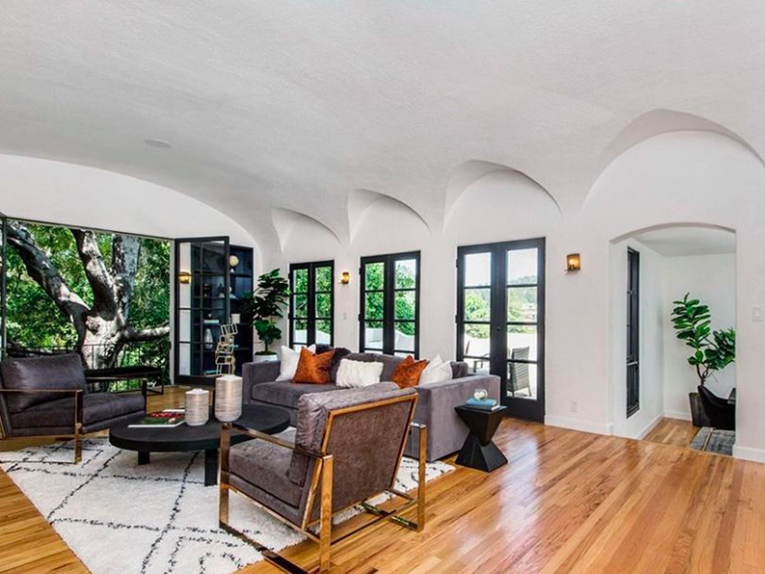 Surrounded by tall trees, this gorgeous home overlooks the famous Griffith Park Observatory.
Jeff Bezos
Complete with a 9-hole golf course, billionaire Jeff Bezos owns this glorious Californian mansion that spans 13,000 square feet. The founder of Amazon purchased this luxurious home for around 160 million dollars.
Prior to Bezos' purchase, the mansion was already well-known, having once belonged to Jack Warner, the president of Warner Bros in the 1930s. It was also featured in the 1960s TV show, 'The Beverly Hillbillies,' as the Clampett family home.
Louis Tomlinson
Singer and former member of the boy band One Direction, Louis Tomlinson used to reside in this Hollywood mansion, estimated to be worth $6.995 million. The two-story home has four bedrooms and five bathrooms, as well as gorgeous views of the city.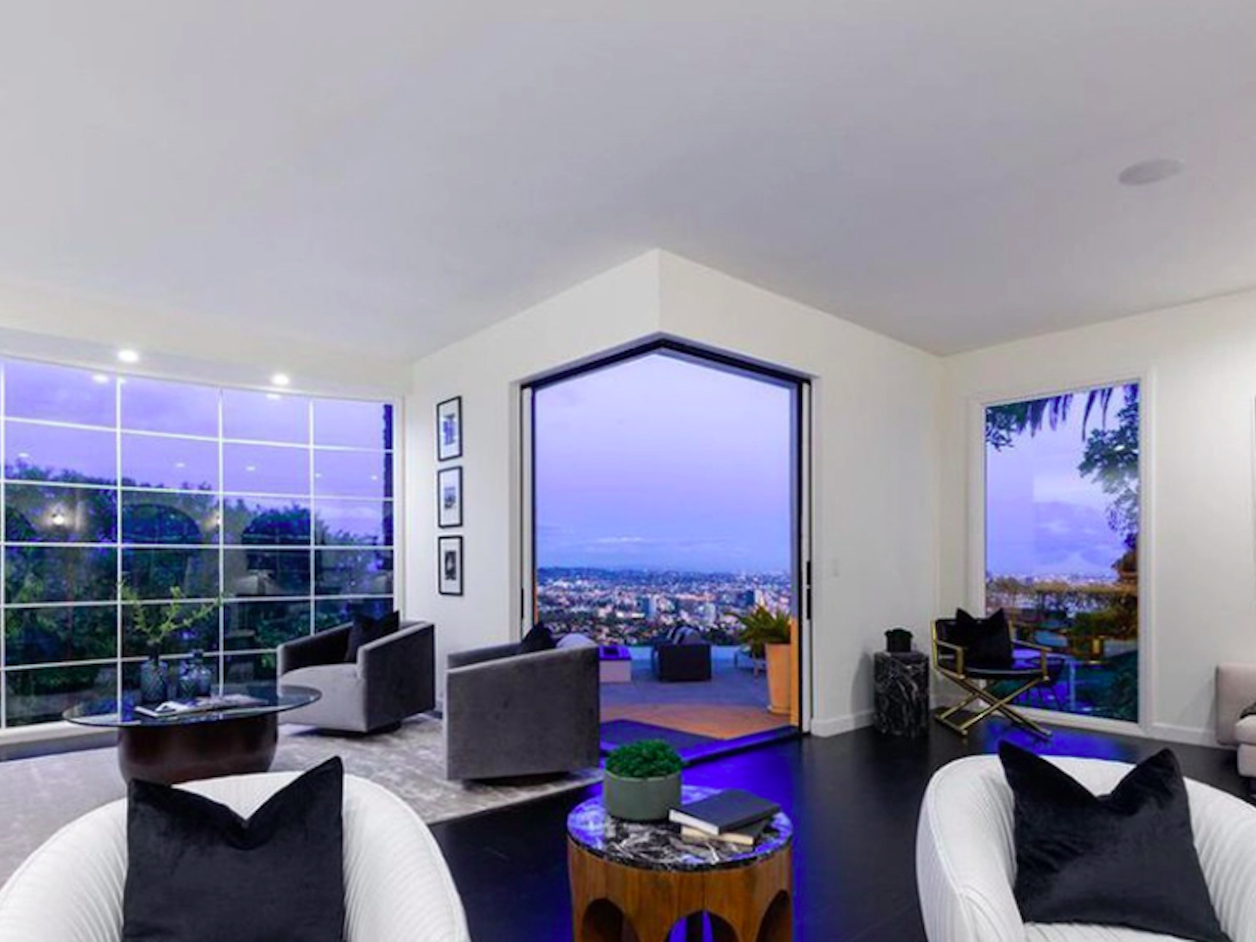 It comes with a walk-in wine cellar, a free-standing soaker tub, and tons of other celebrity-status home amenities. But perhaps the best is the infinity-edge pool that looks over the Griffith Observatory and the spa that sits on the edge of a ravine.
Bella Thorne
Bella Thorne is living it up in this $3.3 million mansion located in Topanga, California. Complete with its own private and gated lane, this gorgeous home comes with a guest house and a large pool, and an accompanying hot tub.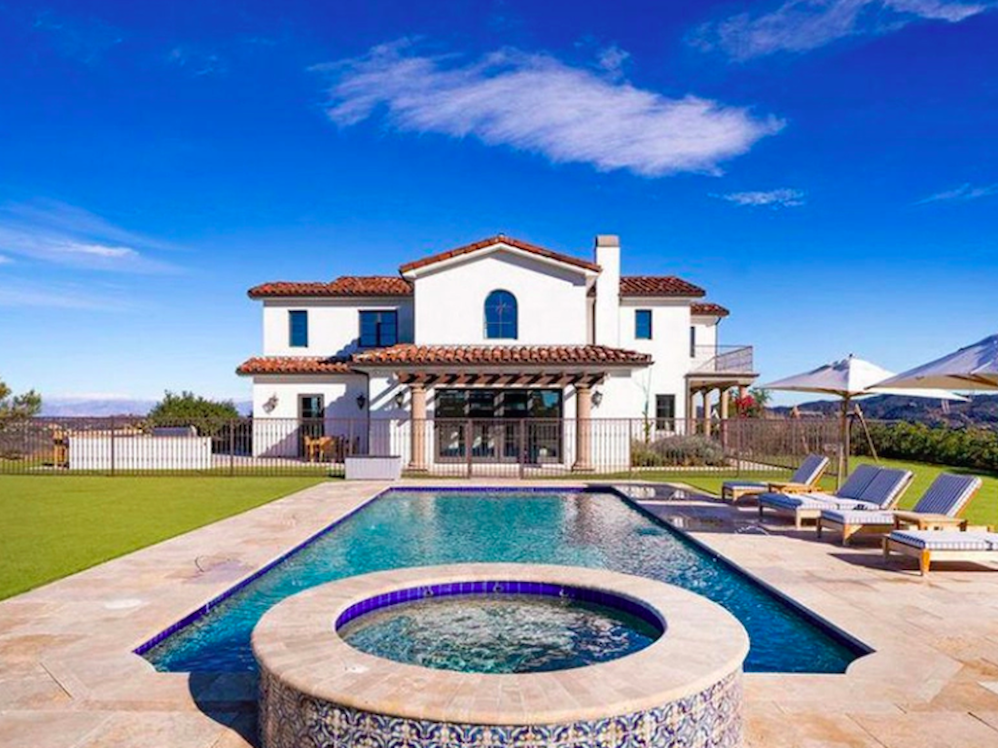 This mansion boasts both ocean and city views and sits on a 10-acre estate. The main house has five bedrooms and six bathrooms with another bedroom and bathroom in the detached guest house.
Rihanna
This incredible Hollywood Hills home belongs to none other than singer Rihanna. She bought it for $6.8 million and has been enjoying its stunning pool/hot tub combo, six bedrooms, and eight and a half bathrooms ever since.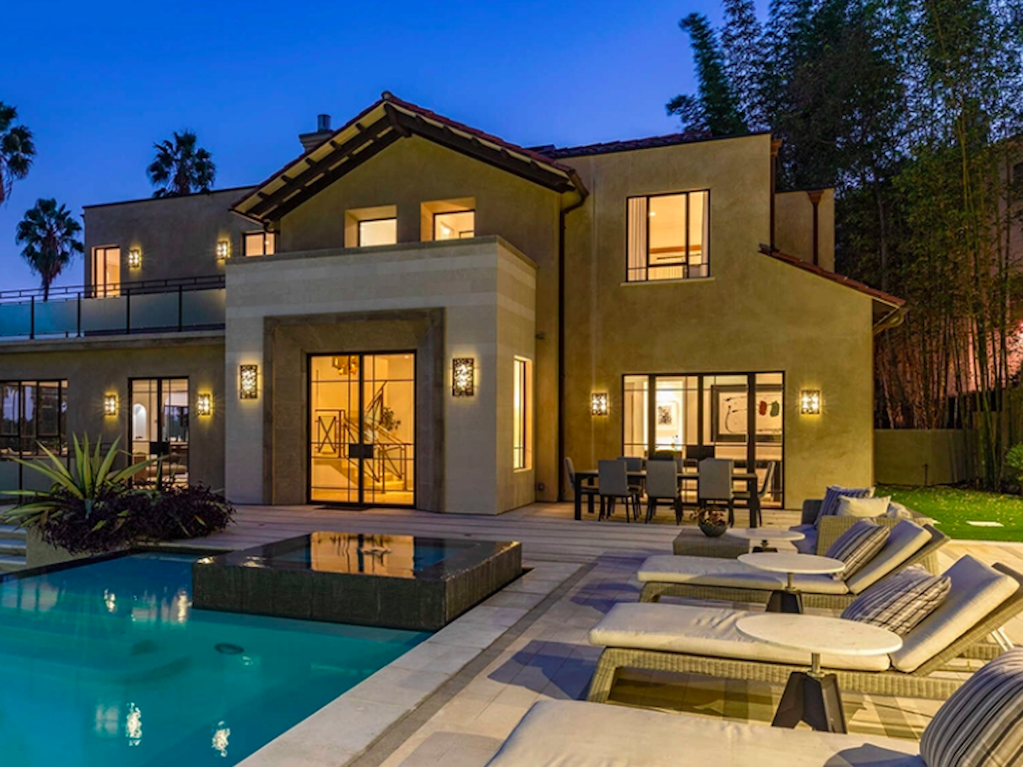 However, she was looking to have someone rent the home while she's out doing Rihanna things. Rent goes at $35,000 a month, which, all things considering, is a steal.
Gwen Stefani
It's not surprising that this colorful and quirky $35 million mansion in Beverly Hills belonged to none other than singer Gwen Stefani. Full of marble accents and bright, vibrant details, this home is truly one of a kind.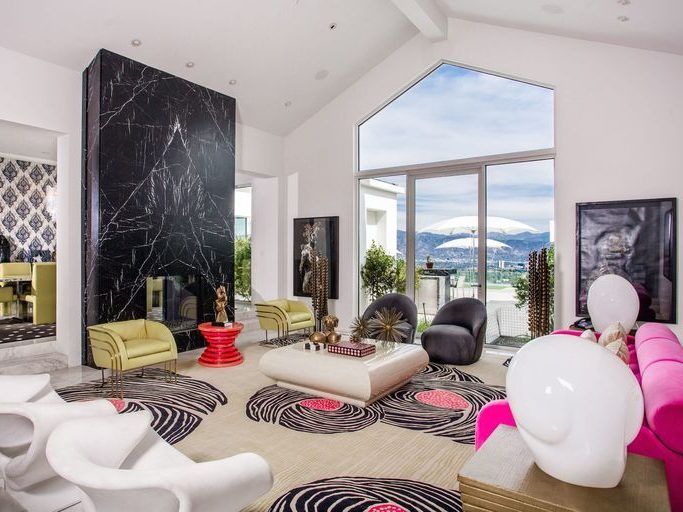 It also has seven bedrooms, a massive pool, a private gym, and a tennis court. Not to mention the views from this place are stunning.
Beyoncé And Jay Z
Unsurprisingly, the vacation home of the entertainment industry's most prominent couple is nothing short of luxurious. Purchased by Beyoncé And Jay Z for $26 million, this East Hampton mansion has seven bedrooms and nine bathrooms.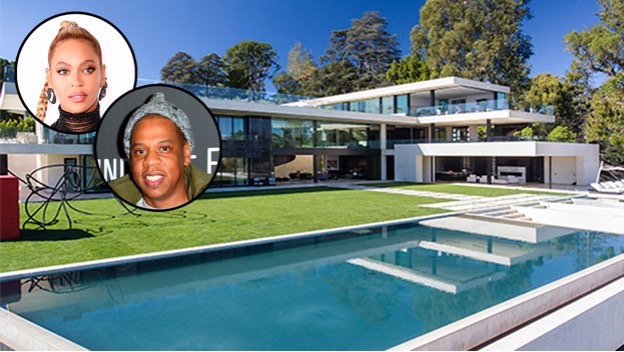 This home is so extravagant that even the guest house is a palace. It has its own living room and two bedrooms. There's also a pool, and it's lined up next to a 17-acre nature preserve, which is perfect for this private couple.
Demi Lovato
The singer lives on a literal mountaintop, so the views from this mansion are not to be matched. With three stories, the home has four bedrooms as well as a private pool and hot tub combo.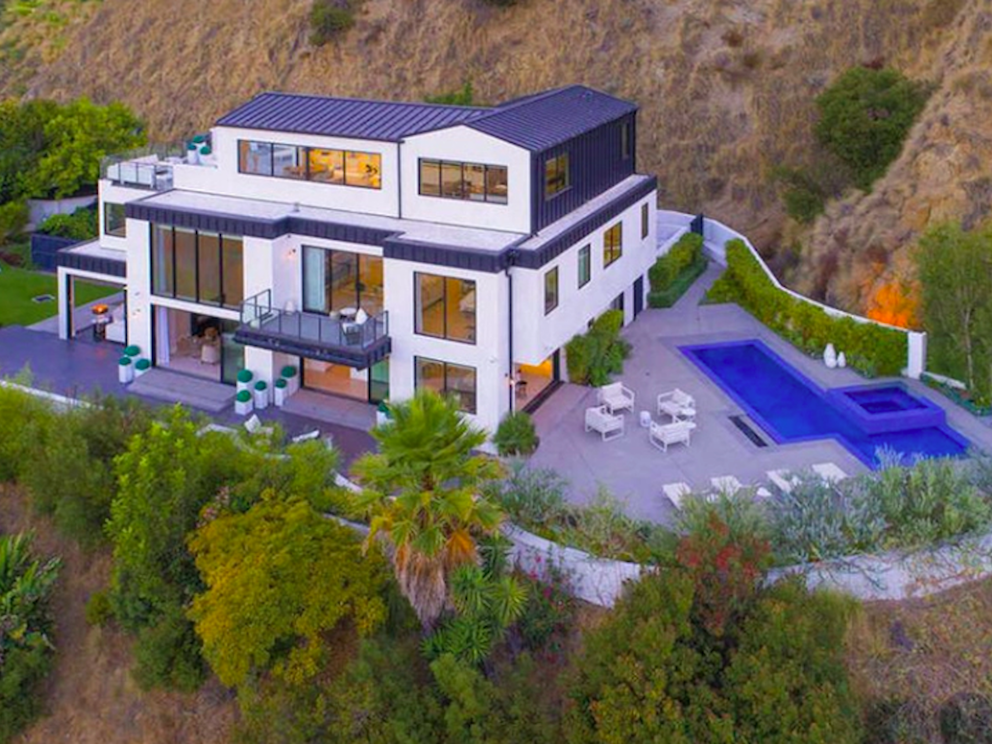 There are also multiple balconies and floor-to-ceiling windows, providing her and her guests plenty of spots to watch that infamous Hollywood Hills sunset. Her home is estimated to be worth $8.995 million.
Matthew Perry
It's no big shock that Matthew Perry's home is worth $13.5 million. The former Friends star resided in this glass mansion that overlooks Los Angeles.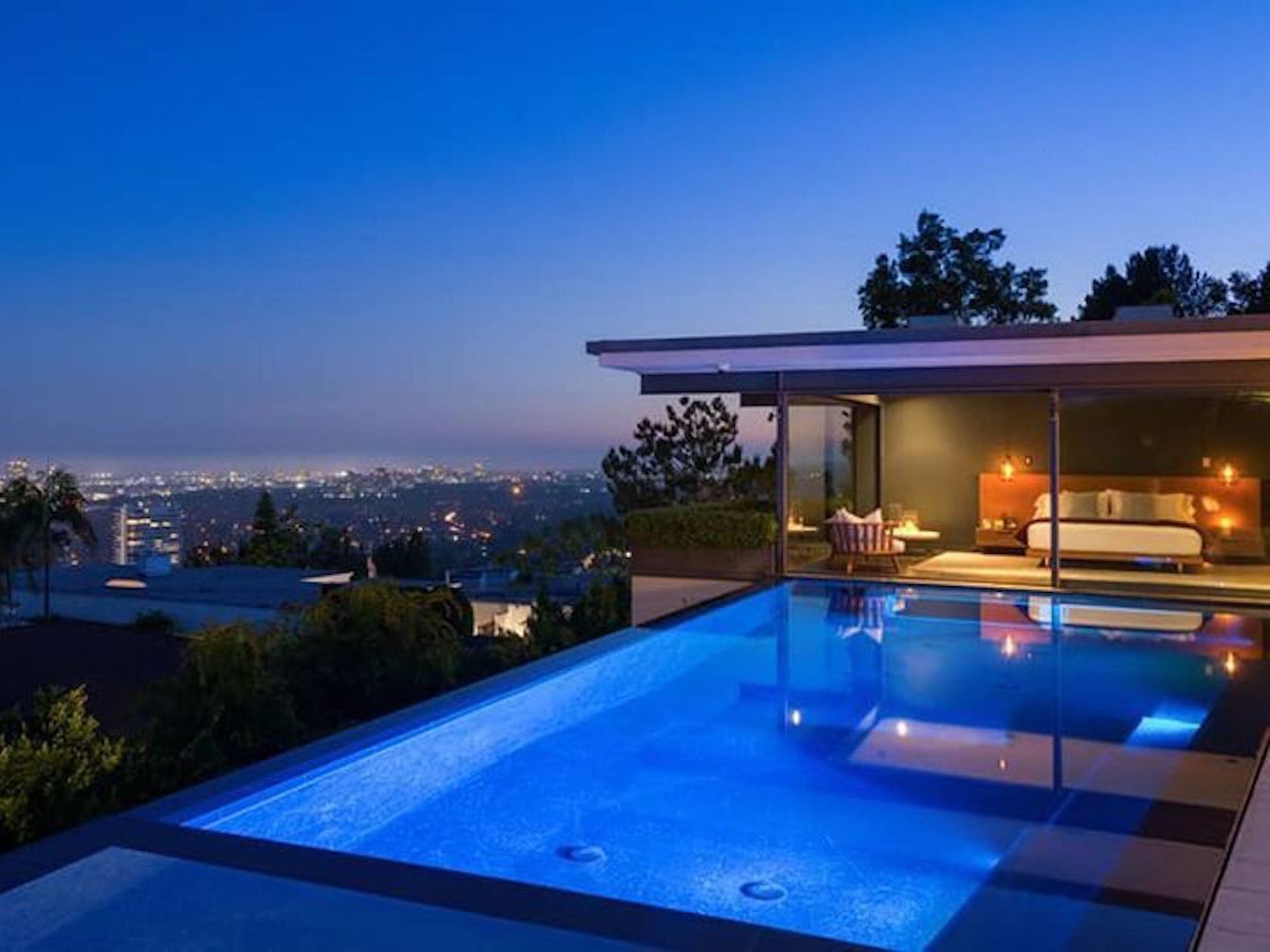 This three-bedroom and four-and–half-bathroom home also features a subterranean screening room. But the main selling point is the infinity-edge swimming pool that offers a peek into the screening room itself. Pretty cool, Chandler. Pretty cool.
Lady Gaga
Singer and actress Lady Gaga spared no expense when picking her home. This $24 million mansion in Malibu came with tons of bedrooms, walk-in closes, a pool, a wine cellar — and then a bunch of crazy rich person things.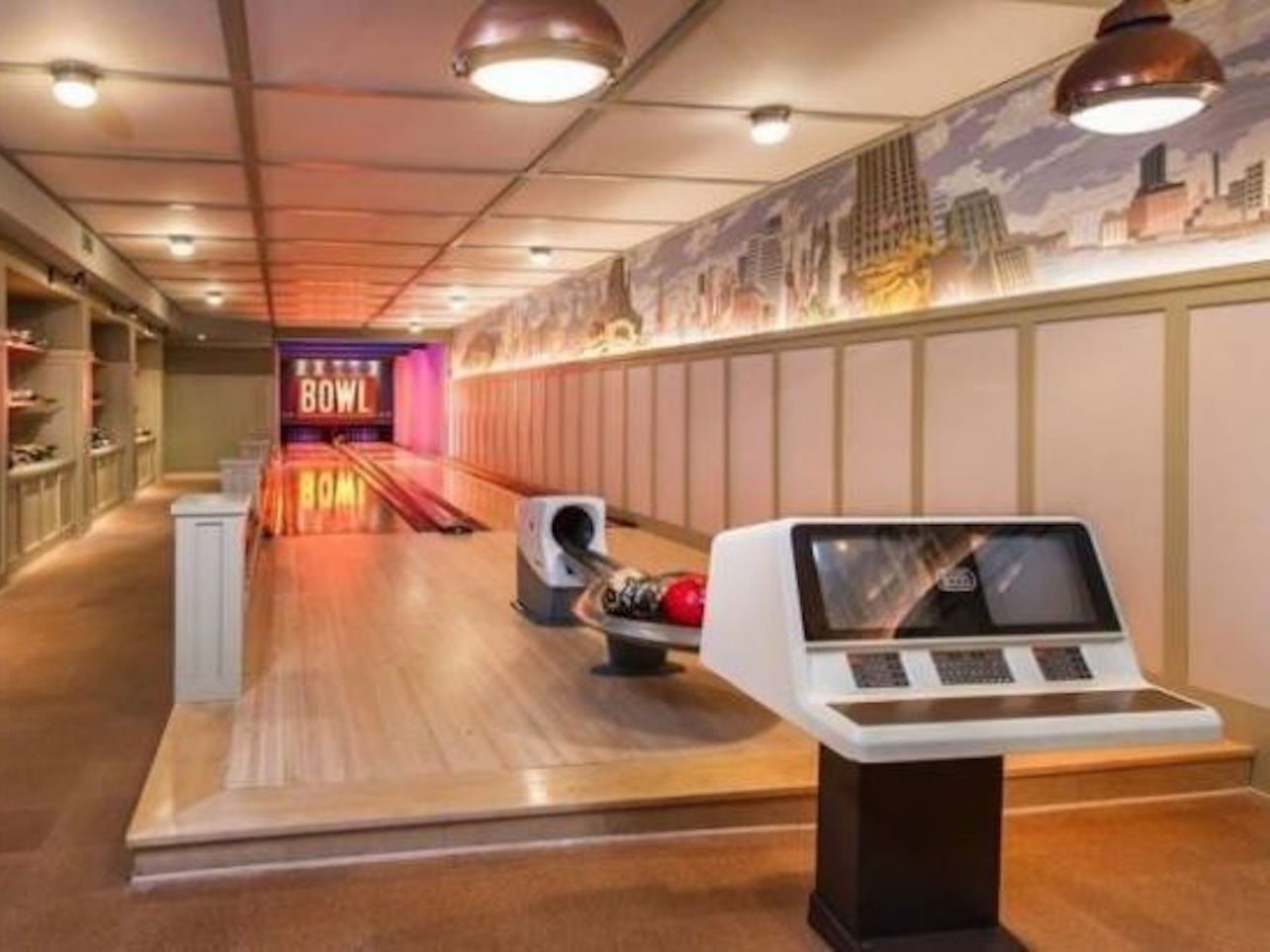 The house has a two-lane bowling alley, a bocce ball court, an eight-horse stable, and a custom safe room. The idea that Lady Gaga could be a doomsday prepper is intriguing, but chances are she's just hiding from the paparazzi she claims to love.
Vanessa Hudgens
Actress and former High School Musical star Vanessa Hudgens spent 11 glorious years in this Mediterranean mansion. But in 2019, she sold it for a whopping $3.15 million.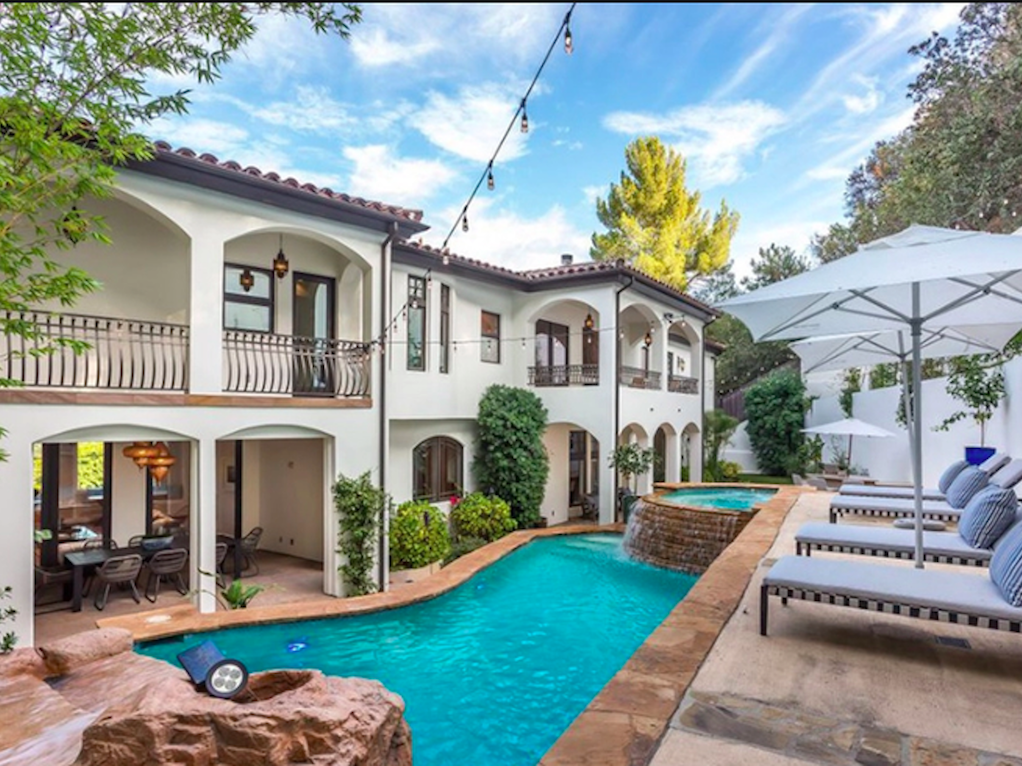 The Studio City, California house has six bedrooms, a gorgeous pool with a waterfall hot tub, elevated lounge seating, and a home theatre. Like Lady Gaga, Vanessa also felt the need to get a panic room.
Miley Cyrus
Like Taylor Swift, Miley Cyrus is also the owner of multiple homes in multiple places. But the singer's most impressive purchase is probably her $5.8 million mansion in Tennessee.
This country-style estate sits on over 33 acres and has five bedrooms, multiple fireplaces, and a pool. There's also an on-site mini-golf course, in case she ever feels the urge to go take a few swings.
Jennifer Lopez
Jenny from the Block' purchased this stunning Hidden Hills home back in 2010. She and then-husband Marc Anthony spent a few years living it up in this nine-bedroom home with tons of amenities.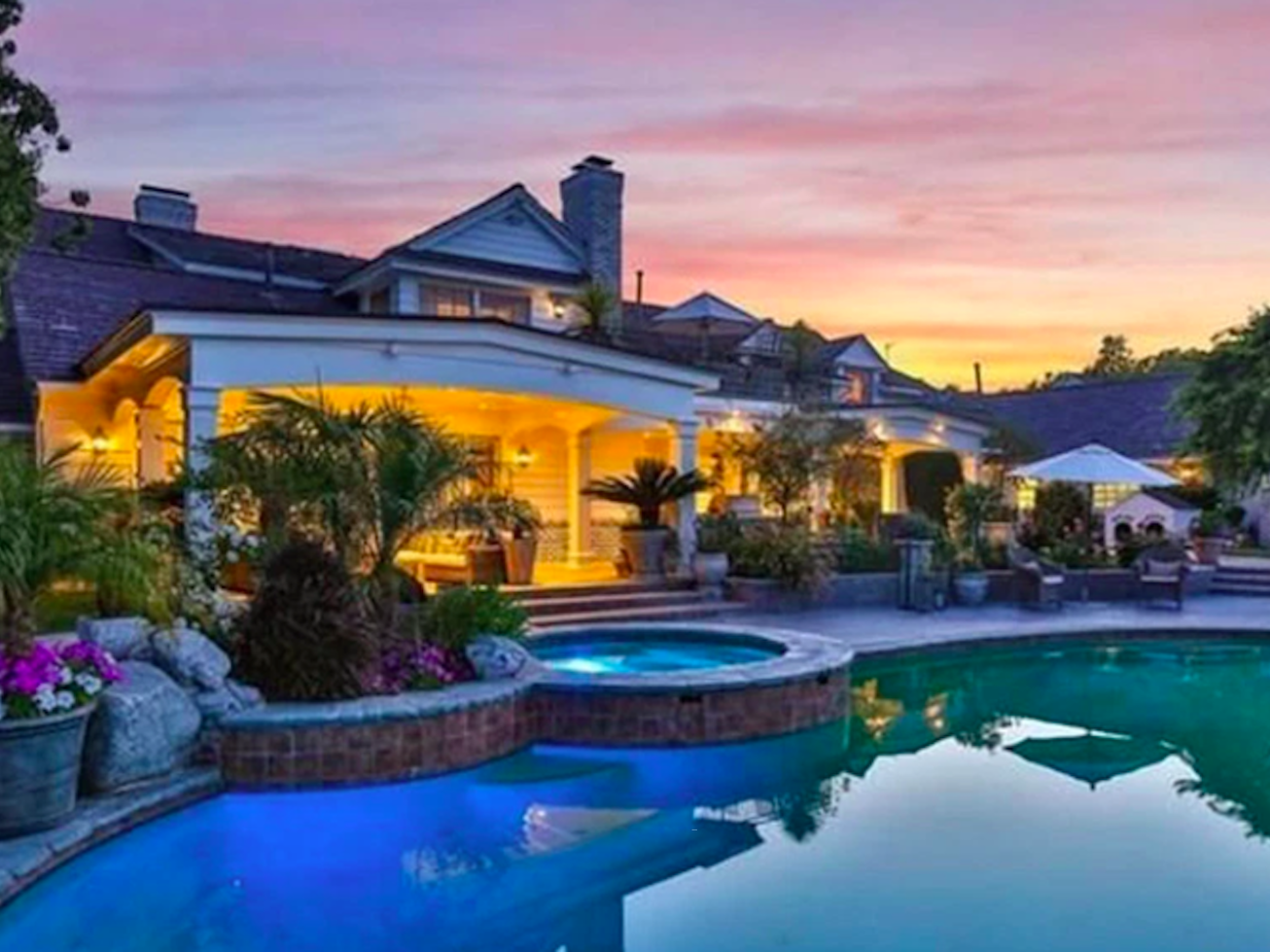 It has a 20-seat theatre, a library, a professional bar, a card game room, a dance and recording studio, and an awesome pool. In 2017, she sold it for a cool $12.5 million.
Cindy Crawford
Supermodel legend Cindy Crawford and her husband Rande Gerber bought this Malibu dreamhouse for $60 million. It overlooks the ocean, so, of course, the views are to die for.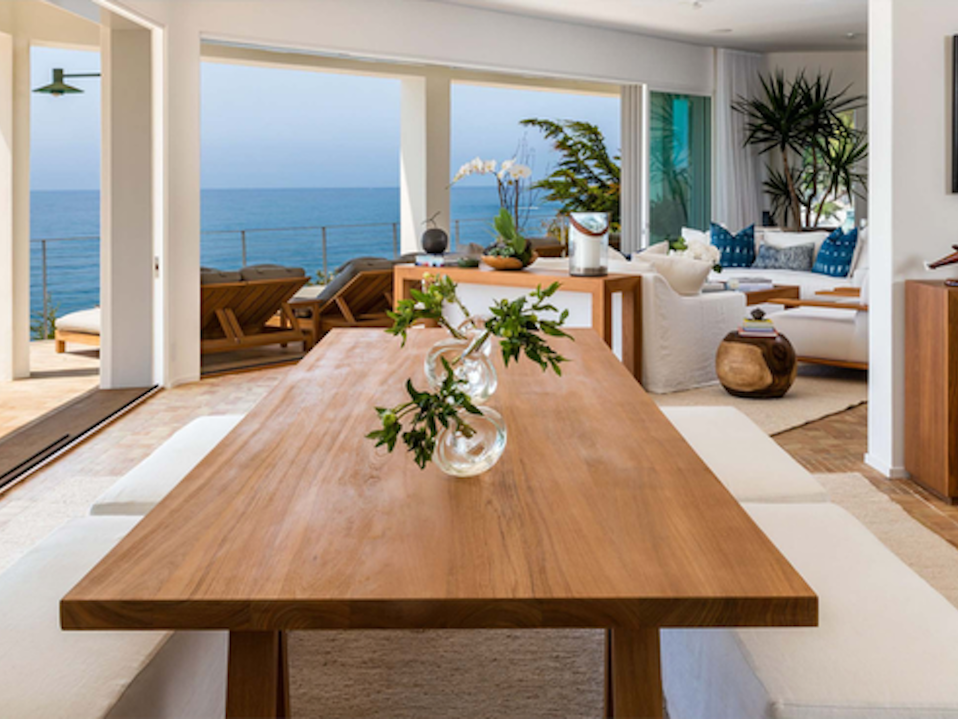 It also has a private path to the beach, four bedrooms, and sits on about three acres of land.
Zsa Zsa Gábor
Compared to the other mansions on this list, Zsa Zsa Gábor's is pretty mild. She purchased the Palm Springs home in 2016 for a steal at $969,000. She died that same year.
Even though the home has only two bedrooms and two bathrooms, it's location makes it worth the still-high price tag. Because the home was built directly into the mountains, it offers incredible views of the desert.
Justin Bieber And Hailey Baldwin
Hollywood it couple Justin Bieber and Hailey Baldwin moved into their $9 million mansion in 2019. It features a lot of arcade games and skateboards as well as stunning views of Beverly Hills.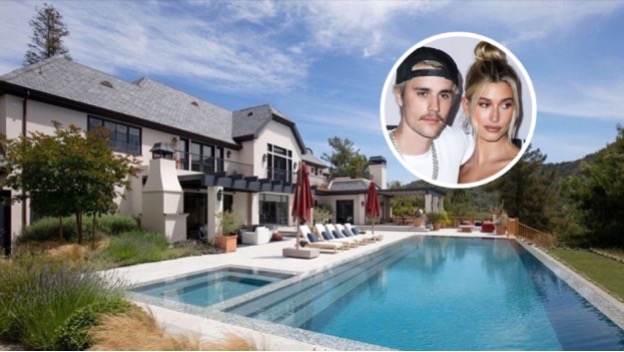 It comes with five bedrooms, seven bathrooms and features a cabana/fireplace combo that overlooks a negative-edge pool. Plus, it made them close neighbors to Jeff Bezos and his massive compound home.
Jason Derulo
Singer and Cats star is living large in his home in Coconut Creek, Florida. This mansion has seven bedrooms, a fitness center, and is set on a golf course.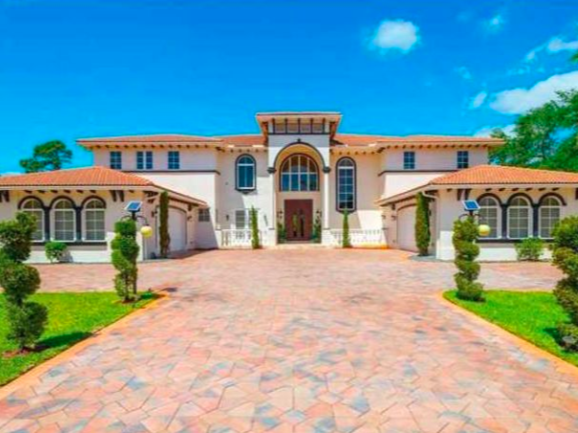 But Jason is walking away from this place. He put it up for sale in 2015 for $2.25 million.
Emma Stone
Actress Emma Stone is all about her privacy when it comes to her residence. Her four-bedroom mansion sits behind a massive wall and is tucked around a "little-known lane" in Beverly Hills.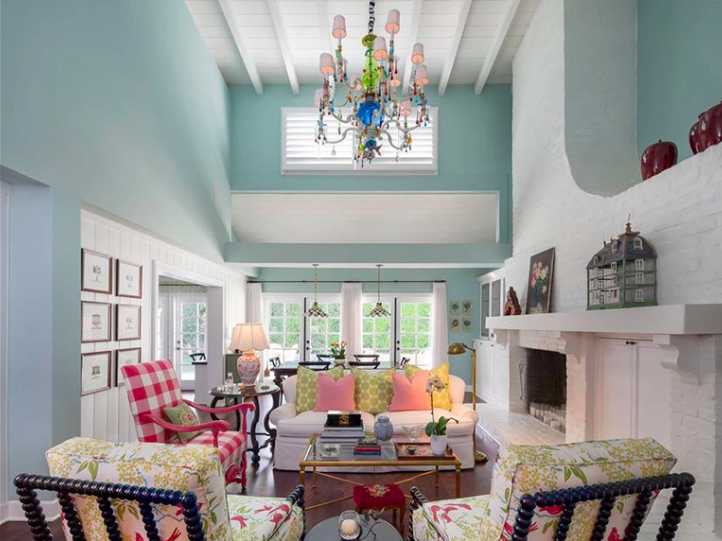 As charming and secluded as her place is, it's not enough to be her forever home. The actress listed her mansion for $3.899 million.
Armie Hammer
While it may look like it's straight out of a storybook, this home is very real. And it belongs to none other than Armie Hammer.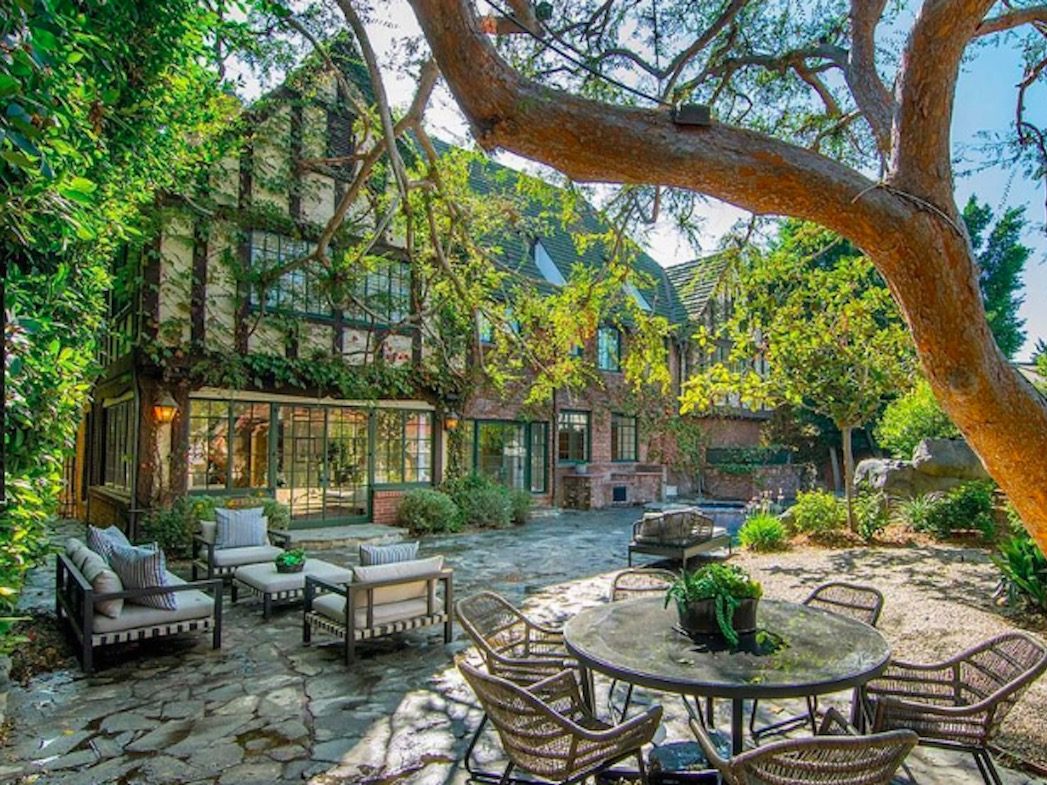 The actor bought the lush mansion in 2018 and has been residing in Los Angeles' well-known Hancock Park ever since. It has five bedrooms, charming features, a Tudor-style design, and a gorgeous (and celebrity-level private) backyard.
Shonda Rhimes
Everyone lives in Hancock Park—or used to. Famed television producer and creator of hits such as Grey's Anatomy, Shonda Rhimes recently put her mega mansion up for sale.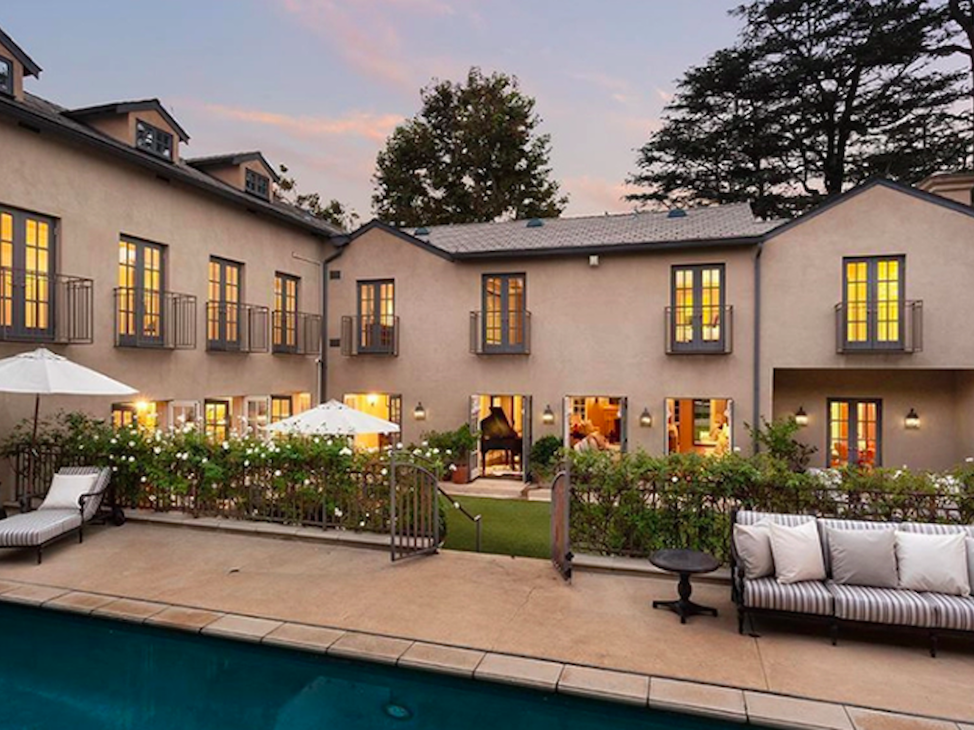 The six-bedroom, nine-bathroom home includes a music room, a lap-lane swimming pool, a cabana, and a wet bar. The listing price? $8.995 million.
Nicole Kidman And Keith Urban
Actress Nicole Kidman and country singer Keith Urban used to own this gorgeous country retreat in Tennesee. Surrounded by woods, greenery, and pasturelands, this four-bedroom home is as private as it gets.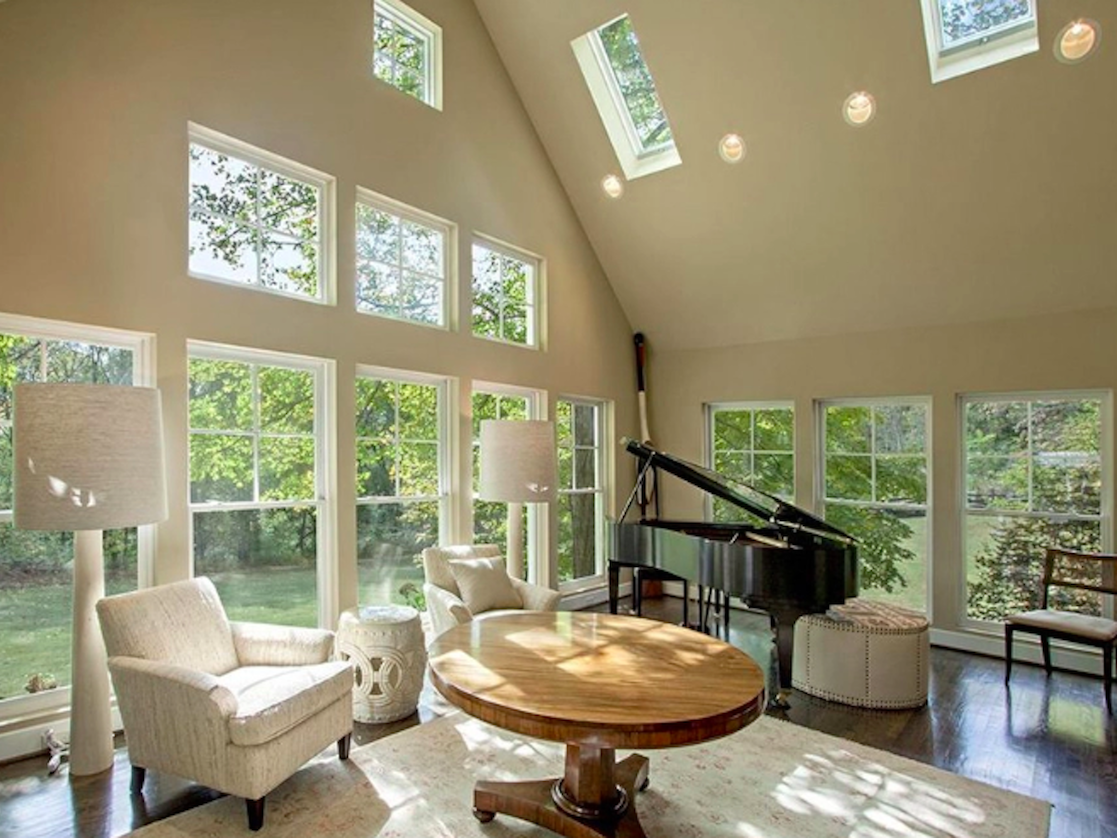 This stunning home is bright and open and comes with a large walk-in closet, multiple bonus rooms, and tons of gorgeous views. They sold it for $2.7 million.
Jennifer Garner
Located in the Pacific Palisades, this six-bedroom home is graced by actress Jennifer Garner. It has three floors, a climate-controlled wine cellar, a wine tasting room, a game room, and a movie theatre.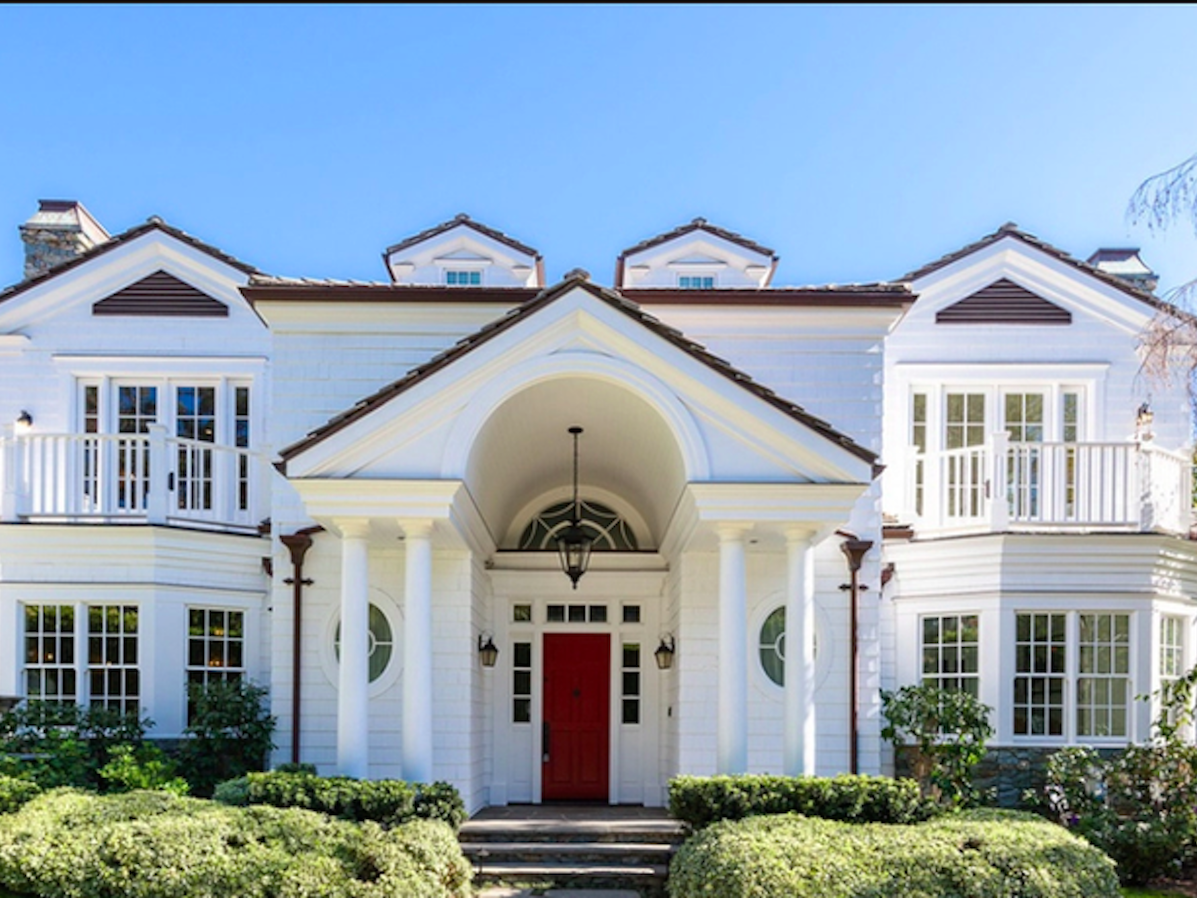 However, the actress is not owning the mansion, she's renting it from cosmetic heir Dean Factor. The home is currently worth $13.86 million.
Jamie Dornan
50 Shades of Grey star Jamie Dornan found home in this four-bedroom and three-and-a-half bah mansion for a few years. But it later sold the Nichols Canyon mansion for $3.18 million.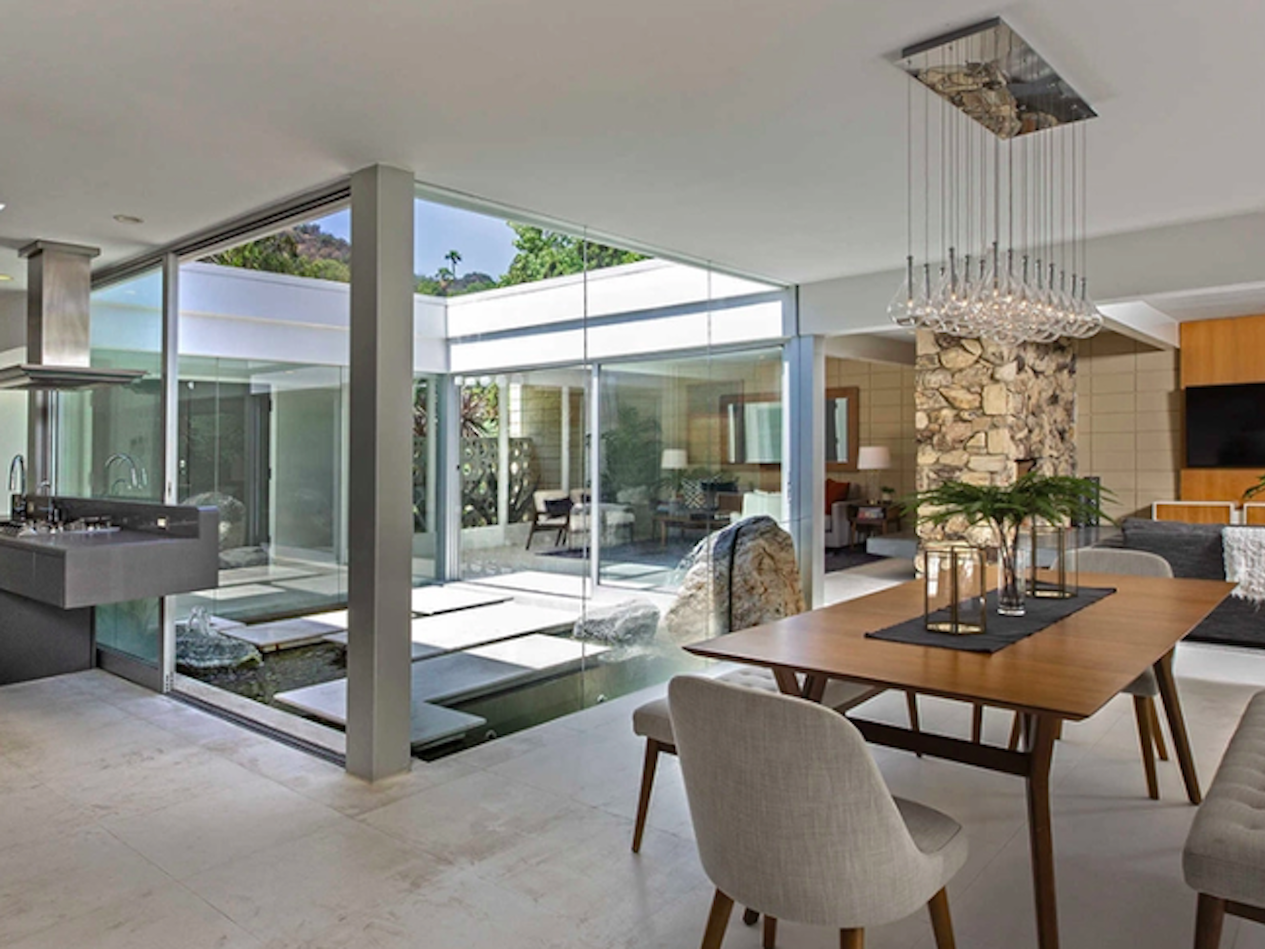 This beautiful home comes with unique design features, like a stunning pond-atrium in the center of the home and floor-to-ceiling windows. It also has a private pool and spa.
Kristen Wiig
Actress Kristen Wiig put some work into renovating this Silver Lake property. She added a pool, a massive deck, and a luxury guesthouse.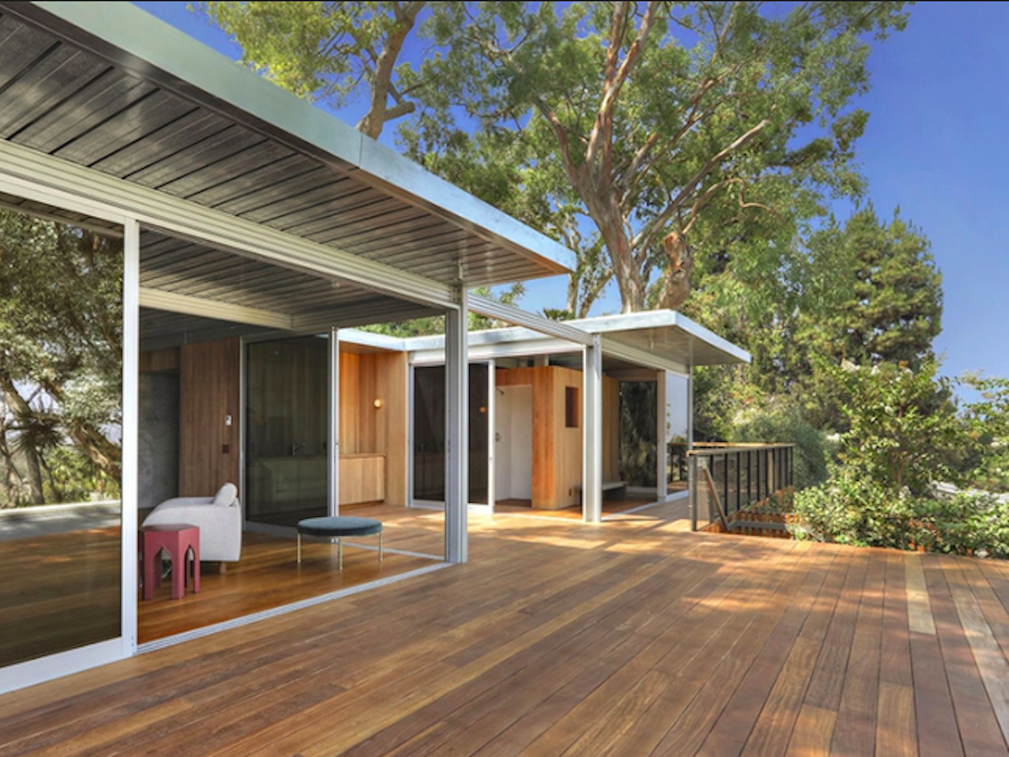 Despite all of these beautiful updates, she sold it for $5.225 million in 2018.
Anna Faris And Chris Pratt
Back in the day when Anna Faris and Chris Pratt were married, they resided in this gorgeous mansion. A Spanish-style home has four bedrooms and three and a half baths, a custom bar, a massive pool, and a tennis court.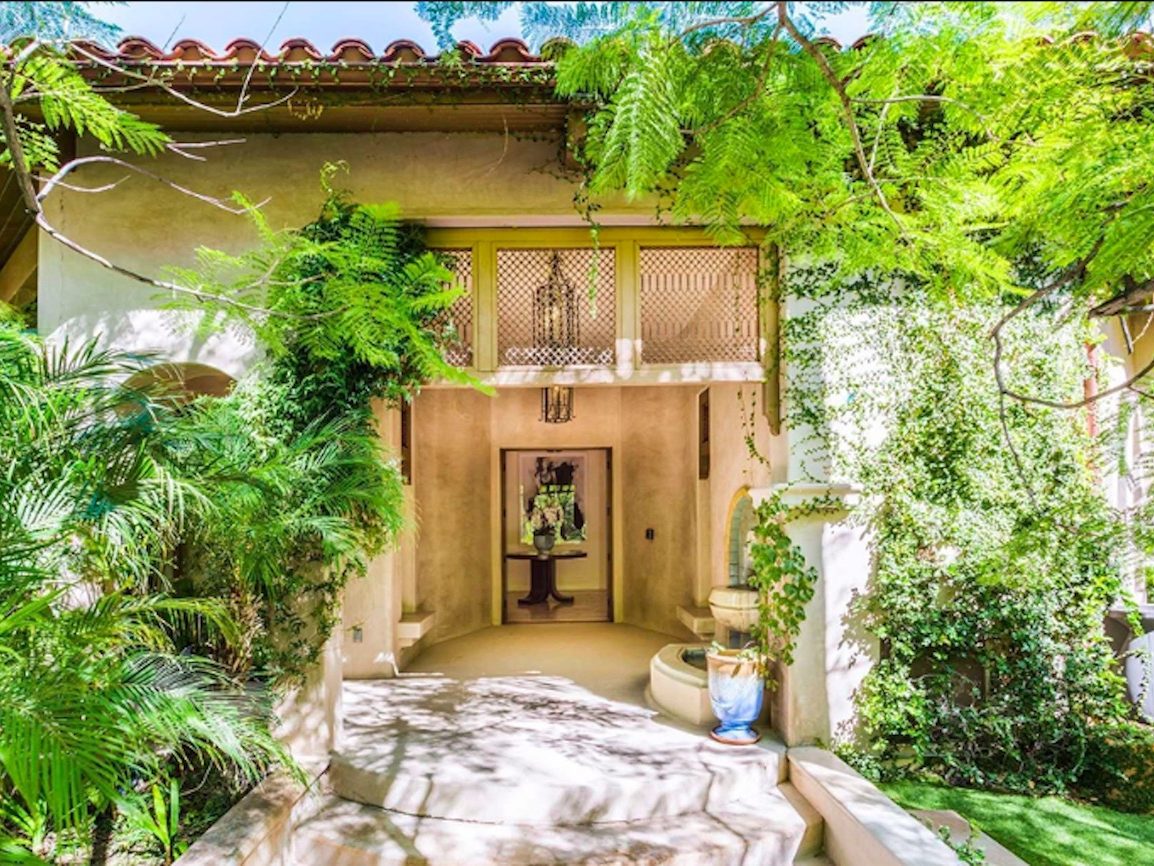 When the couple divorced, they sold this stunning mansion for $4.995 million.
Britney Spears
For years, singer Britney Spears resided in this stunning five-bedroom home—and it's easy to see why. This home has a game room, a movie theatre, an infinity pool, and a dressing room complete with a chandelier.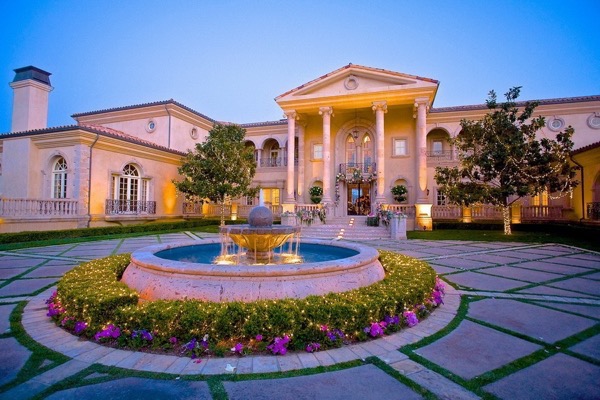 However, this Thousand Oaks mansion wasn't meant to last forever. She sold it in 2016 for $7.9 million.
Kaley Cuoco
Big Bang Theory actress Kaley Cuoco bought in this gorgeous Tarzana mansion from none other than Khloé Kardashian and Lamar Odom after they divorced. She paid approximately $5.49 million for this elegant home.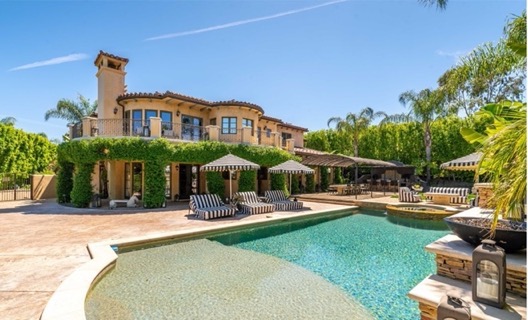 Of course, this home is full of A-list amenities, including seven bedrooms, a massive pool, hot tub, and a terrace.
Dwayne Wade And Gabrielle Union
This incredible mansion is more or less a luxurious castle surrounded by a giant landlocked moat. The 11 million dollar castle is called Chateau Artisan and was designed by architect Charles Sieger, who built the palace for himself.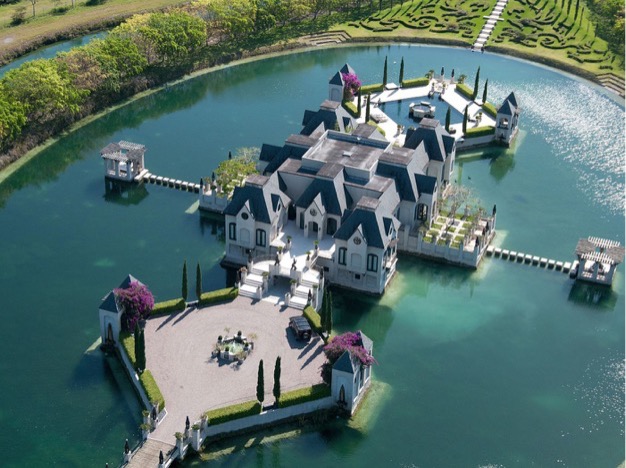 In 2014 Dwayne Wade and Gabrielle Union chose this magnificent mansion as the location for their wedding ceremony. Dwayne Wade is a legendary Miami Heat basketball star and his wife Gabrielle Union is a well-known actress famous for films such as Bring It On and Think Like A Man. The happy couple is still married today, and will always have the incredible memories and wedding photos of having been wed inside this jaw-dropping castle.
Judge Judy
As a well-known judge with 25 seasons on the syndicated reality court television show, Judge Judy, Judge Judy Sheindlin herself can without a doubt afford multiple luxurious properties. After selling her $11 million penthouse, Judge Judy bought an impressive lakeside mansion for $8.6 million.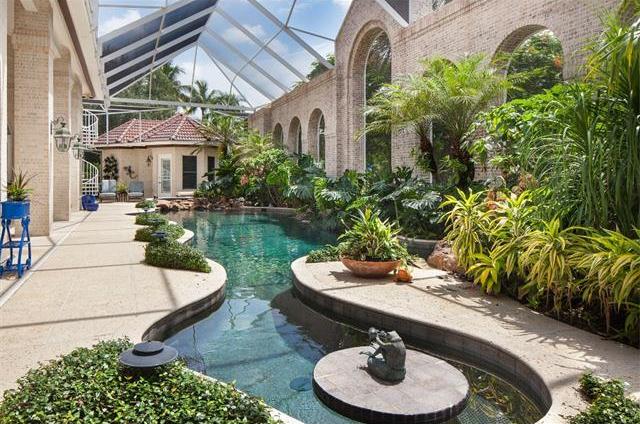 This lovely property features a lagoon pool, a spa, and three separate waterfalls within 10,600 square feet of land. With all these beautiful features, this home is an excellent spot for proper rest and relaxation.
Ellen DeGeneres
Finally, we have the mansion of Ellen DeGeneres and Portia DeRossi. Located in Beverly Hills, this five-bedroom home was recently put on the market for $33.7 million.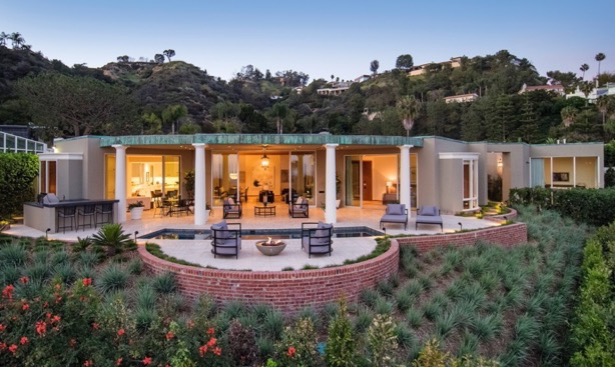 Why? The price tag probably had something to do with the music room, home gym, floor-to-ceiling windows, game room, bar, and personal library.