Homeless Dog's Cries Guide Rescuers To Her Injured Companion
In the Indian city of Udaipur, animal rescuers don't waste time when alerted to a pup in distress. They hurry through the bustling streets until they inch closer to the street corner where the barking dog awaits.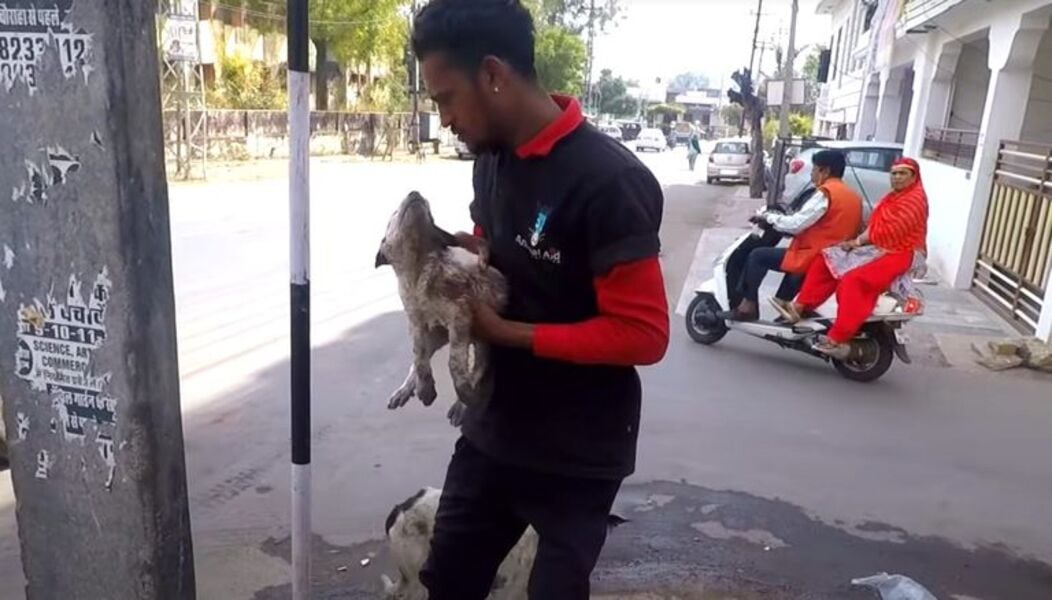 With determination and caution, they approach the pup, ready to bravely help whatever the problem may be.
AAU – Saving 15,000 Animals Annually in Udaipur 
Every year, Animal Aid Unlimited (AAU) works tirelessly to rescue thousands of injured animals in Udaipur. Since 2002, they have offered a hotline that locals can call to request help for animals in need.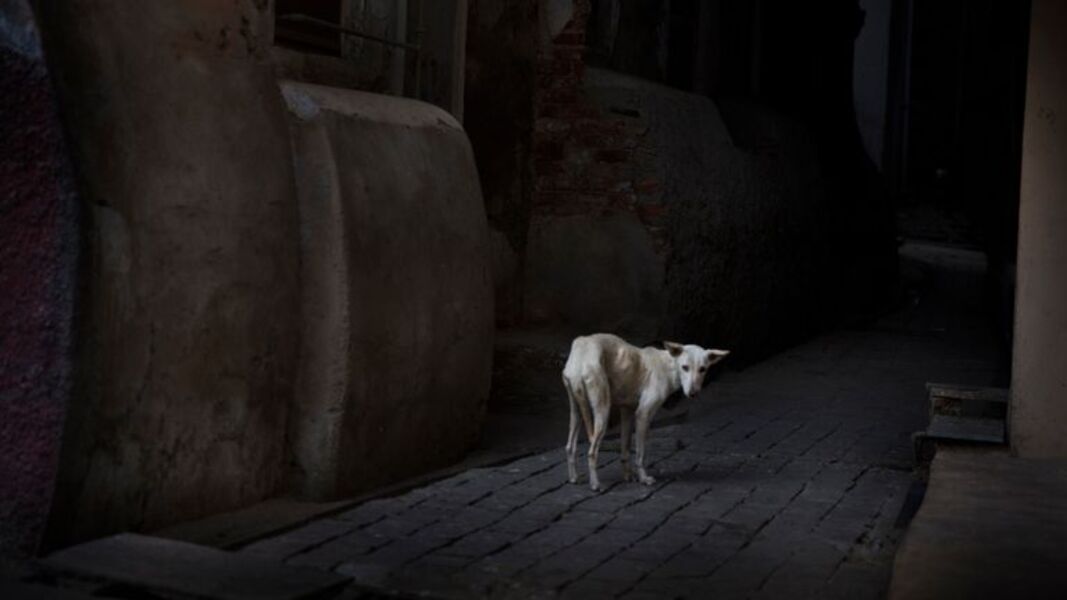 On any given day, an astonishing 100 people make these calls, highlighting the sheer scale of the issue. AAU has been able to save 15,000 animals annually, thanks to the generous donations of its supporters. Join them in this mission and help make Udaipur safer for animals.
A Cry for Help: Rescuers Rush to Aid a Distressed Dog 
The heart-rending howls and whimpers of a stricken canine echoed through the city. As the dedicated rescue team drew closer, they felt an intense emotion that was all too familiar. In these urban streets, animal suffering was all too common.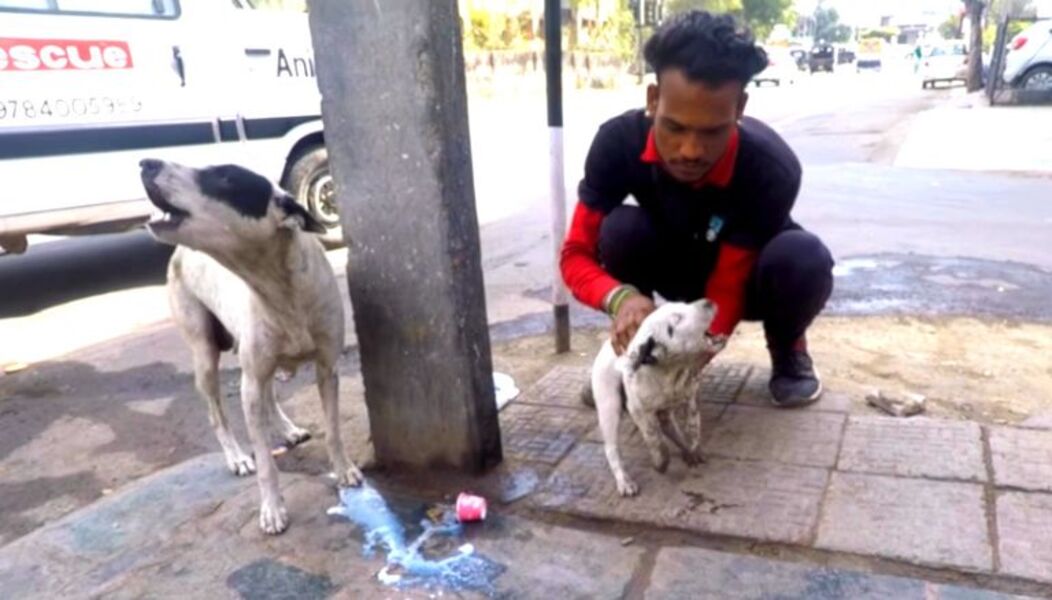 Yet, the team was determined to help this dog in need, to rescue it from the constant danger that roamed these city streets. With renewed strength, they rushed towards the dog, hoping to provide the aid it so desperately needed.
A Grubby White Dog's Plea for Help Answered 
A YouTube video shot by the rescuers reveals a heartbreaking sight – a grubby white animal with a black head resembling a mask is howling and barking for help. Her malnourished and scraggly fur speaks volumes about the ordeal she has been through.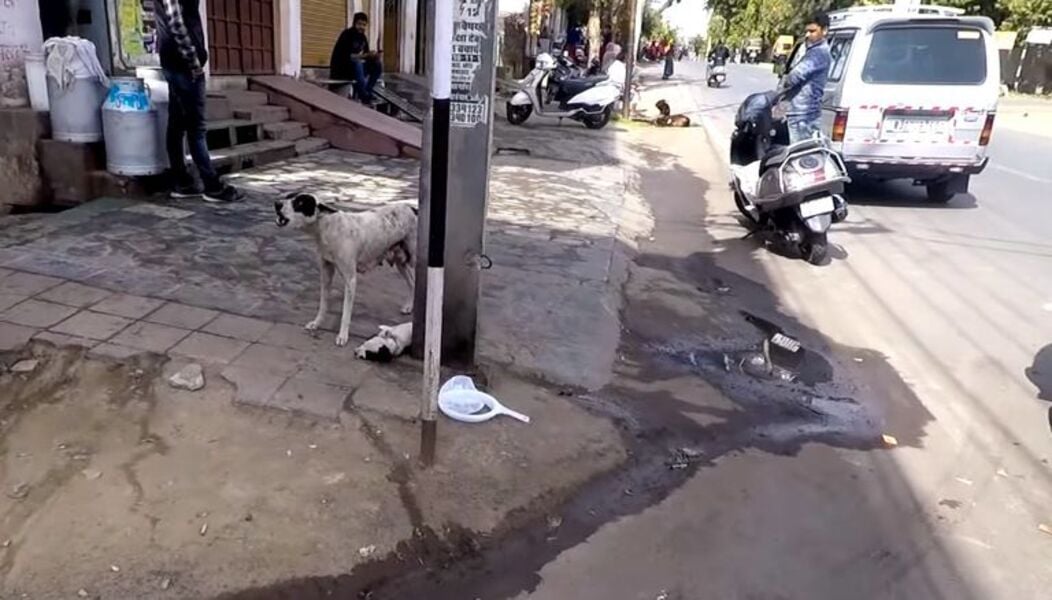 But the dog's plea for help did not go unheard; the rescuers quickly came to her aid, and its gratefulness was evident. She was not only saved but also given a chance at a better life.
Rescuers Come Across an Astonishing Sight: A Hard Case Not Worth Giving Up On!
The rescuers were taken aback when they ventured closer to the scene of their call for help. What they saw wasn't something they had expected, yet they persevered with their mission.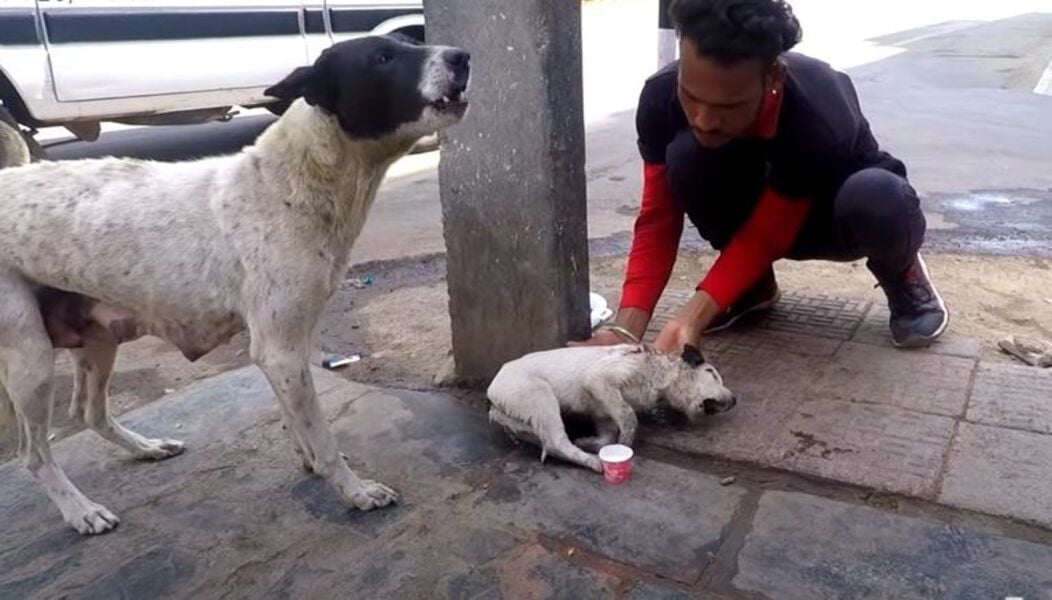 They had no intention of shying away or refusing aid – it was just another day of helping out on the streets for them. They were not in the habit of giving up on a hard case and were determined to help in any way possible.
Rescue Mission 24/7 - Helping Desperate Cases in All Conditions 
The rescuers on this team are dedicated to their cause, tirelessly working from dawn to dusk and beyond. With up to four ambulances on the roads from 7 am until midnight and one available round the clock, no desperate case is left behind.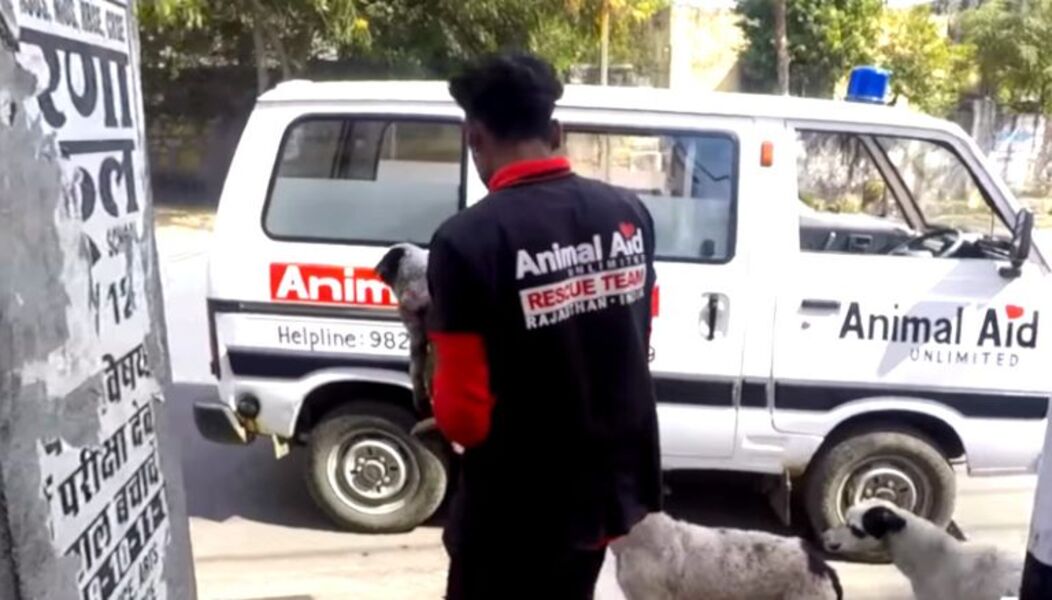 No matter the conditions, these brave rescuers are ready to go the extra mile – if a dog is stuck down a well, they'll go down there to help. Working in shifts, they make sure no animal is left in distress. 
Unfavorable Weather Harshly Affects Animals 
The weather can be a real challenge for animals. When the monsoon rains come, they bring pesky flies, whose maggots can quickly invade small wounds and may even prove fatal for the animal.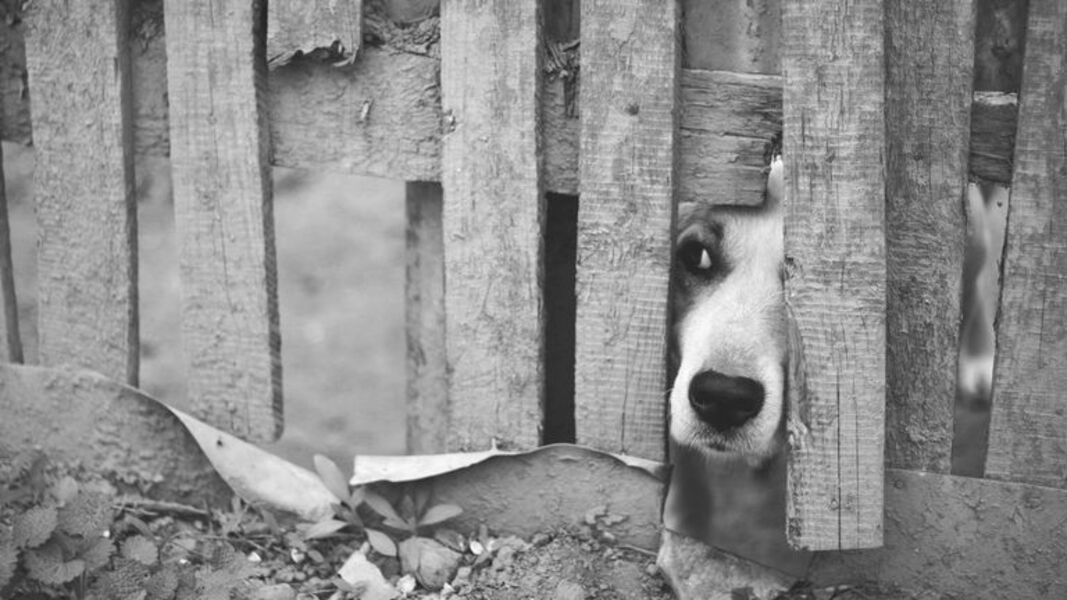 Even in winter, the nights can be too chilly for young pups to survive, while during summer, the heat can be so intense that it leads to dehydration and heatstroke. Such extreme weather conditions can cause great suffering and distress for animals, leaving them in need of help.
Momma Dog's Devotion: A Call for Help 
As the camera zooms in, the reason for the barking becomes clear. A small pup lies motionless on the sidewalk, and we can't tell what has caused it.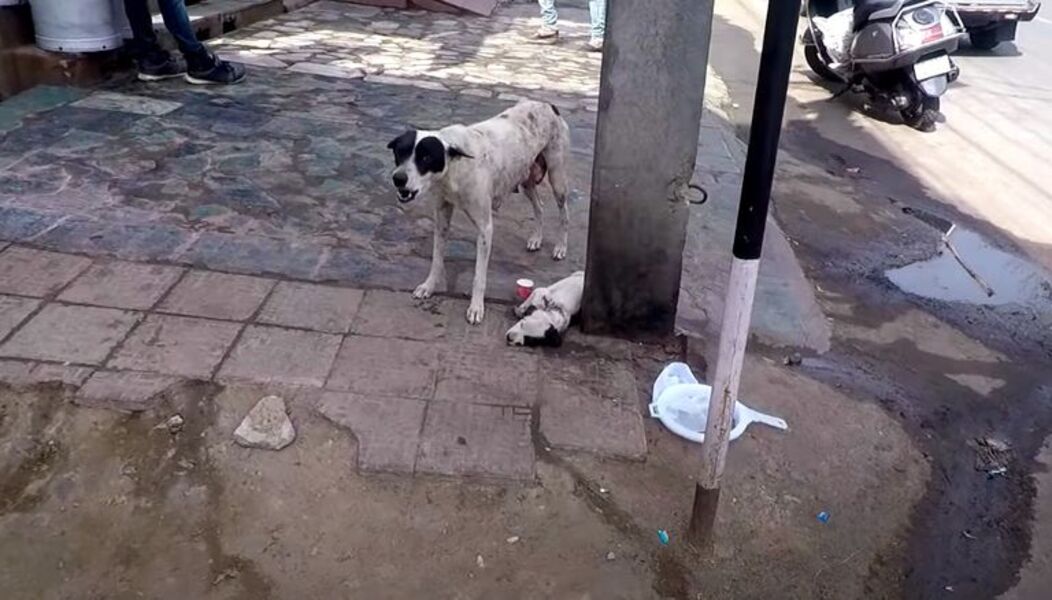 But Momma Dog is aware of the issue and calls out in a desperate plea for help. Her devotion to her pup is evident, and she will not rest until her pup is safe. It is a beautiful display of loyalty and maternal love, and her call will not go unheard.
Rescue Team to the Rescue! 
The poor pup's squeals for help have been answered! As soon as someone noticed the pup's desperate plight, they called in the AAU rescue team and hope was restored.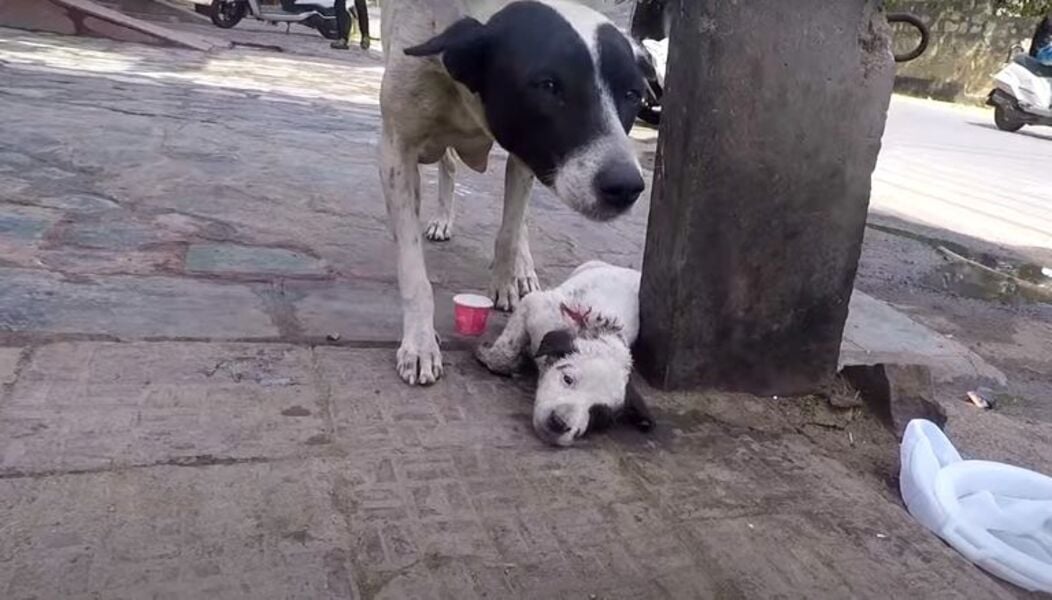 The camera zooms in on the pup, who can now feel the relief of soon being in the safe and loving hands of the rescue team. Momma's calls for help are finally heard, and the puppy's future looks brighter than ever. With AAU on the scene, the pup will soon be safe and sound.
A New Lease of Life: A Dog's Journey from Rescue to Rejuvenation 
The rescuer's van pulls away, leaving behind two dogs, one of them looking bedraggled and in need of love and care. But their journey is only just beginning. Soon, the puppy finds himself in the shelter, receiving the tender and loving care he desperately needs.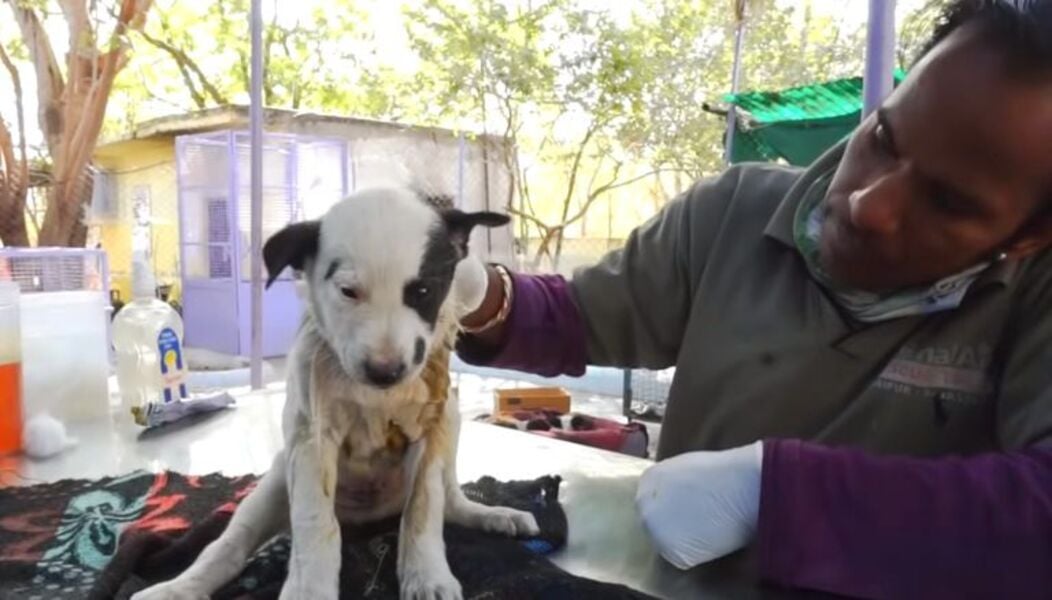 Thanks to the devoted staff, a new lease of life awaits him. With the right food, a warm bed, and plenty of cuddles, he can look forward to a brighter future. The rescuer's mission has been accomplished, and the puppy is on his way to a happier, healthier life.
Fixing the Puppy's Woes: A Healing Journey Begins 
The healing journey begins for the puppy as one of the AAU staff starts to carefully shave around one of the wounded areas on his shoulder.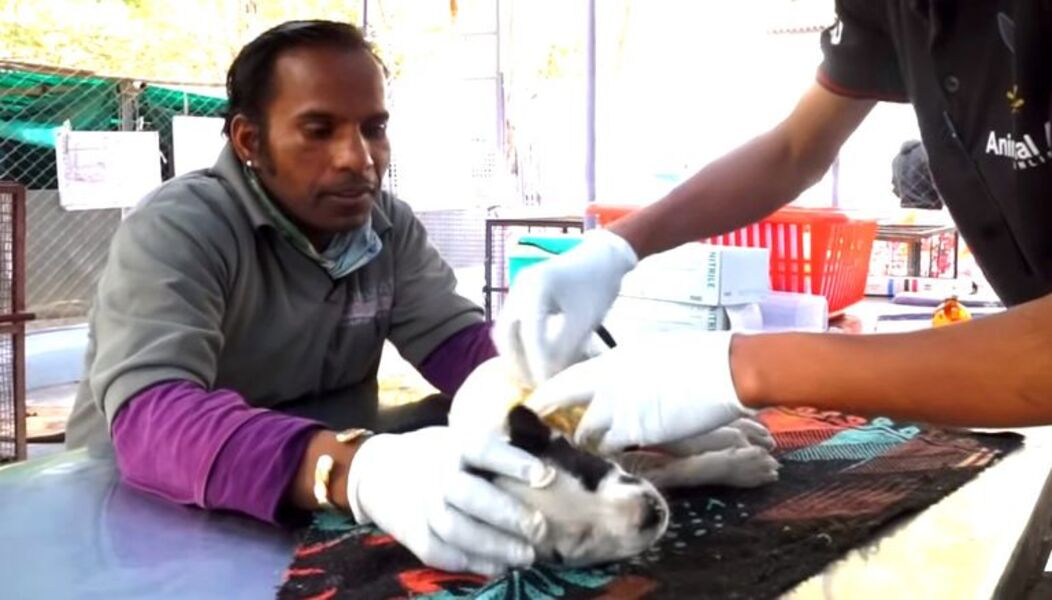 Once the area is properly revealed, they can tend to the wounds that have been caused by something puncturing the flesh. Cleaning and treating the injury will be the first step in the healing process of this adorable pup. With the help of the staff, the puppy will be able to make a full recovery and live a happy life.
Rescuers Rush to Aid an Injured Puppy 
The puppy was in distress, unable to walk, and in obvious pain. But the rescuers did not falter and rushed to help. Squeals of anguish filled the air as the second wound was treated, yet the rescuers continued to provide aid.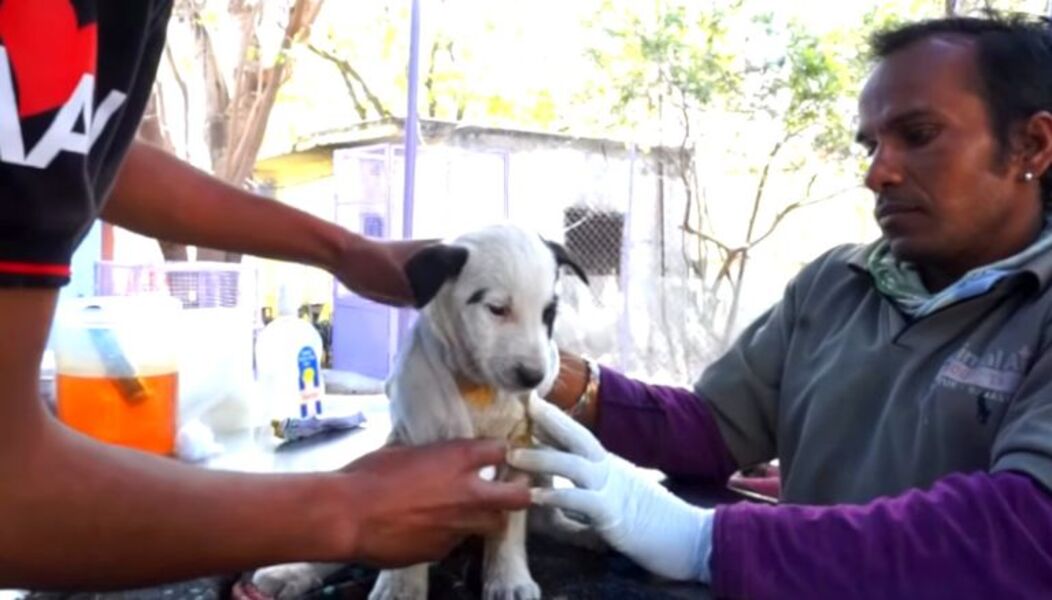 The pup's mother had summoned them, and thank goodness for that, as the puppy urgently needed care and attention. The determination of the rescuers was evident, and their mission was clear – to save this pup from its distress.
Rescue Pup Gets the Care He Deserves 
After carefully cleaning the pup's wounds, it was time to administer some tender love and care. With expertise and precision, the two rescuers wrapped the pup's injuries with clean white dressings.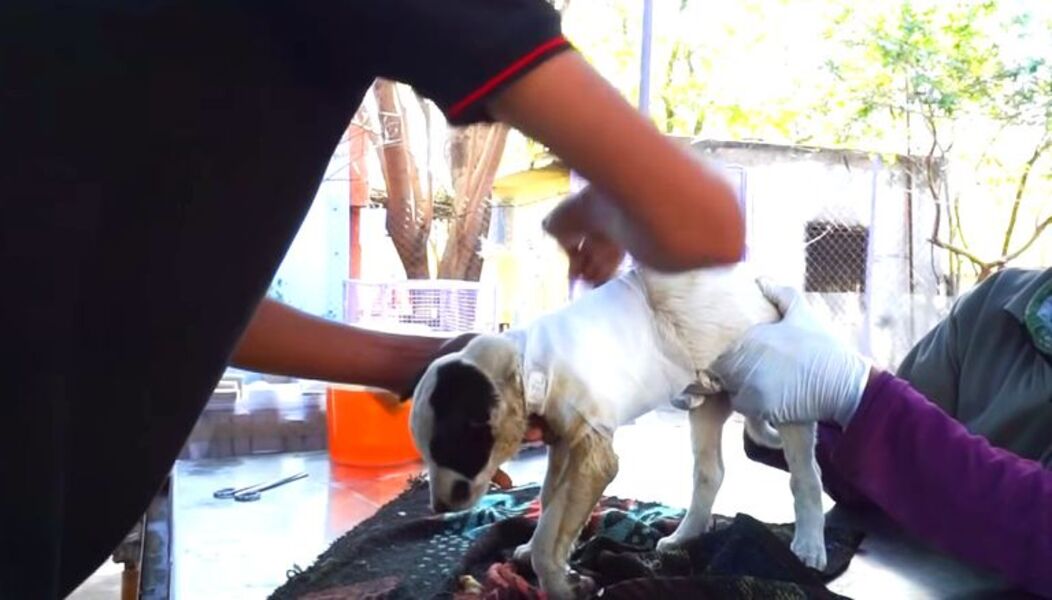 You could tell they had done this many times before and were providing the pup with the best possible care. After they finished, the pup was ready to receive even more pampering and attention. With the help of these two rescuers, this pup was now on the path to recovery.
A Heartwarming Scene: Hungry Pup Saved by a Big Bowl of Love 
At the shelter, the staff knew exactly what this pup needed: love. And they were ready to provide it in the form of a big bowl of food. The pup was grateful, as he was savoring each and every bite.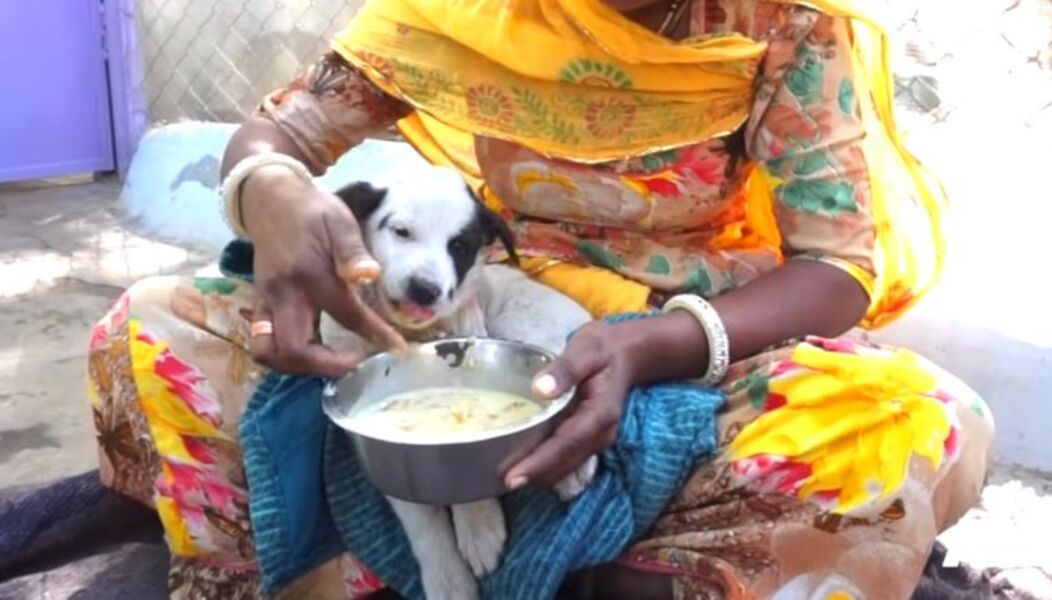 While he had not been able to enjoy many decent meals, this one was certainly special. The lady helping him to eat was simply overjoyed to be able to provide him with some much-needed nourishment and affection. Truly, it was a heartwarming scene that will stay in the minds of all those who witnessed it.
A Heartwarming Tale of a Dog's Gratitude 
It was a miraculous transformation: after a filling meal, the pup had regained his strength and was ready to take on the world – or at least go for a walk.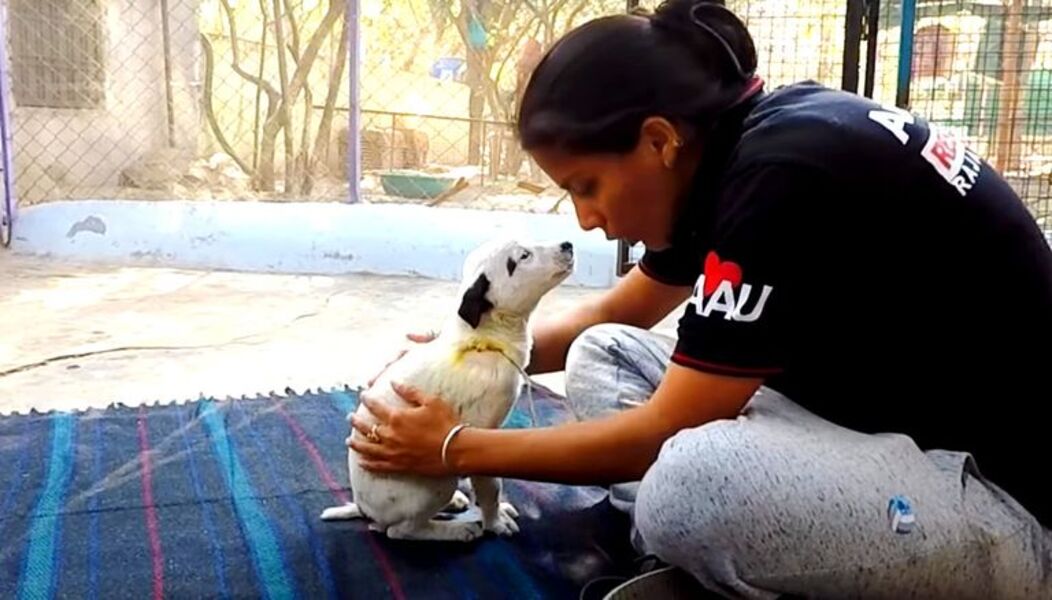 As he slowly made his way, step by step, with the help of a kind woman, the pup was overcome with gratitude. To show his appreciation, he planted a big kiss on the woman's nose – a moment that would stay with her forever. This may have been the pup's first experience with human kindness, but it would not be his last.
A Name and a New Lease of Life: Meet Toggle!
Toggle is one lucky pup! After a period of love, care, and nourishment, he's been given the gift of a name and a brand new lease on life.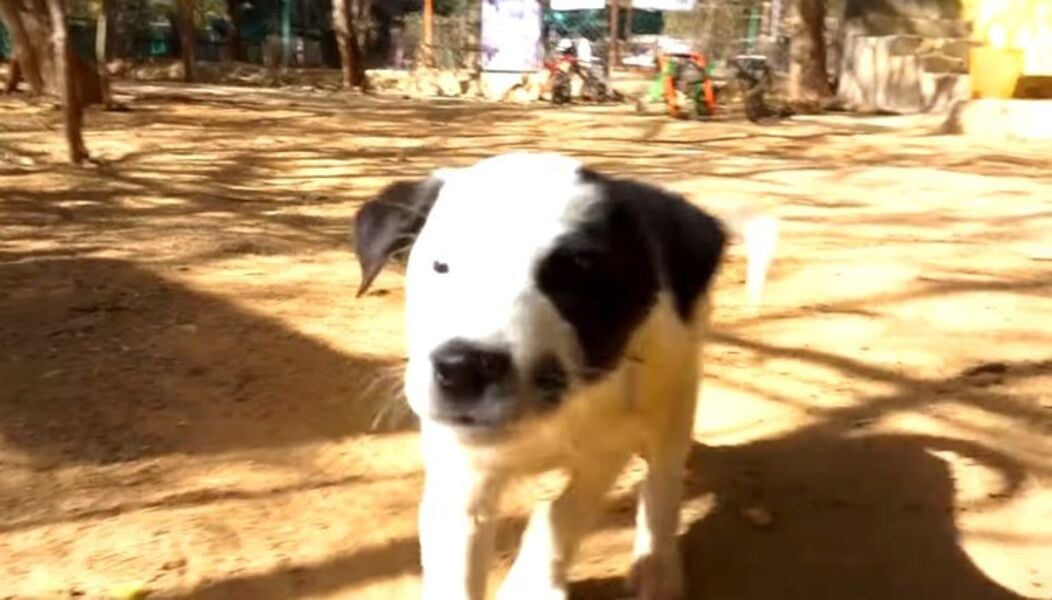 He's gone from a shy pup to one oozing with confidence, full of life, and absolutely lovable! This pup is ready to take on the world and make every day count. All thanks to the kindness of his carers and of course, his new name – Toggle.
Toggle's Transformation: From Hurt Puppy to Lovable Four-Legged Friend 
Toggle used to be a sad, hurt puppy when he arrived at the shelter, but now he looks like a million bucks! His life is full of vitality and affection, and the volunteers just can't get enough of his licks of love.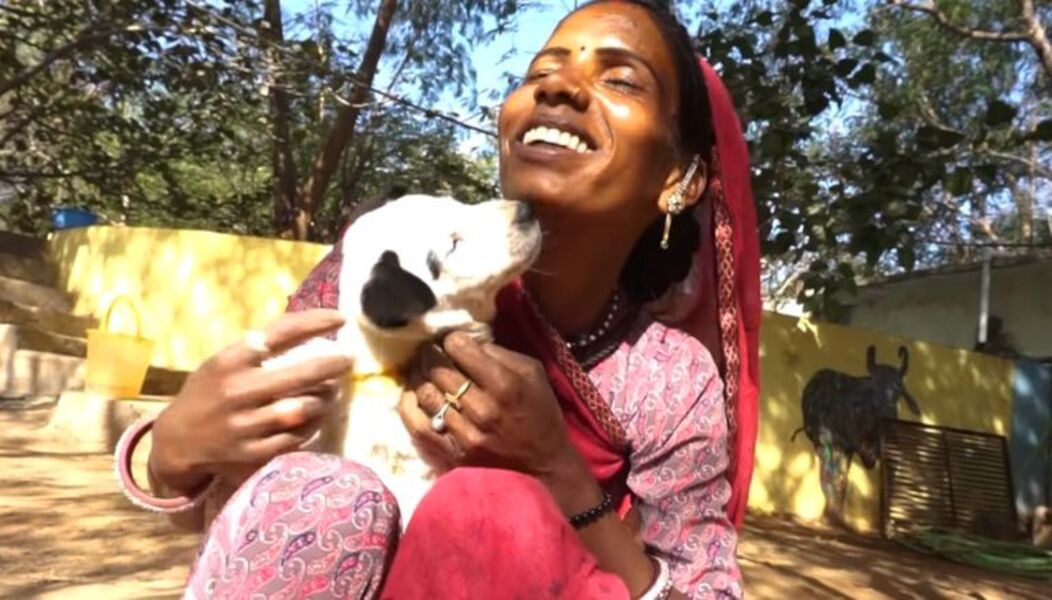 Every time one of them cuddles him, Toggle responds with such joy it's hard not to fall for his charms. From a scared little pup to a confident four-legged friend, Toggle has truly been transformed.
Toggle's Tail-Wagging Reunion with Mom 
Toggle's tail was wagging so fast it was like a helicopter blade – he was overjoyed to be reunited with his loving mother! His brothers and sisters were there, too, forming a whole gang of littermates.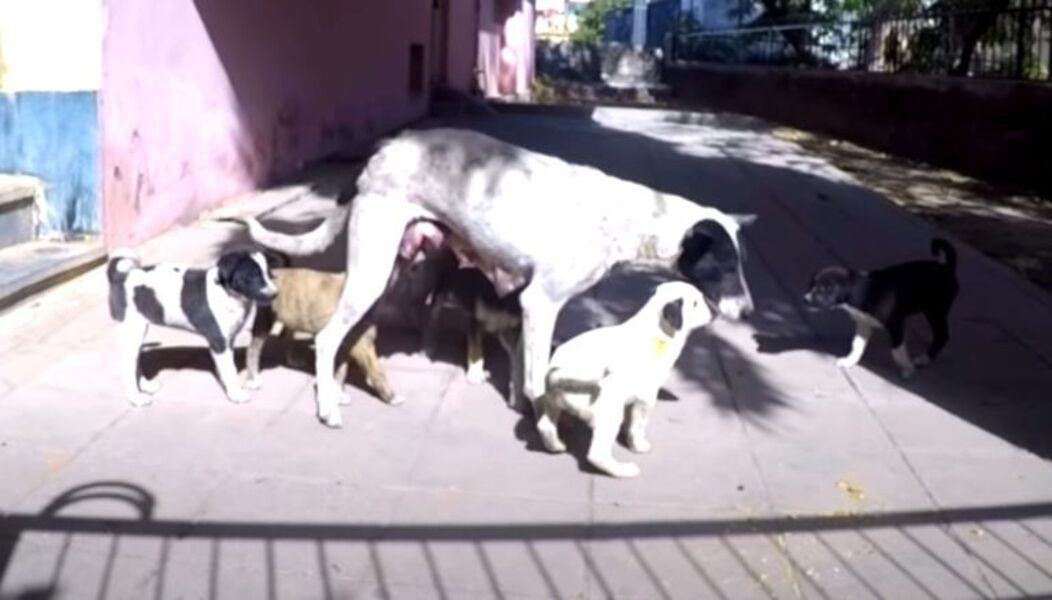 Toggle was clearly delighted to be back in the company of his family and showered his mom with affection and kisses. Animal Aid Unlimited has promised to spay mom once these little pups are a bit more independent. Everyone was happy to be reunited and Toggle's tail showed no signs of slowing down anytime soon!
A New Lease of Life for Udaipur's Hounds 
Toggle was welcomed with open arms as soon as he arrived at his mother's side. His appetite was hearty, and he was no longer recognizable – he was full of life! His mother's happiness was palpable.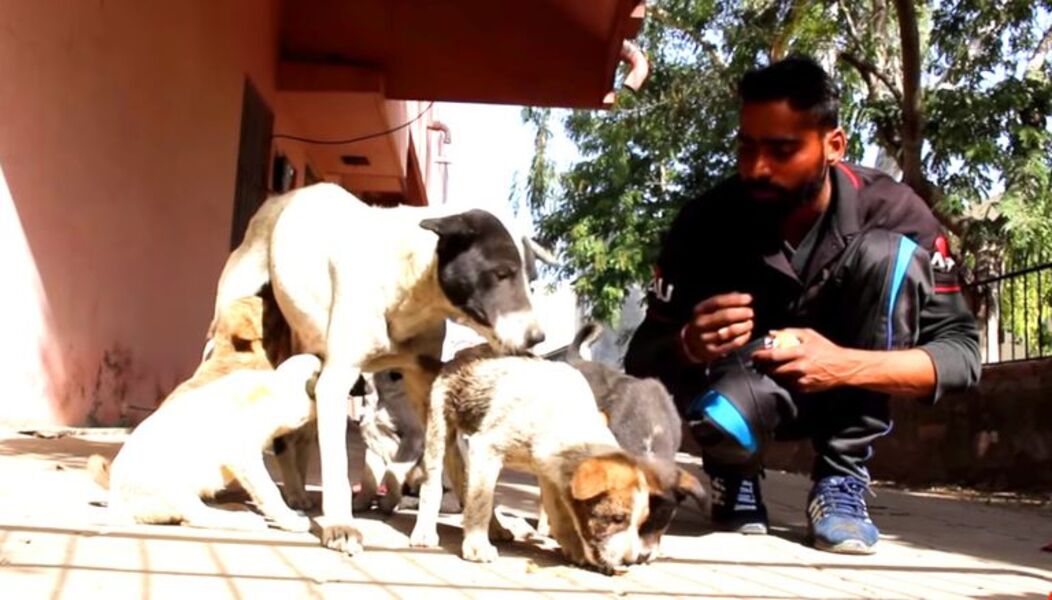 She was so overjoyed to have her pup back in such good shape. Thanks to AAU's intervention, the hounds of Udaipur were blessed with a second chance at life. They were no longer living their days in despair but were now filled with hope and joy.