A Heroic Florida Citizen Captures Hearts by Rescuing a Drowning 400-Pound Black Bear
Every life is worth saving; when it comes to animals, big or small, there's no better deed than risking your life to save theirs. In 2015, an incredible story emerged on the internet about one such rescue that had everyone singing praises of the man.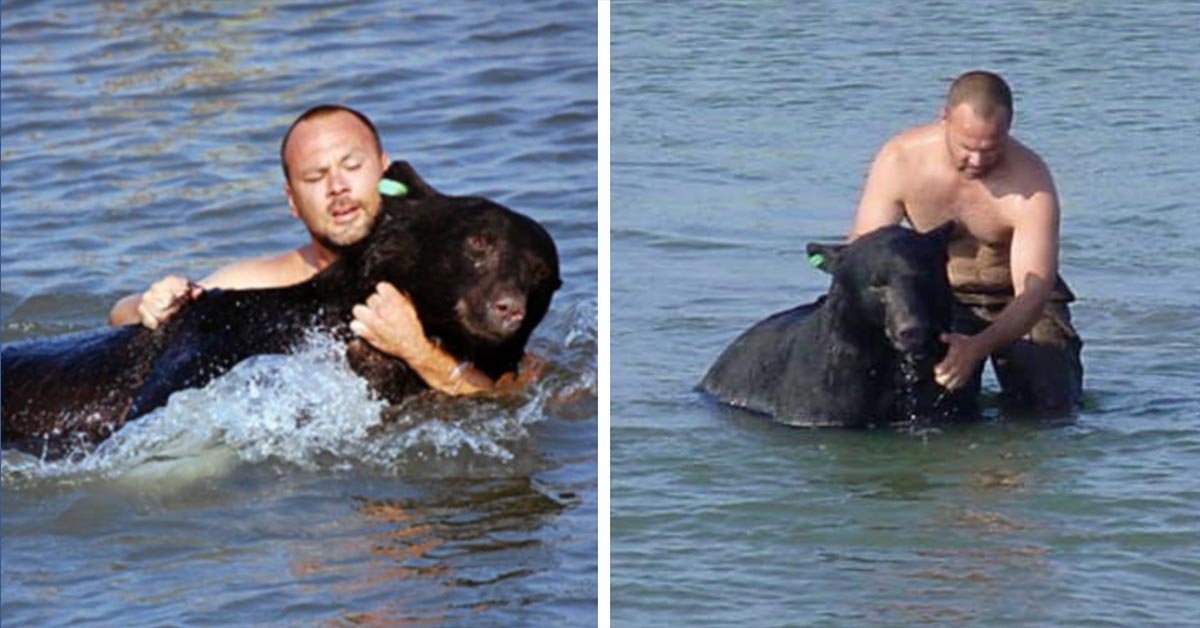 He bravely ventured into the waters to save the life of a helpless 400-lb black bear; this is one of the most incredible rescue missions ever. Let's dive in to know more.
Bears in Search of Food
Bears may look like they'll use their mighty frames to crush you any moment, but these large animals, in reality, are incredibly tolerant of people. They are also adaptive, thoughtful, and intelligent.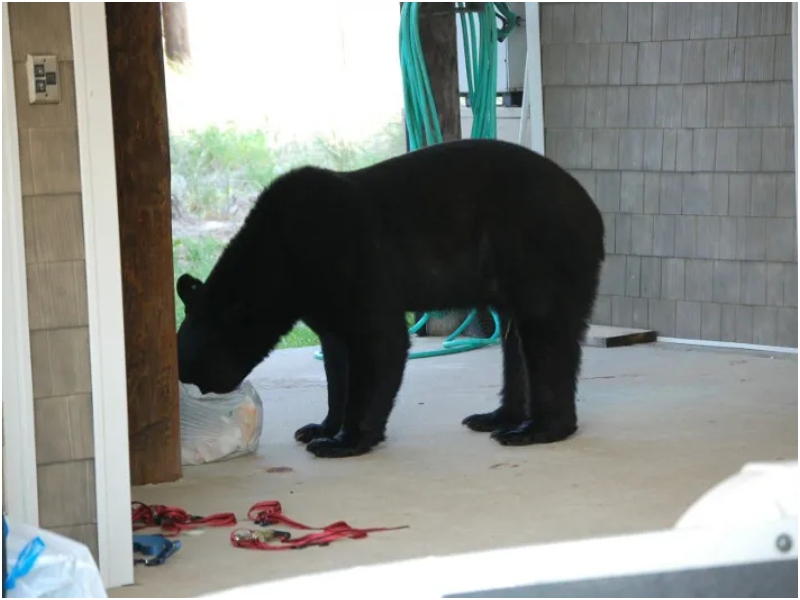 Blessed with a remarkable sense of smell, they use this gift to forage for food when hungry. These animals are smart enough to realize they can get their paws on an unending supply of snacks at people's homes. So, you may often find them in your front yards or on the street rummaging through the garbage.
Wandering Into the Neighborhood
As is its nature, a hungry 400-pound black bear wandered into a neighborhood searching for food. Well-populated areas are their usual target. This one, guided by his nose, ended up at the residential area of Florida's Alligator Point from his home at the Osceola National Forest.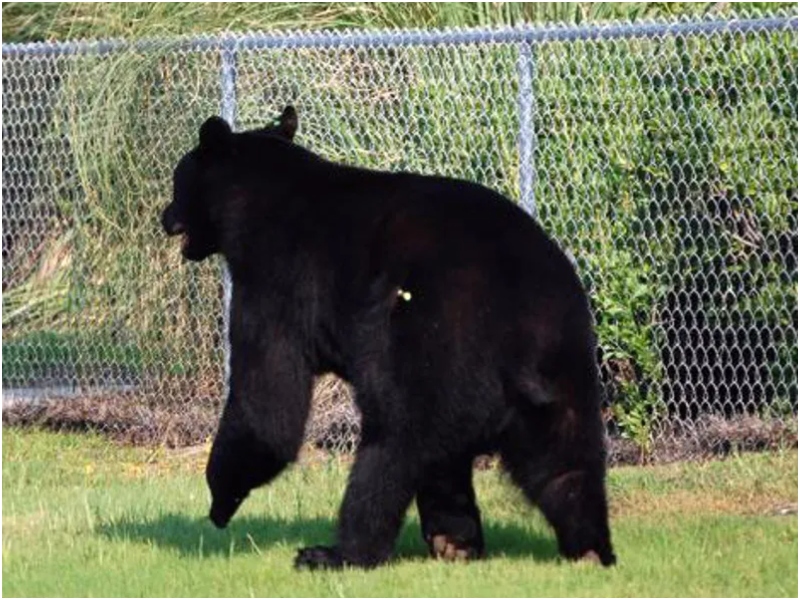 It's quite a distance for a lone animal to travel, but a bear can go to any lengths for food when it's famished. We can only assume that this was something the bear regularly did.
Caught in the Act
Unfortunately for the black bear, this jaunt, far away from his home, became a nightmarish experience. He was noisy when shuffling through the garbage, looking for a delicious snack, and some residents noticed him and notified the wildlife authorities, who rushed to the spot.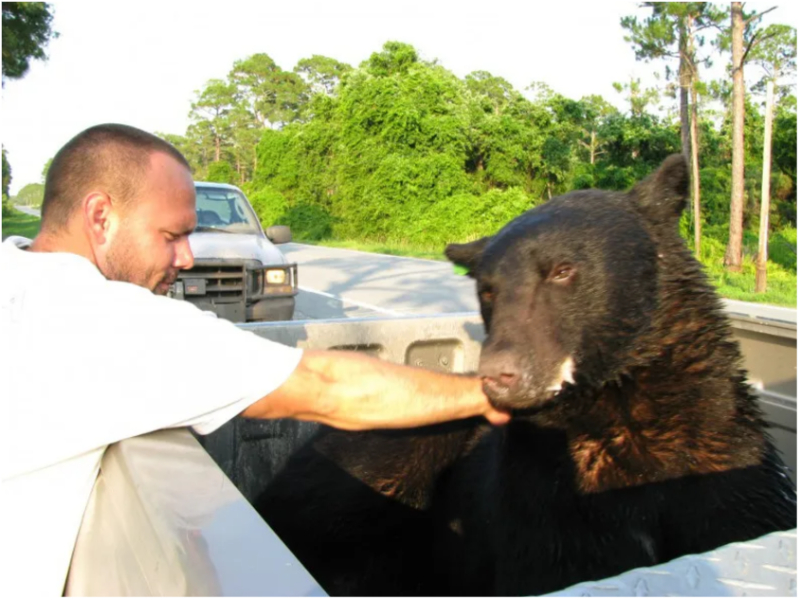 The authorities were adept at their duties and knew what to do to get a huge black bear home. They didn't know that things may not pan out as planned. Their agenda was clear; they had to safely return him to his forest home.
Sedating the Big Black Bear
The black bear wasn't a small creature they could coax out of the neighborhood and carry to its home. Transferring a large one required good planning and execution, and some extra measures had to be taken. Since they did not expect the animal to cooperate in their efforts, the authorities tried sedating him with a tranquilizer.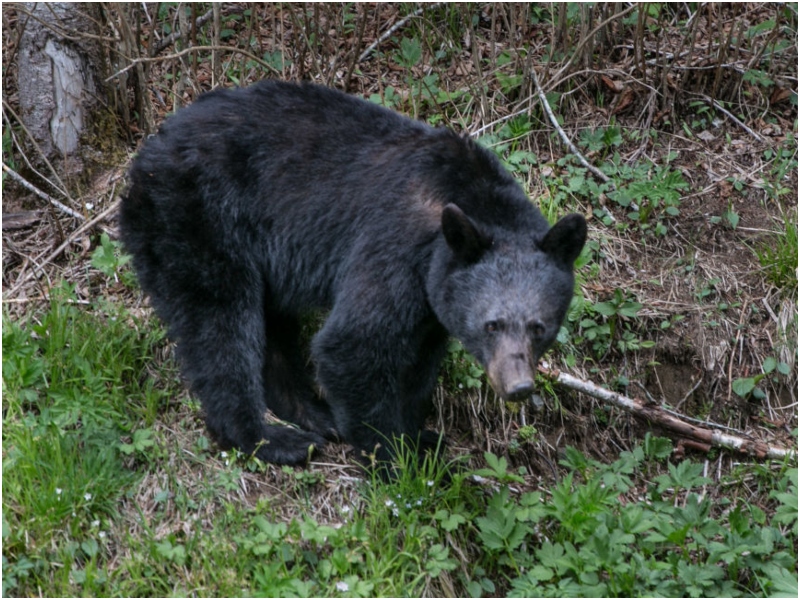 It was probably one of the safest ways to move the black bear from one place to another, or so they thought, until it became awfully clear that the beast was in no mood to comply with their wishes. 
Lost His Way
You don't expect to be disturbed when you eat, right? Imagine being surrounded by people who hit you with a tranquilizer dart in the midst of a sumptuous meal! No wonder the bear reacted as it did; he took off from the spot as if his life depended on it.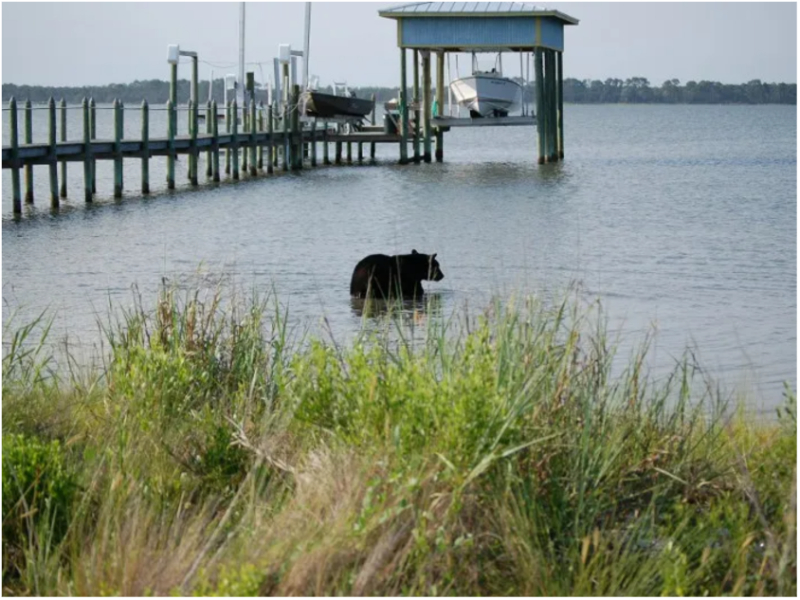 The Alligator Point is a coastal haven with some of the most pristine beaches in the state. So, it isn't surprising that the bear hopped into the nearby waters to escape the clutches of his tormentors. 
Swam Into the Waters
The big black bear weighing 400 pounds probably thought swimming into the waters was one of the safest getaway options. He clearly wasn't thinking straight, or perhaps that was the only place he could go to to get away from people.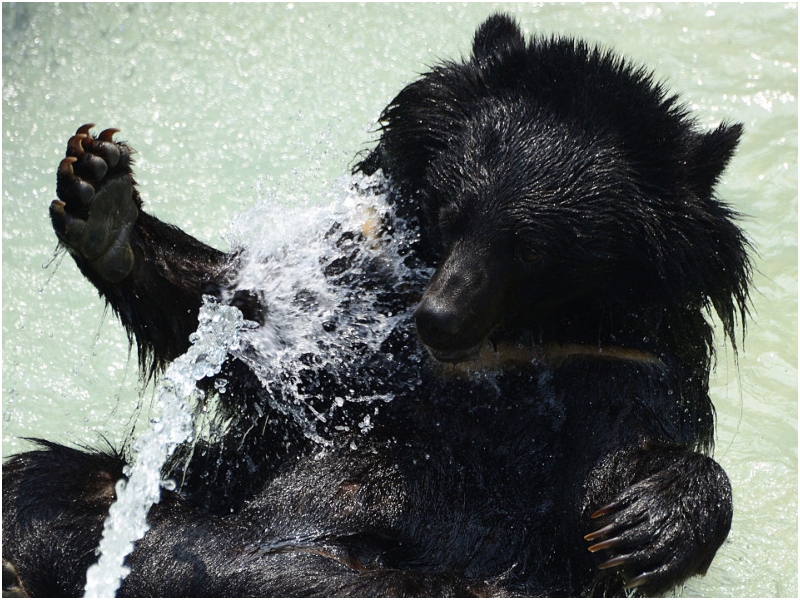 Black bears, in general, are excellent swimmers who readily get into the water to find fish. A fascinating fact is that one adult black bear is believed to have swum nearly ten miles along the Gulf of Mexico, the same waters our animal hopped into.
Drowsy and Drowning
Swimming into the Gulf wasn't wise since the tranquilizer started taking effect midway through his swim. He started feeling heavily drugged and drowsy; even wading through the calm waters seemed like a chore for an animal that was an adept swimmer.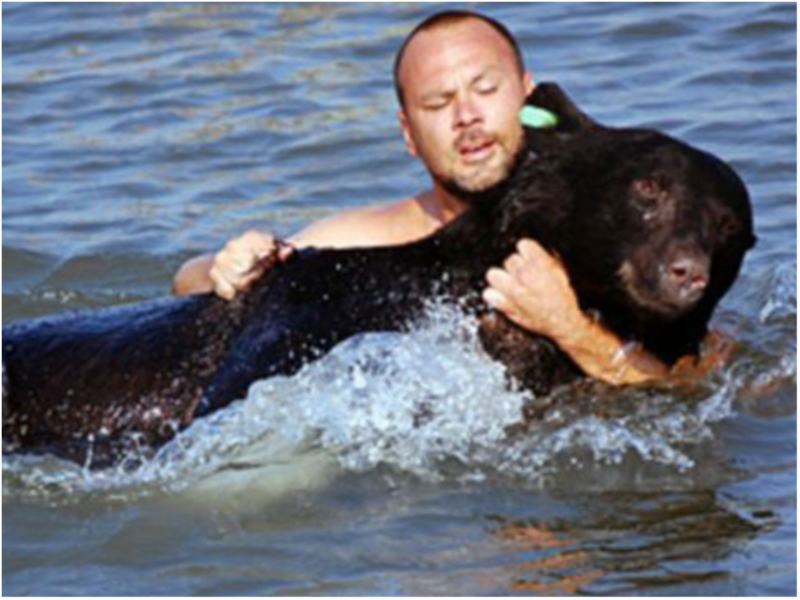 It soon came to a point where the black bear was losing his senses and was in grave danger of drowning. This was not what the authorities had in mind when they tranquilized the animal simply to transport him back to his home. 
Spotted by a Biologist
Thankfully, Florida resident Adam Warwick happened to be there when the bear went in for a swim. Initially, he thought the animal was simply going into the water in search of fish because that's what the bears usually did, but that did not stop him from being concerned about the bear going further into the deeper waters.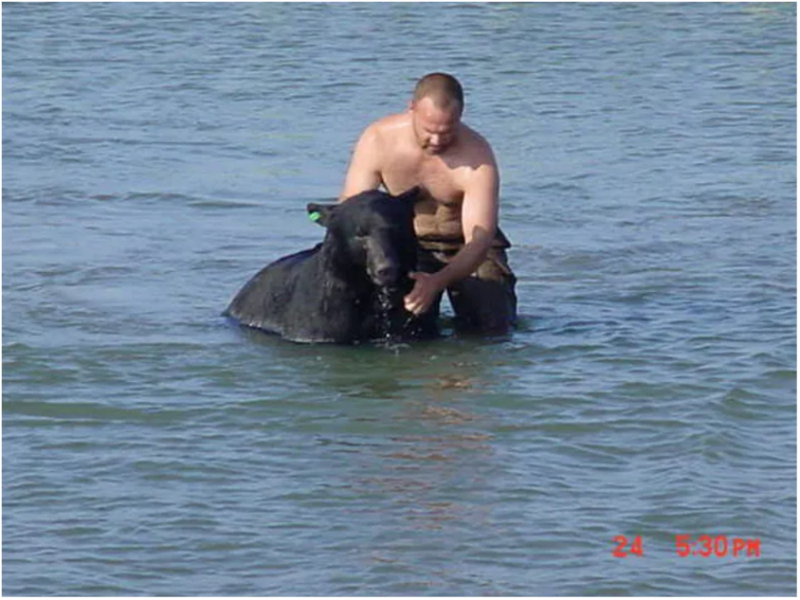 Adam was a biologist with the Florida Fish and Wildlife Conservation Commission and was strongly associated with animals. Seeing how the burly bear turned sluggish about 25 yards away from the shore, his instinct to protect kicked in. 
Diving in Without a Second Thought
When Adam saw the bear, quite literally, getting further into the deep waters, his only thought was to get in front of him to stop the animal. So, the man took off his shirt and shoes and dived in without a moment's hesitation.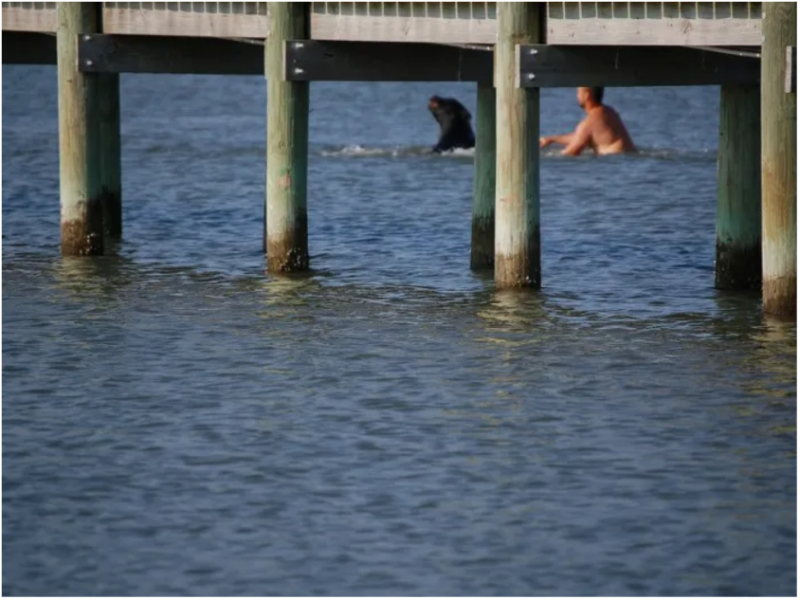 Once he got in front of the bear, he created a commotion by splashing the water to try and get the beast to head towards the shore instead. On the contrary, the animal stopped moving and stared at Adam in a way that terrified him. 
Trying to Stay Afloat
The bear looked like he contemplated jumping on him and leveraging the human to stay afloat, precisely what he did a moment later. Adam reached out to hold the floundering giant without flinching about its size or weight. Fear had kicked in for a second, but the biologist firmly set that aside and focused on the task.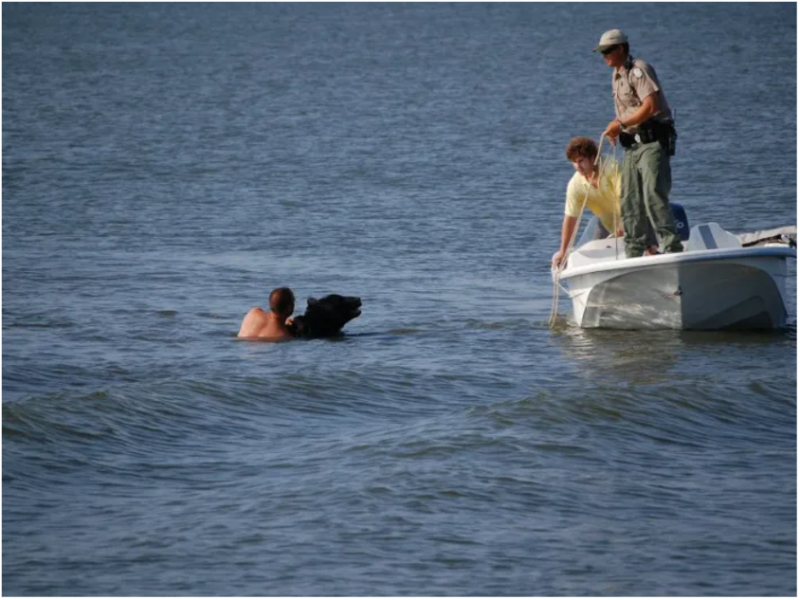 His sole focus was to somehow steer the heavy six-and-a-half-foot-tall bear to shore without either of them drowning. He felt sorry for the bear's helpless state.
Dragging the 400-Pound Bear to Shore
Once the bear started losing sensation in his legs and crawled onto Adam, seeking support, the wildlife expert knew he had to act quickly. So, Adam wrapped one arm around the animal's stocky frame and used the other to grip the scruff of the bear's neck to keep his head above water.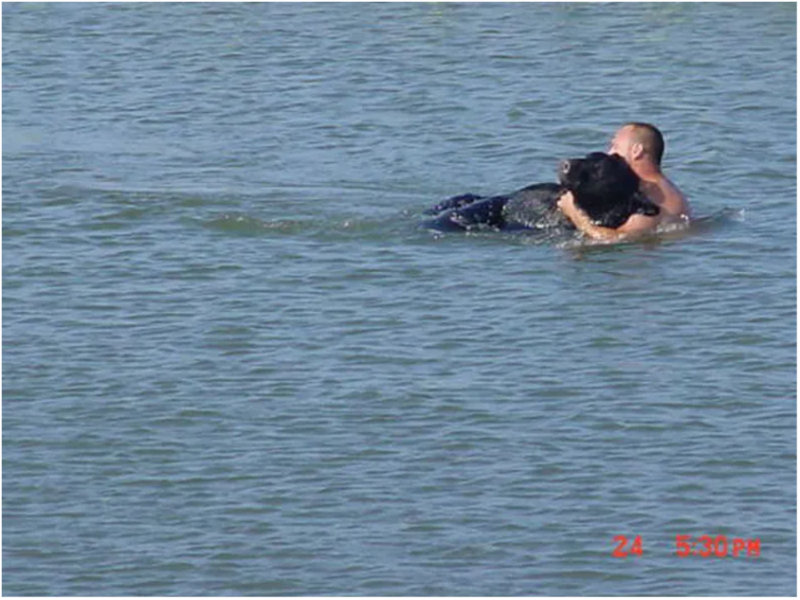 While dragging the black bear across the four-foot-deep waters to the shore, the Florida man cut his feet on the barnacle-crusted ocean bed. Besides that and the bear's scratch on his leg, he was uninjured.
A Tractor Bucket Transfer
The onlookers cheered when both made it to shore unharmed and alive. They were hoisted onto the land because Adam was exhausted when they reached the shore, and the groggy bear couldn't even keep his eyes open.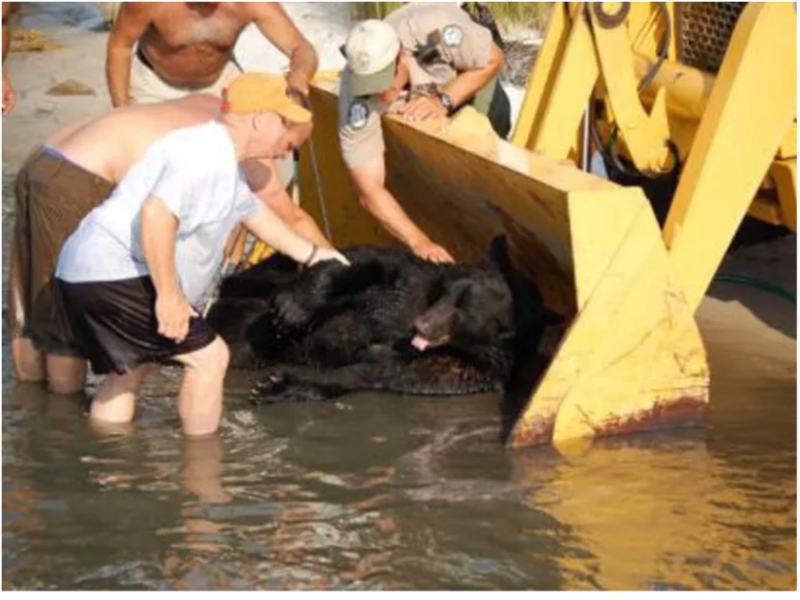 Since the black bear was too heavy to be handled by the wildlife crew, a tractor bucket was used to transfer the sedated bear onto the vehicle. The Florida biologist ensured that the sleepy bear made it home safe and sound; he probably regrets not getting a bear hug, though. 
An Amazing Feat
Adam Warwick will always be remembered for pulling off a daring rescue with the odds stacked against him. He needn't have jumped in, knowing he would be risking his life, but he did so without a second thought. His quick reflexes and calm demeanor helped save a huge black bear from drowning.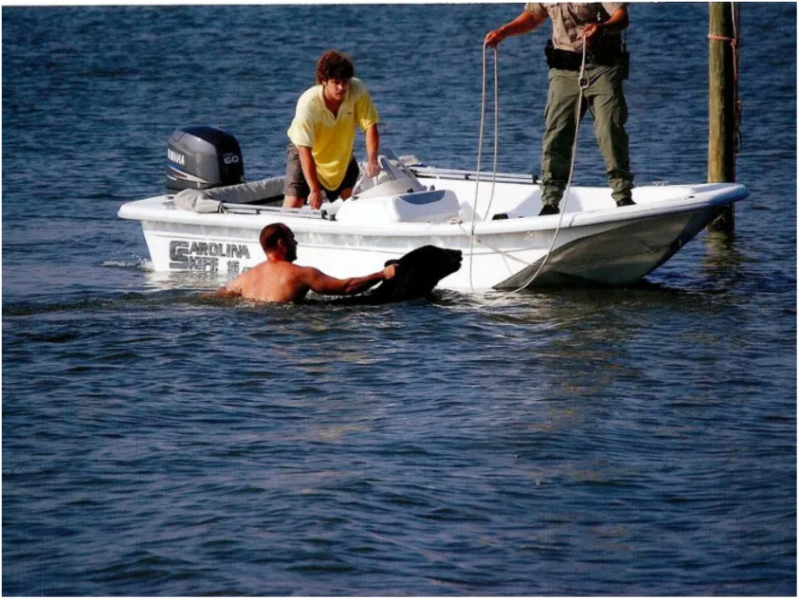 To the onlookers, Adam looked like a determined lifeguard dragging a tired swimmer to shore. Still, everyone knew what he accomplished was a fantastic feat, and it inspired others to do their best to preserve and protect wildlife.
Alive and Well at Osceola National Forest
The 400-pound bear was returned to his home at the Osceola National Forest, where he currently resides. He looks happier and healthier than ever and has probably vowed never to rummage through the garbage bins in the residential areas looking for a meaty snack or a candy bar.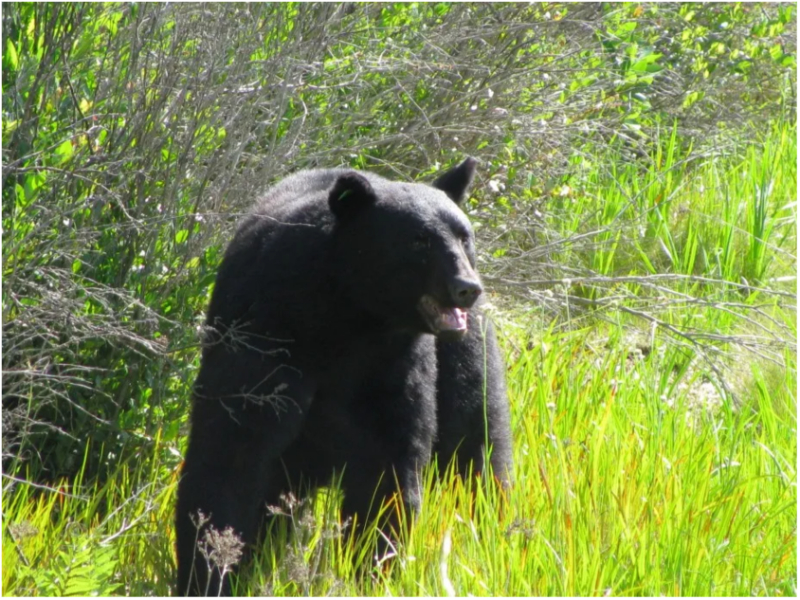 Still, how long before the animal's natural instinct to put his keen sense of smell to tempt him back to his old ways is left to be seen. Until then, we'll hold this spontaneous rescue mission close to our hearts, wishing the big black bear a better outing the next time.