Vacation Blunders: Airbnb Horror Stories
Airbnb makes it easy to find a house and book a vacation. It's become even more popular than hotels in recent years. And there are some really incredible homes you can rent out and enjoy yourself in! But the renting process is not always as seamless as it seems.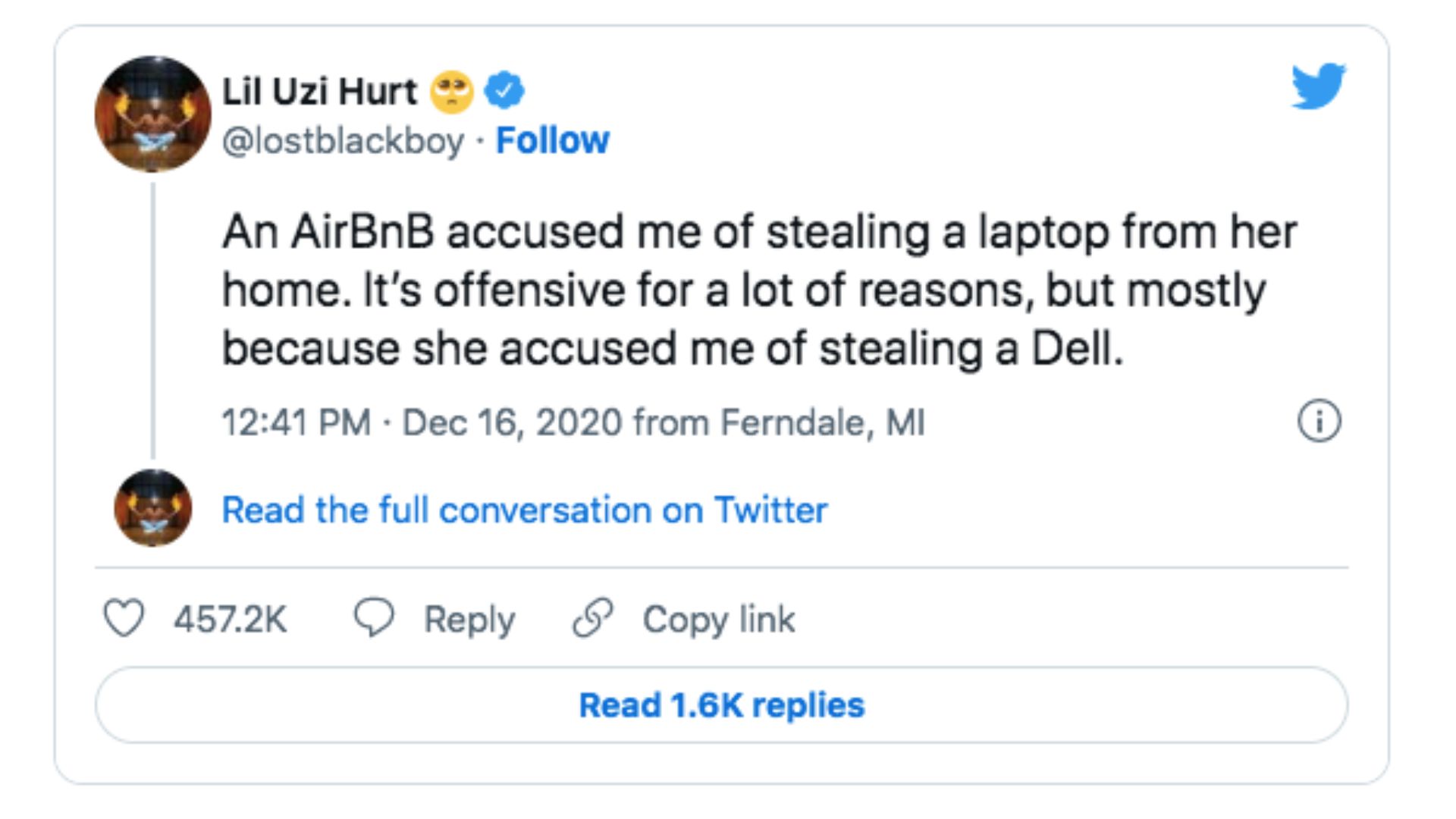 From crazy renters to chore lists, these people have airbnb horror stories that they've shared on the internet. Let this be a lesson to you: Be careful who you book with on airbnb.
Dishes cost extra
Many airbnb hosts have specific instructions for how you should leave the house when you finish your stay. In theory, this makes sense. But some homeowners take the instructions to a whole new level.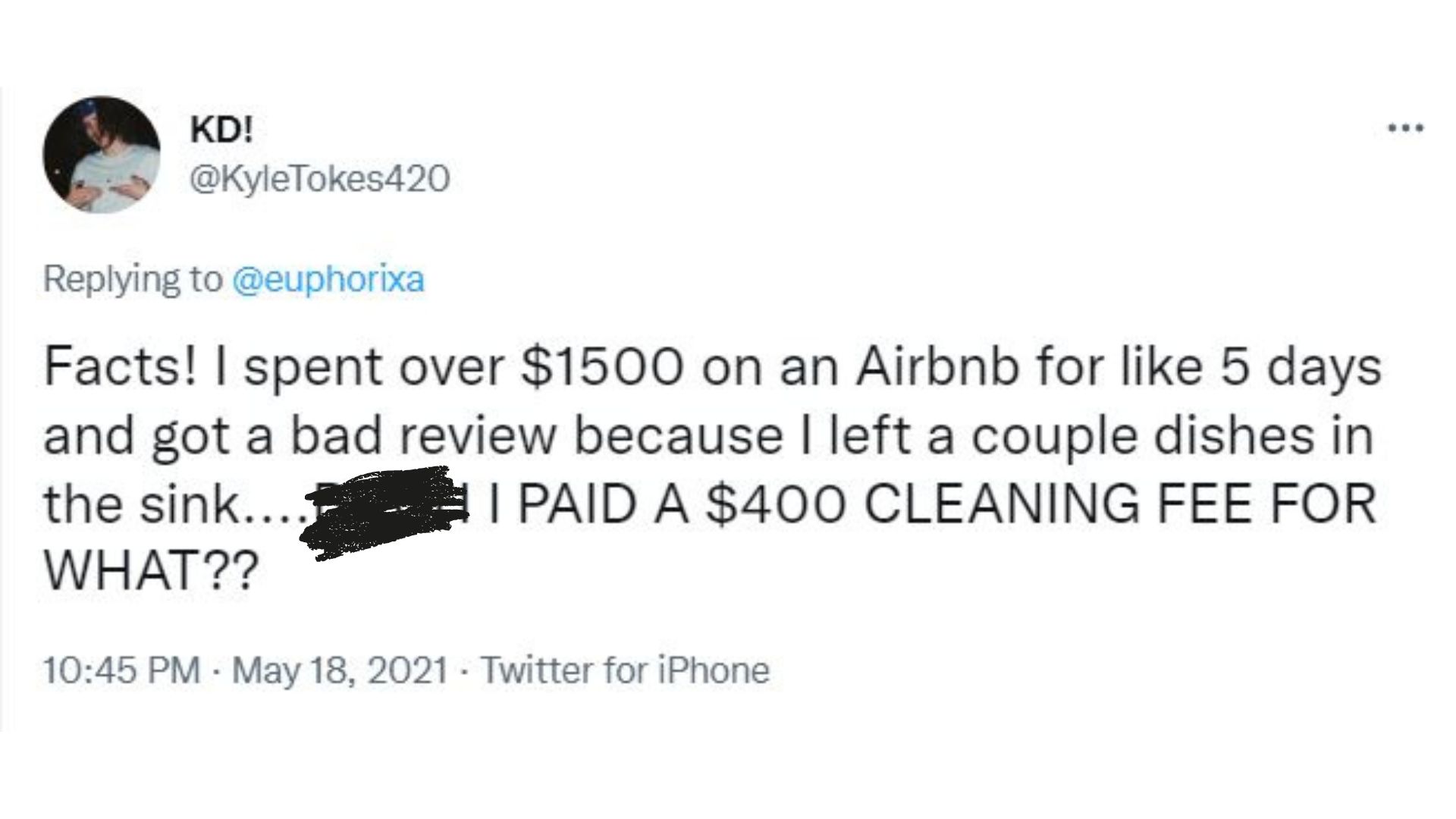 They also tack on all sorts of fees and penalties if people do not leave their home in the exact right condition. Many people even pay a cleaning fee so they don't have to do things like laundry or the dishes before they leave. We understand hosts want their homes taken care of but some definitely take advantage of the system.
Peekaboo
This is probably one of the creepiest things that could happen during your stay. This poor woman caught the homeowner peeking through the window of the home she was staying at! Creepy.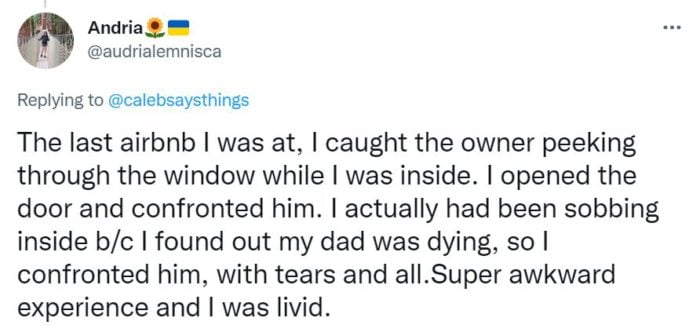 Not to mention the poor girl was crying about the potential loss of her dad! We can only imagine the host was checking on the house and making sure their house was in good condition but this is definitely crossing a line! We wonder what they had to say for themselves when the girl confronted them.
Cat Sitter
Some hosts have expectations that are much too high. It is not the guest's responsibility to watch the cat! Not only did they want them to watch their cat, but they asked that they look for it, capture him, and then babysit him.
This is an absolutely insane request! If she needs a cat sitter she needs to hire someone and not ask her airbnb guests to wrangle her pets. Like she said, she's not staying at the house to participate in a rescue mission.
Pool Party
A lot of airbnb guests are drawn to certain properties because of the pools. And the homes are often advertised as being able to entertain, but they usually do not like guests to throw parties. This woman chose a property for the pool.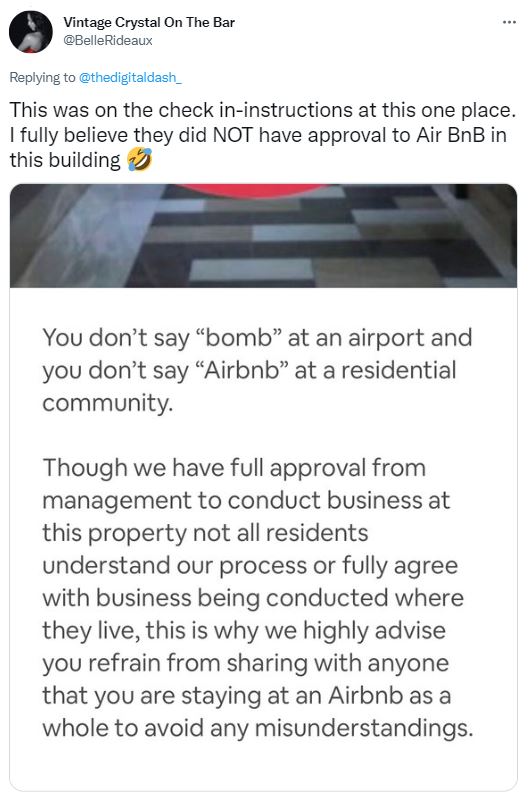 When she arrived, she realized the pool was drained. Technically, the ad for the house said you could lounge "around" the pool and not "in" the pool. Let this be a lesson to all airbnb renters: Read the fine print!
A Little Suspicious
Some apartment properties will allow tenants to rent out their properties for airbnb. But there obviously needs to be approval from the building. This host is being a little suspicious in their instructions. They seem to be certain that they have "full approval" but we don't have that much confidence.

Asking your guests not to mention the word "airbnb" leads us to believe they are definitely not supposed to be renting out their space. It's not the best business sense in the world but we have to give credit for the entrepreneurial spirit.
Heated Pool
Some hosts will charge extra for extra amenities. This guest had to pay an extra $100 to heat the pool. Fair enough. They paid and then were bothered the entire trip about not using the pool heat. It doesn't make much sense.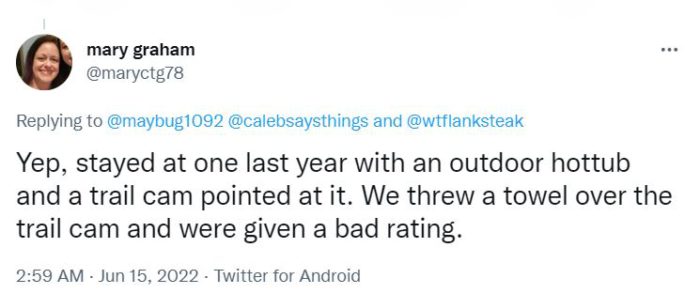 Some hosts are a little too communicative with their guests. When people book an airbnb they are usually trying to get away and relax. Having the host message you all the time makes it a little difficult to kick back.
Beware of Camera
There have been tons of horror stories about secret cameras hidden in airbnb rentals. While there might be cameras at the front door, the host usually discloses this information. But hidden cameras are totally creepy!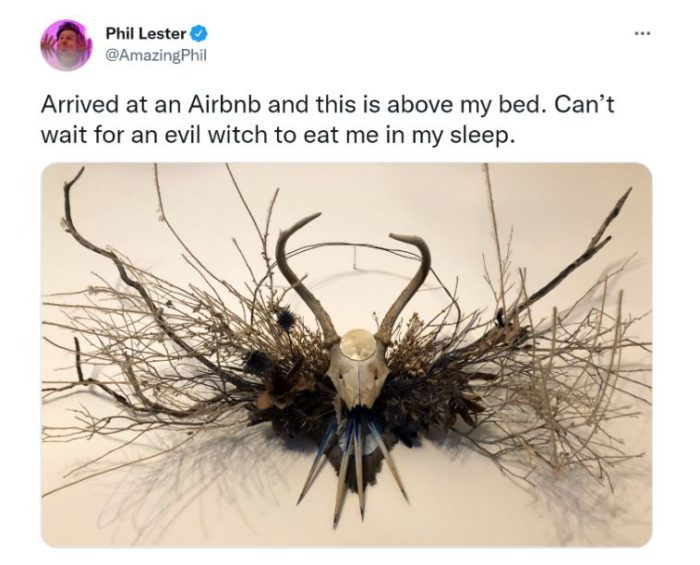 This guest found a camera pointed directly at the hot tub in the backyard of the place they were staying. Super scary! So, they obviously covered the camera. Then they got charged for doing so! We definitely hope they refuted these charges.
Blair Witch
The airbnb property owners do not always reveal every part of the home in the photos online so there are bound to be some surprises in store. In this case, guests found this creepy ritualistic looking structure hanging right over the bed.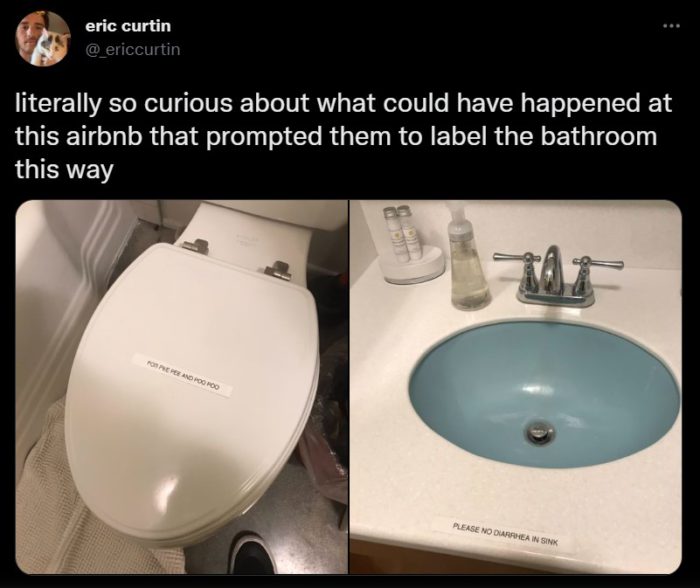 We wonder if the host put this up specifically to scare the renters because it's super creepy. They should sleep with one eye open because we wouldn't be surprised if a witch did come for them while they're sleeping. They better do all the dishes at this house so they don't get on the host's bad side!
Bathroom Labels
We'd love to know why the hosts felt the need to label the bathroom. Something must have prompted them to put these signs up. Perhaps they have children. But we like to think they had an experience with renters that prompted them to label the toilet and sink like this.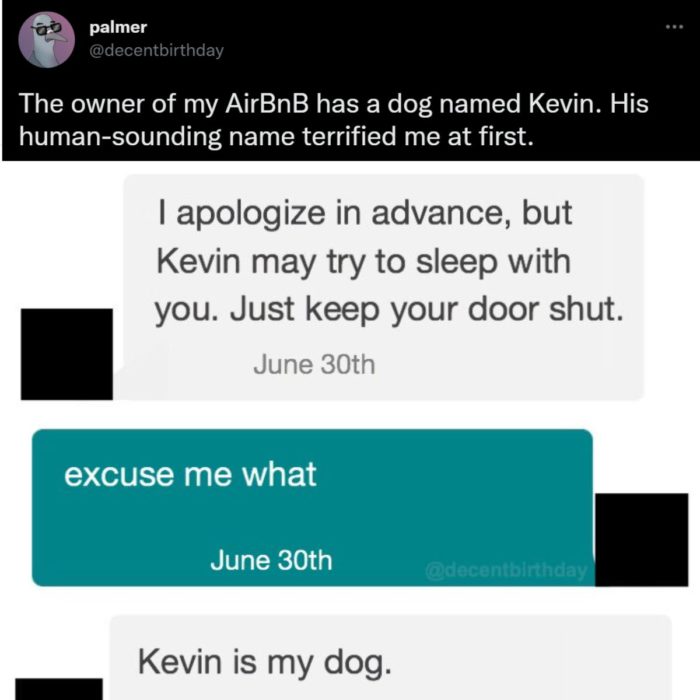 It might just be a case of being over-prepared. In any case, we hope everyone knew what to use each amenity for and there was no confusion. Maybe the fridge was labeled "for food" and the pool was labeled "for swimming" as well.
Miscommunication
Communication is key when it comes to discussion between airbnb host and guest. This host could have been a little more clear when telling the renters about his dog, Kevin. We're sure that first text had the guests wanting to pack up and leave.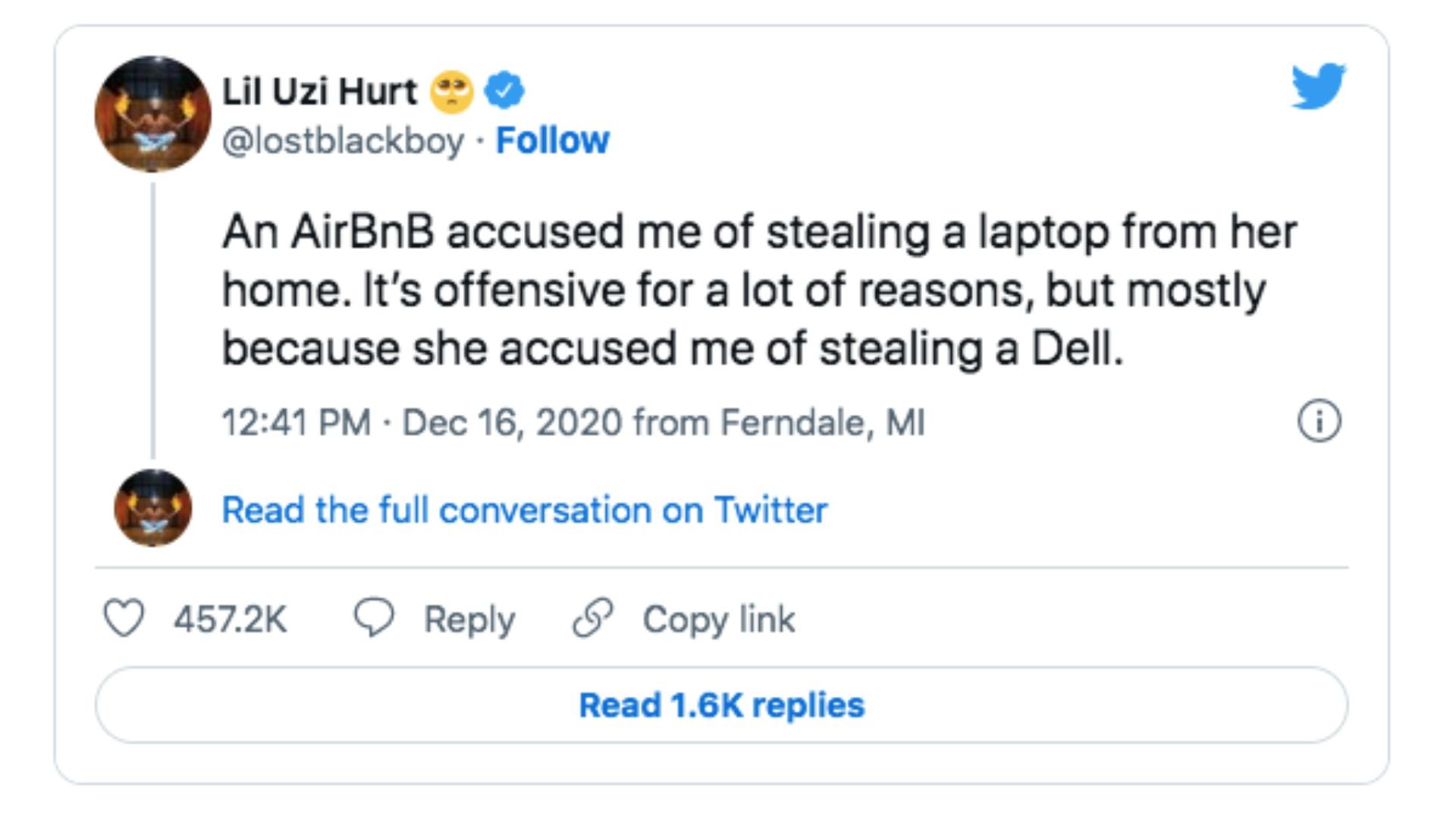 If his name was something like Fido instead of Kevin there might not have been need for panic. But this would have freaked us out as well! Regardless, we don't know why the dog was staying at the house with the guests anyway.
Accusations
This is not the only case in which a host accused a guest of stealing something from the home. And we're sure things have been taken without permission on some occasions. But in this case, it looks like the host was accusing the guest of something they didn't actually do.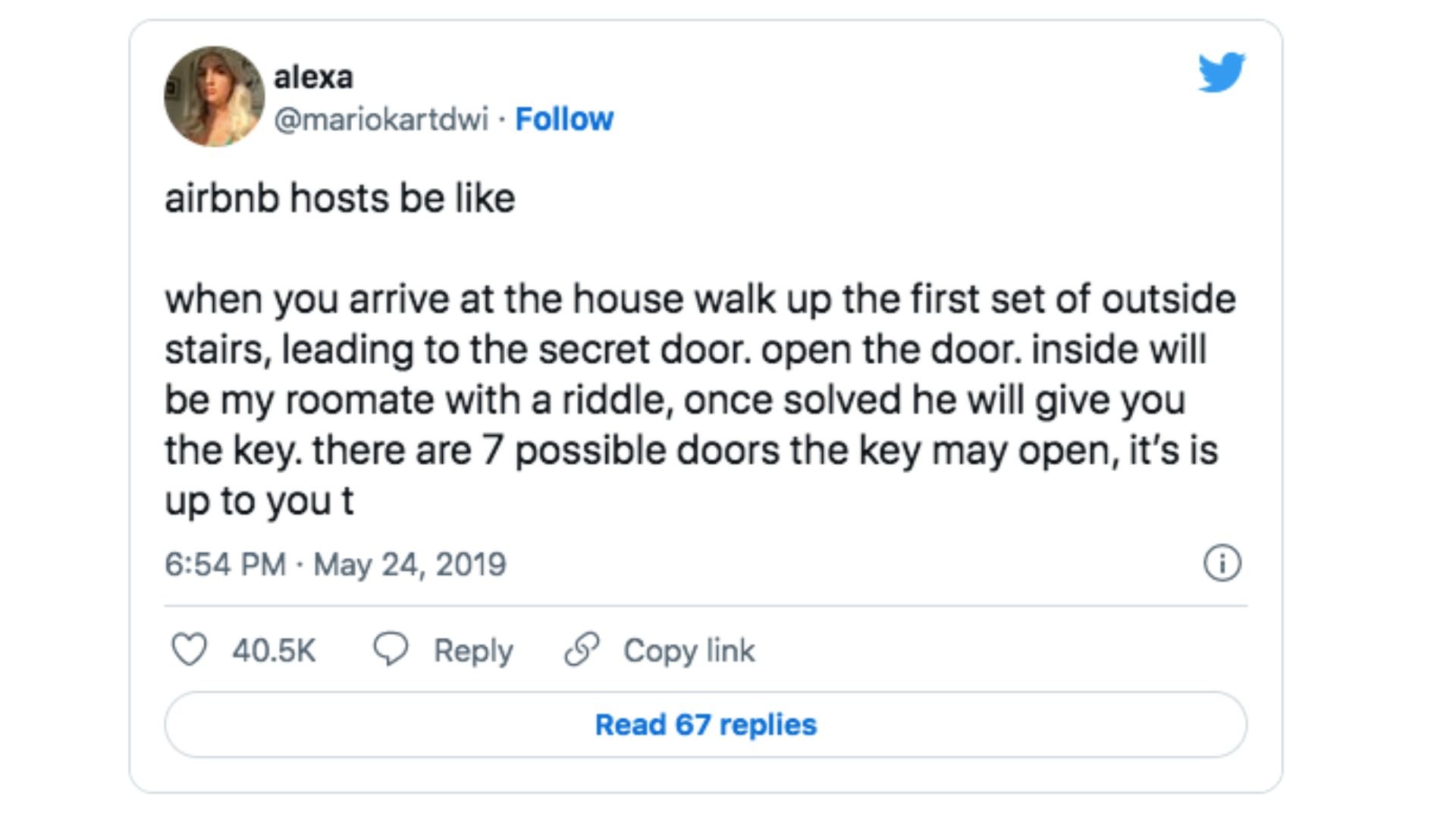 We have to laugh that the reason the guest was offended had more to do with the kind of laptop it was rather than the fact that they were being accused of taking something that wasn't theirs.
Intense Instructions
Some renters like to give very in-depth instructions to their homes. So much so that it has become somewhat of a meme. It can feel like a riddle trying to decipher what they're trying to explain.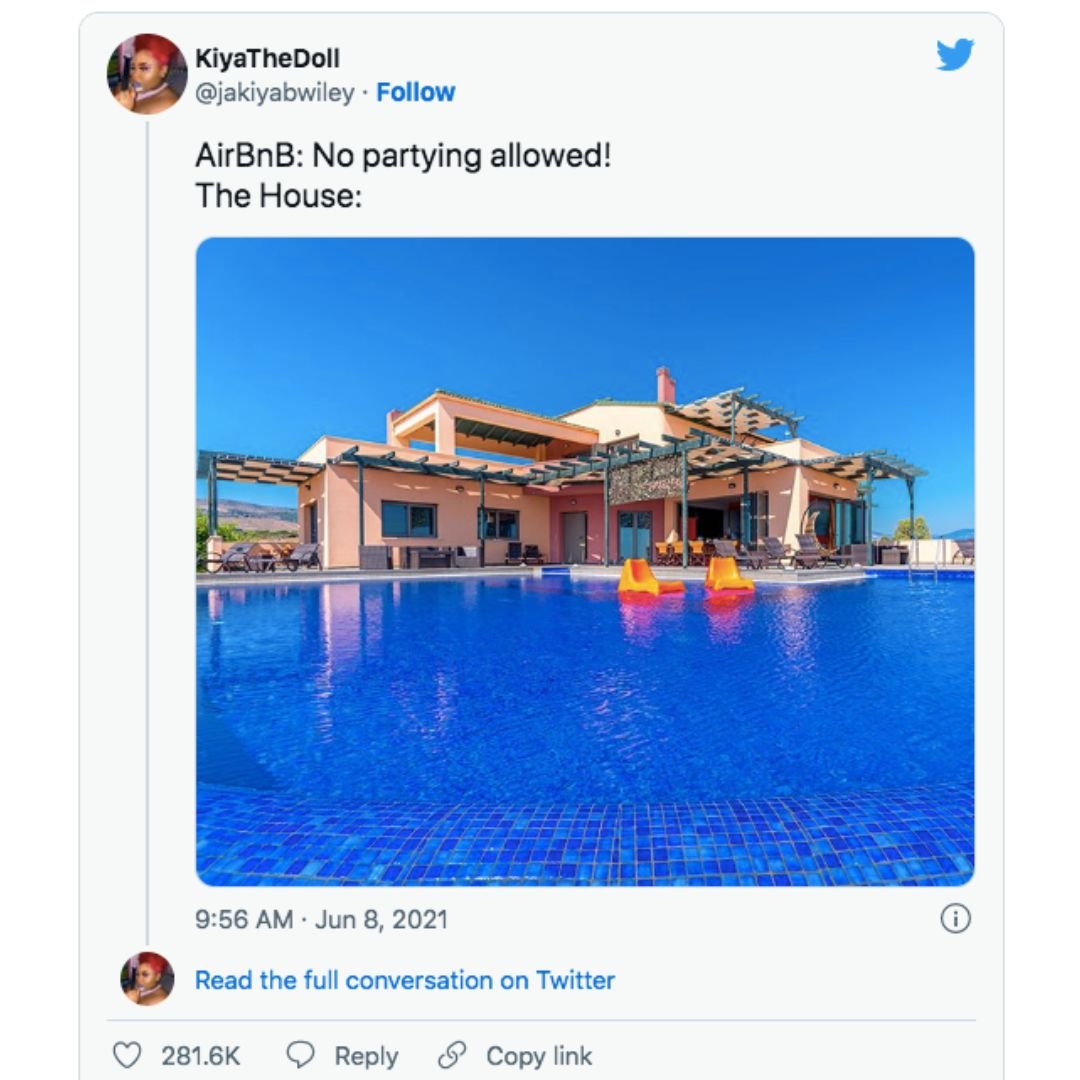 Staying in an airbnb isn't always as simple as it is advertised to be. This person has obviously had more than one strange experience with airbnb. We assume they'll be staying in hotels from now on.
No Parties
When airbnb first launched, people would often rent out big lavish homes for parties. Now the rules have become more strict so guests aren't allowed to host parties in the homes they're renting out.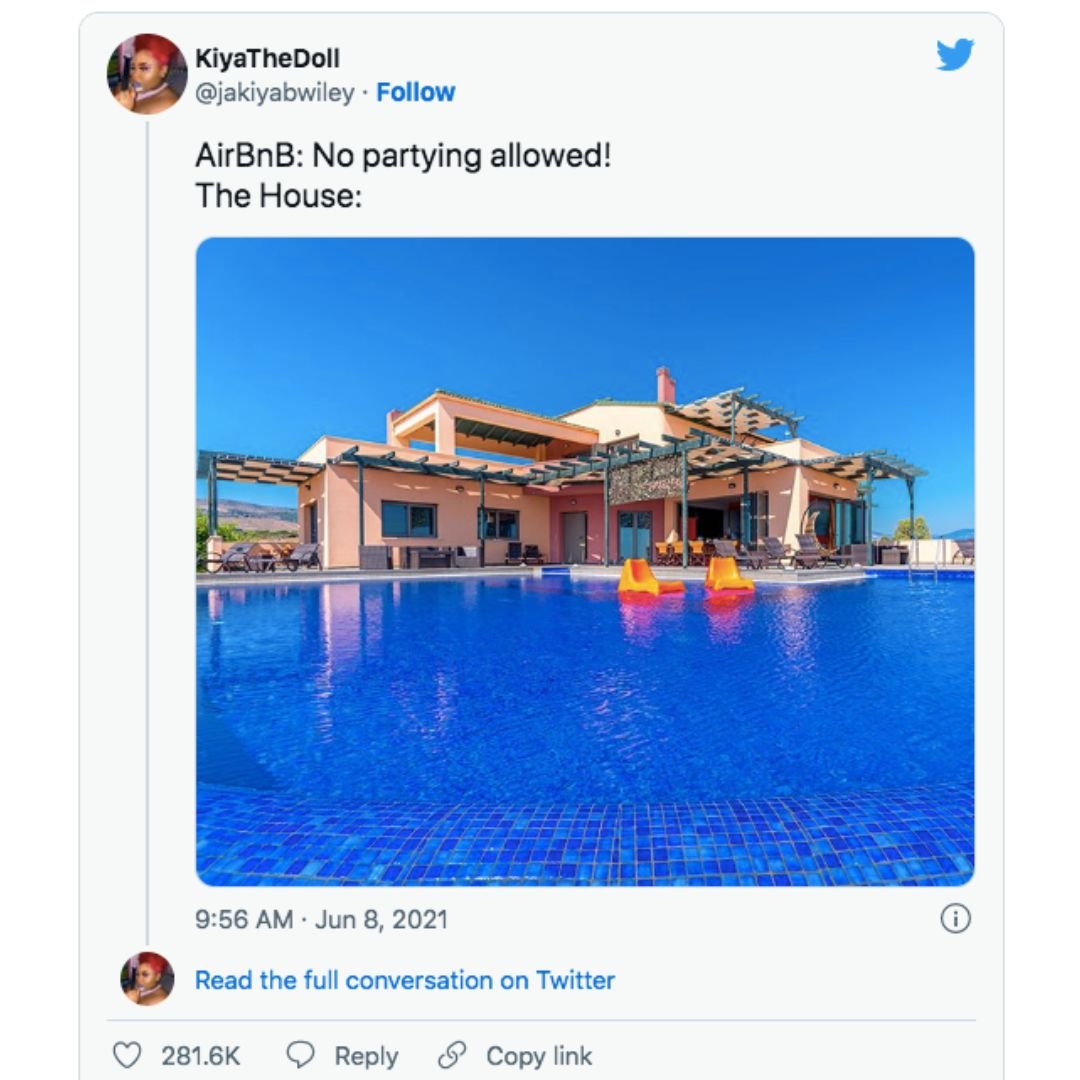 Although the rules have changed, the homes being rented out are still the perfect party location! We get the home owners don't want their homes destroyed but if you're renting out a 5 bedroom home with a huge pool and hosting area, what do you expect?