25 Best-Reviewed Canadian Home and Kitchen Products for Spring
With average ratings of four stars or more, these 25 best-reviewed Canada home and kitchen products for spring will please even the most particular shopper. We've scrolled through the millions of home decor, kitchen gadgets, and organization solutions to find these products worthy of your hard-earned dollars. From rapid egg cookers to vintage office chairs, you can find them all here.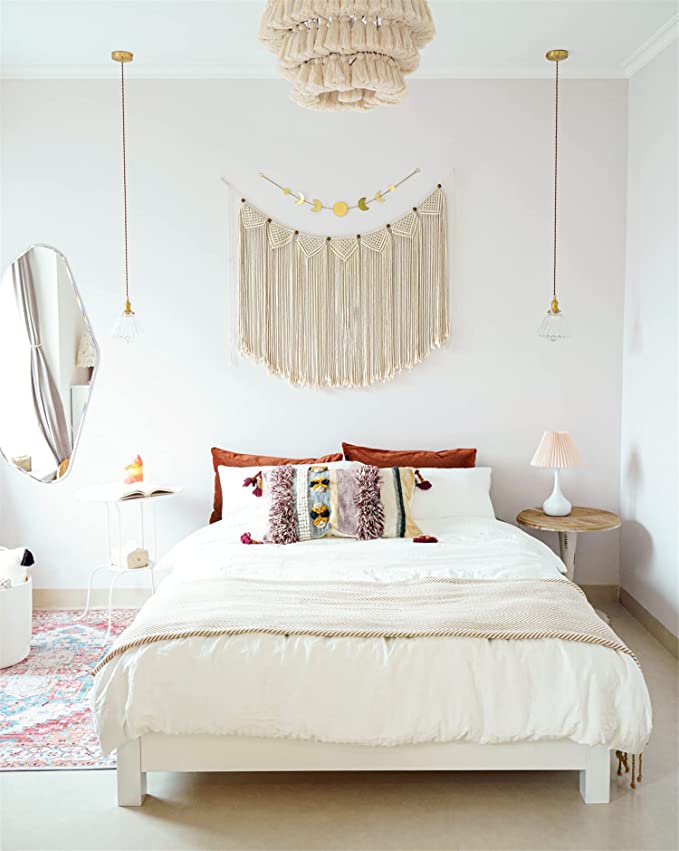 Rather than focusing on flashing unitaskers, you'll primarily find practical home and kitchen products on this list with essential appliances, home goods, and cookware.
Read on for our list of 25 best-reviewed Canadian home and kitchen products for spring.
Power Scrubber Cleaning Kit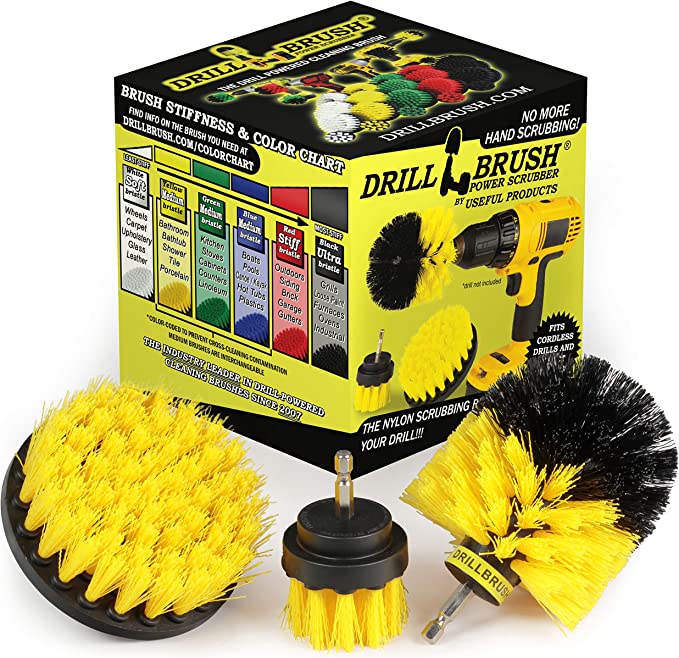 This power scrubbing drill brush kit comes with three brushes: two for surface cleaning and another rounder brush that you can use for getting into tricky corners. The drill isn't included, but you can also pick up one of those on Amazon. The great news is you can put away your elbow grease and clean it smarter, not harder, with this tool.
Closet Organizing System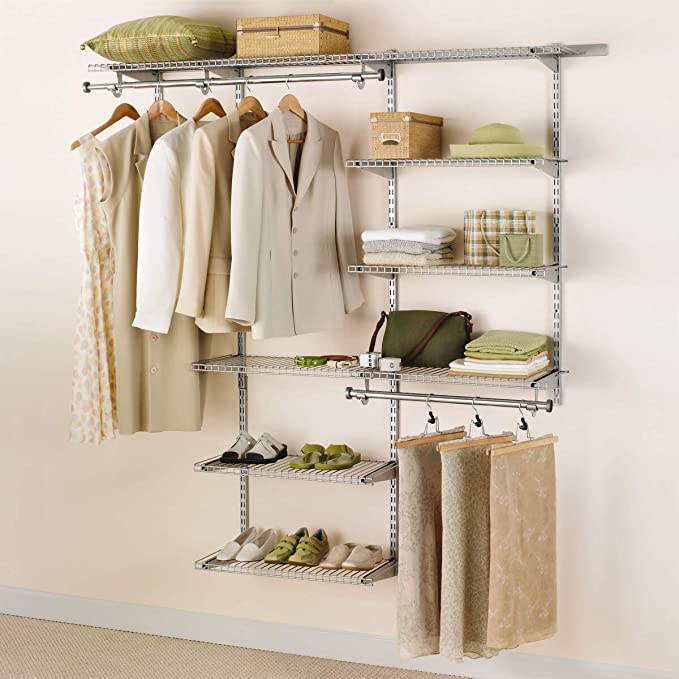 This two-tiered closet organizing system will blast your messy closet into shape. It has shelves for accessories from shoes to belts and racks that fit everything from dresses to jackets. It comes in two sizes: 3-6 feet and 4-8 feet. You can maximize the space in your closet but still have the versatility to change the layout in the future as your needs evolve.
Get Crispy With an Air Fryer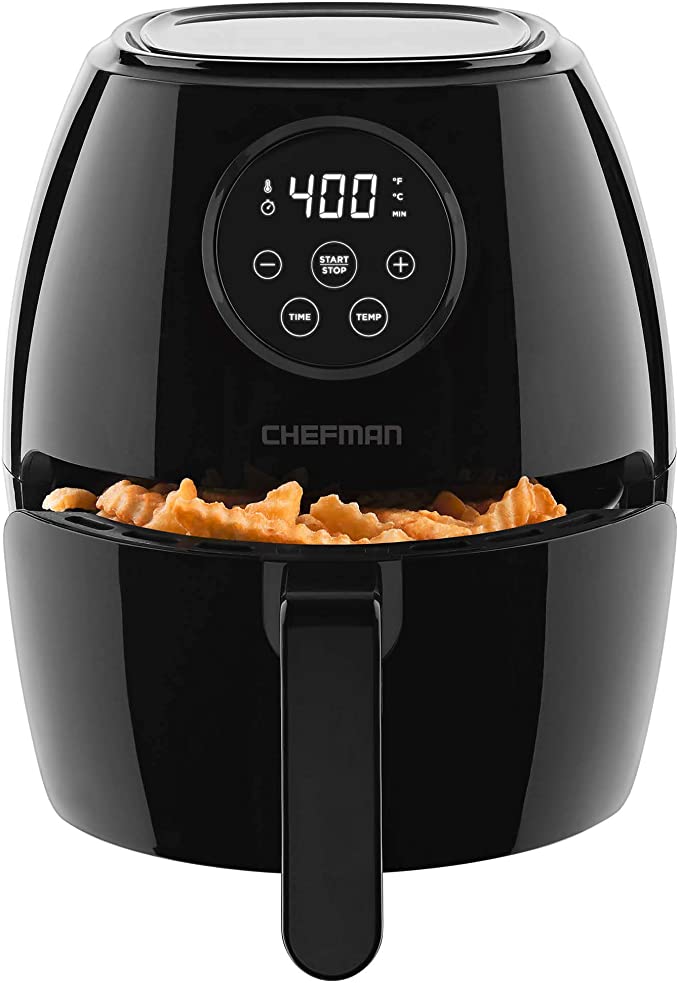 Get crisp foods without using oil. Make crispy chicken wings or easy fries for poutine thanks to a basket big enough to fit all your favourite foods. It'll also cook them faster than a traditional oven, too. You'll get your food ready so quickly that you won't know what you ever did without your air fryer.
Core It up With an Apple Slicer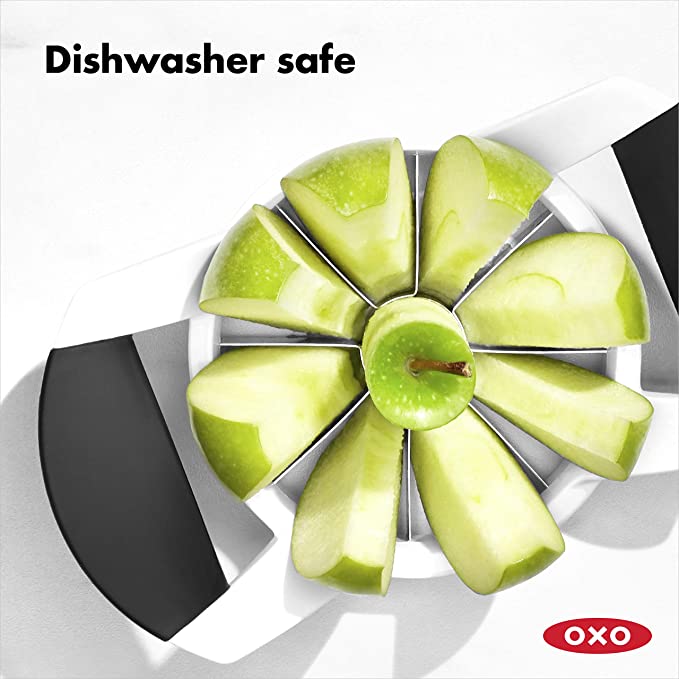 Core your apple and slice it into eight pieces in one shot with this handy apple slicer. The two large handles on either side will take all the pressure off your hands and make quick work out of snack time so you'll be able to serve your kiddos and yourself more healthy treats.
A Bread Maker Makes Baking Easy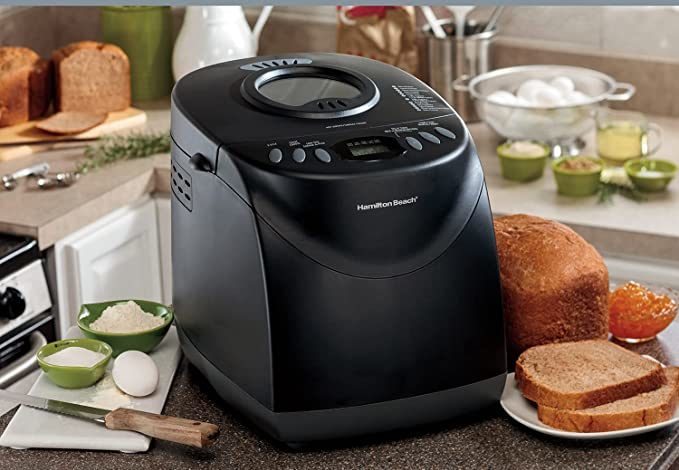 There's nothing like the smell of fresh-baked bread, but sometimes you don't have the time to stand around and tend to all of the various cycles of rising and baking. A bread machine lets you have the awesomeness of fresh-baked bread without all the hands-on labour. Just add your ingredients, choose your cycle, and press start.
Upgrade Your Cookware Set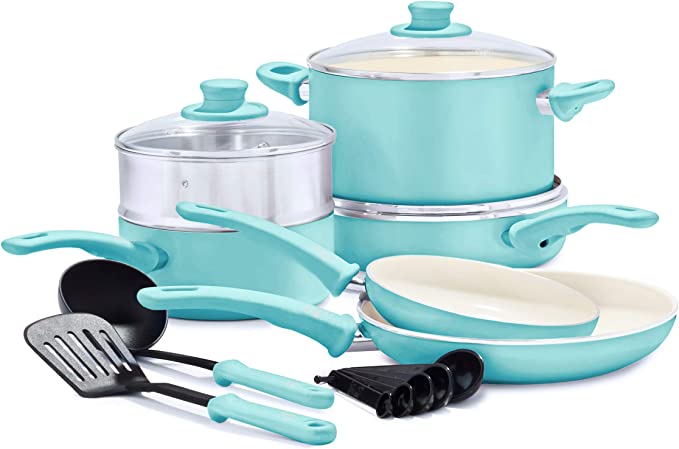 Upgrade your cooking game with this ceramic nonstick cookware set. It's perfect for everyday cooking, PFAS-free, dishwasher-safe, and comes in various delightful colours. The set includes 7" and 9.5" frying pans, a 2-quart saucepan with lid, a 5-quart stock pot with lid, a 2.5-quart saute pan with lid, stainless steel steamer, a nylon ladle, a nylon slotted turner, and five-piece measuring spoons.
Never Fret With an Egg Cooker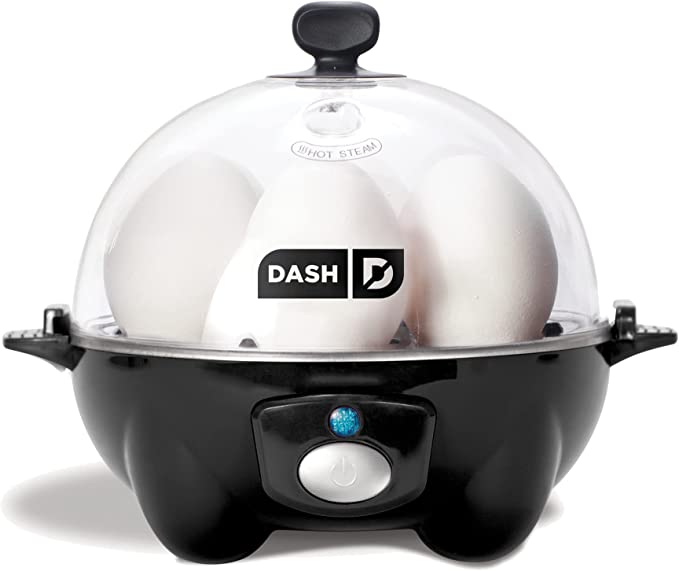 Never fret over perfect eggs again with this handy egg cooker. It lets you cook perfect hard-, medium-, or soft-boiled eggs, poached eggs, and even omelets in minutes. It's an excellent gadget for easy morning breakfasts for the whole family. And, talk about a bonus, it plays a lovely little song when your eggs are ready, so it starts your day out right.
Compost Easily With Hanging Scrap Bowls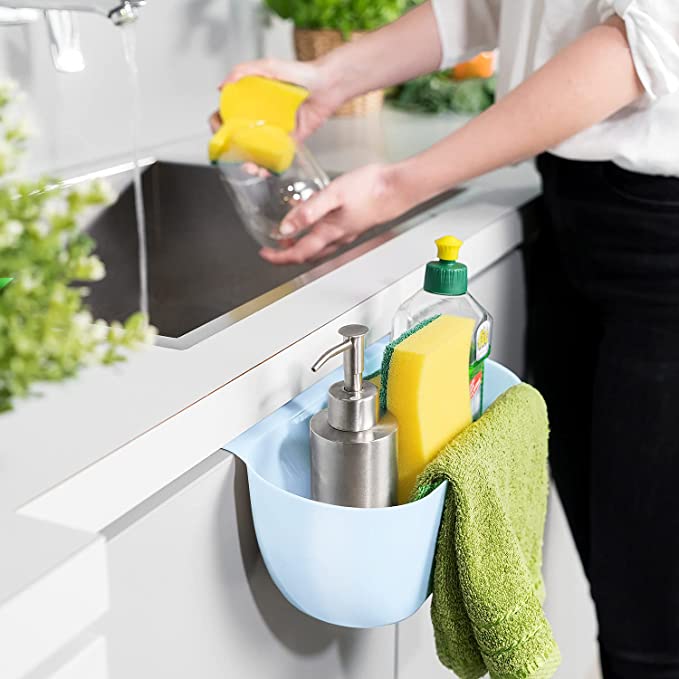 You can use these small hanging bowls to organize the stuff near your sink, like soap and sponges. Or you can hang them near where you're prepping your food to be used as a hanging scrap bowl so you can easily transfer the scraps to either the compost bin or a vegetable scrap freezer bag to be used for broth later.
Grow Indoors With an Herb Garden Kit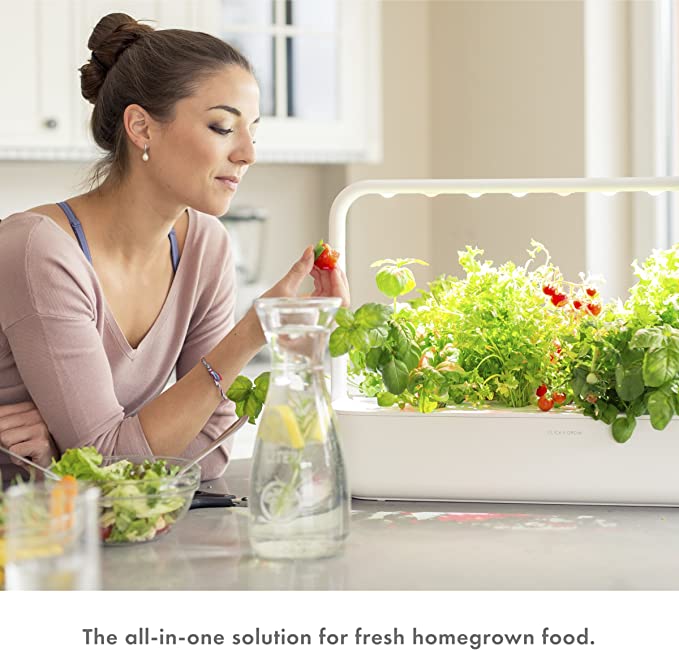 This indoor herb garden kit will turn your kitchen into your personal veggie plot. You can grow up to nine plants at a time and use the fresh produce in your cooking year-round. Plus, you'll be growing it all completely free of herbicides and pesticides, so you know it's safe.
An Instant Pot Is a Multi-Tasker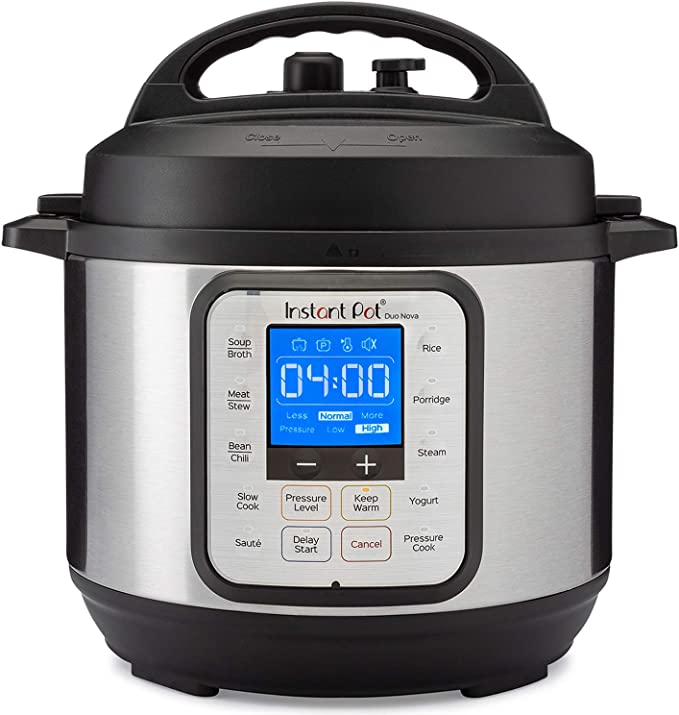 You can't go wrong with seven different kitchen appliances in one. The Instant Pot is worth the space on your countertop because it's not just a pressure cooker but also a slow cooker, rice cooker, yogurt maker, saute pot, sterilizer, and steamer. And you can use it to warm stuff up and prove your dough, too.
Ditch the Mess With a Lid Organizer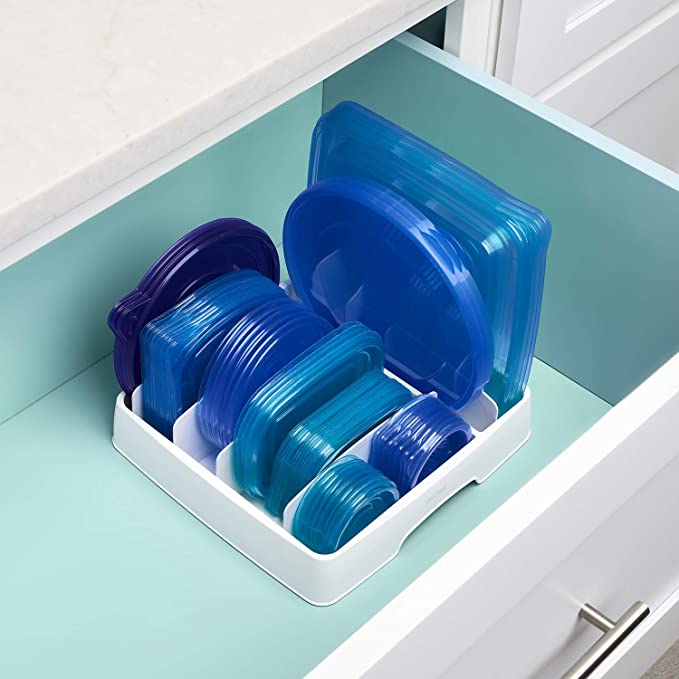 Get that mess of storage container lids under control with this lid organizer. It'll keep them from leaping out at you every time you open the cabinet. With adjustable dividers to hold small, medium, and large lids upright, it'll keep everything shipshape and out of your face.
Create Space With a Magnetic Rack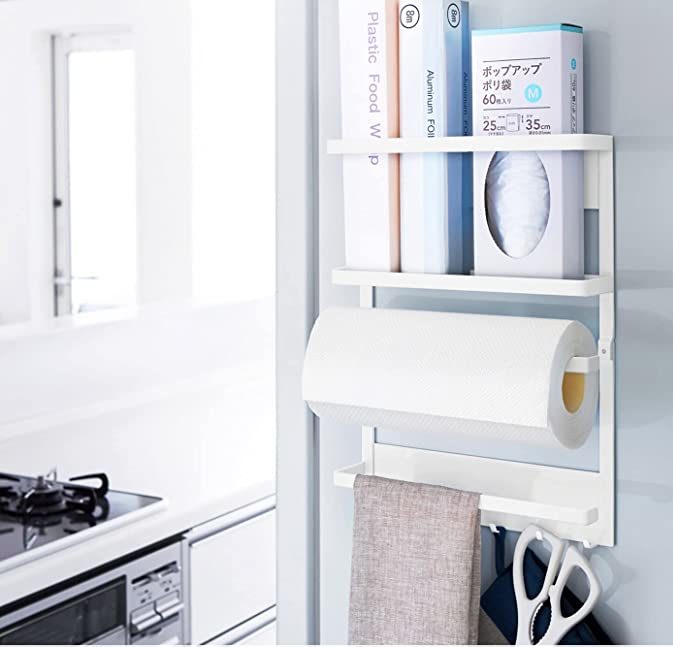 Create more storage space right on the front or side of your refrigerator with this magnetic rack. It has shelf space, bars, and hooks. So you can store practically anything from spices to cookbooks to paper towels and oven mitts on this handy rack. It even has space to hang your utensils.
Get Versatile Mixing Bowls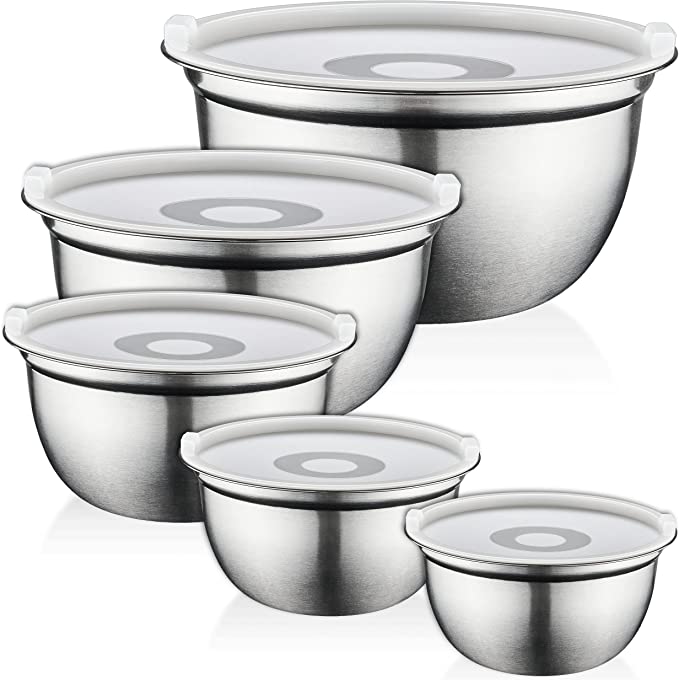 These mixing bowls are made of stainless steel so that you can mix, whisk, and serve all in the same bowls. They're extra-durable, and you can stack and store them. You can use them in the fridge or freezer; they come with lids and are great for food storage.
Find Your Favourites With a Spice Drawer Insert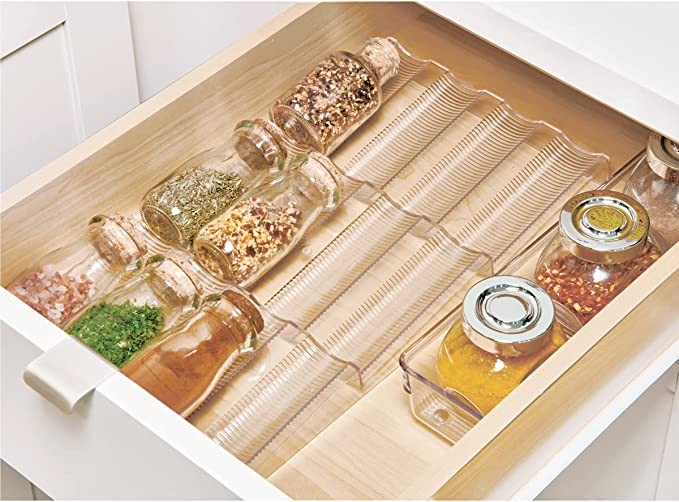 This spice drawer insert allows you to organize a drawer in your kitchen to hold those roly-poly spice bottles so that you can see each one as soon as you open the drawer instead of pawing through the entire mass to find what you're looking for.
No Need to Choose With a Split Pie Pan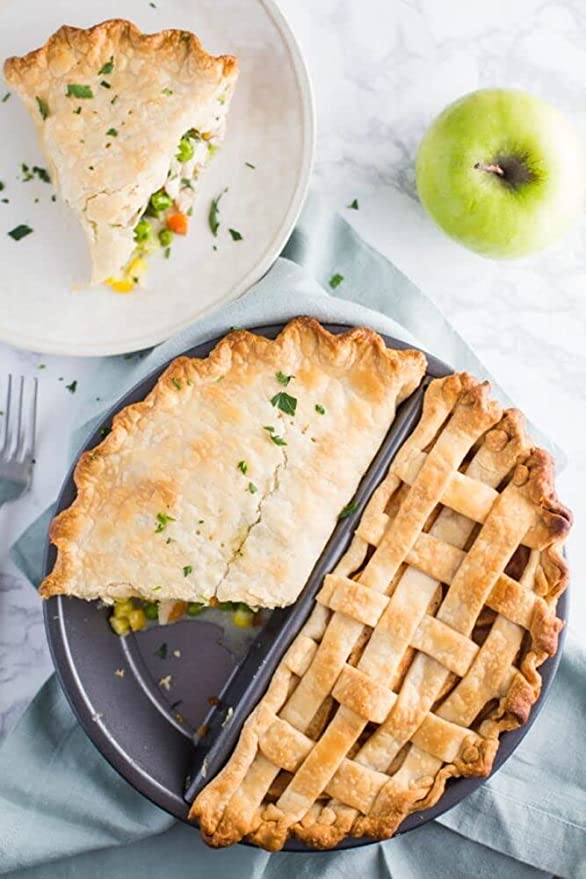 If you're an indecisive baker who can't decide between pumpkin and pecan pie, this is the pie pan for you. Just bake both pies in one pan with this split pie pan. And, since the divider is removable, you can use it for baking a full-size pie if you ever decide on your favourite.
Organize With Stackable Bins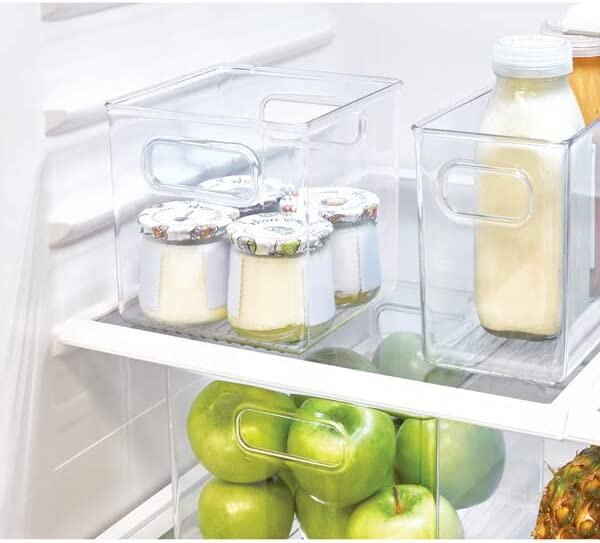 These stackable refrigerator bins will help you organize your fridge or freezer without taking up a lot of room. Since they're transparent, you'll be able to see the contents of each bin easily and keep it all sorted. The containers are available in four sizes.
Invest in a Stand Mixer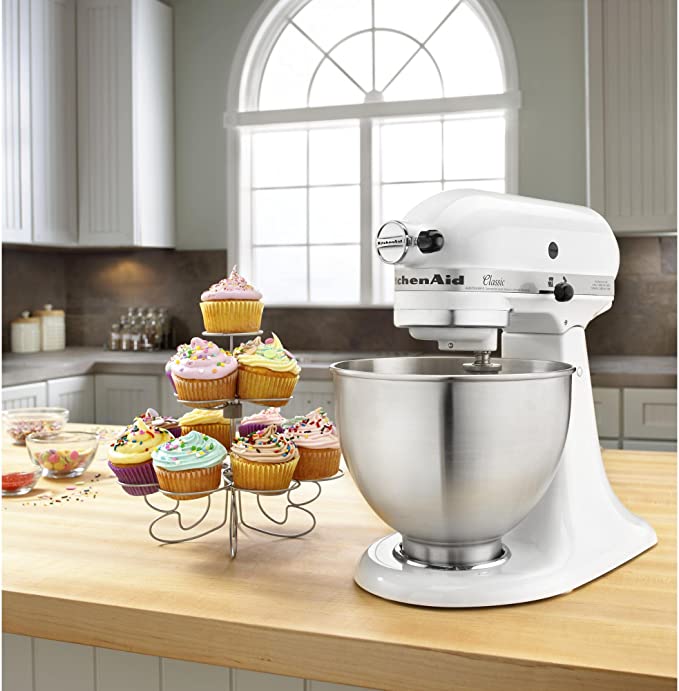 The piece de resistance of kitchen appliances is the stand mixer. The iconic KitchenAid appliance comes with a dough hook, wire whip, and flat beater so that it can do all of the heavy lifting for your sweet and savoury recipes. And with all of the attachments you can add to this appliance, the wonders will never cease in your kitchen.
Be Classy With a Tea Bag Organizer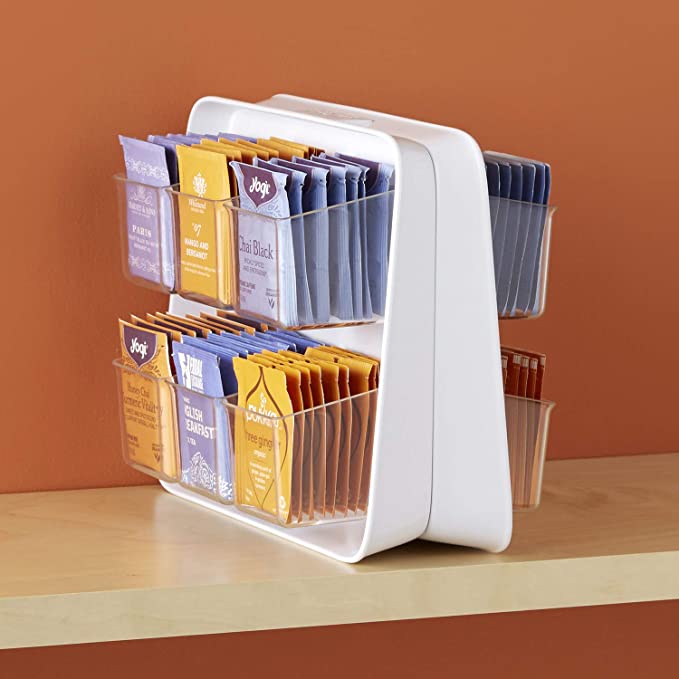 A two-sided tea bag organizer will sort your growing collection of tea bags and won't take up a lot of space on your kitchen counter. And it'll look much nicer and be much easier to use than a jar stuffed with tea bags. It can hold 100 tea bags.
Contain Odour With a Touchless Refuse Bin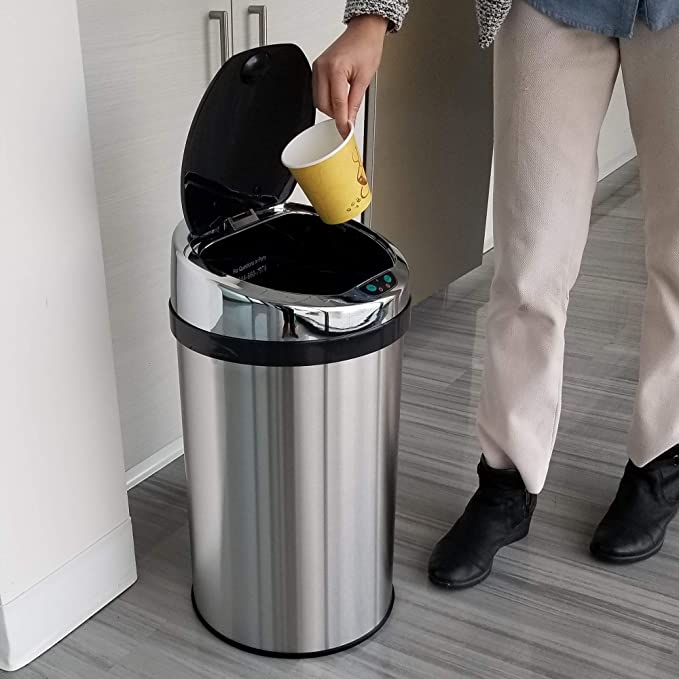 With its touchless sensors, you'll just need to wave your hand to open this refuse bin and deposit your trash. You no longer have to lift a dirty lid to throw things in the bin. This stainless steel bin includes a carbon filter to defunk your garbage odours and keep your kitchen smelling fresh.
Save Space With Wire Baskets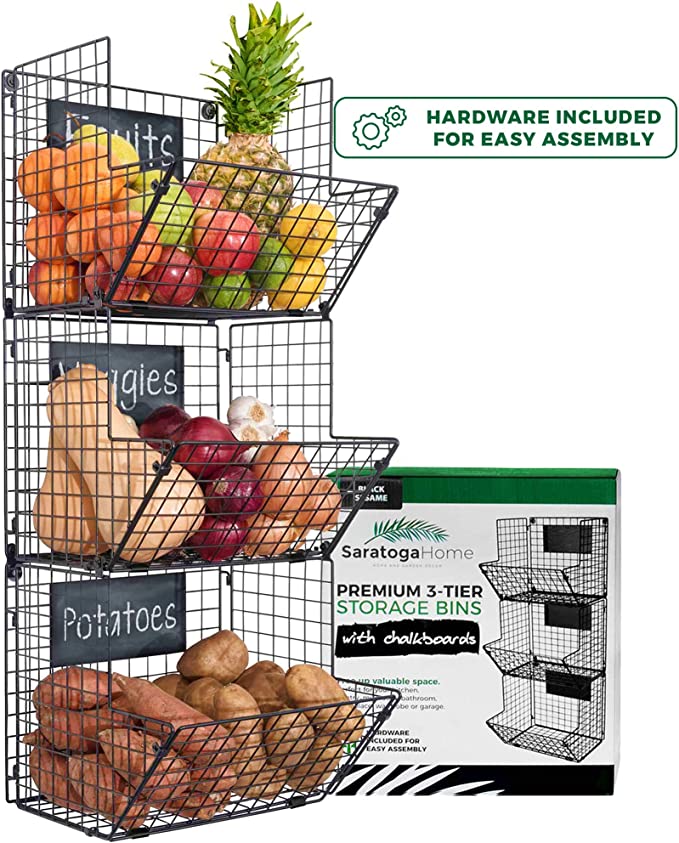 Mount these wire baskets on your wall for more space on your countertops. You can store fruits, veggies, or whatever kitchen essentials you like in them. And you can change your mind, too. The baskets come with chalkboard panels so that you can label and erase them as often as the mood strikes.
Get a Handle on 'Em With a Broom Holder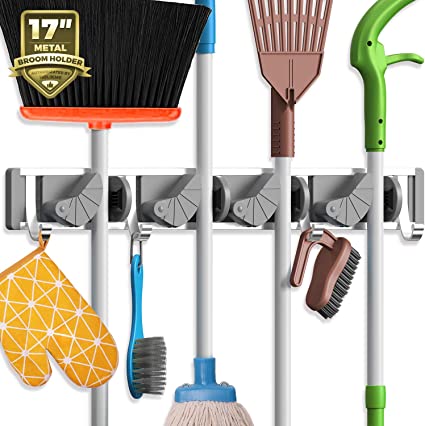 This wall-mounted broom and mop holder will keep all of your laundry room tools accessible AND keep them from falling on your head when you walk by like they do if you prop them against the wall. That's a win. There are four spring-loaded slots and four hooks in this broom holder. Each hook holds 10 pounds, and each slot holds 5 pounds.
Put Your Hobbies on Display With a Bookshelf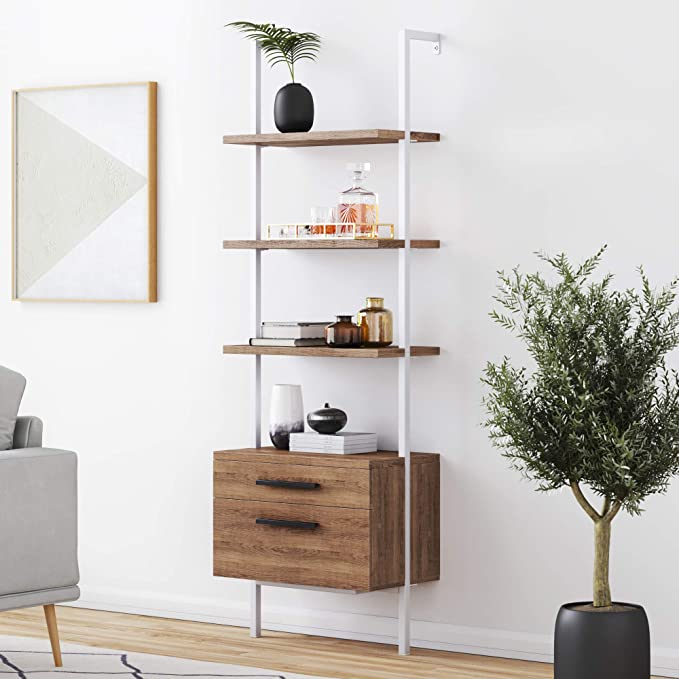 If you'd love to display your books, plants, or barware but need a snazzy shelf, this bookshelf is the buy for you. It's a chic and sturdy three-tier shelf with wood drawers and an industrial-look steel frame. Use this elegant, durable space-saver to display what you love.
Go Boho-Chic With a Macrame Wall Hanging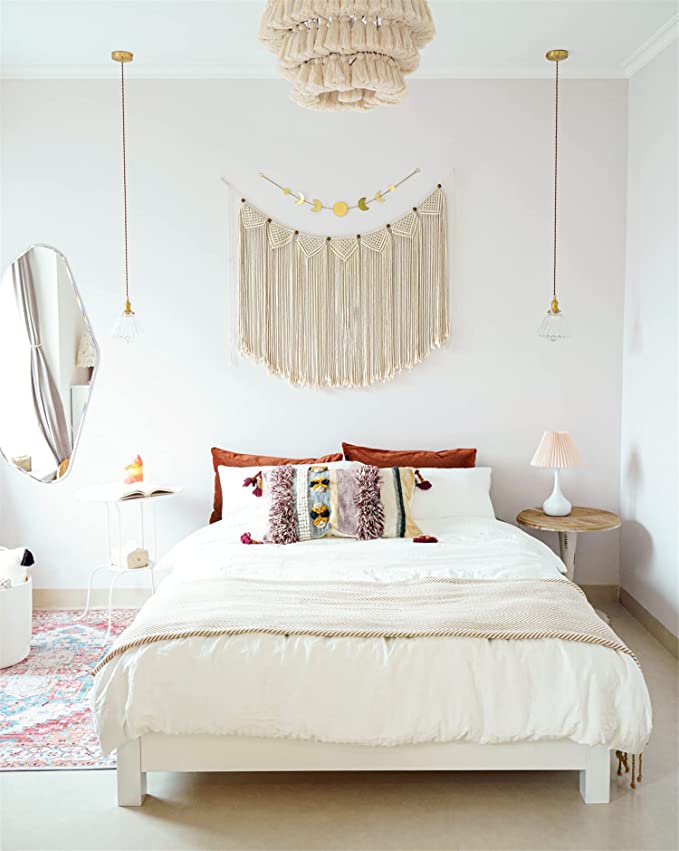 This much-loved macrame wall hanging will give your bedroom or living room a boho-chic vibe. Some reviewers say they use these hangings as window treatments, too. One reviewer says, "Super pleased with this macrame! It's LARGE, which was EXACTLY what I was looking for! This is true cotton cord, meaning it's soft, and easily manipulated … I am so glad I purchased this one! The value for the quality of product is amazing!"
Upgrade With a Wall Mirror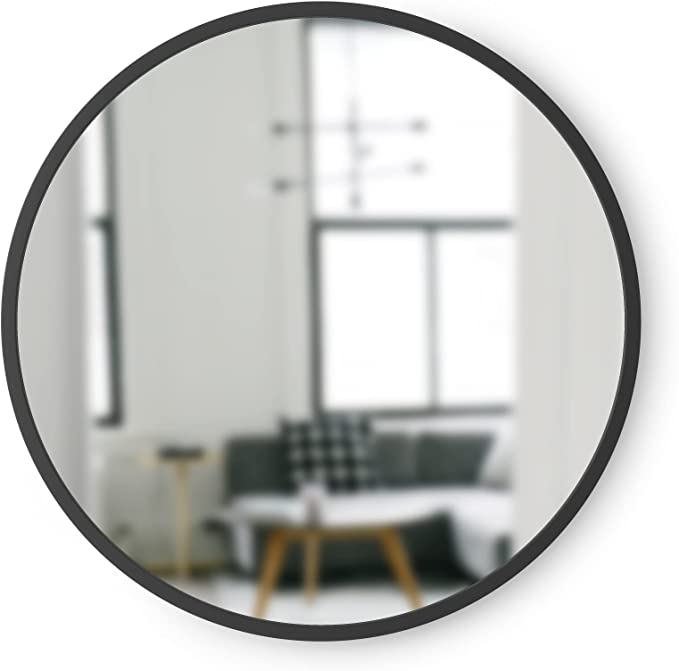 Give your living room or work-from-home space an upgrade with this wall mirror. It'll let you check out your reflection and make your room look bigger. Win-win. You can choose from various colours for the frame, and it's available in multiple sizes.
Get the Look With a Vintage-Inspired Office Chair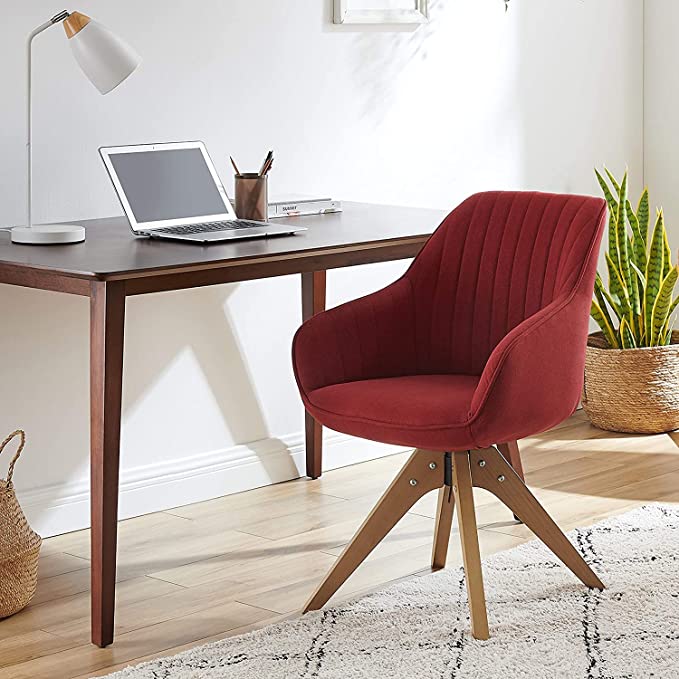 This mid-century design office chair will give your work-from-home office a whole new look, and perhaps more importantly, it's actually really comfortable to sit in. The seat swivels 360 degrees on the natural beech wood base. You can choose faux leather or fabric; both options come in various colours.