The World's Riskiest Airports
Originally Published on
savvydime.com
and repurposed with permissions
While it probably won't be much comfort to you if you have a deep-seated fear of flying, taking a ride in a commercial aircraft is still far and away safer than climbing into the passenger or back seat of a car on the road. Most flights go off without a hitch, and if there is a major accident, you're likely to hear about it on the news.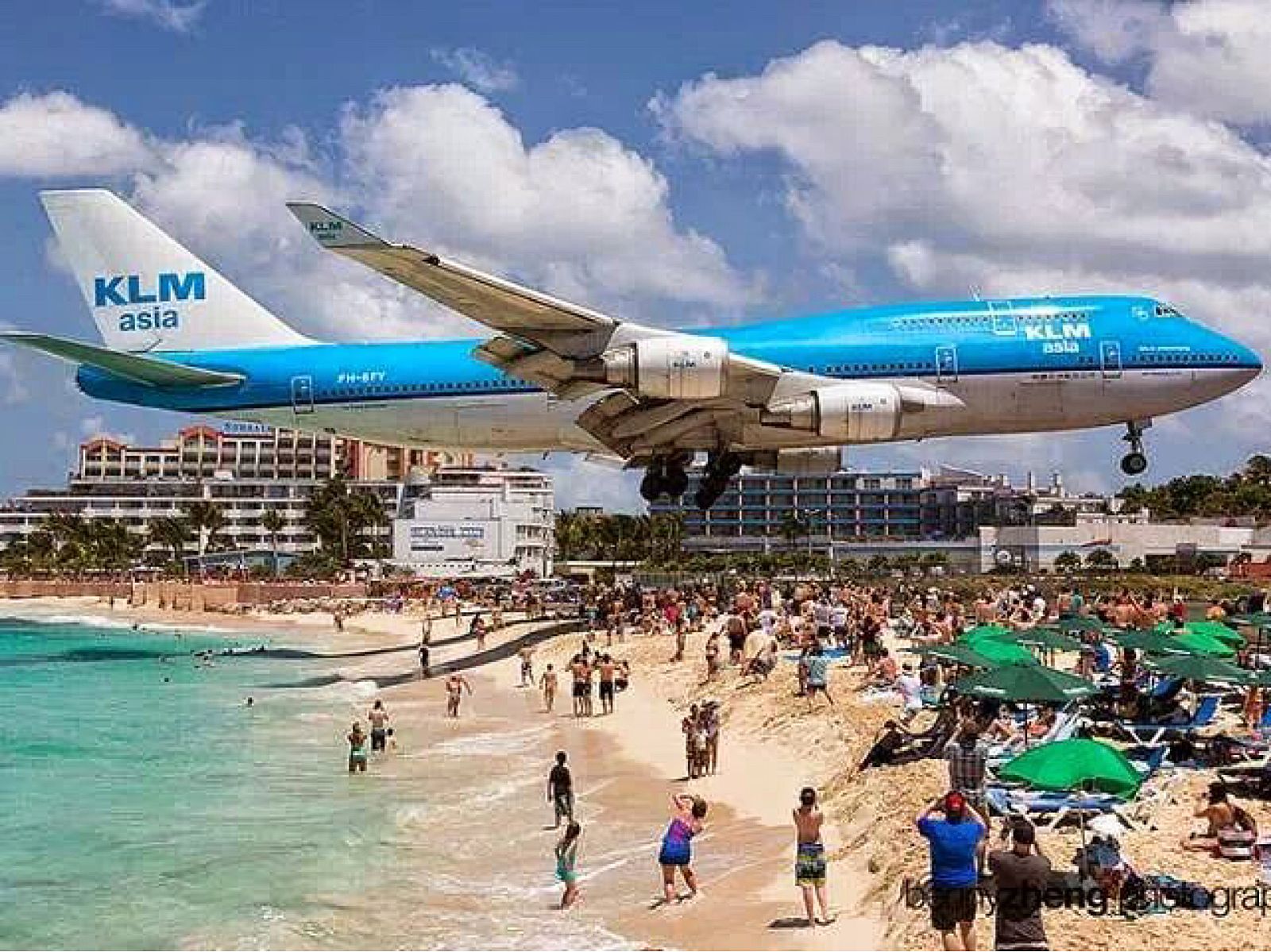 Meanwhile, car accidents happen so frequently and lead to so many deaths it would be impossible to report them all. With all that being said, flying can still be a dangerous venture—especially when it comes to landing or coming down over dangerous terrain. Here are 15 of the most dangerous airports in the world to avoid at all costs.
Tenzing-Hillary / Lukla Airport—Nepal
If your final destination is Tenzing-Hillary Airport, also known as Lukla Airport, in Nepal, you're probably the ultimate thrill-seeker—Likla is the closest airport to Mount Everest—so If you're flying out for a climbing holiday, this one probably won't bother you.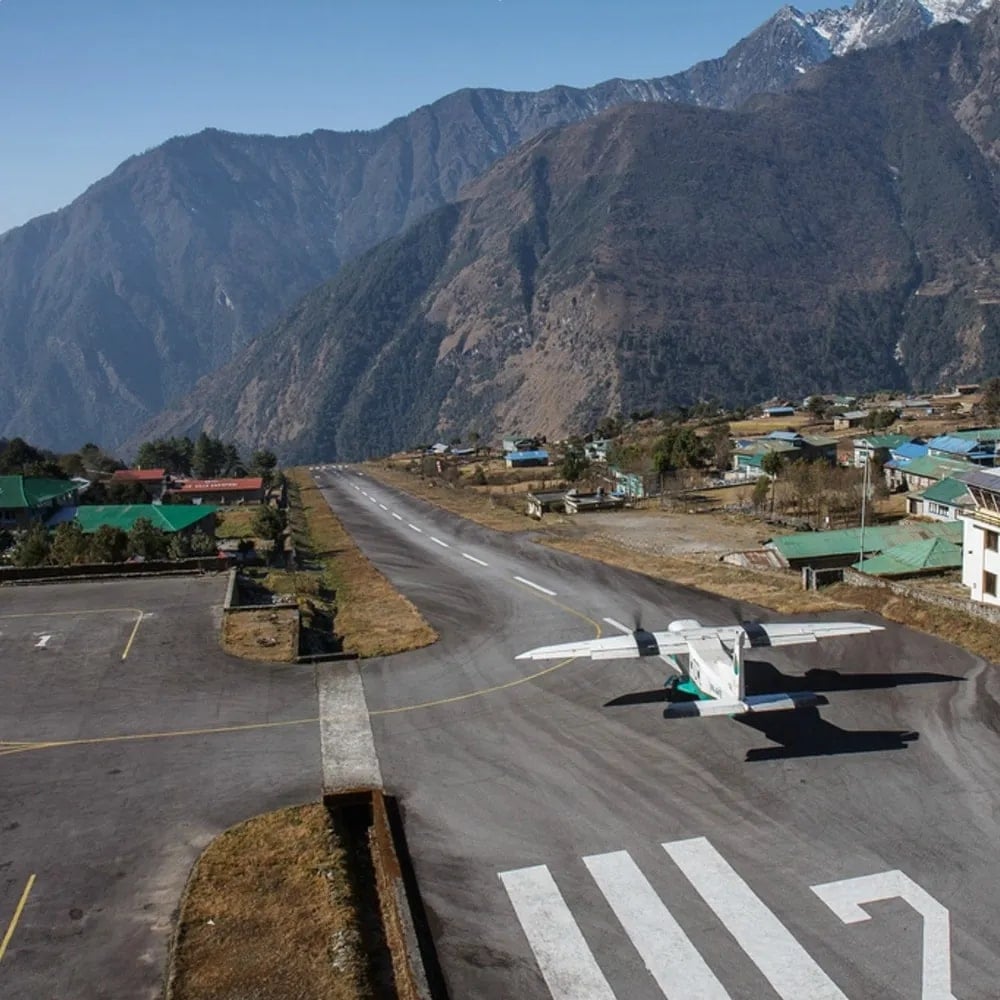 But then again, with its frighteningly short runway and 2,000-foot drop down into the valley at the end, it might yet straighten a few hairs on the back of your neck. Worse still is the fact that this airport gets frequent power cuts and communication cut-offs.
San Diego International Airport—San Diego
Most people in this area tend to fly out via LAX, but those who do frequent San Diego International Airport may (or may not) be aware of how dangerous it is for pilots. The area is surrounded by mountains, and a strong wind blows in from the west.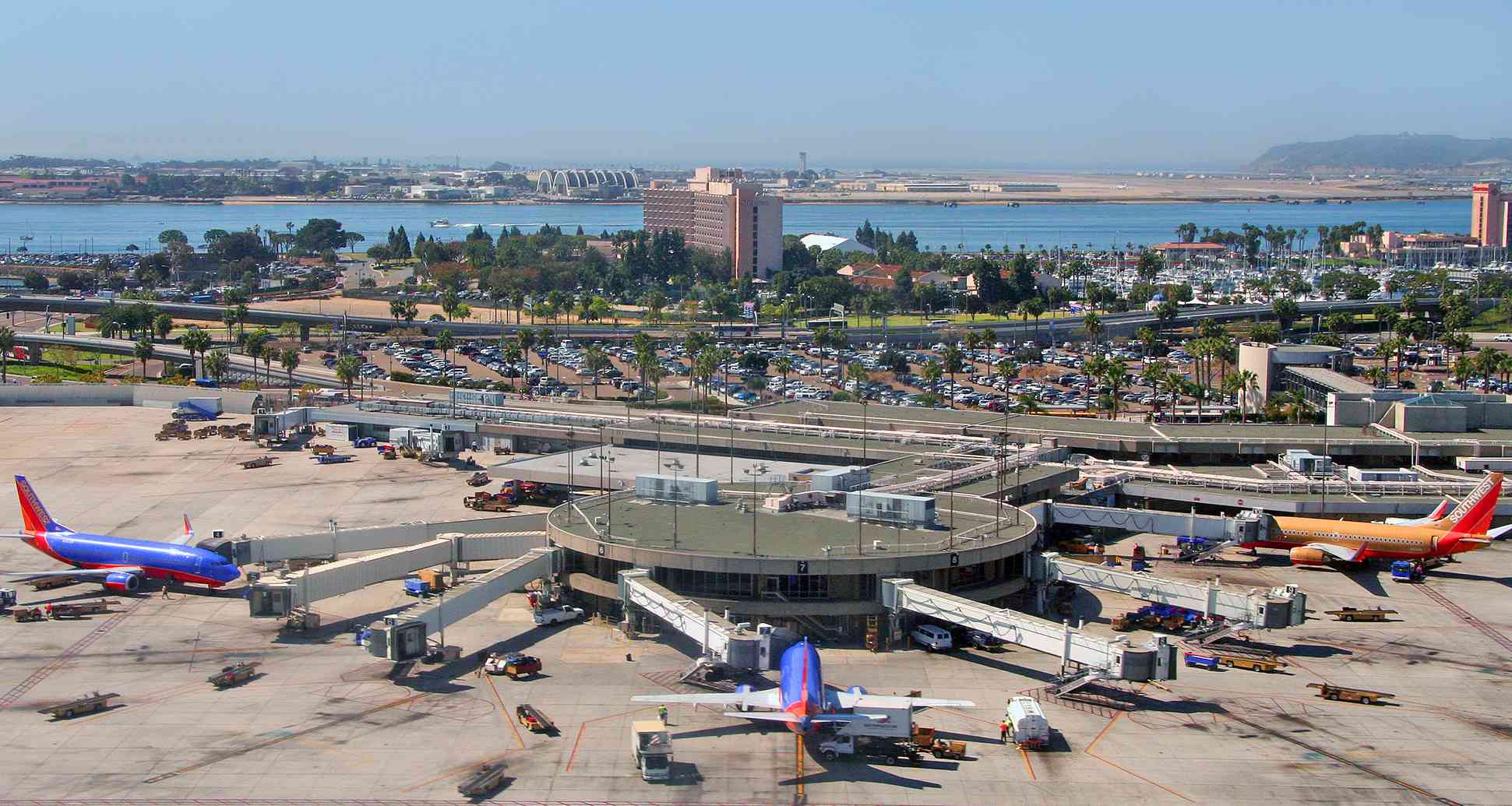 With Mexican airspace directly to the south, so many obstacles in the area, and difficult wind conditions, planes coming into this downtown airport occasionally have to make tight side-by-side landings and takeoffs.
Juancho E. Yrausquin Airport—Antilles
You need to have nerves of steel and good eyesight to land safely on this spit of land. The landing strip at Juancho E. Yrausquin Airport on Saba Island is said to be the shortest in the world. Not only that, but it's perched right on the edge of the Dutch Caribbean waters.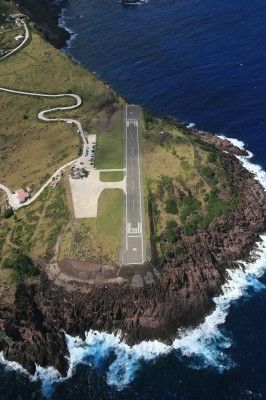 The strip also ends abruptly at a cliff, so pilots really have to hit the brakes hard after coming down. If you're too scared to make the trip by air, there's always a ferry, and we wouldn't blame anyone for wanting to travel on the water.
Catalina Airport—Avalon, California
It's known as the "airport in the sky," and it might be the most dangerous airport in the world. While it does seem high up just by looking at this picture, you wouldn't be able to tell how dangerous it was at a glance. For one, this strip is far higher up than it looks.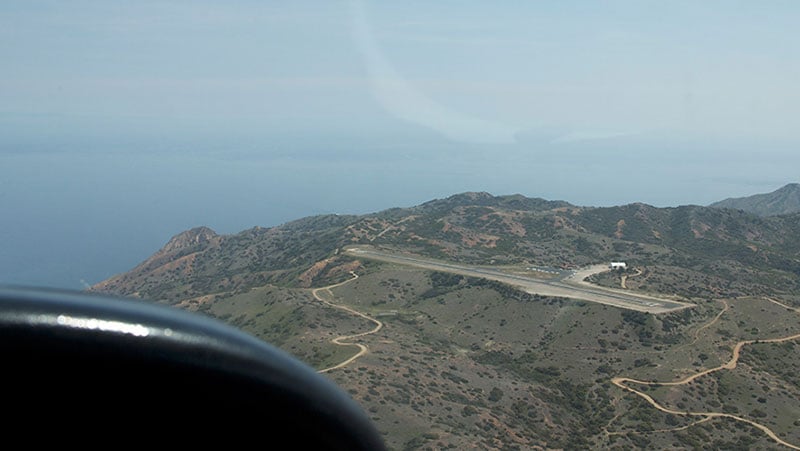 It's especially dangerous because of rogue downward draughts. It's unsurprising that there's a wind like this, given that the airport is over 1,600 feet above sea level. There's a drop on both ends of the strip, which makes it difficult for any planes climbing the ascent to see departing planes.
Narsarsuaq Airport—Greenland
Whether you're up against the difficult weather at your back or down against the ice-covered landing strip, only seasoned pilots should attempt a drop-in at this Greenlandic airport. And even then, it can be a white-knuckle ride all the way to the end.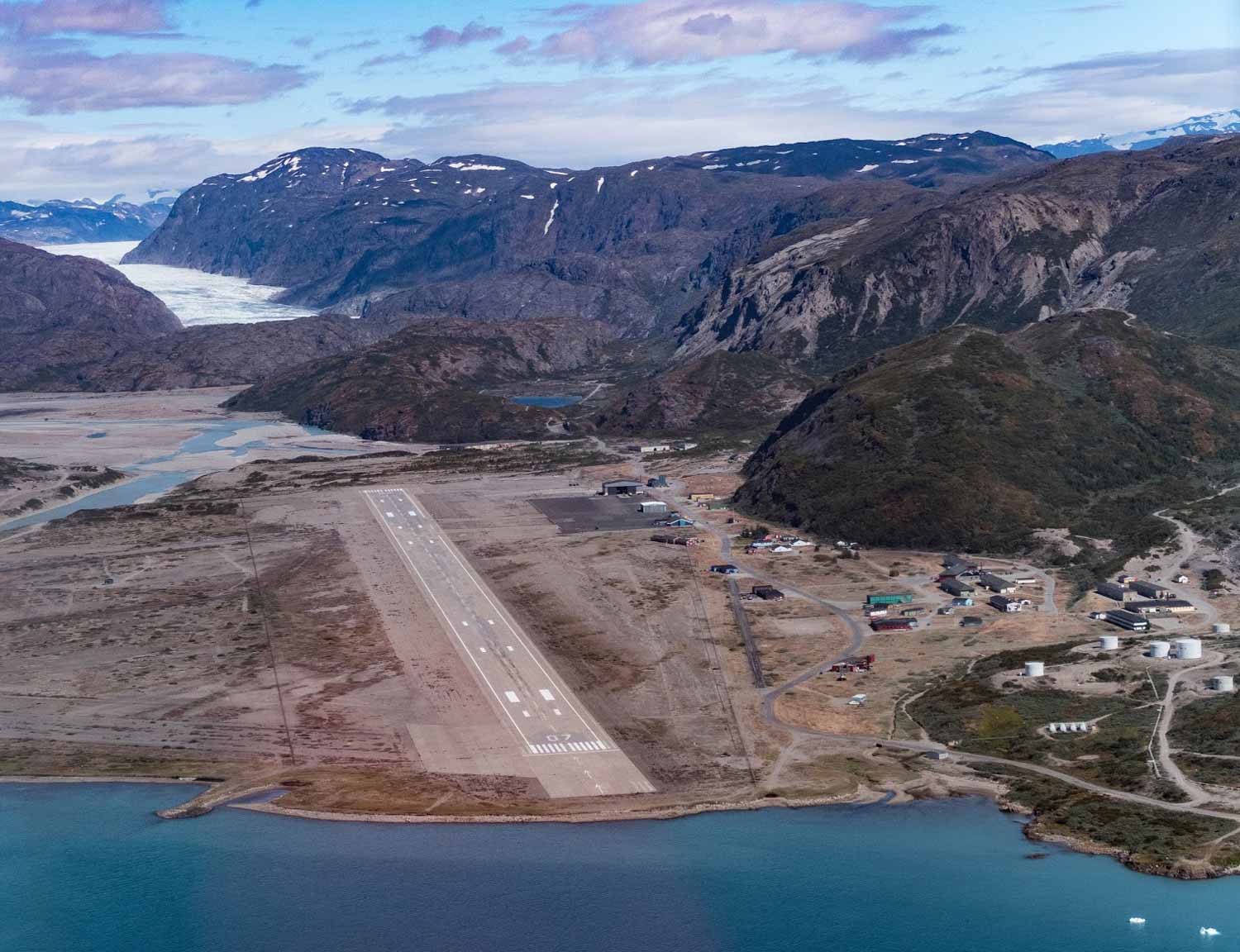 It would be bad enough if it were only stormy weather and slushy, slippery snow preventing a smooth landing—there's also ash from the local active volcano to contend with, which can get mixed in with the blades of an aircraft's engines.
Telluride Regional Airport—Colorado
Telluride is the highest point in the country you're going to go—at least while your feet are touching the ground. Being so high up comes with the downside that you could be blown off by strong winds, which are frequent up there, especially in colder months.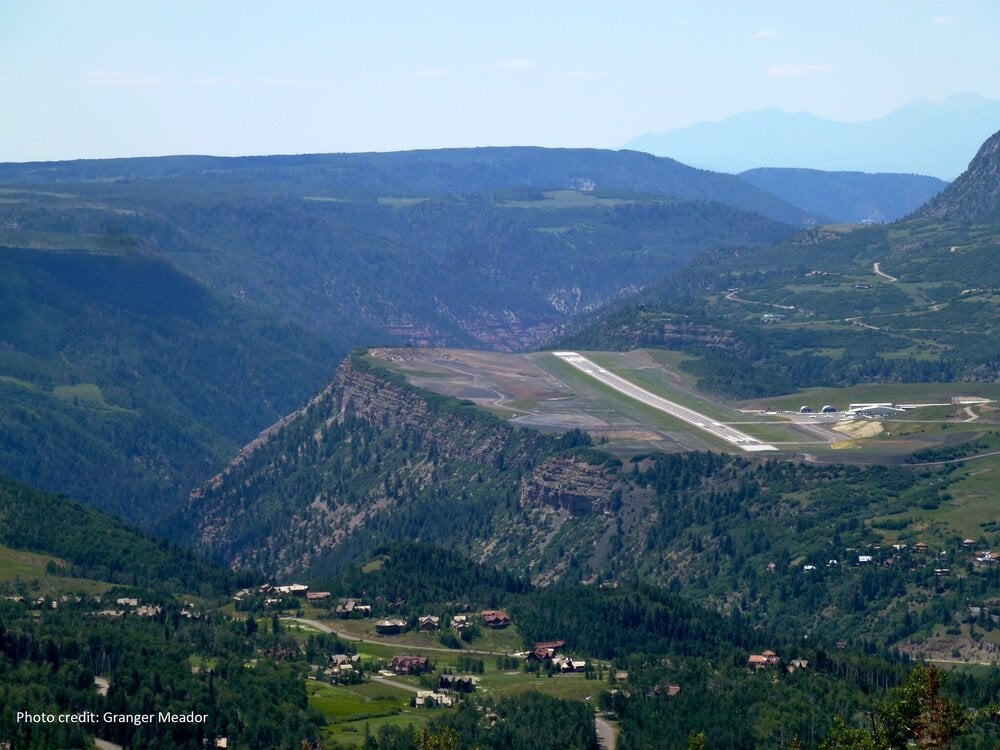 If you go too far on either end of the runway and you're looking at a 1,000-foot drop into oblivion. You'll have a great view, but you probably won't have much time to tell anyone about it while you're falling down a sheer cliff face.
Gisborne Airport—New Zealand
Pilots really need to time their arrivals at Gisborne Airport, New Zealand, very carefully. Any misaligned landing here would be a train wreck—literally. That's because a train track cuts right through one of the landing strips. Can you imagine how awkward it would be making a landing while a train rolled in?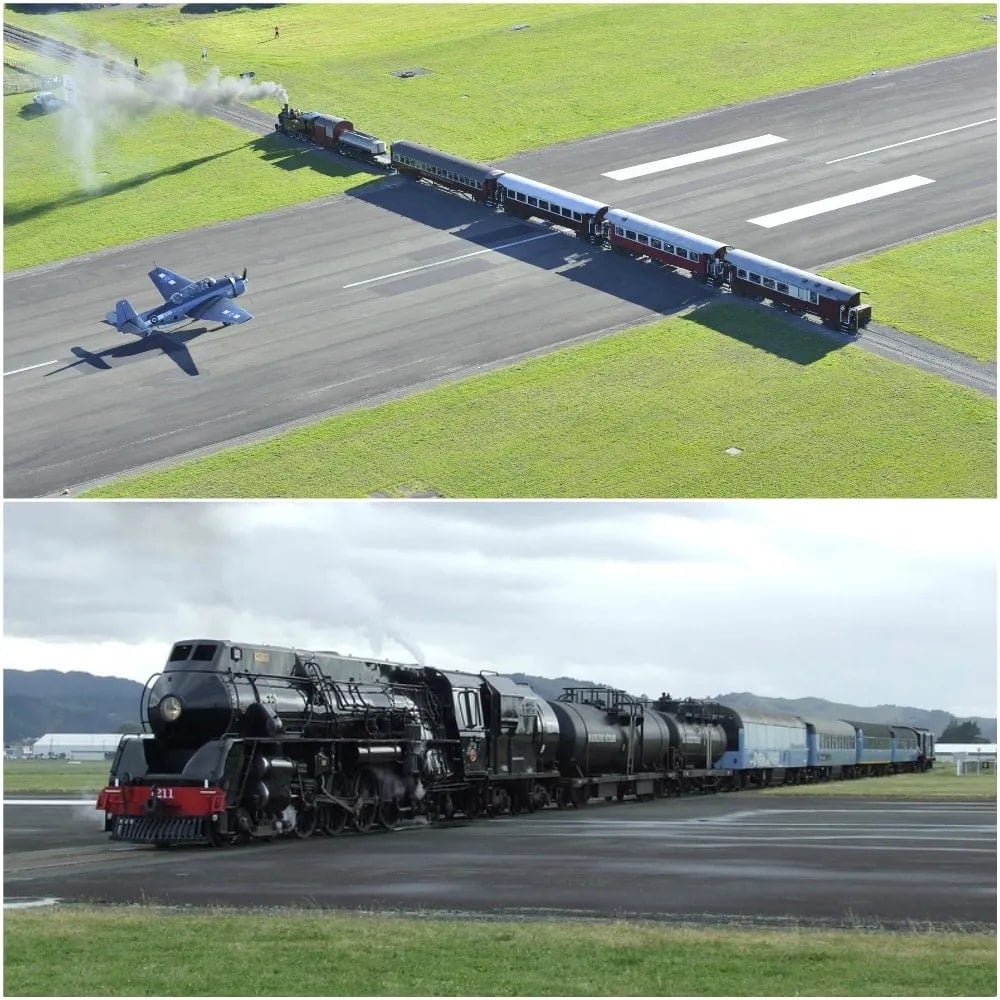 The airline and the train line have to keep tight communications just in case a little delay—either the plane or the train—occurs, resulting in a huge accident. There's no room for sleeping on the job for these transportation managers!
Yeager Airport—Charleston, West Virginia
Remember when you were a kid, and you landed your toy planes on top of the kitchen table? Landing a plane here would be a bit like that. This airport is situated on a flattened mountain top. As you can see, it's a sheer drop off the edge of the strip—on both sides.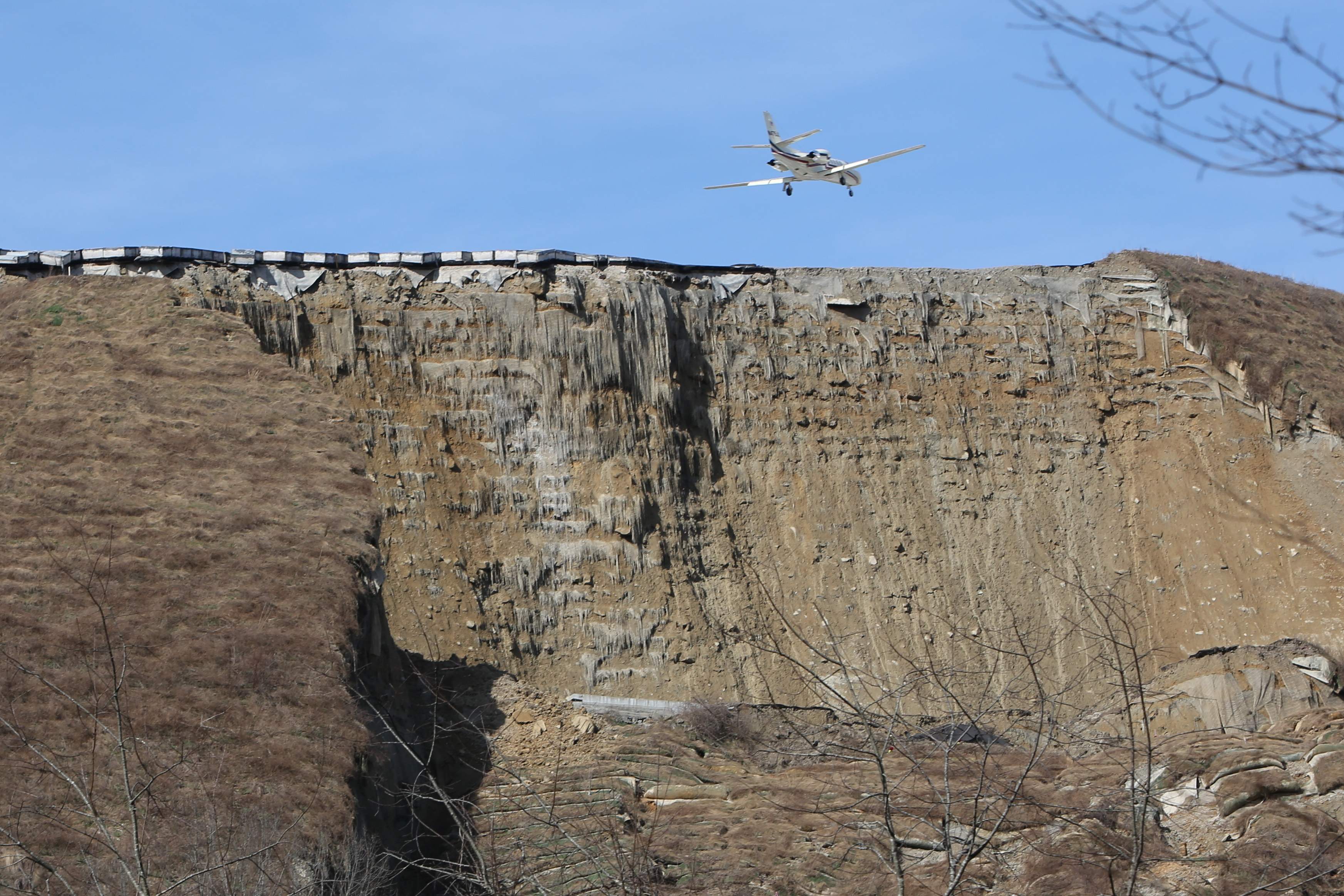 One aircraft taking off here almost went straight over the edge after it failed to lift into the air. Luckily the plane's computer hit the brakes just in time. The plane's passengers were injured, but the plane itself took a lot of damage in the process. It could have been a lot worse!
The Ice Runway—Antarctica
It's a destination that you're unlikely to visit, but it happens to be the only one on the entire continent. As you can see, it's sparsely lit—but even worse is the fact that this runway is entirely made of ice—no tarmac in sight.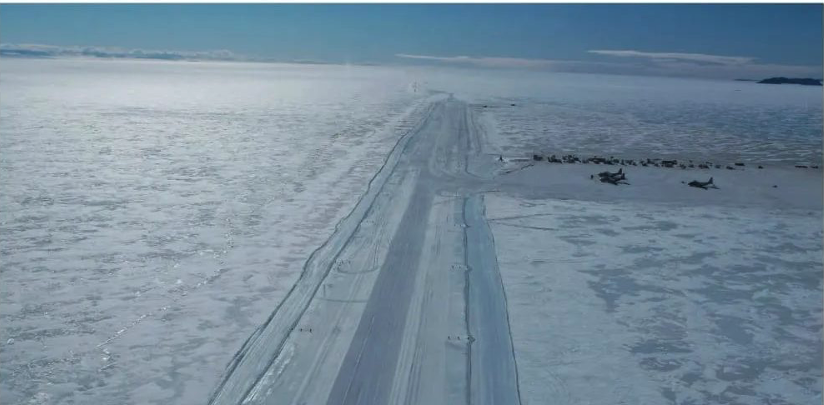 When landing, pilots need to make sure they hit the ground running. If they don't, there's a chance the ice could crack. Additionally, flying in during the wintertime means flying blind, as the sun doesn't rise a second over the course of the entire season.
Reagan National Airport—Washington, D.C.
There are no death-defying drops to look out for at this airport, but there are certain nearby geological structures that make landing here a difficult affair—namely the Whitehouse, the Pentagon, and the CIA headquarters—each having very strict no-fly zones.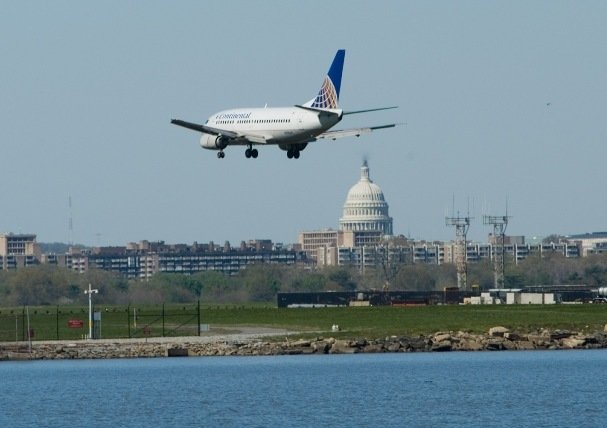 Pilots have to make quick ascents and a tight maneuver to avoid the president's home. The no-fly zones have been strictly enforced since the opening of the airport, but as of 2001, they have been especially draconian. There's no room for error at this stop.
LaGuardia Airport—New York
One of the world's most famous airports happens to be one of the most dangerous for pilots to drop in or out of—at any time of day. Passengers get a nice view of New York City's skylines, but it can be a little too close for some pilots.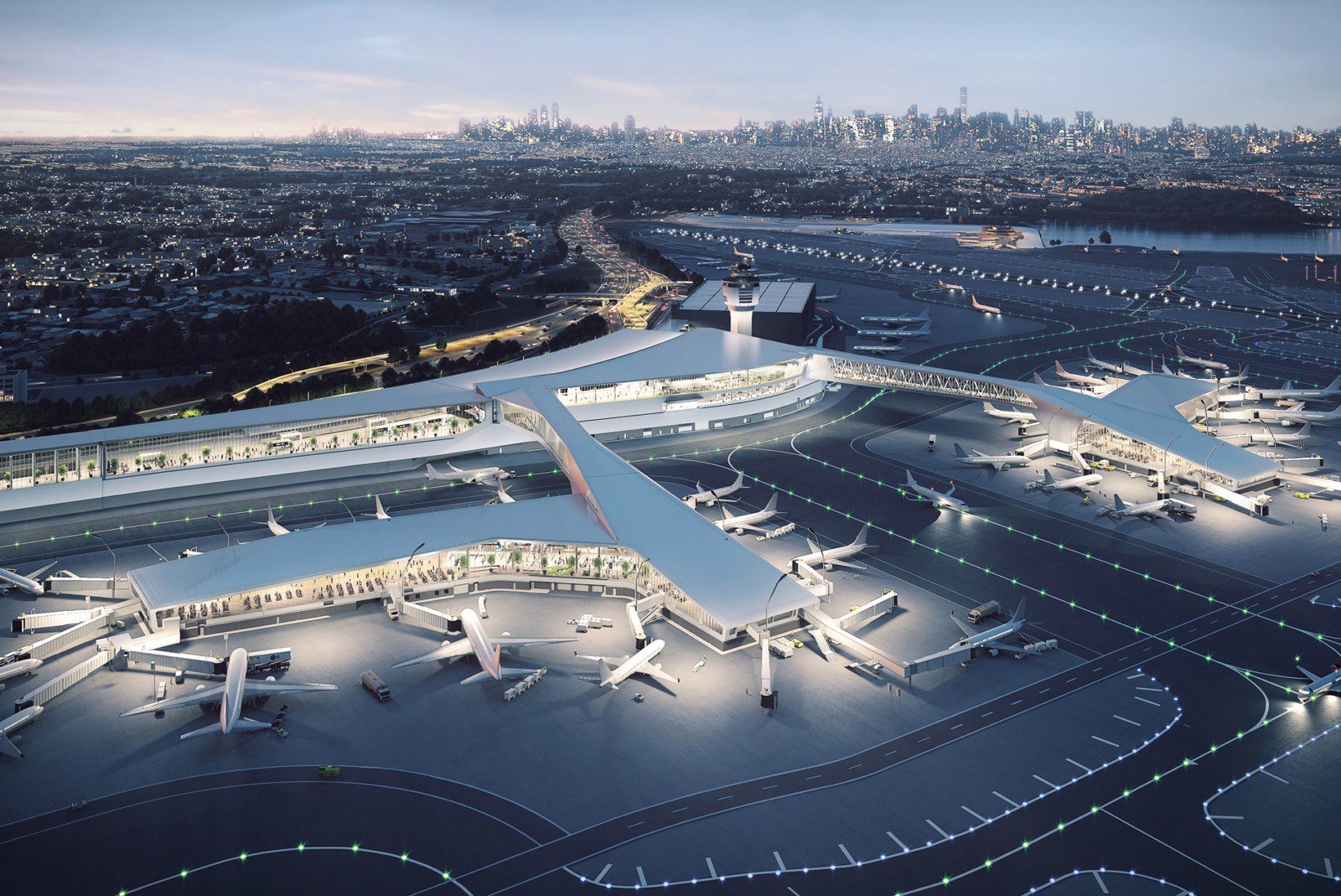 Being that it's so famous and iconic, it's also crowded with aviary activity. The air is often thick with other planes, so those takeoff and landing windows are pretty tight. Pilots have to have mastered the low-altitude turn in case things go south at this airport.
Matekane Air Strip—Lesotho
It's highly doubtful you'll ever end up having to stop by this airstrip. It's 30 miles out from Maseru, the capital of Lesotho, and it's generally only used in case of emergencies such as medical drop-ins. As you can see, it has quite the view.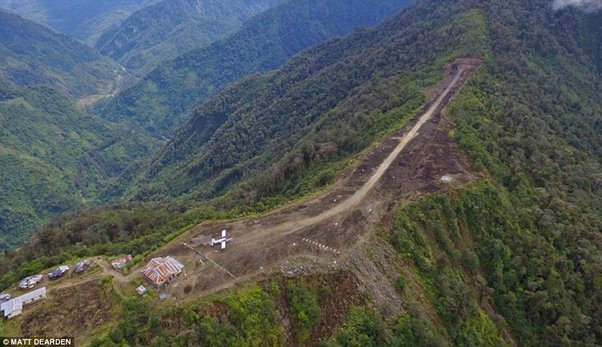 That's a 2,000-foot drop at the end of the strip you're looking at. The area is known for its volatile wind, so it may be worth packing a parachute just in case you find yourself in this corner of the world.
The Megum Airstrip—Papua New Guinea
Good luck if you've grown up in Papua New Guinea and you want to be a pilot—you might be asked to perform some of your first takeoffs on one of their many mountain airstrips, such as the Megum Airstrip. You'd be right if you think it looks like a perilous take-off location—you'd be absolutely right.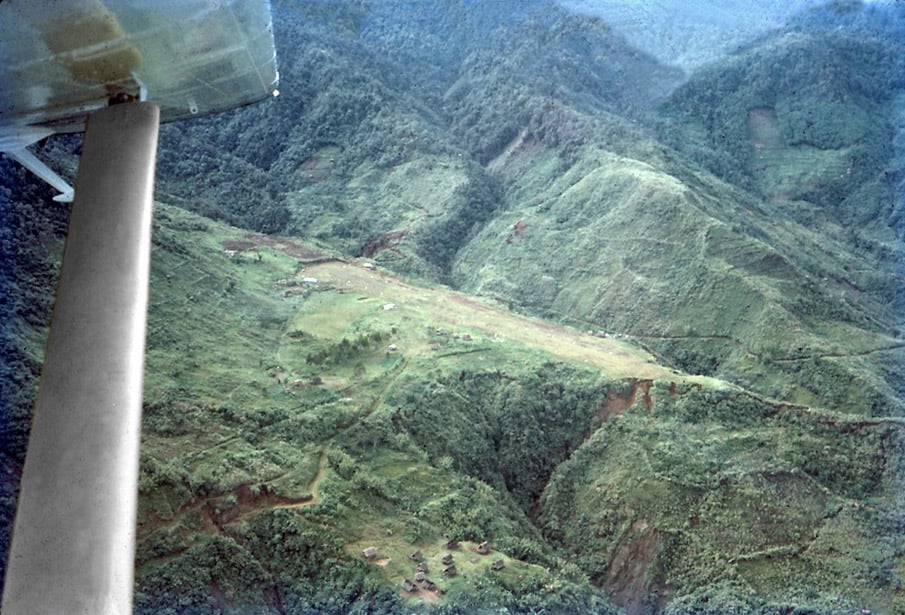 Luckily, these cliffside airports aren't used by commercial airlines or by commercial flights, so you probably won't ever have to experience dropping down a mountain before (hopefully) climbing up back into the air. Just stick to flying with regular airlines, and you'll be safe.
Kansai International Airport—Japan
An airport on an artificial island off the coast of Japan? What could possibly go wrong? Apart from the potential destruction wreaked by cyclones, earthquakes, typhoons, tsunamis, and an unstable sea floor—there's no problem!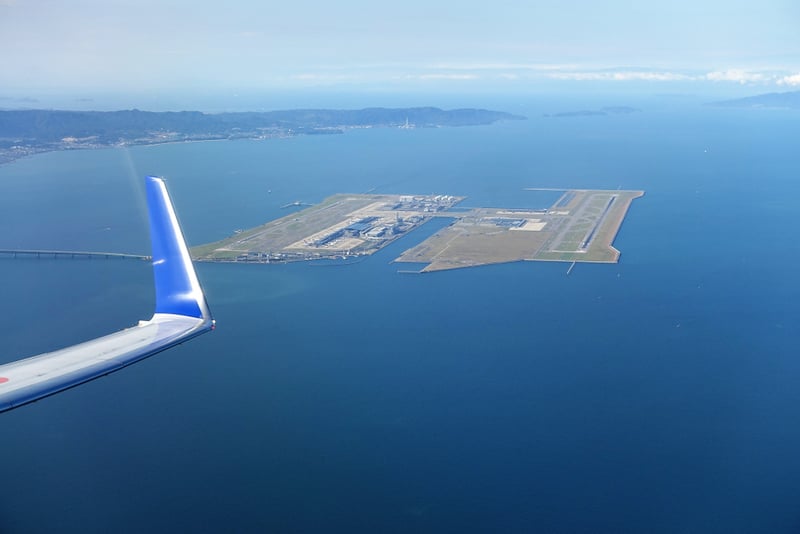 It's the 30th busiest airport in Asia, but it's also one of the most unstable. After a typhoon hit the airport in 2018, an untold number of planes had their engines drenched by seawater, and the runways were flooded for days.
Juancho E. Yrausquin Airport, Saba
The Juancho E. Yrausquin Airport is on an island in the Dutch Caribbean of Saba. The runway is only 400 meters in length. If you can imagine, that is less than 8 football fields long, which is not very much space for a plane to gain speed.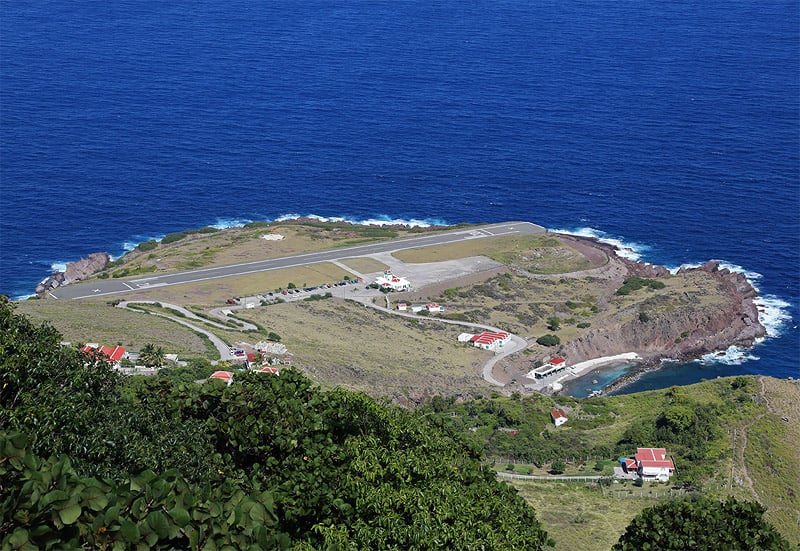 On top of being one of the shortest runways in the world, it is on an island completely surrounded by trees and ocean so there is no room for error when landing and taking off. Large planes cannot even land here and even the smaller ones have great difficulty.
Madeira Airport, Portugal
The Madeira Airport was actually renamed to the Cristiano Ronaldo Airport in 2017. Portugal loves its soccer! The runway was built using pillars that would make anyone question its safety. Just looking at the runways, you wouldn't feel comfortable landing a place on it.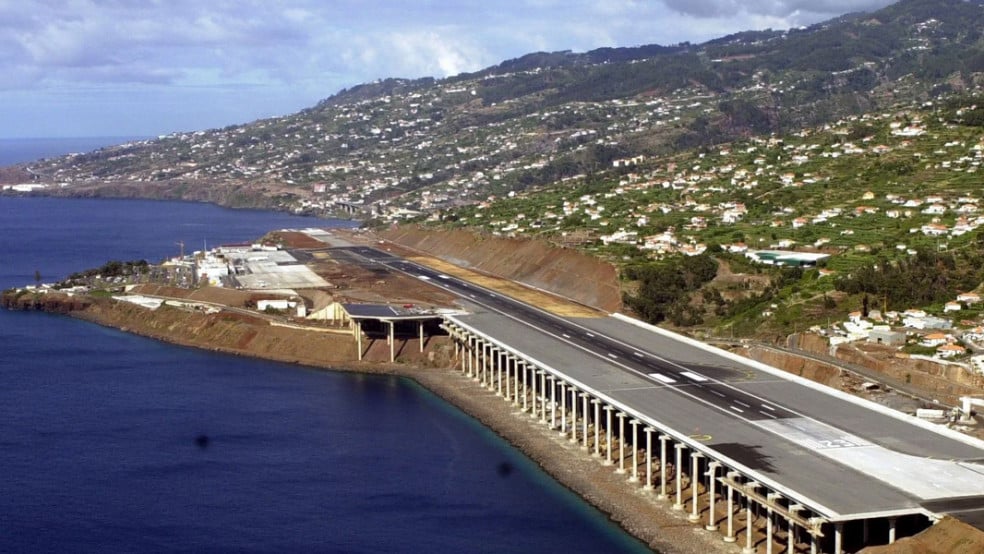 It's known for the small size and extremely harsh weather conditions that make it difficult to land. The runway has been expanded to be slightly longer than it was previously, but there is still a level of risk that comes with landing a plane on this island.
Barra International Airport (BRR), Scotland
The Barra International Airport in Scotland is the only airport in the world that uses a beach as its runway. While this provides a beautiful takeoff and landing, it is not the safest place to land a plane.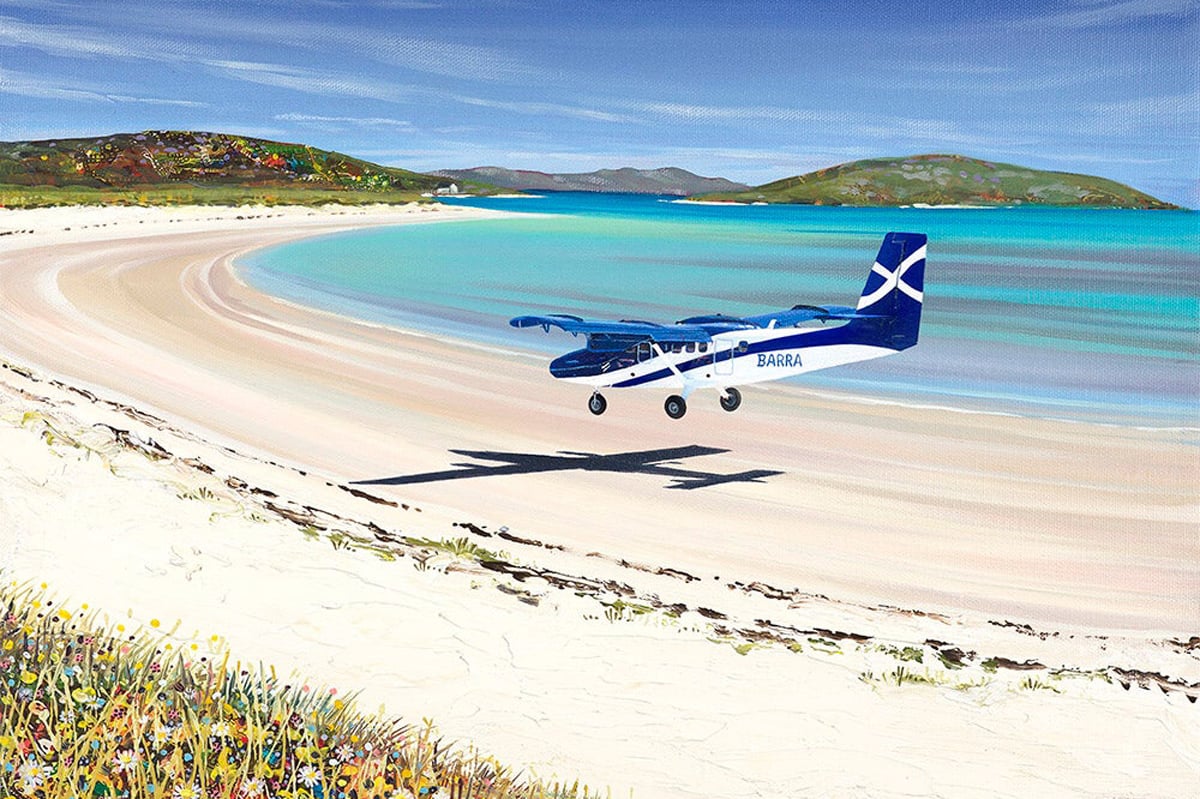 In addition to literally being on a beach, the runway itself is very short, making landing even more difficult. Pilots are sure to be tested with a runway like this one and many do not want to fly in and out of the airport. At least, when you land you can take a dip in the ocean!
Princess Juliana International Airport (SXM), Saint Martin
The Princess Juliana International Airport in Saint Martin is widely known for having planes fly all too close to the ground. Planes will hover over beaches and roads only a few feet off the ground. This is way too close for comfort!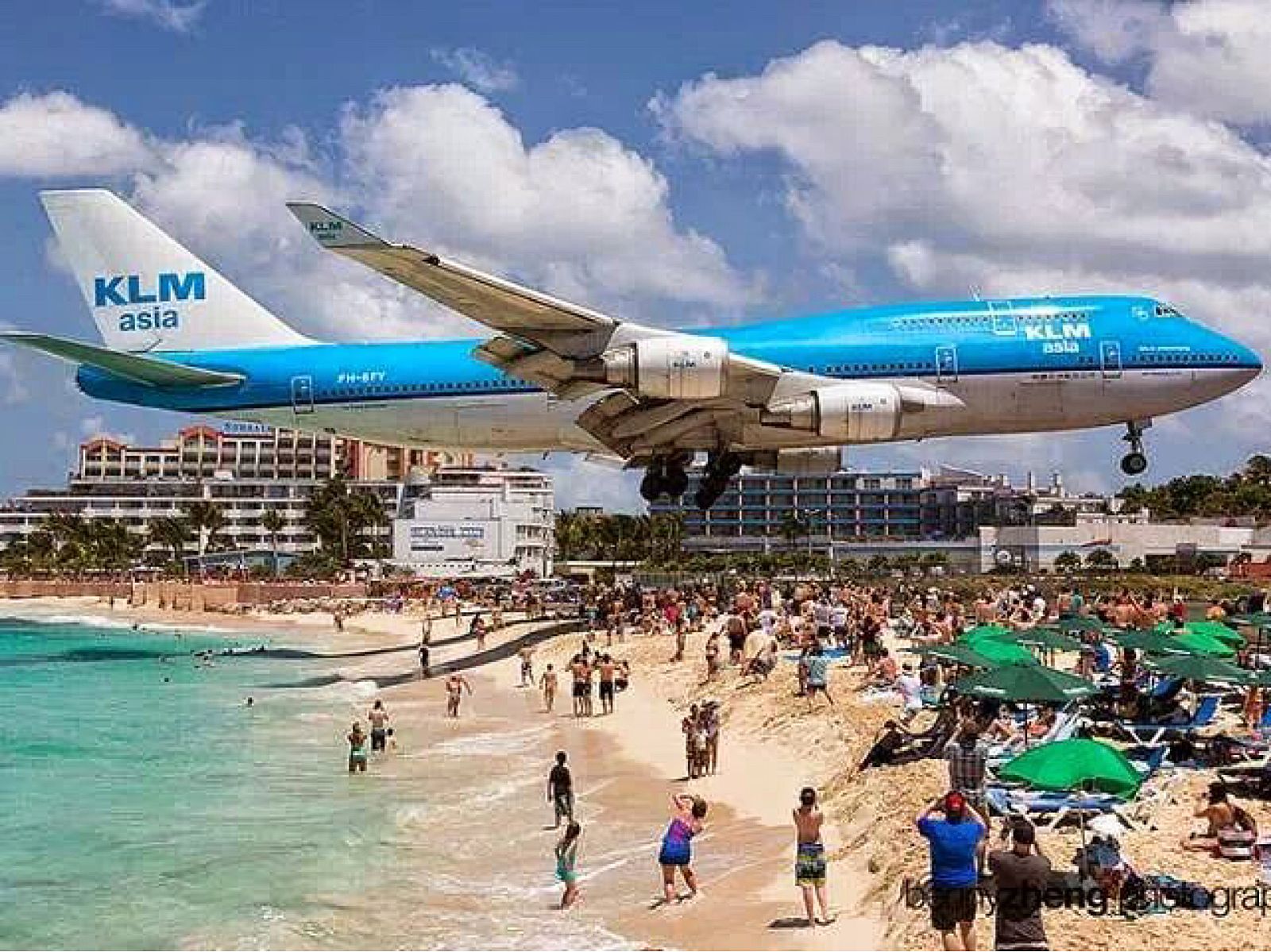 Flying and landing a plane this close to the public is naturally a huge stress for pilots as well as passengers. If you're out getting a tan on the beaches of Saint Martin, beware the planes that might come knock you in the head!
Gibraltar International Airport (GIB), Gibraltar
The Gibraltar Airport is a civilian airport that serves the British overseas territory and has a pretty special feature that makes it one of the most dangerous airports in the world. It happens to pass through the busiest road on the entire island.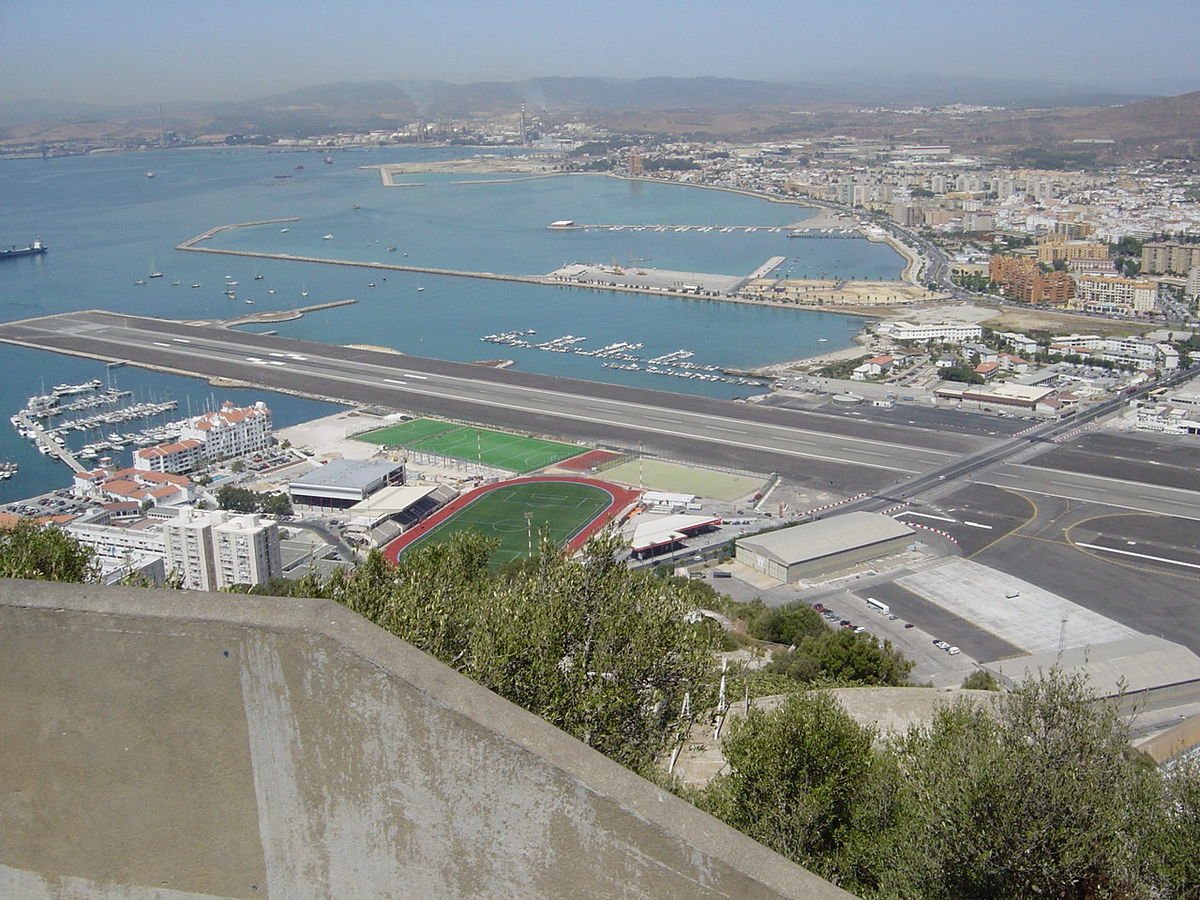 All vehicles on the road have to stop when a plan passes. Pilots have to be aware of foot traffic, car traffic, and plane traffic! It's not a very efficient way for planes to take off and land and we're sure the congestion and traffic is unreal.
Wellington International Airport (WLG), New Zealand
Any airport surrounded by water is sure to make this list of most dangerous airports. The Wellington Airport in New Zealand is no exception. The short runway is surrounded by water bodies on either side.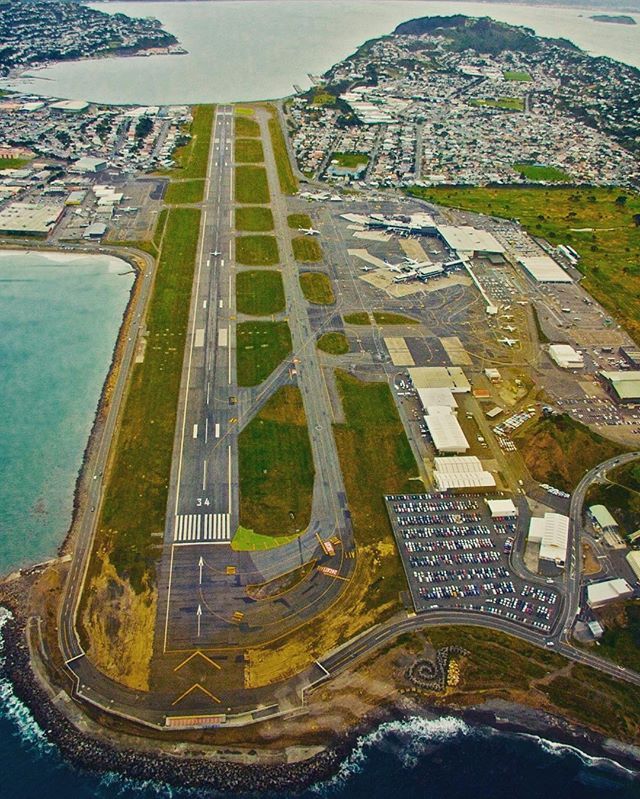 There's no room for error on a runway like this one. And it is not fit for larger planes either. Being a passenger on a plane at this airport is sure to have you gripping the armrests of your seat, even if you aren't an anxious flier.
Gustaf III Airport, Saint Barthélemy
Another example of a runway that is far too small for normal commercial planes is this airport in Saint Barthélemy. Short runways are one of the most dangerous features of an airport. This airport is only meant for planes that carry a maximum of 20 passengers.
We can't help but wonder with an airport like this how much forethought was put into the design of the airport. No hate to the designers but we think we'll be steering clear of this airport for now.
Courchevel Altiport, France
The Courchevel Airport in France was made for the wealthy to fly into the Alps to ski. But just looking at this runway makes us want to steer clear. Is skiing worth risking your life?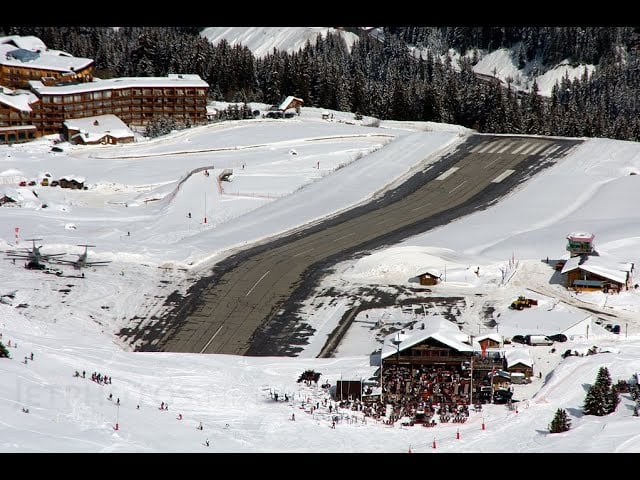 It's widely known as one of the world's most dangerous airports for its incredibly short runway. Not to mention, there's a giant ski mogul right dead center in the middle of it. If you're willing to take the risk, the skiing is supposed to be amazing here.
Congonhas Airport (CGH), Brazil
The Congonhas Airport is the second busiest airport in Brazil, making it a good contender for one of the most dangerous ones in the world. If that weren't enough, the runway is also very slippery.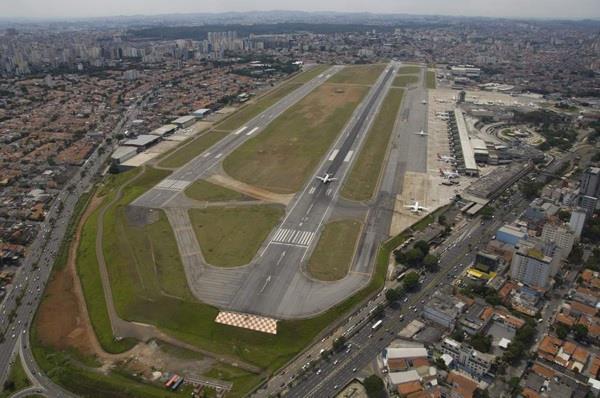 That's not exactly what we want from the place our plane is landing. There have been several accidents here as a result of the unsafe runway. Even the most impressive pilots are wary of a landing like this one.
Svalbard Airport (LYR), Norway
Norway is also home to one of the most dangerous airports in the world. The runway is built directly on ice. I don't know about you but that is not what I'd like to land a plane on.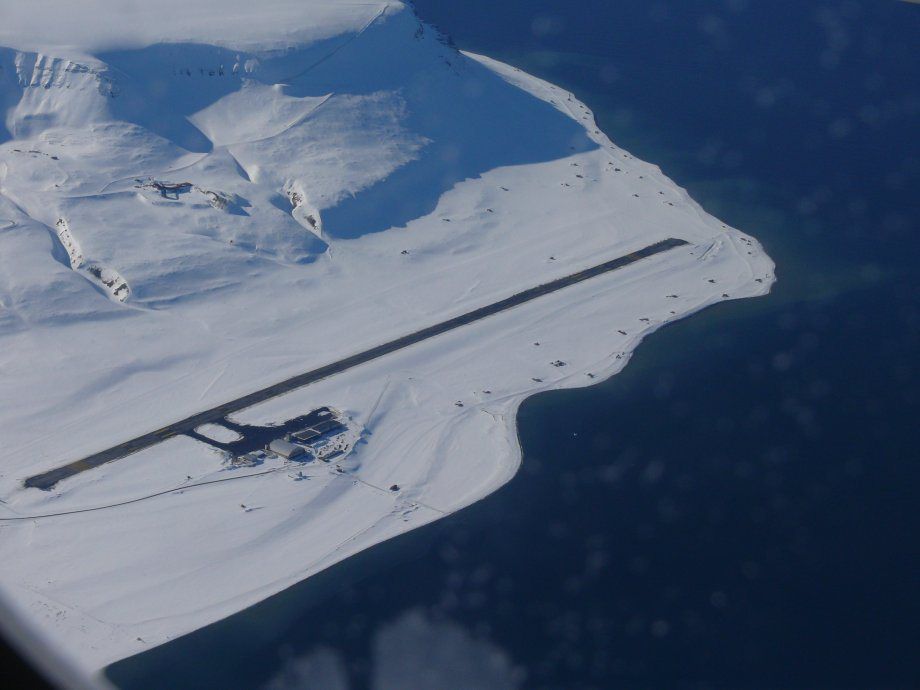 Global warming is causing major threats to the airport. Likely, if the ice melts, it will no longer be in commission or they will have to completely redo the runway. The track is already beginning to become distorted from the environmental changes.
St. Helena Airport, St. Helena
St. Helena is a remote British Overseas Territory in the Atlantic. When construction finished in 2015 they realized that wind made it too turbulent to land flights. The ocean cliffs made wind much harsher than they had anticipated.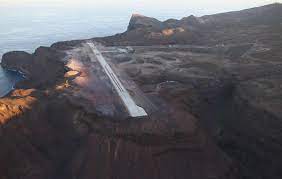 It was even dubbed "the world's most useless airport". Finally, in 2017 commercial operations finally began. Pilots have to go through special training to be allowed to fly in and out of it.
Toncontín International Airport, Honduras
This international airport is the site of several plane crashes. It's surrounded by mountains and requires pilots to make a 45-degree turn only minutes before they touchdown. If they overshoot the short runway, it can be fatal.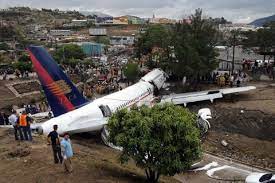 Fortunately, a new airport will be replacing this death trap. The Palmerola International Airport has a longer runway and much better conditions for pilots and passengers.
Aspen/Pitkin County Airport, Colorado
Aspen is known for being one of the most popular ski towns in the world. But the airport that lives at this 7,800 foot elevation is very dangerous. The constantly changing wind conditions, low visibility, and mountains make it a difficult airport to land in.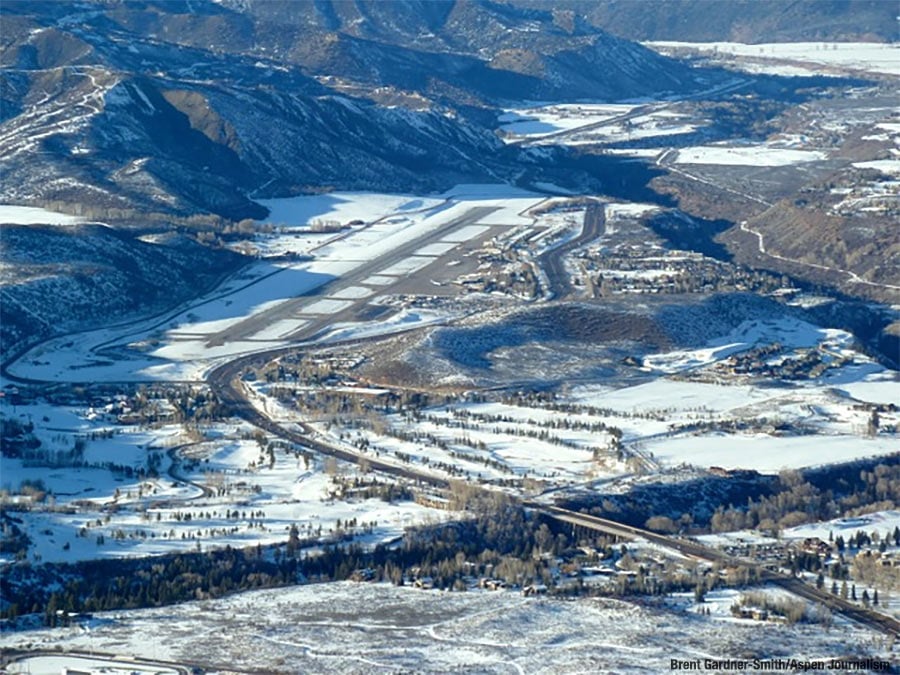 Occasionally, when weather is really bad, pilots will have to be redirected to another airport because landing is dangerous. It's one of the most difficult runways for pilots to land and it definitely takes some practice.
Agatti Aerodrome (AGX), Lakshadweep, India
This runway in India is certainly beautiful. Surrounded by blue-green water, it looks like a lovely vacation destination. But the airport is one of the most dangerous in the world. It serves 36 local tourist islands.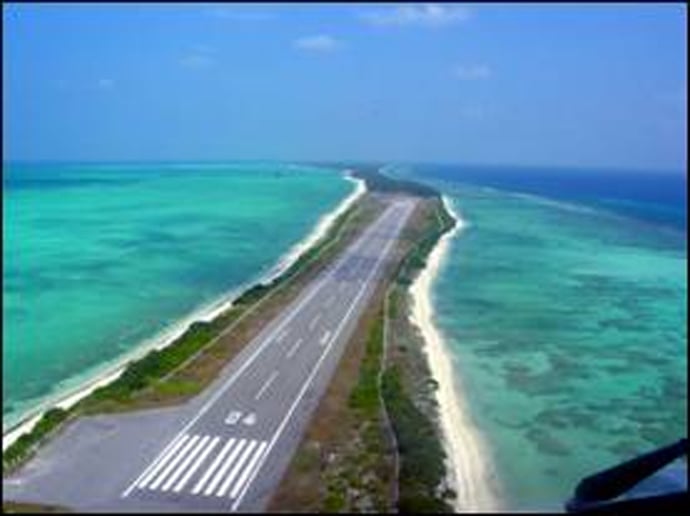 This one strip of land ferries many tourists in and out. The runway is a mere 4,000 feet long, which adds to the high risk area.
Kai Tak Airport, Hong Kong
Kai Tak used to be the international airport of Hong Kong before the Hong Kong International Airport took over. It's known for being a terrifying airport for the strong and blistering crosswinds.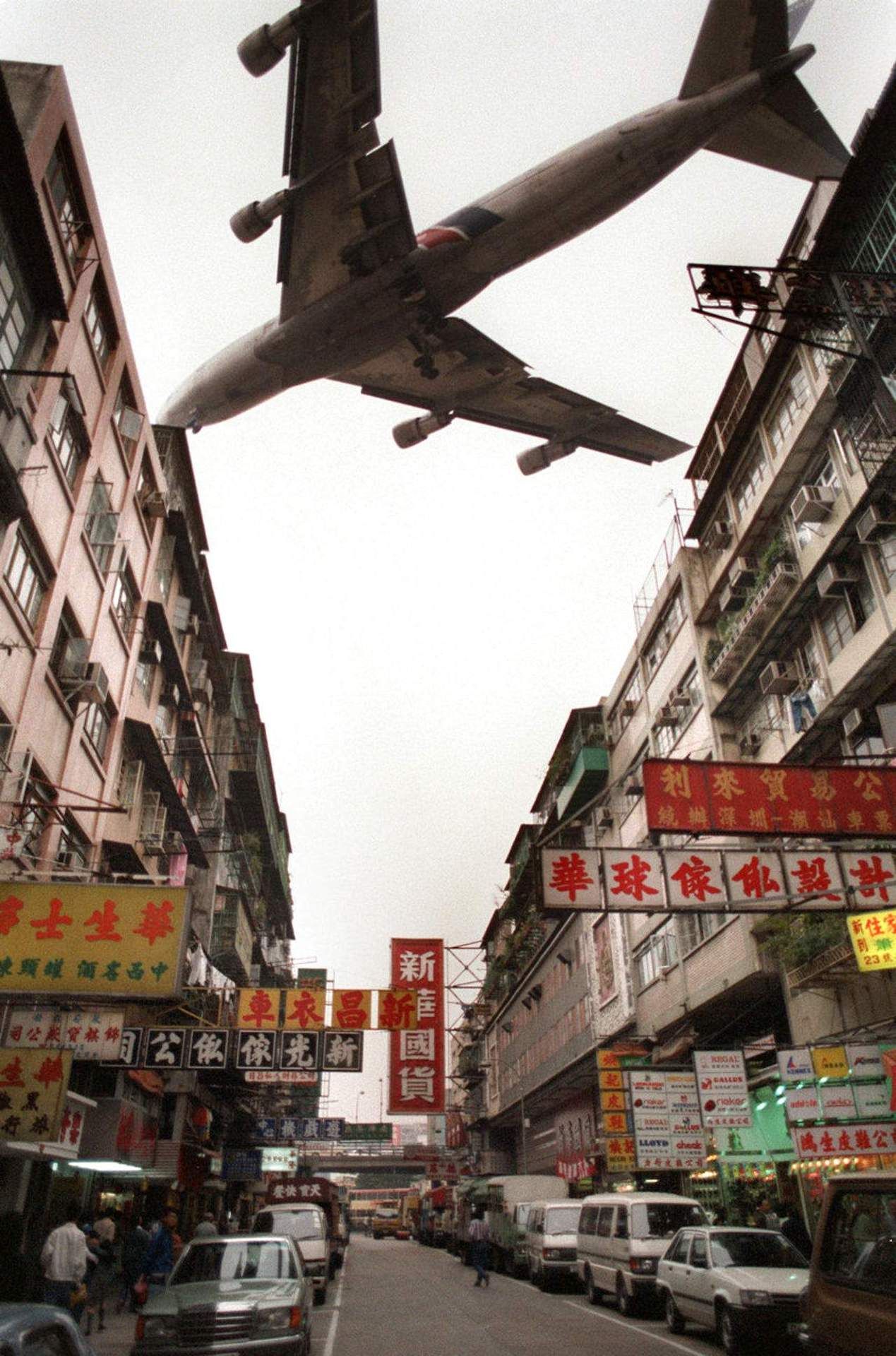 The winds in the airport location are blowing constantly so landings and takeoffs are almost always difficult. The hills that surround it make it even more scary to land in. It's no wonder that it is considered one of the most dangerous airports in the world.
Don Mueang International Airport (DMK), Thailand
The Don Mueang International Airport is not the only airport in Bangkok, but it is the more dangerous of the two. It used to be named the Bangkok International Airport, but the name has since changed.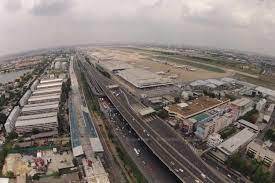 What makes this airport dangerous is not the weather conditions, but the location. It is located right between 2 golf courses. Beware of golf balls flying past as you ascend into the air!
Tioman Island Airport, Malaysia
This airport is located on a volcanic island in the South China Sea. Flying directly into a volcano is no easy feat. Pilots that fly into this airport have to fly directly towards the mountains and make a fast 90-degree turn.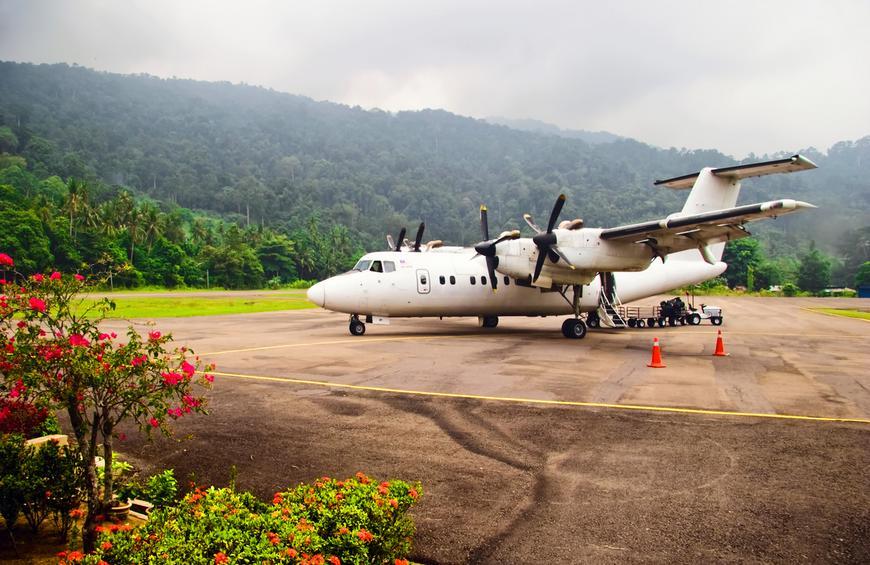 This is no easy task even for the most skilled pilots. It requires great focus, skill, and practice to be able to land in an airport like this.
Sitka Rocky Gutierrez Airport, Alaska
The Sitka Rocky Gutierrez Airport is almost completely surrounded by water. One misstep means landing in the freezing ocean instead of on the landing strip. This leaves very little room for error.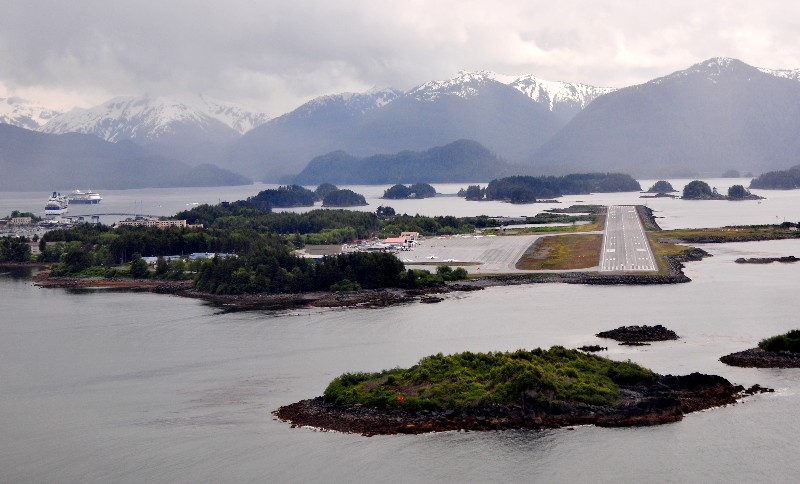 In bad weather, the airport becomes even more risky. Dangerous winds and high tides tend to carry tons of debris onto the runway and provide obstacles for the pilots. Personally, I don't want the place where I land a plane to be an obstacle course.
Queenstown Airport, New Zealand
Queenstown Airport earns its name as a dangerous airport for the short runway and difficult wind conditions. In addition, it is not up to industry standard in terms of safety codes. It is well known for its poor safety rating.
Pilots have to be extremely careful when landing here and there are actually stricter restrictions on aircraft operations. It feels like this airport is basically an accident waiting to happen.
Telluride Regional Airport, Colorado
The Telluride Regional Airport is in southwest Colorado. It's one of the highest airports based on elevation. It stands at a 9,070 feet elevation. The airport itself is actually perfectly safe but the approach to the airport can be tricky.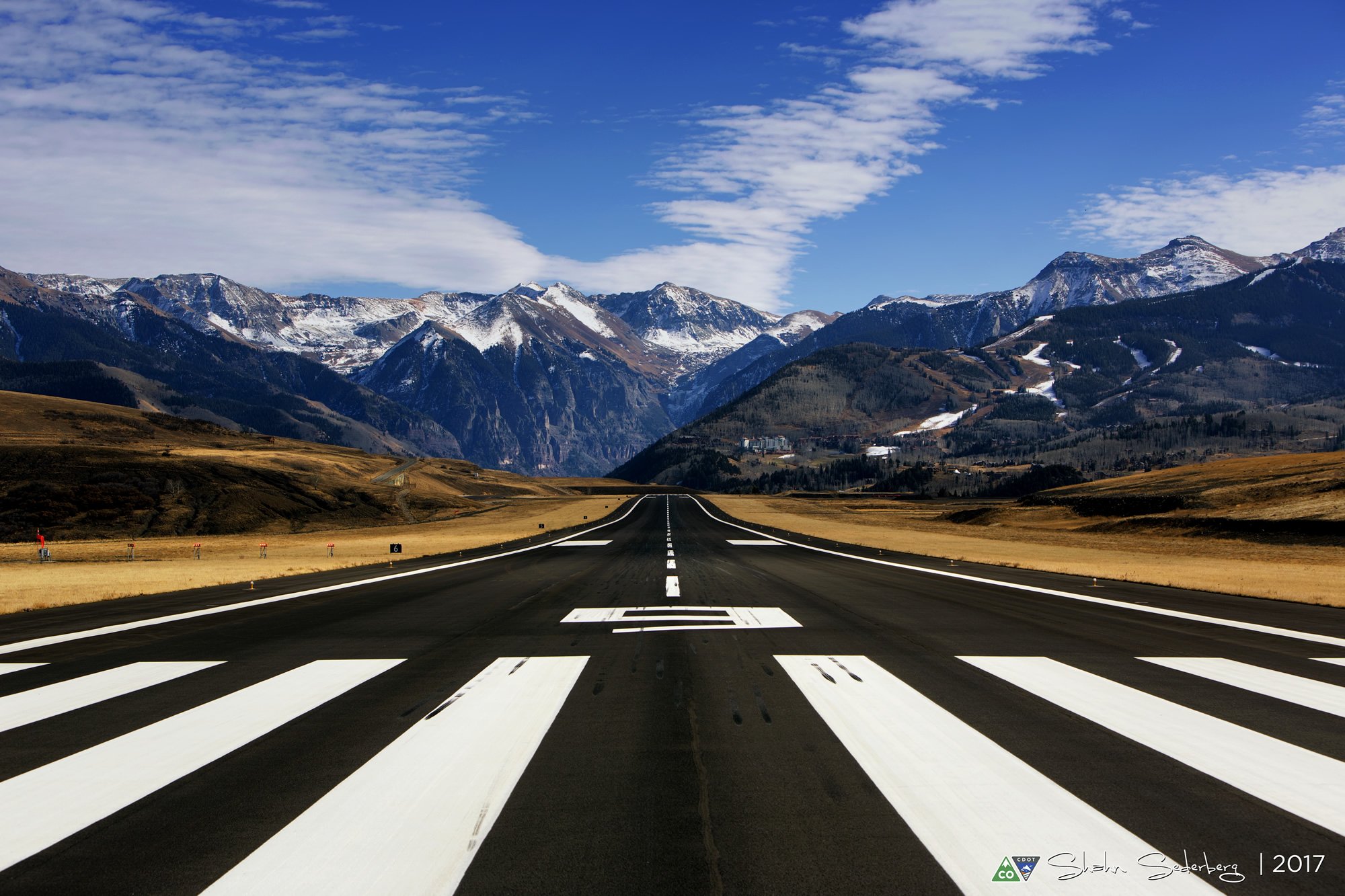 There are cliffs on either side of the runway that cause intense turbulence, especially during the winter. Also, the middle of the runway is actually a dip. Many passengers have reported that it is a fairly scary ride.
McMurdo Air Station, Antarctica
The airports in Antarctica are lacking in safety and resources because there aren't very many people that fly in and out. The runway actually isn't too short, which is the case in many other dangerous airports.
But it is built on white ice, or compacted snow. In 1970, a C-121 actually slid off the runway and was buried in the snow. In winter, the area is dark for 24 hours a day, adding to the danger of the landings.
MCAS Futenma, Okinawa
This airport is a U.S. Marine Corps Air Station in Japan. The airstrip happens to be right smack dab in the middle of a crowded city. Additionally, it's an incredibly busy airport. In 2003, the Navy actually recommended that the airport be shut down.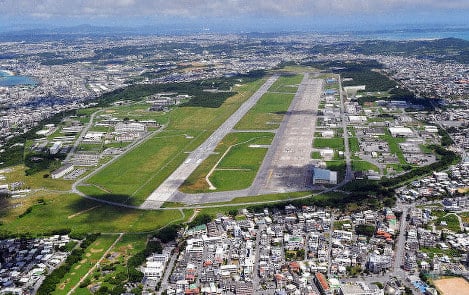 In fact, the airport is in direct violation of the safety standards set by the U.S. Department of the Navy. Despite their recommendation, the airport remains open to this day.
Pegasus Airfield, Antarctica
When you first look at this location, you might not immediately think of an airport. As the name suggests, it is more of a field. And it happens to be covered in ice as well.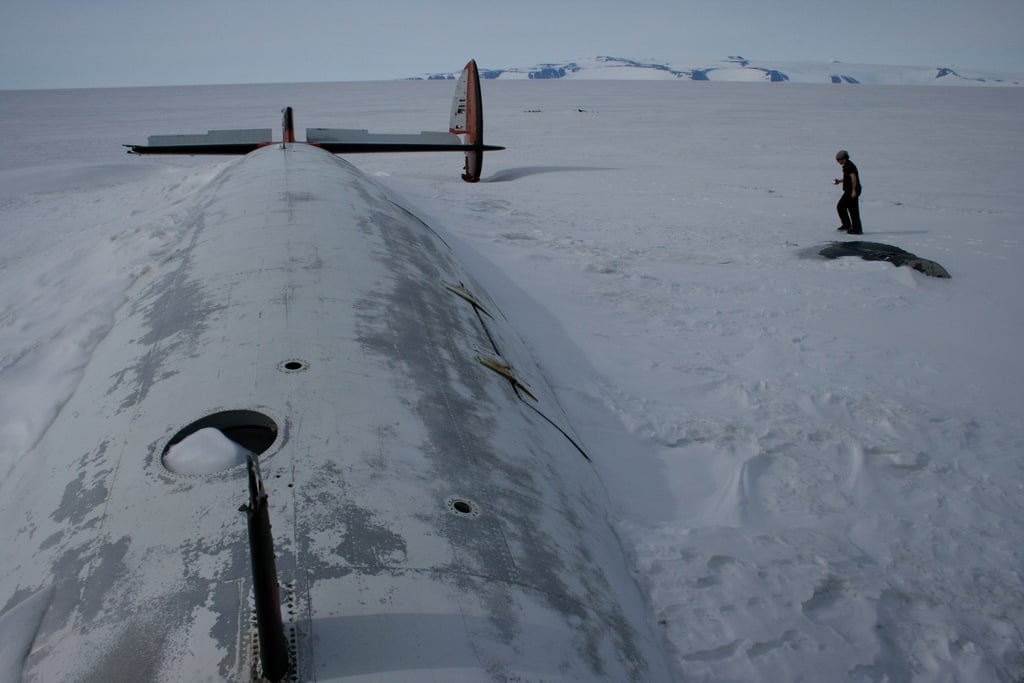 The name "Pegasus" comes from a Lockheed C-121 Constellation, or military transport aircraft. The Pegasus crashed on the remote airstrip in Antarctica while trying to land. Having an airport named after a crashed airplane doesn't give us all that much confidence.
Chicago Midway International Airport
This Chicago Airport is known for bad weather and short runways. Most pilots know the difficulty of getting in and out of this strip. There is typically a lot of ground traffic when preparing to leave or arrive.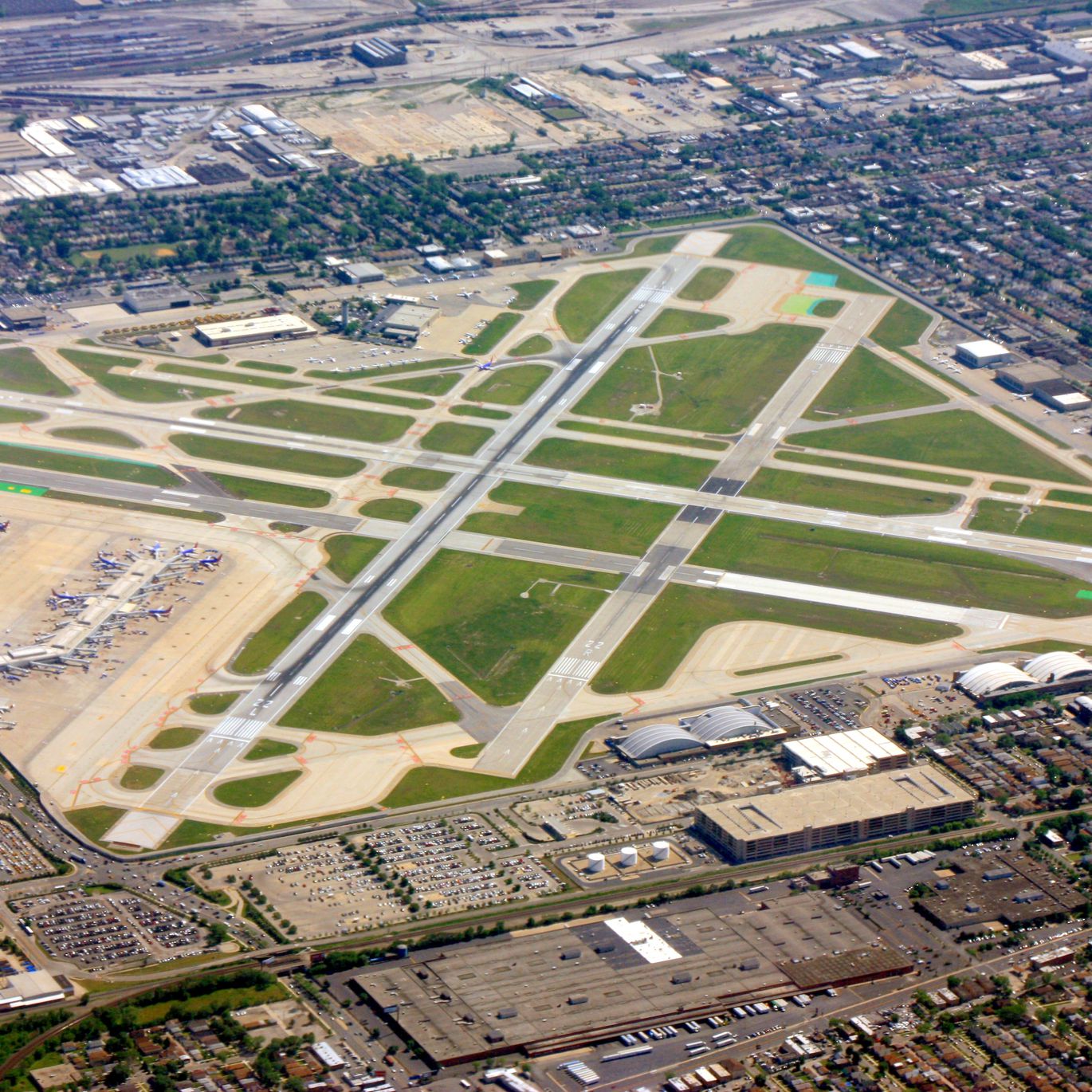 The 4 intersecting runways prove to be very confusing for grounding aircrafts. The runways also become very slippery during the winter. Multiple people have unfortunately been killed in various accidents at this dangerous airport.