Couples Relive the Past By Reenacting Old Photos
While it is impossible to go back to the past, a photo remake gets us pretty close to that. When it involves long-time lovebirds, the recreation can be pretty special.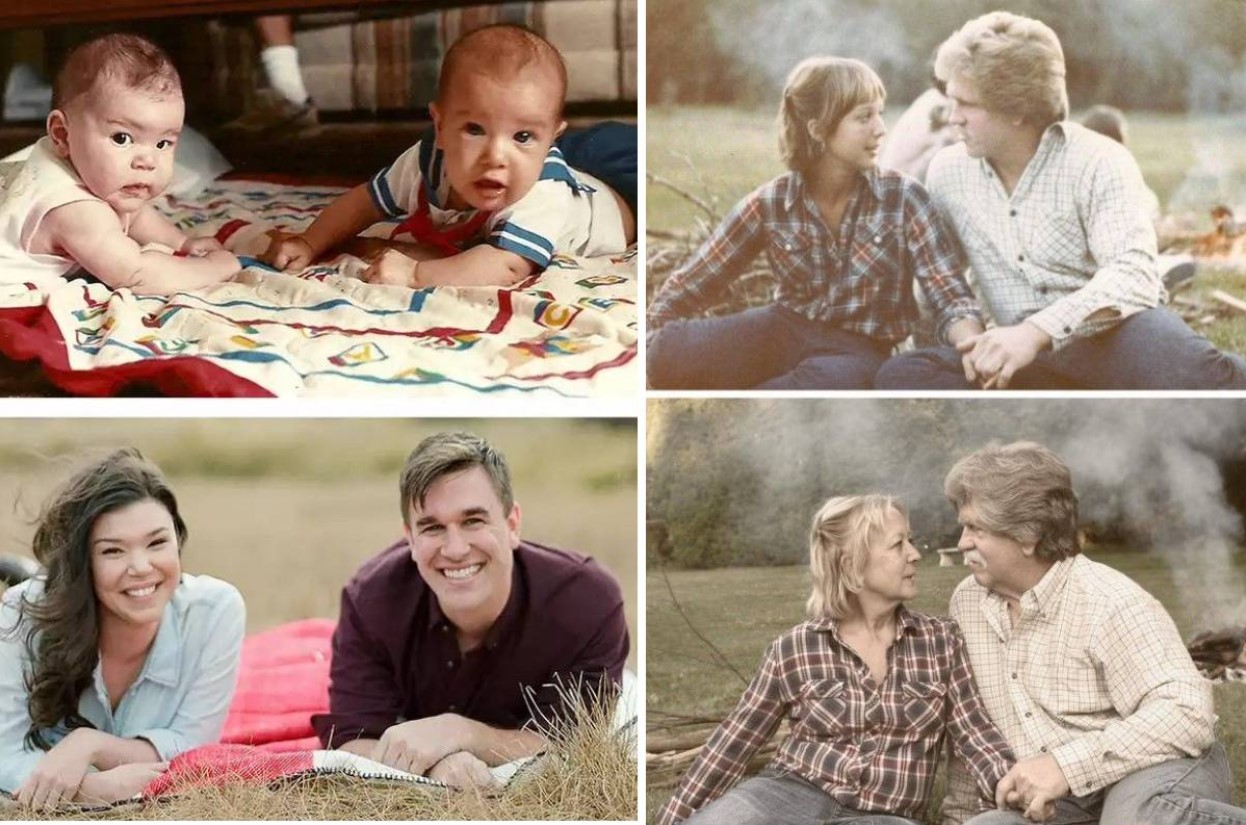 It is heartwarming to see two people who have held each other's hands through life give us a picture of how far they've come. Let's delve in to see some couples celebrate their love with some of the most thrilling photo remakes.
Mom Steals the Show
When an internet user shared this photo of his mom and dad, viewers couldn't help but notice mom's elegance. Asides from her beauty, she seemed to have retained her youthfulness over the years.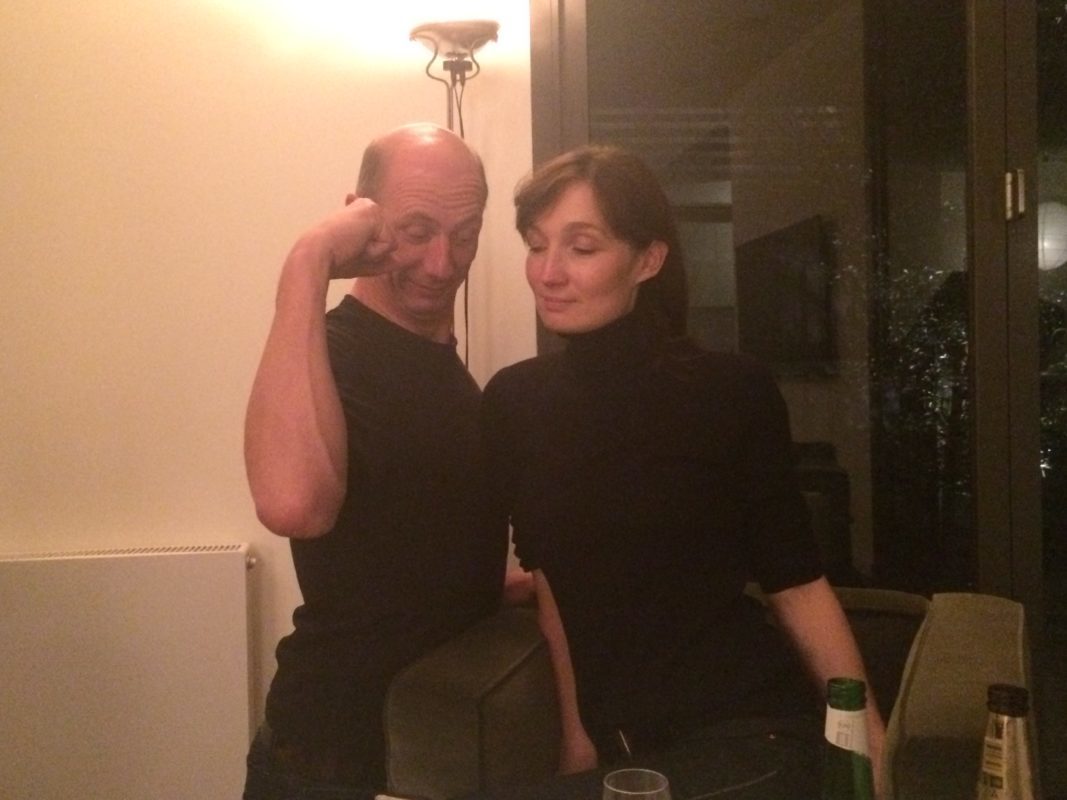 This photo deserves all the nice comments it can get. One internet user summed it up by saying, "Your mum is a very attractive woman. Your dad is a lucky guy."
Dad's Vein Keeps Making an Appearance
Do you see the line on Dad's arm? It's a characteristic that hasn't gone anywhere all these years.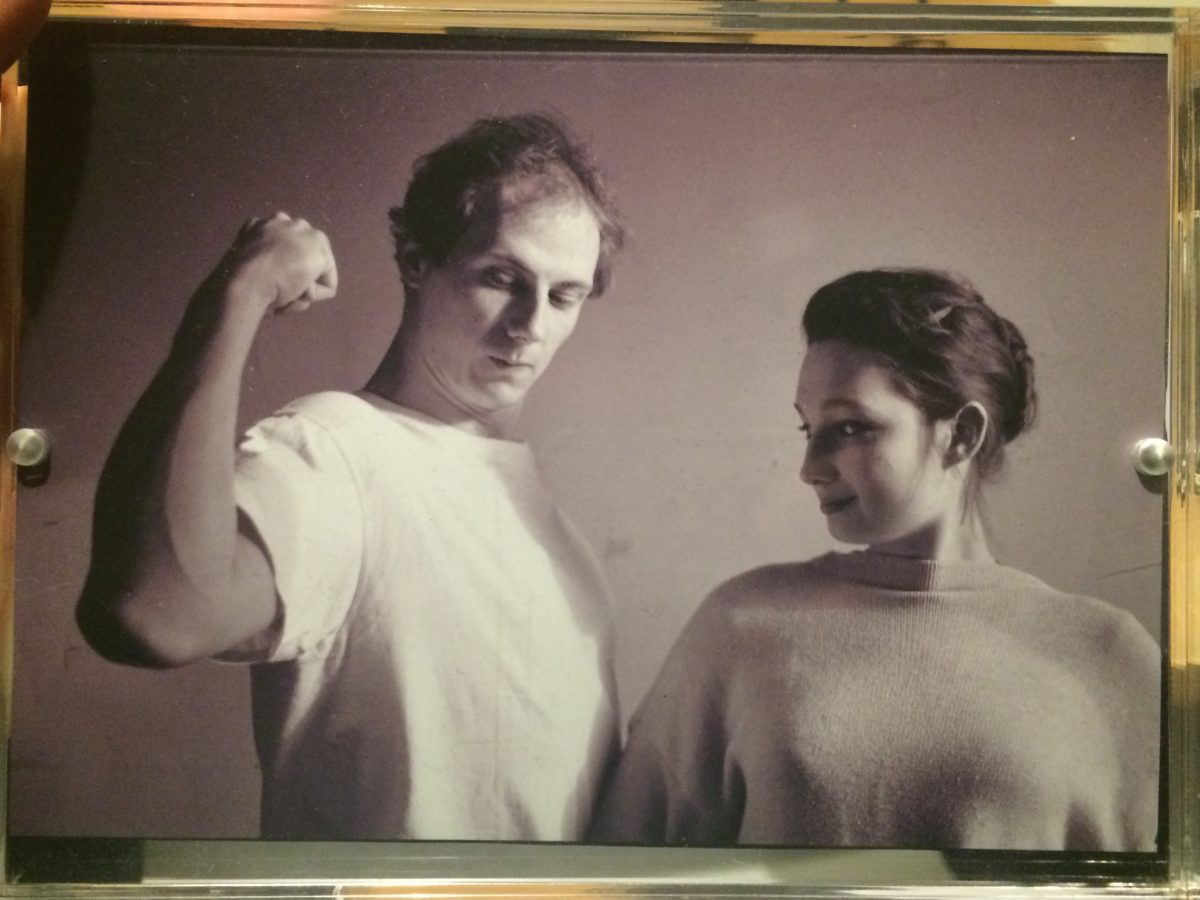 Besides remaining visible for years, the vein looks almost the same too. "That vein hasn't changed," said another user who was observant enough to notice the long line of a vein that stretched from his wrists to his elbow.
Lovely Couple Takes a Ride Down Memory Lane—In a Motorcycle
An internet user posted a lovely wedding day photo remake his parents made. What was particularly exciting was that the photos were 40 years apart.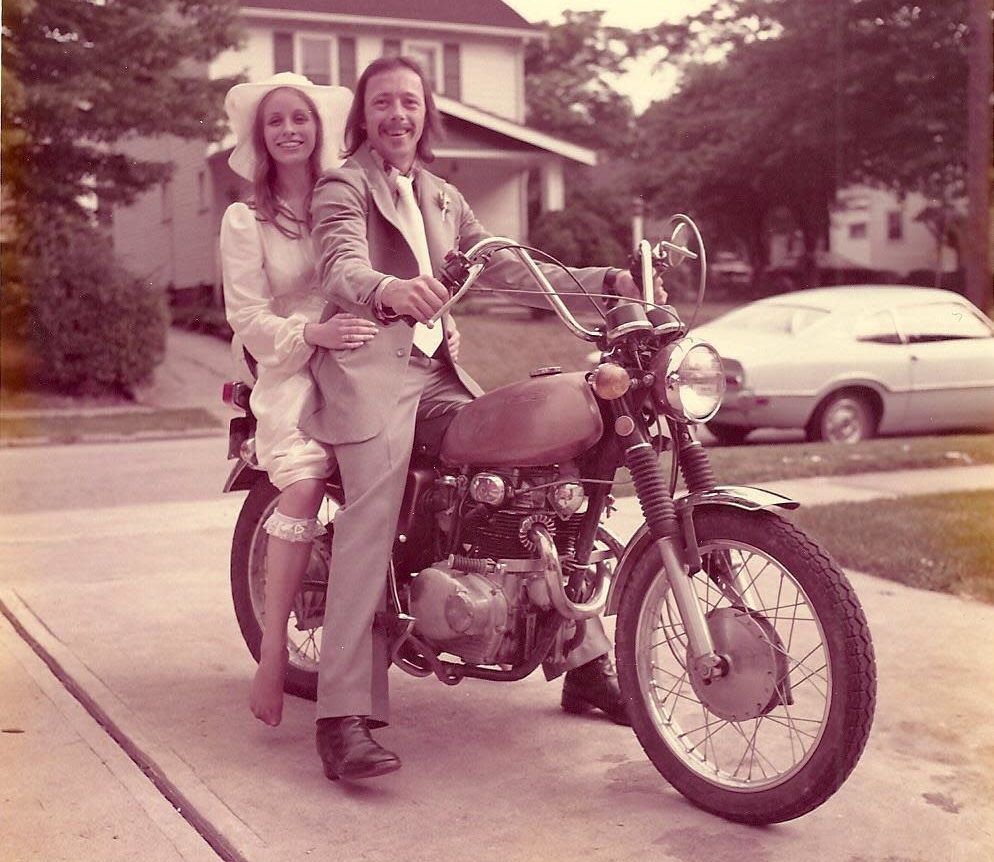 40 years of love and friendship is worth celebrating. Plus, as they share a motorcycle again, you can see that the love they have for each other hasn't waned even a bit.
The Wedding Dress Was 40 Years Old, Too
Wearing the same clothes when doing a photo remake will produce verisimilar replicas. This couple did exactly that—the wedding dress is still the same one worn 40 years earlier.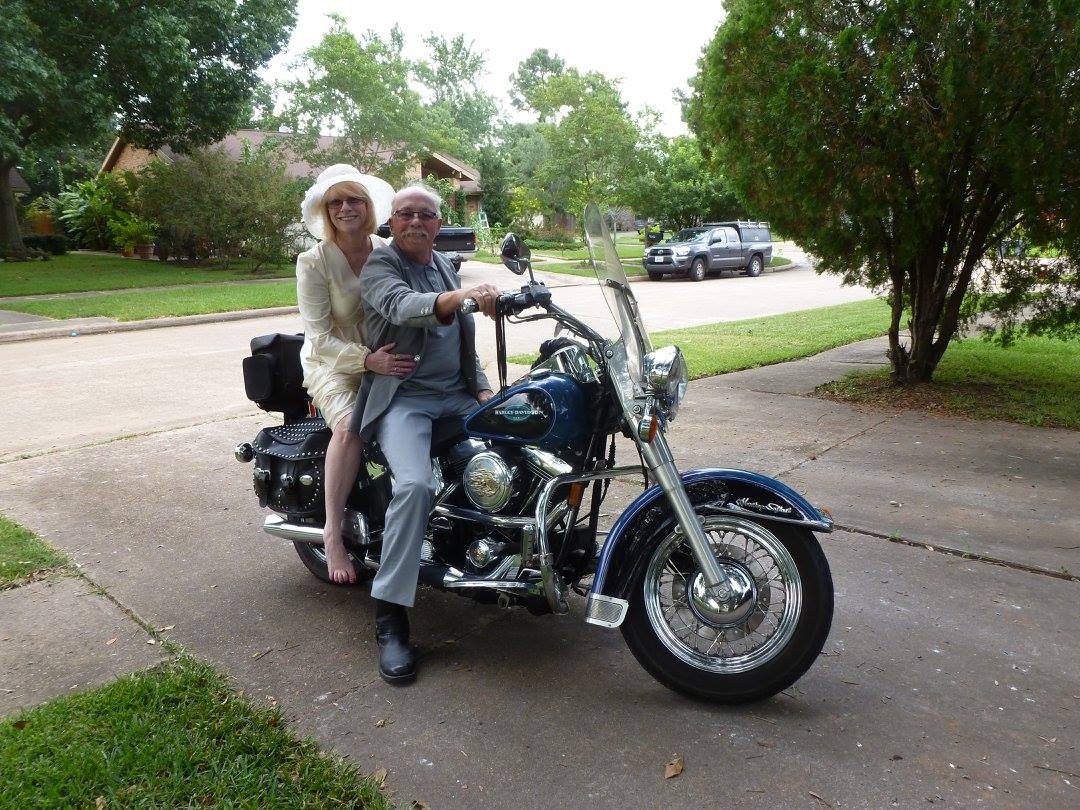 And that's not all. It was even more lovely for viewers to read that mom made the dress and dad's jacket too. Thanks to this couple for showing us that love can last.
Feeling On Top of the World
This couple seemed to have been having the time of their life in this super-cool photo. It was 1988 and the lady was probably showing off her muscles to send a message that "love is powerful."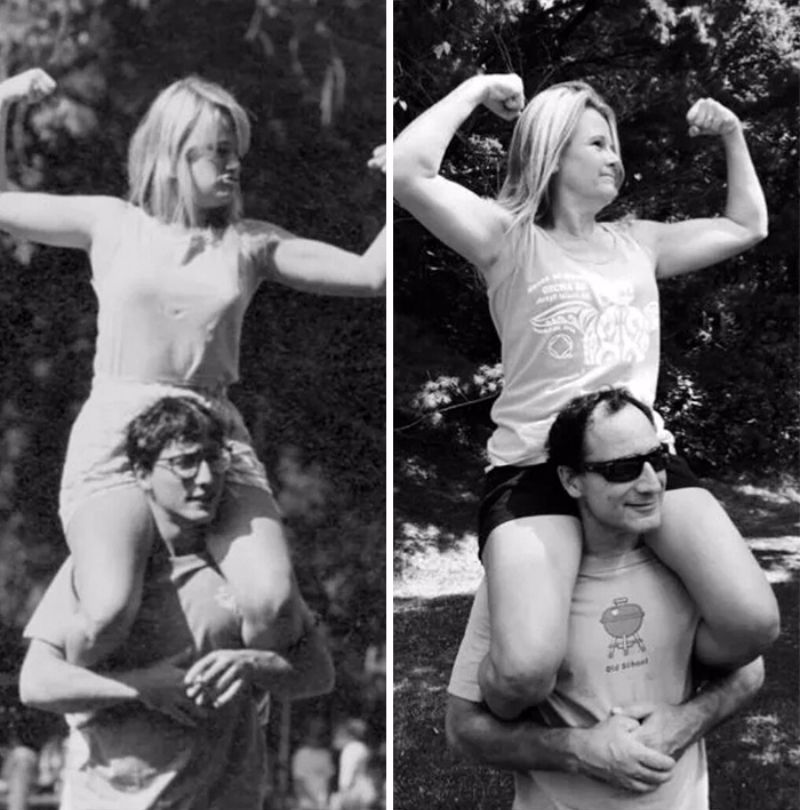 26 years later, she was as joyful as ever, basking in the company of her partner. Apart from maybe the empty park, the man's new hairline, older-looking face, and reduced love for cigarettes, nothing much had changed. The lady hadn't changed much, and like a viewer said, "She doesn't seem to be getting older."
Love Never Grows Old
It is rare to find friendships that last for more than twenty years. That's why this couple's photo caught much attention when it surfaced online.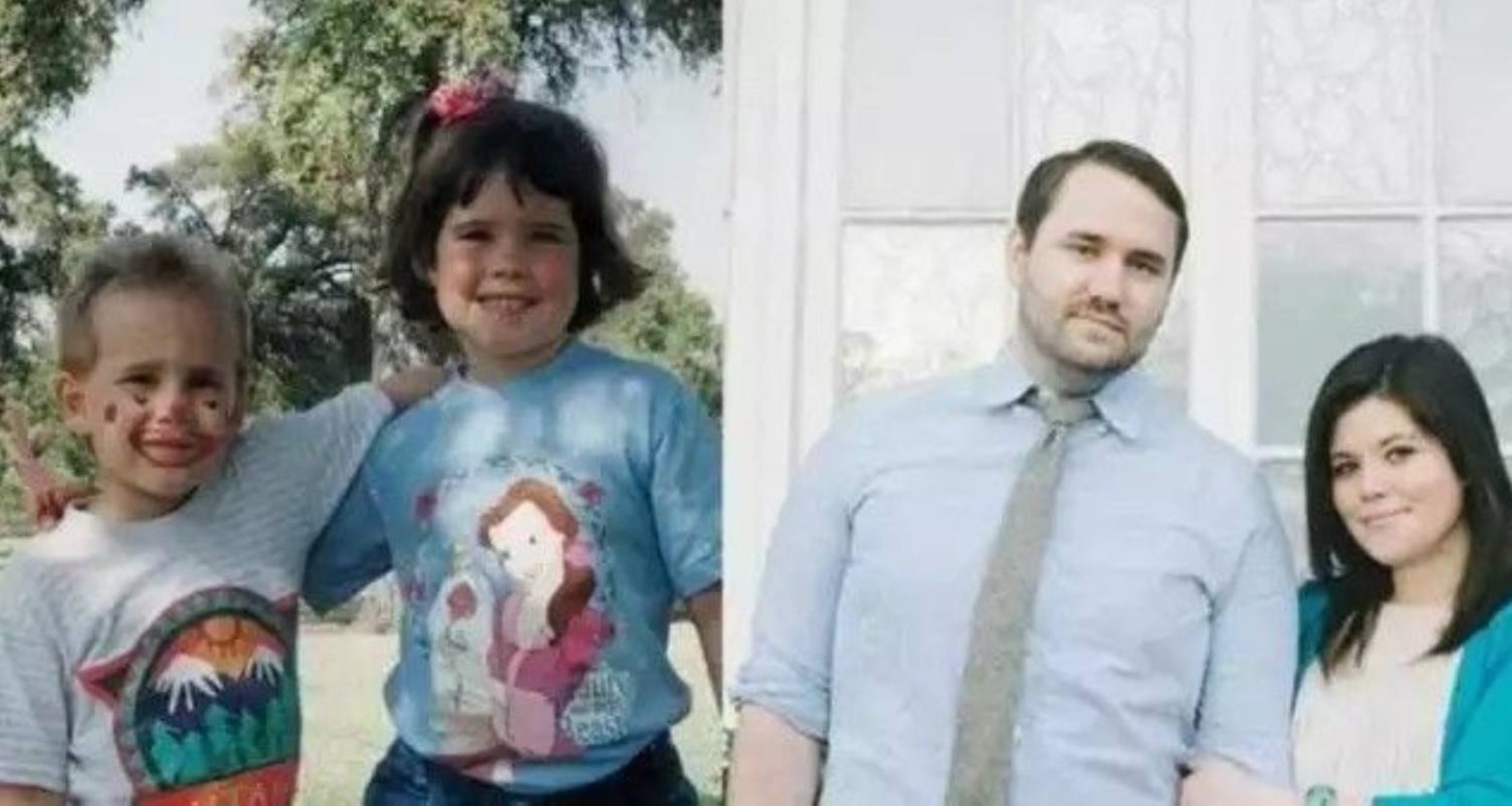 The first was taken as far back as 1991 when they were just kids. The second was taken in 2013 when the childhood friends were still very much together. In fact, they had just decided to take the friendship to another level—after twenty-two years of companionship, they decided to tie the knot. 
A Love Story That Started As a Joke
This photo seemed to show two love birds having a good time in front of a camera. If that's what you are thinking, you would be wrong. They were just schoolmates who were pressured by their friends to take a photo.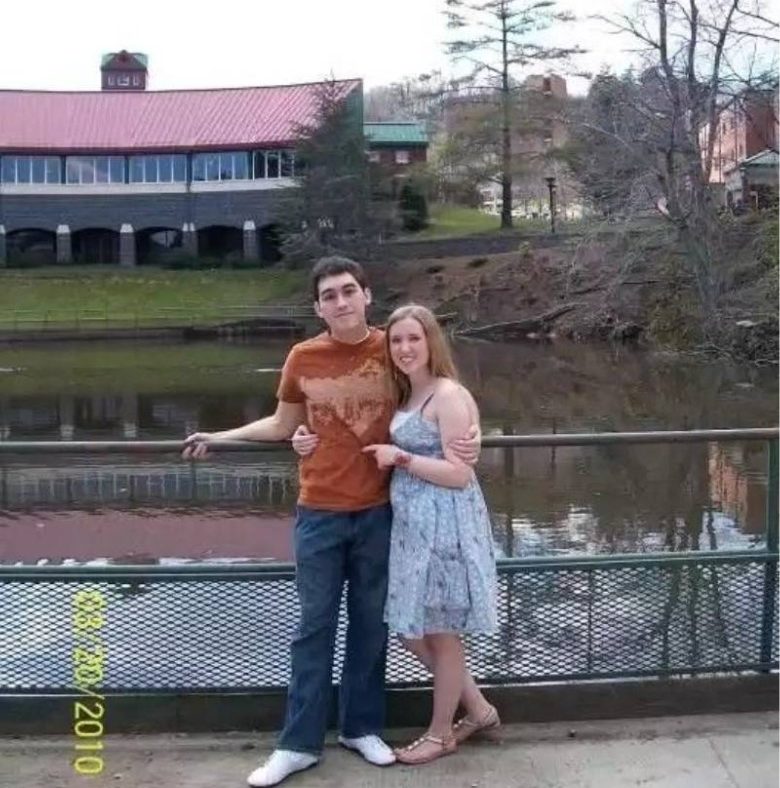 Somehow, it just turned out like an engagement photo. Maybe it was because they kinda looked great together.
Now They Are Really in Love
Nine years after the first photo was taken in 2010, the duo came back to the same spot for a remake. But things were significantly different this time.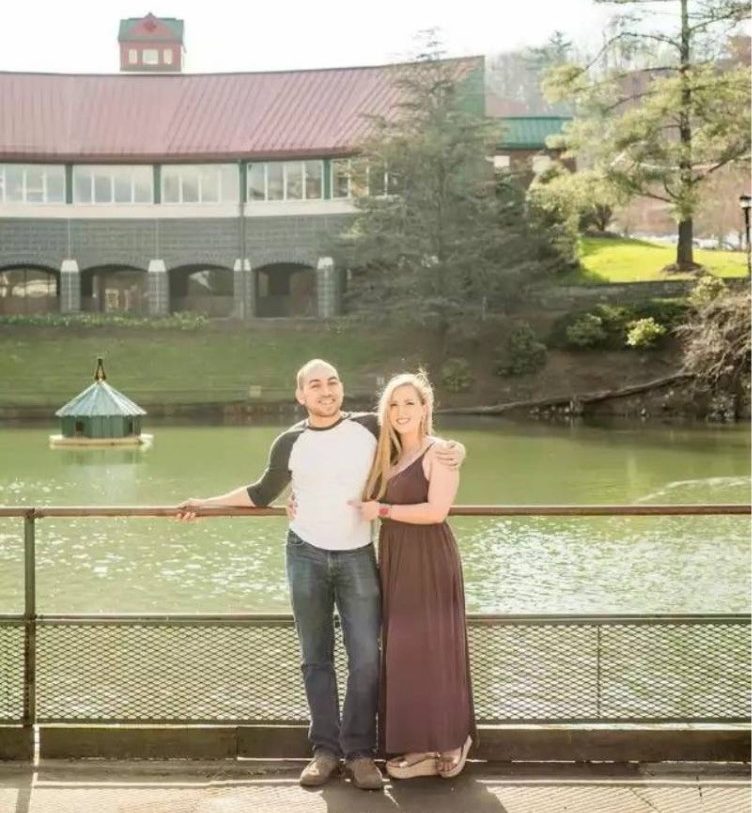 There was no pressure, plus, they were now actually in love. To cap it off, they were about to tie the knot. This reunion at the lake turned out not only as an engagement photo shoot but one of the sweetest couple photo remakes ever.
There is Love in Their Eyes
Forty years ago, a couple was probably out camping when they took a photo while gazing into each other's eyes. Somewhere behind them was a blazing flame of fire and white smoke.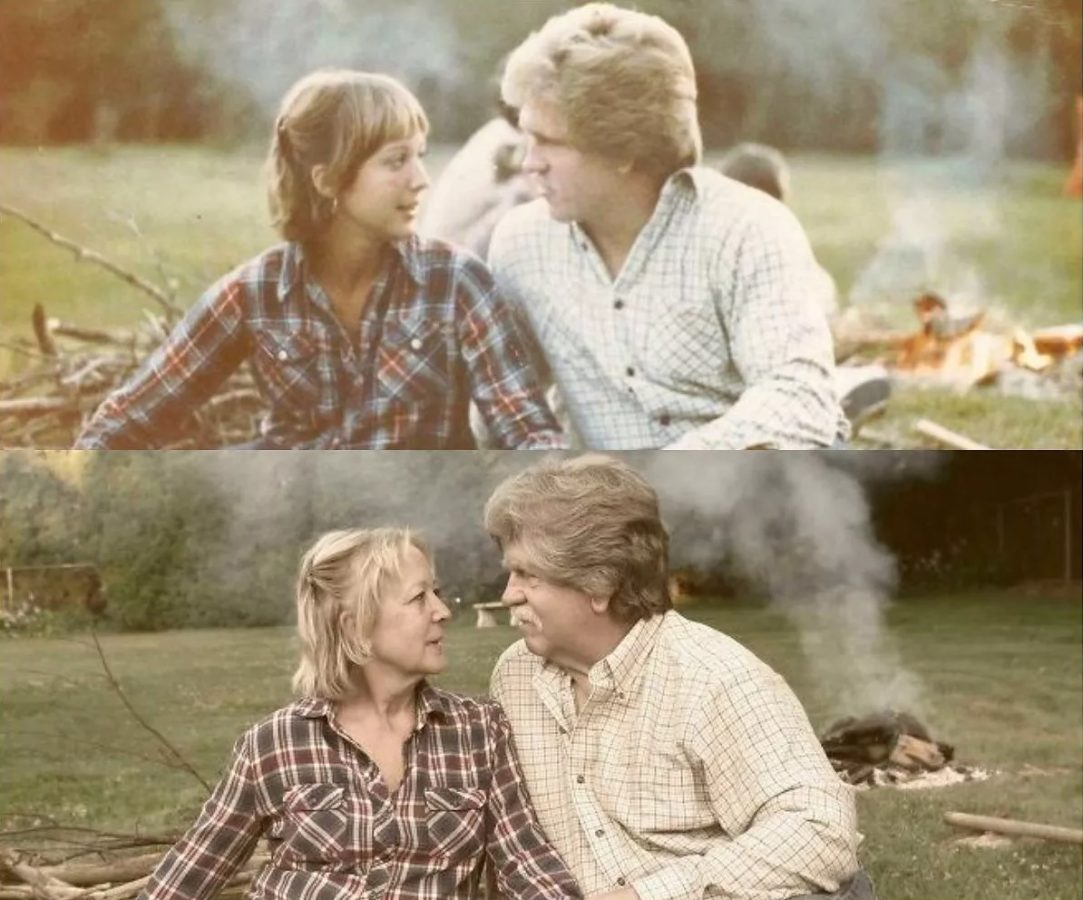 However, as they stared at each other, there seemed to be another fire burning in their hearts. The fire of love. It was still burning when they came back together for the remake—you can tell from the way they looked at each other. 
This Couple Added So Much Fun to Their Wedding
This couple, who got married in 1982, kept the flames of their love burning brightly for many years. From their wedding photo we can imagine that there was lots of fun to go around.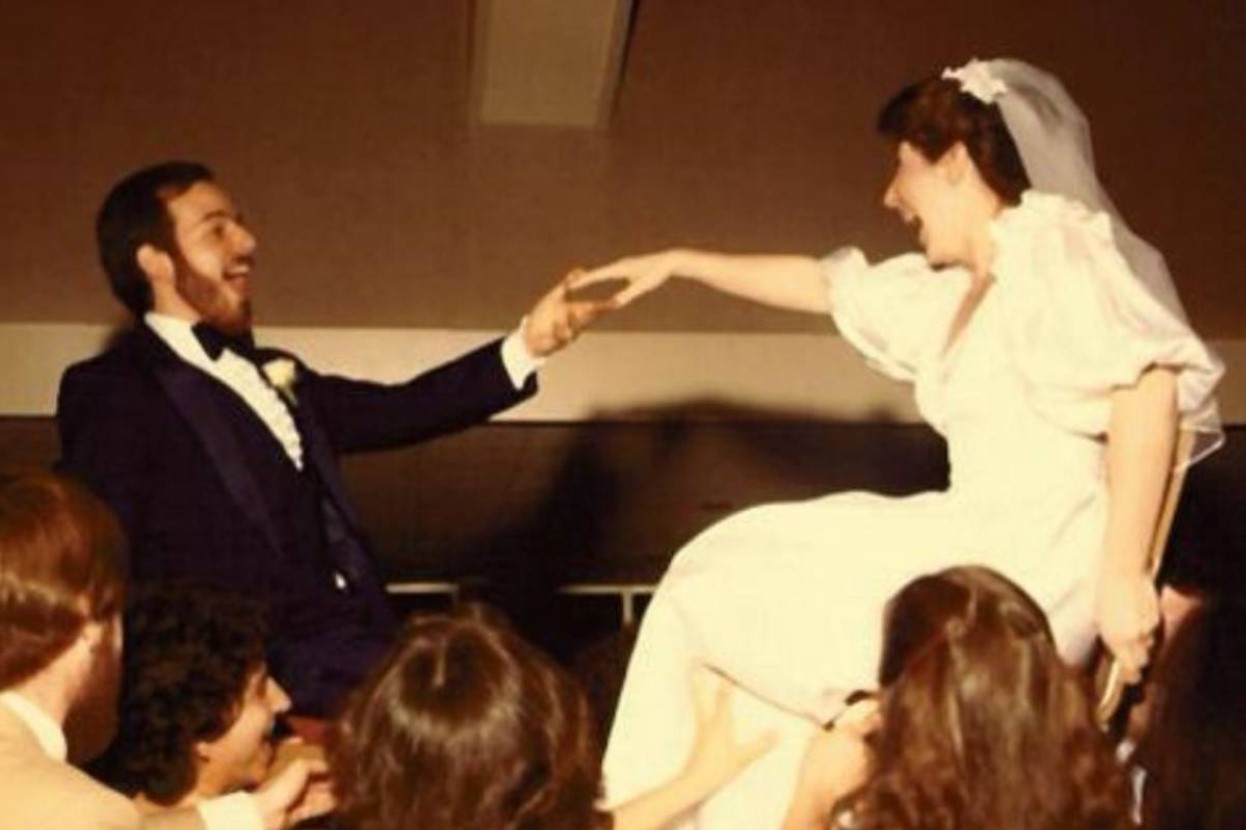 In the reenactment shown below, the couple sat on raised chairs, reaching out for each other with contagious smiles while performing the popular Jewish Hora dance. From the smiles, you can tell that the love they shared was natural. It's little wonder that they were able to be happy together for many more years.
They Remade It at Their Daughter's Wedding
The recreation photo was taken in 2014, thirty-two years after the first. But this time, it was taken at their daughter's wedding. Again, you can see the couple, so full of life, adding fun yet again to the event.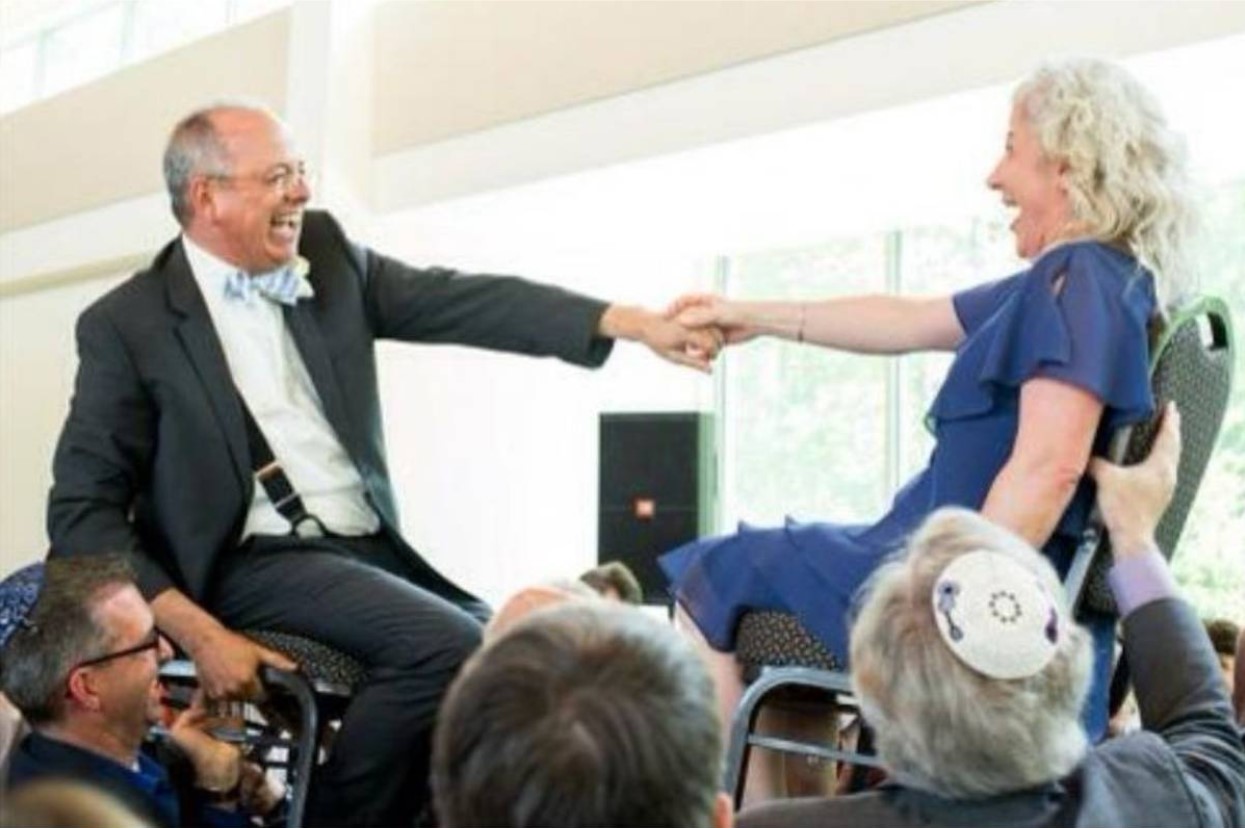 It has been three decades of a successful union—what a way to celebrate it! Hopefully, this will become a tradition that their children will carry on.
A 60-Year-Old Wave From the Backseat
An internet user posted this photo with the caption "My grandparents on their wedding night, and 60 years later." Isn't it awesome? Especially as it doesn't seem like both photos were 60 years apart.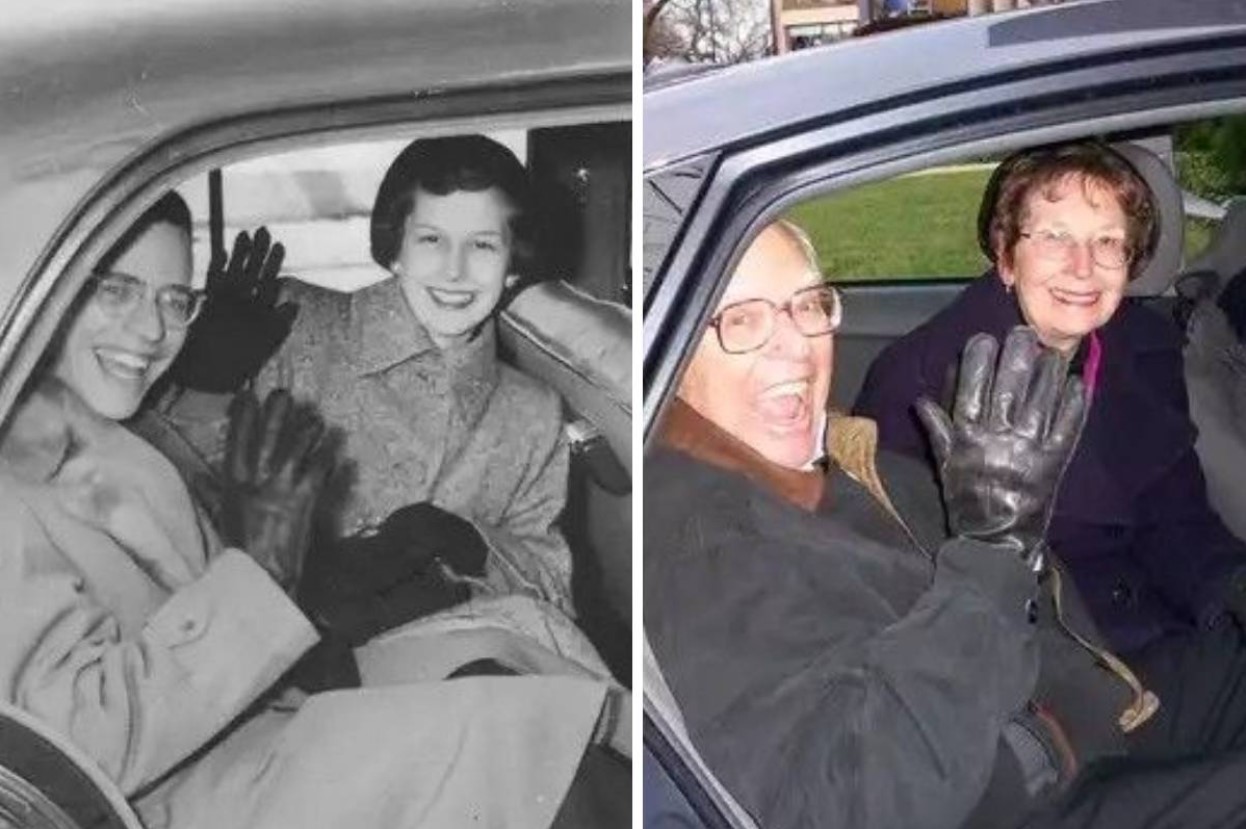 You can say that this couple is feeling forever young, having the moment of their lives. As they sat in the backseat of the newer car, their wedding day must have seemed to them like yesterday. 
"Things Last When You Take Care of Them"
An internet user posted this photo with the above caption. This statement could describe the healthy condition of the car or the love this couple has for each other.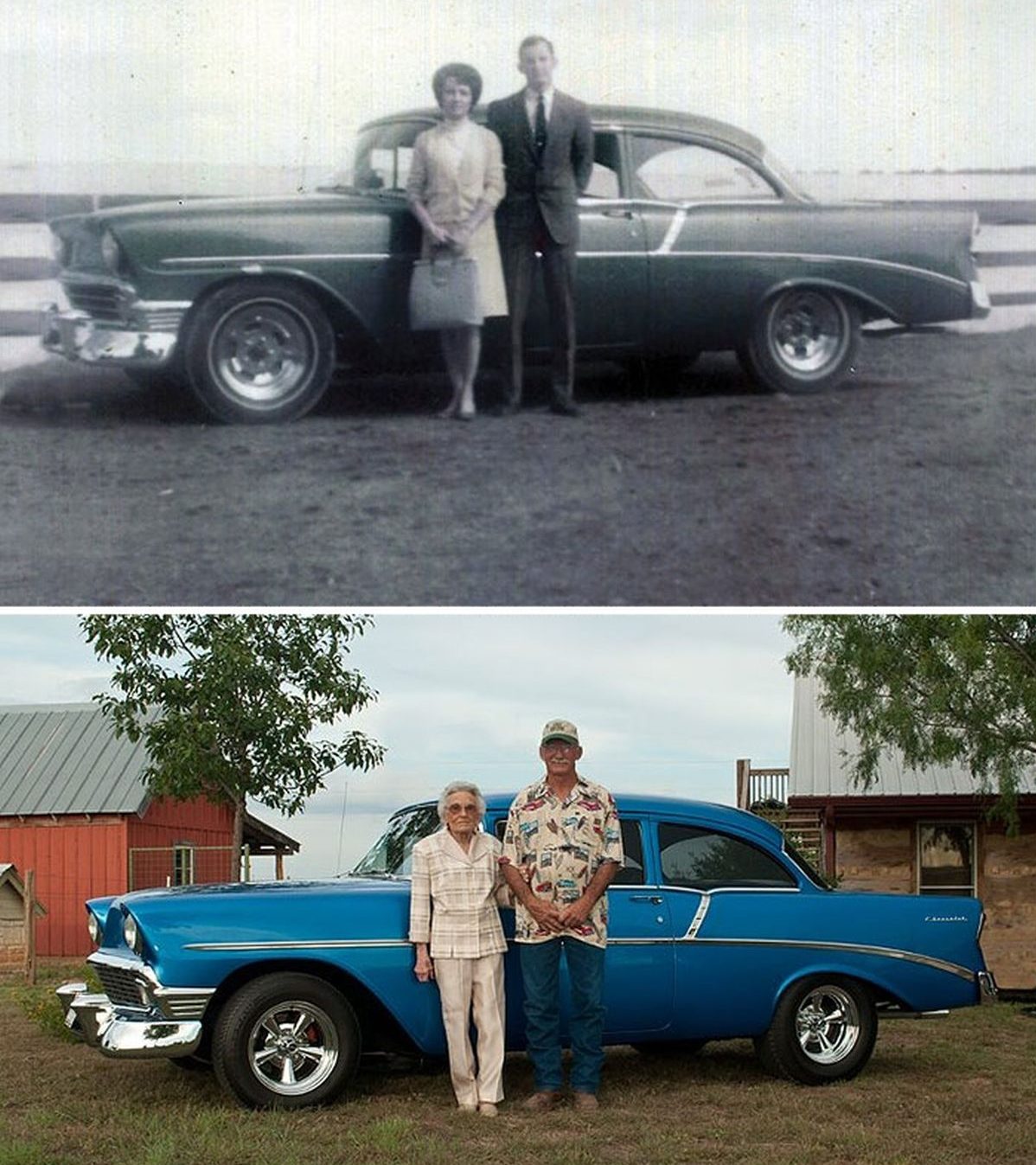 The newer photo show the couple in front of a 1956 Chevrolet which looks like it had never been used all these years. But what is more exciting is that their love has lasted for decades. 
Forty-Five Years of Standing By Each Other
This remake has to be one of the most well-put-together ever. Almost everything looks the same, from the location to the dresses. They look happier now than they did on their wedding day, which is a good thing.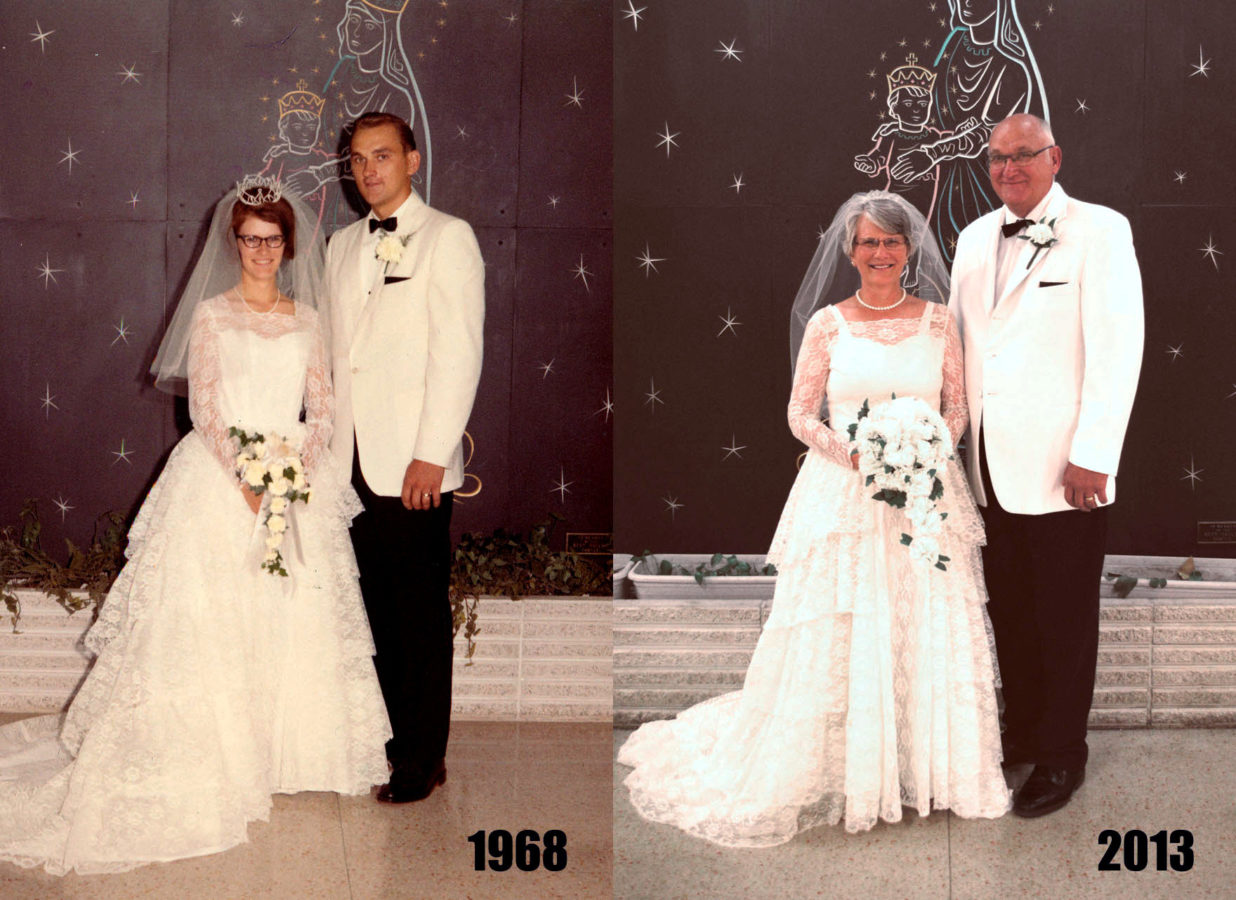 We owe this couple for putting up this work of art after forty-five years. The photo should serve as inspiration to every other couple in the world.
This Couple Went Back to the Woods to Recreate Their Photo
It has been twenty-five years since their wedding day when this couple decided on doing wedding day remake photos. They came out beautifully too. Even though the locations don't look the same, the subjects don't appear too different.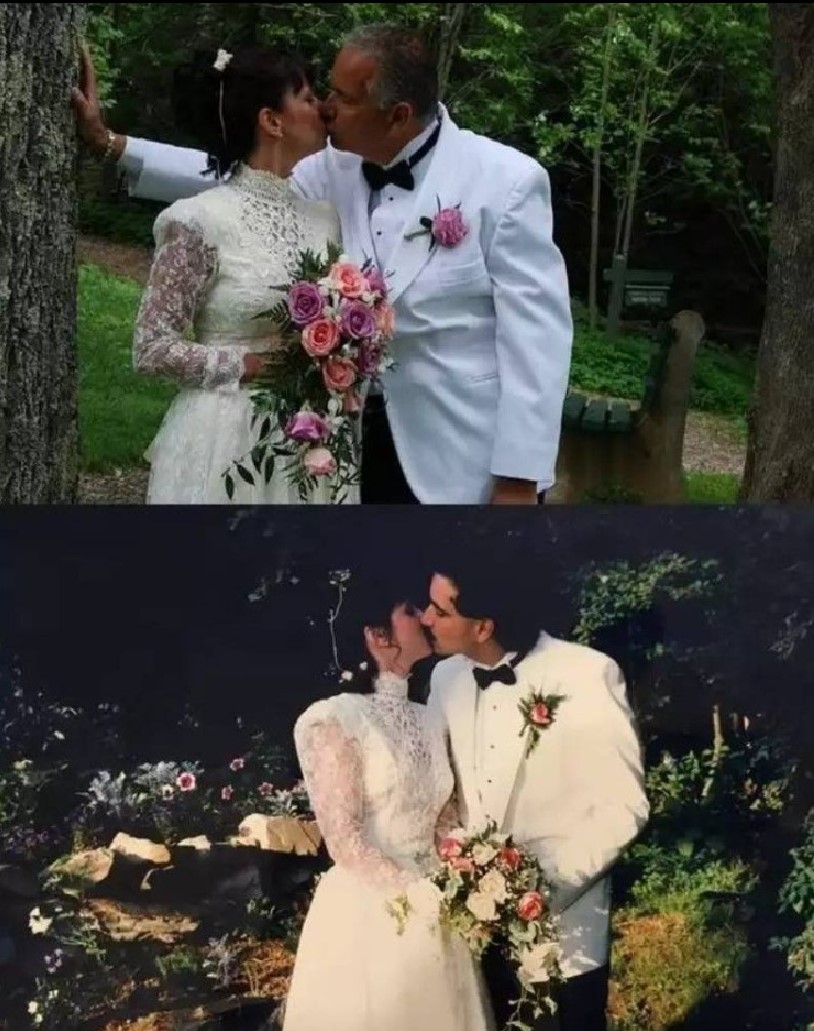 The wife doesn't look like she has changed much. The youthful face and body frame have remained. Their children should be proud. 
Then They Took a Couple More Photos
For this couple, one remake wasn't enough. Here, they have recreated another one of their wedding photos. In this one, husband and wife gaze longingly into each other's eyes, dreaming of the years ahead.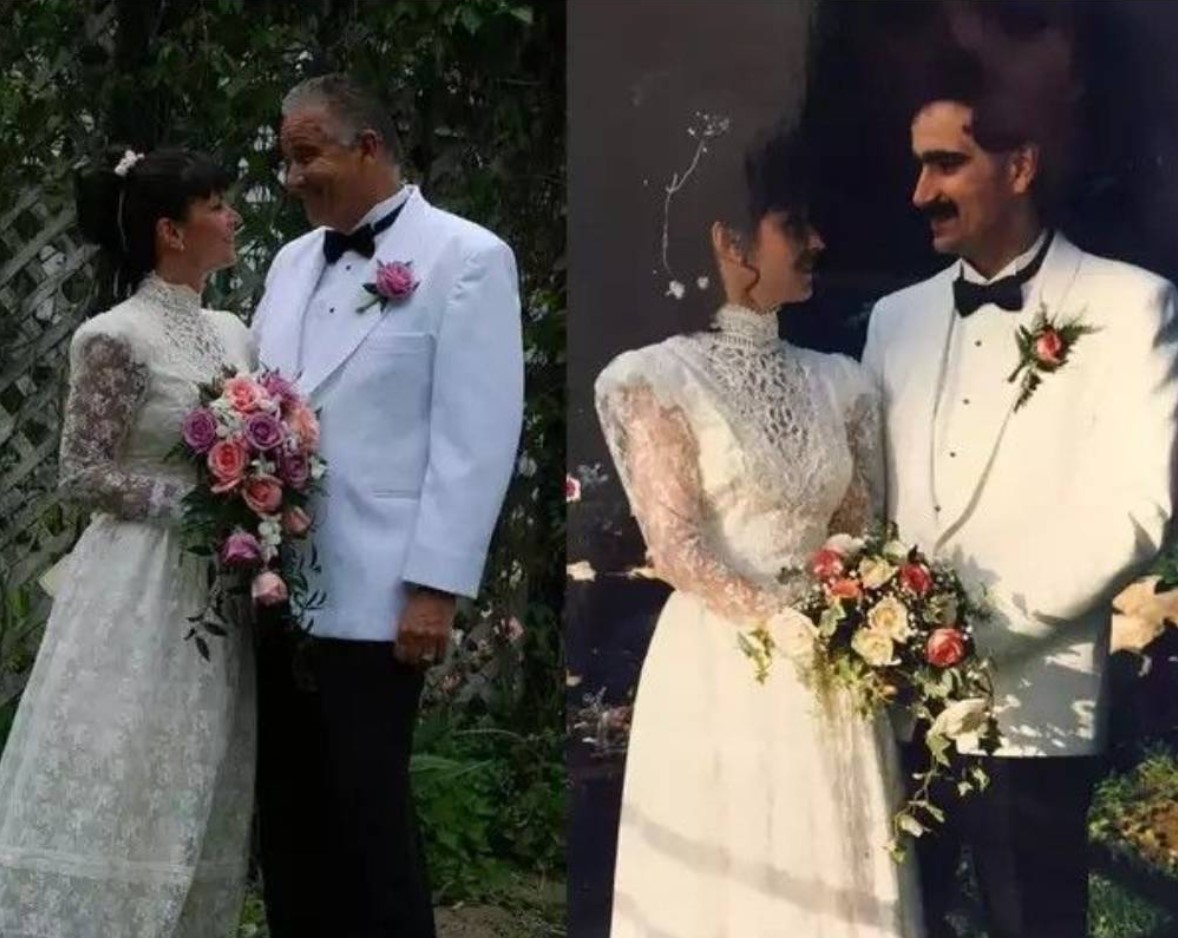 Thankfully, their love stood the test of time. Here they mark almost three decades with a remake. This time, with much bigger and more cheerful smiles.
They Love Each Other And Their Sunglasses
The first photo showed these lovebirds during the early days of their relationship. It was 1985 and their demeanor, pose, and outfits were as lovely now as they were back then.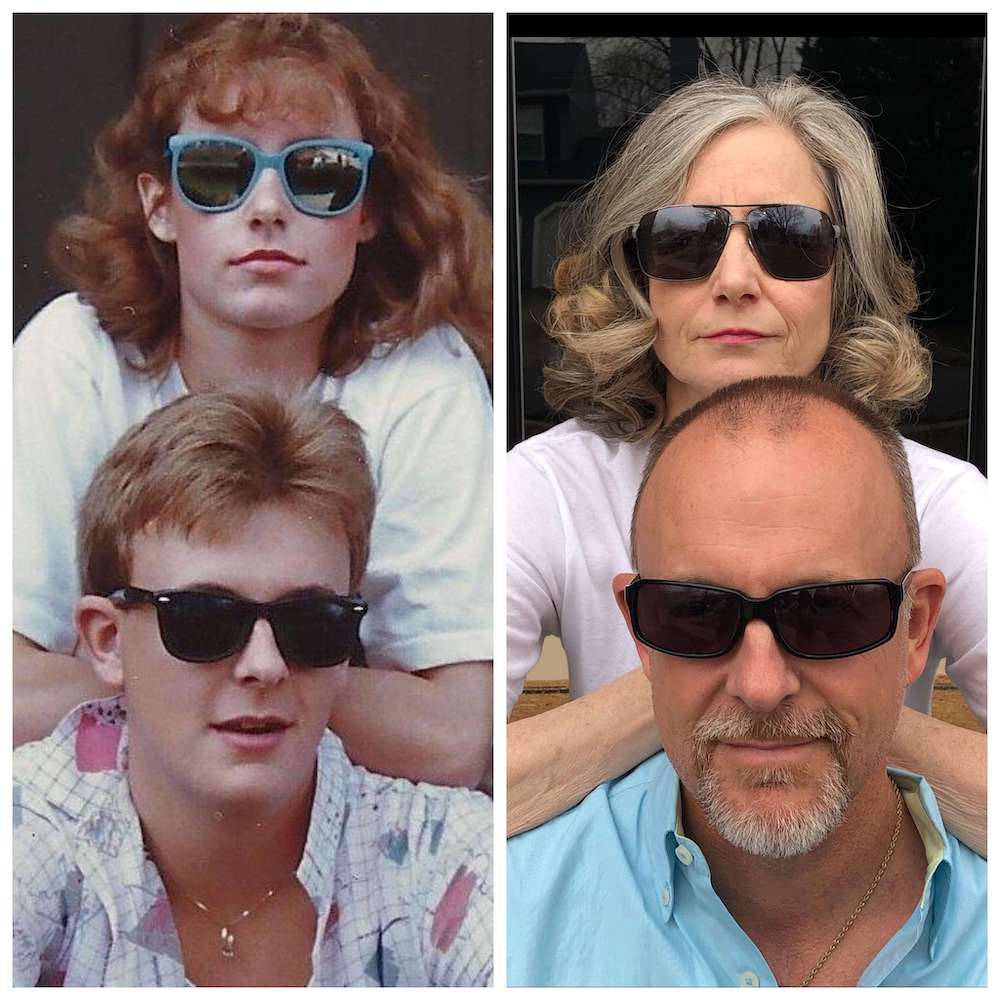 Fast forward to thirty-four years later, and their love for each other (and sunglasses) is still standing strong. Their photo remake looks as cool as back in the day.
The Prom That Lasted for 20 Years
Looking at this couple's photo recreation, it is hard to believe that both are 20 years apart. The first photo was taken as schoolmates in junior prom, while the second one was taken as a wedded couple.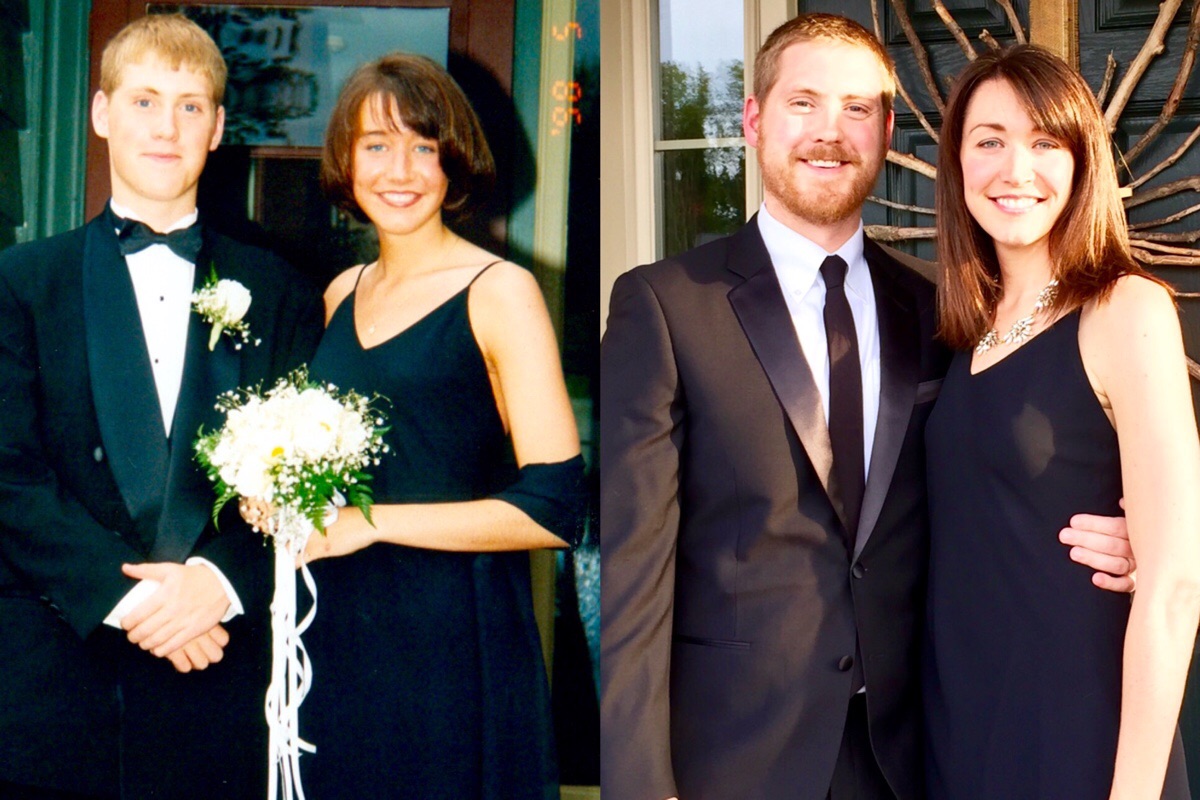 The lady still looks as young as she was 20 years earlier. Plus, do you notice that she is wearing the black dress from junior prom? It's amazing how it still fits perfectly.
From Childhood Friends to Lovers
The babies in the picture aren't the children of this couple—they are the pair from back in the day. It happened that their parents were close friends who innocently decided to put them together for a photo.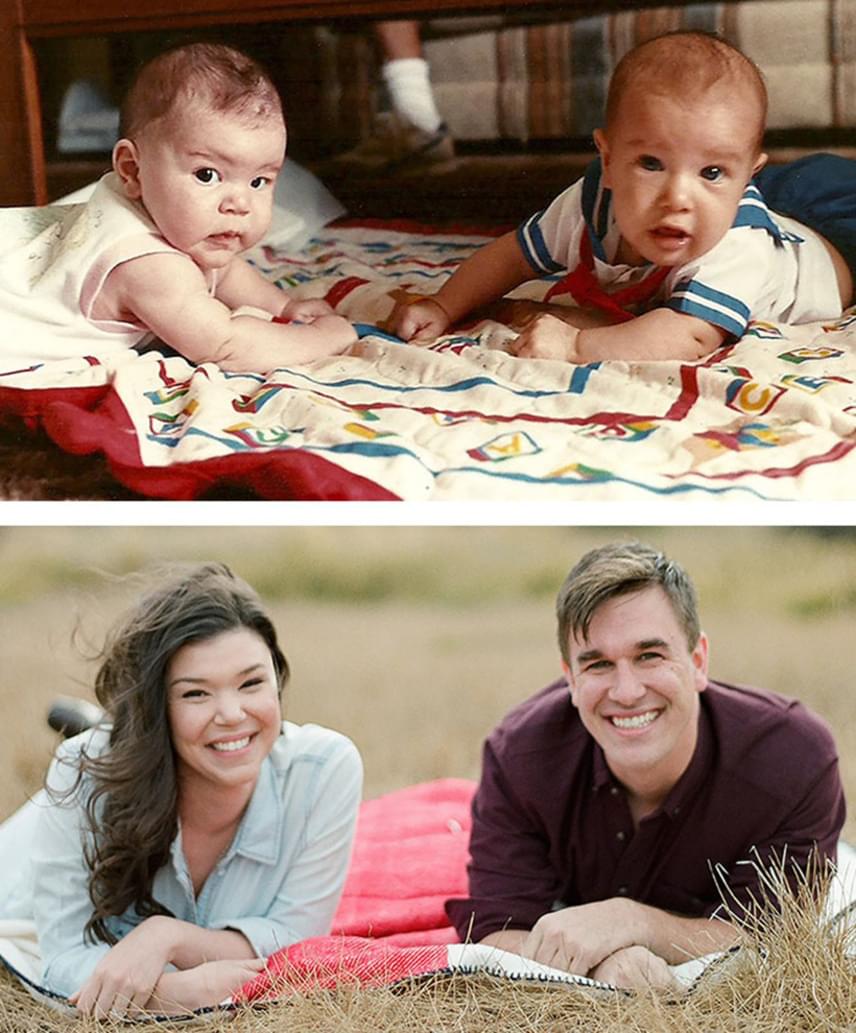 That move proved to be prophetic. Now, the duo – born eleven days apart – is married. Fate didn't want to leave any room for mistakes.