A Creative Man Explores What Disney Characters Would Look Like in Our World
Have you ever wondered what your favorite Disney character would look like in real life? Now, your imagination doesn't have to do the work for you because one man brings movie magic into the real world by photoshopping cartoon characters.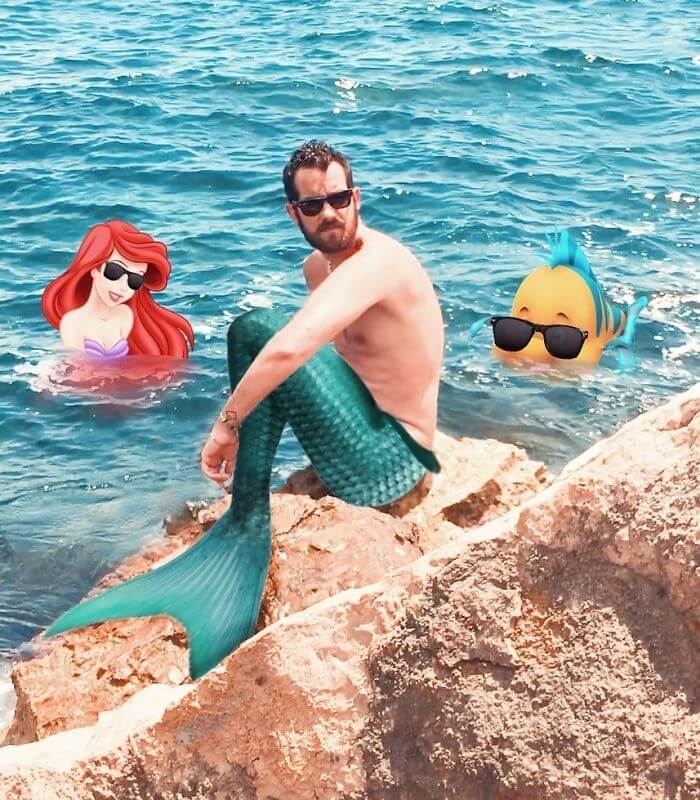 Luigi Kemo Volo and Samuel MB use their artistic skills to the benefit of all of our entertainment. We can see what these characters would look like in funny circumstances in our world. Check out their masterful art and re-experience your childhood imagination in a new way!
Ohana Means Family
Luigi gets to hang out with one of our favorite pairs in Hawaii. After all, "Ohana means family and family means nobody gets left behind or forgotten". Stitch looks to be behaving a lot better than he did when Lilo first adopted him.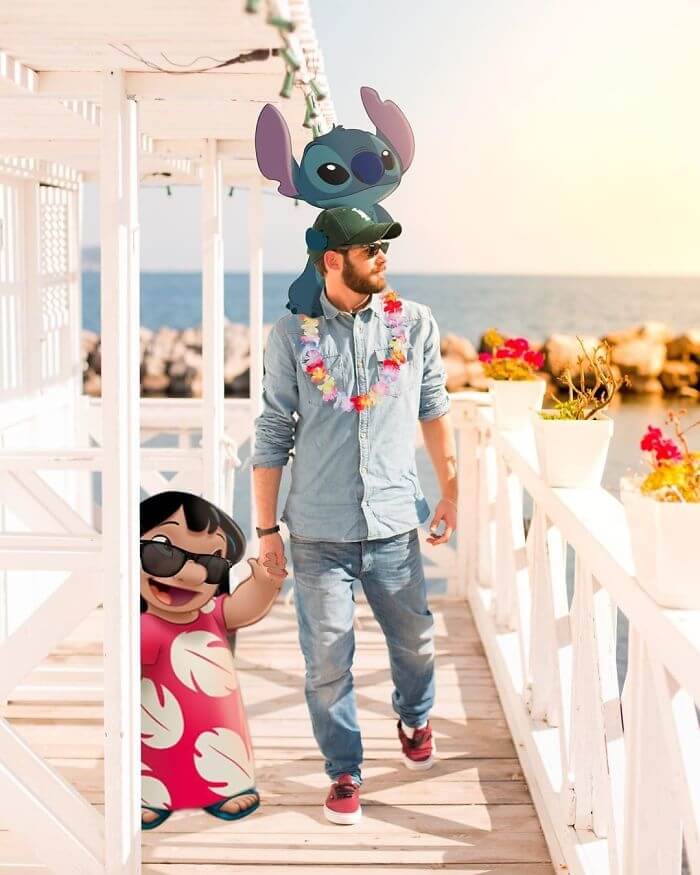 My younger self is super jealous that Luigi gets to hang out with this duo! I wonder if Luigi also got a hula dancing lesson from Lilo. If that lei around his neck is any indication, they're having a fantastic Hawaii vacation.
Pass The Lighter
Hades is probably not the friend that you usually want in your corner. The god of the underworld was none too kind to our hero, Hercules. But, it looks like he did come in handy for Luigi when he needed him!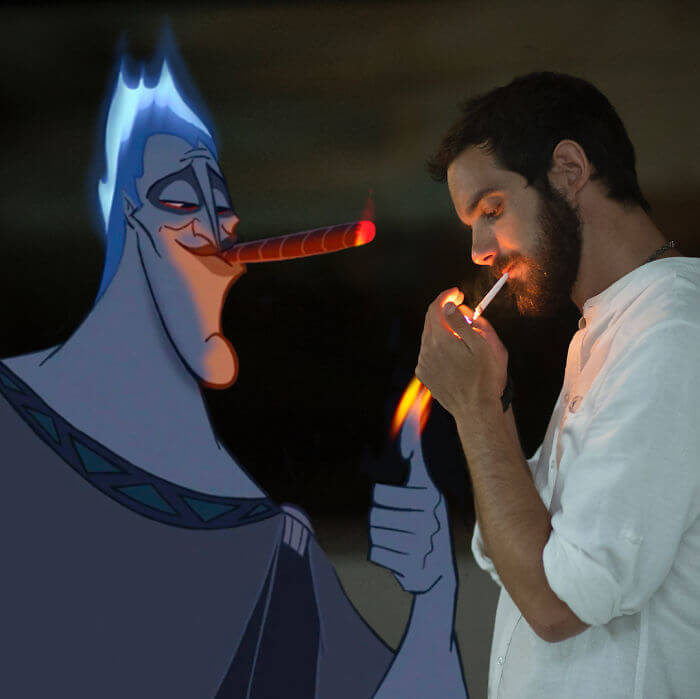 Who needs a lighter when you have Hades nearby who can spark you up with the snap of his fingers? However, you better watch your back if you're hanging with this guy. We know how he operates.
Bippity Boppity Boo
Fairy Godmother showed up to Luigi's house in a fashion emergency. He was in desperate need of an outfit for a ball, but this gown is probably not what he had in mind. His face says it all: "Not going to happen, Fairy Godmother".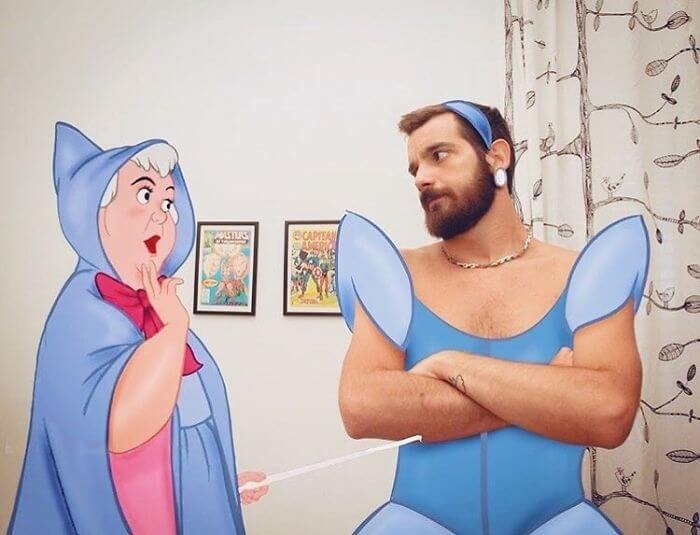 She should have known that Cinderella and Luigi would not look the same in this gown. She wore it beautifully but we are guessing it's not exactly Luigi's style. Hopefully she can "bippity boppity boo" him into a more appropriate outfit.
The Bare Necessities
We already know that Balo tends to befriend humans. Afterall, he and Mogli were quick to friendship when they met in the forest. It looks like he and Luigi have struck up a friendship as well!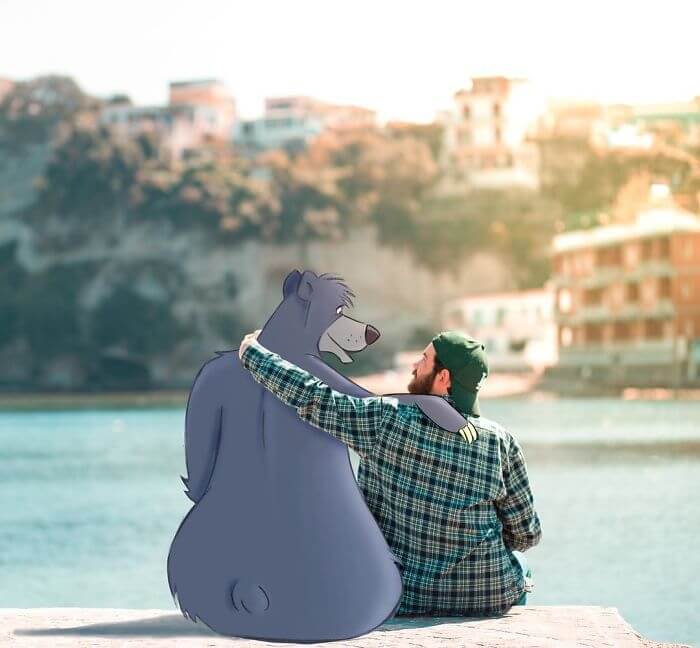 They look like the best of companions, but we're sure Baloo and Mogli still hang out. I have to know what wisdom Baloo has to offer because I'm sure we could all benefit from it.
Sleeping Beauty At The Sleepover
Everyone knows the one rule about sleepovers: Don't be the first to fall asleep! If you're the first one out, you basically give all your friends lisence to draw whatever they want on you and give you a shaving cream mustache if they wish.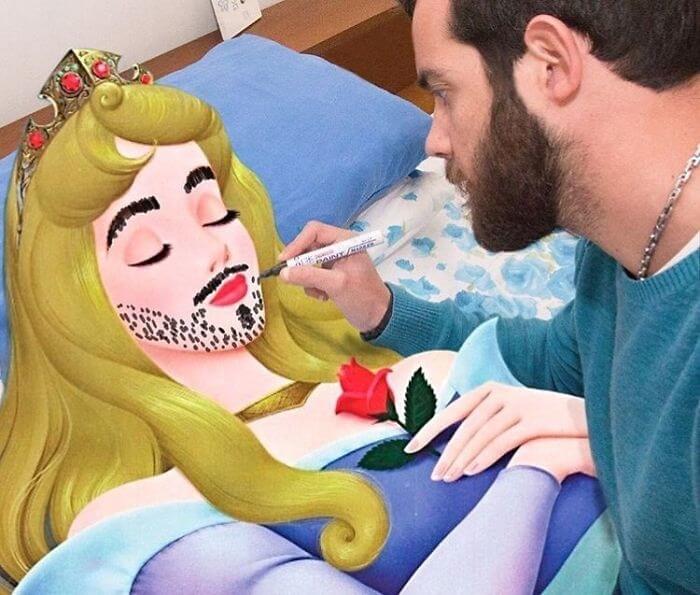 We can't say we're surprised that Princess Aurora was the first to fall asleep at the sleepover. It is all she seems to do! So, we can't blame Luigi for capitalizing and giving her some facial hair. Next time she better try to stay awake to avoid the pranks!
Mushu Has You Covered
We saw Mushu take good care of Mulan so we know that we can count on him to always come in clutch with a bowl of noodles. We can also usually count on him to bring some wild plans that will inevitably fail!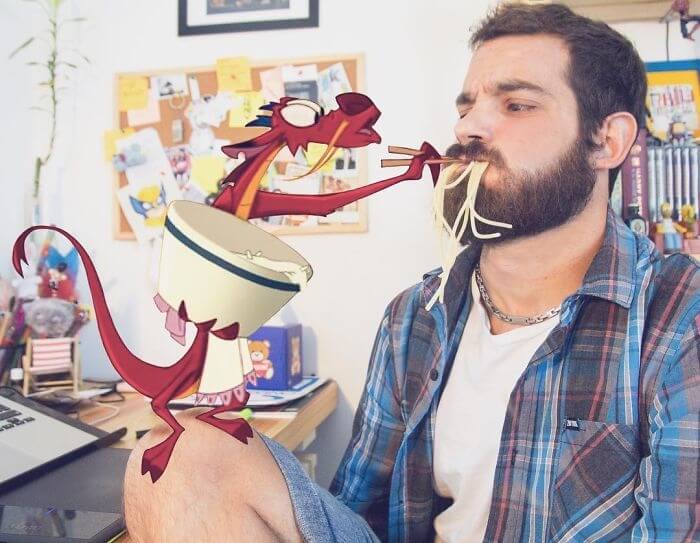 Luigi should feel honored that Mushu is taking such good care of him! But it looks like Mushu might be offering him more noodles than he can even fit in his mouth! Mushu is the kind of sidekick we all need.
Getting On Ariel's Bad Side
This is no way to make friends with the red-haired mermaid! While Luigi was out fishing he caught more than he bargained for. She looks none too happy but we have to believe it was all a misunderstanding.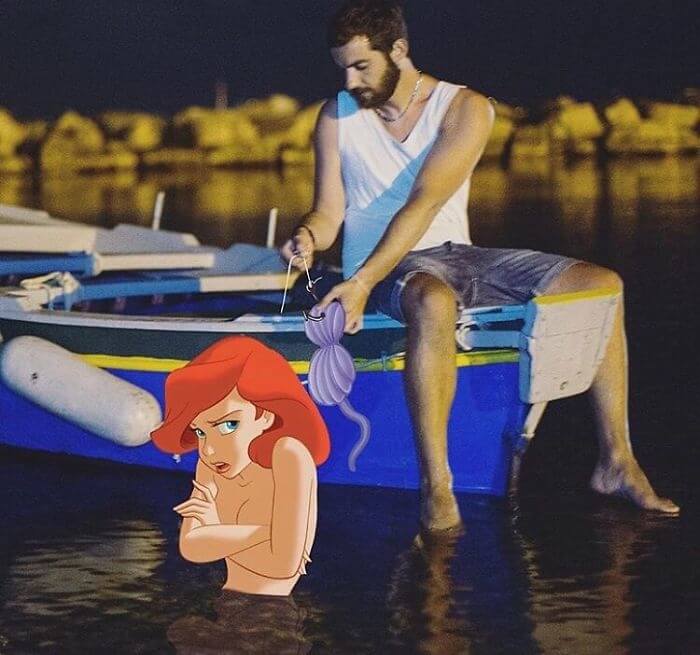 He better give her top back or else he'll have King Triton to worry about. We recommend Luigi goes somewhere else to fish so that he doesn't run into this predicament again. At least he didn't catch her tail!
Simba Gets A Blowout
Something that they never talk about in The Lion King is how much maintenance that beautiful mane requires. Simba is the king of everything that the light touches so he recruited Luigi to give him a much needed blowout.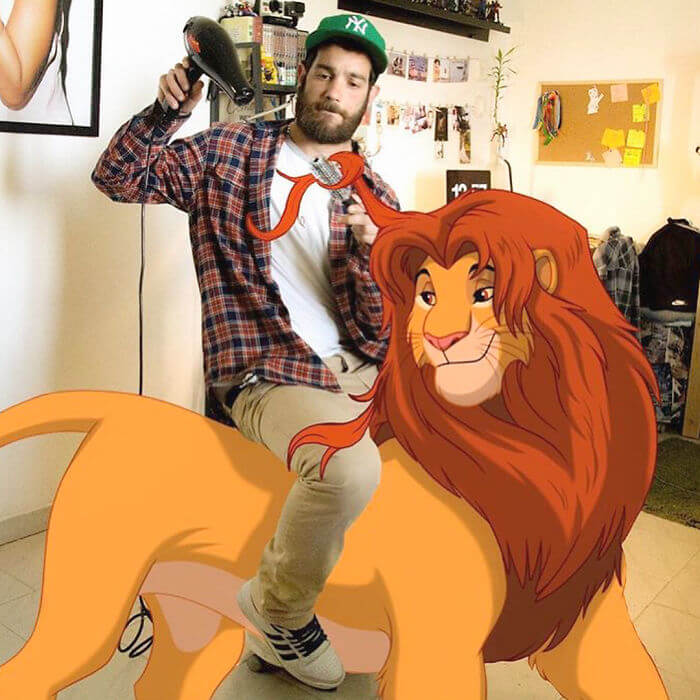 It looks like Luigi is putting in his best effort to make sure Simba is perfectly presentable for Nala. He better be sure to blowdry it before Simba gets back to Pumba, Timone, and the others. You know what they say. Hakuna matata!
Even Sully's Scared
Usually, Sully is the one doing the scaring, but Luigi found a way to scare even the scariest monster. And all it took was a little bit of wax! Sully came to Luigi for a little grooming since he did such a good job with Simba.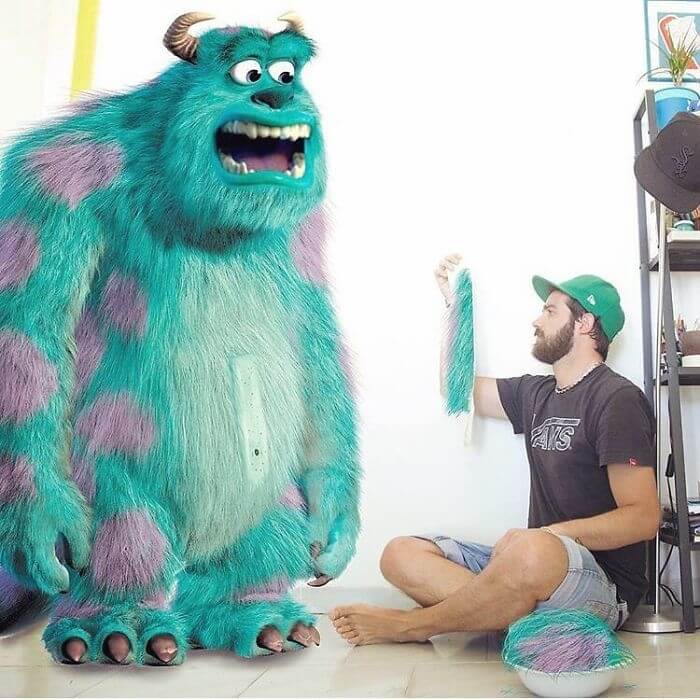 But he didn't expect to lose some of his precious blue fur! We think this might make it more difficult to get scares back at Monsters Inc. Now he's getting a little taste of his own medicine.
Baymax the Movie Buddy
Baymax is the best movie buddy you could ask for. He makes for the best pillow in the world to cuddle up with and enjoy a movie. He can also read your vitals and let you know when it's time to go to bed so you won't fall asleep on the couch.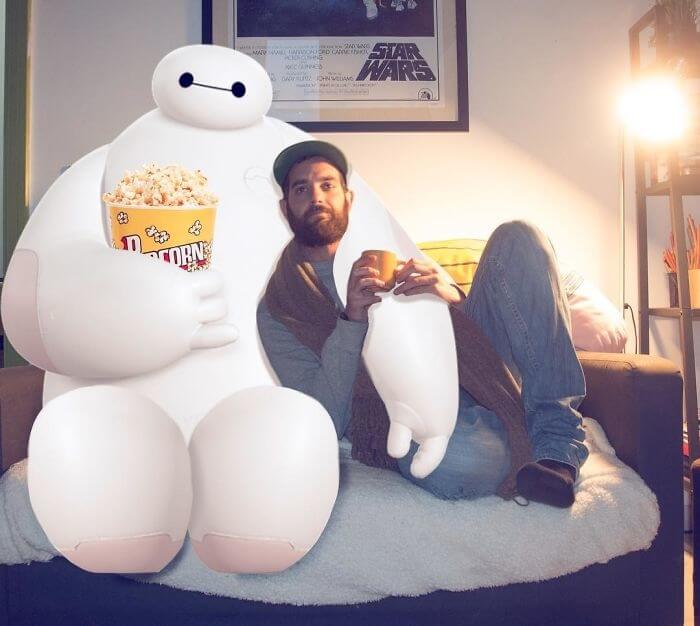 We wish we could have Baymax by our side at our next movie night. We hope Luigi knows how good he's got it in the arms of the fluffy robot.
Hank Offering A Helping Hand… Or 8
When Hank isn't busy offering his assistance to Dory and their buds, he is offering Luigi a helping hand with his grooming needs. An octopus is really the best man for the job when you need a few extra hands… or should we say tentacles?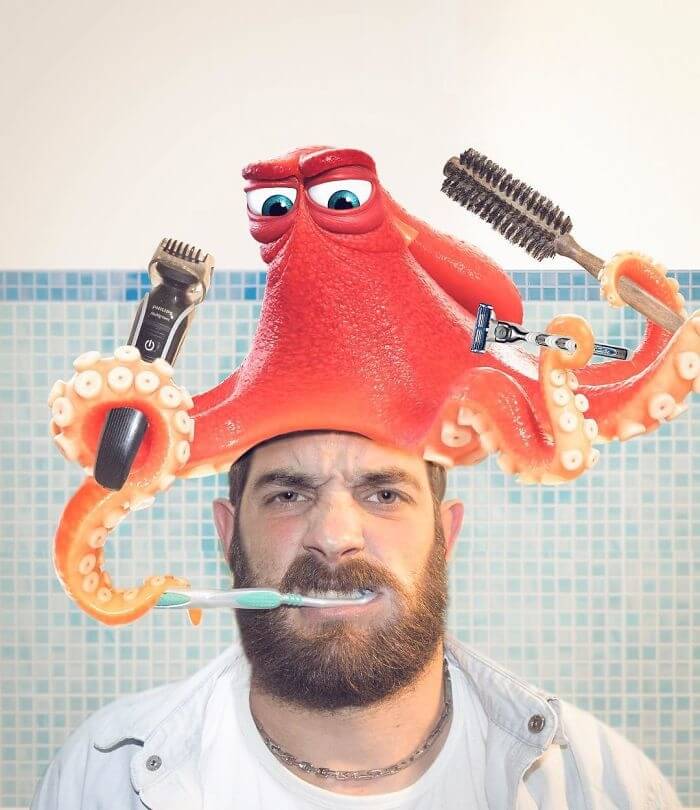 Luigi is late for work and needs to get ready as fast as possible. Hank has the razor, trimmer, hairbrush, adn toothbrush ready to work. He doesn't look too happy to have the octopus on his head but what would he do without him?
Luigi Gets A Dog Sitting Gig
Our friend Luigi got a new gig as a dog sitter but he might have gotten a little more than he asked for. I mean, 101 dogs is far too many for one person to keep track of. But it's a very important job.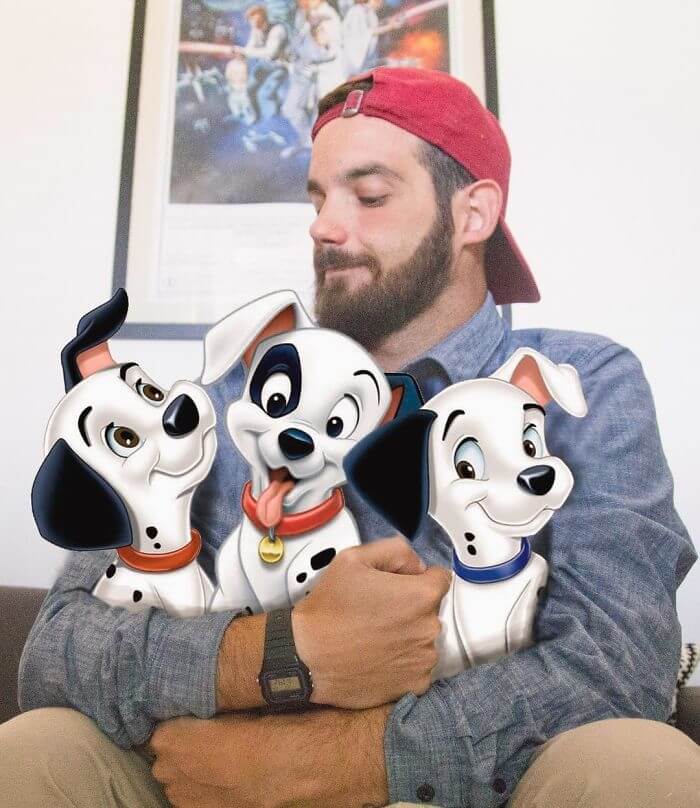 If he's not careful, Cruella De Ville might come and snatch one of the pups. It looks like the dalmatians are safe and sound in his arms. It's a gig we are definitely jealous of. Who wouldn't want to spend the day with a bunch of puppies?
Let There Be Light
Lumiere is always looking out for everybody else, but Luigi checks on his friend to make sure he has light as well. In this case, Lumiere is actually putting Luigi's service to the test, instead of the other way around.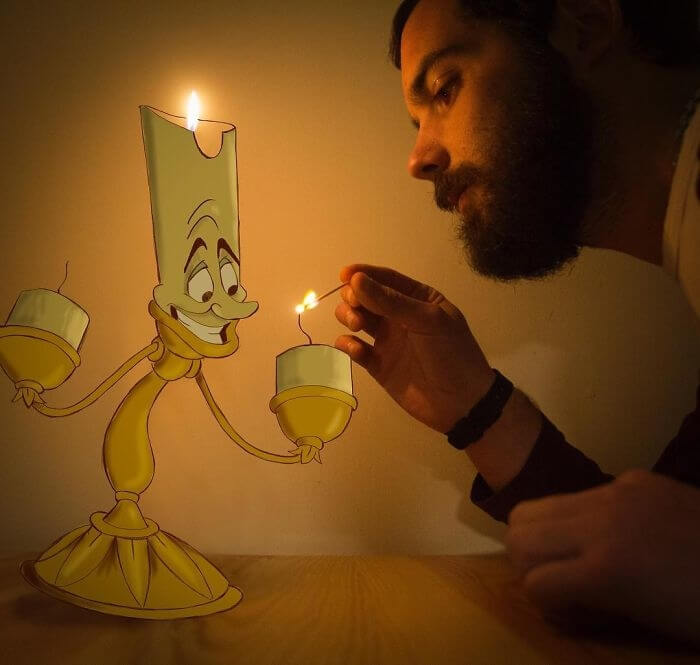 Maybe Luigi's preparing for a date and Lumiere is helping to set the mood. We wonder if the kitchen has also helped prepare a delicious meal for Luigi's guest. 
I Want To Be Where The Mermaids Are
Ariel and Luigi made up after the whole sea shell fishing incident. Now, they hang out with Flounder all the time. In fact, Luigi wanted to know what it would be like to join the world of mermaids so Ariel made him a merman.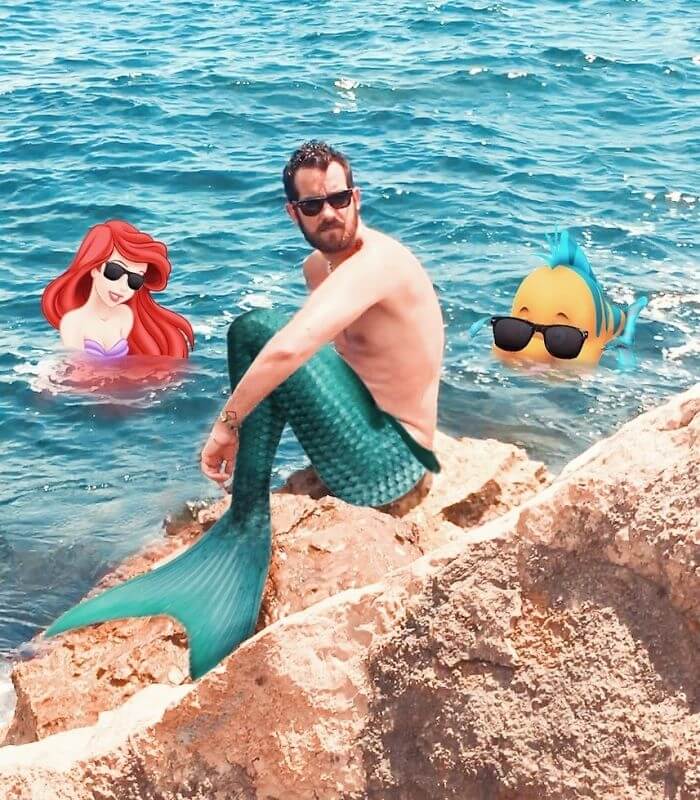 The three friends splash around and sunbath. It's definitely a group we'd love to be a part of. Luigi has even introduced his fish friends to sunglasses. Now Ariel has more "thingamabobs" for her collection.
Luigi And The Beast
Luigi and the Beast are getting ready for a double date and the beast needs some assistance grooming himself to look proper for his date. Luigi is quick to help, razor in hand.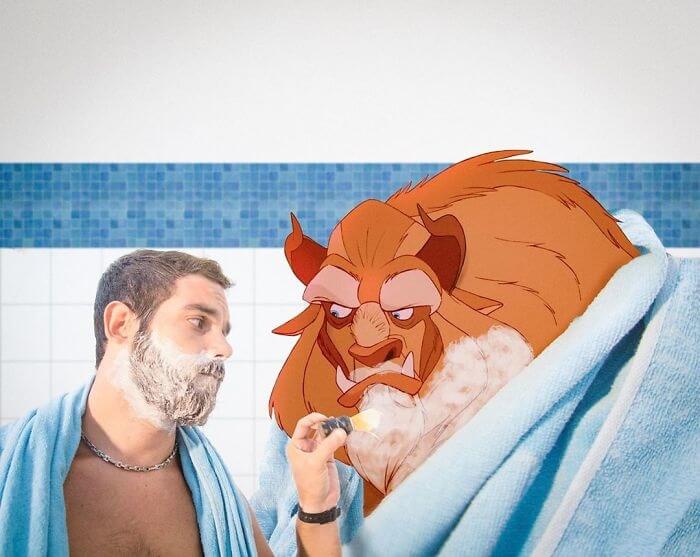 The problem with shaving the beast is that he needs more than just his beard groomed. It's a full body process! The boys will be at it for a while. He better be careful not to accidentally cut the beast or else he'll receive the wrath!
Luigi Is Entering The World Of Animation
Luigi has spent so much time including animated characters into our world that he's starting to enter their world! We hope he'll have help from his other animated friends to get back to the real world one day.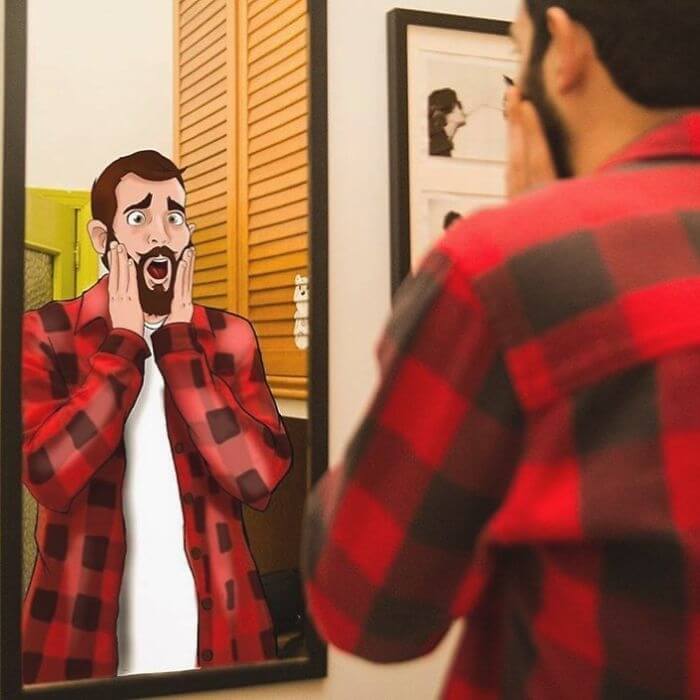 Who else is going to provide us with our fix of animated characters here in our world? Maybe he's spending a little too much time in the animated world so the worlds are colliding! Come back, Luigi; we need you!
Early Morning Cuddles From Simba
Now we see why Simba let Luigi maintain his luscious mane. They've been friends since Simba was just a cub. Just like a puppy, Simba is ready to get up and explore everywhere the light touches.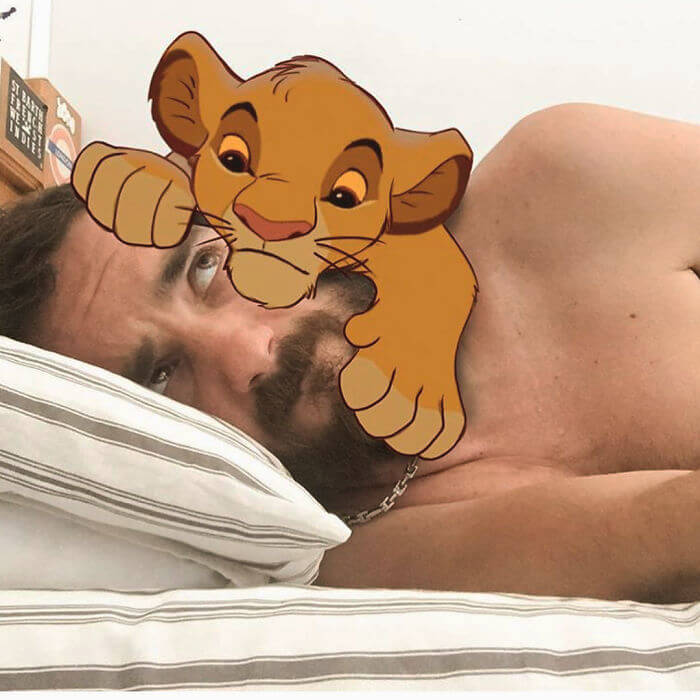 Luigi could use a few more hours of rest but Simba will have none of it. Those sharp claws can't feel very nice on his face but who could stay mad at that cute lion cub? Where's Zazu when you need him?
Phil Giving Luigi A Push
Phil is the loveable hard-ass that trained Hercules to be the hero that we know and love. He never could have defeated Hades without him. And now Phil has taken it upon himself to train a new hero: Luigi.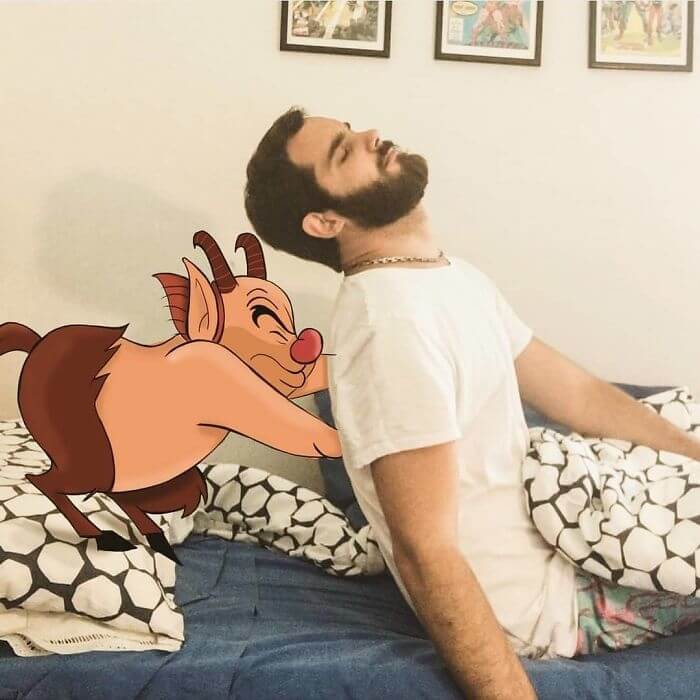 By the looks of it, Luigi needs all the help he can get from Phil to continue making amazing photoshop art for us all to enjoy. If there's one man (or creature) for the job, it's Phil.
Luigi Stepping In For Tom
Tom went on vacation so he had Luigi step in to participate in all the usual antics with Jerry. In true Tom and Jerry fashion, Jerry looks to be outsmarting Luigi as well. Luigi thinks he's winning one over on Jerry.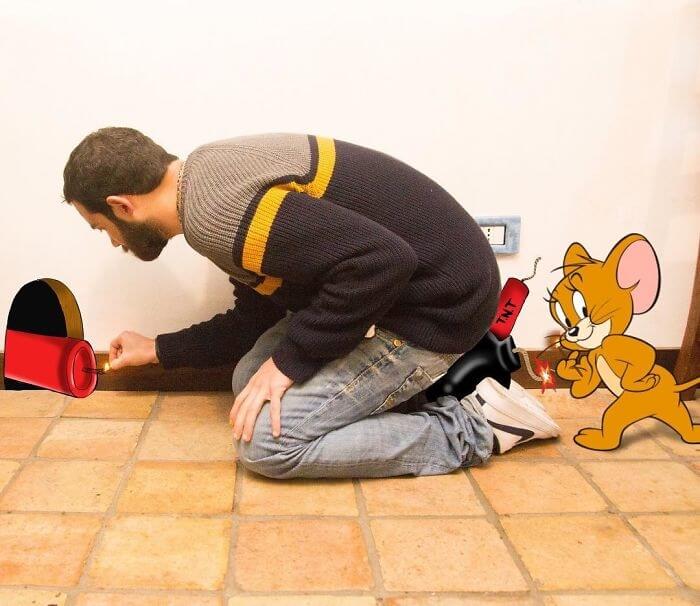 But that knowing look on Jerry's face tells us all we need to know. Luigi better look behind him because things are about to heat up!
Is That Pennywise?
When we think of a clown hiding in the sewer, our mind goes straight to Pennywise from Stephen King's It. But this clown is slightly less terrifying. It looks like Luigi went searching in the jitters to find Crusy hiding out.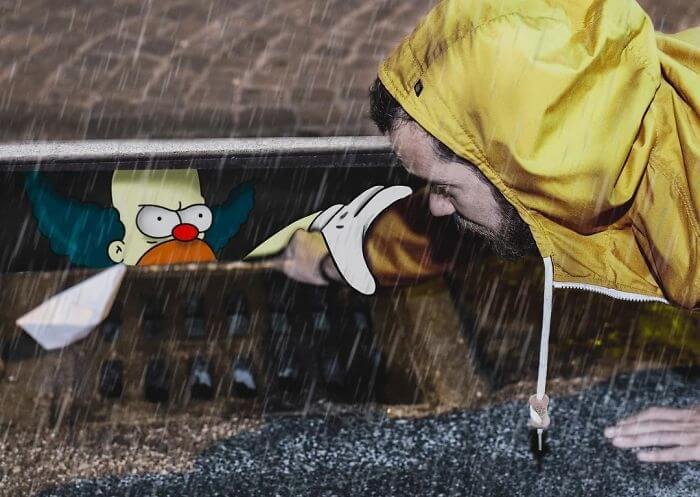 Maybe Luigi was lured in by Crusty's bright hair. Luckily, Luigi was too big to fit down the sewage drain and Crusty was unsuccessful in dragging him underground. Phew! That was a close one.
Up, Up, And Away
Luigi decided to join Carl, Russell, and Dug on their adventure into the air. Who wouldn't want to accompany them on this amazing adventure? Unfortunately, they had to cut Luigi out of the final cut of the film so we didn't see him in the movie Up.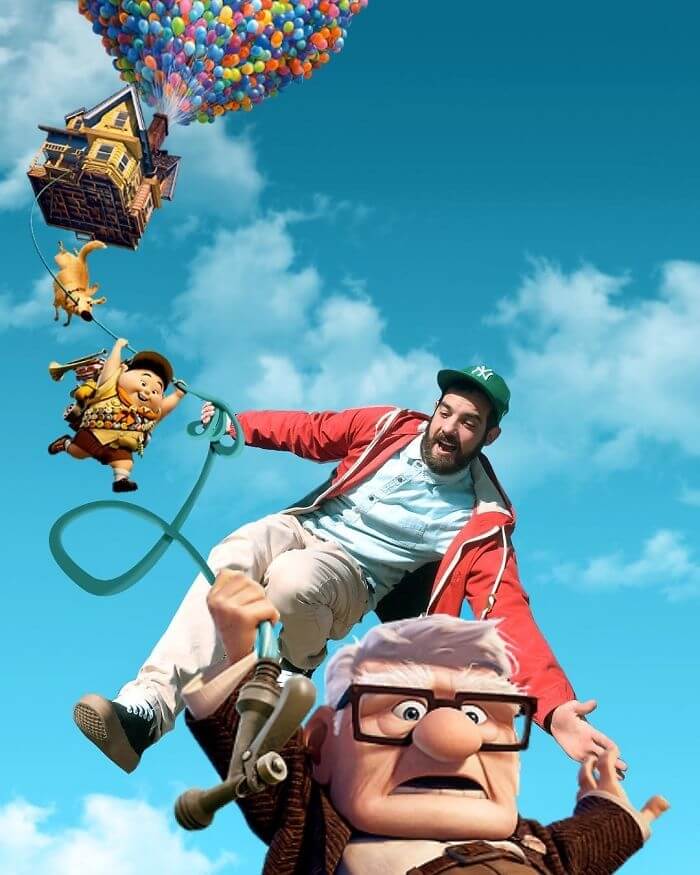 Russell, Dug, and Luigi look like they're having the time of their lives, but we can't say the same for poor Carl Frederickson. The old man looks like he's on the verge of a heart attack. They better hang on tight to that hose!
Patrick Star Is Over For Movie Night
What do you think Patrick and Luigi are watching here? Whatever it is, it must be pretty shocking judging by the look on their faces. We can't help but wonder if Spongebob would be jealous to find his best friend hanging out with someone else.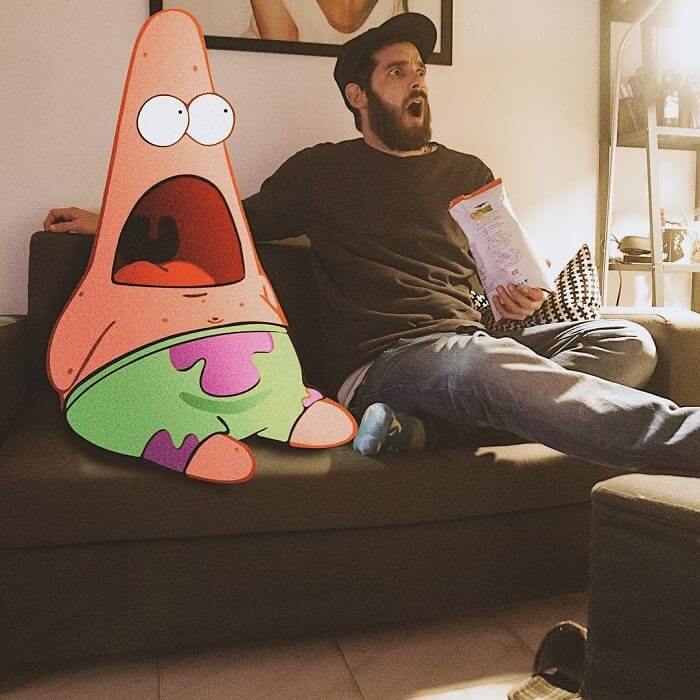 We know how inseparable they are. But maybe Luigi and Patrick only hang out when Spongebob is working a shift at the Krusty Krab.
When The Moon Hits Your Eye Like A Big Pizza Pie
When the moon hits your eye like a big pizza pie, that's amore! Tramp and Luigi share a romantic meal together but we're pretty sure Tramp would rather Lady be on the other side of that spaghetti.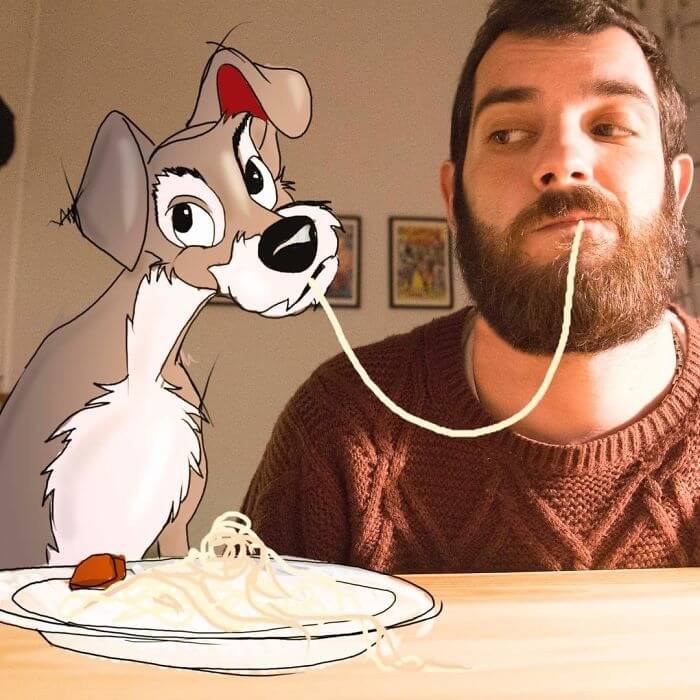 We imagine Lady would be awfully jealous if she saw this scene unfold in front of her. But we can tell, this is a shared meal among friends. It's completely innocent!
Getting Cozy With Olaf
Olaf likes warm hugs, but he needs the temperatures to be cold for him to survive. That means poor Luigi is subjected to a very cold night on their sleepover. Olaf looks happy as can be, though. But that's his usual state.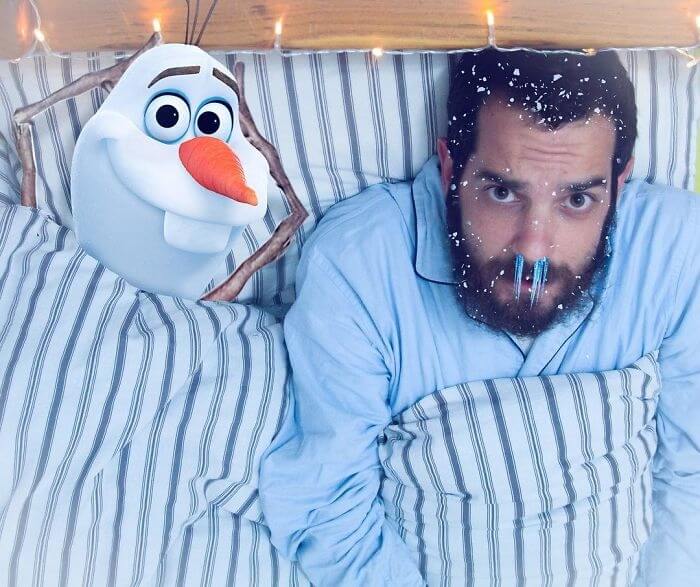 Hopefully it was worth spending a night in frozen temperatures to hang out with his buddy. It's nice of Luigi to endure being cold so that he won't melt. Warm hugs all around!
Prince Charming Plays A Prank On Luigi
Prince Charming gets in on the fun. He has Fairy Godmother bippity boppity boop him into Cinderella's dress to show Luigi that he can rock the outfit better than he can. Even the bird is shocked to see the Prince in a dress.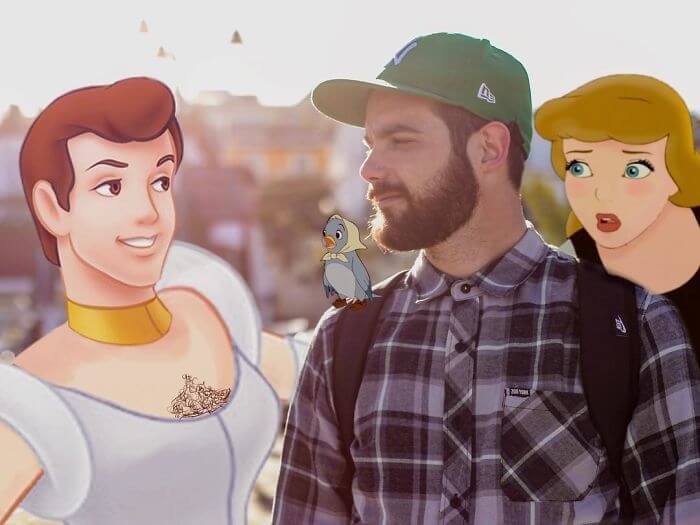 Unfortunately, Cinderella isn't too happy with Prince Charming fishing around in her closet. He'll definitely be getting a scolding when they get back to the castle later.
The Best Pool Party
Mulan and the squad came over to Samuel's house for a pool party. But things got a little out of hand when Chien-Po did a cannonball. In true leader fashion Shane looks none too impressed.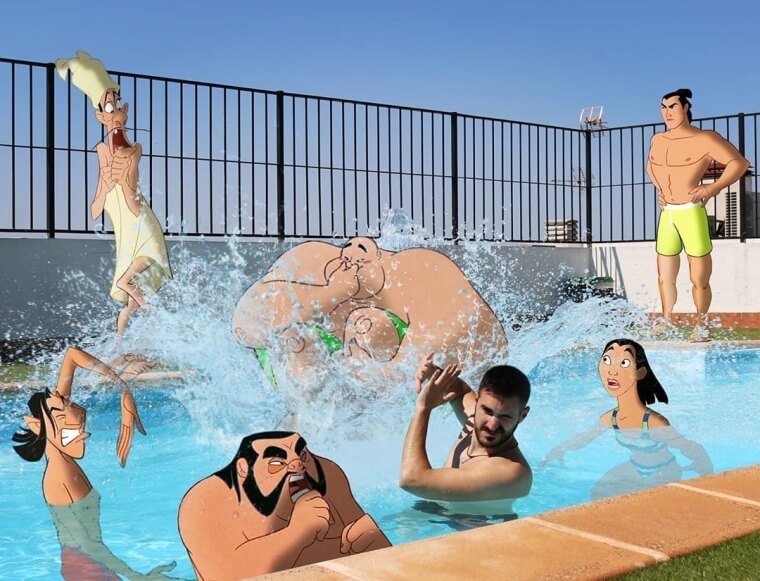 Mulan looks worried, Chi-Fu looks scared, and Ling and Yao look annoyed. We have to admit, the splash is impressive, though. What we know about this crew is they know how to have fun after work hours.
Hanging With Hades
Luigi isn't the only one hanging out with Hades. Samuel got to chill with the god of the underworld as well. But, Sam made a fatal mistake when he turned the fan on. It blew away Hades' precious hair.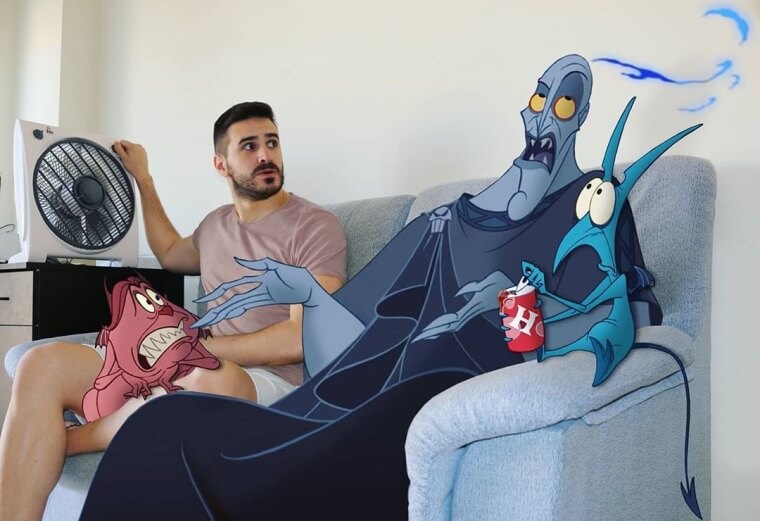 And we're all well aware of how much he loves his hair. If the look of fear on Sam's face isn't enough indication of the mistake he made, look at the expressions on Pain and Panic's faces. He better prepare for the wrath of anger that's coming his way.
Selfie With The Squad
Sam gathered some of his best friends to get in on an epic selfie that rivals the one Ellen Degeners took with all the stars at the Oscars that one year. This was obviously a "funny face" selfie and everyone delivered.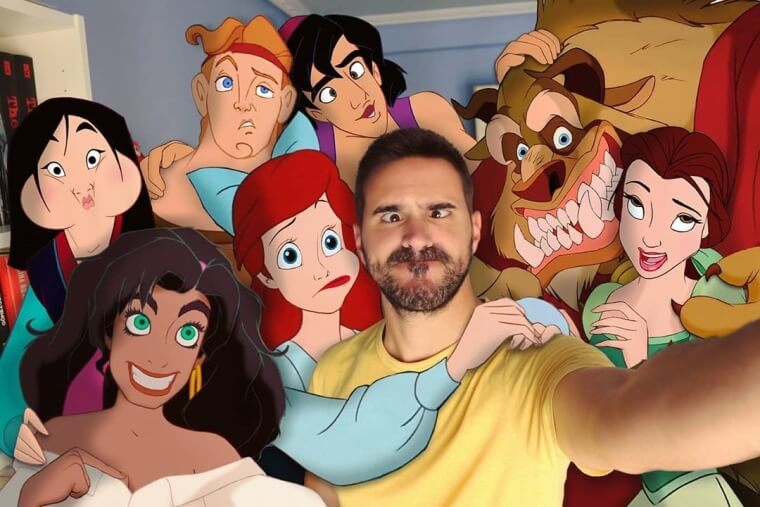 Ariel, Mulan, Hercules, Aladdin, Beast, Belle, Esméralda, and Sam captured what I would call a perfect selfie. We're just jealous we couldn't get in on this shot!
Sam Is Educating The Youth
When Sam isn't spending his time hanging with the characters from our favorite movies, he is educating the children from our other favorite movies. Here he is giving Alice a math lesson. One of the lost boys is not too pleased that he has to be in a classroom.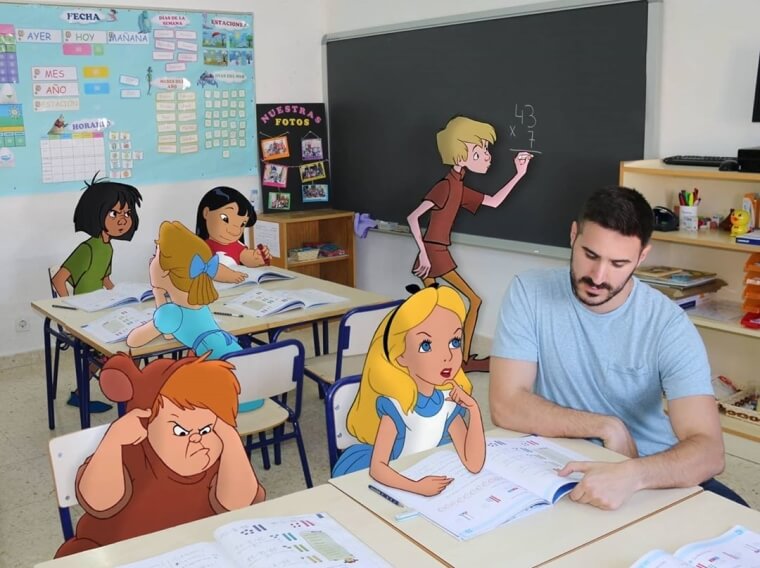 Wendy is daydreaming of Wonderland. Lilo is content drawing a photo for Stitch. And Mogli is trying to focus on the lesson at hand. 
Villains Getting Their Beauty Treatments
The heroes aren't the only ones that need to look good. Villains need their beauty treatments too. And Sam is happy to join them on their girls day.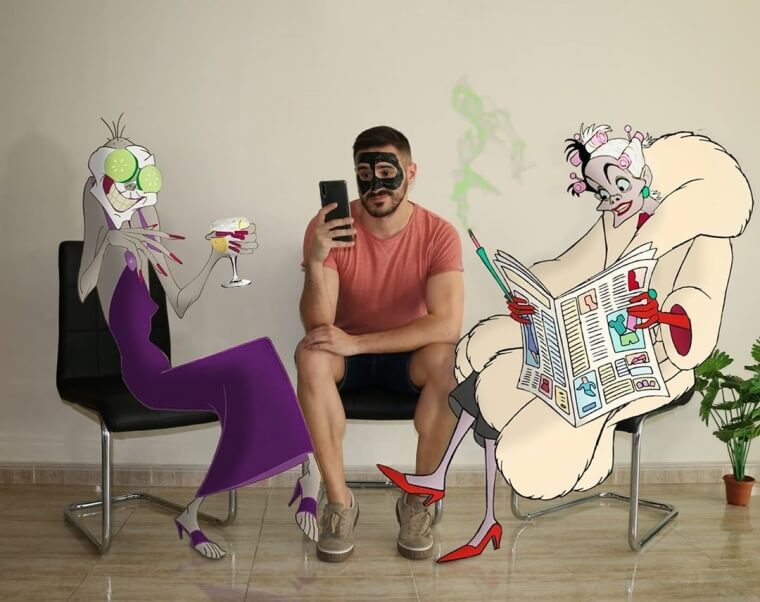 We're not too surprised that Yzma and Cruella De Ville get along. Yzma is enjoying a facial treatment while Cruella has rollers in her hair. The three will look fresh and styled on their way to be extra evil.
Who Ate The Popcorn?
Uh oh, it looks like Abu is up to his old tricks. Samuel had Aladdin, Jasmine, and Abu over for movie night. Before anyone could reach for the popcorn they realized the entire bowl was gone. It doesn't take too much guesswork to discover who the popcorn bandit is.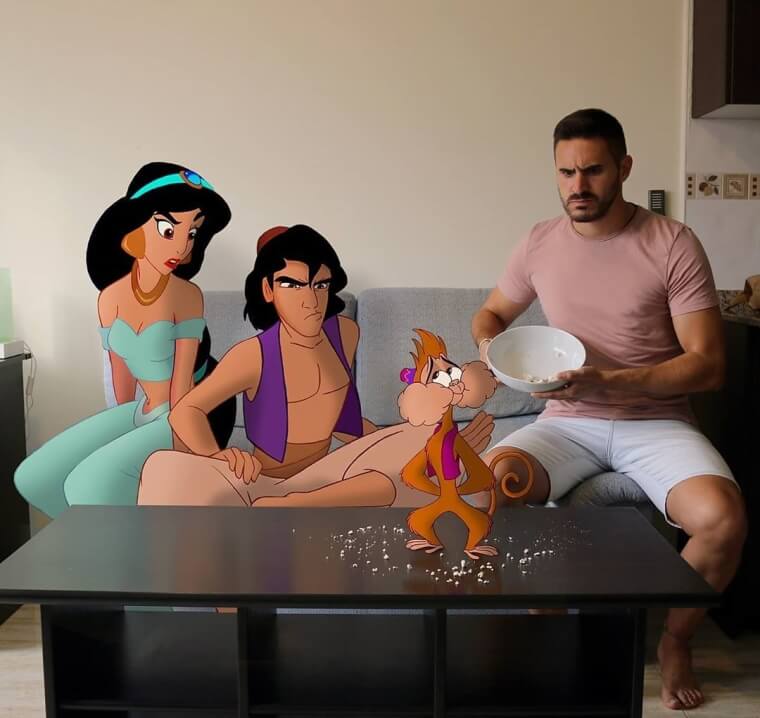 Aladdin and Jasmine don't look too happy with the monkey but who could stay mad at that face? We hope they enjoyed the movie anyway.
Sam Goes To The Beach
Luigi isn't the only one that gets to hang out in Hawaii with Lilo and Stitch. Lilo and Stitch invited Sam to surf and spend time in the sun as well. It looks like Nani and David joined them also.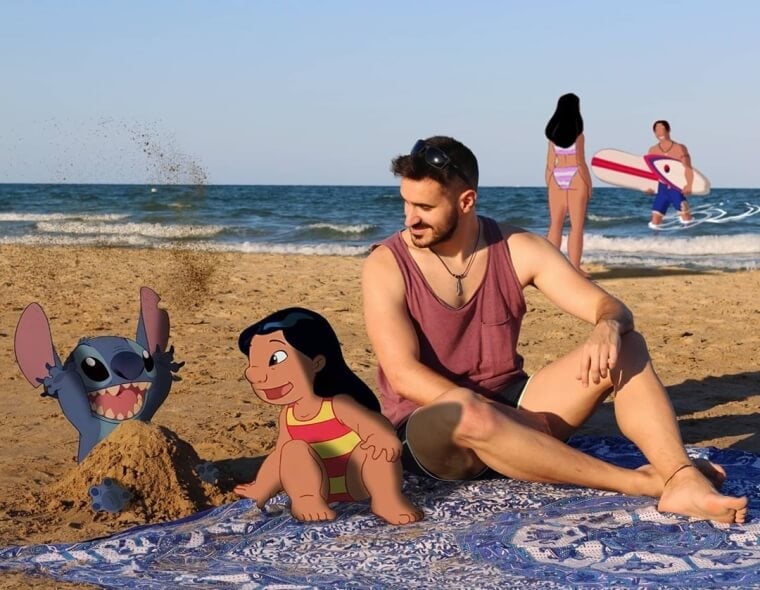 Stitch looks all too happy to be playing in the sand. We're sure he got into trouble on their little vacation, as he always seems to do.
Samuel and Simba Are Long Time Friends
Sam and his cat have been friends with Simba since he was just a cub. Now he's all grown up and the three are still cuddling. The only thing that has changed is Simba's size.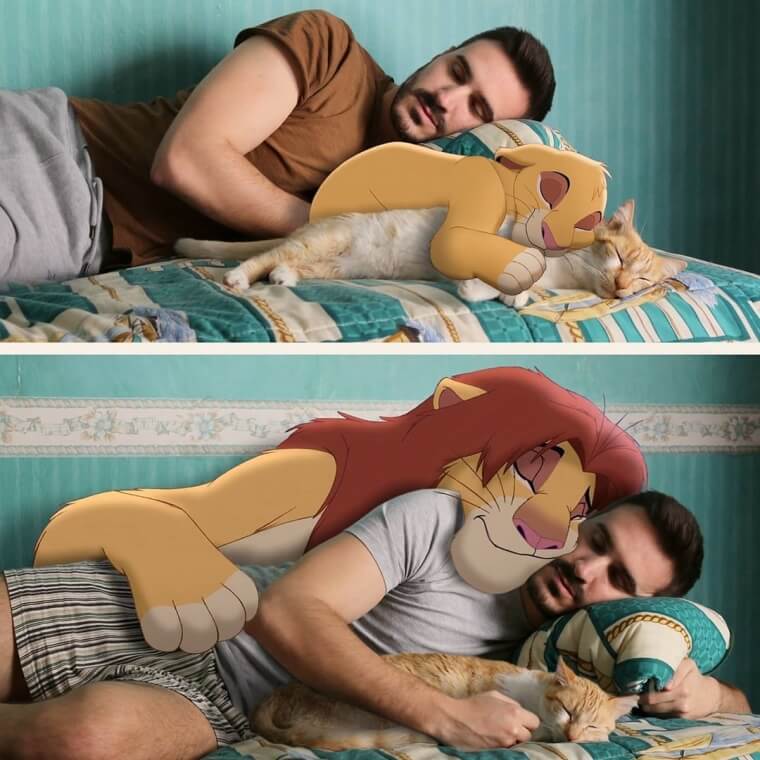 He's now the big spoon! We have to wonder if Luigi, Sam, and Simba ever get together to hang out.
Sam Get A Turn Babysitting The Dalmations
When Luigi is busy, Sam takes a turn dogsitting the dalmations. And as you can see, they can be quite a handful. Keeping track of all 101 dalmatians is no easy feat and protecting them from Cruella is even more difficult.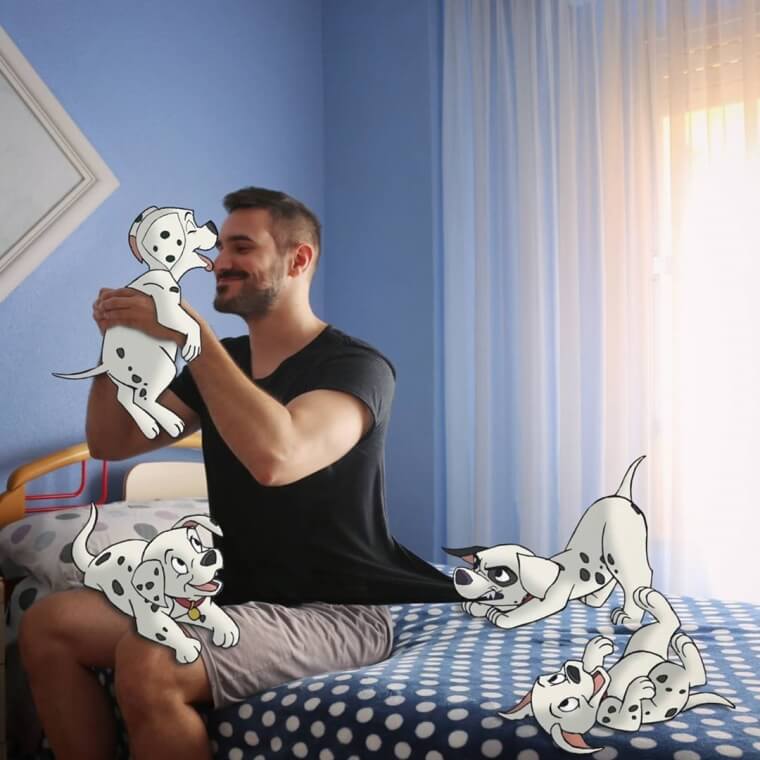 But Sam doesn't mind putting up with the puppy energy because who doesn't need some puppy love in their life? He'll have to teach them not to bite or else he'll wind up with lots of holes in his clothes.