DIY Bird Feeder Ideas to Bring Wildlife to Your Backyard
There's nothing quite like sitting on the front porch with a cup of coffee beneath the morning sun as you watch sparrows, finches, and starlings swoop in for a daily meal. It's the perfect way to start the day – far better than sitting inside and getting angry at the news. The first one brings calm, the second one shatters it into pieces.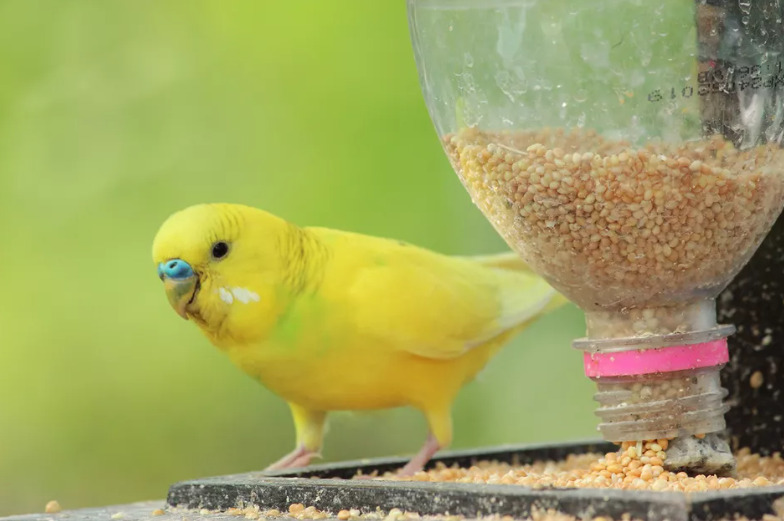 Although it's certainly possible to head down to the store and pick up a readymade feeder built at some unknown warehouse hundreds or thousands of miles away, that's not always the best way to do it. Instead, consider building your own. There's a certain level of satisfaction that only comes from building a bird feeder yourself from objects and materials lying around the house. Let's take a look at some different ways to create DIY bird feeders!
Orange and Macrame Feeder
Not all bird feeders need to be complicated wooden designs. Sometimes all you need is an orange – or, more accurately, half an orange. Slice an orange in half, sprinkle it with birdseed, and hang it inside a bit of macrame cloth.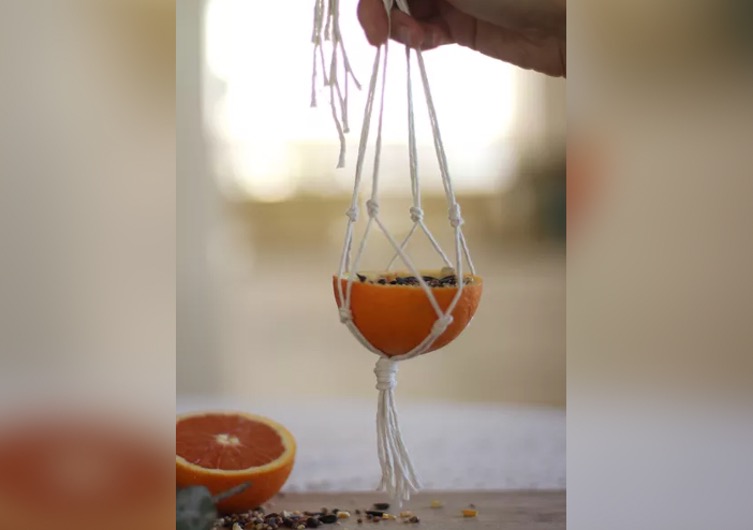 Take the other half, slice it up into smaller pieces and dangle them around the yard. This simple feeder idea is bound to attract odd and unusual birds such as orioles, mockingbirds, and western tanagers. It's important to keep in mind that food left for a week or two should be thrown away. 
The Ornament Feeder
Most people keep ornaments around for the holiday seasons. However, they can be useful all throughout the year. The ornament below is a perfect way to get creative and feed birds at the same time. Kids – as well as your "inner child" – will love it!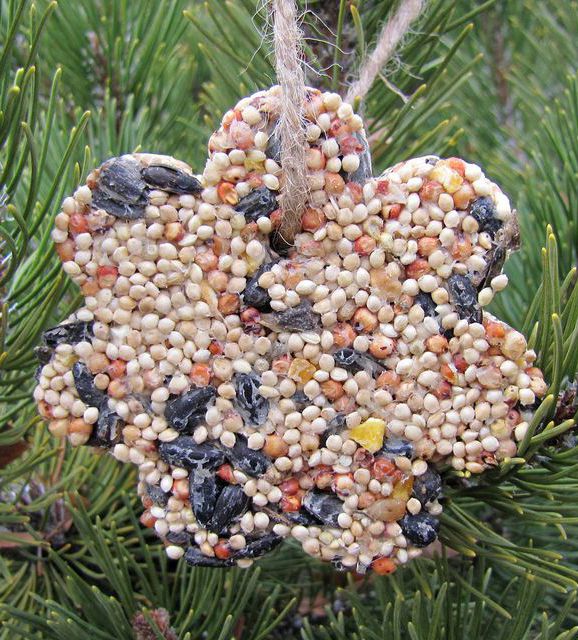 Grab some water, flour, corn syrup, gelatin, and bird seed. Mix the first four together into a sticky mass, and then dab it on the ornament. Place birdseed on top, thread twine or rope through the hole and hang it around a tree branch or pole.
Wine Bottle Feeder
The next DIY feeder takes a bit more technical skill than the ones above. However, it also gives you an excuse to pull out that wine bottle you've been saving, because this craft requires an empty bottle. So, once you have that empty bottle, make sure to clean it thoroughly with hot water and a pipe cleaner.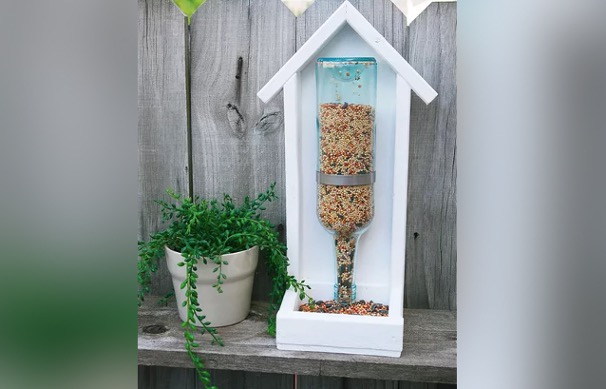 Then, fill it up with your favorite brand of birdseed. Attach it somewhere steady – ideally to a pre-made structure like the one above – and place it somewhere safe. Make sure to guard it against rats and squirrels. 
Suet Cakes for the Winter
Suet, or rendered fat, is a vital component of a bird's diet. The nutrition they gain from suet allows many birds to make it through a long and harsh winter. Therefore, making and hanging up special suet cakes is a great way to attract winter birds such as woodpeckers.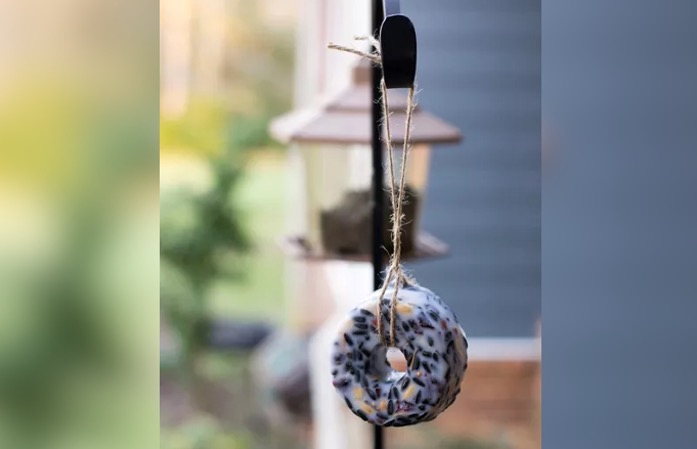 To make these suet cakes, you'll need some lard, dried fruit, peanuts, birdseed, and a piece of bundt cake. Coat the cake in a layer of lard and pack on the fruits, nuts, and seeds. Then, hang it out and watch the birds come. 
A Mesh Cloth Birdseed Tower
This DIY feeder is similar to the ready-made towers you'd find at local shops. However, it's far less expensive and allows you to show off your creativity. The mesh cloth design is perfect for those concerned about squirrels, rats, and other rodents stealing the bird food.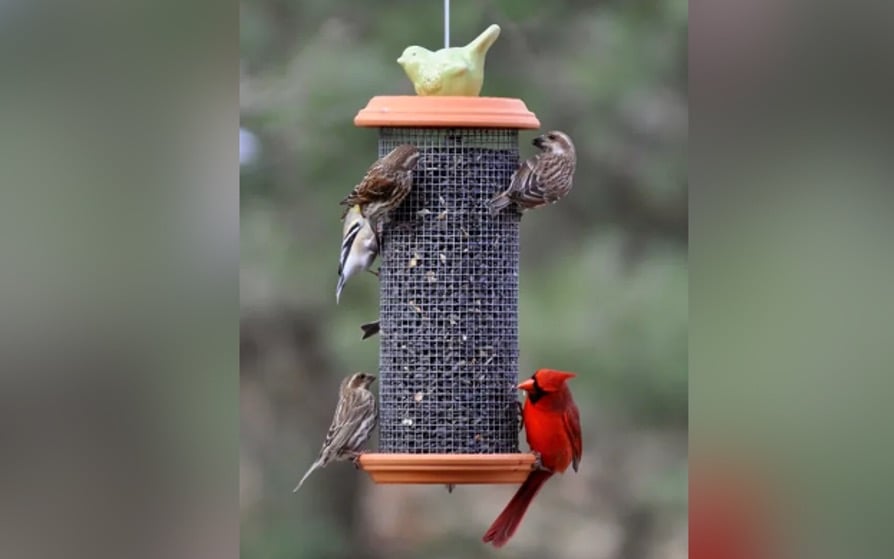 The basic materials you'll need are terracotta saucers, some mesh hardware cloth, wire rope, a ferrule and stop set, and some wire cutters. Attach the mesh cloth to the saucers, stabilize it with wire rope, and cut where needed. 
Teacup Feeder 
Sometimes it's fun to go all out with a DIY bird feeder project. Other times, it's better to have a simple feeder that looks good and gets the job done. This next upcycled project is a great example of the second kind.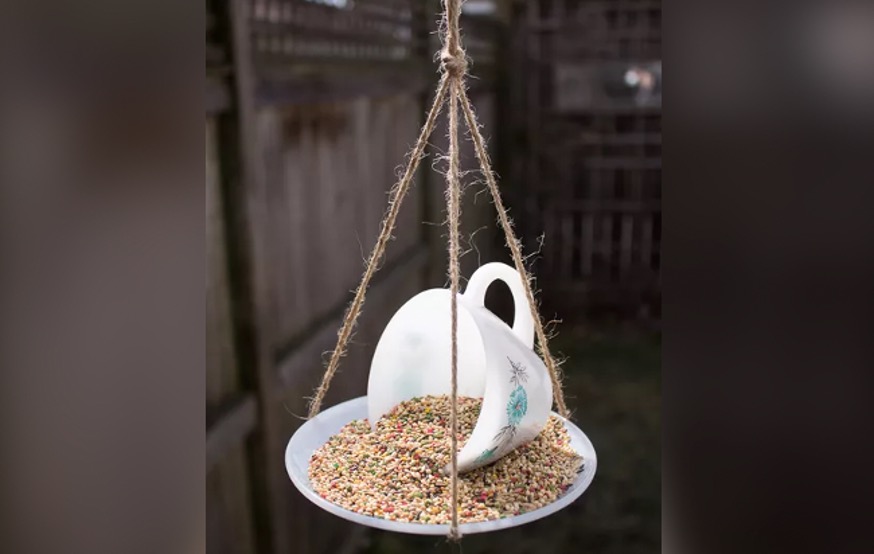 All it requires is a big old plate, some twine, birdseed, ceramic glue, and a vintage teacup. Glue the teacup onto the plate, create a hanger from the twine, and pile on the birdseed. In no time, you'll have dozens of hungry birds swooping down for a treat or two.
A Simple Grapevine Feeder
A simple grapevine feeder can bring an idyllic look to your backyard. It can also bring plenty of bird sightings and instagrammable moments. Whether it's bluejays perched on the edge of the bowl or finches sitting atop, you're bound to see plenty of birds enjoying your feeder.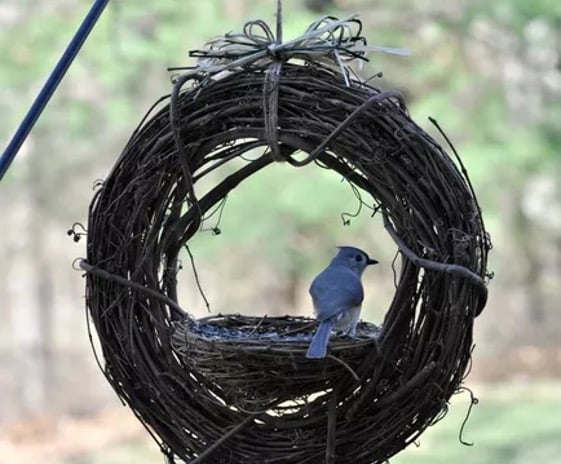 Luckily, this feeder is fairly easy to make as well. You'll need a grapevine nest and wreath, some floral wire, ribbon, and birdseed. Secure the nest in the middle of the wreath, tie a nice bow on top, and hang it from a nearby pole.
Mason Jar Feeder
The mason jar feeder below goes together well with the grapevine feeder above. Both of these DIY creations have a nice farmhouse feel. They give your yard a bit of rustic charm while giving the birds plenty to feast on.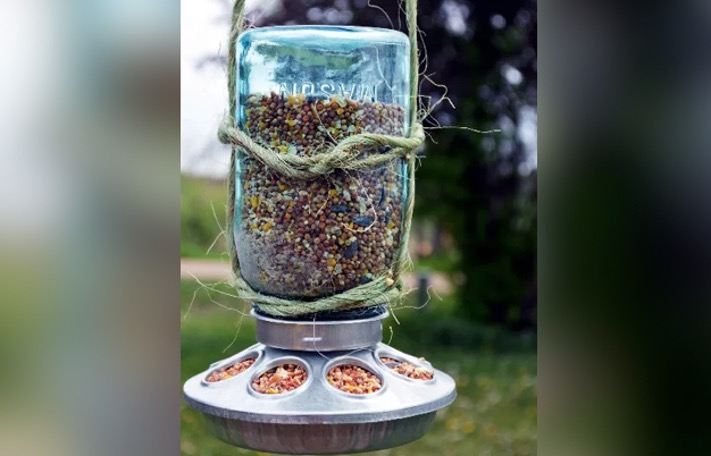 To create it, you'll need a mason jar (the bigger the jar, the less refilling you'll need), a round chicken feeder, some twine, and birdseed. Fill up the jar with as much birdseed as you prefer, attach it to the chicken feeder, wrap the twine around the jar, and hang it from a pole.
Squirrel-Proof Feeder
This next DIY feeder is for those with some carpentry skills – or at least for those willing to learn a bit of carpentry. Although it may look like a birdhouse, it's actually a bird feeder that's meant to be squirrel-proof.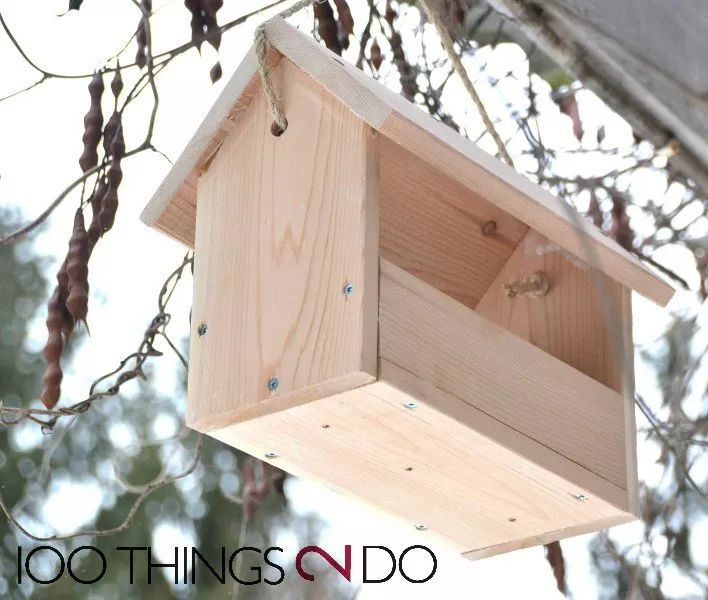 There's nothing more frustrating than spending hours building something for birds only to find that squirrels have eaten all the seeds. To make it, you'll need some cedar board, wood glue, wood screws, a saw, a drill, a rope, and some birdseed. Make sure to hang it in a safe spot for your birds to feast in peace.