Festival Fails That We Can't Stop Thinking About
From the chill vibes to the great beats, music festivals bring an unparalleled atmosphere of joy and excitement.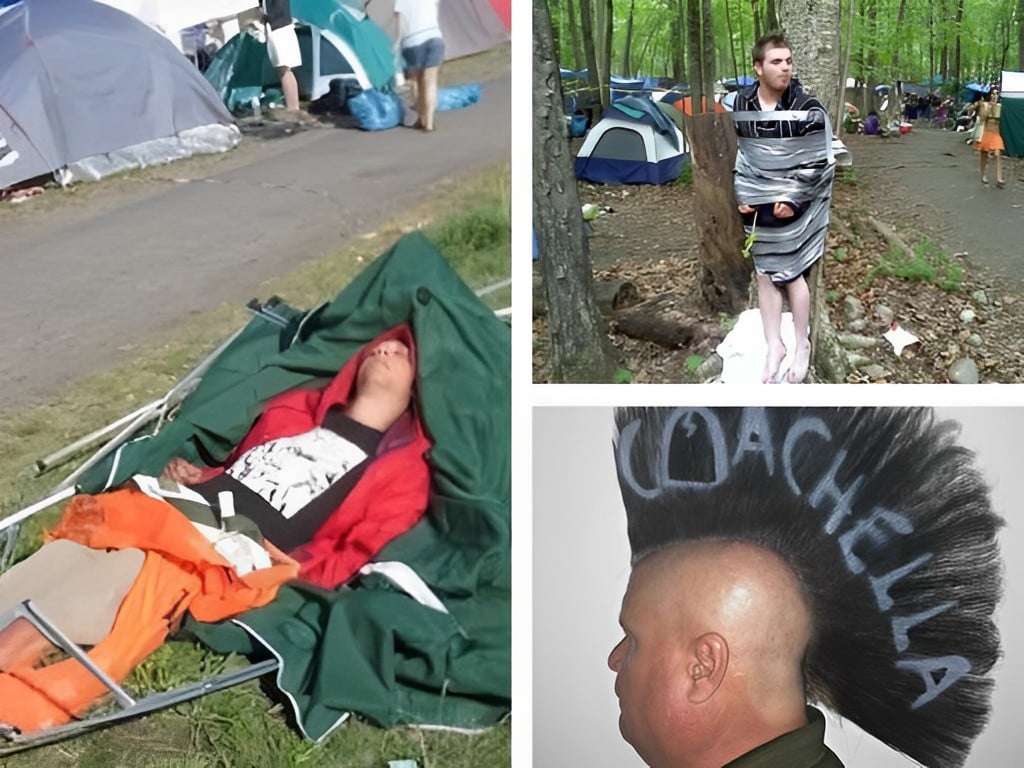 But with so many people in a high-energy environment, there are bound to be a few awkward moments. Read on to find out the most cringeworthy festival memories that no one can forget!
Coachella: Party Hard, But Don't Overdo It! 
The world-famous Coachella music and art festival is the perfect place for Millennials and Gen Z'ers to express themselves and let loose. However, for some, that may mean throwing caution to the wind and going a little too hard.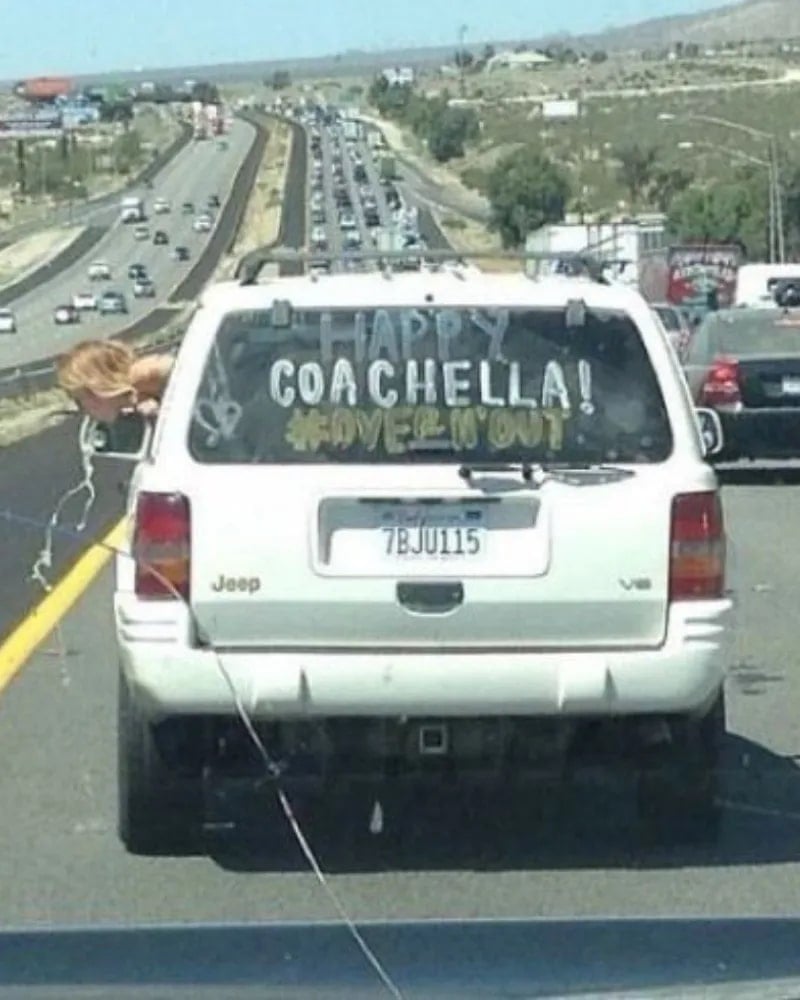 This young woman seemed to have partied so hard that she could no longer keep it down. But don't forget, Coachella is about the arts, not how much alcohol you can drink! Let's keep the festival fun and safe for everyone.
Surviving the Great Flood of Glastonbury: A Tale of Triumph 
It's a story that will be told for years to come – the Great Flood of Glastonbury. The five-day performing arts festival, home to some of the world's biggest stars, was thrown into chaos when an unprecedented amount of rain fell in a very short period of time. 
Tents and stages were flooded, but the event coordinators rose to the challenge and made sure that everyone stayed safe. The week was spent treading water, but the spirit of the festival was never dampened and the event was a triumph in the face of adversity.
A Perfect Napping Spot at Every Festival! 
No matter how much fun you have at a festival, it takes a toll on you! After hours of walking and dancing, you just want to find a place to rest your head and get a few minutes of rest and respite.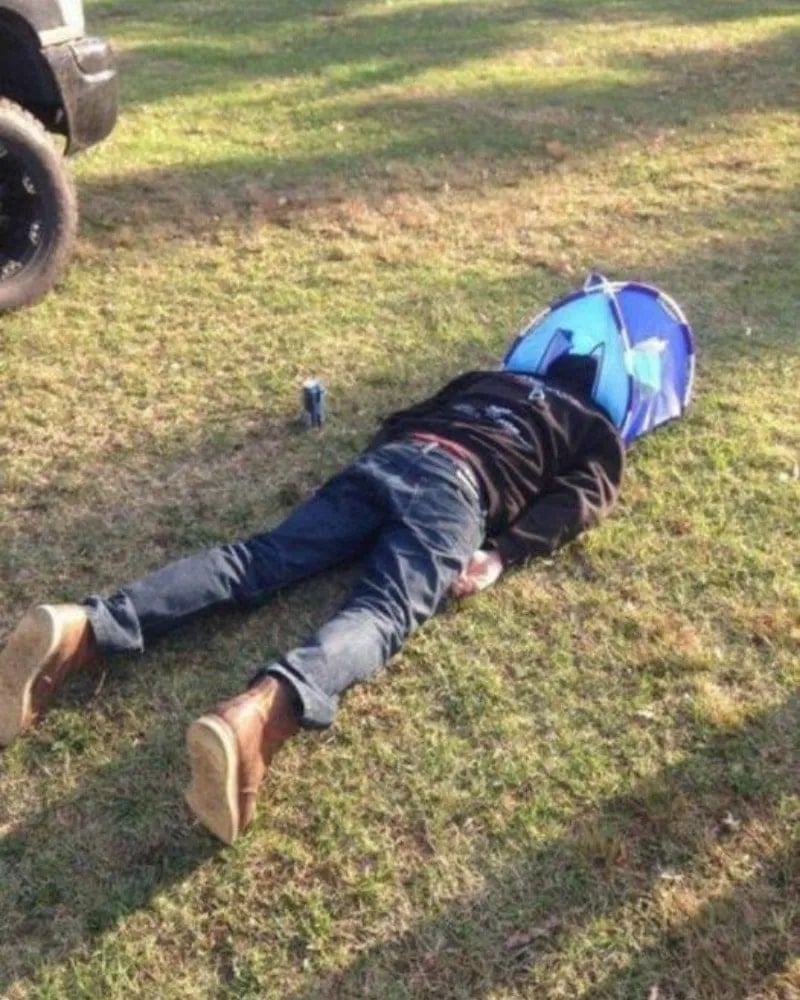 That's why this guy had the best idea ever – he found the world's smallest tent to provide a little shelter from the rain or sun and catch some Z's. Nothing like a perfect napping spot at every festival!
Rocking a Prehistoric Look at Festivals 
Why blend in when you can stand out? That's exactly what this festival-goer did, rocking a full-body dinosaur costume that was sure to turn heads. But, as seen in this photo, it's important to remember that comfort should always come first.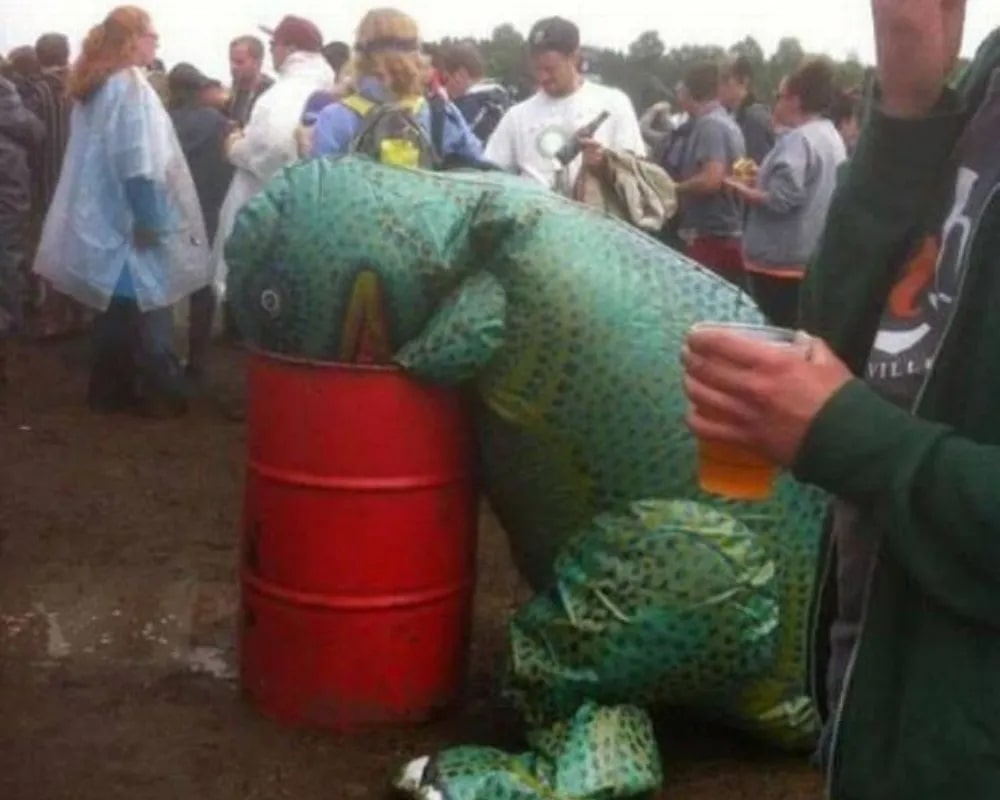 Without an easy way to move around and access the bathroom, this dino was regretting their fashion choices. So, the next time you attend a festival, make sure to choose your outfit wisely and know where the nearest restroom is!
Kids Don't Belong at Coachella: Alessandra Ambrosio's Mistake 
Alessandra Ambrosio, former Victoria's Secret model, made a mistake when she thought it was okay to bring her child to Coachella. Festivals can be divided into two types: those that cater for families, and those that are completely and utterly unsuited to bring children to.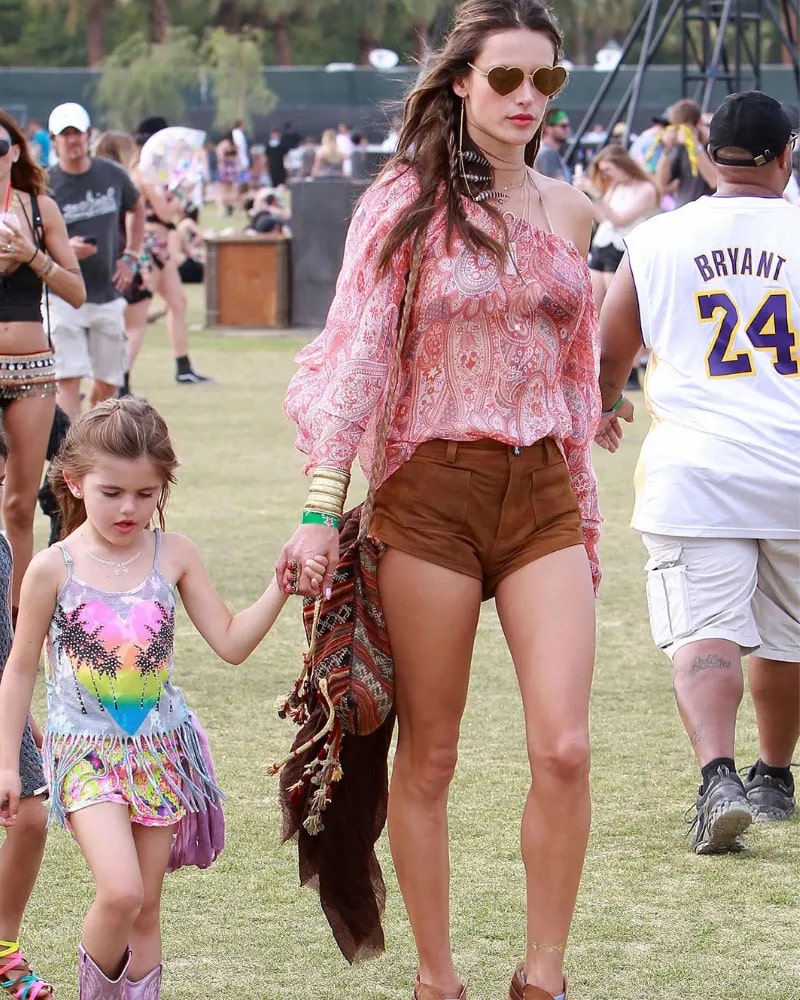 Coachella certainly falls into the latter category. While it's true that her kid may be well behaved, they would probably both have much more fun if they were elsewhere. Allowing adults to let loose and enjoy a carefree atmosphere, Coachella is no place for kids.
Respect the Music, Put Away Your Phone! 
At festivals, it's not just about who looks the best or who can take the best pics to post online, it's about being part of an audience, all sharing the experience of live music. So why would anyone want to deprive themselves of that by playing on their phone?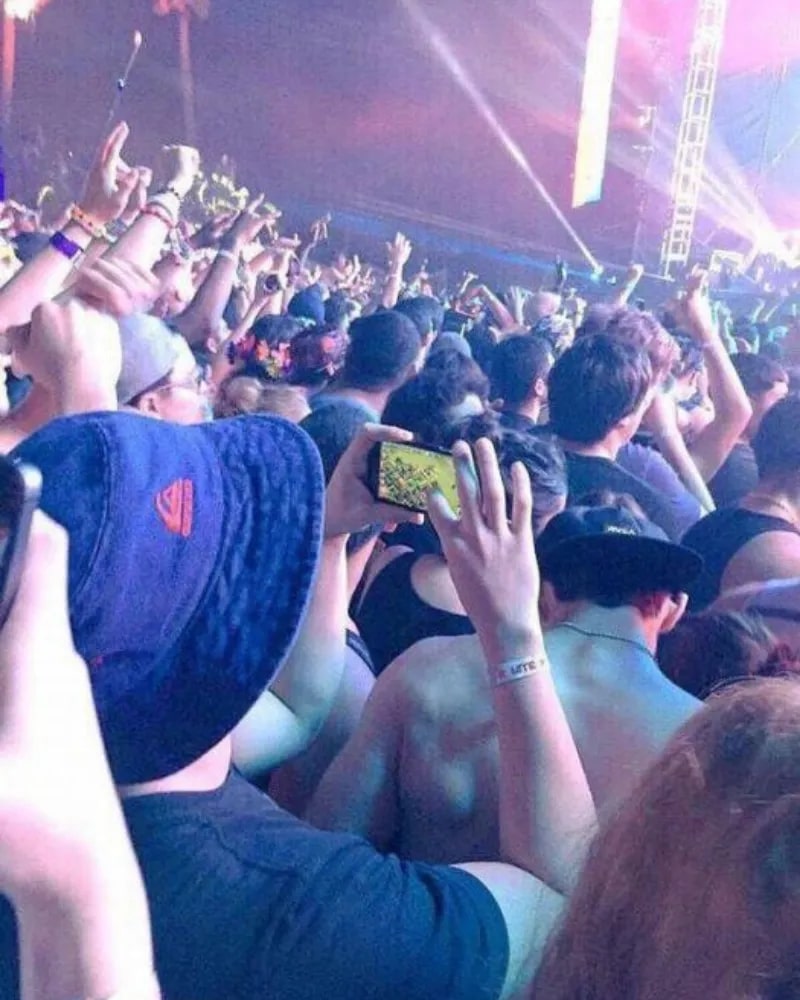 Sure, do your own thing, but playing on your phone during a concert is not only weird, it's also disrespectful to the band that is playing their hearts out for you. Respect the music, put away your phone!
The Shocking Flop of Fyre Festival
The Fyre Festival was one of the most shocking flops in festival history. Advertised as an exclusive VIP experience on a private island in the Bahamas, with paid influencers to help market it, what the celebrities and social media stars found when they arrived was nothing short of a disaster.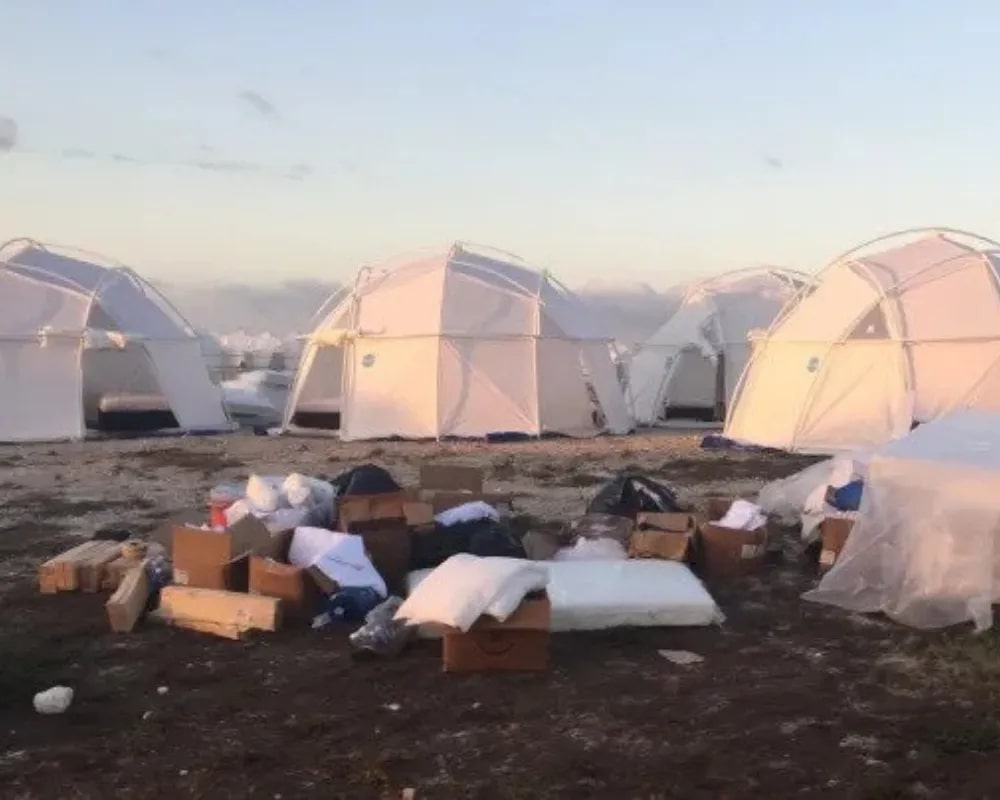 Instead of the luxurious accommodations they were promised, when they arrived they were confronted by a half-built tent city that resembled emergency accommodation after a natural disaster. It was an event that truly shocked the world.
Nature Conservation Should Come Before Instagram Moments 
Burning Man is typically a festival that celebrates the freedom of expression through art and nature – yet, this tree has been reduced to a mere stump, becoming a photo-op for Instagram.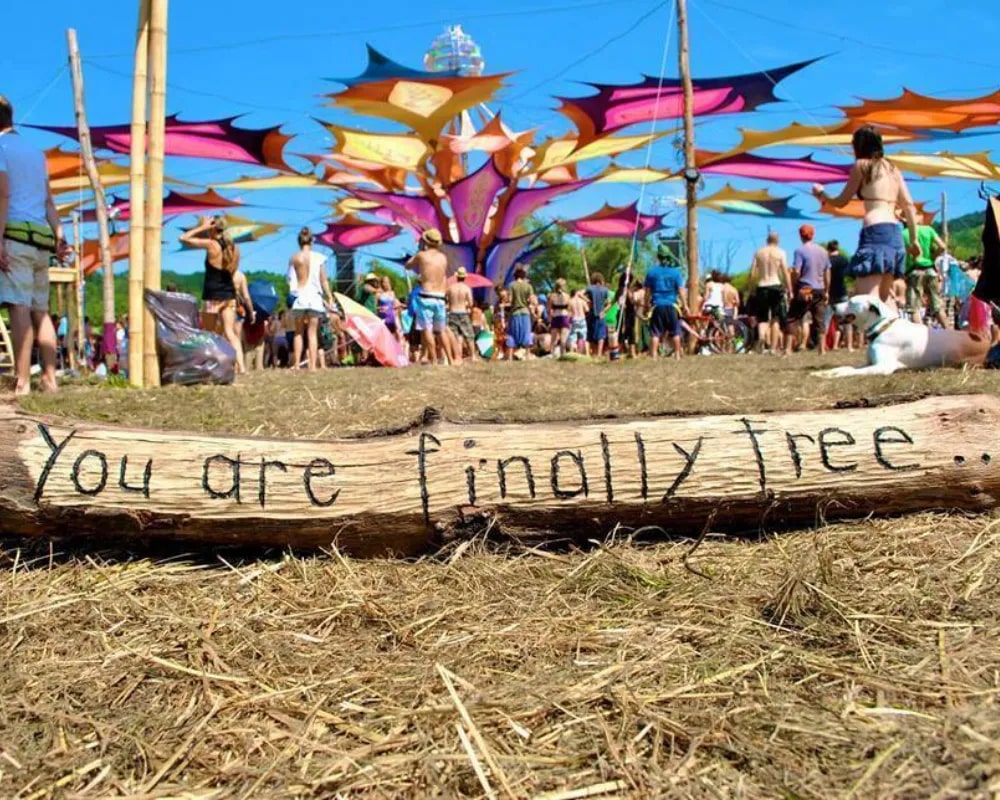 Nature conservation should always come first – this poor tree has certainly been robbed of its freedom. We must remember that it's not just a set piece, but a living being that deserves our protection and respect. Let's save the trees and create a better future for our planet.
Recharge and Relax After a Hard Day of Festival Fun! 
Festivals are all about letting loose and having fun. After a day of running around, dancing up a storm, and drinking (perhaps a little too much!), it's only natural that you would be exhausted.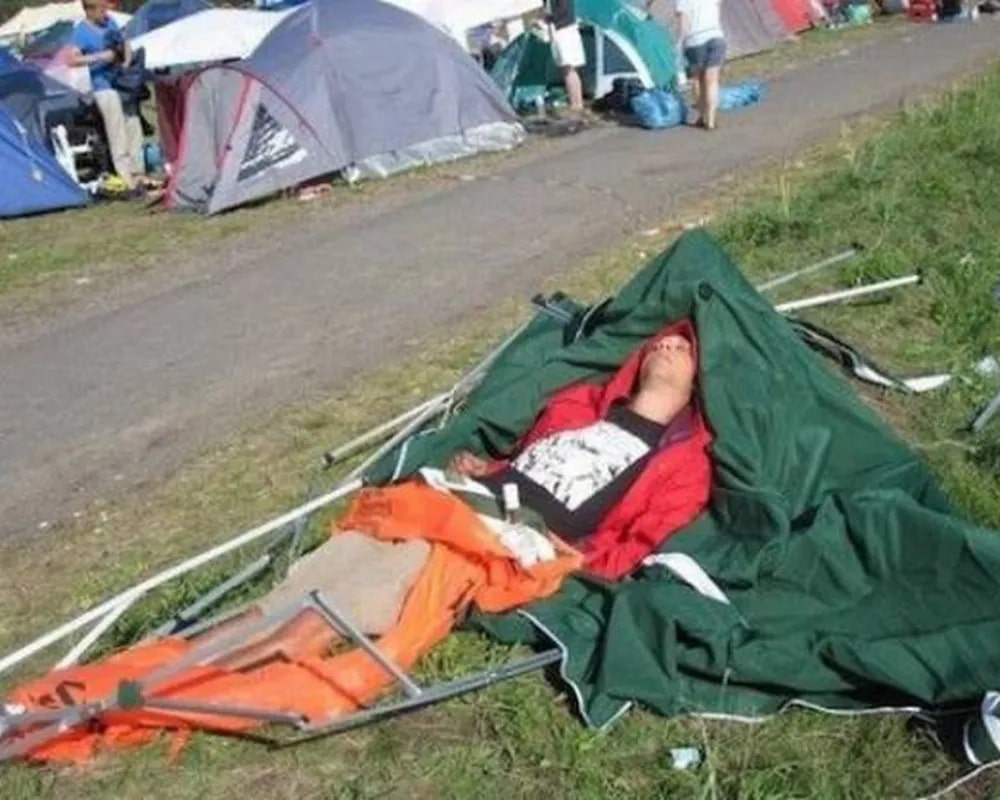 While this happy camper may not look like he's particularly comfortable, we can guarantee that to him, it probably feels like the best sleep he's ever had. So, if you've been partying hard, take a moment to relax, recharge, and sleep – wherever you can – you deserve it!
No Rain, No Gain - Splish-Splash at European Festivals! 
Come rain, hail, or shine, European festivals are always a hit! Whether it's a light shower or a heavy downpour, these revelers will never miss a beat. Recently this guy was spotted diving headlong into a muddy puddle, still determined to enjoy the show.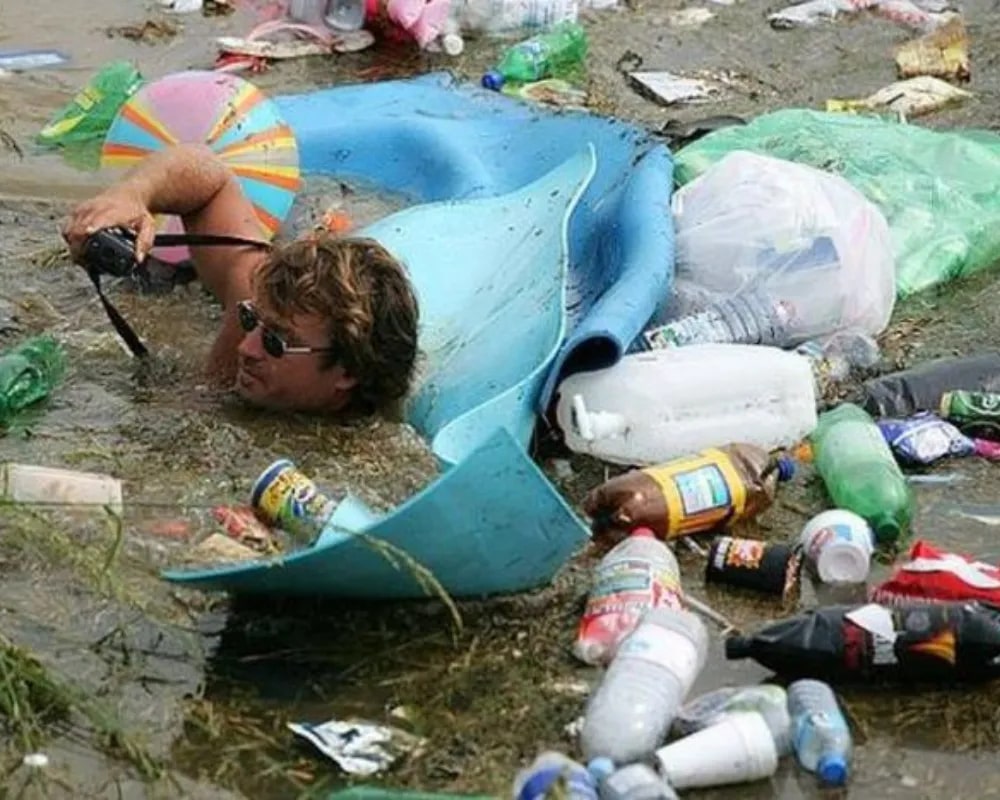 Unfortunately, the party didn't stop there, as the aftermath of the mayhem left behind a sea of trash. Despite the mess, these revelers continue to show that no amount of rain can dampen their spirits!
Pitch a Shower for Festive Hygiene! 
Tired of feeling grubby and sweaty after a day at a festival? Why not pitch a shower in your tent? You can enjoy a quick rinse and get ready to go again without having to wait in line for a communal shower.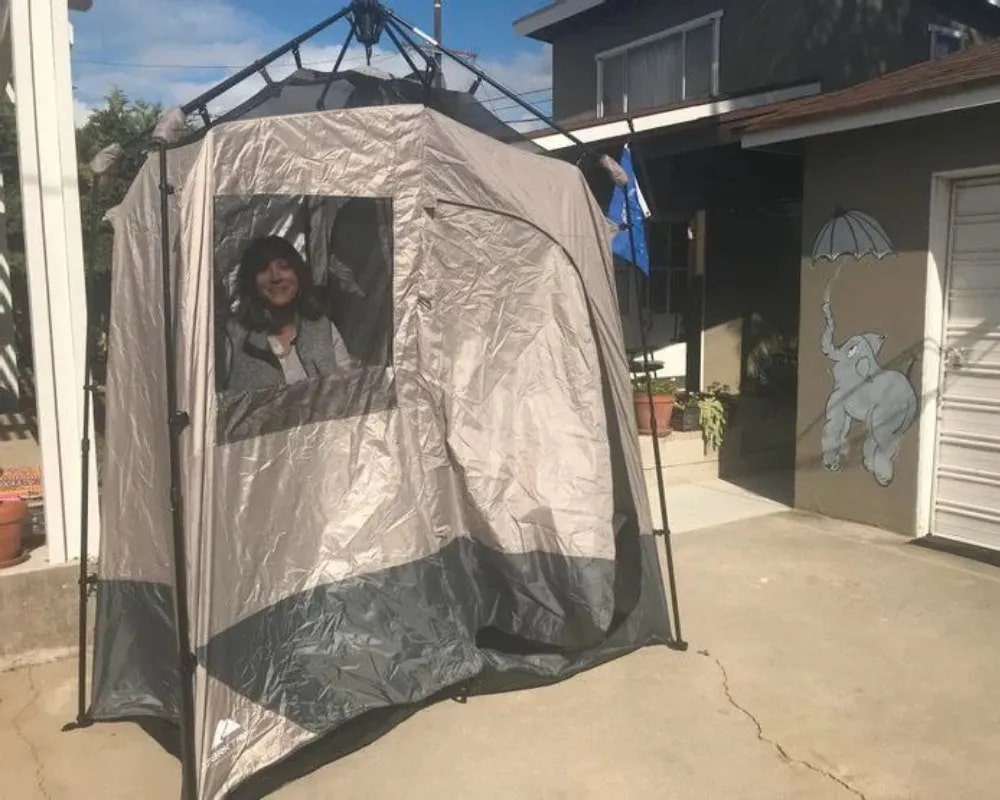 Don't worry about the tent not being waterproof – modern tents are designed to be sturdy and water-resistant, so you can enjoy a refreshing shower in the privacy of your own space! A shower in your tent is a great way to stay clean and keep the festival spirit alive!
AcroYoga Takes Festival Fun to New Heights 
It's time to take festival fun to soaring new heights with AcroYoga! This fun and meditative movement has long been a fan favorite at festivals and it's easy to see why.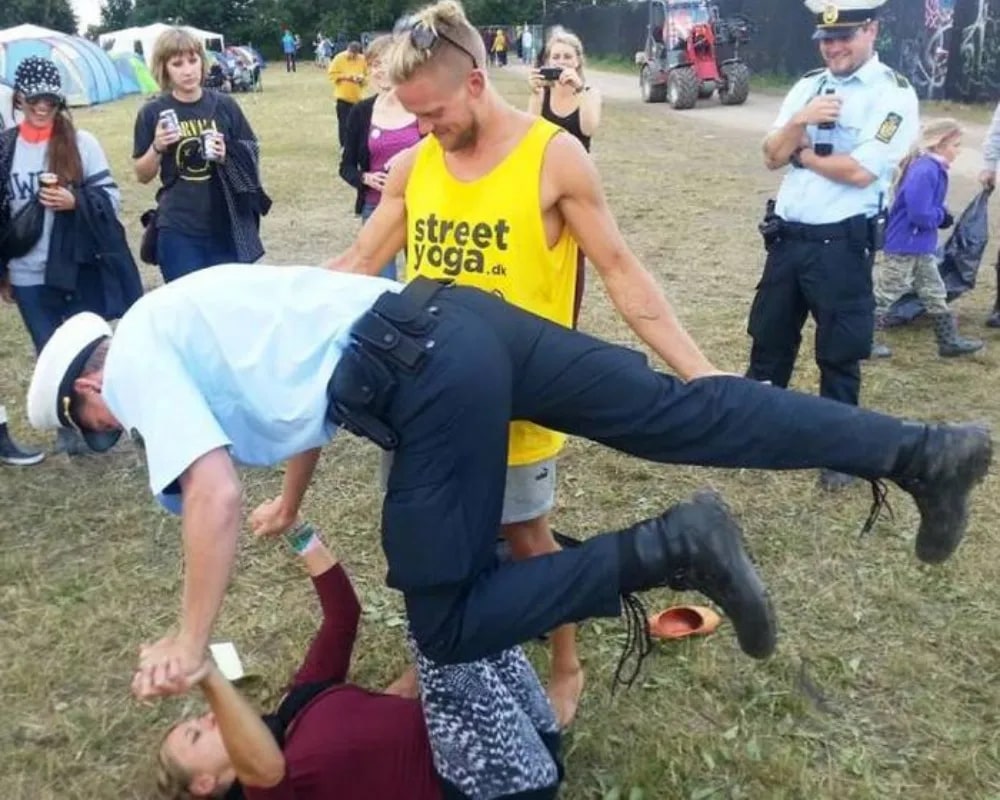 From the ground security guys getting in on the action to the woman acting as a base, everyone's having a blast. It's a hippie atmosphere and a great way for everyone to relax and enjoy a unique experience. Let's all keep the party going and take festival fun to an even higher level.
Festival Faux Pas: The Barefoot Blunder 
Ever been to a music festival and thought that your trusty pair of shoes would be enough to get you through a long day of dancing? This poor festival goer learned the hard way that comfort and sturdiness are key when it comes to festival shoes. 
Despite the fact that he thought his shoes would do the trick, he ultimately ended up with a major fail as he spent the rest of the weekend practically barefoot. Don't make the same mistake! Make sure your shoes are up to the challenge or you could end up in the same barefoot blunder.
Tired of Too Much Festive Fun? 
Festival days can be jam packed with excitement, fun and energy – but they can also leave us feeling exhausted beyond belief. That's why it's not uncommon to see people snoozing in the most unusual of places.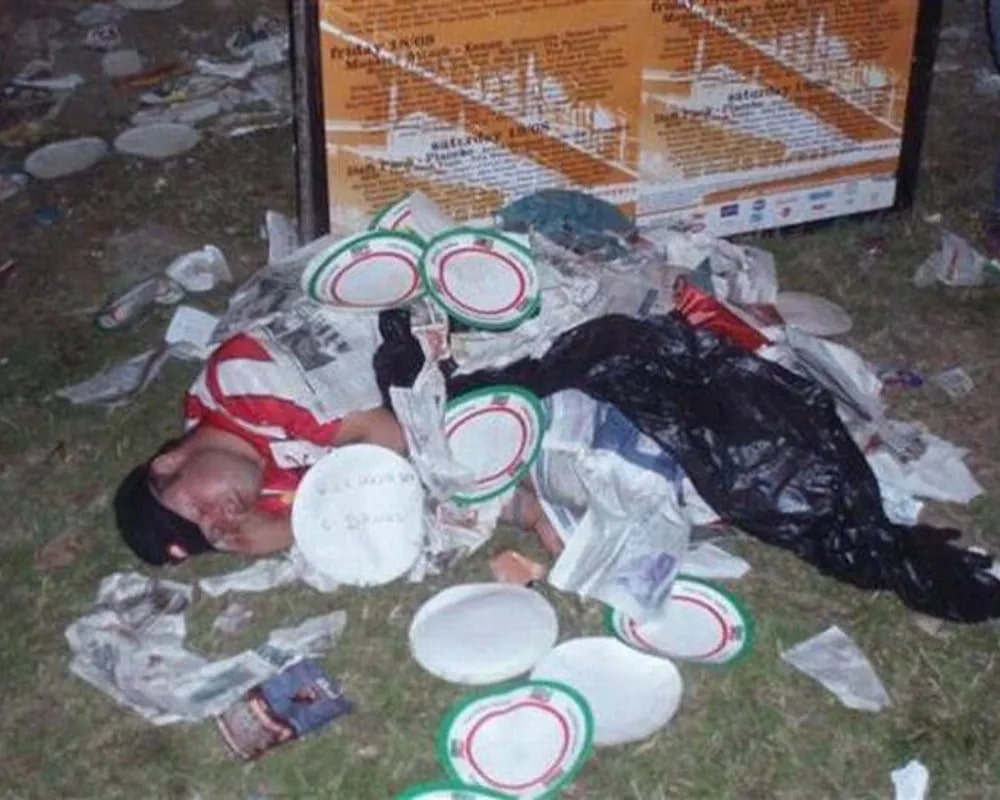 This photo shows a dancer, who appears to have taken a nap next to the trash cans! Despite the odd choice of location, he seems to be quite at peace. After a long day of festivities, sometimes all you need is a good nap – no matter where!
The Perfect Solution for an Unhygienic Nightmare
Have you ever been to an outdoor festival and had to face the dreaded porta-potties? Let's face it, they are not the most pleasant experience. Small, stuffy and used by thousands of people, they are a hygiene nightmare.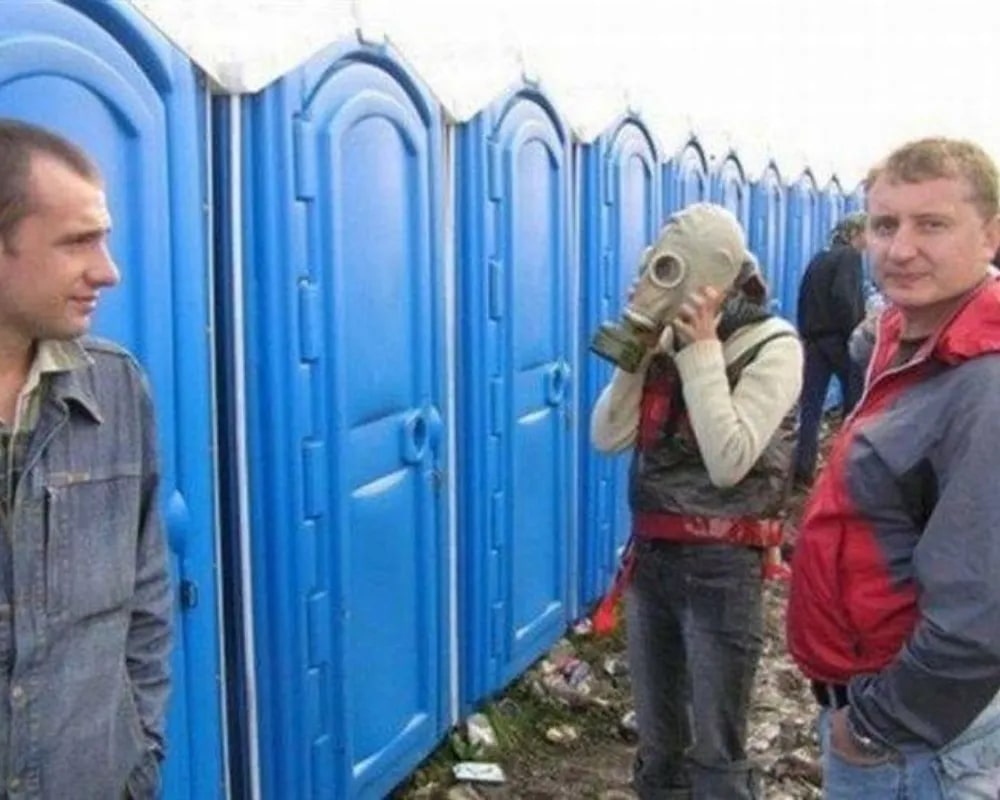 But one person has come up with the perfect solution – protective gear to shield them from the biohazards. Now we've seen it all! We bet she could make some cash renting it out to her fellow festival goers. It'll certainly help alleviate the smell.
Baffled by Free Shrugs? 
Do you love to express yourself at concerts and festivals? From funny to flirty, signs are becoming a popular way to show your true colors – but some can leave you scratching your head. Have you seen those "free shrugs" signs?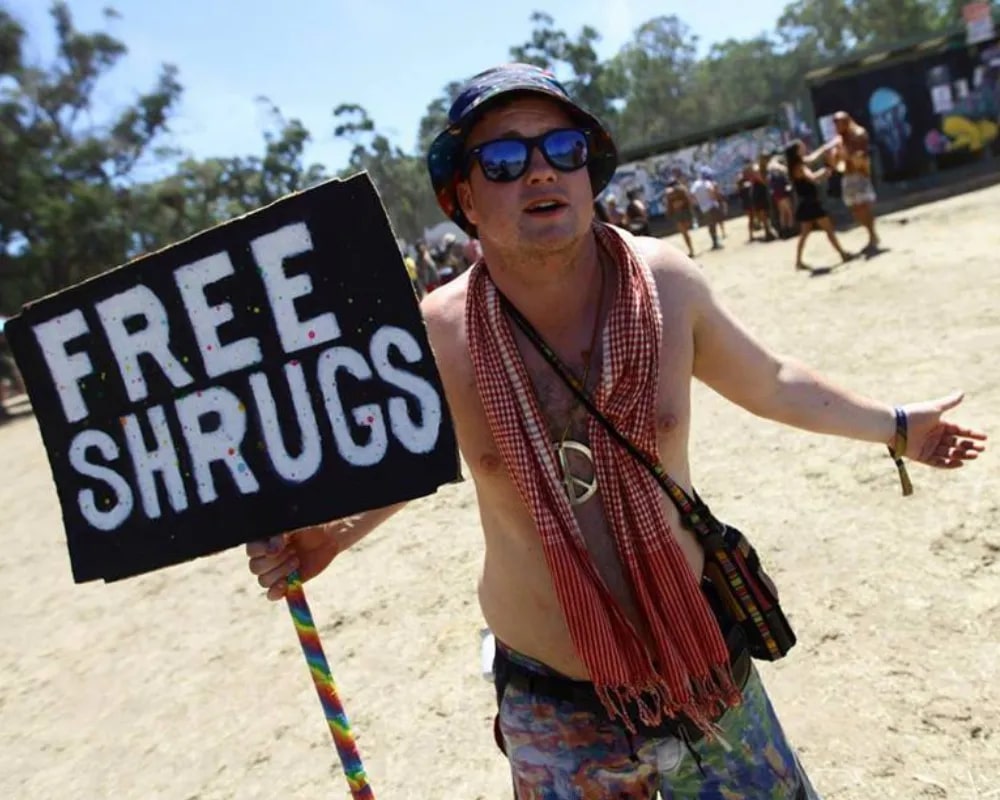 We understand the concept of "free hugs", but how does "free shrugs" work? Does he shrug at you? Should you shrug at him? Should you both shrug together? What does it all mean? We may never know the answer – but one thing's for sure, it's definitely an interesting concept!
A VIP Experience Gone Wrong: Fyre Fest's Epic Fail 
Fyre Fest had the potential to be a luxurious and memorable VIP experience, with promises of valet service and luxurious perks for festival goers. 
Unfortunately, guests were met with a much different reality; their luggage was thrown off a container in the middle of the night in complete darkness. Instead of the extravagant event they were promised, the guests were treated with atrocious attitudes and a complete lack of hospitality. This disastrous event will go down in history as a major fail.
All Tied Up! 
It was supposed to be a fun weekend with friends, but this guy got more than he bargained for. His mischievous friends managed to duct tape him firmly to a tree, leaving him stranded. A new twist on tree hugging!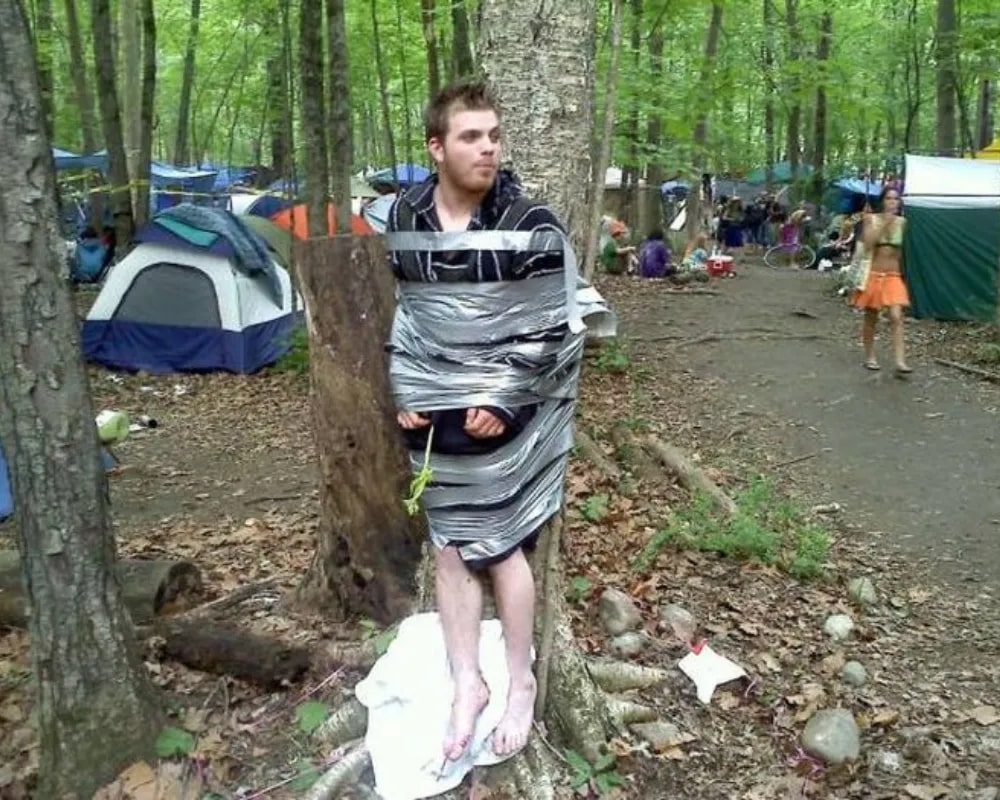 With a look of shock and disbelief on his face, it was going to be a real struggle getting out of this predicament. It seems his friends chose to embrace their inner child and have a bit of harmless fun – at his expense!
Slime-Sprayed Music Lovers: A Nickelodeon-like Nightmare! 
It's a nightmare that no music fan wants to experience: being drenched in an unknown, slime-like substance while jamming out to their favorite tunes. But that's exactly what happened to some concert goers when an unexpected spray came oozing out of the Nickelodeon studios.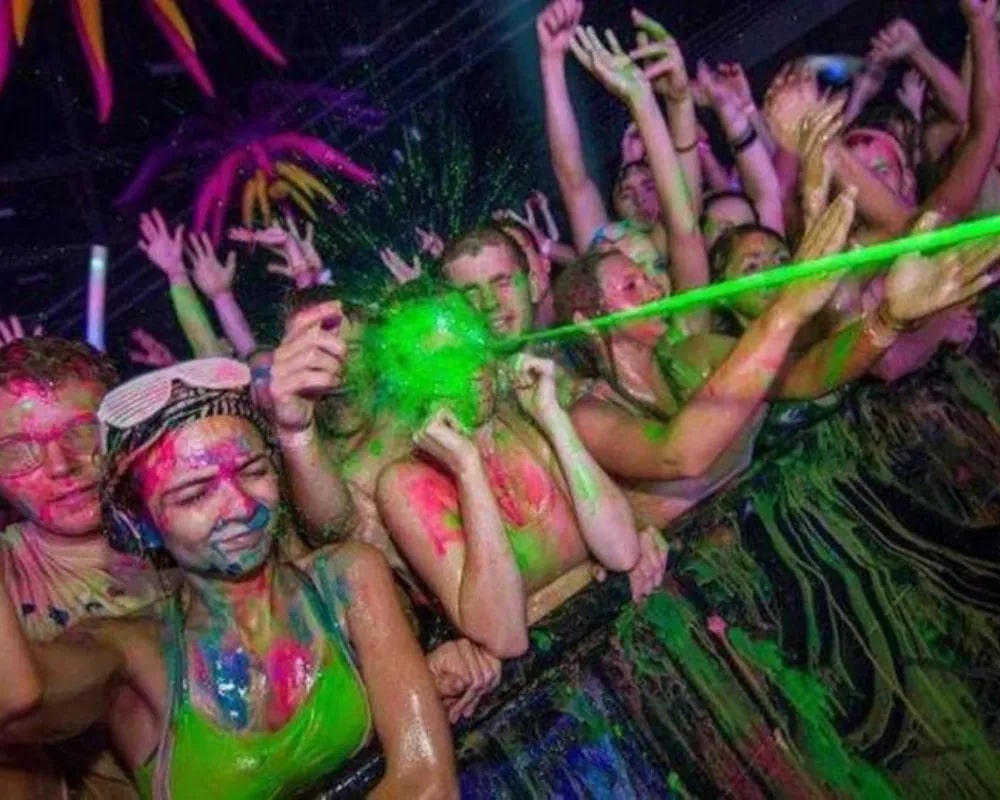 Imagine being covered in something that looks like a toxic waste spill! Nobody wants to end a night at a show with a slimy surprise like this, so it's best to steer clear of these foreign substances.
Akon's Bumpy Performance - The Unfortunate Outcome of a Good Intention 
Akon's performance at the Peace One Day festival in Congo was a bumpy one – quite literally. In an effort to avoid contracting any disease, he chose to perform the majority of his show from the safety of a large plastic bubble.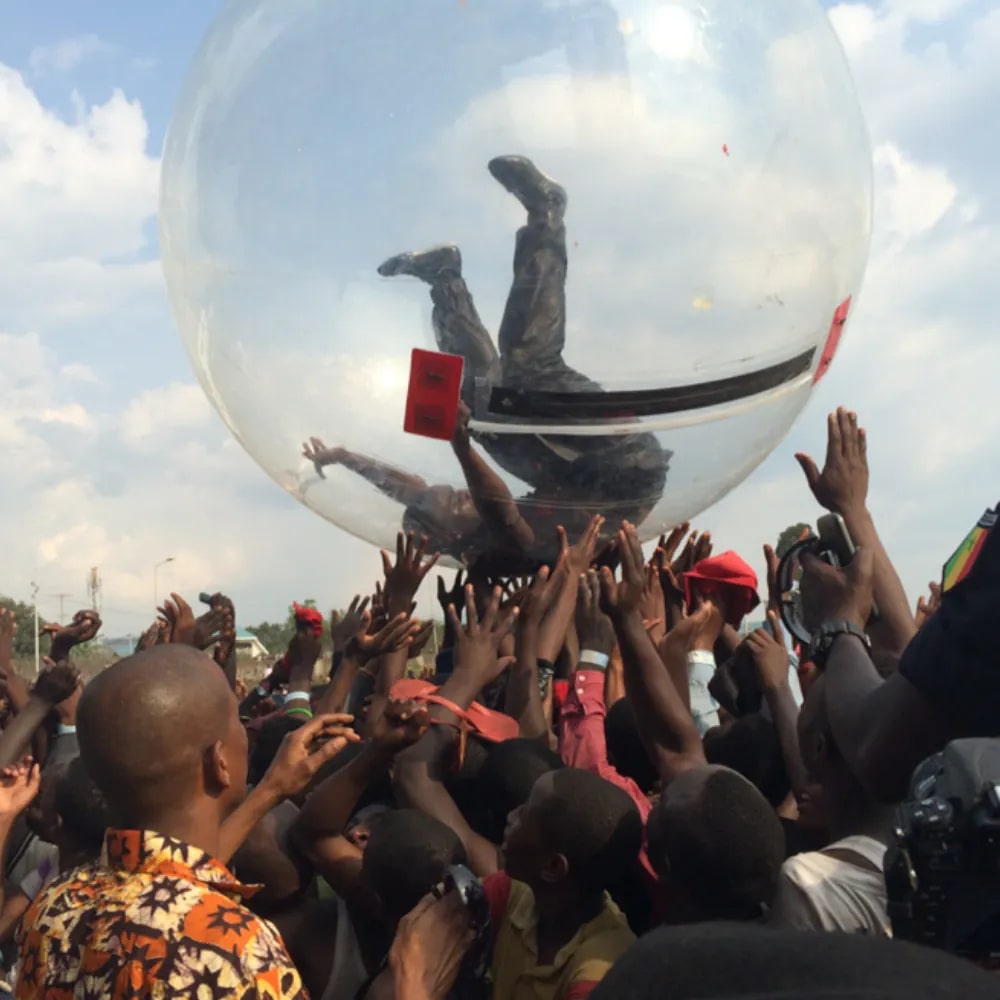 Unfortunately, he forgot to take into account the fact that a giant ball isn't the most conducive platform for a concert, and ended up spending quite a bit of time rolling around – a far cry from the show he had intended to put on.
Respect for True Musicians: Performing to an Audience of One 
For small bands, it's not always easy to perform at major festivals, especially when they have to compete with some of the big names. Having put in all that effort into their music and then receiving a limited audience can be rather disheartening.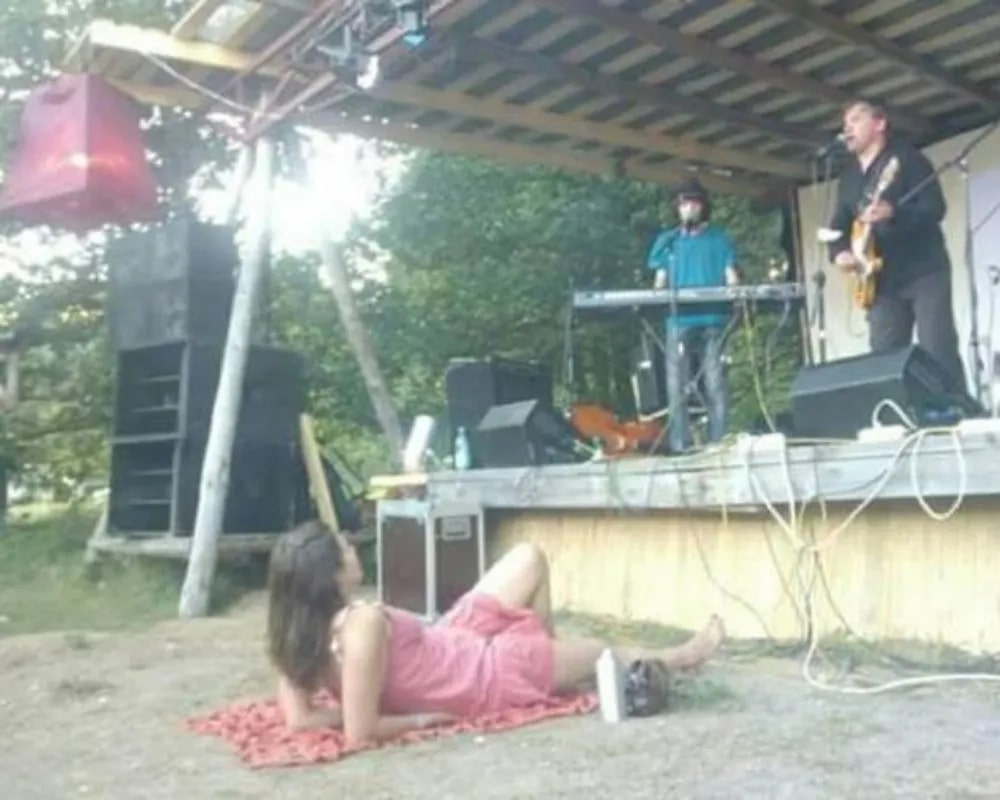 Nonetheless, any band that truly respects music would still play in front of any crowd, no matter its size. Kudos to these true musicians who recognize that even an audience of one is worth their time and effort.
Red Cup Puzzle Prank - A Fun Way to Tackle Festival Trash! 
This festival goer's friends decided to have some fun with all the trash on the ground and prank their sleeping friend at the same time! They painstakingly picked out all the red cups from the litter and arranged them into a puzzle shape, taking care to make sure the pieces fit together perfectly.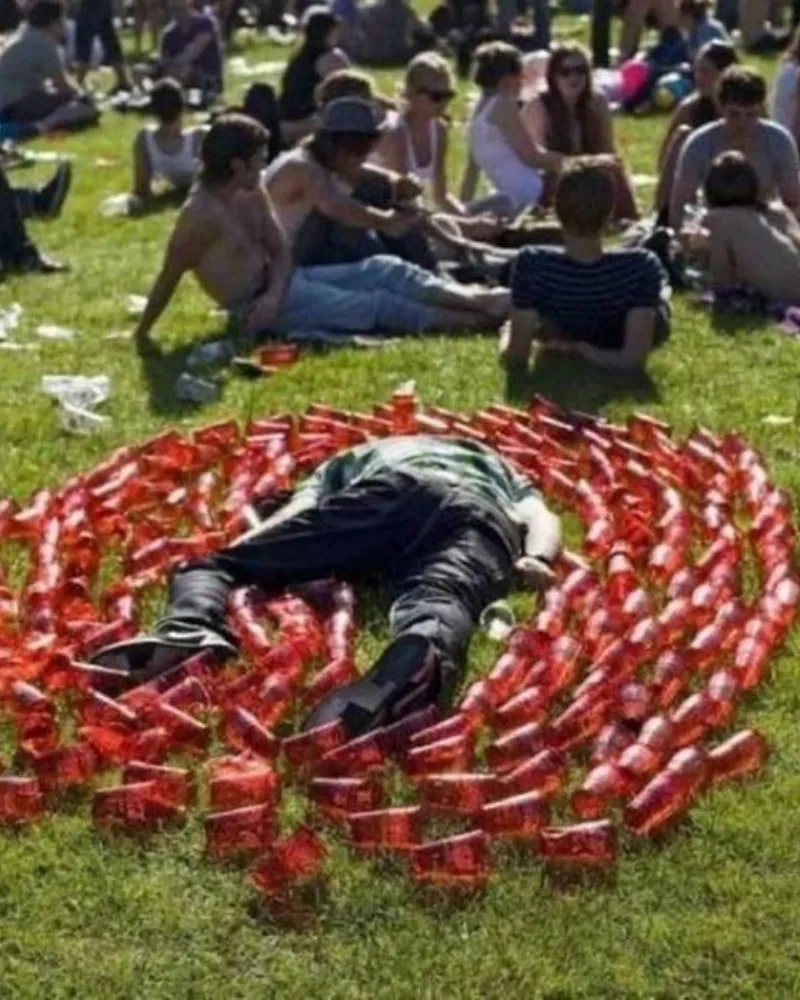 What a clever way of recycling waste at the festival, while also giving their buddy a hilarious surprise! We just hope they really did recycle all the cups after their friend woke up.
Cop on a Horse Enjoys the Party Too! 
This party scene is made even more lively with the addition of a police officer on horseback! Looking like he's having just as much fun as the rest of the revelers, this cop is taking some time to enjoy the festivities on his trusty mount.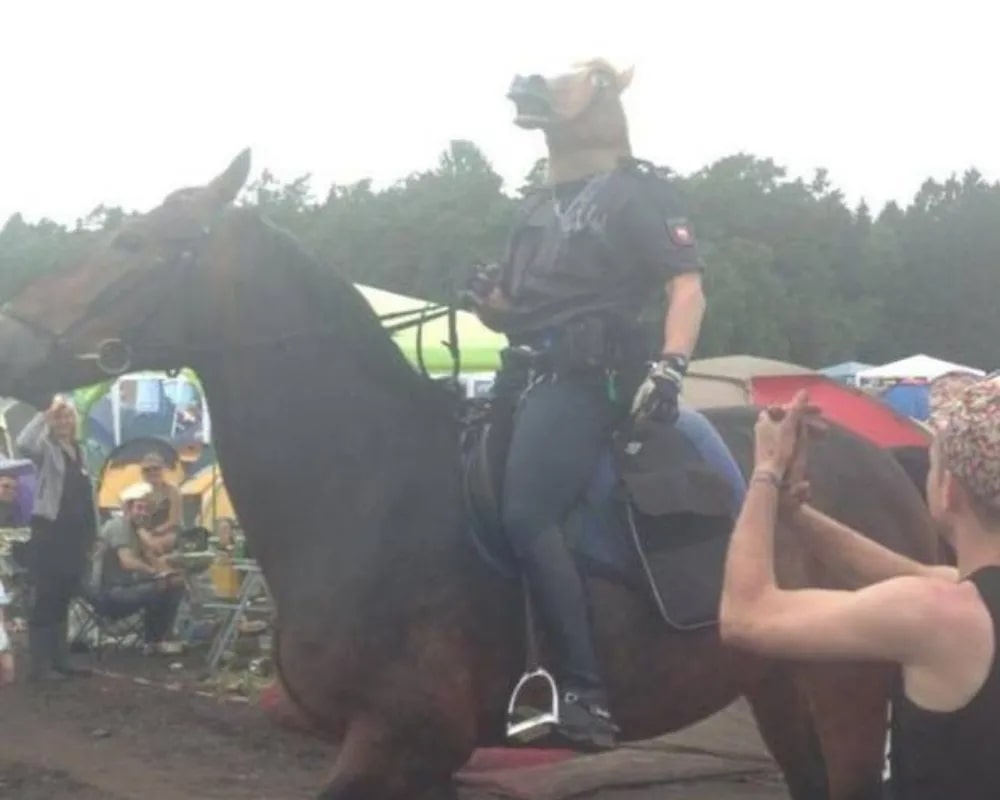 The mask he's wearing complements the festive atmosphere nicely. It's clear to see that this officer is in a jovial mood, but it's probably best to keep your partying away from this horse's head!
Walmart Wunderkind at Coachella? 
He may not have been aiming for it, but this guy certainly made an impression at Coachella. With Coachella being as much a fashion show as a music festival, it's no surprise that attendees often put effort into their outfits.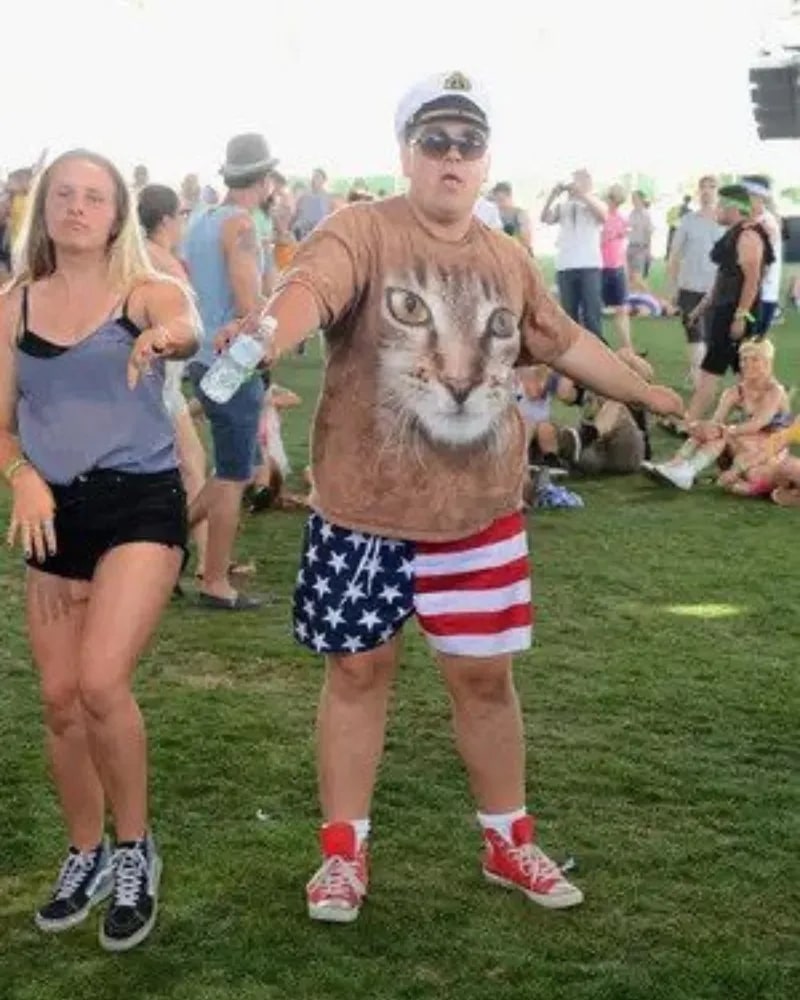 But this guy? It looks like he went to Walmart and grabbed the first thing he saw from the sales rack. Talk about an unexpected fashion statement! Was he trying to turn heads? We can't be sure, but this Walmart Wunderkind sure did it.
Embracing the Muck: A Festival Experience 
Festivals are a great opportunity to let loose and have fun, but often come with an unavoidable hazard – muck! With the unpredictable weather patterns and outdoor venues, it's almost a guarantee that there will be some slushy puddles at the festival.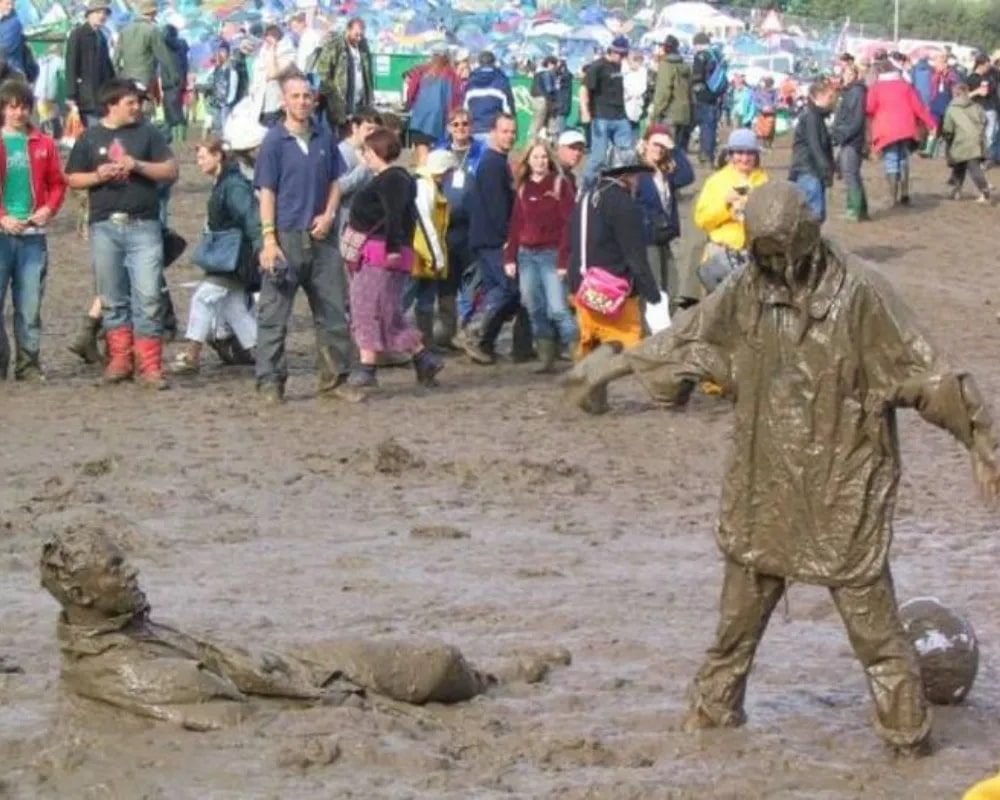 But rather than let it ruin the experience, some festivals have learned to embrace the muck and make it part of the experience. Despite the mess, these festivals still manage to provide attendees with a memorable and enjoyable time.
Calling All Single Ladies: Peacocking at Coachella! 
It's that time of year again – Coachella! And just like birds looking for mates, single guys come out peacocking to draw in the ladies. Some show off in extravagant clothes, while others fluff up their hair in unique shapes.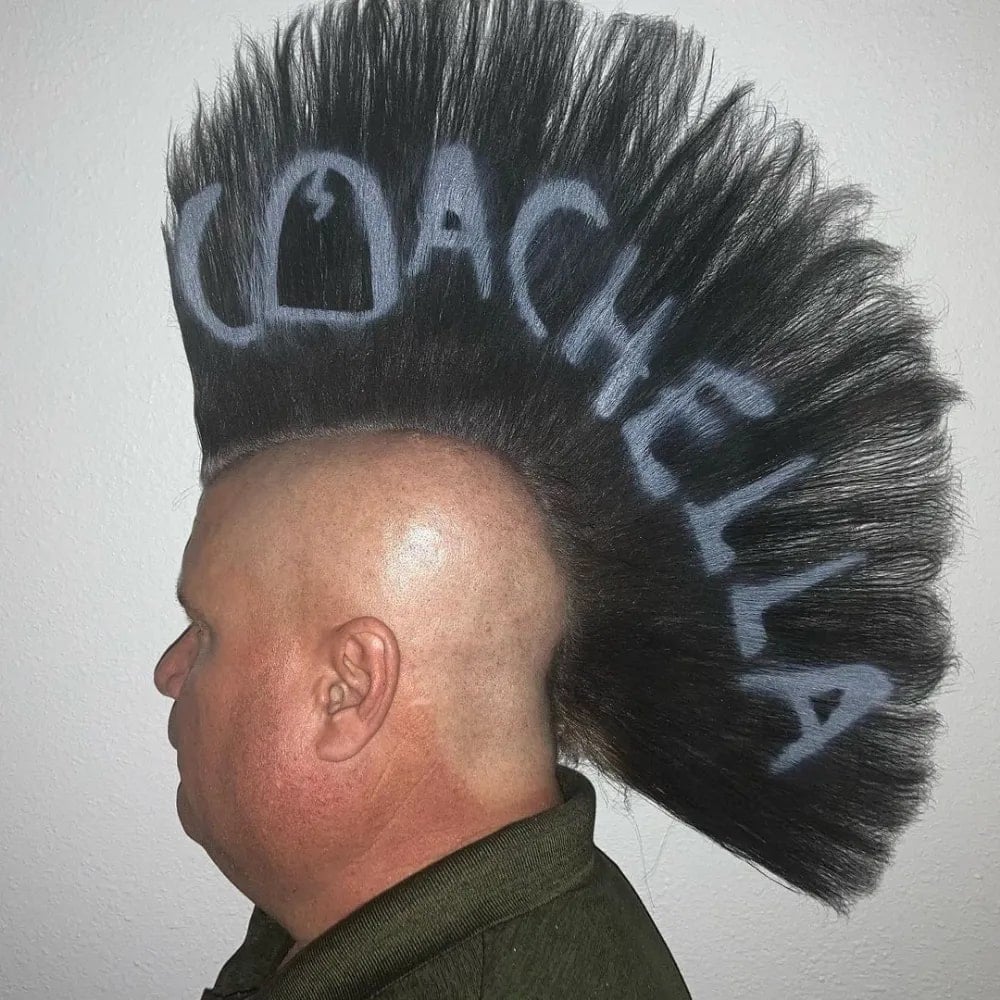 Take this hopeful peacock for example, signaling to all the single ladies that he's looking to find a special someone… or at least have a great time. It's quite an impressive sight to behold – so why not give it a shot?
The Styrofoam Disaster of Fyre Fest's Gourmet Promises 
Fyre Fest made some bold promises to its guests, particularly in the food department. It was supposed to be a gourmet experience to remember, but instead of the luxury chef experience they were expecting, attendees ended up with a styrofoam disaster.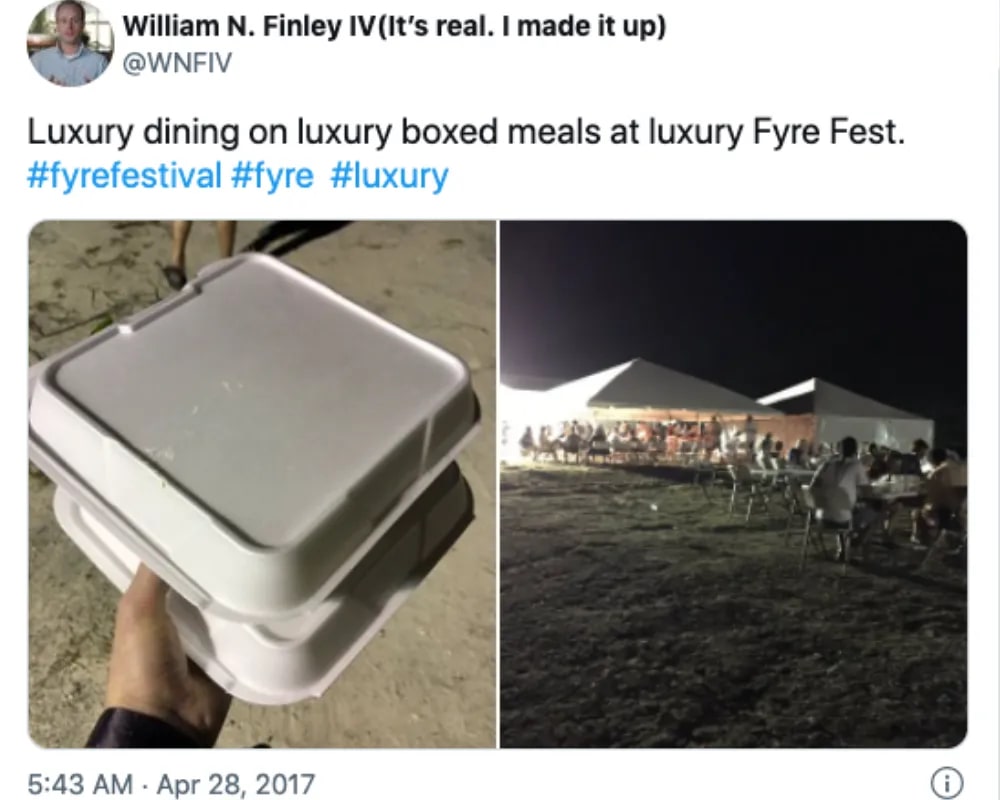 Instead of the culinary delights they were promised, they got a few sandwiches and salads made with ingredients that were seemingly pulled from a nearby convenience store. Talk about a letdown! It's a reminder to not always trust the hype, including when it comes to food.
Love at Festivals: When PDA Goes Too Far 
Love is in the air at festivals, and what better way to share it than with a Public Display of Affection (PDA)? But, when it comes to PDAs, there is a line – and it's important to remember that not everyone wants to see or know what you've been up to.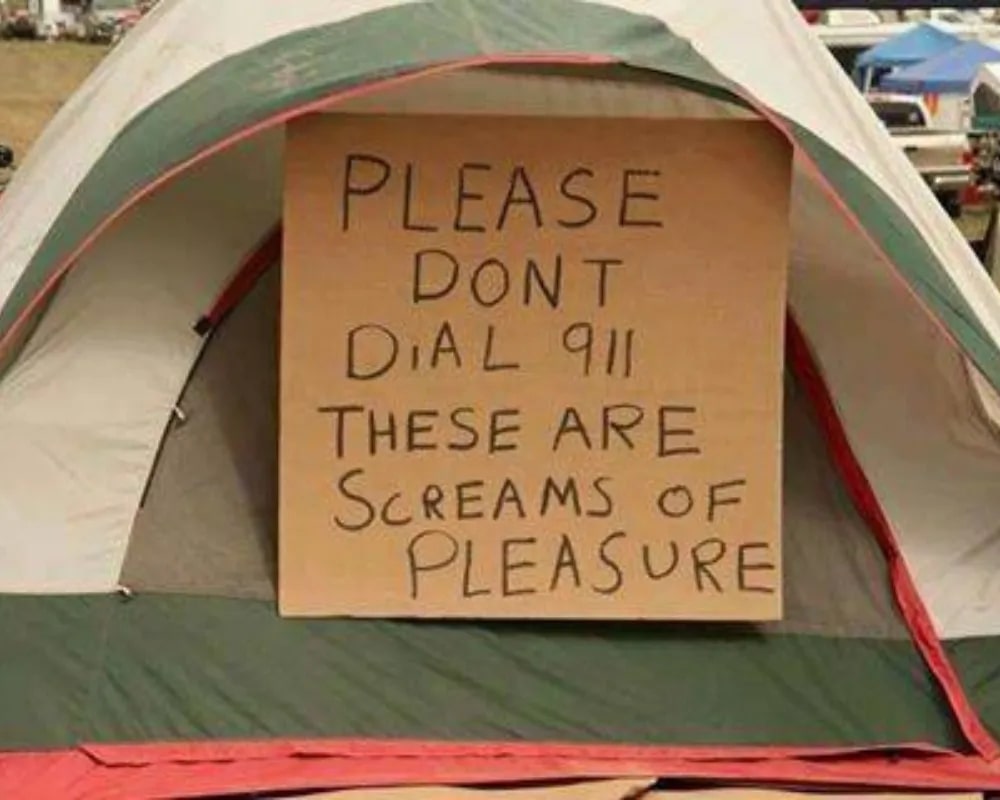 Show your love to each other, but keep it to yourselves! Enjoy the festival with other people who share your music tastes, but don't forget your manners! 'P' also stands for 'private'!
Too Late to Find the Perfect Spot? 
Don't make the mistake of choosing the wrong spot to pitch your tent! From finding a location with the windows facing west to avoid the morning sun, to staying close to public toilets – but not too close, you need to pay attention to the details.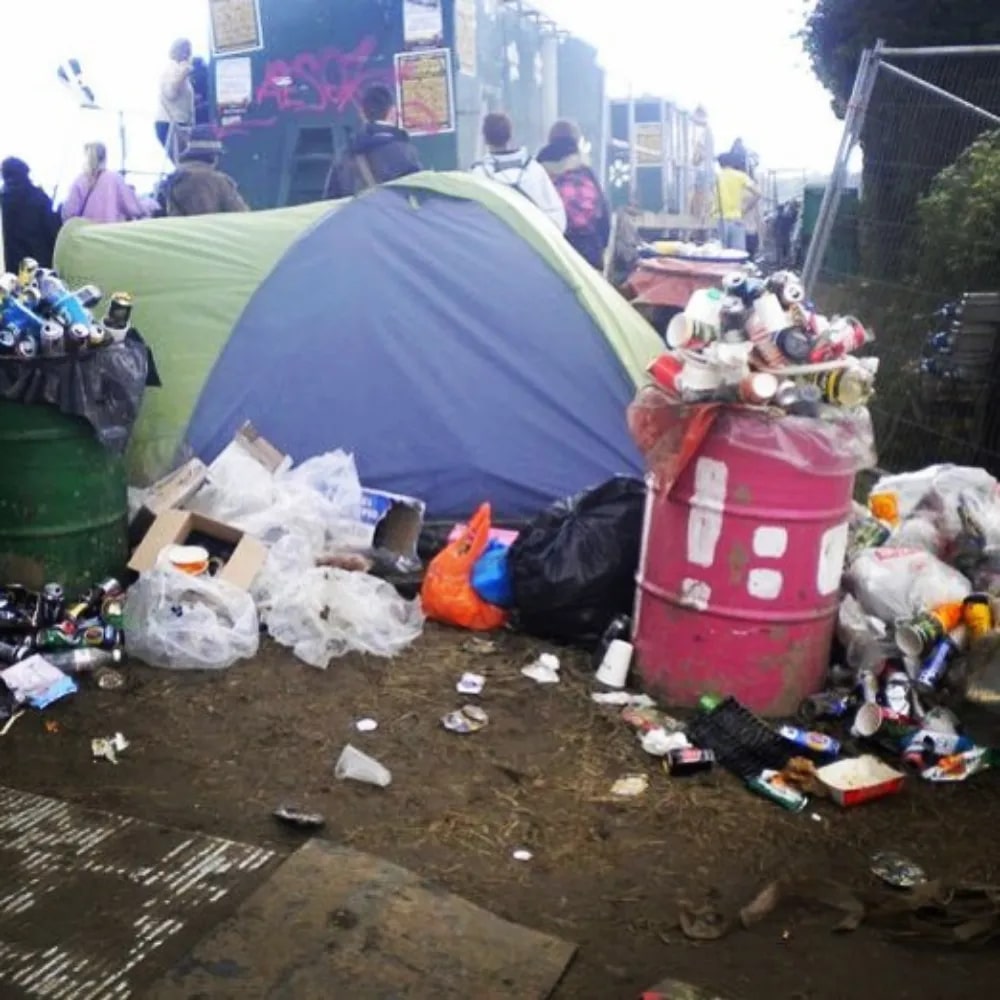 We can only wonder what the people who chose this trashy location for their accommodation were thinking! We're betting they would've needed a long soak in the bathtub after this. Make sure to do your research before you set up camp and avoid a smelly mishap!
Burna Boy's Unique Look: The Good, The Bad, and the (Very) Ugly 
Nigerian Grammy nominee Burna Boy has taken the festival stage by storm with his awesome sounds. His fashion sense, however, doesn't quite hit the same high notes.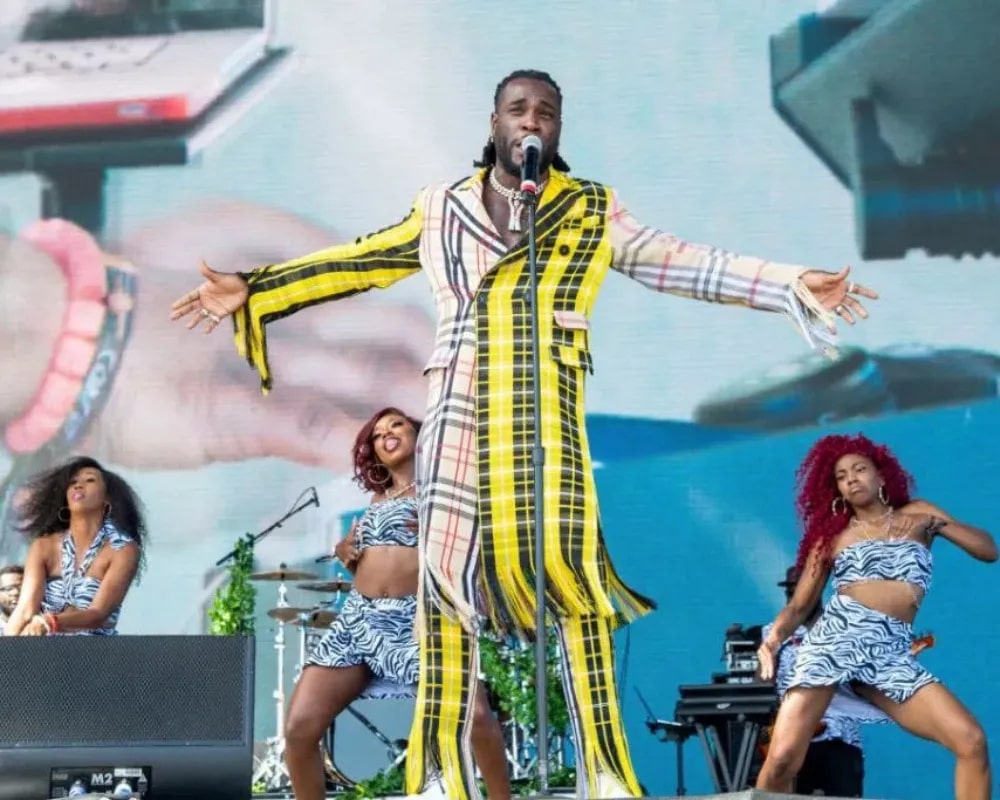 The yellow and black pattern of his suit is a bit of an eyesore – like a banana left a little too long in the fruit bowl – and we can't say we're fans of the tassels either. Tassels should only be allowed to exist on curtains or on cowboys, right? Let's hope Burna Boy's next look is a bit more on-trend!
Beware The Mud Monster
It's common knowledge that only those in the army should don camo clothes, but people will do whatever they want! In this photo, a wild festival goer decided to scare a poor girl by rising out of a muddy puddle.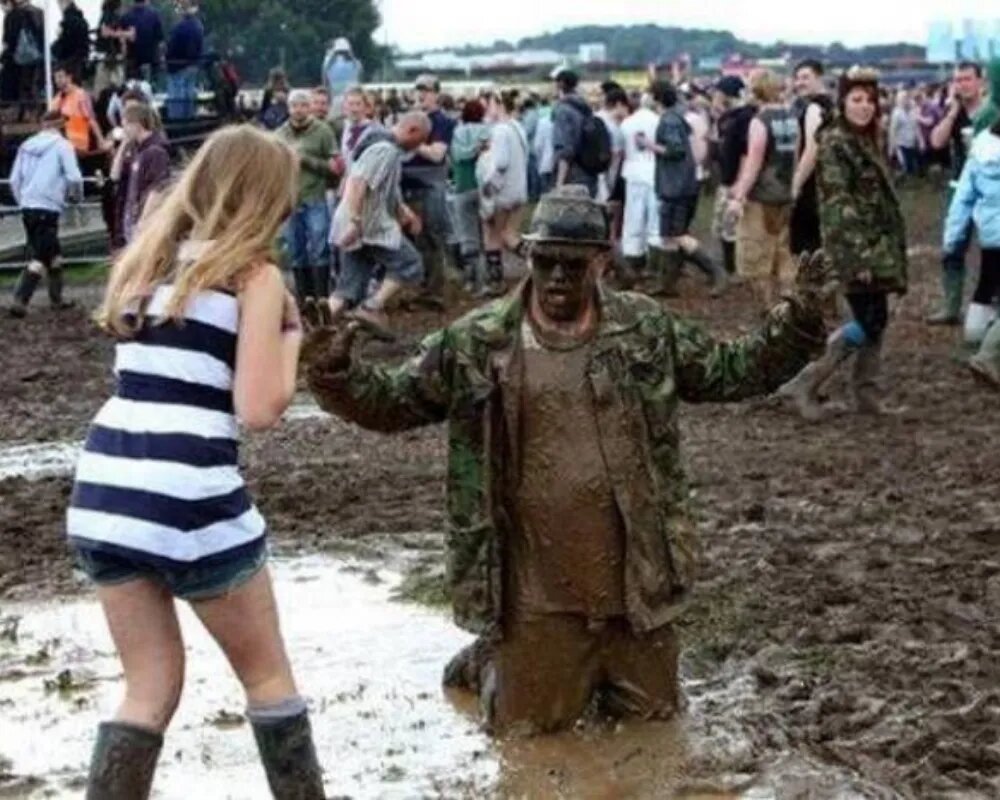 Not cool, dude. She must have been scared straight after that incident. Hopefully, the mud monster man didn't follow her around to continue the scaring. Take a shower, sir, and go about your day.
Who Let The Dalmatian Out?! (In The Middle Of The Desert)
When people think of music festivals, Burning Man is the last thing to come to mind. But, we can't help but mention this funny costume.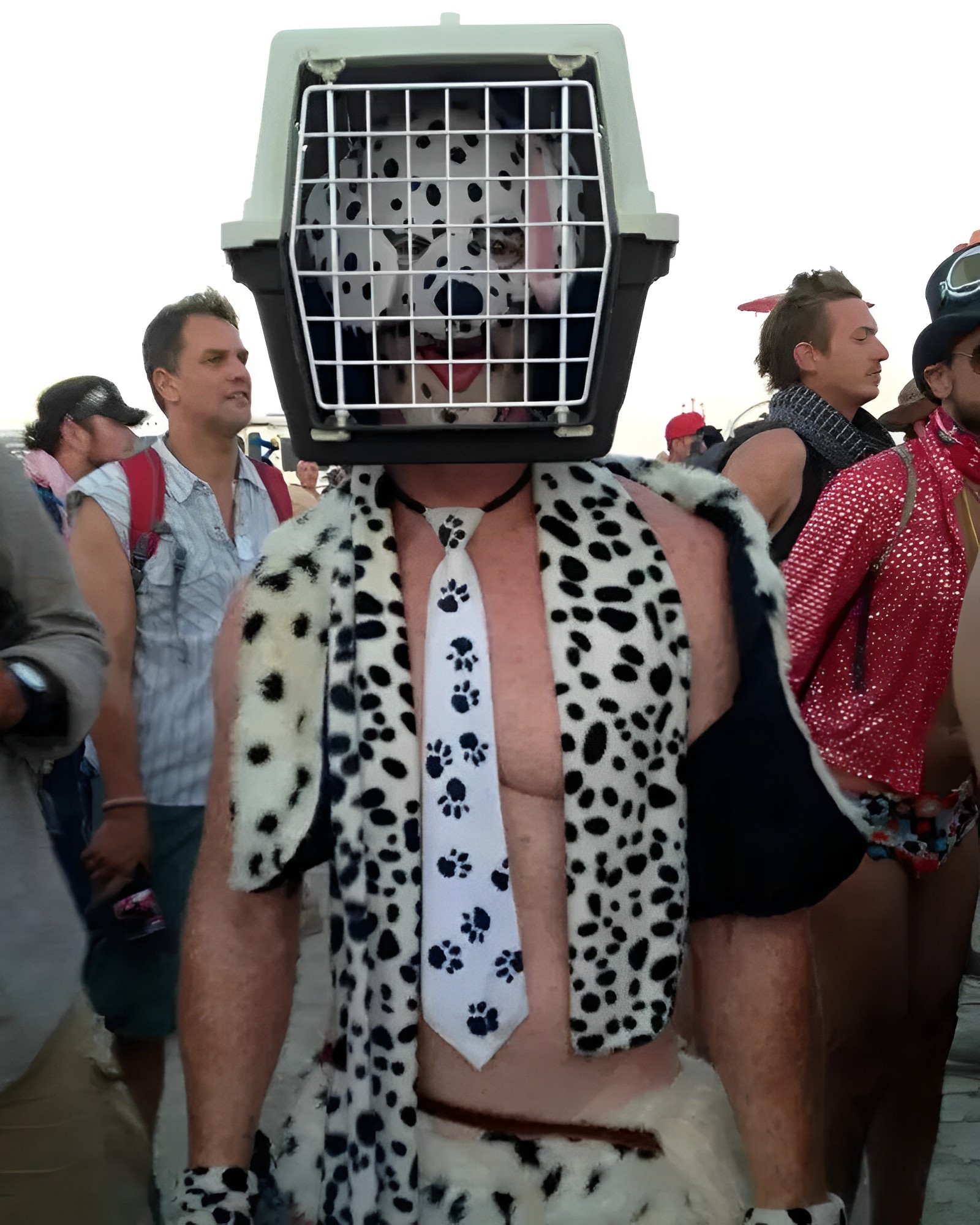 The Dalmatian man decided to wander around the desert in a fully, furry costume! Surely, people got lots of good laughs out of it. Although he must have been very sweaty in that get-up, it was probably worth the suffering.
Taking Her Love Of Tomatoes A Bit Too Far
While Coachella is the place where people make the boldest fashion moves and present their interesting sense of style, dressing in a tomato jumpsuit is a big no-no. Rapper Tierra Whack definitely broke boundaries with this outfit.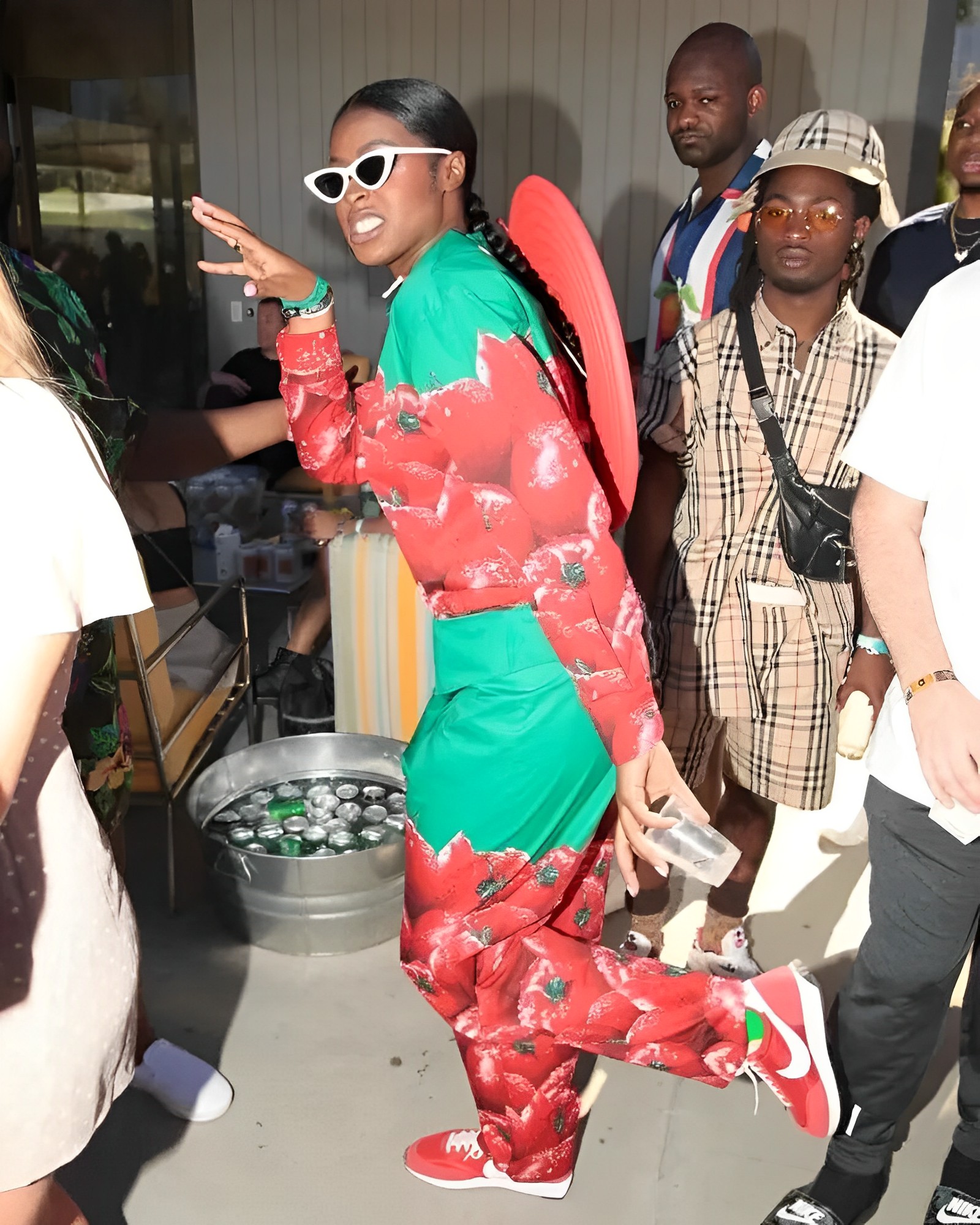 At least she was prepared for the hot day with some cool shades and (of course) a red hat. We must say that she did a pretty good job of presenting a matching outfit, too.
Who Needs A Tent When There's A Port-A-Potty?
Sleep is a priority. When you're at a crazy festival, you're bound to get exhausted from all the partying and drinking. So, finding a safe place to crash is always a good idea.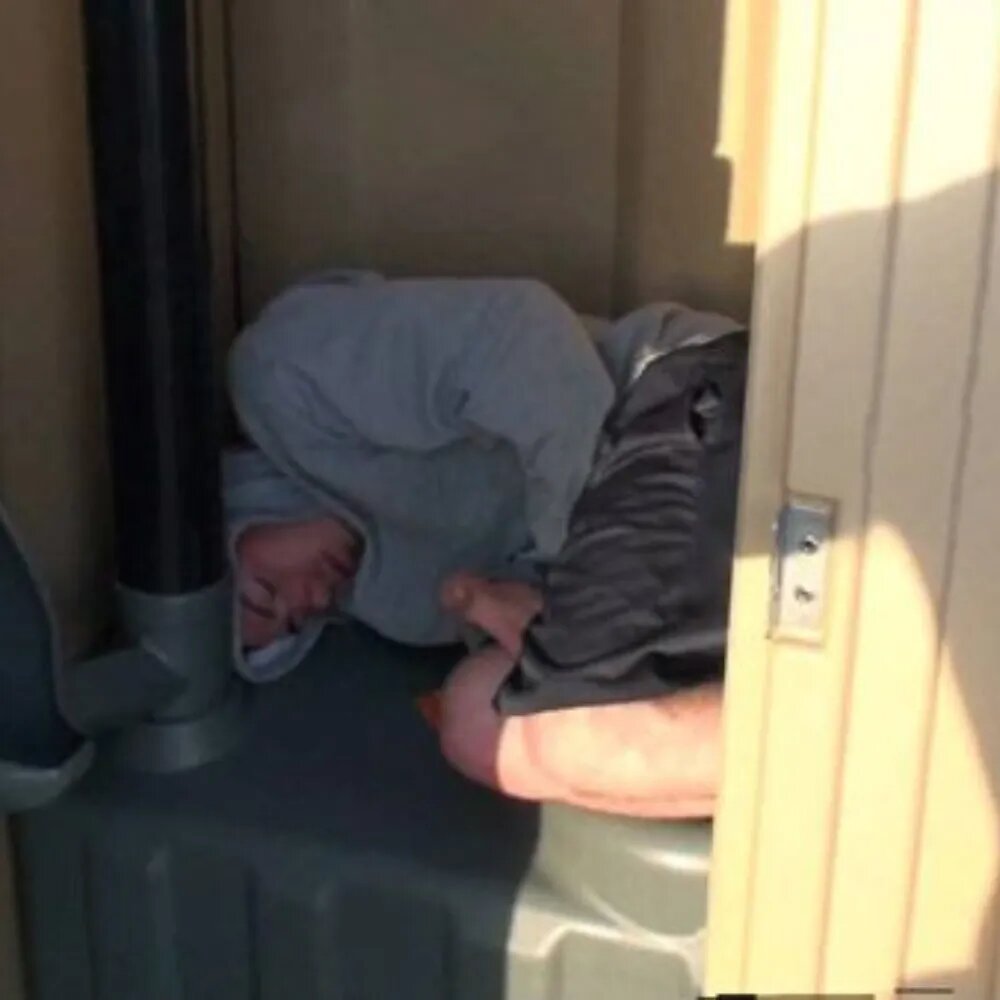 For this guy, he decided to take a nap in one of the resident port-o-potties to replenish his energy. It's kind of a win-win because you can sleep and don't have to go somewhere else to use the bathroom.
Maybe You're Too Young For This
If your mom thinks you're camping, then attending a music festival is probably not the best idea. While it's only natural for kids to rebel, when lying is involved it's likely a recipe for disaster.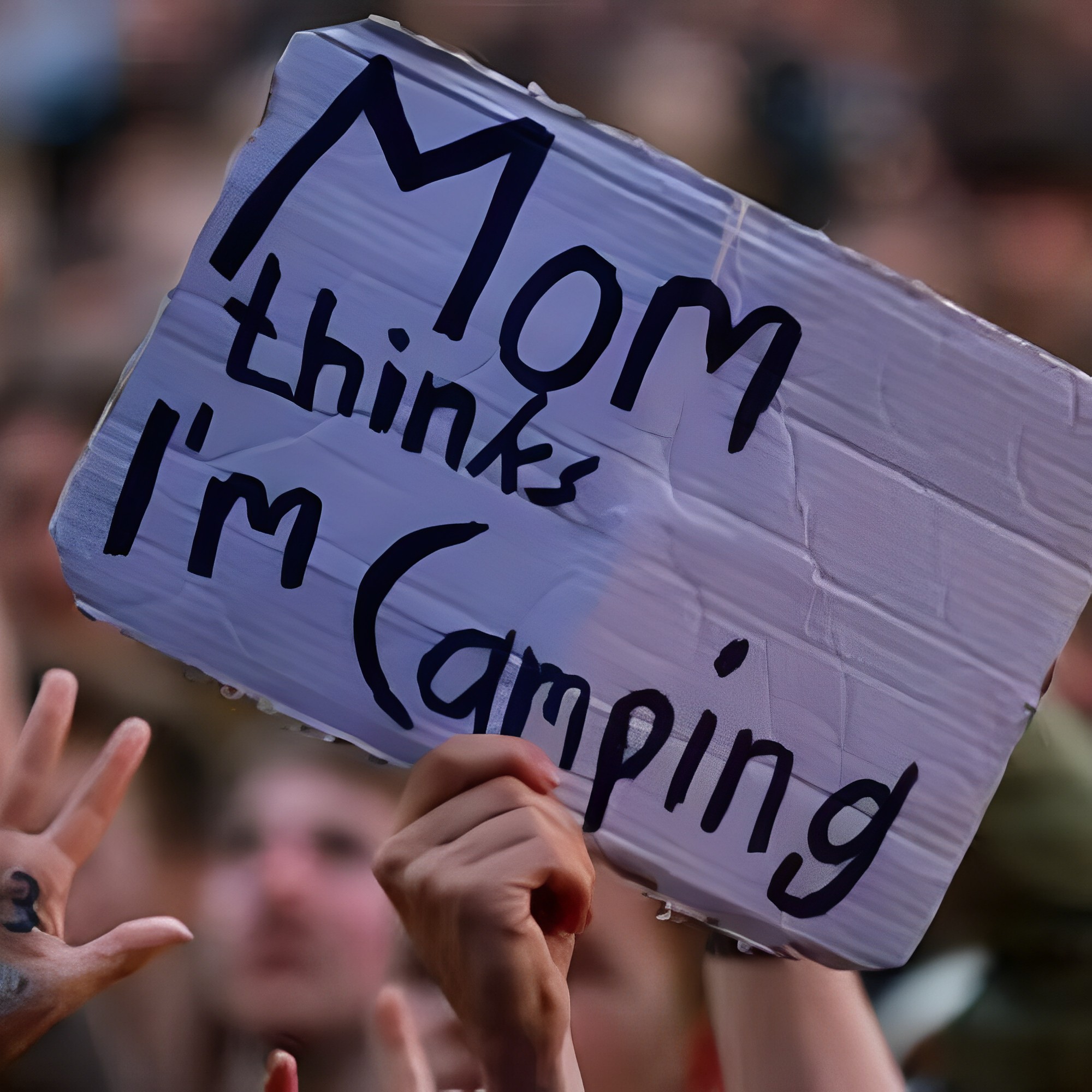 Technically, people at these festivals do sleep in tents, so it's not so far out of left field to say you went camping. Very clever!
Any Weekend Plans?
Most music festivals want the festival-goers to purchase a weekend pass. Unfortunately, their plan failed drastically, as nobody even purchased one!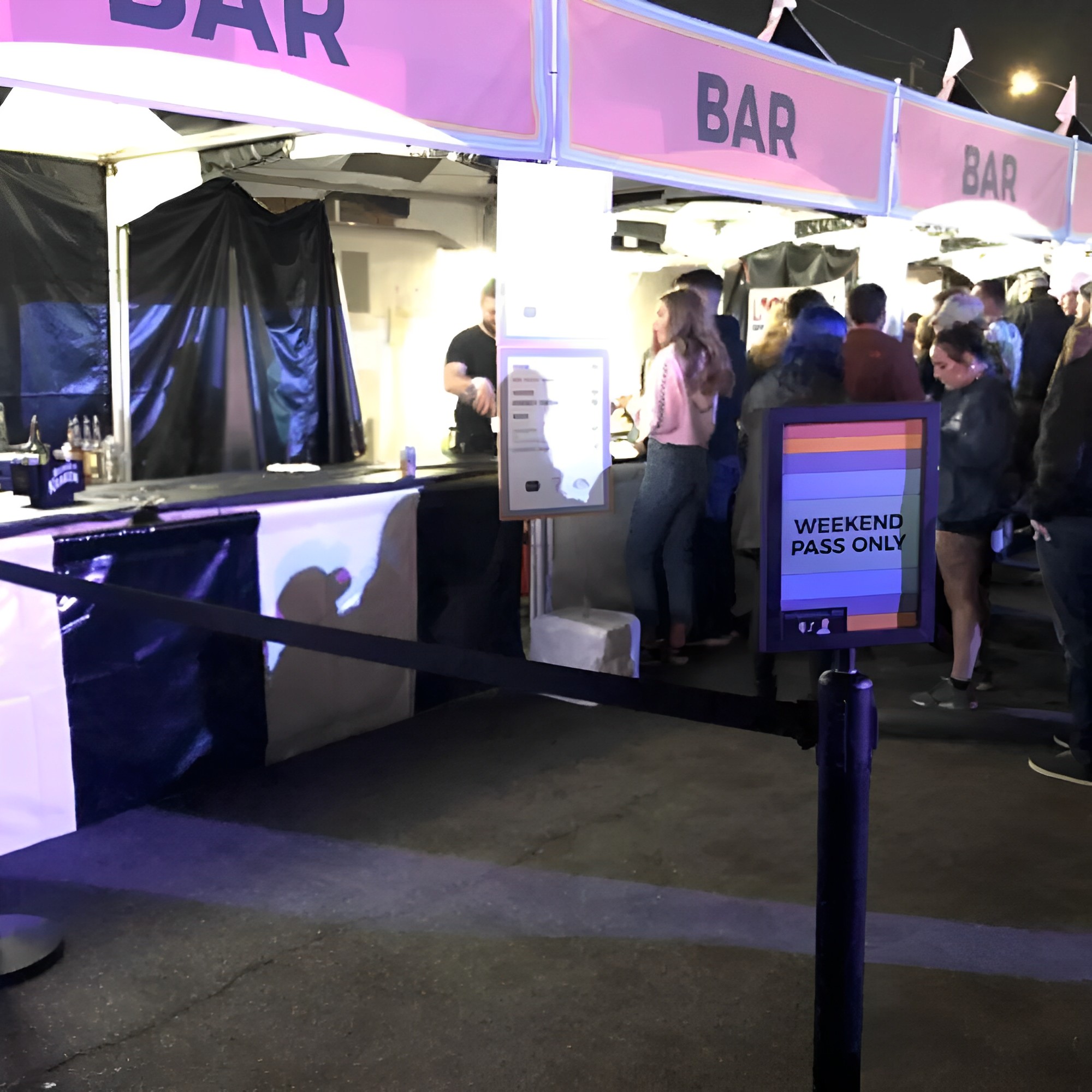 It was probably too expensive, which is why people just opted for a day pass. That's pretty embarrassing for the planners behind the festival. Maybe the marketing team needs a new strategy.
Right Place, Wrong Shoes
Who knows — perhaps this woman wanted to wear heels even though it's a music festival and tennis shoes would be much more comfortable. Or, she just has very strong calves.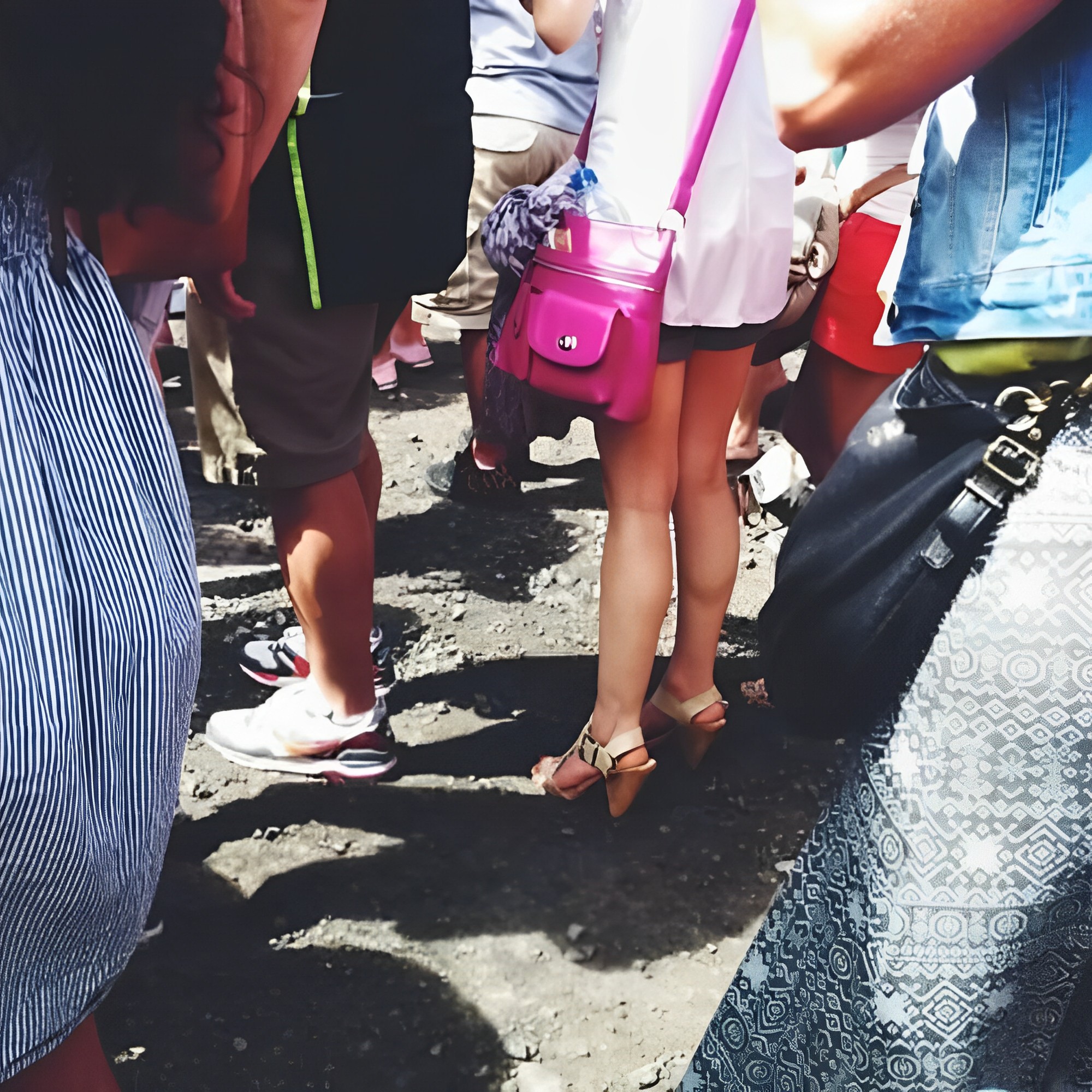 With all the dancing and walking around in one day, heels aren't the best choice. Ultimate comfort is what most people aim for at a music festival unless she was trying to make a fashion statement!
Cultural Appropriation At Its Worst
With cultural appropriation being a big topic recently, Coachella is often looked at as being the festival that commits this the most. Maybe the lines between appreciation and appropriation are blurred, but we would hope that people know better.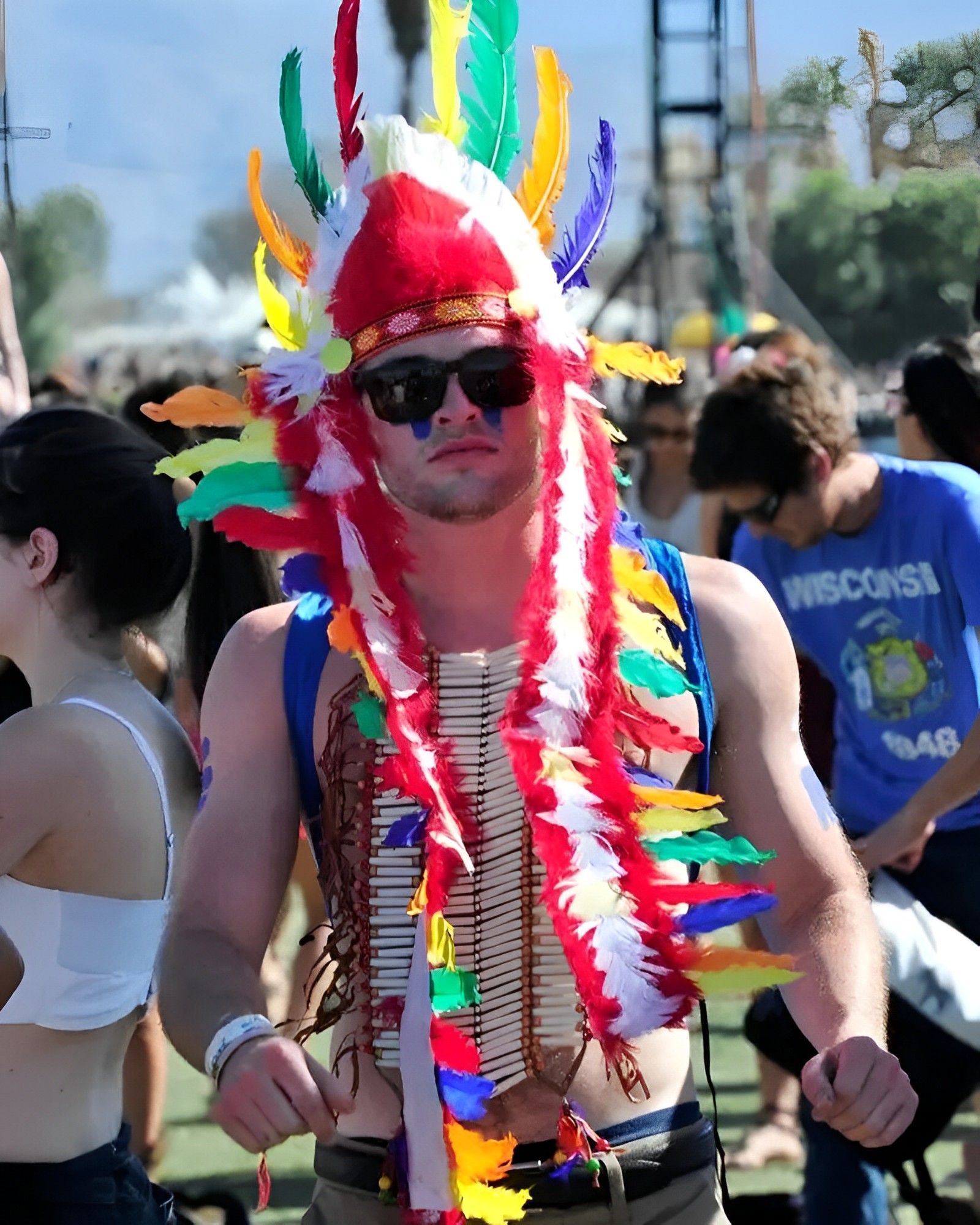 While this guy is clearly in the spirit, he's sending the wrong message. Worst of all, he didn't even put much thought into the outfit either. He just threw some elements on and went on his merry way. We wonder what he will dress up as next year.
Wearing White Shoes To A Festival? Not The Best Idea
At music festivals, one walks much more than a mile. It's crucial to wear comfortable shoes and a pair that you're alright with getting dirty!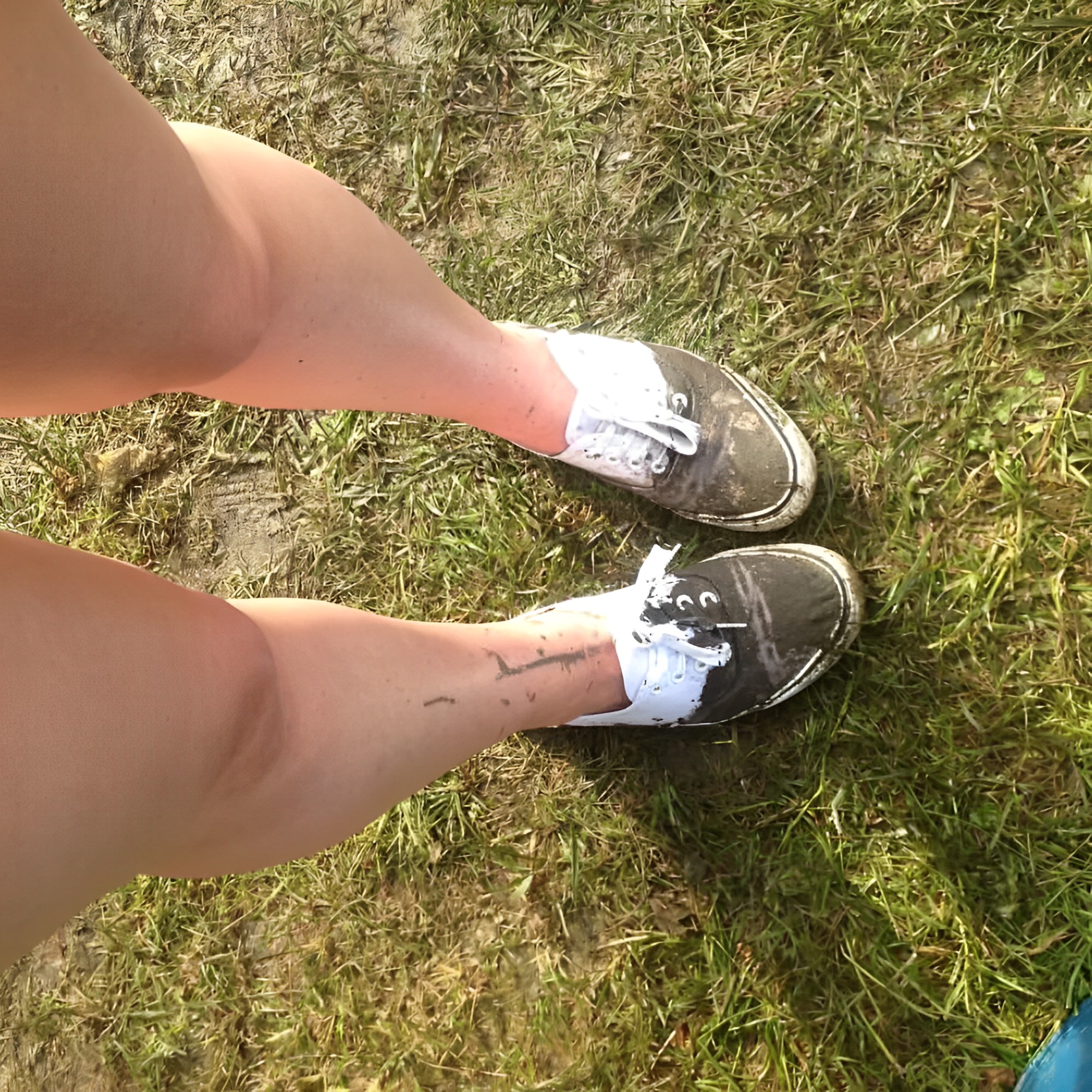 Well, this girl wasn't thinking ahead and decided to wear white Vans (which got very muddy). This will probably be a lesson she will never forget when she goes to her next festival.
The More The Merrier
Mud. It's expected to be everywhere at music festivals after heavy rain and it's also expected that festival-goers will jump right in.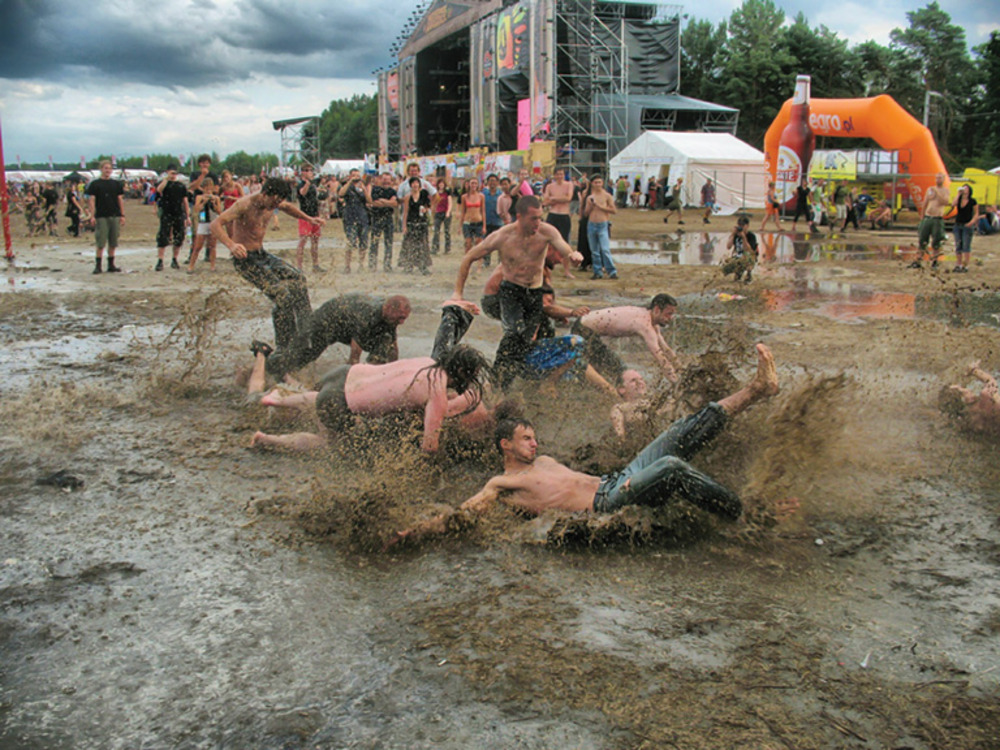 They should have the time of their lives and this group of guys clearly didn't care at all! The more the merrier, right?!