Groom's Unexpected Wedding Day News Leaves Bride Shocked And Confused
Meet Jeff Althoff of Blaine, Minnesota–a budding new groom who orchestrated the surprise of a lifetime for his new wife, Jenna, on the day of their marriage.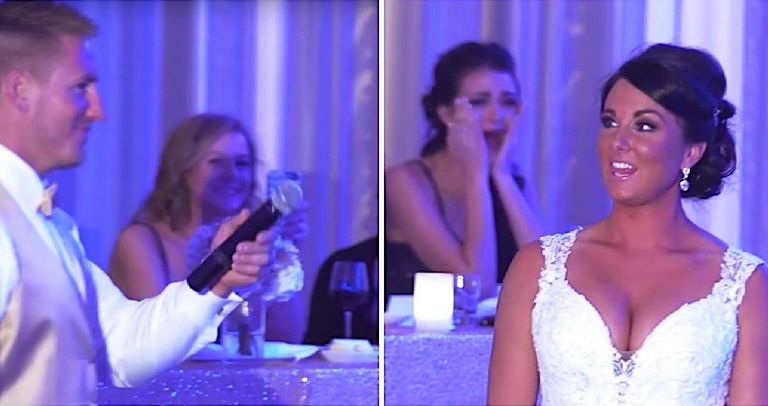 Although Jenna was never a fan of surprises, Jeff's inventiveness left the bride and their guests awestruck and rendered them tongue-tied after he made a surprise announcement. Read on to discover the shocking statement Jeff made and the planning that went into this memorable wedding moment.
Jenna Strikes First
Though our story revolves around Jeff's big surprise, it was actually Jenna who delivered the first surprise of the day!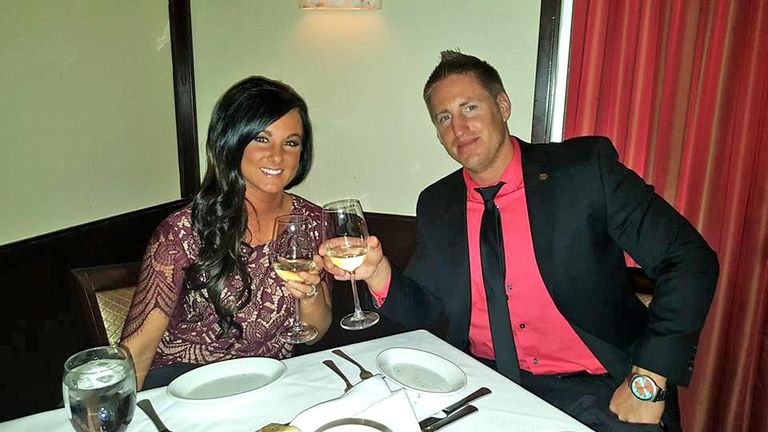 On the morning of their big day, Jeff woke to find a brand new set of golf clubs left to him as a wedding day present from his bride-to-be. What an unexpected surprise–nice one, Jenna!
Unexpected Surprise, Lovebirds!
Pleased with herself, Jenna was delighted to see her gift went over well with her future hubby.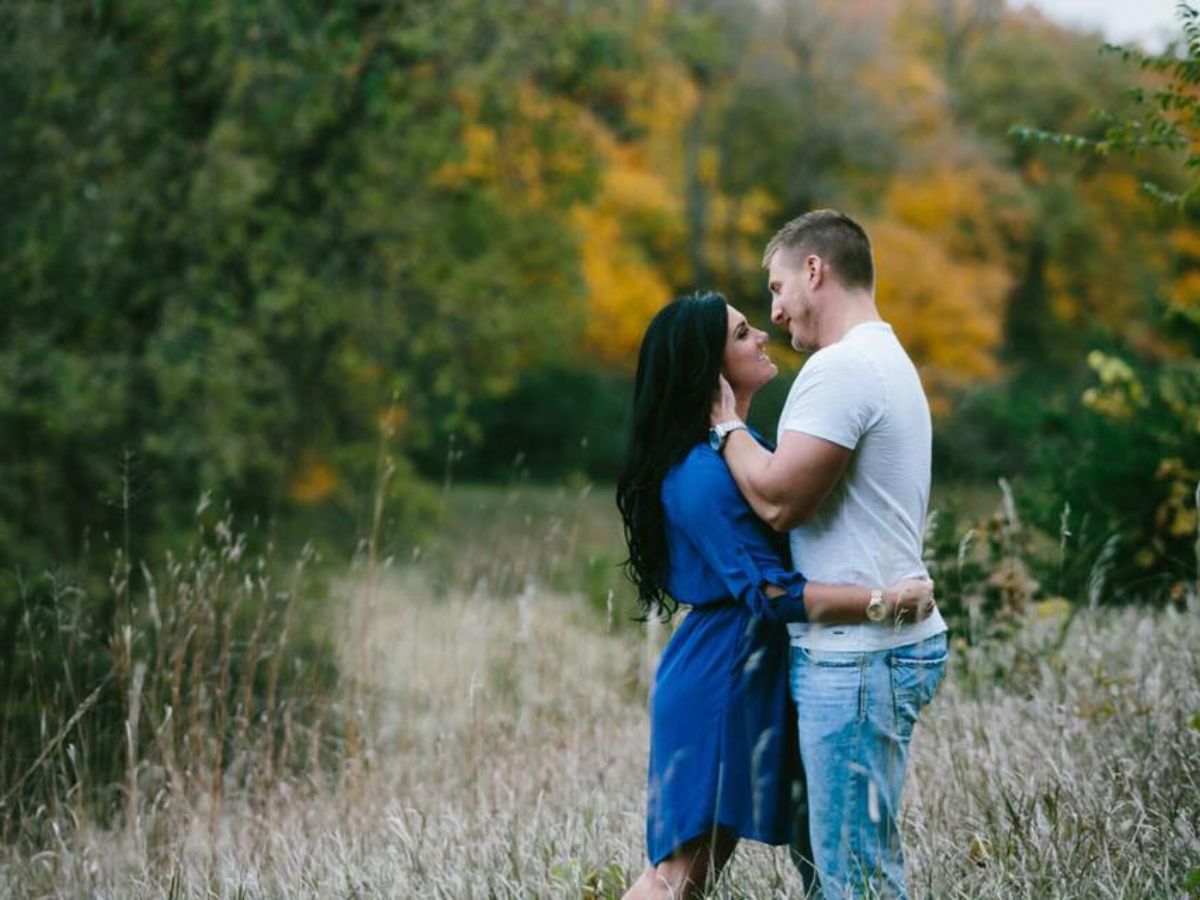 But little did she know, she was in store for a surprise of her own later that day. And this surprise would turn out to be one of the most memorable. It topped the already emotional day even further.
Another Surprise to Come
His new set of golf clubs was just what the doctor had ordered. Jeff couldn't have been happier with the thoughtful gift Jenna so lovingly chose for him. Plus, this was the perfect turn of events for his plans for the day–he would soon be able to match her surprise with one of his own.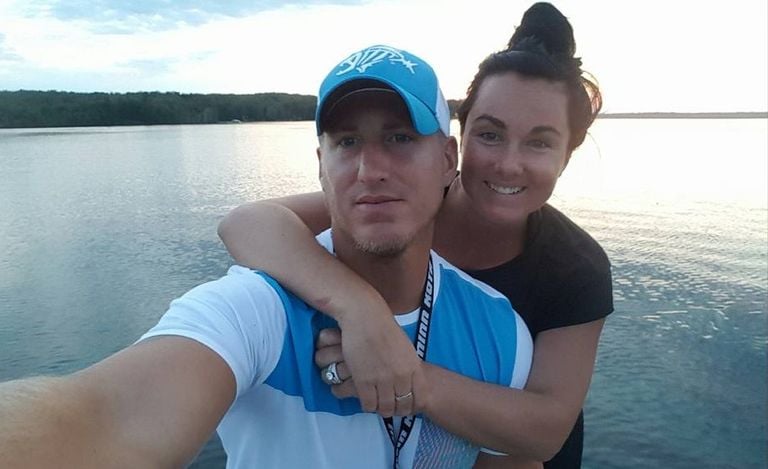 Jenna was entirely in the dark, never for one second imagining Jeff would pull off something even more impressive than the elaborate marriage proposal he had already carried out.
Something Blue, Something Borrowed, Something to... Remember!
Jeff's marriage proposal had all the bells and whistles so you can be sure that any surprise he was planning did not disappoint.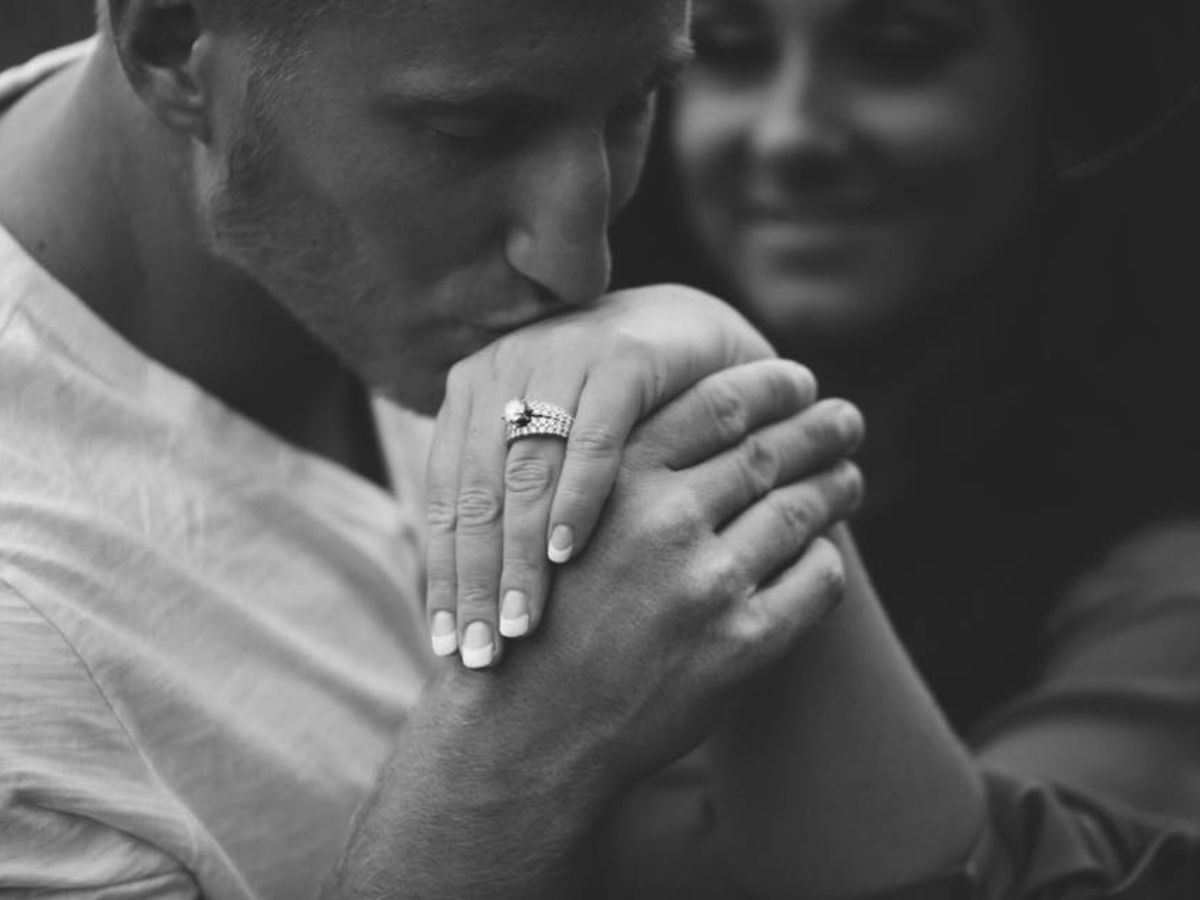 Nevertheless, he was still anxious for his surprise to carry out as planned. This surprise went viral and was viewed tens of millions of times throughout the web so we think it's safe to say he succeeded.
Where It All Began
Let's go back to April 2016, when Jeff took Jenna to a country music concert featuring one of her favorite country musicians, Canaan Smith. This concert was to be the setting for Jeff's extravagant surprise proposal.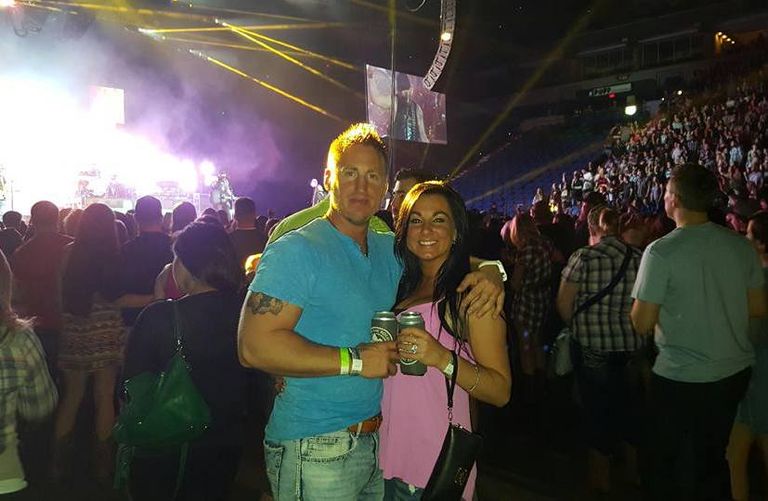 In order to successfully execute his surprise, Jeff enlisted the help of the radio station known as Buz'n (now 102.9 The Wolf). He wanted to make the experience as special as he could for her, and with the assistance of the radio station–he was able to do just that.
Will You Marry Me?
Canaan Smith performed what the couple deemed "their song" during his show. This was already a special moment in and of itself, but things got even better after the song finished. It was then that Jeff brought Jenna onto the stage.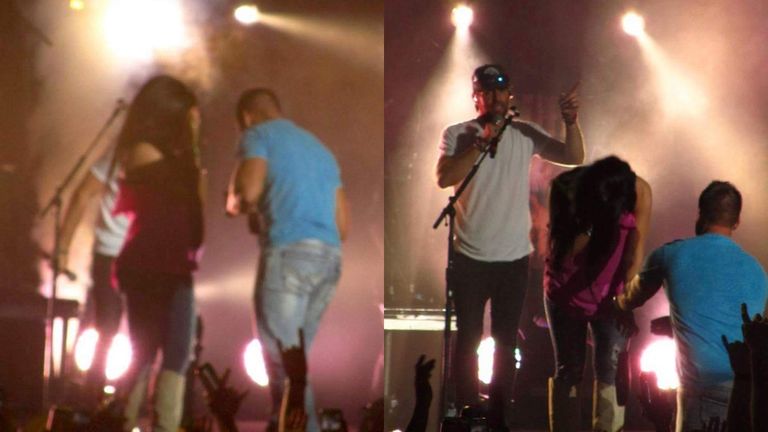 We've all seen clips of wonderful moments such as this unfold at concerts, sports games, and other events, and when Jenna took the stage, we imagine those thoughts were also running through her head. But it could never deter from the specialness of the experience when Jeff uttered those four magic words. And who could have imagined this wouldn't be Jeff's last surprise?
Not a Fan of Surprises
But here's the kicker–Jenna hates surprises! And this was no small surprise–this was a life-changing affair happening in front of a crowd of strangers. That's overwhelming, to say the least.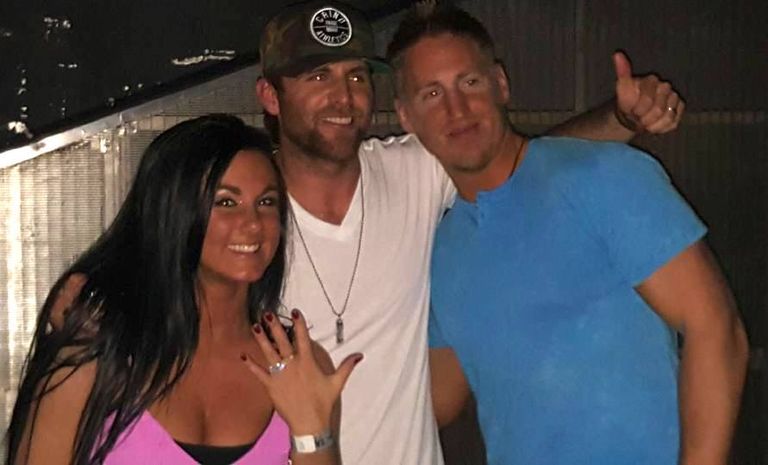 Luckily for all involved, Jenna wholeheartedly accepted Jeff's request and later described it as "THE BEST surprise ever!" So perhaps this was the moment Jeff dreamed up his intention for a wedding day surprise. And maybe Jenna didn't hate surprises just as much as she let on.
Time to Plan
Nearly a year would come to pass before the two lovebirds took a walk down the aisle. That left Jeff plenty of time to concoct the surprise to end all surprises. While Jenna planned the wedding, Jeff planned his shocker down to the very last detail.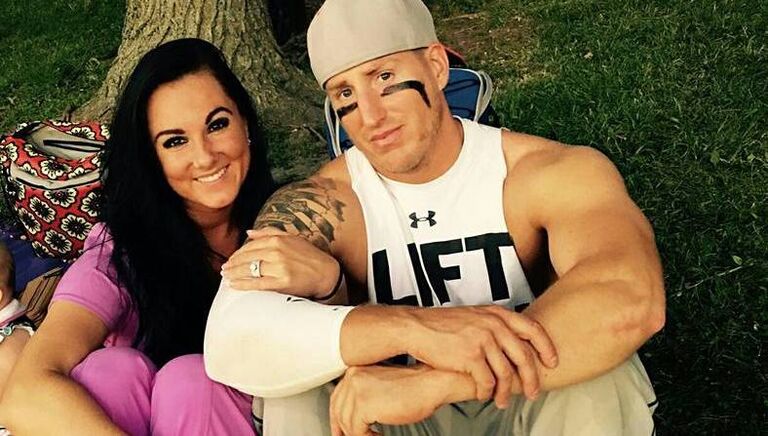 He knew his surprise was something they would want to remember forever, so he hired a film crew to document his plot. When the newlyweds later released the video on YouTube, we all had the pleasure of seeing it too.
In on the Surprise
Cue the big moment: the video cuts to Jeff, our star groom. He's encircled by his loyal groomsmen, looking like the picture of happiness and delivering a wedding speech to them. It's a standard speech–he thanks everyone for being there and taking the time to be part of his big day.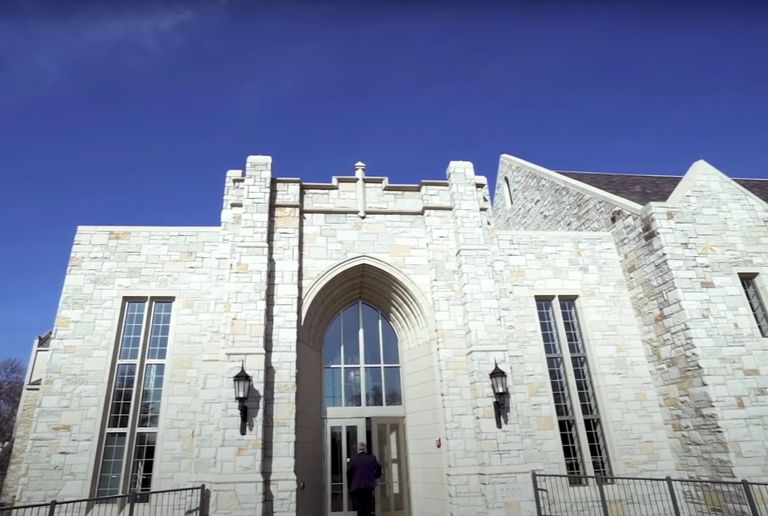 Though the speech is most certainly heartfelt, it's nothing out of the ordinary–yet. But just wait because things are about to get much more interesting. You simply won't believe what happens next.
Curiosity Reigns Supreme
As Jeff wraps up his address to his groomsmen, it's time for the incoming surprise. He informs his buddies he'll now let them in on the big surprise. It's something that Jenna is not going to know about. She won't know about it until she watches the video later. Jeff even described it as "the wedding gift of her dreams."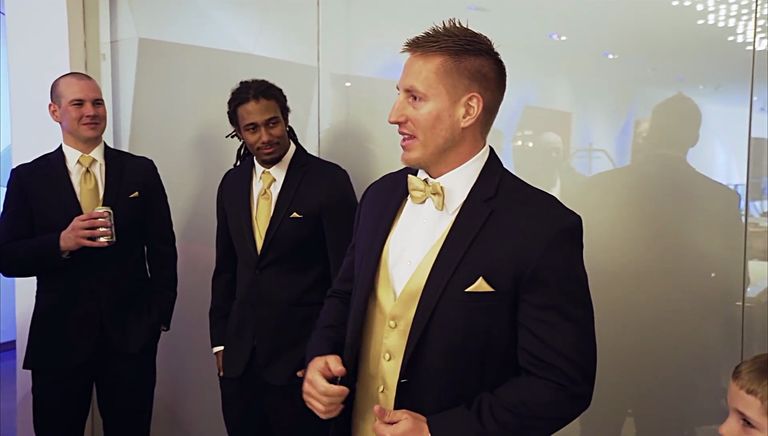 We can imagine the group of groomsmen were exceedingly curious at this point, but they wouldn't have to wait much longer to find out what the groom had planned.
Jeff's Joke
Jeff had led them to the point they all thought would be the big reveal. So naturally, they anxiously awaited the revelation to come. But in reality, Jeff had other plans. The lead-up to the big surprise was not over yet.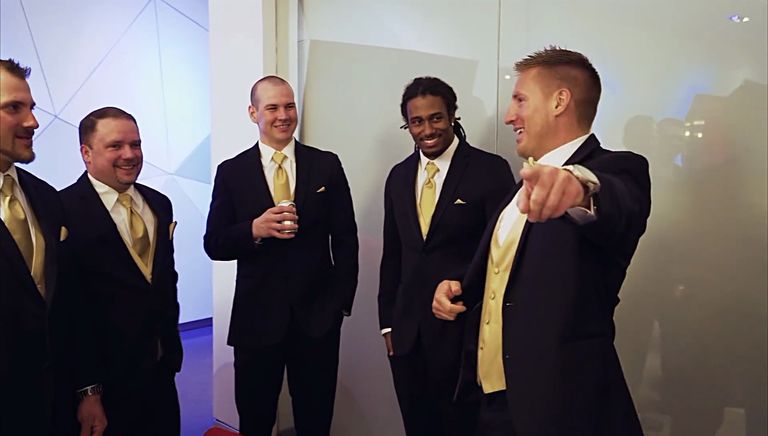 Jeff had fooled them all! He wasn't going to bare his well-thought-out secrets just yet. Maybe the groomsmen thought he was holding out on them, but this was all part of the plan. He left them with a cliffhanger, simply telling them, "stay tuned."
Time to Walk Down the Aisle
Following the viral success of Jeff's video announcement, it's no surprise the couple caught the attention of various publications wanting comments from the two. Jeff revealed to Inside Weddings magazine that Jenna had been nothing short of amazing to him and deserved her dream gift.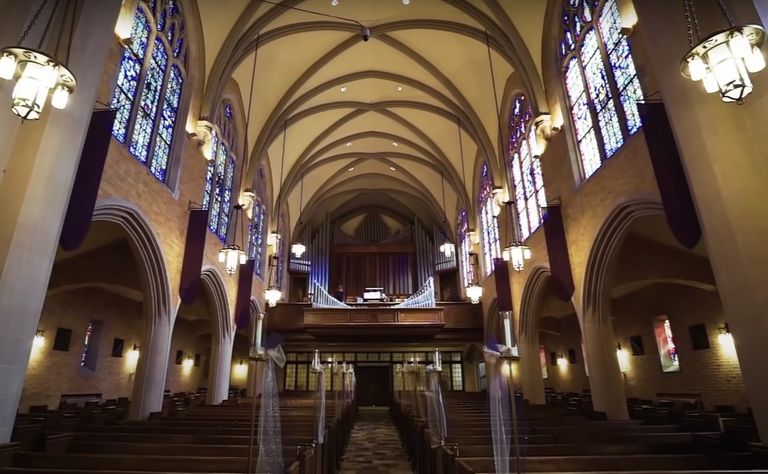 But before the big gift reveal came to pass, first things first–Jenna and Jeff had to have their fairytale wedding ceremony. It was a picture-perfect affair, almost a year in the making.
A Flawless Ceremony
Like many couples on the day of their wedding, these Minnesota natives had a videographer on-site for the day. Everything was captured on tape to be watched many times in the future and reminisce on their beautiful day.
The twosome wed in a grand and picturesque church before all their loved ones. They couldn't have asked for a better ceremony. Everything went smoothly and according to plan. It was a beautiful sight to behold. But, with everyone's focus on the pair at the altar, a shocking surprise was the last thing on anyone's mind.
On Schedule
A wedding day is a notoriously busy day packed with all the customary traditional procedures we know and love. So after Jenna and Jeff had said their "I do's," marking the huge milestone in their lives, it was time for the next adventure of the day.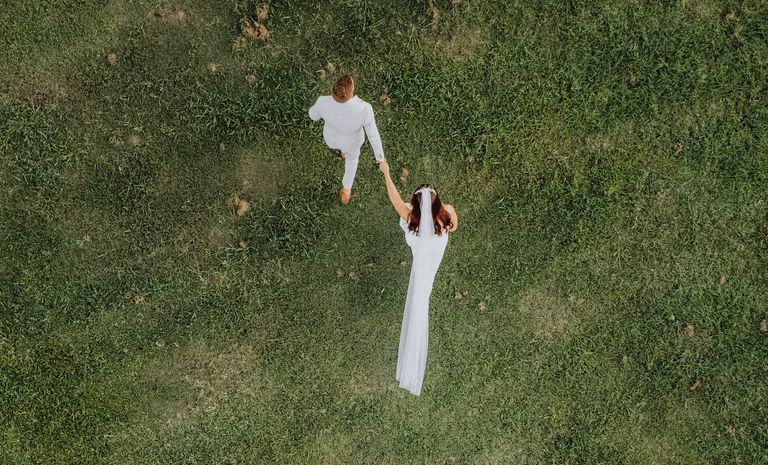 They exited the church as husband and wife. Jenna shared a sweet moment with her grandmother on the way. Yet, in all her post-ceremony bliss, Jenna couldn't fathom there was something so unexpected still in store for her.
Photo Ready
We're all familiar with the typical wedding day schedule, so that means it was now time for the wedding pictures to be taken. So the couple set off to the photoshoot knowing–as all do–this can be quite a tedious part of the day's events, but important nonetheless.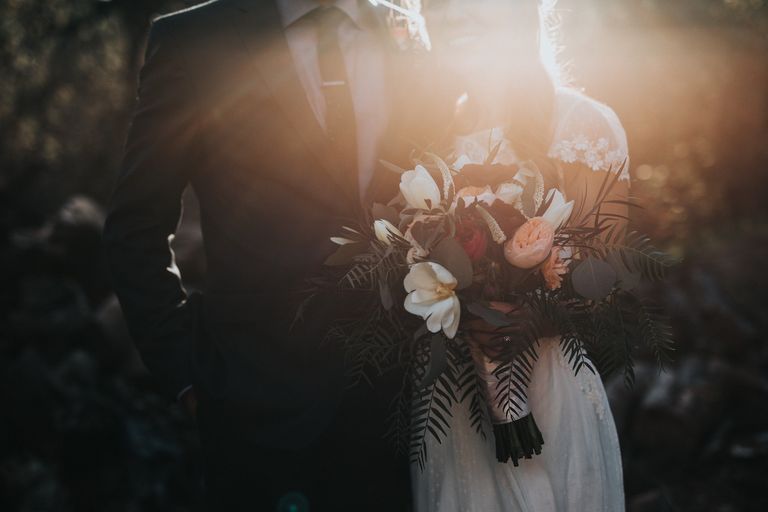 There can be a lot of downtime during a wedding photo session, and we imagine it was around this time that Jeff began to feel some pre-surprise jitters. After all, he was about to divulge the biggest news of the day. It must have been hard to keep it in!
Eat, Drink, and Be Married
Jeff had to continue to hold in his excitement and readiness for a while longer. Because what comes after the ceremony and the photos? The reception, of course! The reception is when everyone can let loose and relax–sharing dances, having drinks, and eating all the goodies from the wedding menu.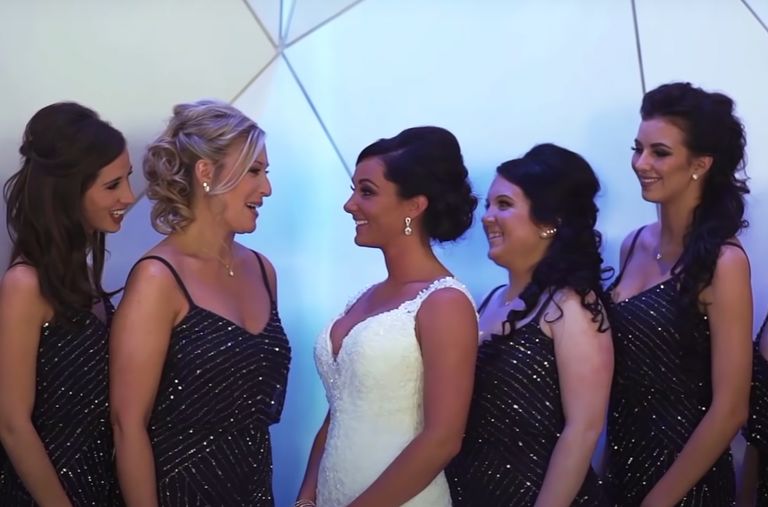 The video from the reception shows everyone having a wonderfully grand time. But it's not time for the speech part of the evening just yet. Sorry, Jeff–not so fast. Remember, good things come to those who wait!
Having a Good Time
We mentioned everyone was having a great time at the reception, case in point is this jubilant wedding-goer pictured. He really knows how to have a good time!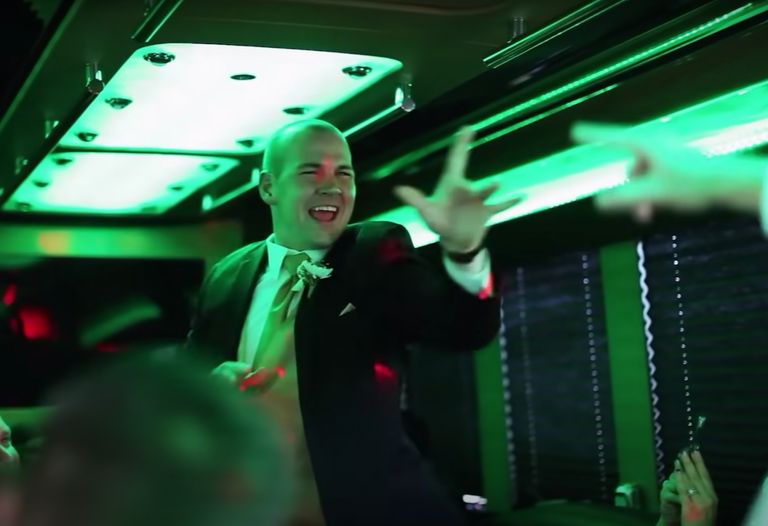 As this fellow danced the night away, thoughts of executing the surprise began to brew in Jeff's head. He decided it was finally time. He was a ball of nerves heading to the stage, confident in his course of action but rather on edge nonetheless. As he stepped on stage, he reached for the microphone–this was it.
Prepping the Big Reveal
If we had to guess, guests and wedding party members alike probably did not sense anything unusual as Jeff launched into his speech. He started off by thanking everyone for joining them and celebrating with them–just as he had started his speech to his groomsmen. Maybe the groomsmen got the hint something big was coming.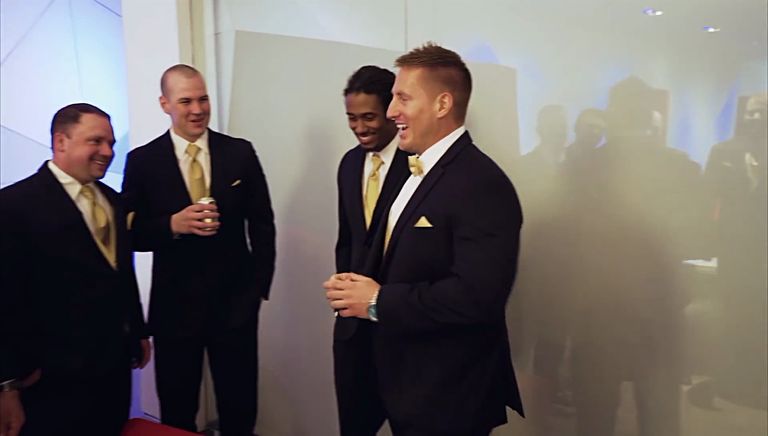 Then Jeff admitted he was nervous, which was not just a bit of stage fright. He explained he had a big surprise for Jenna, and she knew nothing about it.
To the Dance Floor
After his bold announcement, onlookers were still oblivious to what this big surprise might entail. Jenna was surely brimming with curiosity and perhaps anxiety since she had an open disdain for surprises. Jeff then led his new bride out onto the dance floor.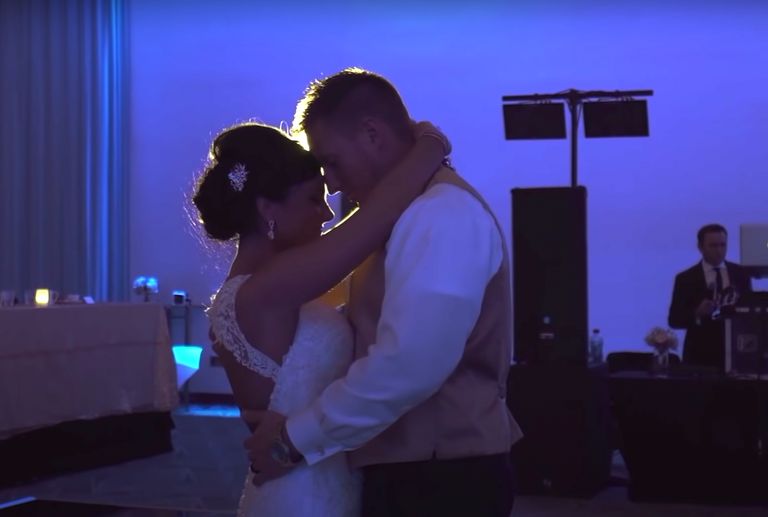 There they were–the center of the dancefloor and the center of everyone's attention. What could this all be leading to? At that moment, as they danced together under everyone's watchful gaze, the mystery seemed like it would never end.
Holding Out
And indeed, it didn't end! This was not to be the moment Jeff revealed all. He wanted to hold out a bit longer–it was all part of his plan. He was creating an air of anticipation, and the feeling of excitement and wonder in the room was palpable.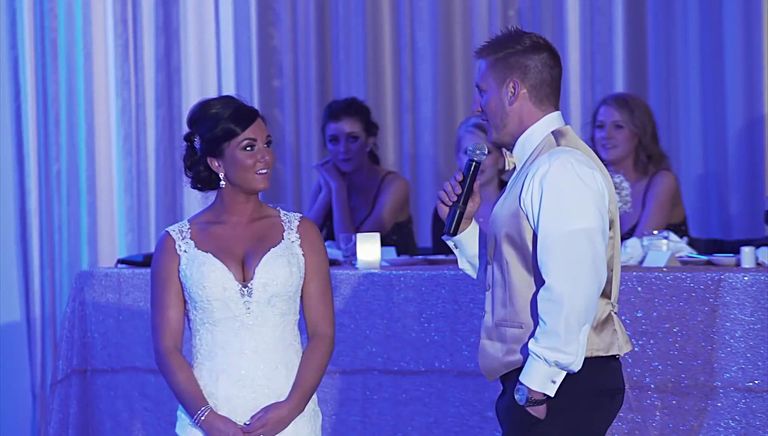 Jeff continued talking, praising Jenna's wedding day beauty and pausing for the obligatory applause he knew would come after each compliment. But just how long was Jeff going to keep this ruse going?
Joker Jeff
Perhaps Jeff could sense the eagerness of the crowd because he soon launched into the real matter at hand–his big surprise. Jeff faced his bride and told her he had wanted to give her something extraordinary for their wedding.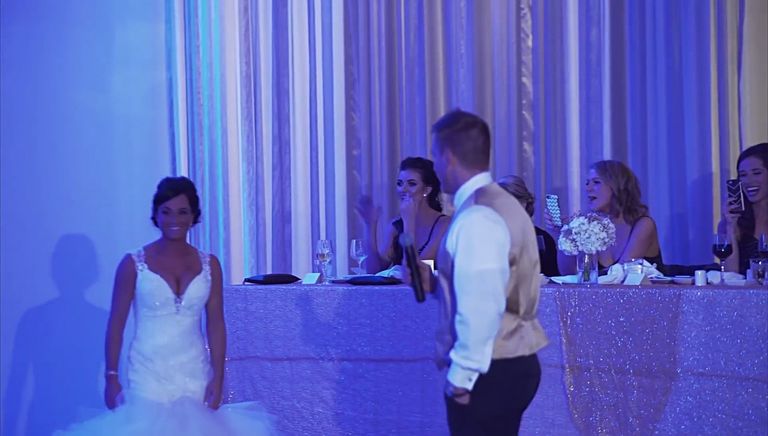 He cracked a few jokes assuring her it wasn't something to do with his interests like hunting or fishing, but rather it was a gift all about her. Though that didn't narrow it down much, at least Jeff was cluing in the ready crowd. He even went as far as to tell Jenna it would be "everything that you want." What could it possibly be?
A Confused Bride
Then comes a rather oddly worded question from the man of the hour. Jeff again turned to his bride, this time asking: "Would you agree with me that the last few hours have been the best hours of your life as a family of two?"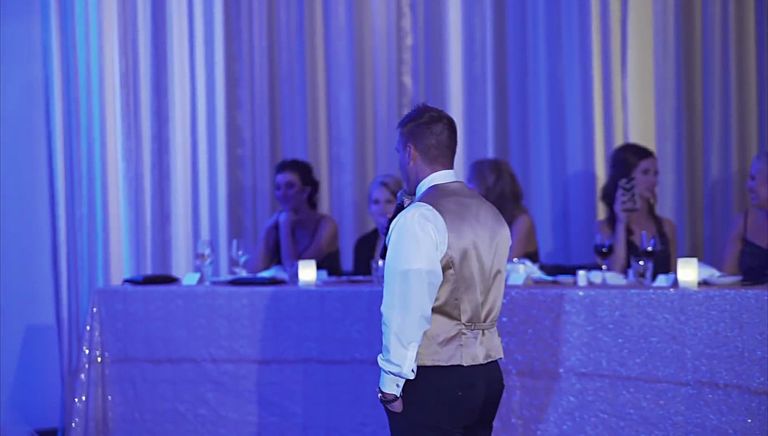 Not surprisingly, Jenna was visibly puzzled by the strange phrasing her husband had used. Nevertheless, the answer to the question was, of course, a resounding "yes," so she nodded in agreement.
A Big but Strange Announcement
The next words that left Jeff's mouth left everyone aghast, most notably and understandably–Jenna. Jeff proceeded to announce he was proud to let everyone know his new family had become a family of three!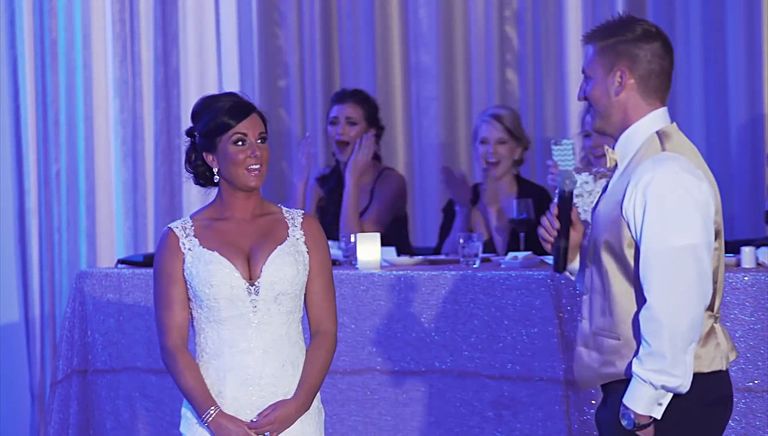 Now with a statement like that, those in the audience were undoubtedly imagining the new couple was expecting a baby. But that doesn't account for the alleged surprise for Jenna. Of course, Jenna herself knew she was not pregnant. So what in the world was all this?
Now a Family of Three
Confusion took hold of the room. Friends and family looked around at each other desperate for an explanation, while Jenna processed the words again. "We have become a family of three." What was Jeff playing at? Three?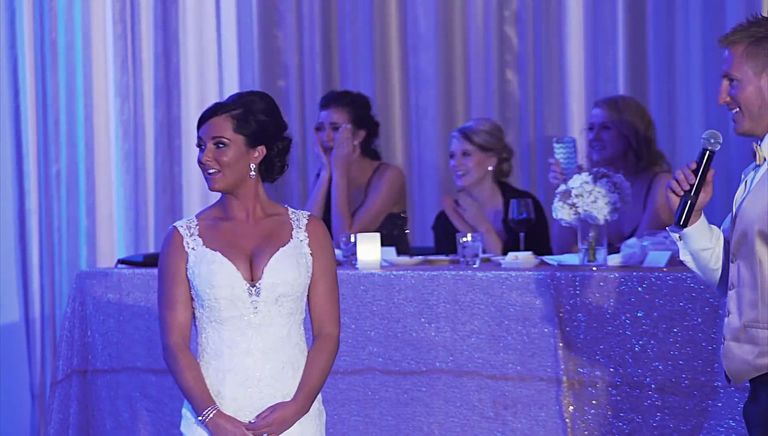 Suddenly murmurs began from within the crowd, and bouts of light applause broke out. At the table behind Jenna, the looks of confusion on her friend's faces turned to those of shock–they were the first to see the truth behind Jeff's grand surprise.
The Truth Is Discovered
More and more people were beginning to take notice of what only a few had seen at first. Jenna still stood there in confusion until the unrest from her guests was noticeable. The delight of the crowd had finally caught Jenna's attention. She wondered why they were all staring in one direction.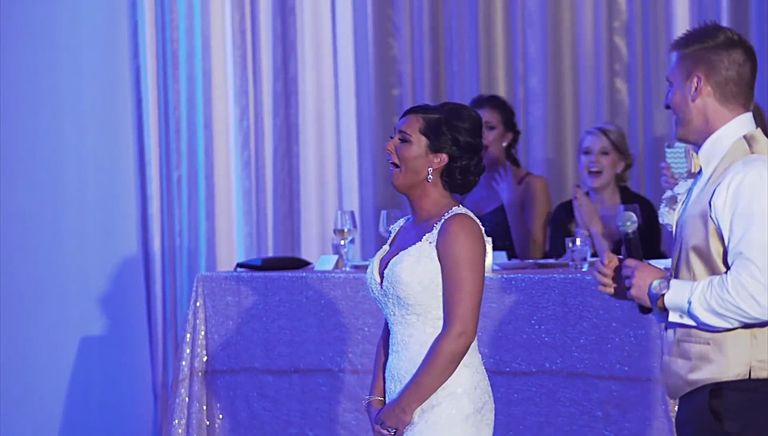 She cautiously began to turn her head–things were about to come into focus now. Then, she saw it–her wedding surprise had finally been revealed! Upon seeing her reaction, the room broke out into a deafening round of applause. 
Holding On Tight
So, what kind of surprise could cause such a massive reaction from the bride and guests alike? Watching a playback of their wedding video reveals a woman approaching Jenna, clutching a bundle tight in her arms.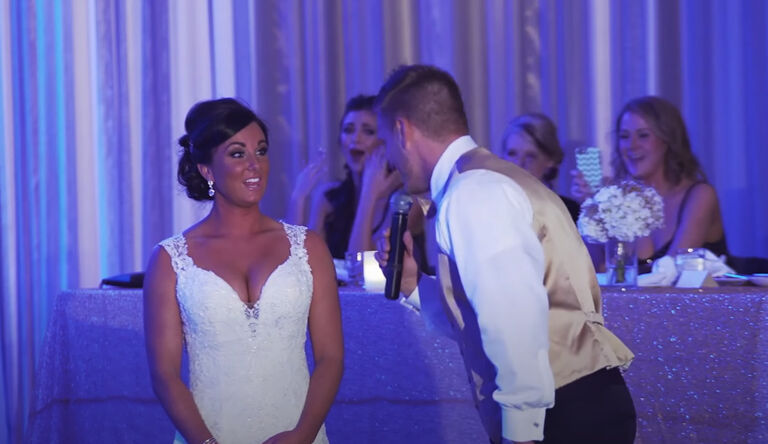 From afar, what she's holding can't quite be made out. However, based on Jenna's response, we know it's something special right away. Jenna's big wedding surprise is gently transferred into her arms, and she holds it close with a look of love in her eyes. 
The Big Reveal
Jenna's big wedding surprise is gently transferred into her arms, but not before Jeff lovingly makes a sweet observation with the audience that she is the most beautiful bride he and the crowd have ever seen.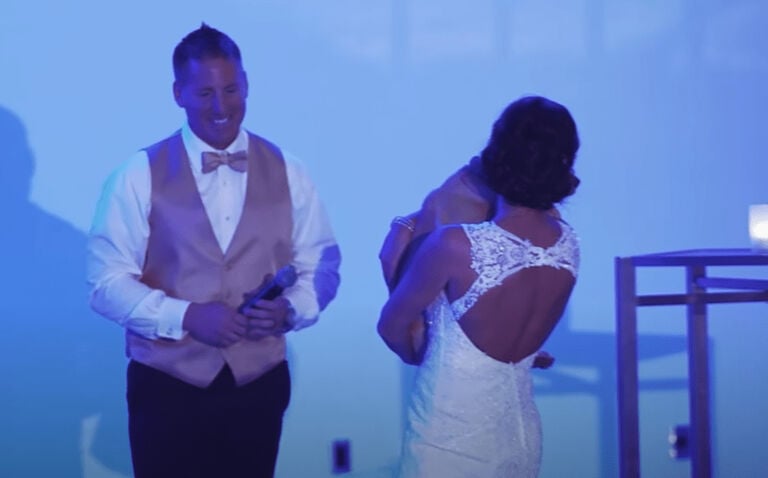 He compliments Jenna in a way that makes it known that he is happier today more than anything. Jenna does can't fathom what is going on, unsure about what is coming next.
Starstruck in Disbelief
Jenna holds what is then placed into her arms close to her chest with a look of love in her eyes as she realizes what the surprise finally is. She is definitely starstruck from what we can see.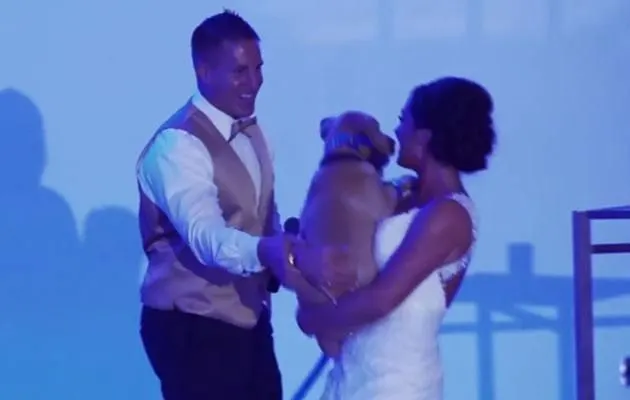 Both Jeff and Jenna can be seen with an overwhelming level of happiness on their faces. It feels like a level of euphoria that fairytales are made of.
Dog Mom
A brand new puppy to call their own–the third member of their new happy family! Jeff's crazy antics all made sense now as Jenna held onto the pup tight, never wanting to let go.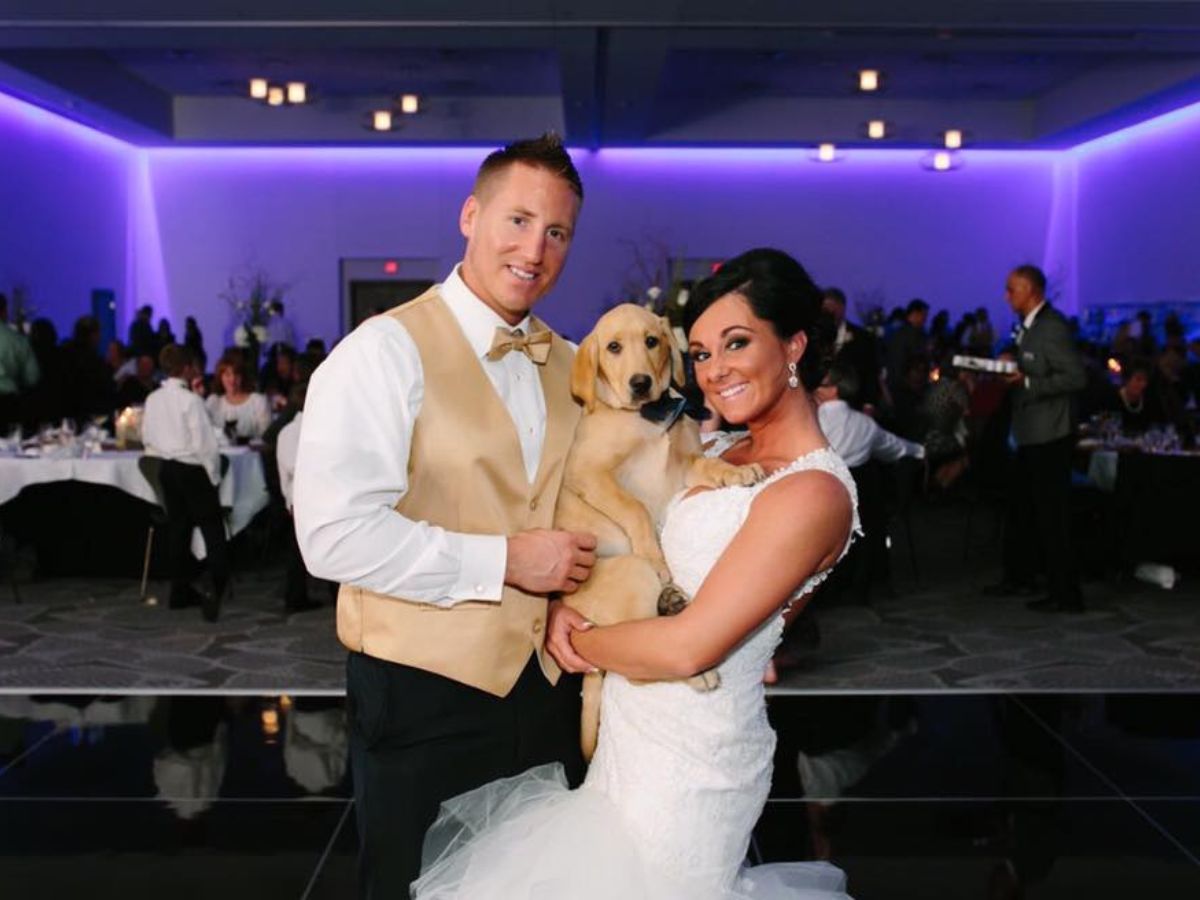 Jenna was thrilled, but she wasn't the only one! All the guests were swooning over the cuteness of the couple's "new family member." 
Pet and Repeat
A line formed as guest after guest wanted to give the little guy a cuddle and a pet, this little girl is no exception. It may have been Jenna and Jeff's wedding but this brand-new pup seemed to have stolen the hearts of everyone at the venue.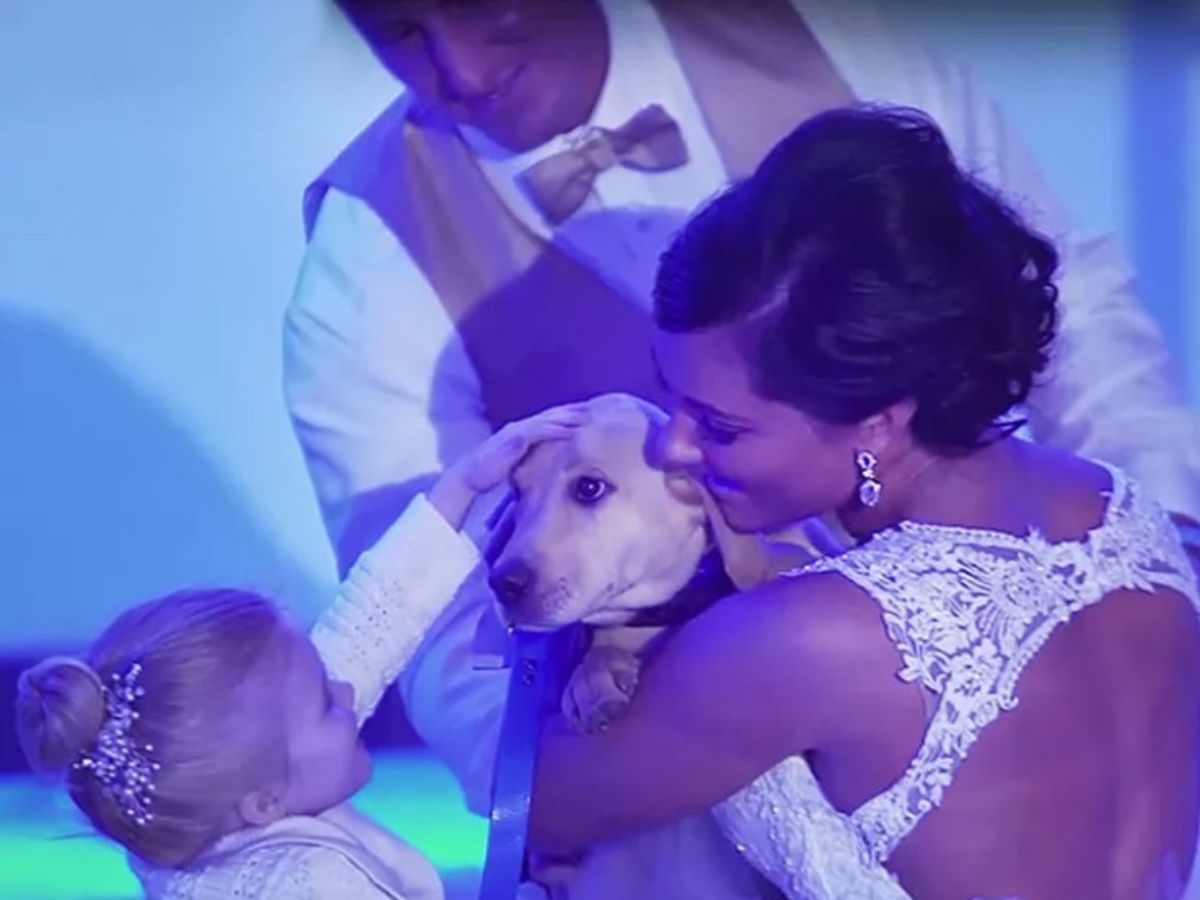 There was not a dry eye in the house from all the sweetness and thoughtfulness of it all.
Their Story Hits the Net
With a video of their adorable puppy and surprise wedding reveal–it's no wonder this newly wedded couple's story went viral. It has all the delightful elements of a true feel-good tale that all can enjoy.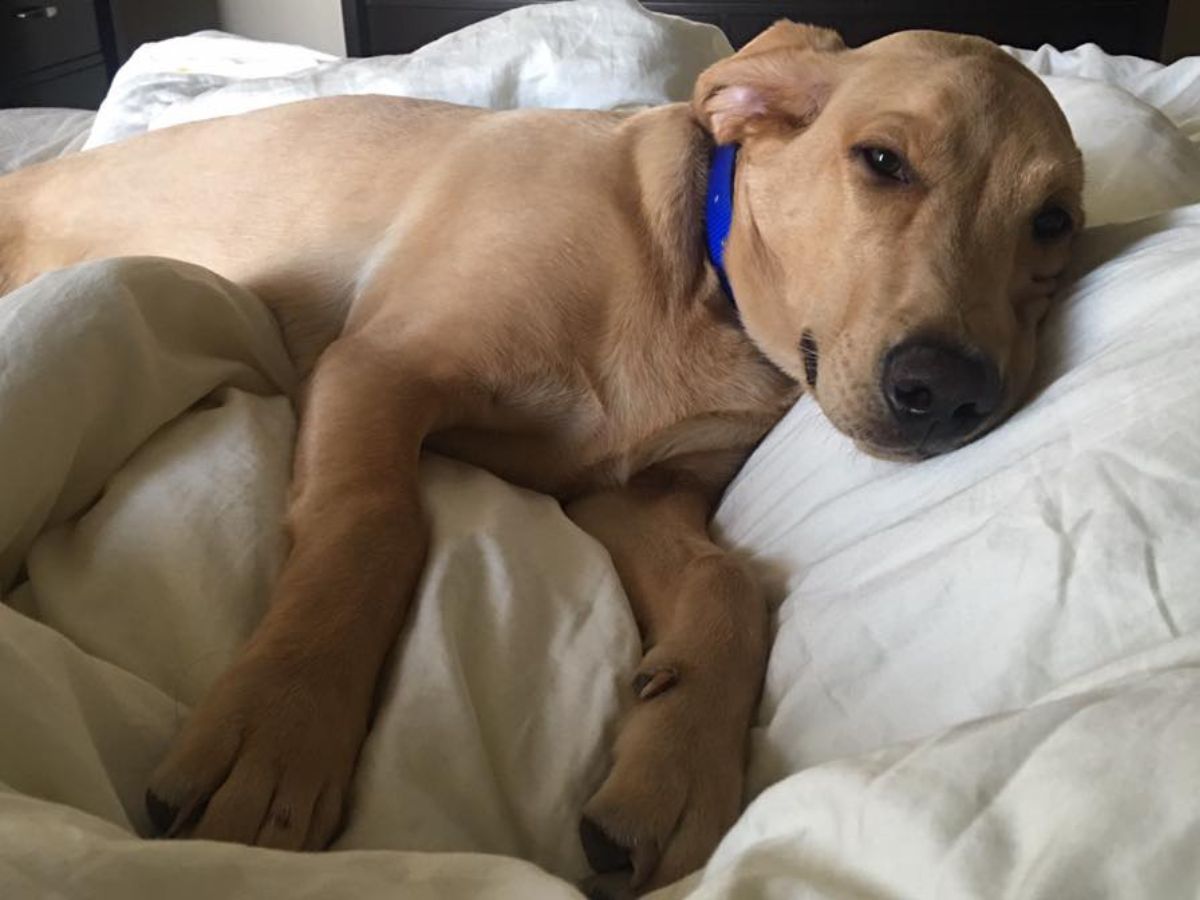 Since its debut on YouTube, the video has been viewed an astonishing 4.7 million times, receiving thousands of likes and hundreds of heart-warming and encouraging comments wishing the couple well. We can all count ourselves lucky that Jeff had the foresight to capture this special moment on video. 
Capturing Fleeting Moments
We can all count ourselves lucky that Jeff had the foresight to capture this special moment on video. With a moment like this, you can't help but want to rewatch the events unfold.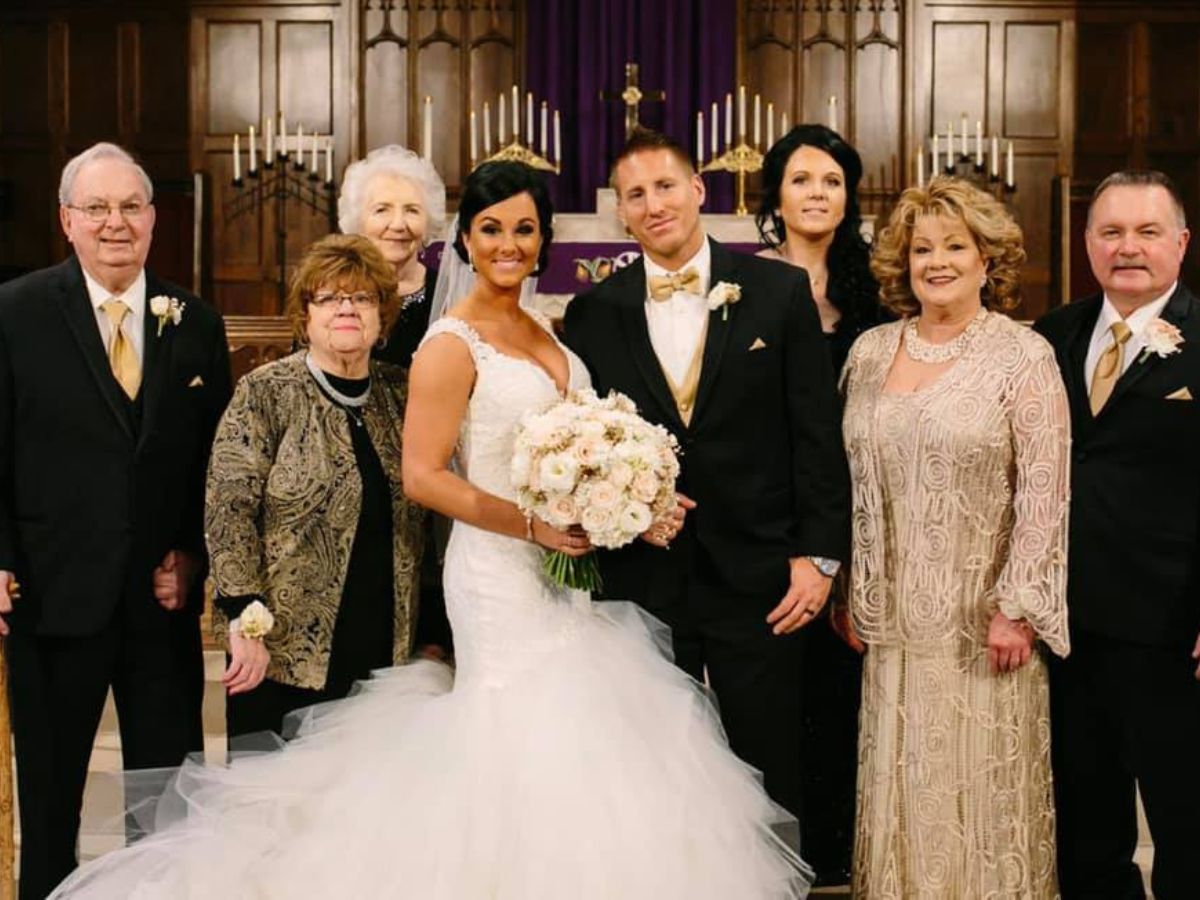 Who wouldn't want their wedding thoroughly documented like this? Especially one as action-packed and exciting as getting a new pet to make this new family official.
Filled With Joy
There was an outpouring of positivity in the comment section of the video. It appears people the world over were absolutely tickled by Jenna's wedding surprise.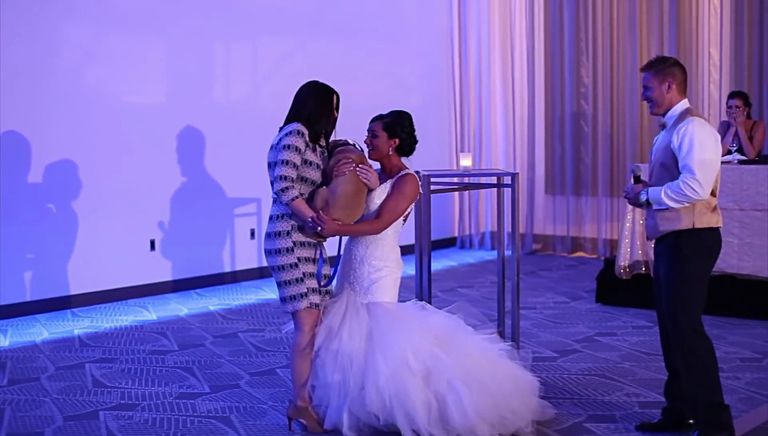 Most comments are filled with a combination of compliments for the beautiful bride, congratulations for the groom's clever idea, and of course, lots of love for the sweet pup. Jeff had certainly done himself proud. 
Life Goes On
Let's not forget all the lucky guests that got to witness this fantastic surprise in person! Sure, it was Jenna's big day, but it was a great feeling for the wedding guests to be a part of something so unique and memorable. We doubt anyone that was in attendance will forget Jenna and Jeff's big day anytime soon.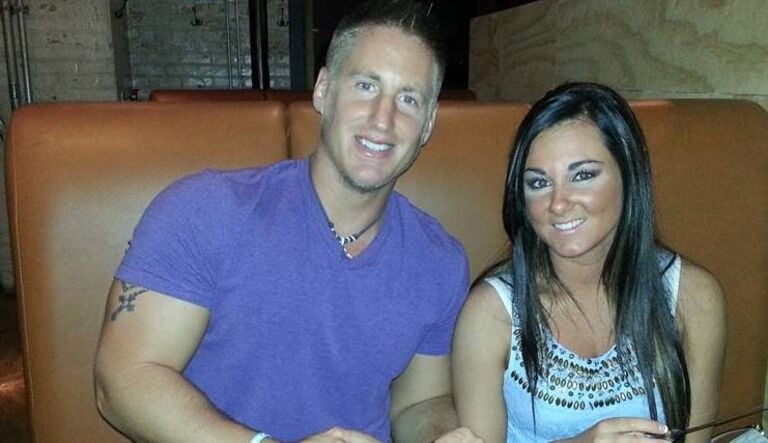 The Now Seasoned Married Couple Continue to Recall Their Happy Memories of That Day as Time Passes. They've Always Got Their Hit Video to Bring Them Back to the Moment.
Where Are They Now?
Big question answered–yes–they still have their little bundle of joy from that special day! The handsome pup, who was maybe the biggest little star of the day, is known as Bear. Bear is not little anymore, by the way. He's a full-grown "good boy" and now a big brother!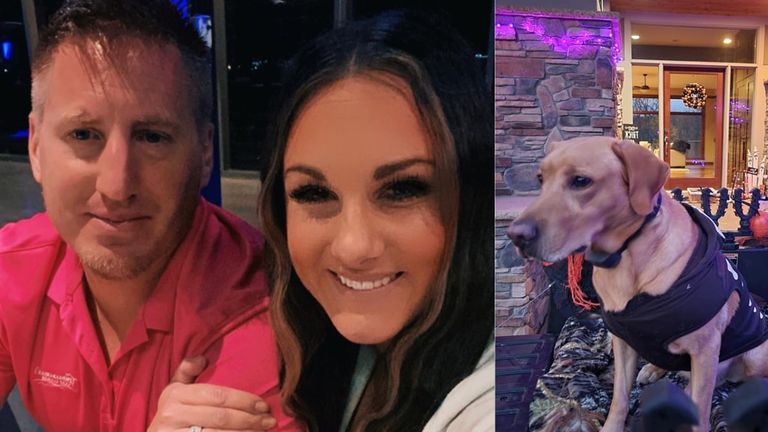 They are no longer the new family of three from the day of the wedding–some new little ones have entered the mix. And not those of the canine variety!
Storybook Ending
That's right, Jenna and Jeff now have two children together, and sweet Bear has become an honorary big dog brother. We're sure their kids will come to know and love the story of the big surprise of their parents' wedding day.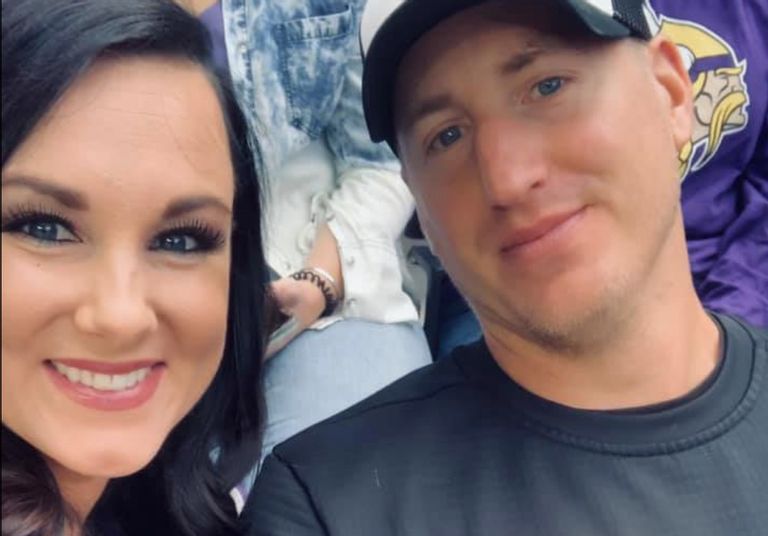 Both at home and the workplace, the couple has been fortunate–perhaps it was the influx of well-wishes from strangers worldwide that set them up for happiness. We're just pleased to know all continues to go well for this couple.