Halloween Recipes to Spice Up Your Holiday Party
Halloween is one of the greatest opportunities to try some fun new recipes in the kitchen. There are so many options to pick from! If you're not a natural chef, don't worry. These recipes are quick, easy, and fun to make. You'll be the host with the most when you whip out these impressive treats on Halloween! Check these out and try them yourself at your Holiday party.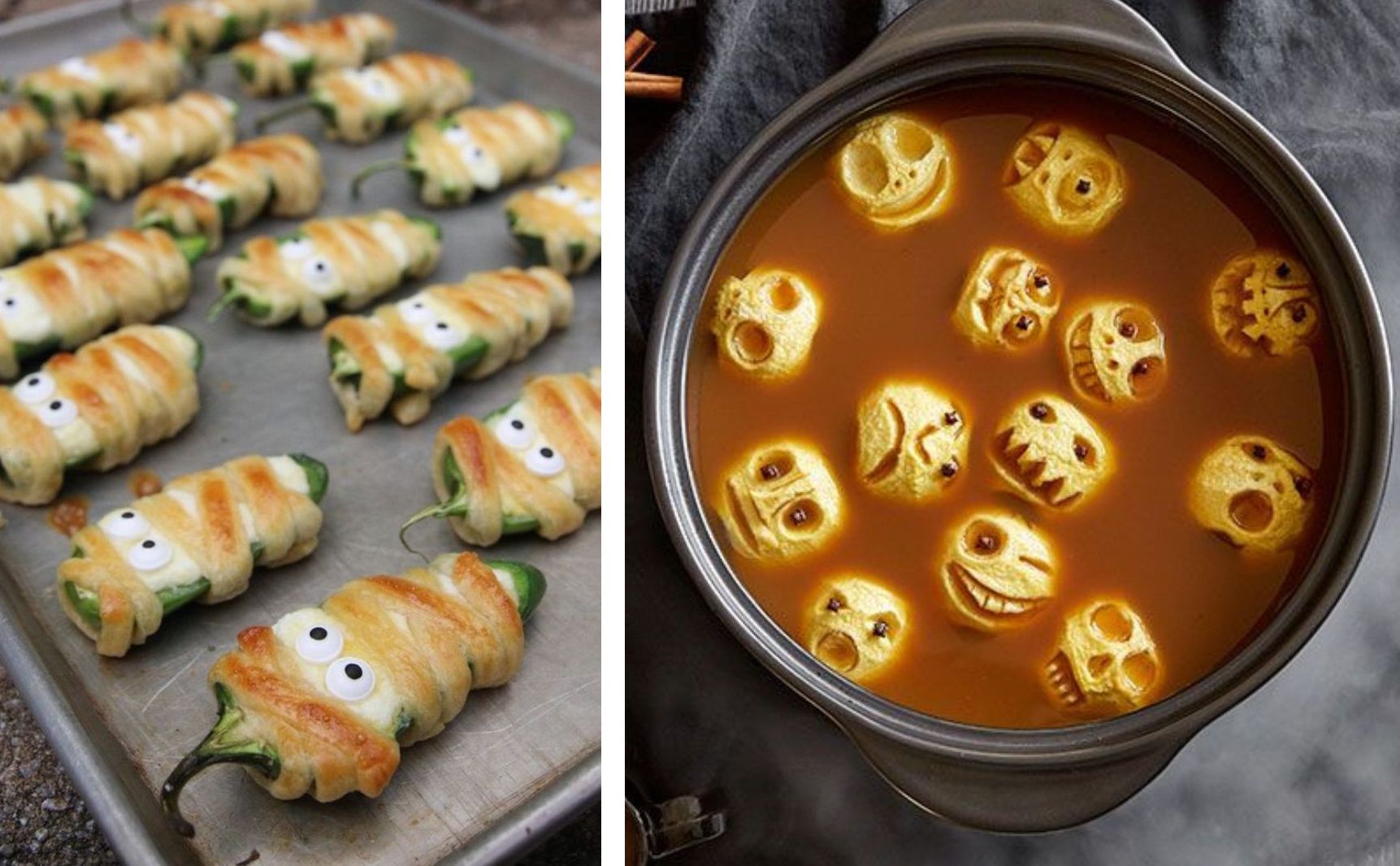 Chocolate Pretzel Spider Webs
This is a simple recipe that will have all of your guests impressed! Melt down some chocolate; You can use white chocolate, regular, or both. Fill a piper with the chocolate. Organize your pretzel sticks into a web formation and then start piping the chocolate!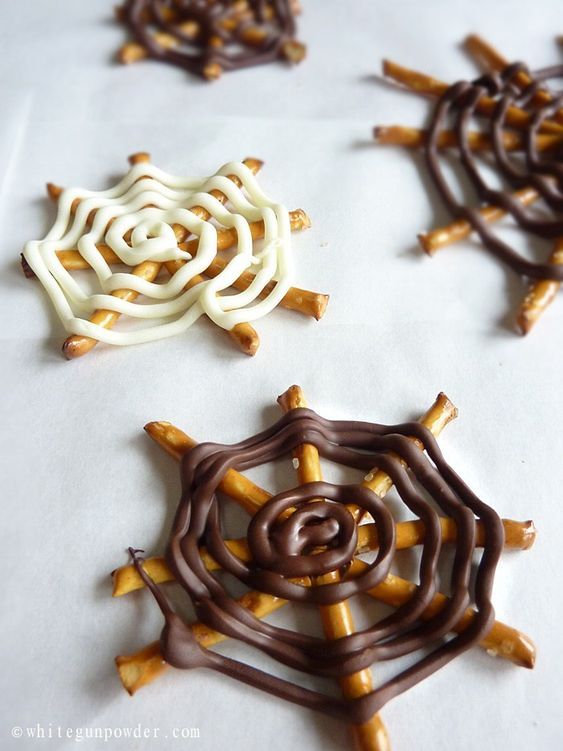 Begin in the middle and go around in circles until you have the perfect spider web! Wait for the chocolate to harden and you have a sweet and salty treat that looks amazing.
Ghoulish Strawberries
These spooky strawberries are a quick recipe that you can make using some of that extra white chocolate. Melt down the chocolate in a bowl and dip the strawberries into it. Dip the strawberries so they are about ¾ of the way covered, leaving the tops free of chocolate.
Rest your strawberries on some parchment paper and allow the white chocolate to dry. Then, add little eyes and a mouth and you have cute little strawberry ghosts that taste delicious.
Jalapeño Mummies
These stuffed jalapeños are a perfect aesthetic snack for your party. Slice the peppers in half and stuff them with whatever you want: cheese, chicken, onions, etc. Use strips of puff pastry to wrap around the peppers and stick them in the oven.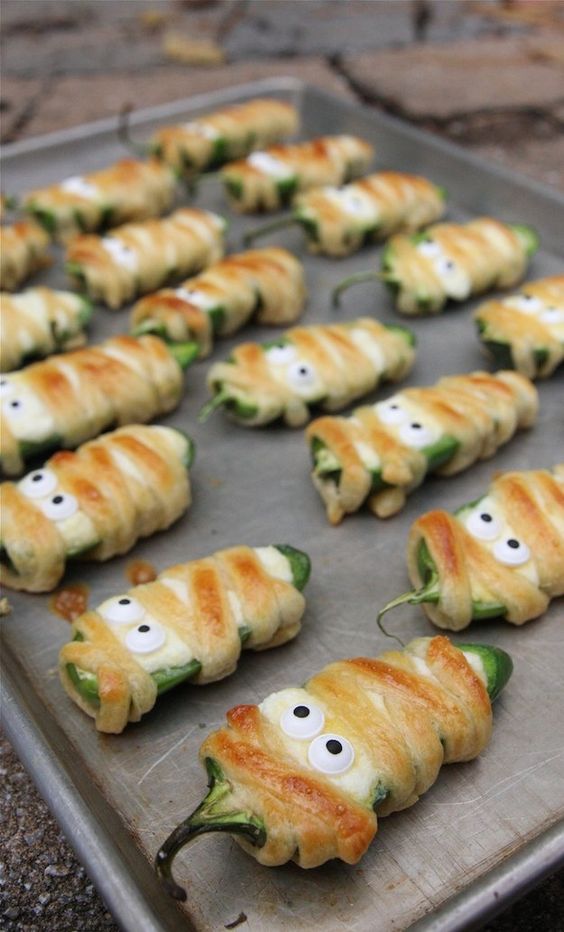 When they come out, give them some time to cool down and put little candy eyes between the "mummy wraps". If you don't have candy eyes on hand, just use some black olives! 
Spider Cookies
If you're in a rush to make a spooky snack for a Halloween party, this one will come in handy. All you need is some cookie dough, candy eyes, chocolate frosting, and some Reese's Cups. Cook any kind of cookie and let cool.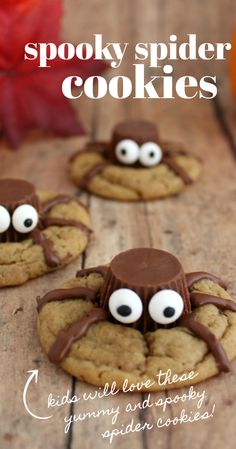 Add stripes of chocolate frosting to the cookie, starting in the middle to make the legs of the spider. Plop an upside down Reese's Cup in the middle and add two candy eyes to the front of it. Voila! You have chocolate spider cookies for all to enjoy.
Graveyard Dirt Cups
Kids are sure to love this creative holiday snack. Add chocolate pudding to a cup (you can make your own or just purchase from the store). Crush up Oreo cookies by hand or using a food processor to make the dirt on top of the pudding.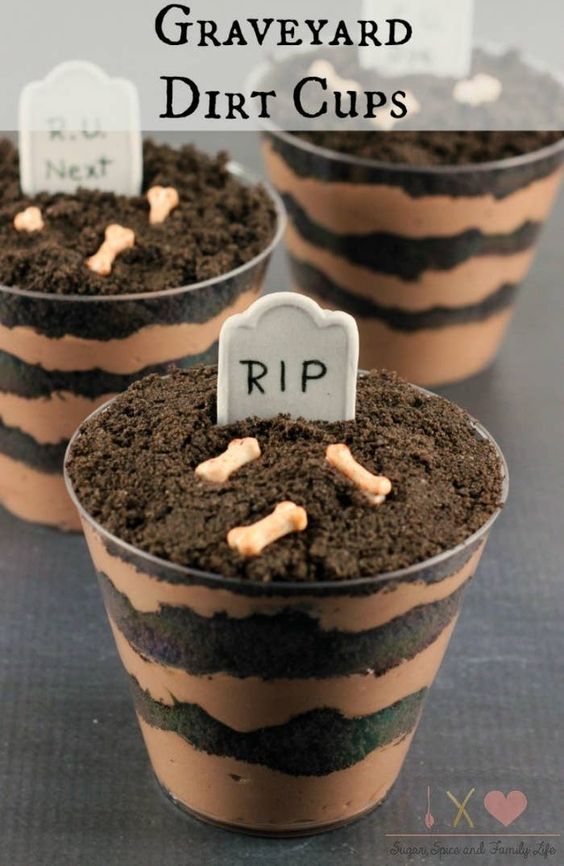 Add a layer of "dirt" on top of the pudding and then add any decorations to the top that you'd like. Some popular options are gummy worms or candy bones. These are a huge fan favorite at parties!
Spooky Spaghetti
Make your favorite spaghetti and then add these toppings to make it a tasty Halloween meal. When your spaghetti is good to go add it to your serving bowl. Cut some mozzarella cheese into slices (circle slices work best) and place them on top of your meatballs across the top of your pasta.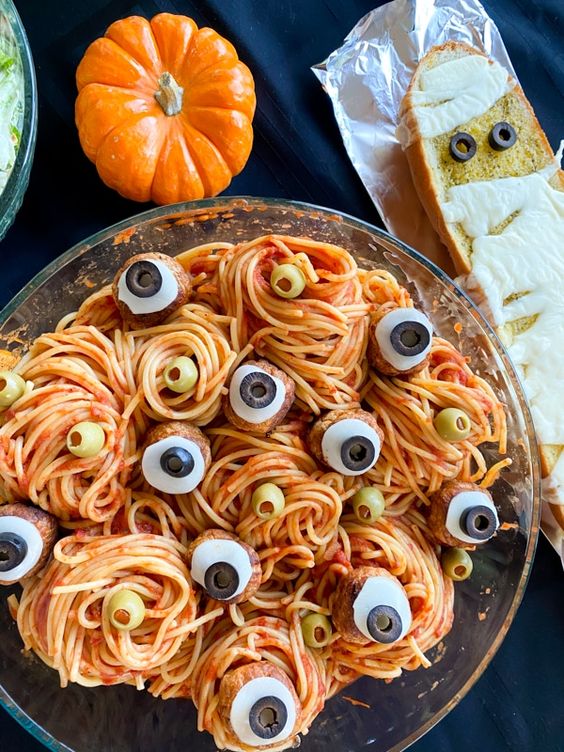 Place a black olive slice on top of each of the mozzarella slices and now you have a spaghetti dish with eyeballs in it!
Monster Burgers
Make your burgers into monster burgers with a few special touches. Cut your cheese into a jagged shape along the edge for teeth. Use a slice of pickle as the monster tongue. But what is a monster without eyes?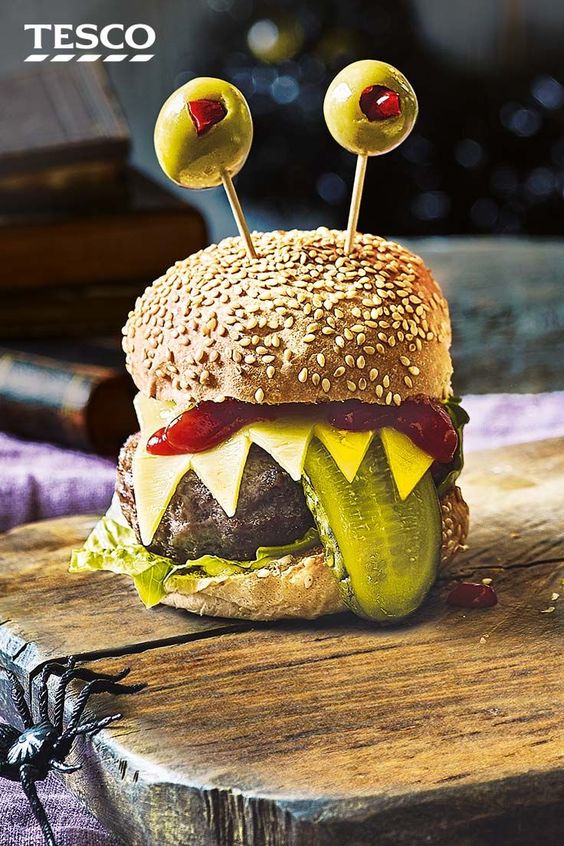 Add green stuffed olives to the tops of toothpicks and stick them into the top bun. Now your regular old burger is spiced up and spooky for the season!
Jack O'Lantern Peppers
Stuffed peppers are delicious, and there's an easy way to dress them up for Halloween. This recipe will turn your orange bell peppers into cute and tasty jack o'lanterns! Cut the tops off of your peppers and scoop them out. Carve little faces into the side of the pepper as you would a pumpkin.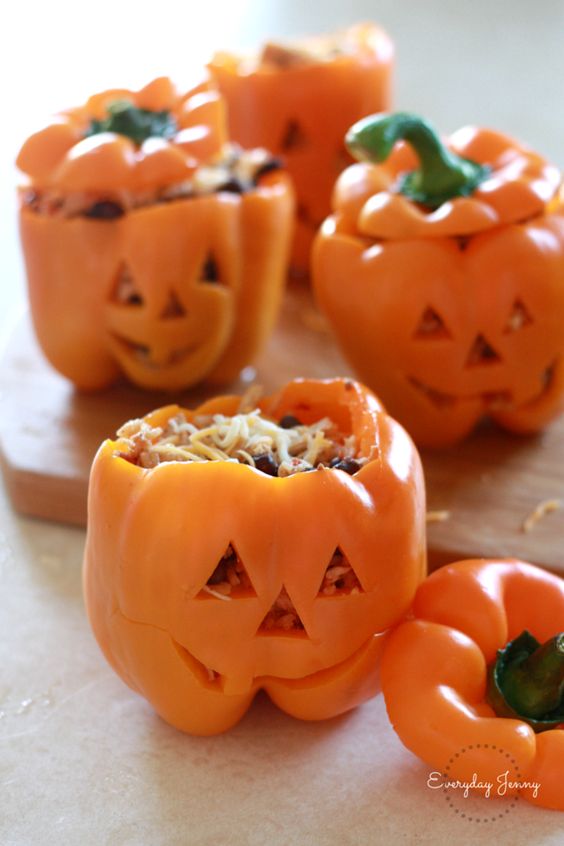 Add anything you'd like to the peppers including chicken, beans, rice, cheese, and more. Cook them in the oven and then replace the lids of the peppers on top.
Mummy Dogs
This one is sure to be a favorite for the kids and it's one of the simplest recipes to make. You only need three ingredients: hot dogs, puff pastry, and candy eyes. Wrap your hot dogs in strips of puff pastry. This will be the "mummy wrap".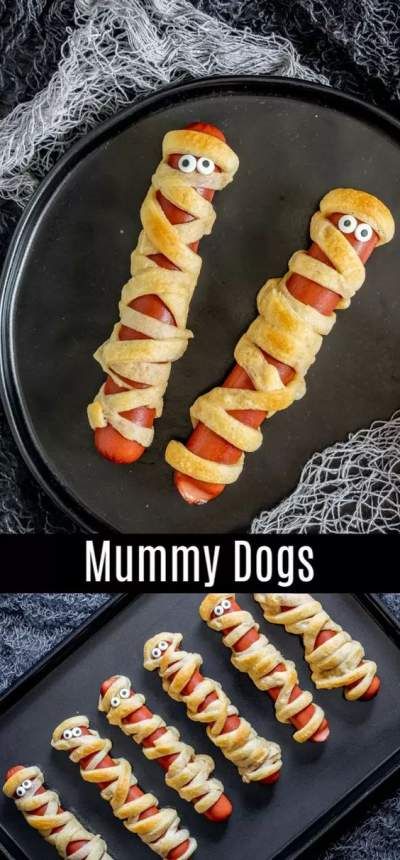 Those candy eyes will come in handy once again! Add two candy eyes towards the top of the hot dog and you're done. This recipe is so fast and will put a smile on your kids' faces!
More Spider Cookies
This is another way you can make spider cookies this Halloween. Make some chocolate chip cookies, or any cookies that you prefer. Let them cool and then melt some chocolate down and add it to a piping bag.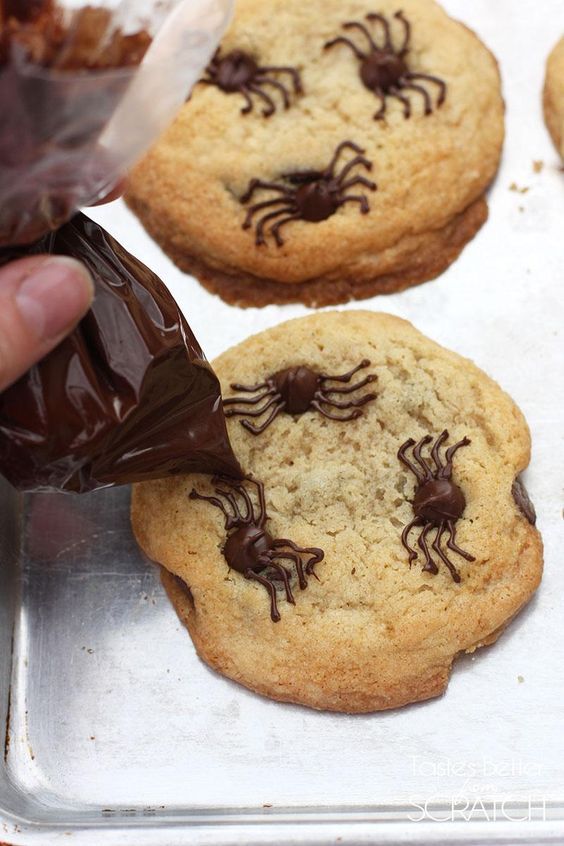 Cut a tiny hole in the bottom of the piping bag so you can make tiny spiders. Push some chocolate chips into the tops of the cookies while they're still slightly warm. Pipe four spider legs coming out of either side of the chocolate chips. Done!
Apple Cider With Shrunken Heads
This is the perfect way to spice up your hot apple cider this year! Pour your hot apple cider into the serving bowl and then add these "shrunken heads" for a spooky addition. Your guests will be so impressed by your attention to detail.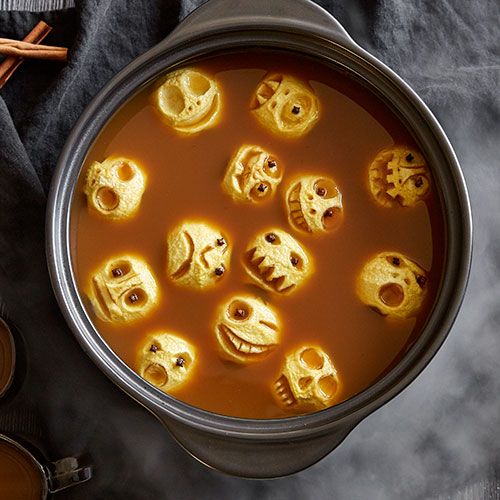 Peel the skin off of your apples and cut them in half lengthwise. Scoop out the seeds and core of the apple halves. Use a paring knife to carve out the faces in your apples and then bake them until the edges turn brown. Place them face up in the cider and you've just stepped up your apple cider game to another level.
Watermelon Jack O'Lantern
Pumpkins aren't the only thing that can be turned into a jack o'lantern. If you have a watermelon lying around you can turn it into an easy Halloween snack. Cut the top off the watermelon and scoop out the insides of the fruit. Cut a face into the front of the watermelon.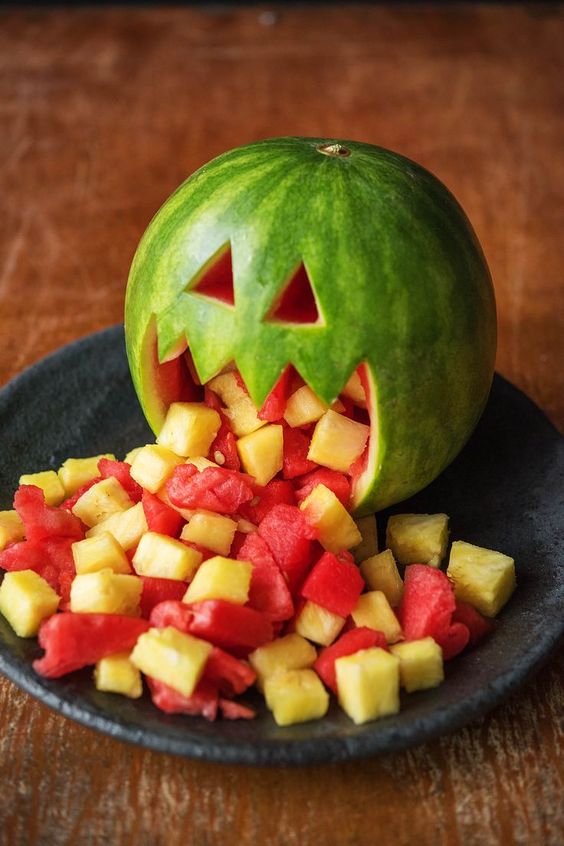 Add watermelon pieces and any other fruit you'd like to the inside of the watermelon and allow the fruit to spill out from the mouth of the jack o'lantern. Add more fruit to the front of your serving plate so it appears the fruit is coming from the mouth of your creation.
Mummy Brownies
We've seen mummy hotdogs, mummy peppers, and now we have mummy brownies. These are great if you're in a rush to get to that Holiday party and need to bring a sweet treat. Make rectangular brownies and let them cool.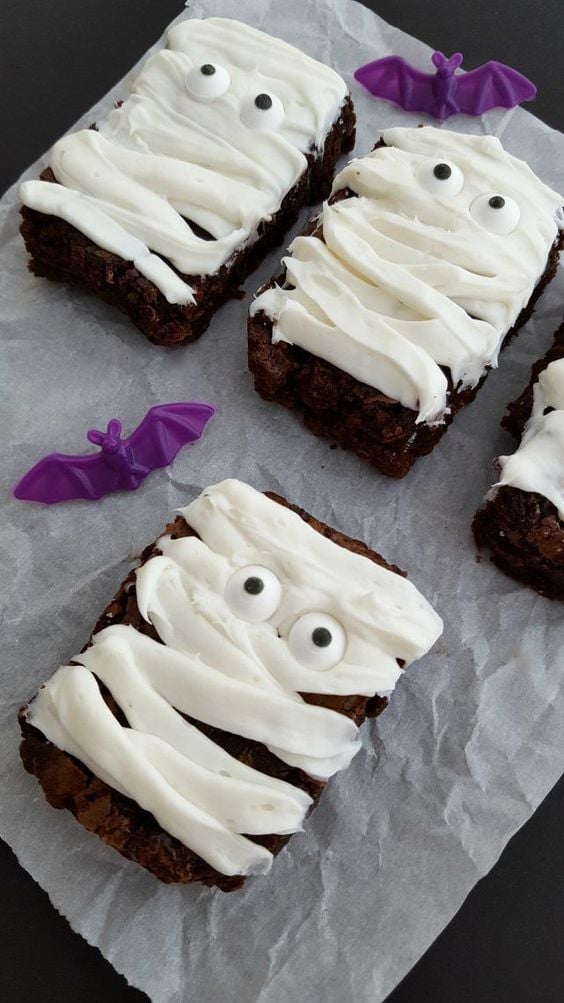 Pipe white frosting across the front of the brownies in a back and forth motion so it looks like mummy wraps. Then, press some candy eyes into the frosting and you're good to go.
A Pumpkin Patch
If you're looking to make a Halloween treat that is less spooky, this is a perfect option that's so aesthetically pleasing that people might not even want to cut into it! Make a pan of brownies and cover them in dark chocolate frosting. This will be the dirt of the pumpkin patch.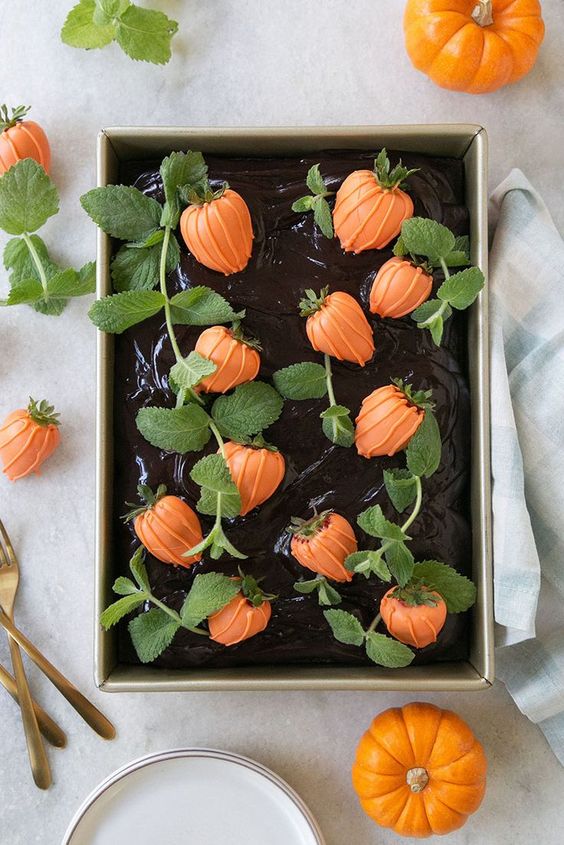 For your pumpkins, dip strawberries in orange-colored chocolate and pipe stripes on the sides of the fruit as well. Leave the tops of the strawberries on as the stems of the pumpkins. Include some pieces of mint as the pumpkin vines as the final touch.
Feetloaf
This is an amazing Halloween rendition on a classic dish. Instead of making your meatloaf in a regular old pan, try this out. The kids will get a kick out of it! Form your meat loaf into a feet shape, as is pictured above. Add some pieces of onion to the toes as toenails.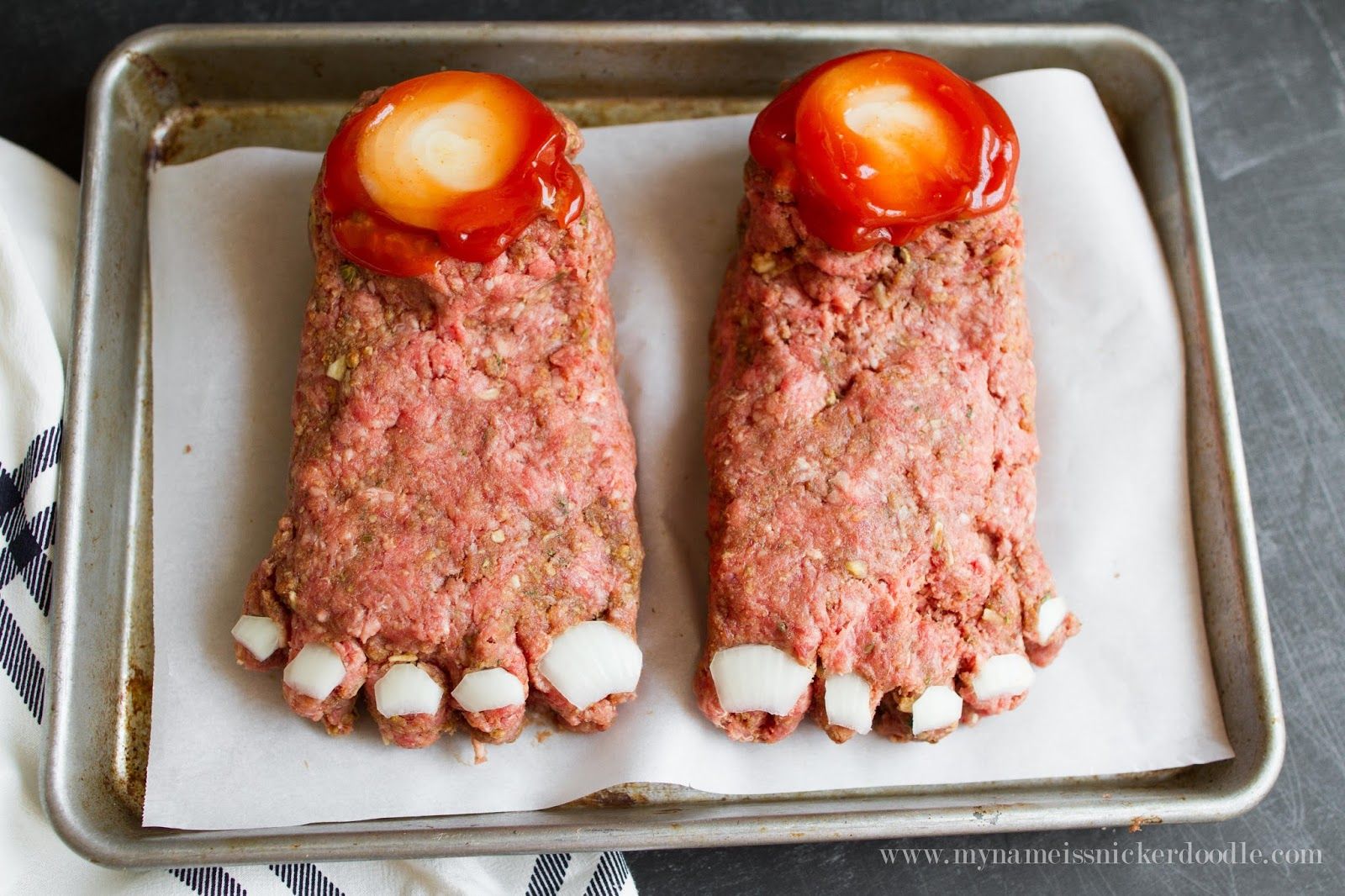 Add some circle slices of onion to the tops of the ankles and use ketchup to add to the effect! You can enjoy your usual delicious meatloaf in a new way. The kids will be requesting feetloaf all year long.