25 Last Minute Home Decor Products to Decorate for Easter
Easter is just around the corner; is your house ready? If your space could use a major dose of pastel-colored, bunny-themed holiday cheer, look no further. We've scoured the virtual aisles of Amazon to find the most adorable signs, wreaths, outdoor decor, and sweet little trinkets to transform your home into a place the Easter Bunny won't be able to miss.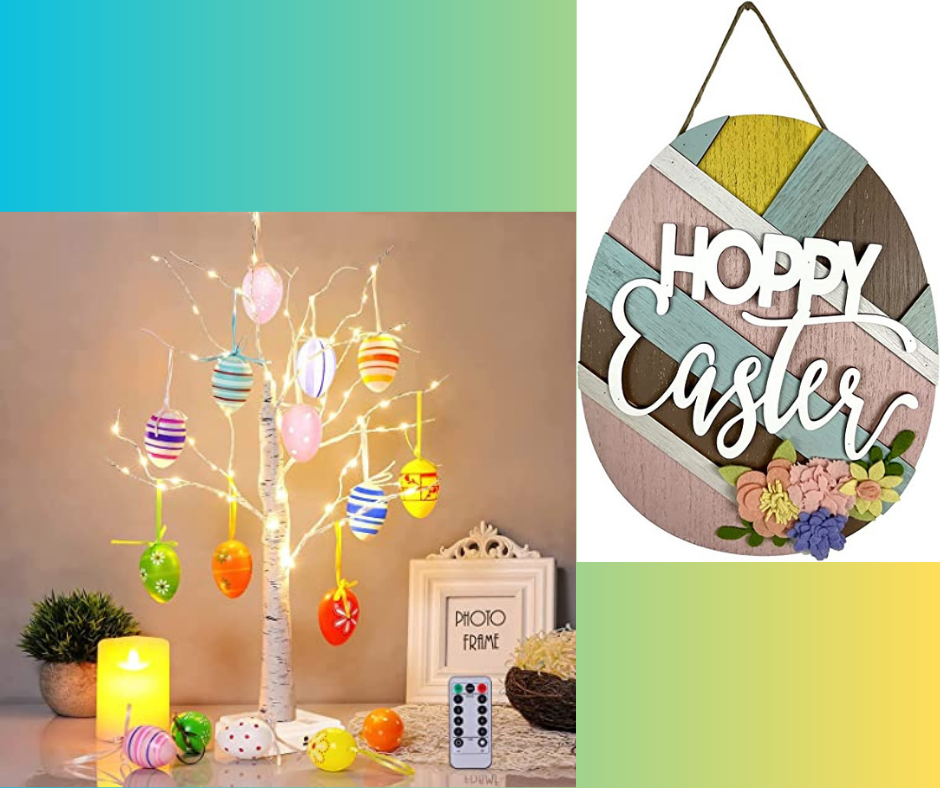 So if you're looking for a colorful Easter egg tree with gorgeous built-in lighting, a welcome mat with a hilariously adorable Easter pun, or fun little wooden figures that look exactly like everyone's favorite Easter candy (hint: it's named after the sound that baby chicks make), you've come to the right place. Start scrolling to find your new favorite home decor pieces that you'll look forward to bringing out year after year.
This Easter Wreath Just Screams "Spring"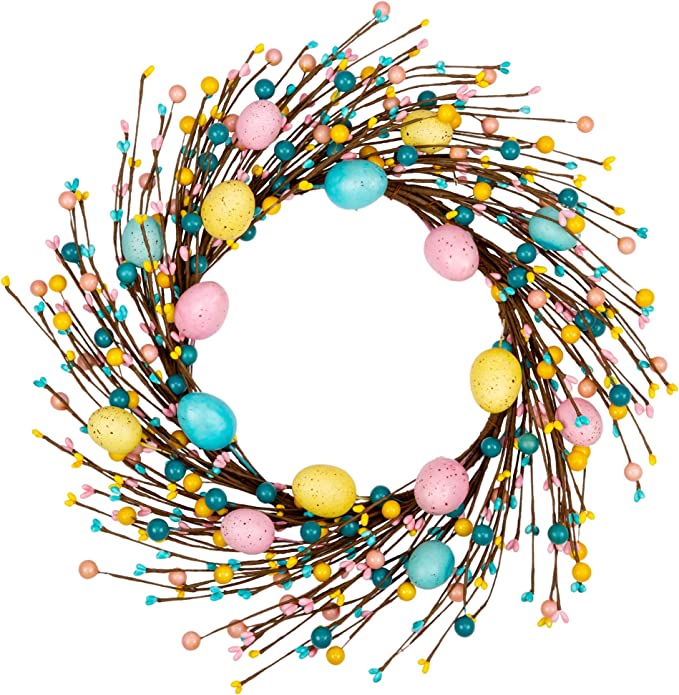 Welcome visitors to your home with this bright and cheery Easter wreath. The 18-inch size fits perfectly on your front door or picture window, and the juxtaposition of natural wooden sticks and colorful Easter egg accents create a truly unique aesthetic that's sure to impress your friends and family members.
This Easter Tree Has Stunning LED Accents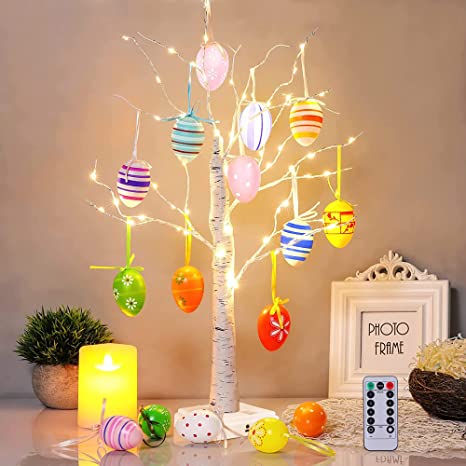 Add instant ambiance to your living room, dining room table, or kitchen with this light-up Easter tree. The birch tree design adds natural beauty, and the built-in LED lights bring a warm and cozy style. It also includes an assortment of multicolored Easter egg ornaments that can be hung from the branches to complete the effect.
This Table Runner is Cute & Colorful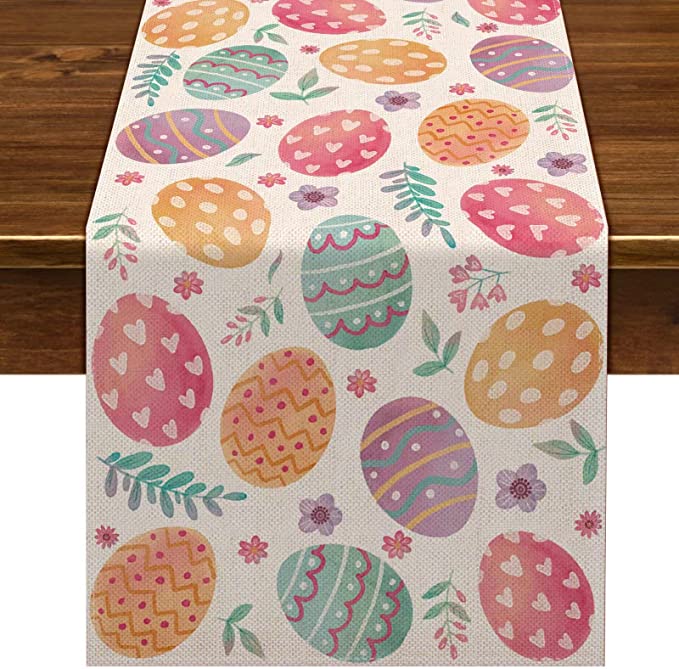 Add a splash of color to your Easter supper setup with this table runner. It features natural linen fabric, a 13-inch by 72-inch length, and a bright watercolor design that includes a variety of Easter eggs as well as floral and leaf accents. It's the perfect size for a table that can fit four to six people.
This Easter Sign Has a Clever Pun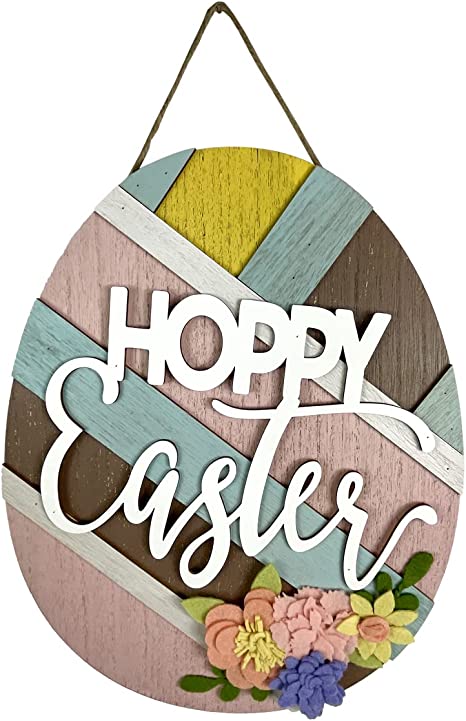 With an eclectic mix of colors and textures and a cute bunny-themed pun that would make anyone chuckle, this Easter sign is one you'll be sad to take down on April 10th. The "Hoppy Easter" text is written in a lovely cursive font, and the felt flowers add a cool 3D touch.
These Easter Signs are Made From Reclaimed Materials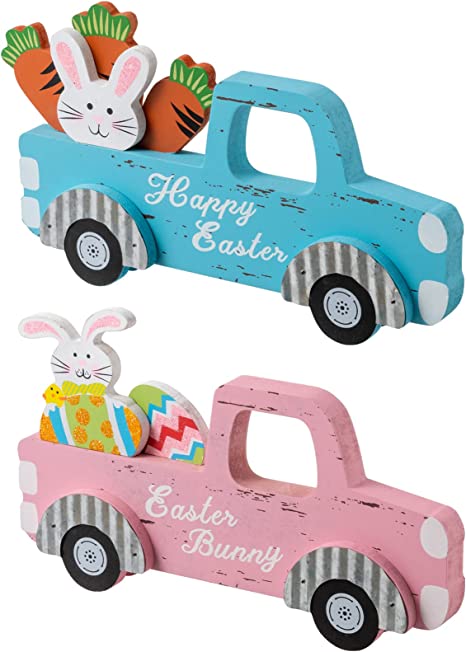 Not only do these Easter signs have a cute pickup truck aesthetic and mixed media design, but they also happen to be made from reclaimed materials for an eco-friendly bonus. The distressed wood accents add to the farmhouse look, and the glittery accents on the eggs add a touch of sparkle.
These Easter Egg Ornaments Have a DIY Spin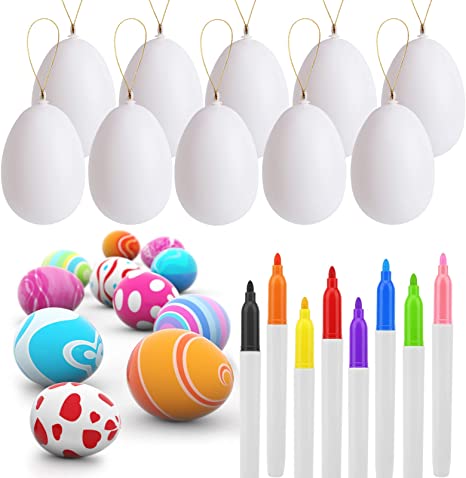 Get in touch with your crafty side with these fun DIY Easter egg ornaments. The set comes with 30 all-white egg ornaments with metallic gold strings for hanging as well as eight water-based markers for decorating. They're also non-toxic and break-resistant, so decorating them would be a perfect Easter day activity for creative little ones.
These Bunny Figures Look Just Like The Classic Easter Candy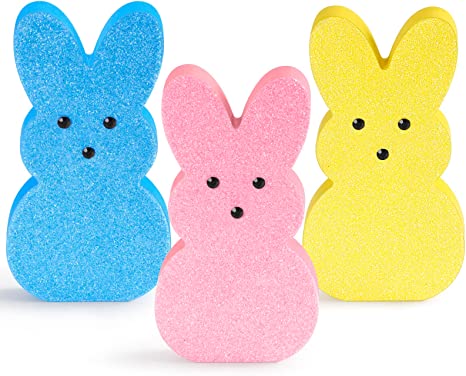 If you're a die-hard Peeps lover (who isn't?!) these glittery little bunny figures need to be in your cart ASAP. They're made from high-quality wood, include 3D eye and nose details, come in a trio of pastel colors, and feature a glittery finish that looks exactly like the sugar coating on the classic Easter candy. We advise against trying to eat them, though.
This Yard Sign Offers a Sweet Welcome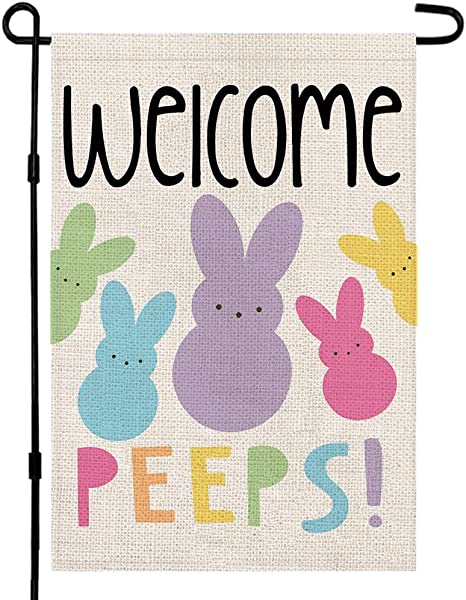 Make everyone who enters your home feel welcome with this adorable Easter yard sign. It says "Welcome peeps!" in large font and has a graphic of pastel-colored bunnies printed on textured burlap that's fade and UV-resistant and safe for all kinds of weather. The double-sided design makes it visible from both directions. 
This Table Runner Looks Good Enough to Eat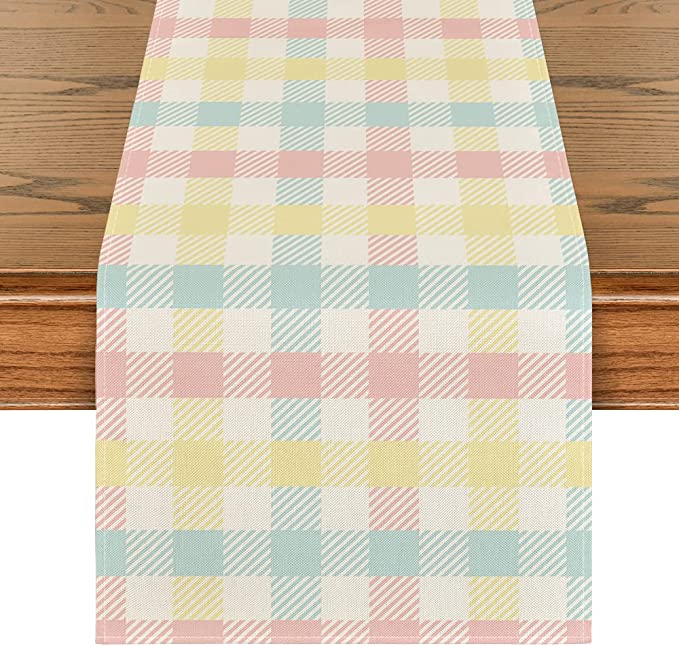 While the pastel plaid pattern on this table runner is perfectly suited for an Easter supper table setting, it's also simple enough to be kept on your table throughout the rest of spring to brighten up your meals. It comes in a variety of lengths and you can even snag a matching set of placemats.
This Easter Bunny Garland is So Versatile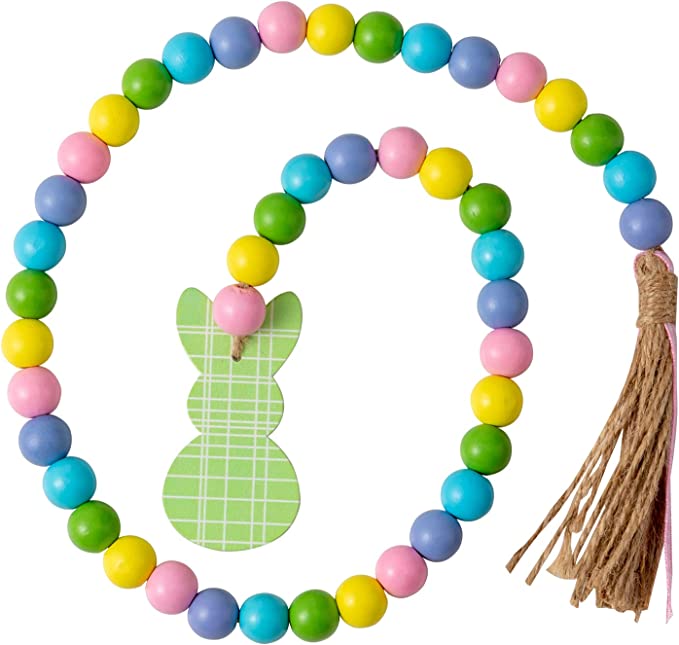 There are so many ways you could use this cute Easter garland in your home that it might be hard to decide where to put it, so you might want to go ahead and buy two, just in case. The twine tassel adds a rustic style, and the pastel-colored beads are made from 100% reclaimed and weathered wood.
These Wooden Bunny Signs are Nice and Neutral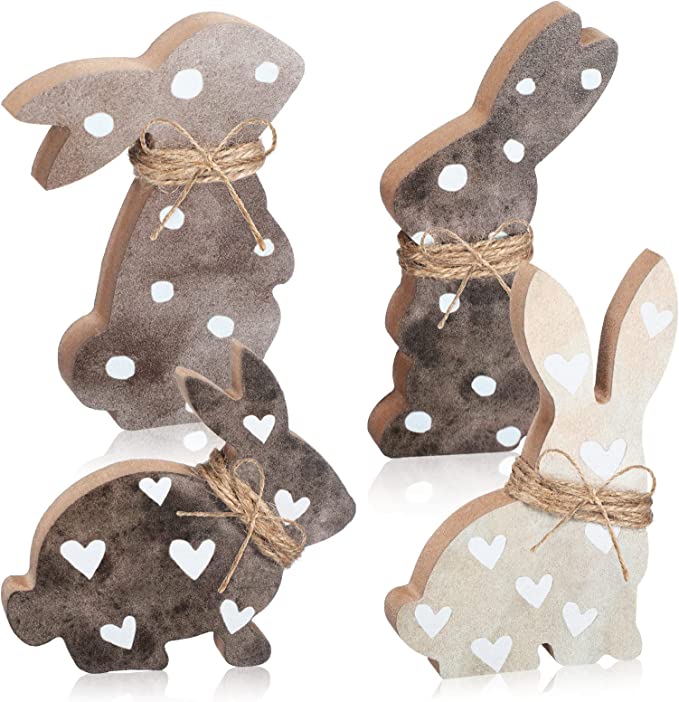 If you're looking for Easter decorations that are a bit more understated, these wooden bunny signs will be right up your alley. They feature durable wood construction, four different adorable postures, a neutral brown, tan, and cream color pallet, white polka dot and heart accents, and twine bows that complete the casual farmhouse style.
These Bunny Statues are Gorgeously Glam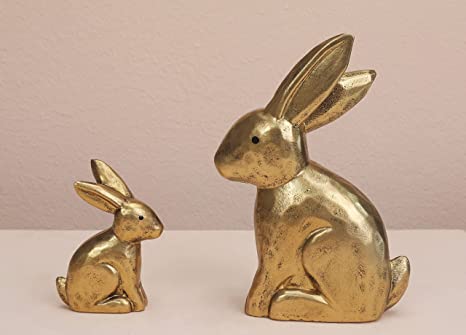 Is understated not your style? We've got you covered. These gold-tone bunny statues have a dazzling metallic finish that's shiny without being too glittery, and the antique finish adds depth and texture to the two-piece set. These rabbits are so pretty that you'll be tempted to keep them out all year long. 
These Easter Signs Add Major Fun to Your Garden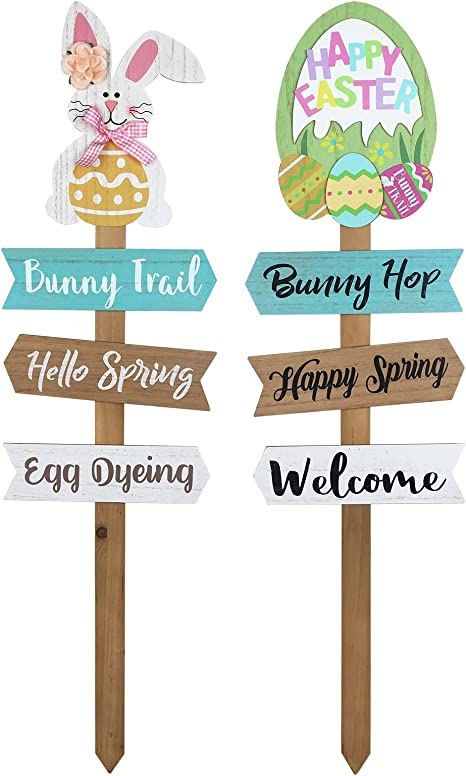 Bring some holiday cheer to your garden or front yard with these fun Easter signs. They feature a garden stake design that makes them easy to insert into your lawn or garden bed, and the colorful graphics and sweet cursive script make them impossible to ignore. The protective coating keeps them safe from scratches and severe weather. 
This Bunny Wreath Looks So High-End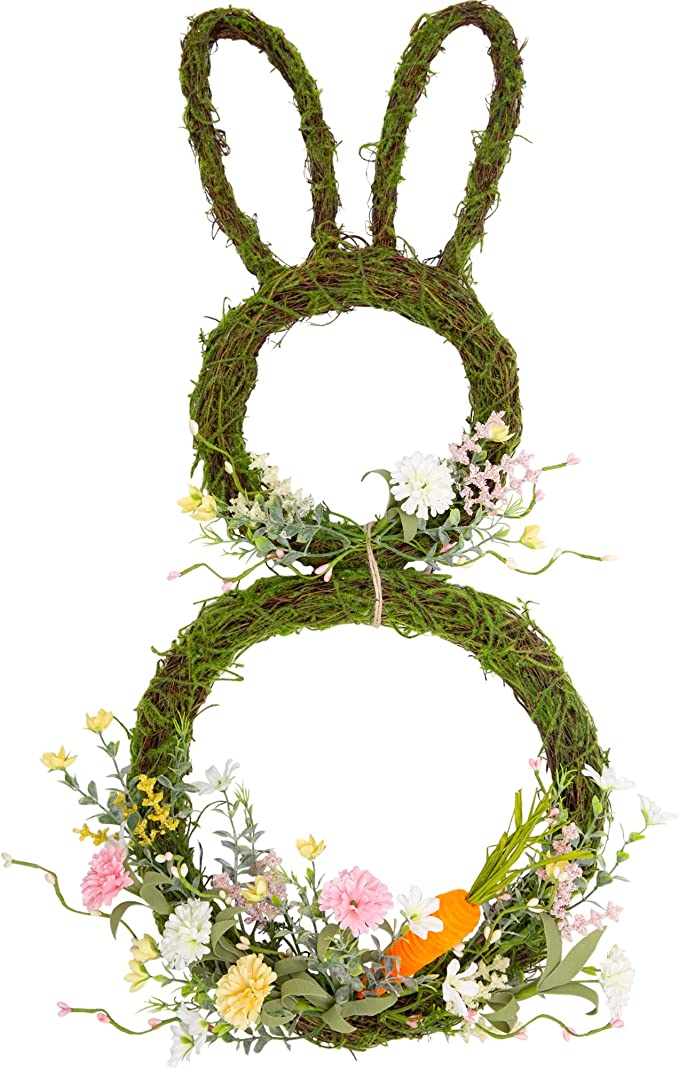 If basic wreaths aren't your thing, this bunny-shaped wreath couldn't be cuter. The larger 27-inch size makes an eye-catching statement on your front door or window, and the mossy design and faux flower and carrot accents combine for a piece of decor that looks like it should cost at leave twice as much.
These Easter Window Clings are Mess-Free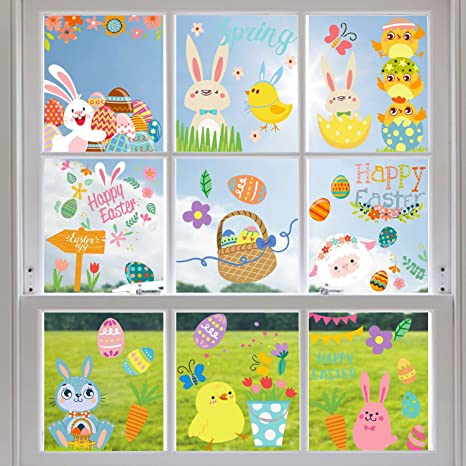 Window clings are a great way to get your kids involved with decorating for the holidays, and these Easter-themed sets feature a variety of cute and colorful characters that little ones will love. They're reusable, so you can hang them year after year, and they stick easily to windows without any necessary tools or hanging materials.
This Easter Sign Has is Simple and Elegant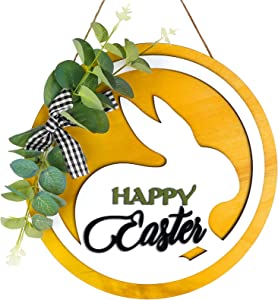 With a cheery yellow color, sleek rabbit cutout, cursive script, and faux greenery accent, this "Happy Easter" sign is an elegant addition to your home that won't overpower your decor. The 3D design adds interesting layers, and the high-quality wood construction adds durability and classic style to this sweet round sign.
These Easter Pillow Covers Can Be Used Indoors or Outdoors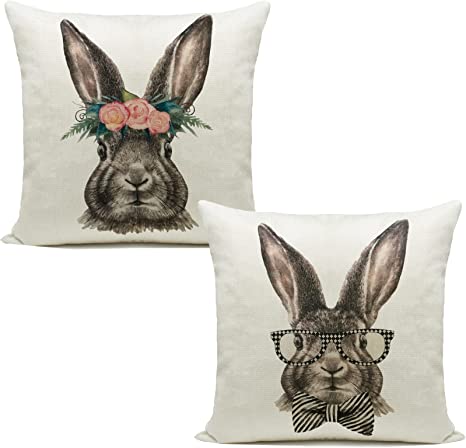 Seasonal decor can take up a ton of space in your closets when you're not using it, which is what makes these throw pillow covers such a smart idea. They fit over your existing pillows during the Easter season, and once summer comes, just pop them off and store them with your other pillowcases. Plus, they're adorable!
These Dish Towels are The Epitome of Form and Function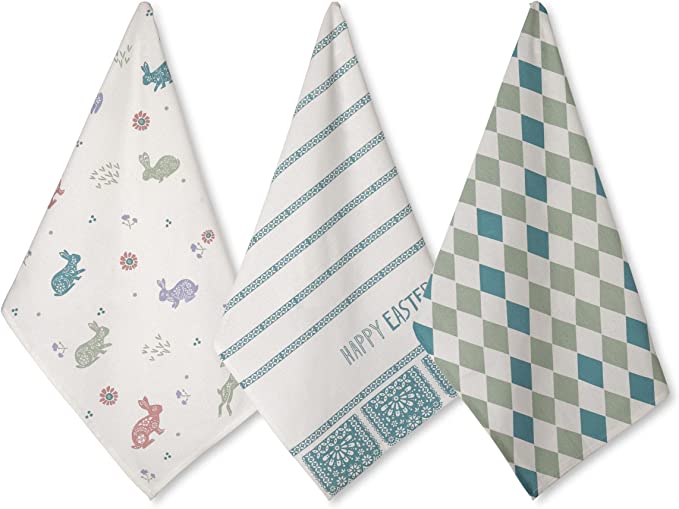 At first glance, you might not even notice the Easter patterns on these dish towels, which is exactly what makes them so popular. They're understated enough to blend in with your kitchen decor while still adding a pop of festive flair to your space. Not convinced? Check out the 1,400 five-star reviews.
This Easter Welcome Mat Has a Unique Washable Design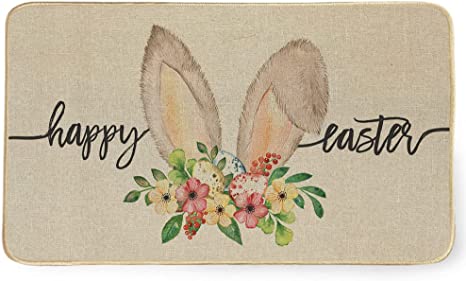 The best part about this Easter welcome mat isn't the sweet bunny ear graphic, the colorful flower accents, or the non-slip backing, although all of those are pretty darn awesome. The washable design is what sets it apart from similar options since it keeps it looking fresh and clean no matter how much dirt gets trampled on it.
This Small Yard Flag Makes a Big Impact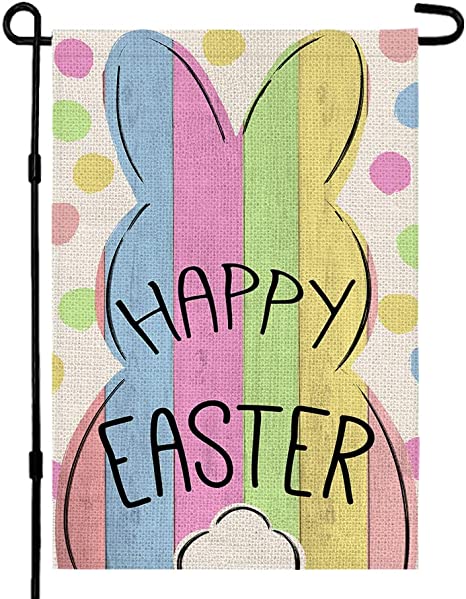 Add some pizzazz to your garden or front yard with this small Easter flag. It features an outline of a bunny with bright pastel stripes and polka dots, has a mini 12 by 18-inch size that fits on most standard flag holders and is made from high-quality spun polyester that's machine-washable.
This Tiered Tray Decor is a No-Brainer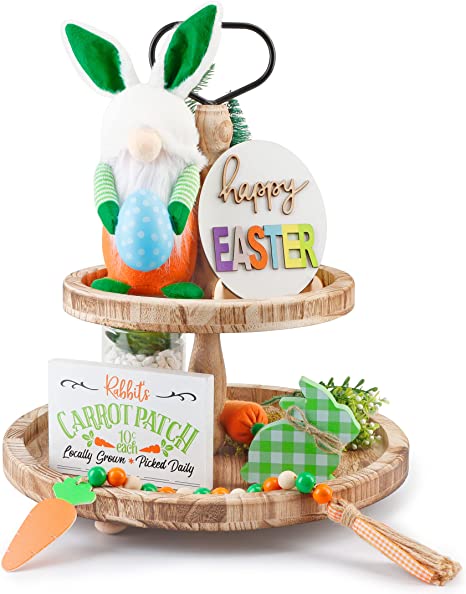 Tiered trays are having a major moment right now, and it's a great way to add seasonal decor without overwhelming your space. But deciding what to fill your tray with can be tough since there are so many options to choose from. This Easter tray decor kit does the hard work for you and includes everything you need to make a charming Easter display in an instant.
These Felt Eggs are Soft and Vibrant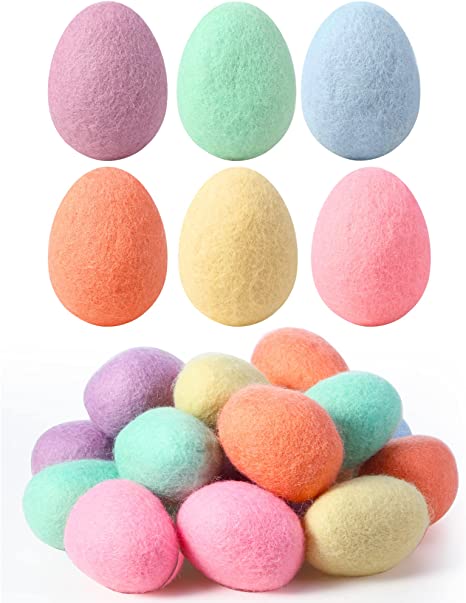 And speaking of tiered trays, why not add a few of these colorful felt eggs to your display as well? They're made from premium felt that's durable and soft, and each set comes with six different pastel colors that add a splash of color to your tabletop, kitchen, or living room. Choose from a set of 18 or 36.
This Bunny Figurine Couldn't Be Cuter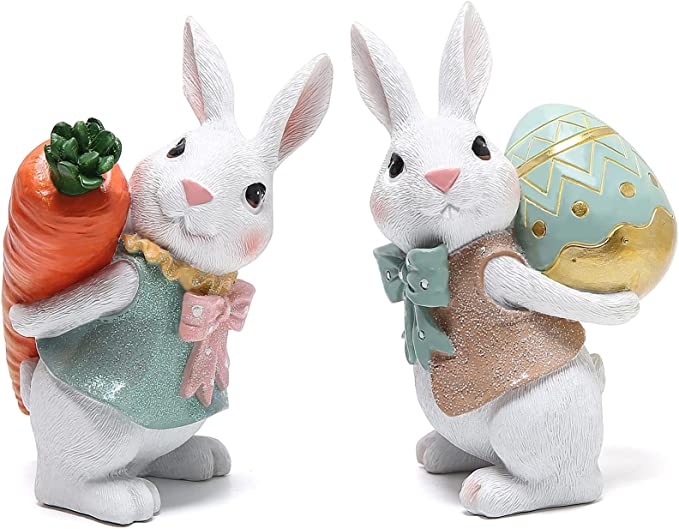 This happy little fellow can't wait to become a part of your holiday decor, and you'll love showing him off to your guests on Easter Sunday. He features a 5.5-inch size, a strong resin construction for added durability, striking details and textures, and gorgeous metallic accents that catch the light beautifully.
These Minimalistic Prints Can Be Changed Out For Every Holiday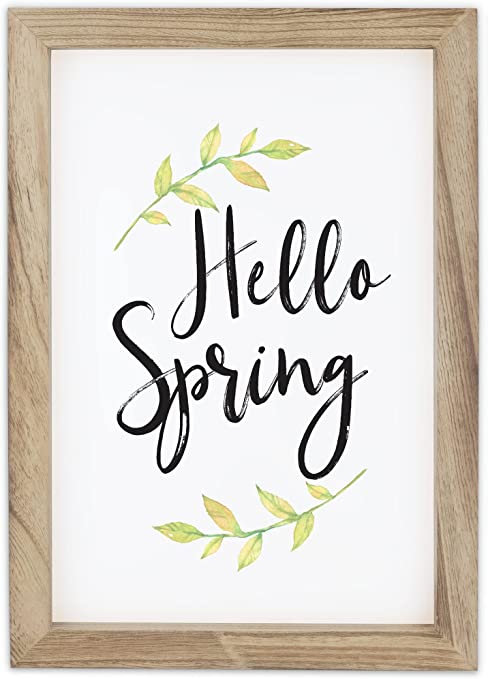 These cute little interchangeable signs have received over 3,000 perfect five-star ratings on Amazon, and it's not hard to see why. Each order comes with 10 different prints as well as a rustic wooden frame for displaying them. With options themed for St. Patrick's Day, Valentine's Day, the 4th of July, and, of course, Easter, these signs make it easy to celebrate the season.