Lost For 10 Days: A Reddit Stranger Used His Personal Drone To Help Find Missing Dog
Ask any pet parents around you, and they'll tell you how much their furry friends mean to them. They are surrounded by their love and playfulness day in and day out and wouldn't know what to do in their absence.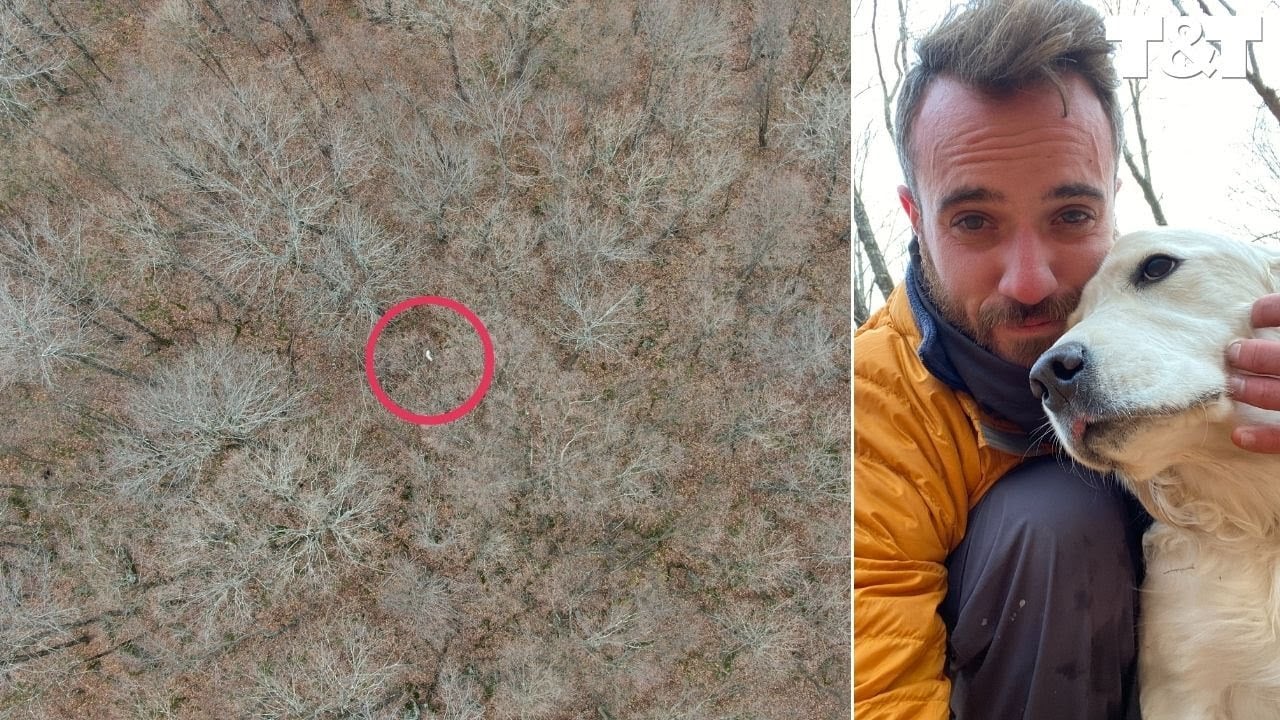 Unfortunately for the Morgans, one of the worst nightmares came true when their dog went missing for several days in November, a month during which everyone around them was preparing to welcome the festive cheer. Let's find out how their holidays turned out and if they got to celebrate it with their pup.
She Became Their Meadow
One fine day, Gary and Debbie Morgan were thrilled to welcome home a little fluffball; seeing her pristine white coat, they instantly named the little pup Meadow. She brought so much joy into the household that the couple included her in everything they did.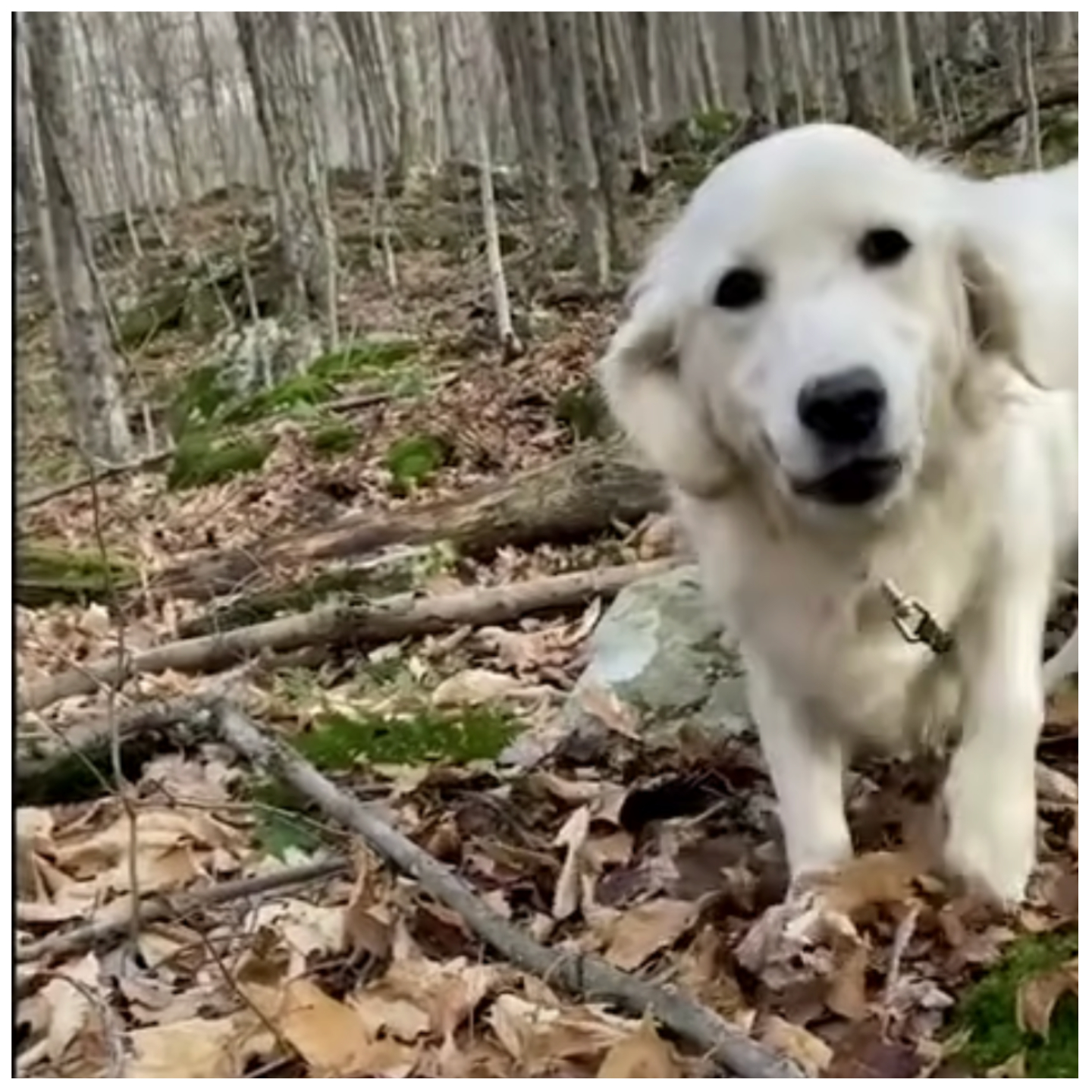 Weeks turned to months, and Meadow grew to be a sweet little dog who was playful and fun. Daily walks became a norm, with the three taking a leisurely stroll around the neighborhood daily. People stopped by to say hello to the beautiful puppy, not knowing they'd have to do much more soon.
Pampered Like a Child
The lovely puppy soon became the center of their lives; Gary and Debbie treated the pup more like their child and showered her with love, attention, and care. She was well groomed and had many toys to play with when her owners were too busy to indulge her.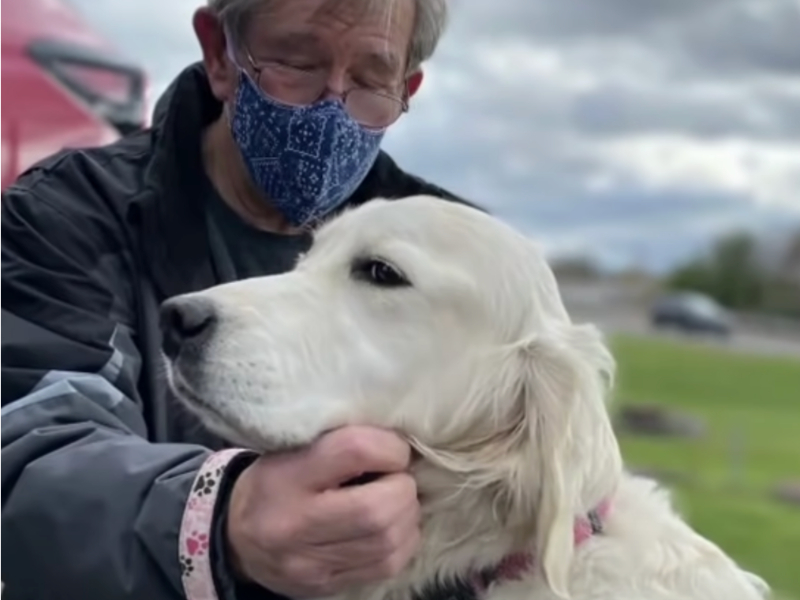 A year passed by with the house brimming with joy and happiness, but one day, something unexpected happened that cloaked the household in darkness. The couple never thought they'd face such a painful situation.
Suddenly Absent From Their Lives
Unexpectedly, a dark day came around when their beloved pup suddenly went missing from their lives. They couldn't find her anywhere! Calls were made to everyone they knew to find out if anyone had seen the dog, but no one had seen her.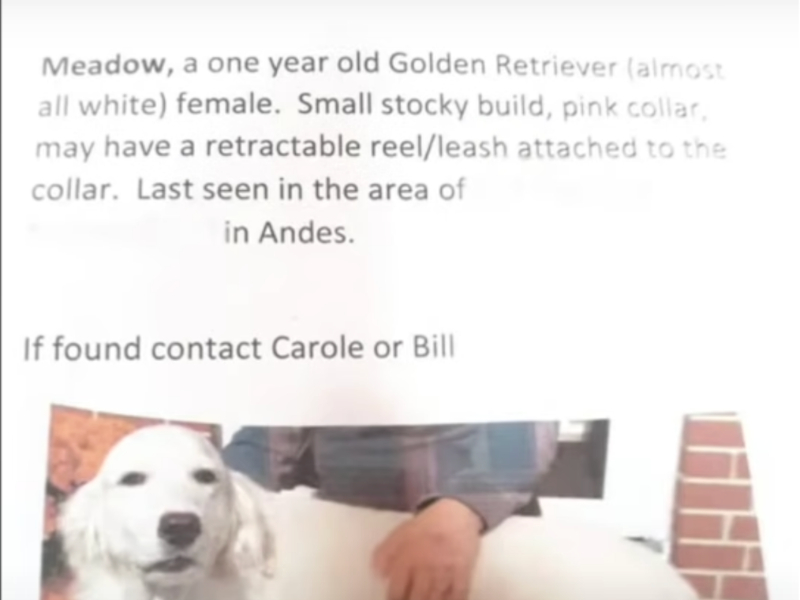 Nothing can prepare you to face your dear one's absence in your life, even if it's your pet that's gone missing. The Morgans were so attached to Meadow that not knowing the whereabouts of their little girl drove them to despair.  
Lost in the Woods
Soon, hours turned to days, and everyone began to suspect that the pup had wandered off into the neighboring woods in the Andes. The couple was desperately looking for clues to help them broaden their search.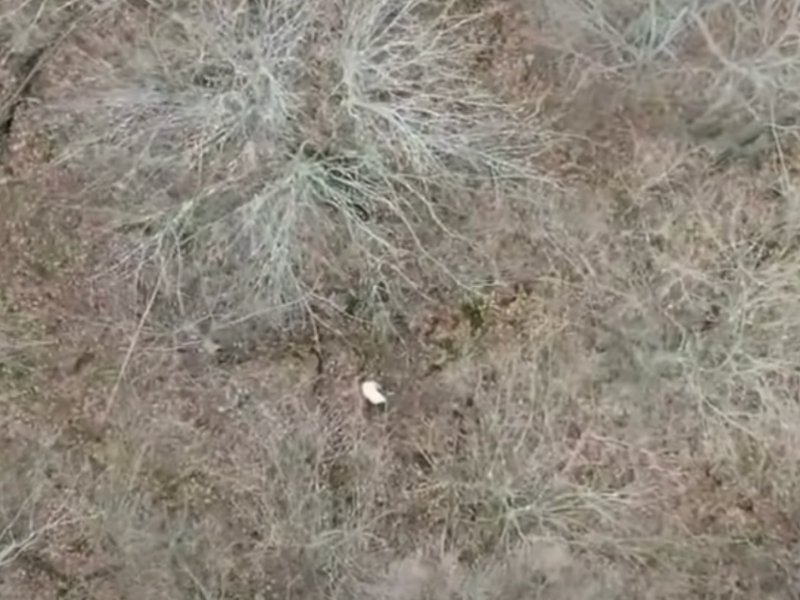 Luckily, someone had seen the 16-month-old golden retriever in the wooded area of New York, and that information came as a blessing because they could now search in that direction. Yet, it was a challenging task because the area was vast, and how does one cover such an expansive space in a short time?
Search Efforts by the Townspeople
In times of need, people always come forward to help. In this case, too, Gary and Debbie found themselves incredibly blessed to have the townspeople lend their support. They voluntarily spread out to search for the missing pup, whom even they had become fond of in the past year.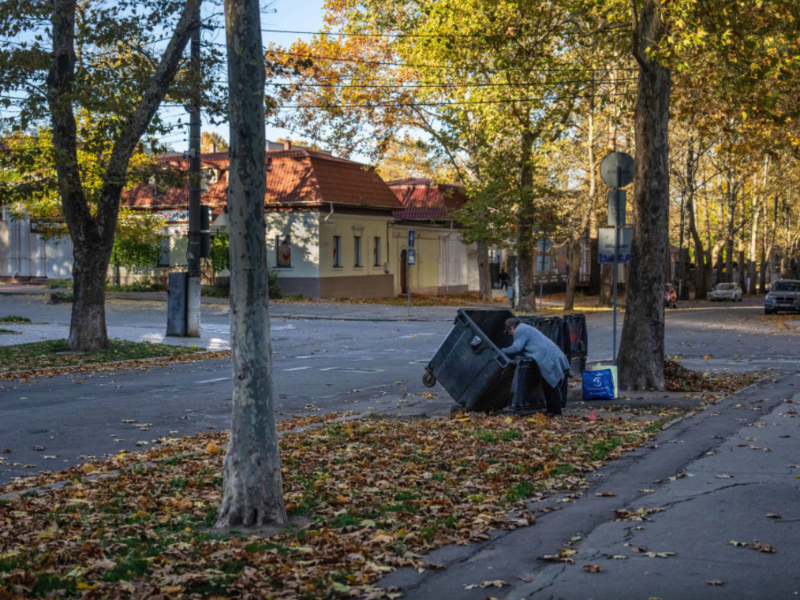 No stone was left unturned in everyone's search for the couple's fur child. They all knew what losing a dear one felt like, and none of them wanted their friends to go through that pain. 
Over a Week of Agony
Separation from the ones who have been part of your everyday life for over a year is tough. The Morgans were enduring more than a week of being separated from Meadow, and worse, they had no idea if their pup was safe and unharmed.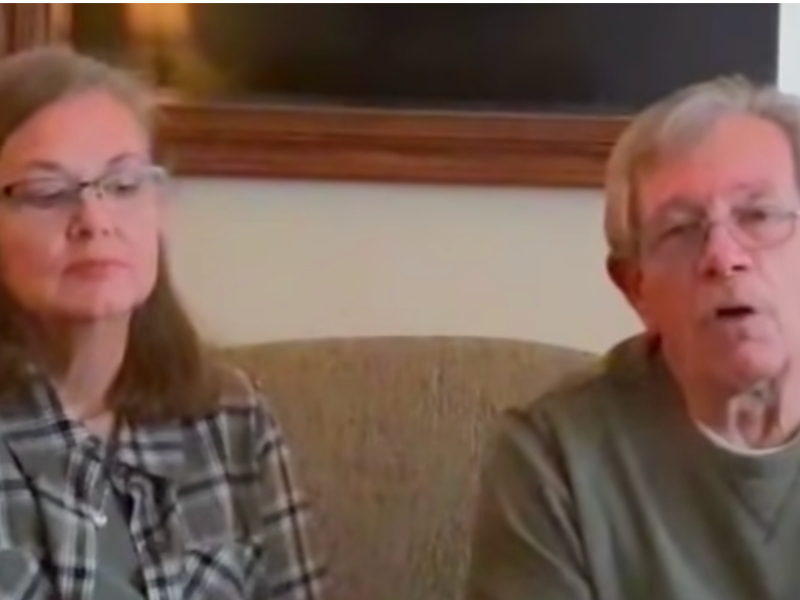 Every hour without any news of their dog, their agony only intensified. They had been trying every method known to man to locate a missing pet, and they were coming up empty until an old idea brought them results.
Can a Reward Bring Home Their Pup?
To invite as many eyes as possible into the search for Meadow, the Morgans had organized several posters to be distributed around the area. The fliers described the dog as a small, stocky female with a pink collar. It also specified that its fur was almost all-white, which was crucial information.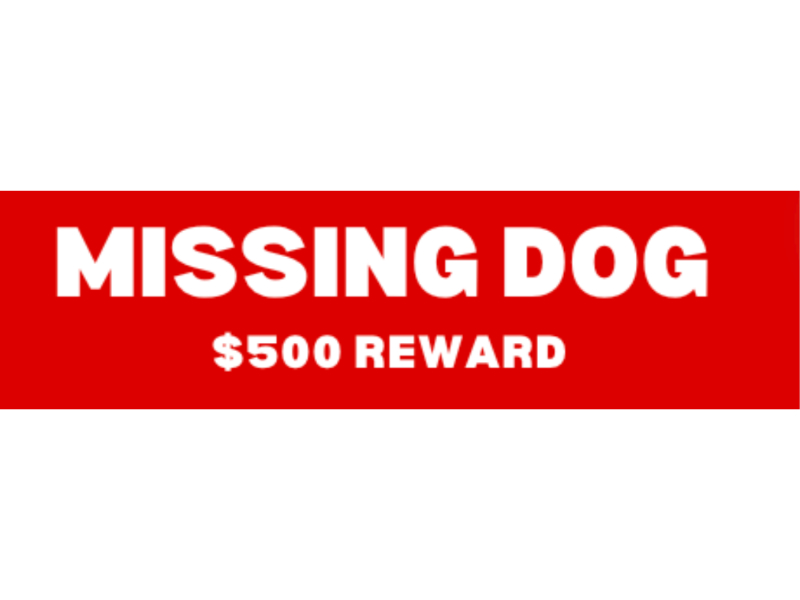 That's not all; they also promised a reward of $500 to anyone who'd locate their dear pup. Irrespective of whether people joined in the search for money, the owners wished to get their pup safely back home. Thankfully, someone noticed and answered their call for help.
Man With a Handy Drone to the Rescue
A hiking guide happened to read the flier that instantly piqued his need to help in any which way possible. Brian James was convinced he could add value to the ongoing search in his own inimitable way. After all, he had knowledge of the wooded area everyone was combing through for the dog.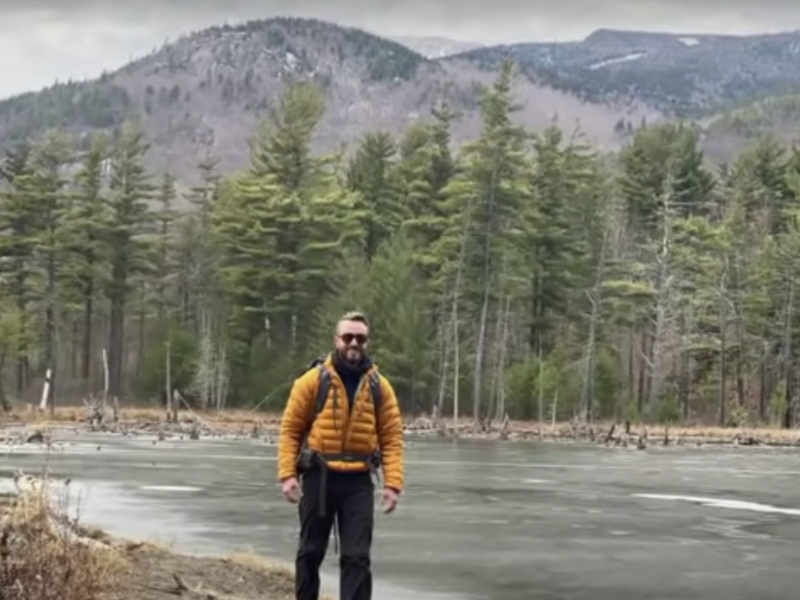 Unknown to everyone, he also had a trump card – a handy drone that could help them get an aerial view of the forest. As suspected, a video surveillance of the entire area gave them their most vital clue to the pup's whereabouts. 
Spotted by a Stranger
On the tenth day of Meadow's disappearance from the Morgan household, Brian sent up the drone, combing the entire area carefully for any clues. In one of the videos, he clearly spotted a white dot on the forest floor and was instantly alert to the possibility that it could be the missing pup.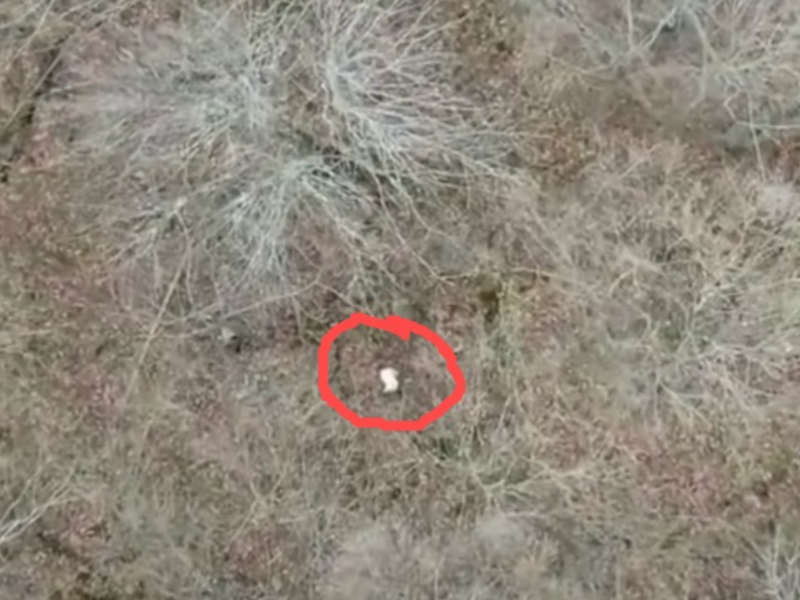 After noting the exact location, the hiking expert rushed to the spot, and as hoped, she was rummaging around the woods. She reacted enthusiastically when Brian called her name and came bouncing forward into his arms even though he was a stranger.
Meadow's Leap of Joy
In a matter of hours, Meadow finally met her parents, who had been desperate to at least catch a glimpse of her those past few days. Gary and Debbie couldn't contain their relief at having found their pup unharmed, and their delight was there for all to see.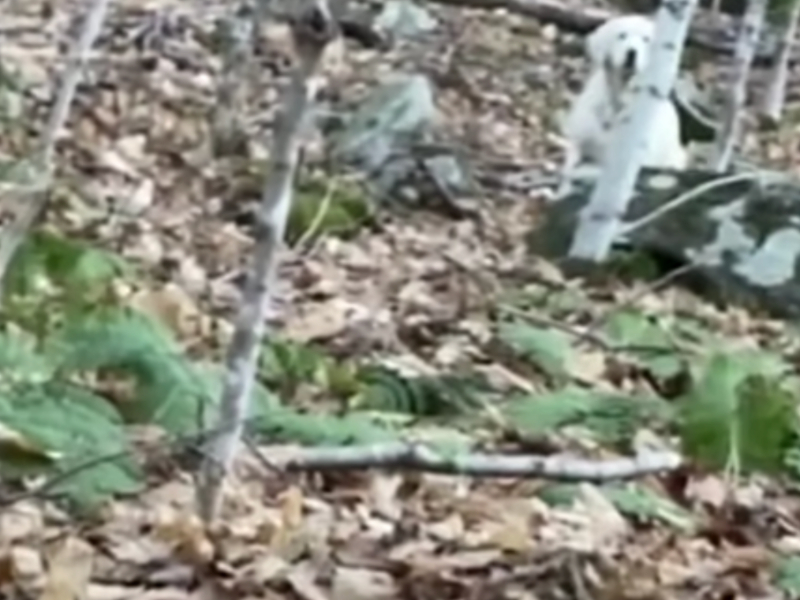 On the other hand, Meadow acted as if it were business as usual. The only giveaway was when the car door opened for her to get in and go home, and she leaped inside with utmost joy, while previously, she used to refuse to sit inside the vehicle.
Reunited With the Morgans
After ten days of agonizing over Meadow's safety, the Morgans were finally reunited with their beloved pup. We are sure that year, they added one more date to their annual list of celebrations, and every year since then, they fondly remember the day of her return and shower her with extra love on that date.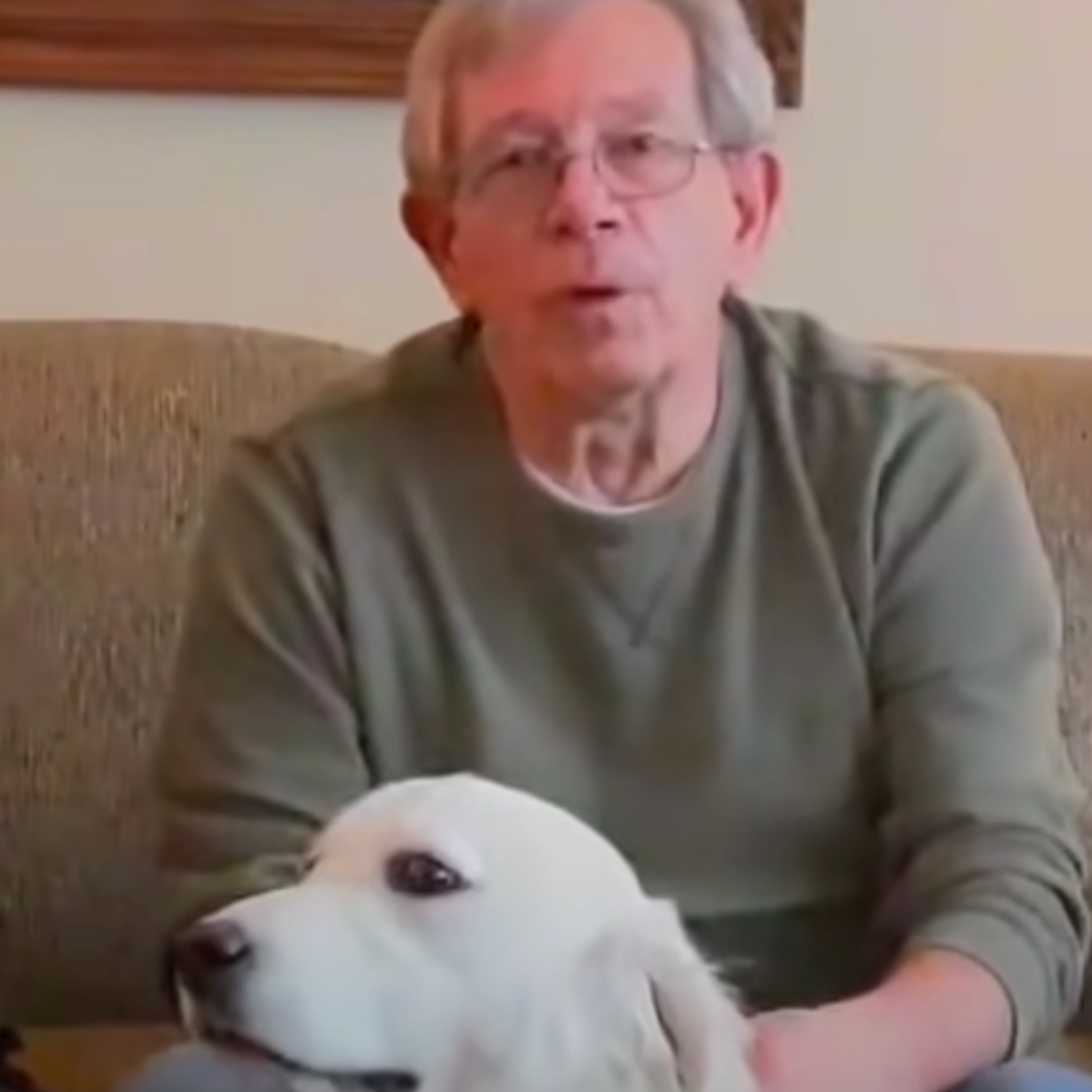 For Debbie and Gary, getting her back home again must have felt like they could finally breathe easy, with all three of them huddled together under one roof. She must have been overjoyed to be home too. 
Just in Time for Thanksgiving
With the holidays just around the corner, Meadow returned just in time for Thanksgiving. Her presence gave the Morgans enough and more reason to be thankful for that year. By extension, she became their most precious gift of the festivities.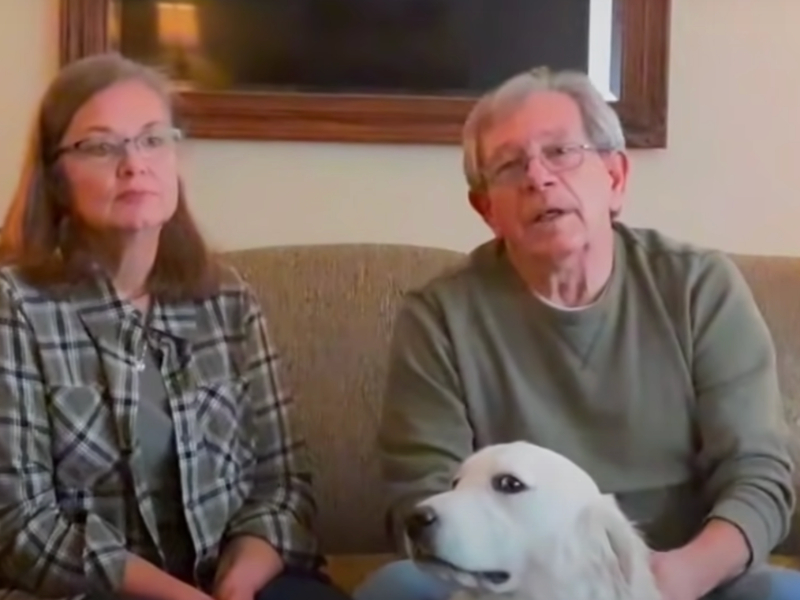 There definitely was more to cheer for! We are sure they lit up their home with extra lights and decorations during the holidays. What's more, they had also invited all those generous hearts that helped them in searching tirelessly for their puppy home for supper.
Forever Grateful for Brian's Help
None of it would have been possible without the help of the man of the hour, Brian James. In a video interview with ABC News, the husband and wife got teary-eyed, mentioning their immense gratitude to the hiking guide for helping them reunite with their pup.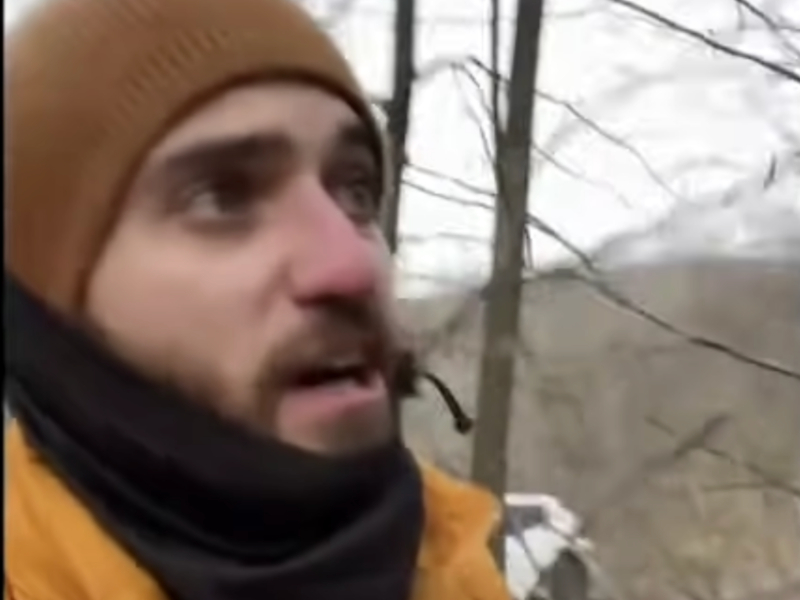 Debbie gushed about how his timely assistance had helped rescue their forever dog. Brian had literally saved them from leading a life without Meadow, something they had been terrified of ever since the pup had gone missing.
The Joy of Helping Those in Need
Brian showing up when he did was a boon for the Morgans, but as a stranger, he was well within his rights to turn a blind eye to the flier. Yet, he volunteered to participate in the search and even used his drone to help rescue the pup.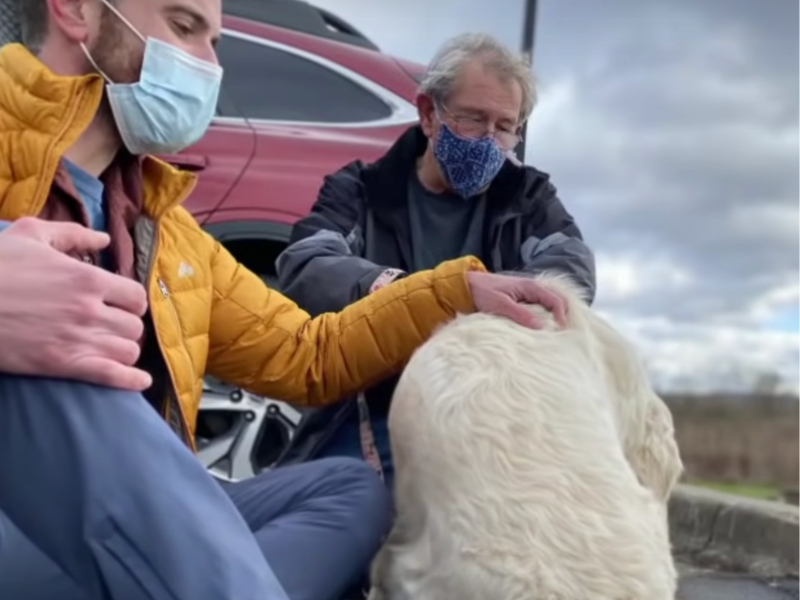 When asked about his decision to help, his answer was earnest. Everyone is capable of helping, and when each of us comes forward, something amazing could happen, just like how things unfolded to everyone's delight in Meadow and the Morgans case.