Man Shares Hilarious ID He's Had for Years; Internet Can't Believe the DMV Let Him Keep It
Visiting the DMV can be quite an experience—one of both frustration and humor. Many customers find themselves feeling a great sense of satisfaction when they troll the Department of Motor Vehicles and its seemingly arbitrary regulations; it's almost like a form of rebellion in the face of mundane bureaucracy.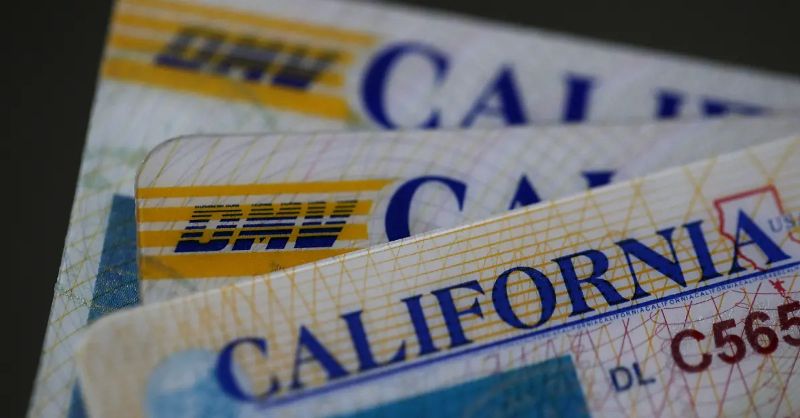 For instance, trying to renew your license when it's expired, only for the DMV to not accept that same expired license as an acceptable form of ID. That kind of absurdity is enough to have anyone shaking their head yet laughing at the same time!
A Tedious but Necessary Process
Who would have thought that an inconvenience like renewing a license would require such a thorough process? It may be annoying, but not being able to find those documents from years ago is far from the end of the world.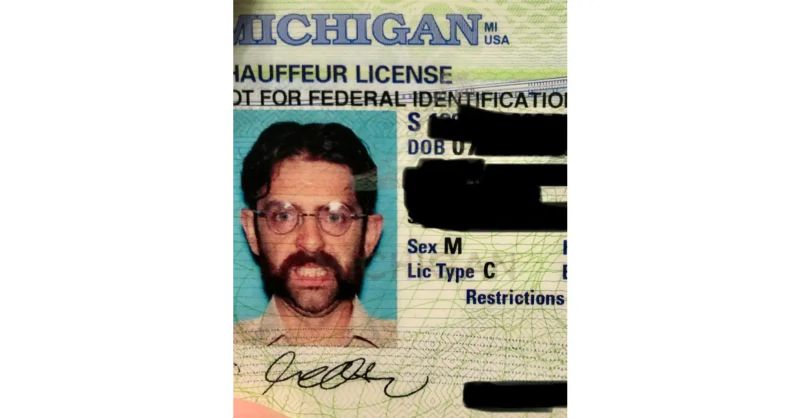 After all, they already know they gave you the license once, which is simply verifying that everything is still accurate. Although it may seem like a tedious chore now, going through the motion once again could save you time and hassle in the long run.
Not a Favorite Place
The DMV is a place that can make even the most vibrant, cheerful person solemn. Its walls are like barriers to freedom with an unyielding, unforgiving atmosphere, not to mention lines that seem to stretch on forever.

The staff there, hardened by infinite grumblings and wall-punching fits of rage daily, seem unable to treat visitors with any manner of kindness or warmth. It almost seems like the uncaring attitude of the employees is a form of protection from years of wear and tear from frustrated patrons.
Trying to be Funny
Visiting the DMV may not be everyone's idea of a great day, but Reddit user @UndrehandDrummond managed to add some pizazz when it was his turn to get his license photo taken. Instead of opting for the classic, serious look, he made sure to leave a bit of unique flair that could only be seen as encouragement when he presented it to the woman taking the photo.

The woman simply said, "You're ok with this?" with an almost knowing smirk! For folks wanting to liven up their otherwise uninspiring DMV experience, you don't have to do too much; just let your natural creativity shine!
To Smile or Not to Smile
Even though the old expression "No smiling in driver's license photos!" is common, its truthfulness depends on whom you consult. Some countries and states wholeheartedly subscribe to the concept, while others are a bit more lenient regarding facial expressions.

For example, although most license-holders in the United States aren't allowed to screw up their faces into crazy contortions or perform wild stunts in the photos, they can often be seen sporting coy grins and artistic smirks. So a positive outlook on life might just get you further than expected, after all.
It's Just a General Rule
With cameras, phones, and editing apps being widely available today, it can be easy to slip into the habit of taking attractive but less accurate photos. When it comes to getting your ID card or license photographed, however, accuracy is vital, and smiling isn't allowed!

It's ironic that in a world saturated with filters and edits, a no-smiling photograph is deemed best for keeping an honest representation of a person's face. As always, you can crack a smile when the camera's off—no one will know!
No Toothy Grins Allowed
When it comes to the ultimate "no-smiling" selfie, driver's license and passport photos take the cake. It might seem strange that we're all being asked not to show off our pearly whites for a picture. Still, there's a good reason behind it: having a big, toothy grin can distort your features and make it difficult for facial recognition to correctly identify you.

Don't worry, though, if you don't manage to hold back from smiling and capture your best "resting face," chances are they'll just ask you to retake the photo.
Changing the Grumpy System
The alluring "smile" policy in New Jersey DMVs recently uncovered by CBS News indeed turned a few heads. Even though the typical Jersey attitude may be more inclined towards a grumbling frown, this news sparks a new kind of energy in our neighboring state – could it be possible for smiling faces to shine through the DMV window and break free from Jersey's traditional protocols?

Not only will having a smile as you wait up at the counter reduce stress and make standing in line more bearable, but one can also appreciate the fact that broad gestures are still not mandated.
New Technology is Applied
Government buildings are nowadays like fortified fortresses with the most clever security measures in place. Facial recognition software allows those entering public and prestigious sites to be identified within seconds of arriving.

Factoring in that this technology is implemented in many places—both known and potentially unknown—it's hardly surprising that the information about who comes and goes is increasingly being logged. All these developments point to a society that is slowly becoming more regulated than ever before.
In the End, Smiles Are Frowned Upon
It could be said that smiles and frowns come in all shapes and sizes, but in the case of a driver's license picture, you need one that falls within specific parameters. New Jersey residents know this better than anyone, as the staff at their Motor Vehicle Commission are renowned for taking pictures that adhere to the regulations—a skill which Elyse Coffey, spokeswoman for the MVR, takes great pride in.

No matter who you are or your expression, they'll capture it precisely to suit all the official requirements.
It's Hard to Approve
Being asked to approve a peculiar selfie that portrays a seemingly B-list version of everyone's favorite cartoon character could be seen as an exceptionally imposing task, especially when requirements such as "no facial hair" are placed onto the equation.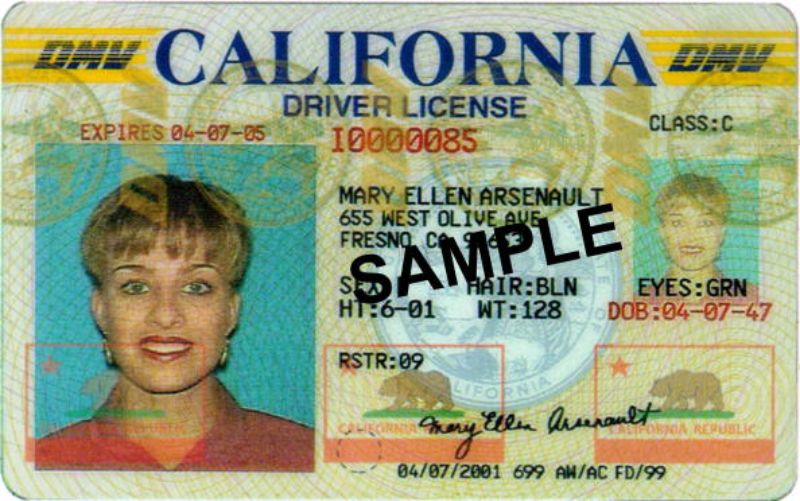 Even though the Redditor was confident that his picture would get a yes (attempting to pass it off as a smile, in spite of what one commenter noted that he looked like Nigel Thornberry), one can't help but wonder if his hidden aspirations were pushed too high in this case. Ultimately, it seems that the Redditor's peculiar submission didn't cut it!
It's Like No One Wants the DMV
From endless lines to confusing paperwork, a visit to the DMV is something nobody looks forward to. So it's no surprise that many of us just groan inside when we realize it is time to interact with the Department of Motor Vehicles.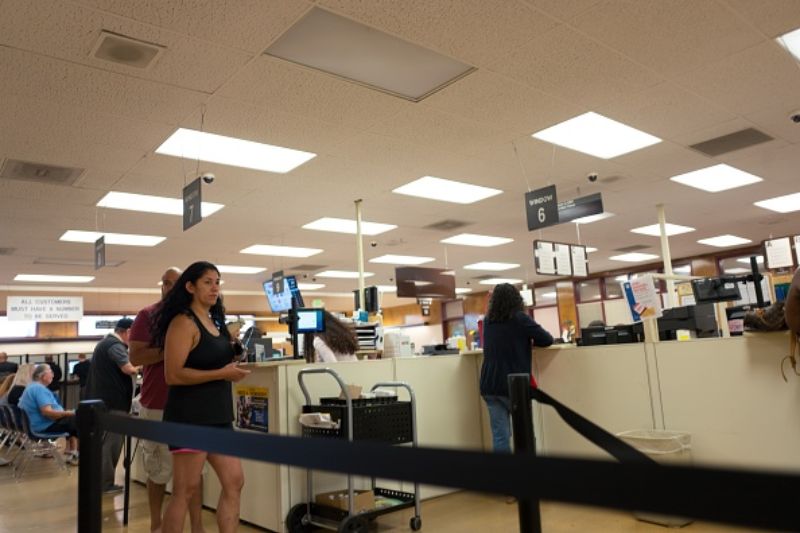 It may seem like nothing could make this experience less painful. Still, there are fortunately a few arguments in favor of enduring that long queue: lining up allows you to brush up on your knowledge of hilarious DMV-bashing stand-up comedy during the wait, for one! So here's hoping that more places can follow suit and make overly tedious DMV visits a thing of the past!
The Key to Happy DMV Employees
Visiting the DMV can be daunting, but others like to find creative ways to make it more enjoyable. For example, instead of just blankly accepting that DMV visits are a part of life, some folks try to spice things up by bringing donuts for the employees.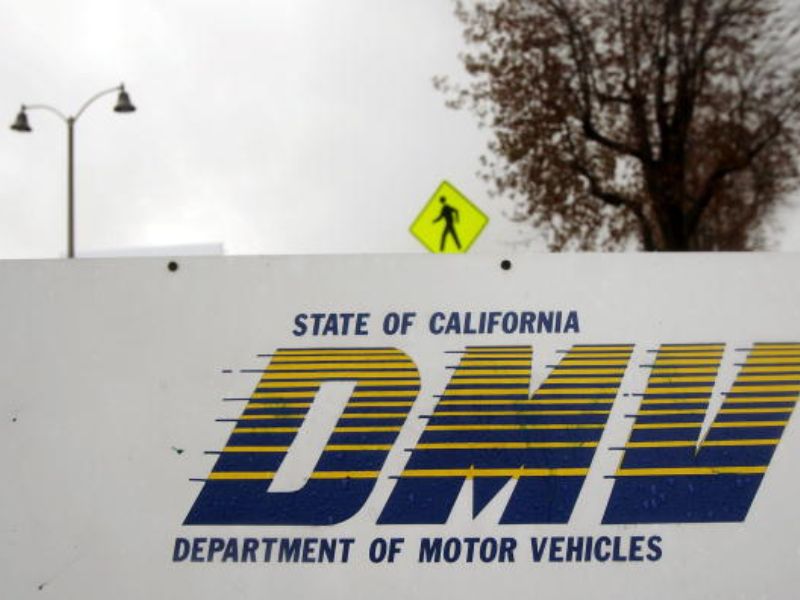 It's nice to show appreciation and give workers incentives, plus it gives us something fun to do while waiting in long lines! Sure, it's an expense, but this good deed's reaction of joy is worth it.
They're Defying Today's Standards
There's a certain kind of person who looks for fun and creativity in all areas of life, even the typically mundane and tedious ones. Such is the case with a social media user Jono Zalay and his relationship with the DMV—a place everyone dreads.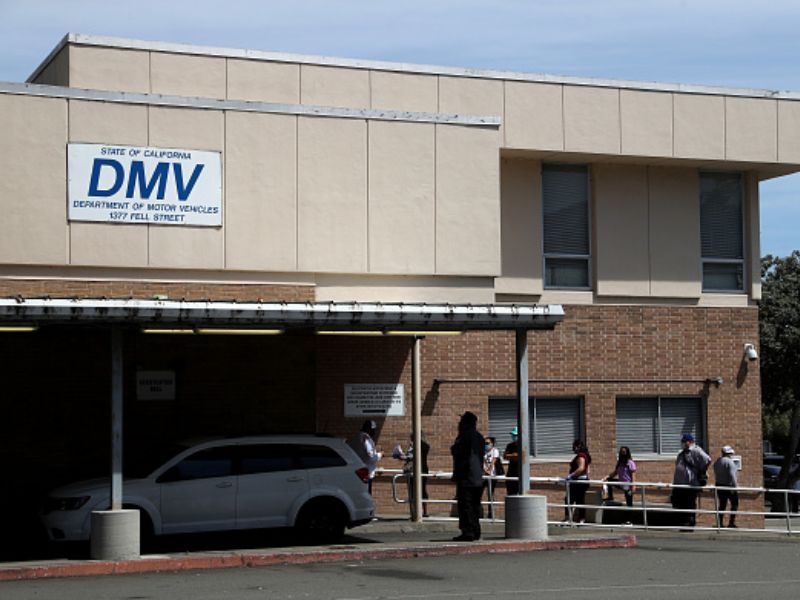 His solution? A longstanding history of taking some outrageous license photos that poke good-natured fun at the DMV, delighting followers and making lemonade out of lemons along the way. It's his unique take on having extra fun, even when dealing with a reviled organization. Talk about thinking outside the box!
It Was Dad's Idea
Zalay's father has been turning heads for decades with his unique yearly photos. What started as a funny gesture between him and his brother has become a time-honored tradition that Zalay and his family continue to celebrate.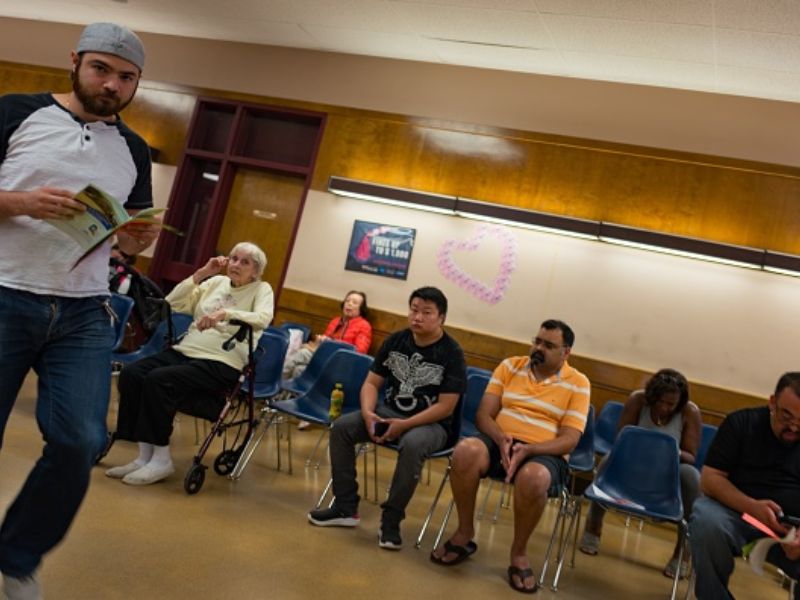 Each year, Zalay's father comes up with ever wilder costumes, perfectly embodying the seemingly random characters he creates. His presence is always the highlight of the occasion in an impressive display of fun-loving creativity that will hopefully outlast him and all of us.
Go Big or Go Home
Meet Zalay, a man with a flair for the dramatic, and his license photos are proof of that. He's taken full advantage of his thick head of hair to create some truly unique looks in each one. From a bearded lumberjack to an old-timey gentleman with a tweed suit and newsboy cap, Zalay managed to transform himself into these different characters on the spot.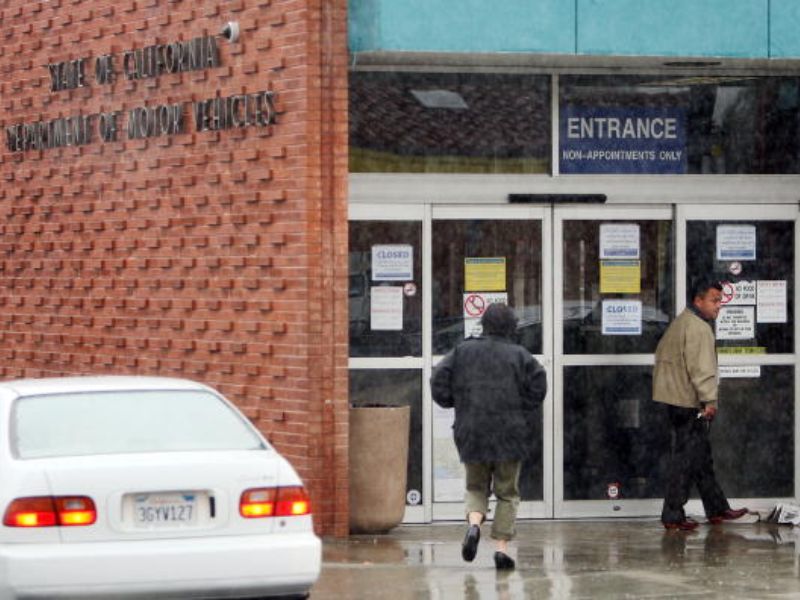 His ability to craft and present these personas is genuinely astonishing, and each shot perfectly captures the persona's essence. It's clear that Zalay has tapped into something special with this series.
It Required a Trip to the Salon
When Zalay had to update his driver's license with a new photograph, this guy decided to go all out and use the opportunity to completely transform his look. He booked an appointment at the local salon and emerged with a punk-inspired hairstyle, piercings, incredible makeup, and a new wardrobe.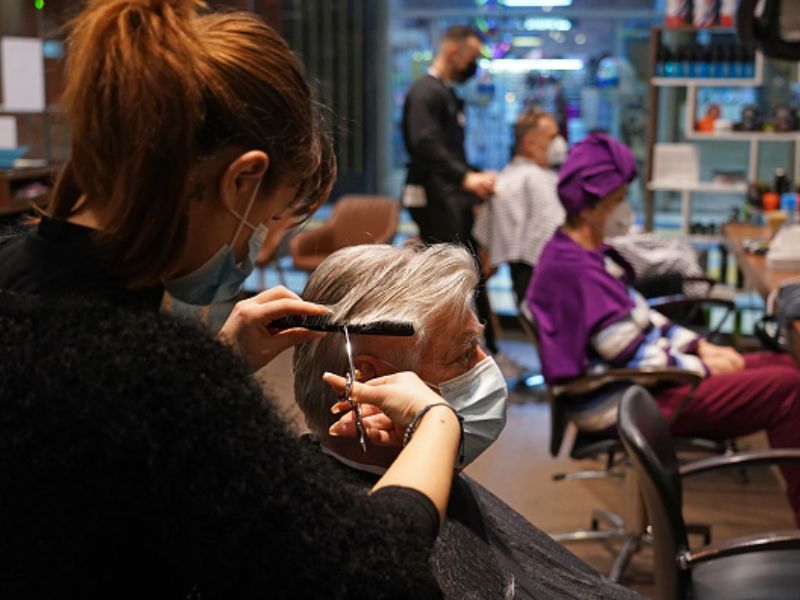 His transformation was truly incredible – with barely any resemblance left to the person in the faded license photo. In only one sitting, Zalay went from regular Joe to an absolutely stunning style icon—talk about making a statement!
A Look that Turned Heads
At the start of his inside joke, Zalay decided to ensure his identification photo was far from ordinary. Then, with a cheeky spark in his eye, he masterminded an idea that left everyone in awe: being both a CEO and a barista all at once (only in the picture, of course)! He topped off this unique look with a stint as a promising Lyft driver.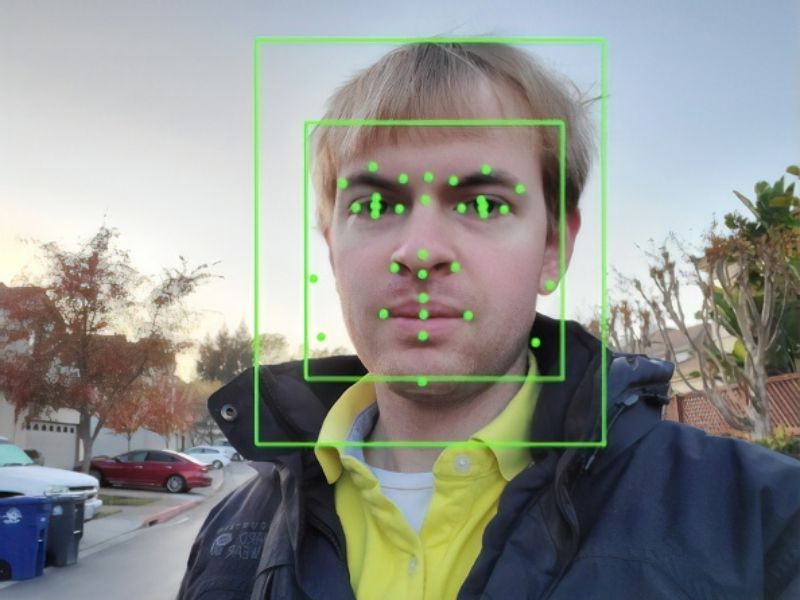 Few photos will ever measure up to 'Phase 1's' originality, and it seems as though this CEO-barista-driver wannabe has set the bar for creative ID snaps.
Every Update Made Them Laugh
Zalay sure knows how to make the DMV laugh! Who knew this guy had such a comic side? His photo updates prove that you don't need to be an official comedian to leave people in stitches. His quirky captions and comical expressions in every group photo are guaranteed to quickly break the ice and put a smile on everyone's faces—even the grumpiest of bureaucrats!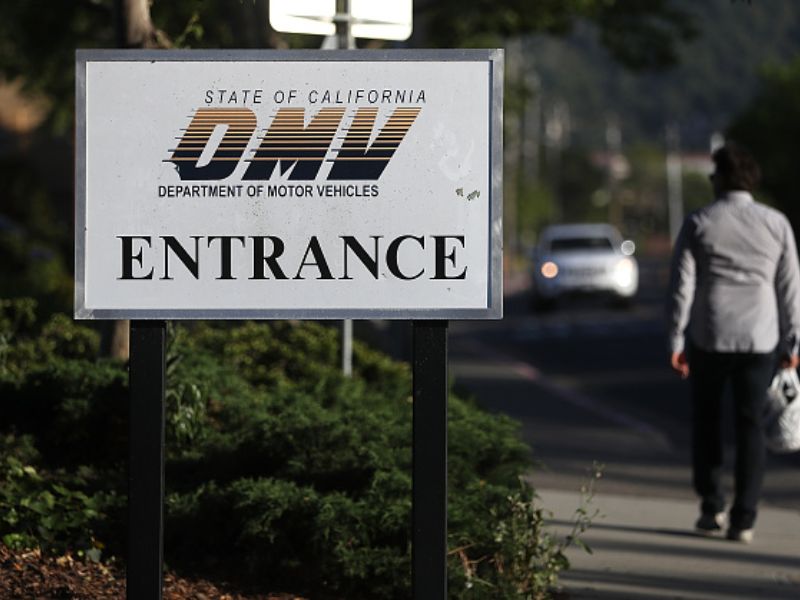 The DMV has no other choice but to appreciate Zalay's unique brand of humor, making it all the more difficult not to crack up at his antics.
Zalay Knows How to Slay
Zalay sure took his DMV experience up a notch when he decided to get his haircut into something that could easily be called an ode to the iconic movie Point Break. Even without seeing how the entire style will look in the end, the fact that he made the reference is awe-inspiring.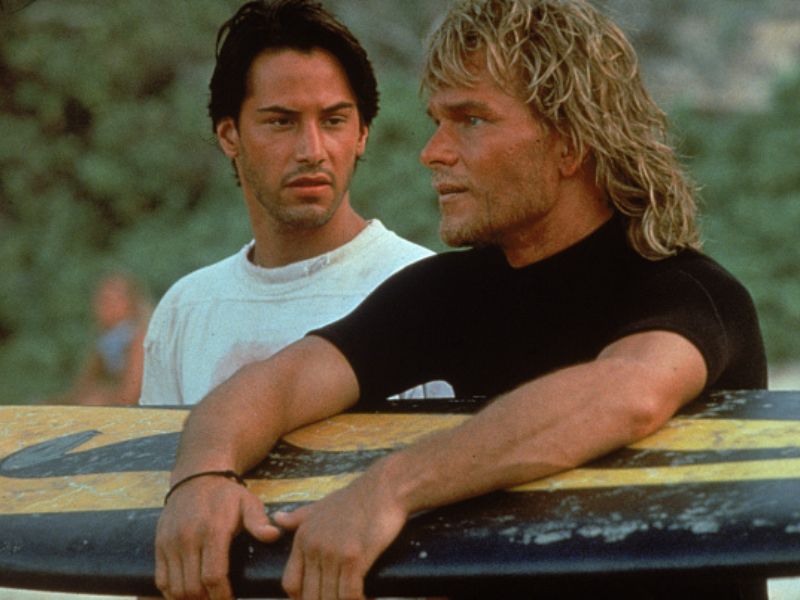 Showing a creative attitude even in mundane activities, it's no wonder why we think this dude is hilarious! Judging from his DMV picture, it's easy to see how much creativity and good vibes Zalay carries around him!
He's Got the Style
There's no denying that Zalay's style is something else; it seems like every layer just adds to the great picture that is his witty yet head-turning aesthetic. Every choice he makes with clothes, hairstyle, and accessories is bold and calculated; he's on a mission to ensure everyone stands up and takes notice whenever he enters a room.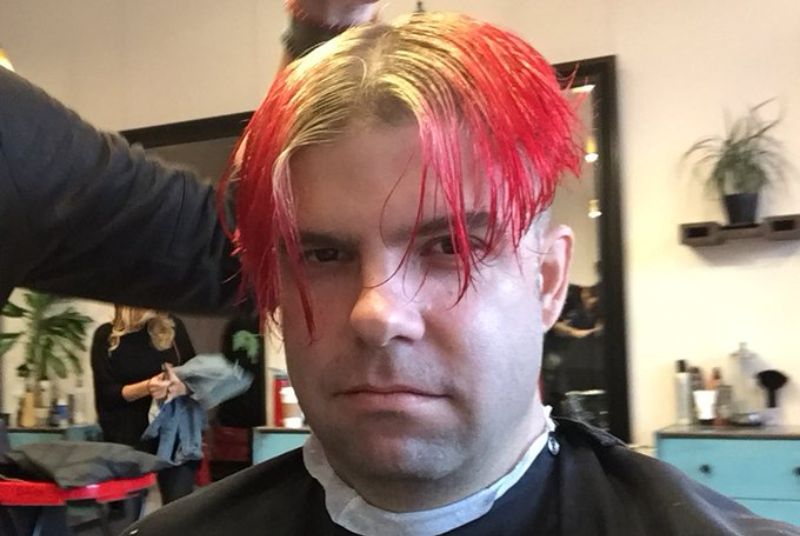 Indeed, Zalay truly understands how individuality combined with confidence can give one a unique edge in the world of fashion—and you can clearly tell by seeing his DMV ID photograph.
Punk ID Pictures Are In
When looking at Zalay's punk look, it truly is a sight to behold. We have been blessed with a masterful demonstration of the punk aesthetic, crafted aesthetically and brought alive with undeniable ferocity. Seeing him donning this dynamic ensemble fills one with an overwhelming desire to join in on the fun.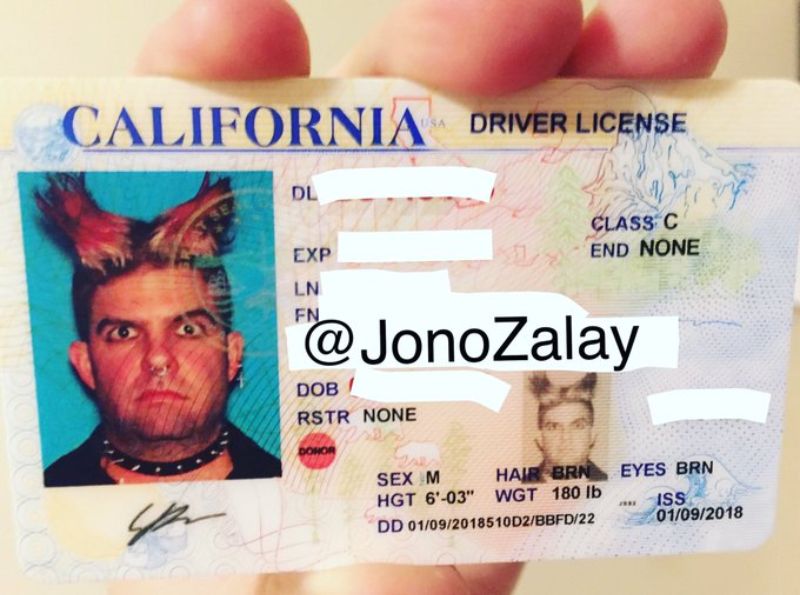 It is evident that this punk rock outlook has become second nature to Zalay—he wears it effortlessly like a badge of honor to live out each passing moment as a work of art. While it's not for everyone, Zalay absolutely nailed this punk look at the DMV.
He Wore It with Pride
Zalay's latest foray into punk meets rock fashion is a sight to behold! It's so delightfully eye-catching it'll make you wonder if he purposely created such an attention-grabbing look. His wardrobe collection gains yet another ace in the hole with this number—there is no doubt he will be sure to stand out.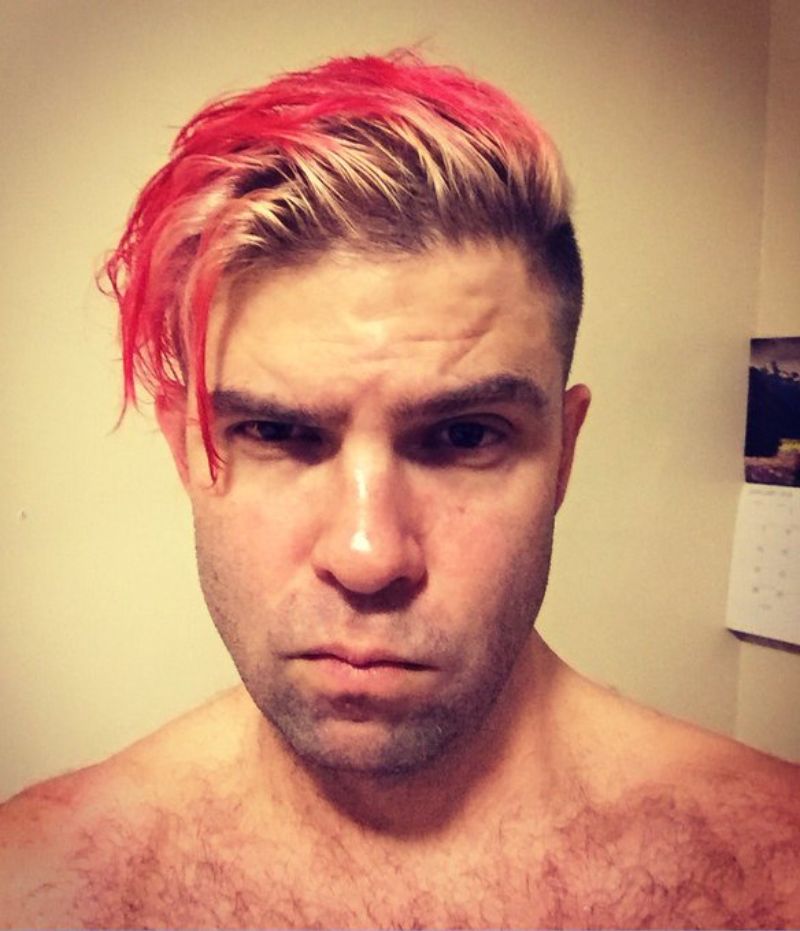 What makes it more intriguing is that when Zalay steps out onto the streets, who can guess what DMV will have to say about his head-turning style? We can only wait in anticipation for the moment of truth, and hopefully, we can all revel in its glory!
The Glory of Punk
Sure enough, Zalay's newest look is truly out of this world! From the second it showed up on the Internet, it became viral, and with good reason. Punk meets rock? What a harmonious combo! Even if sometimes they warred, who could really tell them apart?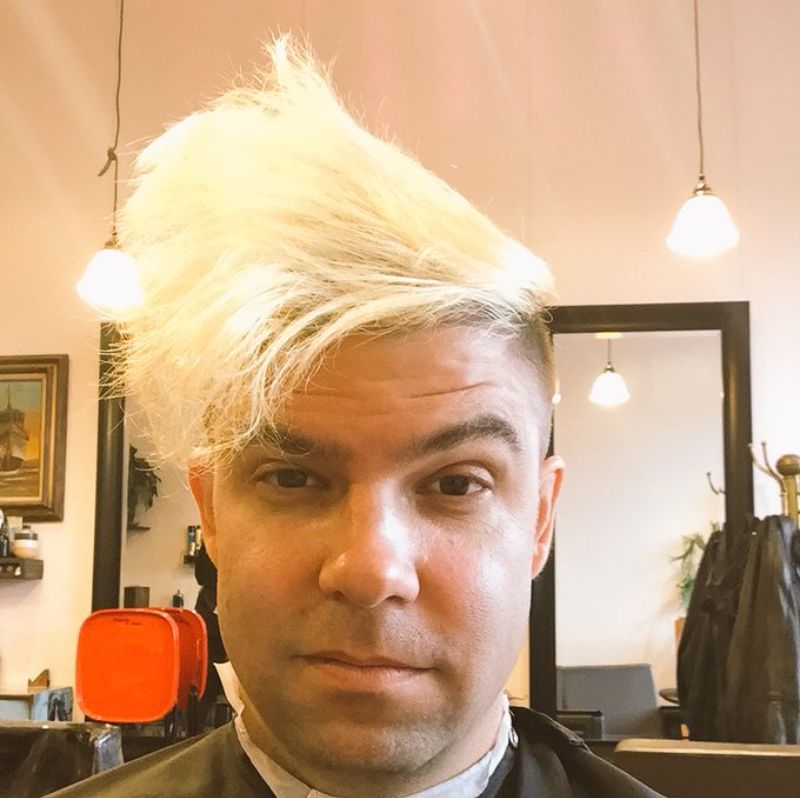 What makes it more intriguing is that when Zalay steps out onto the streets, who can guess what DMV will have to say about his head-turning style? We can only wait in anticipation for the moment of truth. And hopefully, we can all revel in its glory!
DMV Put Their Food Down
Zalay had a plan, and the DMV unknowingly played right into it. It started when they noticed his appearance, which was significantly different from his last picture on record, and insisted he takes a new photo. Little did they know, Zalay was already ready for this, having come fully prepared with gimmicks and props to execute his ultimate goal.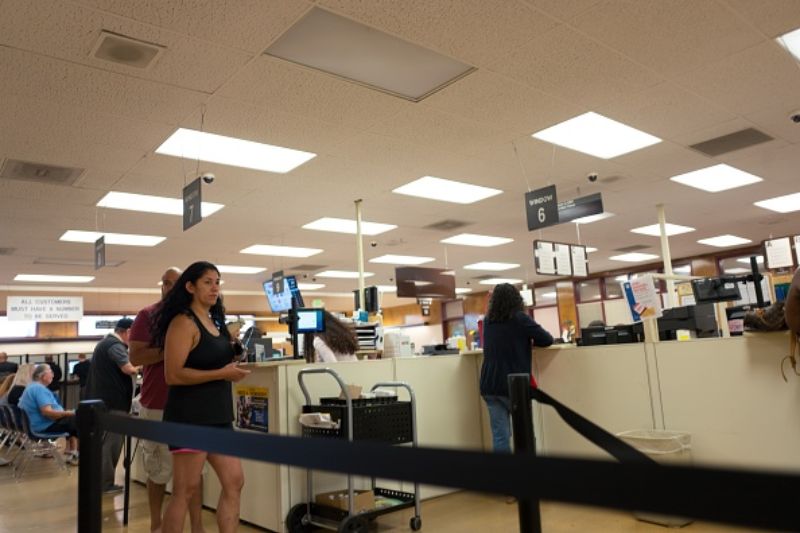 His new headshot turned out to be far from the typical DMV ID photo, instead resembling an award-winning nuanced art portrait! Thanks to the DMV's innocent suggestion of a photo retake, Zalay left that day with his license renewed and a unique memento immortalizing the occasion.
Just Snarl or Smile
Even though Zalay was told he couldn't make a lip snarl, he found a creative way around it. He simply shifted his passions from his lips to his eyes and ensured that everyone could sense the intensity of his emotion. So naturally, the DMV couldn't protest at that point.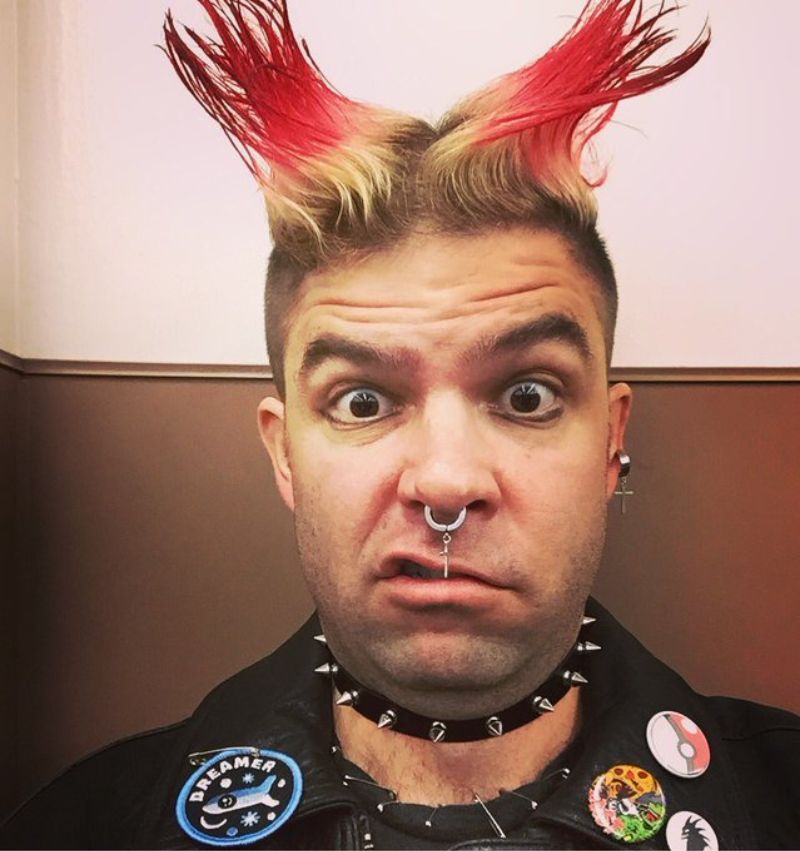 His eye snarls were just as powerful, and they showed everyone that he was still determined to express himself in even the most difficult of circumstances. Good thing Zalay had enough creativity to come up with such a genius idea!
He Suffered for His Art
Even with his passionate approach to art, Zalay encountered a slight obstacle making it difficult for him to stay active in his creativity. Zalay took a long-written driving test! But he persevered. Zalay has a resilience second to none: no matter the difficulty of the task or the setback that came his way, he was determined to make sure his creative streak continued.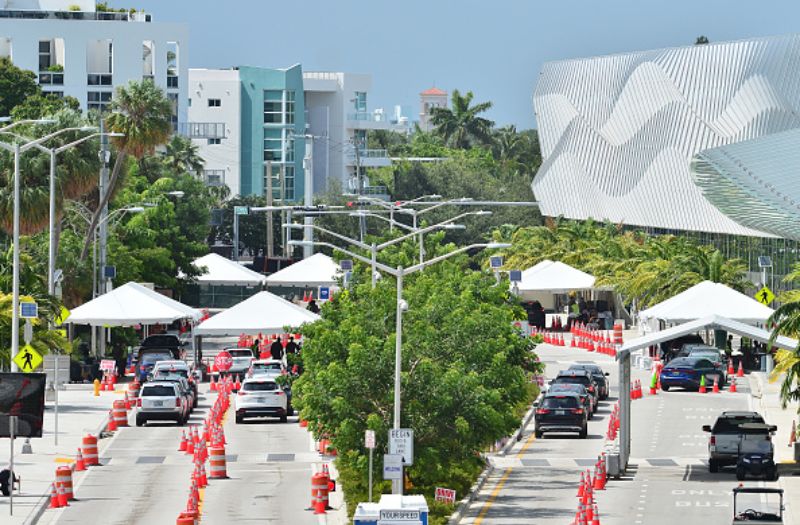 Finally, Zalay got his long-awaited ID in the mail, but on the flip side, he had to keep his funky hairdo for a while. 
For White Guys Only
Interestingly, Zalay believes whites are the only ones given the privilege of making light jokes with friendly gatekeepers, and he finds it a tragedy. He wants everyone, regardless of race, religion, gender, or any other identity marker, to have such an opportunity.
To him, this seemingly trivial exchange offers a welcome break from the seriousness of life and a brief reminder that, even if just for a moment, all people can connect in unexpected ways. Zalay aspires to bridge differences in his own life and build bridges between people who might be worlds apart.
His Sense of Humor is Endless
It would appear that Zalay's sense of humor knows no bounds. On top of poking fun at the DMV with his silly antics, Zalay also tagged Comedy Central in one of his social media posts. Well, he didn't think twice about asking whether or not they have a dress code.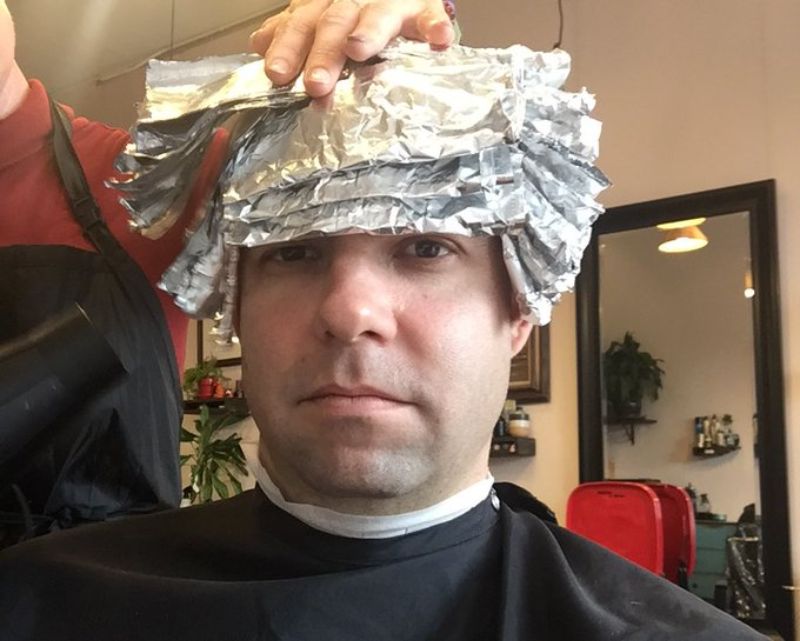 Some might think it's an odd question, but he apparently wanted to break the rules, much like how he broke DMV's regulations about taking the proper picture. Nevertheless, let's hope he didn't get into trouble!
A Superstar in His Own Right
Zaya sparked an unimaginable chain of events when he posted his hilariously awkward driver's license photo on social media. Fans erupted, sharing their own snaps of unsightly identification photos, briefly turning Zaya into a mini-celebrity. What started as an innocent joke quickly grew into a full-blown cultural phenomenon; the next thing he knew, it was going viral, with people everywhere viewing and sharing their own unfortunate license pictures.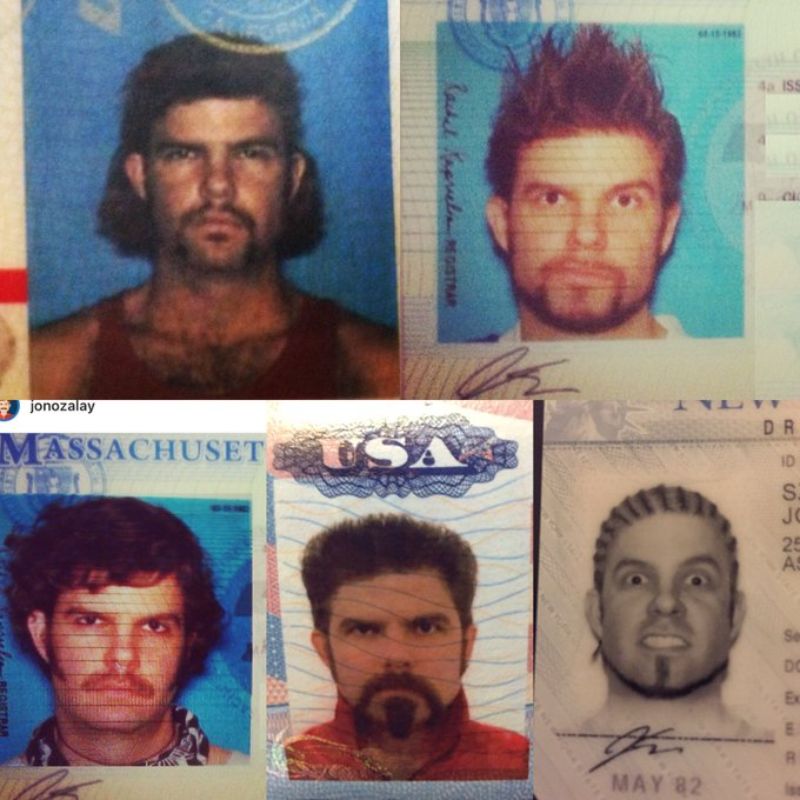 Even strangers were hopping on the bandwagon with nary a glance his way. As if by magic, Zaya's funny post had become the newest social craze that seemed to have no end in sight!
It's a Place of Smiles Now
For once, the DMV was a place of intrigue and amusement rather than simply bad service and long lines. One can only imagine the reactions that Zaya encountered when he showed up with changed looks each time—definitely not your usual trip to the DMV!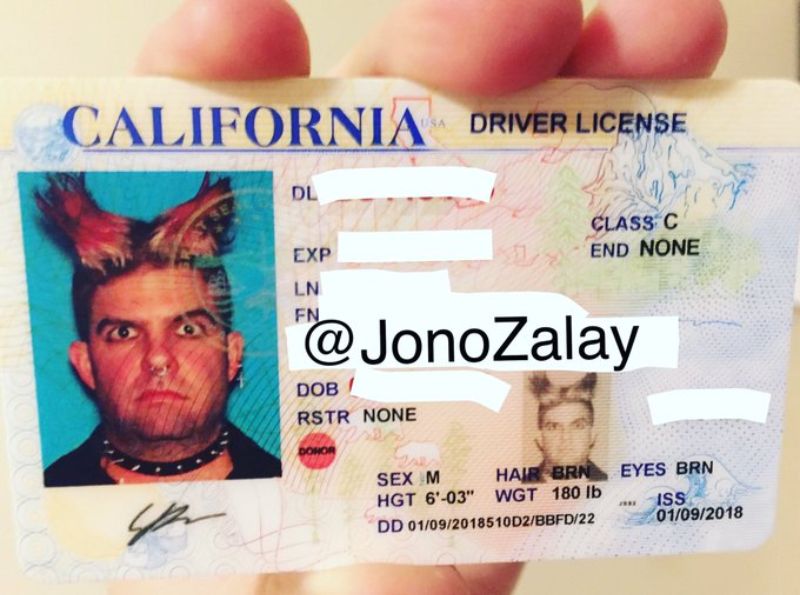 What's more impressive is that no one seemed to notice or mind his shenanigans – perhaps it gave them something to laugh about after days of arduous paperwork processing. We indeed wish him luck on his journey with many faces, experiences, and escapades ahead of him!