Online Shopping Fails: Expectation Vs. Reality
Ordering online has become second nature for most of us. You just can't beat the comfort and convenience of ordering items right from your couch. But, ordering online comes with a risk.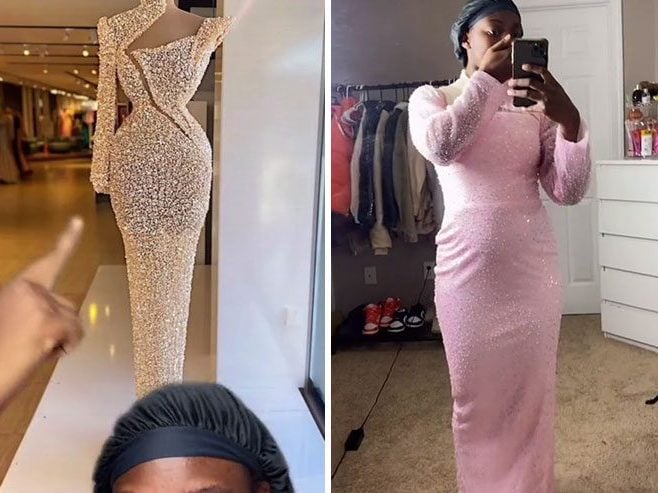 You never really know what you're going to get. Will it be the right size? Will it really look like it does in the picture? Check out these very real "expectation vs. reality" examples that perfectly explain what it feels like to be disappointed with your order.
This is Not What I Wanted
We all know that ordering online runs us the risk of ordering something that is not the right size. But every once in a while we get stuck with a purchase like this one that doesn't look anything like the photo we saw online.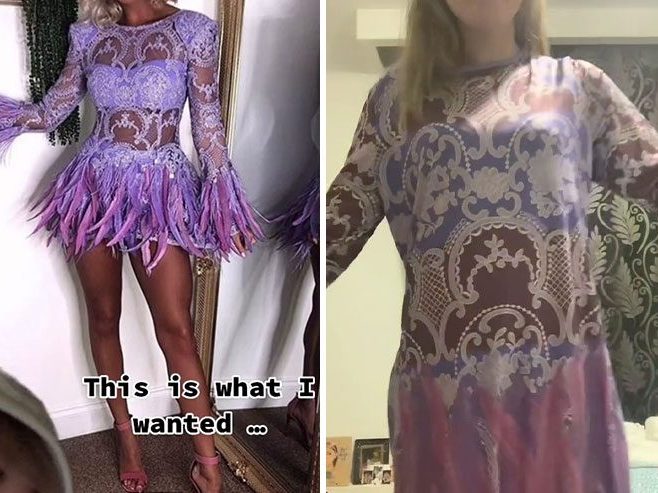 The dress on the left is a beautiful feathered dress with intricate details. The one on the right is an oversized garment that barely looks related. We can't blame the person who ordered this for feeling frustrated.
Sorry Cat Lovers
Any cat lover would be excited to find these stockings online. The bottom of the stockings have little toe beans that make them look just like your furry friends! But unfortunately, these stockings are just too good to be true.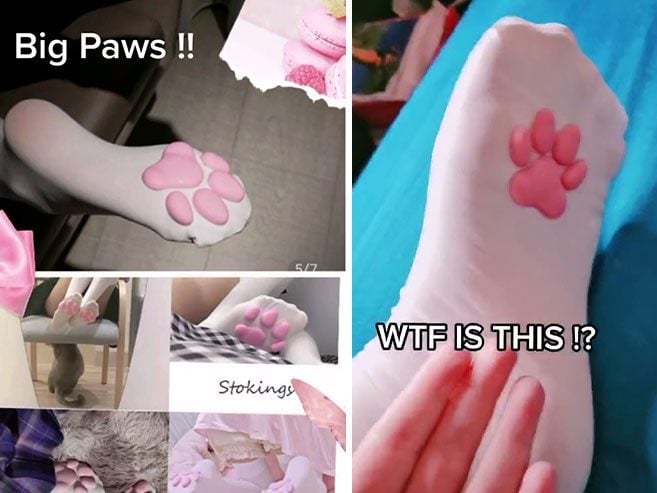 The person who ordered these was excited to match their cat. But the socks look absolutely nothing like the photos. Talk about false advertisements!
Are You Okay, Spongebob?
This Spongebob snack is a staple for ice cream trucks. But we are awfully worried about Spongebob here. He looks like he has been through it!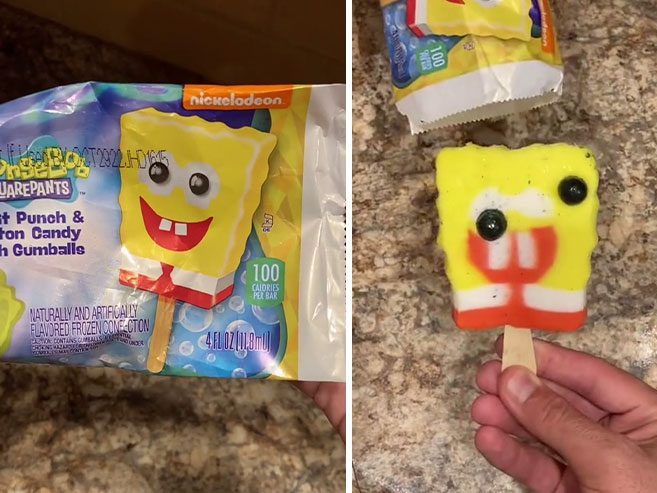 We understand that ice cream melts and so it might not always look exactly right when you open it,  but those eyes are unforgivable. We'd hardly know this was supposed to be a Spongebob popsicle if not for the colors. Maybe he's been overworking himself at the Krusty Krab.
False Advertising
We understand how disappointed this person must have been when they ordered this dress and received this in the mail, but we can't help but laugh at their misfortune. The dress on the right is a far cry from the one on the left.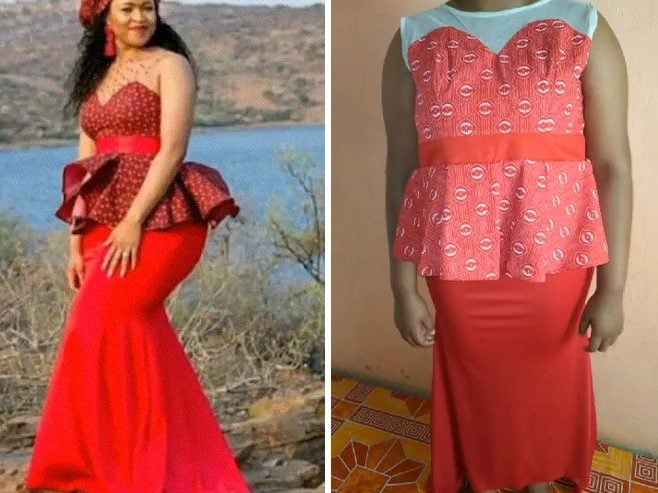 In fact, other than the fact that it is red and a dress, there is nothing else the two actually have in common. We hope they didn't need this for a special occasion.
Her Face Says it All
We can imagine how excited this poor young woman was to receive this dress. The sparkly dress on the left is stunning and perfect for a fancy occasion. She was just not prepared for what arrived for her.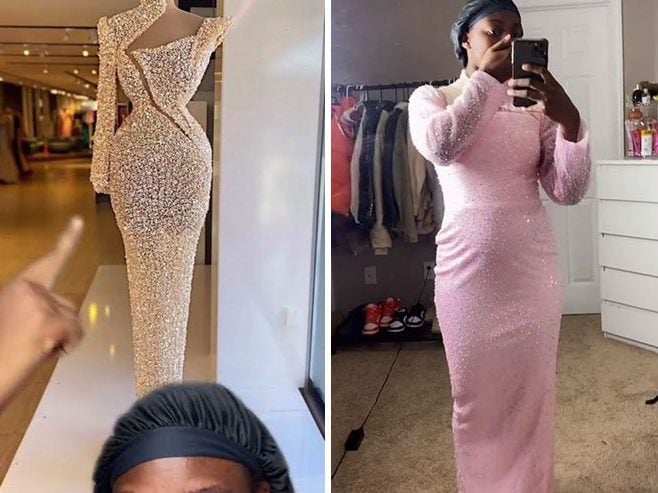 We think that the dress that arrived must have been some kind of accident because other than the fact that it is sparkly, there are no similarities. It's just not the same dress. Her face says it all; she's in as much shock as we are.
Disappointing a 3-Year-Old
This would be the perfect cake for any 3-year-old who is a fan of the Hulk. Chocolate and their favorite character would make them the happiest toddler on the planet. But, the cake on the right might not have the same effect.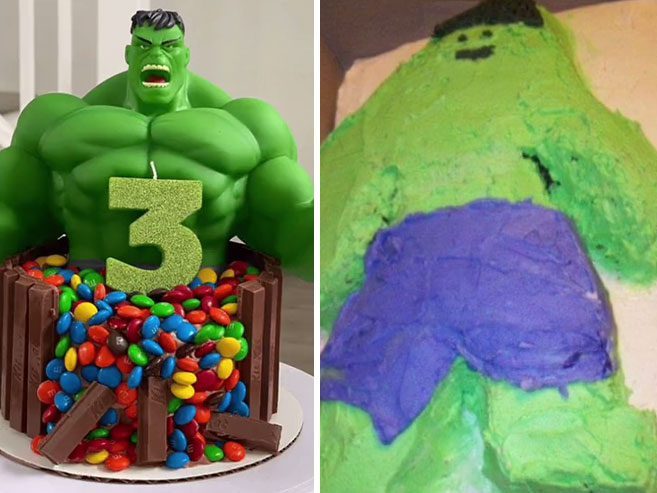 We assume that a parent tried to replicate the amazing Hulk cake for their daughter or son, but what they created was not as impressive. To be honest, we think 3-year-olds just appreciate cake and it's probably just as delicious.
Not As Chic
You can tell just from this woman's body language that she is not too happy with her online order. This chic outfit looks professional and stylish on the woman on the left but you can tell the quality isn't the same for the woman who ordered it online.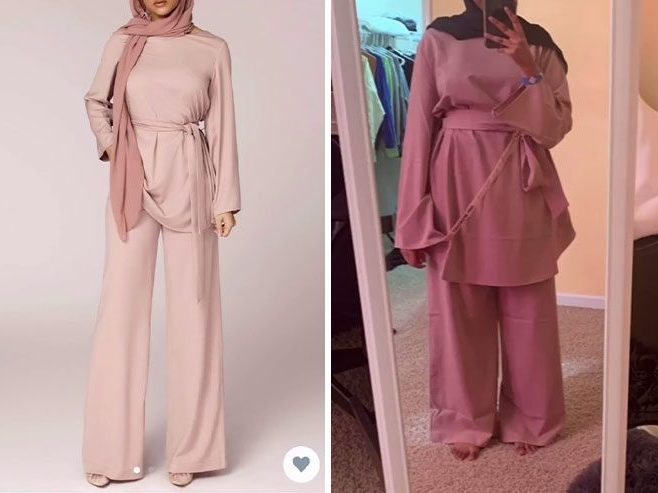 Even the material is different. It looks like it's a couple sizes too big as well. We hope she was able to return it or find a way to dress it up and make it look more like the photo.
Permanent Mistakes
Maybe the worst case scenario for "expectation vs. reality" is tattoos because (newsflash) they're permanent! Unless you want some lasers to the skin they are on your body for good so you want to make sure your tattoo is everything you'd hope for.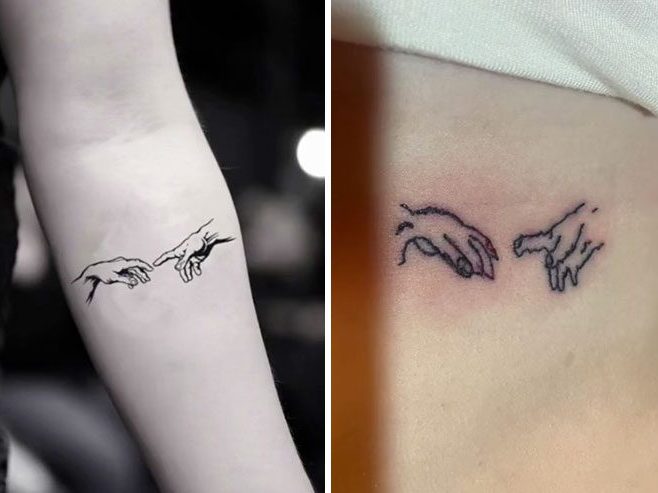 Whoever did this tattoo must have had some shaky hands or this wasn't a professional artist. Michelangelo's beautiful painting of "The Creation of Adam" does not look as impressive here, but they're stuck with it for good.
Nail Salon Fail
Unfortunately, when you go to the salon to get your hair or nails done you don't always get the results you were hoping for. To be fair, you can't always expect that your nails will look exactly like your inspiration photo.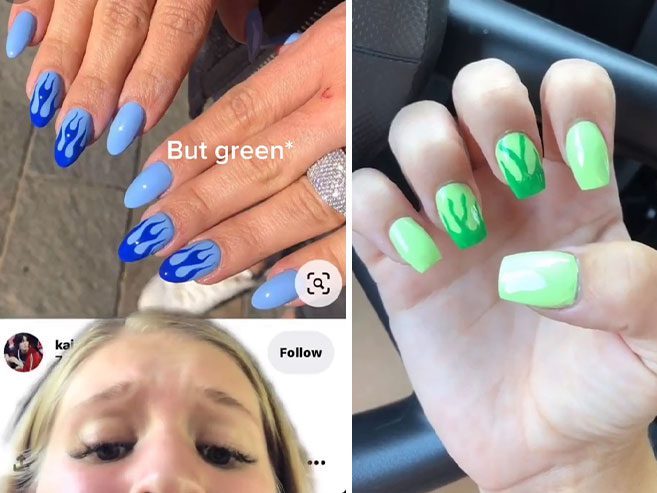 But usually, you can expect that they will look similar to the inspiration photo you show them. That was not the case for this poor girl who asked for the photo on the left but in green. Those flames look more like mistaken squiggles than anything.
It's So Bad We Have To Laugh
This one is so far off the mark that we can't help but laugh. We understand why she ordered the dress on the left but it missed the mark so badly that we can see why she had to laugh at the outcome.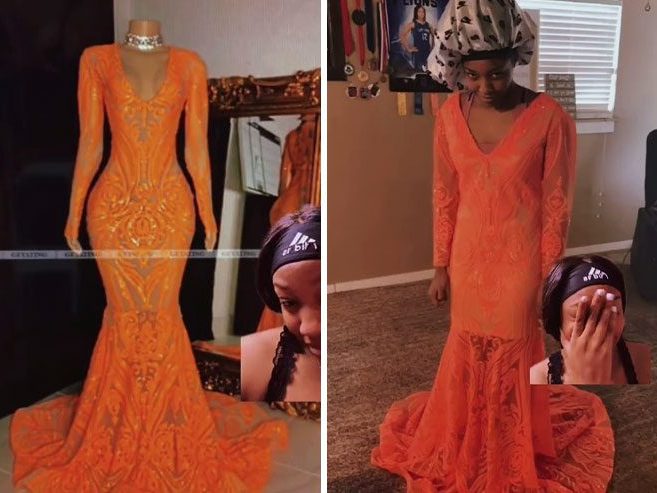 Obviously the dress is in the completely wrong size so that makes it look nothing like the image. But it also has none of the glitz and glam that this woman was hoping to have. Hopefully she ordered some backup options.
Glitz and Glamour
When most of us try things on they rarely look the way they do on the models so we know to expect a little bit of difference. But this sparkly gown looks almost nothing like the photo.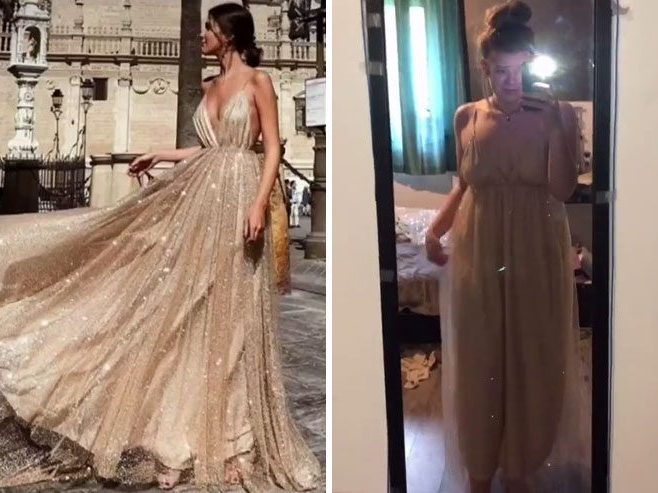 Maybe the wind that is blowing the gown is creating some of the magic we see. The disappointment is written all over this woman's face and we don't blame her.
Not Exactly What She Wanted
When you order a crop top and that's not what you receive, you'd be understandably disappointed. But the good news with this one is that she can still get what she originally wanted from her order.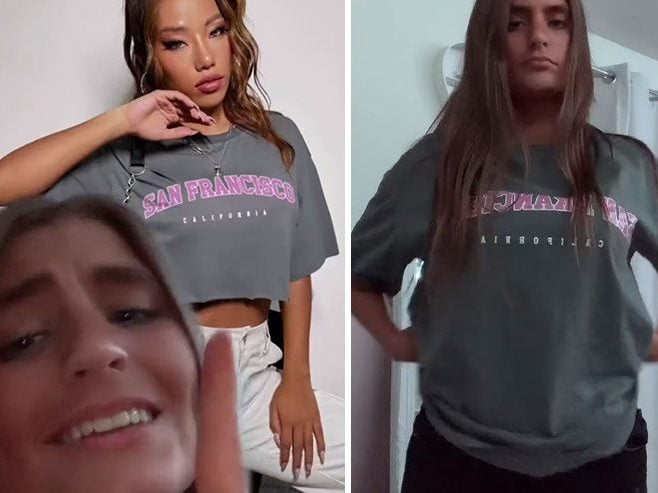 After she gets over the initial shock of the shirt being full length she can just take a pair of scissors to it and turn it into the crop top she wanted in the first place. Problem solved!
Bee Happy
This one makes us cringe. People have different tastes in art and art really is in the eye of the beholder so we don't typically judge. But we have to assume that this is not what this person wanted on their body forever.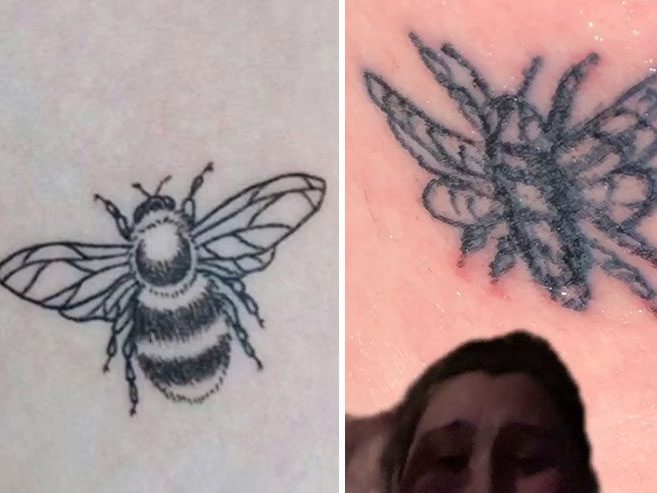 You can barely tell that this is a bee at all. The poor thing is going to have to be reminded of this bad decision every time she sees the demented bee on her own skin.
The Look of Disappointment
This is a look of disappointment if we've ever seen one. The poor woman was expecting this fluffy coat on the left with interesting details all down the sleeves, but what she is wearing looks like something completely different.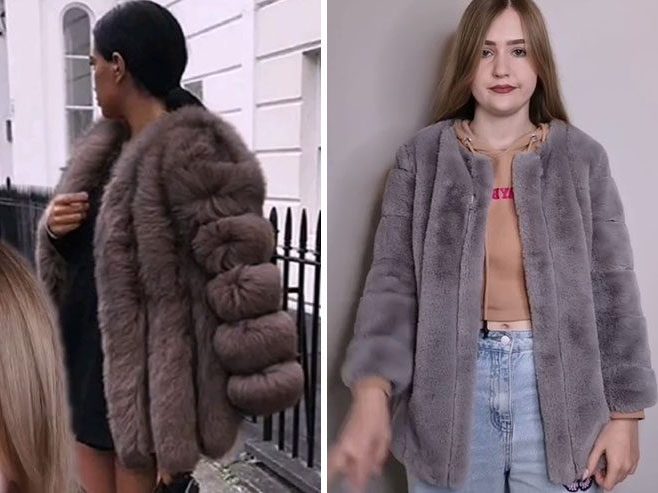 It's a gray coat but other than that it is certainly not even in the same realm as the other jacket. The material, style, and fit are all different. Her face speaks volumes about how she feels about that.
Barney and Friends
Barney looks awfully scary here. We can't imagine that any kid would be too excited to see their cake look like this. They might not even recognize that it's Barney, the big purple dinosaur looking back at them.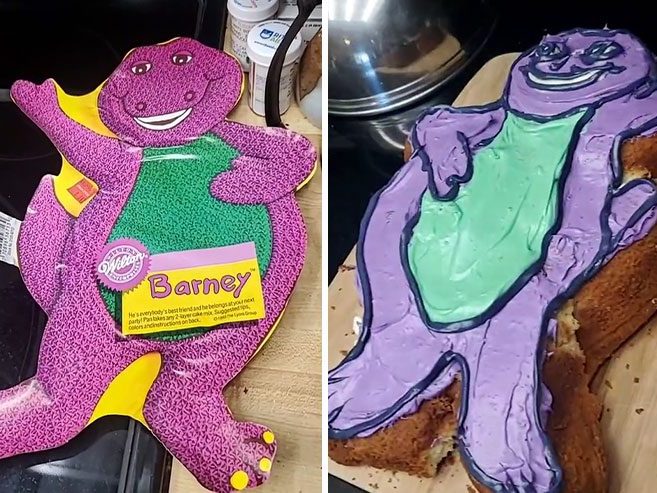 The first mistake these parents made was to buy the Barney cakepan in the first place. Those things never work out the way you think they do. But, we do have to applaud their effort for trying to bring some creativity to the kitchen.
A Size (or 2) Too Small
This dress went viral across the internet for being the tiniest piece of clothing anyone had ever seen. I mean, it actually looks like it could be a dress for a doll instead of an adult woman.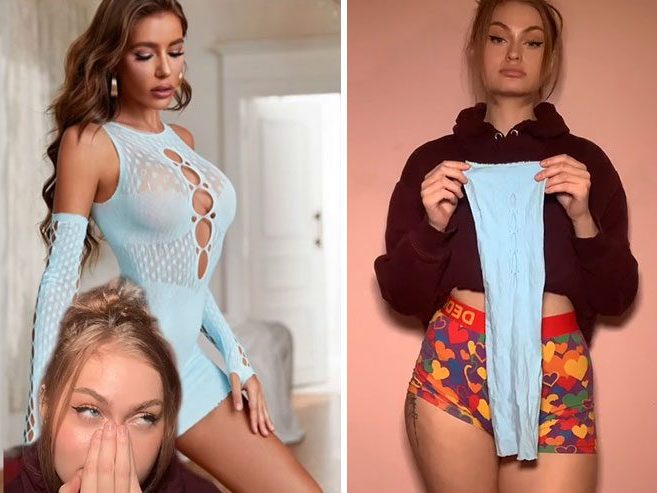 But somehow, it happens to fit in most cases. We imagine this person was shocked to find this little piece of fabric when they expected to open theri box to a dress.
Wedding Day Glamour
While this woman still looks stunning, her hair is not exactly the braid that she had envisioned. The braid on the left is what she wanted for her walk down the aisle and the right is what she ended up with.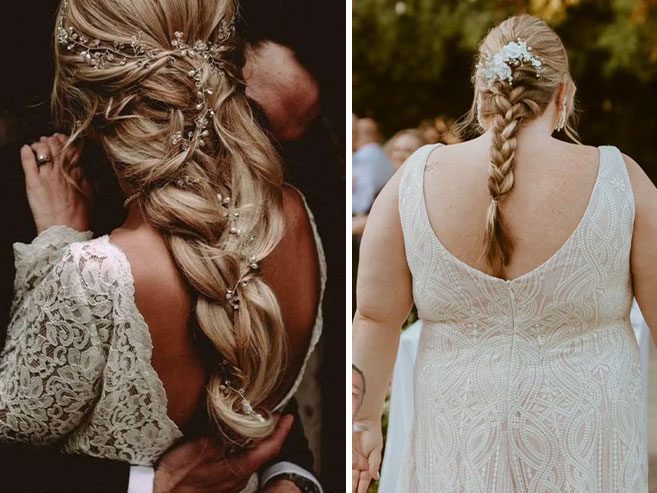 To be fair, hair is ever going to look exactly like the inspiration photo because everyone's hair texture, length, thickness, etc. is different. Despite not looking like the inspiration, she looks beautiful and that's all that matters.
Charlie Brown Christmas Tree
There's nothing wrong with a Charlie Brown Christmas Tree. Even those twiggy trees need some love around the Holiday season. But, when you order a luscious leafy tree and you get this instead, you will obviously be disappointed.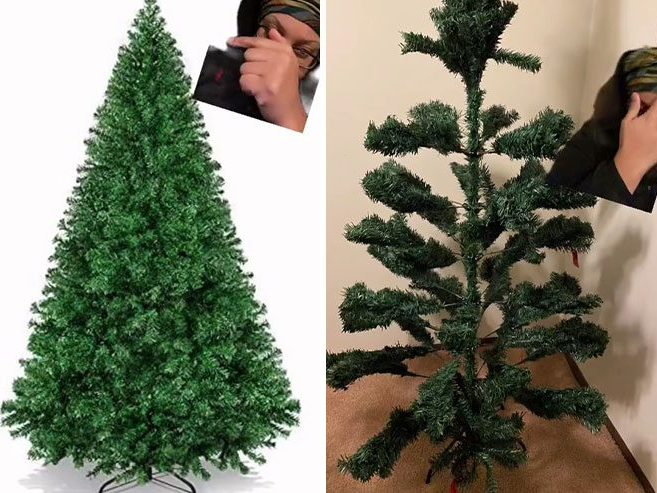 We hope they can fluff it up and get this tre looking a little less sad because this tree doesn't exactly scream "Holiday spirit" in our opinion. Happy Holidays!
19. The Perfect Prom Dress (Sort of)
The dress on the left is the perfect prom dress. Some sparkly details and flowy material make it a great option for the next school dance or fancy occasion, but the dress on the right just doesn't compete.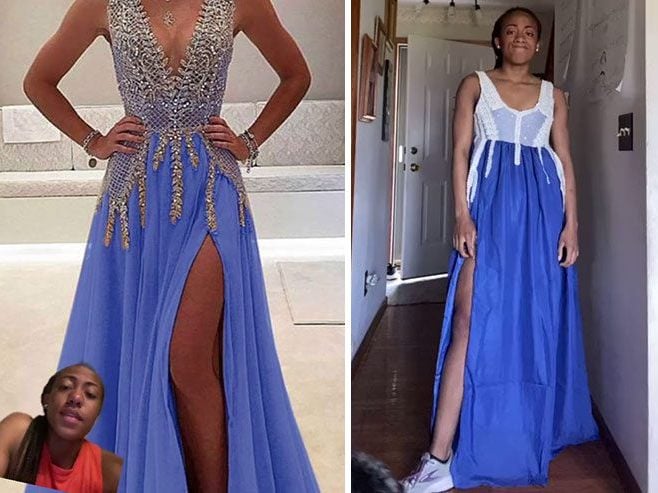 It looks like a cheap Halloween costume or something made by someone who has never sewn fabric together in their life. Is the skirt made of vinyl? We imagine it's as uncomfortable as it looks.
Elmo's Melting
Anyone who has ever worked with frosting knows that you can't put the frosting on the cake until the cake has cooled. Otherwise, you'll wind up with this somewhat scary looking melted Elmo cake.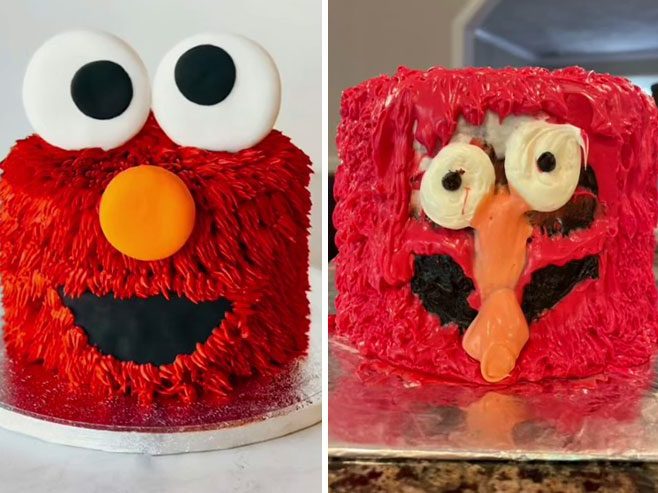 Before it melted it might have actually held a resemblance to the inspiration photo! Unfortunately we'll never know because it now looks less like Elmo and more like a droopy mess. We bet it still tastes good, though!
The Wrong Blue
When this woman went to the salon to get her hair dyed blue, we assume she didn't want just any blue. It's the reason she brought an inspiration picture with the deep royal blue we see on the left.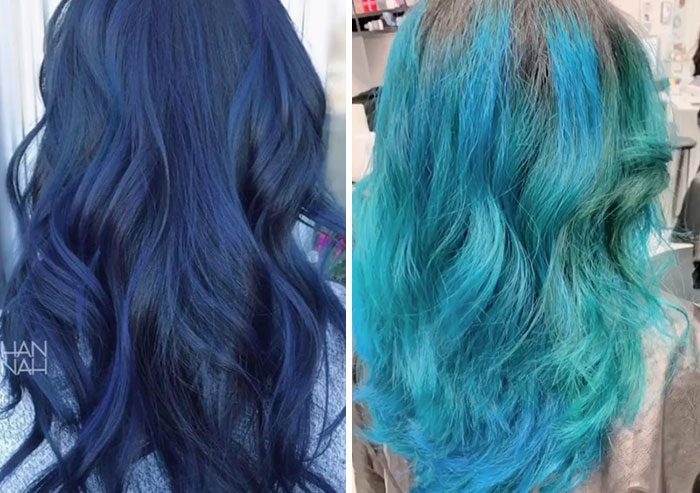 But, either the hairdresser ignored the photo or used the wrong mix of colors because her result is worlds away from what she wanted. Her shade of blue looks a little more like Cookie Monster.
Denim on Denim
Jean skirts are a pretty basic staple that were popular in the 90s and have made something of  a comeback in more recent years. But this is certainly not the denim skirt that this girl wanted in her closet.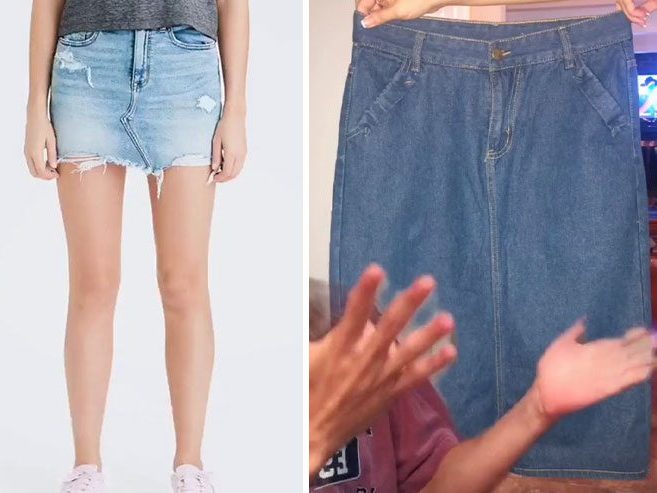 We can't be sure if she just ordered an XXXXL or if the company just sent the completely wrong skirt. Whatever the case we don't know if she'll be able to make this one work even with the best accessories.
Garbage Bag Chic
The "little black dress" is a staple in most women's closets. It's easy to style and can be worn to almost any occasion. However, this dress looks more like a garbage bag than a little black dress.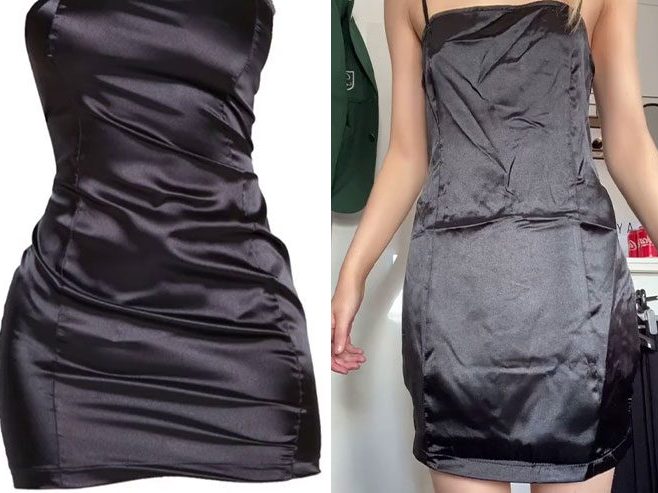 Even if she were to iron out those wrinkles, the dress has no form and it's basically a piece of cloth that has been haphazardly put together. Maybe she'll be able to dress it up with some coll accessories.
Butterfly Fly Away
Butterflies are a super popular tattoo design in the past couple years and they can be so beautiful when they're done well. This woman wanted these two dainty butterflies like the ones pictured.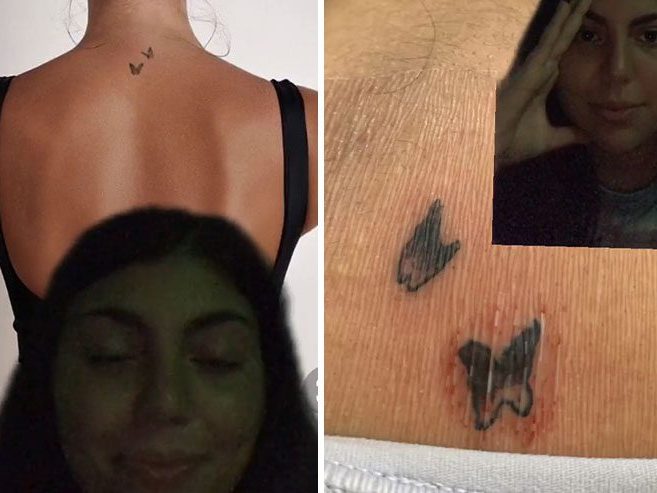 What she got looks more like demented blobs than anything else. One commenter questioned if they were molar teeth! They still have the plastic wrap on them so we hope for her askew they look better without it.
Bang For Your Buck
Cutting bangs is always risky, whether you do them yourself or have a professional hair stylist cut them. What if you don't like them or you mess them up? The only way out is to grow them out.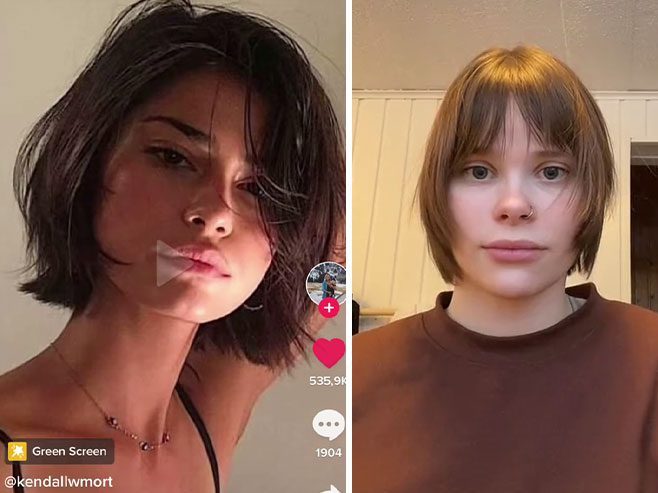 This woman did not get the style she had hoped for. We guess she didn't take into account the amount of styling and products it takes to make her inspiration picture happen. But hey, hair grows back!
It's Not to Scale
You have to be really careful about sizes when you order clothes online, but you also have to be careful of sizes when ordering everyday objects as well. This person ordered a scale to weigh themselves.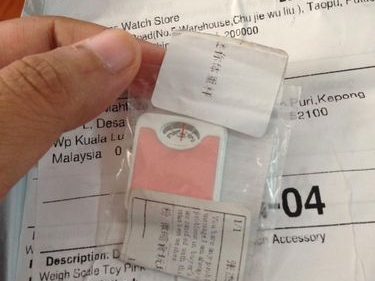 But this scale probably couldn't weigh more than a grain of rice. It's ironic that the thing they bought to check size is the completely wrong size itself!
A Face Mask For a Hamster
Face masks are a great way to relax and practice some self care after a long day. So, we're sure she was excited to kick back and do some skin care while she relaxed, but she was tricked by the internet.
This face mask wouldn't fit anyone bigger than a hamster. It barely covers her forehead and she doesn't look too amused. At least she can give the mask to her guinea pig to use if she has one.
A Real Expectation Vs. Reality
The expectation for the dress is the photo on the right but the problem with that is that the image isn't even real itself! The photo on the right is completely photoshopped and warped so it's no wonder the reality was not what she had hoped.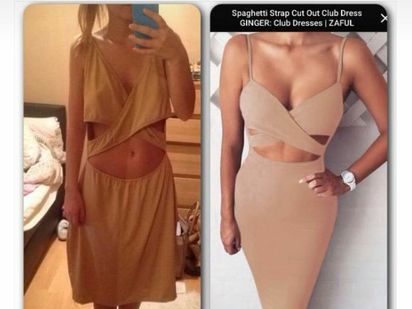 We can't help but laugh at the dress that this woman received. It looks more like a potato sack than a form fitted cut out dress. We don't think she'll be wearing this anywhere anytime soon.
A Little Long
Ordering jeans online is always risky because different styles and brands always fit in tons of different ways so it's unlikely that they will be the perfect fit. It's usually a better idea to just try them on in-store.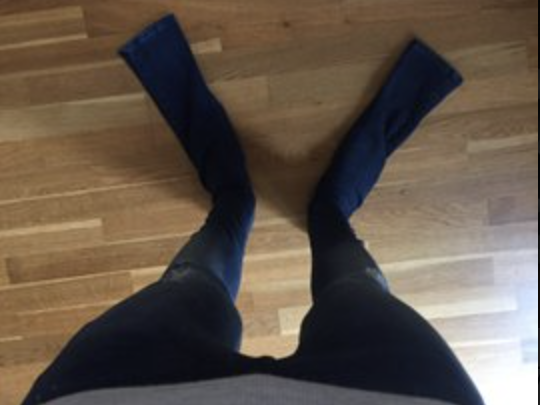 But this is something we definitely couldn't have predicted. This person ordered 32' long jeans and ended up with these insanely long pants! Who are these made for? Giants?