Perfectly Awkward Family Photos That Shouldn't Have Made The Photo Album
Step into the world of awkward family photos – a place where nostalgia meets embarrassment, and laughter is the only cure. We've all been there, flipping through old albums, only to stumble upon cringe-worthy pictures of ourselves and our loved ones.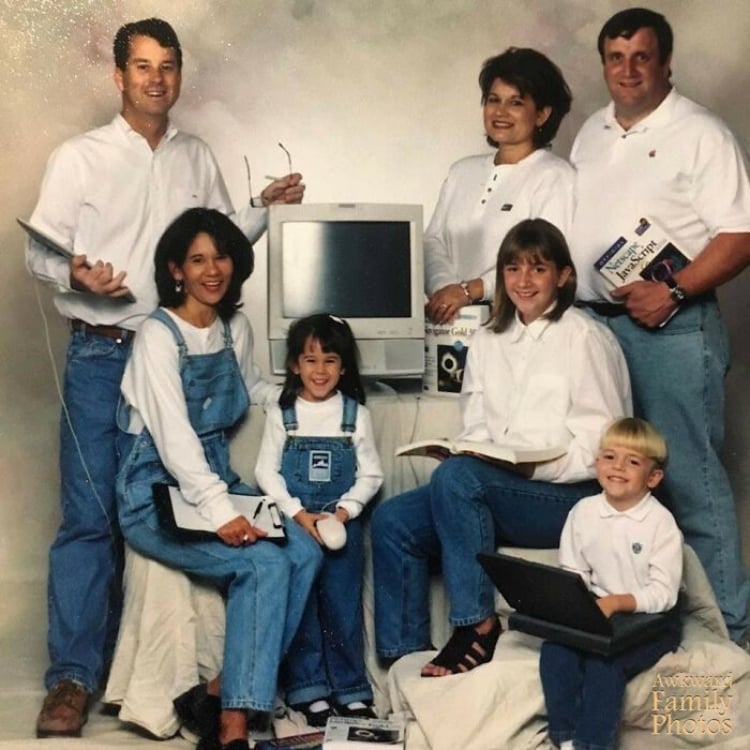 What is it about these photos that make them so funny? Well, let's sit back, relax, and find out. Prepare to cringe and chuckle at some truly awkward family photos!
The Perfectly Imperfect Family Snapshot
Behold: the essence of family dynamics captured in a single photo! Dad's the super organized superhero, while aunts and uncles seem to be in blissful oblivion. The young couple is juggling parenthood like a pro – or maybe not?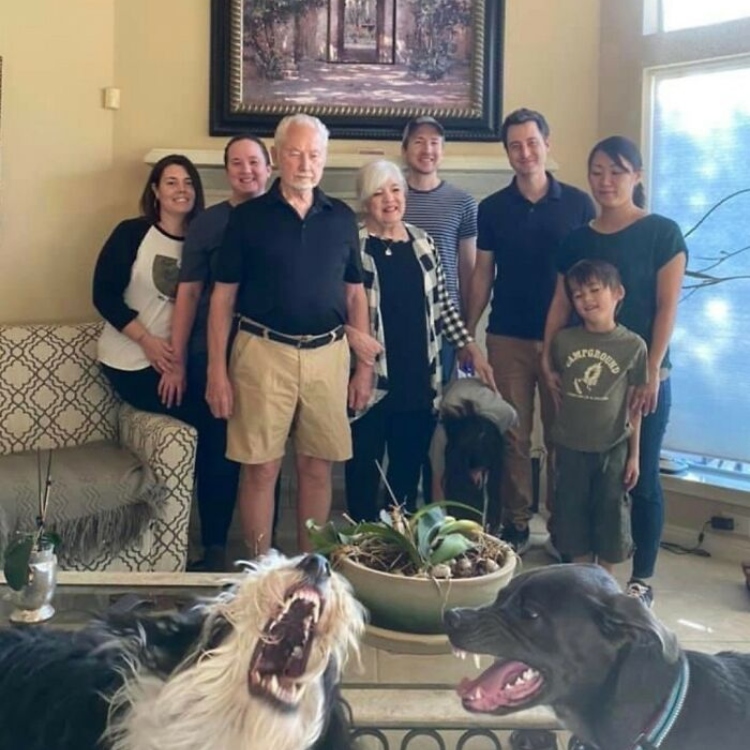 Then the kids always seem to pick the perfect time for a meltdown! If you can relate, don't worry; you're not alone. Share your dysfunctional family tales with us, and let's all bask in the glory of being perfectly imperfect.
Through the Lens of Affection
This photographer has captured countless Kodak moments, but nothing compares to a young couple smothering their only child with love. As the camera snaps away, you can see the photographer taken aback by the intensity of their affection.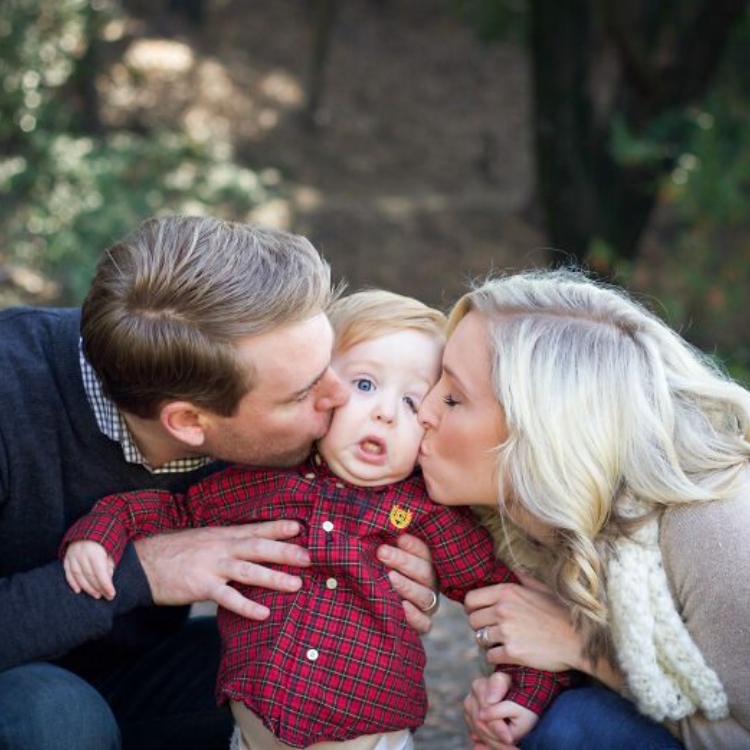 What about the child? Caught between his parents' love and emotional damage, he looks to the photographer for a reaction. With a momentary look of distress, he warns his parents: one more kiss, and he'll burst into tears.
Bringing Back Childhood Memories
Meet the kid who always knew she wasn't the favorite. It was a secret shame she carried for years, but now as an adult, she's finally free to indulge in everything her parents never gave her. Still, one old photograph brings back the ache of feeling second-best.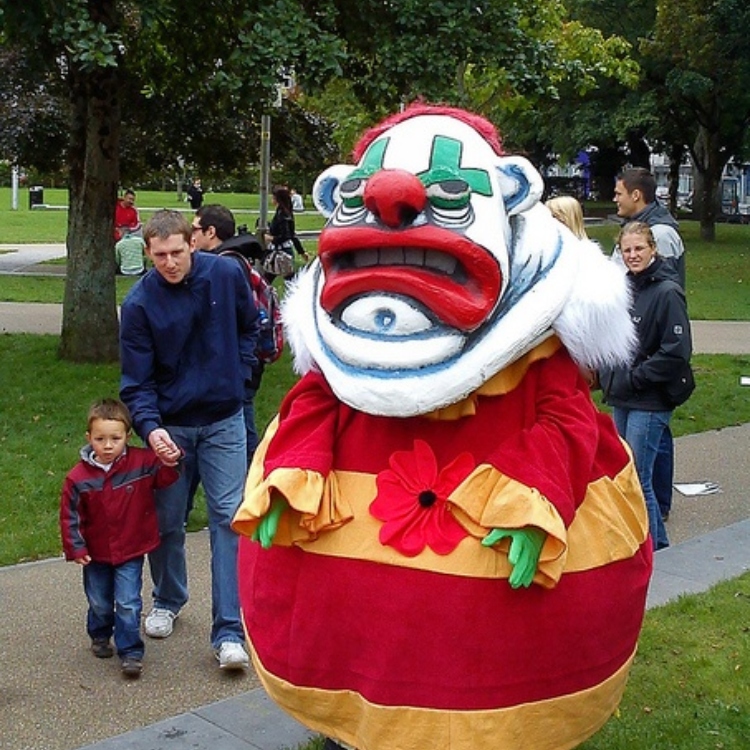 Yet, it's time to let go of the past and see things in a different light because as it turns out, her parents weren't even playing favorites after all.
Second Thoughts on that RSVP
Do you know those awkward family photos that make you cringe? Well, this guy just received a wedding invitation and thought twice about attending after stumbling upon a cringe-worthy snapshot.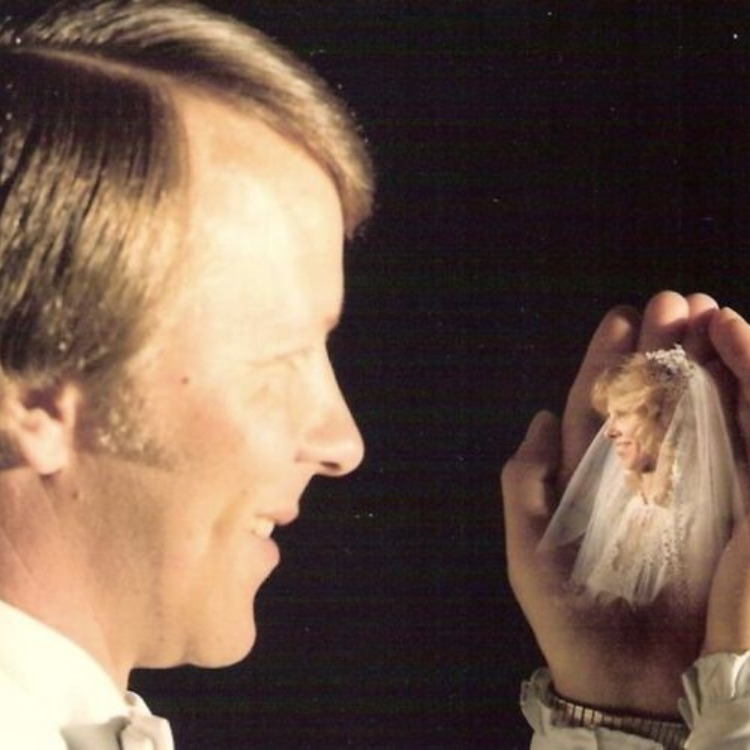 He shows his wife the picture, hoping for guidance, and asks, "Do I really need to RSVP? Can't I sit this one out?" His wife can barely contain her laughter as they dissect the photo, wondering what possessed the family to pose like that.
Did She Mistake This For A Movie Scene?
A lot of kids love taking pictures, but it's funny how this kid didn't want her face in the shot and wanted a more dramatic way to make memories.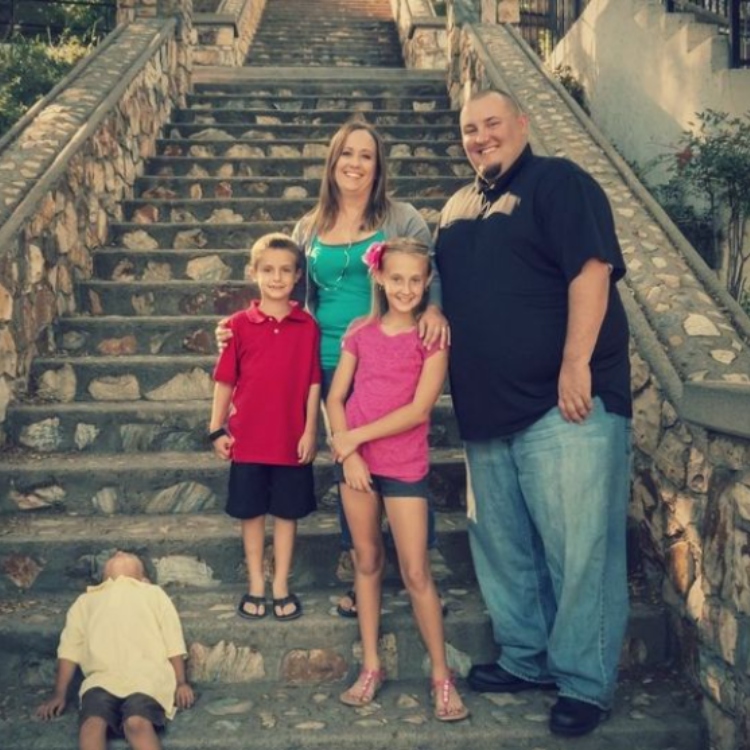 Either her parents had just offended or she mistook the shoot for a movie scene and wanted to play dead. Hey, whatever the case may be, it was her time to shine.
The Three Cycling Clowns
There are millions of available picture themes out there for when kids want to take a picture so we need to ask, why choose this dramatic one?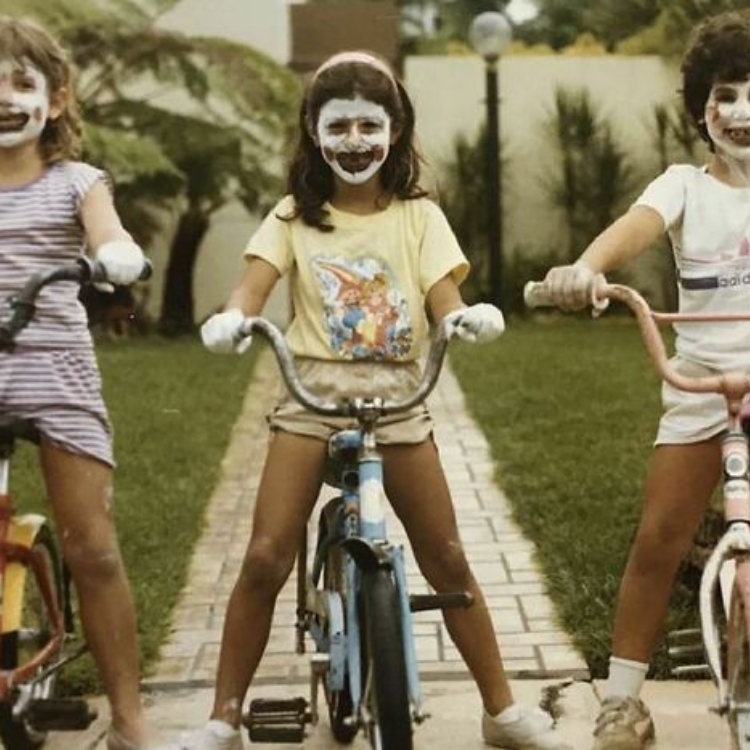 This seems super awkward, but you could tell that it was deliberately planned – look at their painted hands. They took time to paint their faces, all in the name of looking like clowns. Yes, they are just kids, but they are a ridiculous bunch.
Queen Elizabeth - The Third And Fourth
We sincerely hope it's possible to find these two characters and ask how they feel about this picture. From the hairstyle to the dress style, there are many things to crack you up.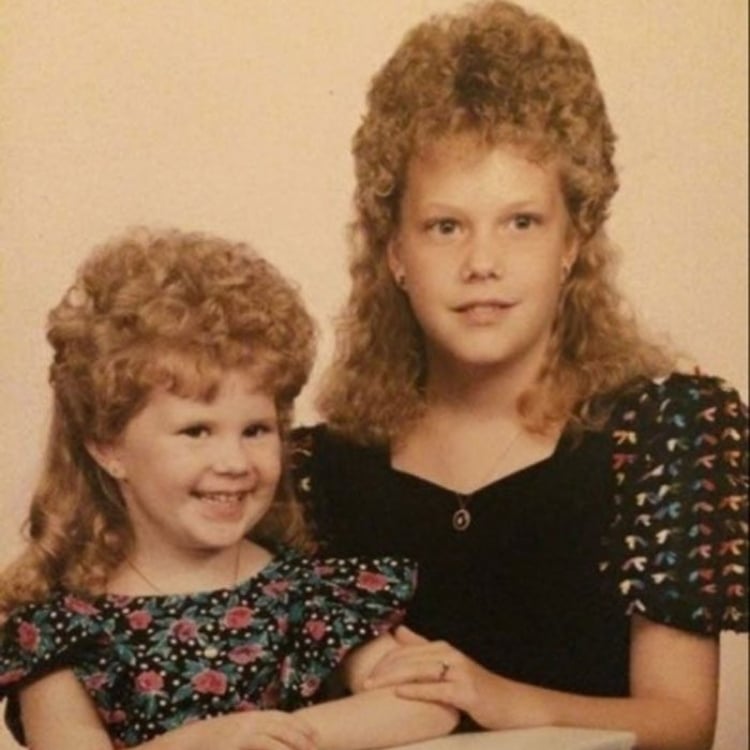 Perhaps it was all a trending fashion at the time, we can't exactly tell, but tagging it "hilarious Queen Elizabeth – the third and fourth" is the perfect way to describe this ensemble.
This Was The Way to Celebrate Christmas
Celebrating Christmas in the old days involved many ridiculous ideas. One of which was to dress up in clothes like these and storm the street for pictures. We would walk around town with pride, and enjoy the festive air, but what about the photographs years after?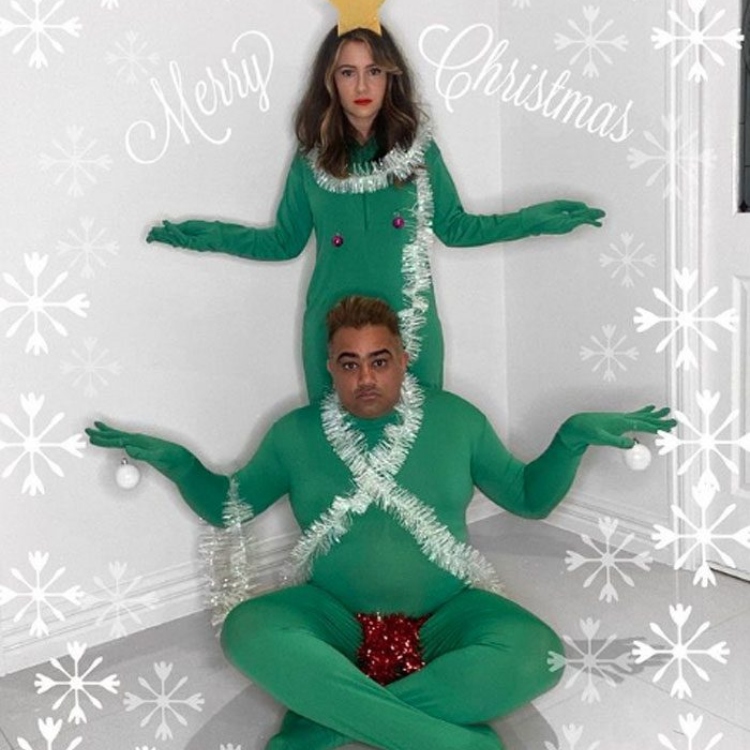 Well, instead of feeling awkward, perhaps it pays to instead, remember the golden moments we had as a kid, and thank God we're older, wiser, and have a better wardrobe now.
What An Unbelievable Dessert
From the look on this guy's face, he's probably imagining what that baby was doing on a dining table. A dining table of all places!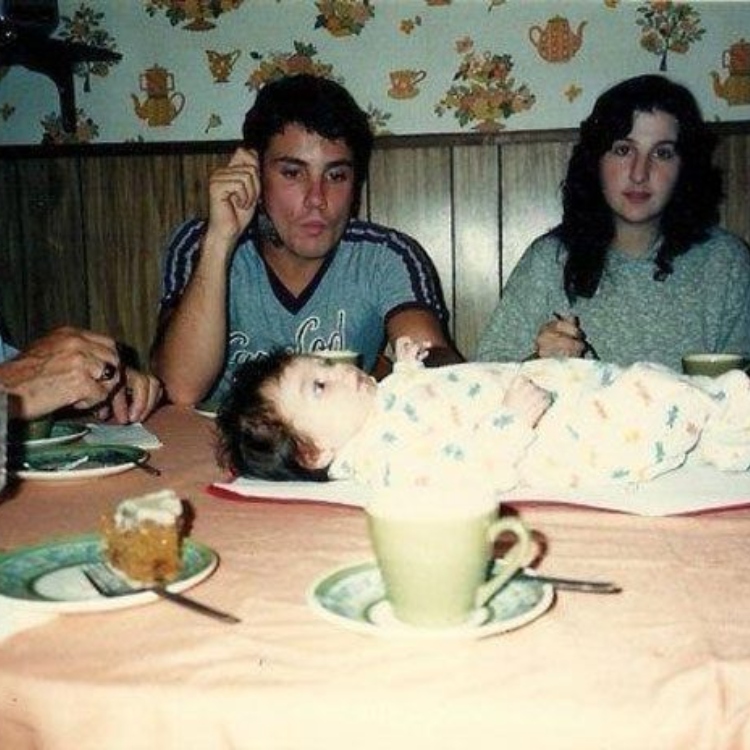 The photographer was also creepy for making the baby a spotlight. Years on, we bet it'd have a big question for the parents, questions like, "Was I the only dessert you could think of at that time"? They'd better prepare an answer for him.
Halloween Meets Christmas
Rocking around the Christmas tree takes on a whole new meaning with this family of three. Dressed in their finest metallic rock band attire from Halloween, they've traded in their guitar picks for candy canes and their mosh pit for Santa's lap.
The little girl is beaming with joy, while the parents look "okay" with the whole situation. This family keeps the party going year-round. Santa better watch out, because this crew is ready to sleigh all day!
Siblings Lean 'Seriously' on Love
This picture says it all about sibling love. Four sisters, looking stoic and serious, lean on their brother while he looks at the camera with a grin on his face. The girls might look like they were forced to take this picture, but there's no denying their heartwarming bond.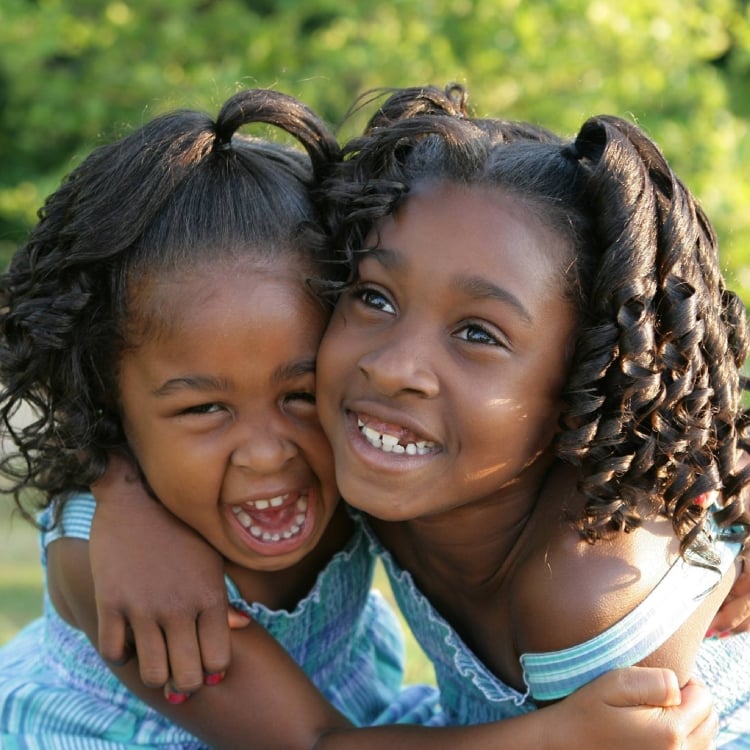 Check out the littlest one in the glasses – she's got that look that only the youngest sibling can pull off. Maybe she's just wondering why they are not getting ice cream.
Chaos and Smiles: A Family Portrait
Welcome to the wild and wacky world of this five-person family! This image is full of confusion and chaos, from the father who looks photoshopped into the brother who could double as a Hogwarts student.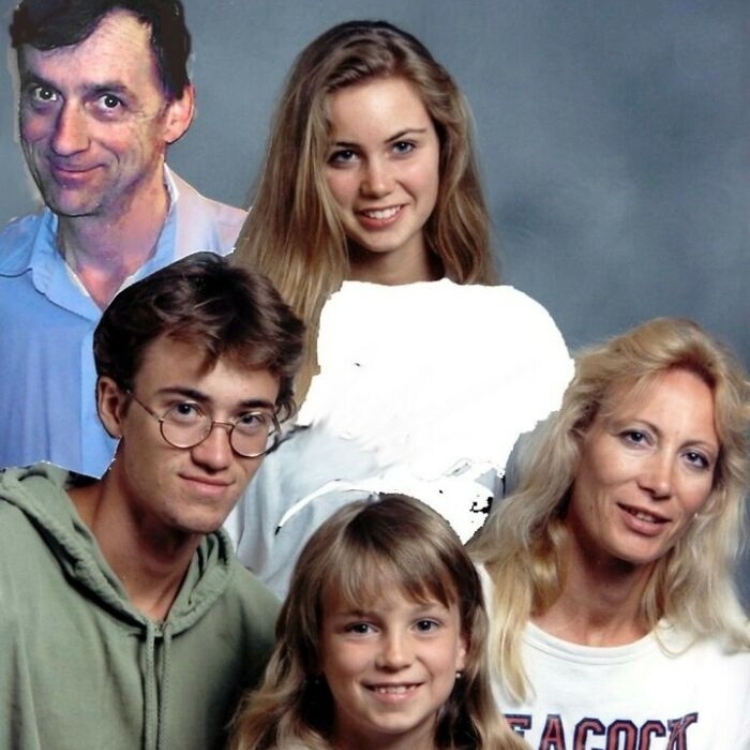 Amidst all the madness, the eldest sister stands out as a beacon of normalcy…until you notice the strategically edited logo on her shirt that throws off her mom's head! Thankfully, the youngest daughter saves the day with her genuine smile and unedited joy.
Birthday Surprise on the Throne
Oh, boy! This picture is the definition of hilarious. Little Timmy is sitting on the toilet with his pants down, while his mom presents him with a birthday cake – talk about a birthday surprise!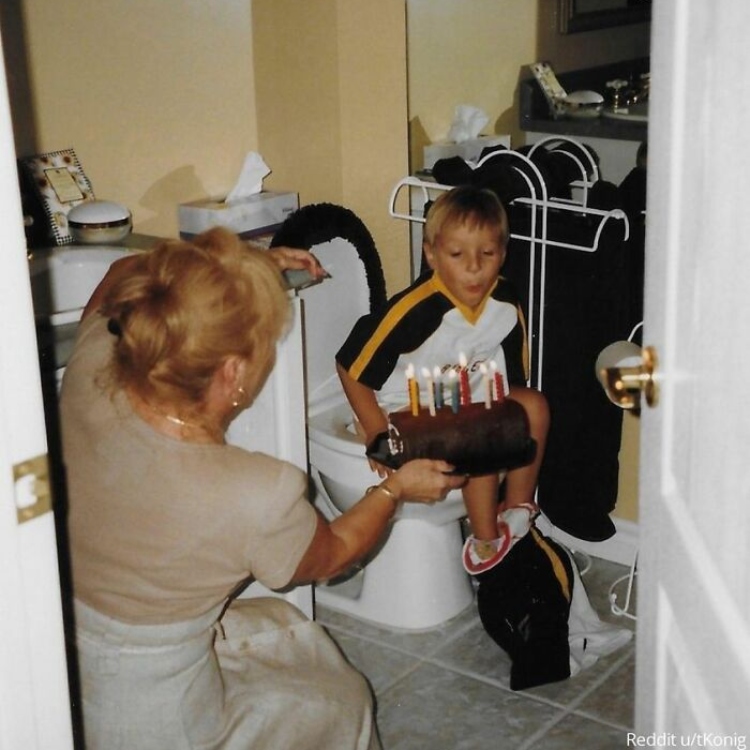 We can only imagine the look on his face when he realized what was happening. But hey, when nature calls, you gotta answer, even if it's in the middle of your birthday celebration. We just hope they washed their hands before digging into that cake!
When Grandparenting Goes Wrong
When it comes to grandparenting, sometimes things don't go according to plan. Take this picture, for example. Looks like Grandpa is holding a crying baby with a clown face paint job that looks like it was done by a five-year-old.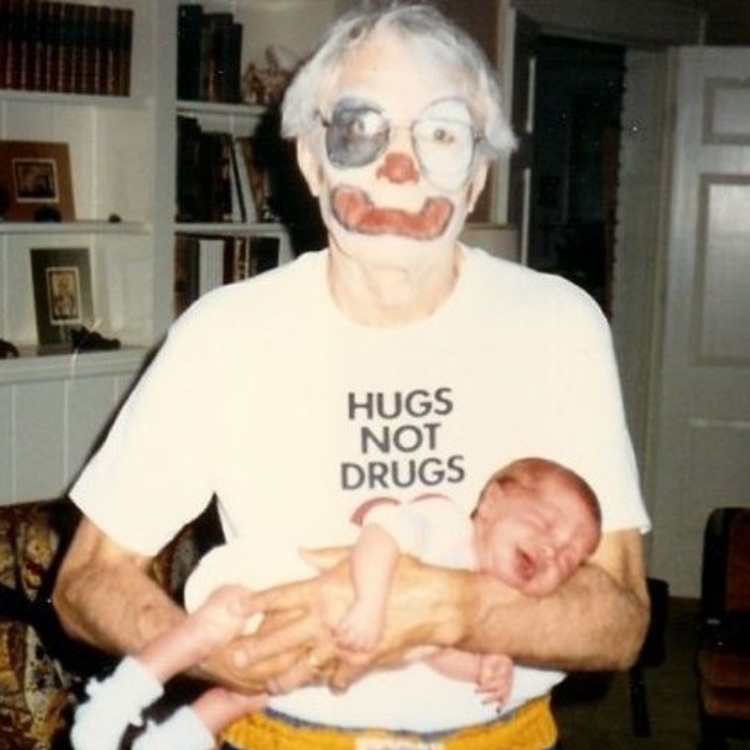 His "Hugs Not Drugs"  t-shirt has a good message, but it's not exactly calming the baby down, and let's just say his hold on the baby could use some work. Grandpa looks stressed – but at least he's trying!
A Sweet Escape for the Cookie Monster
Romantic photoshoots with boyfriends are overrated. This woman's dream was to have her picture taken while lying on a mountain of her favorite snacks, and it's okay to indulge in the little things we love.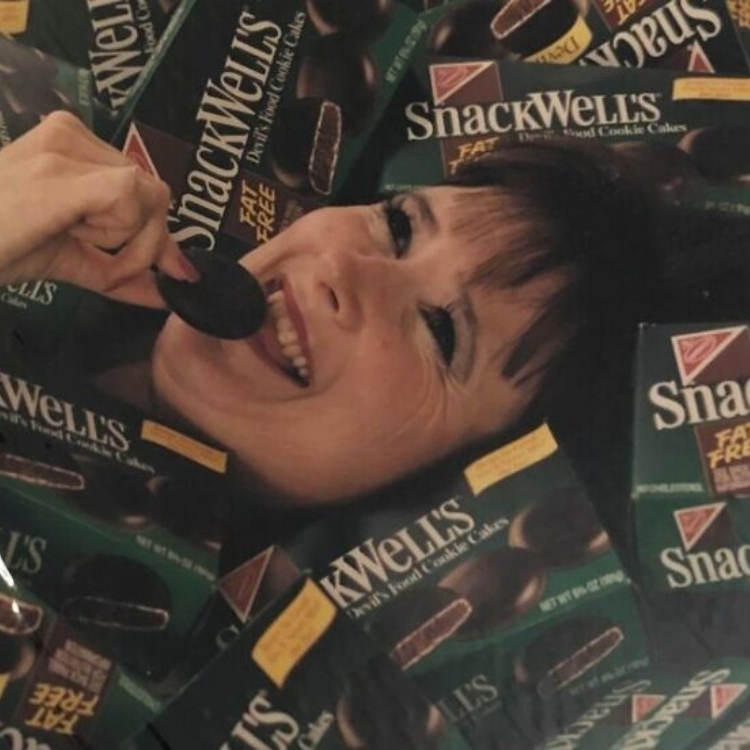 The lady made her nephew click these perfect pictures where she's drowning in the sugary world of SnackWell's cookie cakes. Given her smile, while she bites that cookie, we can see she is already in heaven!
Not Interested in the Big Sister Job
The arrival of a new baby can bring out many confusing emotions for the older sibling. It's not easy for the kids, from coping with not being the center of attention to realizing a baby actually emerges from a mother's belly.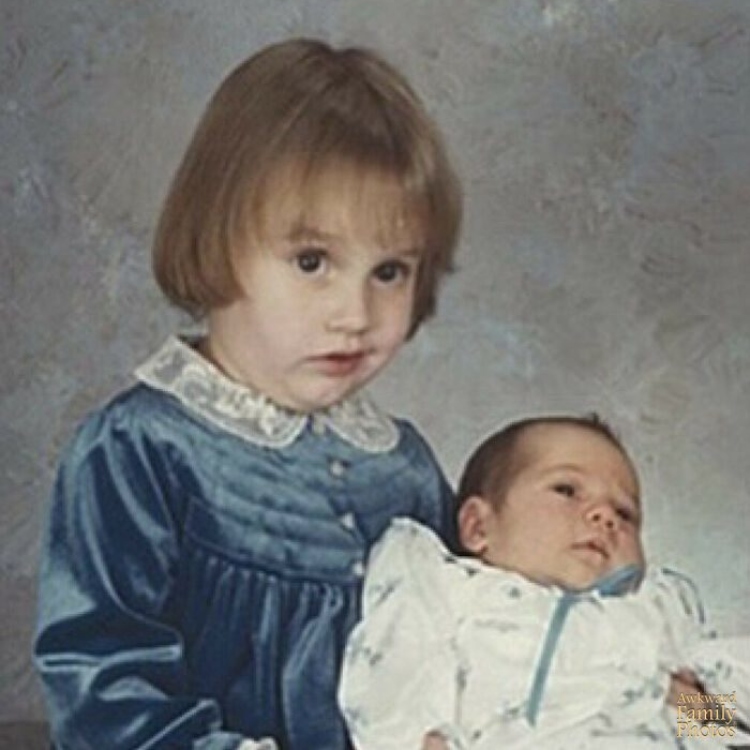 This little girl shares similar sentiments as she holds her baby sibling for a photoshoot. Her smile clearly says, "Are you kidding me? I didn't sign up for this!"
How to Not Use Bedsheets
Sometimes it can feel like our parents are trying to set us up for a lifetime of cringe-worthy moments! We all have those memories of being dragged into things we never wanted to do.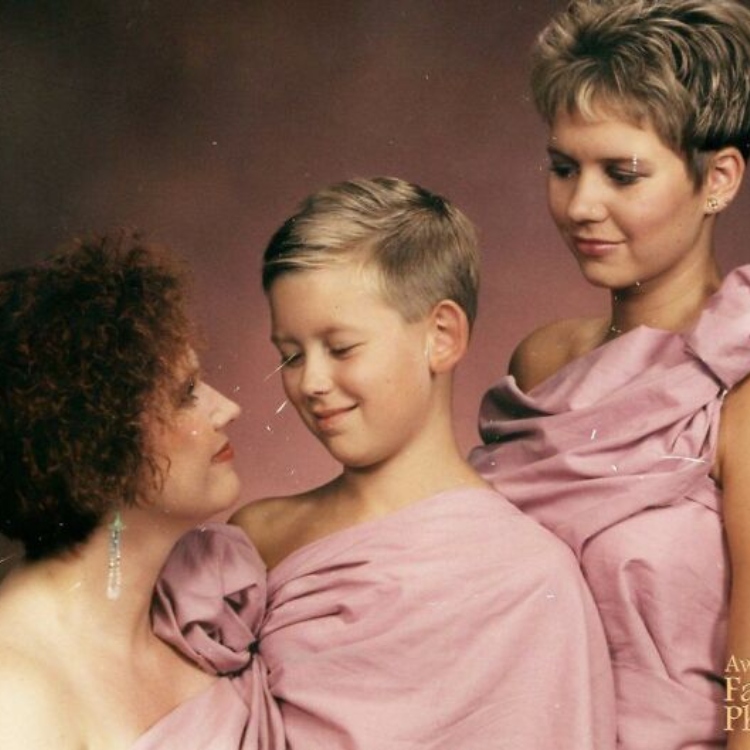 Why did she think being draped in linen with her son was a good idea for a family photo? This poor kid's face looks like he wants the ground to open up and swallow him whole. It might be an embarrassing moment that would haunt him forever!
Family of Fake Computer Geniuses
Once upon a time, before the world of hashtags and likes, businesses had to work extra hard to advertise themselves. If you are wondering what promoting your business in the 90s looked like, this family portrait is the perfect example.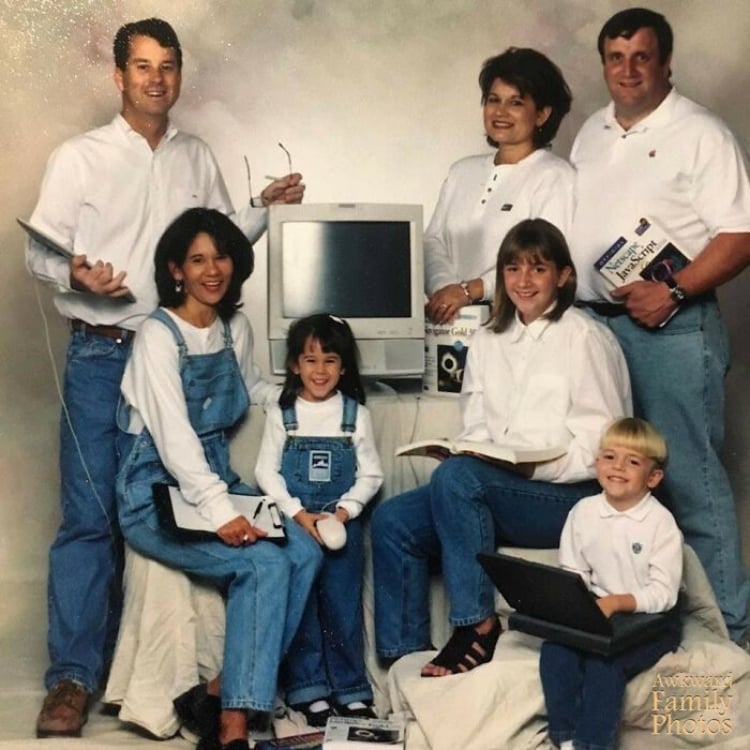 The family had an Internet service provider business and it seemed like they didn't really have an advertising budget. They seem to have decided to promote their business by wearing futuristic outfits that look like they just stepped off a NASA shuttle.
A Questionable Fashion Choice
Childhood was a time of experimentation, and our haircuts were no exception. Any style that made it easier for our parents to control our hair was deemed acceptable for our heads – who cares how it made us look?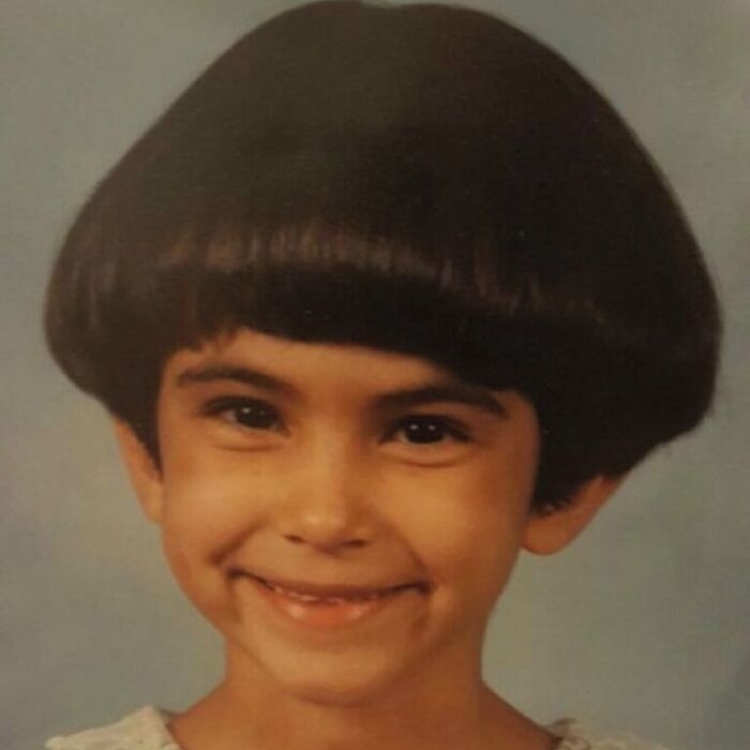 This mother tricked her poor little daughter into thinking she had a glamorous Demi Moore hairstyle from the movie Ghost. Well, the photo tells us a different story. We are sure Demi didn't have portobello mushroom on her head in the movie.
Don't worry, Daddy
They say when you become a parent, it's only your child's happiness that matters. This family took that saying to heart, and it's safe to say that Dad got the short end of the stick.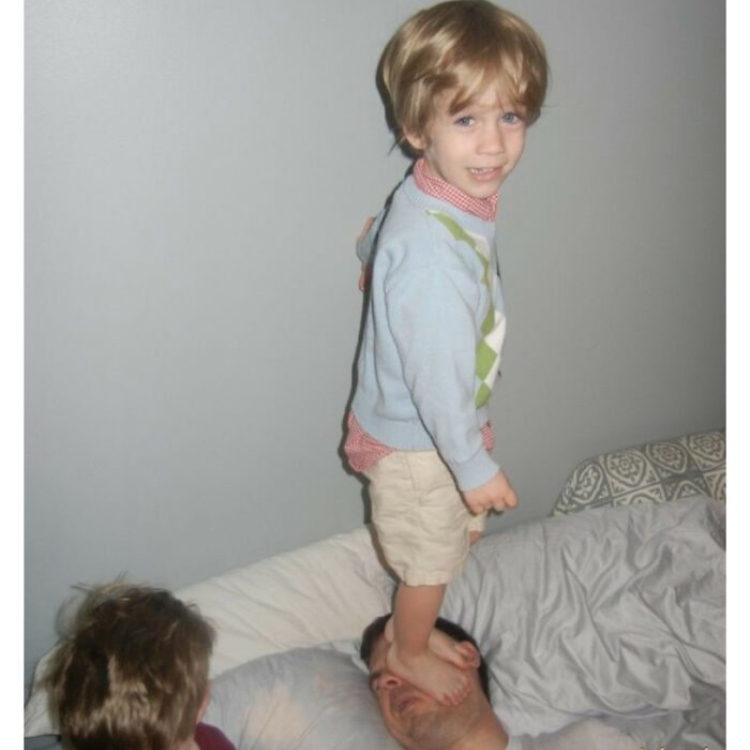 Instead of scolding her son for climbing all over his sleeping father, Mom decided to snap a few pics to commemorate the moment. Despite the camera clicks and the flash going off right in his face, Dad remained blissfully unaware of his son's acrobatics.
The Bride and Her Love
We're not exactly sure how this love affair came to be. Maybe she saw him grazing in a nearby field, and it was love at first bleat. Or perhaps he was her server at a fancy restaurant, and she couldn't resist his charming goat-like qualities.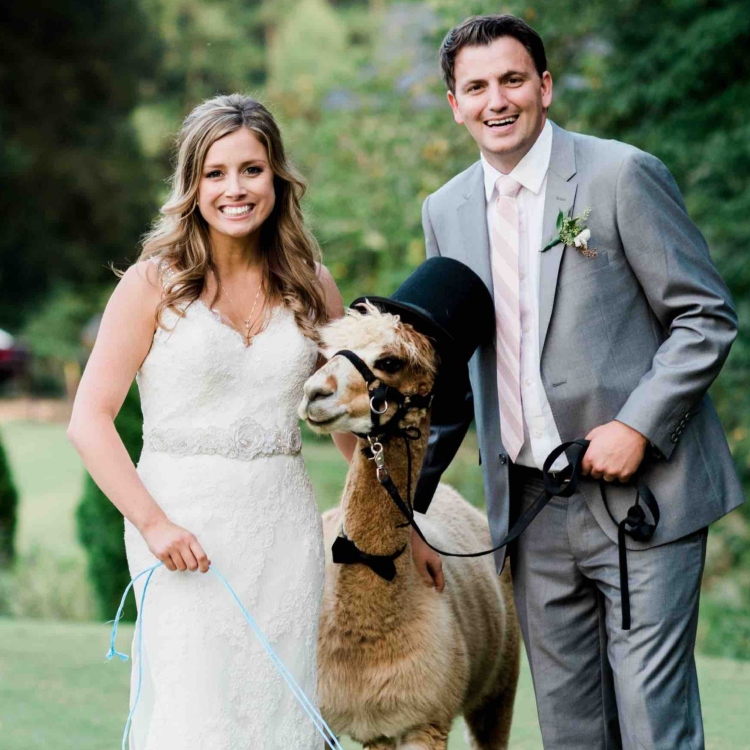 Whatever the case, they're head over hooves for each other. But who are we to judge? After all, they say love is blind, and in this case, it might be a little woolly too.
All Good, Down Here!
The luxury of digital cameras was not something we had access to in the 90s. No delete button for us – just a roll of Kodak film and a whole lot of chaos. It's like the little kid is saying, "Hey, Mom, no worries, I'm still alive and kicking even though your other sons are trying to trample on me."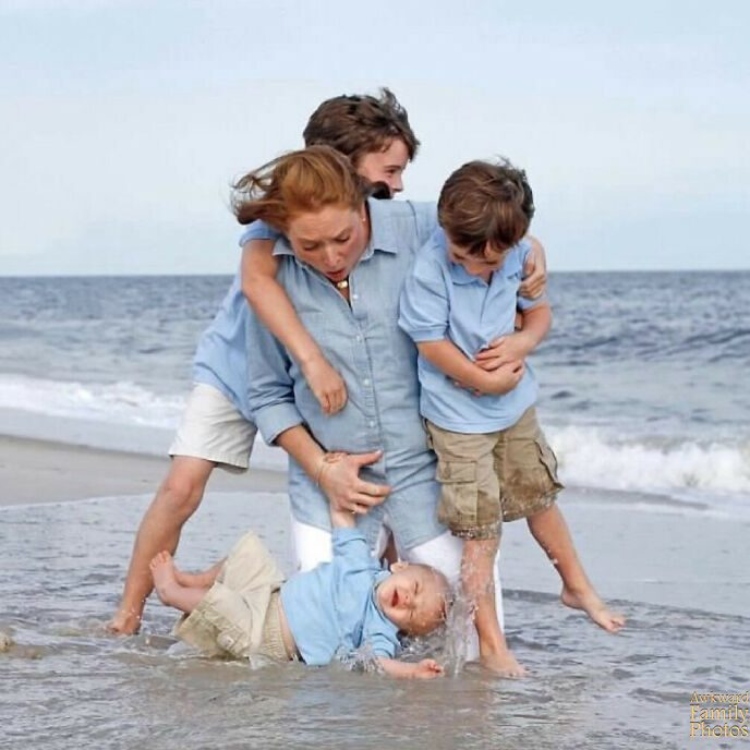 And Dad, well, he's a bit slow with the camera, so he missed the perfect shot. It was a moment when the universe said, "Let's make this one a classic!"
Bride King Kong
It's a classic shot that says it all. That poor guy should have known what he was getting into when he saw how his bride carried herself – with a blend of weirdness and flexibility.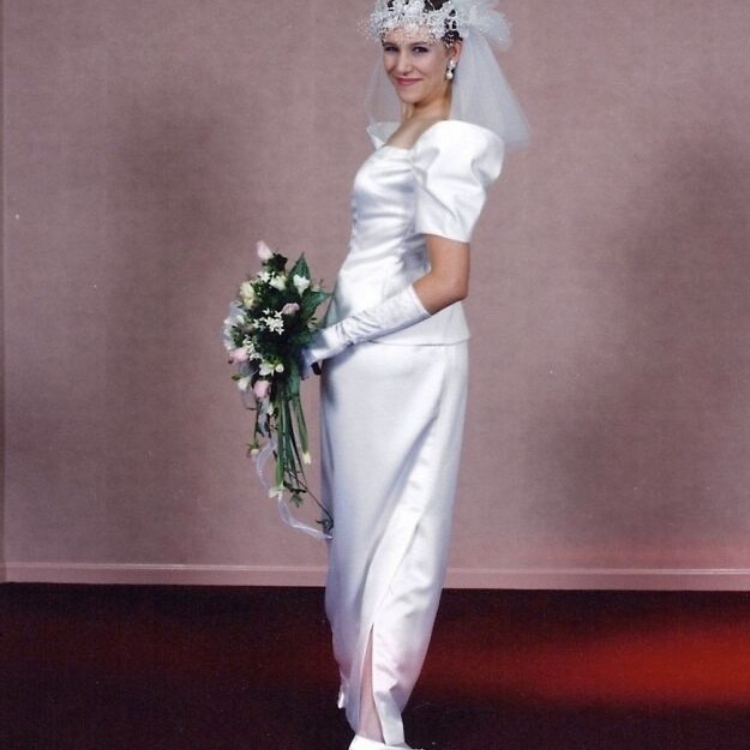 The photographer tried to corral Lucy for a decent shot, but she wouldn't budge, "Yes, Lucy, we know the dress is beautiful, but try facing the camera!" She didn't listen, and she still regrets it decades later. At least she looked stunning, right?
Ladies Want to Enjoy Themselves
Have you noticed how kids these days are growing up so fast? They're trading in good old games like tag for makeup tutorials. This little girl's childhood is kind of like that.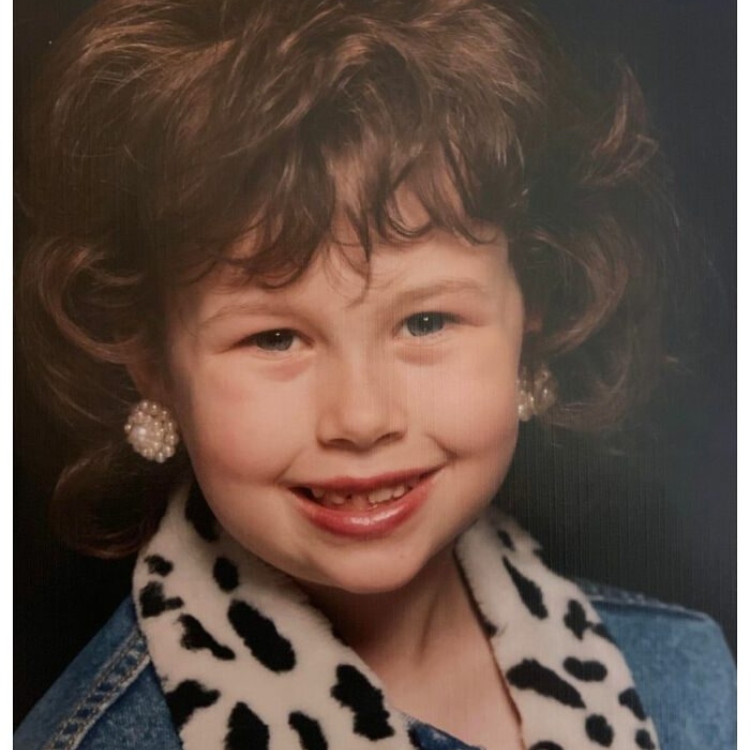 At just eight years old, her mom has her looking like a superstar in front of the camera. She's a natural, and the camera can't get enough of her. But let's be honest; every little girl needs to take a break from all that glam and play instead.
Girlfriends Forever
These girls can't imagine surviving junior high without each other and have survived many ups and downs. They stayed in touch even after college was over and started their own families.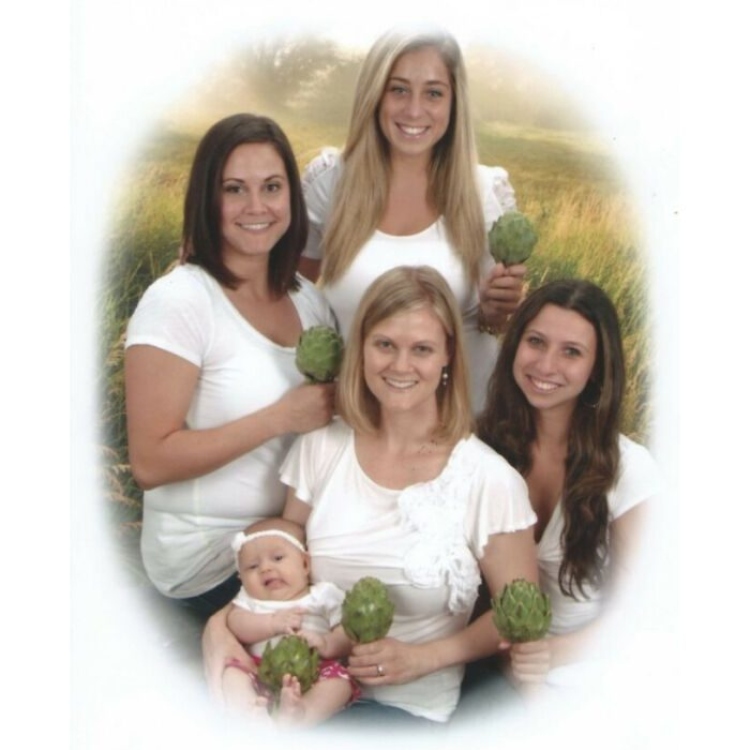 It's only understandable that this woman has chosen her girlfriends to be her bridesmaids at the wedding and have them stand as her kid's godmother. They were more than ecstatic. But we can't say we feel the same after seeing the motif for this group picture.
Each of Us Is A Superstar
Remember that feeling of complete freedom when you were young? Think back to when you last experienced something like that.  If you could encapsulate that emotion in one image, would it look something like this?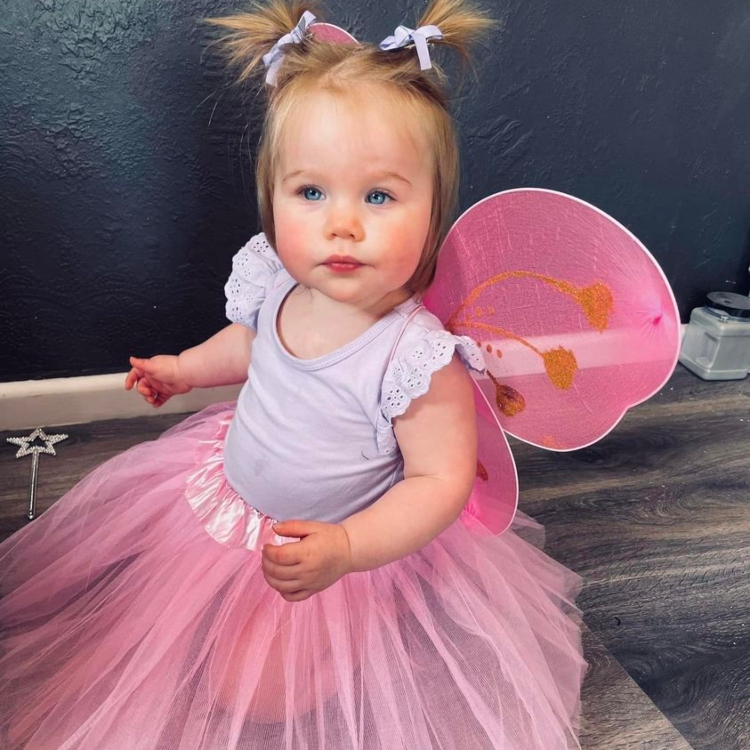 This rockstar symbolizes the wild child in each of us. Out of all the photos on this list, we almost wish we had taken one like this of ourselves. It's a great reminder of the good old days.
Clowning Around!
Wow, talk about an interesting family! The older brother always dressed up as a clown whenever there was a reason to celebrate. He was in luck because his baby brother was born.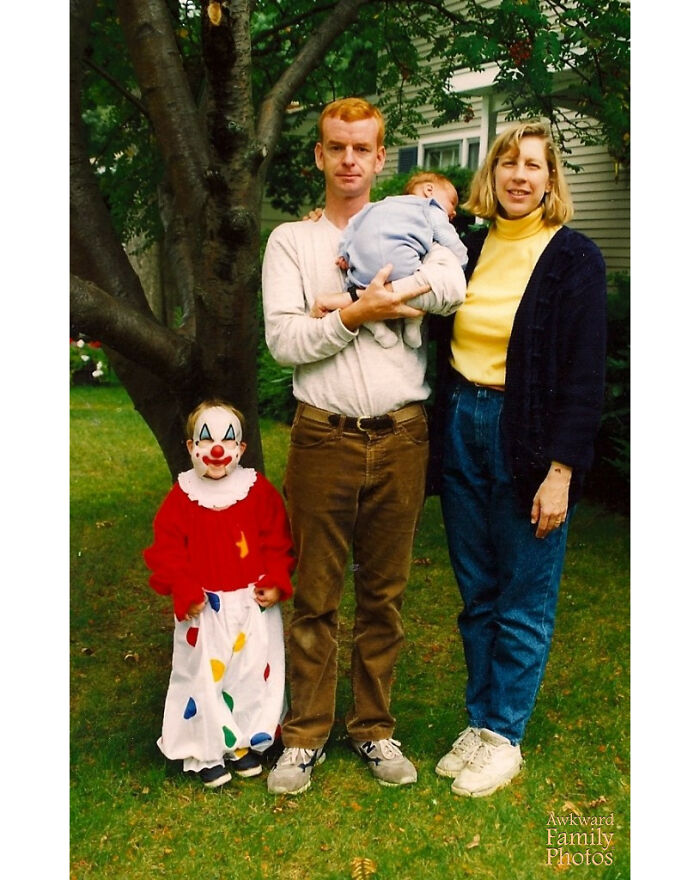 While the mother seemed content as she posed for the photo, the dad looks otherwise. He's probably thinking: "Another baby, less time for sleep." This one definitely goes down in history as one of the best yet awkward family photos. We can see why they wanted another kid!
Devious Sibling
This image says so much, especially the older sibling whose facial expression is less than sweet. Her face literally screams devious!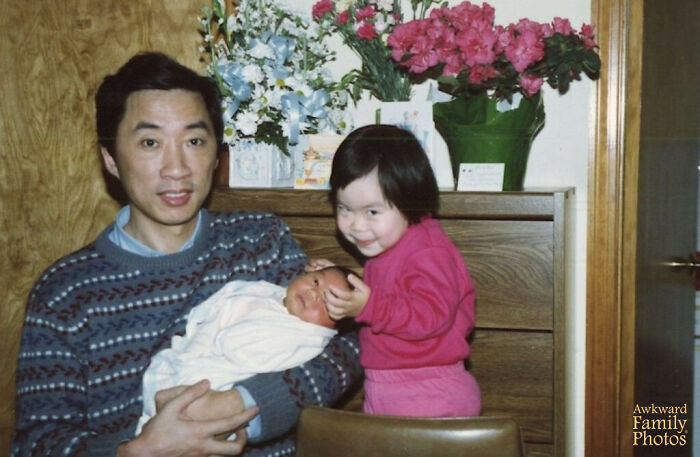 Truly, it looks like the sister is about to do something pretty horrible to her younger and more innocent baby sibling. We can clearly tell who is the angel and who is the devil child just by glancing at the photo.
Mr. Big Head
Gosh, this baby photo is kind of cute but also kind of creepy! His head is so big that it's got to be a fivehead. Also, we have to mention that there's some kind of Benjamin Button situation going on here. The baby looks much older than he actually is.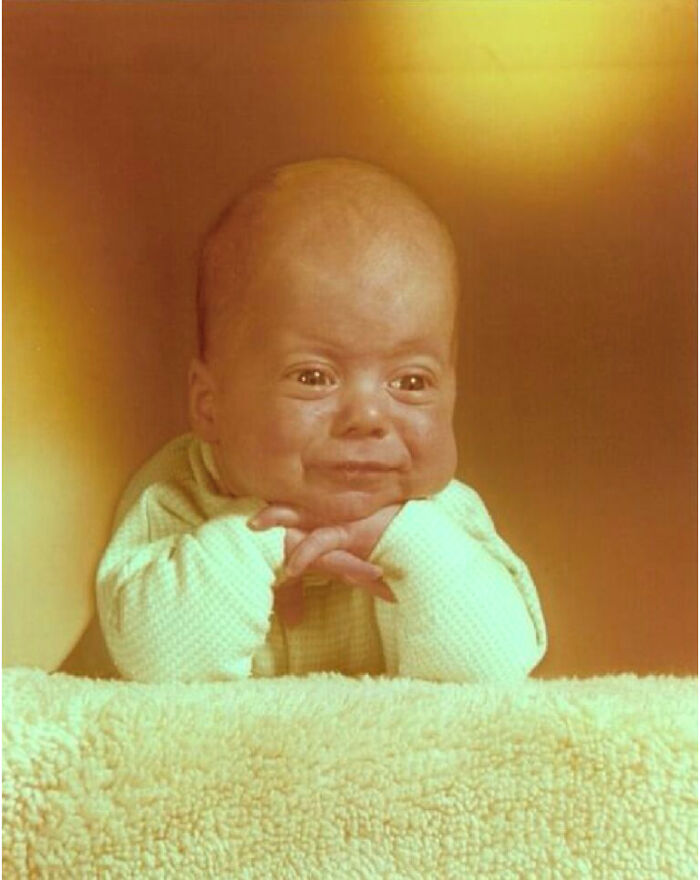 We can only help but wonder what the man's wife thinks after seeing this photo of him as a Megamind infant. She probably hoped that their children wouldn't inherit his massive cranium. Yikes!
Sleeping On The Job
The phrase "sleeping on the job" has never been more accurate than in this hilarious photo. Apparently, the little girl was supposed to be the flower girl for her aunt's wedding, but there was a change of plans.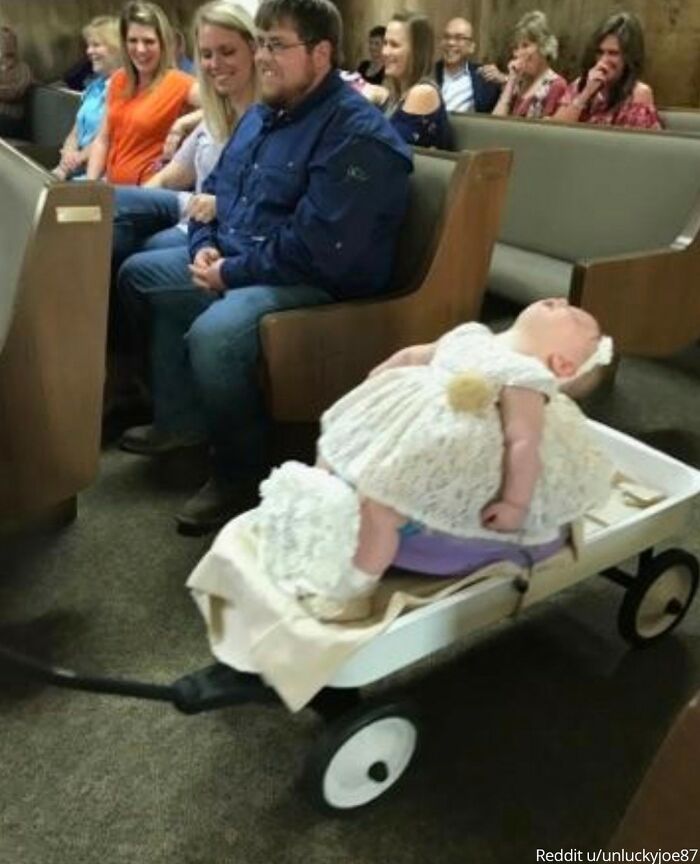 Even better is the reactions of everyone in the background! They are equally as amused as we are at this funny sight. Ah, yes, napping is truly life.
A Rubbish Photo
Of course, we all want the pictures we take with our family members to be ones worth remembering. In this case, the children in the photo were posing with their dad in front of a giant dumpster. Memorable? Oh, yes.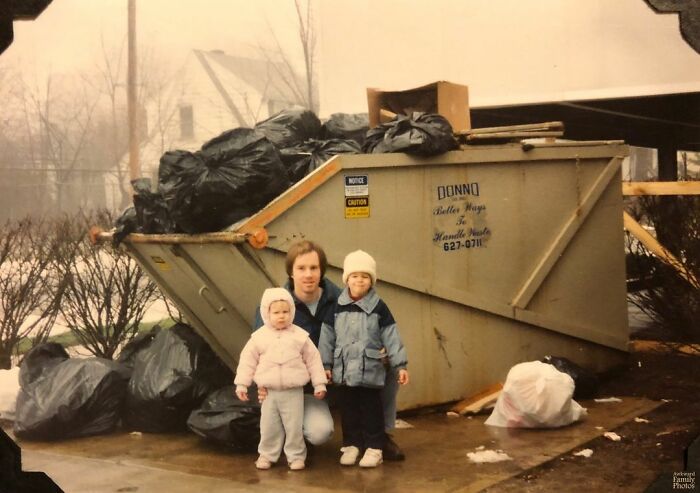 Supposedly, the grandfather of the grandchildren had a tradition of hanging up every image he had of them — even the ones by dumpsters! That's a dedicated grandpa.
A Bit Too Much Smiling
Picture this: you're taking a family photo and the photographer tells you to "smile more." So, what do you do?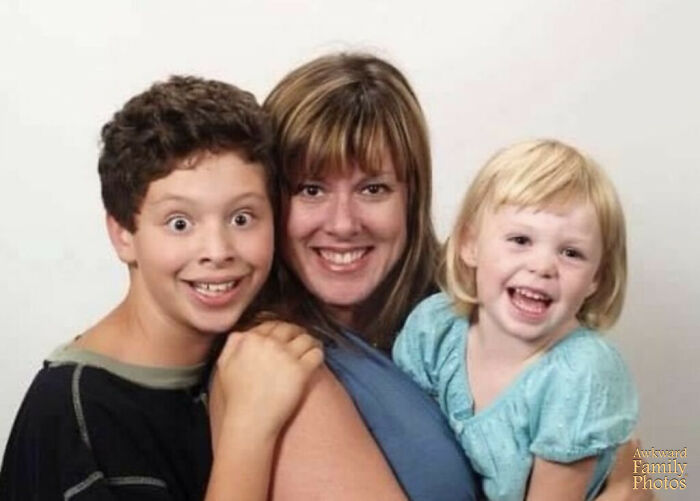 Of course, you smile as weirdly as you possibly can and make an exaggerated facial expression! This is the result. The woman's son is giving off some major Joker vibes.
"Safety First"
Welcome to the 1960s when safety standards were extremely low. This would never fly these days, especially on chairlifts! Imagine being a kid in that era.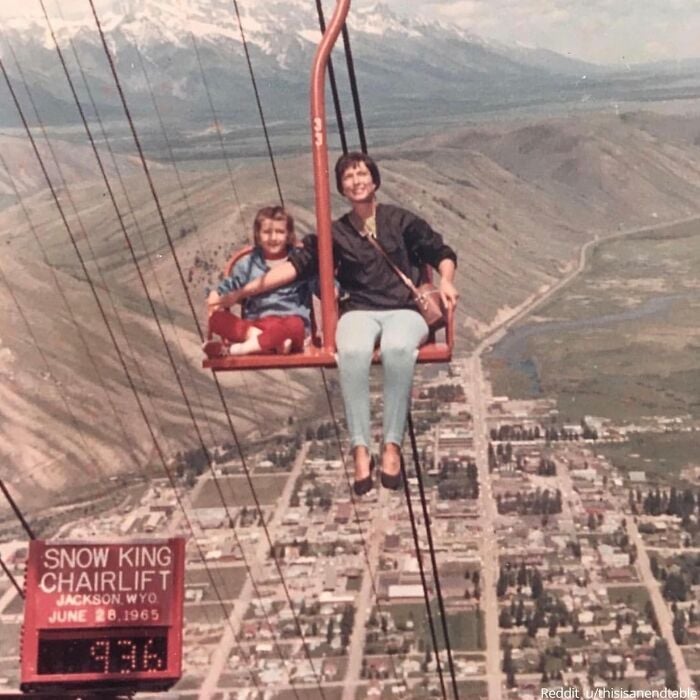 In the photo, a mom and her daughter were on a chairlift and there were no safety bars across their laps. What did the mom do? She put her arm across her child, of course. Jeez, that's pretty scary.
Typical Brotherly Behavior
We all know that it's hard enough to get four brothers to sit still in a family photo, so leave it to the eldest to keep everyone else in check. The brother on the far right was in the mood for causing some trouble.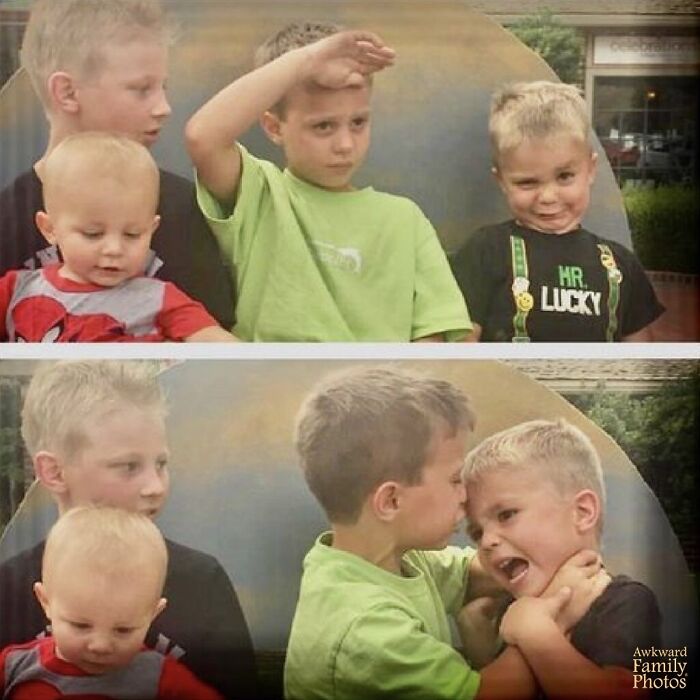 And the oldest wasn't having it. That surely escalated quickly! Nothing like a bit of old-fashioned sibling fun to stir the pot.
Demon Child
What happens at Dollywood, stays at Dollywood! In this example, a father and his daughter were snapped riding the Tennesse Tornado Roller Coaster at Dollywood, and the result is too hilarious.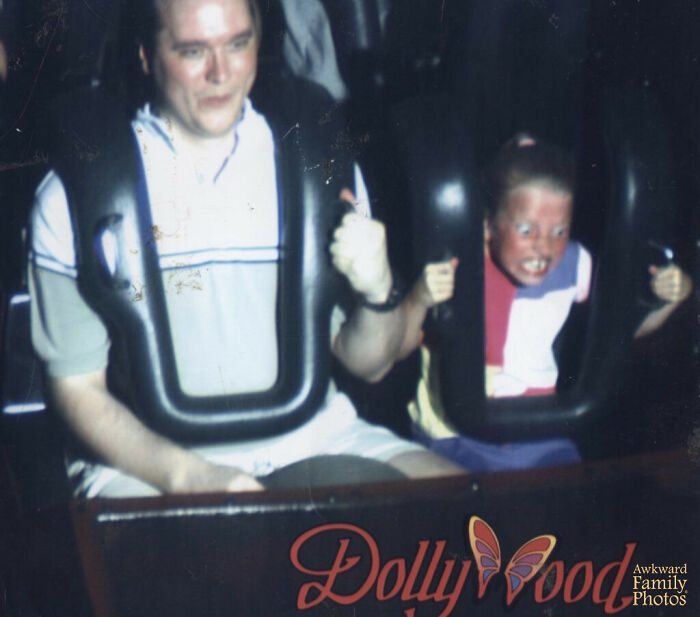 It appears as though some sort of demonic presence is possessing the daughter, whose face is a bit too convincing. The dad, on the other hand, is completely unphased. Either she's terrified or just acting silly, but either way, this photo will make anybody laugh very hard.
Best Mom Ever
Moms. We gotta love 'em! They do so much for us and love us unconditionally. But, if your mom didn't position herself as a ramp for you to jump off of with your new BMX bike did she really love you?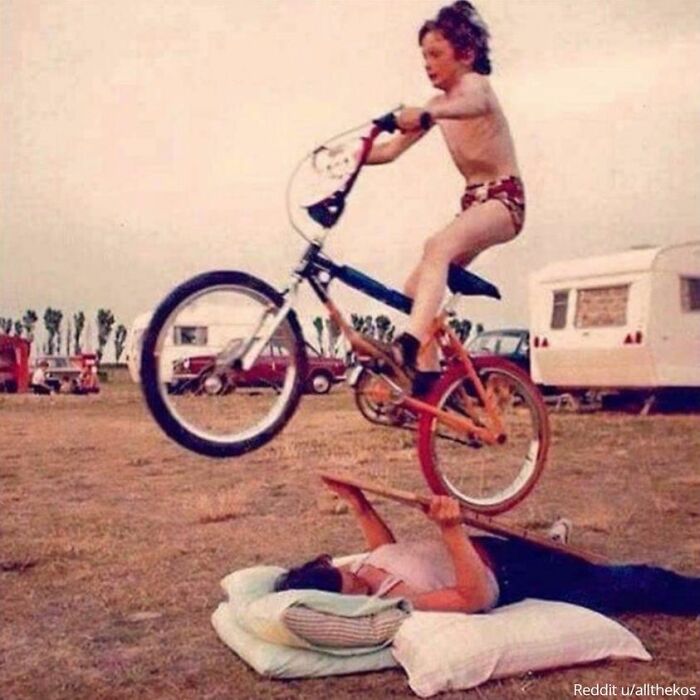 Well, this mom in 1980 was up for the challenge. Talk about being brave! She even put pillows under herself to be comfortable, although she didn't have any head protection. Hopefully, he landed it successfully!
Wonders of Children's Books
It's never too early to teach your child to read good books and this mother had already got that memo. She marveled at how easily her child absorbed Lovecraft and R.L. Stein's novels so she gave him something new to read.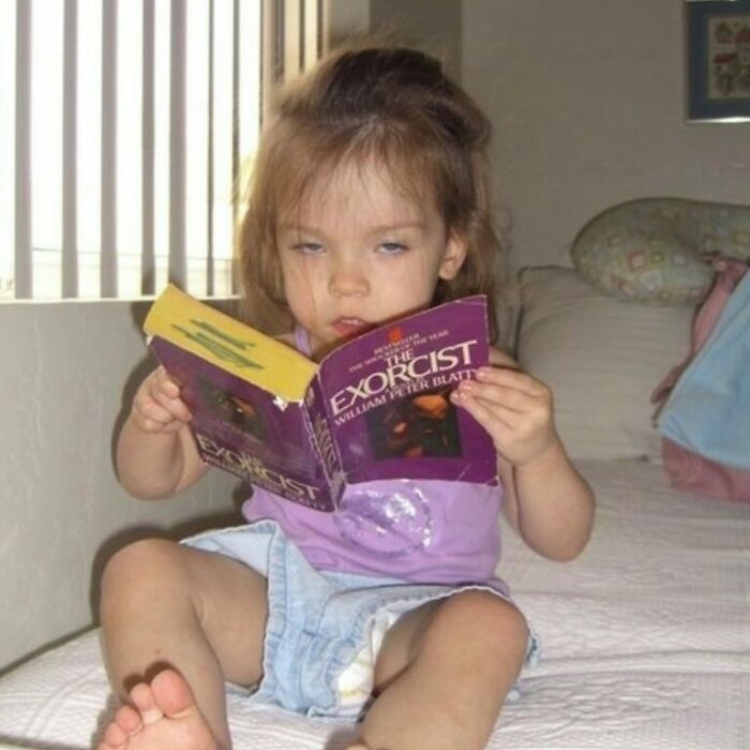 Still – maybe this kid had his fair share of drama and horror. Also, this new mom should know that the first chapter of this book is rated PG. She might regret it soon, this is how the nightmares start.
Don't Spoil This Photograph!
If you believed that animals don't understand us, you're wrong. We observed this woman giving a lengthy speech about how this troublemaker shouldn't spoil a nice picture. "Stop photobombing us, you hear?"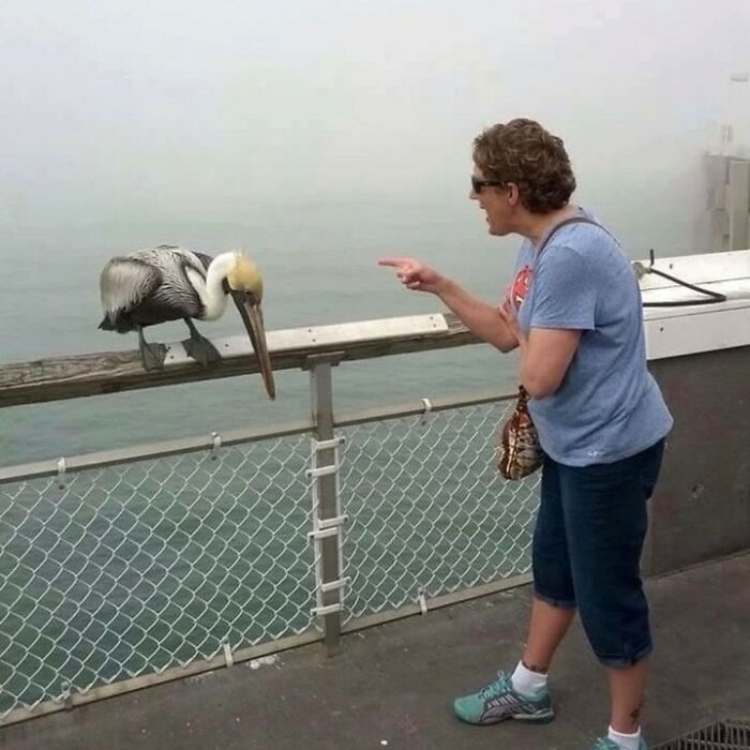 The seagull lifted its beak to object, but she quickly silenced him, "No! Listen to me!" We couldn't make out what else she said but it's pretty clear that the seagull wouldn't be soaring close to humans or their drones in the future.
Mom's New Hobby
The children were incredibly excited when their mom picked up a new hobby and they were delighted to model clothing for their mother to create. It was a great way to save money around the home and have a bit of fun!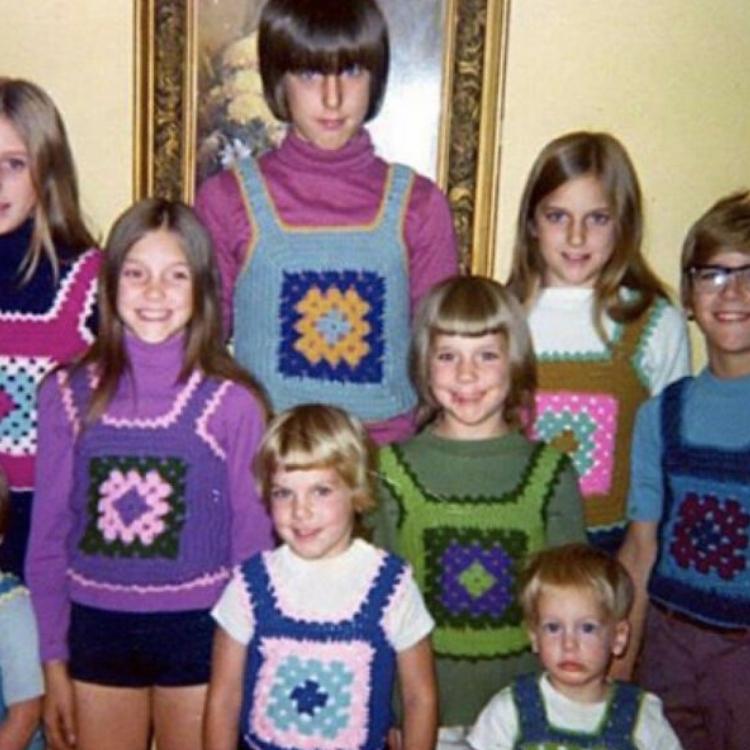 Everyone was eager to try on their piece from the handmade collection, even the oldest kid – they were mismatched, yet warm, outfits. Plus, the clothes probably made it easier to keep track of them when they went out.