30 Products From Amazon That Will Up Your Organization Game
Spring is here, which means it's time for spring cleaning! Are you ready to face the depths of your backseat, the dark, dusty corners of your closet, or the bills that found their way behind your desk three months ago? (They have legs of their own, we swear…) We know it's a daunting task, but you'll feel so much more at ease once everything is in its place and you can host again with confidence.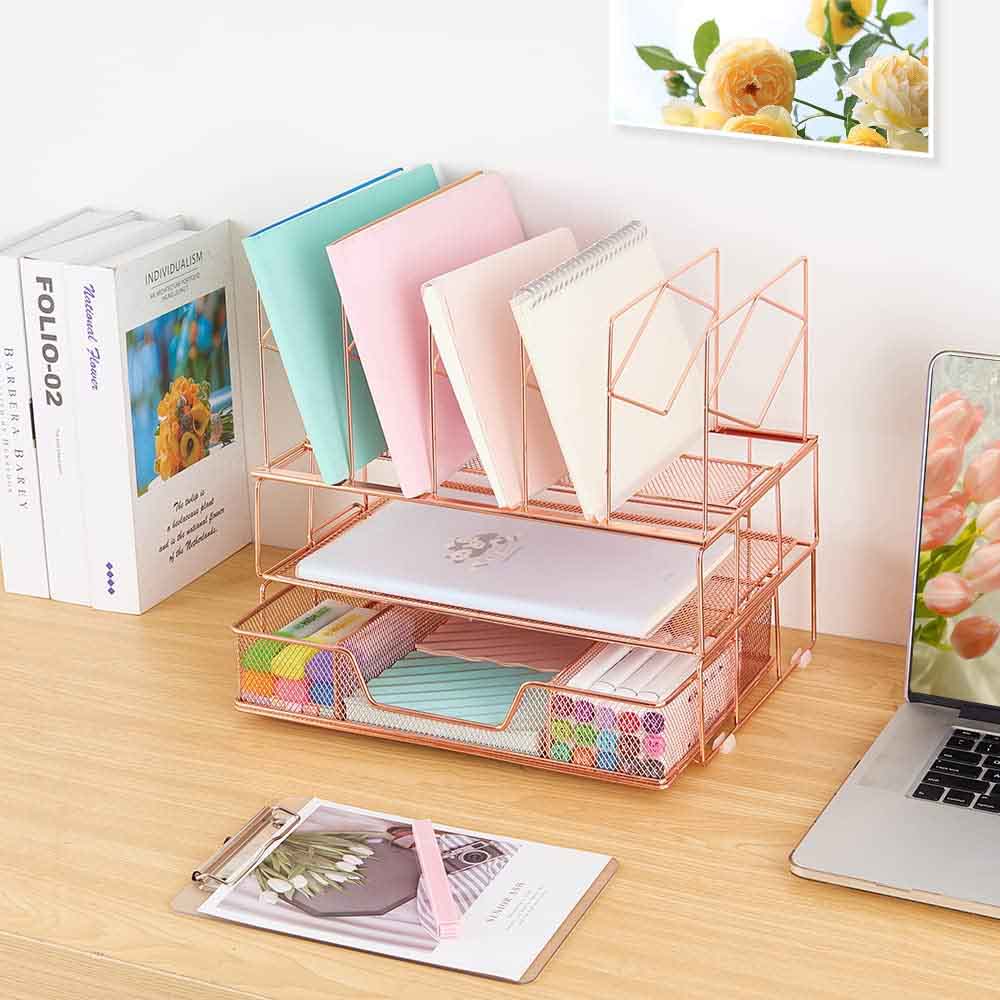 To help you keep yourself better organized in 2023, we've put together this list of winning organizational items we found on Amazon. It's full of useful, budget-friendly finds like space-saving hangers, under-sink shelves, desk organizers, and multipurpose clutter keepers for the kids. While you're cleaning out your junk drawers, closets, garages, and home offices, we recommend taking note of where you keep the most clutter so you can shop accordingly. Good luck! We hope you find some awesome gift cards or stimulus checks in your couch!
How Cute is this Desk Organizer?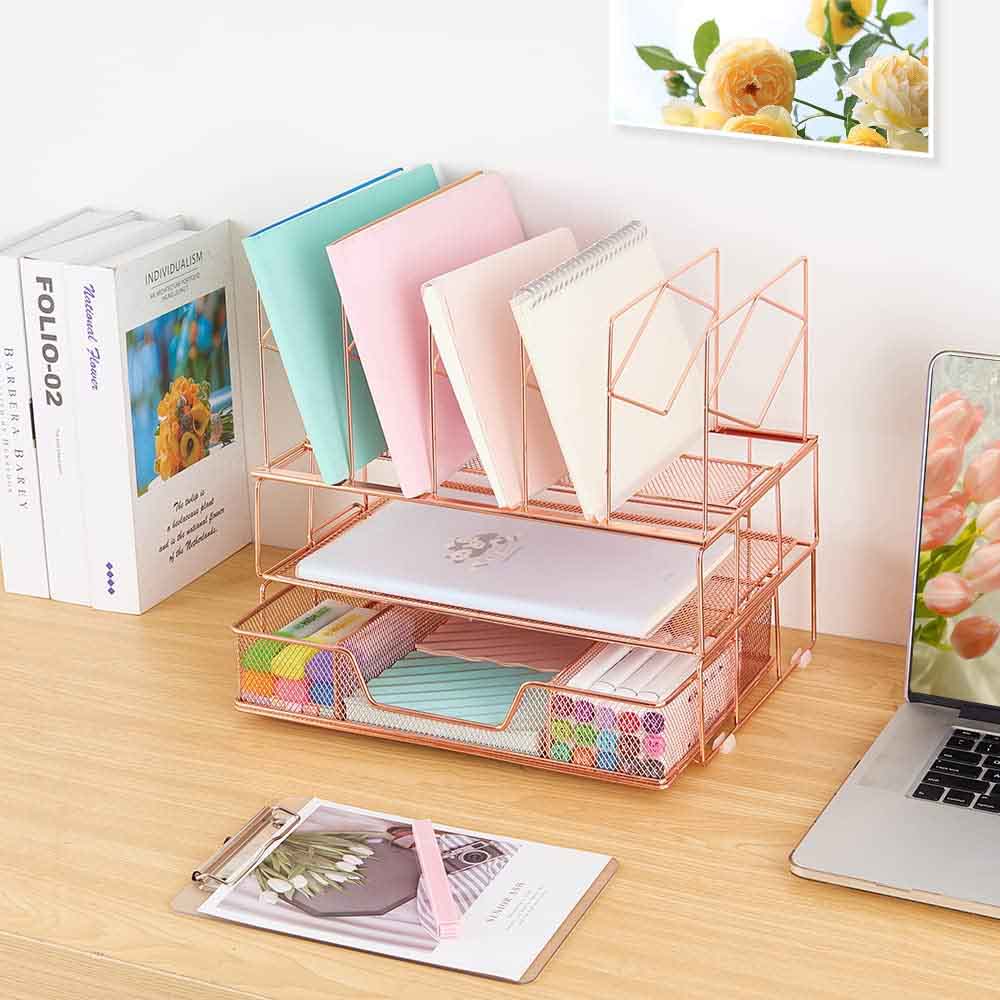 If all of the folders, loose pencils, sticky notes, rubber bands, and other assorted clutter on your desk are making you crazy, grab yourself this desk organizer. You'll be surprised how much less strained you feel when you're done organizing. And if you don't like the rose gold color, no sweat — you can grab it in five other colors!
Contain Your Gardening Tools with this Broom Holder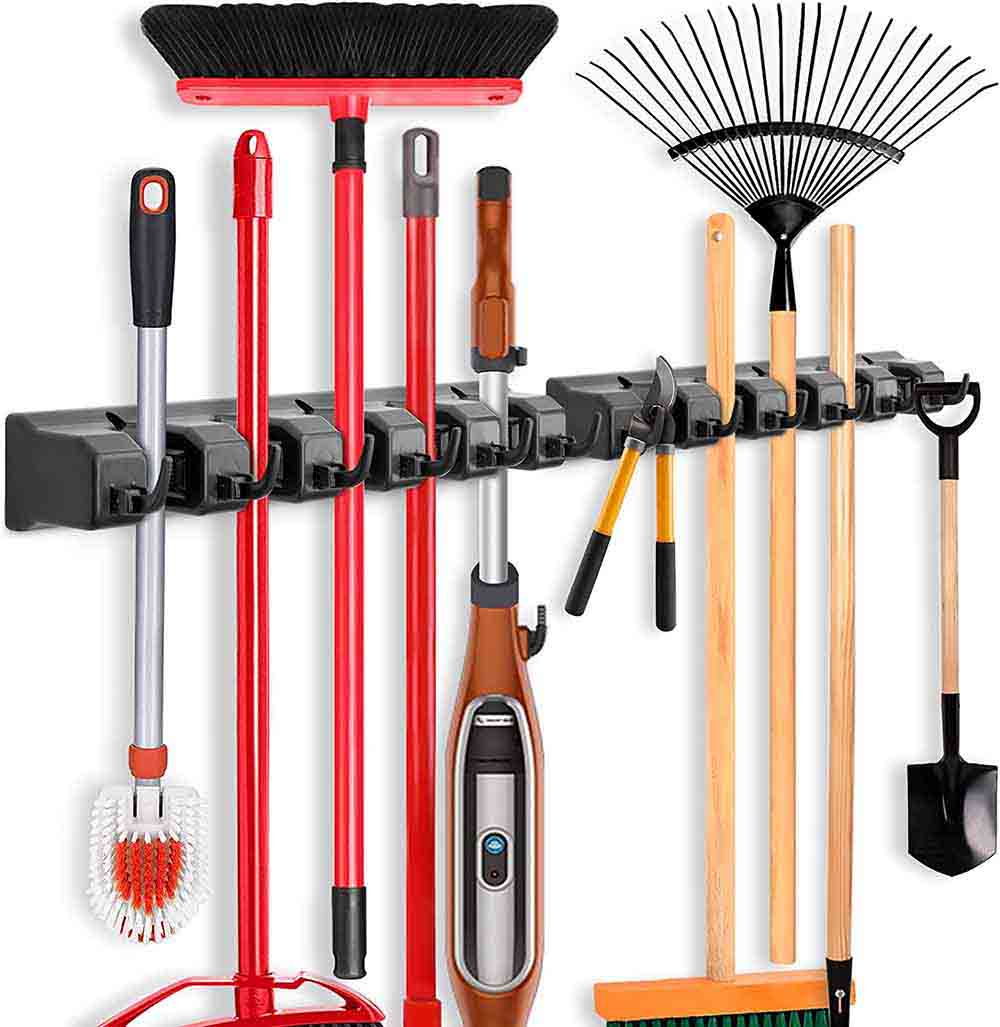 All it takes is one unseen rake on your front lawn at the wrong time to cause serious damage. Avoid the tears, tetanus shots, and neighbor lawsuits by creating a safe, permanent home for all of your tools. This holder will do the trick! Buyers said it's easy to install, sturdy, and a total space saver.
Keep a Clean Vanity with these Jars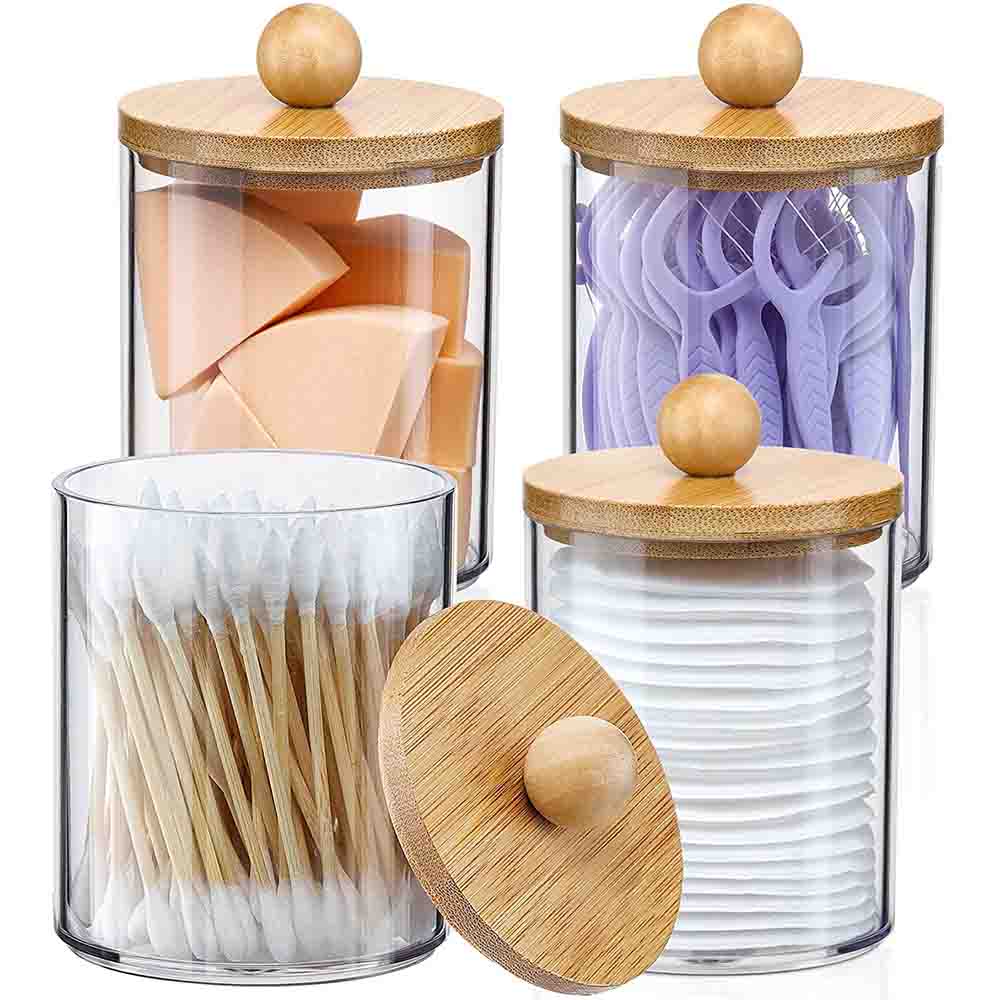 If he can keep his trimmings out of the sink, you can commit to putting away your mascara, pore vacuum, powder puffs, and face oils. This four-pack of bamboo lid jars are perfect for collecting sink clutter and displaying guests gifts (like wipes). These jars are so cute, you'll enjoy using them too.
Grab these Fridge Bins to Prevent Spills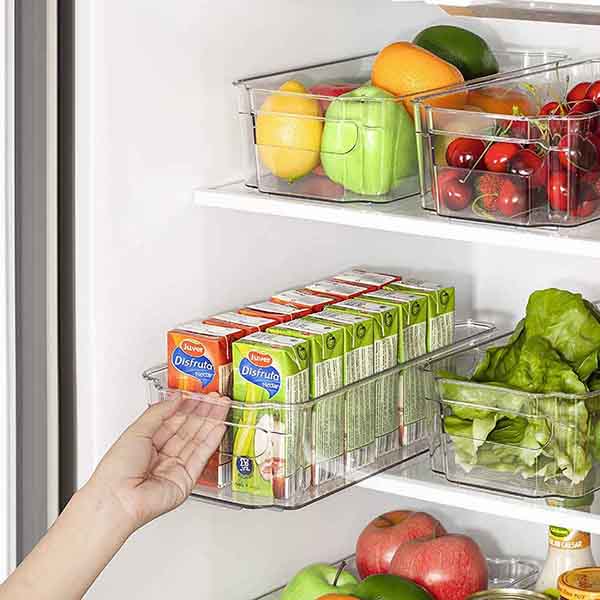 A messy fridge is a disaster waiting to happen. Aside from the nasty business of always being surprised with moldy leftovers, you'll always be cleaning up accidental spills too. With these bins, you'll be able to keep bottles from tipping over and, hopefully, keep better track of what's ready to be thrown out before it starts to stink.
Keep Dust off of Your Favs with this Hanging Sweater Bag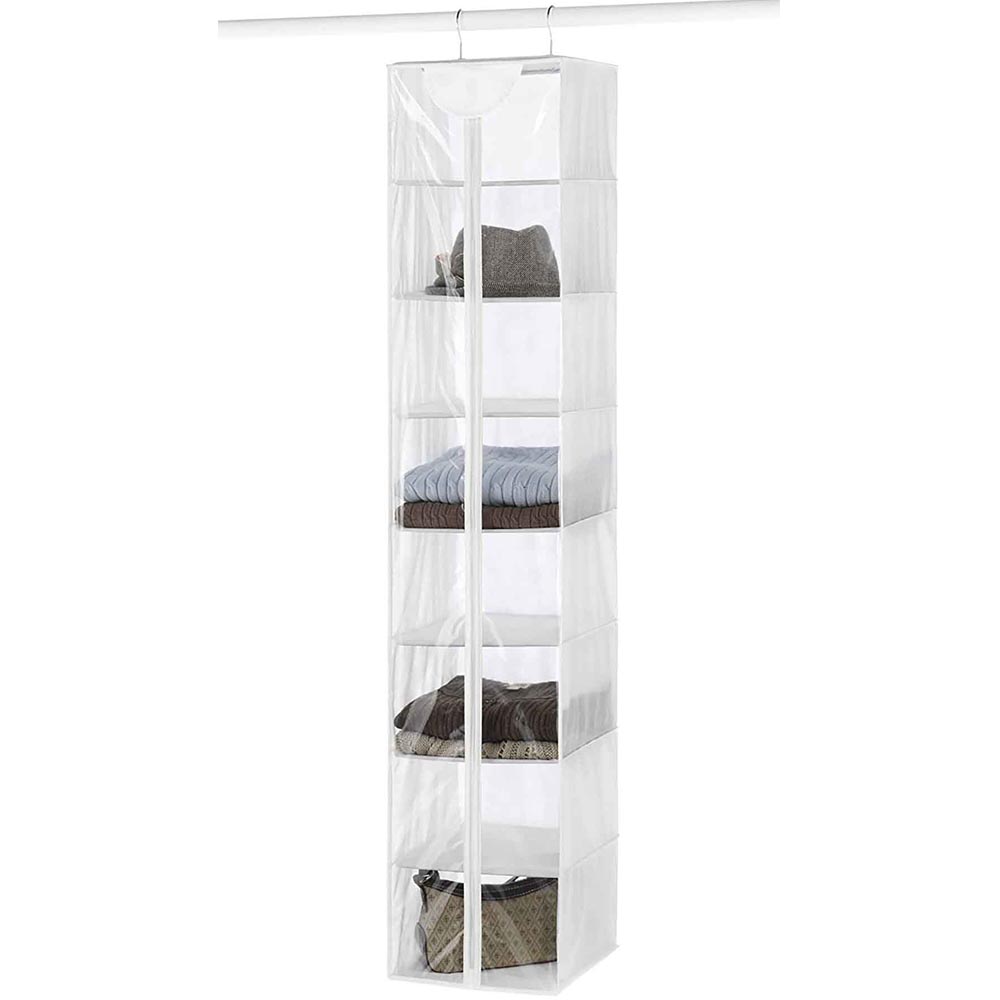 We love this hanging shelf because it's so cheap and convenient to hang anywhere! Unlike other similar products, each shelf is actually sealed, so dust and pests can't get in. Use it for your favorite formal clothes or wigs — just make sure you don't load it up with items that are too heavy; it's built for clothes, not electronics.
An Under Sink Organizer for Your Cleaning Products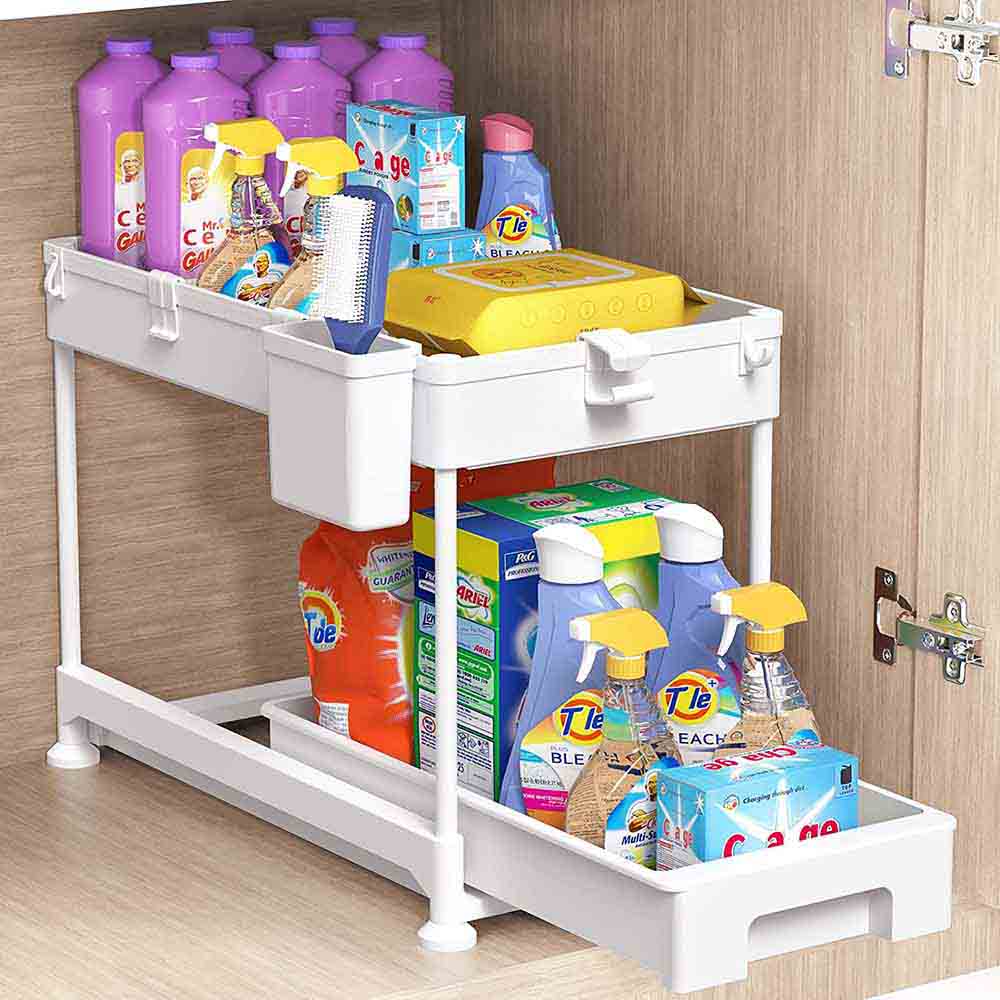 Cleaning chemicals are another thing you definitely don't want to spill. They can ruin personal items and damage floors — permanently. This convenient multi level shelf was designed to store bottles under your sink, so you don't have to look at them or worry about them oozing everywhere. It even comes with a little drawer to make getting to the bottom-back corner easier!
A Bedside Shelf for Your Bunk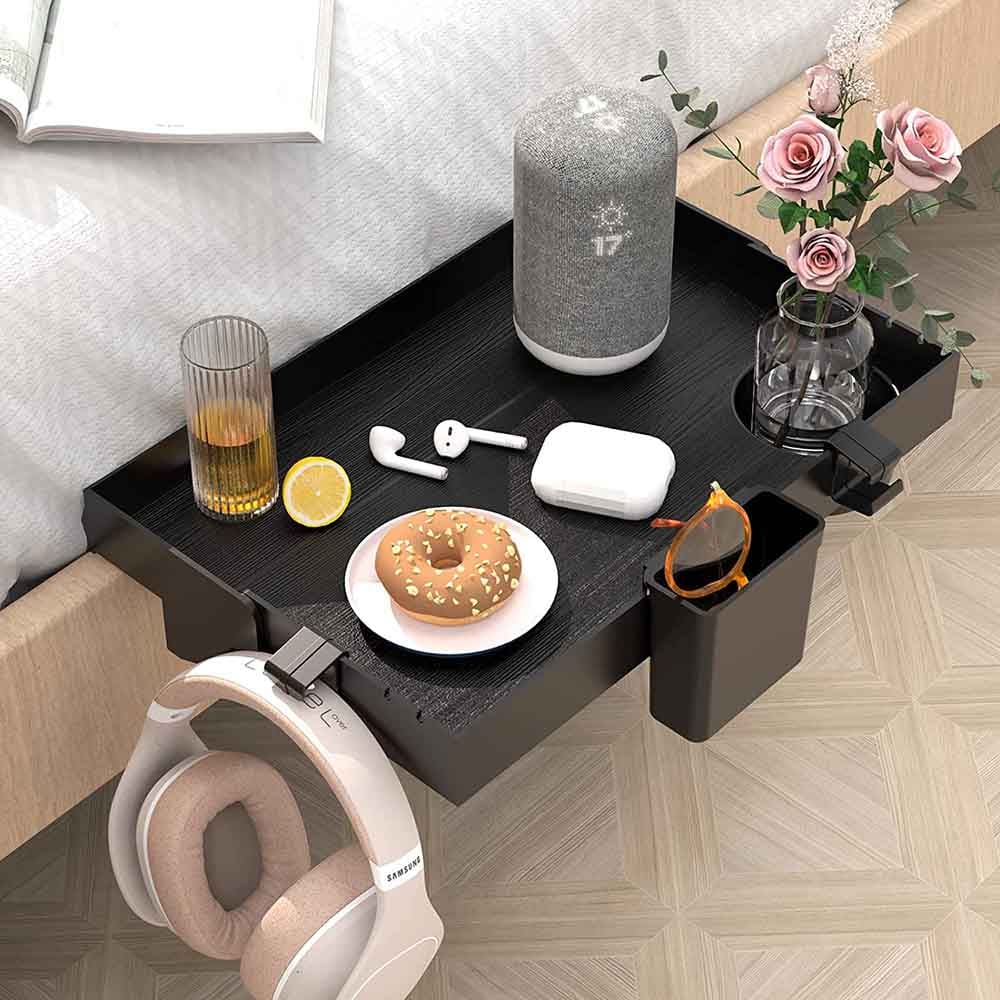 This isn't your average bunk bed organizer — this one is made to clamp onto the side of the bed. It has several different holes, cubbies, and hooks for all of your accessories; because it's flat, you can even use it for food and drink! Enjoy three different colors and a wood-look finish.
Add this Coat Rack with Shoe Storage to Your Entryway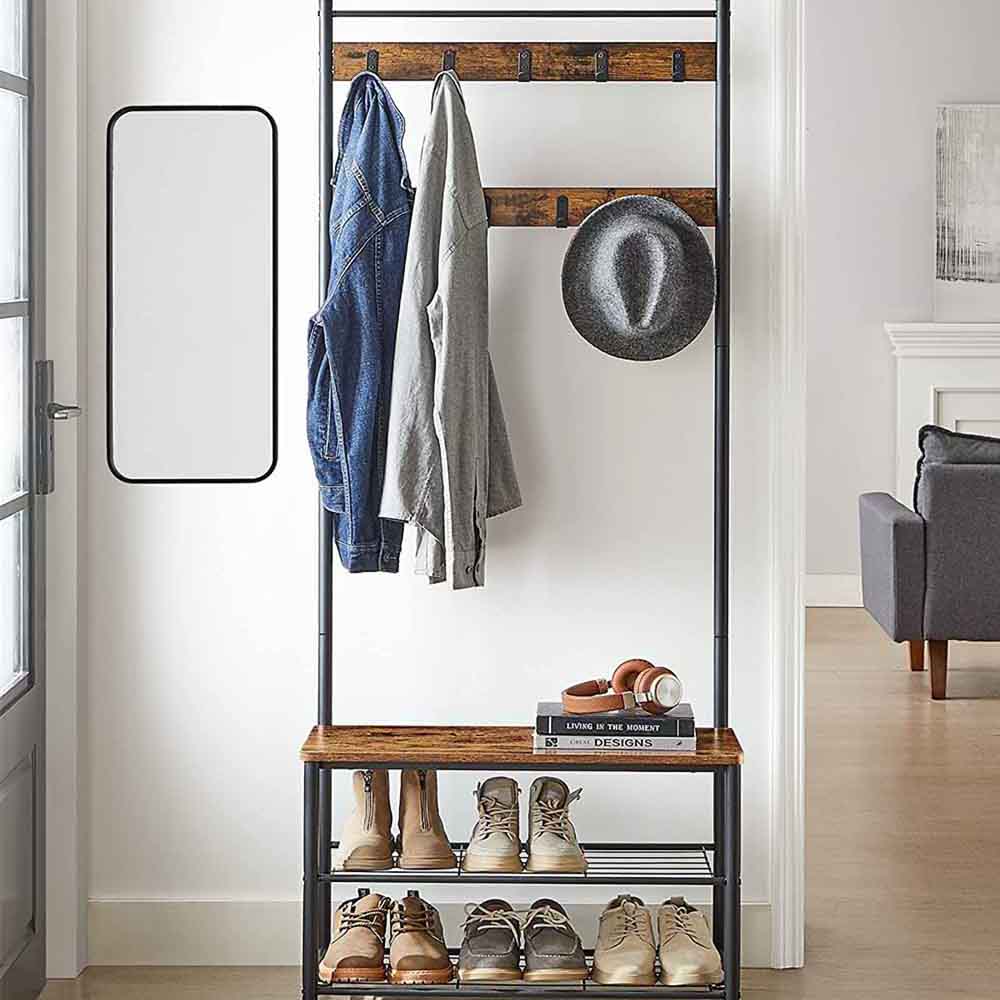 A classy coat rack with a built-in shoe rack/bench? Yes, please! This item is a bit pricier than other products on this list, but it's made with more durable materials, including solid wood and iron. Buyers said it was the perfect size for their entryway and is easy to assemble.
Tackle Car Clutter with a Trunk Organizer
Messy trunk people, this is an intervention! Your old shoes, melted jelly beans, and ancient car registration papers have gathered dust for long enough. It's time to purchase this organizer. It's available in three different colors, so you can match it to your interior. Don't forget to vacuum before you put it in!
A Classy Shelf with Built-in Hidden Laundry Hampers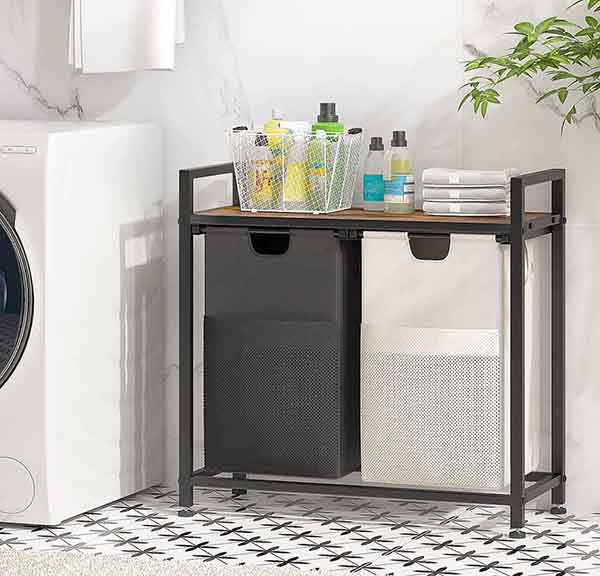 The Lulive Double Laundry Hamper is one of our favorite products from this list! Regardless of where you put it, this laundry hider table will make a stylish, useful addition to any room. Because the frame is made with stainless steel, you can enjoy it in the bathroom without needing to worry about rust.
Make the Most of Your Space with this Hanging Spice Rack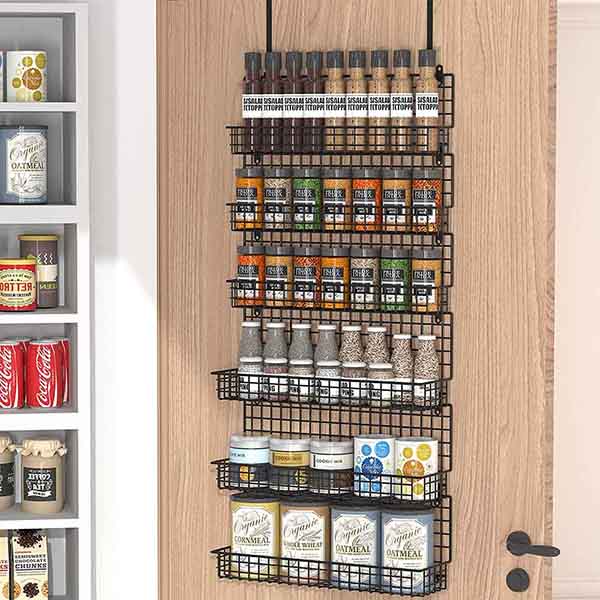 If your spice collection has outgrown the lazy Susan, you'll want to try this hanging rack. Instead of taking up even more kitchen real estate with a larger tray, you'll actually be saving space. It's made with sturdy iron, so it won't fall apart on you and you don't need to worry about it falling off.
Make Forks Easy to Find with this Countertop Utensil Holder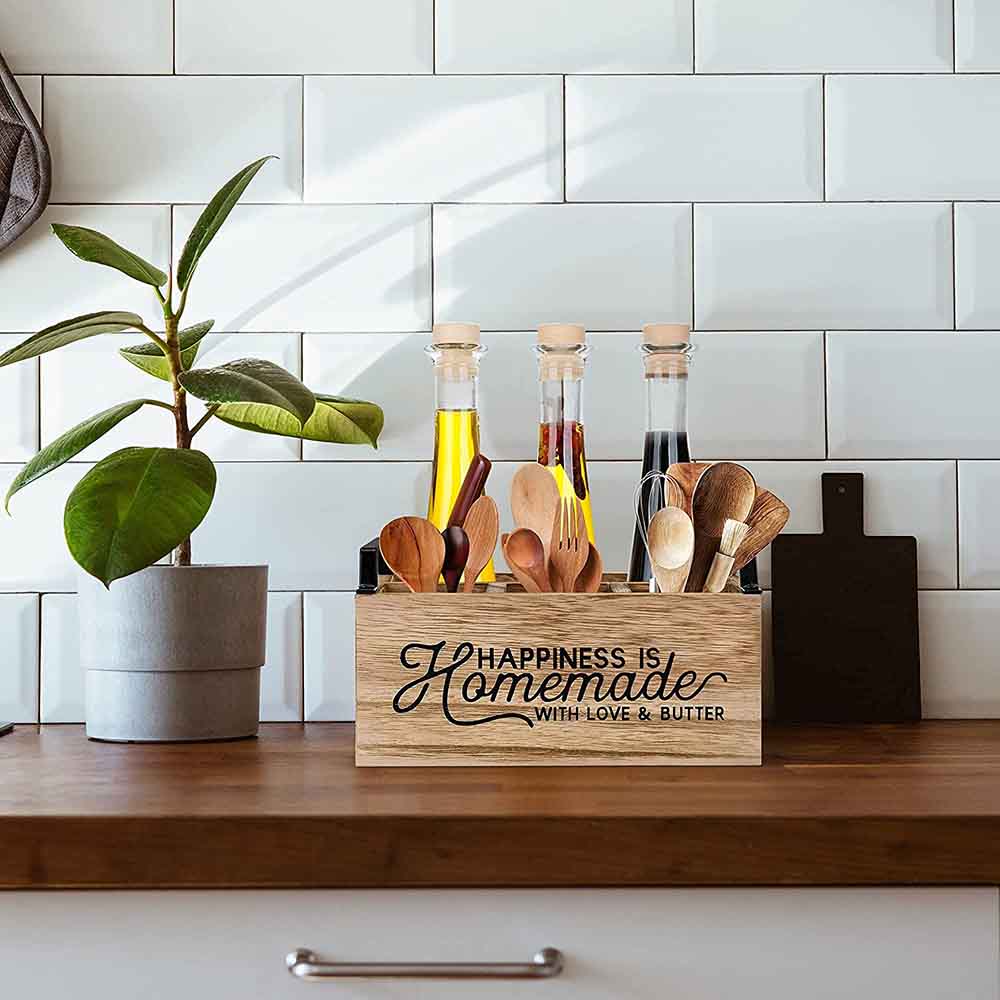 Hosts, you can set the table if you want to, but we prefer the easy approach of letting guests grab their own silverware! This wooden caddy makes a nice, farmhouse style decoration and keeps utensils where everyone can see them. Break it out for family barbecues, house parties, and reunions!
Add this Under Desk Drawer Set to Your WFH Setup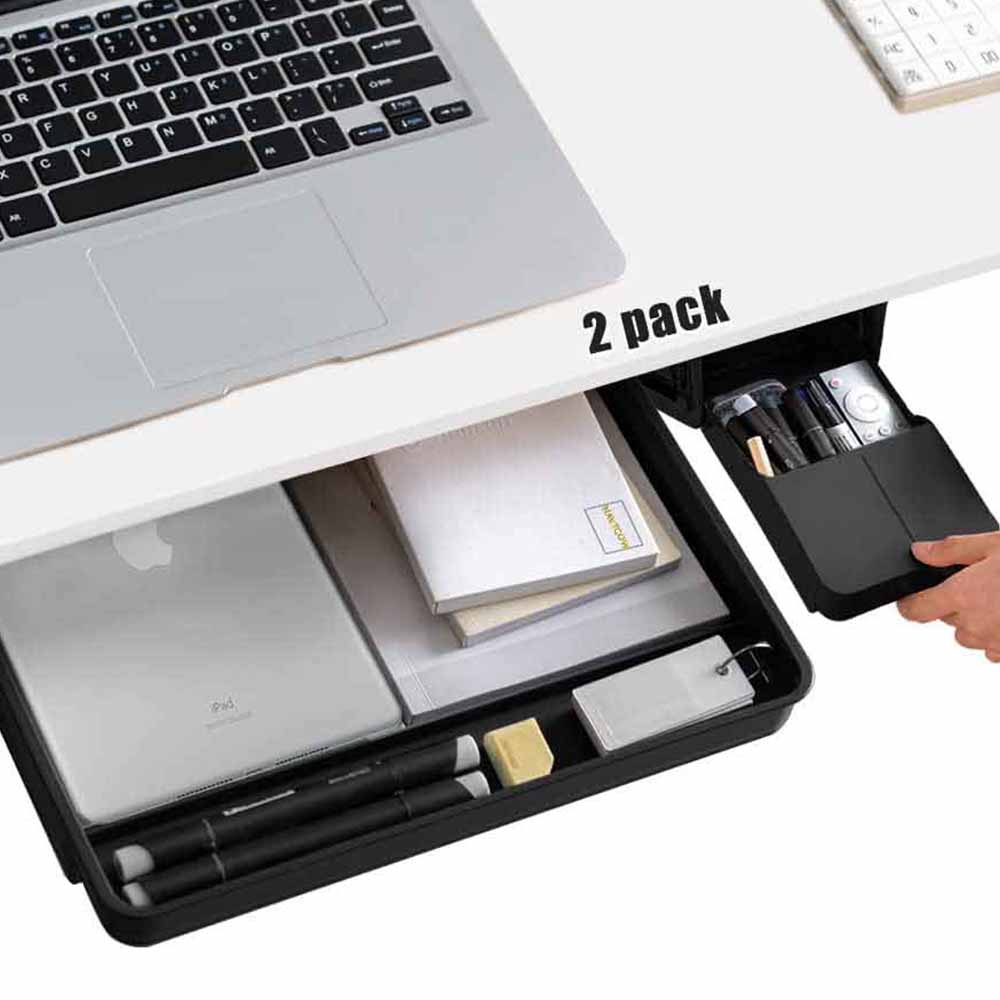 Stuck with a desk that doesn't have any storage? Try these clever hidden drawers! This two-pack comes with one large drawer and one small drawer, perfect for storing all of your work must-haves. You can attach the drawers with screws or double sided tape — the choice is yours. Just make sure you don't add anything too heavy if you use the tape; work probably won't pay to fix a tablet you broke.
This Bean Bag Chair Cover Holds All of Your Child's Stuffed Animals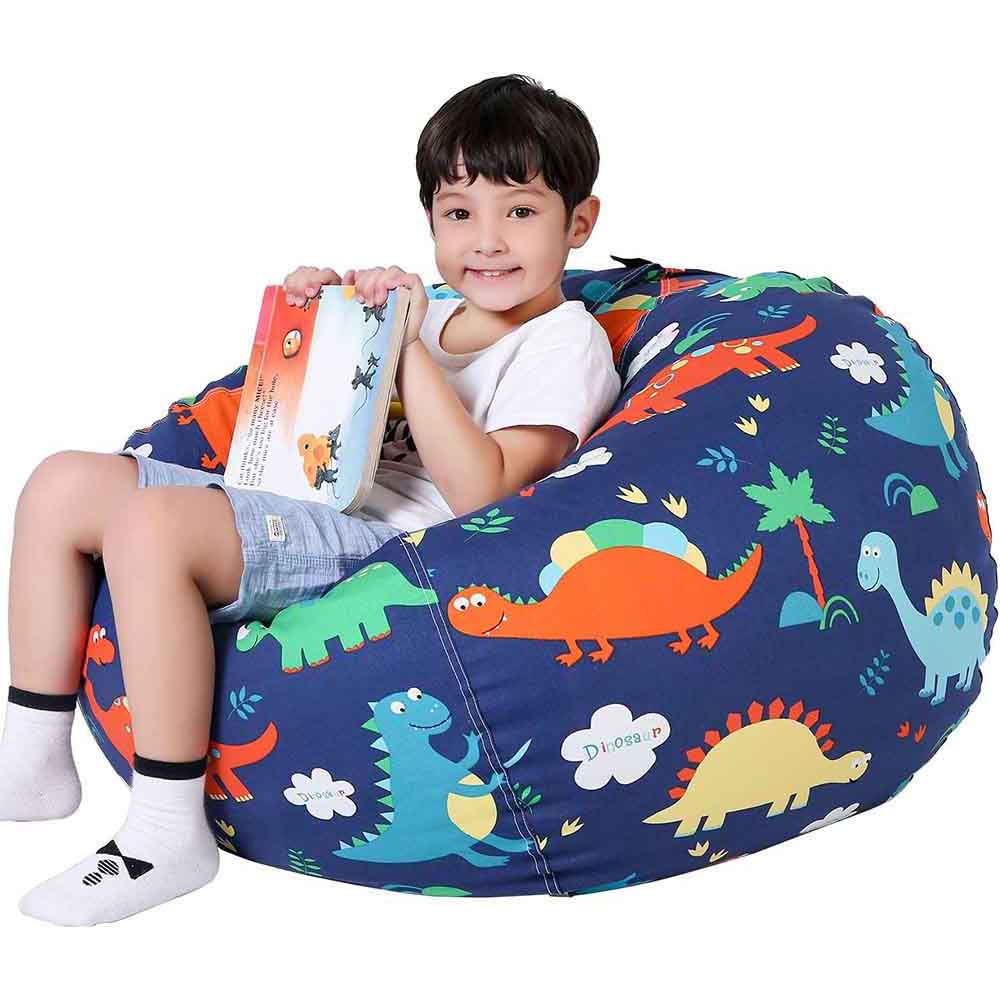 This may look like an average bean bag chair, but it's actually filled with stuffed animals. It's essentially a plushie storage bag that doubles as a chair for kids. With a budget-friendly price and 21 colors to choose from, this bean bag storage cover makes the perfect gift for Squishmallow collectors and kids!
Space Saving Hangers for More Closet Space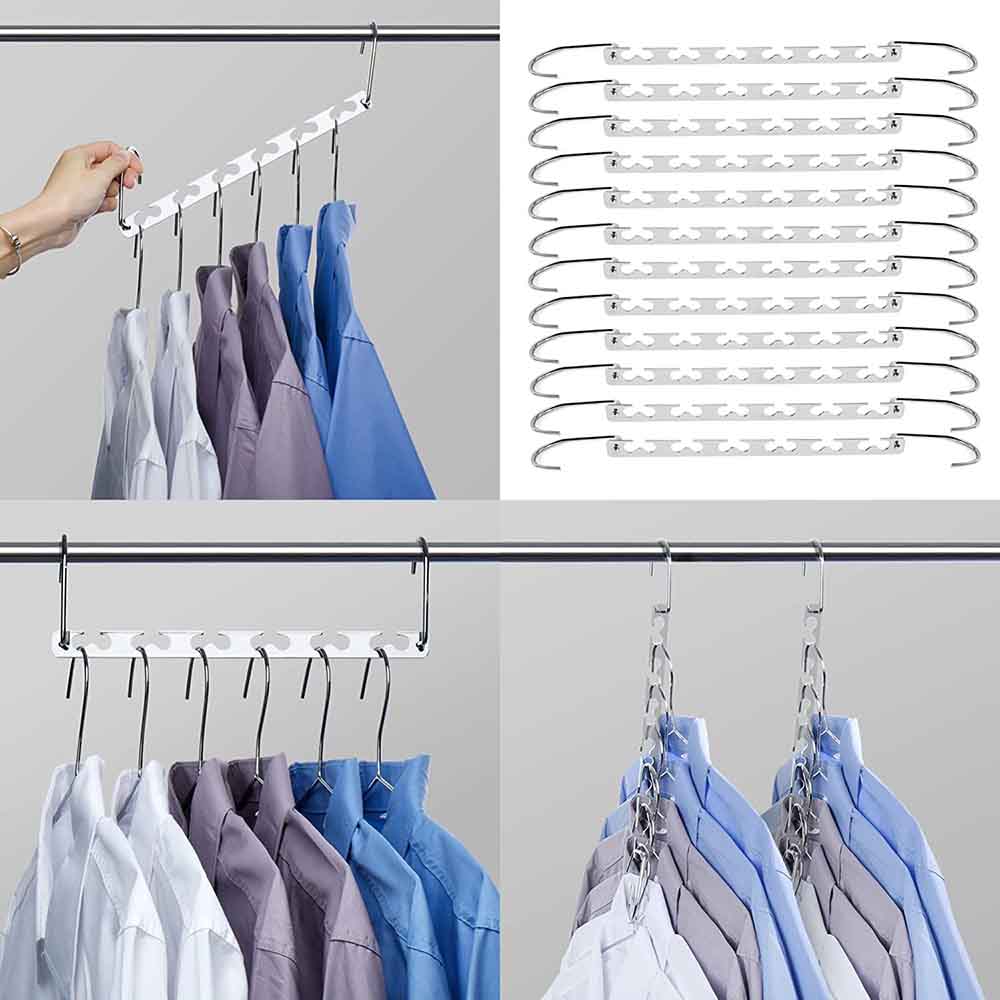 Dorm closets are a joke, especially when they're split among four roommates. How are you supposed to keep everything wrinkle-free? Well, thankfully Amazon has a product for every problem. These space-saving hangers do exactly what they're advertised to do; for every hanger, you can hang up to 12 pieces of clothing vertically. Bonus: reviewers said this brand held up better, compared to other cheaper models.
Your Pantry Ingredients Will Last Longer in these Sealed Containers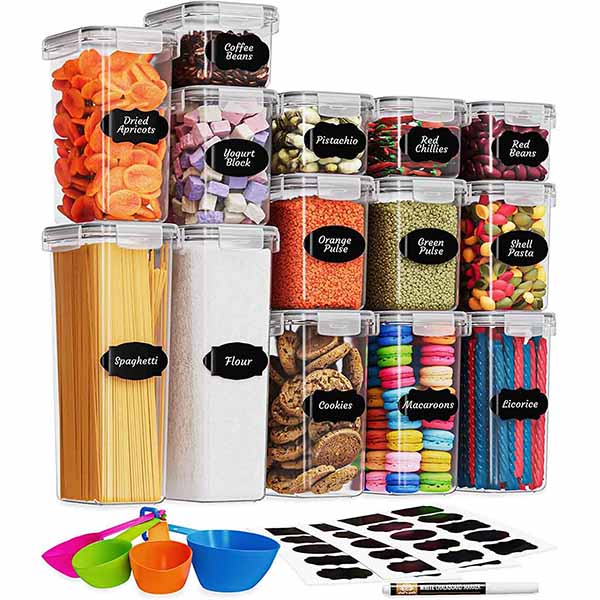 Nobody likes stale food. Your cereal, flour, chocolates, and cookies will last SO much longer in these plastic bins. This 14-piece collection even comes with customizable labels, so you can use them however you'd like. And unlike your extra tall cereal boxes, these were actually designed to fit in standard pantry shelves.
Use this Car Purse Holder to Prevent Spills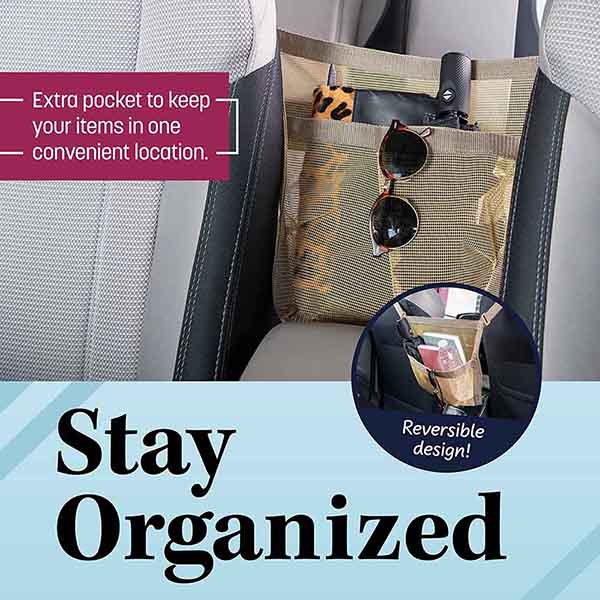 We're all guilty of setting our purses on the center console. What can we say, it's really convenient — up until the purse falls into the backseat. This purse holder strap solves that problem by acting like one of those under-seat roller coaster storage bins. It will keep your clutch, water bottle, and lip gloss snugly stored for the ride.
A Compact Towel Rack for the Guest Bathroom
This simple towel rack looks hotel quality and will definitely get the job done, regardless of what you put on it. The sturdy metal frame can hold as many as nine towels at a time, plus a few extra accessories on the top shelf. You can't beat the price either — right now, it's less than $30!
Transform Your Junk Drawer with these Plastic Trays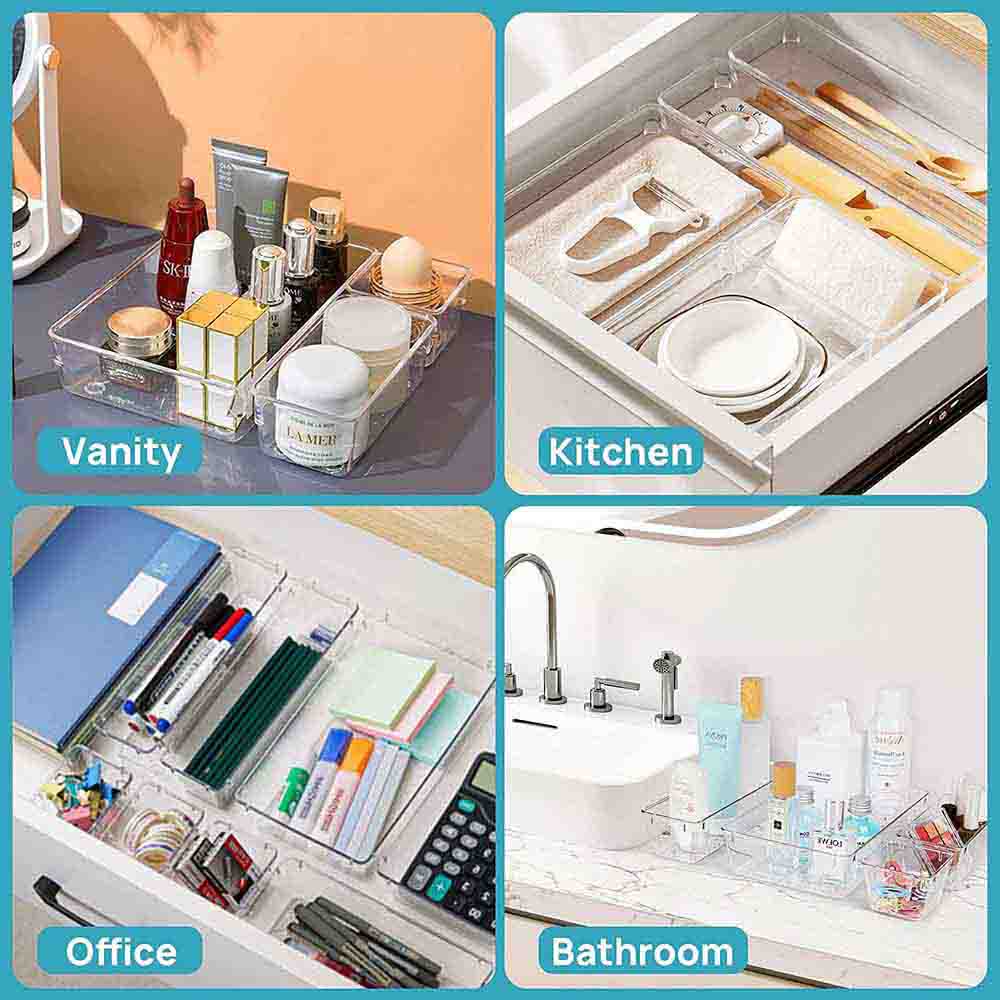 This one seems like a no-brainer, but many of us are still living the chaotic junk drawer life with no plan in mind. A 24-pack of plastic organizers would come in so handy right now! Reviewer tree said "the bins are made from strong plastic, well made and well finished with no sharp edges," so they're definitely safe for children to use.
This Purse Insert Will Help You Keep a Cleaner Bag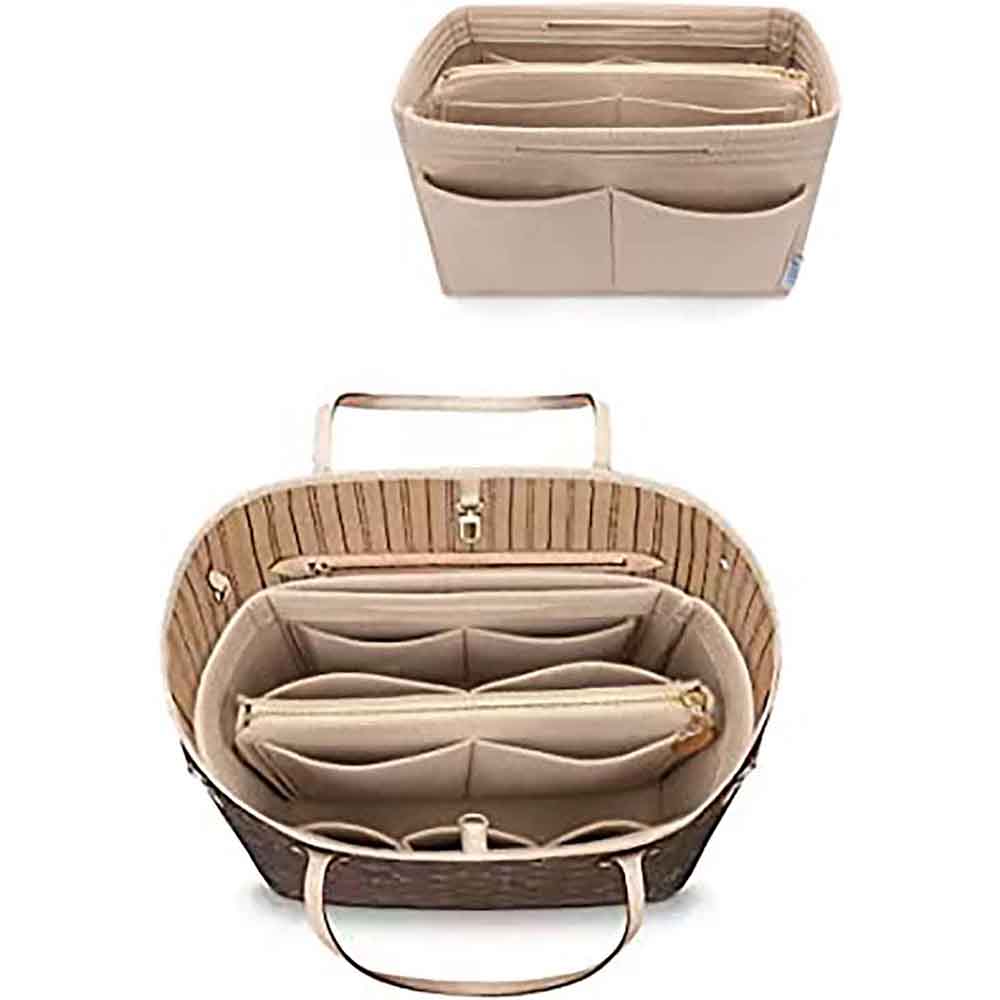 The mom-purse is a fearsome beast, but it can be tamed with the proper tools. This custom color organizer insert will help you prevent your next COACH acquisition from becoming a crumb or receipt collector. It comes in 24 different colors and five different sizes, so you can order the right size for your favorite bag.
This Rolling Storage Rack Will Come in Handy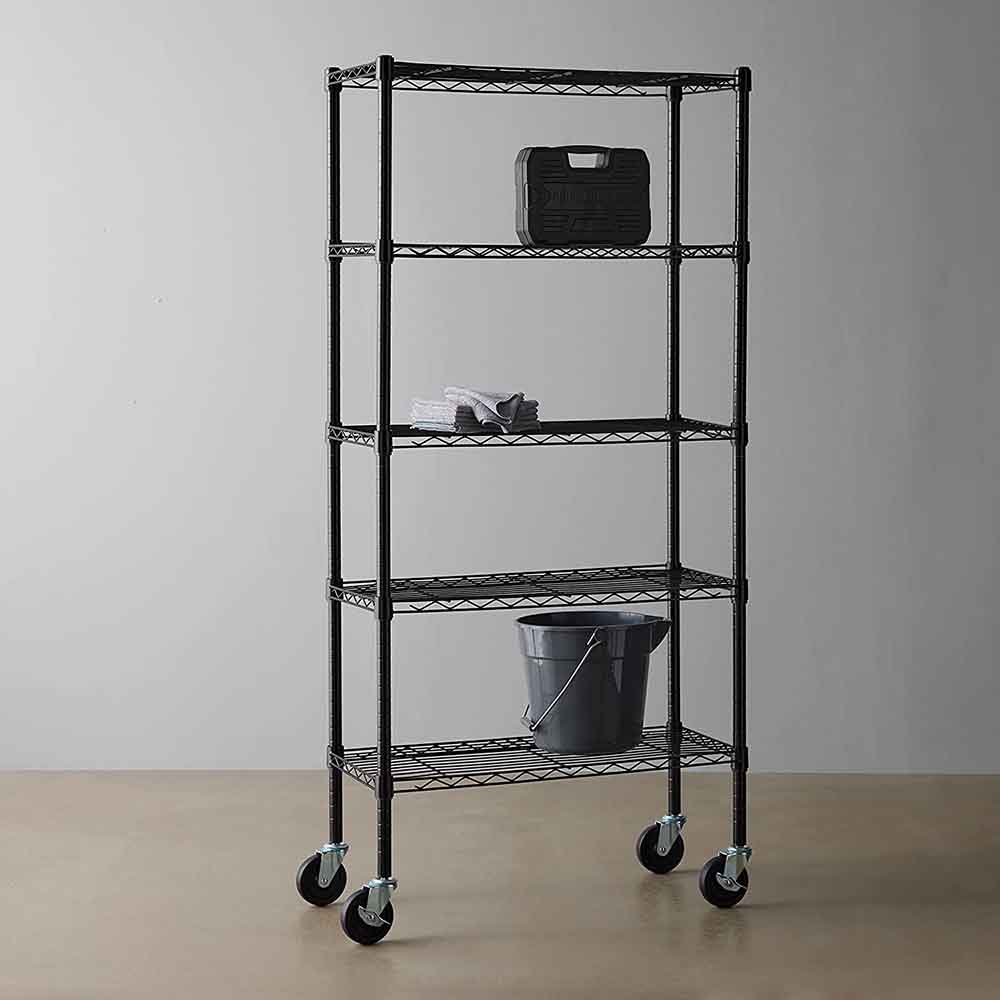 Ready to sort out your seasonal decor collection and create a reliable walking path in your garage? Over 208,000 buyers loved these heavy duty steel racks, and we recommend them for the job. When used without the wheels, each shelf can carry up to 300 lbs.; with the wheels, the weight capacity stands at 132 lbs. Bonus: you can adjust the height and position of each shelf to accommodate weirdly sized boxes.
Use this 2-in-1 Trash Can for Garbage and Recyclables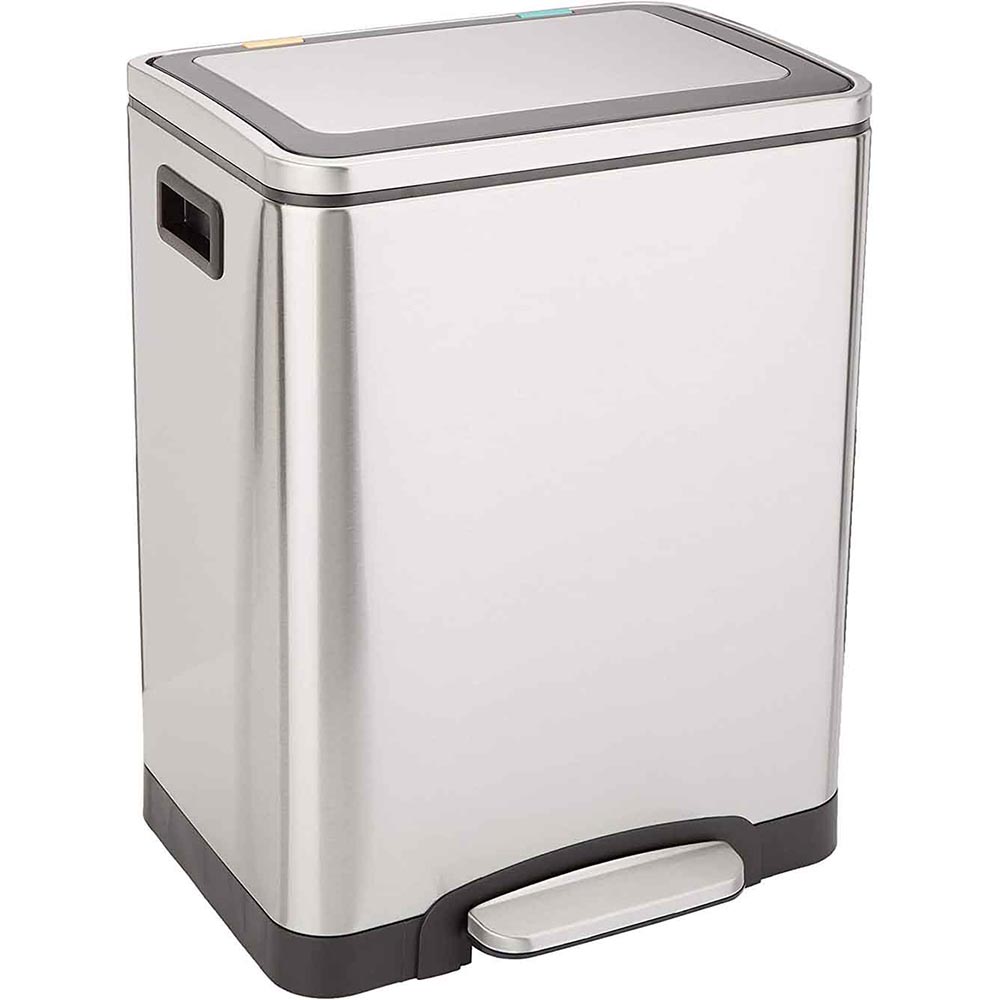 Most dual trash cans cost upwards of $100, but we've found a nice one for only $65! It's a little less flashy, but it's essentially the same design. On the outside, brushed stainless steel keeps everything looking shiny and fingerprint-free; inside, two sturdy plastic buckets slot neatly together. If you need a little more room inside, you can upgrade to the 60 liter version!
A Backseat Organizer for Family Vacations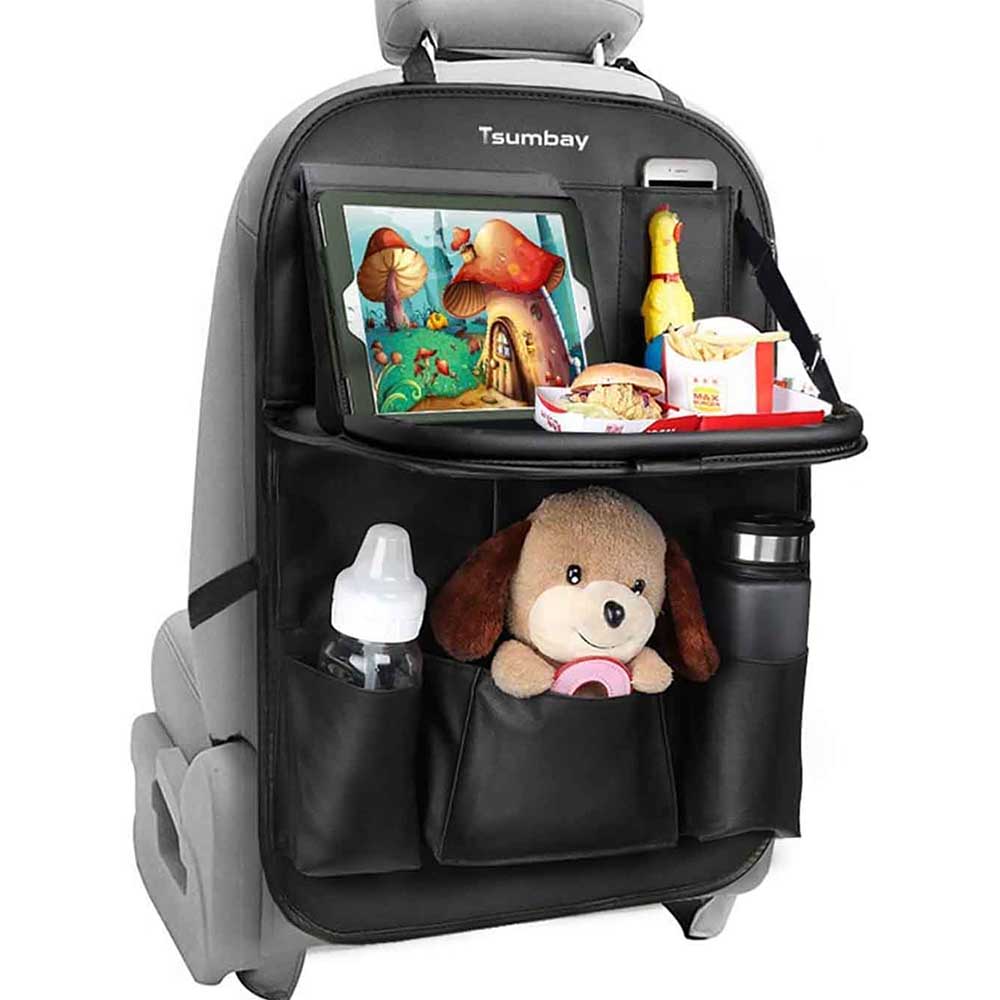 If you have kids, you absolutely need this product — unless you want your backseat to remain a disaster zone. Buyer Simonne Roman shared how this item won her over: "This is worth it. My kids love the table for eating on the go and iPads/phones. Its sturdier than I anticipated. The organizer holds a lot and it durable. I highly recommend."
Upgrade Your Makeup Bag to this Mini Fridge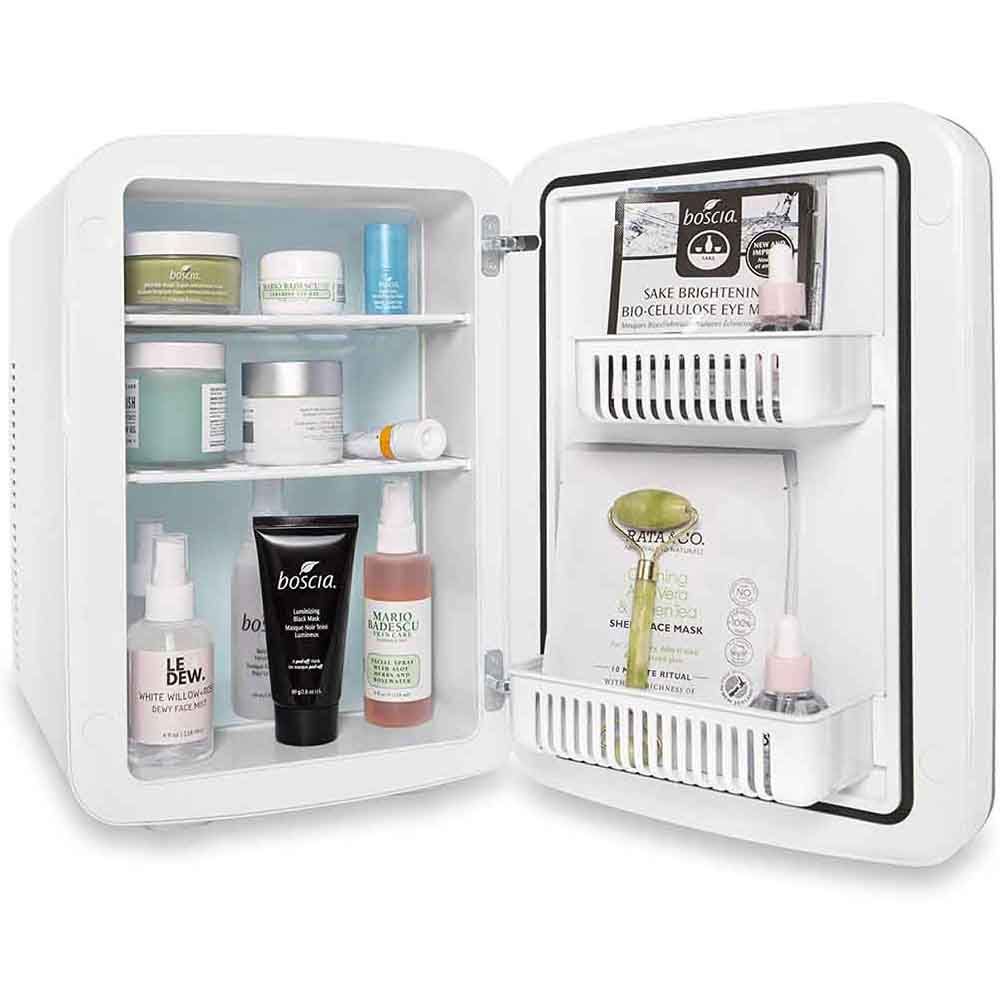 Some of your favorite organic, farmer's market beauty products won't last unless you refrigerate them. Cooluli's budget-friendly mini fridge is the perfect size to store all of your favorite all-natural skincare products. It definitely beats losing tiny bottles of handmade lip balm in the fridge — those products are too expensive to let go to waste! Cryo face treatments just got a whole lot easier too.
Keep Utensils Looking Neat with this Expandable Utensil Tray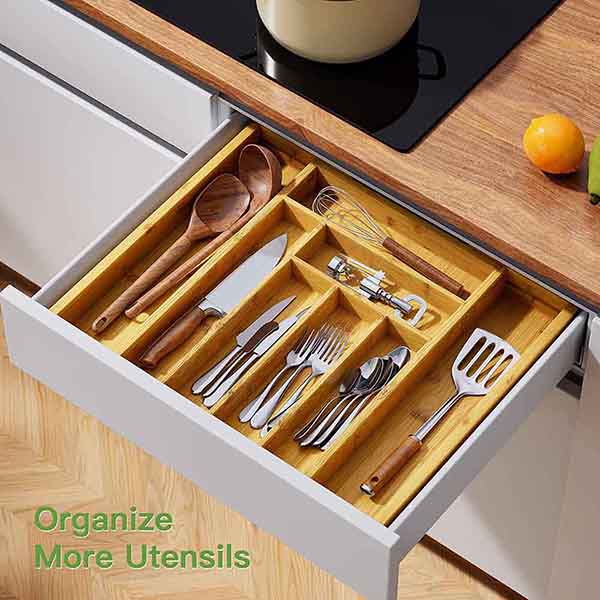 Not a fan of plastic organizer bins? Check out Pipishell's bamboo organizer! While it's designed for use with silverware, you can use it for whatever small items you want. It fits perfectly in standard drawers and can even expand to fit larger spaces, which is nice. Bonus: bamboo is more sustainable than plastic or regular wood!
Your Guests Will Love this Wine Rack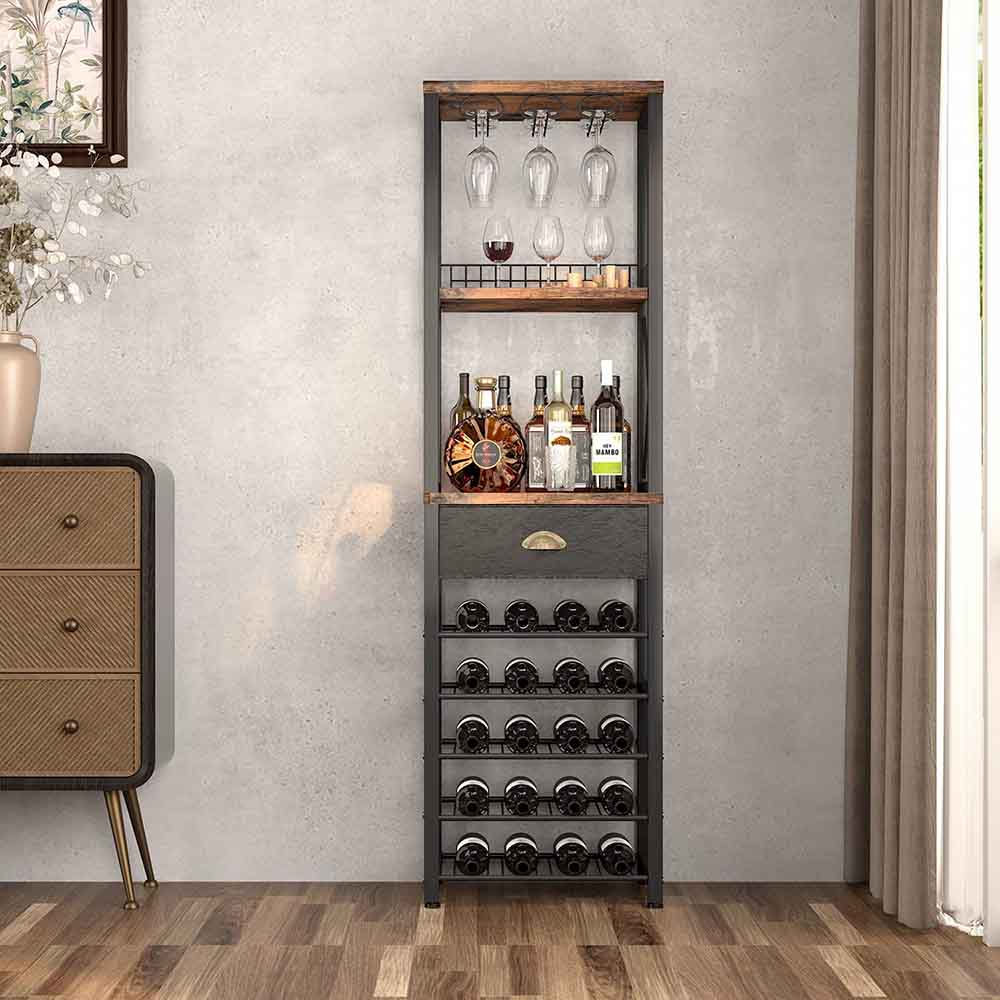 Before you host your first dinner party in your new home, make sure to grab this chic steel bar stand. This liquor cabinet comes with two compact, yet roomy shelves, several rows of wine glass holders, and five wine bottle racks. It makes the perfect drink station for guests and will pair really well with the VASAGLE Coat Rack.
Store Your Outdoor Accessories in this Deck Box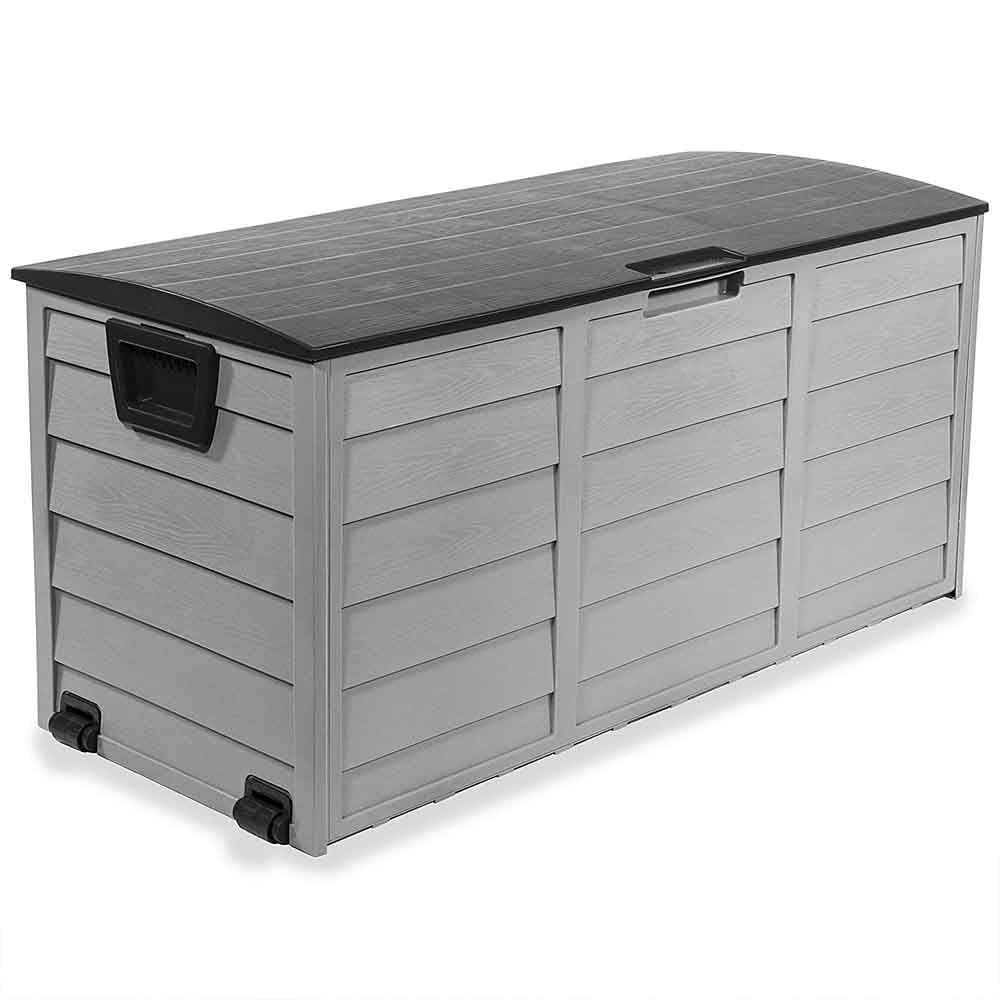 Unless you were lucky enough to score a home with a built-in shed, you'll need somewhere to store your patio chair cushions and pool accessories. This 63 gallon deck box is big enough to fit both! It's made with high density polyethylene, so it won't disintegrate or fade in the sun as easily as cheaper alternatives; it also comes with wheels for easy mobility.
A 3-in-1 Fire Pit for Your Backyard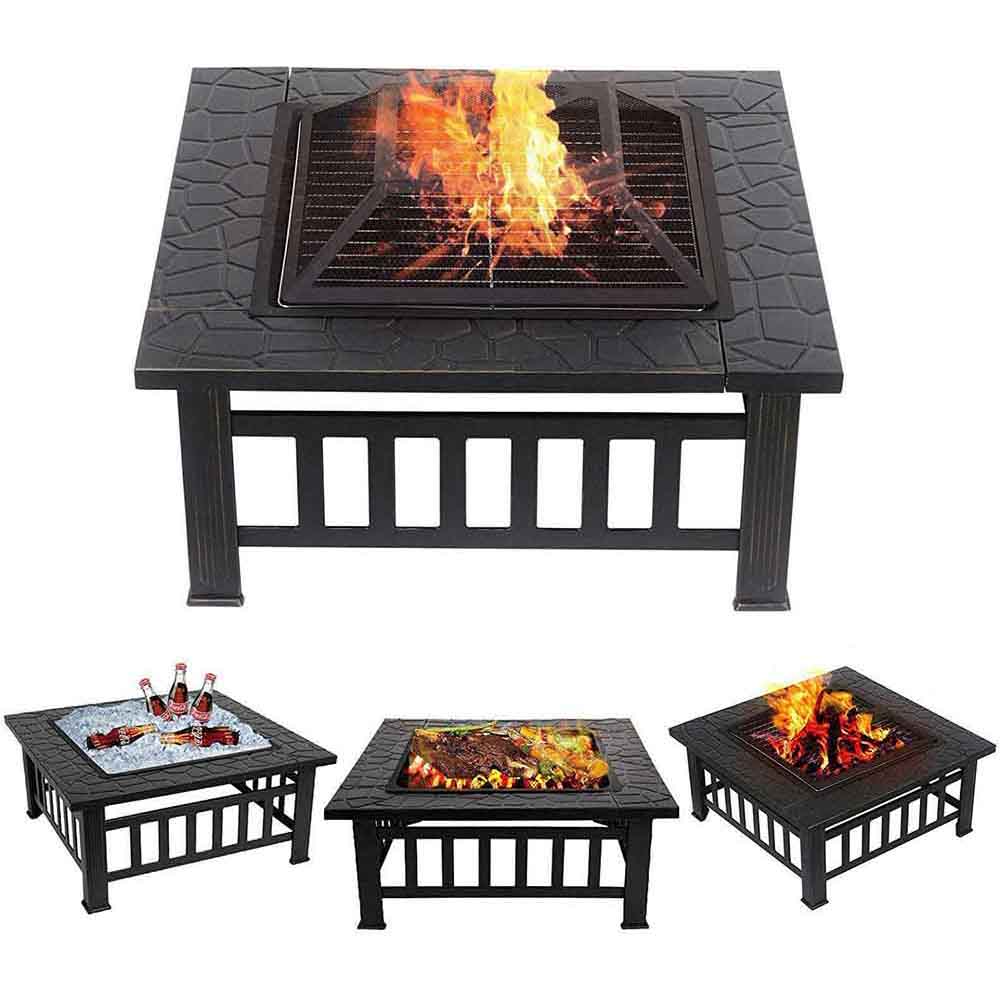 This fire pit isn't exactly an organizer or a storage bin, but its multipurpose design earned it a slot on this list. You can enjoy this wood burning fire table as a grill or a cooler! It comes with the barbecue tray and mesh lid, so you don't need to order those separately. Grab it now while it's on sale!
A Magnetic Shelf for Favorite Spices and Utensils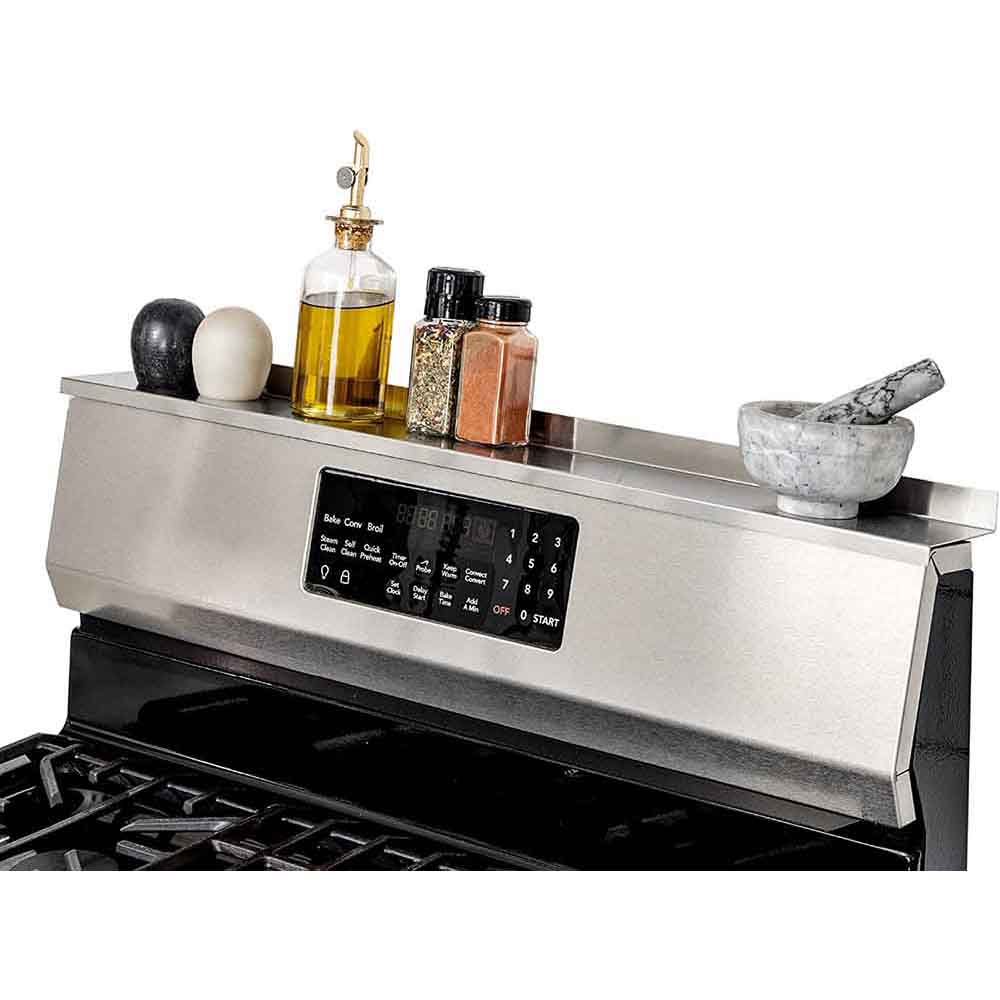 The magnetic oven shelf is a fantastic find for chefs! It looks super seamless when paired with a stainless steel oven and will keep your favorite spices handy (and up out of the way). Because the shelf is magnetic, there's no assembly or drilling required; just place it on the top of your stove!
Ultra-Thin Hangers for Your Closet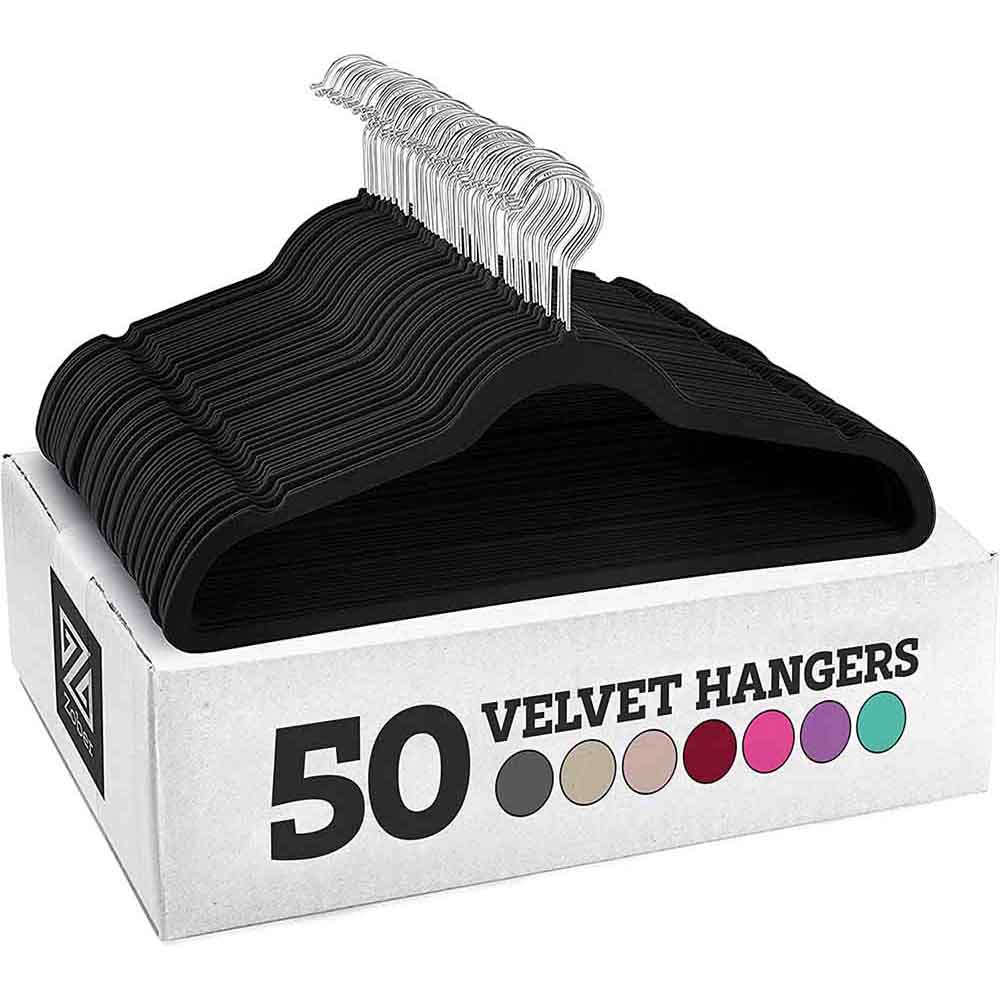 Did you know there's such a thing as ultra thin hangers? Neither did we, until we found this product. According to the seller, using these instead of regular hangers can give you up to 50% more closet space. Buy 20, 30, 50 or 100! Bonus: the velvet texture keeps slippery shoulder straps from sliding off.