Spot Hacks: How To Hide Those Pesky And Ugly Spots At Home
Homeowners commonly hire professional designers to help them design (or redesign) their homes. But, many people attempt to decorate their homes themselves. More often than not, the outcome is still beautiful and inviting – it better be because of all the time, energy, and money that was put into it!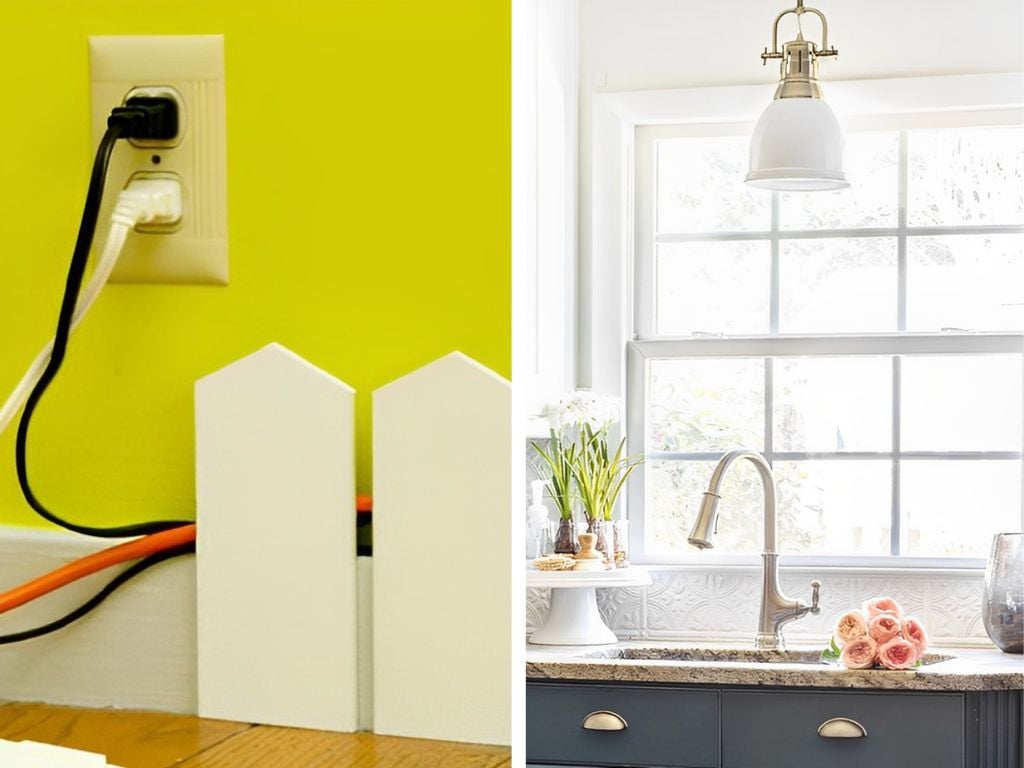 Undoubtedly, a lot of people have those areas of their homes that they don't want their guests to see. Here are some useful hacks to hide those ugly spots that you'd rather not be visible. 
Installing Drawers On The Stairwell
Limited storage space is one of those things that many homeowners have to deal with, and figure out how to create more storage. Oftentimes, people overcrowd the spaces they already have which just leads to hoarding. What's that saying – out of sight, out of mind! Right?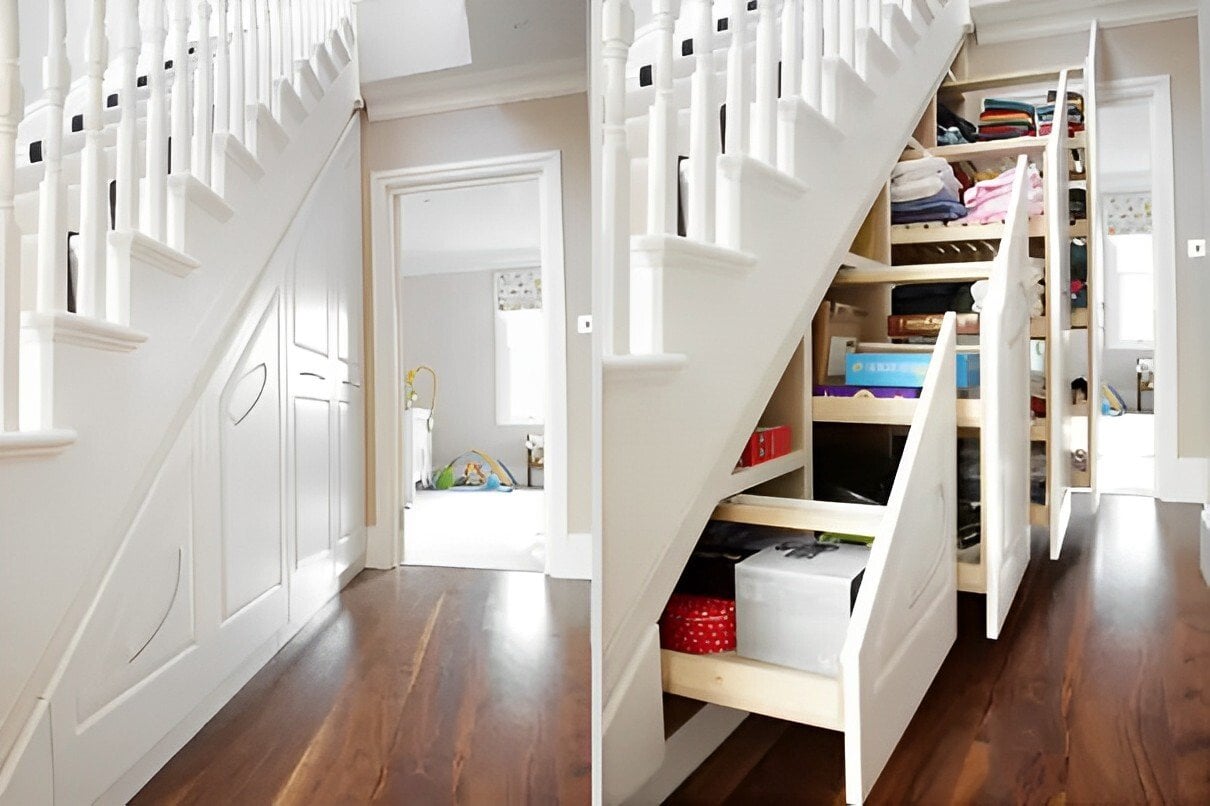 Try to utilize the space under your stairwell into hidden drawers that provide additional storage. You can keep those areas open, while also being nicely presented and not totally cluttered! They also don't take up too much floor space, either.
Turning The Stairwell Into Drawers
Another neat hack is to actually turn your stairwell into drawers. This organizational idea creates an effective use space that doesn't sacrifice any other area of the stairwell. It's also something that probably nobody would think works! The stairs open up to store more items – who would have thought?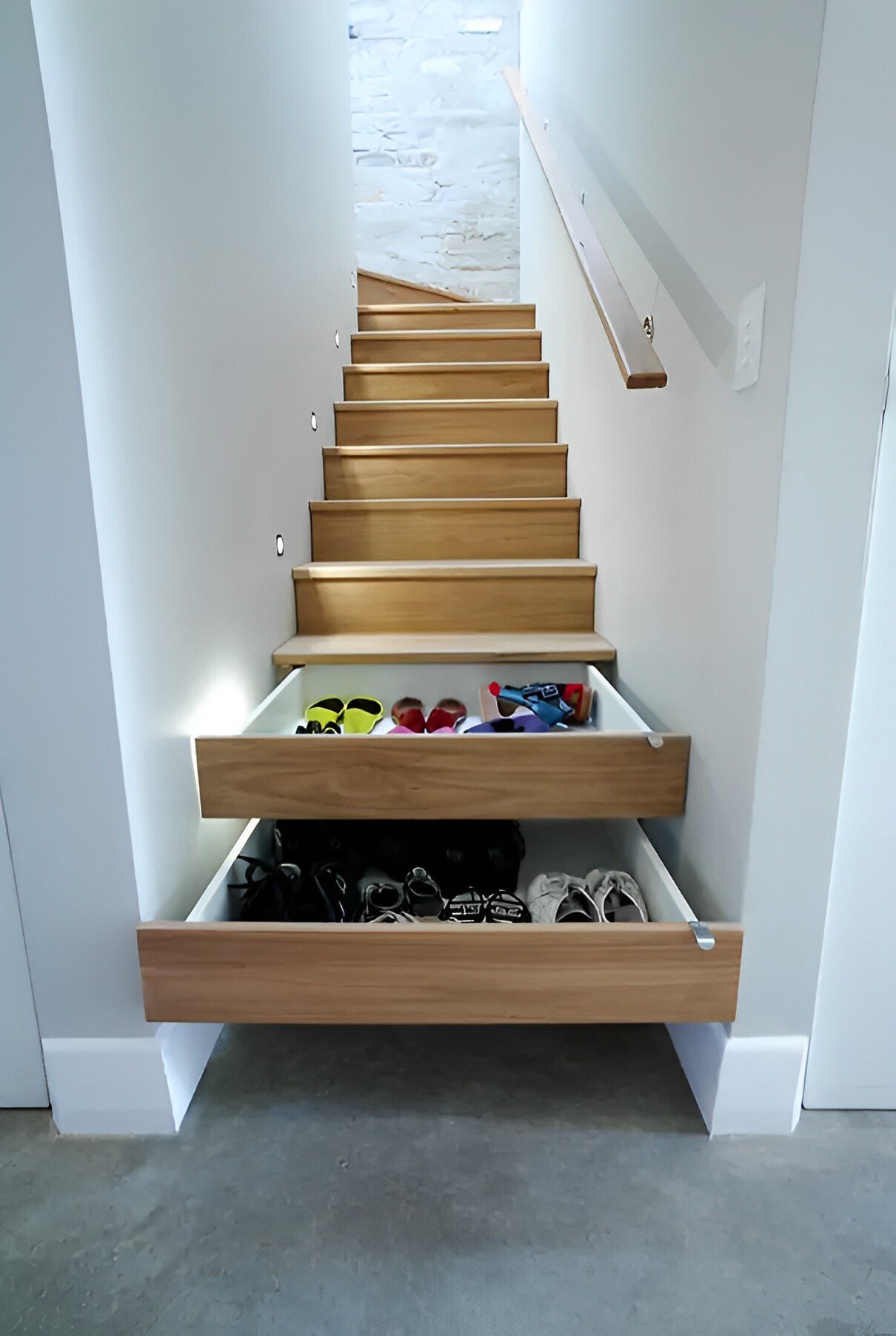 When you meet with your carpenter, simply show him the photo above. You will be very pleased with the finished product and amazed at how much more space you can have!
Innovative Invisible Bookshelves Will Delight Any Booklover
Booklovers of the world unite! This incredible storage hack will certainly make you happy. Storing stacks and stacks of books can be challenging, especially if your place is tight on space. Yes, a full-size bookshelf could work, but this is better for some people.
This invisible bookshelf reminds us of something from a Harry Potter movie! It consists of a metal shelf that easily slides in the cover under the bottom book. Remarkably, it can hold up to 15 pounds of books and provides easily accessible storage spaces. 
No More Tangled Cords
One of the most stubborn items to organize (especially if you don't have much space) is cords. From musicians to students, and just on a daily basis for anybody, cord storage issues are most likely bound to arise.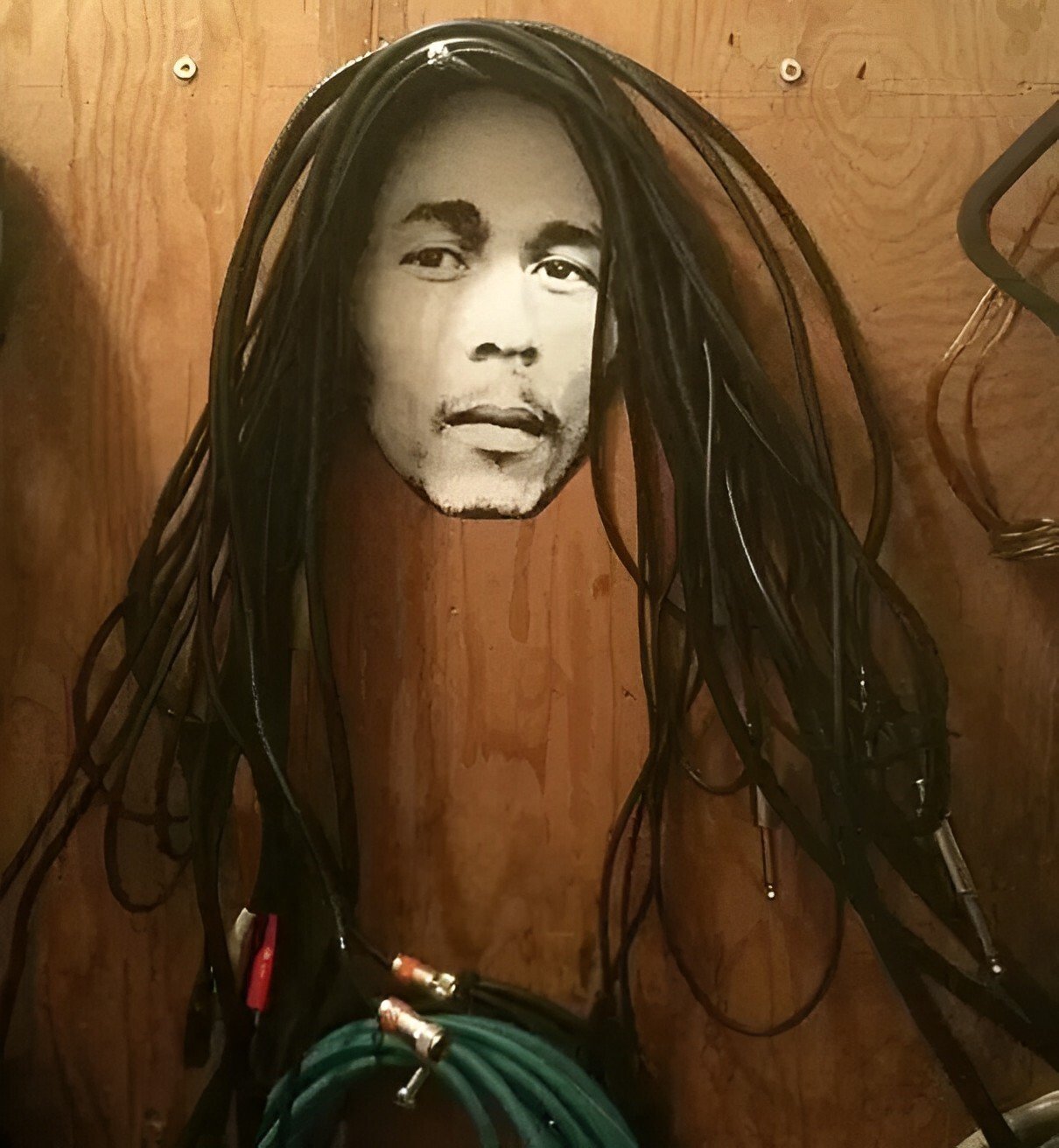 The best and most efficient solution is to make cord hair! You position the cords as a person's hair on any portrait you want. Above is a "portrait" of the famous singer Bob Marley and the cords are draped over his face as dreadlocks. What a creative idea!
Turn Power Cords Into Power Lines
Students specifically face issues hiding the cords to all of their gadgets and devices. When students were stuck at home during COVID-19, the annoying cord situations that are bound to arise had to be dealt with strategically. Your desk has to be mess-free and organized so you can actually think straight!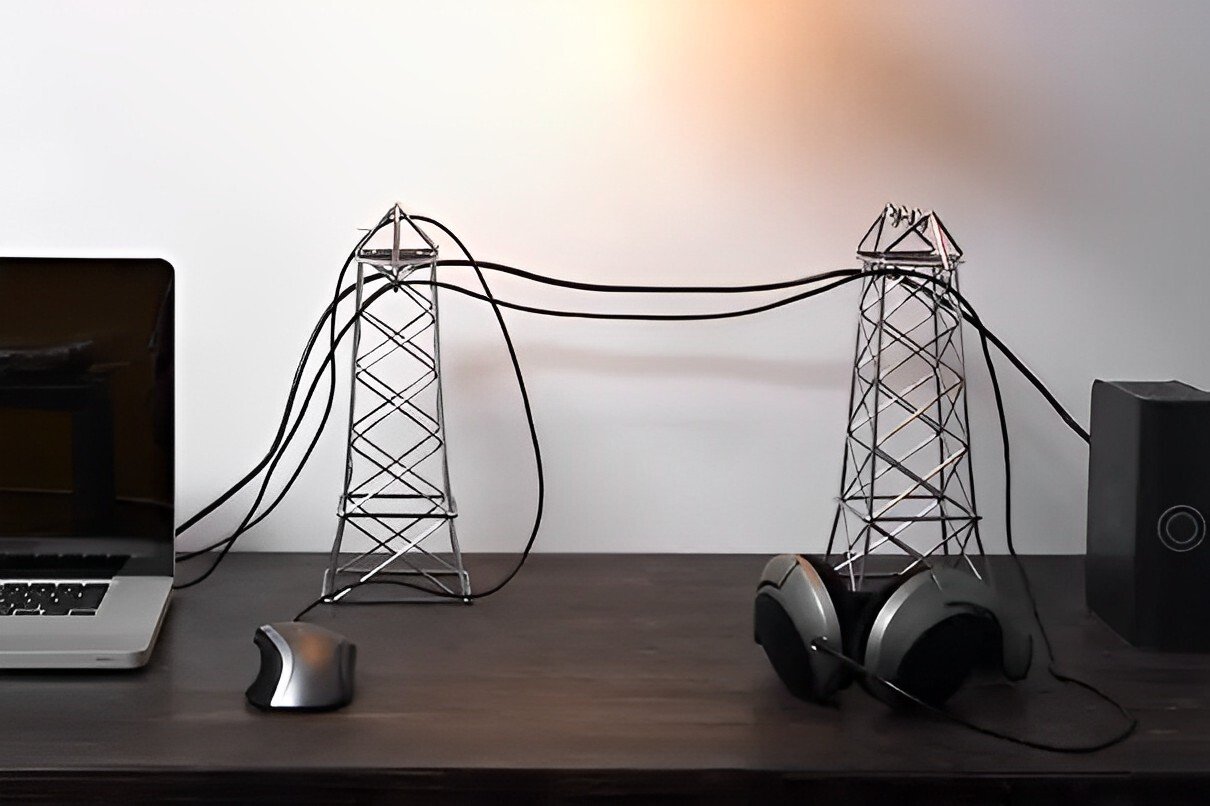 We have a solution for your power cord woes – turn them into power lines. Following the photo above, you can see how the electrical tower model keeps the cords in place. Plus, they resemble power lines which are really cool and aesthetically pleasing. 
Curtains Effectively Hide Wires
To ensure that nobody sees all of the unnecessary amounts of electrical wires on your desk, we have a special hack for that. This luckily applies to anywhere in your home where you need to cover wires.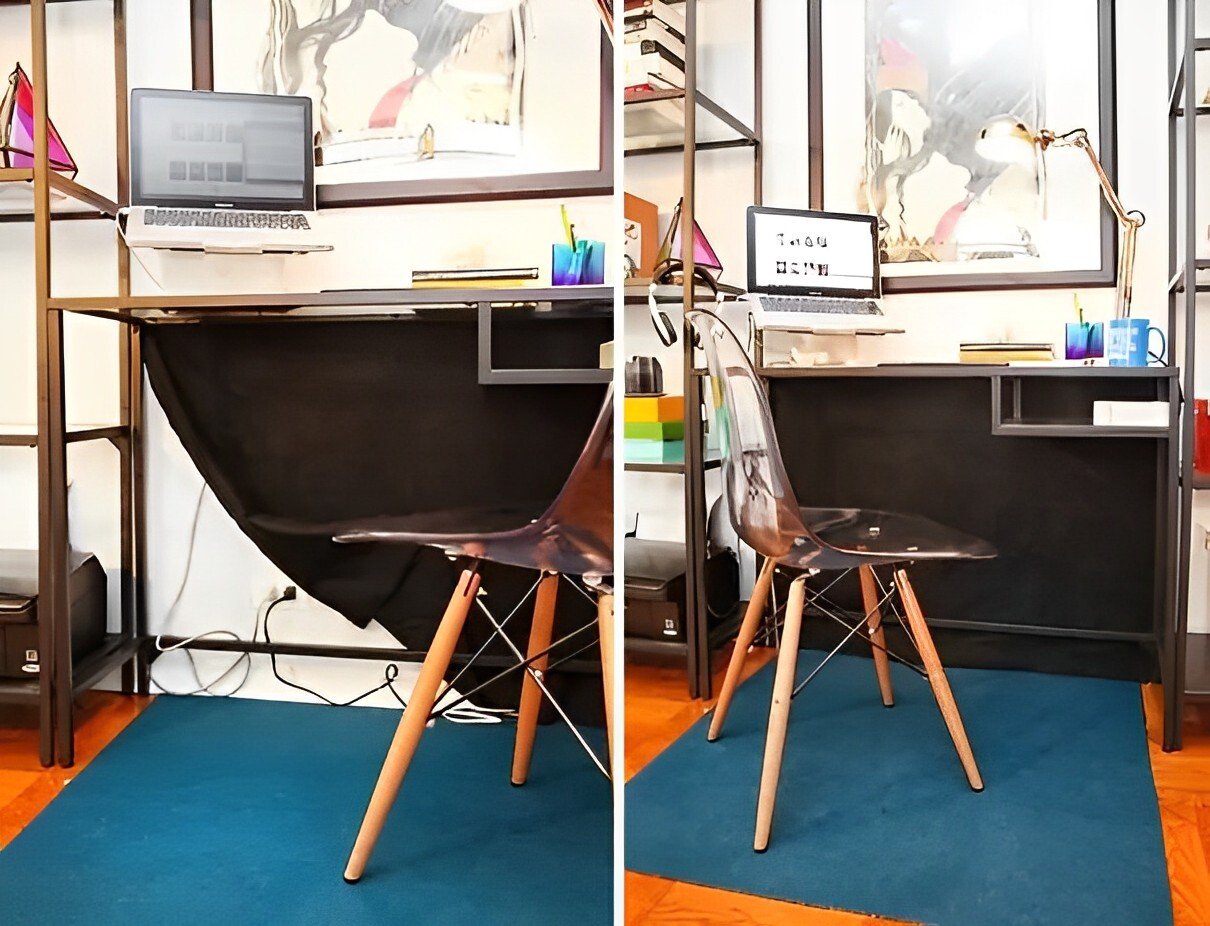 Take a curtain that you don't use, with a fabric that matches your room's color. Then, attach the curtains behind your desk and make sure all of the wires aren't peaking out from the curtain. Now, the wires are safe and soundly tucked behind the curtain's material and you don't have to worry! 
Cover Up Those Cords With Cord Covers
You will need to go to your local hardware store or order online for this next hack. Buy cord covers so all your cords won't be in plain sight and you can have peace of mind. Cord covers are very easy to find, but we suggest looking online if you can't find them at local stores.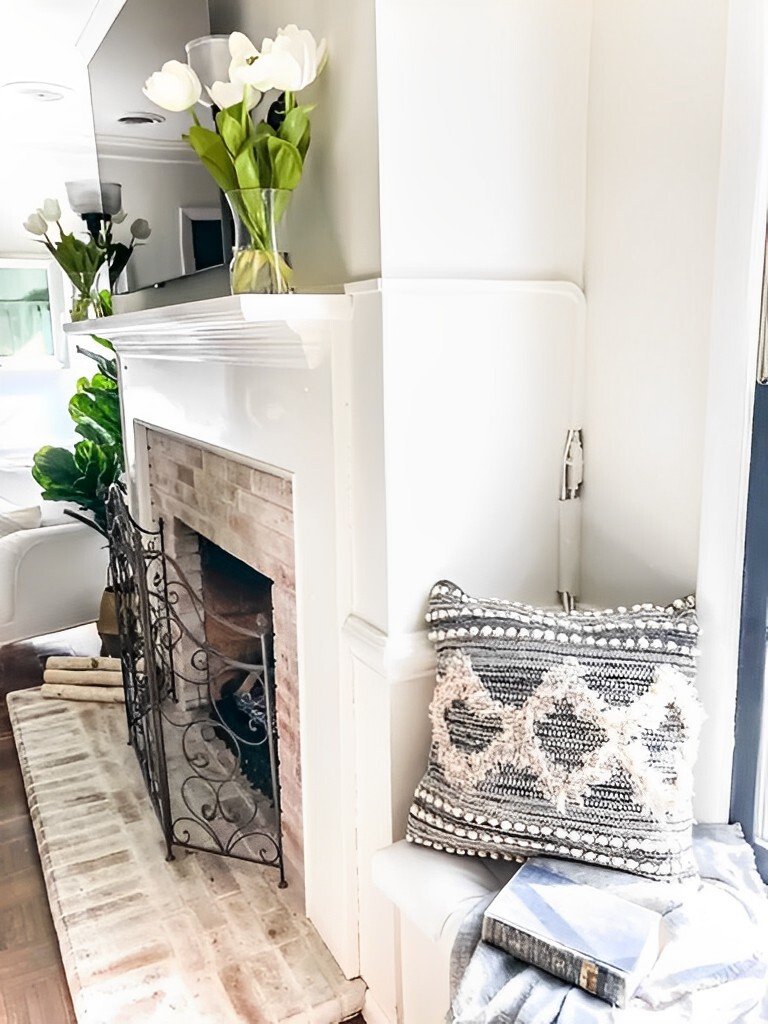 In order to make the cord covers "invisible," you need to paint them the same color as your walls. This works wonders if you have a mounted TV, air-conditioning, or anything mounted on your walls that require a plug to work.
Trim Work Makes Cords Seem Authentic To Your Space
Television cords can be easily hidden behind the trim that's around the TV, which gives it a "built-in" feel. But, we advise that this is done by a professional. You can have a conversation with your designer so they can assist in creating this look.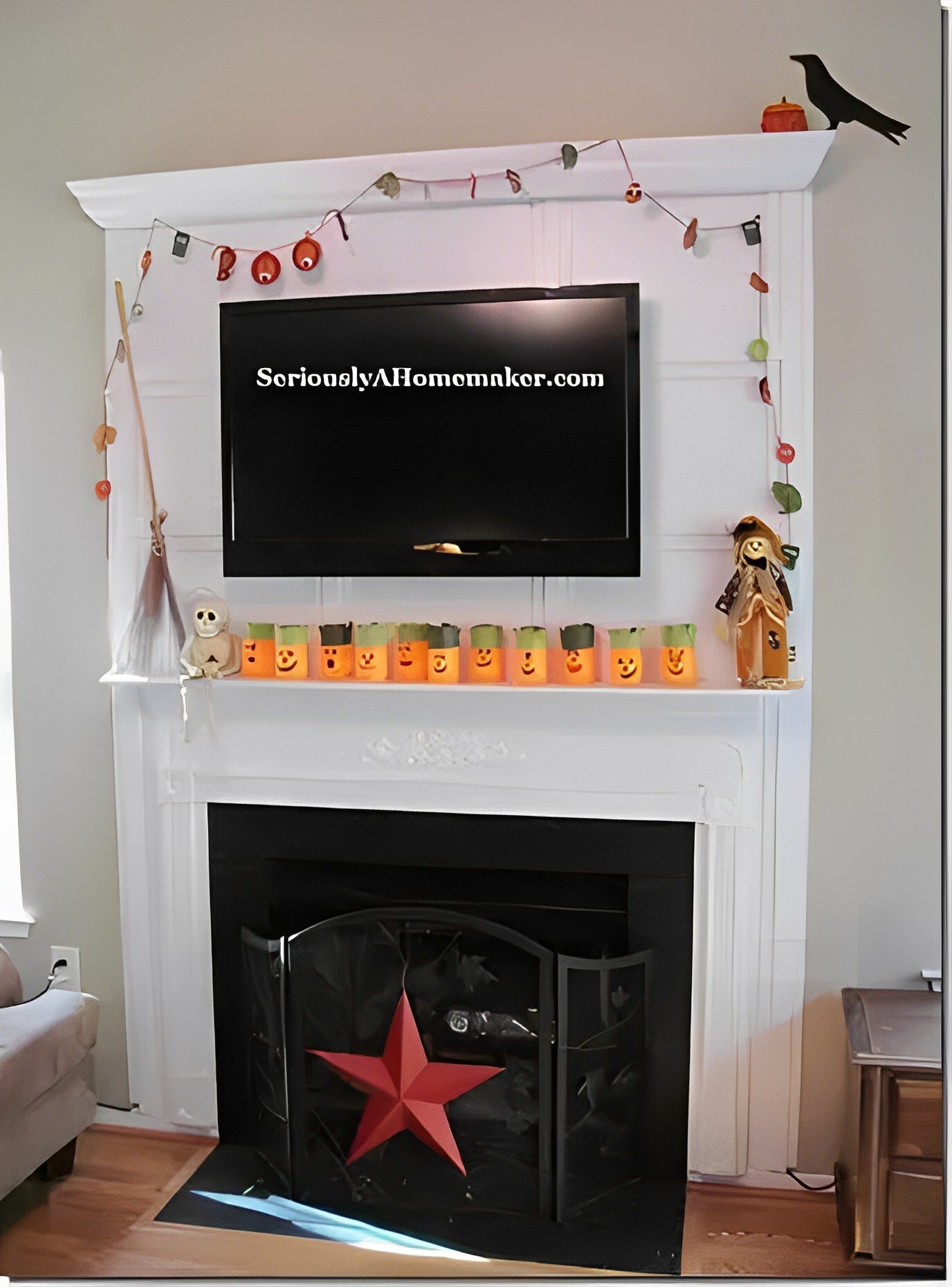 In the photo, the particular designer that was hired installed a small space in the trim work. It seamlessly enables the TV wires to run right through them and you are unable to sopt the cords. They are extremely well hidden, after all! 
Hide Cord Fiascos Behind A Cord Fence
Cords can be hidden behind many things, including a designated cord fence! To minimize the mess that cords often make, you can find decorative fences in stores or through online shopping. Their installation is also extremely simple, so you can do it yourself without breaking a sweat.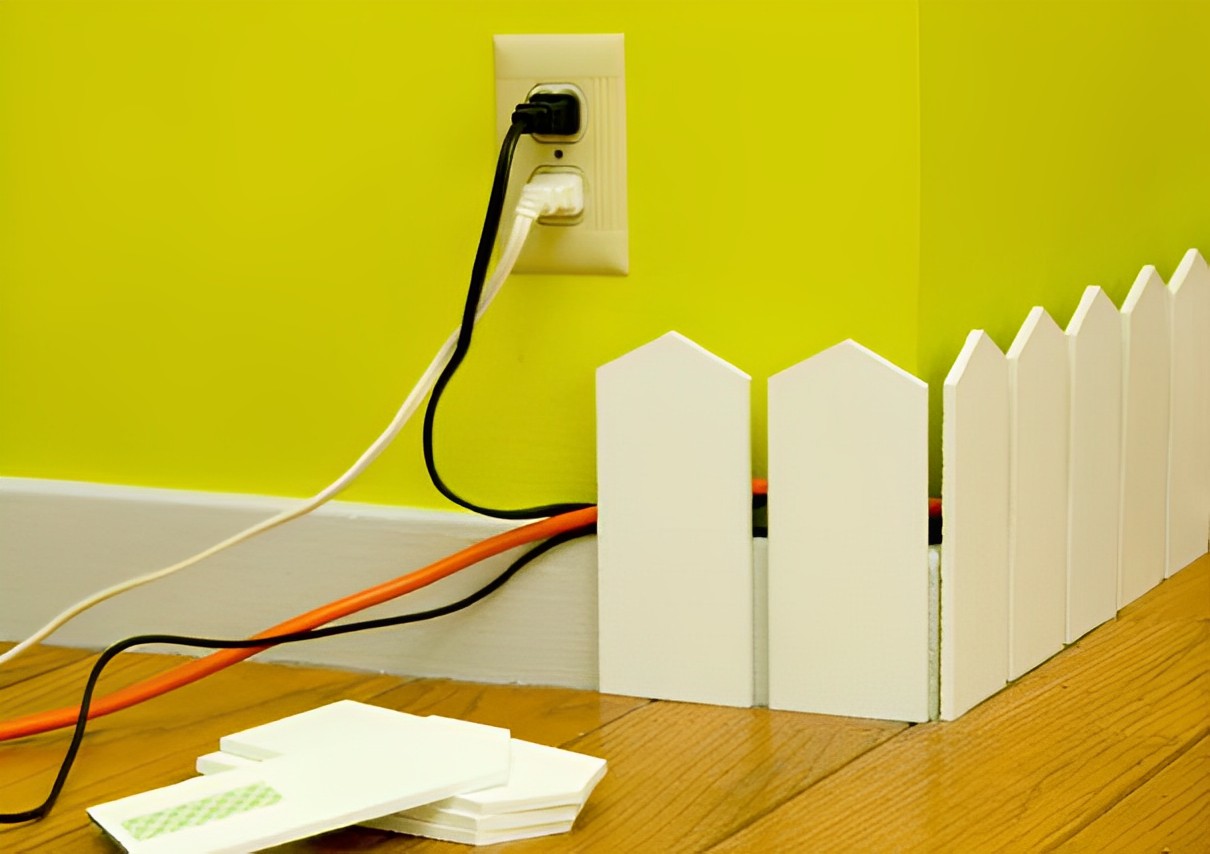 First, you need to select the colors of decorative fences that match your home's theme. Second, place the fences where the bulk of your cords live. The last step is to push all the cords behind the designated fence. Voila! No more ugly cords. 
Stuff Routers Into Nice Boxes
Routers and modems that are connected with multiple cords are big eyesores for those that prefer their houses neat and tidy. An easy and effective solution to hide the unaesthetic messiness of cables and routers is to disguise them as decorative pieces.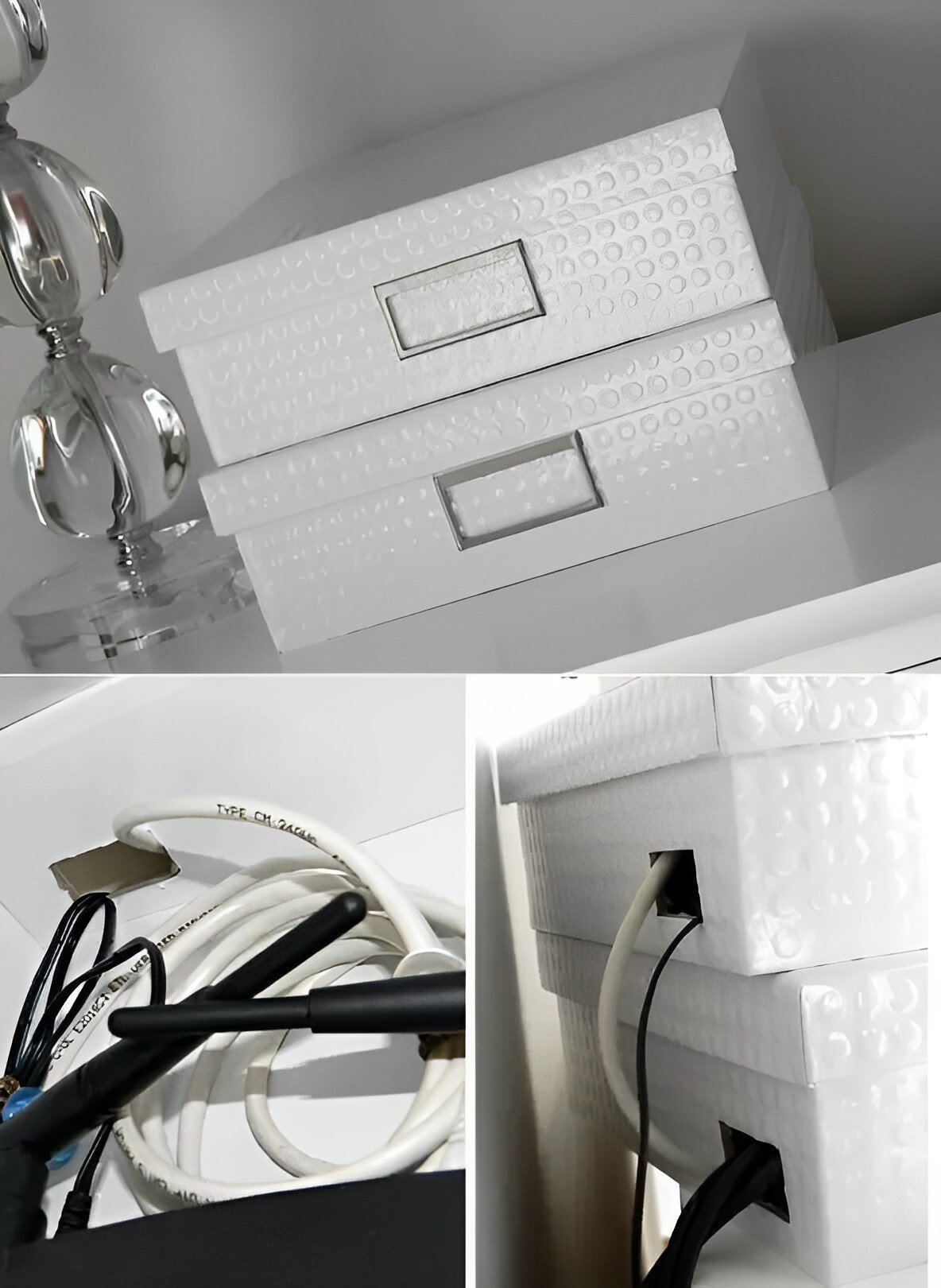 You need to choose boxes that have pretty designs or use leftover wrapping paper to wrap some in unused cardboard boxes. The next thing is to carve a hole that fits around the cords. Finally, place the router in the box and the cables out of the carved hole. There, your problem is solved!
Creatively Utilize Books As Router Storage
Perhaps the box idea is too simple-looking or not your style aesthetically. If that's the case, try using books, instead. It's fun and creative, and you can pick any sort of theme or look you want, depending on the material you've chosen.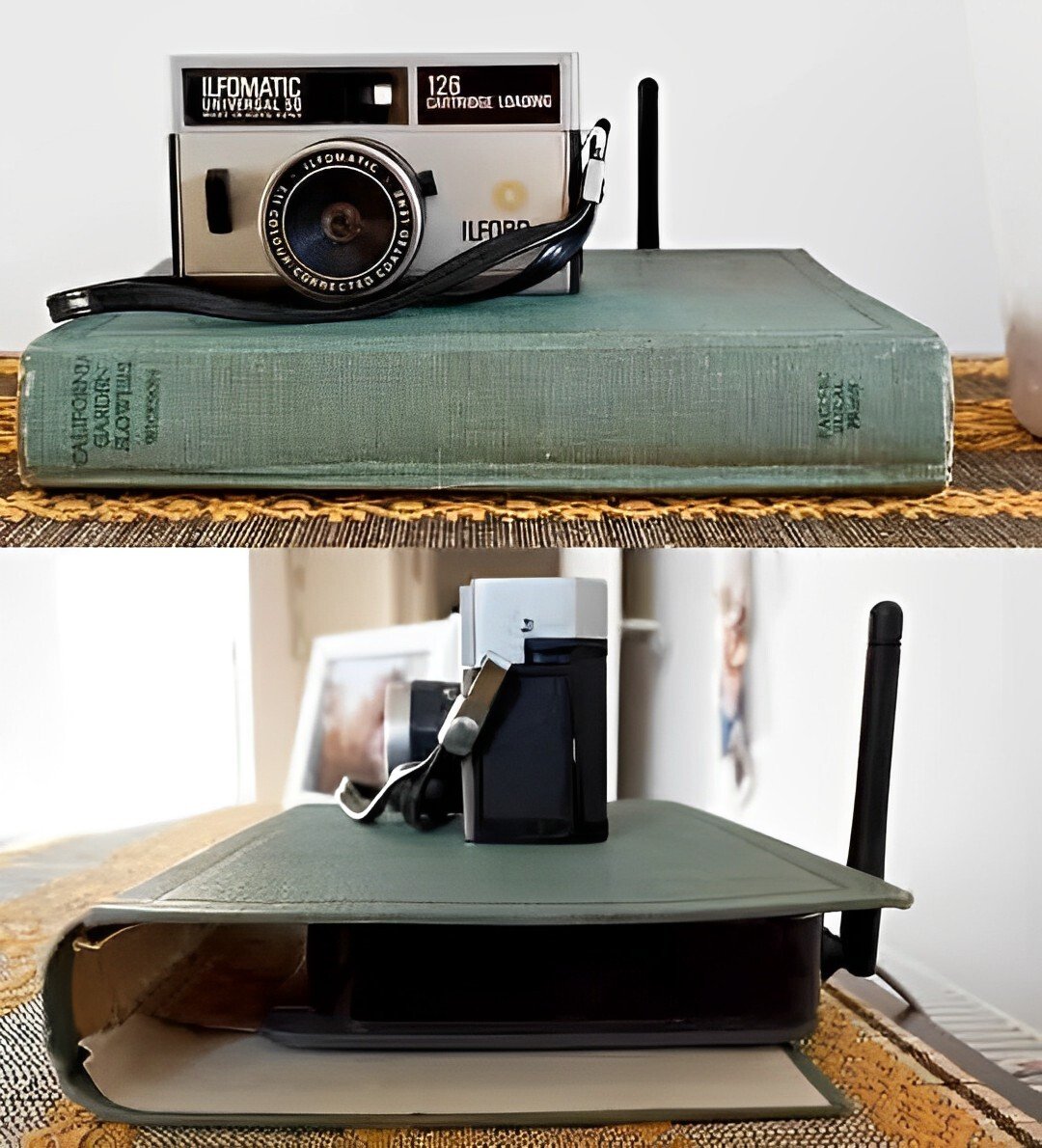 The first order of business is to select a book that has the aesthetic appeal you're looking for. Then, hollow it out and put the router inside of it. Booklovers might be enraged right now, but don't worry! You could also try to just buy book covers online, too. 
Super Handy Charging Drawers
Another type of wire that is a huge pain to deal with is chargers, which are typically left in random places around the house. When chargers are mixed with other wires, that's when an unwanted and irritating mess is created. While you can organize the chargers, that doesn't always solve the problem.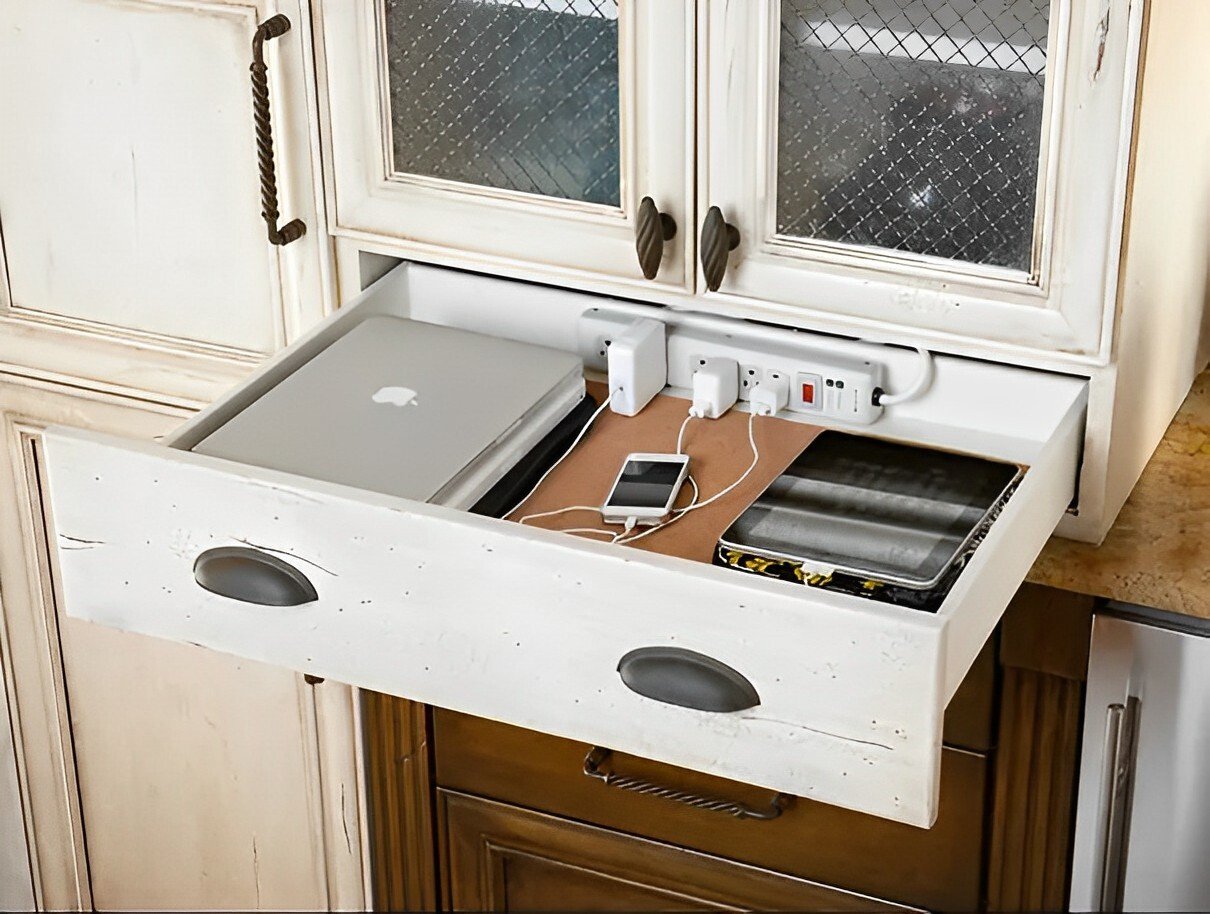 Instead, empty a drawer and turn it into a charging station. This becomes your designated charging drawer where you can charge all your devices in one place, and hide the mess! 
Turn Boxes Into Homes For Cords
Being economically friendly is simple with this hack that entails organizing chargers or wires into unutilized toilet paper (or paper towel) tubes and shoe boxes. This enables you to manage all of your endless chargers in one place, as well as being stored away nicely.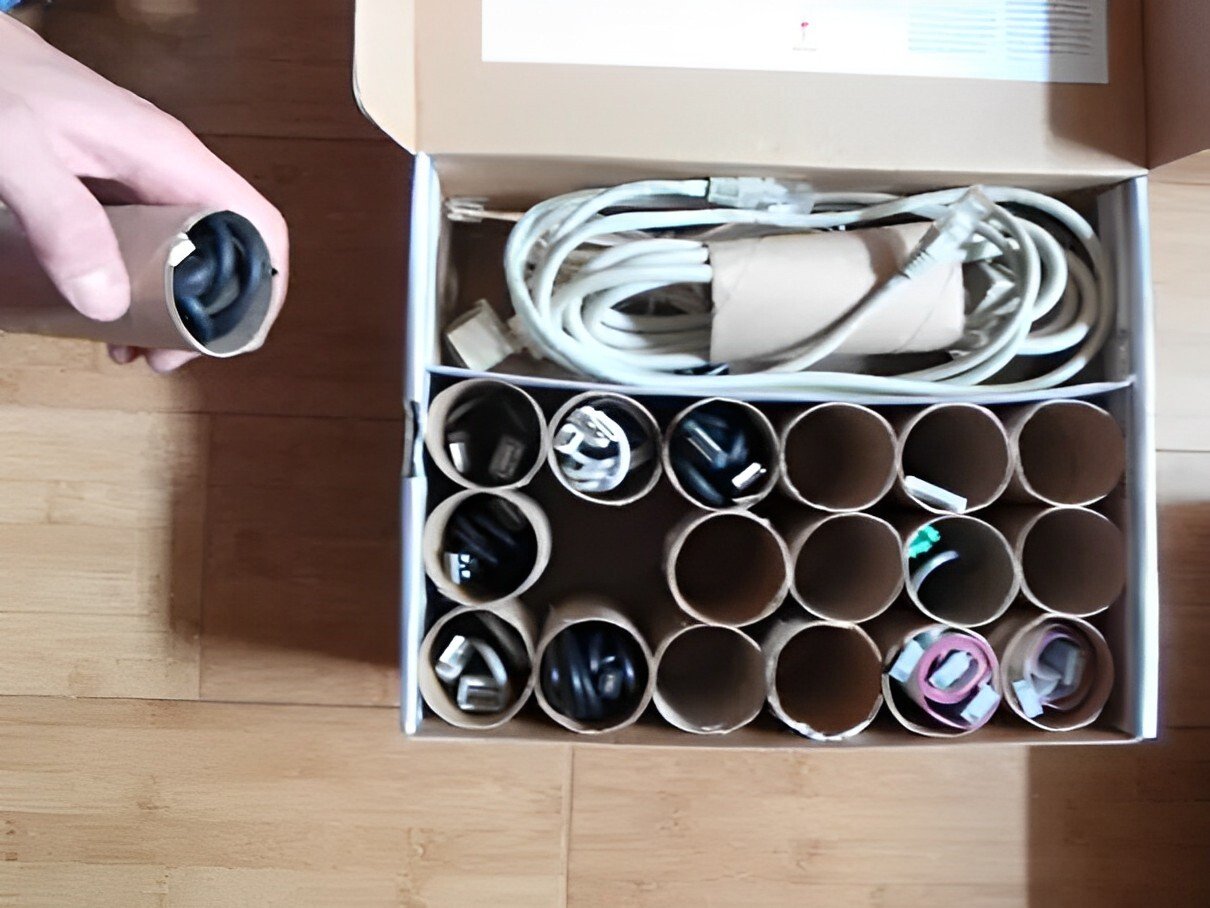 The first thing you need to do is collect some toilet paper tubes and an unused shoebox. Then, attach a feasible number of the tubes into the box based on the number of chargers you own. Lastly, you organize the chargers in the box and that's all. It's a piece of cake!
Pipes Are Also An Annoyance To Hide
Unhidden pipes – just like cords – get on the nerves of homeowners. It makes their houses appear messy and not pleasing to the eye. But, you're in luck because we have a special hack to solve this problem! Hide them behind drapes and watch as all your pipe worries disappear.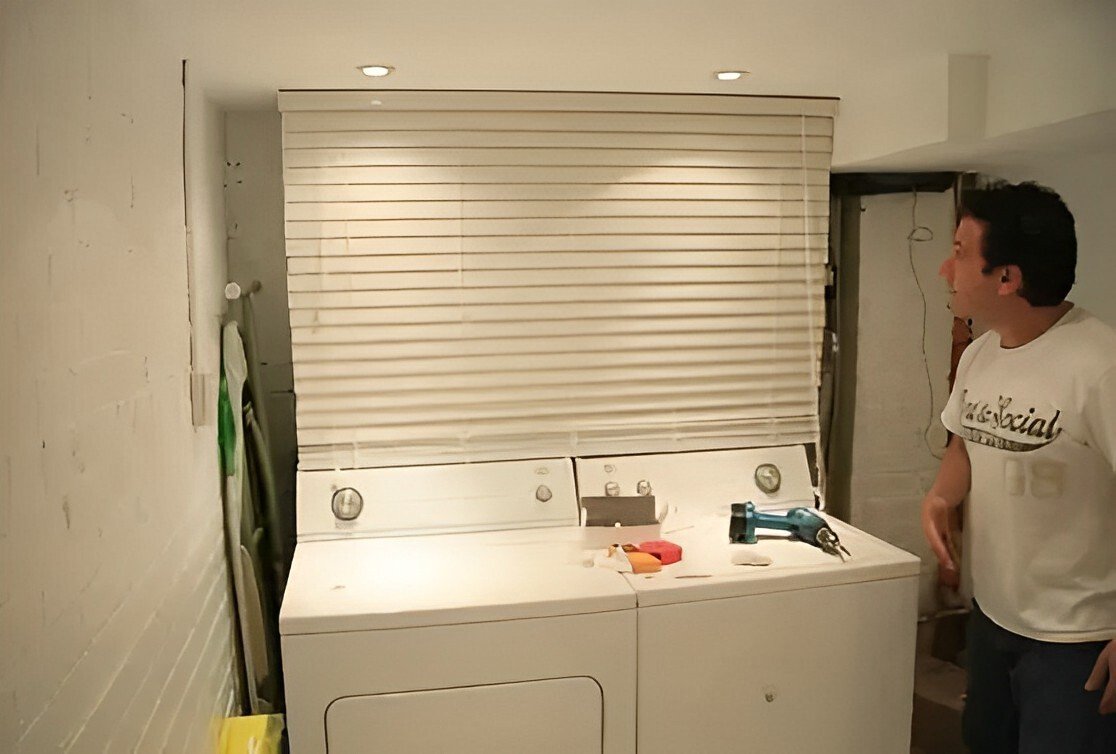 Unfortunately, there are some people out there who have pipes fitted outside their walls. You don't need to fear, however, since all you have to do is hang drapes over them, and they are out of your line of vision. This hack is quick and effective at making plumbing clutter disappear. 
Place Bulky Printers Out Of Sight
Printers are one of those necessary equipment items that most people need in their home office. When printers take up nearly all of your desk space, something isn't right! We think that's just a clear waste of space.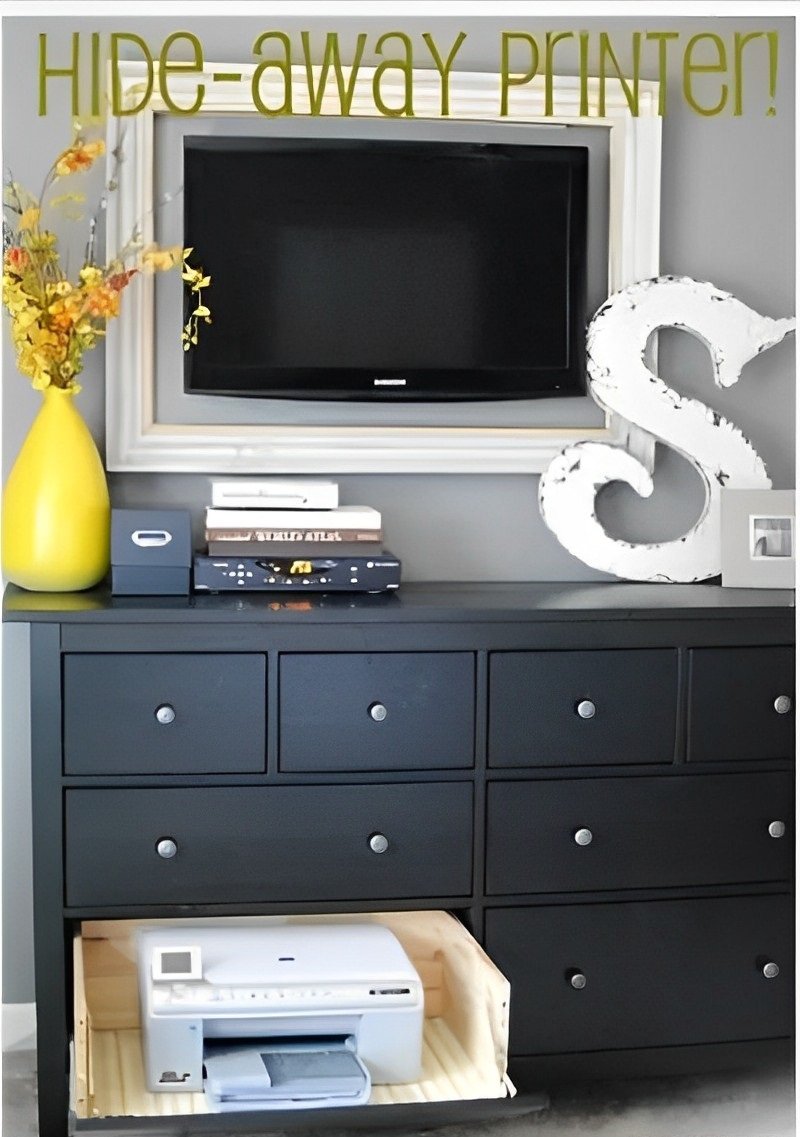 This hack can save you desk space and clear clutter away. You can move the printer out of your way by stashing it in a drawer that's roomy enough to fit it. After doing this, the printer won't  take up precious surface space any longer and can still be accessible. 
The Surprisingly Effective Usage Of Drape Rods
When not hidden, drape rods aren't the most wonderful thing to look at. So, if they don't fit in with the overall theme or design of the room, you don't want them to ruin the aesthetic. Homeowners try and find ways to hide these unsightly things.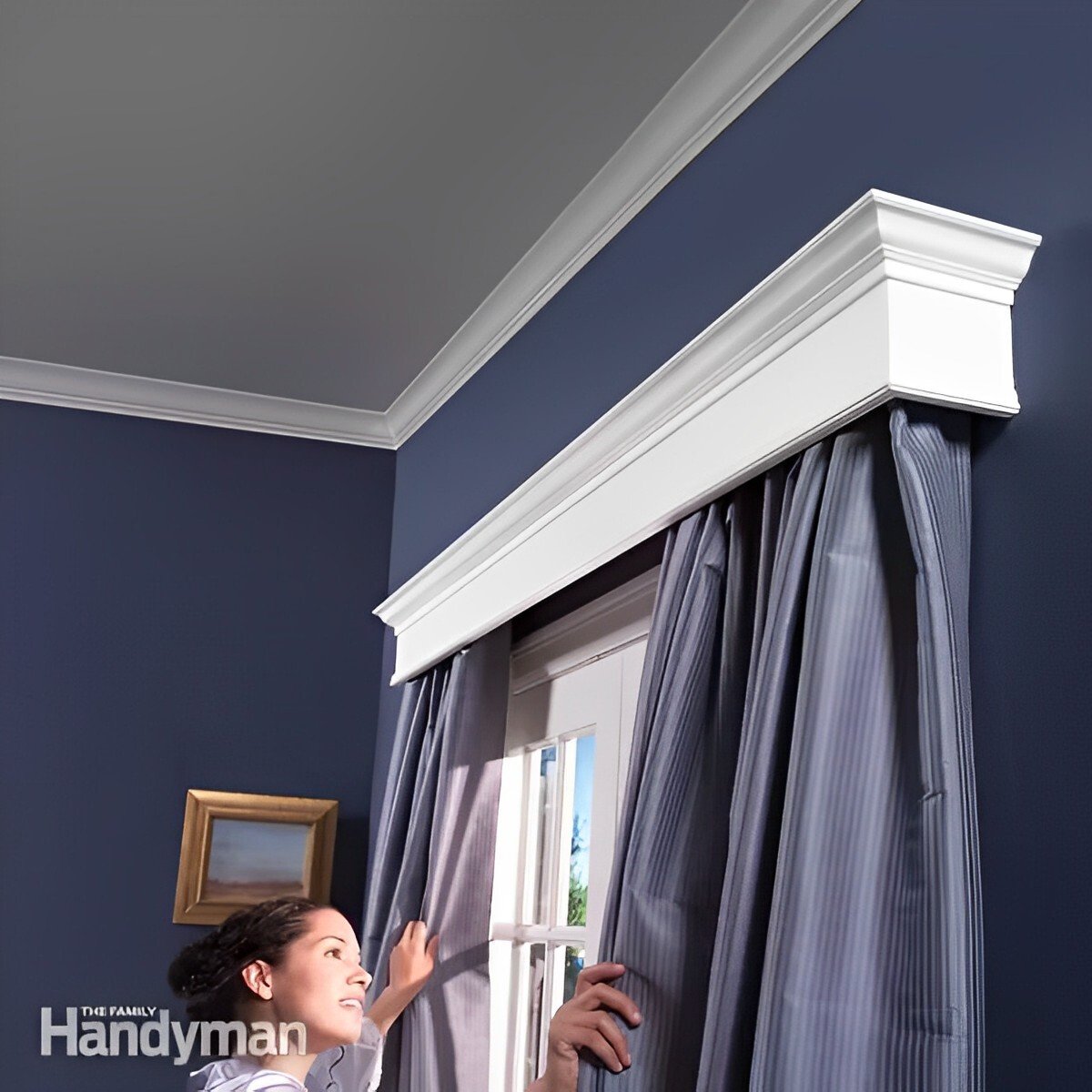 Hiding them behind a cornice or moldings is one surprisingly effective way to not have them show. You can hire professionals for this or have fun with a stress-free DIY project – tutorials can easily be found online!
Spruce-Up Those Boring Support Beams
Aside from drape rods, support beams, and metal poles are among some of the other elements of a home that are unpleasant to look at if not covered up. However, they are essential to keeping your house standing upright and would create major structural issues if removed!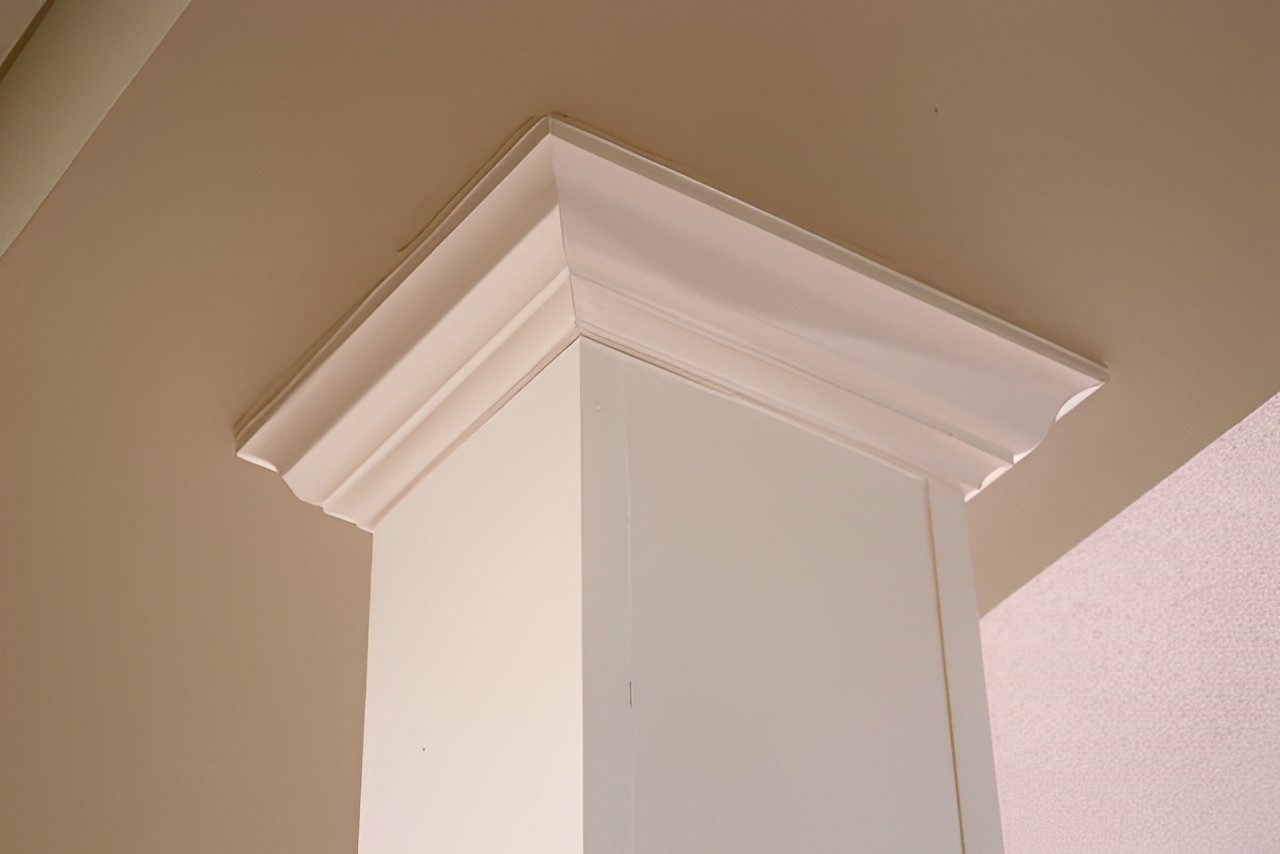 The exciting part is that you can make them more pleasing to look at by dressing them up, so to speak. You can hide the support beams and metal poles with various kinds of molding styles and shapes. Whatever your heart desires. 
Creating A Designated Spot For Dog Bowls
For any dog owner, it's essential to have dog bowls for your pup's food and water. Often, these are placed in spots that are very inconvenient and in the way. They do need to be put in a spot where dogs can still access them. We have an easy solution!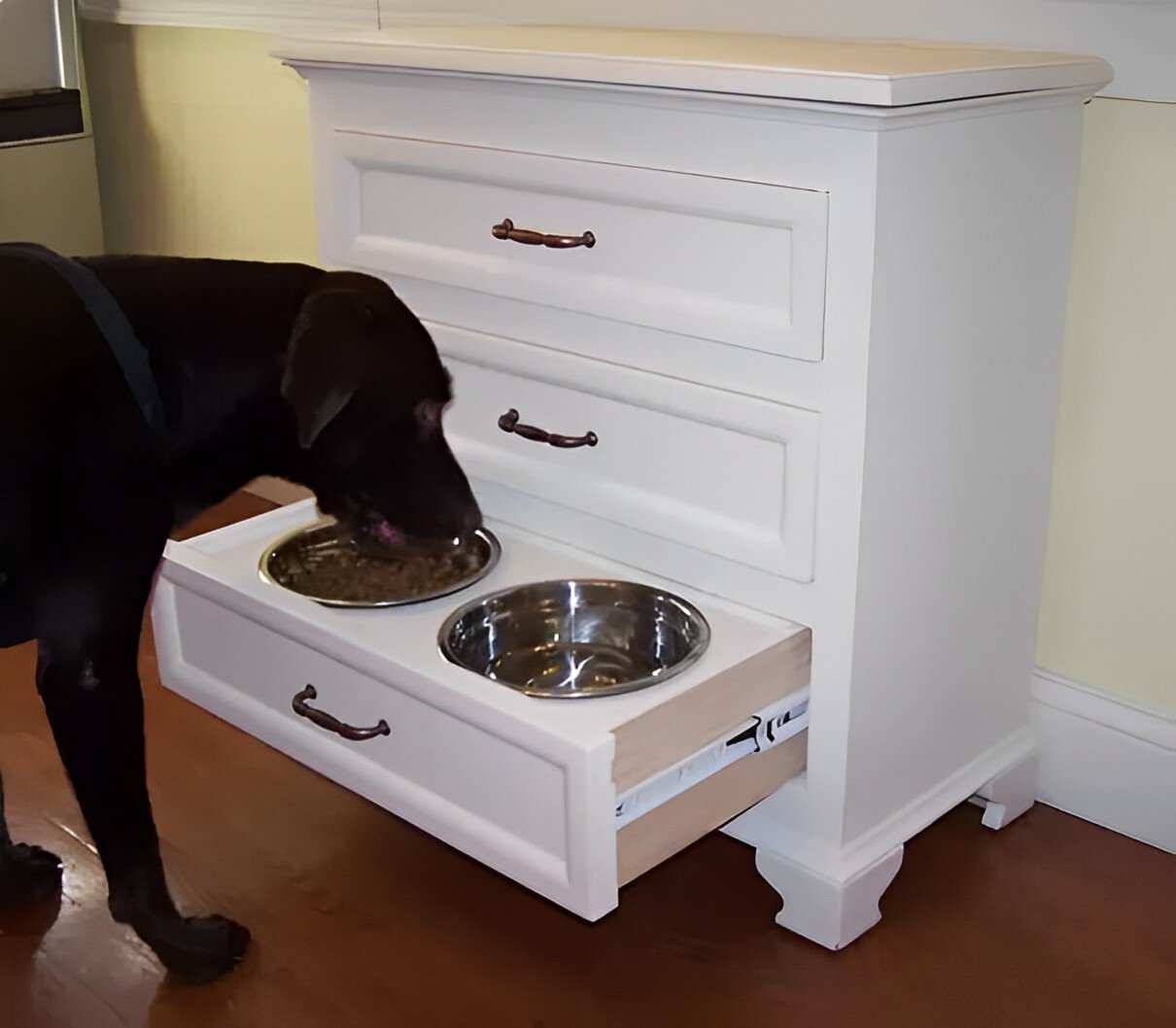 Keep the bowls off the floor by placing them in a cabinet drawer that's custom-made for your dog's convenience. This is a helpful and cool hack to keep the bowls out of sight but is also easily accessible for your dog. Plus, the extra space in the drawers can be used for storing other dog stuff. 
A Cat's Litter Box Also Needs A Special Spot
Speaking of pets, a cat's litter box is another one of those items that, if not cleaned daily, can become a big hassle. You have to find a way to keep the mess under control and hidden, while also keeping your space clutter-free and clean.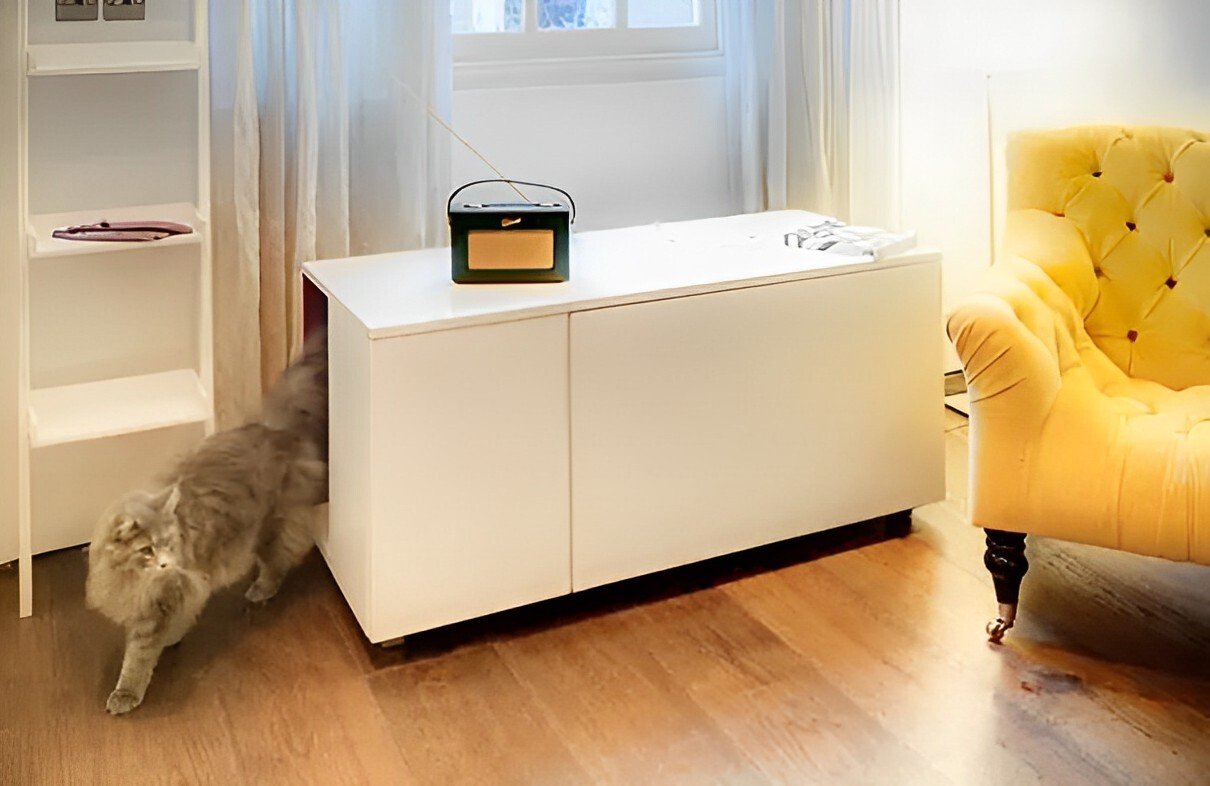 Don't fret! This cool and unconventional hack lets you build a secret, VIP-only compartment in a cabinet to store your kitty's litter box. Not only is the litter box out of everyone's way, but it's also in a place where your cat can access it. 
Accessible Cabinet For Electronics
If you have a lot of electronics, storing them can be an annoyance and can also make your room look really unorganized. Gaming consoles and TV boxes are those big electronic items that need to be hidden, but still, they need to be easy to access.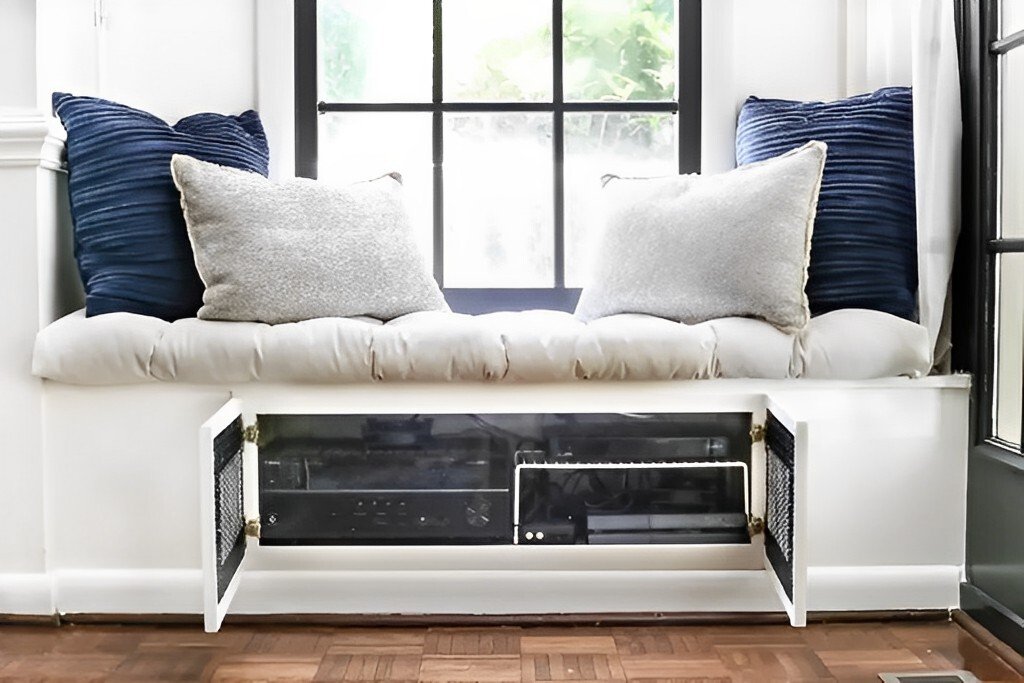 To solve this problem, you can buy a cabinet with a metal gate or glass window for storing these large items. The cabinet effectively shelters the electronics from being seen while the glass windows enable airflow and grant access to the signal. 
Using A Cake Stand As A Soap Holder
Soaps and dishwashing detergents are specific kitchen items that can cause quite a mess if not organized neatly. They also have to be easily accessible so you can clean dishes and things when you need to. Storing these essentials in the cabinets sometimes isn't the easiest way to access them.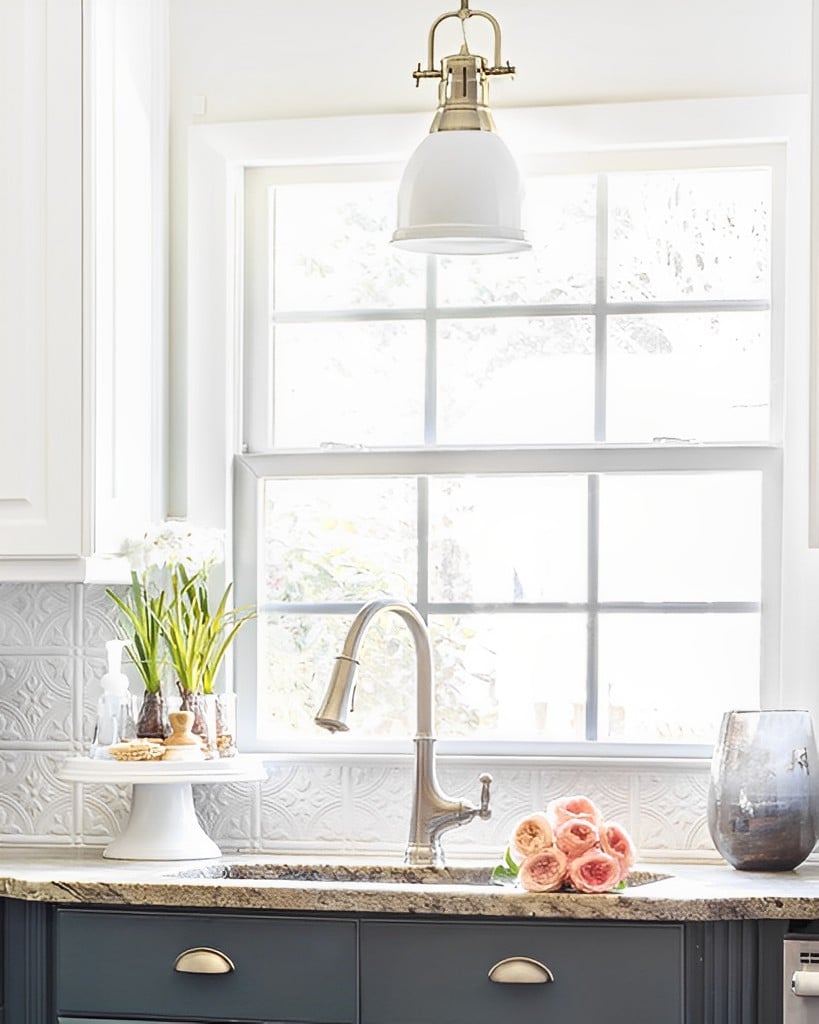 You just need a cake stand next to the sink that can serve as an attractive design feature. It should match the rest of the kitchen aesthetic, though! Once you've done that, you place the soaps and dishwashing detergents on it, and maybe add some plants or other decorations so it's eye-catching. 
Trays For Organizing Countertops
It wouldn't be a surprise if most of your countertops are full of random objects that end up cluttering the space. Car keys, house keys, and other items find their homes on countertops, which only leads to messiness.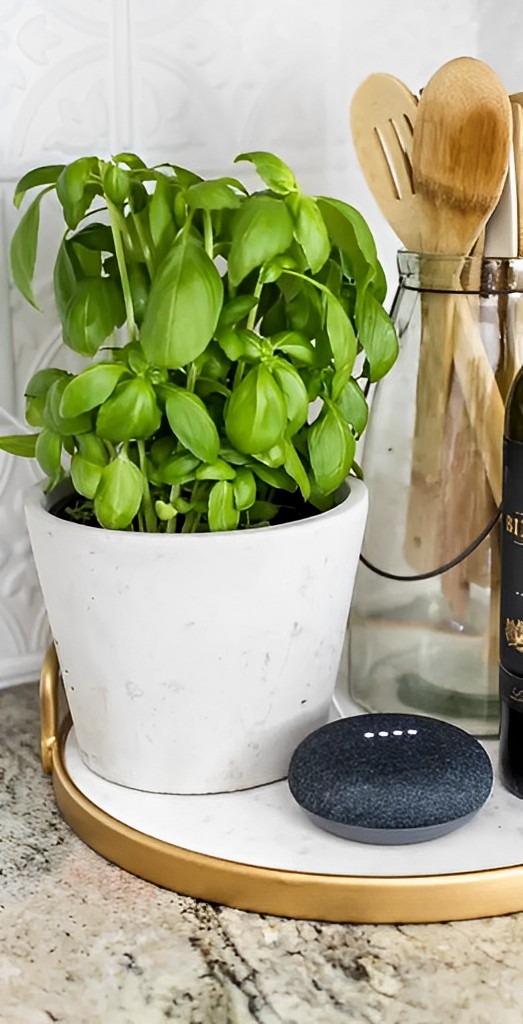 Arranging the clutter can best be achieved by utilizing trays. Put a tray on the countertop and put the loose objects on it – you can even place plants, a candle, or another object for decoration. You can also use cake stands, too. Now, all the random objects have a designated space instead of being scattered on the counter. 
Storing Laundry Hampers
Laundry hampers are an essential to put your dirty clothes in, but there's not really a specific place to store them. We often leave it in the corner of our bathroom or bedroom. When dirty clothes begin overflowing out of the hamper, that's a bad sign!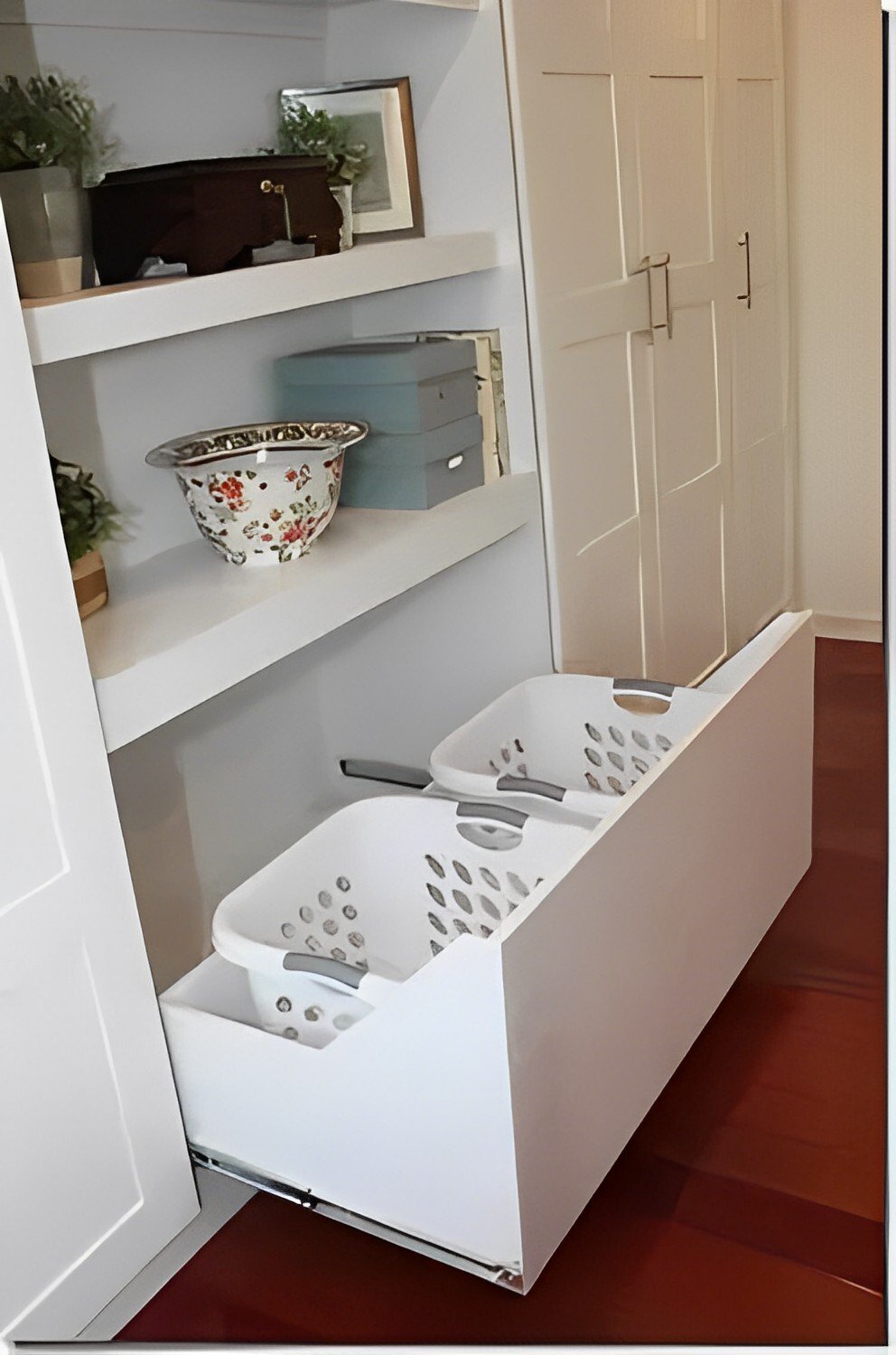 Luckily, the simple way to fix this is to find a deep drawer that fits your hamper and place it in there. The only downside, however, is that you may have to sacrifice some precious cupboard space. 
Finding A Hidden Place For Trash Bins
Just like laundry hampers, trash bins are another item in the household that usually ruin the feel of a room – even more so than a full trashcan!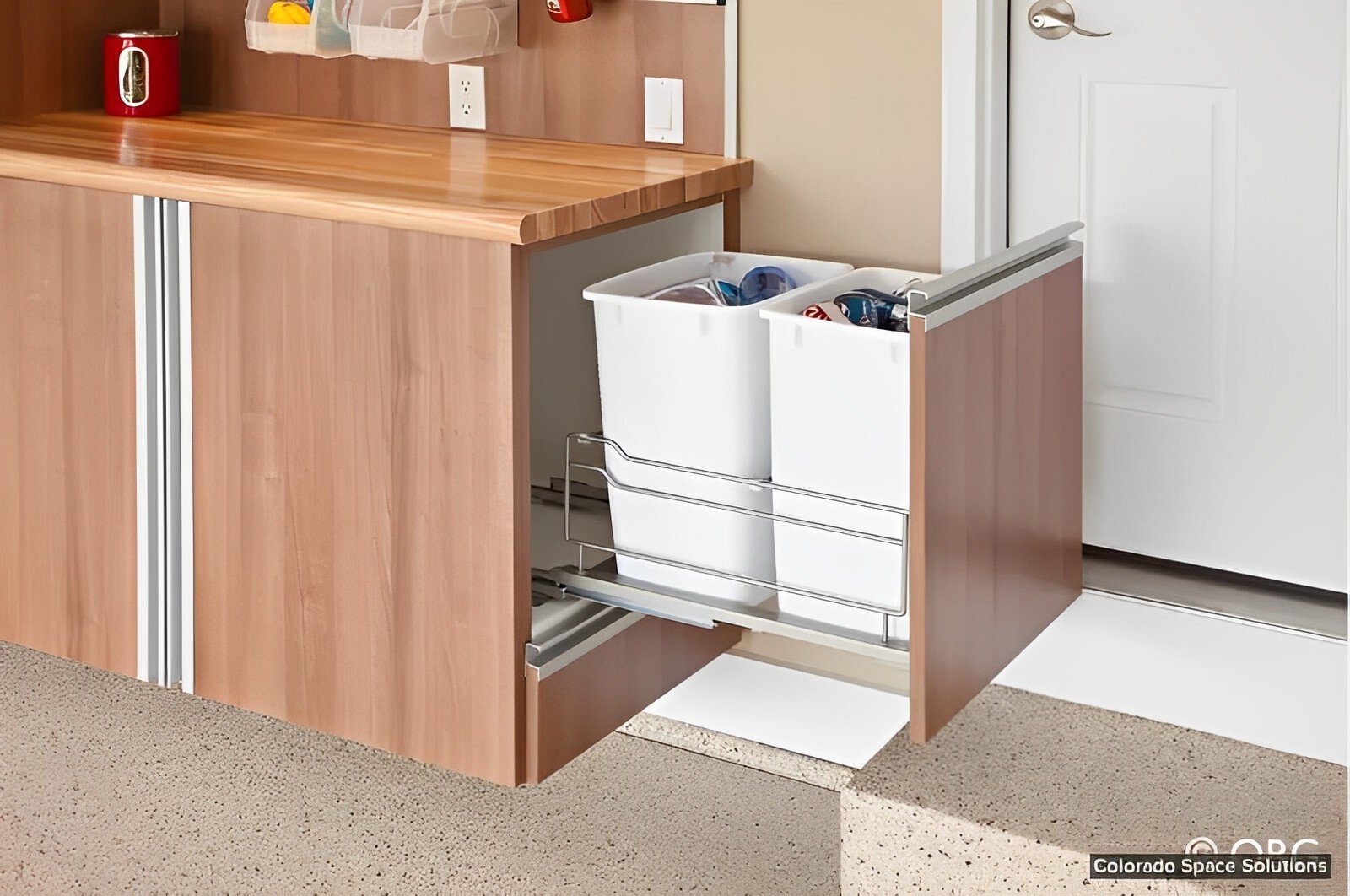 For homeowners who own trash cans without lids, ask your carpenter to build them beneath one of the counters that would hold the trash bins. The picture above demonstrates the beset solution for this issue!
Hiding Air-Conditioning Units
For those who have air-conditioning units in their homes that are near windows, here's an easy solution to conceal them.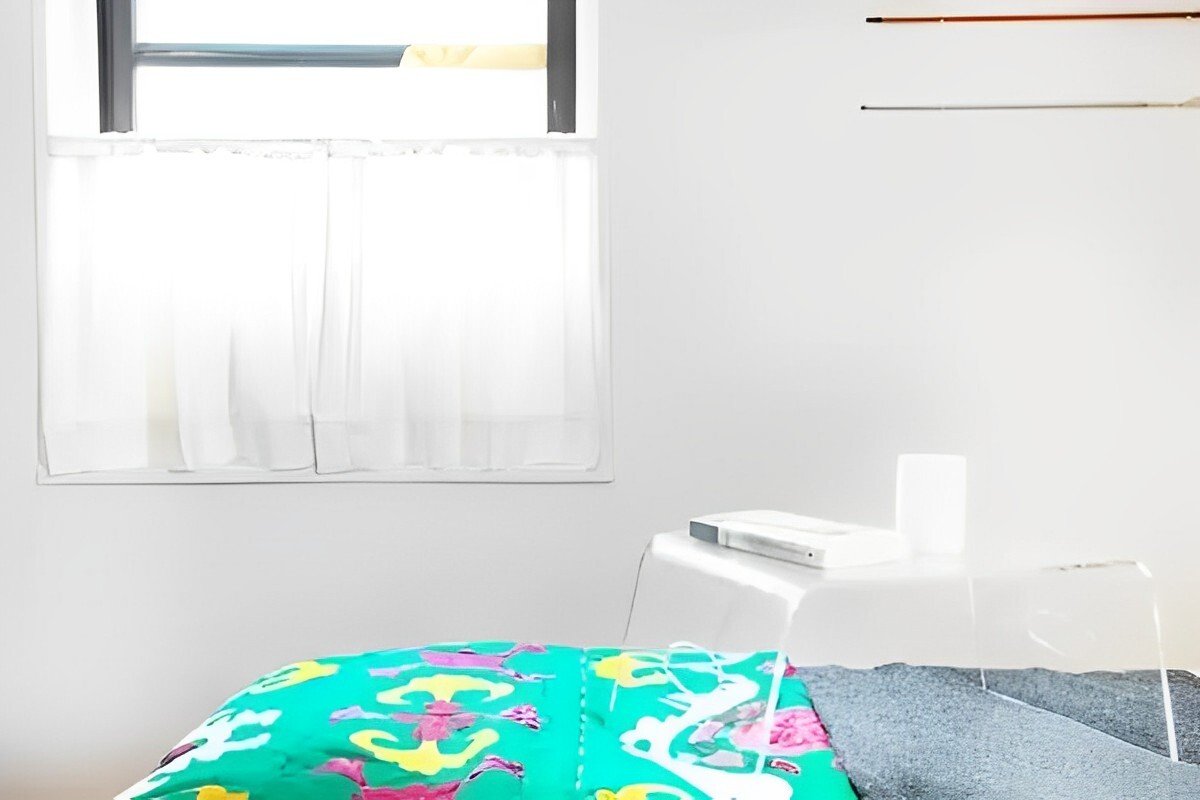 All you need to do is hang cafe-style curtains on a tension rod in front of the unit. This is perfect since it doesn't block the airflow, but it also hides the unit effectively. The best part is that you can just separate the curtains if you need to access it. 
Turn An Air-Conditioning Unit Into A Chalkboard
Normal air-conditioning units are pretty plain to look at and are usually the same in every house. Here's an unconventional and interesting way to hide the unit while also getting use out of it! You turn the unit into a chalkboard display which will certainly make your guests intrigued.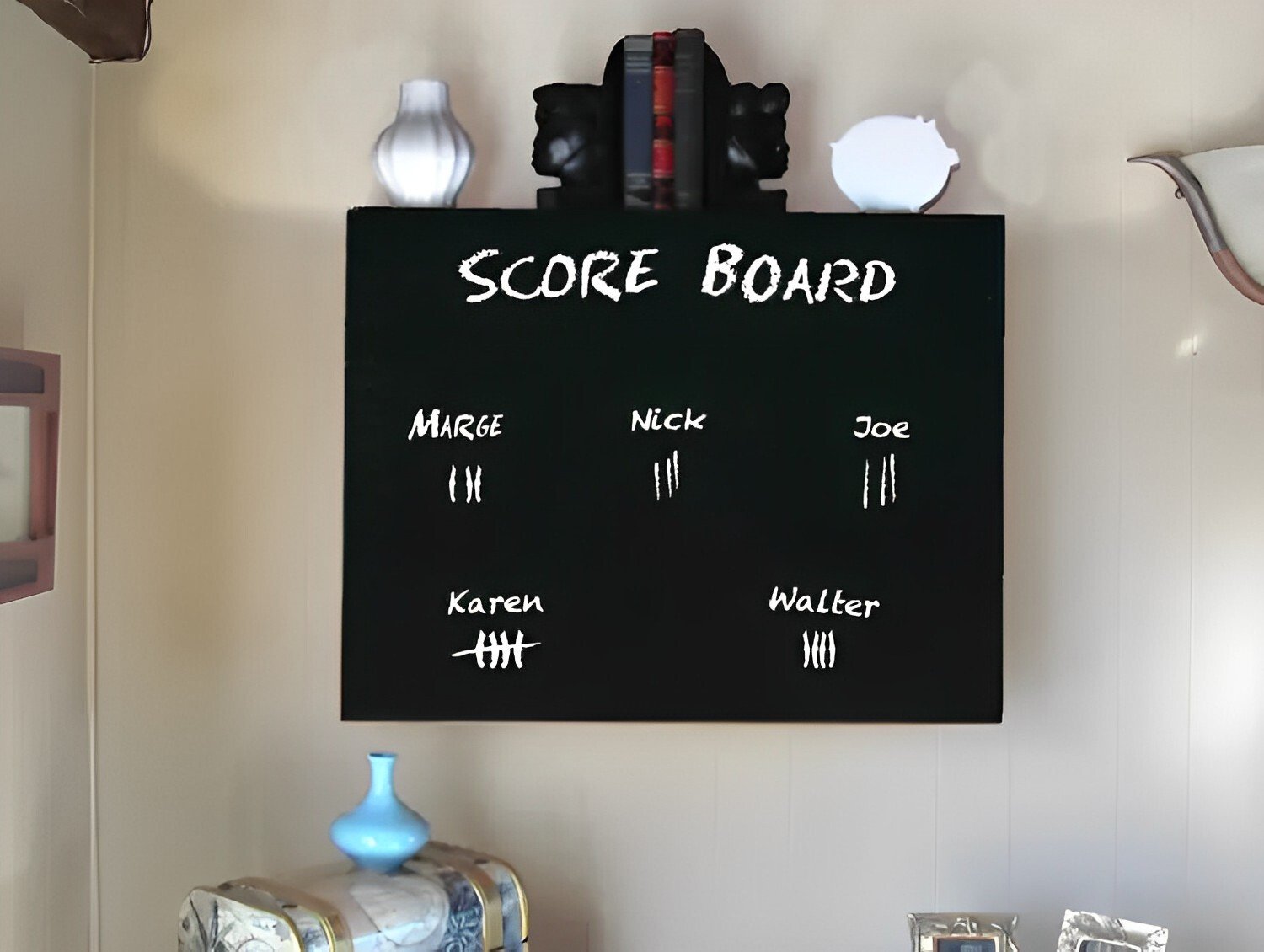 This is a fun DIY project to do with your kids or by yourself. You start by building a large wooden frame to hide the unit. Then, you add the chalkboard onto the wooden frame, and finally, you can write, draw, or doodle anything you want!
Transform Your Dull Refrigerator
Refrigerators (aside from air-conditioning units) are another essential staple of the household that are typically boring and bland. They serve as a blank canvas for you to unleash your untapped artistic talents onto, so you should consider being bold with different decorations.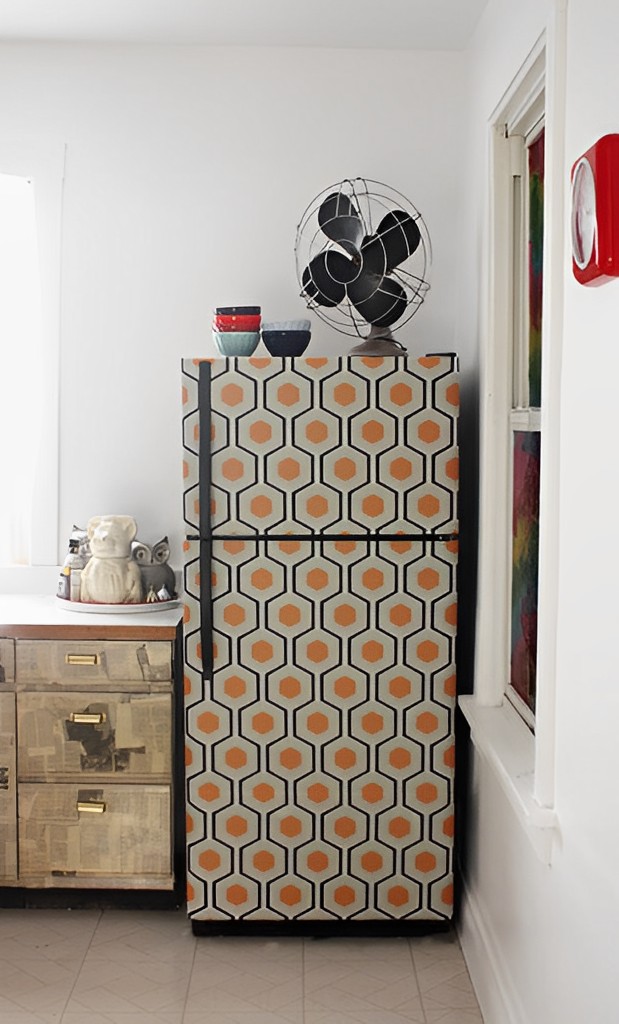 The refrigerator in the photo above is adorned with stick-on wallpaper – an eco-friendly and unique decoration that spices up your fridge. You can always switch out the wallpaper when you need a change from that design. 
Get Inspired With Chalkboard Fridges
If you're feeling inspired, try out the chalkboard idea mentioned earlier for your fridge! You can get creative and have fun with chalk drawings, quotes, or anything else that seems exciting.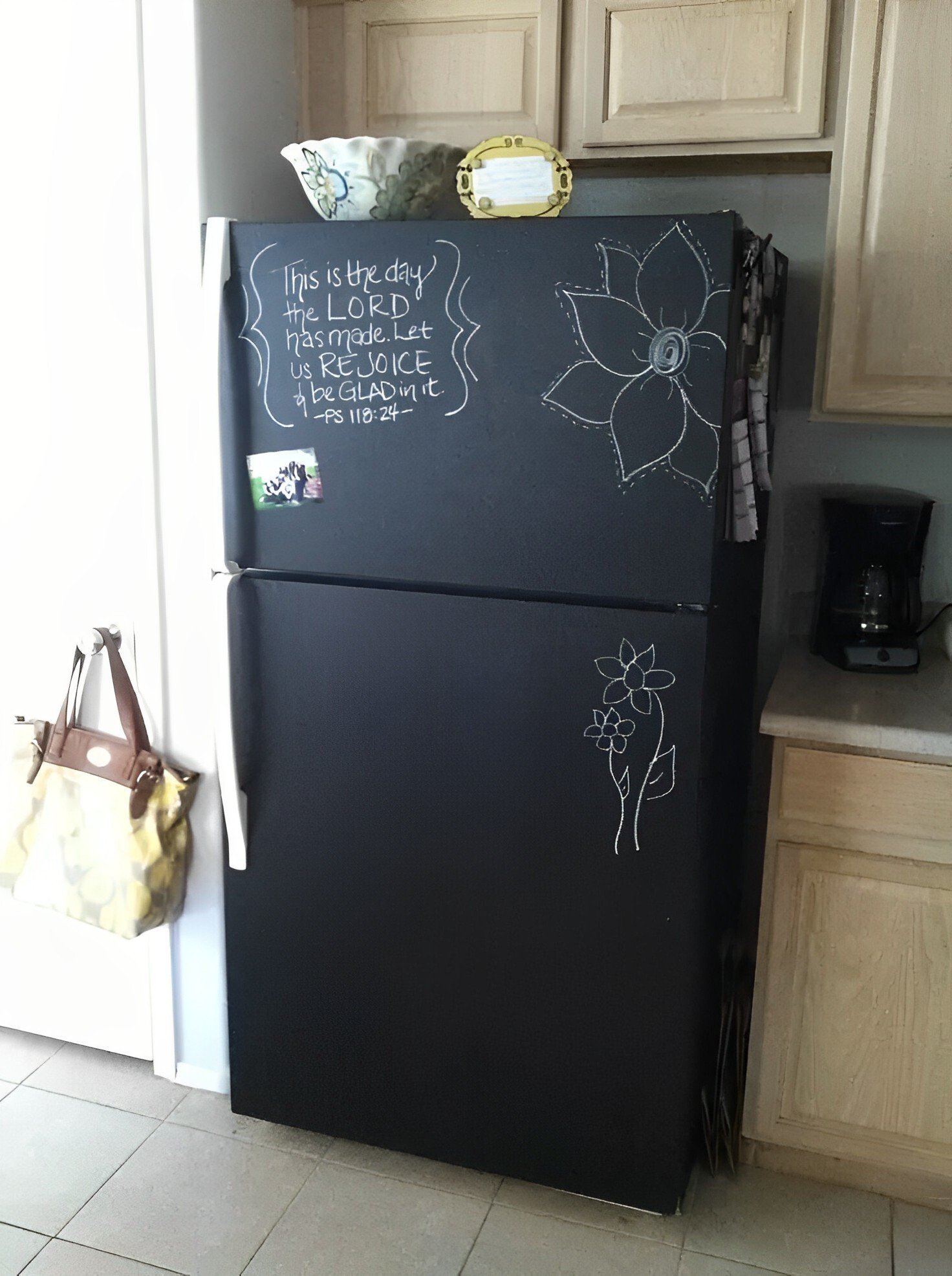 The most important thing to do first is clean your fridge's surface. Next, you paint a coat of chalkboard paint on it which you can find at hardware stores – it transforms your dull fridge into your very own canvas! The last step is to start getting creative with what you want to put on the chalkboard. Say goodbye to dull refrigerators. 
Decorate The Dryer And Washer With Taped Designs
Putting air-conditioning units and refrigerators aside, dryers and washers are other essential household objects that could use some sprucing up. White dryers and washers are the easiest to decorate because they are essentially already a blank canvas.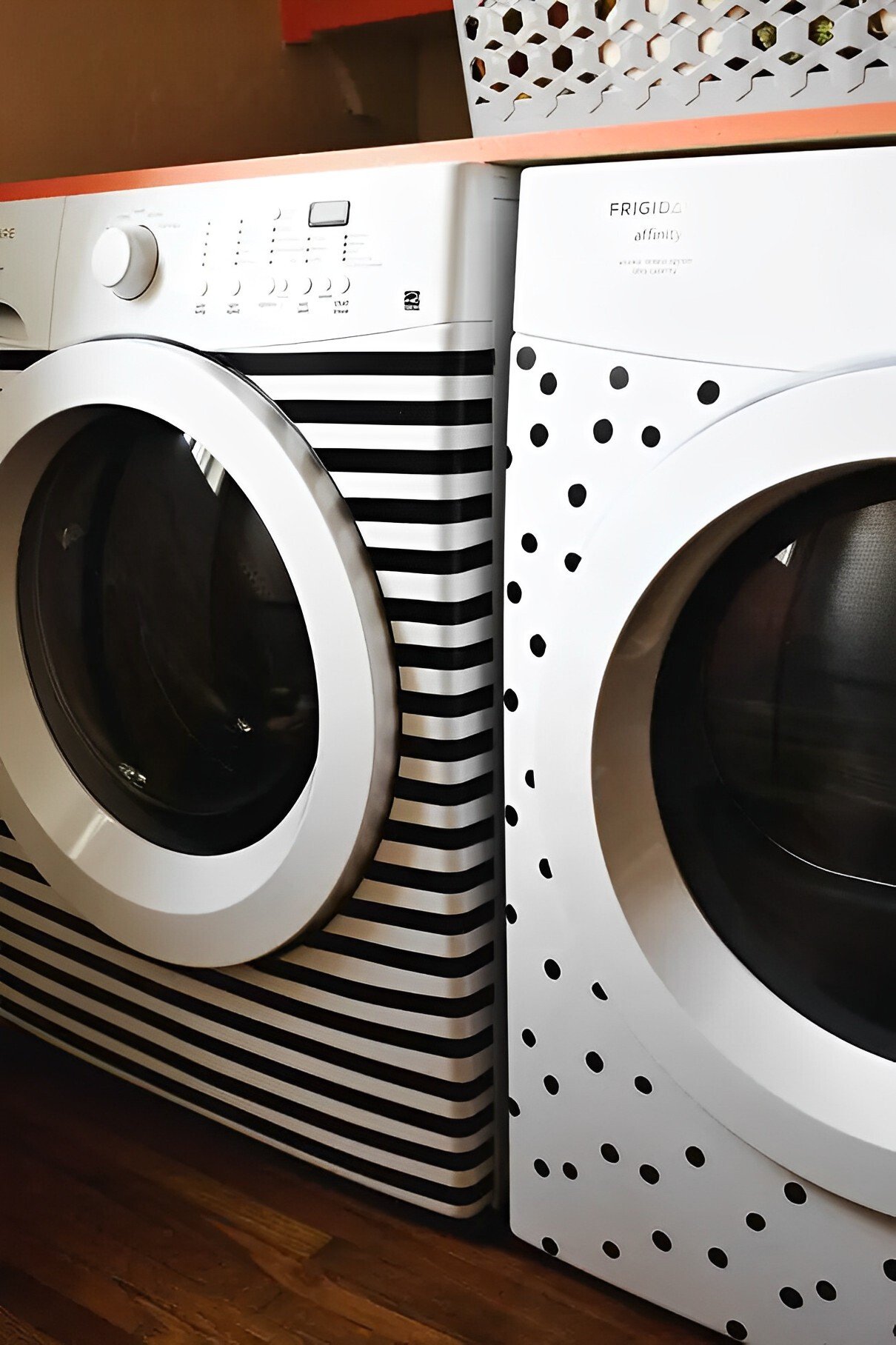 We suggest this one example of using tape to create multiple types of patterns on these appliances. You can tape on stripes or polka dots like the person above did, or something else entirely! The world is your oyster.