The Most Extraordinary Collection Of Mind-Boggling 3D Body Paint Collection That Exists
What mostly comes to mind when someone mentions body paint is an artist slathering paint on your face and creating simple designs. But there could be more to body painting than meets the eye. Some 3D body paintings can make you forget what's real and what's not, and require skills that are quite complicated.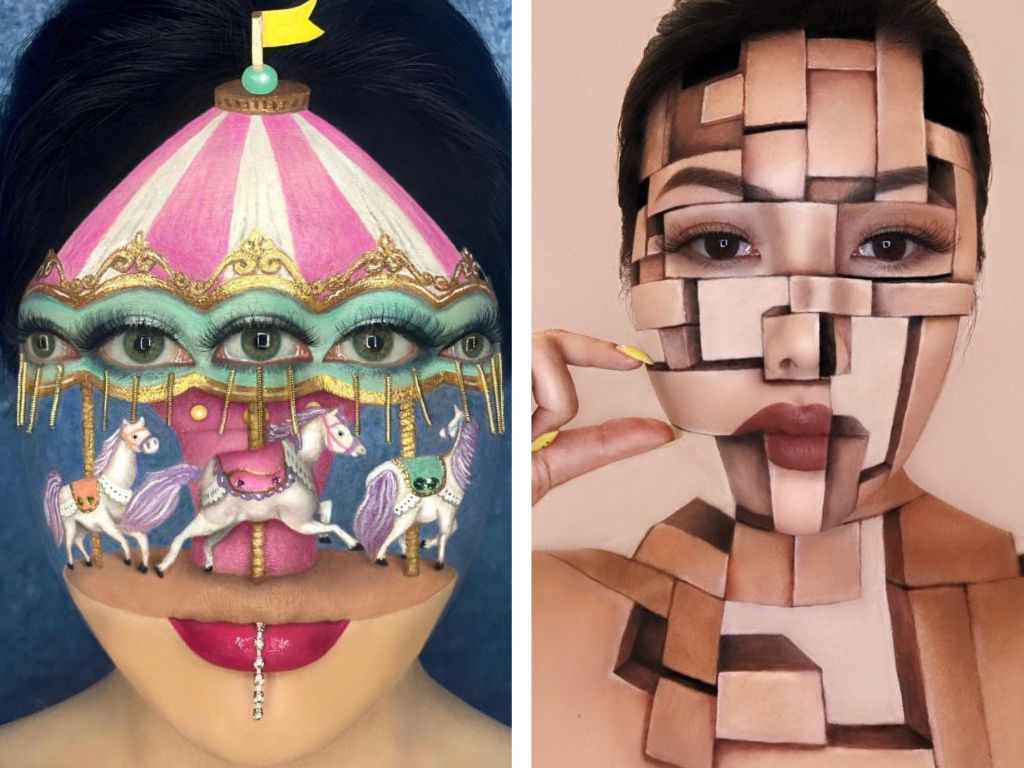 In this piece, you'll find 3D body painting masterpieces that will leave you second-guessing! Let's dive in. 
A Melting Lady
This picture of a melting lady is from a popular tournament where artists compete with the most peculiar illusions. Among these contestants was an artist who didn't settle for the simplicity of a flower in a pot. She opted for a mind-bending artistic illusion that left spectators awestruck — a melting lady in a pot.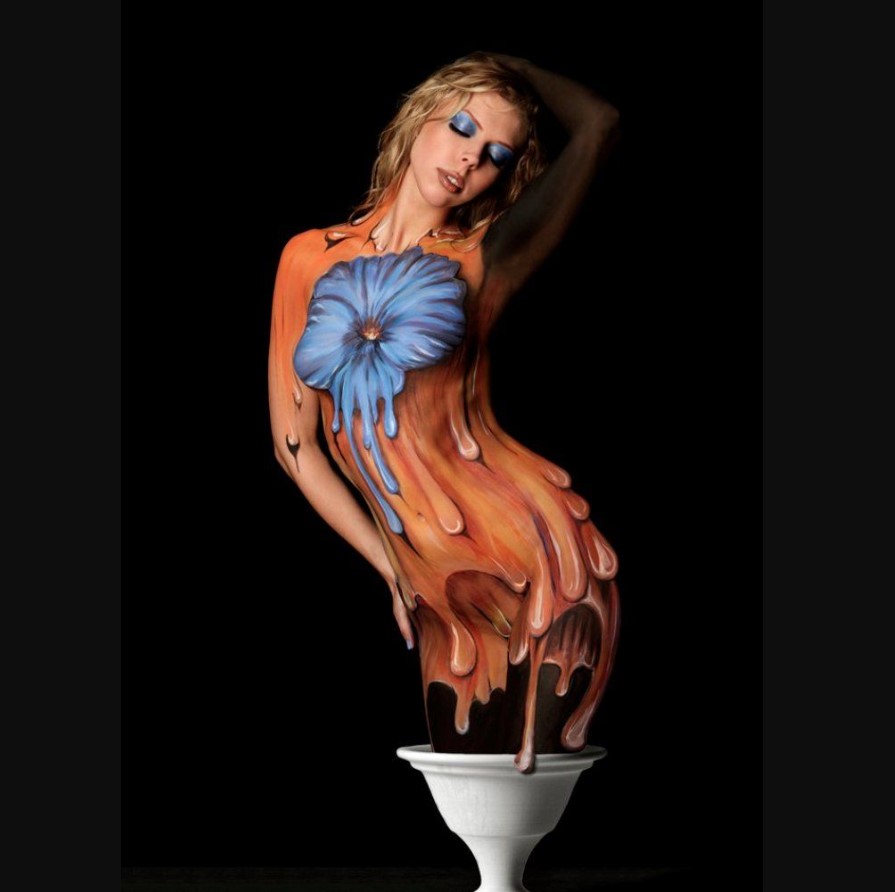 It's possible to achieve the illusion of a melting artwork with fewer details, but it's obvious this artist went above and beyond in delivering this mind-blowing masterpiece. This is why we are left to wonder how much their efforts paid off in the competition that year. 
One Head Split In Two
Have you ever had those days where it seems like your head is about to burst open? Those headaches are a pain, but at least we know they won't actually split open like in a horror movie.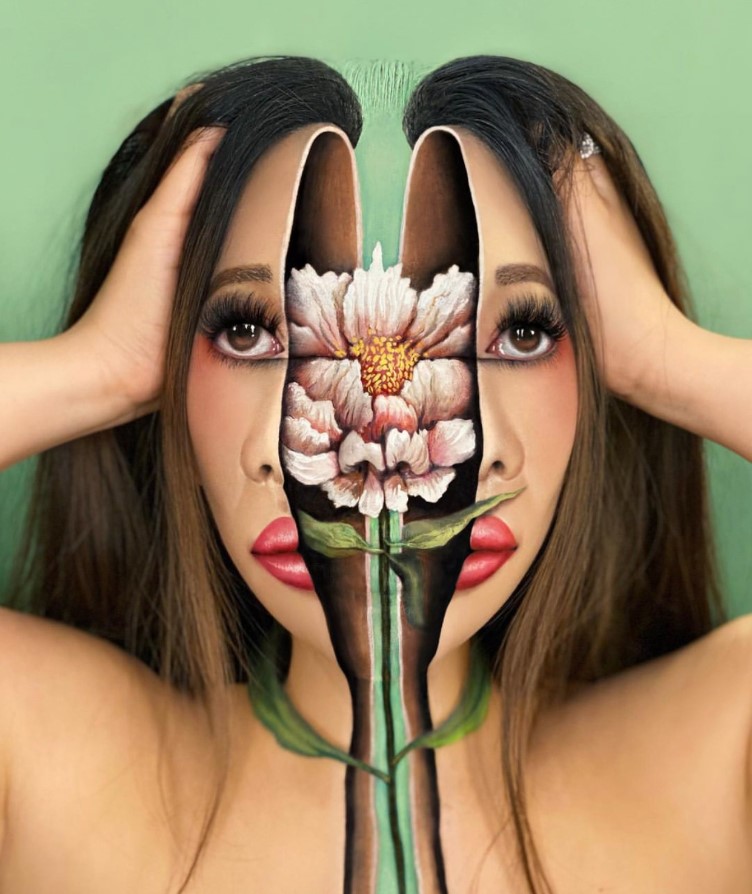 This artist doesn't seem to mind that there's a huge crevice on her face. And we can't help but wonder if she used a vantablack to achieve the darkness of the abyss in her head. One thing is clear—when it comes to Halloween parties, this artist knows how to break free from the ordinary and take everyone by surprise. 
An Aquari-Head
While many people spend years trying to be like everyone else, some people are happy to stand out from the crowd; this artist is one of those people. She celebrates her uniqueness instead of concealing it.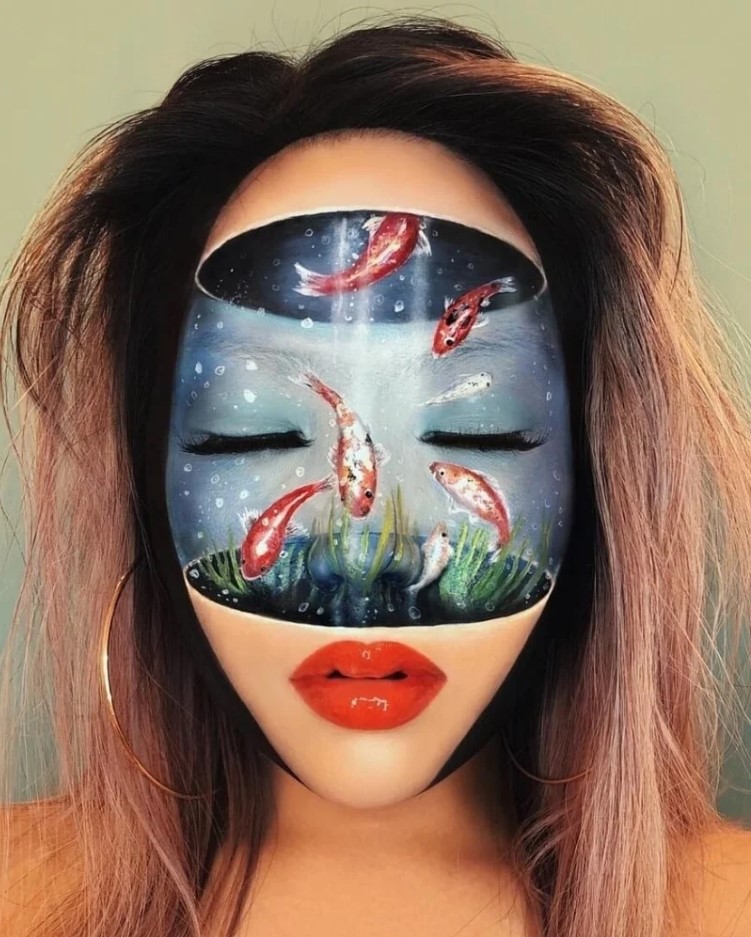 Perhaps, we are overanalyzing her painting, but it doesn't change the fact that this is an incredible work of art. The way the fish swim seamlessly in her face and how her nose blends subtly with the greenery is a wonder. While many of us wouldn't dare to paint an aquarium on our heads, this artist is unfazed and takes the lead. 
Do You Need A Fork?
We are completely dumbfounded by this image. It seems this artist's head has been changed into an eating utensil. The lines of the fork appear to be in the middle of her face, but we can't see any of her facial features, not even her eyes!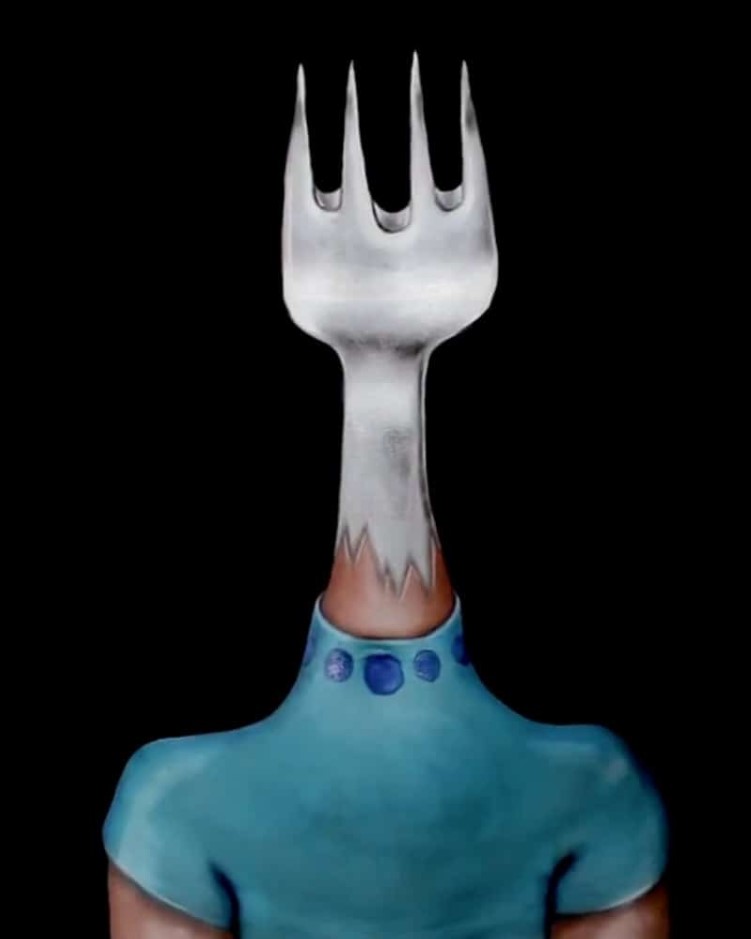 We think the blackest black in the woman's face was necessary to make the art appear as nothing more than a fork on a black drop. An intriguing work, but we feel a bit uneasy staring at her face without the slightest idea of where her eyes could be.
A Back Of Books
It's often said that books add balance to our lives and this couldn't be more accurate.  If stacked with precision, they can create a stack that requires perfect balance to stay upright.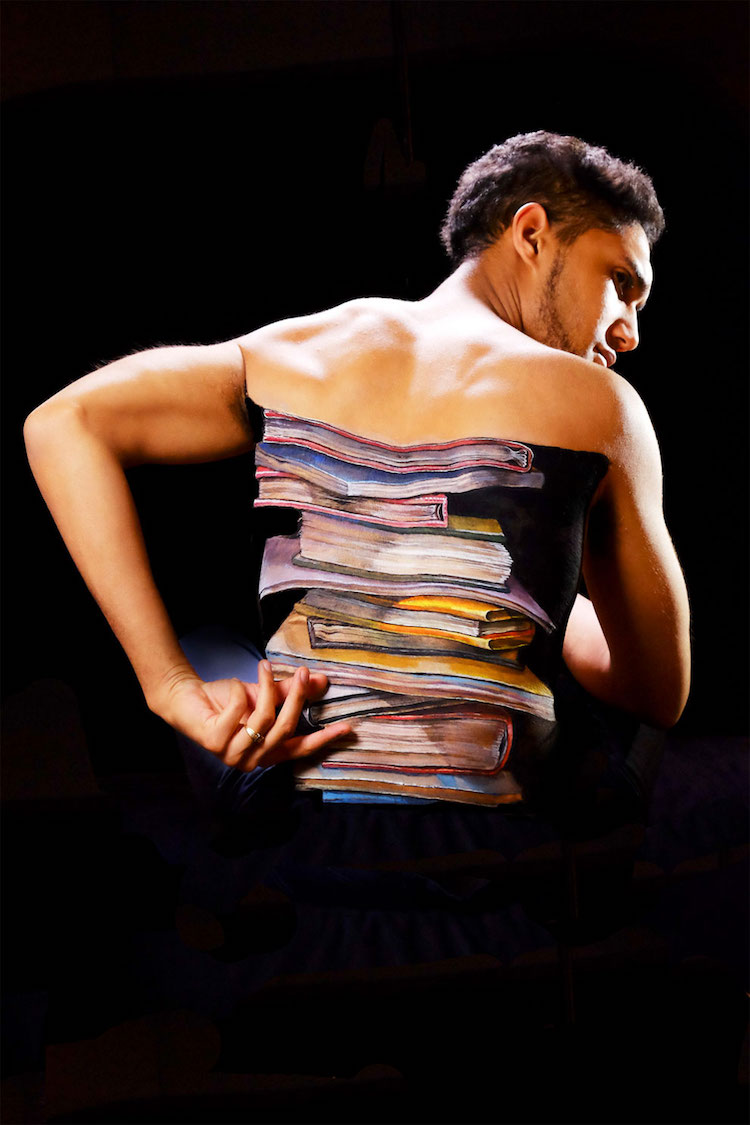 We don't know if this man is attempting to scratch an itch on his back or take a book to read. But whatever the case is, he'll face a hard time pulling out a book to read without the stack tripping over. Thankfully, he always has his reading material within reach, and he only needs to pick a book from the stack on his back.
A Little Too Tight
This is undoubtedly one of the most unique illusions we've seen. The way the hand coils around her head to achieve a cartoonish effect is nothing short of magnificent.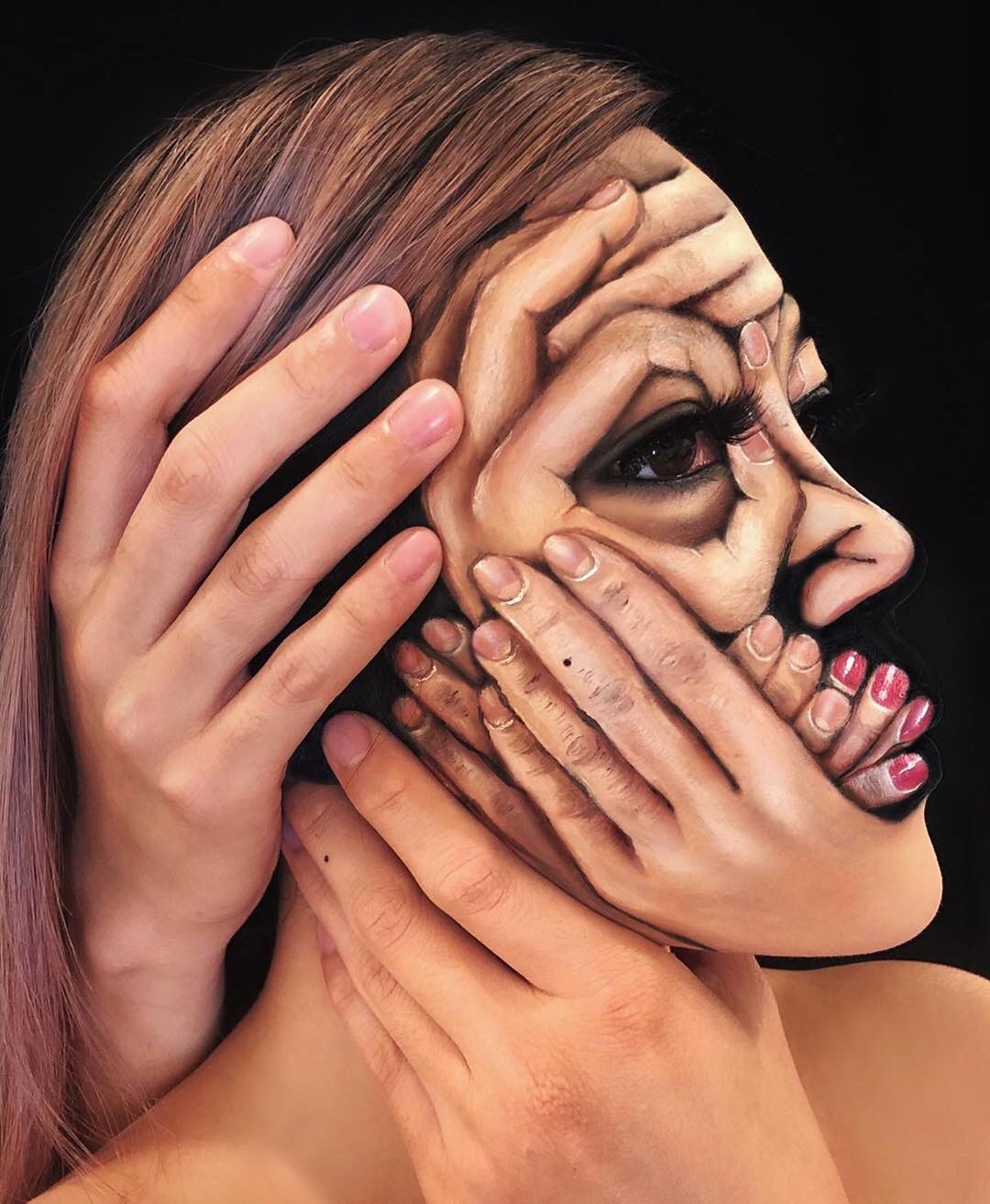 But there is an unmistakable plea in her eyes that screams, "Get me out of this place!" Whether deliberate or not, it adds an extra layer of fascination to this intriguing piece of body illusion art. Someone save this woman from her entanglement!
Eye Of A Tiger
Some optical illusions need more than one person to pull off, and this design is one of them. Here, three women are joined to form a majestic tiger that gazes right into our souls, daring us to fight Rocky himself. Or, perhaps, does it want to sink its teeth into our faces?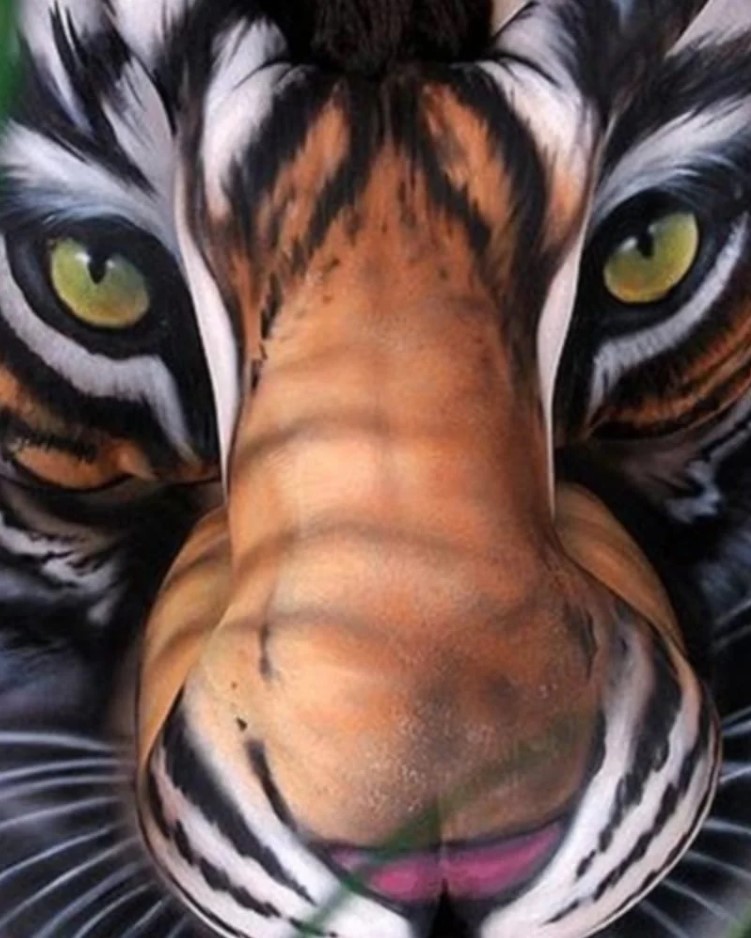 Crafting this optical illusion required the artist to enlist the support of three women, two using their bodies to create the eyes while the third knelt over to form the nose. It must have been uncomfortable being in this position, but it's definitely worth it for a trophy.
Faceless
We said earlier that an image made us cringe. But that was nothing compared to this one. Where on earth is this woman's face? It seems someone has landed a fierce punch and created a gaping hole in her head.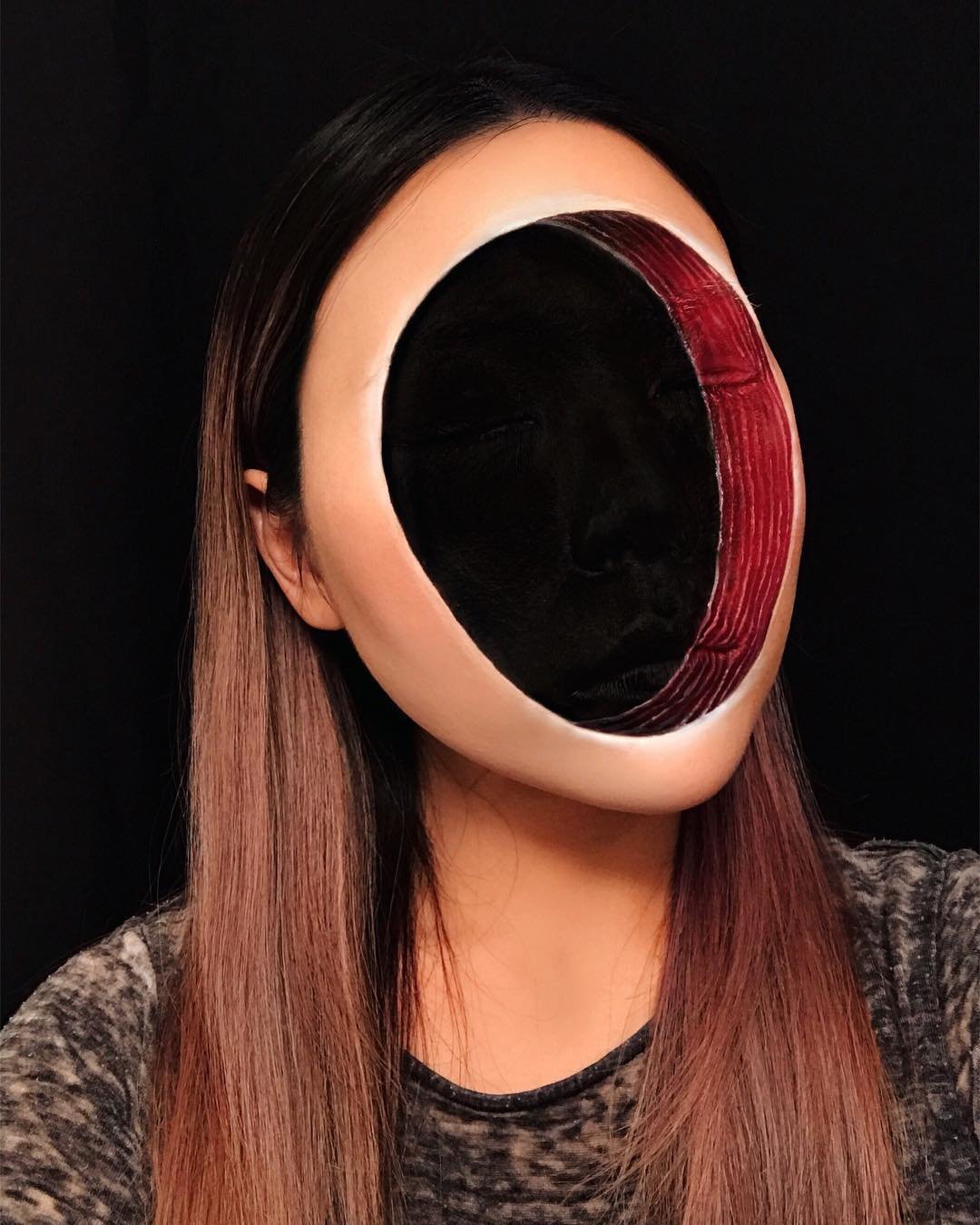 This illusion demands nothing less than the blackest paint and the darkest backdrop. Without the subtle wrinkles on the red sections of her head, it will be impossible to know where the hole ends and where it begins. The woman also seems unbothered by the gaping hole in her head, and it makes us squirm with discomfort. 
Stunning Giraffe Paint
It's unfair how some artists seem to excel at everything. For instance, this woman transformed herself into a stunning giraffe with paint. As if that isn't enough, she's an Olympic-grade athlete! What captivates us the most is how her single left foot looks like two feet merged as one!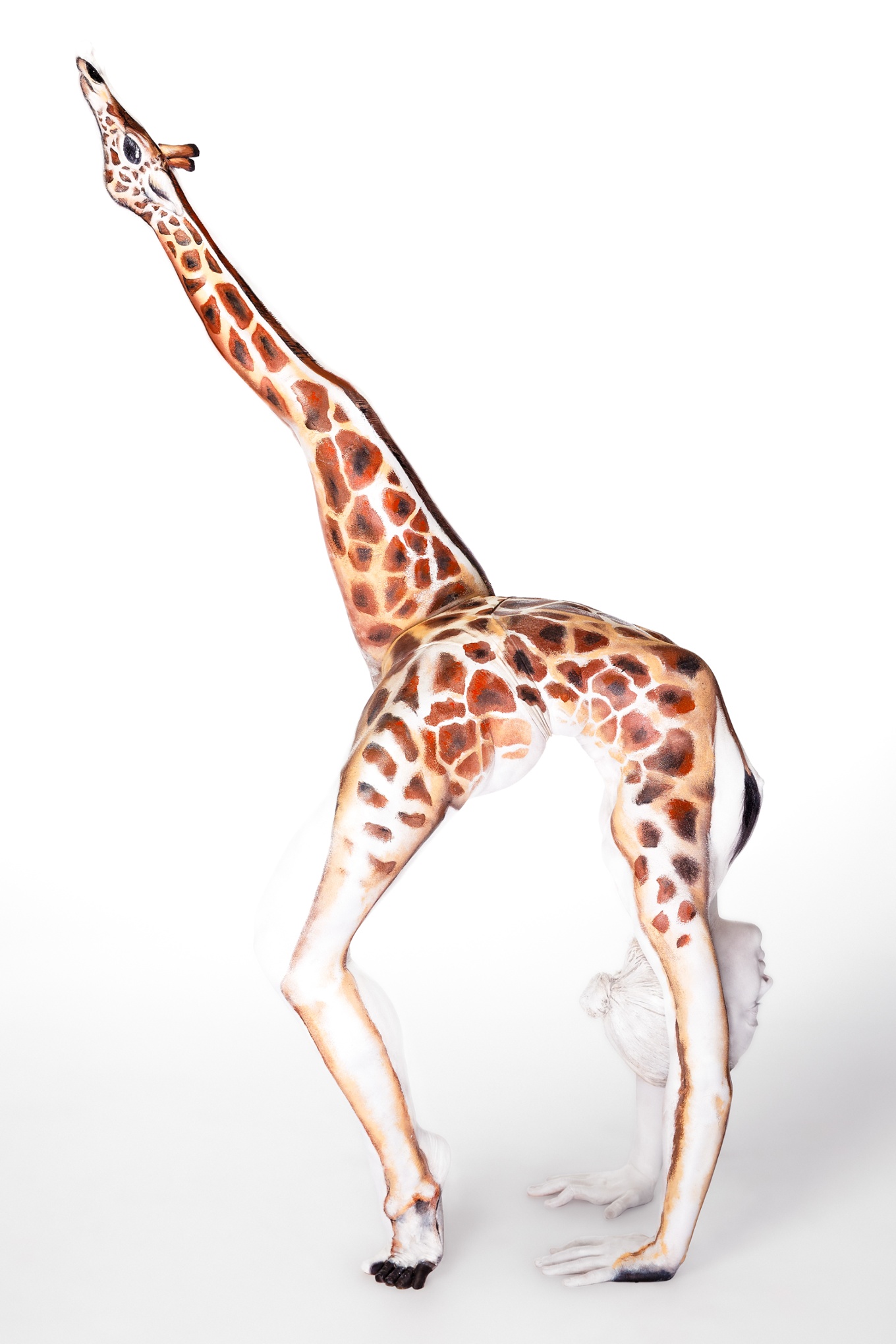 Speaking of giraffes, have you ever thought about how surreal they are? When you think about it, they are basically horses with outrageously long necks covered with spots like leopards. Which is harder to believe? A ten-in-one animal like a giraffe or a horse sprouting a horn from its forehead? 
A Monstrous Look
If we met this person at a Halloween party, we would be torn between staring at them for hours or running in the opposite direction. Something is unsettling about humongous eyeballs staring unblinkingly while your skin looks like Swiss cheese. And let's not forget how this person's neck is bent at weird angles.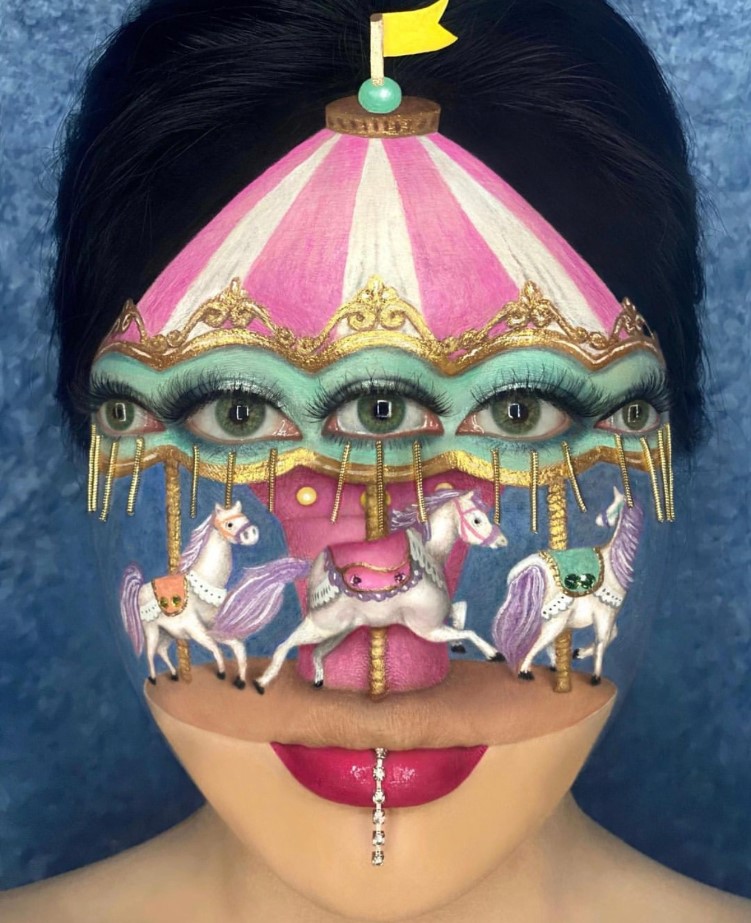 We don't know about you, but we're getting Earthworm Jim vibes from this image. He was such a groovy guy with a super suit that could fly. As much as we love this painting, we are also curious to see what the artist looks like behind it. 
Ctrl+V+Stretch
This is another mesmerizing 3D body paint illusion that uses multiple eyes. It appears that someone used the stretch tool to extend the model's mouth to the rest of her cheek and photoshopped additional eyes into the side of her face. We know horror enthusiasts will love this painting, but it's a little too unsettling for the rest of us.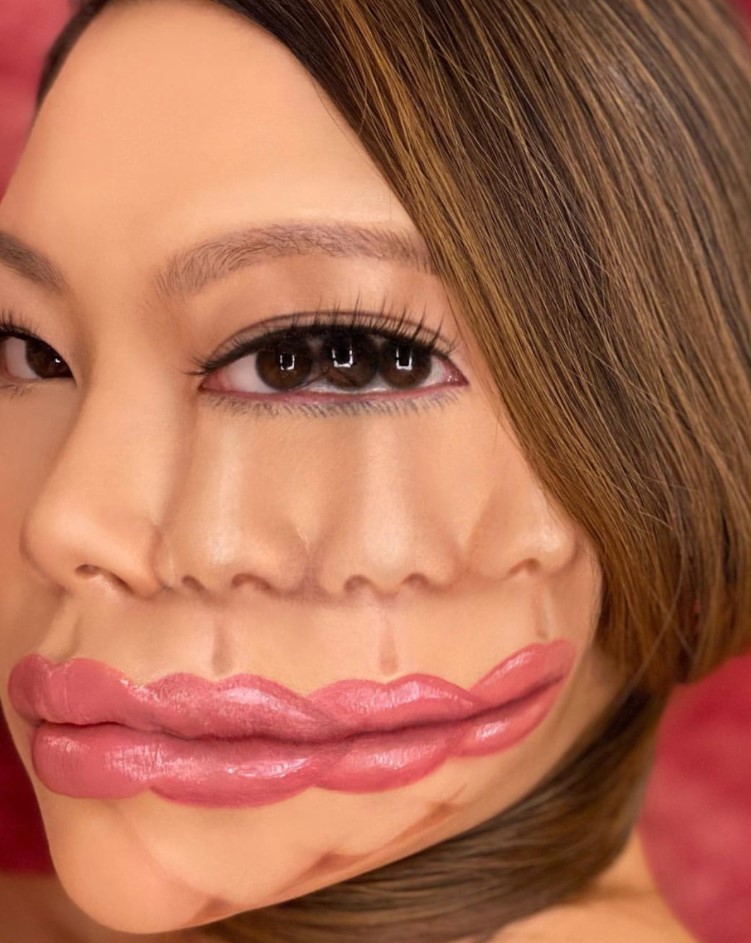 Her third and fourth eyes seem to be piercing straight into the depth of our hearts to see our deepest desires, just like looking into the Mirror of Erised. This artist has left us with so many unanswered questions. For example, why did they create this painting?
Jenga Woman
We all know that our DNA is the building block of every human. But this artist seems to be built with the literal building blocks that resemble the Jenga tower. What makes us uneasy is how she casually pulls a block off her neck like it's nothing.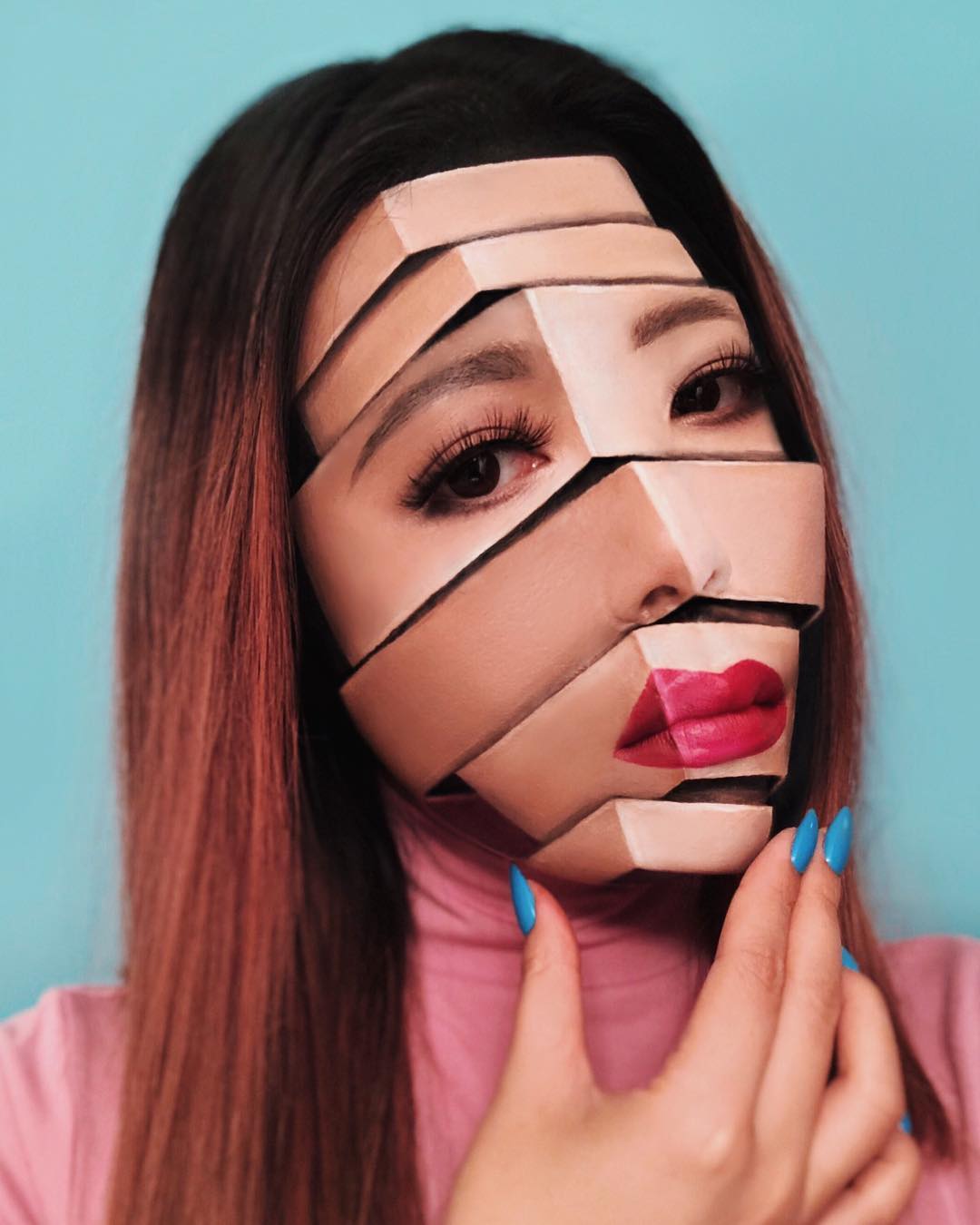 If you accidentally knock down a Jenga tower, you have to rebuild it and continue. But it looks like some of the blocks have been removed expertly from her body already. However, we must remember that one never pulls a block from the bottom unless one is ready to accept defeat.
We Are AMAZED
Mazes are thrilling with unexpected twists and turns, but they are not as eerie as this. We don't know the start or end point of this maze. We are sure if you tilt her head in one direction the glowing ball will move. But what's the point?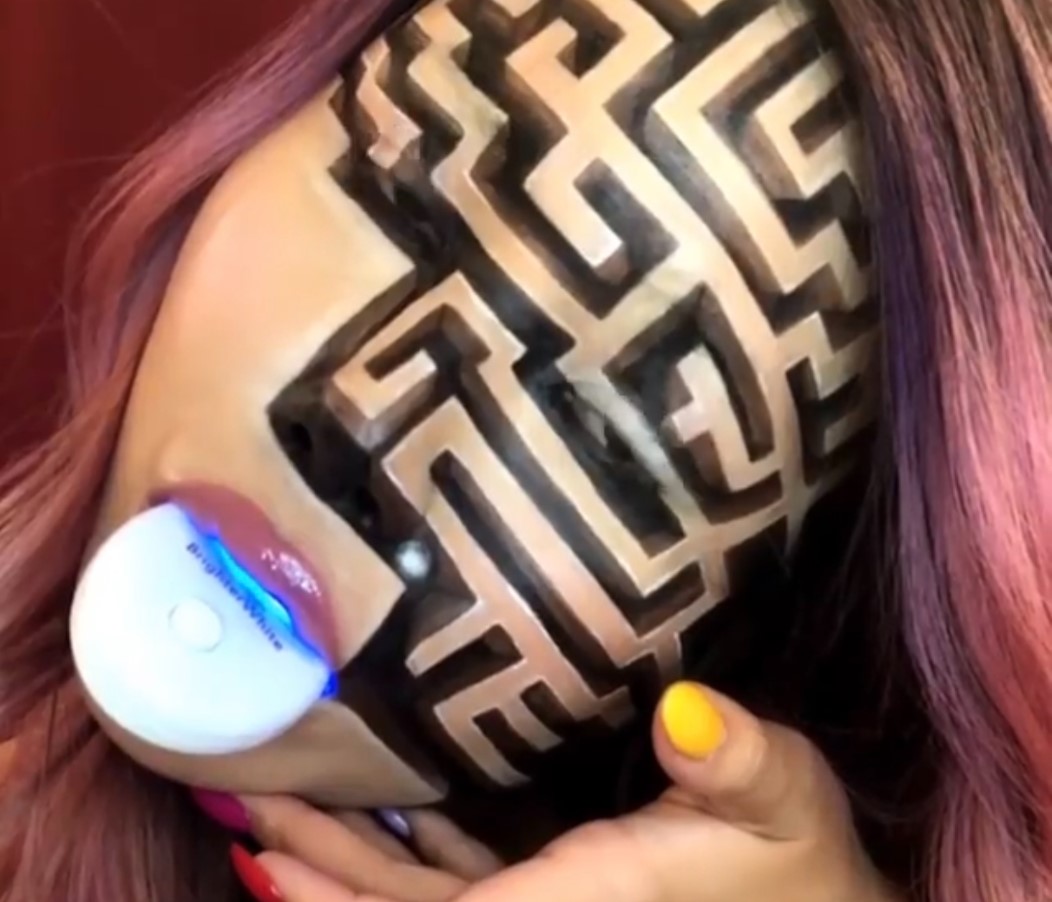 We are amazed by how this woman doesn't have any eyes at all. It's like the artist's masterful strokes have effortlessly blended her eyes with the mind-boggling maze. The artist's meticulous attention to detail has breathed life into this painting and left us in complete awe. A standing ovation for you. Bravo!
Something Smells Fishy
This painting takes the prize for being completely off-beat. Why did the artist take a ton of fish and paint them all over her face? Did she not think fish would emit a pungent odor when out of the freezer?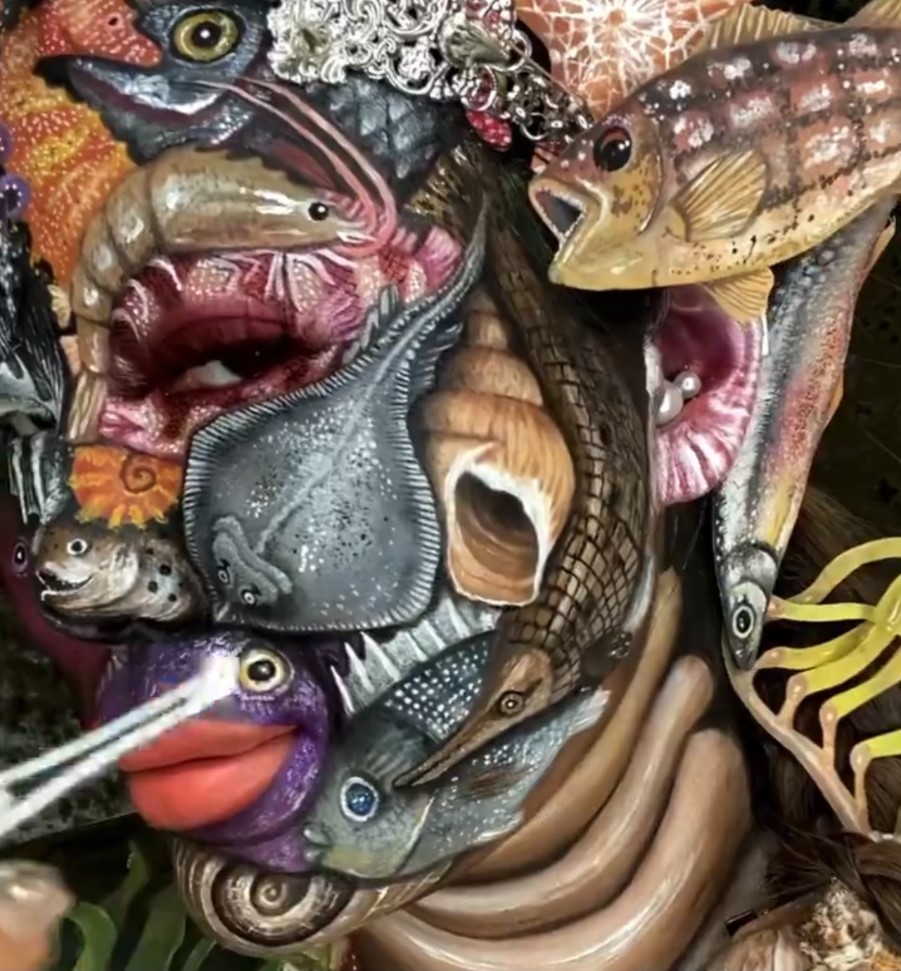 Or she's a fishmonger looking to attack innocent bystanders? Whatever her motive is, we think this image is completely disconcerting. At least, we can be thankful that she opted for conventional sea creatures, not sea serpents and other strange animals. 
A Real Parrot?
This is another image that undoubtedly requires the help of a skilled painter and the agility of an Olympic athlete! This person was transformed into a parrot with a painting and perched on a lifeless stump, acting just like a parrot. It's so masterfully painted that we can hardly notice that her feet make up the parrot's hindquarters.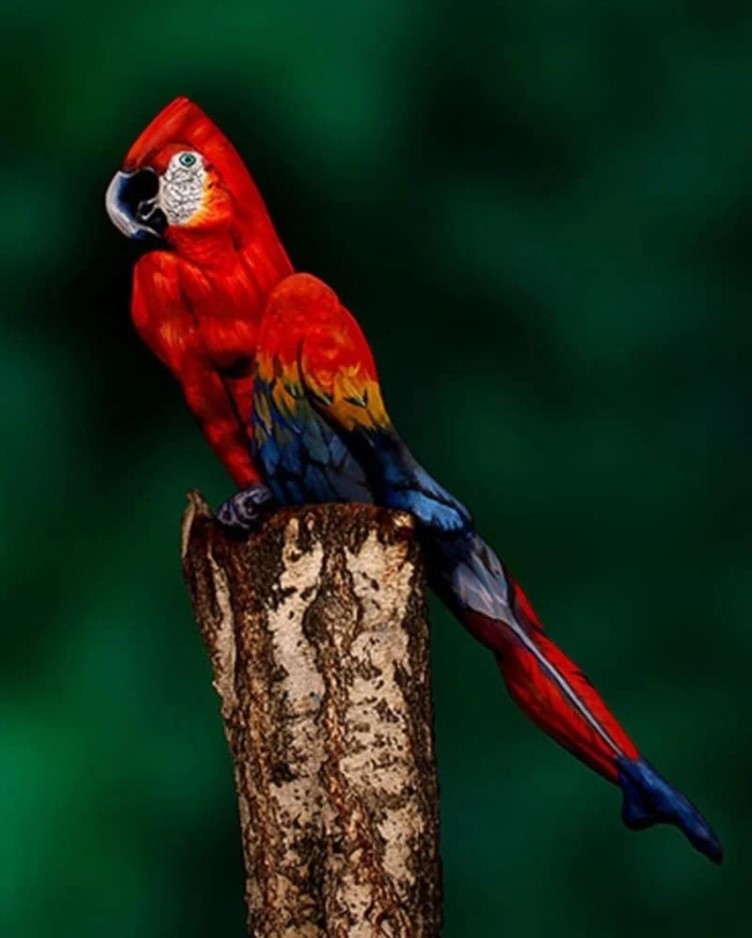 It's a pity that the artist couldn't capture the rough edges of a real-life bird. The question is: will painting yourself like this and blending with nature attract or repel predators? These are the types of questions that keep us unsettled. 
Twist And Pop
Imagine how it must feel to pop a sour jawbreaker into your mouth. Your face and neck will begin to twist so much that it feels as if your head's about to fall off. It's either that or this woman just experienced something cringe that she wished she could just twist herself up like a pretzel and vanish from existence.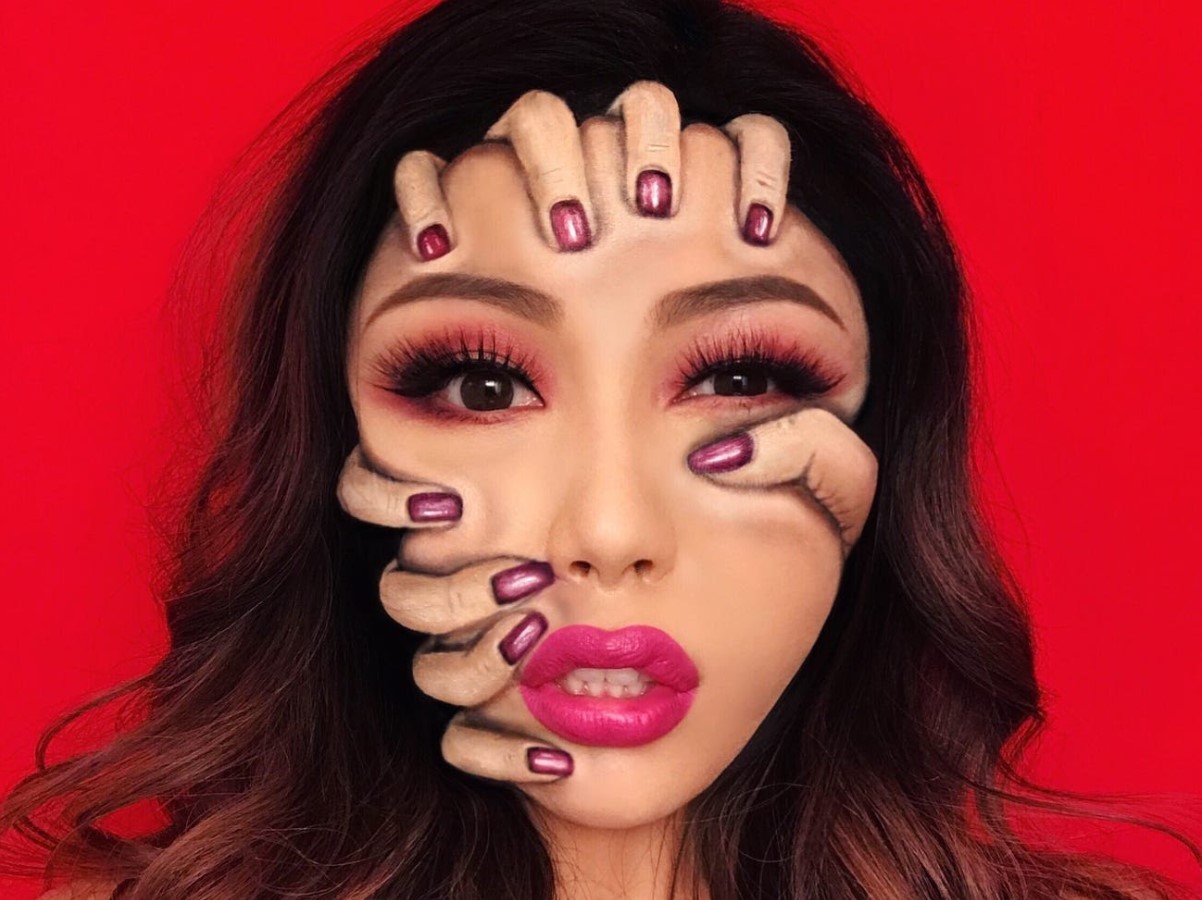 Although we aren't sure how she did it, she managed to make the impossible look real, especially with how her head coils. We may never understand how she did it, but we can certainly marvel at the beauty and strangeness of it all.
The Universe In The Human Body
A line in the first Men in Black film left a lasting impression on us as kids: "The universe is in Orion's Belt." The MIB took this to mean they should gaze up at the Orion constellation to glance at the universe. But the universe was much closer than we thought. It was hidden in a marble, dangling around Orion the Cat's neck.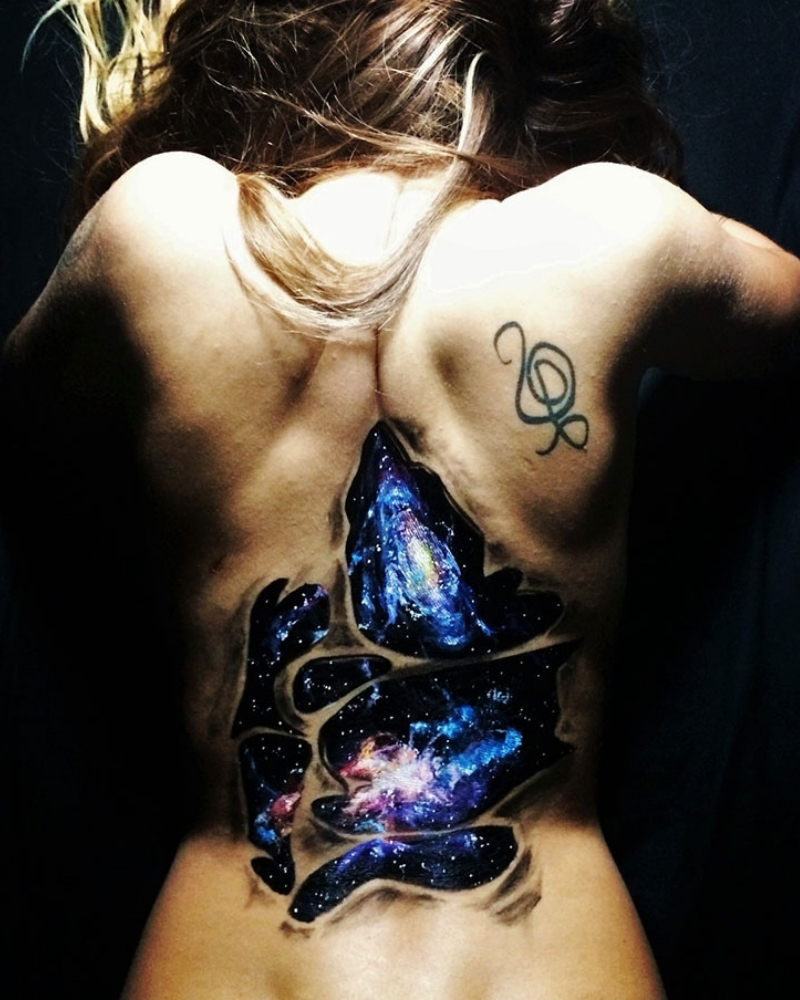 This image is like that. The universe isn't hanging around her neck; it's inside her. We can only view the universe when the artist tears her back to shreds to show the nebula inside her. 
This Feels Dizzy
Here's a mind-bending image that will leave you scratching your head. We have a pretty clear idea of what people should look like, but when we see images like this, we get a bit confused. This woman has not one but four additional eyes, and they are on one row!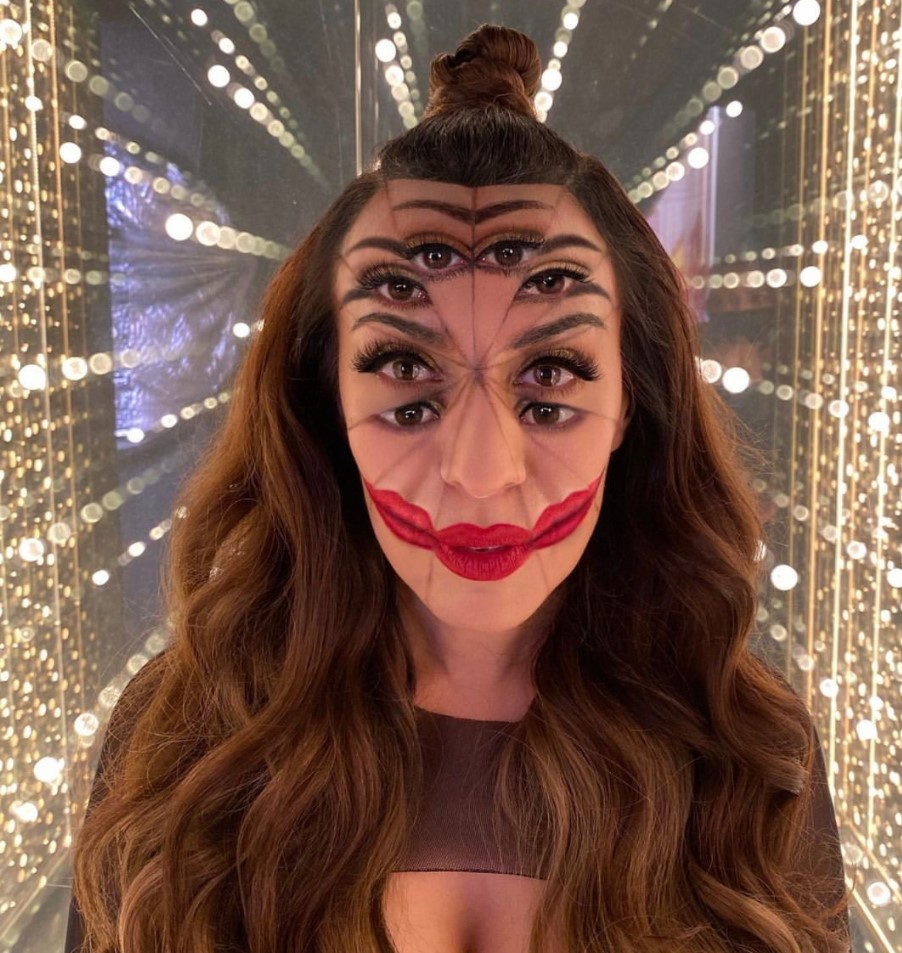 Also, it seems that she has several noses and different sets of lips. It also looks like she has multiple chins. So, if she ever breaks one, she will have more to use. Yet, this optical illusion is making us quite dizzy. 
A Beach Paradise
It's not typical to imagine breaking someone's back open because the spills of guts and gore can be repulsive. But it looks like our bodies have more aesthetic value than biologists suggest.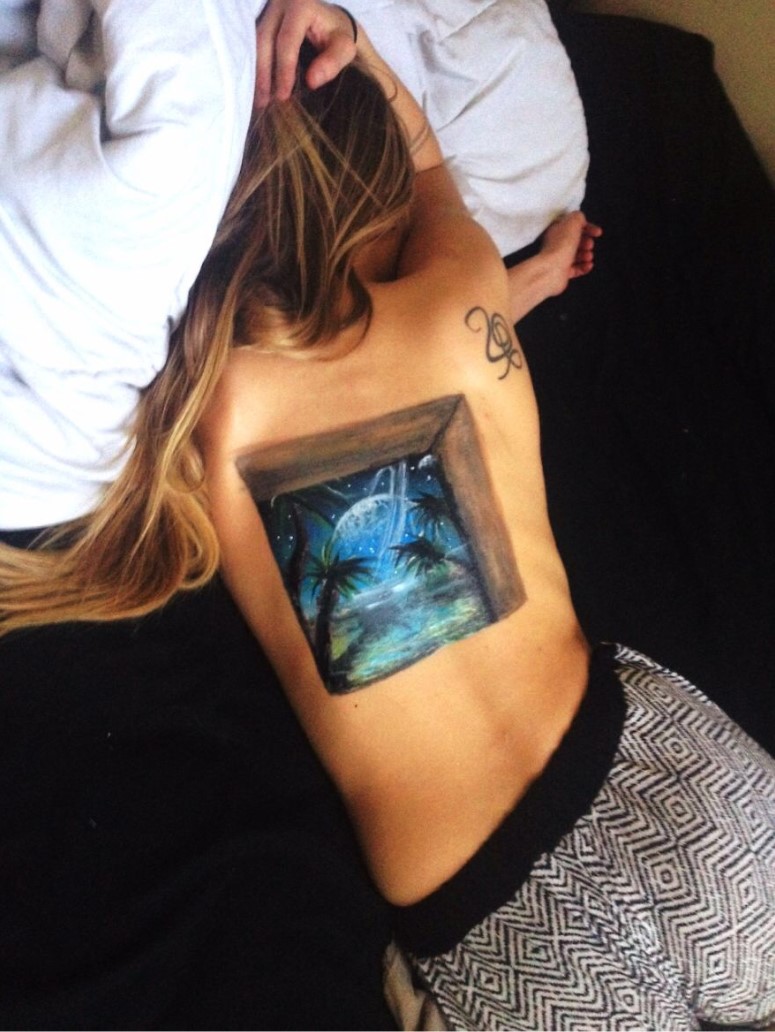 For instance, all you need to do to stare at a beach paradise is to remove this person's back panel. But we are not recommending this unless there's a skilled expert around you. By the way, how do we get plane tickets to access this beach paradise? 
Time For A Recharge!
If you are above 25 years old, you most likely think you could use a new pair of batteries often for a boost. It's strange how naptime becomes more appealing as we grow older, considering that as kids, we disliked the idea of going to bed while the sun was still out.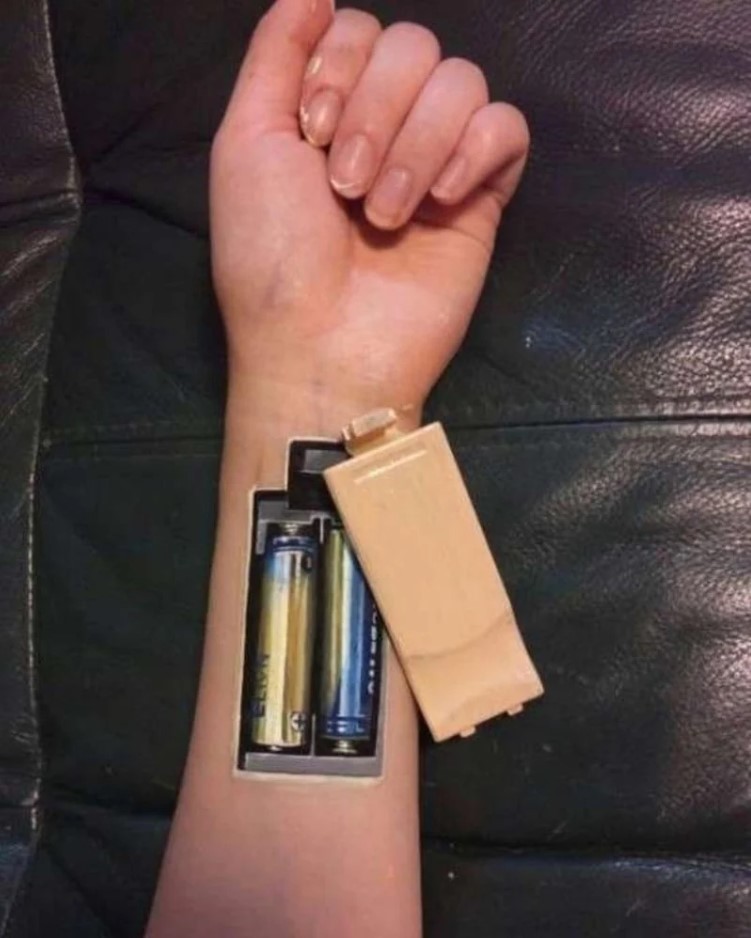 Well, it seems like your answer to a boost of energy is in your wrist. All you need to do is remove the battery cover and change the old pair with a new one, just like this image suggests. So, do what's best and get rechargeable batteries that will last forever. 
A Blocky Face
Do you recall the Jenga woman we mentioned earlier? This image is similar – it's just that there are complete portions of blocks missing from her face. The artist's ingenuity surely shines through as she left her right eye and masked the other in complete darkness.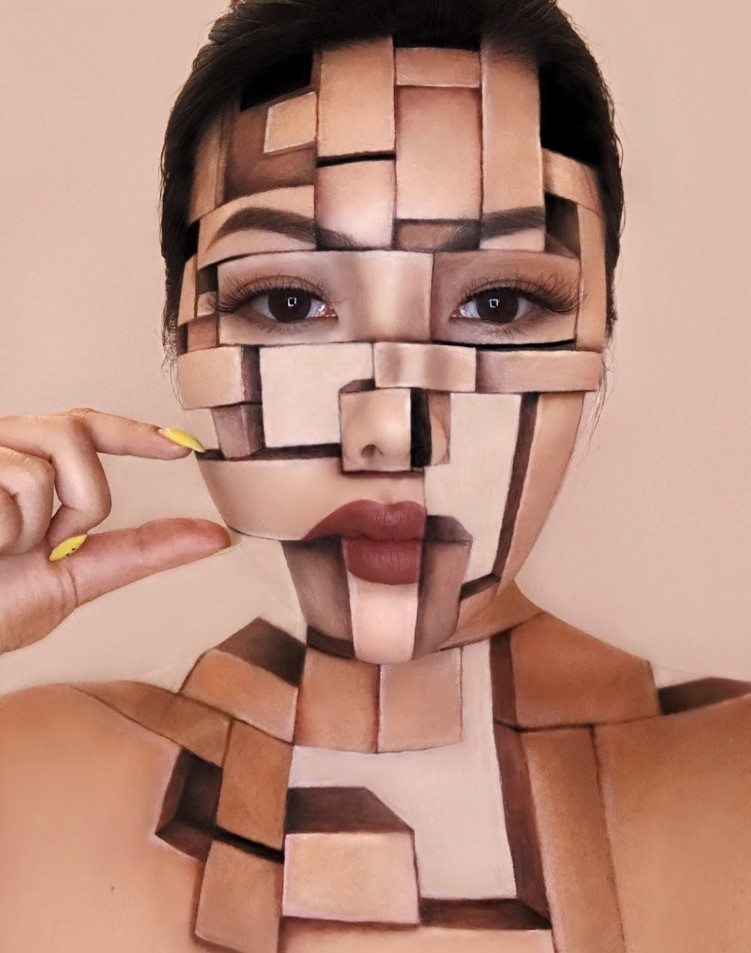 The 3D effects of the blocks and shading are also nothing short of extraordinary. We also think the Vantablack and black background is responsible for this optical illusion. 
Multiple Faces
Sometimes, art teachers want students to cut magazine pictures into strips and glue them on a sheet of paper in an elementary class. The final result may look just like this woman's face.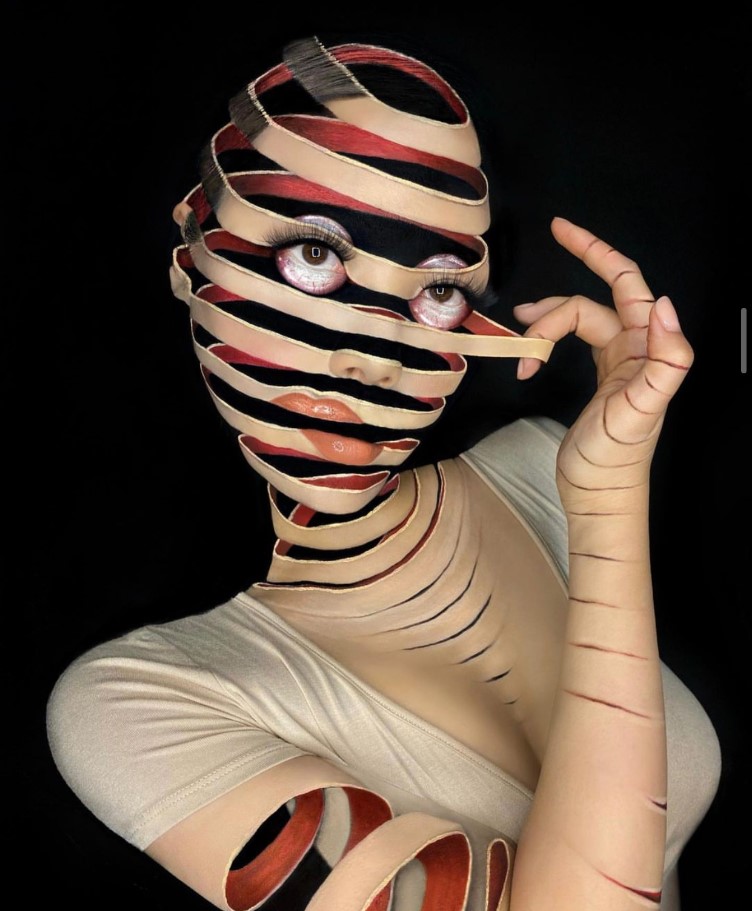 There could be an underlying meaning to this image. For instance, everyone you meet has a different personality, and it isn't necessarily always in a bad way. 
Think Outside The Box
Transforming one's face may seem like an easy thing to do, but it isn't usually the case. This is why we doff our hats to the artist who pulled this off.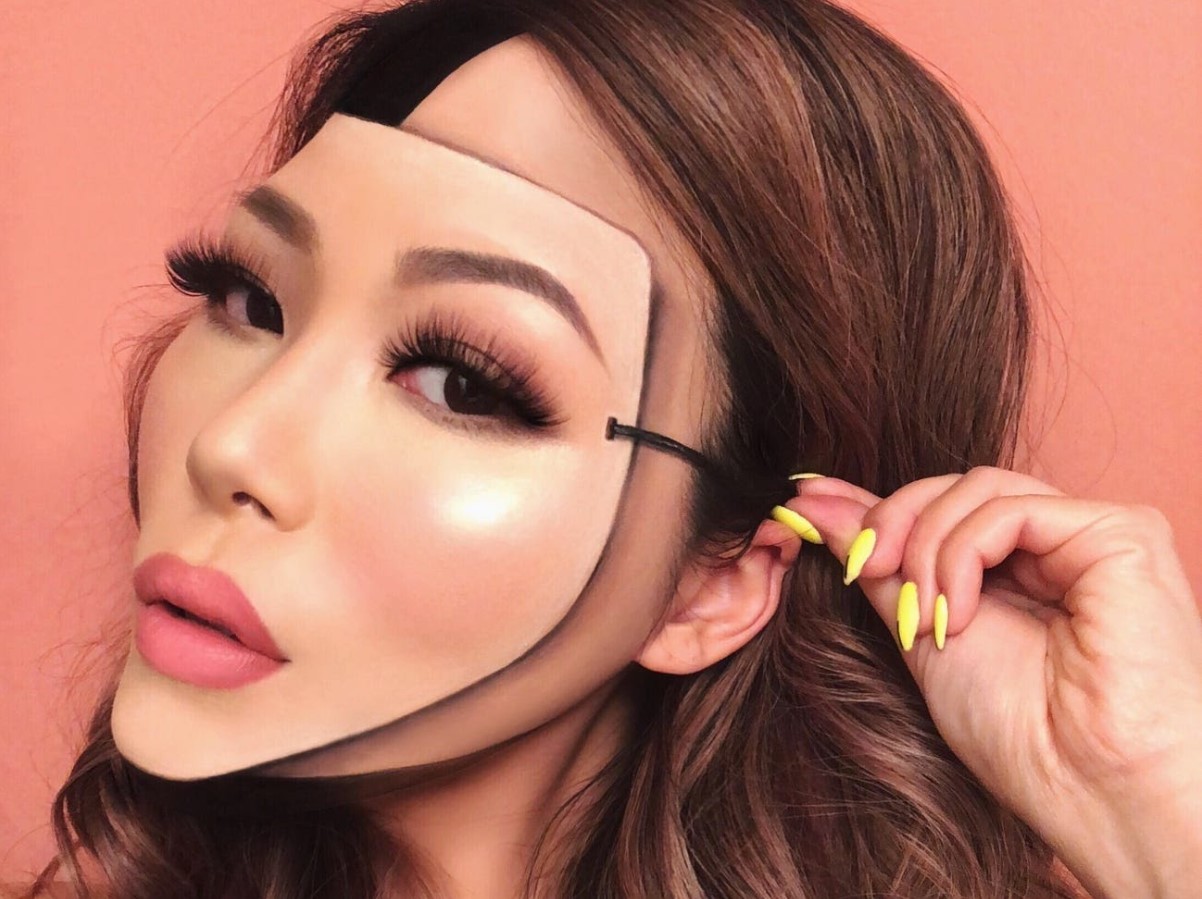 At first glance, it seems this model is clutching the edge of a book when, in reality, it's a clever manipulation of her facial features. We can say the shadow played a vital role in helping the artist achieve perfection with this painting. 
Make Three Wishes
Imagine finding a magical lamp in the middle of a desert and asking it to grant you three wishes. If the possibilities are limitless, what would you wish for? We would probably wish for three million dollars, although we don't know what we would do with it. The last two wishes would be to make more money.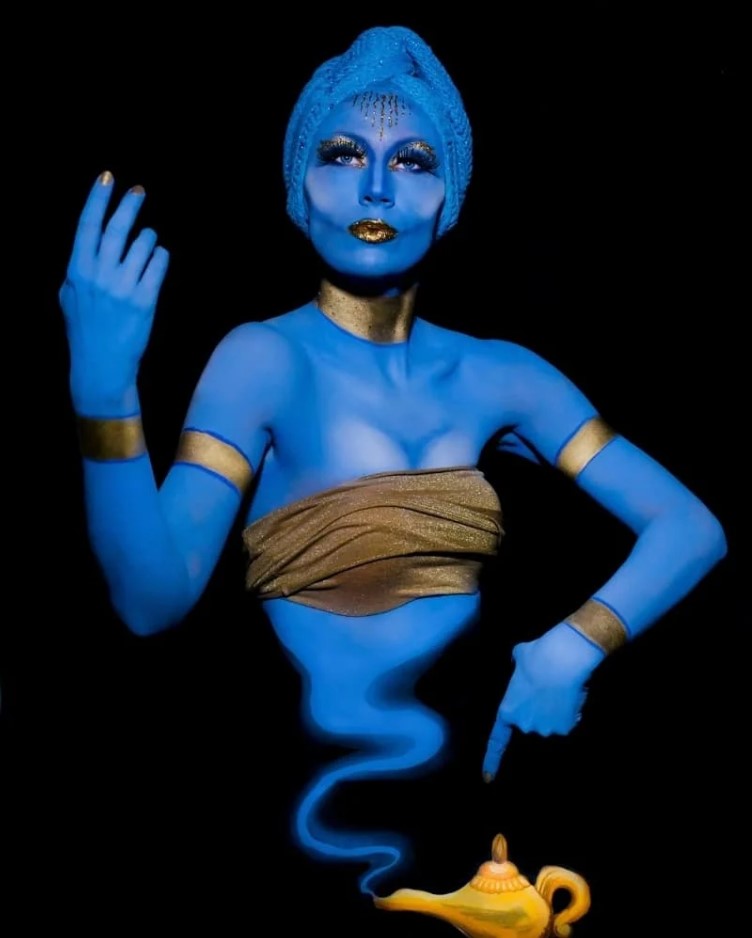 The power of paint and creativity is extraordinary. Just look at how this woman turned herself into a genie and a magic lamp. She probably did this to honor the Aladdin movie remake, although we are unsure how we feel about Will Smith's performance. 
Chameleon Body Art
Kids are always fascinated by how chameleons can blend seamlessly into their surroundings. But a lizard can also do the same camouflaging trick.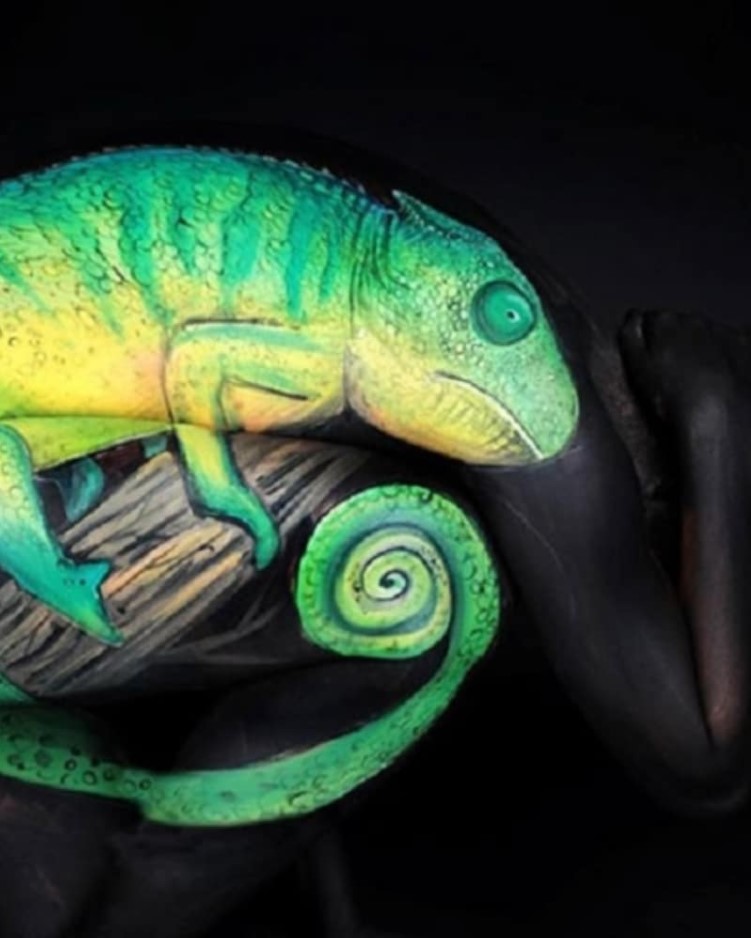 This woman was transformed to look like a chameleon and the log it's perched on. Though she looks too charred, and the chameleon is doing a not-so-perfect job blending into its environment, it's a remarkable display of talent and creativity. 
Button Up!
This makes us feel super uneasy. We've certainly come across images of people with tears and zippers on their bodies but not actual buttons. It makes us wonder what we'll find if any buttons come undone.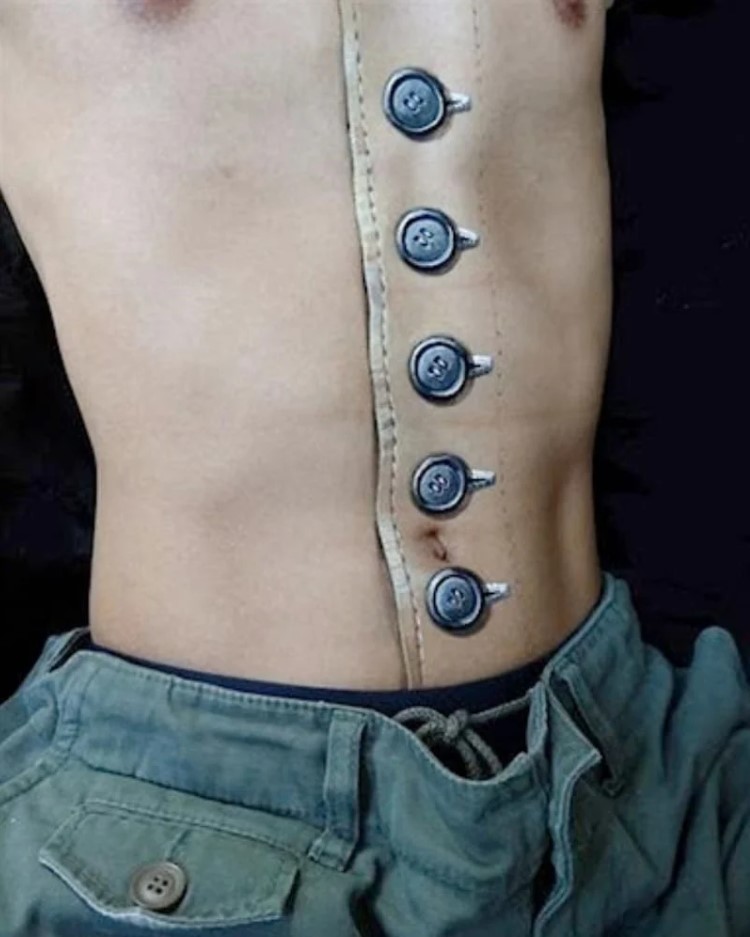 We can't help but marvel at the artist's precision in crafting these life-like stitches. While the buttons will look better with a bit of fine-tuning, the shading under the man's fold is remarkable. Let's talk about the convenience of not having to wear a shirt every day!
Zip Up, Too!
It's frustrating to deal with a zipper malfunction because it's daunting to repair, especially on a human body. This model has various layers to her back, with a first zipper that exposes a second layer of skin with another zipper.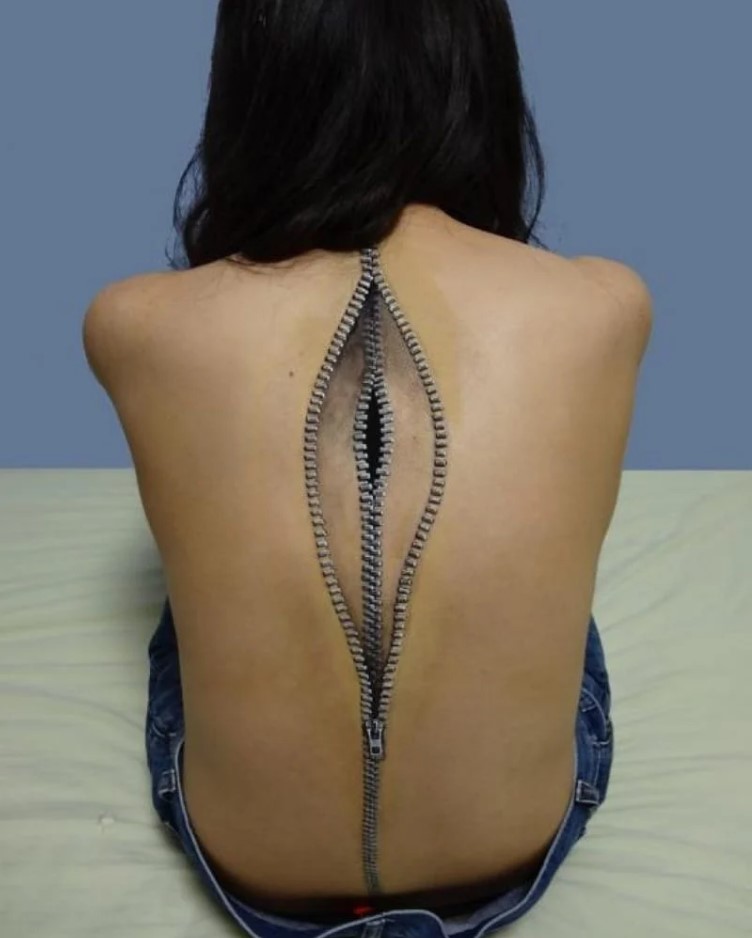 While one layer could have been enough, this artist went above and beyond to create multiple layers. If you feel an itch in your back at this moment, just reach back and pull your zipper up!
Sea Creatures
The sky is certainly the limit when it comes to body paints. Without boundaries, your creativity can run wild, allowing you to create a mermaid such as this one. But we must admit this is one of the most unsettling things we've seen.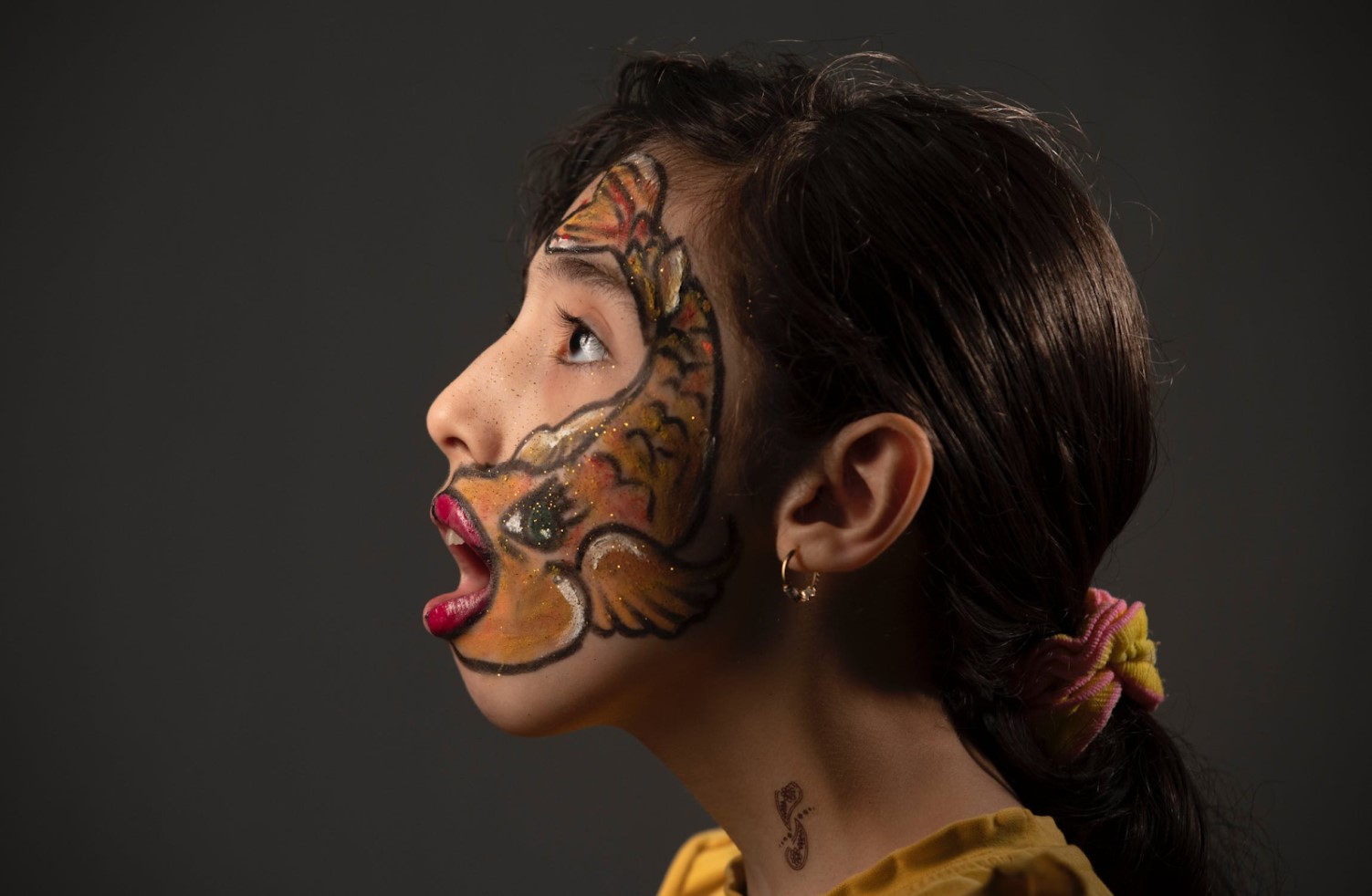 This artist certainly drew inspiration from the depth of the ocean. But did they have to add multiple creatures? Let's just be grateful they didn't include a shark around the model's body!
A Beautiful Seahorse Model
We clearly don't give these models the recognition they deserve. Just look at how this artist skillfully turned her body into a seahorse. Do you also see how much she bent to form the seahorse belly shape? Incredible.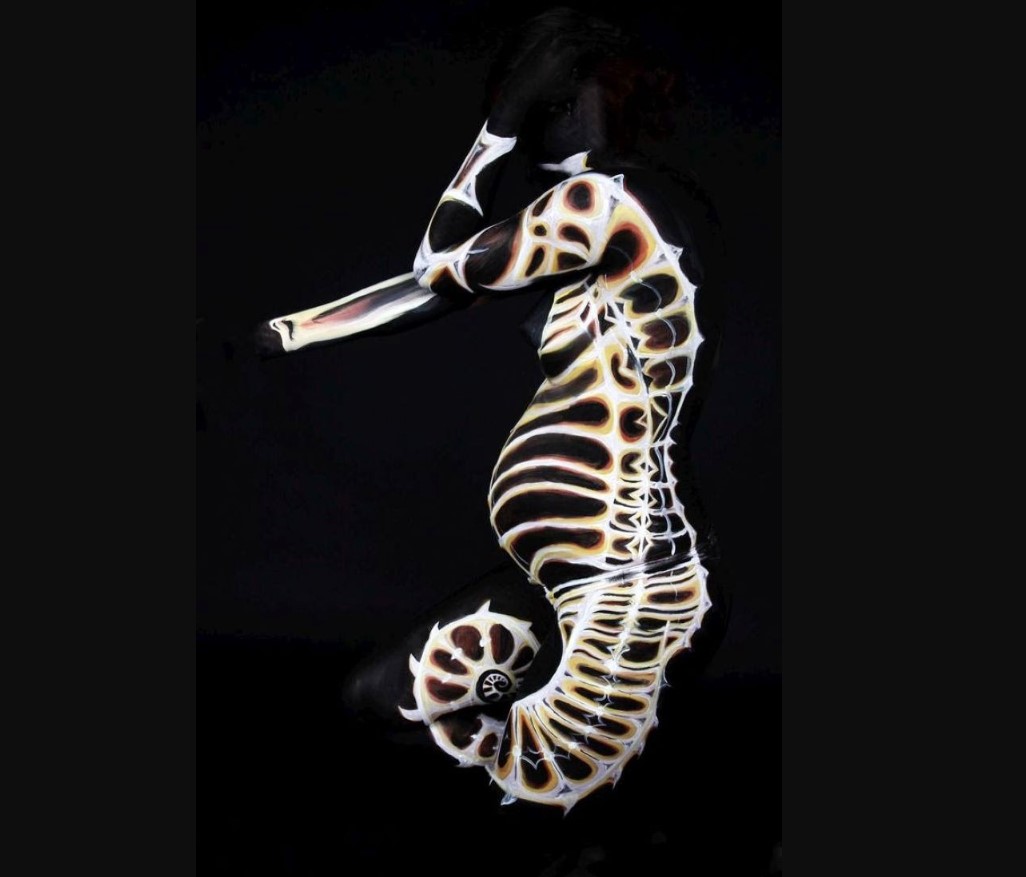 She's certainly a yoga fanatic because how else could she pull that off without breaking her body in two? Now, to a completely unrelated fact: male seahorses birth the babies because the females transfer the baby into the male's stomach so he carries them. 
Blocky Face
The Jenga artist from before doesn't compare to this model. It appears someone reconstructed her face into an abstract design, leaving her nose where her chest should be and her ear where her cheek should be located. The black outline is glaring against the city backdrop, but that is just the tiniest detail.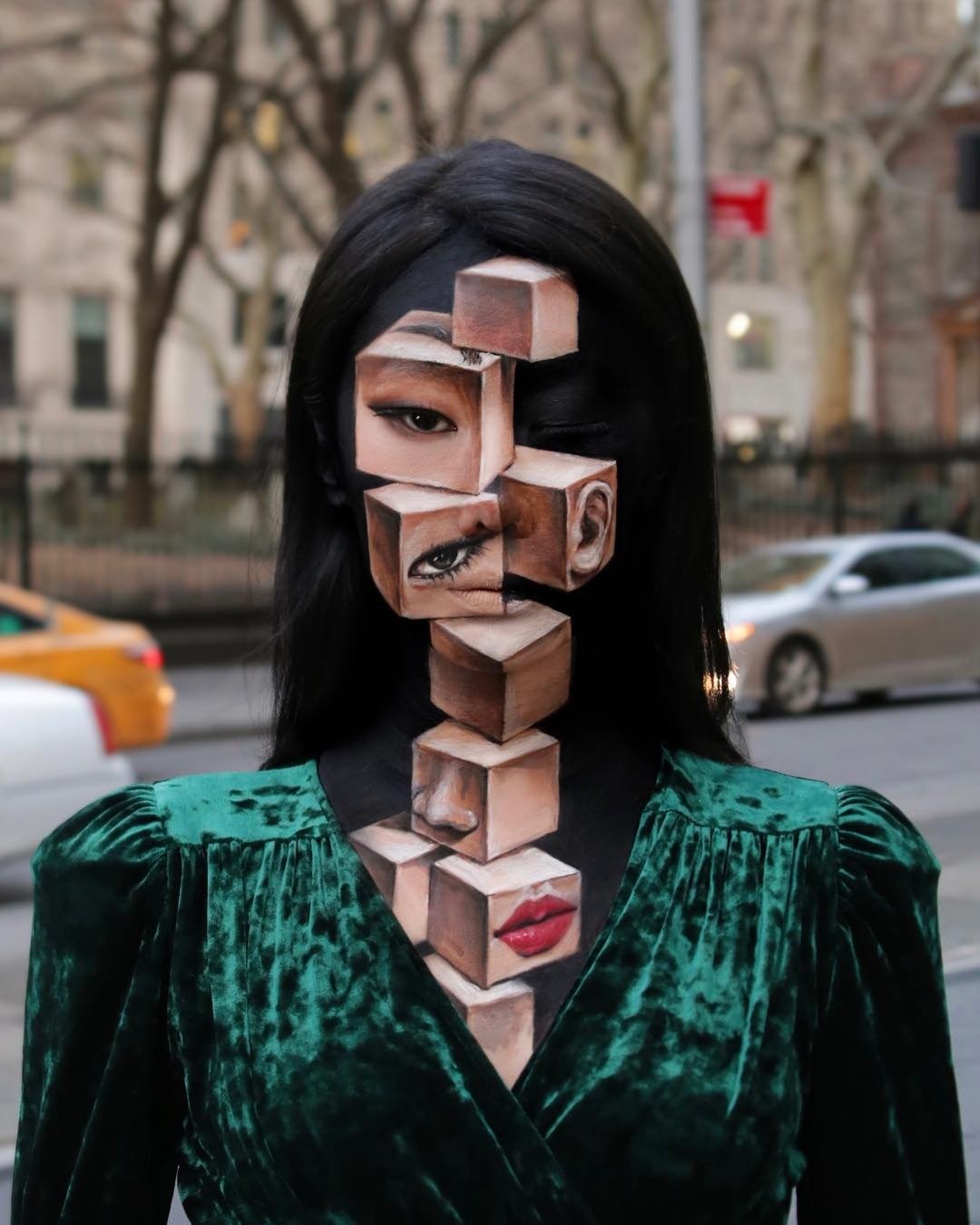 The detail we can't overlook is how the woman's original eyebrow is on the other part of a block!