The True Story Of 101 Dalmatians Could Be Even More Adorable Than The Film
How about Disney's 101 Dalmatians? It sounds like a fantastical story, but in the context of Miley, a Dalmatian, it's all too real. Miley was in for a big shock when it came time to have her puppies.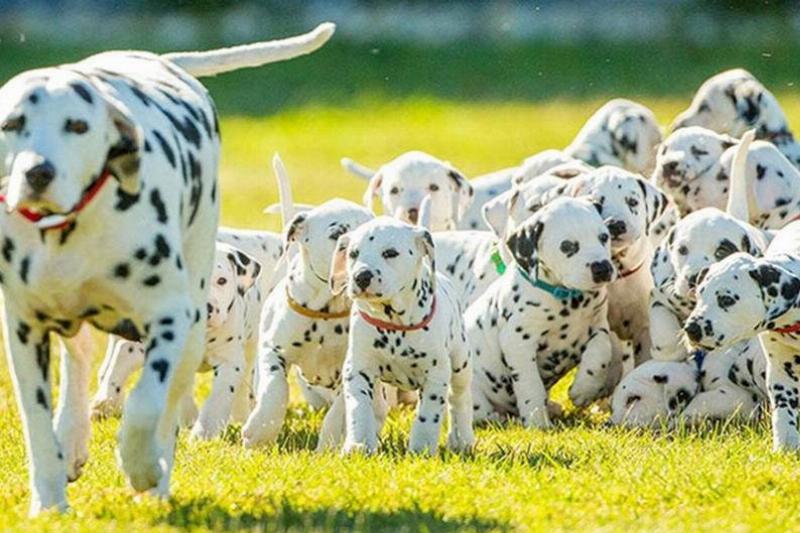 Find out why Miley's birth story sounds like the outset of 101 Dalmatians and what became of Miley and her litter.
Cecilia, The Dog Trainer
There are some people who desire to spend their entire lives caring for dogs, especially if the dogs have become members of their families. Cecilia Langton-Bunker, who is 43 years old, followed this particular course of action.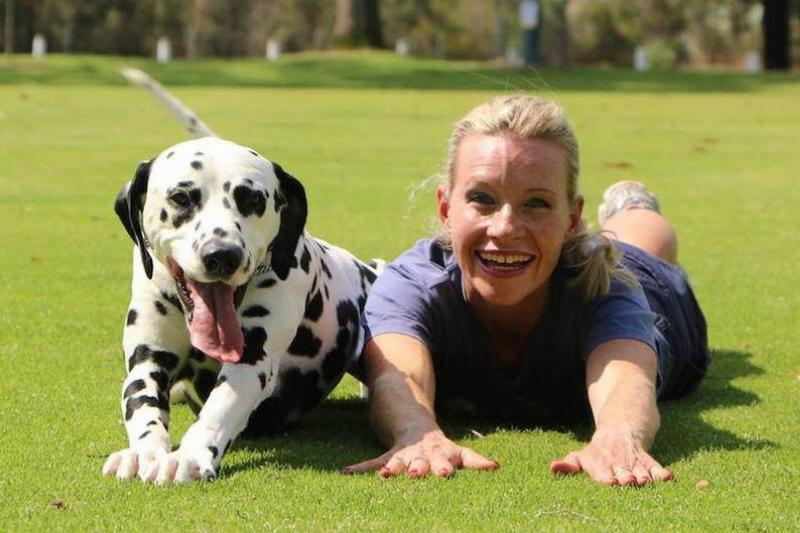 The indigenous Australian had an unusually strong connection to Dalmatians, and as a result, she built an entire enterprise around the breed. Cecilia was able to breed Dalmatians, train them, and show them for just under 25 years, thanks to her involvement with CCDalmatians.
Preserving Her Moral Standpoint
When it comes to breeding dogs, there is a lot of room for abuse, but Cecilia made sure to do everything in her power to ensure that the process was conducted in an ethical manner.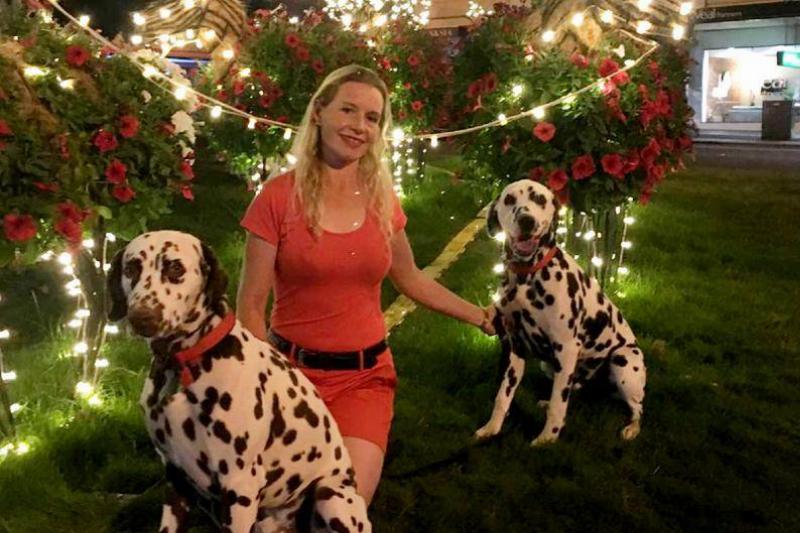 Even though getting financial security from the puppies was a nice outcome, her primary worry was making sure that she was working with specific other prize-winning Dalmatians who had good genetic makeup. This was done in order to ensure that she was producing healthy puppies.
Miley, Her Bestfriend
There are moments when a person forms a connection with a dog that defies explanation. Cecilia thought of Miley, the Dalmatian as her best friend.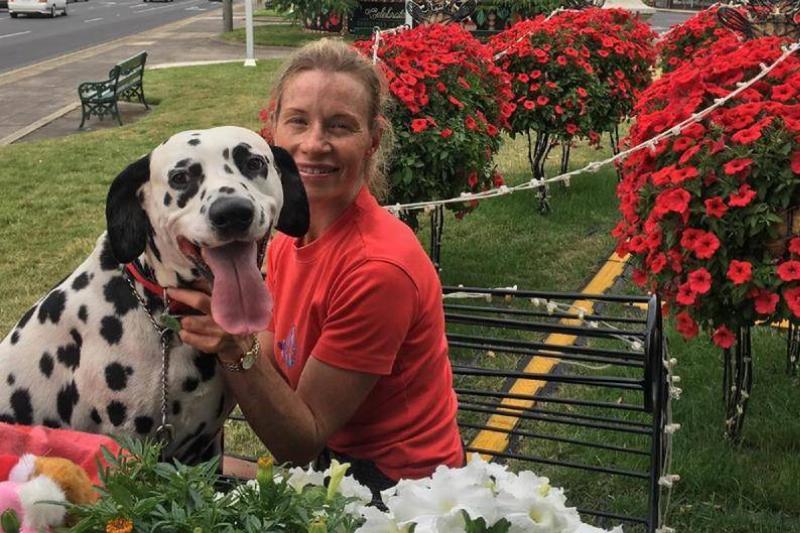 Miley was unlike any of the other dogs that Cecilia had worked with over the previous two decades, especially in terms of her personality. Cecilia came to the conclusion that there was something unique between them, and as a result, she would devote the majority of her time to Miley and the requirements she had.
Keep scrolling for more information on Dalmatians…
About Dalmatians
Dalmatians are a breed of dog that can range in size from small to medium, and their coats are white–having either black or brown spots. They can be traced back to the Dalmatia geographical area in Croatia, where they were originally used as hunting dogs.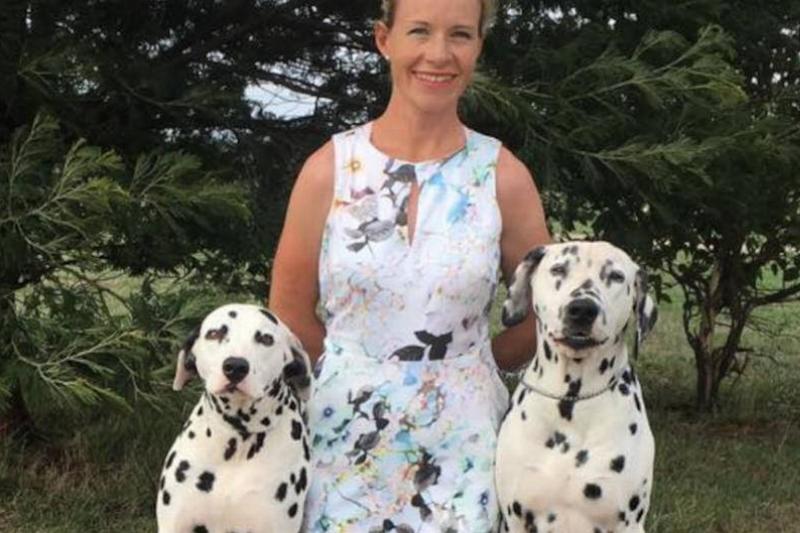 These dogs have a lifespan that ranges anywhere from 12 to 14 years on average and are known for their intelligence, friendliness, and protective natures. Many dog lovers enter Dalmatians in kennel club events.
Devoting Time For Miley
When Cecilia first met Miley, the dog was still a young pup, and it didn't take long for Cecilia to recognize that she needed to devote more of her time to bonding with this canine companion. Therefore, she opted to dedicate her time to her.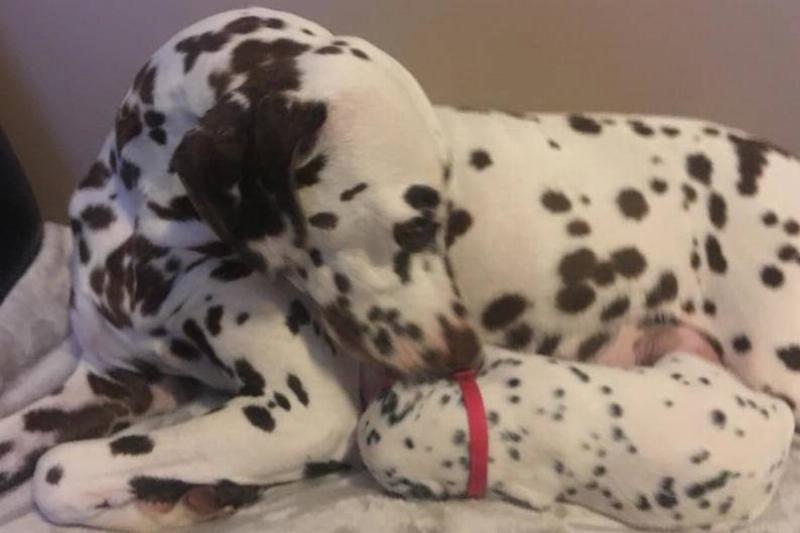 Miley is an exceptionally well-behaved dog, and she also possesses an incredible coat, which contributes to the widespread adoration that she receives. Cecilia was aware that she planned to keep her for the purpose of breeding.
Miley, Also Known As The Champion
It didn't take Miley long to start dominating canine events all throughout Australia, and she did so with ease. "Sarasota From Russia With Love" was the stage name that she used during her career.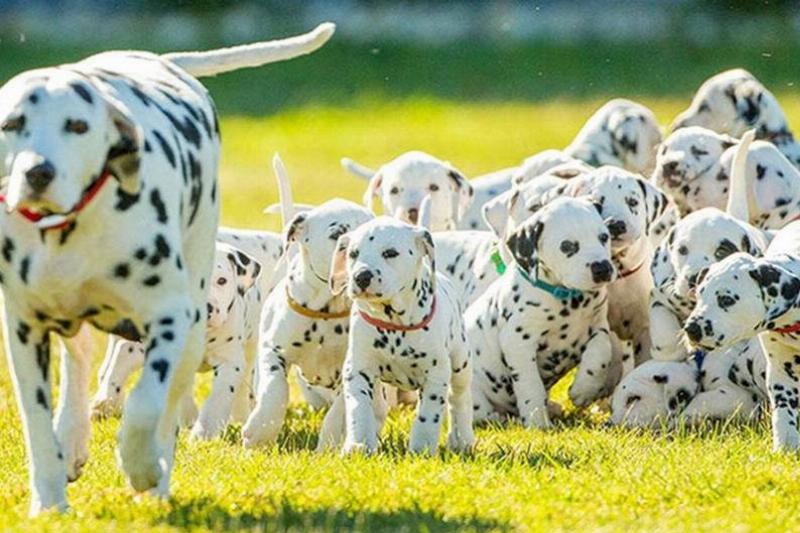 Miley did not fail to win a medal in any of the competitions in which she participated. She was the object of adoration and love. Even in the rare tournaments in which Miley did not come in first place, she always managed to finish among the top three.
Miley's Ready To Be A Mom
Following her triumphant run in a series of dog show contests, Miley was finally ready to embark on the journey of becoming a mother. In addition, Cecilia was successful in locating a prominent stud Dalmatian.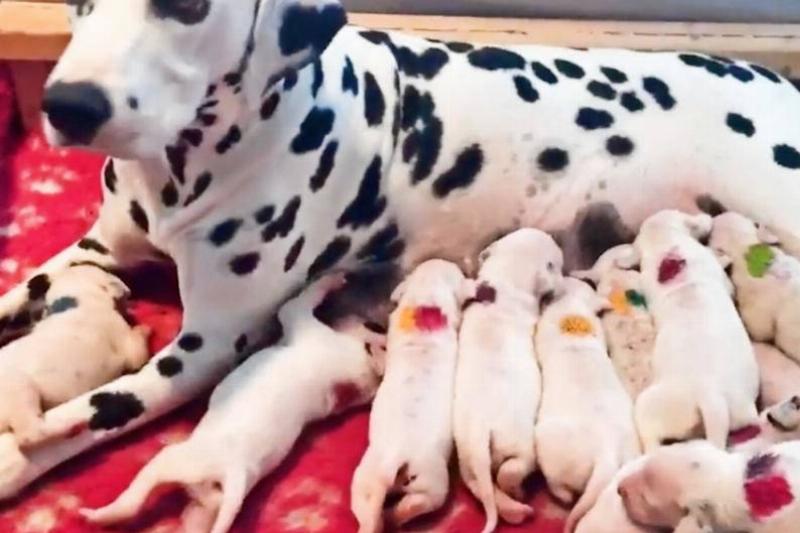 After only a little duration of time, Miley discovered she was pregnant. Both Miley and Cecilia's situations appeared to be improving, but somehow the veterinarians had some additional details for them to consider.
Keep reading to find out how their visit to the veterinarian turned out!
Exciting Visit To The Vet
As quickly as Cecilia realized that her dog, Miley, was expecting puppies, she took her to see an animal doctor. She did not waste any time and took her to the hospital right away to have everything evaluated.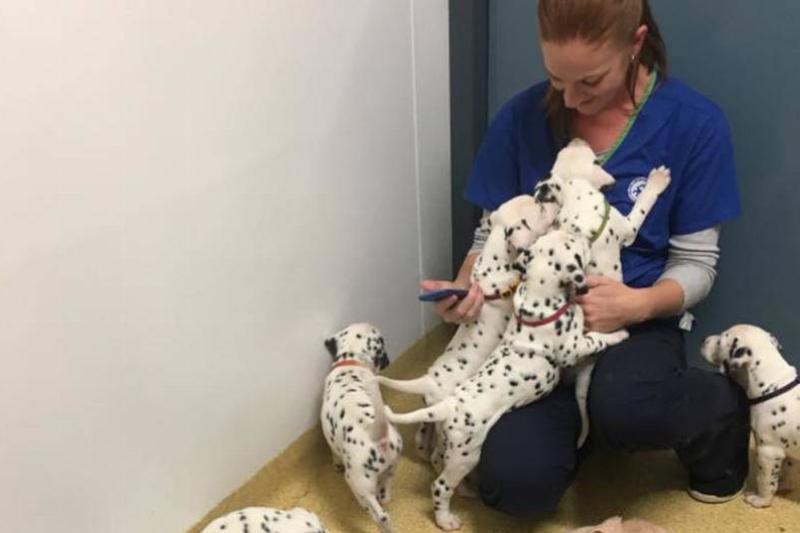 Cecilia sat there with a worried expression on her face because she wanted to make certain that Miley and her pups were doing well. The veterinarian was able to establish that Miley was, in fact, pregnant; however, he needed to examine something else first.
Not Just A Typical Pregnancy
Cecilia was a dog breeder; therefore, she was knowledgeable about all aspects of a dog's pregnancy. Despite this, she did have the distinct impression that this one wouldn't be like the others, as her veterinarian had mentioned. Therefore, she got herself ready.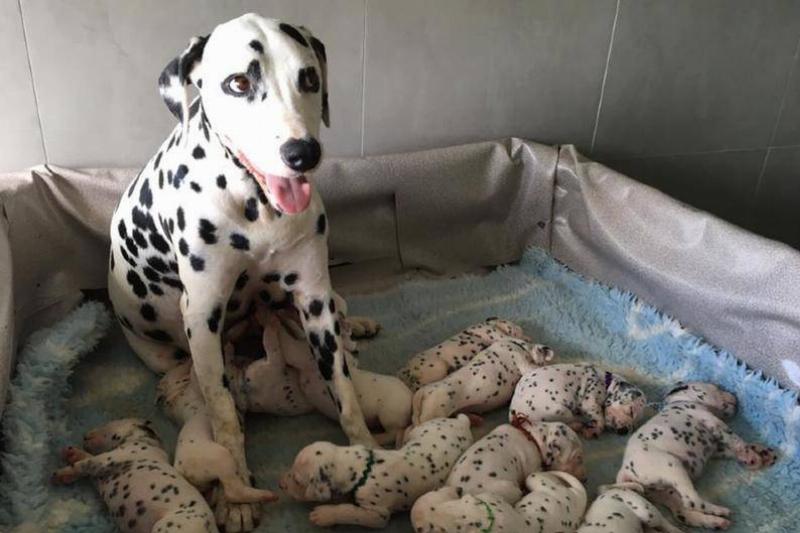 It is common for female Dalmatians to carry litters consisting of approximately six to seven puppies at a time. Therefore, anything significantly greater than that poses a significant risk to the mother.
Miley's Bizarre Behavior
Because Cecilia knew so much about Miley, when she observed that Miley wasn't acting like usual, she drove her back to that same veterinarian to make sure that there wasn't something wrong with her. Fortunately, the veterinarian determined that there was nothing wrong with Miley.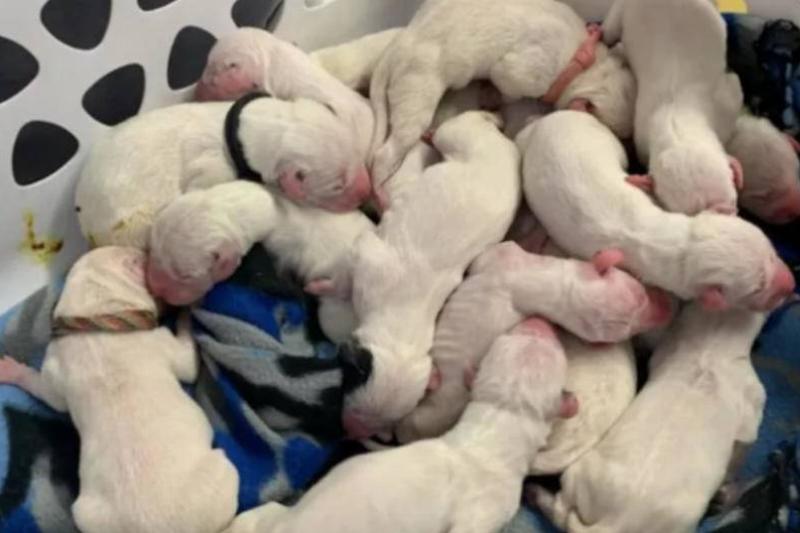 The veterinarian at first felt that Cecilia was being overly cautious, but then they performed another examination of her stomach. After examining the x-ray, the veterinarian could not accurately count the number of puppies Miley was carrying.
An Unexpected Amount Of Puppies
After hearing from the veterinarian that Miley was pregnant, Cecilia checked out the ultrasound for herself. They were both clueless about the number of puppies that Miley was carrying.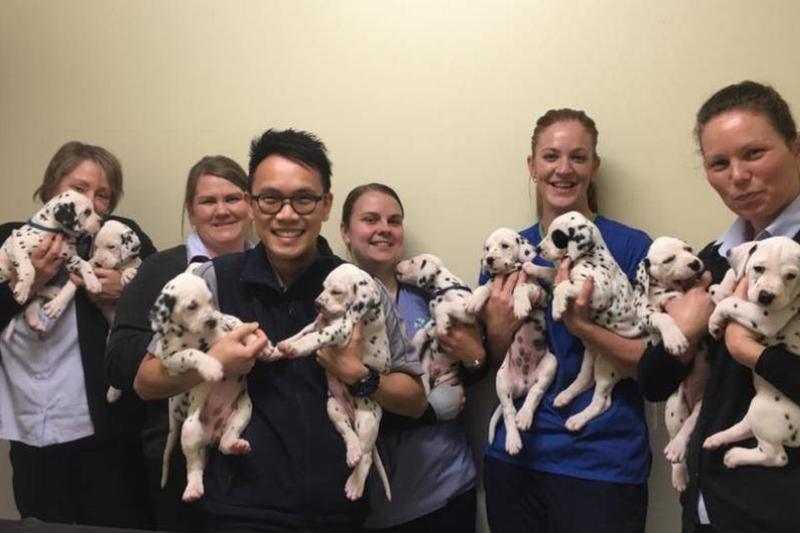 After that, Cecilia brought her back to her house and got her ready for the birth. Miley was in labor and ready to deliver early the following morning. Cecilia was completely unaware that the delivery process they were anticipating would not go according to the usual in this scenario.
The Birth Of Miley's Pups
Cecilia did not waste any time in calling her midwife to assist her in the delivery of Miley's puppies. They noted that there was a pause in the process of giving birth after the initial five babies were born.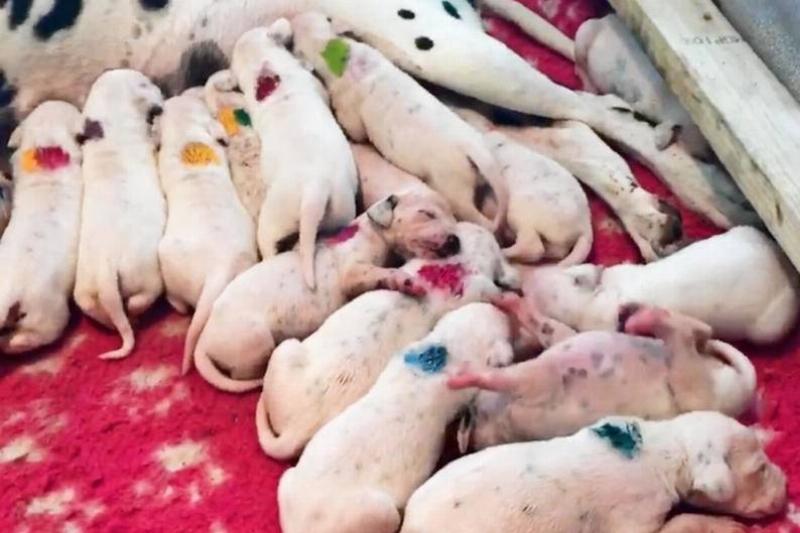 Because Miley's heart rate was extremely rapid, Cecilia immediately took her dog to an emergency veterinarian in order to have the rest of the puppies delivered. The vets would be in charge of Miley and the baby's survival in this situation.
C-Section Delivery
After bringing Miley to the veterinarian, it was determined that the delivery process had halted due to the incorrect positioning of the sixth puppy. As a result, they would be required to perform a C-section on her as a matter of urgency.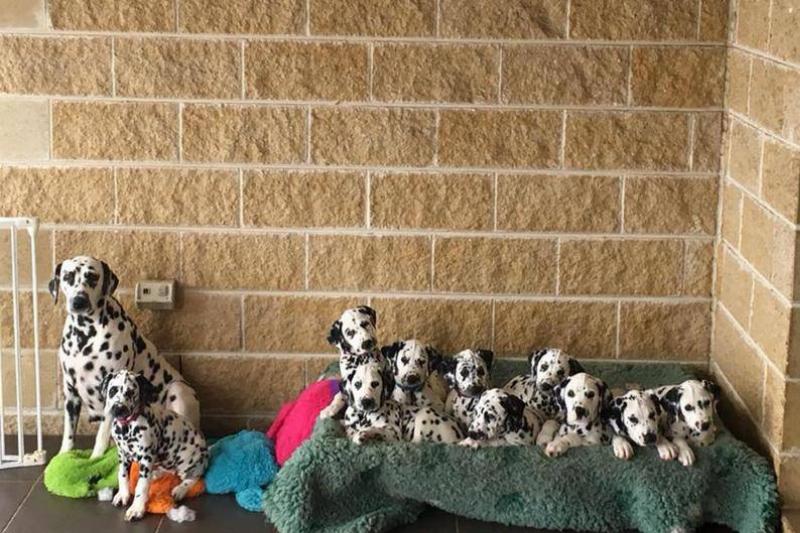 Cecilia was incredibly worried about Miley and the puppies' health, but she knew that going with her gut and making this choice was the best option. It was necessary to let the remaining puppies out of the womb.
True Life 101 Dalmatians
The narrative of Miley's delivery is strikingly comparable to that of the movie 101 Dalmatians. Even though Miley did not have as many puppies as in the Disney original, the veterinarians continued bringing out more and more of the little critters. The puppies needed to be extracted immediately, so the nurses, receptionists, and anybody else who was on call raced into the delivery room.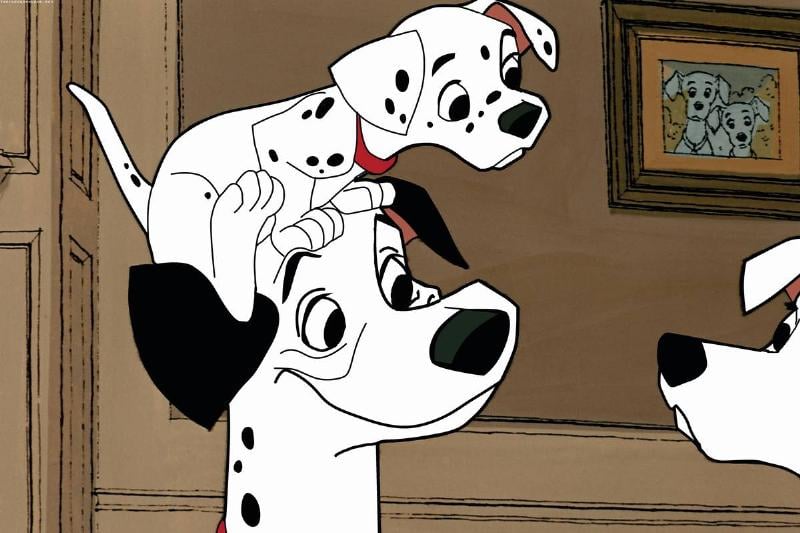 In spite of the fact that the veterinarians were certain there were none left, there were, in fact, more.
Successful Delivery
It took Miley a total of thirteen hours of grueling labor to successfully deliver all of her puppies. In order to distinguish one from the other, all of them were colored with pigments.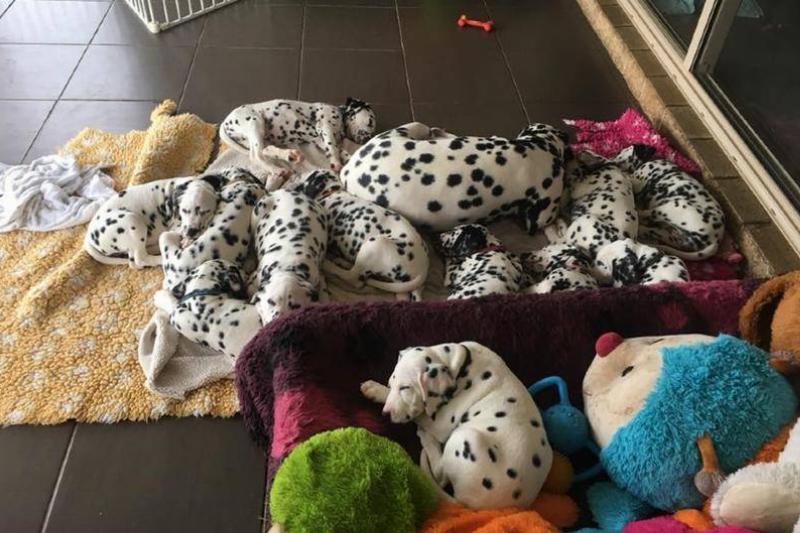 The veterinarians were pleasantly surprised by how risk-free the delivery turned out to be. After seeing all of Miley's puppies, Cecilia went into a stupor and couldn't move for a while. But the breeder is now presently supporting the doting mother as she tends to her healthy pups.
How many pups do you think Miley had?
How Many Puppies Did Miley Have?
Miley, a first-time mother, had a delivery that was nothing short of a miracle, and she was able to deliver 16 puppies–4 boys and 12 females. Because the puppies wouldn't get their patches until they were a little bit older, they were a striking white color when they were first born.
Even more impressive is the fact that Miley managed to outdo the mother from 101 Dalmatians who gave birth to 15 puppies.
A Litter Of 16 Puppies
Cecilia and her partner agreed to take on the challenging responsibility of caring for Miley's 16 puppies over the next couple of months. Without a speck of a doubt, they would be busier than bees with the puppies' care.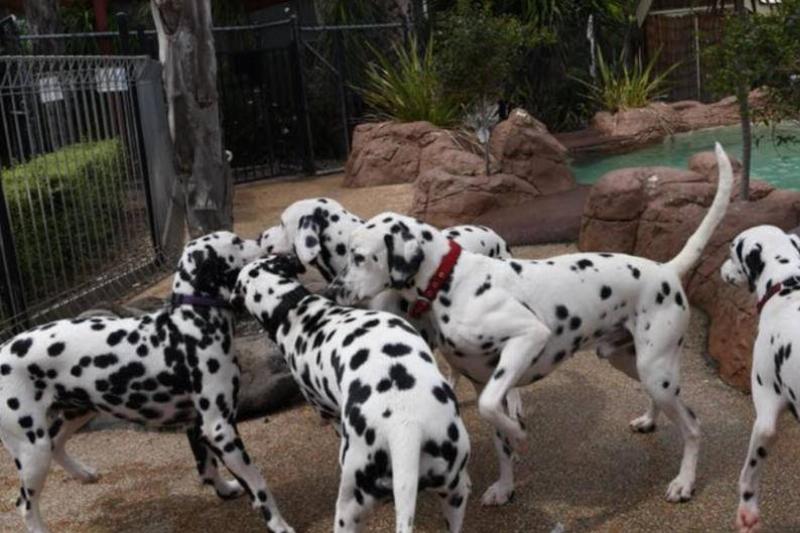 In addition to ensuring that all of their beds were spotless, they were responsible for monitoring the pup's physical and mental growth. Miley made it a point to shower a great deal of affection and attention on the puppies.
Their Food Diet
Time spent feeding the puppies was one of Cecilia's most treasured recollections of her time with the puppies. She would make dishes consisting of dog nuts, chicken pieces, and cheese and then mix them all together.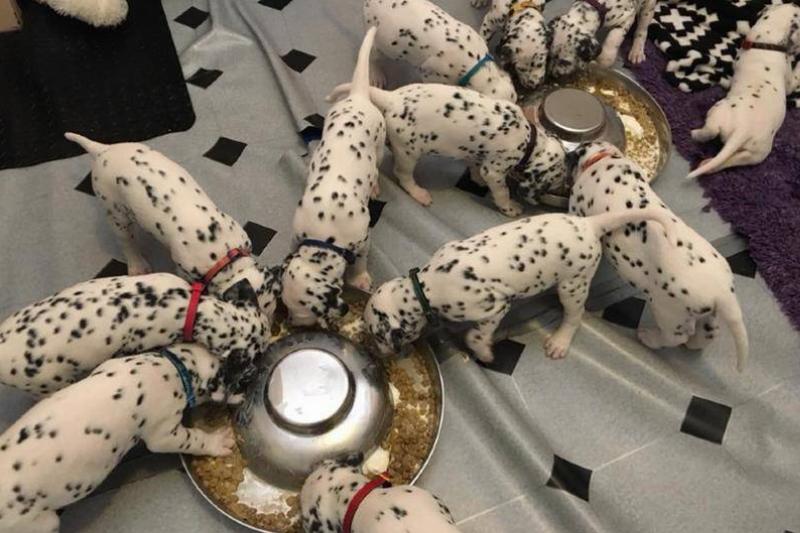 Then, in the kitchen, she would set up two trays facing each other on the ground and allow the puppies to fight it out. The puppies were just the cutest things ever. It wouldn't be long before the puppies were old enough to be adopted out to new homes. 
New Homes For The Puppies
Two months later, the puppies were ready to find permanent homes. There were a lot of interested buyers, and Cecilia got a lot of offers. Though she felt some sadness in seeing them go, she was happy to know that they were heading to wonderful homes.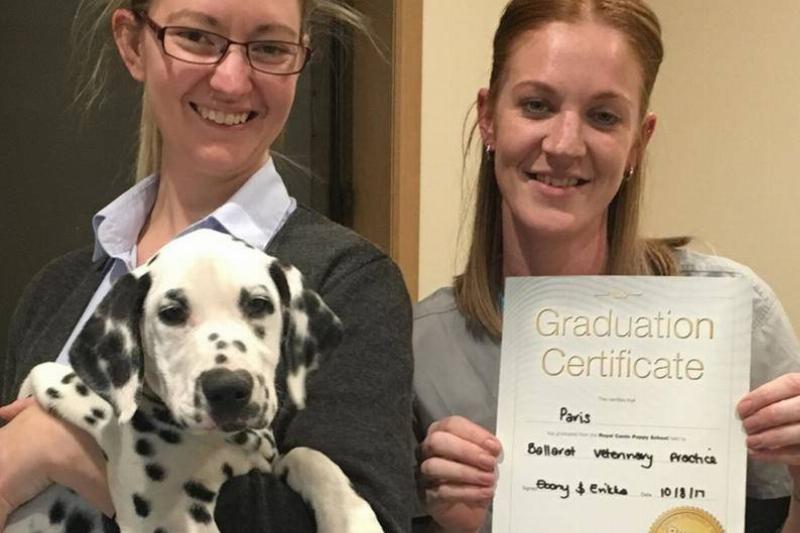 She only kept one female puppy, and she named her Paris. She had a vibrant personality and was witty, bright, and full of life. Just like her famous mom, Paris is a dog show champion.
Soon, the Dalmatian litter will be back together again.
Staying in Contact
There were occasions when Astro, the father, and the offspring would come to see Miley. And after a few years had passed, the puppies and their owners got together to have a reunion so that they could stay in touch with one another.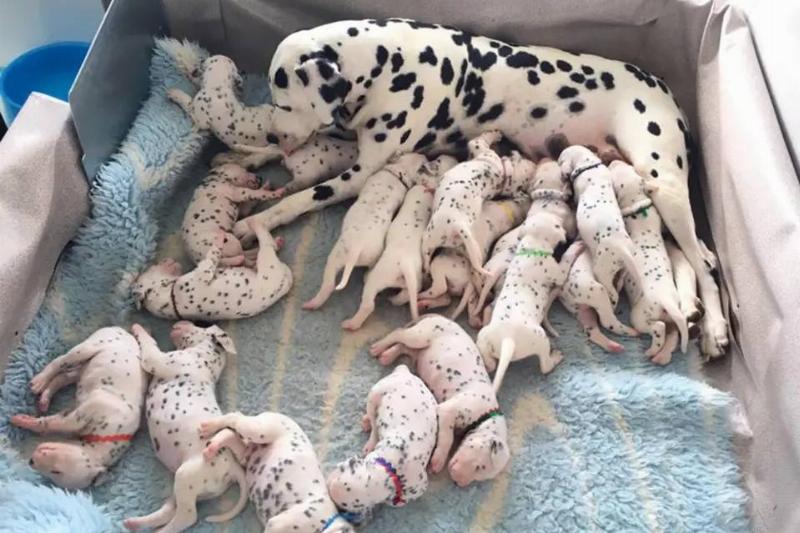 Cecilia extended invitations to everyone who had assisted with the delivery of the pups, including the veterinarians. The get-together was a lot of fun, and Cecilia was overjoyed to see the puppies running around and frolicking with each other once more.