Behind The Scene Photos Of Actors And Their Stunt Doubles
Seeing double is a good thing when you are an actor. Can you imagine scouring the universe to find a stunt double that looks just like some of the most famous faces on the planet? Once their cast, it's like a match made in heaven for them, but we want to still believe our movie star heroes are doing all the dirty work. These behind the scene photos of actors and their stunt doubles ruin everything….or is it twice as nice?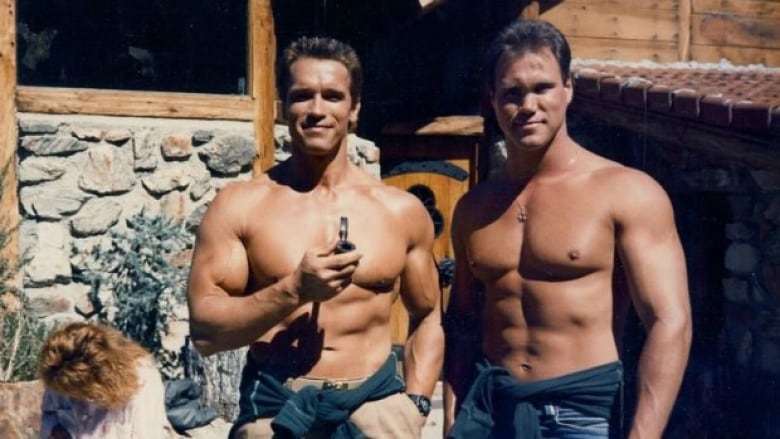 The King of Asgardian Hammers On With A Stunt Dub
Oh, Thor, be still my heart! Oh, Bobby Holland Hanton, be still my heart…Bobby Holland Hanton!? Yup, that's right the longtime stunt double of superstar and superhero Chris Helmsworth, best known for his action-packed role as Thor.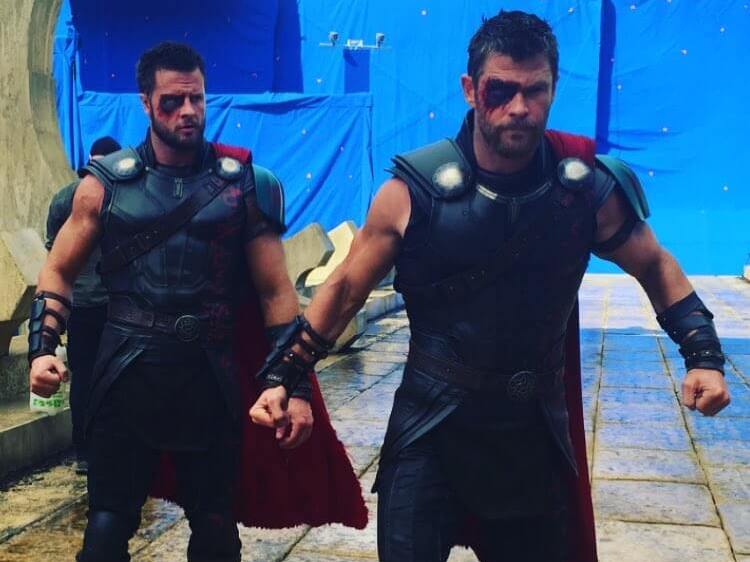 The question now becomes, which built bad boy wore that badass cape the best? You can be the judge of that…to each his own, Speaking of bad asses…
Is That Drax? Or is That Drax? The Galaxy May Never Want To Know
A tit for tat…that's a lot of tattos on these two out of this world fellows. Anyone who has seen Guardians of the Galaxy knows that Dave Bautista, who plays Drax is a complex character with the gams to go along with his lines.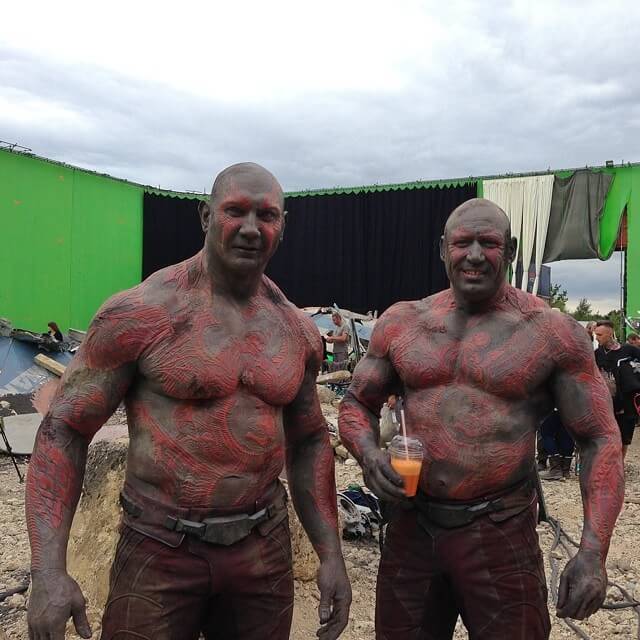 But why does this former, and well-built we might add, wrestler need a stunt double? Because two is better than one when it comes to saving the universe! Rocket would understand, remember Rocket? Let's ask Harrison Ford, he knows all about it.
Indiana Jones Needs Some Stunt Love, Too, or is That Two?
Hats off to these two hunky dudes. Harrison Ford, better known for his role of Indiana Jones among others has a hunky stunt double. Say, What!? You thought all those fistfights, run-ins with snakes, and car chases were all Harrison.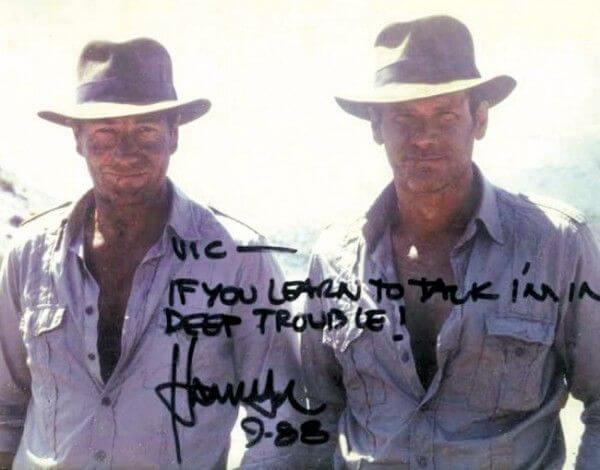 Thanks to his stunt double, Vic, we all fell in love with Indy and his wonderful whip! Speaking of something wonderful in our popular culture.
Hubba Hubba Hubba For Jabba the Hut
Carrie Fisher, famously played Princess Lea in the Star Wars movies with beauty and brains and that iconic gold bikini she wore so well with the Jabba the Hut scene. Plus, her acting was as good as gold thanks to her stunt double stepped in when Carrie had to step out of the scene.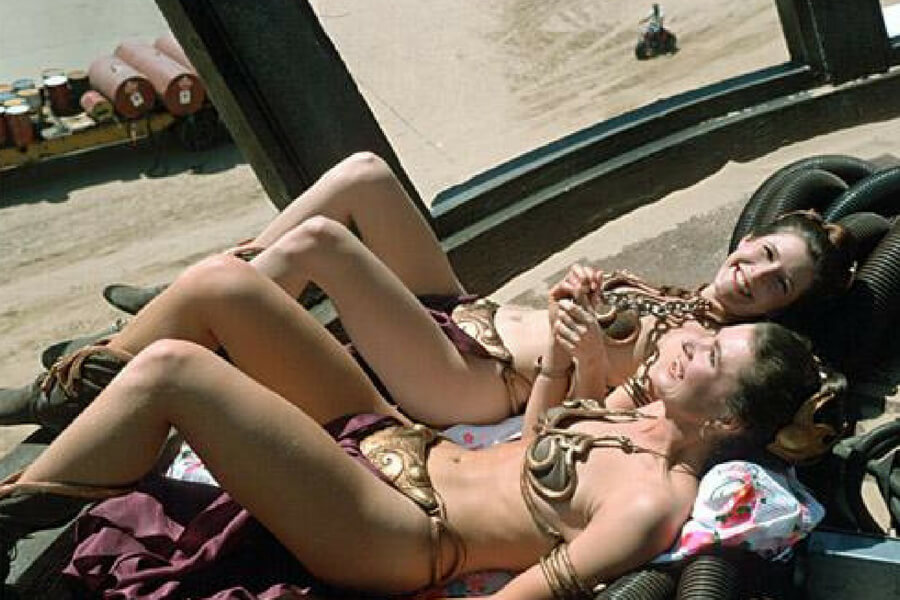 This is a moment in time that will live on forever. Thanks for the memories, Carrie… now onto some to a mini me double.
This Mini Me Really Rocks It!
Hats off to 23-year-old stunt double Emilly Brobst for stepping in as Chandler Riggs stunt double on the set of The Walking Dead.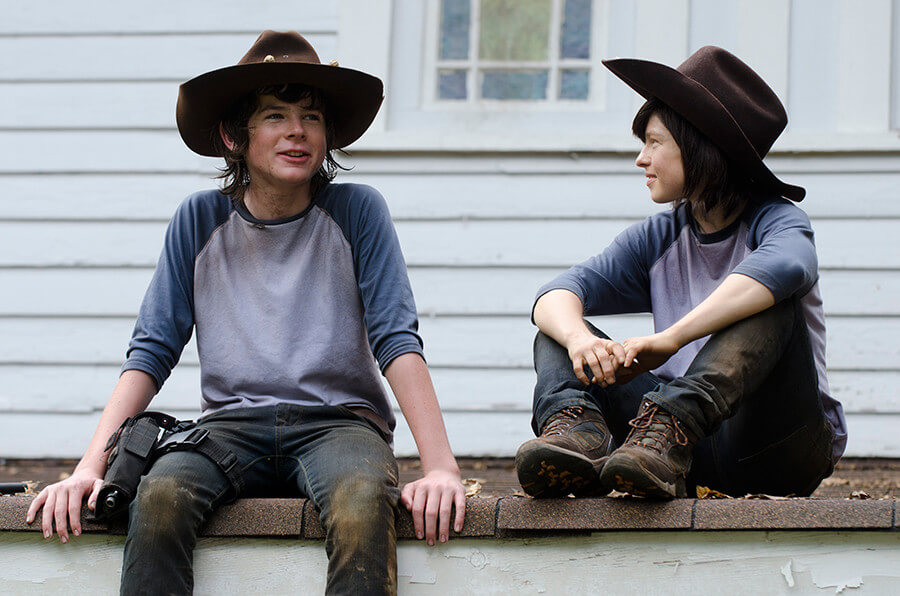 There just is no limits to what Hollywood will do to make it work! We just have one thing to say about Emily, Go girl, you rock! Speaking of the Rock…
All In The Family Rocks Hollywood
If you can't be a Hollywood A-Lister, be a stunt double for one! Better yet, keep in all in the family. Dwayne The Rock Johnson's stuntman is actually his cousin, Tanoai Reed.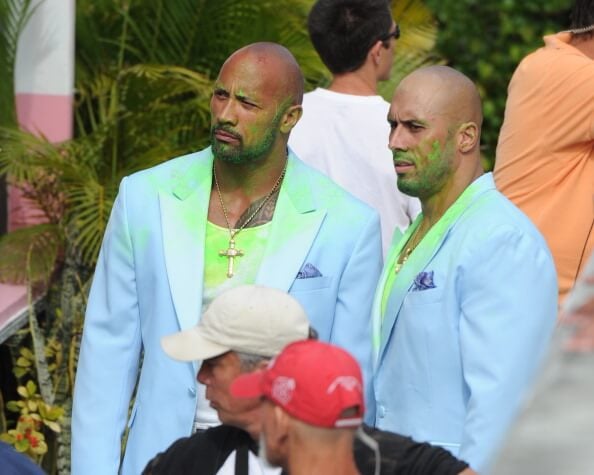 Buff bodies must run in the family because take a look at these two beautiful bod baldies. From bald to long white hair and another fantasy world in a land far, far away.
We're Living in A Fantasy World
If seeing double isn't bad enough, now we're seeing a triple threat for Ian McKellan who robed it well in the fantasy blockbuster, The Hobbit. Long robes and even longer facial hair is the look of that day.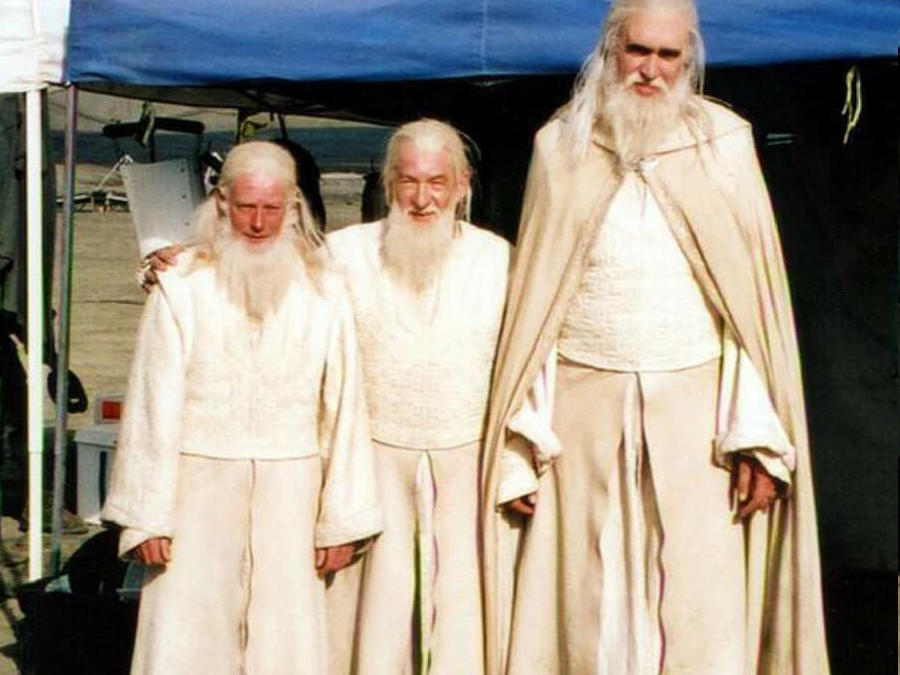 This trio is taking stunt doubles to a whole new height! Speaking of stepping up for an A Lister…this is shockingly shocking!
Jenny From The Block Had A Guy Stunt Double
Speaking of triple threats, Jennifer Lopez is known for her singing, acting, and dancing. She is also gorgeous with a capital G. Sweet! What's even sweeter is a guy stepped in for Jenny From The Block as a double for one of her music videos back in the day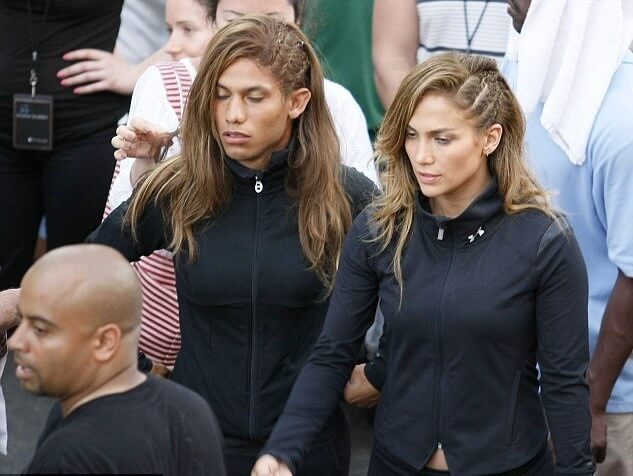 Check out his cheekbones and braids. Pefecto! Twin-tasic! I wonder if she'd go for that today…Speaking of twins…
Biceps, Triceps and Stunt Doubles, Oh, My!
I'll be back, no, I'll be back, no I'll be back! Anyway, Arnold Schwarzenegger and his beautiful, muscles had a backup on the Commando set… another beautiful body named, Peter Kent, not to be confused with Clark Kent, better known as Superman! Up, up and away to another super show.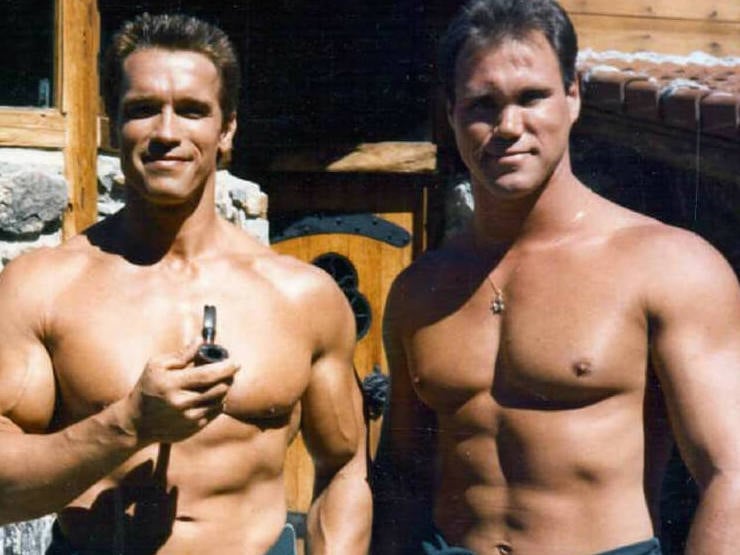 We love you Arnold and glad you found a double that can stand up to your biceps and triceps, you know what we mean. Speaking of some mean.
It's No Fun and Games, It's THE One and Only Game of Thrones
The Game of Thrones HBO series captured the hearts of viewers with its bigger-than-life scenes, unprecedented content, and wonderfully artistic cast. Stunt doubles were critical in helping the cast create magic right in front of our eyes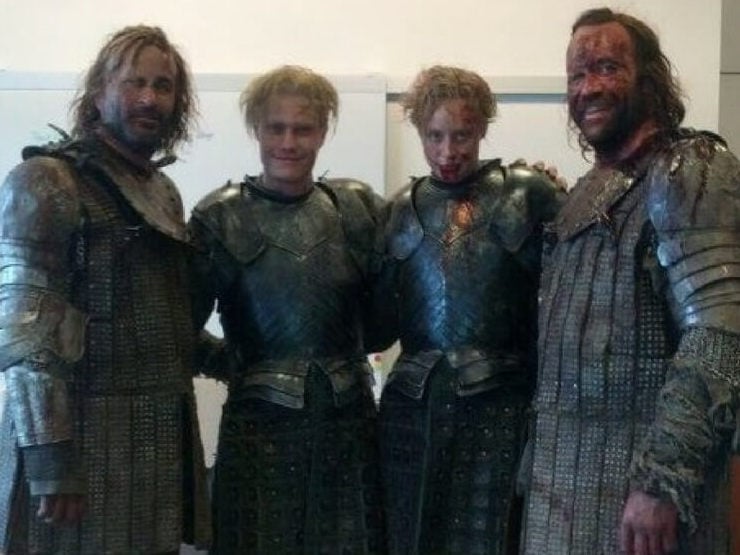 Let's not forget the truly remarkable and graphic storylines that kept us coming back for more and gruesome more, How about that Dragon Queen? Speaking of queens take a look at this look alike.
Cameron Takes The Doubles Ride of Her Double's Life
Cameron and her beautiful legs passed the action-packed torch to her just as beautiful stunt double in the movie, Knight and Day. She and heartthrob A lister Tom Cruise both decided to let their doubles cruise on the double riding motorcycle scene.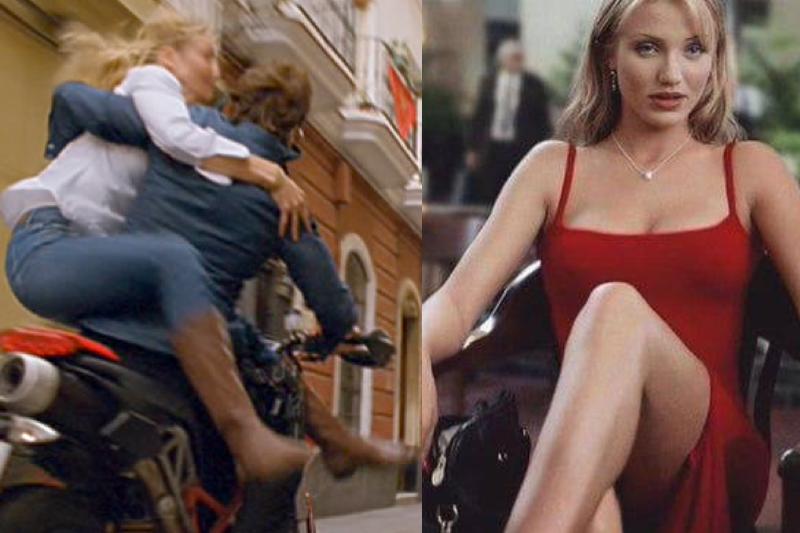 Sometimes you just have to pass the torch to someone that will make you look amazing. That said, Cameron, not everyone is Wonder Woman…
Two's A Wonder Woman Crowd
She's a wonder, Wonder Woman! Lynda Carter made her mark as the iconic Wonder Woman of the 1970's but in a world full of golden lassos, and superhuman strength, all a princess from Themyscira needs is a friend whose your stunt double BFF. Lynda depended on Jeannie Epper to help her make all the wonderful movie screen magic, magical.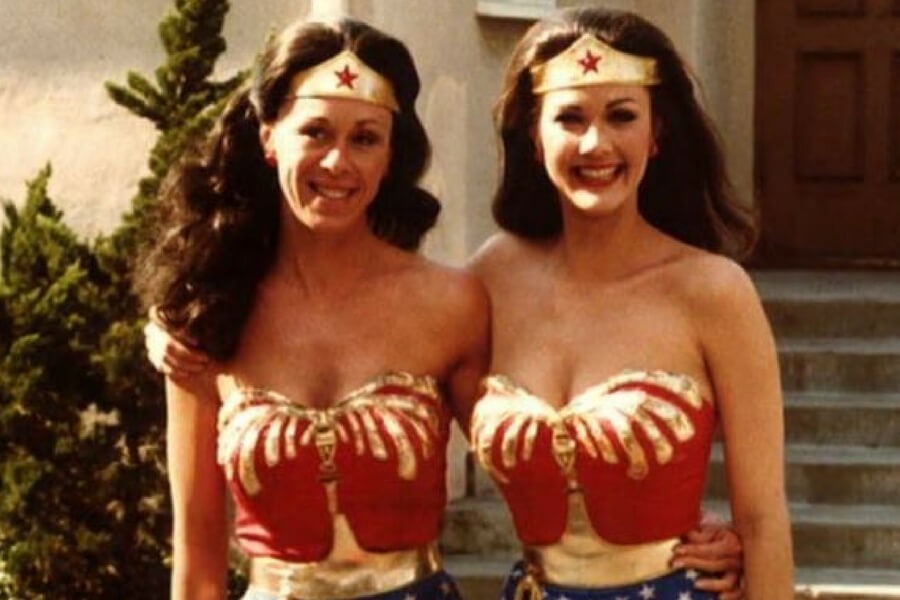 A new actress has taken the lasso from Lynda, but she will always be the first Wonder Woman! How about this tid bit of movie magic? Take a look…
Hushpuppie Has Much Older Double
Hush, honey hush! Her role as Hushpuppie launched her career and led her to play the role of Annie, but it was her much older stunt double that throws everybody off. Quvenzhané Wallis is a budding actress who may see into the future when she looks at her mature mom like double.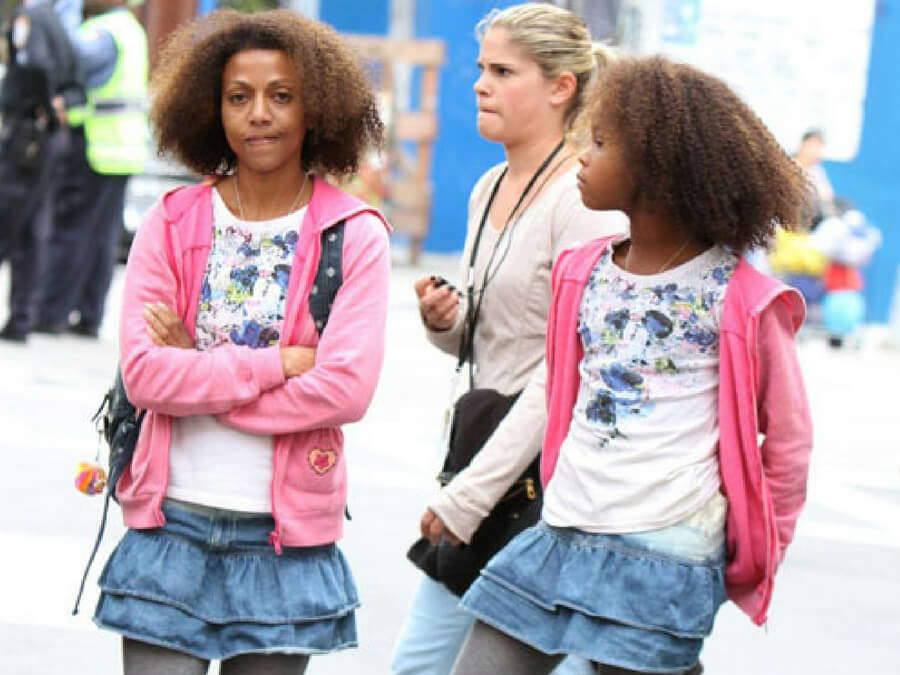 How's that for some crazy movie magic and a bit iof info you never knew you needed to know. Moving on to back to the future.
Marty, Marty, Marty & Oh, Yes, Marty!
Take four! Four Marty McFlys that is. We all fell in love with Back To The Future and the character Michael J. Fox made a household name. His antics were as fresh and fun as they could be and have become some of the most iconic of our time.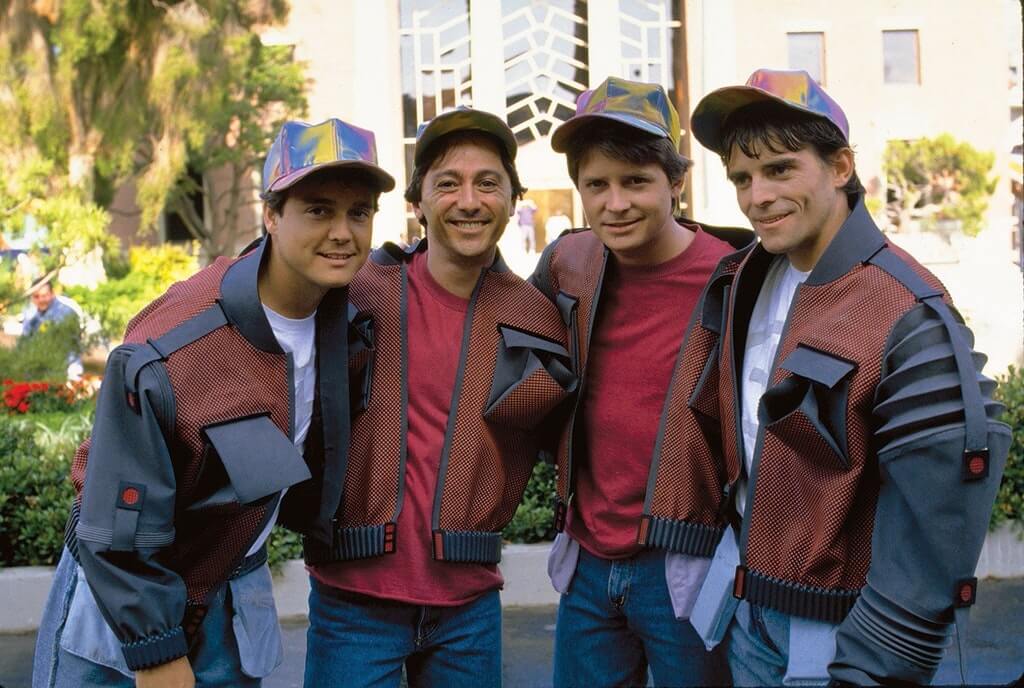 Taking a look at this foursome helps you understand movie magic. Take a look at those smiles! Better yet hose costumes…priceless just like another actress we know and adore.
Uma Thurman Kills It With Her Dynamite Double
Think back to Kill Bill and all the incredible action-packed scenes that catapulted Uma Thurman into the red carpet A-Lister Stratosphere.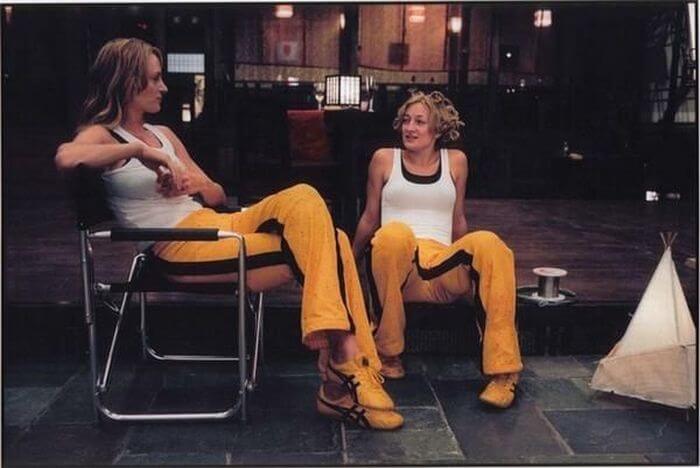 Behind the scenes and in her shadow was Zoe Bell, her stunning stunt double who did most of the exciting, physical scenes. She killed it!
Green With Envy Stunt Double for Marc Ruffalo
Mark Ruffalo, better known as The Incredible Hulk in the Avenger franchise points to his amazing stunt double, and possible brother from another mother Anthony Molinari. This guy is so good at making actors look good they are green (and we mean Hulk hands green) with envy.
It's always great to root for the green guy…he means well deep down inside, right? Speaking of greater than great movie flicks…
Guarding the Galaxy Just Got Twice As Nice
Fun-loving actor, Chris Pratt sang and danced his way into our hearts on the hit blockbuster Guradians of the Galaxy. His hunky stunt double, Tony McFarrhad his back each and every starry step of the way.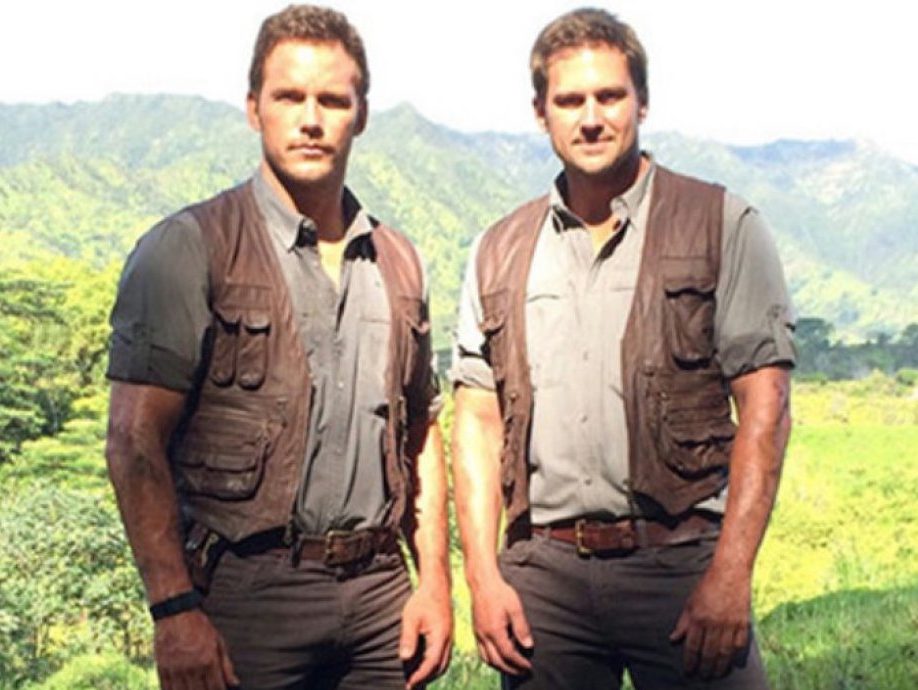 Do you think Groot and Rocket would approve? We say, yeppers just as long as they keep doing what they do best…guarding the galaxy with their buddy, Star Lord…lol.
Oh, a Pirates Life For Me, Said Johnny Depp
Jack Sparrow was a clever pirate indeed with superpowers he didn't even understand. But it was Johnny Depps amazing stunt double that made all his pirate action scene dreams come true.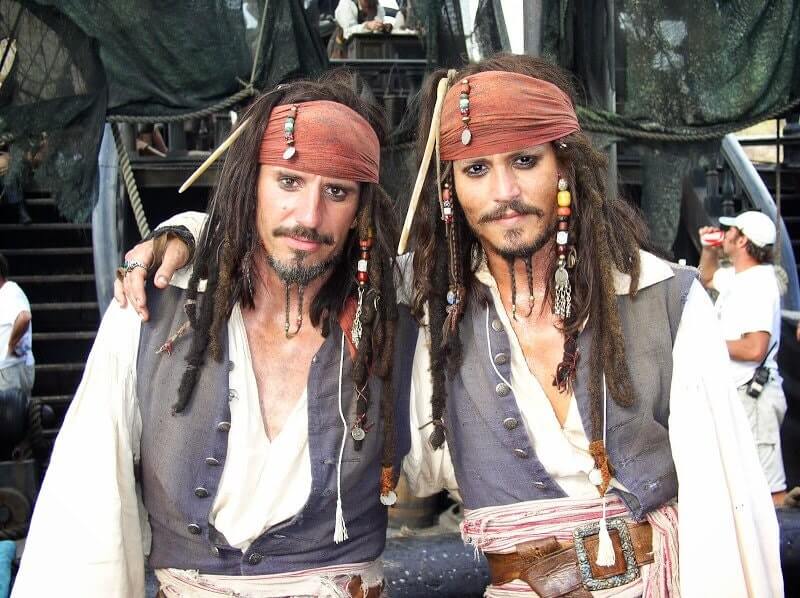 Take a look at that hair and makeup. Kudos to the artists who created this beloved character. Parlay anyone? Did Someone say superpowers?
Once, Twice, Three Times A Villain
Super Hero Thor's brother Loki, played by Tom Hiddleston had a very, very dark side. No hero, just a big fat zero who wanted to rule the world but could never hold a hammer to his brother. He was a character we loved to hate and hated to love.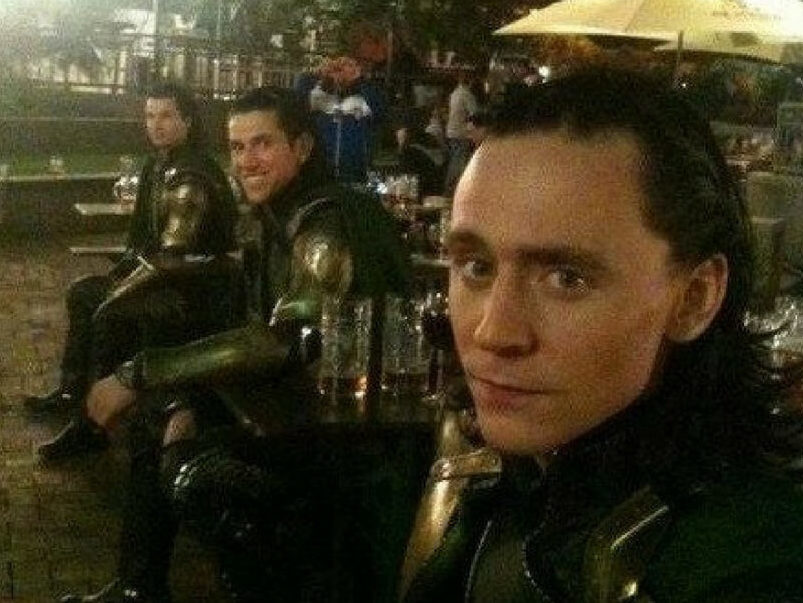 Take a look at this eerie photo of his stunt dubs that made this action-packed movie happen. I wonder what they would look like with that big horny headpiece! Did someone say double trouble?
Do Blondes Have More Fun on the Set?
Let's get this party started! All you need is bleach blonde hair, big jewelry, and a talented stunt double.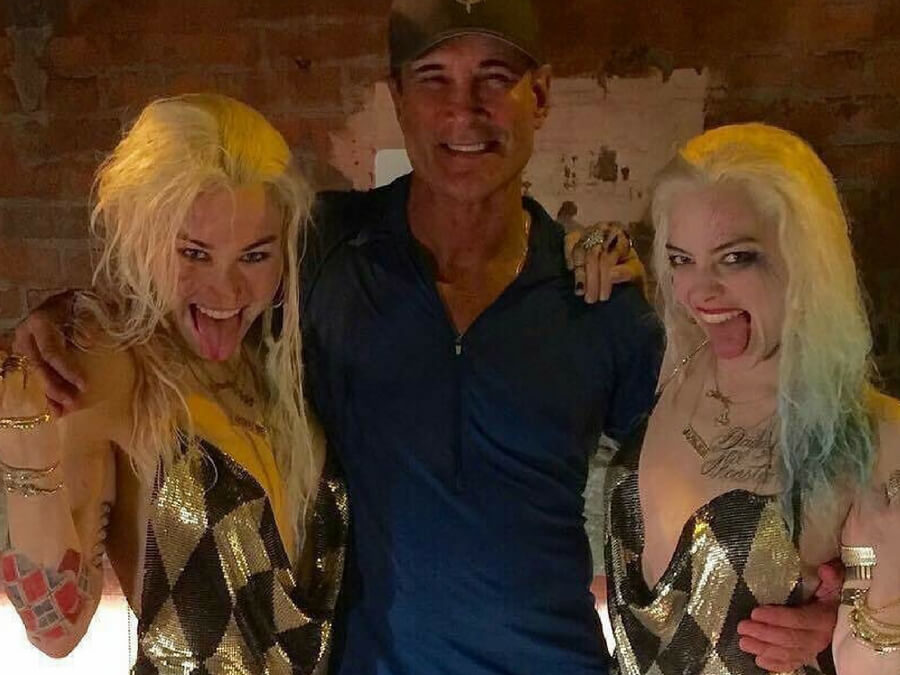 Maybe a good looking guy in the middle is an added touch It looks like trouble, but these gorgeous gals worked together to bring Harley Quinn to life, tongue and all. Nailed it! Did someone say tough as nails?
Bald and Beautiful Double Trouble
Holy masquerade Batman! Bane wears a disturbing mask in Dark Knight making it hard to hear him.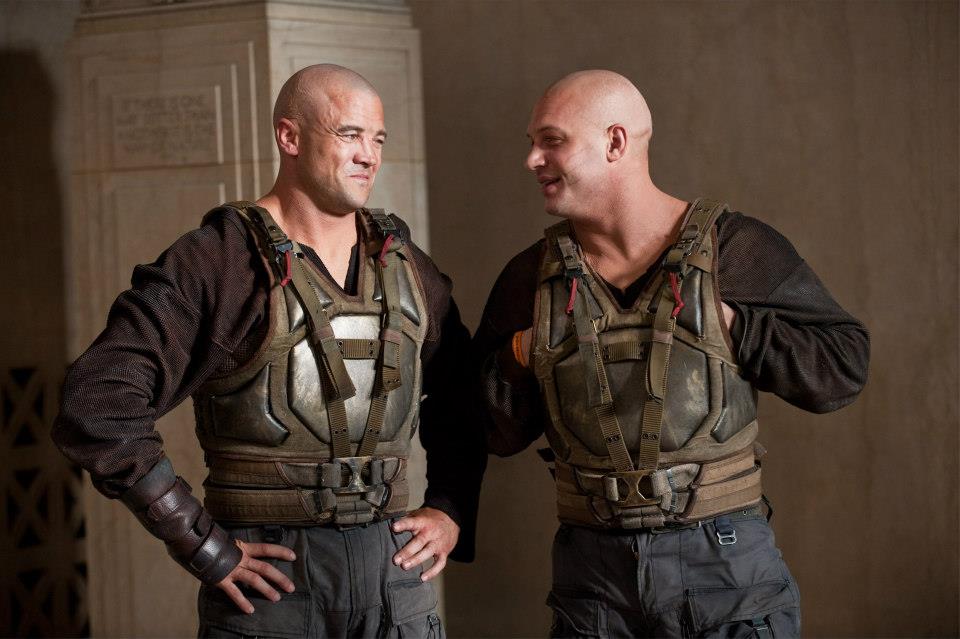 They say his mask covered his suffering and pain, but thanks to his stunt double, Tom Hardy was able to share some of the disturbing dark knight stuff. Look at something else disturbing…
Now We Know Who Wears The Pants in Spiderman's Family...His Stunt Double!
It's all about the pants in this scene from Spider-Man 2. Why oh why does Spidey or Spidey's dub have pants on over the famous red and blue suit!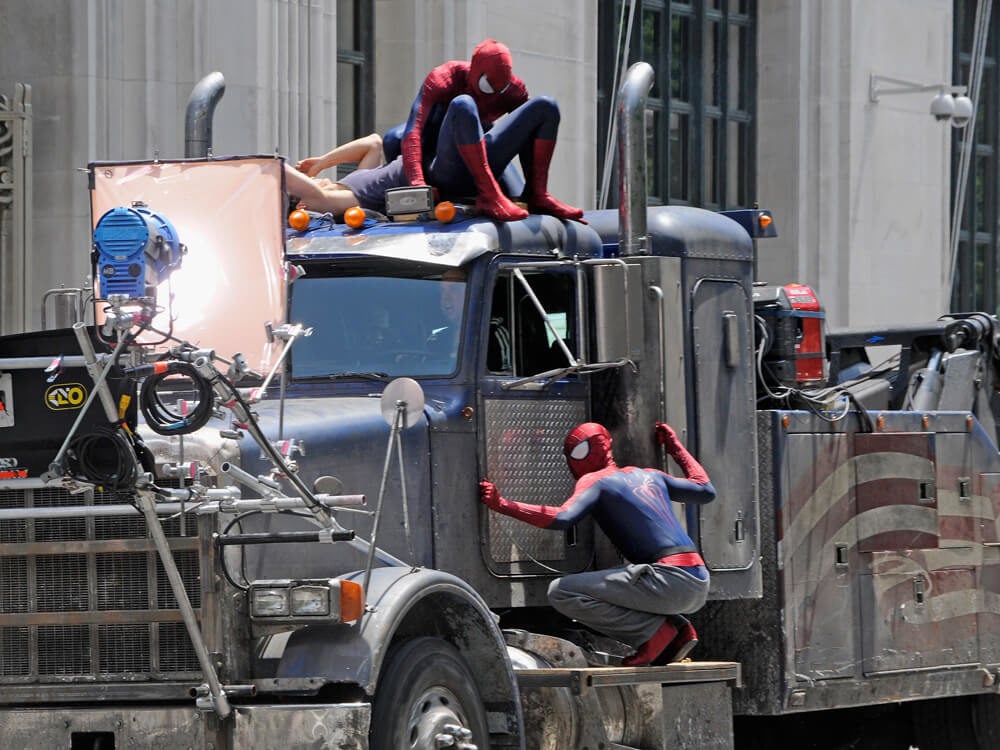 Hang on, there's an app for that!
Ben's Beard Squared
Ben Afleck has had his ups and downs in his personal life and career but one thing is for sure.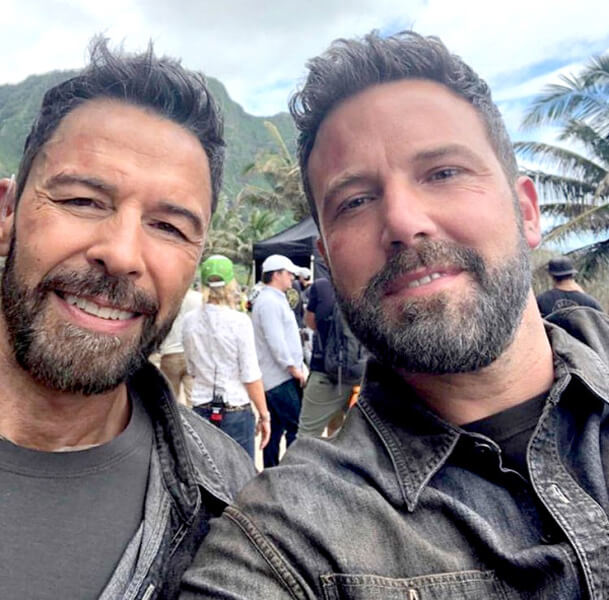 He's a handsome son of a gun with an equally handsome son of a gun double that has shared the screen with him multiple times.
Anything But The Pitts For Brad Pitt
Hunky Brad Pitt has style, he has grace, (spoiler alert: no more Angelina Jolie)he has it all including a stunt double that works it for Mr. Pitt.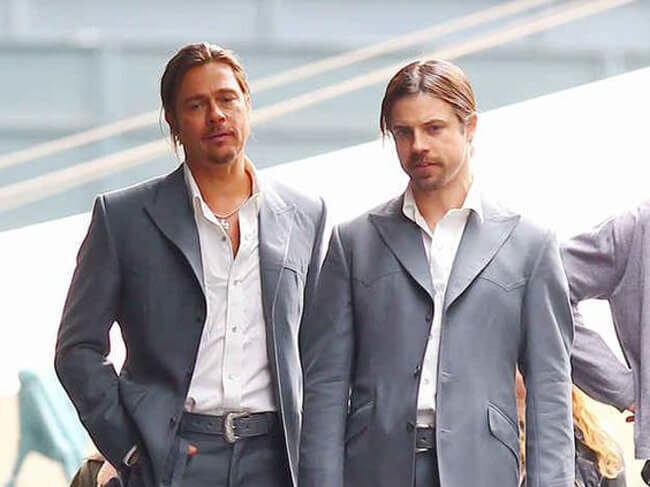 Only in Hollywood can you find an actor that looks almost like you!
Twilight Twinnies...Yes, We Said Twinnies
Vampire heartthrob, Robert Pattinson melted Bella's world in the uber-famous Twilight Series.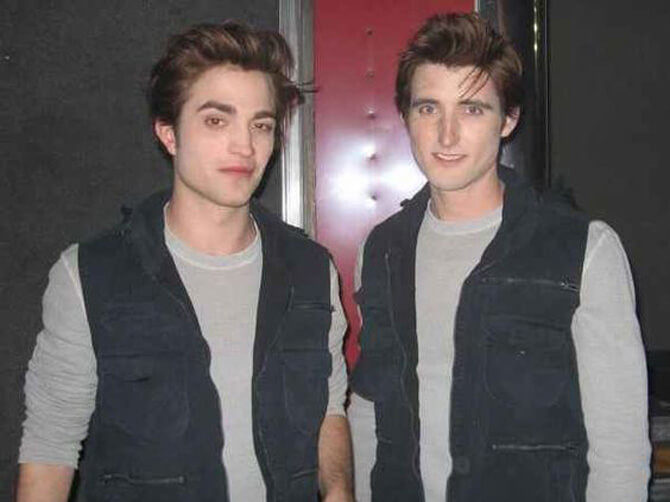 Little did she know Pattinson's stunt double stepped in for some of Edward Cullin's tender loving scenes. Is that cheating? Good question for a wizard…
Red Hot Stunt Double For Harry's BFF
Harry Potter wouldn't be the same without his best friend, Ron Weasley who braved he who shall not be named in the magical wizard series.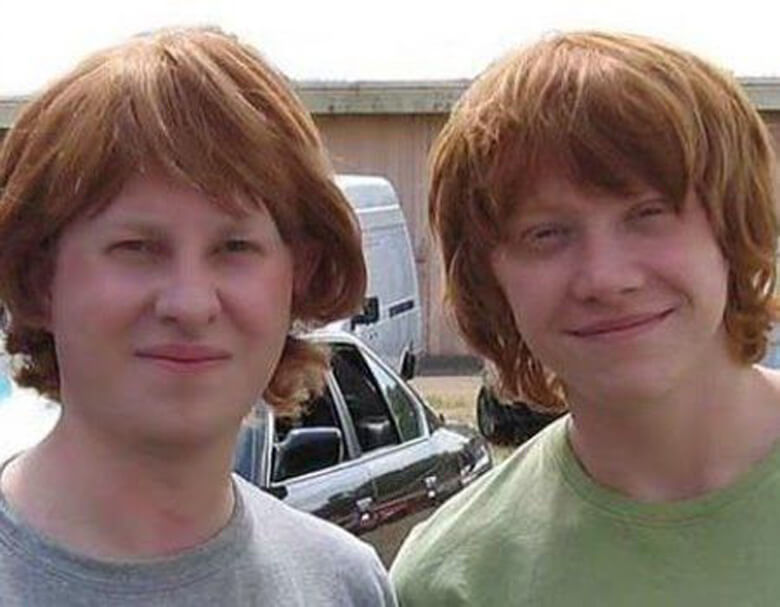 Who knew Weasley would have a red-headed double to step in when the going got tough. And now onto a really tough guy…
Unexpected Stunt Double Will Blow You Away
Look really close or you will miss it. That's Shia LaBeouf in Transformers 3 on the right and his better half stuntman double on the left.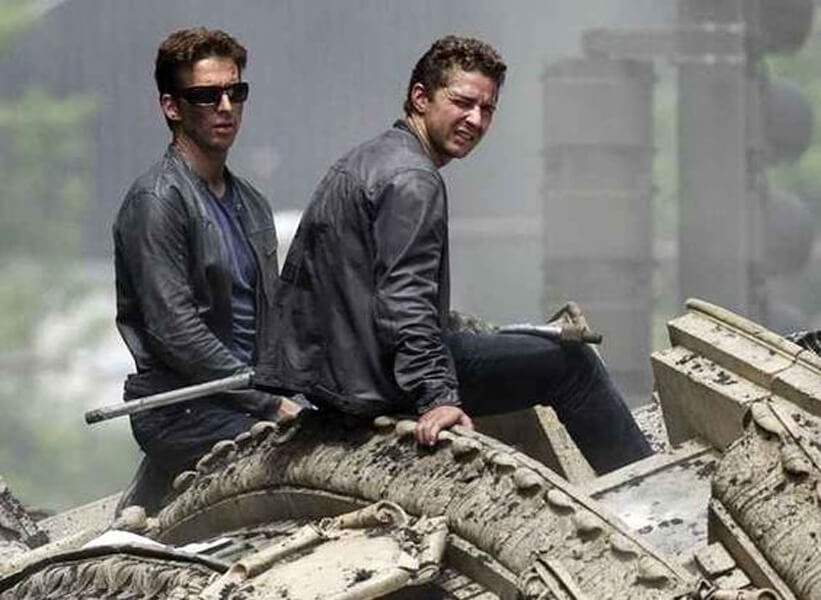 Things get ugly in Chicago where this awesome shot was taken. It blows us away!
Shape Shifter Super Star Has A Tweener Twin
Jacob Black is a tweener heartthrob on The Twilight series who turns into a werewolf right in front of our eyes. It takes a lot of energy to shape shift from human to wolf and keep those pearly whites smiling.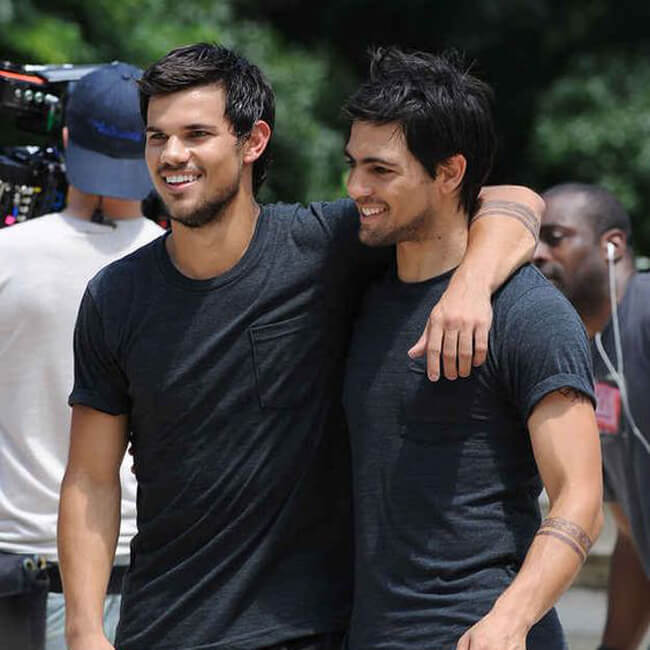 Thanks to his look-alike stunt double dreams do come true. Speaking of Hollywood dreams…
Bruce, Bruce and Bruce. Did Someone say, Bruce
If anyone has earned the right to a stunt double, it's A-Lister Bruce Willis.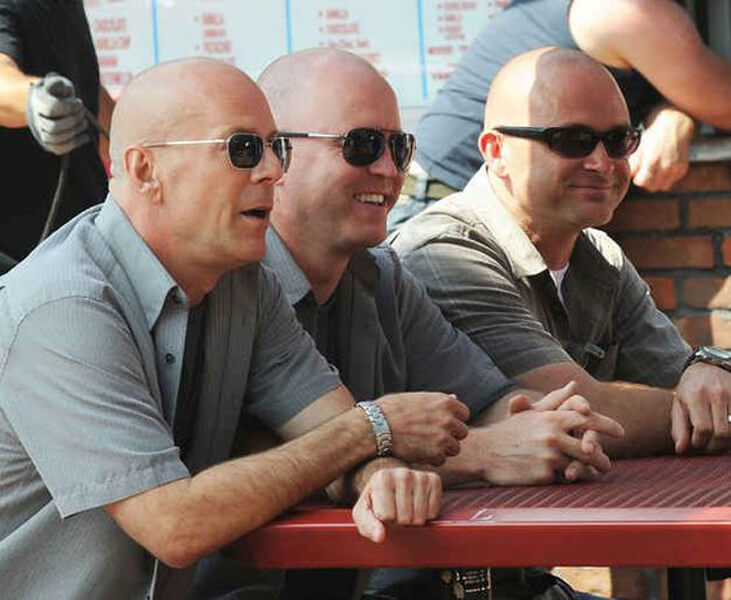 He's the man with a plan and that plan includes not one, not two but three stunt doubles to do some of the action-packed over the top scenes his most famous for. One A-Lister leads to another…
Follow In His Dancing Footsteps
What! Does John Travolta have a stunt double? Say it isn't so! It's so. His double looks a tad younger than our true blue Saturday Night Fever, Grease, Pulp Fiction, Michael, Get Shorty actor.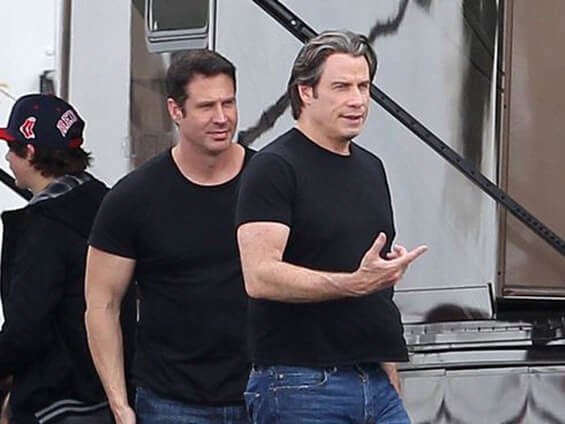 But is he as talented? The world may never know.
Captain America Saves The Stunt World
Freeze! It's like we're frozen in time. Haha, just a little Marvel movie humor. Captain America melted our hearts while saving the red, white, and blue from villains and bad doers.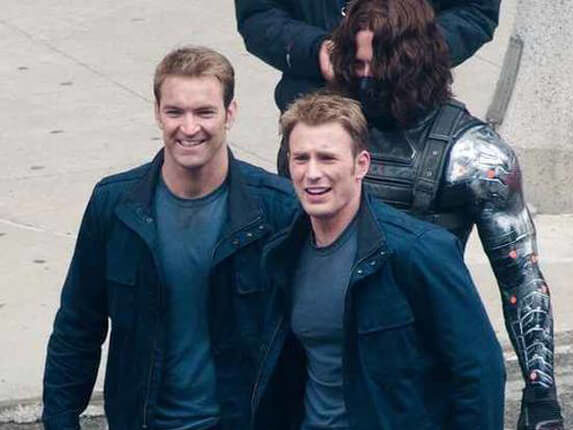 Little did we know that actor, Chris Evans, or Cap has a behind-the-scenes partner in crime to help him save the stunt world. Way to go, Cap!
Hermoine Times Two For Harry Potter Magic
Harry Potter is full of fun, friendship, and magic and Hermoine Granger is the muggle wizard mix that always has the right thing to say. So, whoever picked her stunt double could've used a magical spell to do a better job!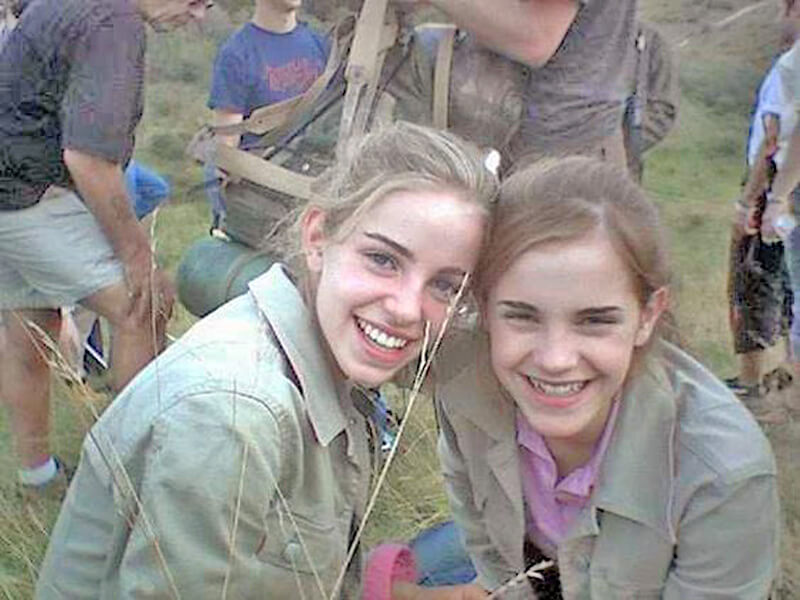 We still adore you Hermoine and your double who made us laugh, cry and enjoy the magical ride. Now onto more movie magic
Bond, James Bond Bonded With Stunt Double
Daniel Craig has the moves in the James Bond franchise. He also has a replica of himself to do some dangerous James Bond movie stunts.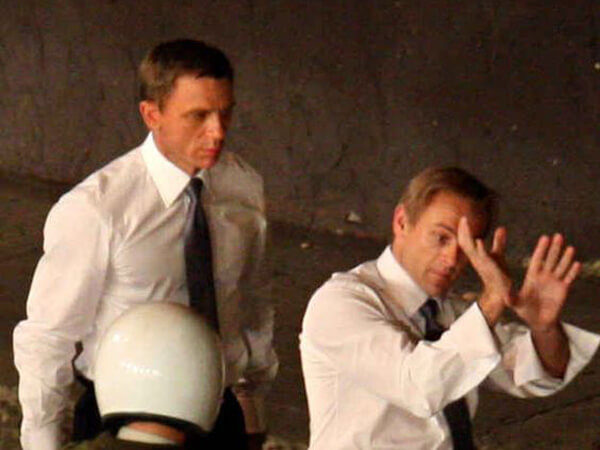 Here the two are rehearsing together making it difficult to tell who is the real deal! If there's a will there's a way…
Will Smith Smiles All The Way To The Stunt Man Bank
Bummer! We love all those action packed scenes in Will Smith movies where he shows his acting talent…wait one darn minute. It's probably not even him.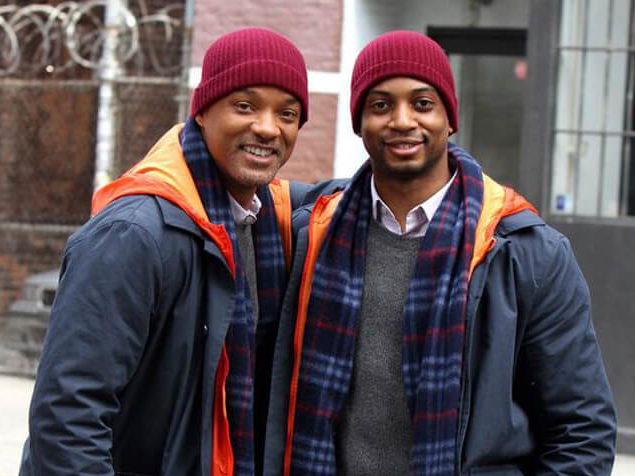 He has a stunt double that doubles up on the action. Oh, well this is just one more thing we didn't need to know!
The Wonders of Harry Potter Movie Magic
We all know that deep down inside Harry Potter played by Daniel Radcliff can't perform all those magical scenes in the Harry Potter movie series.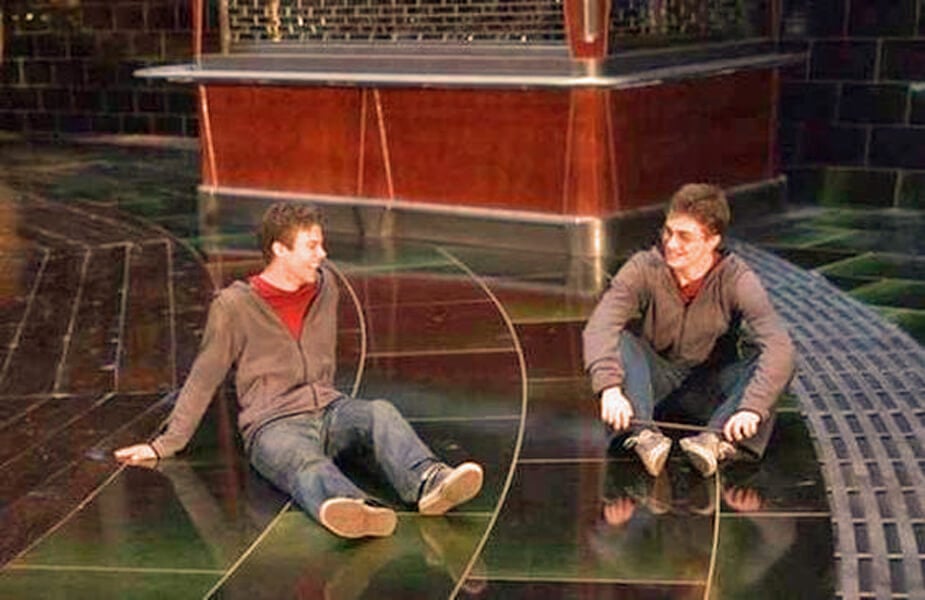 With a wave of a wand, movie magic is made thanks to his look alike stunt double. Let's all go eat some Bertie Botts!
Two Foxes and A Movie Makes a Blockbuster
Megan Fox is a talented and extremely beautiful actress. Could there be someone as gorgeous as she is to step in as her stunt double. Yes! Take a look at her twin.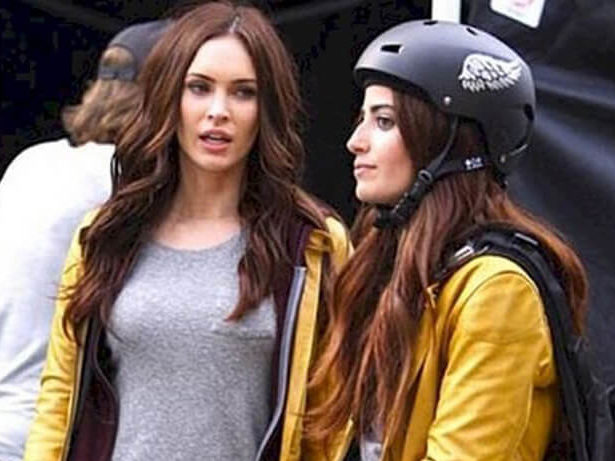 That's two foxes and a movie that is the perfect combo for a beautiful blockbuster! Here's to more beautiful faces…
Buffed and Ready To Roll It
Action! Zach Efron danced and sang his way into America's hearts in Highschool Musical. He's moved on to bigger and better everything including his buff bod.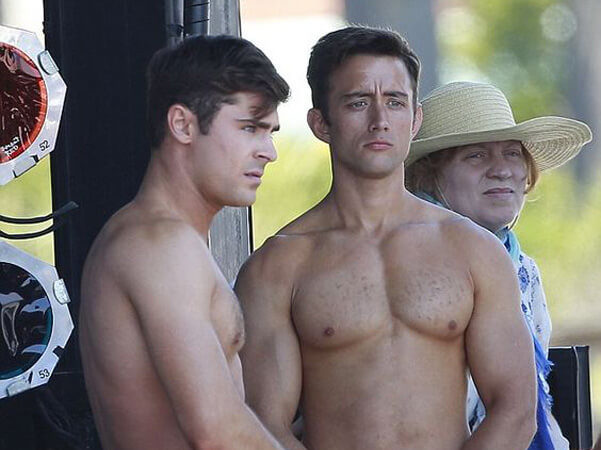 Check out his stunt double, read it and weep! Can't wait to see what Zach brings us next…Stay tuned…
Thank you For Being A Friend, Bobby
Robert De Nero is a seasoned award-winning actor, director and producer who appreciates a stronger than he is stunt double.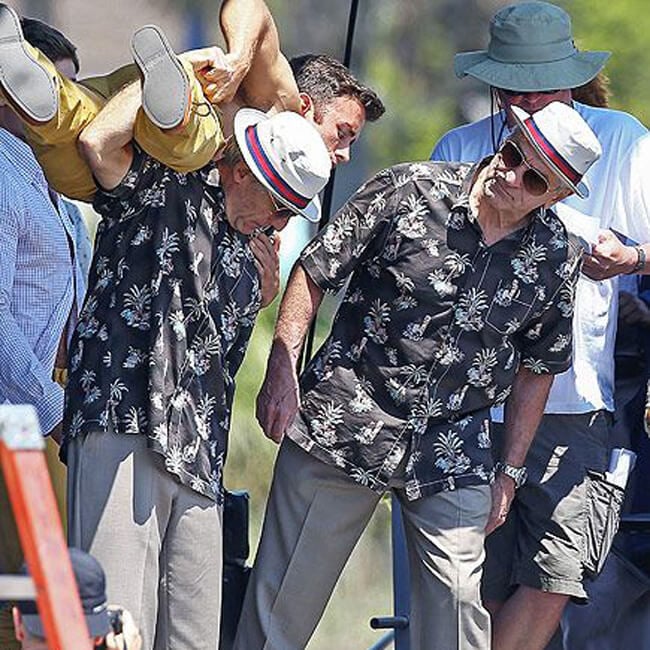 You'll never walk alone when you can walk beside a paid stunt man. That's great news, Bobby, you can keep on acting without the heavy lifting.
Dr. McDreamy To Practicing His Own Stunts
Gray's Anatomy launched his career as a leading man in the big bad world of Hollywood. Today, he stars in action packed movies where he takes the chance to do some of his very own stunts.
Be careful beautiful man, the world depends on your dreamy star power!
Learning and Leaning In With The Best
Marvel Super Heros make movie magic with awesome stunters who are the actors secret super heros.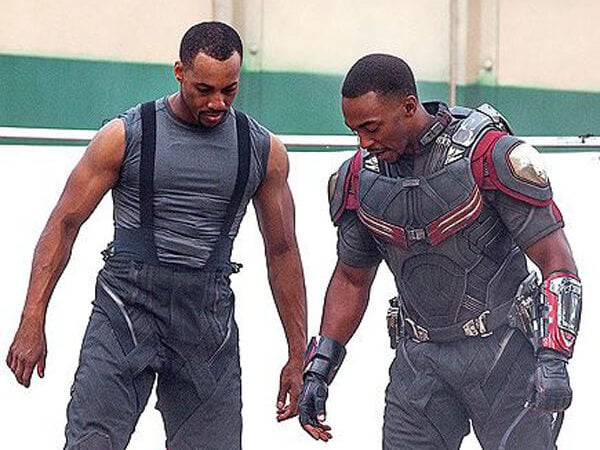 Take a look at Anthony Mackey who shares some acting techniques with his stunt double. Now that's what we call totally heroic!
Even The Best Needs The Best, Right Tommy Boy?
Finding just the right stunt double is "risky business" and sometimes a "mission impossible" but Tom Cruise while insisting on performing his own stunts, has a double once in a blue moon.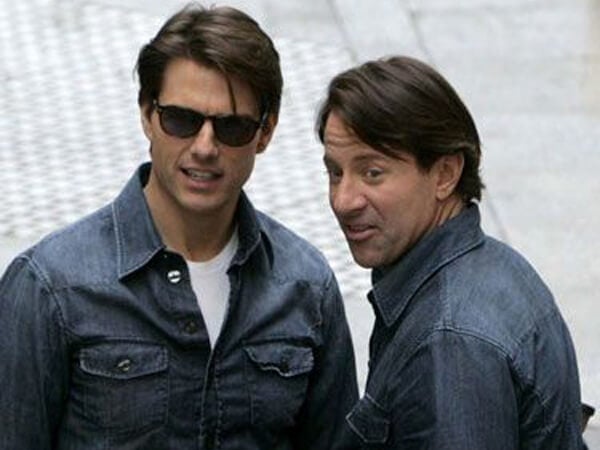 Maybe he said, "you had me at hello" and gave up some of the dangerous scenes. After all all he has to say is, "show me the money!" and move on!