This Artist Re-Imagined Regular Household Objects As Vibrant Characters
You can't put a limit on someone's creativity, and Helga Stentzel proves this with her playful art pieces created using mundane objects. As an artist based in London, Stentzel does not let the traditional ways hinder her creative outlet.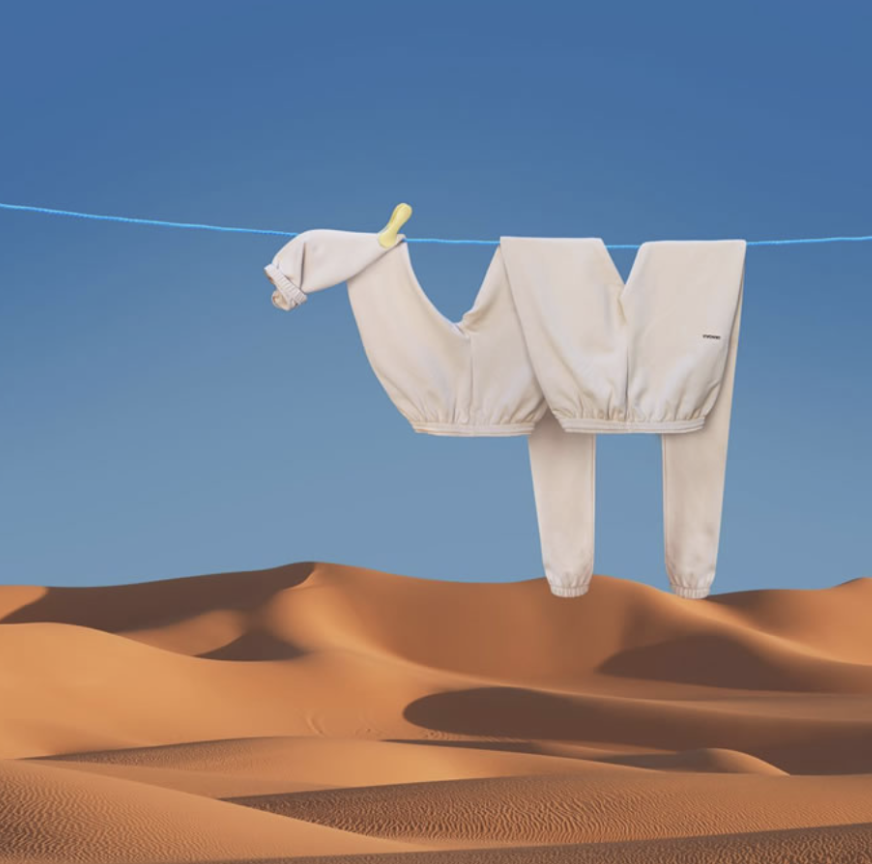 She notices beauty in imperfections and uses household surrealism to express herself. Let these pictures show you the characters she has created and inspire you to find meaning in mundane pieces around your house!
Standing or Hanging Zebra
Zebra prints are common in many households. People of all ages wear black and white t-shirts, socks, and leggings because they look good on anyone. After all, it's easy to match black and white prints with any other color, so why not have more than one piece of zebra-printed clothing at home?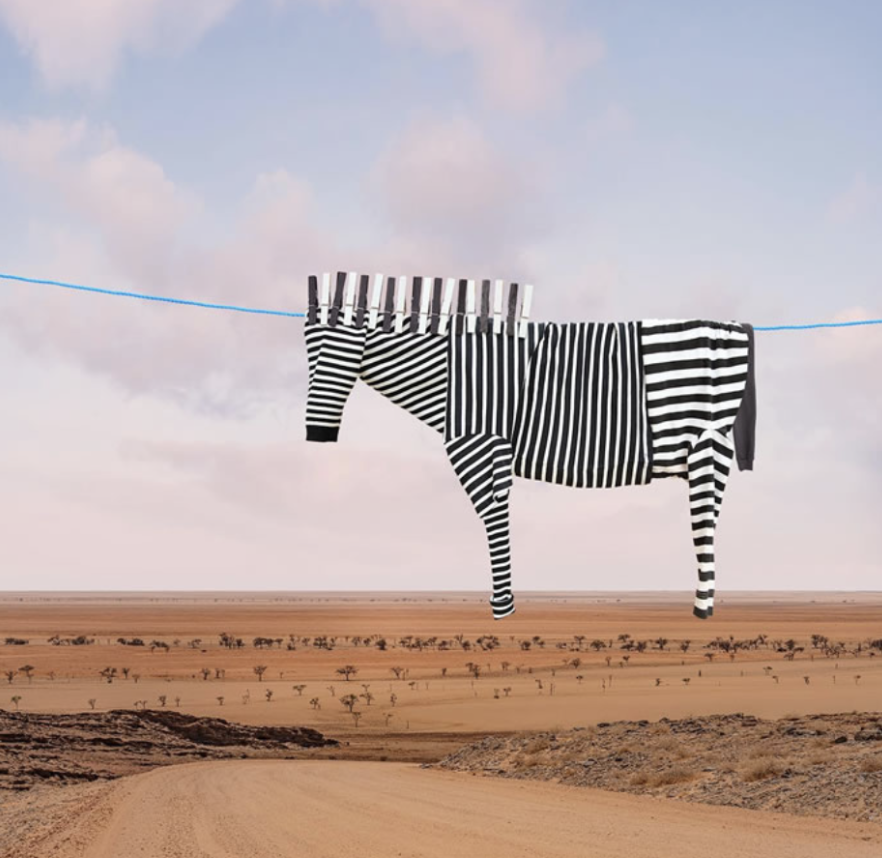 Helga may have thought something like that before, but once she looked at the pieces together, she knew there was more to these clothing items than meets the eye. She arranged them in a crafty way to bring out the image of a standing Zebra using black and white clips.
A Flying White Bird
Who doesn't own a white piece of clothing at home? Everyone has it! In fact, most people have more whites and blacks than any other color. Yet, here we are, looking at a white shirt hanging from a clothesline and wondering how anyone could think of turning it into a flying bird!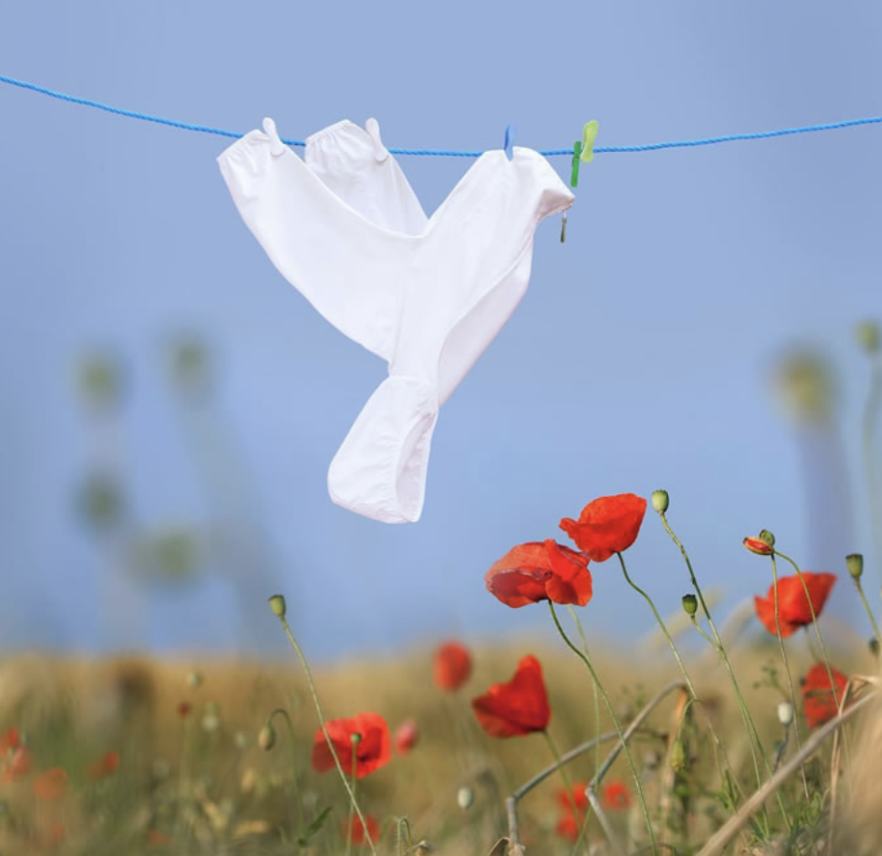 Using no more than 4 to 5 clips, the artist has changed how we look at white clothing moving forward. Maybe you can try this at home and get some praise from your kids.
A Skeleton Out in the Open
We'll be honest – it took us a while to get this one. After all, who can think that white socks and leggings can create the skeleton of a dinosaur? Yet, Helga saw it in these pieces of clothing and perfectly arranged them to present this photo to us.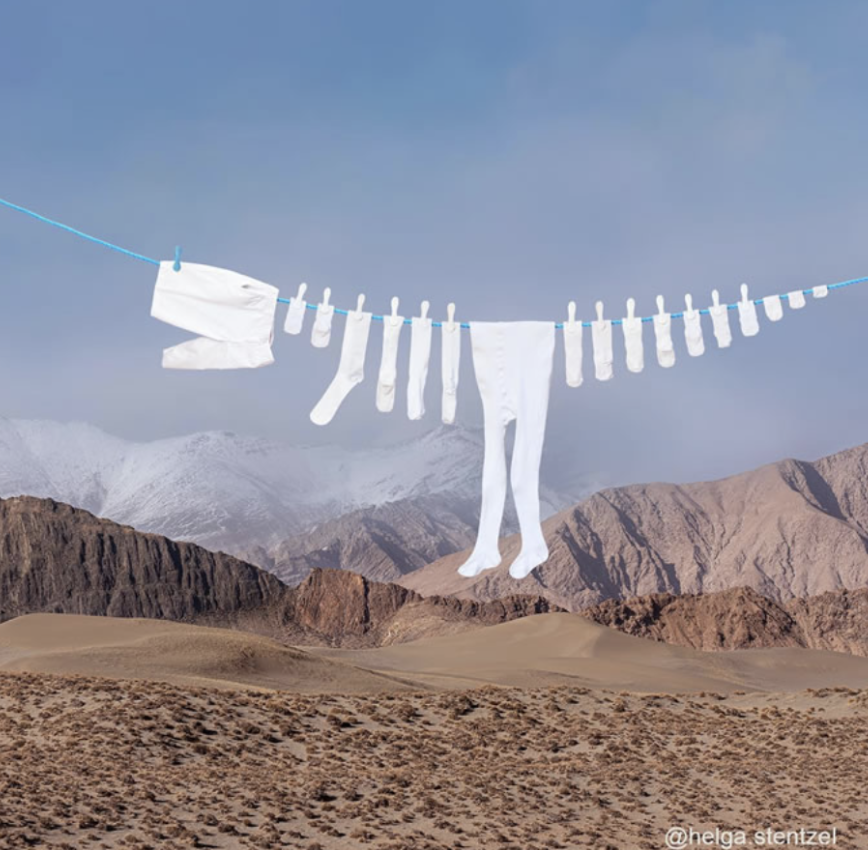 Imagine having laundry drying outside your house in the form of a dinosaur's skeleton. You'll attract the attention of your family members, especially kids, and maybe a few neighbors who'd probably want to know how this happened. That's probably what happens at Helga's too!
We're Reading a Book!
Here are two tea bags reading a book that seems to have reached an unexpected twist, based on the expression on the teabags. Pretty normal, right? At least it is, in the world of this particular visual artist based in London. Helga has used two sizes of tea bags to create a story with two characters in a book nook.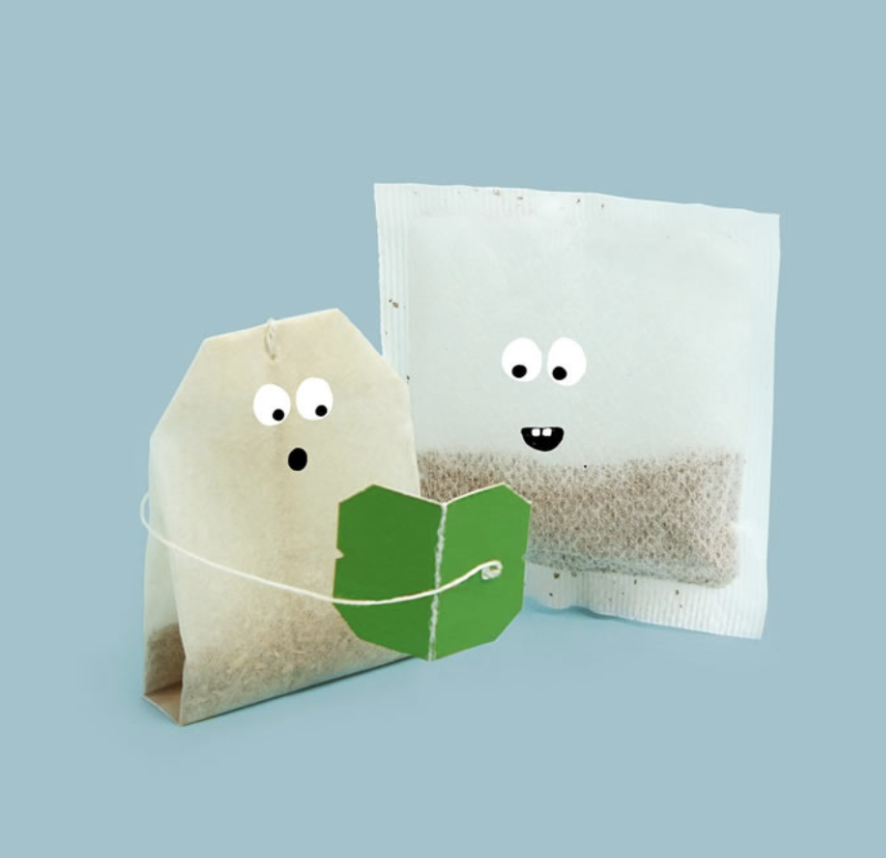 It's amazing how open-ended Helga's artwork is! You can interpret it the way you want and create a story around the two characters who somehow look like tea bags. Turns out, when Helga comes up with new characters, she starts thinking about their story and personalities too.
Windows to the Soul
Isn't it fascinating how the human mind connects reality with surrealism and brings forth an image that represents more than a concept or idea? Imagine people coming home after a long hard day at work and opening their social media to find this image staring at them from the screen.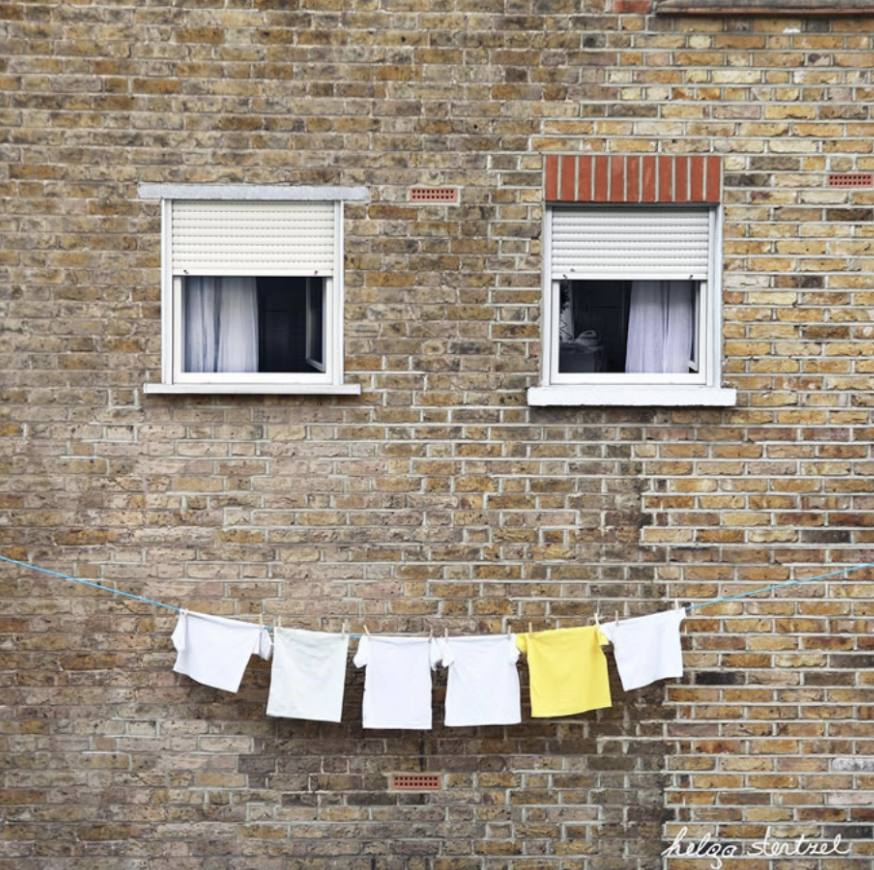 A random smile represented in an unexpected manner is bound to bring a smile to anyone's face, and the artist didn't need many items to capture this brilliant shot. Just a few t-shirts hanging on a clothesline, and you have a smiley face ready to make someone's day!
For Every Time You Hang Clothes Going Forward
Now the truth is, each one of Helga Stentzel's playful art transformations is easily our favorite, but this sweatpants-to-camel transfiguration is everything. Not only does the dessert background make the whole concept pop, but these two sweatpants also changed the game in a significant way. We're sure there's at least one person out there who will try this the next time they do their laundry.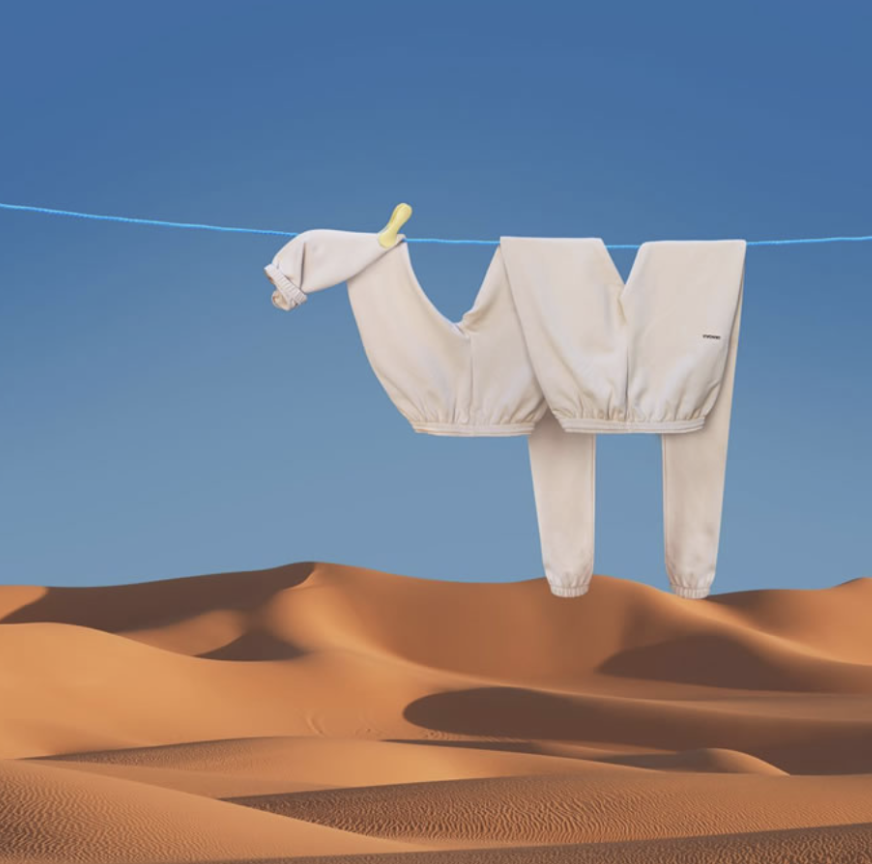 Why does it look like a real camel, though? Yeah, color is also important to consider if you are bent on getting the most out of any visual illustration. Stentzel, it seems, already beat you to it.
The Clothing Line as an Art Line
Yes, the clothing line and the act of hanging out your laundry to dry can also serve as a playground for your artistic expression. No one needs someone to confirm that this is a sweatshirt-to-elephant transformation. We aren't insinuating anything, but maybe you should try this the next time you do your laundry.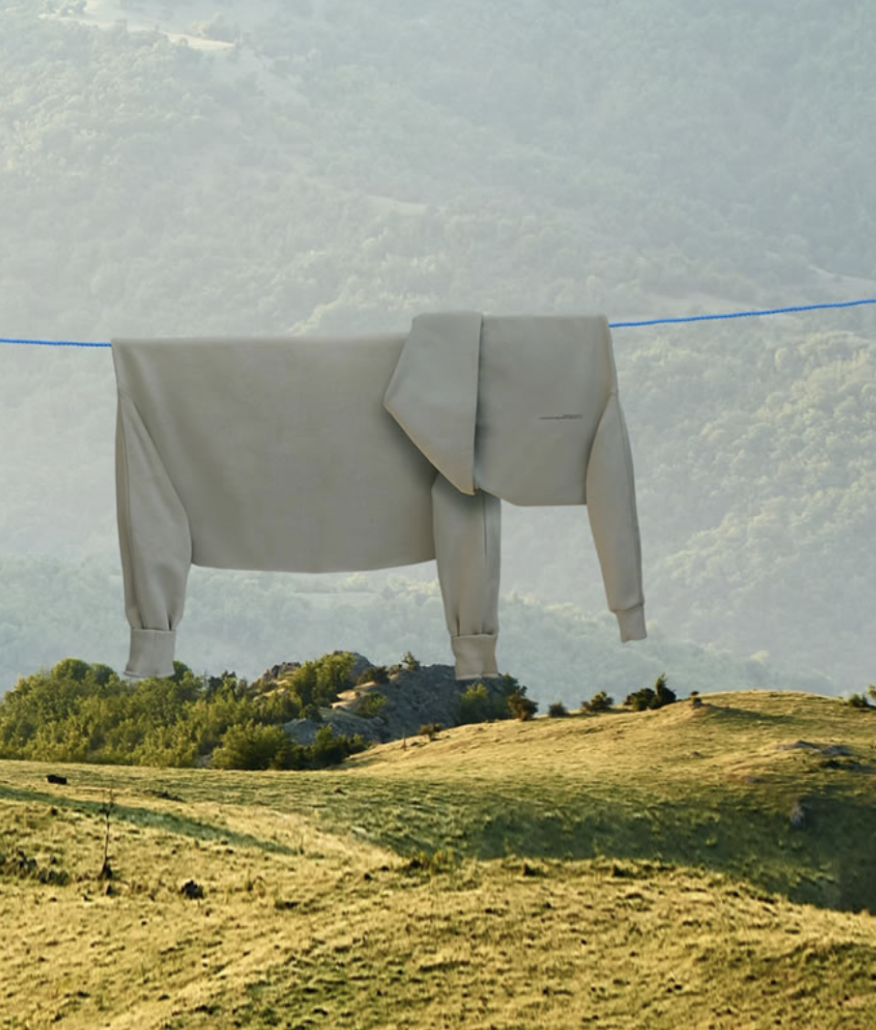 We know hanging it out to dry is tedious a lot of the time, but it doesn't have to be boring. If you come any close to creating this elephant by Stentzel from two of your sweatshirts and the kids say it looks like one right off the bat, you'll have scored!
Helga Stentzel's Frosty Rudolf
The Frosty that most folks know is Crystal's husband and the deuteragonist in the film 'Rudolph and Frosty's Christmas in July.' He is Milly's and Chilly's dad in this 1979 film and the main protagonist in two more films; 'Frosty the Snowman' and 'Frosty's Winter Wonderland.' He isn't exactly like this frosty Rudolf by Stentzel, but surely you must see the look is quite similar.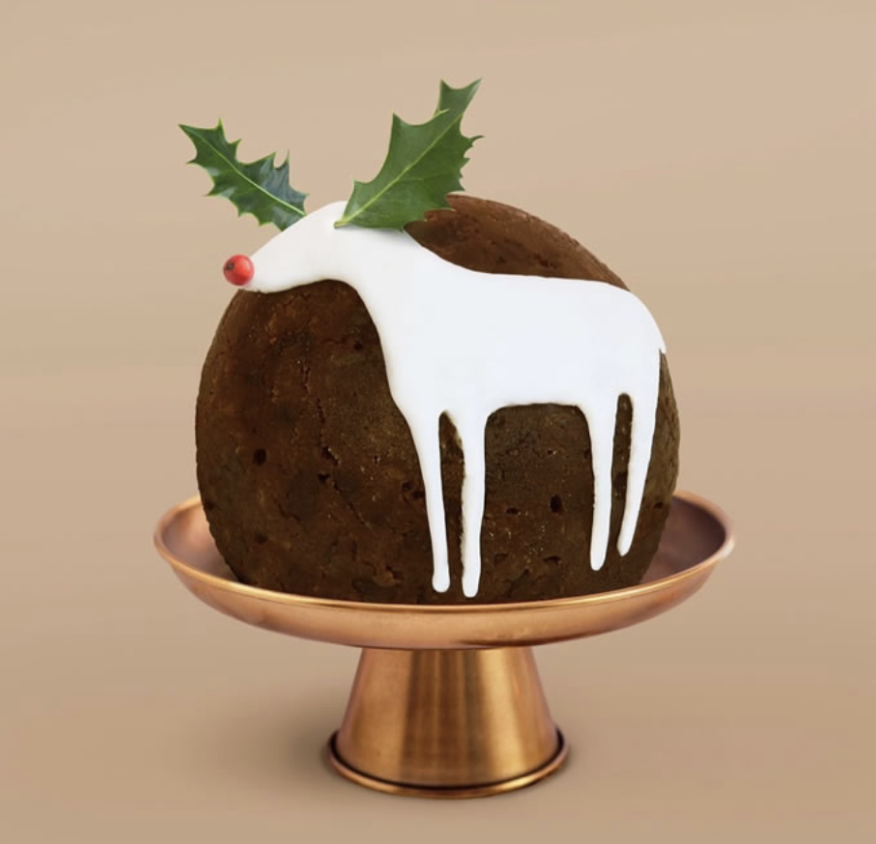 The artist's red-nosed reindeer reminds us of Christmas and has us counting the remaining days until we can pull something like this. Of course, it'd be the perfect Christmas! But is there ever an imperfect one?
More Than I Signed Up For
Have you ever wondered what your bedroom furniture would say if they had a chance to talk? For most people, it probably would be something like, "I have seen too much; I didn't sign up for this!!" We actually think there isn't a better photographic illustration of what it feels like to be furniture in the bedroom. The expression here just screams "Janet, did you just… Oh my Goodness!"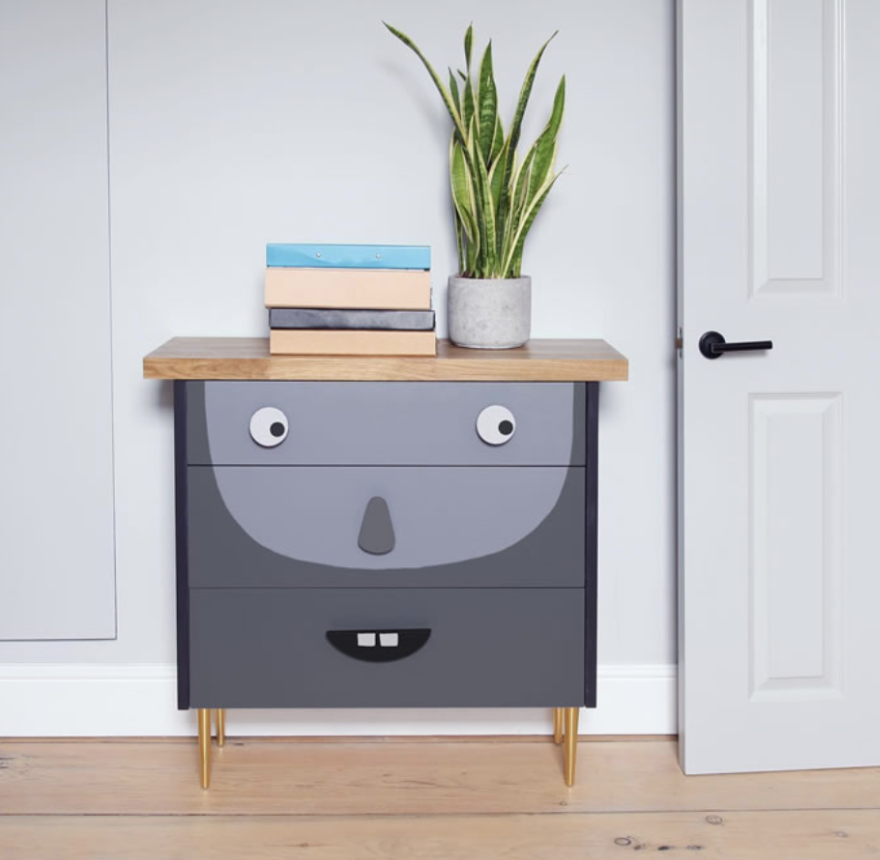 Ours is to pray and hope that Janet didn't embarrass herself in front of anyone other than her surprised dresser. Why? Because we don't take mediocre performances so well around here.
A Donald Trump Sock Affair
This is an interesting artistic creation of Donald Trump by Helga. Referred to as He Socks, we have got to give it to the talented artist for turning mundane and familiar objects into meaningful art all the time.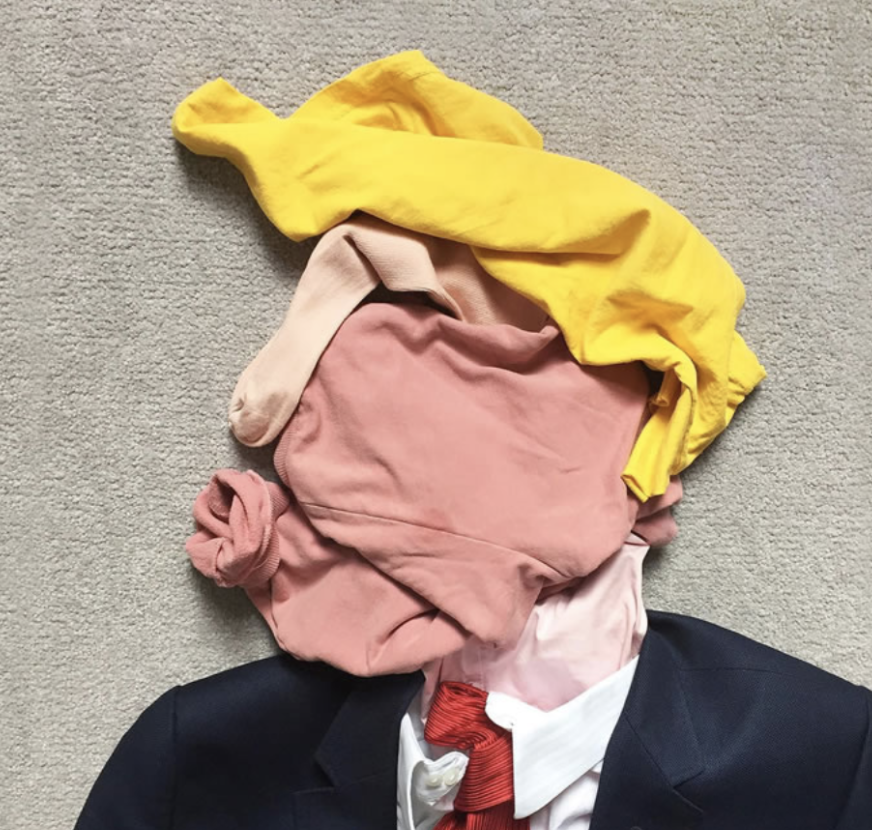 The description for this limited edition, unframed print reads, "Make Apparel Great Again! Yes, you too can wash with confidence that your dirty laundry will come clean after just one (election) cycle." Talk about using art to make sales and impact lives simultaneously! It'd be a dream come true for a lot of folks. 
You Could Have Enjoyed It Without Me
The human mind is such a wonder. A person's imagination can go as far as anyone can think of. Having said that, imagine a situation where the milk you are pouring into your coffee decides to have a challenging conversation with you. Yeah, it's a bad day for sure, but we're already here, and there's pretty much nothing else to do.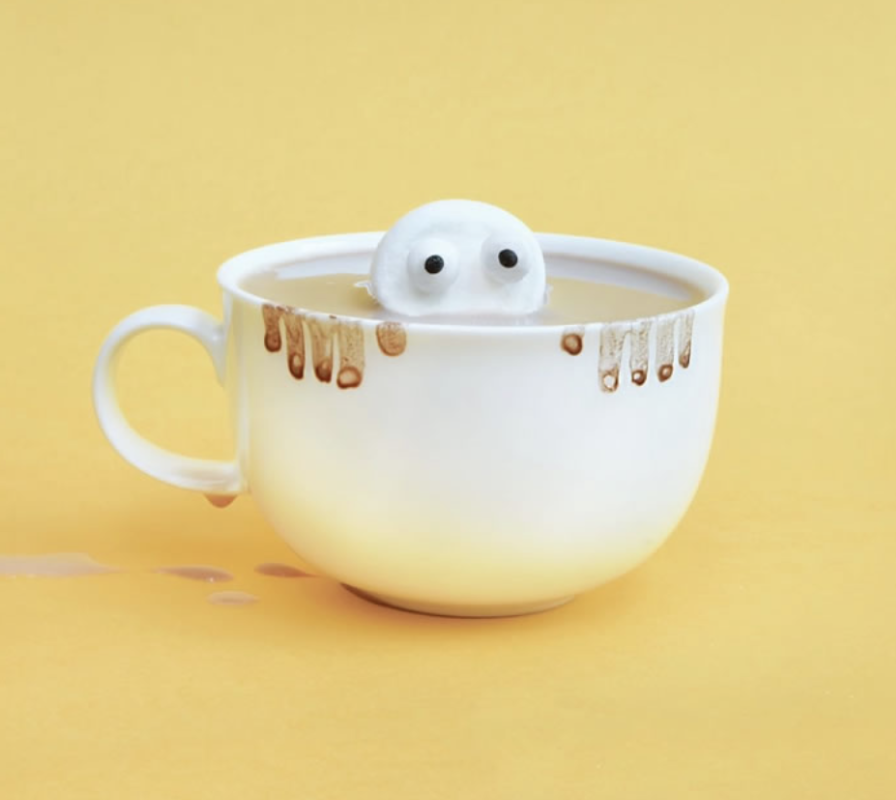 In Helga's transformational illustration, Mr. Frozen Milk hopes to beg for his life with his two eyes. However, they keep changing his form, these humans, and the temperatures are always extreme! Looks like this guy could have had his coffee black.
Making The Front Snappy
The first thing that comes to mind when you see this is, "Wow, she can make them cows from clothes," and we don't dispute it. Russian-born artist Helga Stentzel is a super-talented woman. Some may have missed the other clothes behind the cow ones, though. They, too, look like they would have enjoyed being cows if not having legs was an option.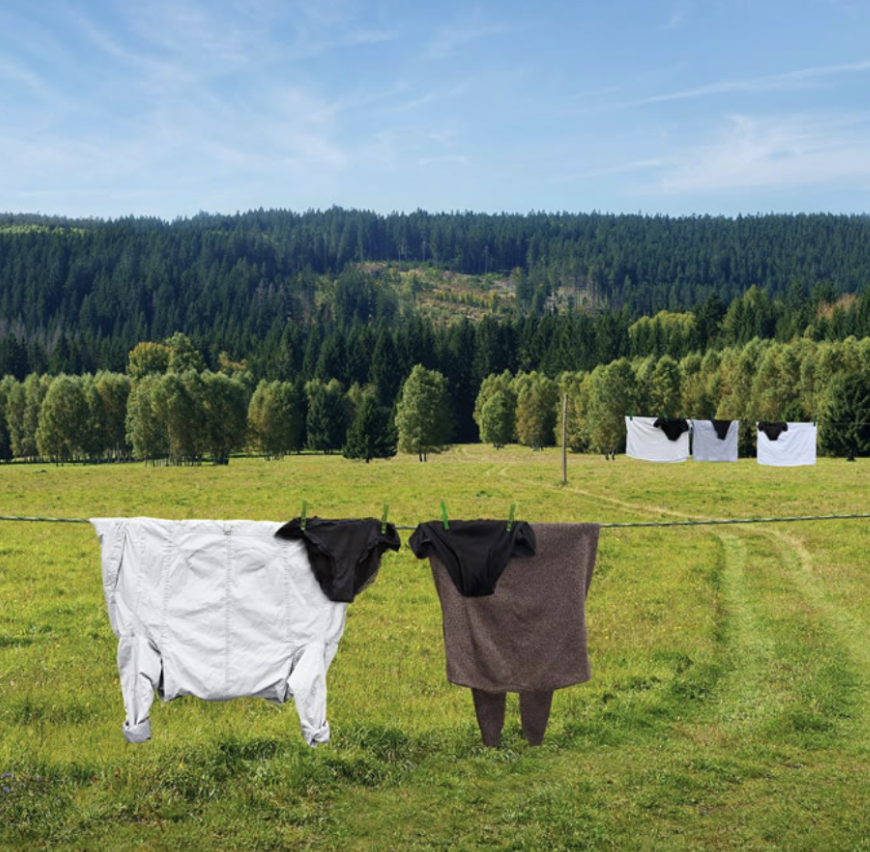 Not to say that this was the artist's intended meaning or one they missed, but they're both pretty standard possibilities. How many times do we strive to make our fronts perfect? It's all the world cares to see anyway.
'Grateful' For Chicken in Any Form
We know a huge percentage of people will eat chicken from Monday to Monday if possible because you can't afford to pass on a well-prepared chicken piece. You can't. So when Helga saw this kitchen equipment, the first thing she thought would come out of their illustration was a chicken, and boy did she nail it!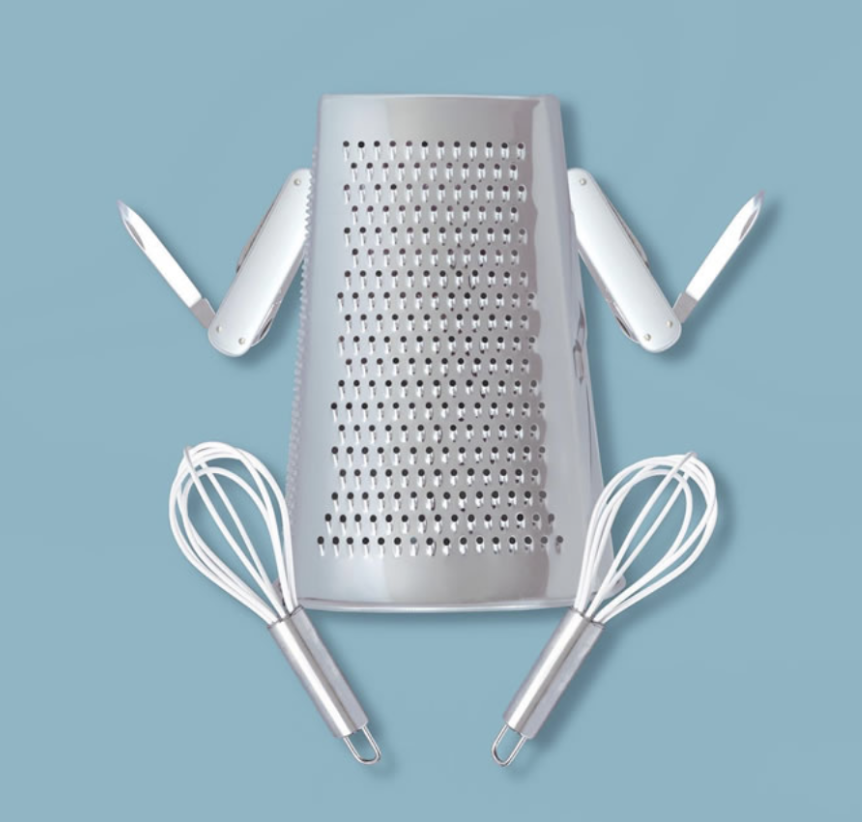 A grater, two knife cutters, and two whisks came through so well and have never reminded us of chicken as much as they do in this photo. Or do you see something different yourself? You might as well tell us what charming animal you see in this photo.
A Puppy Made of Sliced Bread
The most art anyone has attempted with sliced bread is to squirt some tomato ketchup onto it to look like a smiley; kids are happy to have the creative breakfast. What we see here takes some serious reimagining, and Helga Stentzel is a master at it.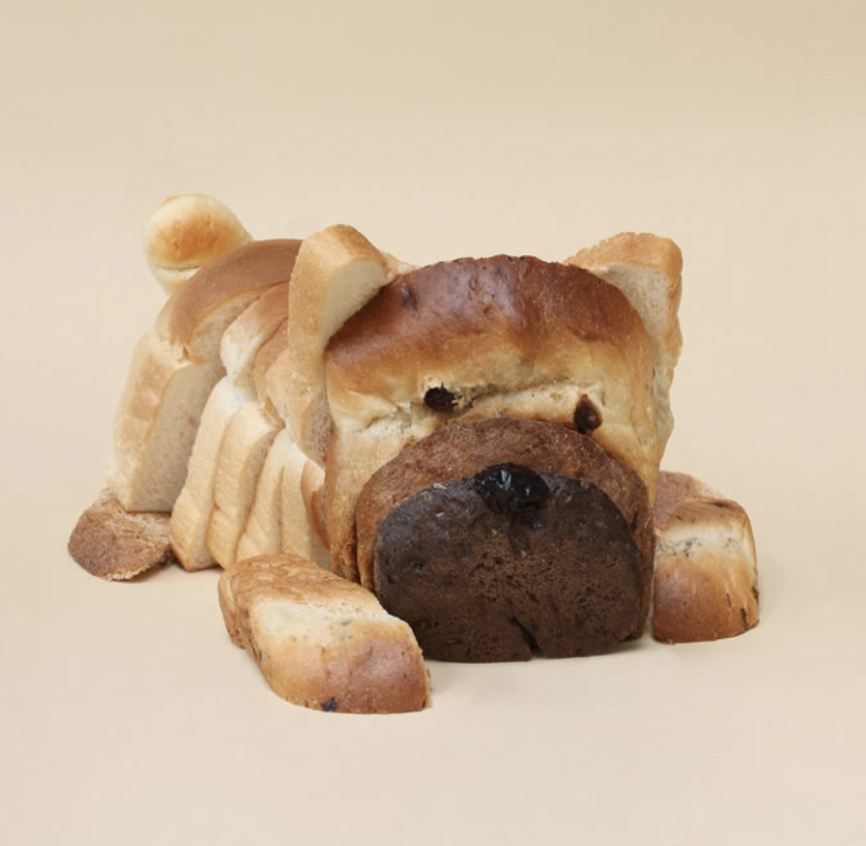 In the creation named Brad pet, probably a play on the famous Hollywood actor Brad Pitt, the artist has taken a few pieces of bread and assembled them to look like a crouching puppy. The ultimate comfort dog is inspired by The Great British Bake Off. This fancy arrangement served at the breakfast table could tempt our children to playfully polish off the sliced bread tray in no time.
Milk and Eggs, Anyone?
Only a creative person would turn a spilled-milk situation into an opportunity for artwork! Helga placed a bright yellow saucer amid the pristine white liquid and called it an egg! It's a natural occurrence for someone who has built her profession around transforming the mundane into masterpieces.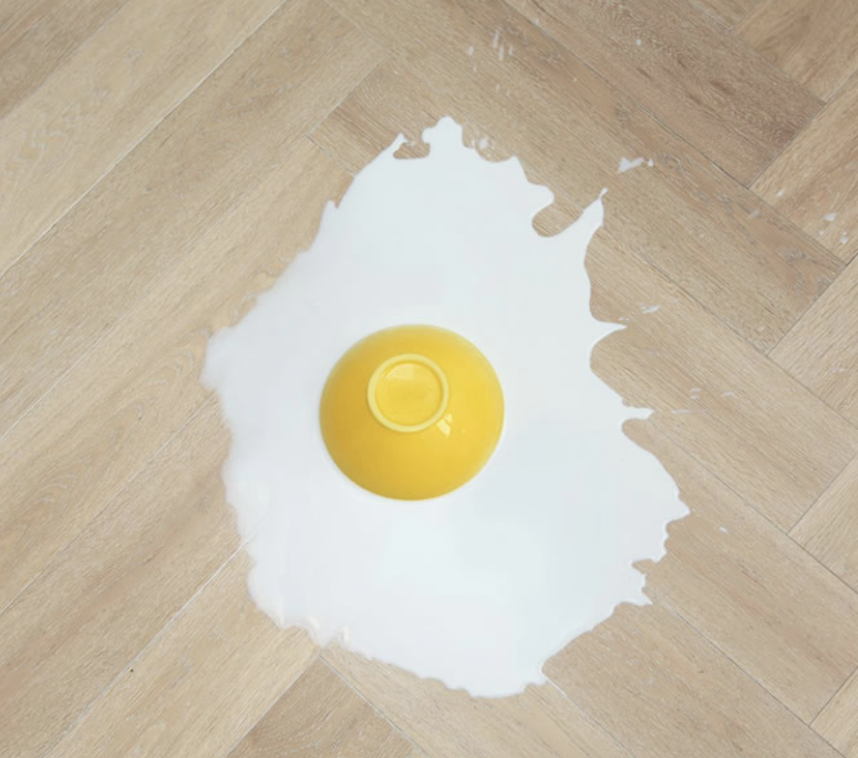 This is not the only time Helga has played around with the theme of eggs; she has featured them in many of her creations in various forms. The image looks more like a bullseye, and no doubt anyone who sees this artwork would crave it instantly. We bet you'll never look at the breakfast staple the same way again.
A Polar Bear in a Snowy Background
If you belong to the majority who don't particularly enjoy the unavoidable task of hanging laundry on the clothesline, this one's for you. Helga turned everyday labor into a fun activity by arranging the clothes on the line to form different animals.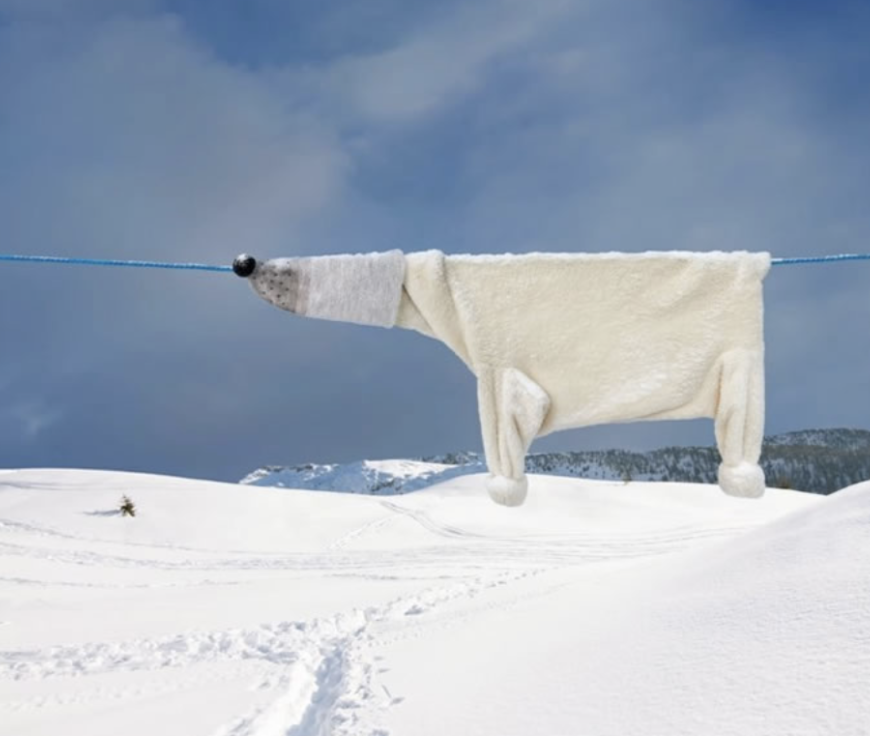 In the "Hang On!" photo, she has lined up a pale white sweater and a beanie to look like a polar bear. The artist has the animal hanging against the snowy backdrop, which adds authenticity to the creation. Her vision of transforming everyday laundry into exciting animal figures is commendable; it inspires us to try and think out of the box to infuse our routine tasks with some much-needed pizazz.
Curling Up With a Book
In her home play series, this striking creation by artist Helga aptly named "Bookworm" is an invitation for us to curl up on our couch with an interesting book in hand now and then. The orange cat is immersed in a chapter, lounging on a deep blue couch – the visual is compelling enough for us to want to hang this picture in our living room.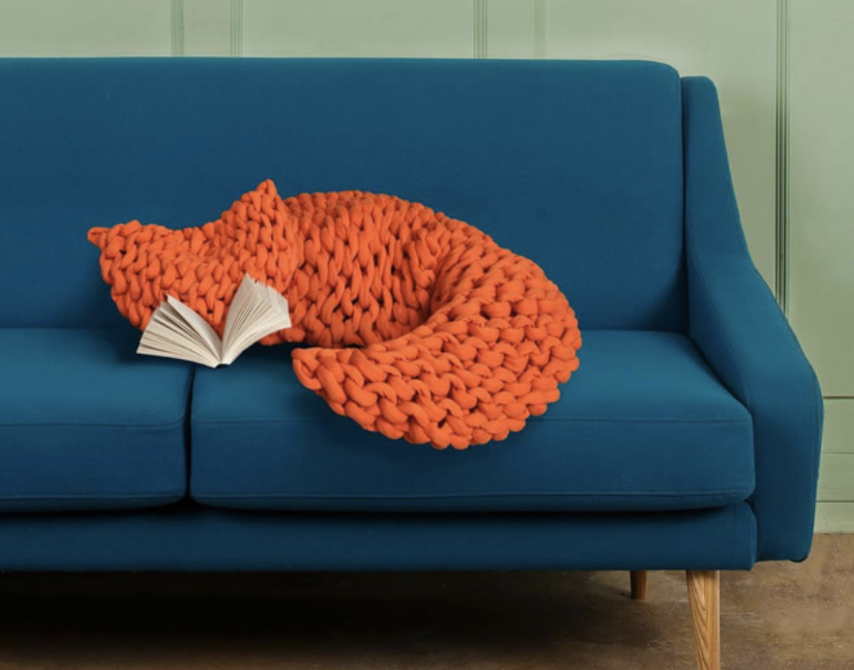 A lot of thought goes into Helga's artwork, and this one is no exception. She gives reign to her flights of imagination, so we get inspired to do the same. It subtly nudges us to take time out of our hectic schedules to indulge in leisure activities, such as reading.
The Edible Eggzotic Flowers
Among her vast collection of household surrealism, we adore her "Food for Thought" series, which takes one edible item and combines it with another to create a splendid piece of exotic art. In this artwork titled "Eggzotic," she has used halves of boiled eggs as edible flowers on a plant.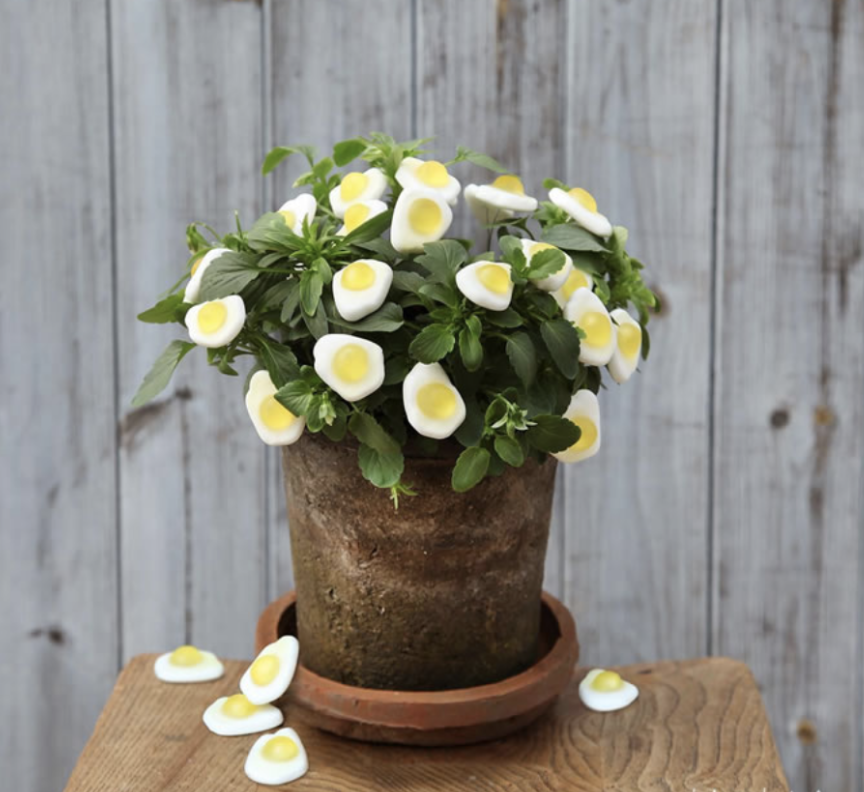 Also named "Ovolus Exoticus," the plant comes in a vase with a set of instructions. It is supposed to be kept from direct sunlight, with the recommended fertilizer being maple syrup. The flowers can be had twice a day, a not-so-subtle nod to a healthy eating habit of having at least one egg a day.
The Untold Story of a Depleted Battery
Any way you look at it, this optical illusion by artist Helga is one of the most stunning images in her body of work. It's a bookshelf that looks like a nearly out-of-charge battery. The pitch-black backdrop makes the image stand out with a visually breathtaking sharpness and adds meaning to the artist's vision.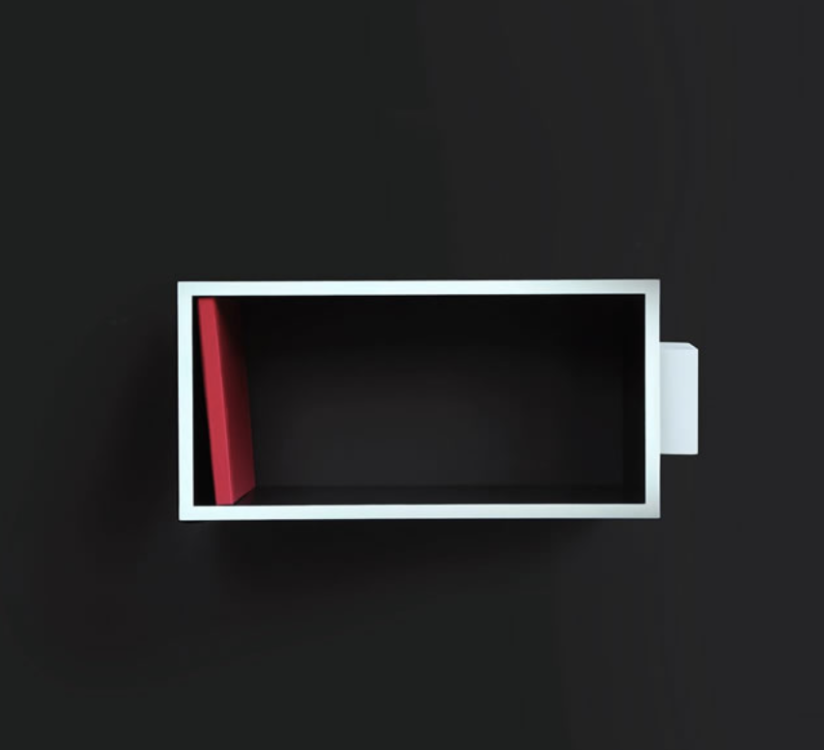 The red book inside the shelf at an angle represents the waning charge. Can we interpret it as her gentle reminder to everyone to be self-aware of our internal batteries that often need recharging? Finding things to do outside of work with your friends and family, or even spending alone time reading a book, can recharge us with energy.
The Cherries on Top for the Weightlifting Bear
Scrolling through her incredible creations that take household surrealism to another level, we are sure about Helga's incredible sense of humor. She has a penchant for finding something funny, even mundane things that we wouldn't think twice about.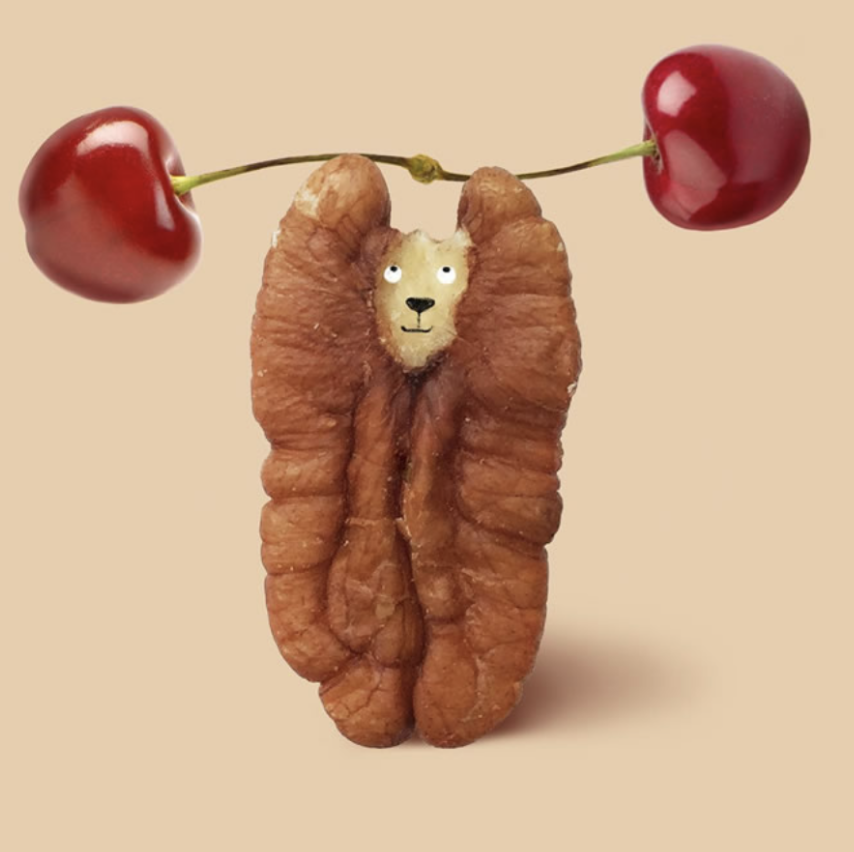 How else would she have placed a walnut and a couple of cherries and come up with a weightlifting bear! We couldn't stop laughing for a while after seeing this artwork. The cherries are perfect as the barbell, and on closer inspection, the walnut does look like a bear doing weight lifts. As incredible as it sounds, Helga's overactive imagination helps her see things differently, and we are here to appreciate her artwork.