This Couple Thought They Adopted a Micro-Pig But Got Something Else Instead
Esther, the wondrous pig, has a story of hope and courage. From a malnourished micro-pig to a worldwide sensation, Esther has brought joy to many.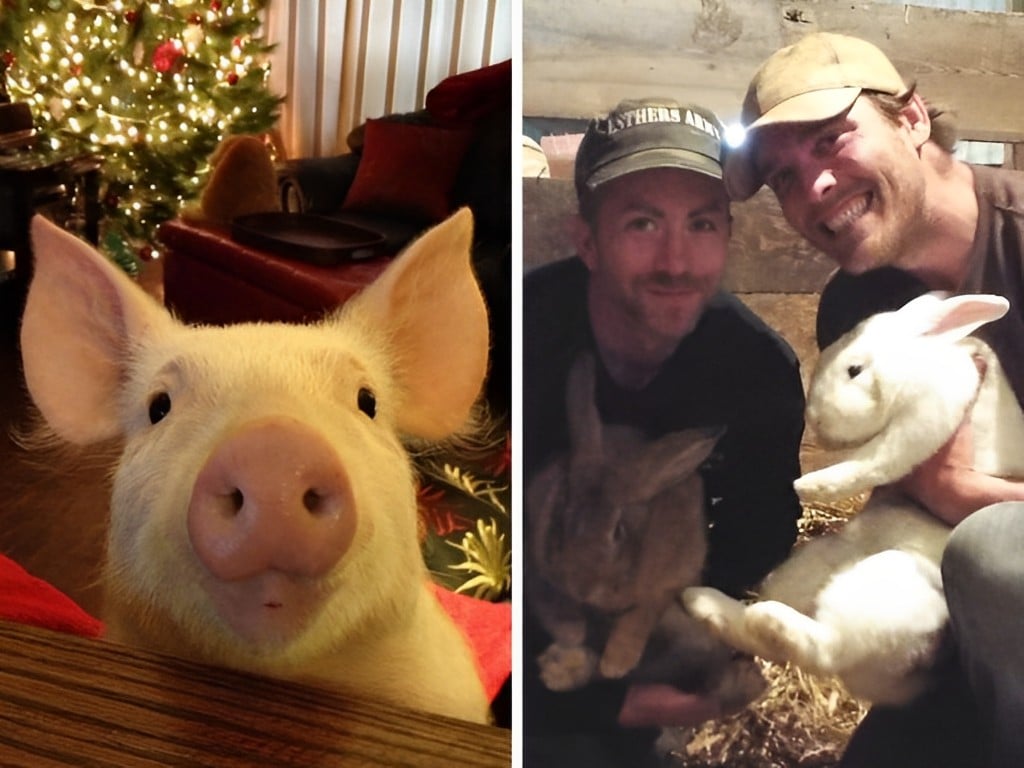 Steve and Derek took a chance on Esther and never could have imagined the impact she would have on their lives. Esther is a reminder that love and acceptance can change the world.
A Home Filled with Love and Furry Friends 
Steve Jenkins and Derek Walter's ranch-style home in Ontario, Canada, was full of love and furry friends. The couple worked from home: Steve was a real estate agent, and Derek was a professional magician.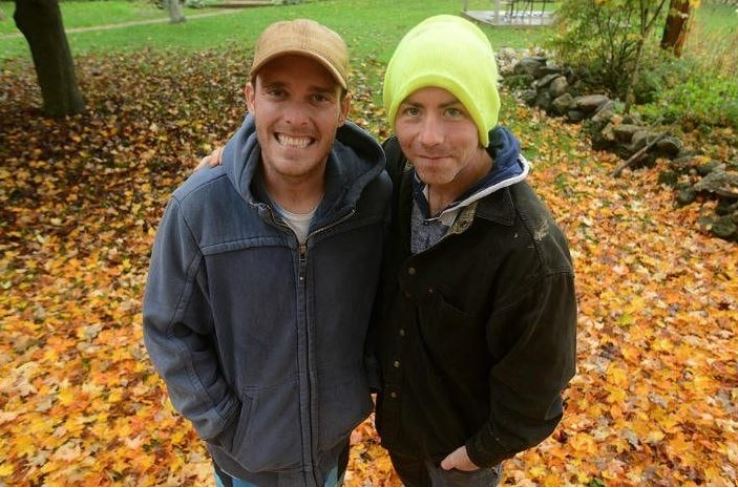 They had three cats, two dogs, two turtles, and a koi pond in their backyard. The two were animal lovers and the home was filled with love and care. Steve enjoyed playing the bagpipes in his free time, and Derek was passionate about his career as a magician. This was the perfect home for them and all the animals they loved.
Two Passionate Animal Lovers Take on An Exciting Challenge 
Steve Jenkins and Derek Walter had a lifelong love of animals. Growing up, Derek was surrounded by cats, dogs, and even a rabbit – his private magic show! Steve also had plenty of pets and a dream to be a vet.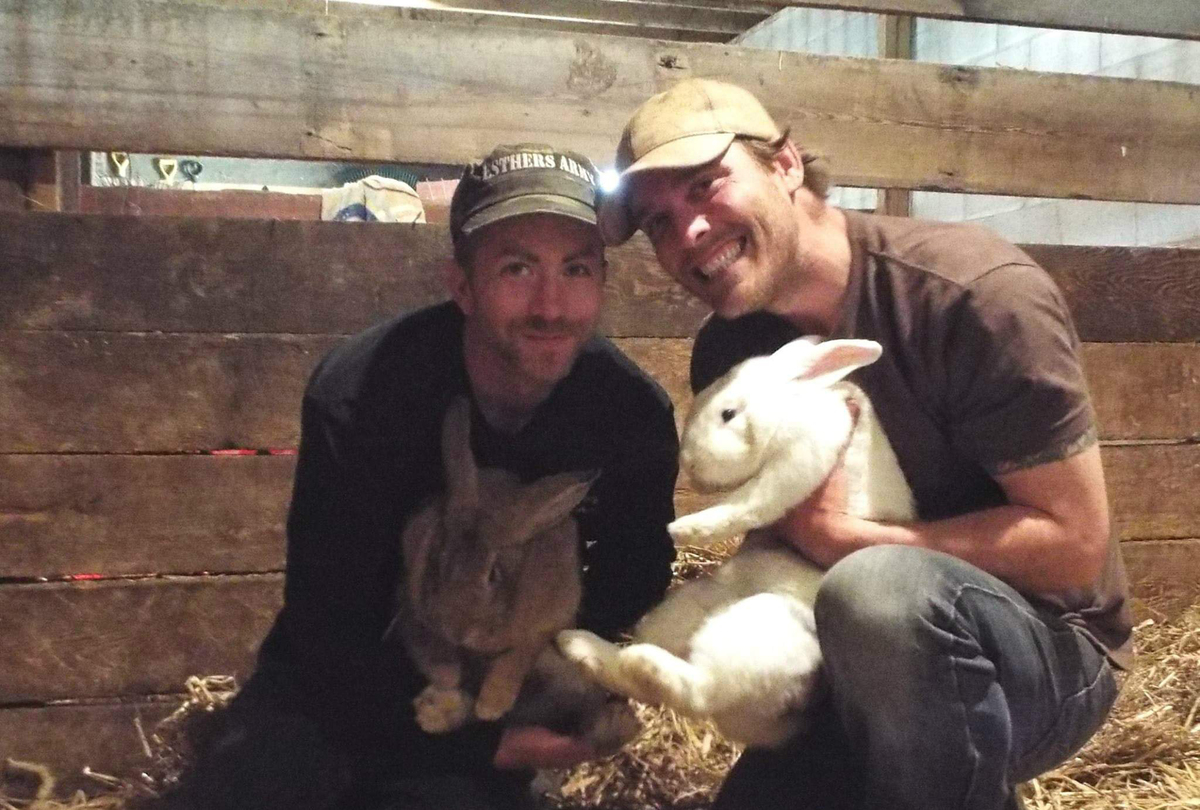 It was at Montana's Cookhouse Restaurant that the two met. While Derek performed magic, Steve was a waiter, and it wasn't long before their shared love of animals formed an unbreakable bond. But what challenges awaited them? Would these two passionate animal lovers be up for the task?
Taking a Risk for a Tiny Pig: Steve's Big Heart 
Steve Jenkins was scrolling through Facebook when he saw an acquaintance post an adoption opportunity. A five-pound micro-pig was looking for a new home after the poster had recently welcomed twins into the world. Steve's first thought was, "Yes, of course, I'm interested."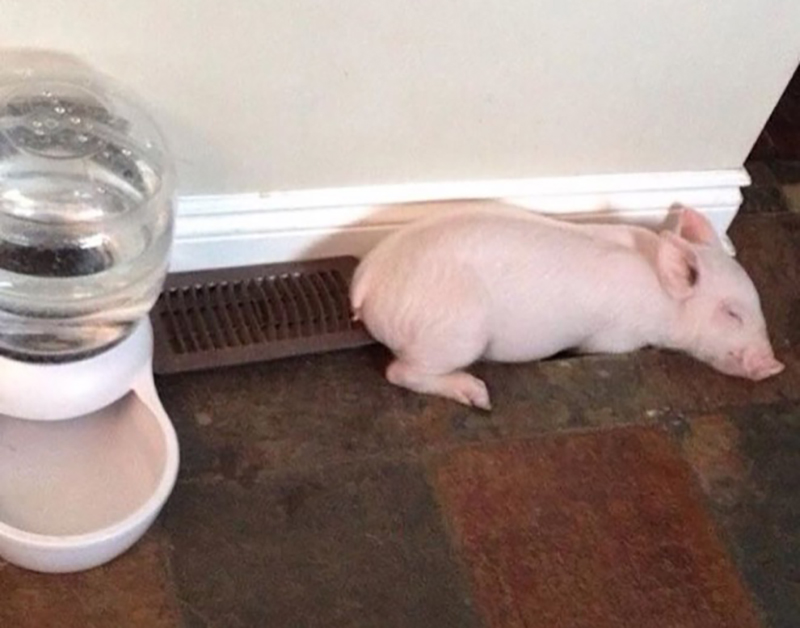 He figured the micro-pig would be a great addition to his home and act as a third dog. The poster said the tiny pig wouldn't grow beyond 70 pounds, so Steve wanted to take a chance. Although he knew the situation came with risks.
Taking a Risk to Give a Home 
Steve Jenkins had heard about a micro-pig in need of a home, but the decision to adopt meant taking on some risks. Owning hooved animals was illegal in his small community of Georgetown, and he didn't even have time to tell his partner, Derek Walter, about the adoption.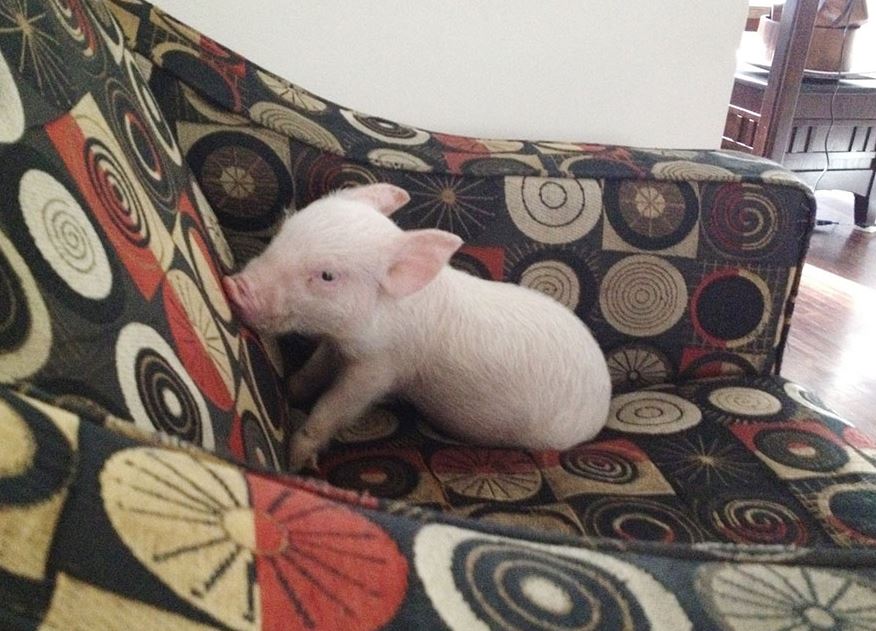 Nevertheless, Steve took the chance, knowing it was easier to beg forgiveness than ask permission. Fortunately, his courage paid off, and the pig was given a happy home to call her own.
A Tiny Pig Delivered in a Laundry Basket Changes Everything 
Steve Jenkins was in for a surprise when his acquaintance delivered the micro-pig to his home in a laundry basket, wrapped in a blanket. Measuring only 12 inches from tail to snout, the sow was slightly malnourished but still full of energy.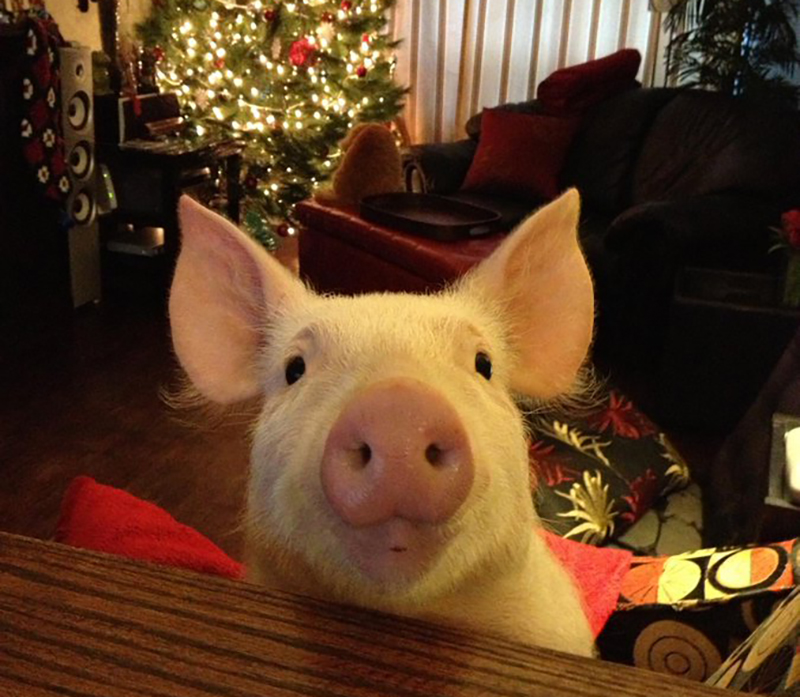 Derek Walter, Steve's partner, was initially unimpressed with the arrival of the micro-pig. However, his opinion soon changed when the snuggly piglet melted his heart. "Anybody who has a bleeding heart loves baby animals," Steve said. "You can't help but fall in love." And that's exactly what happened to Derek!
A Sweet, Old-Fashioned Piglet 
Steve and Derek were overjoyed with the new member of their family. After giving her the sweet, old-fashioned name of Esther, they quickly realized that she was no ordinary pet. Despite being slightly underfed, Esther quickly became energetic and playful with the other animals.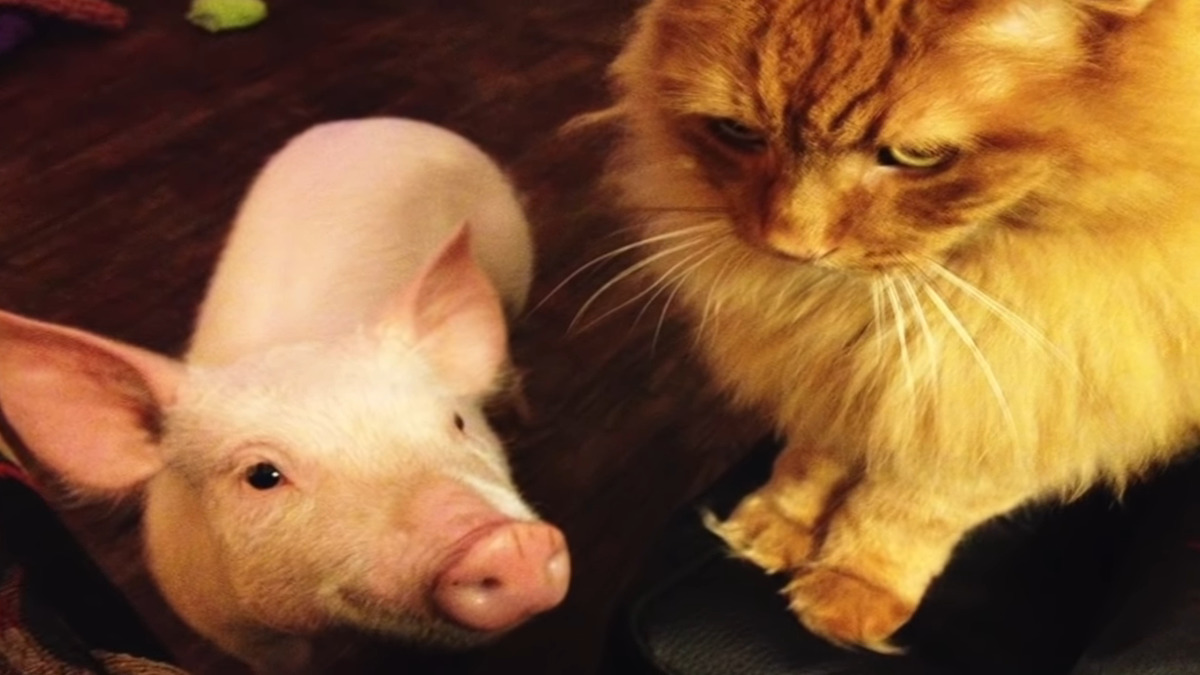 However, the only downside was that she ate a lot – around one pound per day! Steve and Derek provided her with pig food, supplementing it with tomatoes and cucumbers. Whenever they ran out, Esther would happily munch on whatever they were eating.
A Micro-Pig That Grew and Grew! 
Derek and Steve were smitten with their cute little pig, but it soon became a "nightmarish" experience. They noticed that her tail was clipped and had scars indicating she had been spayed – was she a micro-pig, or had they been misled?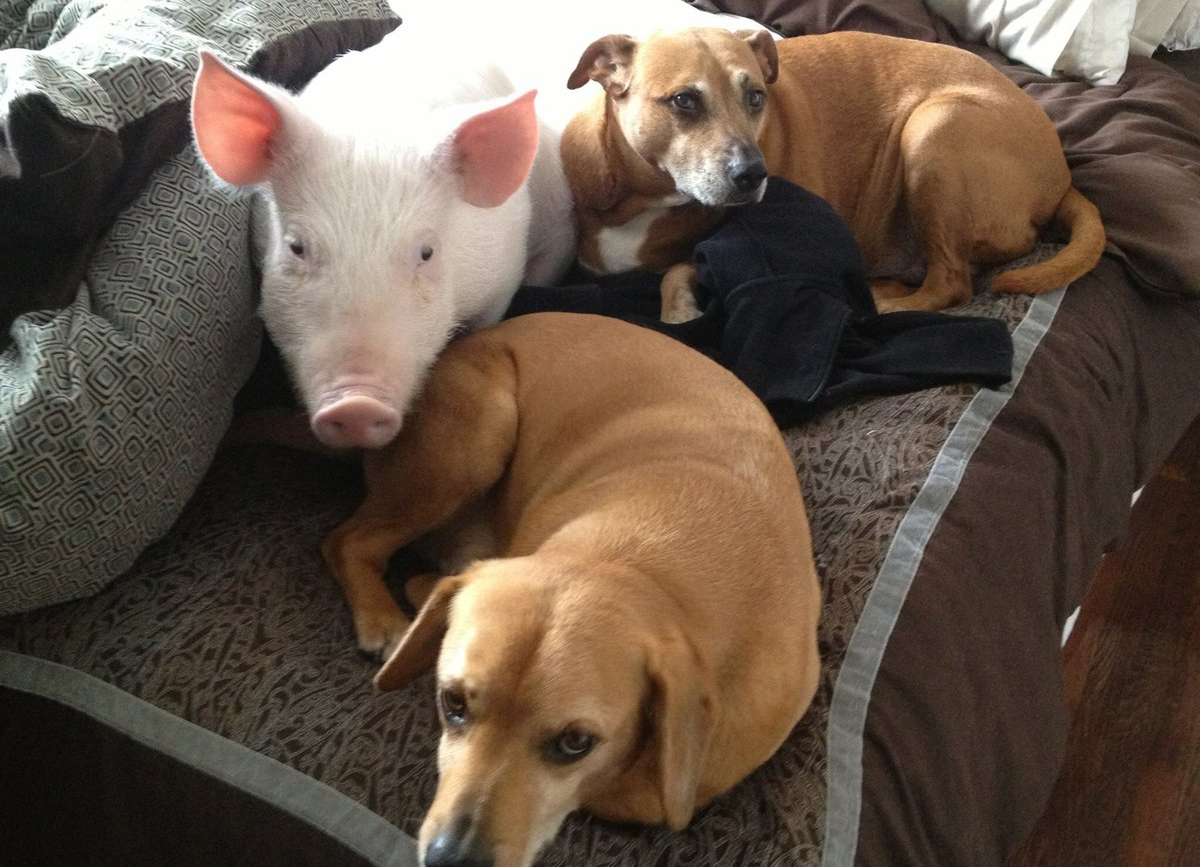 After months of speculation, the two dads began charting her growth – to their surprise, Esther was already 60 pounds at just a few months old! Derek and Steve soon realized they had been duped – their micro-pig had grown and grown!
Uncovering Esther's True Size 
Steve and Derek were determined to find out the actual size of their beloved pet pig, Esther. After taking her to the vet, they were informed that no breeder would ever clip a pig's tail – a sign that Esther was not a micro-pig after all but most probably a commercial pig.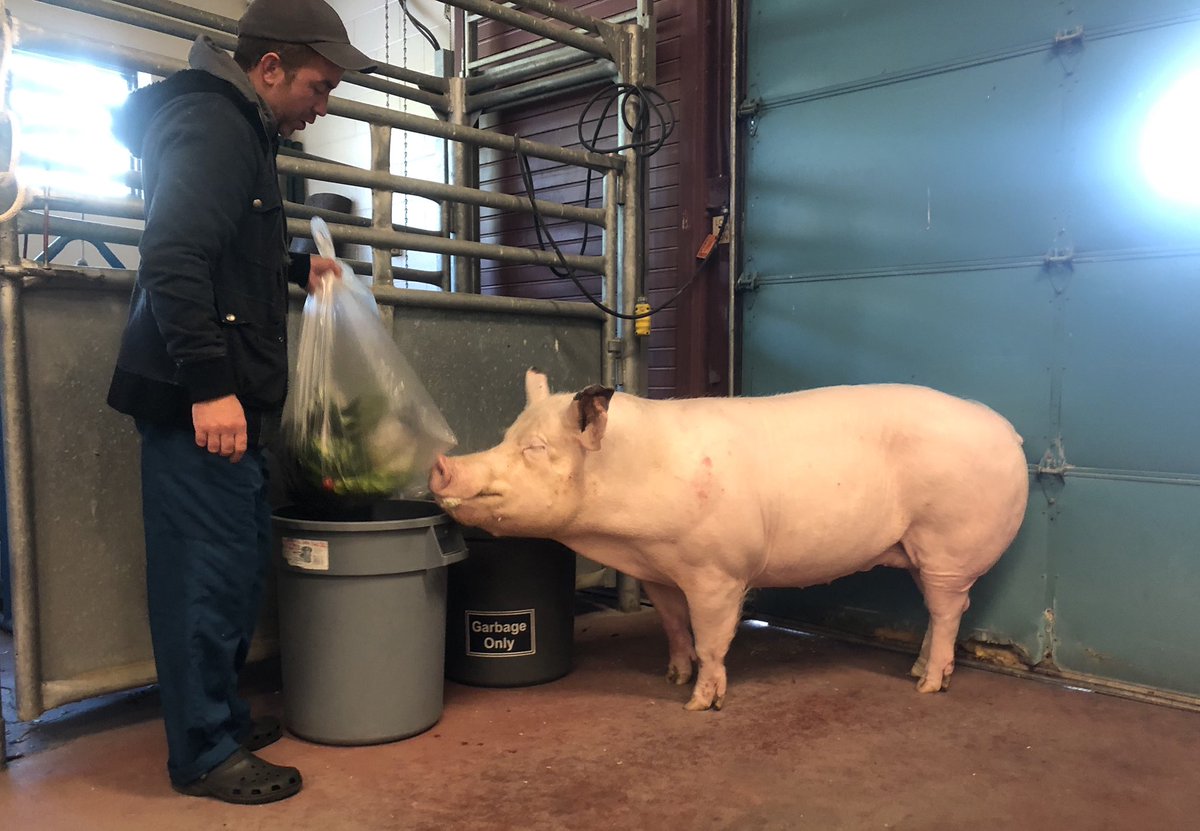 Despite the vet's prognosis, Steve and Derek refused to give up hope that Esther was a micro-pig and continued to love her unconditionally. But as Esther grew to a whopping 250 pounds, it was finally time to accept the truth – Esther was not a micro-pig. Despite her size, the couple could not deny that Esther had already won their hearts.
A Love Story That Changed Everything: The Tale of Derek and Steve 
When Derek and Steve decided to adopt a small pig, they never expected it to be full-sized! Caring for a 250-pound pig posed many challenges for the couple, but they quickly fell in love with Esther – they rose to meet the challenge.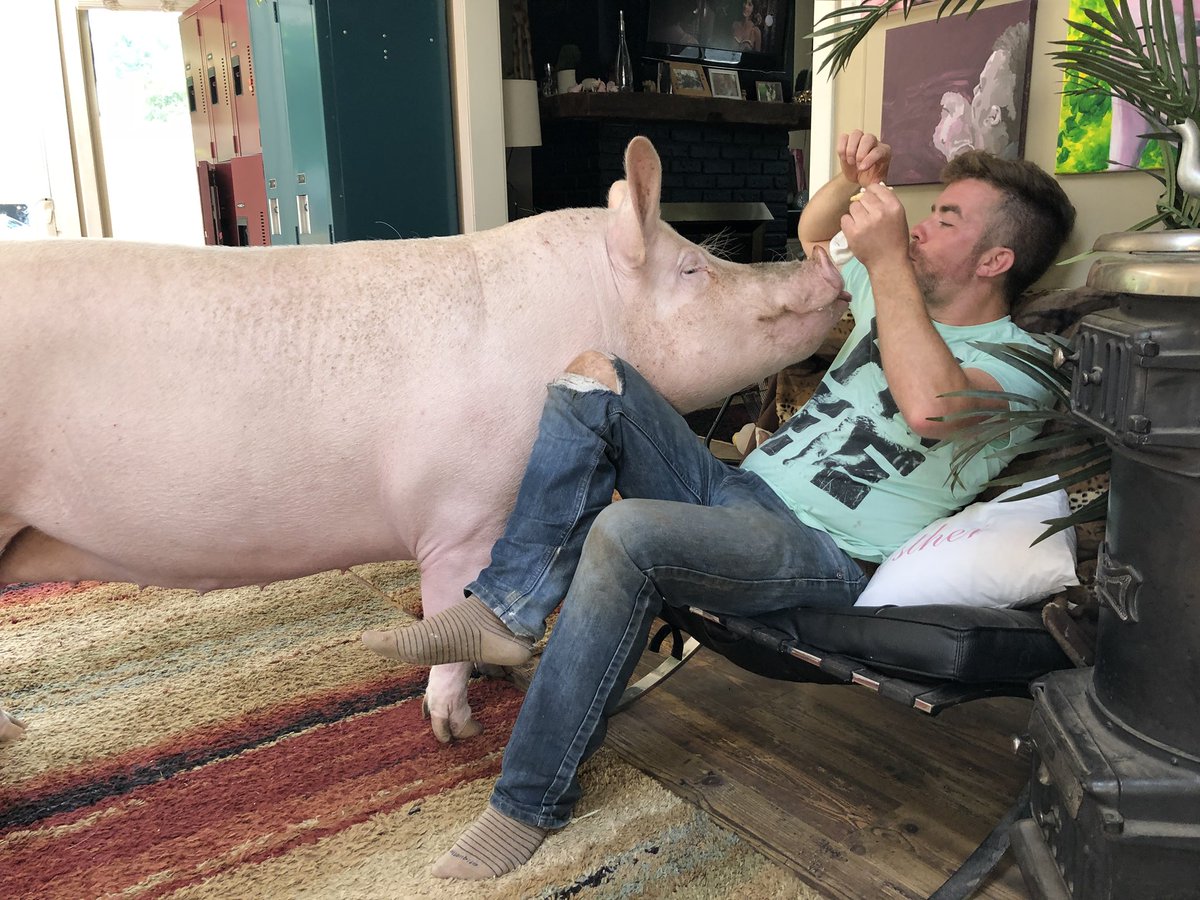 Knowing that Esther would have been slaughtered and eaten if not for their adoption, they stopped consuming bacon. Thanks to their courage and compassion, Esther was saved, and Derek and Steve's lives were forever changed.
Unstoppable Esther: Outperforming Even the Dogs! 
Esther was a force to be reckoned with! Steve Jenkins, one of her owners, recalls how she would chase a ball around the living room and dining room with an energy that even their dogs couldn't match.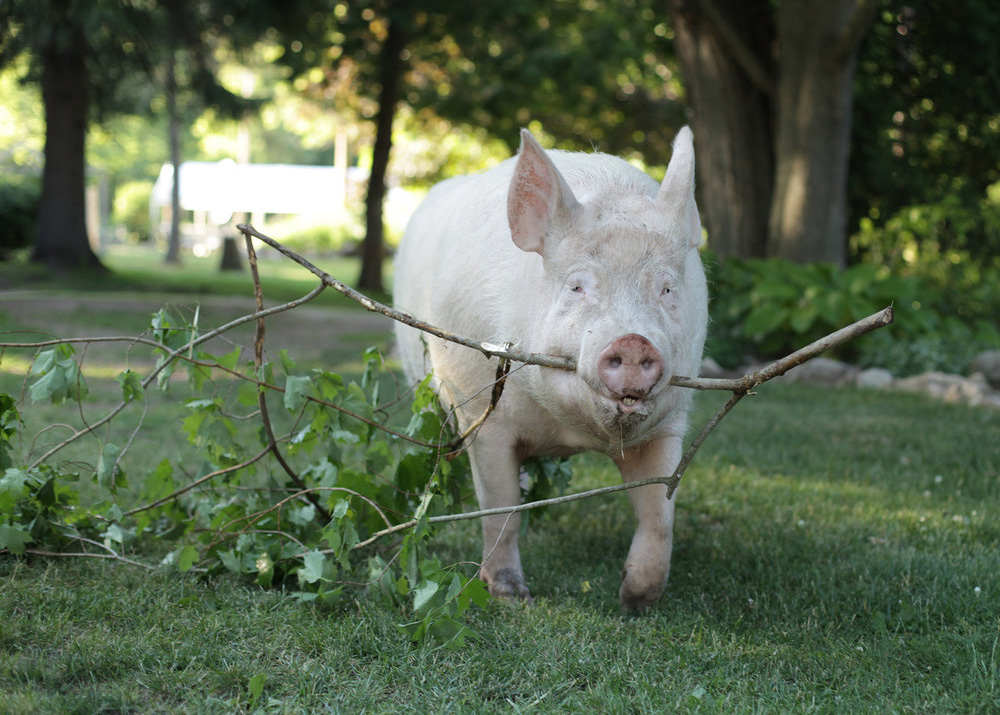 Not only that, but her cleverness was evident as she managed to quickly master a peanut butter-filled treat ball that her canine siblings, Shelby and Reuben, couldn't keep up with. With her unstoppable energy and intelligence, Esther left her owners in awe!
Clever Pig Learns Fast! 
Derek and Steve were amazed by the intelligence of their pet piglet, Esther. Steve Jenkins described her as "super clever," and it didn't take her long to learn how to open the refrigerator and kitchen cabinets with her snout.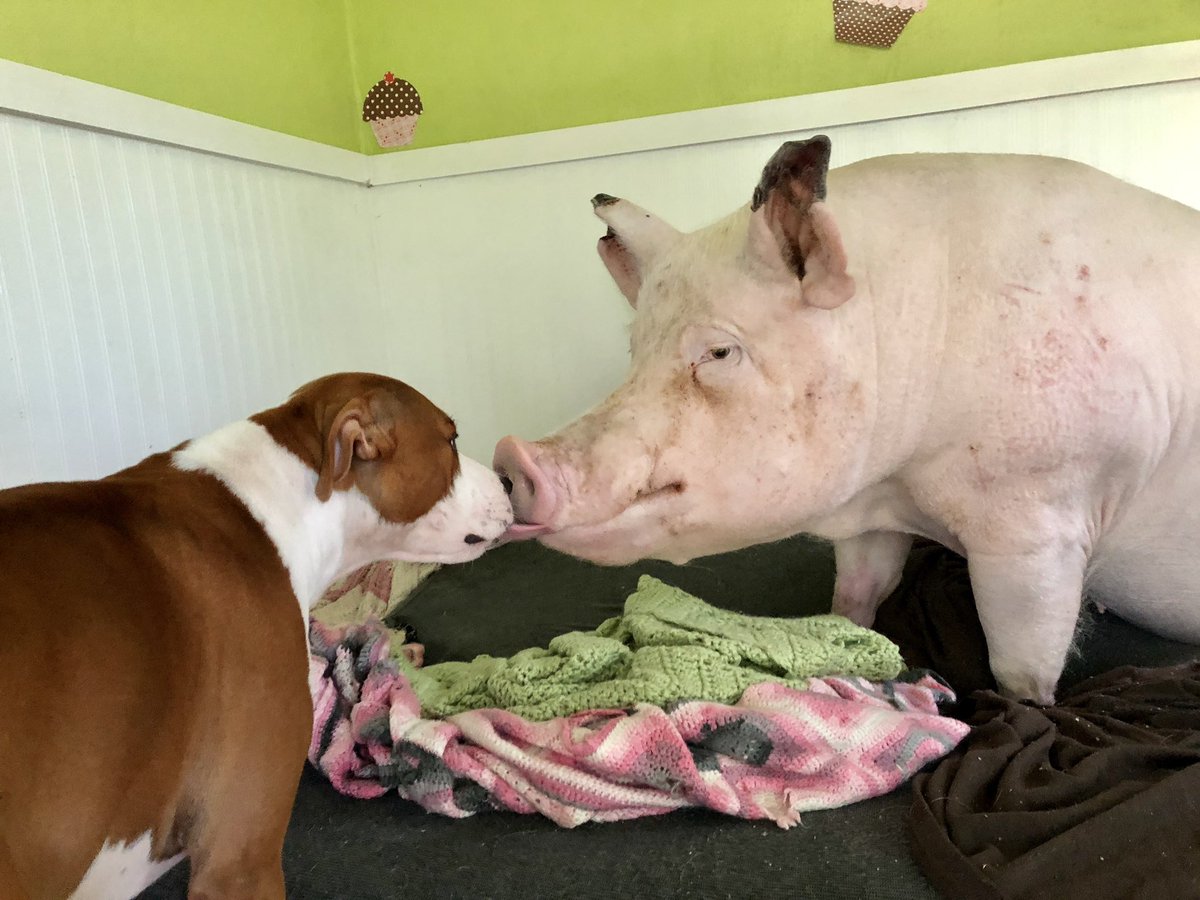 The clever pig soon learned to go to the bathroom outside. She was rewarded with a tasty treat for her efforts, but she also figured out that if she pretended to squat, she could get a cookie from her owners by tricking them as if she was going to the bathroom.
Esther Changed Steve and Derek's View of Farm Animals 
Before Steve Jenkins met Esther, he separated animals into two categories – the warm, cuddly animals that we love and the farm animals. However, after bonding with Esther, he could no longer ignore the welfare of farm animals. Steve recalled in an interview, "Esther made us think, 'They're not really that different at all."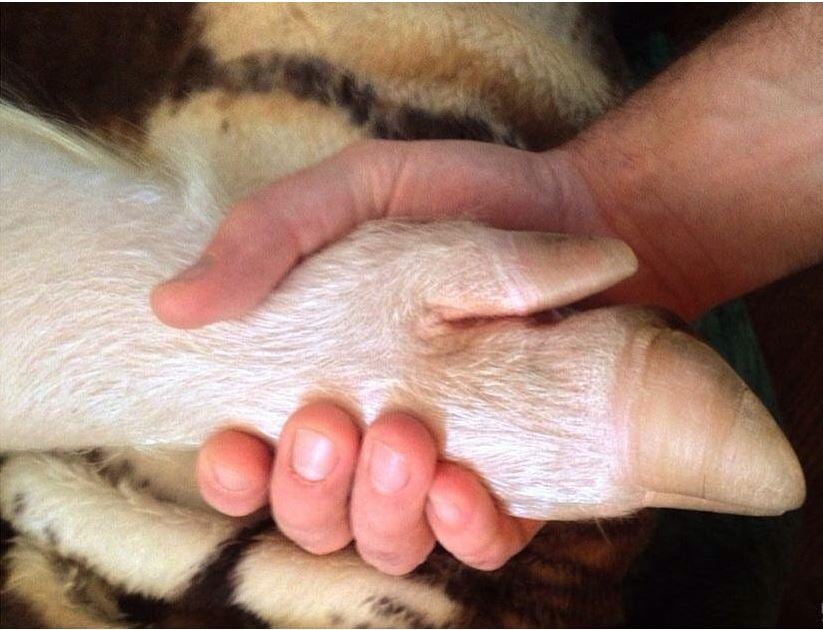 Steve realized that farm animals are only different because people see them differently. Esther's intelligence and presence shifted Steve and Derek's view of commercial farm animals and made them realize that they are not so different from the animals we love and know.
A Giant Surprise: The Unstoppable Growth of Esther 
Esther was a quick learner, but her growth rate was far faster than her new owners expected. Derek Walter and Steve Jenkins adopted her when she was a mere five-pound piglet, yet within the year, she had grown to a whopping 250 pounds!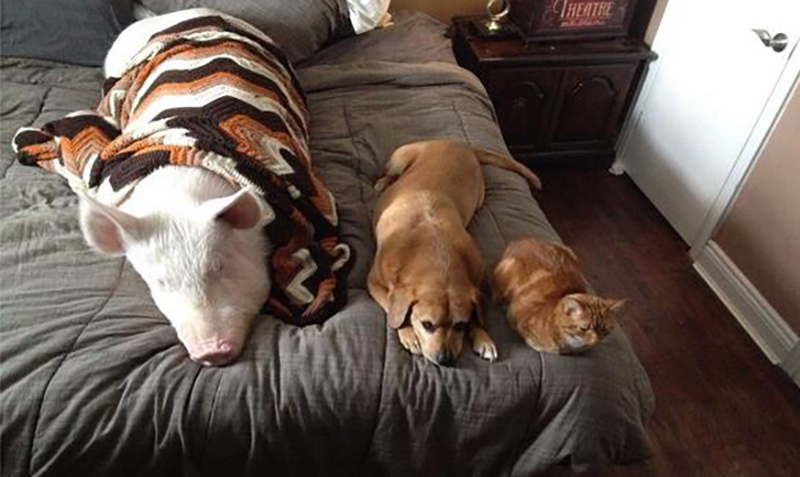 They had read online that she would continue growing, so they upgraded her bed from a cat bed to a kiddie pool. It wasn't long before even that was too small, and they knew they were in for a bigger surprise. Esther had already far surpassed their expectations – what would the future hold?
From Disbelief to Unconditional Love: A Story of Steve and Derek's Unusual Pet 
Steve Jenkins and Derek Walter never anticipated the daunting responsibility of caring for a full-grown pig. Initially, they sought out Esther's original owner, with no luck. Finding a local sanctuary was out of the question -they were at capacity.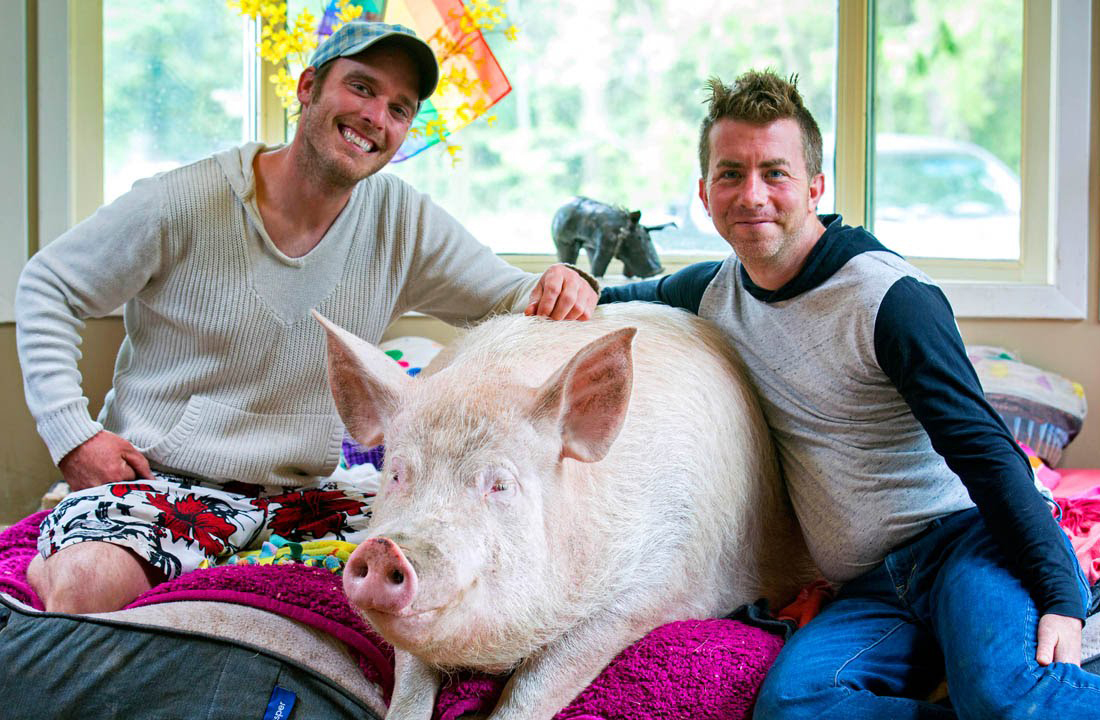 Surprisingly, the couple refused to surrender Esther to a commercial farm, even when she reached a staggering 420 pounds at 18 months old. In the end, the couple's love for Esther kept growing, and they couldn't bear the thought of letting her go.
The Unbelievable Story of Esther, the Pet Pig 
Steve Jenkins and Derek Walter never expected their pet pig would receive so much attention. But, when they made a Facebook page for her in December 2013, the love she received was overwhelming.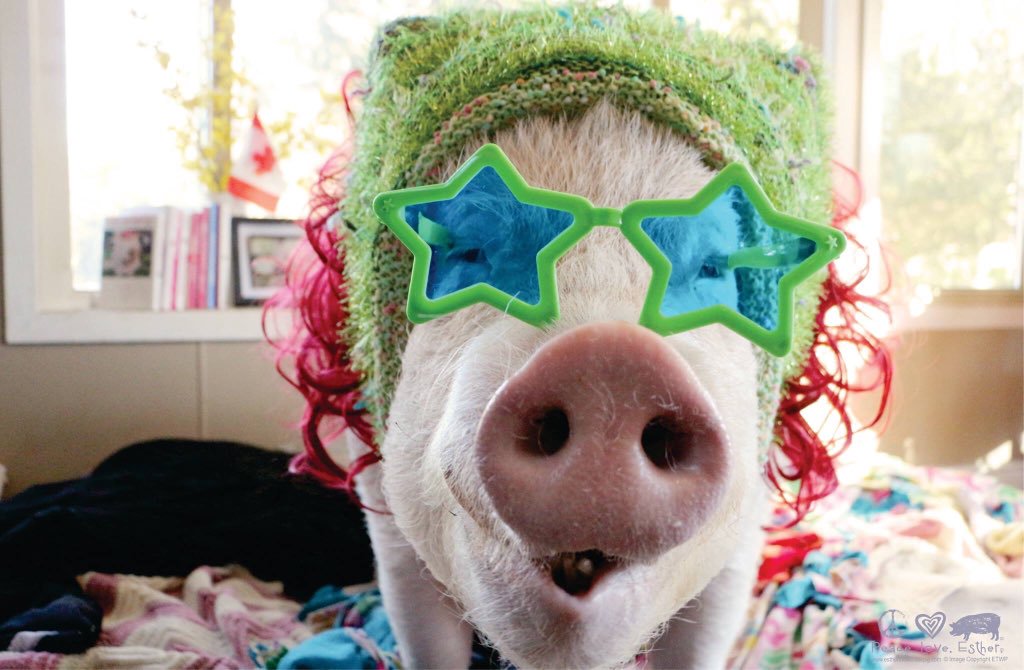 In just 80 days, their page had amassed 10,000 likes, and by May 2014, it had skyrocketed to 250,000 followers. The two owners were overjoyed; their beloved pig had become a beloved part of their family – including the dogs! Esther had everyone laughing, and it was clear that her charm and character had won over thousands of hearts.
The Dilemma of Steve Jenkins and Derek Walter
Steve Jenkins and Derek Walter were overwhelmed by the sudden surge in their followers. They realized they were exposing the illegal act they had committed. Steve confessed, "We knew she was illegal. We were flaunting the fact that we were breaking the law."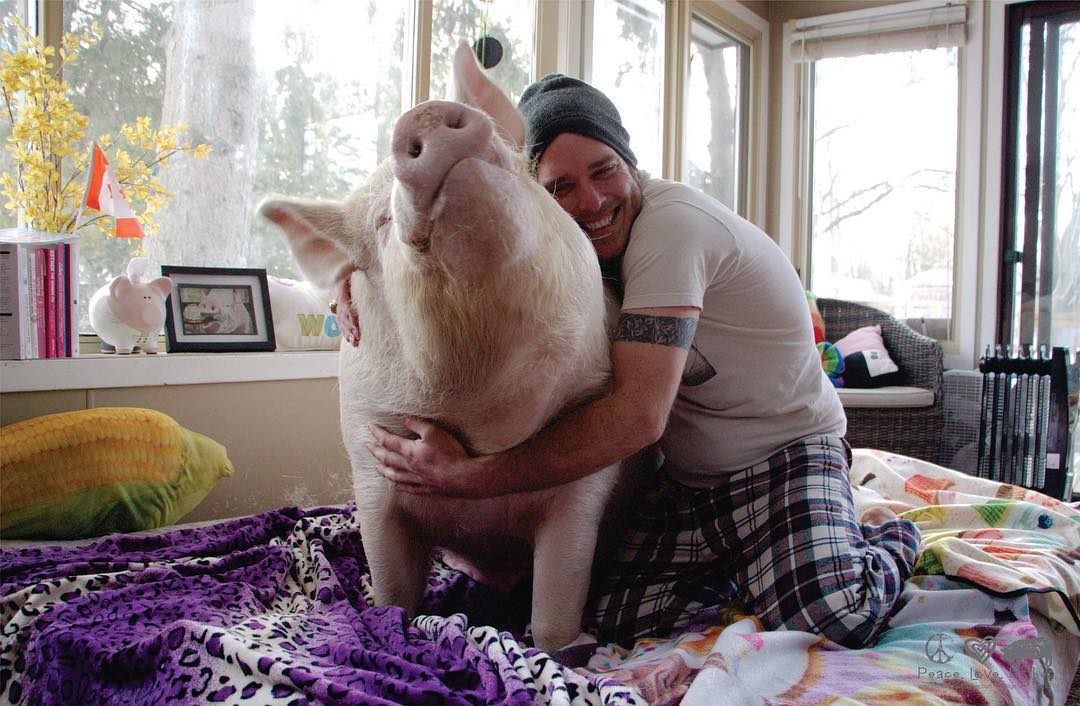 Esther was 450 pounds, a detail they made known on social media. Unfortunately, they didn't have the necessary space to provide Esther, their pet, with the best life. But they were unable to give her up either. It was a challenging dilemma for the couple.
A Million Dollar Dream: How Steve and Derek Turned Their Facebook Followers into Hope for Rescued Animals 
Steve Jenkins and Derek Walter realized that the only way to legally care for their rescue animal, Esther, was to buy a farm. However, they faced a problem: the $1 million price tag on the 50-acre farm they found was too much money. But instead of giving up, the two decided to turn to their hundreds of thousands of Facebook followers for help.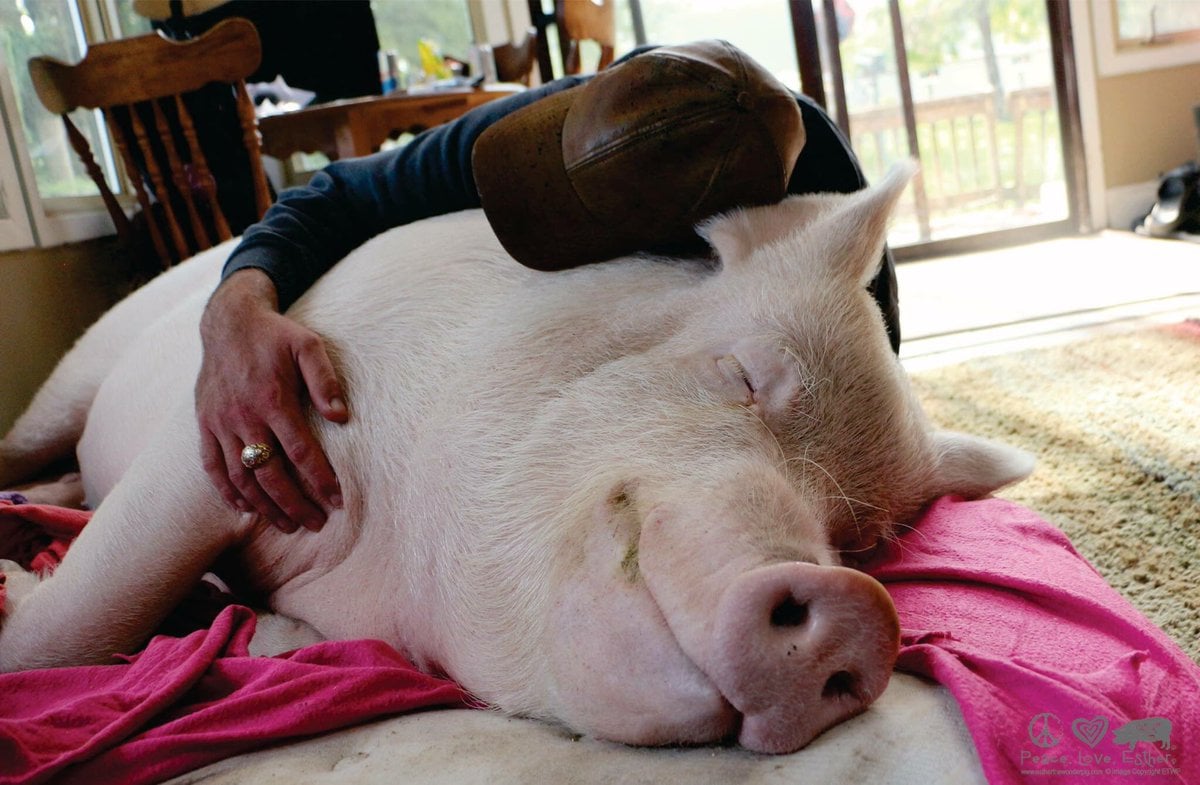 They started a crowdfunding campaign and rallied their followers to donate. Thanks to their dedicated supporters, they had the chance to turn their million-dollar dream into a reality—and, in the process, create a safe and loving home for Esther and future rescue animals.
Miracle of Crowdfunding
In 2014, Steve Jenkins and Derek Walter set up a crowdfunding site with the intention of raising $400,000 to buy a suitable and legal home for Esther. After advertising the cause on Esther's Facebook page, they were overwhelmed by the response they received. Within two months, the fundraiser exceeded their expectations and raised a total of $440,000!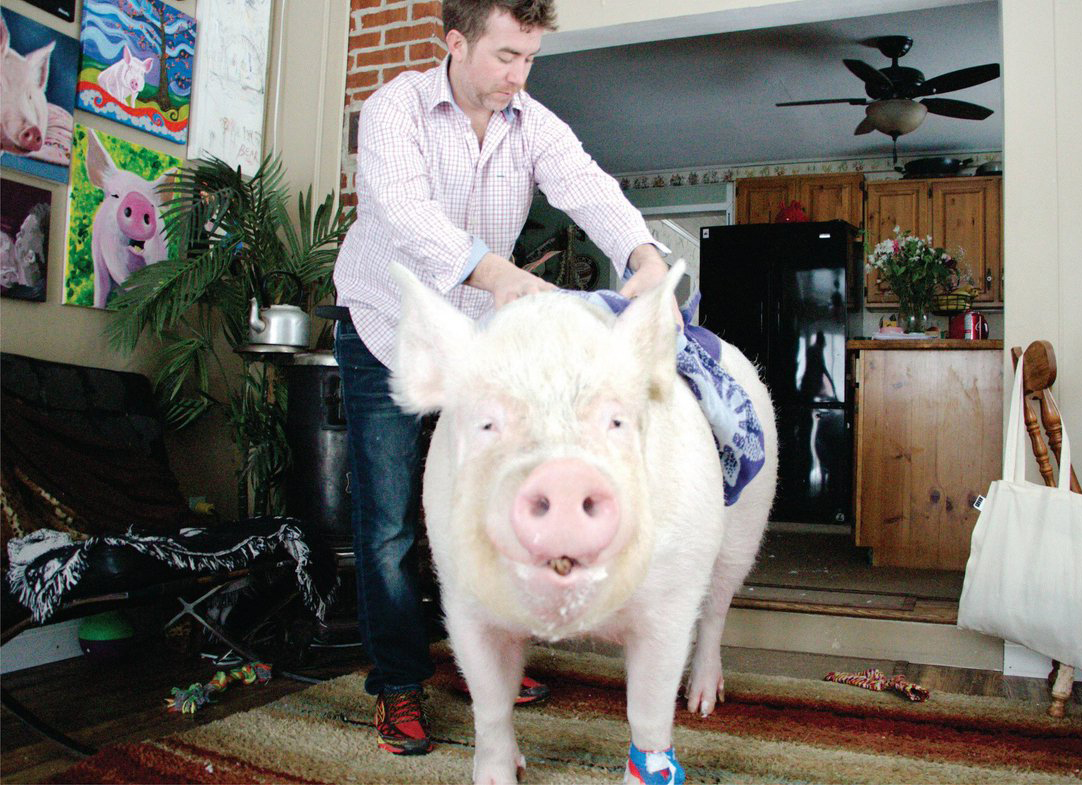 Over 9,000 people from 44 countries had donated, with the largest donation being an impressive $5000. "It was so much bigger than anything we'd ever thought of," Steve recalled. "It was a phenomenally overwhelming moment." This inspiring story is a testament to the power of collective giving and a reminder of the potential of crowdfunding.
A Mini Pig, A Big Dream - The Story of Happily Ever Esther Farm Sanctuary 
Steve Jenkins and Derek Walter had a big dream – to create a haven for abandoned farm animals. This dream was fueled by a special pig named Esther. In November 2014, just a year after establishing Esther's Facebook page, the duo moved into their new sanctuary.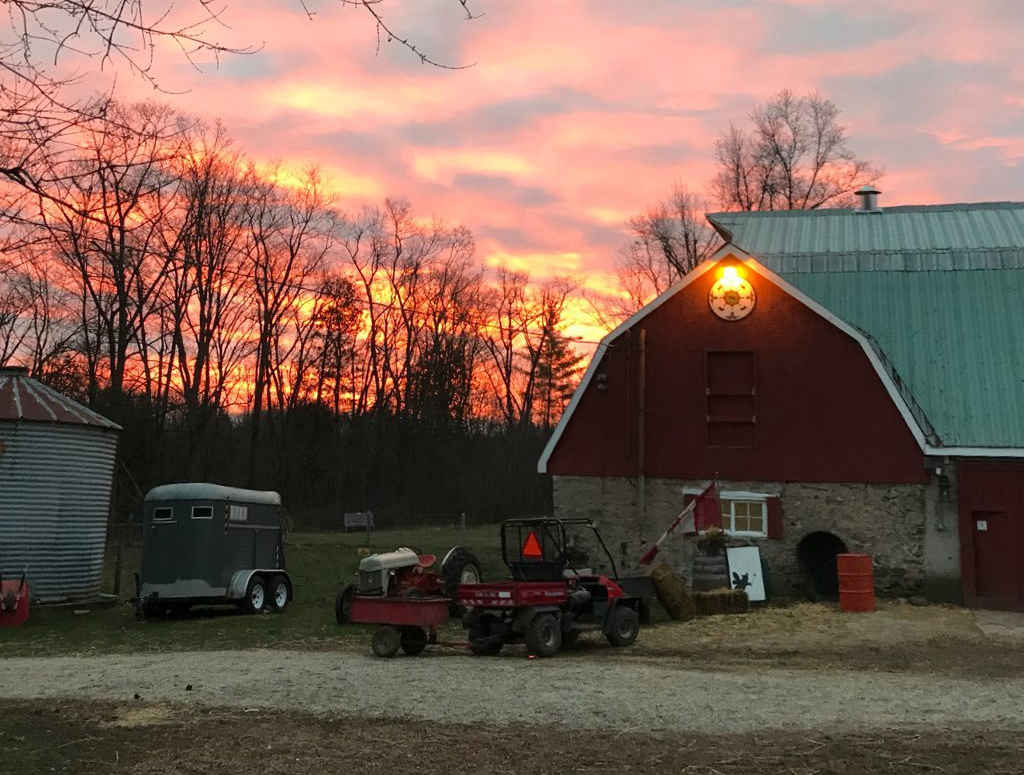 They named their new home and sanctuary Happily Ever Esther Farm Sanctuary. Steve and Derek had the vision to provide animals with a loving home. They consulted with animal experts to build the best environment for Esther and other pets. Today, this farm is devoted to providing abandoned animals with a happy home.
From Meat-Eaters to Vegans - Steve and Derek's Unexpected Journey 
Steve Jenkins and Derek Walter never expected to become vegans when they purchased a farm and adopted a cow, goats, horses, and a pregnant pig. But the change of pace was quick, and soon they were upgrading their single social media account to ten accounts.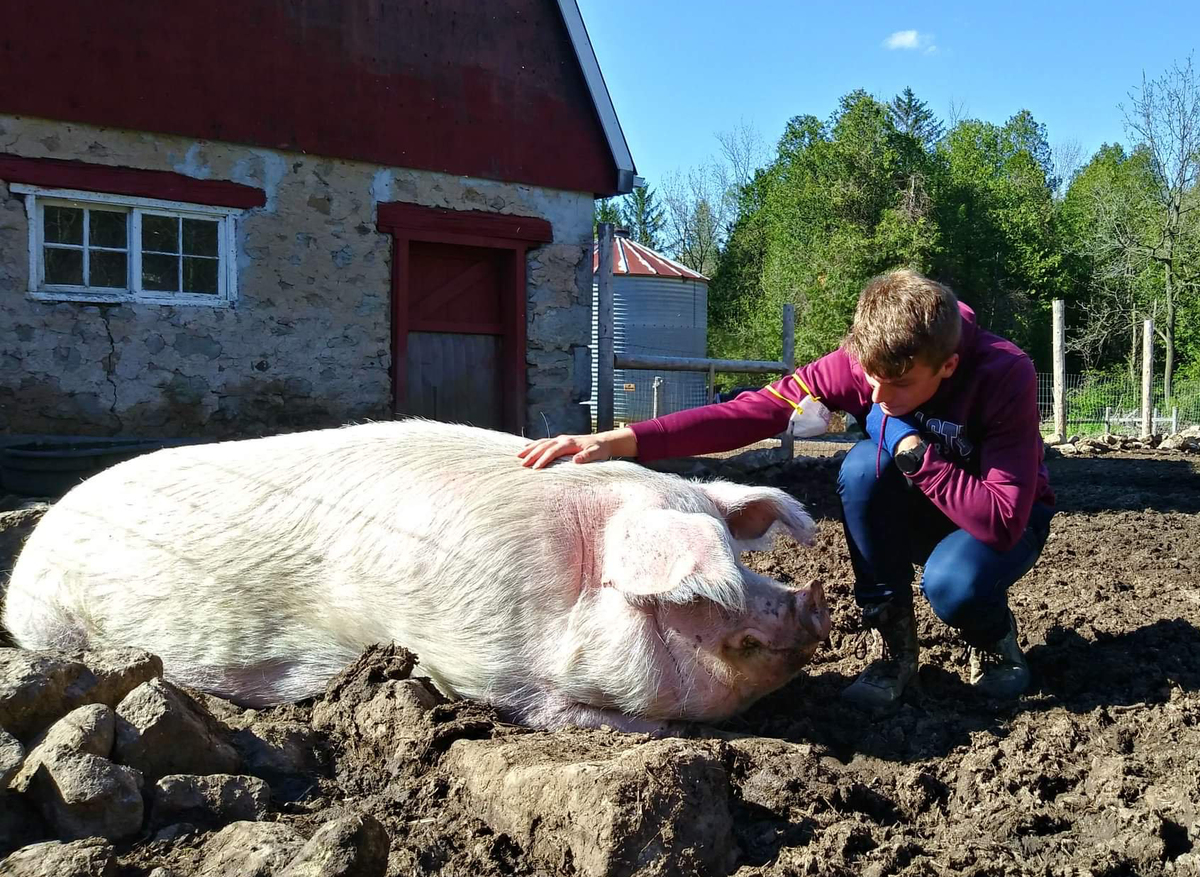 Steve recalled, "It's been the weirdest change of pace." The two used to be meat-eaters, and Steve doesn't even like most vegetables, but they've managed to transition to veganism! Derek's family was stunned at the switch, but he and Steve were determined to make their new diet work. It's been a challenge, but they're proud that they've been able to stick to their commitment to animal welfare.
Esther Farm 
Steve and Derek started Happily Ever Esther Farm with donations, and with the couple's commitment and hard work, the farm has blossomed into something much bigger. Now, they offer tours, sell merchandise, and employ three full-time staffers.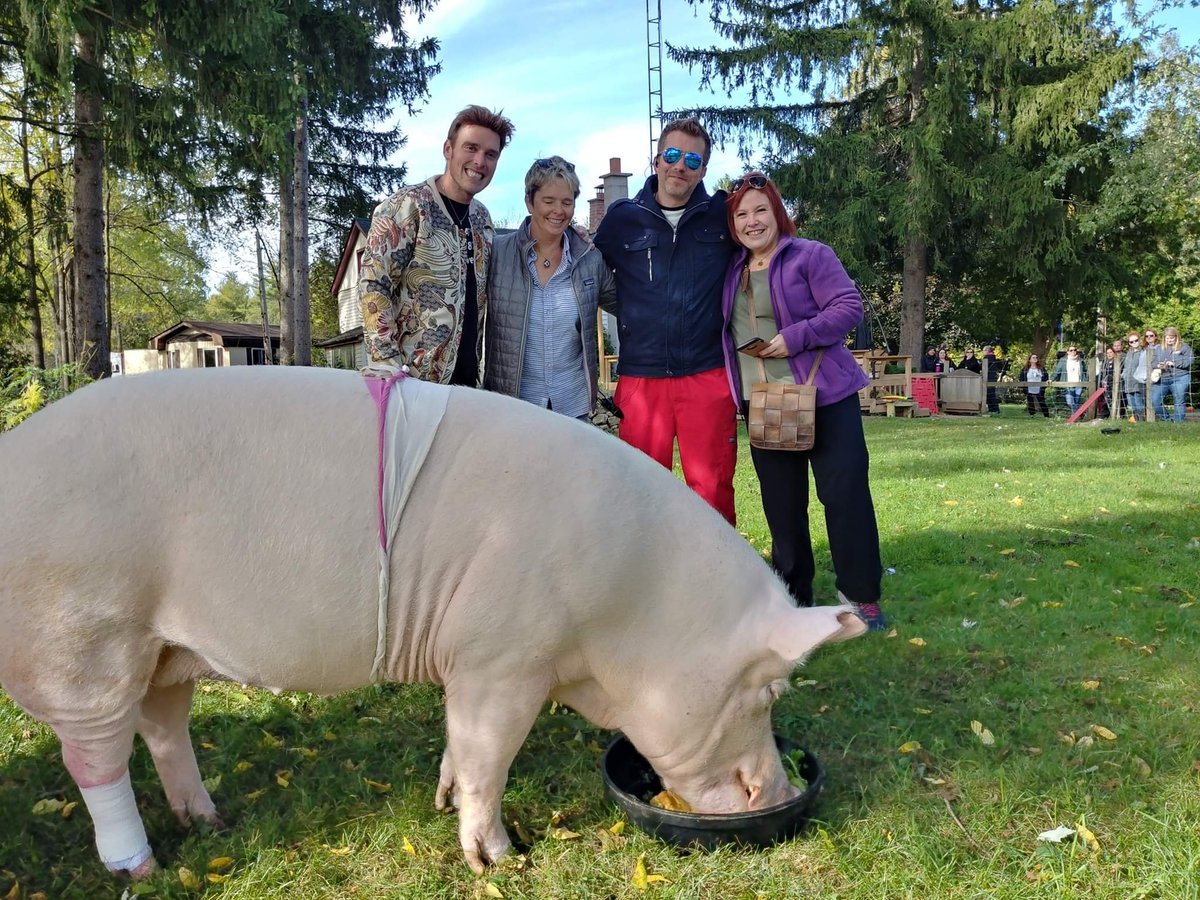 The farm even has a team of dedicated volunteers who show up to help every week. On special "workdays," dozens of animal lovers come together to spend time with Esther and take care of the animals. Steve and Derek have been driven by one simple goal: providing a safe and loving home for Esther.
Leveling the Playing Field for Farm Animals 
Steve Jenkins and Derek Walter have a mission: to connect people with farm animals and level the playing field between those we consider companions and those we see as products. Esther, the house pig, is a great example of this. As a pet, she defies the common stereotype that pigs are smelly.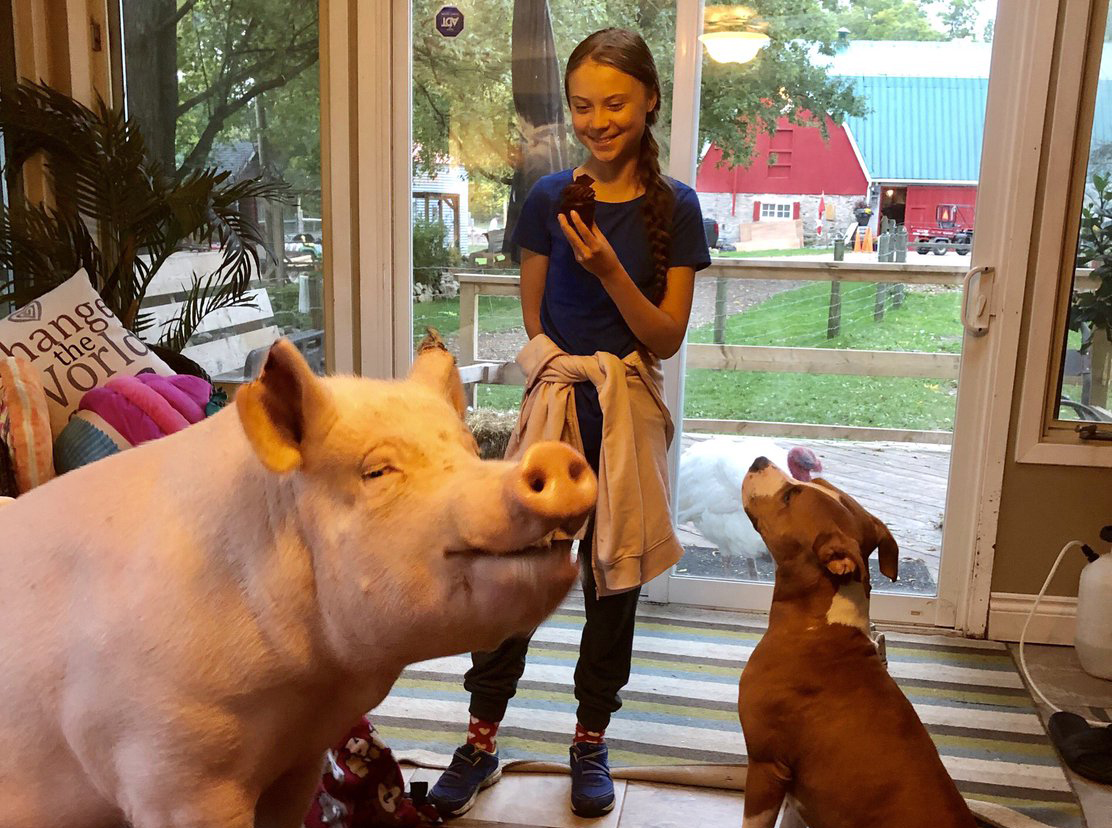 When a contractor encountered Esther, he was pleasantly surprised to find that she didn't have an odor. Through their sanctuary, Steve and Derek are helping to break down the walls between humans and animals and create a more harmonious relationship.
Esther Brings Laughter and Joy to Steve and Derek's Farm 
Steve and Derek have noticed a special something at their farm – Esther! People can't seem to get enough of her, and it's no wonder why. Her social media photos bring joy to everyone who sees them, and her presence creates an upbeat, lively atmosphere that tour groups love.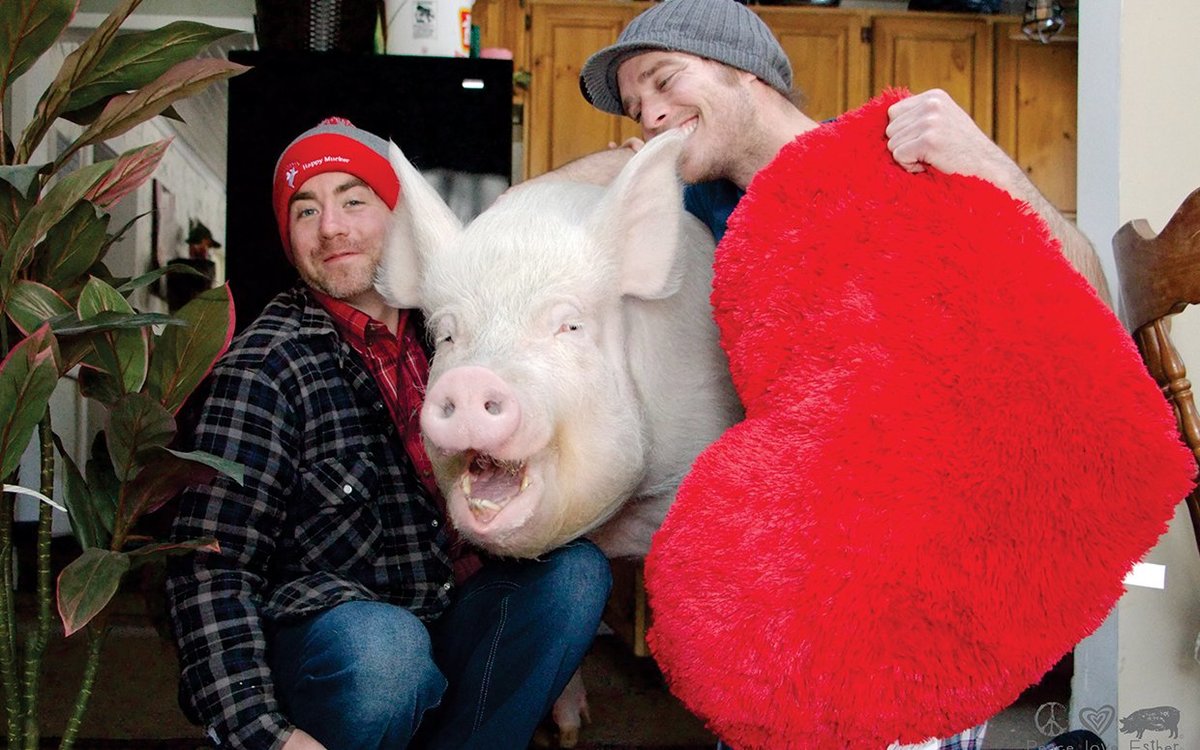 Steve and Derek have also made sure to protect Esther's influence and image from the "vegan police" by hiding any negative comments. They stick entirely to funny and relatable posts, always ensuring that Esther brings laughter and joy, not controversy. Steve believes that people love Esther because she makes them smile, and it's no wonder why!
Don't Bring Home a Pig - Derek and Steve's Story 
Derek and Steve know from experience that bringing a full-sized pig into your home is not a good idea! After struggling to accommodate Esther, their beloved pig, in their three-bedroom home, they decided that adopting a pig from a local sanctuary was the best solution.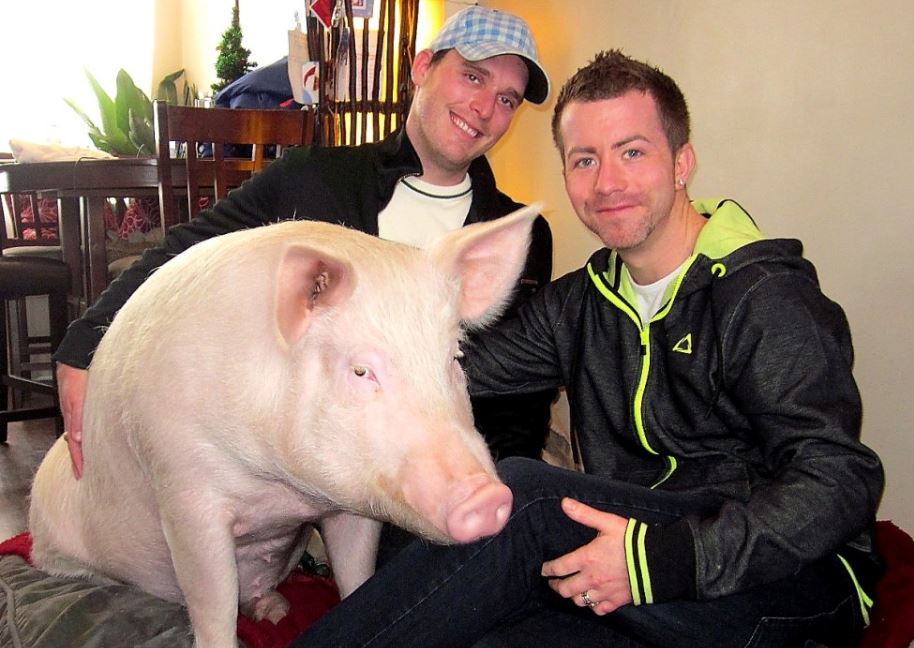 Derek explains, "You can adopt a pig by paying for its food and upkeep, and you can visit the pig at any time." By adopting a pig from a sanctuary, you can still enjoy the company of a pig without the stress of raising one! If you're thinking of bringing home a pig, take Derek and Steve's advice and adopt one instead.
Esther the House Pig - Living in Luxury! 
Although many animals have since joined the family, Esther, the most pampered pig in the world, still receives all the affection in the world. This cute little piggy has taken over Steve and Derek's master bed and now sleeps in her very own bed in the living room.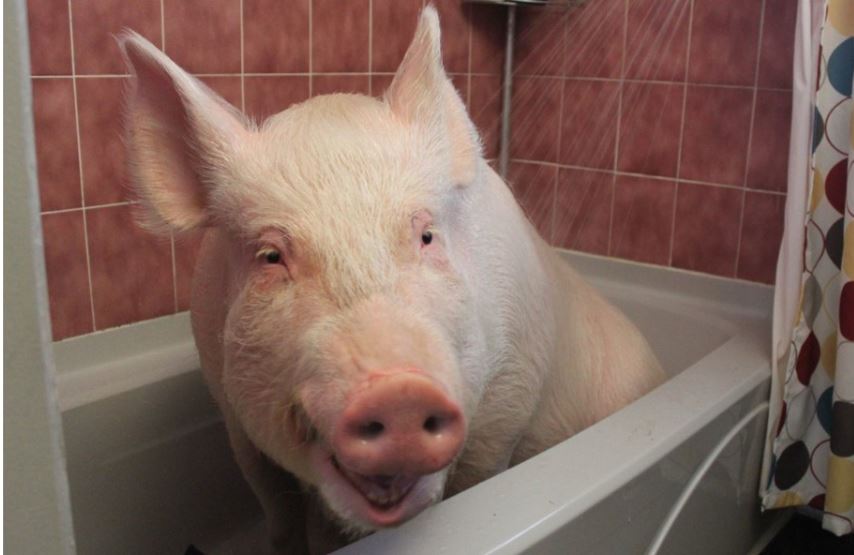 She is quite the fashionista, too, with a trunk full of bonnets, coats, and evening gowns that she displays proudly on her social media pages. But Esther's life of luxury doesn't end there! This house pig shares her home with two dogs, two cats, three rabbits, and several minnows – talk about living the sweet life!
From Piglet to Star: The Unbelievable Journey of Esther 
In 2016, Steve and Derek wrote a book called Happily Ever Esther, detailing their incredible journey with their beloved pig. Starting as a mere five-pound piglet, Esther has grown into a 650-pound celebrity!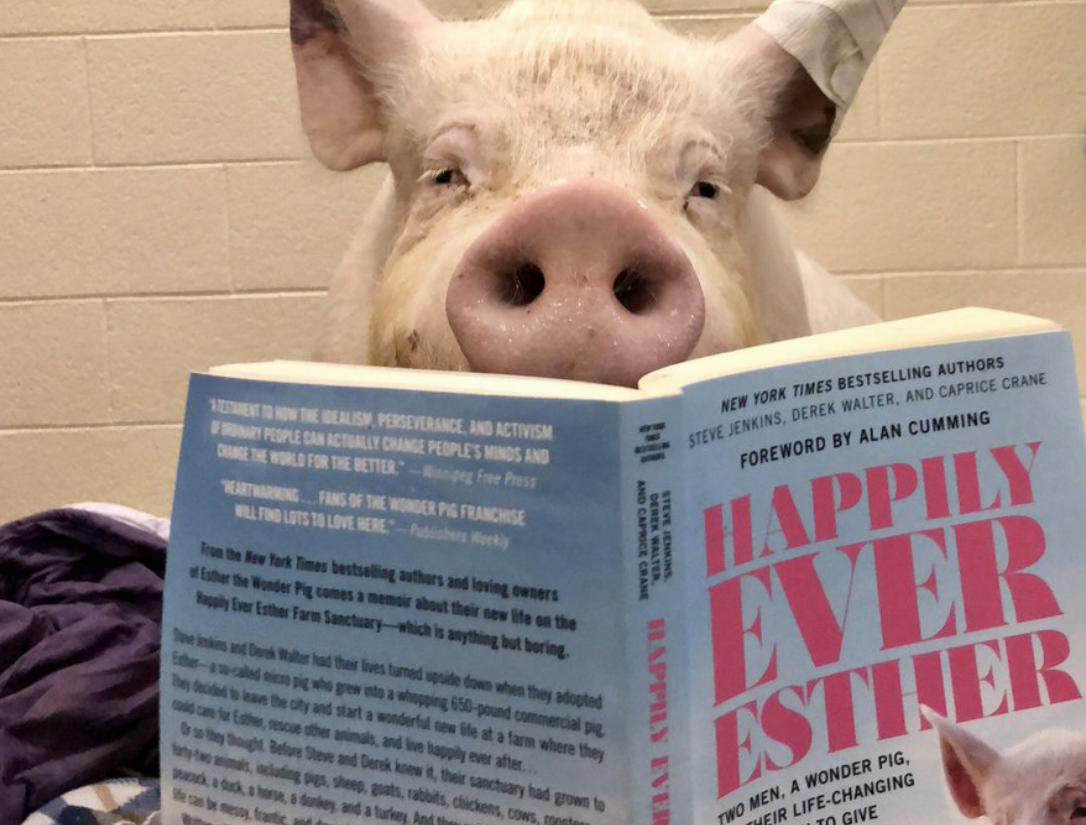 The sanctuary gained even more attention, with notable visitors such as the Dixie Chicks and donations from Ricky Gervais. Steve can't help but marvel at Esther's ease in front of the camera, noting the "mind-boggling" eye contact with the lens. It's almost like she knows the impact she's making!
A Magical Approach to Promoting Veganism 
When Derek Walter performs magic, he knows that laughter is the best way to captivate an audience. Similarly, Steve Jenkins and Derek take a comedic approach to introducing people to veganism.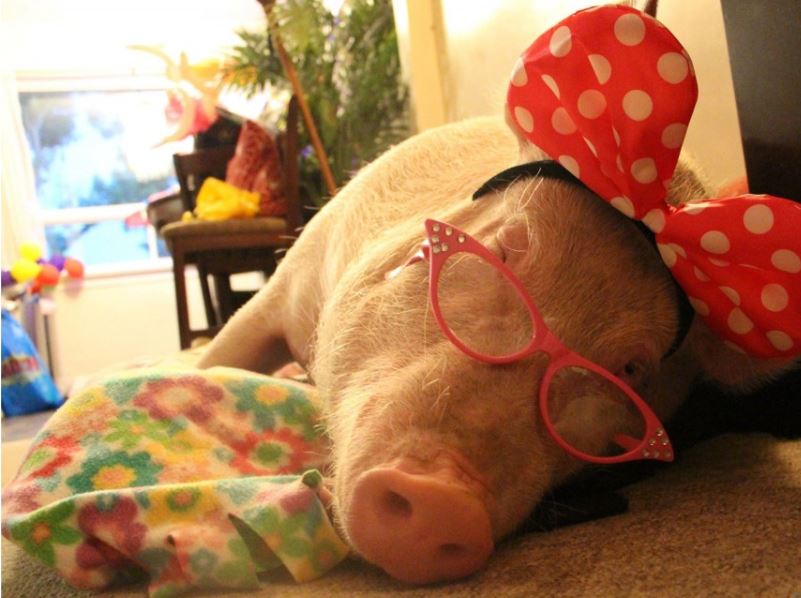 Instead of relying on shock value to promote veganism, they focus on Esther the Wonder Pig. They offer "Esther-approved" recipes, which do away with the negative stigma associated with the word "vegan." Instead of scaring people away, they want to start a conversation and make a positive impact.
Esther's Magic Trick: Bringing Joy to Derek Walter's Show 
Esther was the real star in Derek Walter's magic show! Her journey started when Steve Jenkins taught her the simple command "sit." After a single try and a tasty treat, Esther repeated the action on command.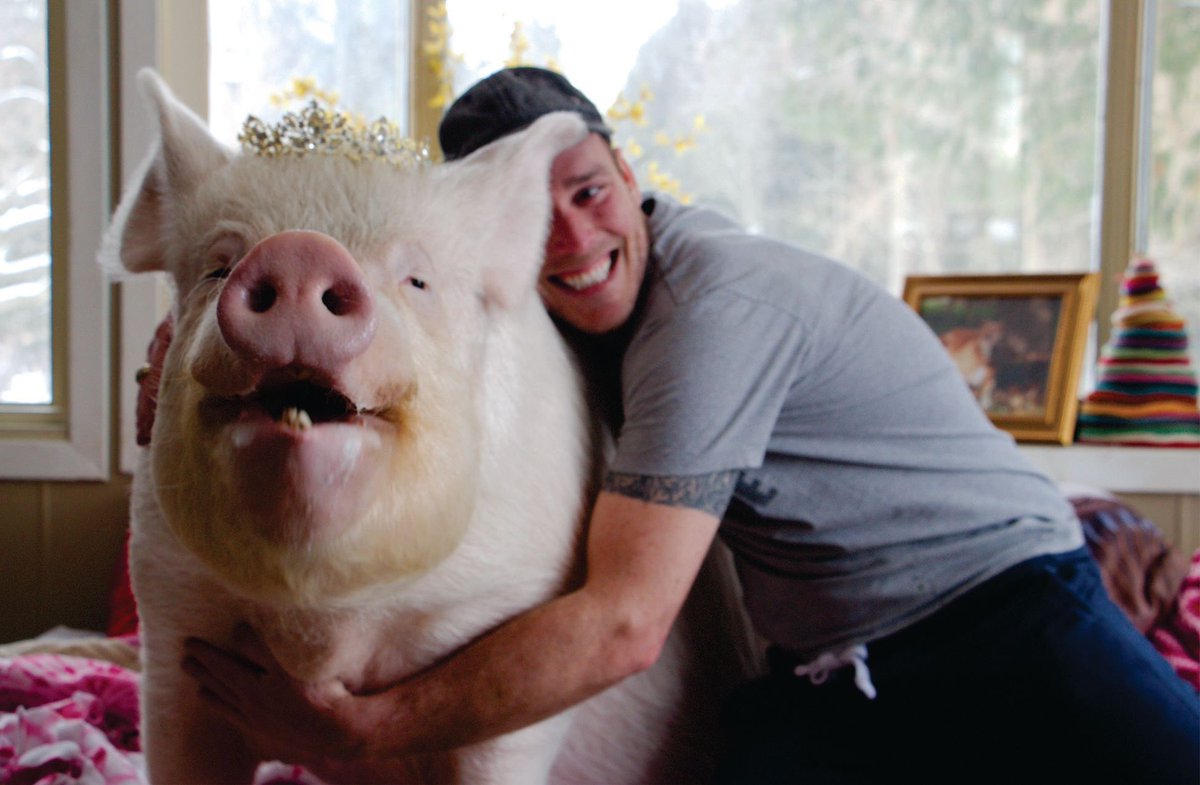 Seeing her potential, Derek decided to have her join him in his magic routine. Surprisingly, Esther didn't need to be taught any tricks. She just had to walk next to Derek and sit on command. Esther's presence brought a new level of joy to Derek's show. She was a magical addition to Derek's performance.
Two Men and a Farm: An Unlikely Story of Success 
Steve Jenkins and Derek Walter weren't looking for a career change, but that's exactly what they got. After taking a backseat to their traditional jobs, they now focus their energy on Esther's farm, a place that promotes veganism and self-sustaining living.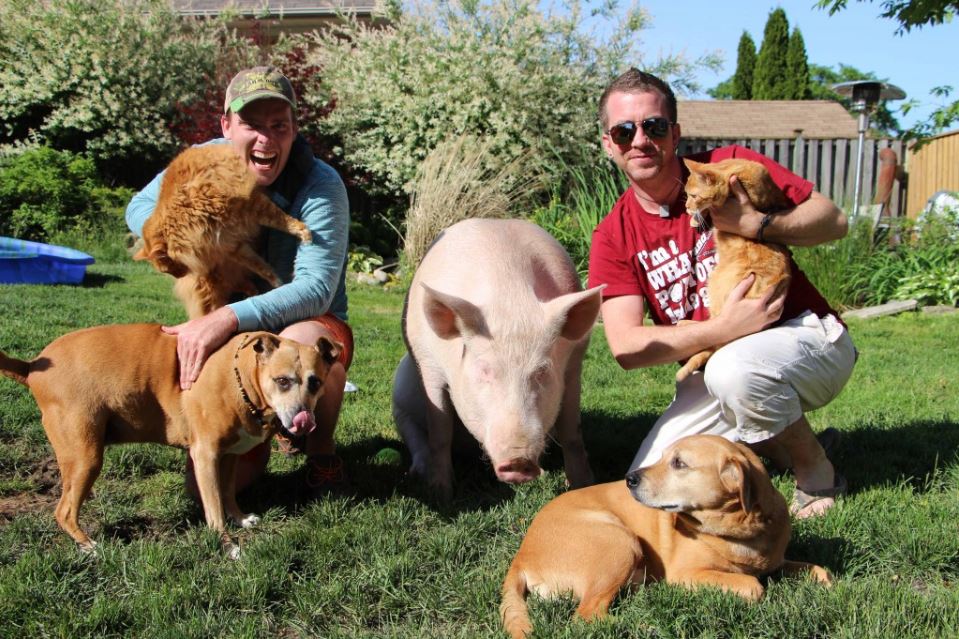 While Steve still keeps up with real estate and Derek performs magic on the weekends, their work with the farm and its social media has become an unexpected success. In Derek's words, it has become "bigger than us," and both men are surprised and humbled by the results. Their mission is to get the message of sustainable living out to the world, and they are succeeding.
The Power of Esther - Changing Perspectives on Farm Animals 
Esther, the celebrity pig, has changed how thousands of people think about farm animals through her presence in the sanctuary and on social media. Derek and Steve have even coined the phrase "The Esther Effect" to describe the wave of change Esther has created.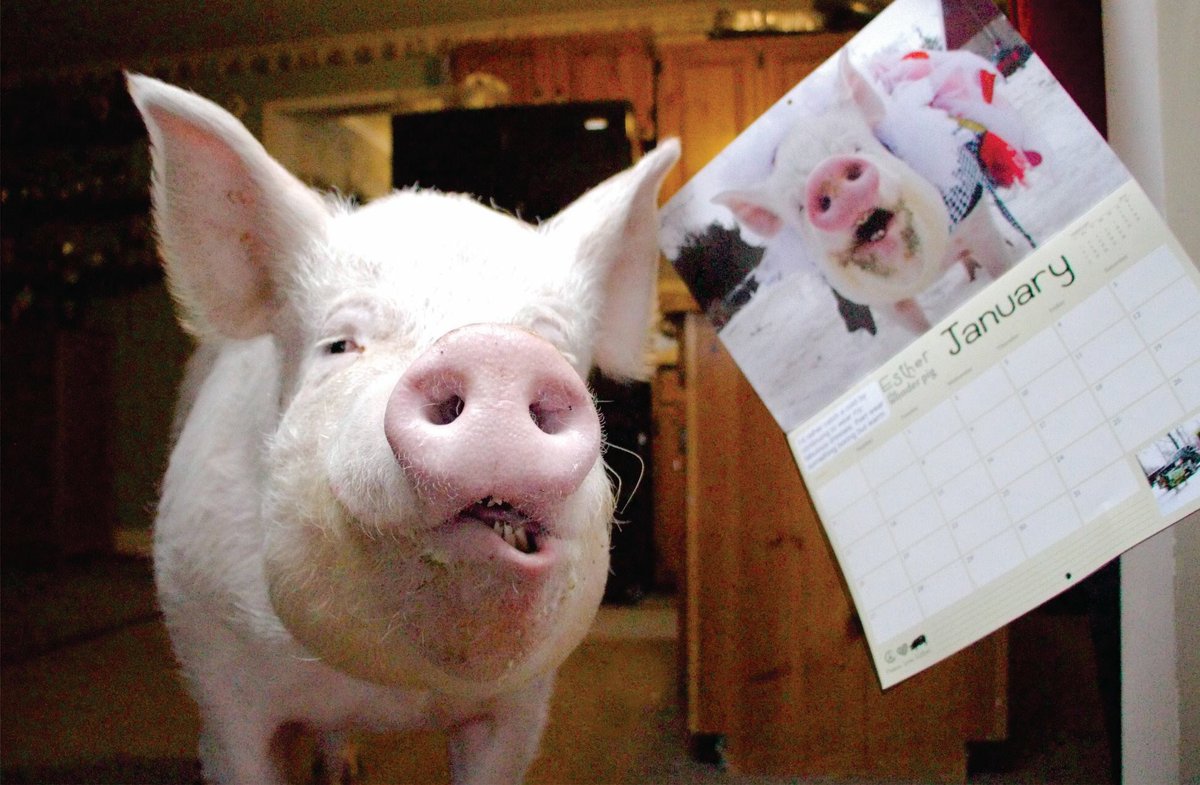 Steve Jenkins said, "We want people to build a relationship with her, and we hope that opens the door and makes them start questioning everything else." The Esther Effect continues to grow millions of followers and hundreds of tourists each year. It's clear that Esther is more than just a pig – she's a powerful force for change.