Rescued Kitten Finds Home With A Group of Friendly Huskies
Life on the streets is nothing to scoff at, especially when you are a little one. Unfortunately, those are the circumstances in which a helpless kitten in San Francisco Bay found herself.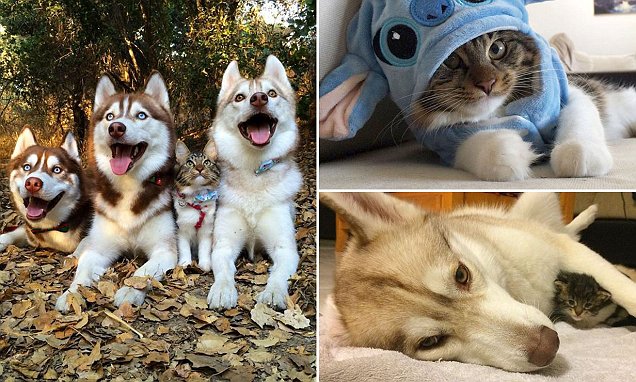 The kitten was just a few weeks old, meaning its survival odds were in the red. Luckily some kind strangers saw the creature's predicament and decided to take her home. Interestingly, the house she went to was filled with other pets, and this bunch was far from what you'd consider a cat's best friend.
The Weather Changes Regularly
Most people know California to be a relatively sunny state, but that doesn't apply across the whole area. Places like San Jose are different from LA, where the night temperatures can be brutal. There have been recordings of temperature readings hitting minus 40!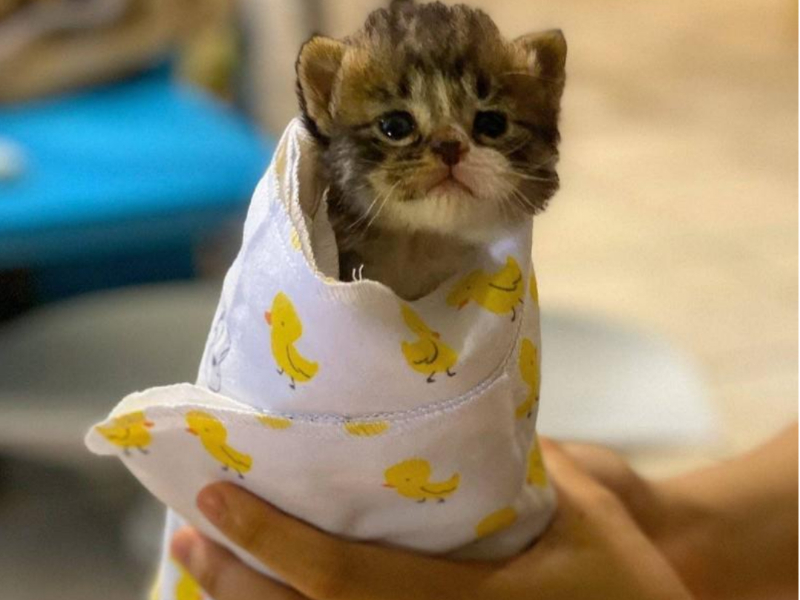 Going by this fact alone, this kitten was bound to suffer, and it was only a matter of time before things got out of hand. If the predators didn't get to it first, the harsh weather conditions would have done it sooner than later.
In Comes the Salvation Trio
With all hope seemingly in the bin, the kitten was resigned to fate, but mother destiny had other plans for our helpless fellow. The kitten caught the eyes of two sisters, Thi and Thram Bui, who decided to save it from the streets.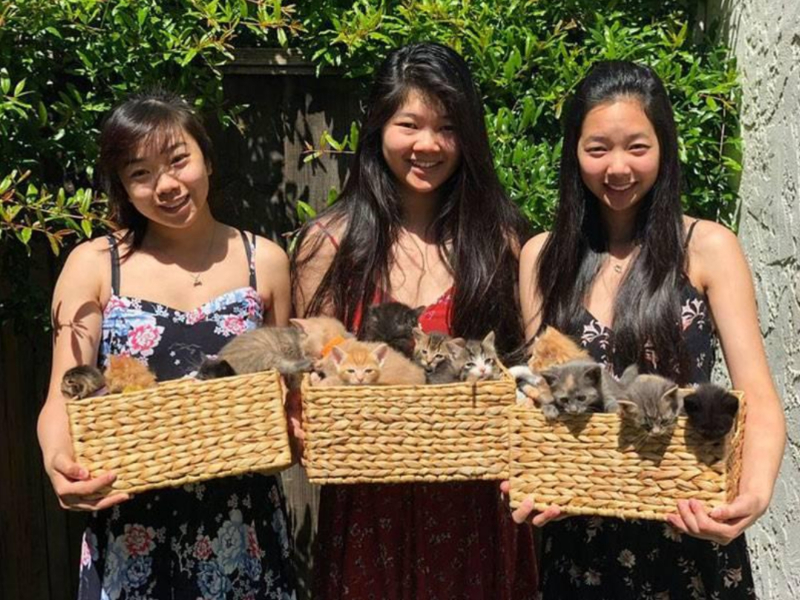 Luckily, the duo had a third sister named Thoa, who had a great reputation as an animal lover/ rescuer. Therefore, when Thi and Tram picked up the kitten, they planned to save the animal. Things were looking up so far, or were they?
It Was Worse Than Anticipated
Once the sisters got the kitten home, Thoa was gleeful at the new household member and named her Rosie. After careful examination, Thoa realized the kitten was in terrible shape.
Rosie was only three weeks old and had seemingly been abandoned by her mother. This is probably why the animal was malnourished and on the brink of d**th. Thoa knew a mountainous task was ahead of her, but she was ready to put her best foot forward in nursing little Rosie back to health.
Easier Said Than Done
Sadly, Thoa's efforts were met with resistance as Rosie didn't want to eat. The lady used all her tips and tricks to get the kitten some food, but the creature was adamant. There was no getting through to her.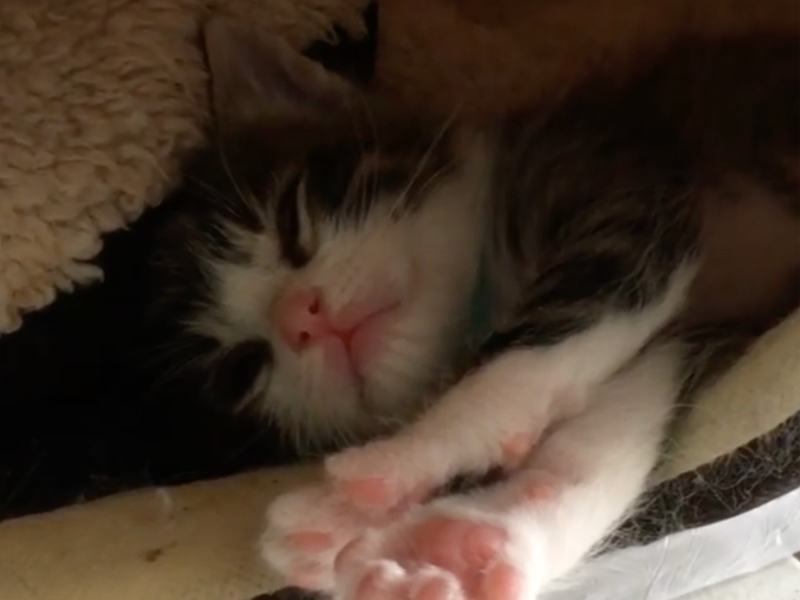 The first night was spent looking after Rosie, ensuring she was comfortable, but it was a pretty depressing endeavor. Our kitten was lethargic and sickly, but she would not eat. Thoa was afraid they might lose the young one until she got an interesting epiphany.
Help From a Strange Source
When everything was looking grim, Thoa decided to involve Lilo, their Siberian husky, to help encourage Rosie to cling to life. The animal rescuer was scared that the little one might not make it, and maybe she just needed some safety and comfort.
Thoa was convinced that the presence of another animal might be enough to boost the kitten's confidence to start eating. So, the lady went and brought in Lilo and introduced her to Rosie, leading to an exciting development.
Bonding at First Sight
Immediately Lilo entered the picture, Rosie's mood changed, and she welcomed the dog into her space. Lilo was also a fan of the kitten and stayed by the kitten's side, cuddling all night long. Sooner than later, Rosie felt hungry and started looking for food.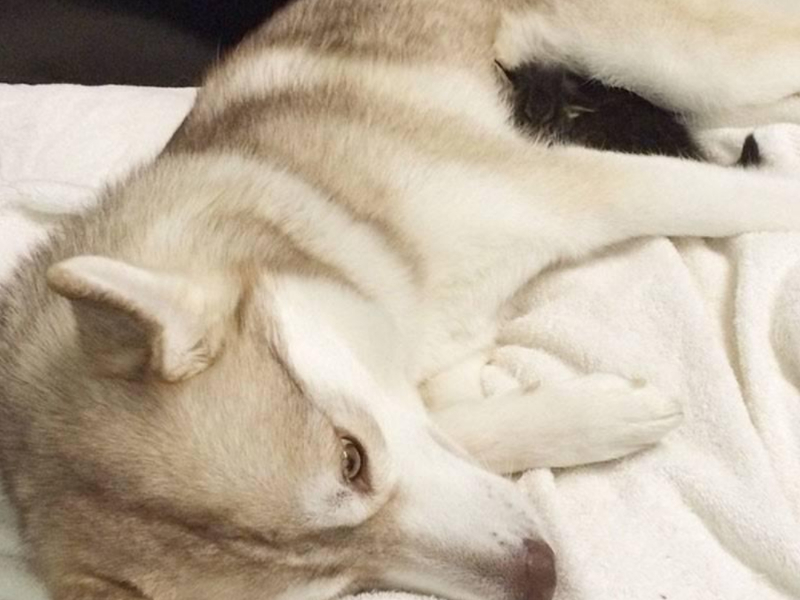 Thoa's plan was working, but it was working too well because Rosie tried nursing the huskie, thinking she was her mother. It was a cute moment with Thoa smiling because she knew the kitten was finally ready to live.
Born to Do This
Eventually, Rosie was ready to nurse on a feeding bottle, and Lilo stayed by her side. Thoa even brought the dog's feeding bowl close to her, so the moment was not interrupted.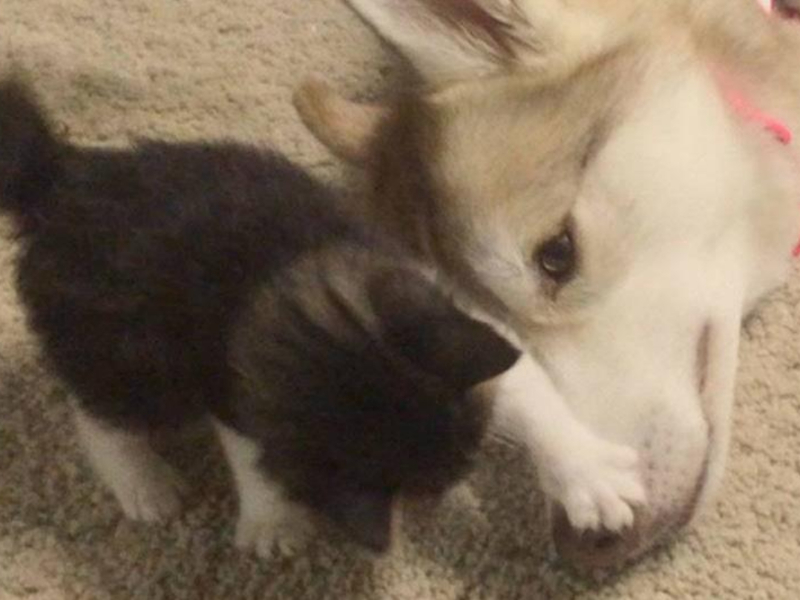 You might think Lilo's maternal instincts must be a product of her having many puppies, but that couldn't be further from the truth. The dog could not have puppies, but she had acute maternal instincts. This is why she could take on the challenge of nursing Rosie without any qualms.
To Cuddle Is Divine
Lilo's cuddles were pretty potent as Thoa recounted that Rosie began feeding just a few hours after chilling with her new savior. This was an exciting development, considering the two species are usually sworn enemies. Nevertheless, the sisters were amazed and happy at how things had turned out.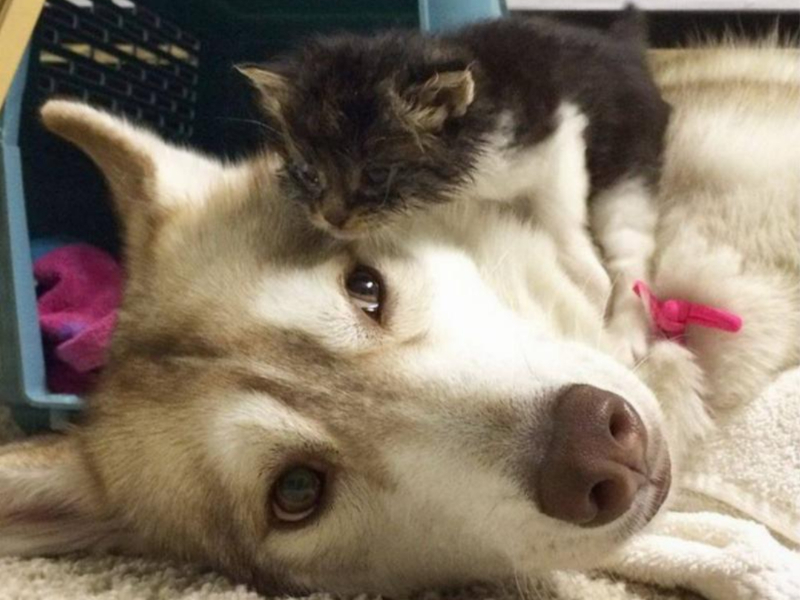 Aside from Lilo, this household had two other huskies named Miko and Infinity in the home. As much as Lilo and Rosie were tied to the hip, there was no way of guaranteeing the rest of the brood would share the same sentiments.
All's Well That Ends Well
Whether the dogs would get along with the kitten was a big gamble, but if Lilo were an implication, things would work out for the better. Surprisingly, the energy was optimistic when the two dogs were introduced to Rosie. They quickly swarmed the kitten, smothering her with licks and cuddles.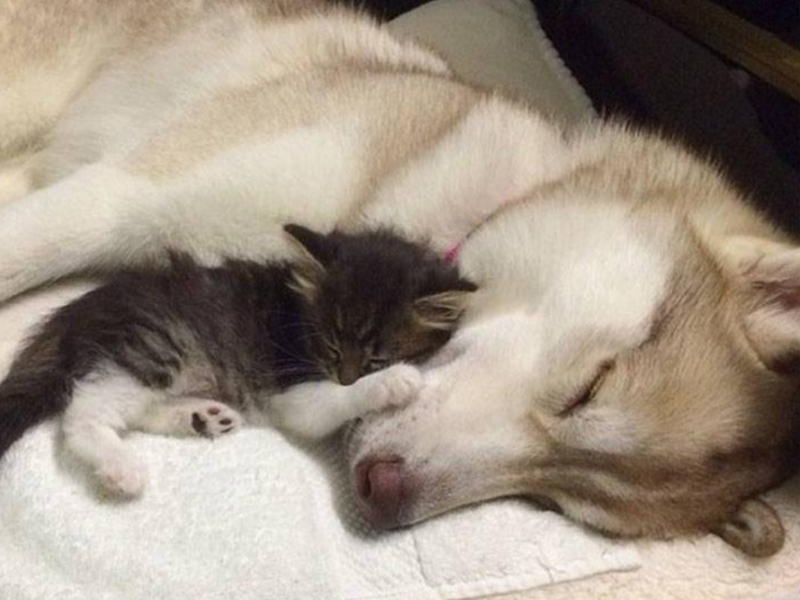 Before long, the team of three was now an odd team of four. Looking at these animals, you'd think that cats and dogs are the tightest units on the face of the earth.
Birds of a Feather
Thanks to this new family, Rosie picked up a few habits that are not typically cat-like. She was an official member of the pack, and considering her age, it was only fair she acted like the doggies.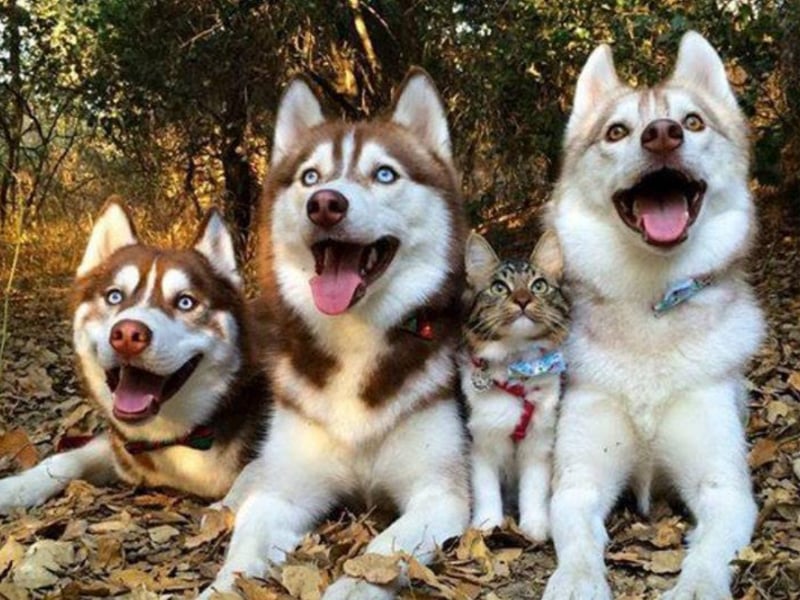 On the other hand, the sisters usually went on walks with the dogs, and one of the ladies realized that the cat usually felt left out. Therefore she came up with an idea to ensure Rosie got the same privileges. Of course, it was outlandish, but there was a slight chance of success.
If It Works, Don't Judge
The plan was straightforward; Rosie would be part of the team whenever the family went on walks. Upon hearing this suggestion, Thoa was skeptical of its success but chose to humor her sister just in case things worked out.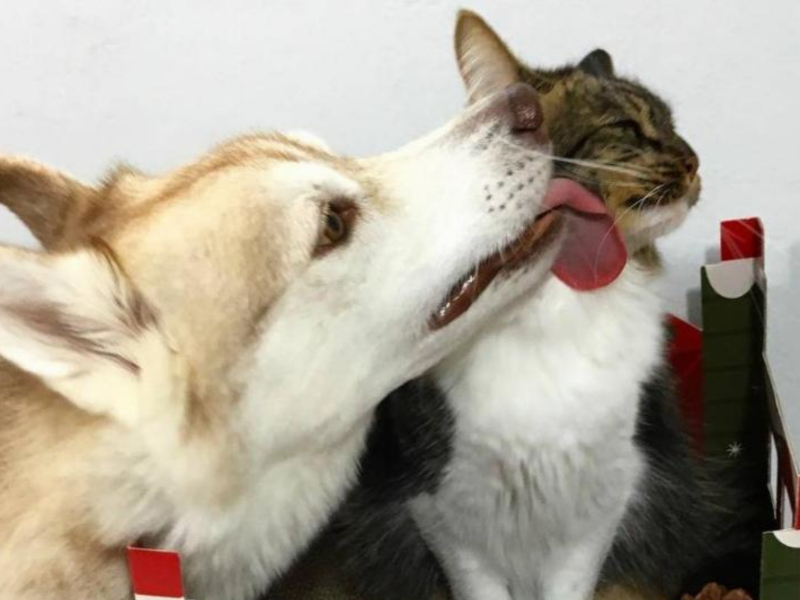 Thoa was half right as people found them ridiculous tagging a cat along when walking the dogs. Nonetheless, this was a good plan as all the animals had a fun time outdoors together.
She Didn't Want a Potty
Remember when we said that Rosie picked up dog habits? The walk wasn't the only thing with the cat looking like a husky. Unlike most cats, Rosie never wanted a litter box. Instead, she learned from her siblings how to go potty; it was like a dog.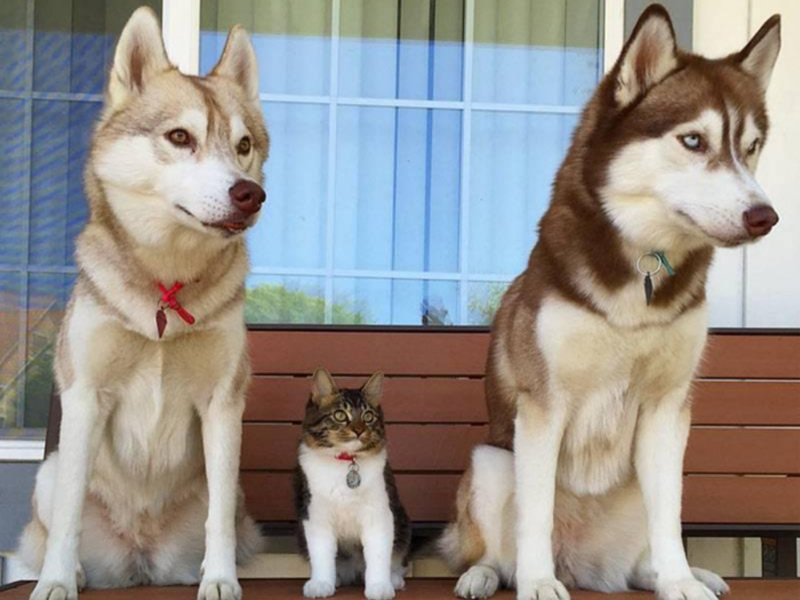 Rosie copied the formula as soon as she noticed the dogs doing their business outside. That was not all; the kitten loved the walks so much that she wanted to be put on a leash.
Time to Move On
Sadly, despite the bonding and fun activities in the last few weeks, it was time for Rosie to find a new home. Thoa hadn't planned to keep the kitten, so she needed to ensure she got a perfect placement sooner than later. To help in this decision, Thoa looked to the pack for answers.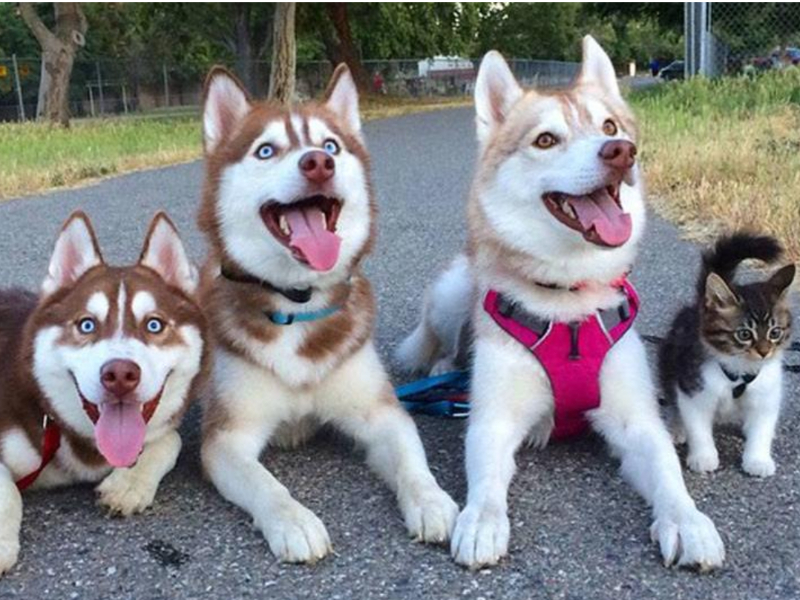 Unsurprisingly, the dogs were not ready to let their new friend go. They loved her to bits, and Thoa couldn't separate the creatures. Rosie was officially a part of the family!
She Was Still a Cat
As much as Rosie had picked up some dog habits, she was still a cat and acted like it from time to time. This is due to her interaction with fellow cats within the house. This has helped her develop some traits crucial and essential to a cat.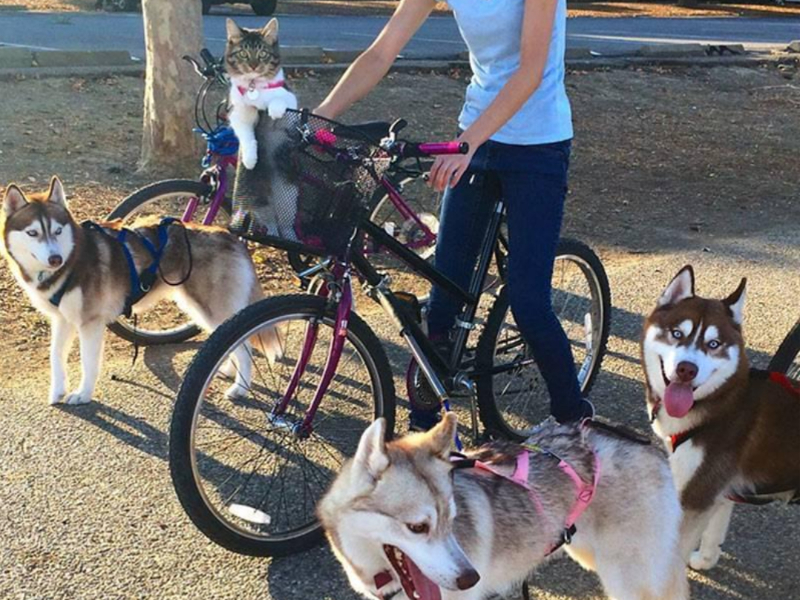 That being said, her husky upbringing still takes the cake, and Rosie believes she's more a dog than a cat. One major cat habit is eating and drinking from the same spot as the dogs!
She Is a Swimmer
The dog traits don't end there, as our Rosie has one distinct feature most cats don't. She loves the water! Yes! This cool cat is okay with getting wet. So when the family went boating, our little friend was in tow, and she barely raised a fuss.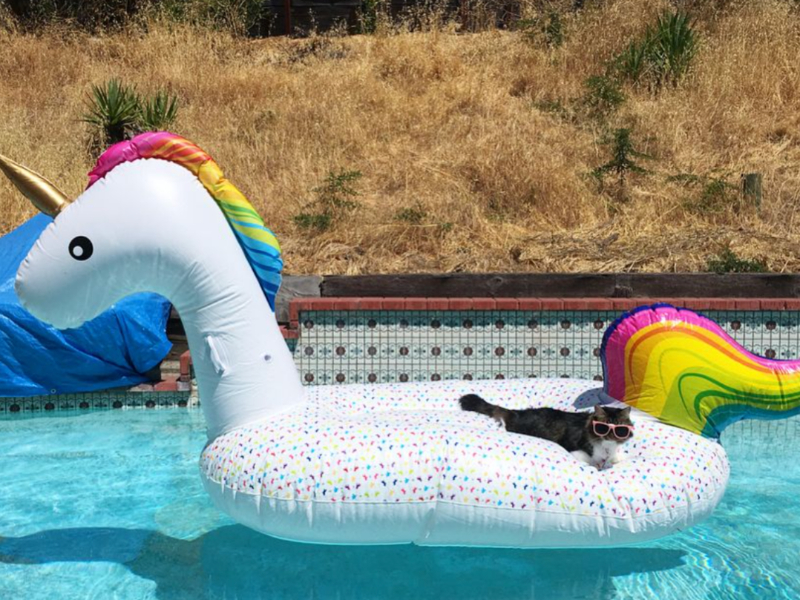 When the family went kayaking and paddle-boating, guess who had front-row seats? You guessed it, Rosie! The cat is barely afraid of the water, and nothing can shake her resolve as long as Lilo is around.
Each One Teach One
Rosie has grown to be compassionate, thanks to the kindness shown to her, emulating her environment. Even with her rough start in life, the kitten is pretty soft and pays it forward whenever she gets the opportunity.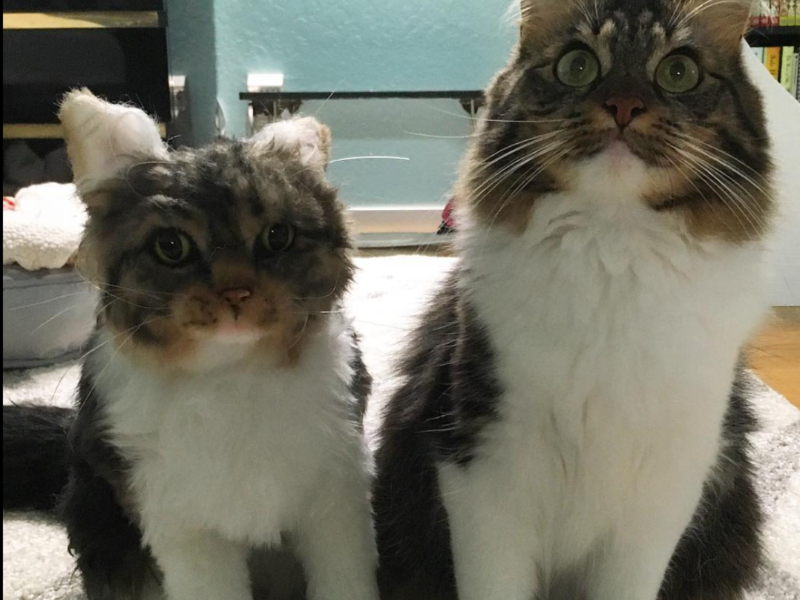 According to Thoa, every time Rosie meets a stray cat or other suffering creatures in the street, she brings them home to Thoa and the family. As for Thoa, she does her best to help Rosie's new friends. This is Rosie's way of thanking the universe for saving her life.
She Is a New Mom
After five years of living with the huskies, Rosie has become a foster parent. She is no longer a kitten; according to some online updates from the sisters, she has learned a lot from Lilo.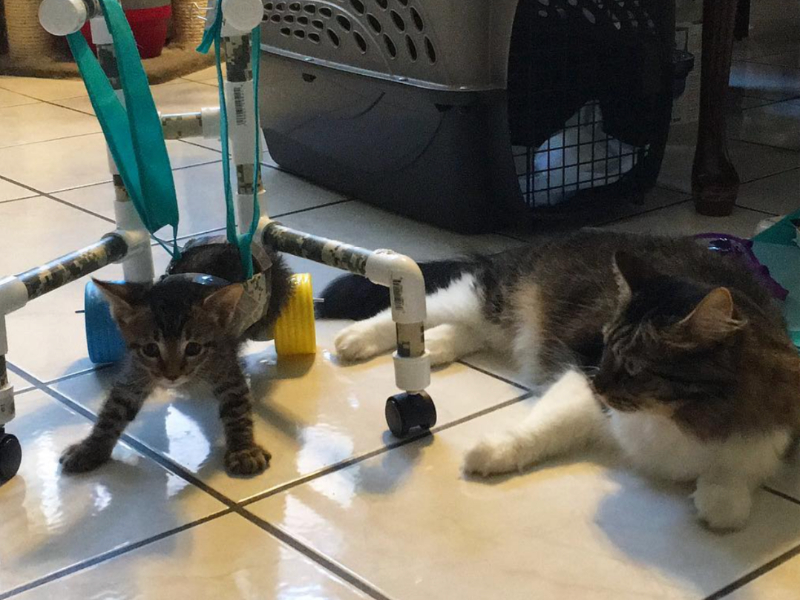 One year after her dramatic introduction into the household, the Bui sisters brought home four kittens in need of some TLC. Rosie didn't need telling twice to save the little ones. Like Lilo, Rosie couldn't nurse the babies but provided warmth and emotional support.
The Story of the Three Sisters
Thanks to their heartwarming activities, the Buis sisters have received a lot of praise online and offline. People love their work, saving creatures off the dangerous streets. On the other hand, these girls know how to pull our heartstrings as they have constantly flooded their feeds with cute images of rescued kittens.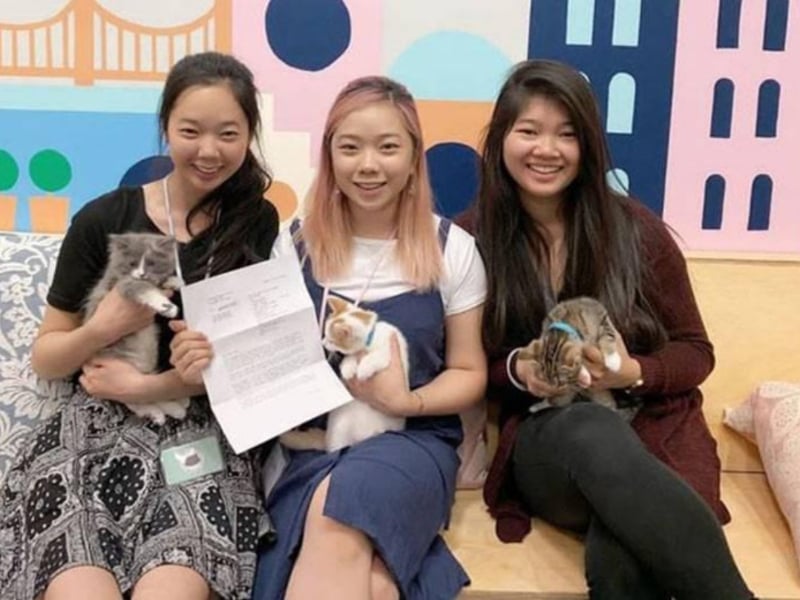 Their work has been consistent and credible to the extent they managed to start a kitten rescue center called Mini Cat Town Kitten Rescue. Who knew things would go so fast?
Rosie Is Still the Goat
Even with the new 'citizens' influx into their sanctuary, Rosie is still considered the star attraction. After all, she is responsible for this new venture. That's why regular updates on the husky cat are still ongoing. On her 5th birthday, the cat celebrated it in style together with her siblings Lilo and Infinity.
Lilo and Infinity turned seven, and we must admit, these creatures know how to pose for pics. Their birthday hats were iconic too, and how did they keep them on?
Lilo Never Stopped Caring
You might think that since Rosie took over rescue duties, Lilo has been resting on her laurels, but that was not the situation. In 2020 on mother's day, the dog was seen online chilling with a new kitten resting on its head. Regardless, her maternal instincts were as strong as ever, evidenced by the other kittens in the frame.
Sadly, this dog is a cut above the rest, and it could never get its puppies. Lilo would have been a fantastic mom.
Talk About Cuteness Galore
Pair bonding is quite common in the animal community, as evidenced by this photo where two kittens have taken over the scale. You have to check your weight, right? You shouldn't let the loving and comfort food get to you!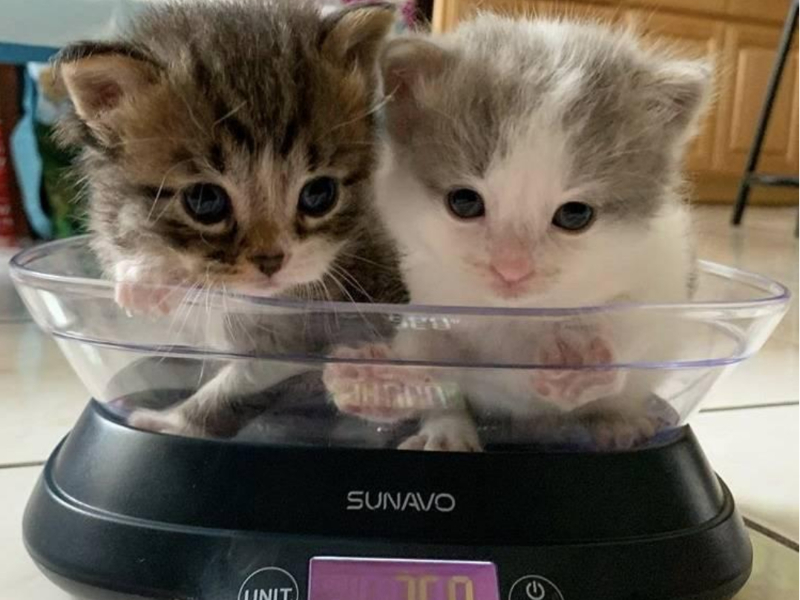 Surprisingly, the babies are so light it's laughable and cute at the same time. Despite sharing a scale, the dynamic duo made the needle move only a little. Even so, weighing the kittens is crucial as it helps the sisters make informed decisions on their weight.
It's All Fun and Games
Kittens are pretty playful, and unsurprisingly, they love hiding in tiny spaces. As for these siblings, they are inseparable, and you'll always find them snuggling in the same spot. Don't take our word for it; look at this picture taken by the Bui sisters.
This is one of those moments that has you feeling all sorts of emotions, and if you're not careful, you might find yourself at the doorstep of an animal shelter. What we are looking at is what the kids love to call; cuteness overload.
It's a Serious Affair
According to Mini Cat Town's website, since 2015, the foundation has rescued over 340 cats and kittens. That's a pretty impressive feat, considering how much work goes into rescuing animals.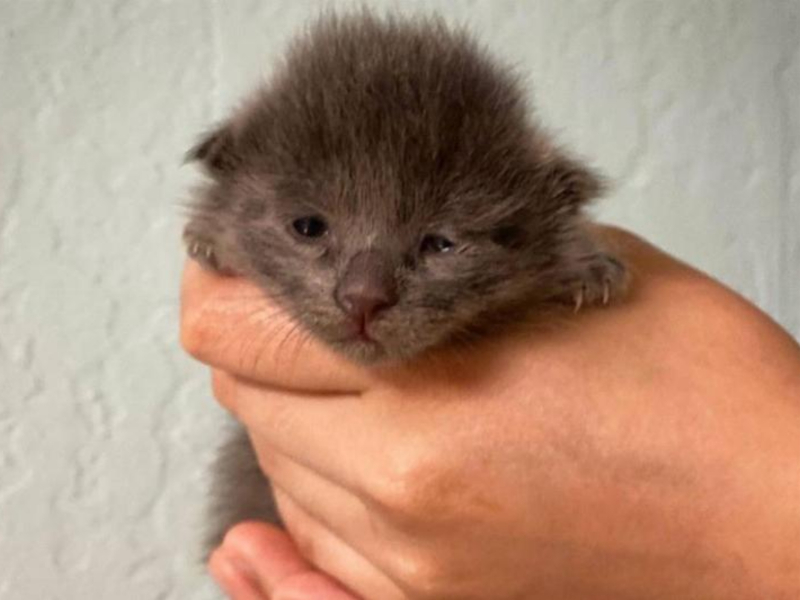 Unfortunately, despite their efforts, nothing can save the cats from the Monday blues. Fans were recently introduced to Buzz, who seemed less thrilled than the other kittens on the roster. Its drooping eyes and sad demeanor had fans wondering if he was okay. From our end, the kitten isn't a morning person, and we should wait for a better angle.
Survival for the Fittest
Reading Rosie's story, you might think that feral cats have a knack for abandoning their little ones. Nonetheless, these creatures have strong maternal instincts, and it takes extraordinary circumstances for them to let their babies go. The outdoors are brutal as resources are scarce, so any signs of weakness are disregarded.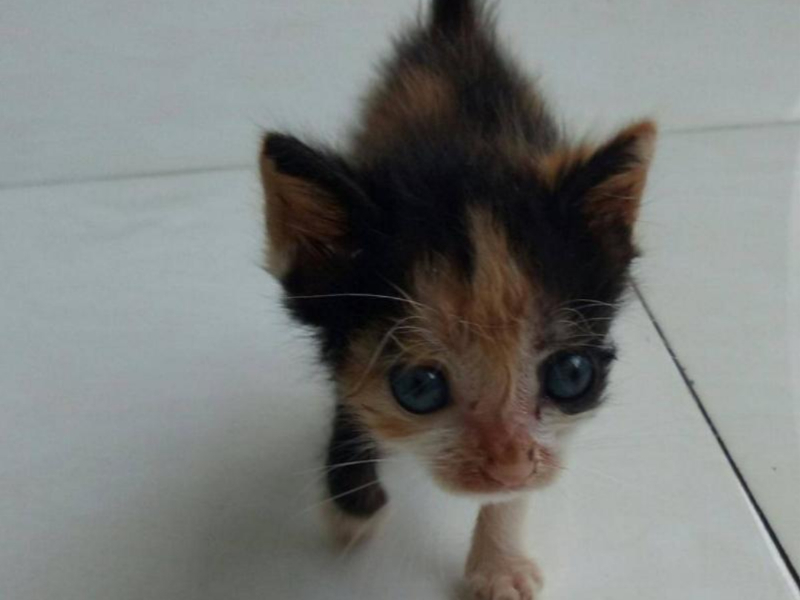 This is probably why a calico kitten found itself on the wrong side of the fence. Its mother had a large litter, and the kitten was the smallest in the bunch, meaning she had to go.
She Was Left to the Streets
The calico kitten was tiny, and the mom probably felt she wouldn't survive the outdoors. So, in a ruthless but calculated move, mama cat decided to focus her efforts on the more robust kittens and abandoned the weaker ones.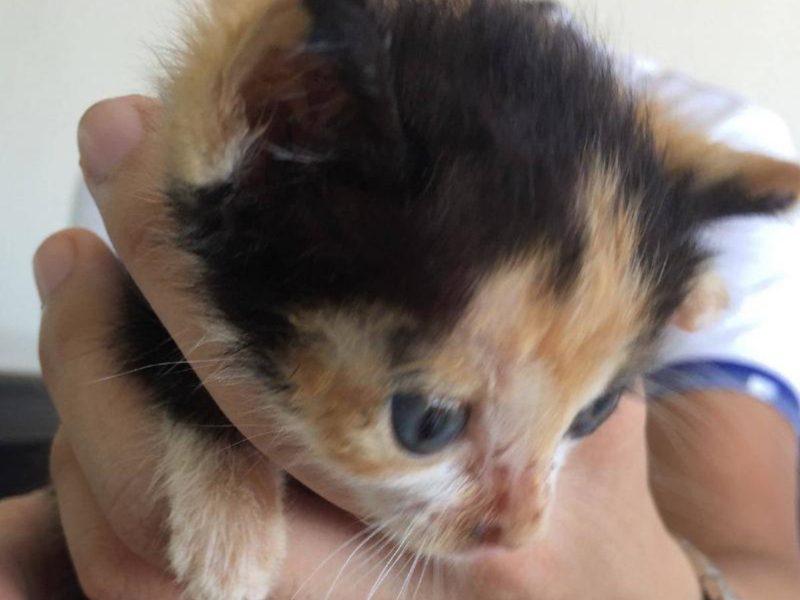 All hope was lost as the kitten cried out for help. Her mother and siblings had left her, and there was nothing she could do to fend for herself. Luckily, a good Samaritan named Alan passed by the kitten and decided to take it in. Unfortunately, as soon as he got close, the calico latched on.
She Was Cuter Than Ever
Alan spent no time getting the kitten toys and food and preparing a place to stay. He even named the little one Sansa as her blue eyes reminded her of Sophie Turner, the actress. Our man was so happy with his new find he quickly took to social media to share some images.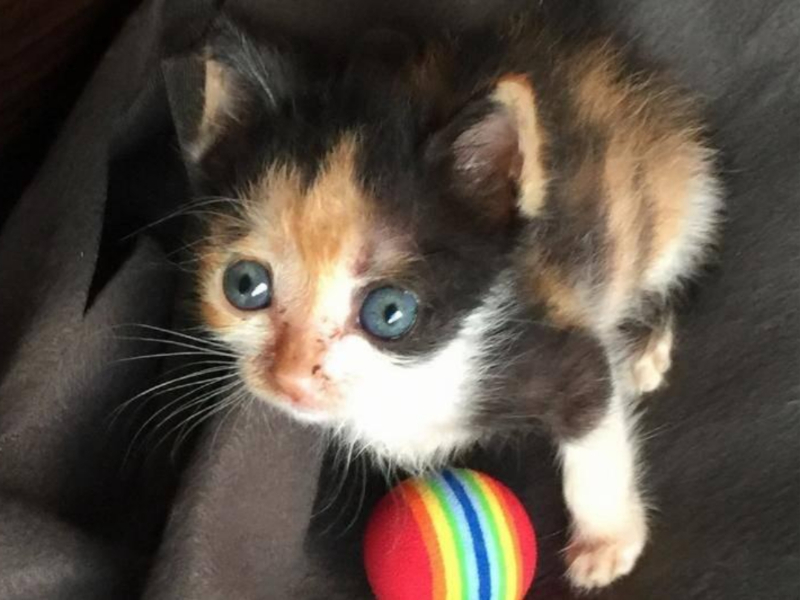 Immediately, the images hit the web; users began showing concern, believing the kitten had been taken from its mum. They had every right to be concerned since all kittens need around ten weeks with their mother.
The Mother Knows Best
During those ten weeks, the mother's milk will provide all the necessary nourishment for the kitten to survive. As for Sansa, she was eight weeks shy of the ideal target, meaning she was still in the red zone. If not handled well, Alan would be in trouble soon.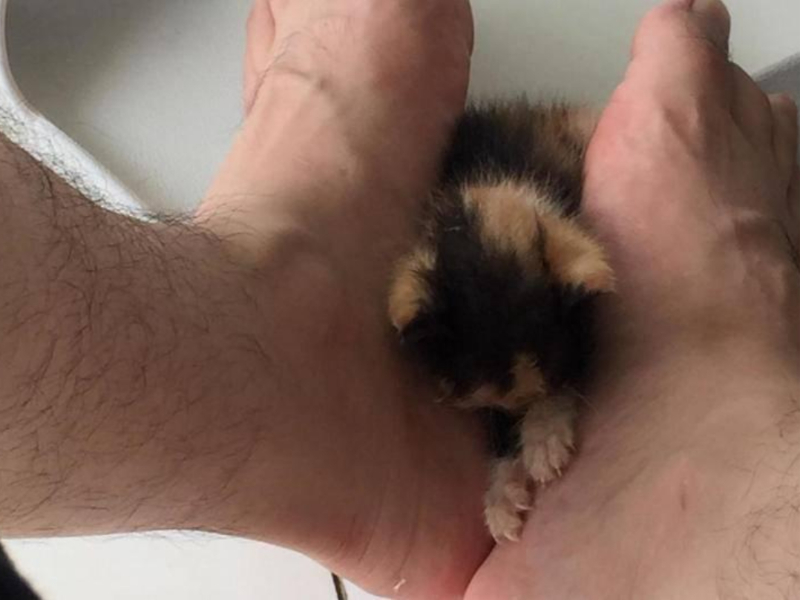 Several comments on Alan's post suggested Sansa needed to see the vet first. Her malnourished state was risky as she could develop complications under human care. Some of these risks include worms and immunodeficiency viruses!
He Took the Advice
Luckily, Alan was smart enough to follow the advice handed out to him, and he took the kitten to the vet and vaccinated her. This was the first step in ensuring things went well, as a kitten needs a lot of care and attention.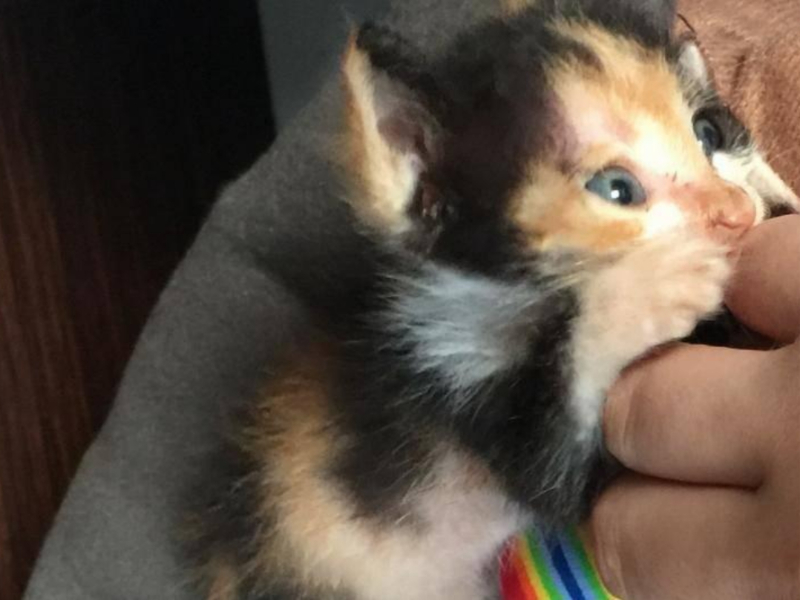 Alan took to the web, admitting he was ill-equipped to handle his new guest and needed more information on what to look for. As far as he was concerned, as long as he gave the kitten milk and toys, things would work out.
It's Great He Asked For Help
It's a good thing Alan asked for help because kittens are pretty delicate, and one wrong move can cause you lots of pain and anguish. The online community told Alan that the little one couldn't feed on regular cat food as it lacked the necessary nutritional value. Instead, the kitten needed a protein and calcium diet to grow healthy.
At first, Alan tried giving the kitten food, but that didn't work out as Sansa was too young for anything solid. Kittens need to be at least eight weeks old for that.
She's Technically Lactose Intolerant
The next option was milk, but our man quickly realized cow's milk gives kittens dysentery. To make matters worse, Sansa couldn't feed herself, so Alan had to step in. It was a job and a half, but Alan was ready for action.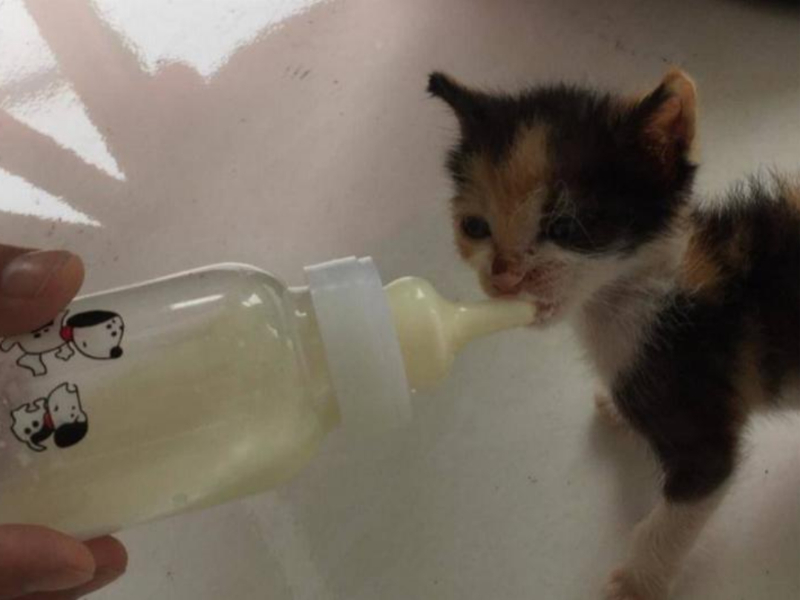 The man bought a unique kitten mix which he syringe-fed Sansa with. He fed the kitten every few hours, thanks to her tiny tummy. Additionally, the baby needed enough warmth, so Alan covered the creature in more than enough blankets.
Love and Care Go a Long Way
If Alan stuck to the script and looked after Sansa properly, the kitten would grow healthier and friendlier. So far, everything was going well, and after a few weeks of bottle feeding, Sansa was up and about. She even started having solid food.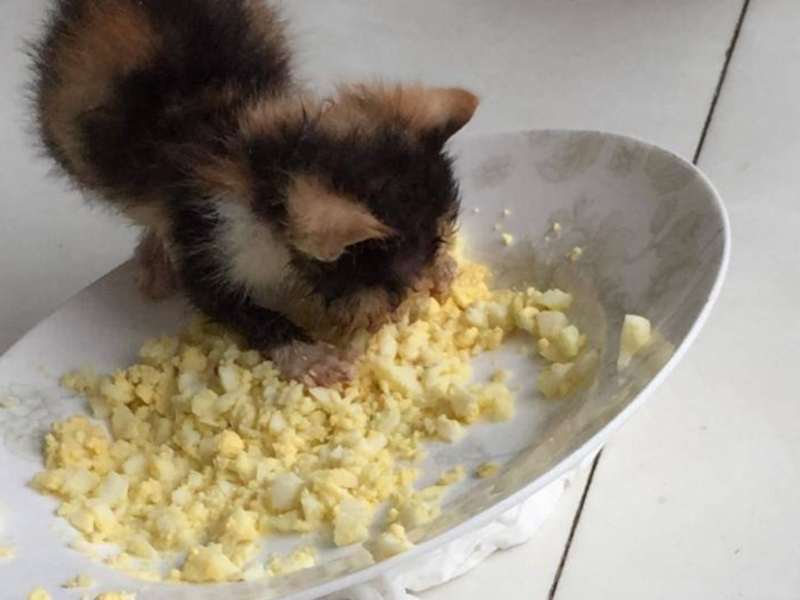 The online suggestions kept coming in, and he recommended some kitty formula to Alan; he wasted no time shipping it. In the meantime, Sansa was put on a hearty diet of scrambled eggs to provide the necessary nutrients.
Safe and Sound at Last
Eventually, the kitten warmed up to its carer, snuggling and playing with Alan. Sooner than later, she was at home, enjoying cardboard box mazes and toying with various things in the house. At this time, potty training began as Alan got Sansa a litter box.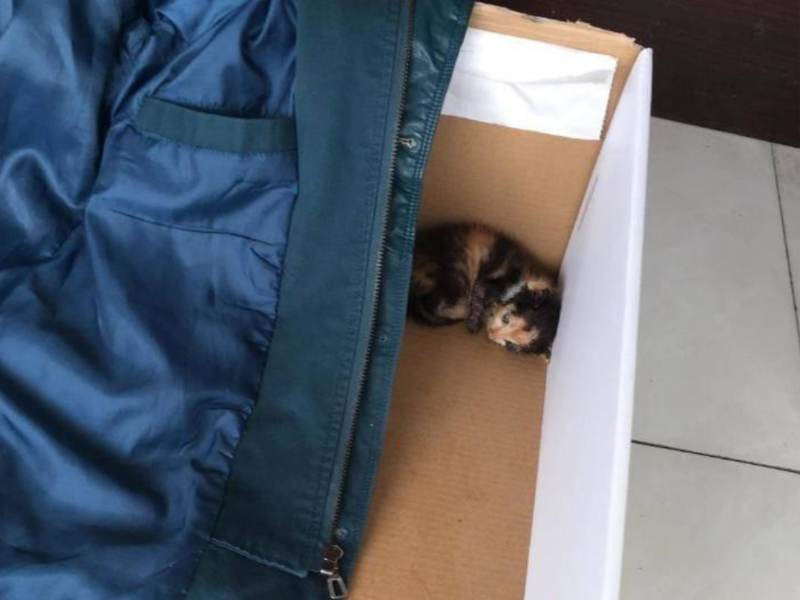 The more Sansa grew, the more feisty and playful she became, even going as far as grappling with Alan. Sadly, as her teeth and claws grew, Alan quickly took to the internet for help after a few bites and scratches.
Rough-Housing Is Part of the Game
Sansa's actions were a good sign, as healthy kittens love to play like that. Even then, the commenters recommended Alan get a scratch pole and yelp whenever the kitten went too far. This worked out well as Sansa became less aggressive over time. Also, as the little one grew, she lost her blue eyes and developed yellow-green ones. This was a further indication she was growing healthy.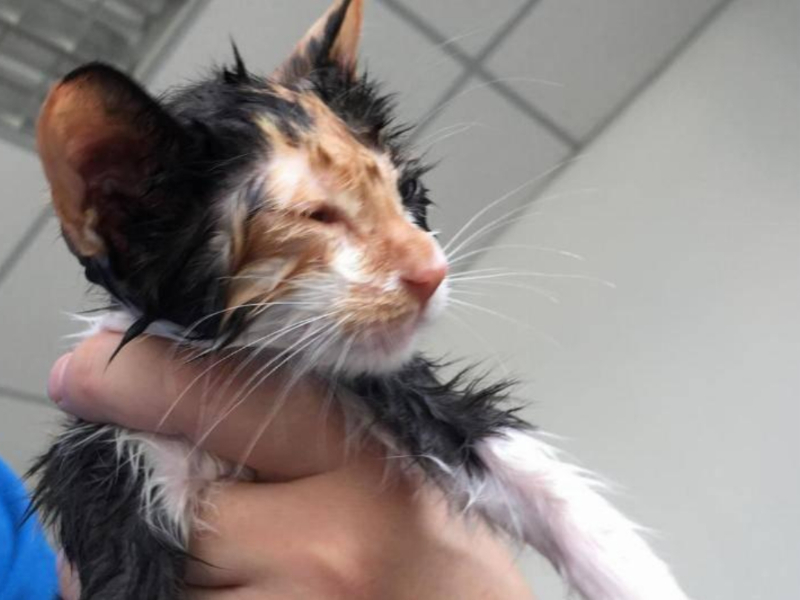 Sansa was now grown and independent, but Alan had to step in for grooming once in a while. Let's say the cat hated water!
They Are a Large Family
After a while, Alan decided to get another cat for Sansa to play with, and in came Arya. The older cat wasted no time showing the newbie around. This was a good call for Alan, as the cat was no longer lonely.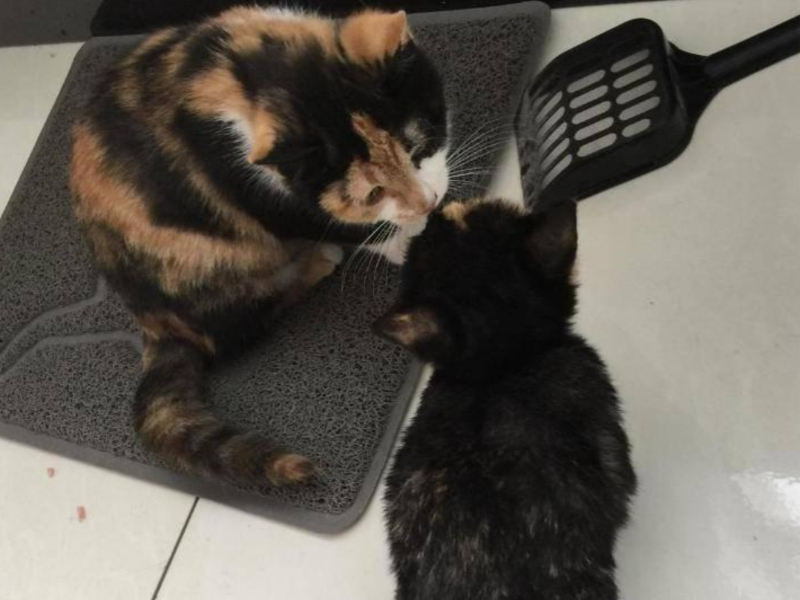 These days, Sansa spends her time on Alan's lap whenever he's home. We know this because Alan always shares pictures of the cute creature whenever possible. Fans all over are happy that their suggestions helped raise a healthy cat.