This Man Beautifully Transforms A $100 Old Wooden Shack
The star of this story is one Richard Aiken from Springfield, Missouri. Aiken is a man of many talents. Not only is he a husband and a father, he also has 2 PhDs, a medical degree, he sings opera, he wrote The New Ancestral Diet, and he also enjoys house projects as you'll soon find out.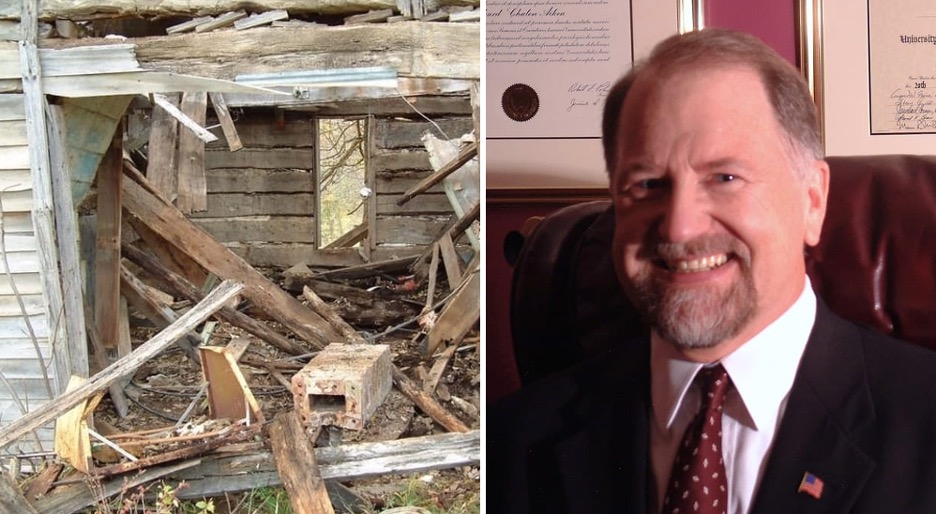 At the time of this project, Richard was 65 years old. He was in search of an old historical shelter he could transform into a comfy cabin to be closer to nature. A man named Billy Howell reached out and was willing to give Richard his old run-down shack for free. Richard instead gave the man $100 and began getting to work on his project. Let's see how Richard transformed the dilapidated shack into a beautiful family cabin.
Where It All Began
Admit it, some part of all of us would love to escape to the woods and live away from society for a while. Most people never get to do that, but for Richard Aiken, it was well within reach.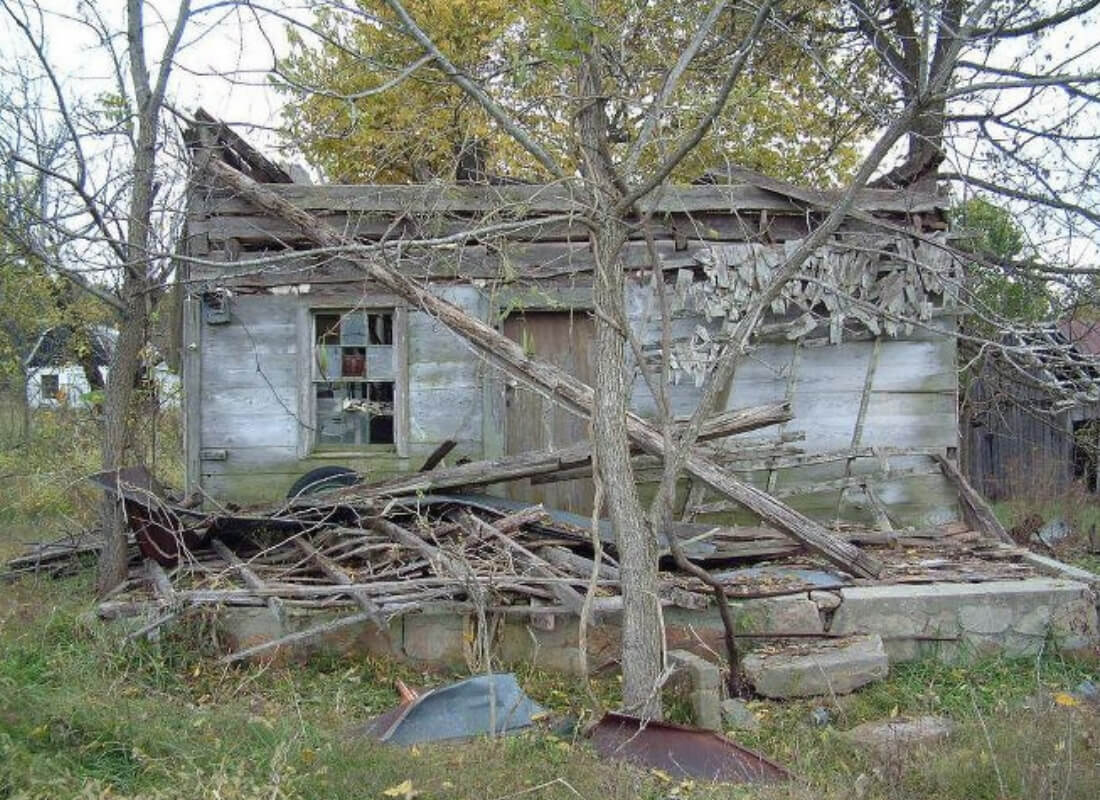 Richard had been interested in purchasing a cabin for some time. After everything he had accomplished, we can't blame him for wanting to wake up in peace each morning, surrounded by a calming forest! While "purchasing a cabin in the woods" doesn't seem all that off the wall, this particular choice wouldn't exactly have been most people's ideal.
The First Look
Whenever we think of buying a second house, lots of money comes to mind. But Richard wasn't looking to stay on the beaten path. A friend of his in Missouri mentioned an old, beat-up cabin, and for Richard, it seemed like the perfect opportunity to start living his dream lifestyle in the woods.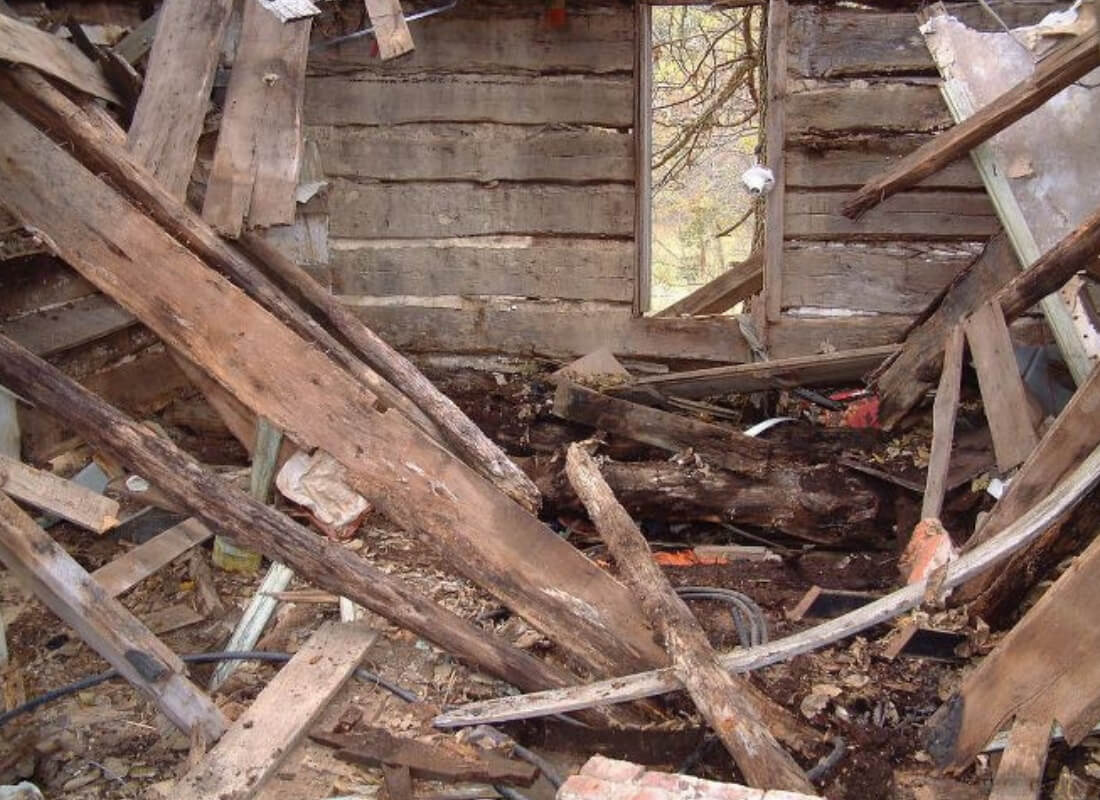 The cabin and property? $100 in cash. But as you can see, most people wouldn't exactly call the decrepit structure a building. Including the previous owner himself, as it turns out. He offered it to Richard for free, but Richard insisted on paying something.
Where to Start?
The cabin as it stood didn't offer much. It was in terrible shape, and even to a man like Richard, it was clear that it would take a lot of time and work to get the structure into safe and livable conditions.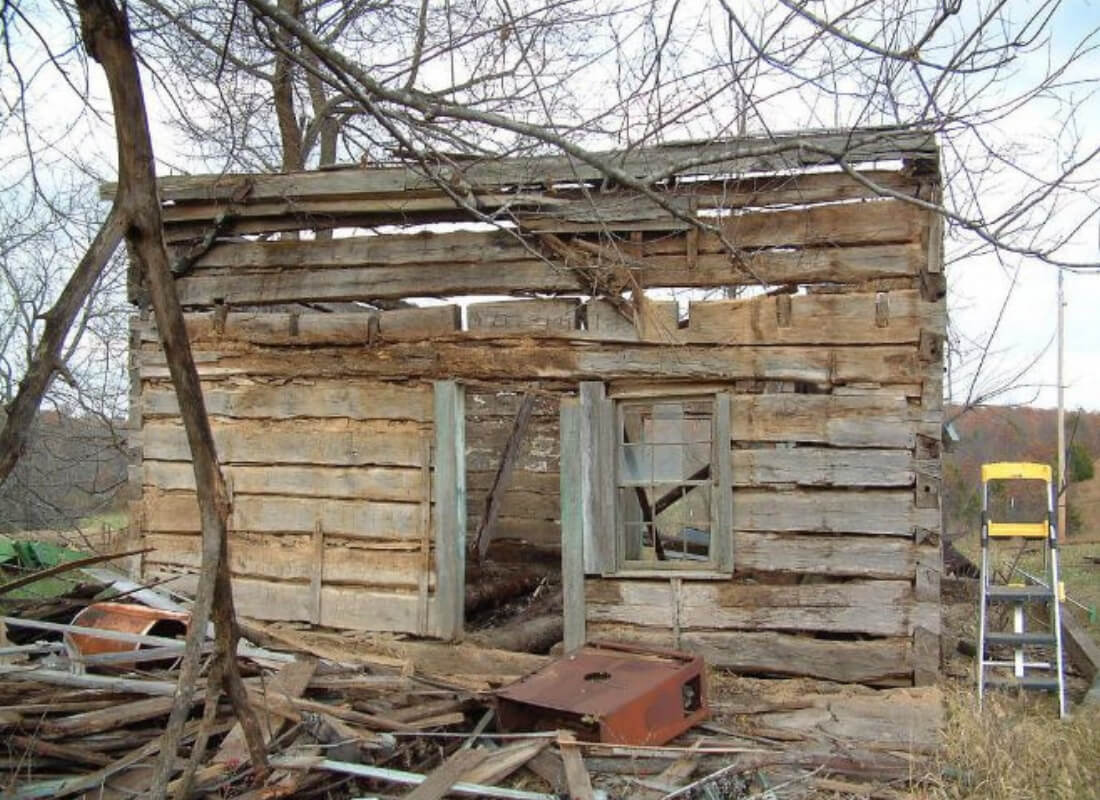 The cabin, and Richard's future second home, had a fully collapsed roof and was full of debris. Even the average city dweller could tell that it looked dangerous inside, and most wouldn't even step foot in it! Of course, that didn't stop Richard. With his spare time, he made the decision that he would slowly work on the cabin, with the goal of eventually fixing it up into decent condition. He strived to turn it into something beautiful.
Lots of Work Ahead
While anyone could tell the cabin was severely worn and beaten up, Richard put his skills to work. After fully evaluating the structure to determine what, if anything, could be saved in its original form, he realized that a lot of the wood was badly rotten.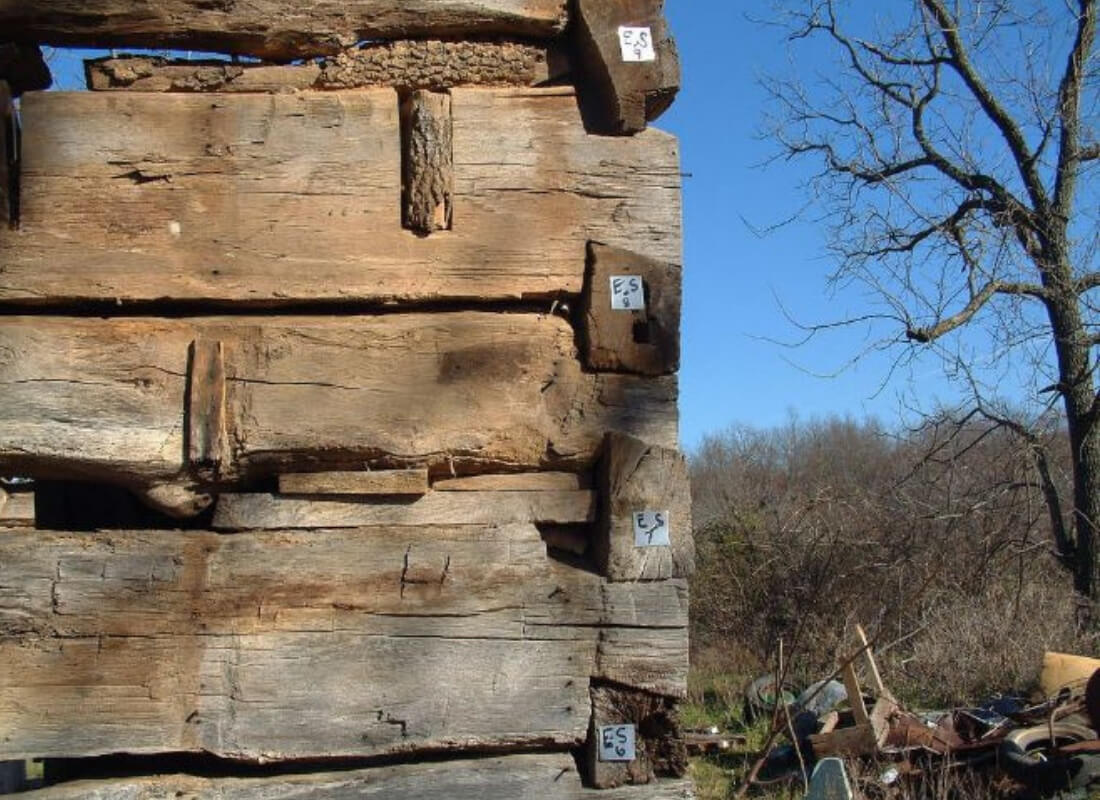 What did that mean? With most of the original wood unsafe and unusable, Richard knew that he would have to start from the ground up. He would need to tear down almost the entire cabin. Even knowing that, he wanted to keep some of his original intentions — and the cabin's original integrity. He saved whatever wood he could, to recapture some of that essence.
Let's Get to Work
Fortunately, the property the cabin was on was beautiful, creating a peaceful work environment. Richard started by taking note of every piece of wood on the outside of the cabin, so that after he disassembled it and took care of the decades of rot, he would be able to reassemble the wood in the same place.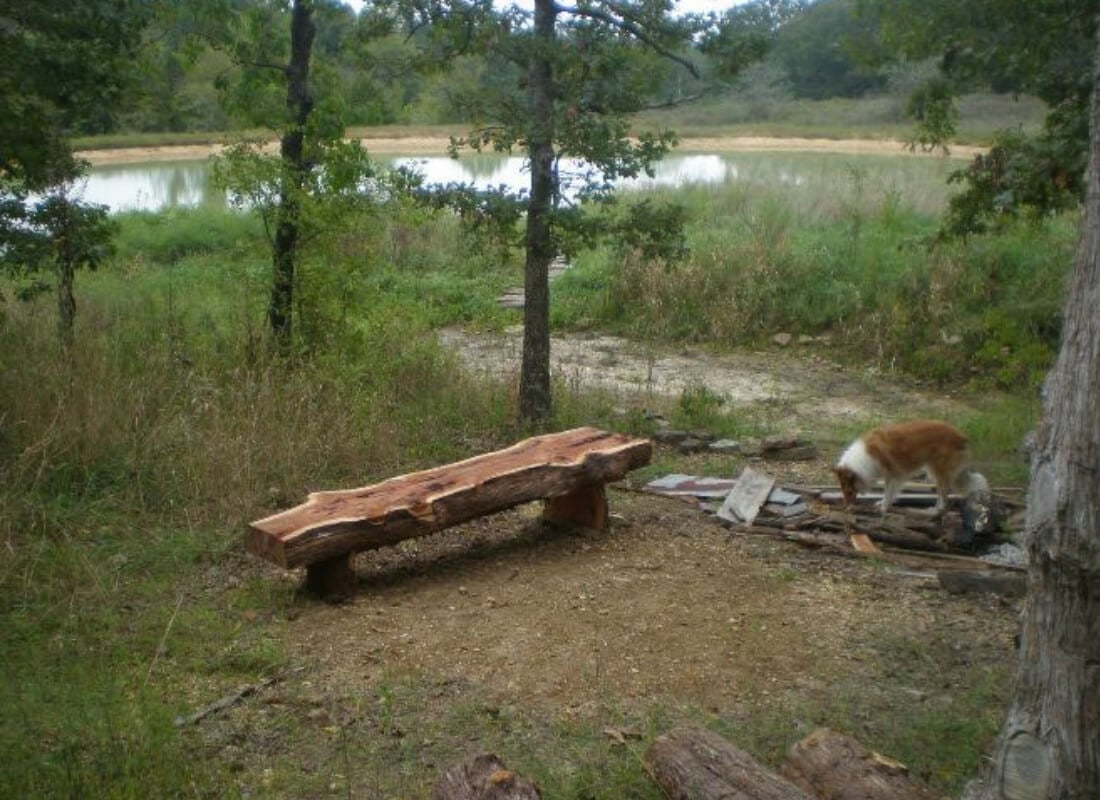 As he worked, he got to enjoy the surrounding woods. It was such an oasis! And of course, the property was a huge motivator in why he chose this particular location and property. But even Richard was in for a surprise.
More Than He Bargained For
As anyone would have done, Richard roped his family into the project. They were able to help with assessing the property, and while doing so, they discovered a nearby natural spring! Immediately, Richard knew that this would be the perfect place to relocate the cabin.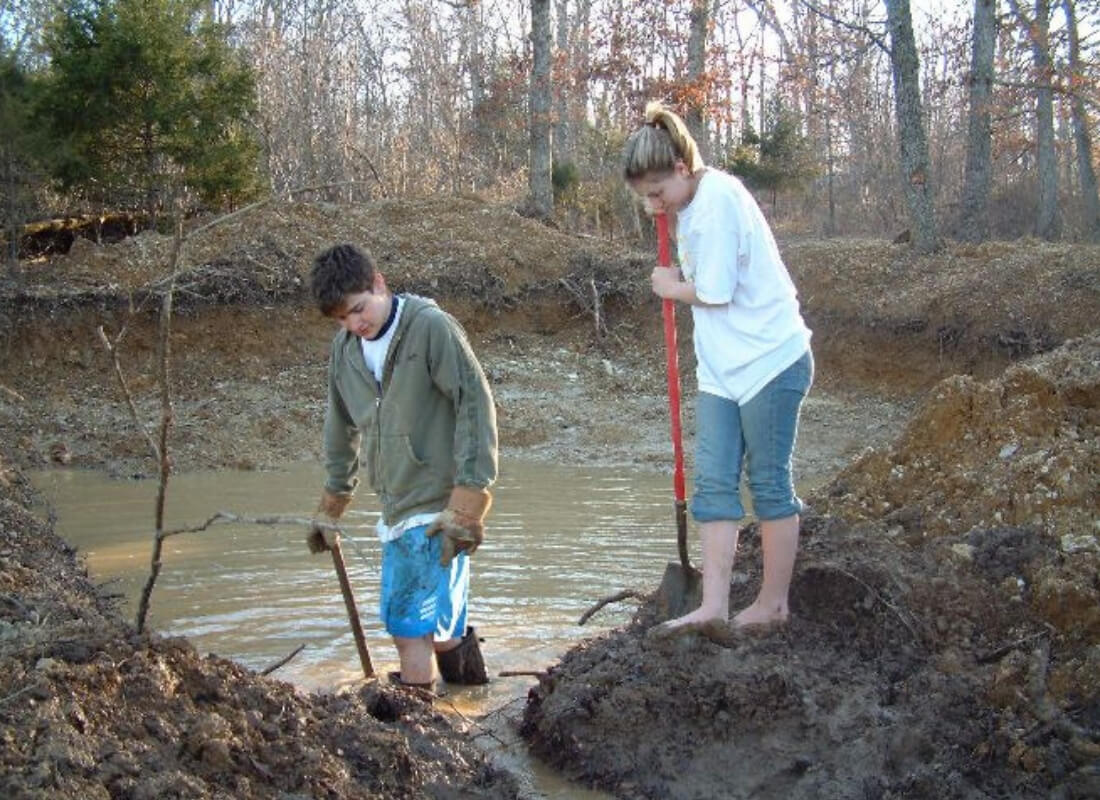 Waterfront property? Sounds like a dream. But for those working to build it, digging out the newfound spring was a lot of work. The family knew it would be worth it in the end though, as Richard could move the now-dismantled cabin anywhere that suited him.
Magic in the Air
There's only so much digging one family can do by hand, and they had their work cut out for them. Their goal was to build the spring out into a pond — a pond! They were able to dig by hand until they reached bedrock, and then they brought a bulldozer in to finish digging the shape of the new pond.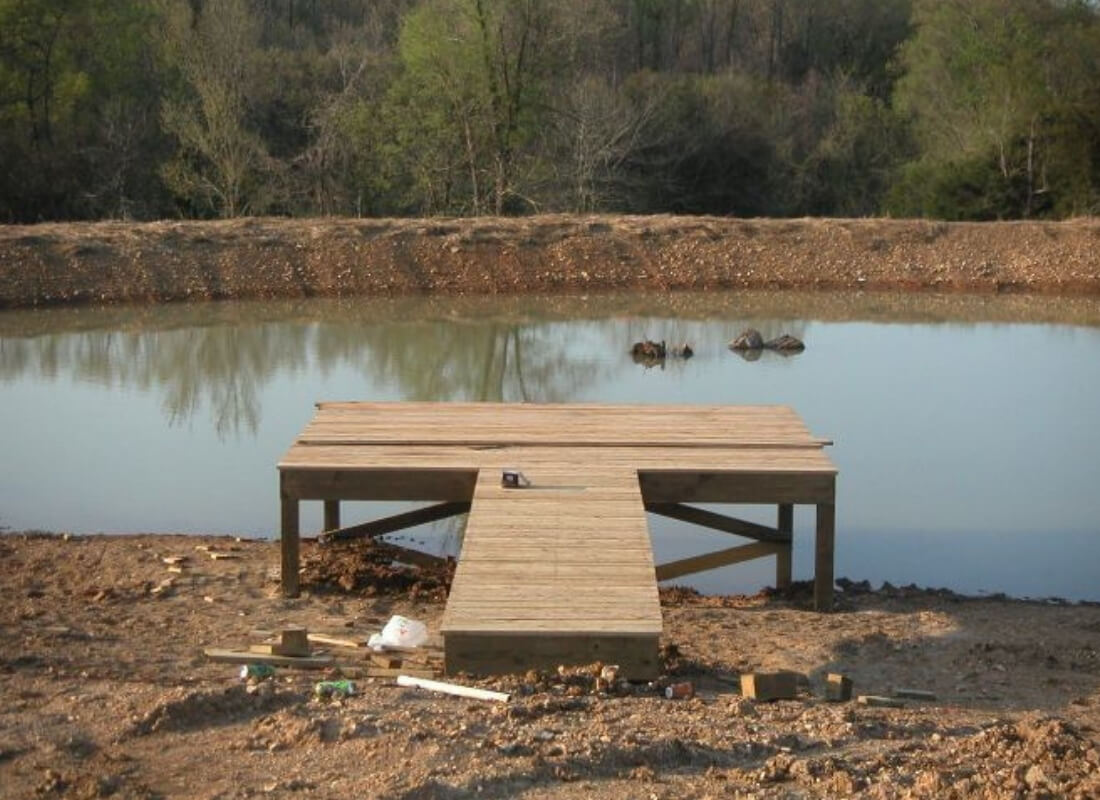 Plus, they took this as the perfect opportunity to add even more to the property by building a small dock. Being the master builder that he is, Richard was able to showcase his skills not just in his goal of rebuilding the cabin, but also in the craftsmanship of the dock. That project was easy enough, but it was time to return to the main event.
The First Logs of the Cabin
The beautiful waterfront spring and pond were a nice detour, and helped Richard decide exactly where to rebuild the cabin. Who would build a pond and not locate their new home on its edge?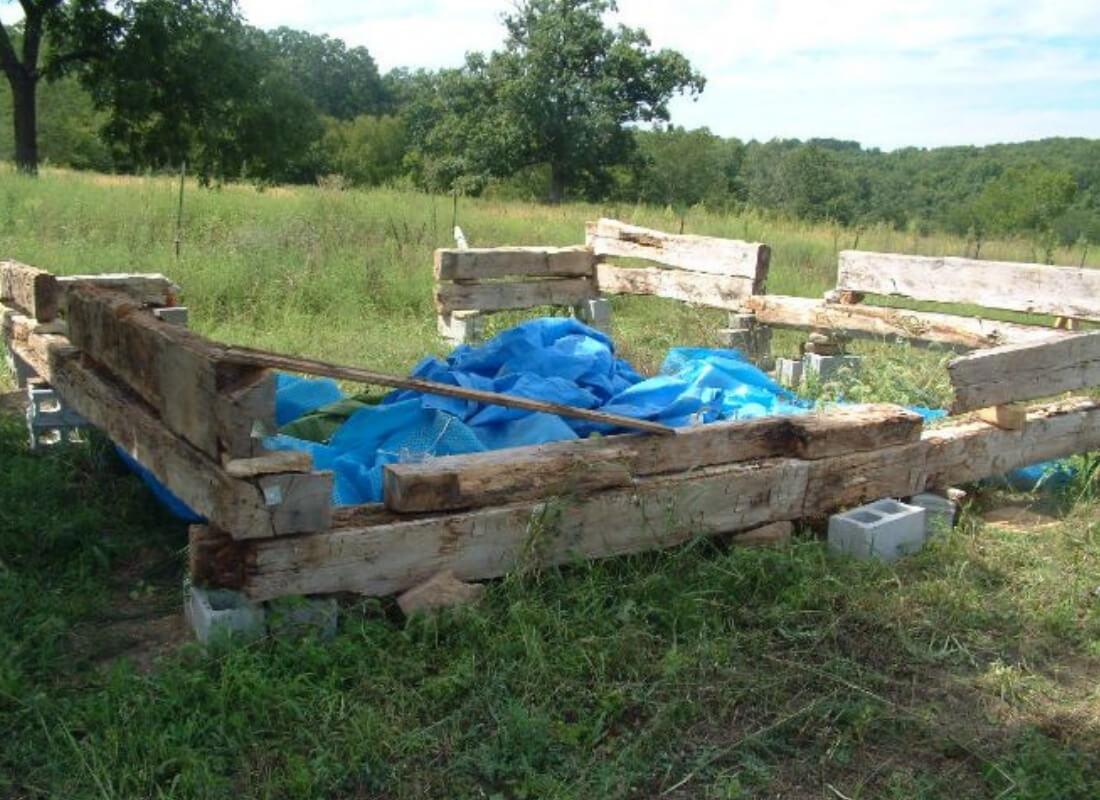 With the pond finished and location chosen, it was time to begin rebuilding the cabin. All the plans were set and labels organized, all that was left was to begin physically piecing together the disassembled cabin from the ground up.
From the Ground Up
As we heard at the beginning of the story, Richard wanted to maintain as much of the original integrity of the structure as possible. It sounds lovely, but proved harder to adhere to than he counted on. The first roadblock came when they reached bedrock around six feet below ground.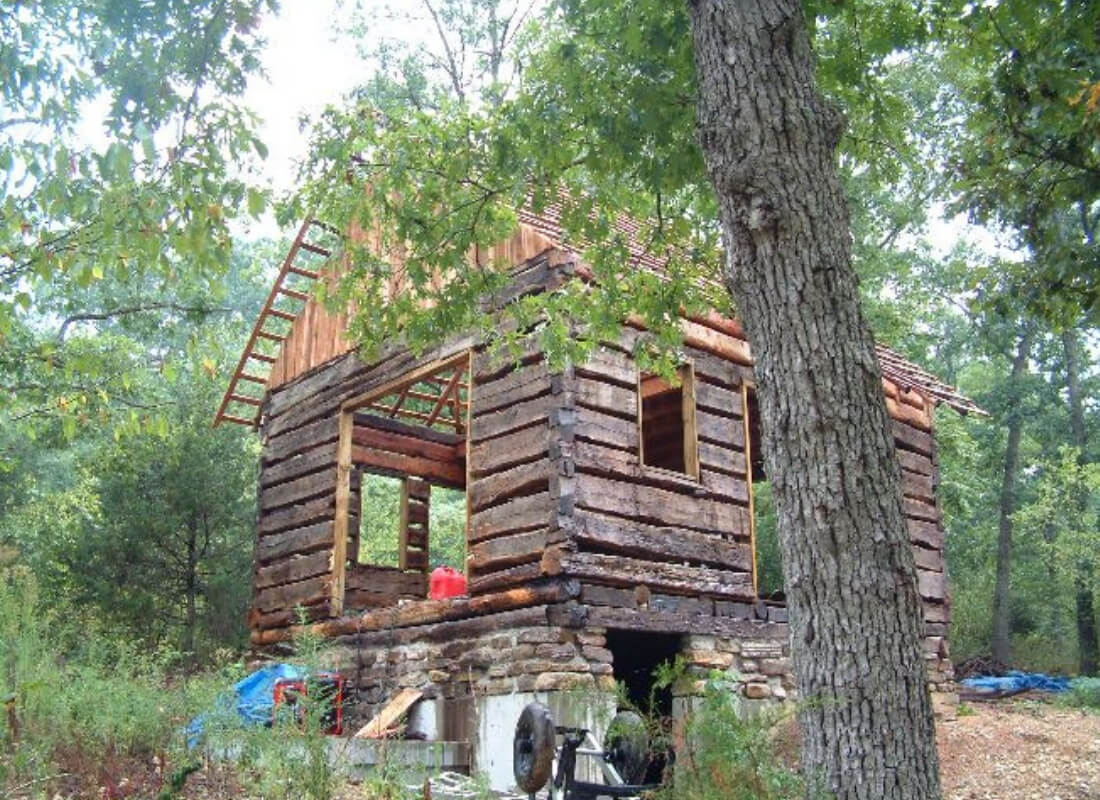 Six feet was not enough to build a strong foundation on, so this meant that the family would have to raise the cabin a few feet above ground instead. This was more work, but they didn't let this discourage them! Instead, they realized that a cabin on higher ground actually meant they would have better views to enjoy once the project was finished.
The Shack Becomes a House
With the foundation set, Richard and his family poured the first concrete to make the basement floor. It was time to turn this old ratty cabin into a home. They needed more wood to finish the structure, so they gathered the materials they needed from the surrounding property.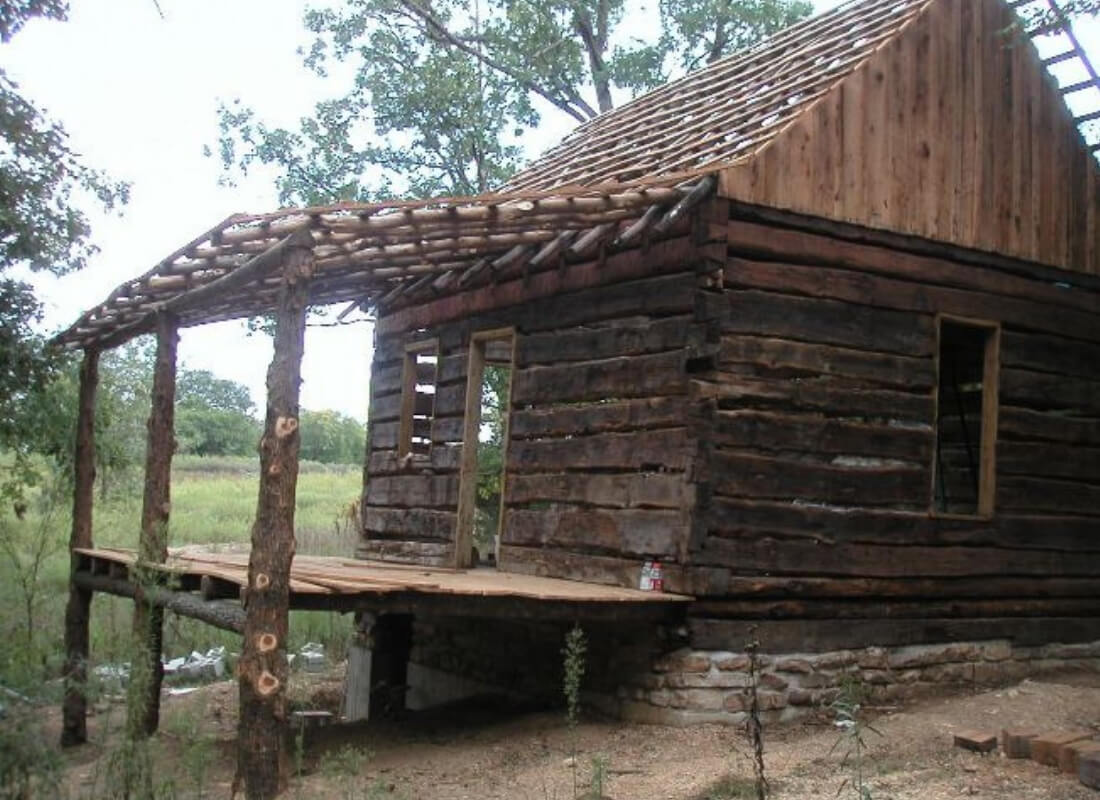 The family was lucky to have such beautiful materials just steps away. They were able to use white oak and cedar shakes to create the floor joists and shingles. They also decided to add a rustic porch to complete Richard's vision. The choice to use local materials really made this revived cabin feel like something truly unique.
A Fireplace? Why Not?
When anyone thinks of a rustic cabin in the woods, they also think of a cozy hearth. Richard really wanted to build a fireplace into his new home, as he felt that a log cabin without one didn't fit with his dream lifestyle.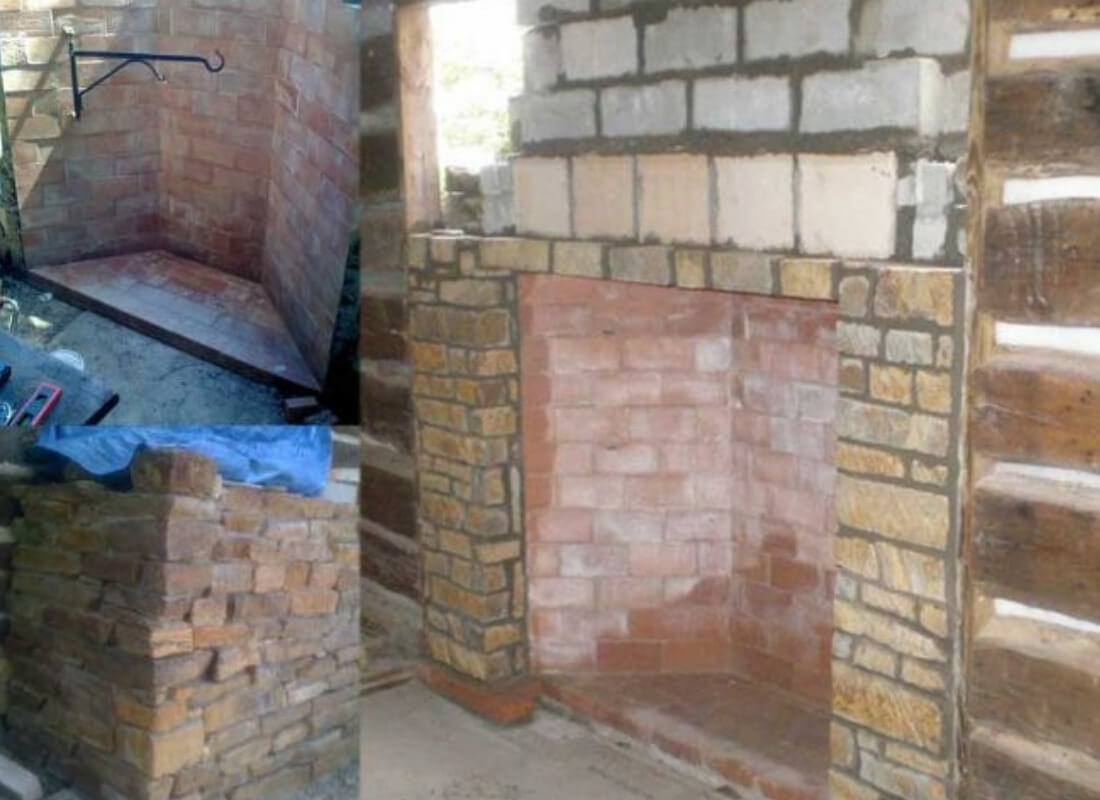 The family chose a rustic Rumford fireplace, a style common for older log cabins.
The Staircase
After rebuilding the cabin, it had a second floor. Richard chose to use an oak tree to create the stairs, which gave a beautiful tone to the rustic cabin.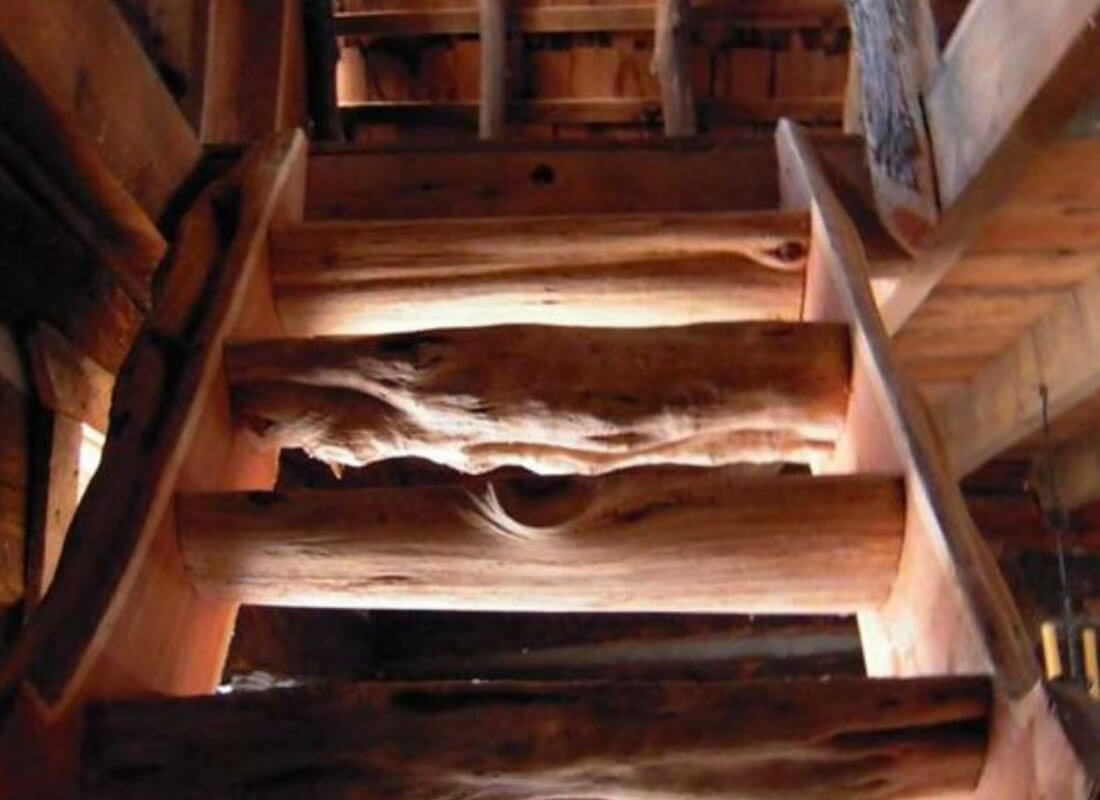 The oak tree was a fallen nearby tree, meaning Richard didn't have to cut down any of the beautiful living trees to create his dream. The age of the wood added a nice touch.
The Final Steps
Like the staircase, the door of this now beautiful cabin would have to be perfect. He knew it would be the piece that left the first impression.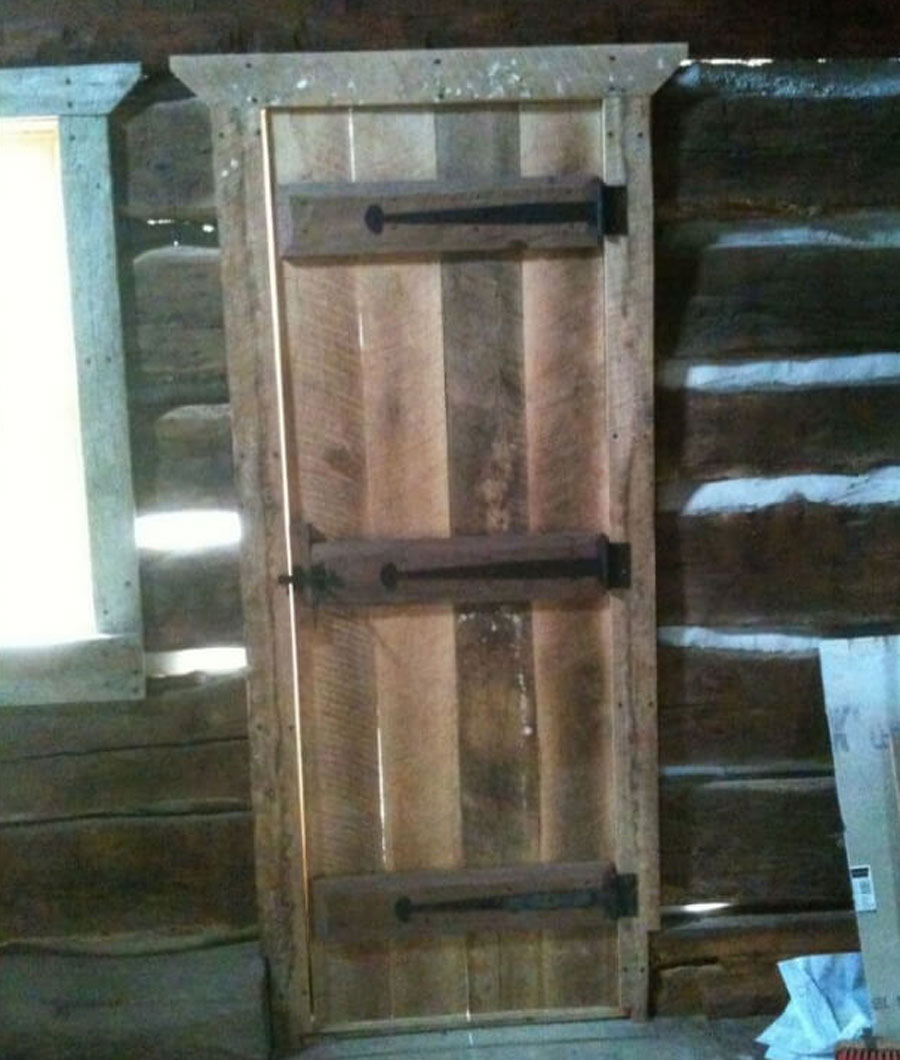 For this piece, the family chose to work with a carpenter. They brought materials and a design concept, and the carpenter was able to create a simple design that maintained the integrity of the original cabin.
The Small Details
Since the cabin was built from organic logs, it was never going to be gap-free. To remedy that, Richard and his family used an outdoor sealant against chicken wire.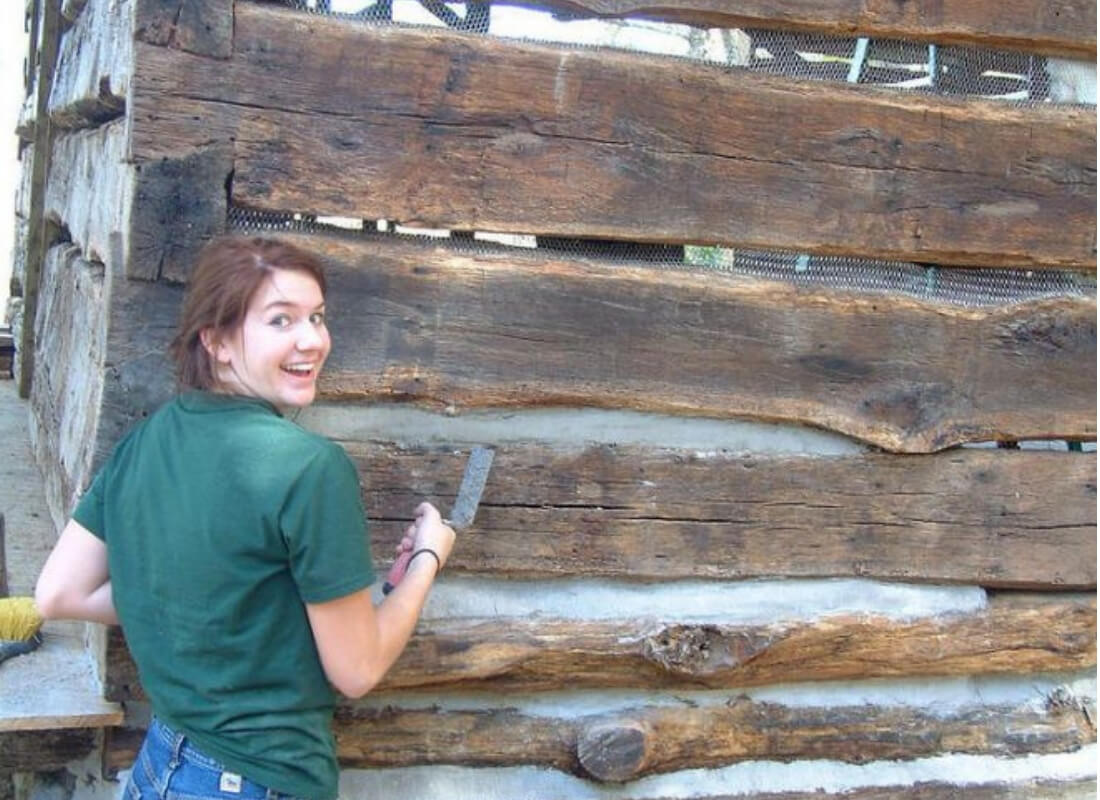 This mixture helped seal the cabin against the weather. It was also a good choice of sealant to maintain a natural look on the outside of the structure.
The Big Reveal
The structure of the cabin was finished. Like any new home, it was time to make it their own by furnishing. The perfect pieces were, of course, rustic. They also stocked up the fireplace by maintaining a large wood pile for supplies.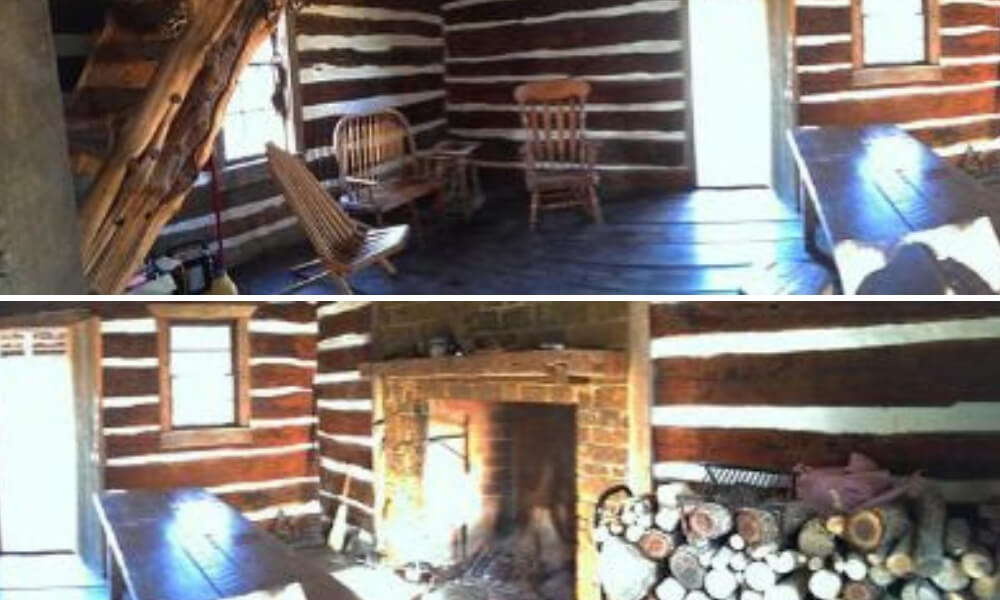 While the home was new, the rustic style choice made it feel older and very cozy — the perfect country retreat.
The Kitchen
What log cabin is complete without a rustic harvest table? The family again used a nearby fallen walnut tree and white oak to create the perfect dining table.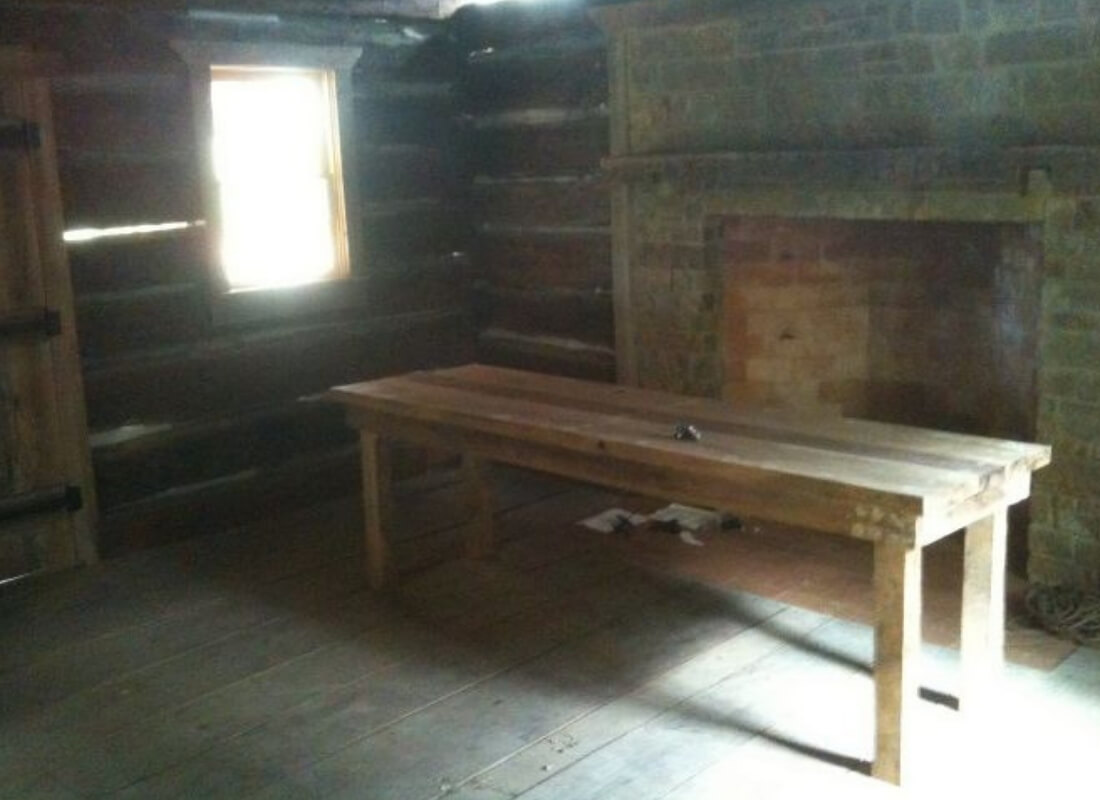 With this wood choice, the final dining table was lightweight and easy to relocate to different places in the house. The family didn't plan on having modern heating in the cabin, so it would be important to be able to gather all activities around the new fireplace.
Natural Light
Richard added a rustic chandelier — the old, candle kind — but he also wanted space for natural light.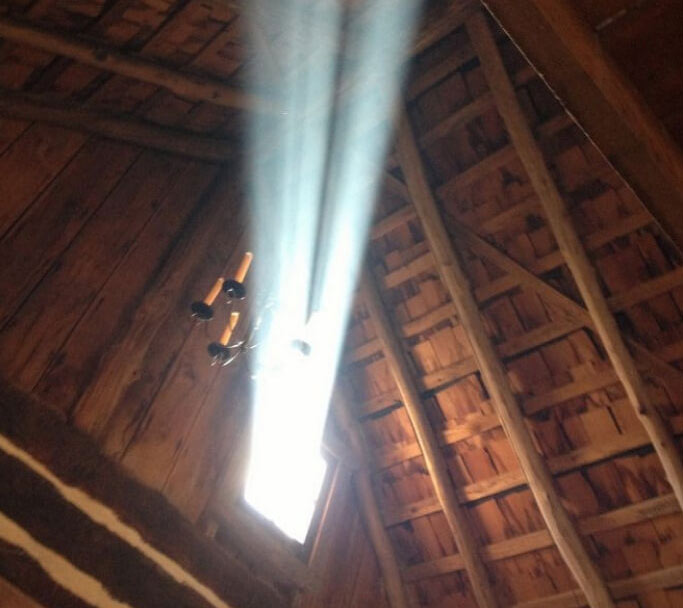 With no electricity wired to the cabin, natural light would be an essential element. Richard installed a large, high window in the house to capture as much sunlight as possible during daylight hours.
The Cabin's Loft Bed
Where do you sleep in an old log cabin? A loft bed of course! A loft bed is the perfect place to sleep for fresh country air and warm cozy vibes.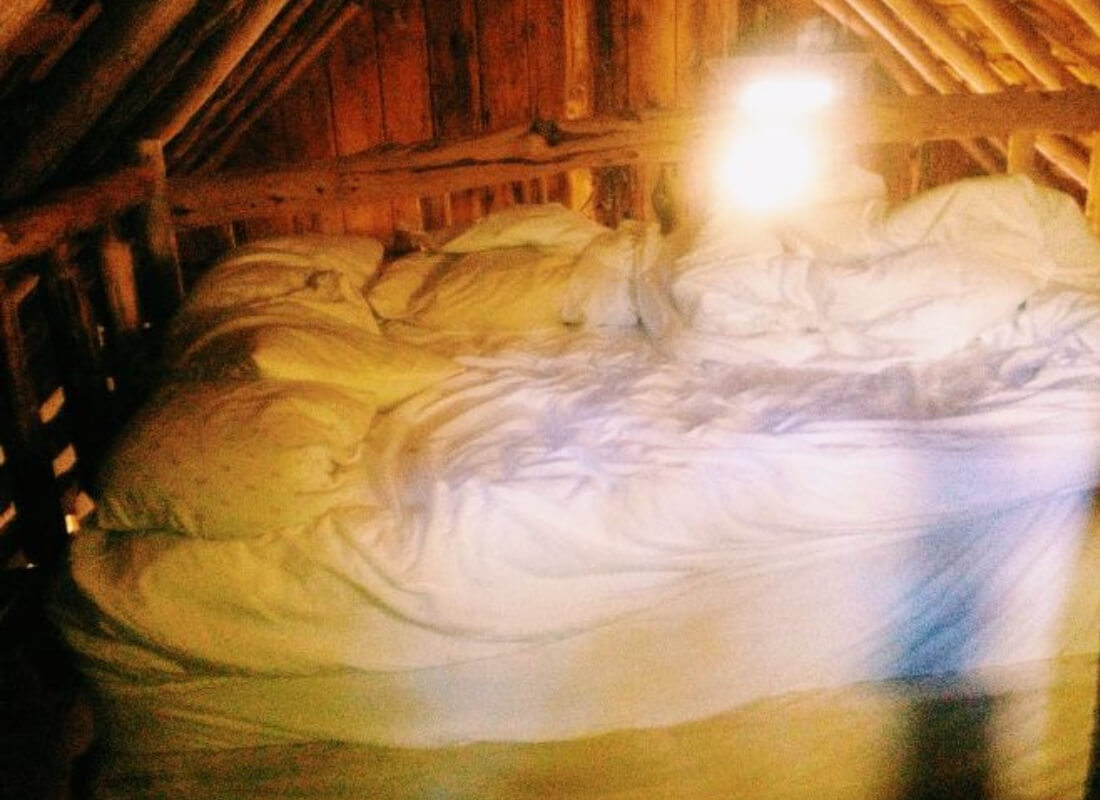 While it isn't the only sleeping location in the cabin, it does make for a great relaxing afternoon snooze, and also adds more room for sleeping arrangements, particularly if guests are around.
Cabin Cooking
A family like this is, unsurprisingly, very into cooking. Fortunately, they kept this in mind when building their new hearth! That's right, the hearth can be used for hot drinks and meals, just like in older times.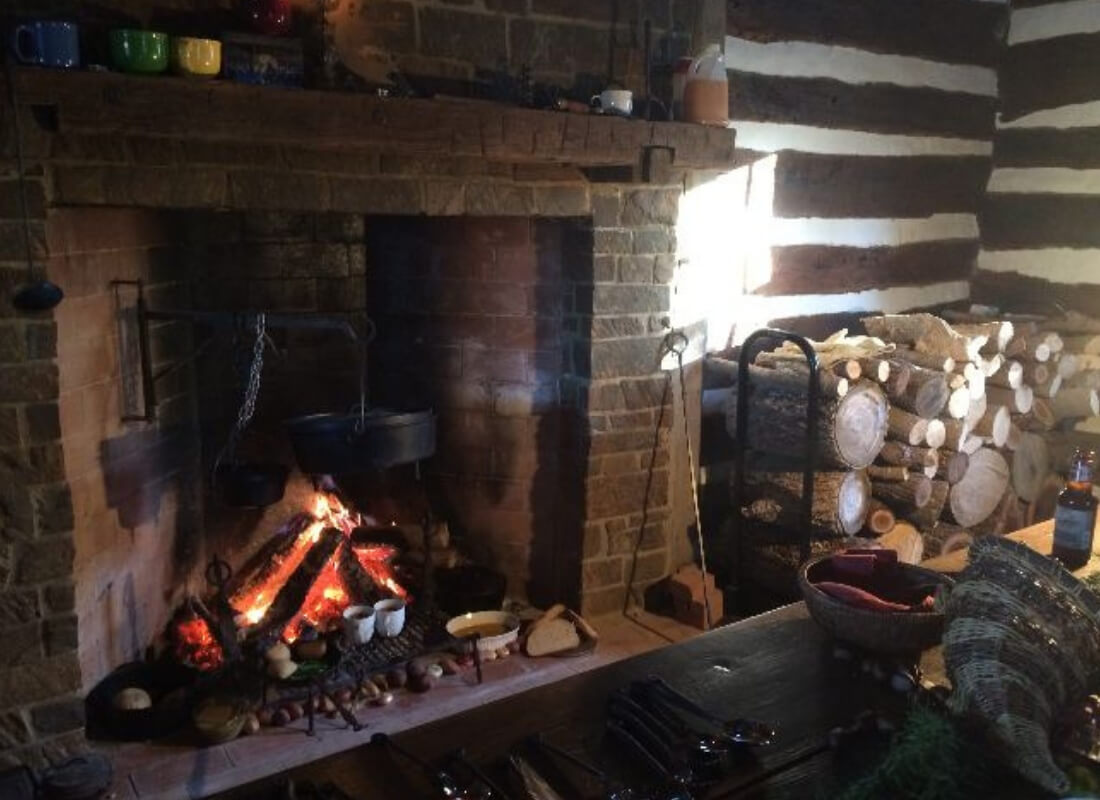 Nothing says rustic more than cooking over a fire. This feature also meant that Richard didn't have to install a full kitchen in the cabin, which would have been difficult given the intentional lack of modern amenities.
See How Joanna Gaines Transforms a Shack into a Home
If you've seen any of their work, you know that when Chip and Joanna Gaines put their minds to flipping a house, the final result will be beautiful. Even with their extensive background, transforming this old shack would seem like a stretch.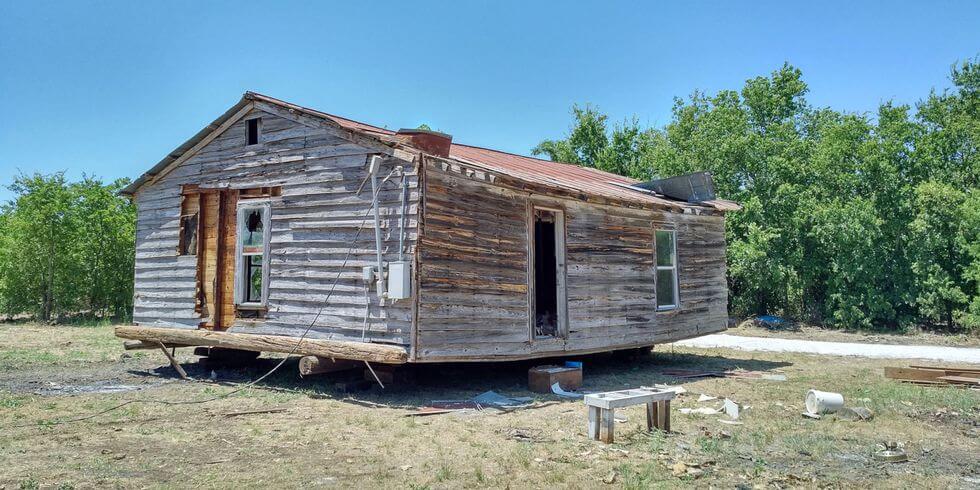 Alas, even with this dilapidated shack, the pair was more than able to produce a beautiful transformation. It makes any fixer-upper seem doable!
The Shack Seemed Beyond Repair
This shack started as a horrible structure on season four of "Fixer Upper," where the Matsumoto family acquired it for just $12,500. Even that price seems high, but the family was largely paying for the impressive property it sits on.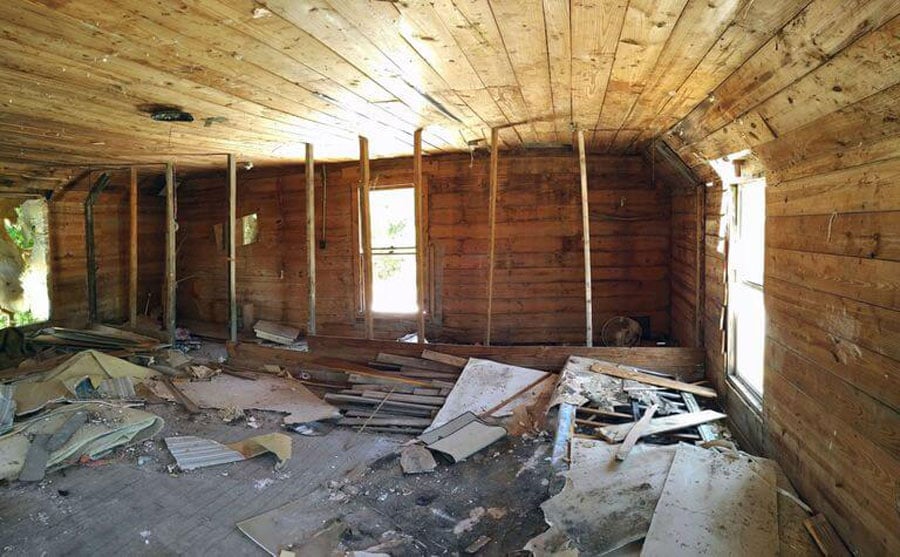 The inside of the original house was completely destroyed. The structure would need new windows everywhere, full rewiring, and a complete rehaul of the floor and ceiling. Could it be transformed? Some might ask for a miracle.