This Jail Takes In Rescue Cats And Surprising Connections Are Made
From cat lovers to dog lovers, and even those not overly enamored with animals, you can't help but smile when you see a kitten nestled in someone's arms.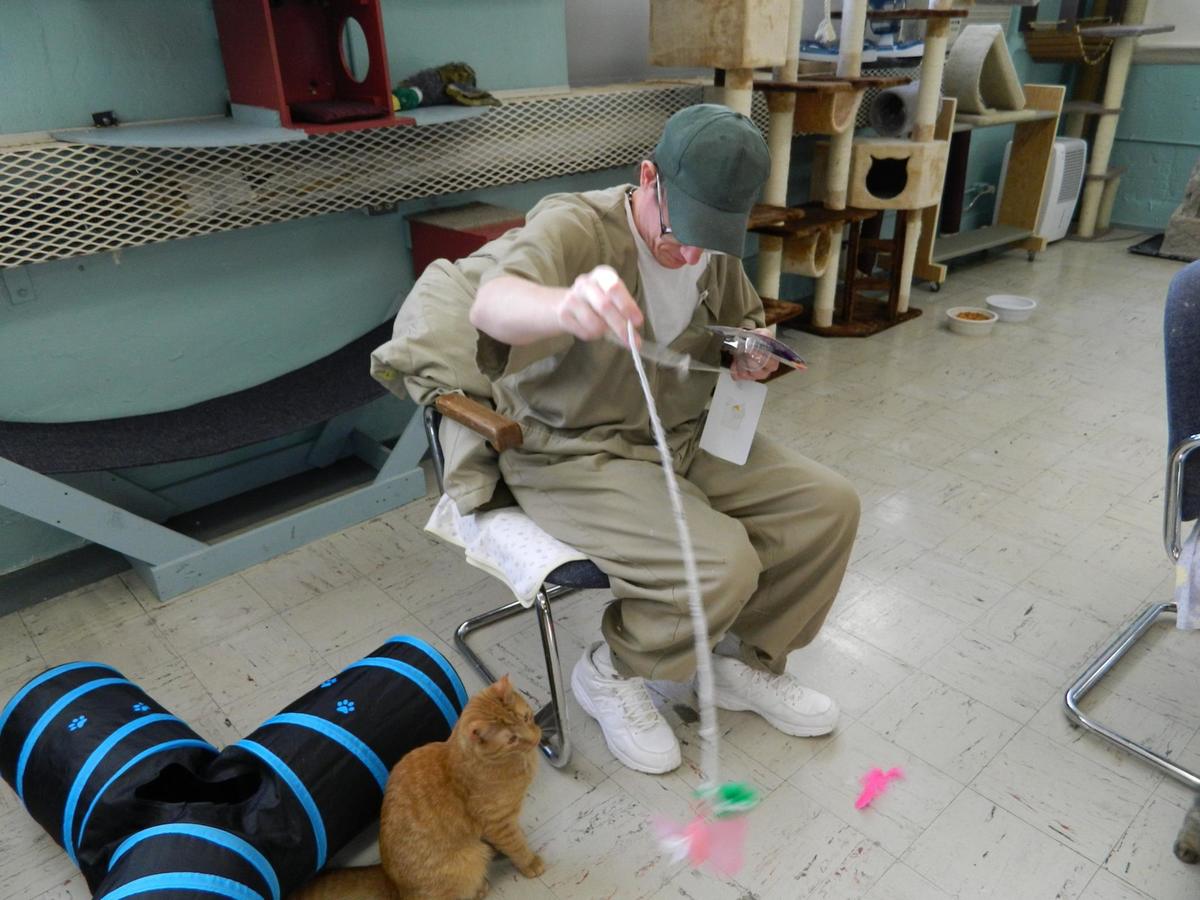 F.O.R.W.A.R.D. brought kittens to Pendleton Correctional Facility in Indiana and the result was a heartwarming story that has benefited both the prisoners and the kittens.
A Heartwarming Story of Compassion: Prisoners Caring for Shelter Cats 
At Pendleton Correctional Facility, the prisoners have taken on the role of caretakers for homeless cats. It's a way for them to show compassion without fear of appearing weak. The ASPCA says newborn kitties weigh an average of just 3.5 ounces.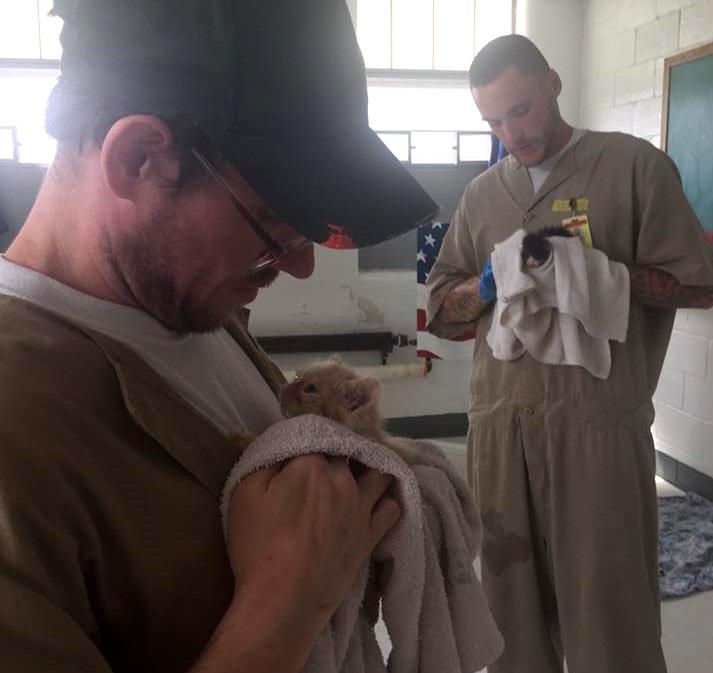 As the saying goes, "spiders are more afraid of you than you are of them" – and cats too! It's a heartwarming story of how a "hard" place can be home to some of the most tender moments.
From Fearful to Fearless: Petting a Kitten in a Safe Space 
The Humane Society of Huron Valley highlights the importance of socialization for fearful kittens. These cats often hiss or strike if they had boisterous mothers, or simply hide if their mothers fled when in danger. To help these cats come out of their shell, requires daily work and a safe space to build trust.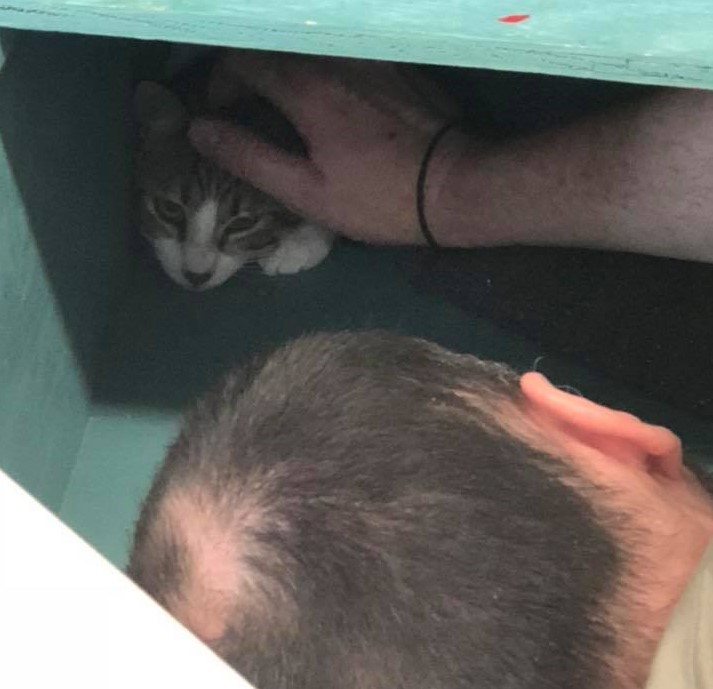 The photo shows an inmate who has achieved the feat of petting a previously scared kitten, a proud moment indeed! With a bit of patience and understanding, even the most fearful cats can become fearless.
Rehabilitating Scared Kittens with Inmates 
Rehabilitating scared kittens can be a challenge, but the Humane Society lists common fear triggers such as loud noises, strange people, and stressful events. For inmates at a correctional facility, the process of getting close to cats requires creating a calm environment and being a familiar and calm presence.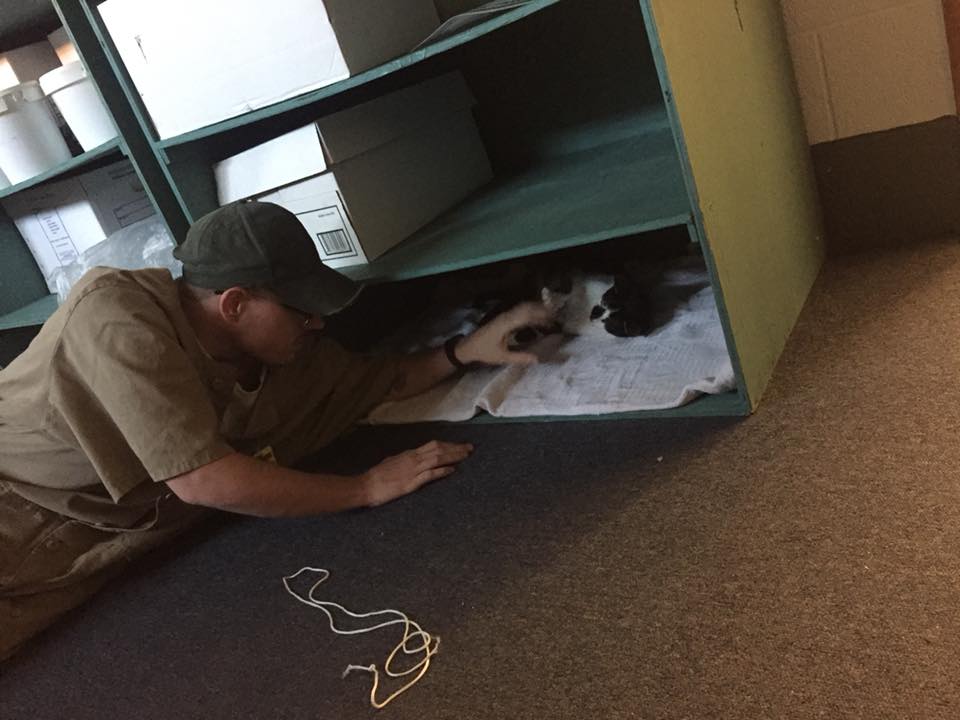 Dean and Miss B have both made good progress, and have now become firm friends. This shows that even scared little kittens and hardened inmates can help each other grow.
Unconditional Love Builds Self-Esteem 
The fear of rejection often causes people with low self-esteem to withhold love and gratitude, thus missing out on the benefits of relationships. However, the inmates in this photo demonstrate the importance of unconditional love in building healthy self-esteem.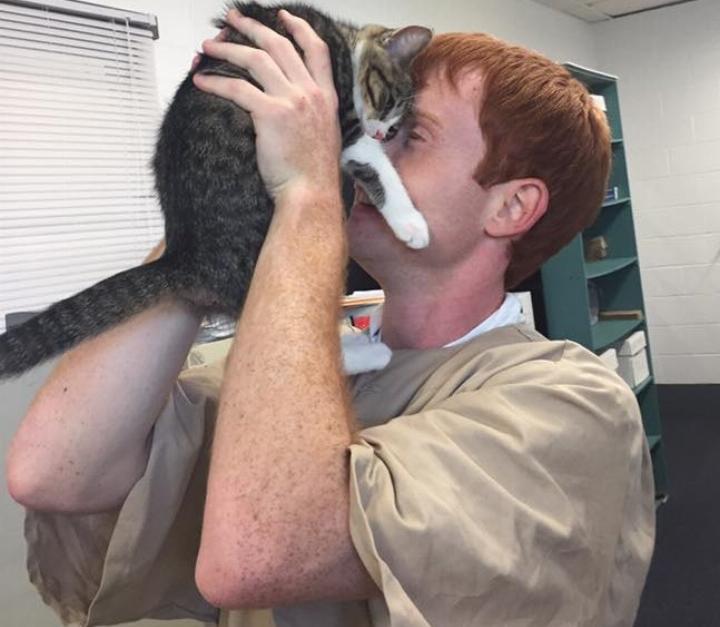 Initially, the cats may have been scared of the inmates, but the mutual trust that developed between them allowed both to express affection without fear of rejection. This unconditional love provides a sense of security and confidence that can otherwise be hard to come by.
The Hidden Effects of Prison on Correctional Officers 
Being a correctional officer is not an easy job. While it's easy to overlook the traumatic effects of prison on these officers, researchers at UC Berkeley have found that they are more likely to suffer from suicidal thoughts, depression, and PTSD.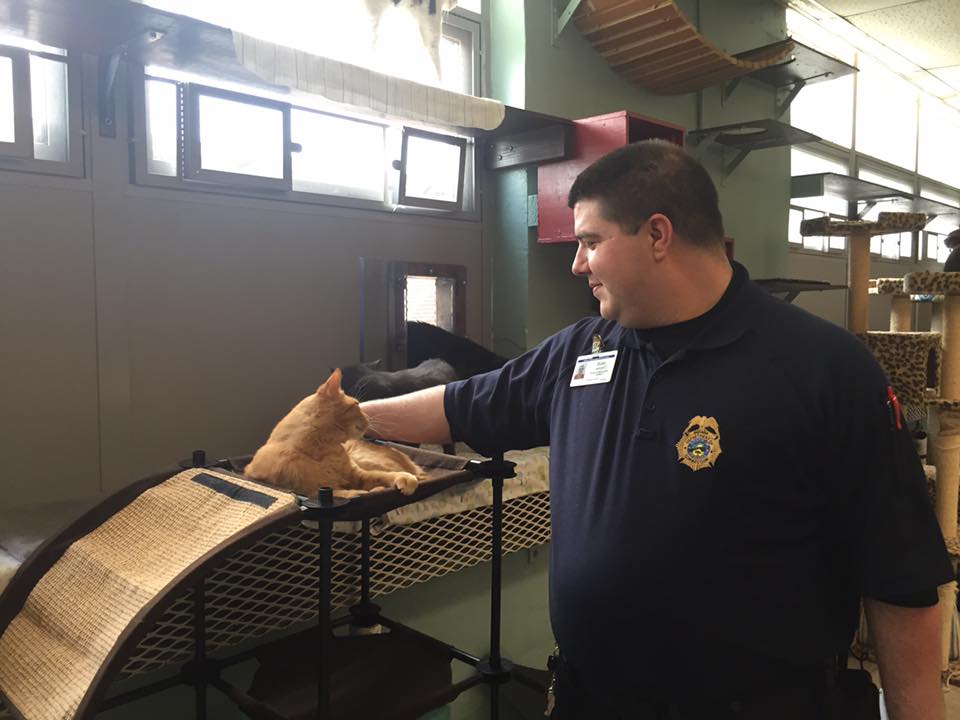 Every shift correctional officers are exposed to the often pernicious attitudes of the inmates and need to shut it off after their shifts just long enough to wake up and do it all again. The officer pictured is clearly enjoying some much needed time out petting the kitten.
Re-establishing Humanity: Prison Cats Bring Inmates and Visitors Together 
The Scholars Strategy Network has found that prison rates have declined significantly in direct correlation to a decrease in public punitiveness. This demonstrates the immense influence public opinion has on reducing incarceration numbers.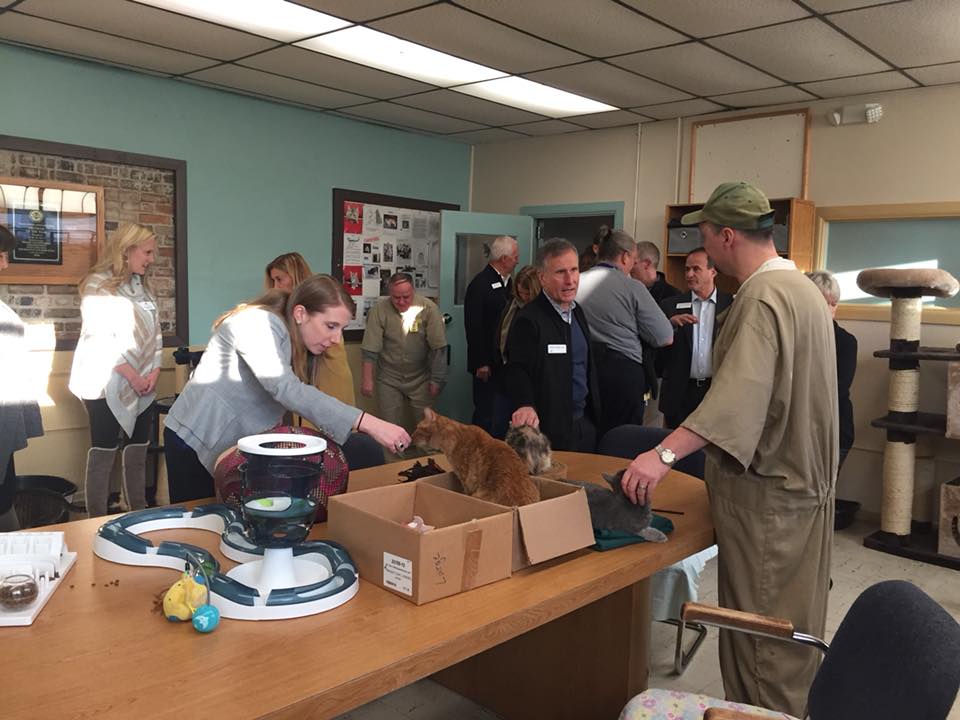 The image above shows inmates and visitors spending time together while both enjoying the company of the cats, breaking down barriers and providing a less intimidating environment for discourse. This allows us to remember the common humanity we share.
Unleashing the Power of Companionship: How Cats Help Inmates Overcome Trauma
The photo of a man holding a cat while seemingly warning the camera to back off is a powerful symbol of the power of companionship. According to The Center for Prisoner Health and Human Rights, inmates are more likely to have endured trauma from abuse than the general public.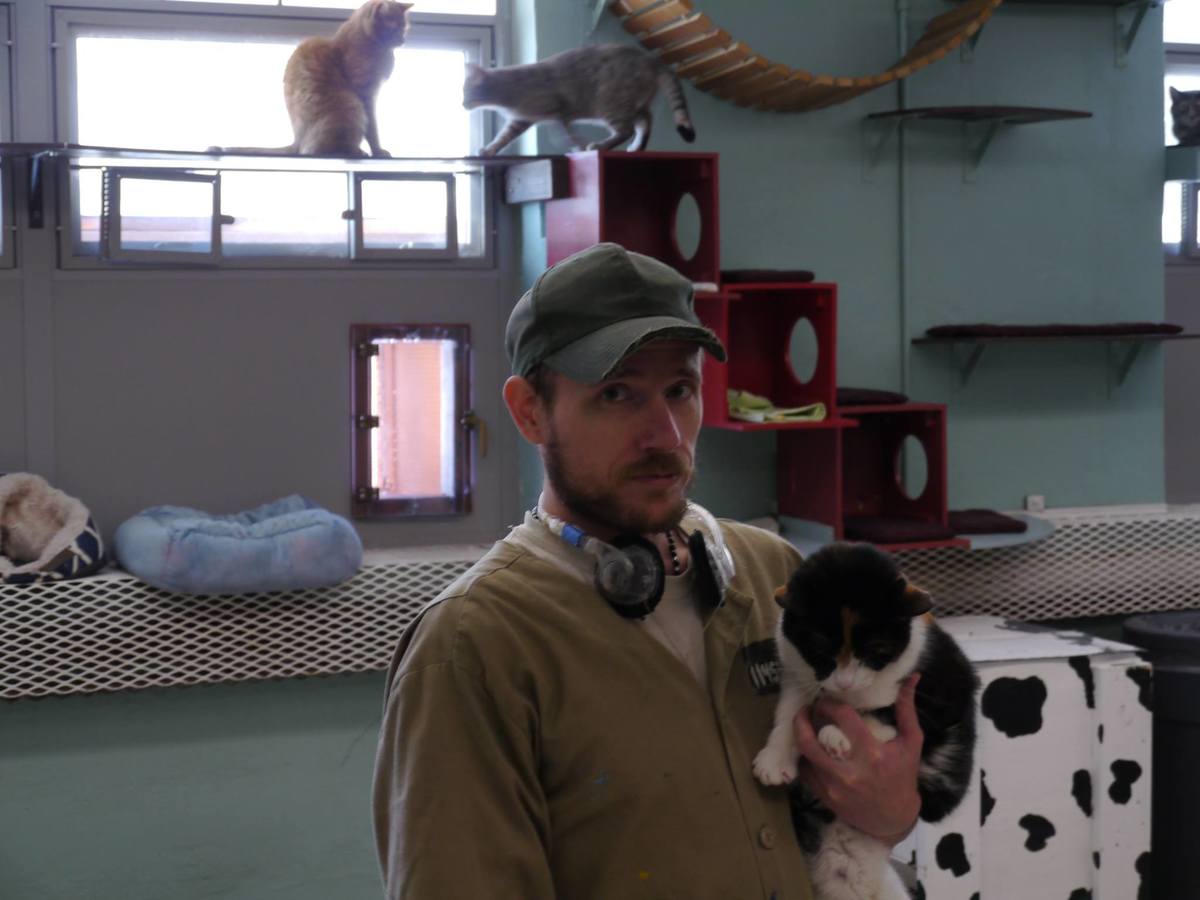 Such experiences may make it difficult to form relationships, but pets can provide a comforting stepping stone. These cats don't just provide warmth and affection, they also help inmates break free from their traumatic pasts and heal.
Cat Saves the Day! 
A Youtube video titled "My Cat Saved My Son" went viral. It showed a brave cat leaping to the rescue of a little boy who was being attacked by a dog. Miraculously, the boy's injuries were limited to a few stitches, thanks to his feline guardian.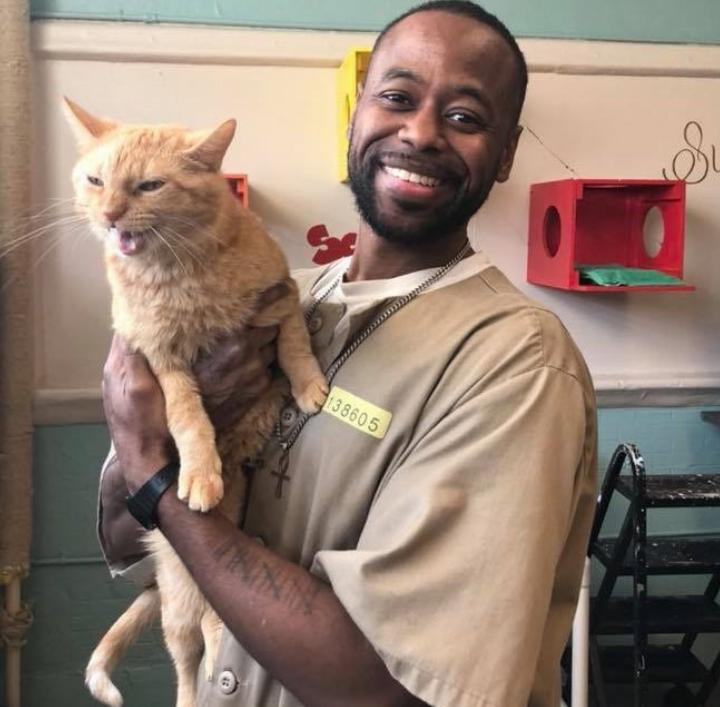 This heartwarming story is a testament to how cats can be fiercely protective of their humans. This photo of an inmate cradling his protective cat further confirms the strong bonds that are possible between cats and humans.
The Magic of Play: Rediscover Your Inner Child 
It's time to rediscover the joys of play! Help Guide states that adults who play can experience a world of benefits, such as improved brain function, increased creativity, better relationships, and a boost of energy.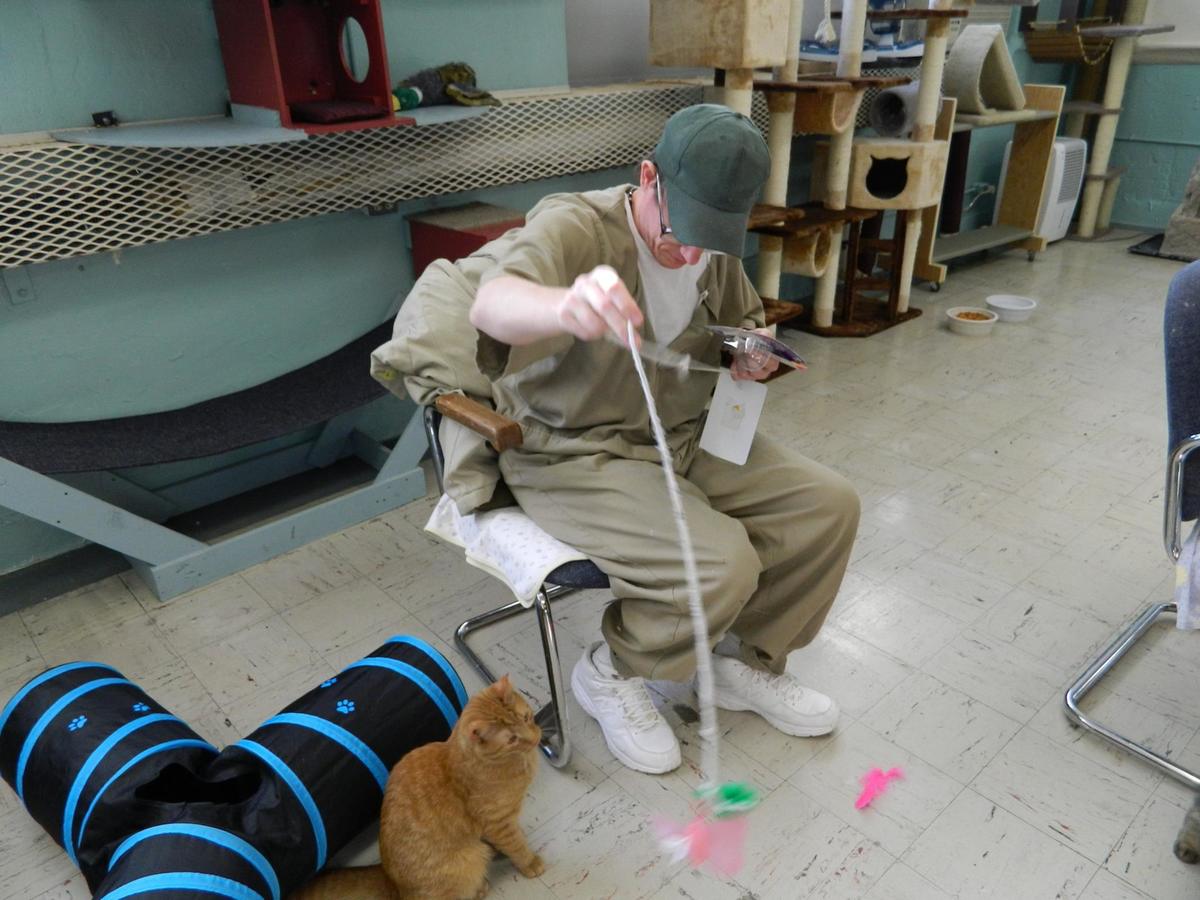 Animals, such as the one pictured playing with a string, remind us that play is essential to remain healthy. Pets never grow out of the need to have fun, and neither should you. Get out there, have some fun and reap the rewards of play!
A Purr-fect Solution: Pets Provide Laughter and Relief for Mentally Ill Inmates 
The public is in a difficult position when it comes to prison funding. The system needs to be fixed, and one of the main challenges is how to deal with mentally ill inmates.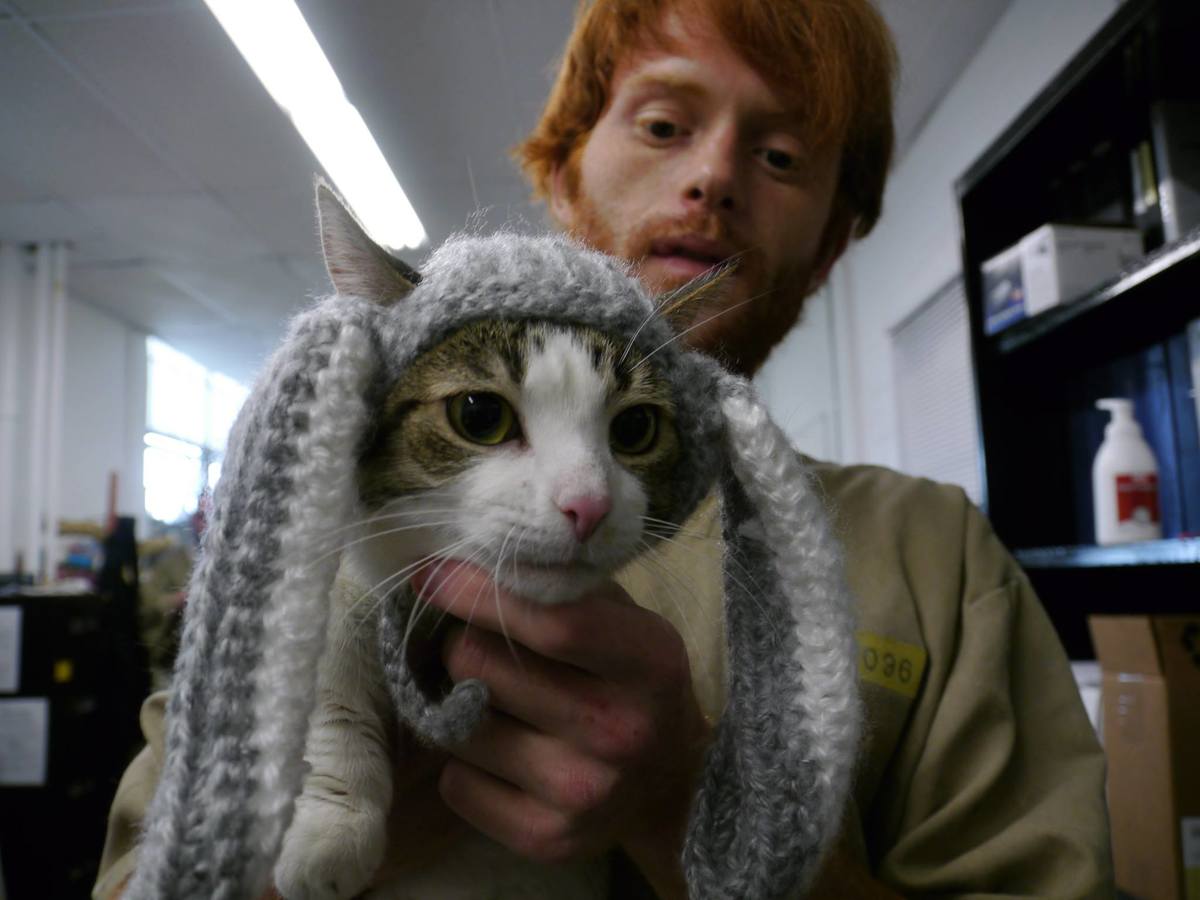 A scholarly review on NCBI highlighted the use of humor and pets as a cheap, natural, and easy therapy. Laughter is indeed the best medicine, and even temporary relief can make a huge difference. Pets, with their ability to bring joy and mirth, are a purr-fect solution.
The Unexpected Benefits of Caring for Crickets 
Caring for a pet, even an insect, provides the sensation of being needed and wanted. This was seen in a study that concluded that older adults who took care of five caged crickets for two months had less depression than the control group. 
An example of this is pictured where an inmate stops to pet his cat after harnessing it, showing that caretaking gives a sense of purpose and power. Caring for crickets, or any pet, can be most beneficial.
Unbreakable Bond: Man and Cat Share Oxytocin Rush 
This photograph speaks volumes of the unbreakable bond between man and his feline companion. The cat leans into the man, and the man pulls the cat in towards him, showcasing an inspiring connection. But what's even more remarkable is that this bond goes far beyond skin deep.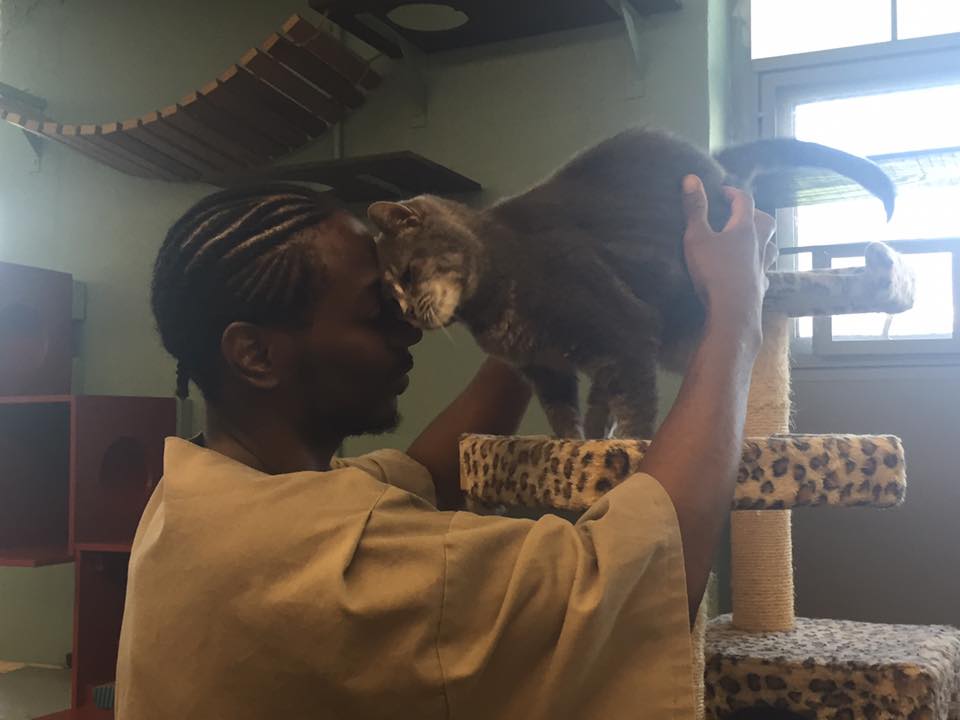 A study in the journal Science showed that when a dog and its owner stare into each other's eyes, both get a rush of oxytocin, the same chemical released when we hug, which is essential for social bonding. Truly, something to behold!
A Home of Compassion and Understanding 
For shelter pets, life behind bars is all too familiar. They may have been placed in cages for a variety of reasons, and for many this means having to submit to authority. But what sets shelter pets apart is their capacity for compassion and understanding, regardless of their past experiences. 
Unlike humans, animals don't judge, rather, they provide non judgmental acceptance and unconditional love. And in so doing they provide a source of comfort to inmates who have themselves been locked up and feel judged by their human counterparts.
Cats in the Workplace: Purr-fect for Stress Relief! 
Bringing cats into the workplace may sound strange, but there are numerous benefits to having our furry friends around. According to USC's Applied Psychology blog, cats help us maintain a better work-life balance by prompting us to take regular breaks, increase our spirits, and even lower our stress levels. 
Not to mention, they create a cozy atmosphere, foster camaraderie, and even boost productivity. No wonder this inmate looks so content while petting his feline companion! Cats don't just help us work; they help us live.
Find Inner Peace With Dre and His Cat 
Dre chose to stay extra long with the cat in his arms, and the photo conveys a sense of peace and inner stillness. Healthline lists many benefits of meditating, such as improved sleep, help with addiction, generated kindness, enhanced self-awareness, and emotional health.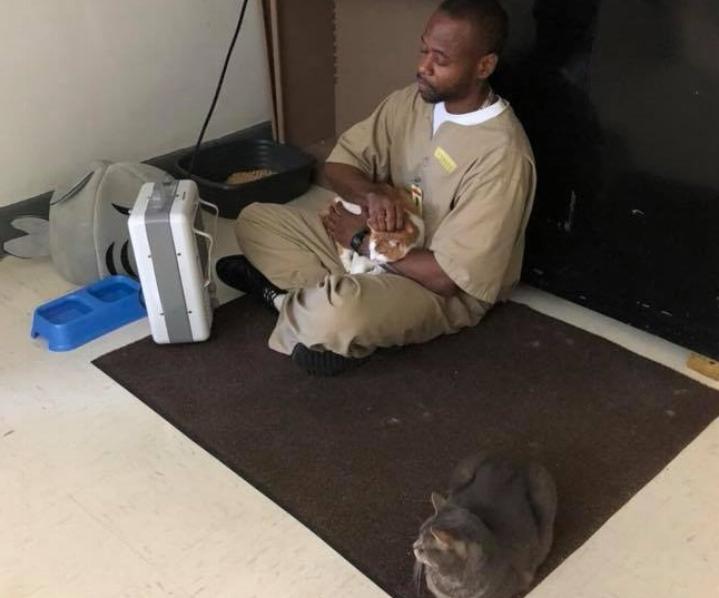 Sitting with a cat in his lap, Dre appears to be in a meditative state, and it looks like his experience meditating is one of contentment and tranquility. So why not take a page out of Dre's book and find inner peace of your own?
Cats: The Purrrfect Pet for Relaxing Prison Life 
Cats have been proven to lower blood pressure, making them the "purrrfect" pet for rowdy prison life. The laid-back nature of cats requires less effort and allows more of them to inhabit the space, unlike their larger and rowdier canine counterparts.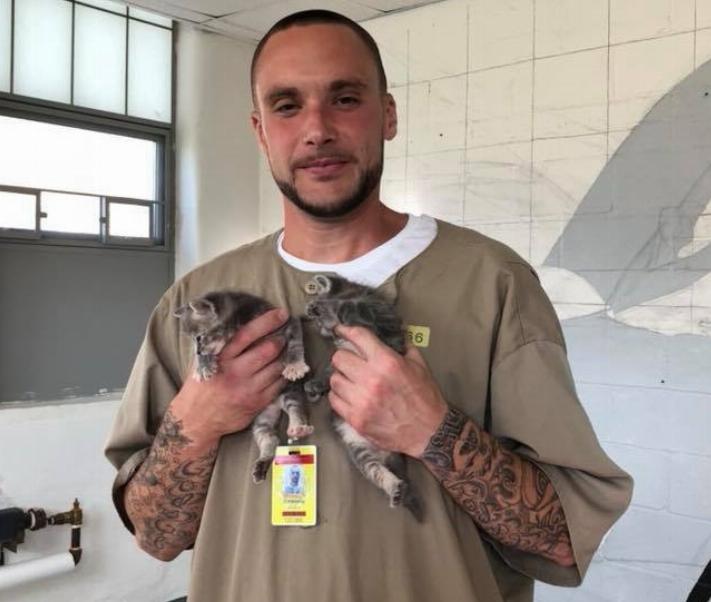 The photo of this guy holding two little kittens in each hand illustrates the calming effect cats can have, with the same effects as a long-term pet. Get yourself a pet today and reap the rewards of a more relaxed life.
Cuteness is a Key to Happiness in Prisons 
Behold the smiling man in the window! He's not even the one holding the cat, yet he still looks so happy! According to CNC News, research has actually revealed that looking at cute things can boost your mood and concentration in the same way that some drugs do.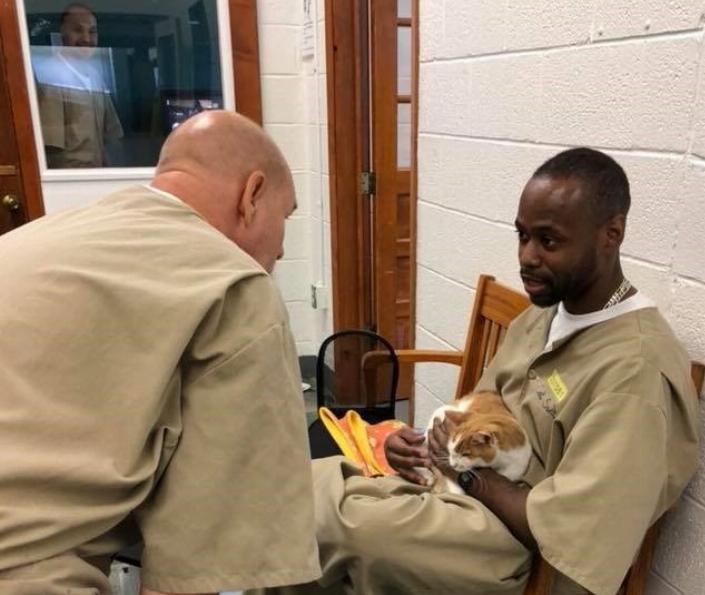 That's why cuteness plays a more important role in prisons than we think. Not only can it help lift the mood of inmates, but also help them combat addiction. So, why not let a bit of cuteness into your lives?
Celebrating Our Heroes in Disguise 
We often attribute heroism to doctors, but they are not the only ones who deserve credit. Those who bring comfort to the ones suffering from illnesses should also be celebrated. While it's never easy to accept that someone we care about might not always be there, it can be a salutary reminder to be grateful for our own health.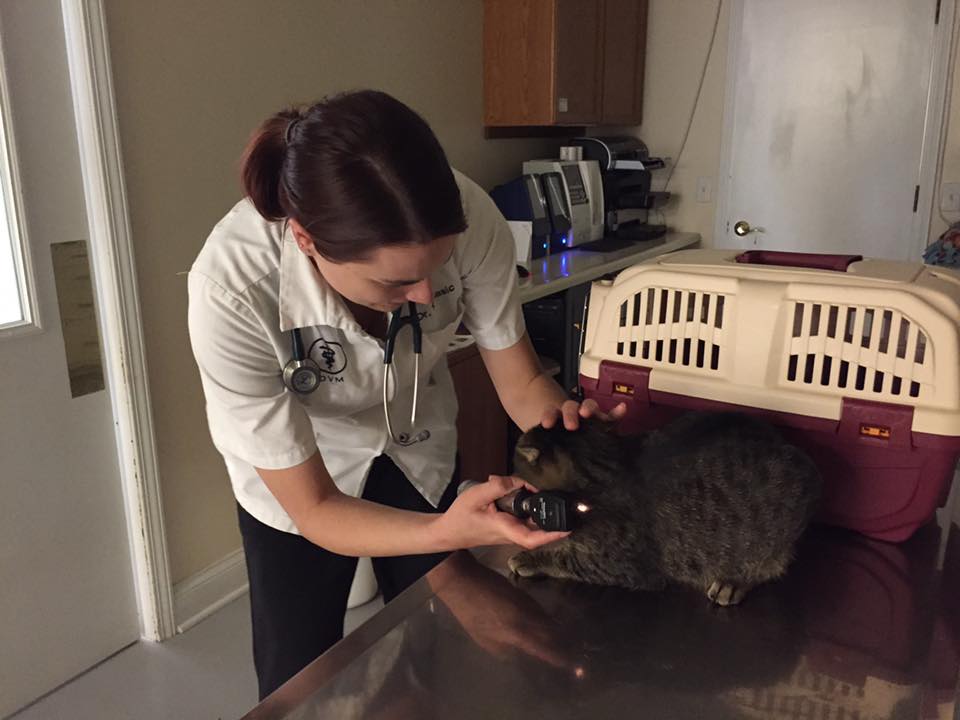 Moreover, it can bring us closer together, as it serves as a reminder of our own vulnerability. Let us take the time to appreciate and be grateful.
A Lesson in Letting Go: Two Men Bury Their Beloved Pet 
Two men in prison had a unique experience of loss. Faced with the knowledge that cats typically live to be only 16 years old, they knew that they may one day have to bury one of their beloved shelter cats.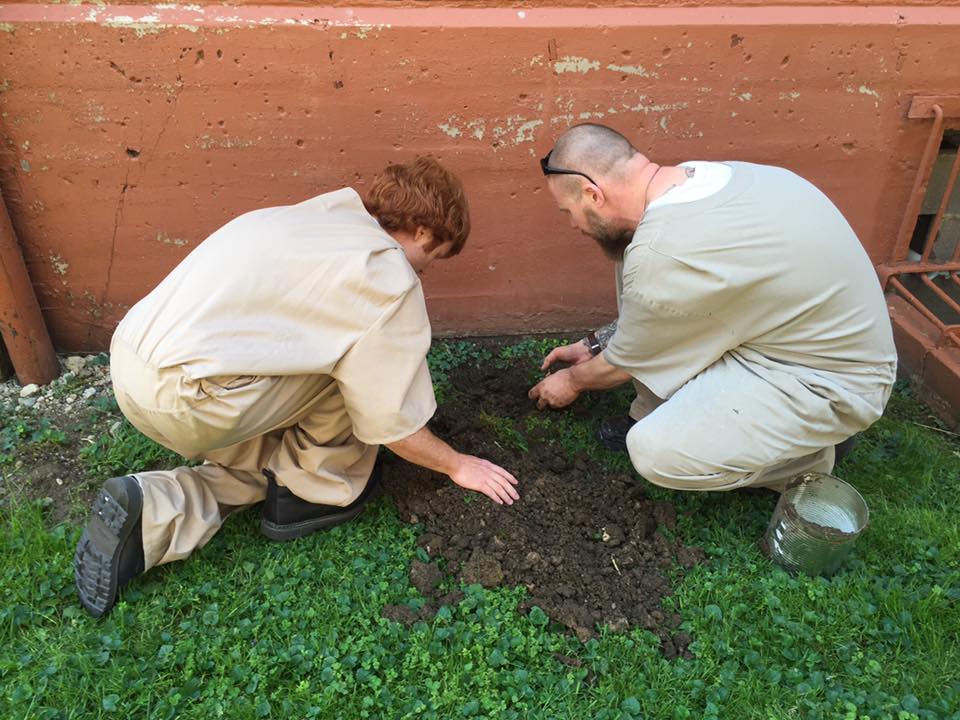 This heartbreaking experience can be a powerful lesson in the art of letting go. Even when life is hectic, it is still important to take the time to properly grieve for something we have lost. These two men show us how it can be done, and how it can ultimately help us move on.
Prison Meals: A Far-Cry from Catering 
He hadn't seen a pizza in ages. That stack of slices on the man's plate? That's because he was in prison. The Marshall Project revealed what prison meals actually consist of – and it's not quite restaurant quality.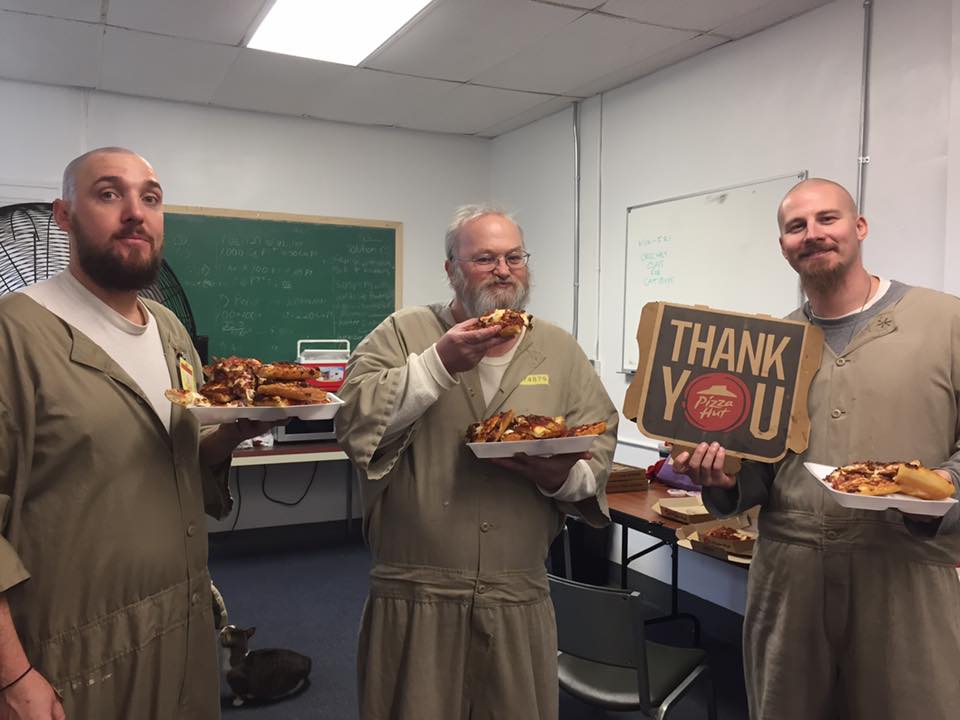 Though the objective of prison is not to create a luxurious experience, this treat enabled inmates to express gratitude, which is a sign of vulnerability, and the prisoners also learned to trust that not everyone is out to get them.