What Ever Happened To The Women Behind Two And A Half Men?
Two and a Half Men solidified itself in comedy and television history. The production of the show was never smooth sailing. During its eighth season, Charlie Sheen, one of the show's titular leading men, Charlie, took a break to deal with his drug addiction issues. Following this and tension between Sheen and the show's creators, his character was killed off to make way for his replacement, Walden, played by Ashley Kutcher.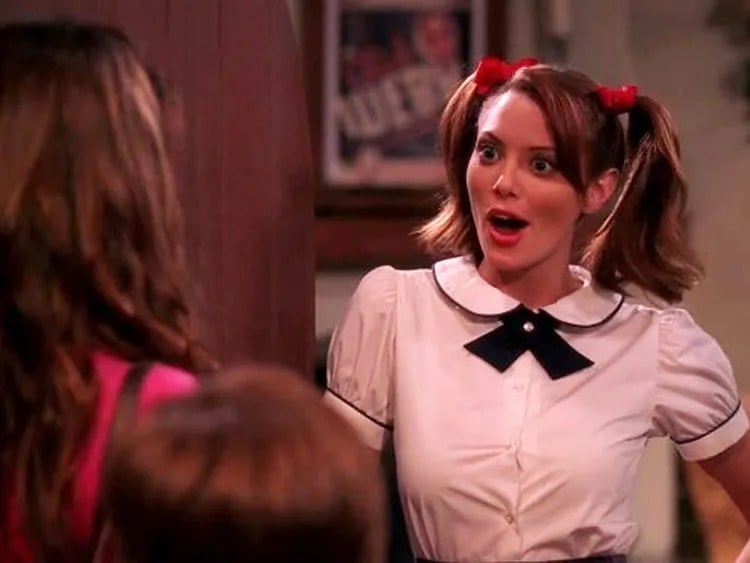 Season nine began with Charlie's funeral, which was attended by several of Charlie's beautiful ex-girlfriends. The show, primarily about two men and a half, had several women guest stars throughout its run. Each week viewers tuned in to see which celebrity actress would grace the set of the show. Let's take a look at ten of the women that helped prop up this legendary show.
1. Sherri (Jeri Ryan)
Best known for her time on Star Trek: Voyageras the catsuit-clad Seven of Nine, this German-native actress appeared on the show as Sherri, first as Charlie's girlfriend, then, strangely enough, as the girlfriend of his brother, Alan.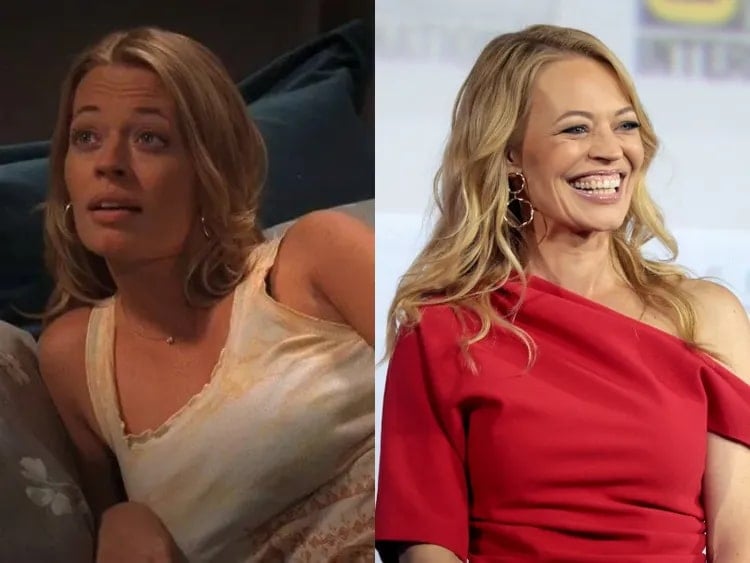 Although Charlie dated many types of women on the show, Sherri was a type of woman he'd never encountered before. Jeri has most recently been seen on the sci-fi thriller Trek in which she reprised her role of Seven of Nine.
2. Mandi (Gail O'Grady)
Mandi, played by the gorgeous redhead Gail O' Grady, was Andy's ex-wife and the mother of Kandi, but that didn't stop this fiery lady from intimately getting involved in Charlie's love life. After she went on to have a prolific career on TV.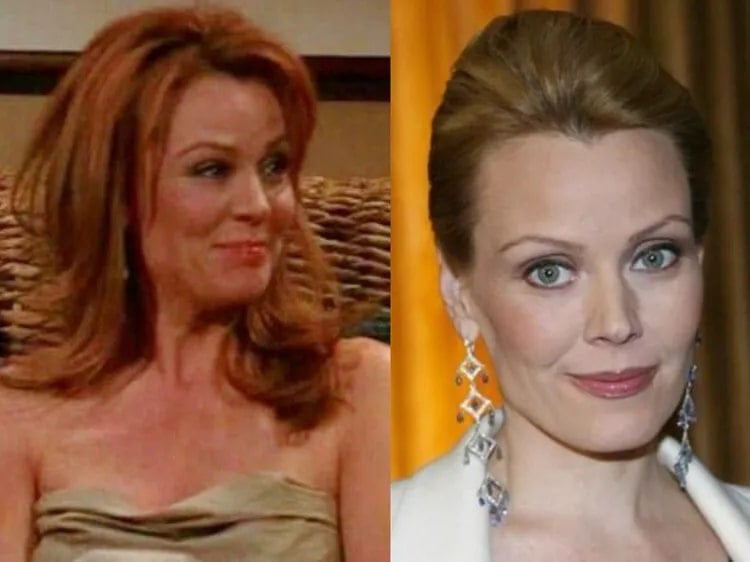 Gail has been nominated for three Primetime Emmy awards for her work. She's also had a prolific love life outside of the show as well. With six marriages so far, she's currently dating Chris Beyers (maybe her seventh? Only time will tell).
3. Mia (Emmanuelle Vaugier)
Mia, played by the Canadian actress Emmanuelle Vaugier, first appeared on the show as Jake's dance instructor after he became interested in learning to dance.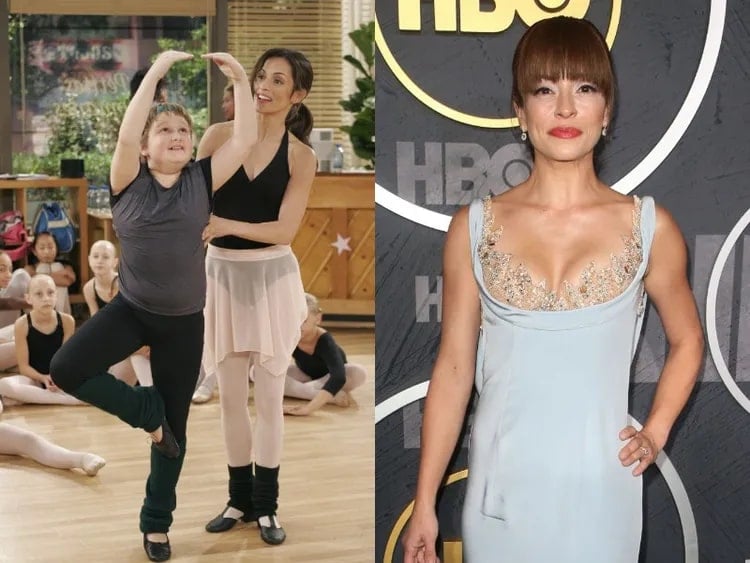 While she initially showed little interest in Charlie, he eventually won her over with his charming ways.
4. Chelsea (Jennifer Taylor)
On the show, Chelsea, played by Jeffifer Taylor, played Charlie's first love—or at least the first person we saw him confess his love to on the show. Before playing Chelsea, she appeared on the show three other times in minor roles. She had a prolific career before and after Two and a Half Men.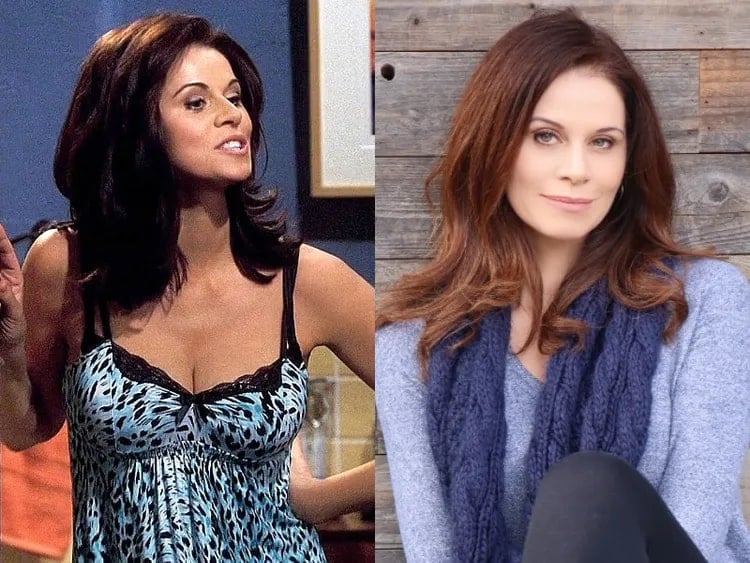 Since the show, she's been involved with police procedurals and thrillers, including CSIS , Stalked By My Mother , In Bed with A Killer and Style. She also made a brief appearance on the American adaptation of Shameless.
5. Lisa (Denise Richards)
Denise Richards had made a name for herself before Two and a Half Men. But on the show, she portrayed Charlie's girlfriend from seasons one and two. During her work on the show, she was actually married to Charlie in real life. They even had two daughters together.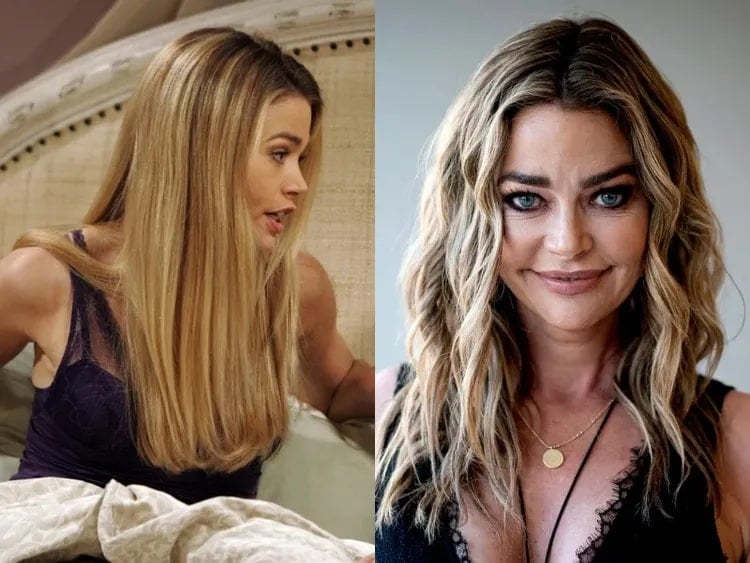 But her relationship with Sheen wasn't Two and a Half Men-to-be. After she left the show, she went to work on another comedy show, Blue Mountain. She has had many TV and movie roles since, but she has been a mainstay character on the reality television show, The Real Housewives of Beverly Hills.
6. Miss Pasternak (Missi Pyle)
Isn't it strange how most of the characters on Two and a Half Men have names that are quite similar to their real-life counterparts? Missi Pyle played Miss Pasternak, Jake's extremely emotionally volatile fifth-grade teacher and, later on, Charlie's girlfriend.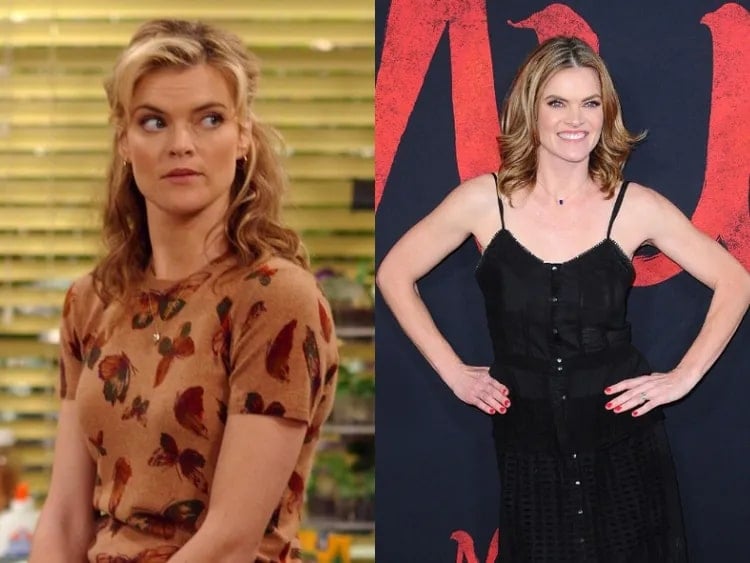 After her last appearance on the show in season nine, when she showed up for Charlie's funeral, she went on to appear in several films, including Kumar Escape from Guantanamo Bay,  Gone Girl,  and Captain Fantastic as well as many TV shows such as The Mentalist and Dirty John.
7. Melissa (Kelly Stables)
First appearing in season six as Alan's receptionist, she dated both Charlie and Alan, eventually breaking it off with Alan before the end of the season after sleeping with her mother. After leaving Two and a Half Men she took minor roles in several TV shows.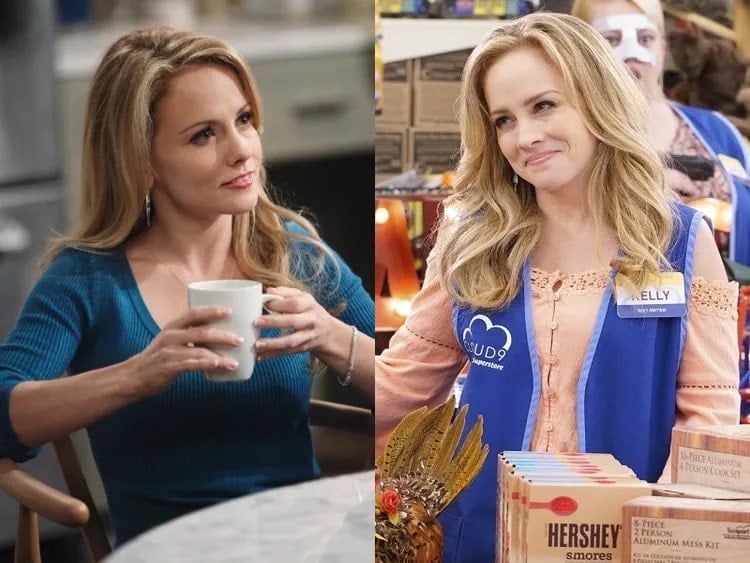 She also appeared in many movies, such as Horrible Bosses. In addition, she appeared as the main character in The Exes and has made several appearances on other sitcoms such as Superstore. Stables also had a guest appearance on Young Justice as "Arrowette."
8. Lyndsey (Courtney Thorne-Smith)
Courtney Throne-Smith was one of the writers for the show and also was one of the boys—she liked to drink beer and get rowdy with the cast. She was nominated several times for a Screen Actor's Guild for her work on Ally McBeal, winning with the rest of the cast in 1999.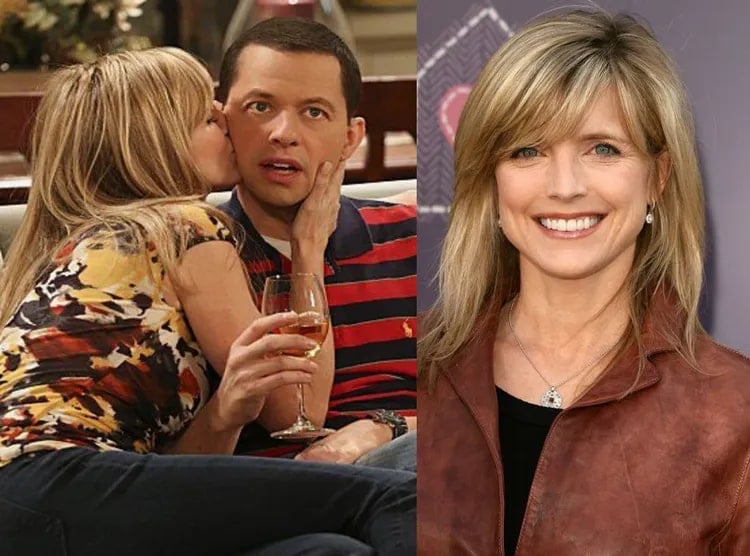 Since Two and a Half Men, Courtney had on and off work in Hollywood but lent her talents to the world of TV. She's taken to playing the leading role in the TV mystery movie Emma Fielding and  also returned to collaborate with Two and a Half Men series creator Chuck Lorre in Mom.
9. Prudence (Megan Fox)
Even true fans might have forgotten about this character as her appearance was so brief. Berta, Charlie's housekeeper, had a daughter named Prudence, played by Megan Fox. Since her one-time appearance, Megan went on to become a household name, although her career has slowed down lately, perhaps due to her engagement with Machine Gun Kelly.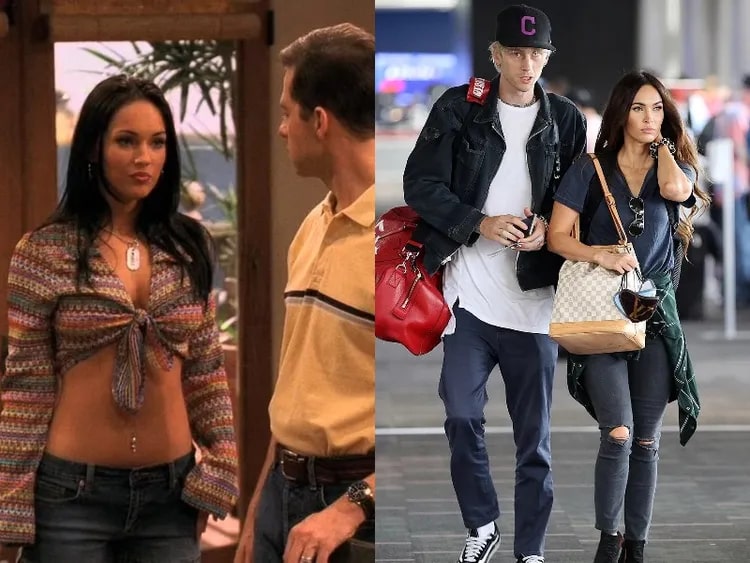 Before her career started to slow, her work with Michael Bay in films such as Transformers, and Teenage Mutant Ninja Turtles made her internationally famous.
10. Kandi (April Bowlby)
April Bowlby played Mandi's- older- men-enjoying, 22-year-old daughter, Kandi. April has had a long list of roles on television, especially in sitcoms. Two and a Half Men was one of her earliest significant roles.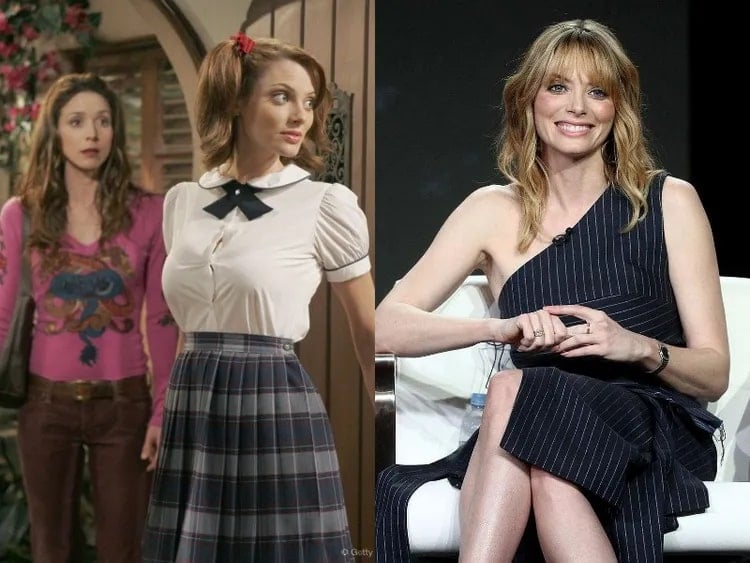 Some of her credits since leaving the show include How I Met Your Mother and The Big Bang Theory. She's had something of a comic book superhero show stint of late, having acted in Titans and Doom Patrol. As well as acting, she also finds work as a model.
11. Evelyn (Holland Taylor)
Evelyn was one of the funny characters on the show. Evelyn Harper, played by Holland Taylor, played Alan and Charlie's mother. It was obvious on the show that she had neglected them both, and as a result, they both developed abhorrent behavior—especially when it came to relating with women.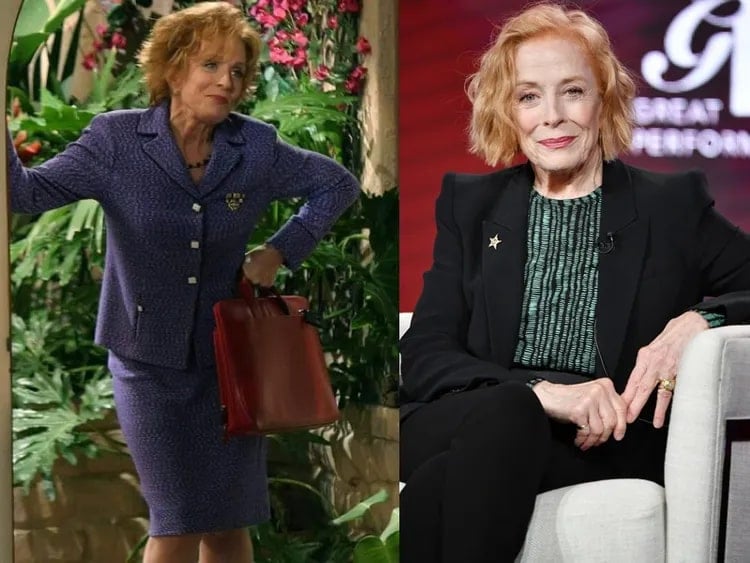 At 75 years young, she's still going strong in the industry. She might be best remembered for her role in Two and a Half Men, but she has also been in other shows, including Bosom Buddies, The Practice, Hollywood Mom, The Orville, and Mr. Mercedes.
12. Judith (Marin Hinkle) 
Judith, played by Marin Hinkle, was an important character in Two and a Half Men. She was Alan's ex-wife and Jake's biological mother. In the show, Judith lied about being gay as an excuse to end the marriage. It later turned out that she had been lying and that she wasn't actually interested in women.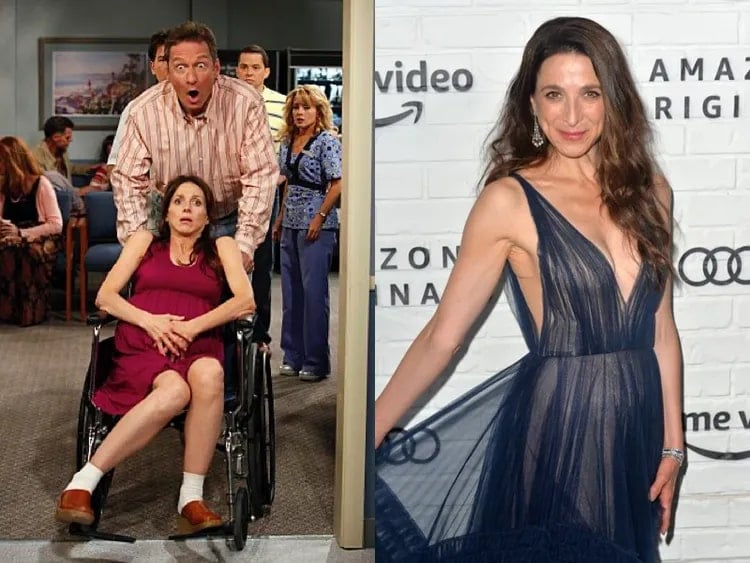 After Two and a Half Men, Marin had a long and successful career. She appeared in shows like Homeland and Speechless. One of her last big projects was a movie called Before/During/After. 
13. Beverly (Allison Janney)
Back when Two and a Half Men aired, online dating was a niche idea. In the show, Alan met Beverly, played by Allison Janny, on a dating network. Alan tried to convince her that he was wealthier than he was by telling her that he owned the beach house instead of Charlie.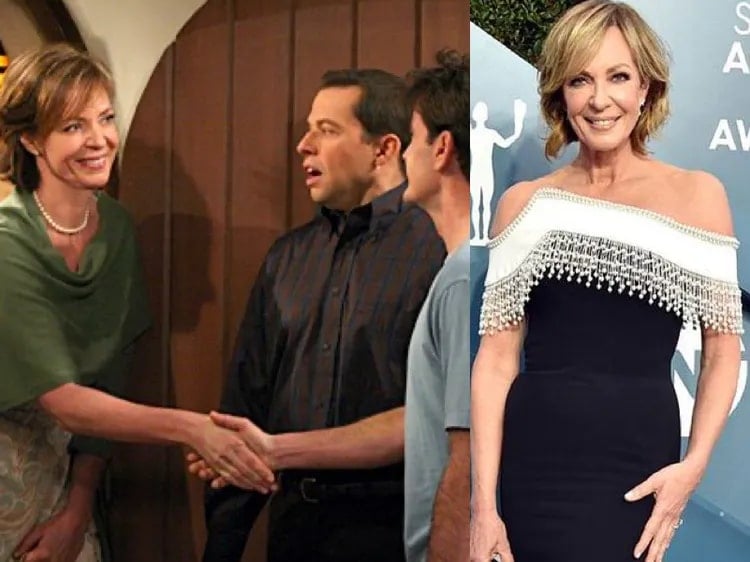 Allison Janney is a highly prolific actor. She has won several BAFTA awards in her lifetime, including a Primetime Emmy, a BAFTA award, and a Golden Globe. You might have seen her in Juno, Hairspray, or The Girl on the Train, just to name a few.
14. Danielle (Brooke Shields)
Brook Shields was an already-established actress and model before appearing on Two and a Half Men. She's had many roles in different projects, including Law & Order: Special Victims Unit, The Blue Lagoon, and Endless Love.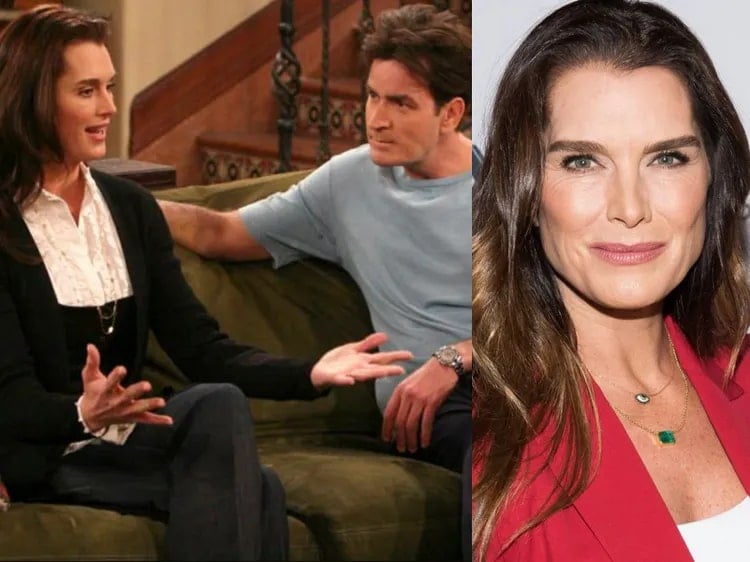 She's also been nominated for two Golden Globe awards. She appeared on Two and a Half Men as the kinky Danielle, whom Charlie initially tries to set up with his brother but becomes interested once he learns of her prowess in the bedroom.
15. Gretchen (Kimberly Williams-Paisley) 
Gretchen, played by Kimberly Williams-Paisley, appears late in the show. She was one of Alan's love interests. Alan, seemingly unable to present himself honestly to her, deceives her and plays his alter ego, Jeff Strongman, to win her affection. He was unsuccessful.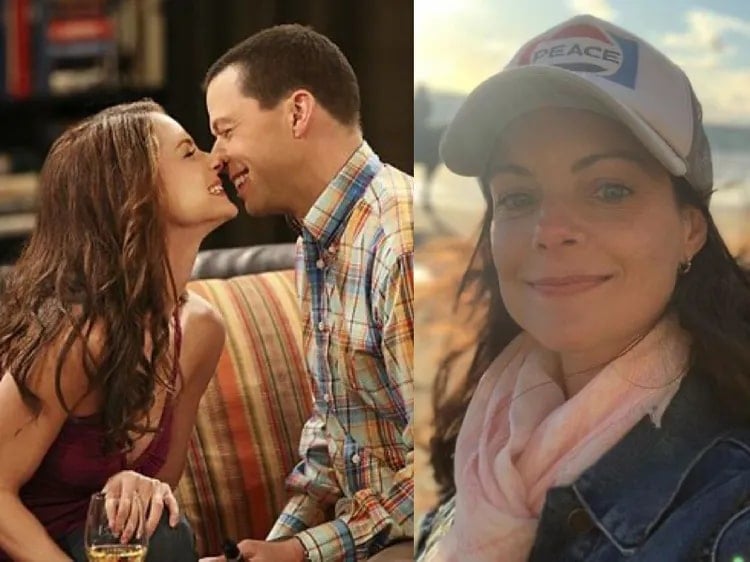 You might have seen Kimberly Williams-Paisley in any number of shows, including According to Jim and Nashville. She's stepped out of the acting world lately, but you might have seen her guest appearances in George Lopez, Tales From The Crypt, and Less Than Perfect.
16. Bridget (Judy Greer)
In season nine, after we are introduced to Walden, played by Ashton Kutcher, we are also introduced to his ex-wife, Bridget, played by the ever-hilarious Judy Greer. Walden was devastated by their breakup and even considered ending his own life.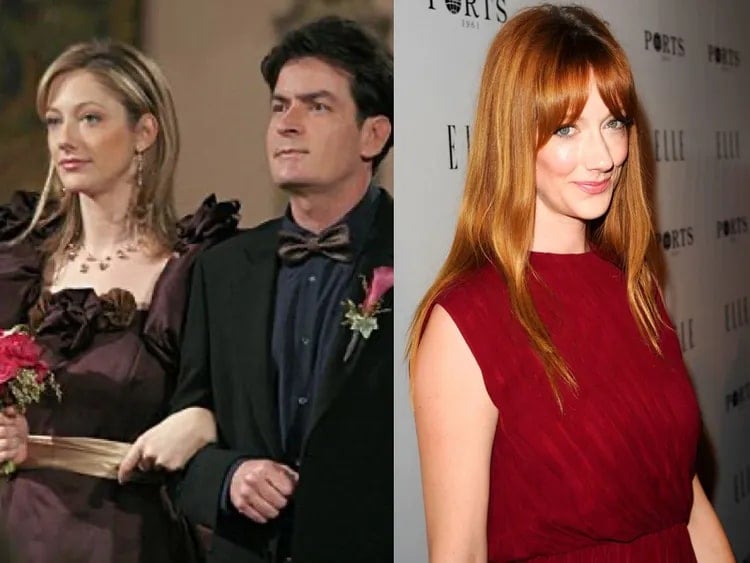 But as soon as he meets someone new, Bridget wants back in, after which Waldon confusingly decides to finalize their divorce. It's a shallow way of portraying suicidal thoughts, but hey, it's just a comedy show. Greer is, of course, known for her work on countless television and film productions. She's also a director, model, and author.
17. Zoey (Sophie Winkleman)
Sophie Winkleman played Waldon's rebound British girlfriend and would-be-fiance. After Walden finds out that she had been seeing another man, he gives her daughter a vicious dog as a gift as revenge. That might sound like something a psychopath would do, but the laugh track assures us that it's comedy gold.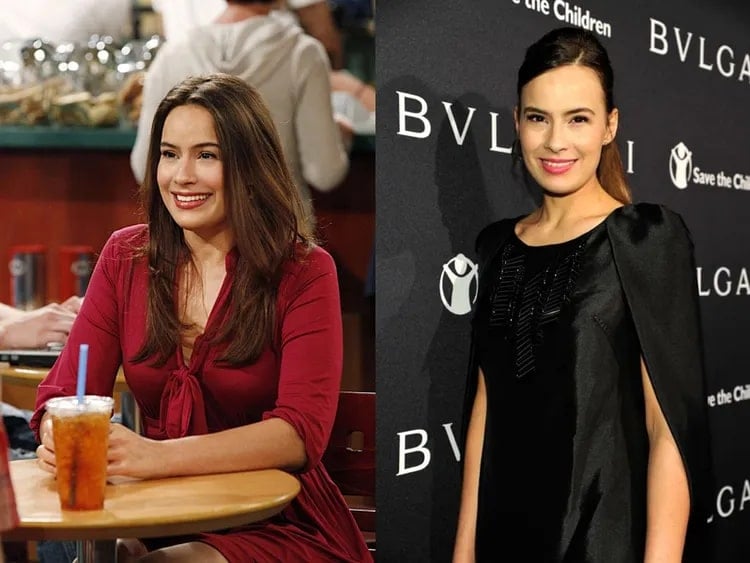 This British beauty isn't just an actress; she's technically a part of the royal family—or at least married to one of them. She's known for voicing a character on Milo Murphy's Law and for her work alongside Donald Sutherland in a movie called Trust.
18. Rose (Melanie Lynskey)
As long as the stalker is a beautiful woman, there's nothing wrong with that type of behavior—in fact, it might even lead to a lasting relationship—at least according to Two and a Half Men's Rose, played by Melanie Lynskey. Unfortunately, this stalker-turned-bride was killed off before she had the chance to alter the status quo.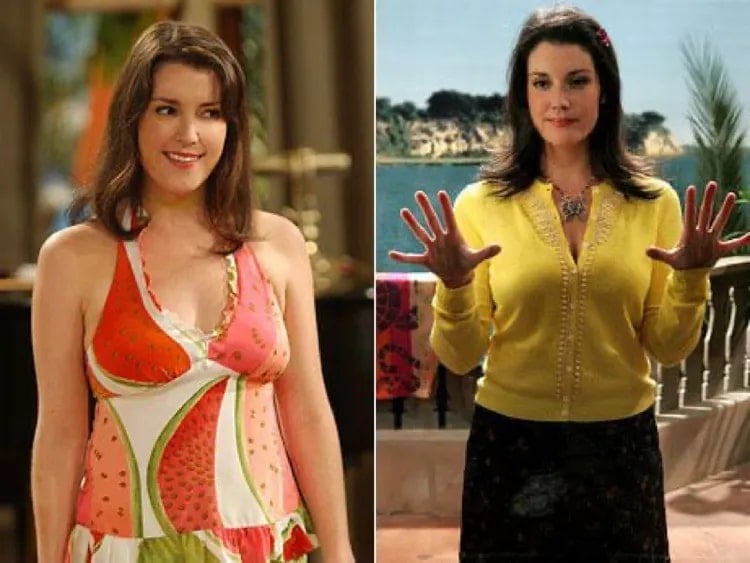 This New Zealander has since gone on to do bigger and better things since Two and a Half Men, starring in critically acclaimed movies such as Hello I Must Be Going, The Intervention, Sadie, and I Don't Feel At Home In This World Anymore.
19. Linda (Ming-Na Wen)
Charlie met Judge Linda Harris, played by Ming-Na Wen, on a double date with his brother Alan. While Charlie was fond of her, she found his behavior intolerable. Hilariously, Charlie ended up drunk driving (in the show) and ended up in front of her in court. Wowza!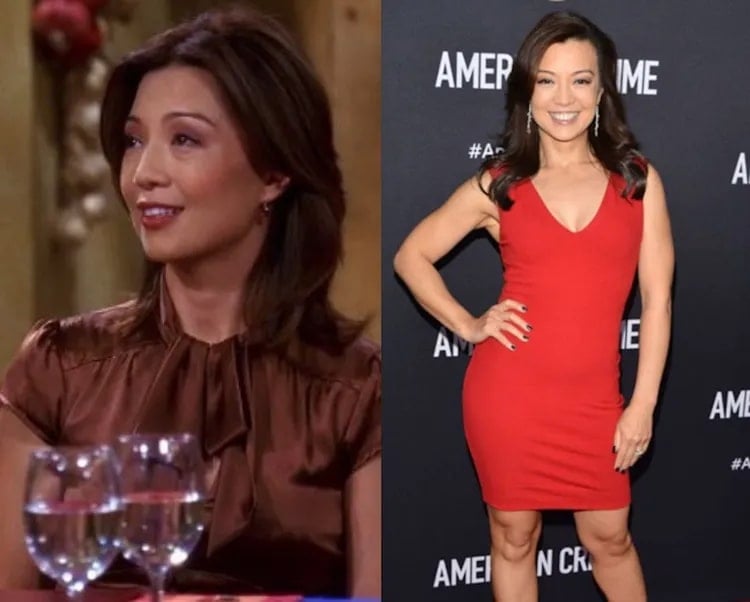 You might have recognized her voice: she's the voice actor of the 90s Disney animated film Mulan. As well as working on the hospital drama ER, Ming also played a part in ABC's Agents of S.H.I.E.L.D. Her other credits include The Joy Luck Club, Final Fantasy: The Spirits Within, and Street Fighter. 
20. Laura (Heather Locklear)
Healthier Locklear played Laura, Alan's divorce attorney, while Alan and Judy were splitting up. Charlie tried courting her but seriously messed up after promising to make himself available to her at all times—a promise he couldn't keep. Classic Charlie!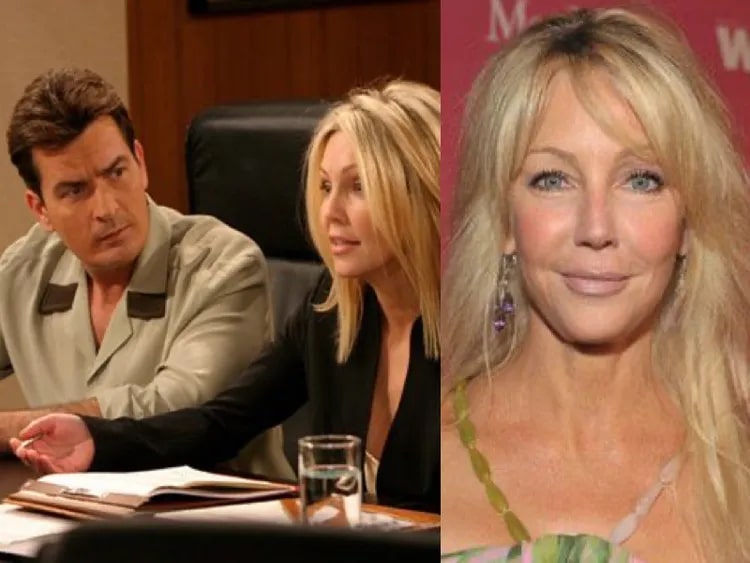 While she was a successful actor in her own right, Heather went through a very public divorce herself after the show, which compounded her health and took her away from the screen. She's been in several shows since—Tyler Perry's Too Close To Home and Franklin & Bash to name a few.
21. Paula (Paula Marshall)
Check out that imaginative name again! Maybe the show's executive producer Chuck Lorre gives his female characters names whenever he needs to remember a new housekeeper. Otherwise, they seem to just go on their own. Paula was Alan's love interest on the show.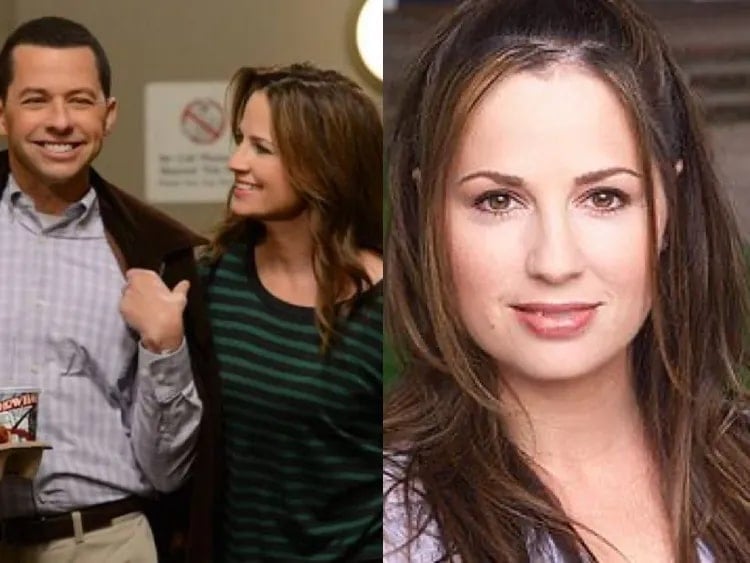 She's a married mom of one, wedded to another actor, Daniel Nucci. She's appeared in a few hit shows, including House, Law and Order, The Mentalist, Switched at Birth, and Murder in the First.
22. Donna (Kimberly Quinn)
Just another one of Alan's love puppets. After he got bored of Donna, played by Kimberly Quinn, Alan asked Charlie for advice on how to dump her without hurting her feelings. Needless to say, she got very upset! Whoopsie!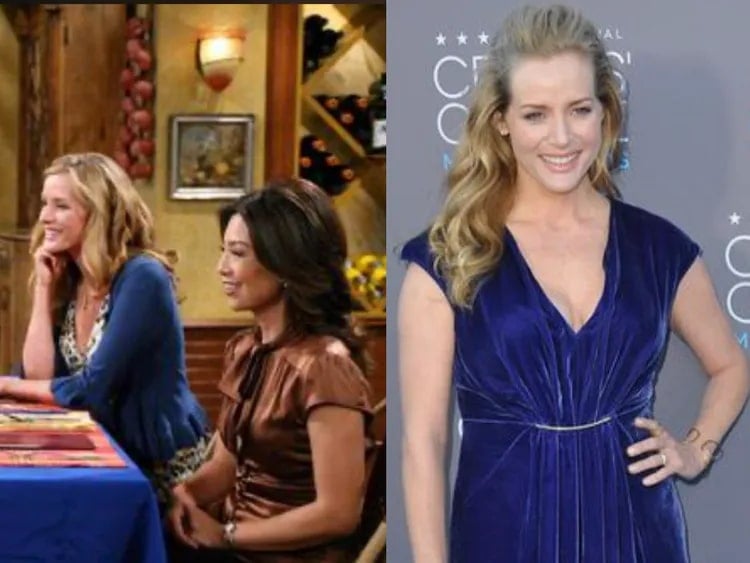 Outside the show, she's an accomplished actor and director. She co-produces films with her husband, Theo Melfi, and has worked on projects with big stars like Jessica Alba and Tim Allen. As well as acting and directing, Kimberly also produces and writes. She's an all-around talent machine!
23. Gabrielle (Justine Eyre) 
After finding out that Charlie had denied him a woman in high school, Alan sought to get revenge by stealing his current property. He decided to take Gabrielle, Charlie's then-girlfriend, for himself. Charlie gets upset, and Alan tells him he can have her back.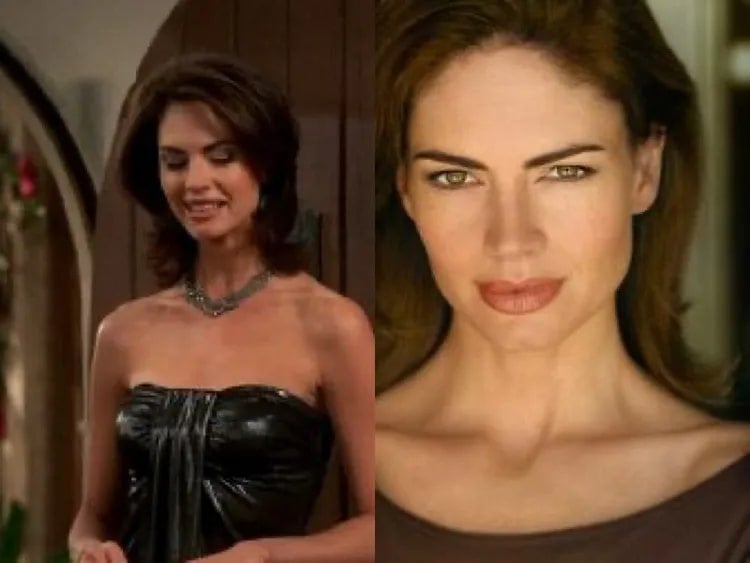 The beautiful Justine Eyre is both an actor and a model, and she's been in a few other shows that you might recognize, including The Secret Life of the American Teenager, CSI: Miami, and Mad Men.
24. Ms. McMartin (Maggie Lawson)
When Alan and Walden decide to adopt a child, Ms. McMartin, played by Maggie Lawson) is sent to see if their home is a good environment to raise a kid in. Of course, Alan and Walden lie about their lives and home, and as a result, they lose their chance to adopt.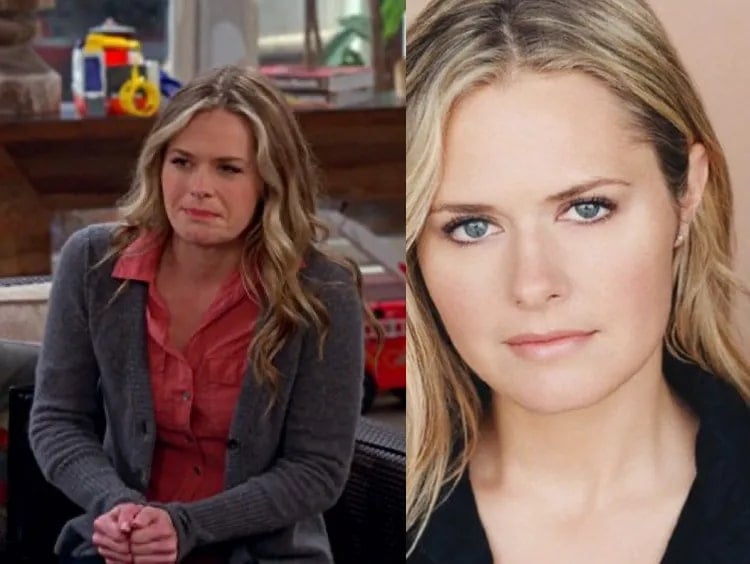 Maggie Lawson is no stranger to sitcoms. She starred in Inside Schwartz, Crumbs, and It's All Relative, and she's been in other shows such as Angel From Hell, The Great Indoor, and Psych. Needless to say, she's had quite a successful career.
25. Berta (Conchata Ferrell)
This is probably one of the few women on the list that Charlie didn't try to date. The hardworking housekeeper, Berta, played by Conchata Ferrell, always offers up her quick wit and gets laughs from the audience. She gets a kick out of seeing the boys struggle and squirm.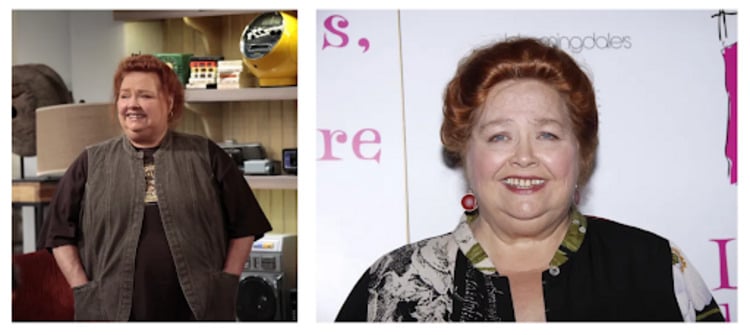 As a character actor, she's received two Emmy award nominations. While she's mostly been a main player on Two and a Half Men, she also had a part on Netflix's The Ranch and other projects, and she starred in the crime-noir movie, Deported.
26. Courtney (Jenny McCarthy) 
You can't con a conner. Courtney, played by Jenny McCarthy, was in and out of Charlie's life. During the course of the show, this so-called "former" con artist manages to make off with over $500,00 and Charlie's Ferrari. In the end, it turns out that Courtney (whose real name is Sylvia) was working on behalf of her con artist mom and dad. What a twist!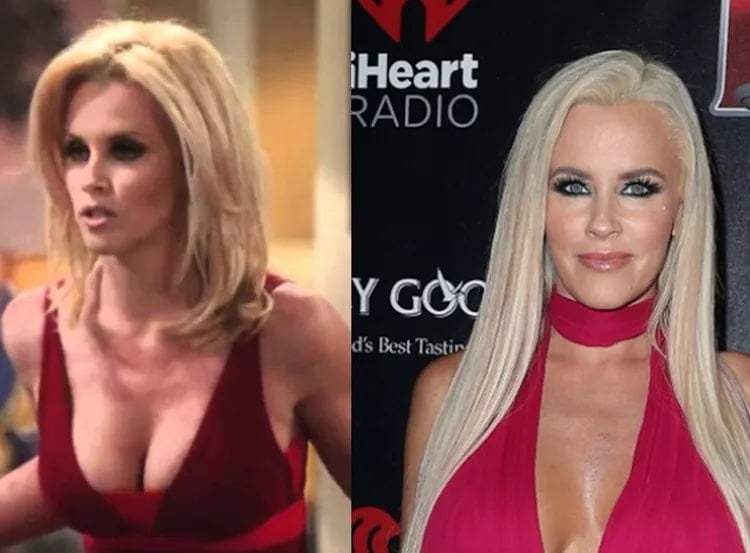 This former playmate is an actor, television host, and author. She's most well known these days for espousing dangerous and disproven ideas about vaccines. McCarthy now holds a spot on The Masked Singer as a judge.
27. Liz (Teri Hatcher)
This iconic actress has been known for two major television roles: first as Lois Lane on Lois & Clark: The New Adventures of Superman and as Susan on Desperate Housewives. She appeared on Two and a Half Men as Judith's "sleazy" sister.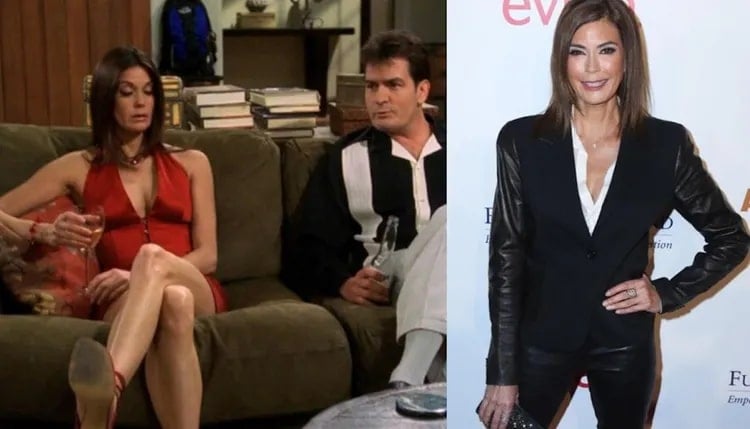 She finally got her breakthrough after appearing on Seinfeld, and from 2005 to 2009, she won a Golden Globe for her work on Desperate Housewives, as well as three Screen Actors Guild Awards and a Primetime Emmy nomination for Outstanding Lead Actress.
28. Tammy (Jaime Pressly)
Although her arms are covered in tattoos, Tammy, played by Jaime Pressly, is a soft and sweet soul. She played Jake's girlfriend, but she might have been old enough to be his mother. Tammy had three kids of her own in the show, one of which Jake slept with, which is a psychotic thing to do if you ask us.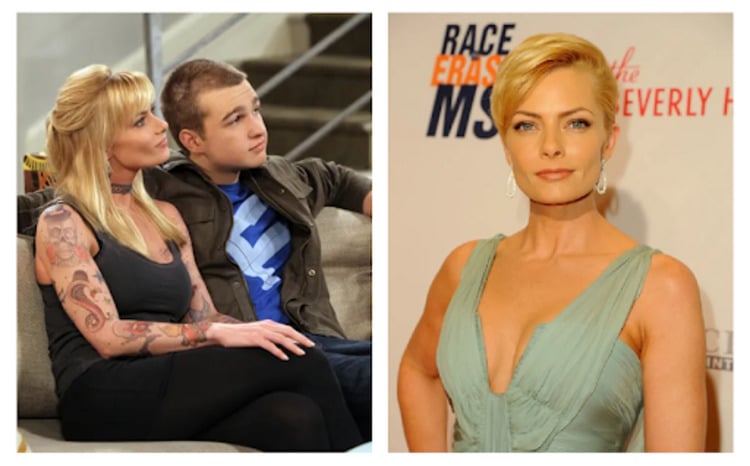 Jaime went on to do quite well for herself in Hollywood. With a Golden Globe and a Screen Actors award under her belt, as well as two Emmy Award nominations, she has nothing to prove. She's best known for her work in The Oogieloves in the Big Balloon Adventure as Lola.
29. Olivia (Krista Allen)
Olivia, played by Krista Allen, is one of Charlie's ex-girlfriends. She only had a brief appearance on the show when, discussing her and Charlie's relationship, she splashed a drink all over Charlie's shirt, humiliating him.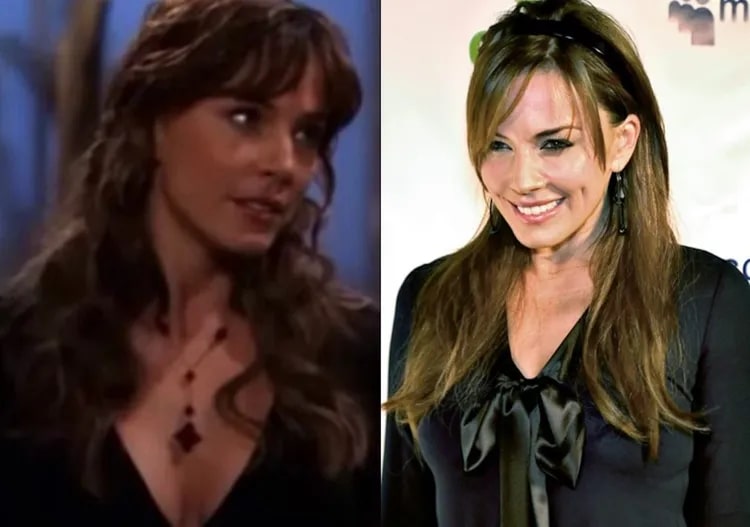 In real life, Krista is a stand-up comedian and well-known actress. She's known for her work in Hollywood movies such as Anger Management and Final Destination, as well as her work on TV in Baywatch and Days of Our Lives.
30. Cindy (Kristin Dattilo)
As someone that actually rejected Charlie, Cindy, played on the show by Kristin Dattilo, is something of an outlier to the other women on this list. Her rejection sent Charlie into a period of terrible longing. As one of his first crushes—perhaps this explains why Charlie is so on the lookout to beat down affection, having been unable to get the girl he wanted.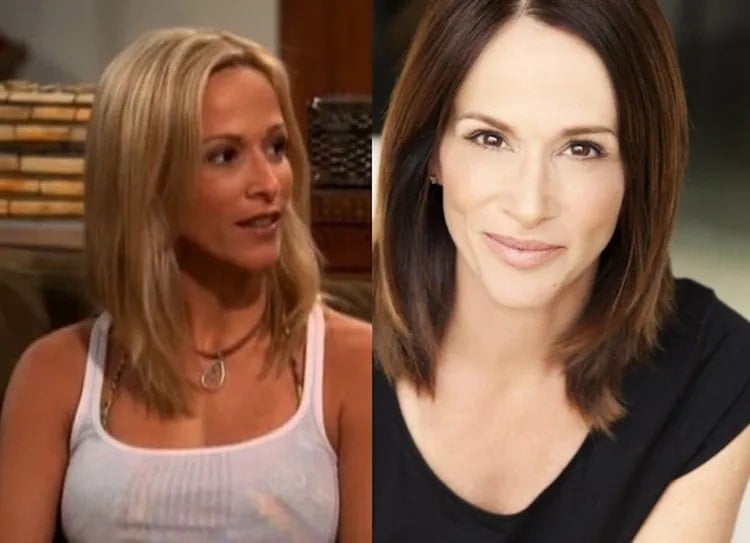 Other than taking a little break to raise her kids, Kristin has pulled out an unstoppable career in the entertainment industry with appearances in such shows as Friends, The Chris Isaak Show, CSI: Crime Scene Investigation, 90210, Dexter, Veronica Mars, and Beverly Hills.
31. Kate (Liz Vassey) 
Charlie met Kate, played by Liz Vassey, at Jake's soccer game, and the two hit it off. She meets him later, as a different character, in a hilarious scene in which Charlie needs a mole removed from his behind. Guess who walked into the doctor's office?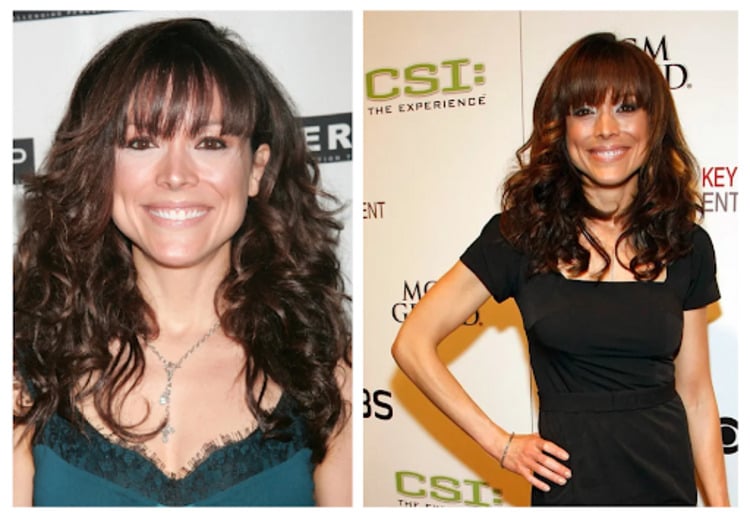 After that debacle, it's easy to see why Charlie might get shy. After her appearance on Two and a Half Men, she worked on CSI: Crime Investigation as Wendy Simms. She stayed on CSI for five years. She also worked on a web series called Nikki and Nora.
32. Jamie (Paget Brewster)
Paget Brewster played Jamie, the kid that Charlie and Alan had bullied in school. They called her names, like Eckleberry hound. All that changed when they found out that she was attractive, however. Of course, then they tried to hit on her, but naturally, she knocked them both back.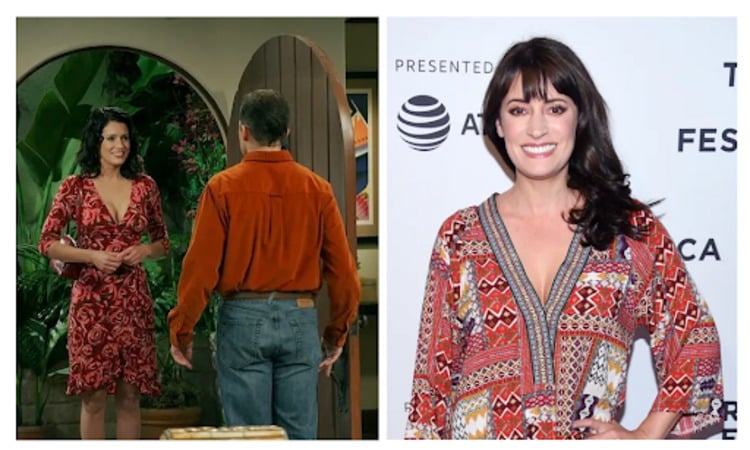 She found her niche on the CBS crime drama Criminal Minds as Special Agent Emily Prentiss. Her most recent work was The Witch Files. Her last work in films was the spooky The Witch Files movie and Hypochondriac. She's also set to star in How I Met Your Father, the sequel to the popular How I Met Your Mother series.
33. Rachel Cannon as Chloe
Who remembers this crazy scene? After dumping her because he felt Chloe, played by Rachel Cannon, was being too clingy, Charlie begins to get jealous when she starts getting hit on by the attractive handyman. He even goes as far as picking up "trendy" clothes in order to impress her and going to the guy's house.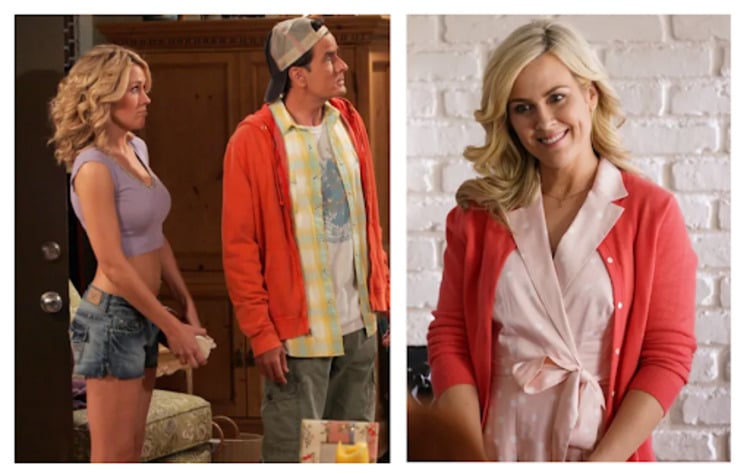 Charlie eventually fires the poor guy, but he wins Chloe's heart. Recently Rachel hasn't been seen as much, but she had roles in Fresh Off The Boat, The Big Bang Theory, and Mad Men. She's a self-described entrepreneur and mentor; maybe she doesn't have a whole lot of time for acting.
34. Naomi (Sara Rue)
Charlie's housekeeper, Berta, has a daughter named Naomi, played by Sara Rue. She moves in after becoming financially and emotionally dependent on her mom after also losing her job. Of course, this is Two and a Half Men, so she develops feelings for Alan, and the two start dating (of course). Strangely, her mother approves of this relationship.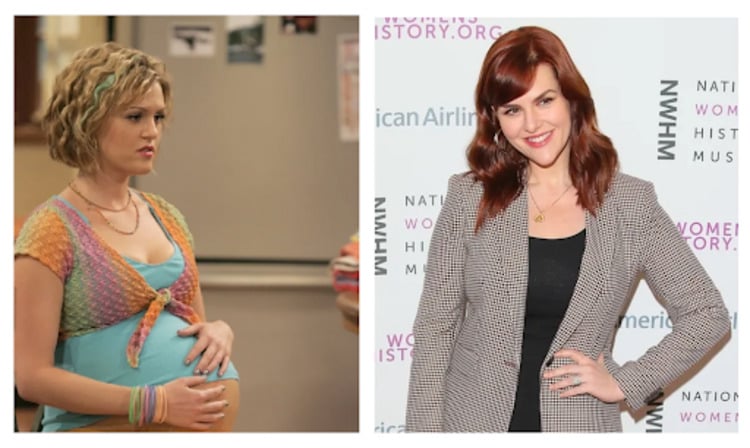 Sara has since hosted Shedding for the Wedding, a weight-loss marathon-themed reality TV show, American Housewife, and A Series of Unfortunate Events. She also acted in the ninth installment of the American Pie franchise, Girls Rule. Who knew there was even a ninth?
35. Missi (Miley Cyrus)
Miley Cyrus showed up in Two and a Half Men in an era where Jake had grown up, and Charlie had died. Missi is a talkative young woman with a kind heart. She comforted Jake and hung out with him when he had trouble at the army base. Upon realizing that he had gone AWOL, however, she let him go.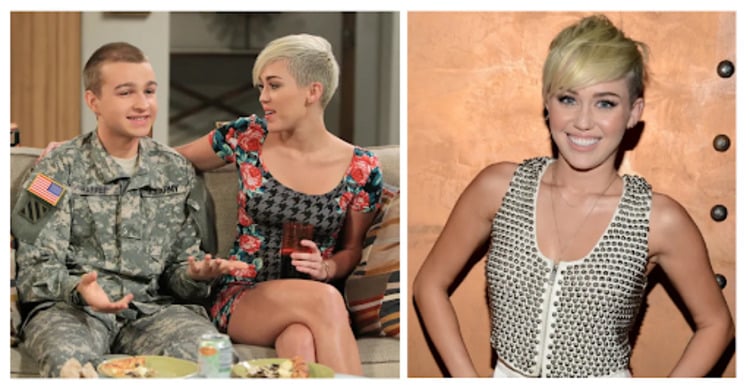 Of course, Miley is an international star. Disney fans might have recognized her from her Hannah Montana days, but by this time, she was branching out to be her own thing in her music career. She's already done her fair share of acting, but maybe we'll see her appear more on screen in the near future.
36. Vivian (Mila Kunis)
Everyone knows Mila Kunis! But did you know that she's actually married to Ashton Kutcher, Walder, in real life? She played a hippie hiker in one of the later seasons of the show, in which she stopped Walder from proposing to his girlfriend after she returned from vacation.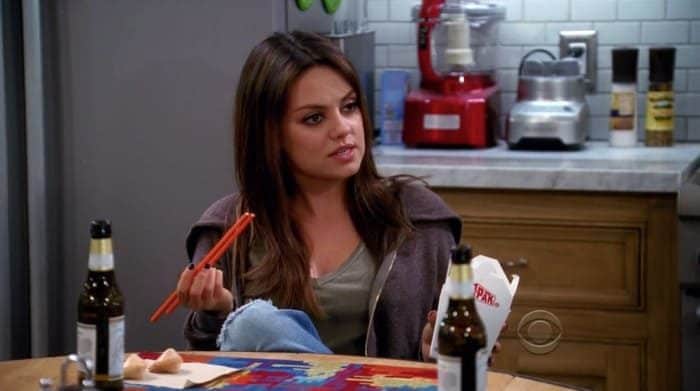 The Ukrainian-born actor has been in countless films, movies, and animated projects. She married Ashton in 2015, and the couple has two kids together.
37. Shannon (Tammy Lauren)
Shannon, played by Tammy Lauren, has a complicated backstory. Needless to say, Alan hit on her, and of course, she was very attracted to him. Of course, the relationship seemed to be moving too quickly for him, and so he broke it off with her.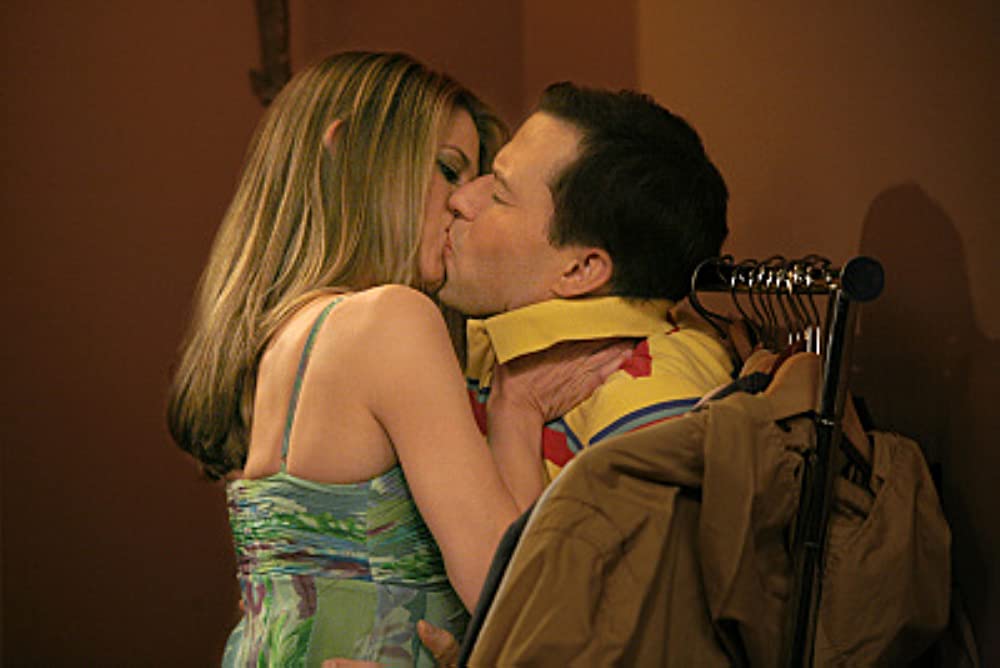 Tammy was quite active before getting her role in Two and a Half Men but seems to have left the entertainment industry. Her last big role was in Criminal Minds in 2014.
38. Charlie's Reincarnated Soul (Kathy Bates)
Well, fancy that. After all that slobbish womanizing, Charlie finds himself spending eternity in the body of a woman in the afterlife. Alan saw this visage when he came close to death. Charlie appeared to him as Kathy Bates to offer a word of advice, cigar and all.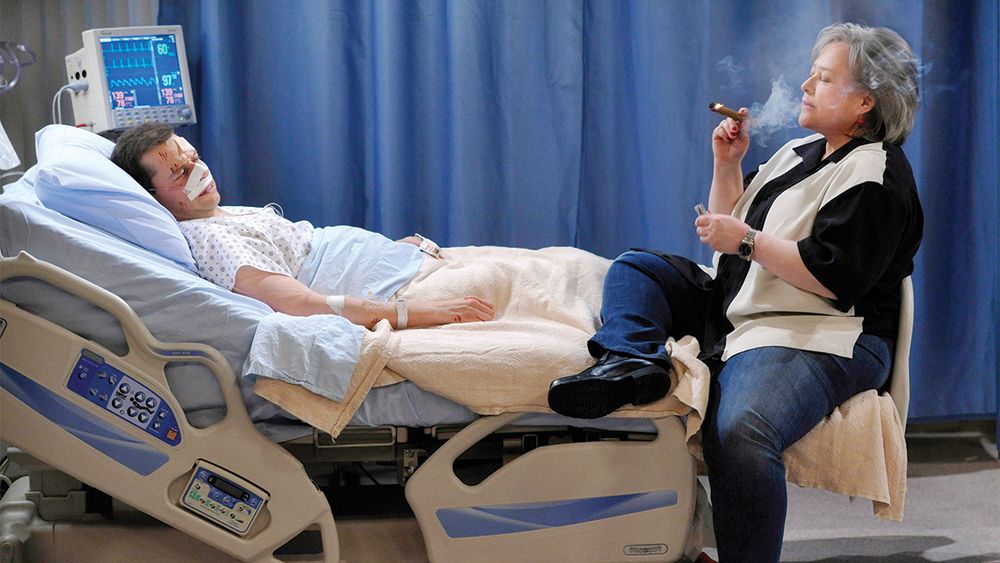 Of course, Kathy is such a well-known actor that she would be recognizable from any of her works. She appeared in P.S. I Love You, Harry's Law, The Office, The Day the Earth Stood Still, The Blind Side, and Failure to Launch, just to name a few, and has more awards than you could count on two hands!
39. Cloris Leachman As Nora
Feeling a little bit like a lecherous old man, Alan decides to go for someone his senior. He found Nora (Cloris Leachman), a wealthy elderly lady with a robust appetite for younger men. Unfortunately, she died on top of Alan in his bed. We wonder if this was the first time Alan saw death.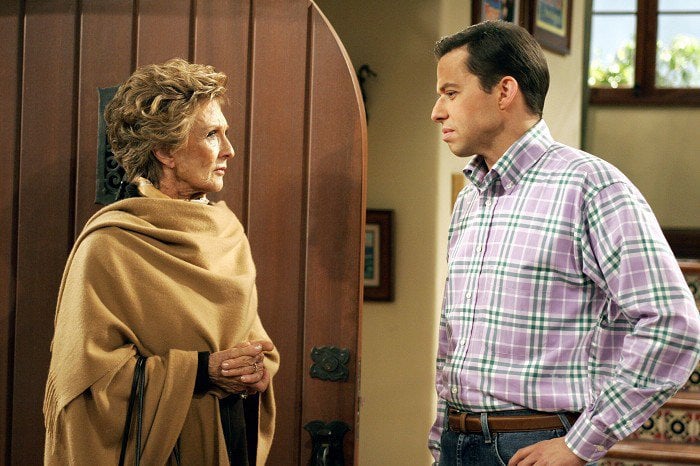 Cloris Leachman was a legend in the entertainment and comedy business. She had a career that lasted over 70 years. Over her life, she won eight Primetime Emmy Awards, a Daytime Emmy, and an Academy Award under her belt. She passed away in 2021 at the grand old age of 94.