Why The Queen Broke A Royal Tradition for Meghan Markle
The Engagement Of Prince Harry And Meghan Markle
When Prince Harry and American actress Meghan Markle announced their engagement, they had their first joint interview with the BBC. The public couldn't get enough of them together; behind-the-scenes footage from the interview has already racked up over 435,000 YouTube views. Even without sound, the footage is endearing!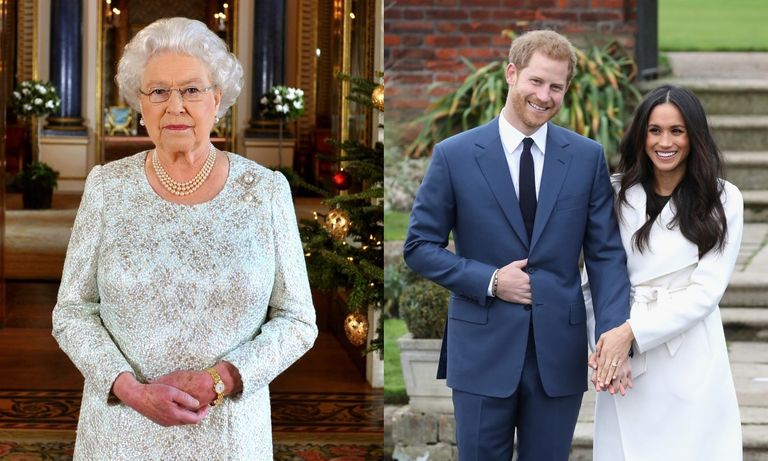 People were happy but also perplexed when Prince Harry revealed his engagement to Meghan Markle. Not only was she an actress and an American – neither of which is normal for a royal relationship – she was also a divorcee. The prince had broken a long-standing tradition just by proposing to her. Of course, that would not be the only convention broken by the future royal pair. However, as Christmas came, the Queen made an unexpected revelation regarding Markle.
Why Meghan Markle's Story With The Prince Is Considered A Real Modern Fairytale
Many have referred to Meghan Markle's story with the prince as a real modern fairytale. Markle was a young actress who grew up in Los Angeles as the daughter of a yoga teacher and a lighting director. When Prince Harry was born, he was third in line to the British throne. Although the duo hailed from very different backgrounds, they fell in love.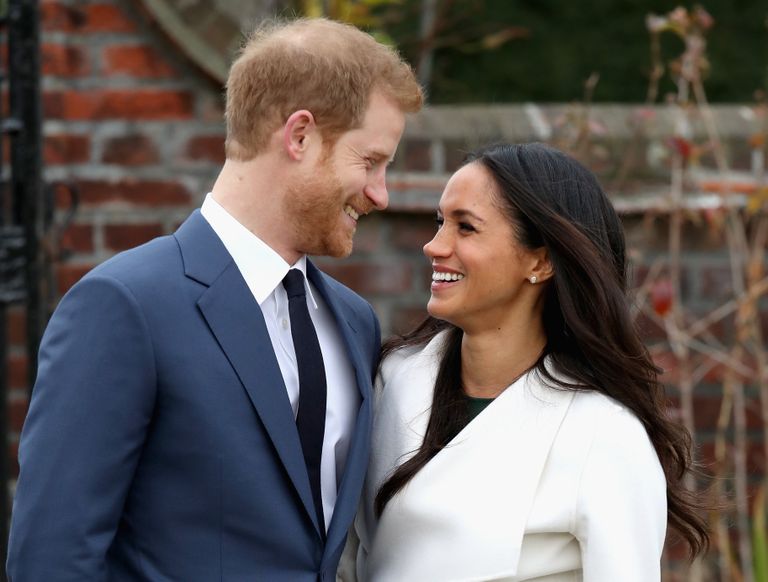 Additionally, Markle is the first woman of color to marry a British royal since the 18th century. When asked about racism in the BBC interview, Markle said that while she found it "disheartening," she was proud of who she was.
The Blind Date
When they initially met, neither had a clue about the other. Harry had never even heard of Suits, the television drama that catapulted Markle to stardom. He was intrigued, however, when a friend recommended a blind date with her. "I'd never heard of her until a friend mentioned the name Meghan Markle," Harry told the BBC.
For her part, Markle was certainly familiar with Prince Harry — everyone is – but she had no idea how the evening would go. "Because I was unfamiliar with him, I asked [my buddy] when she said she would match us up, 'Is he nice?' If he wasn't kind, it didn't make sense.'" However, she deemed him quite pleasant. The date, which occurred in July 2016, was flawless.
A Trip To Botswana
Following that, events accelerated. The following week, Harry extended an invitation to Markle so that the two could get some time together. However, this was not your typical weekend in the country – this was a trip to Botswana. That is the result of dating a royal! "We camped out with each other, under the stars," Harry said in the interview.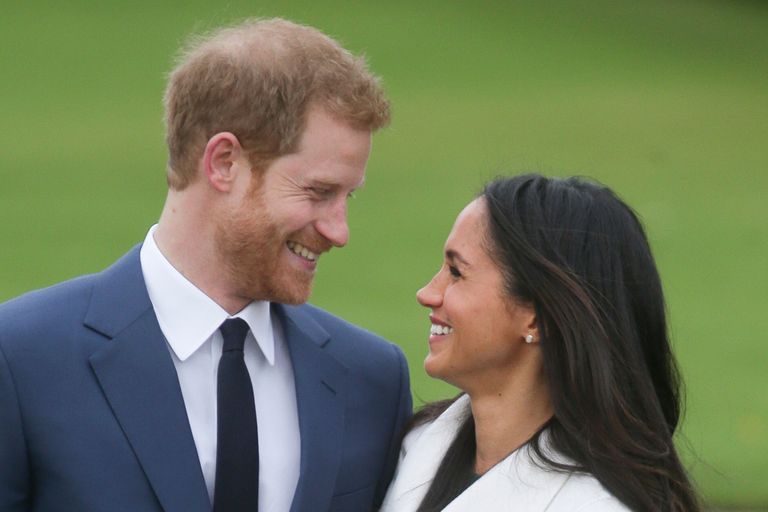 Harry described those five days as "absolutely fantastic." They began to fall in love throughout this period. "We were truly alone, which was critical for me to ensure we had an opportunity to get to know one another." Once they returned, they maintained their connection but kept it as low-key as possible. They were, however, unsuccessful.
Prince Harry's Concerns
The tabloids quickly jumped on the growing romance, publishing speculation and speculations about the couple. The royal family is used to press intrusion, but Harry was enraged by how it impacted Markle. He and the Palace eventually issued a statement confirming the relationship and pleading with the journalists to leave Markle alone.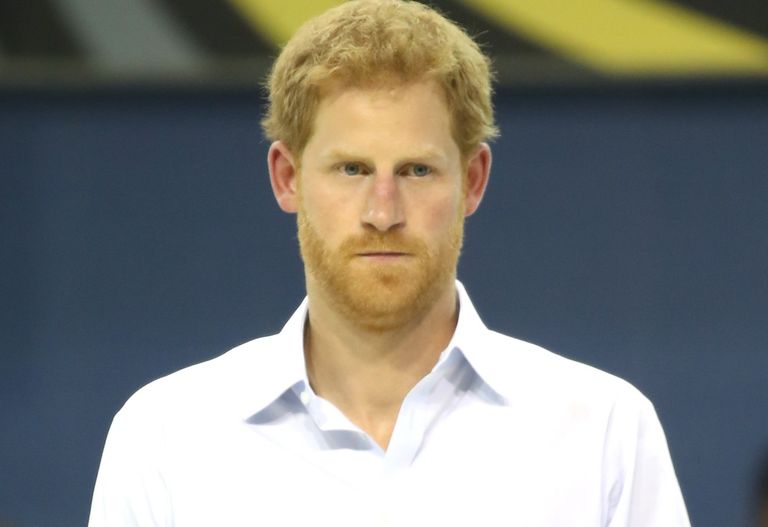 "Prince Harry is worried about Ms. Markle's safety and is deeply disappointed that he has not been able to protect her," the statement began. "It is not right that a few months into a relationship with him that Ms. Markle should be subjected to such a storm." It was quite uncommon for a member of the royal family to make such a statement.
Prince Harry And Meghan Markle's Wedding
However, it established without a reasonable question that Harry's relationship with the stunning young actress was very serious. And in March 2017, the pair was spotted at a charity polo tournament. Rumors began to circulate. According to reports, Markle has met Prince William, Prince Charles, and Kate Middleton, but has she met the Queen? Was a real-life engagement on the horizon?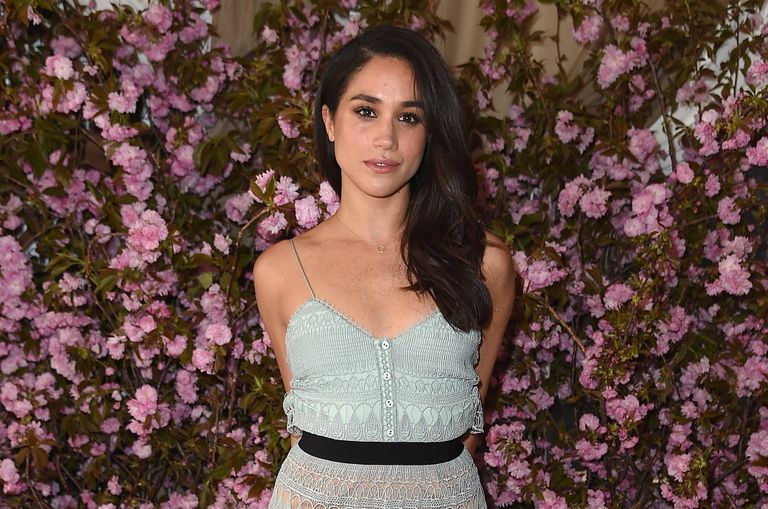 That was the case. The Palace confirmed Prince Harry and Meghan Markle's wedding on November 27, 2017. The duo appeared to be madly in love in the BBC interview that accompanied the news. "The fact that I fell in love with Markle so incredibly quickly was confirmation to me that all the stars were aligned, everything was just perfect," Harry exclaimed.
The Video With No Sound
After the wedding date was announced, the two were the subject of extensive filming. Some of it was simply them roaming around Kensington Palace's grounds, but some were also of the couple goofing off and being a normal couple. This was the aspect of the news that drew the most attention. They were even interested in what was stated during the unused video when the mics were turned off.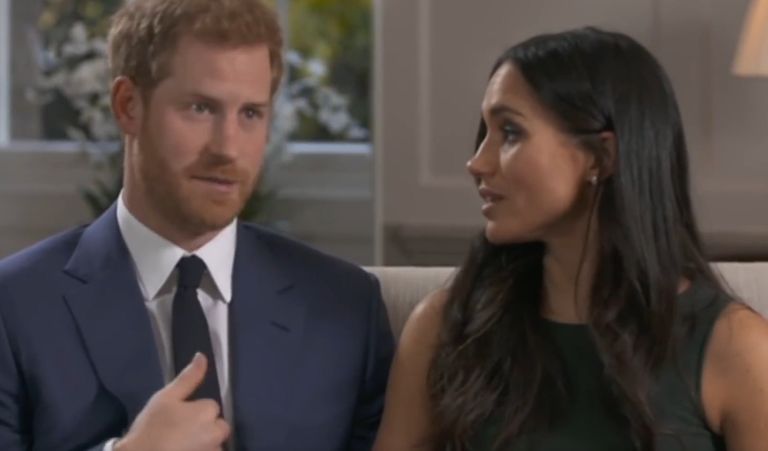 As a result, a professional lip reader was recruited. Tina Lannin, a captioner for 121 Captions who's even helped the police, told The Sun what the two had been saying in their conversation. To start, Markle stops her future groom as he describes their Botswana vacation, interjecting, "It was five days, yeah."
Love Was In The Air
"She is pleading with me to say anything!" Harry teases, alluding to the BBC reporter conducting the interview. Markle then begins to giggle and apologize before jokingly laying her head on her palm in an I'm-listening-to-you-intently motion. Harry, also laughing, smacks his leg in feigned rage with his palm and exclaims, "Dammit!"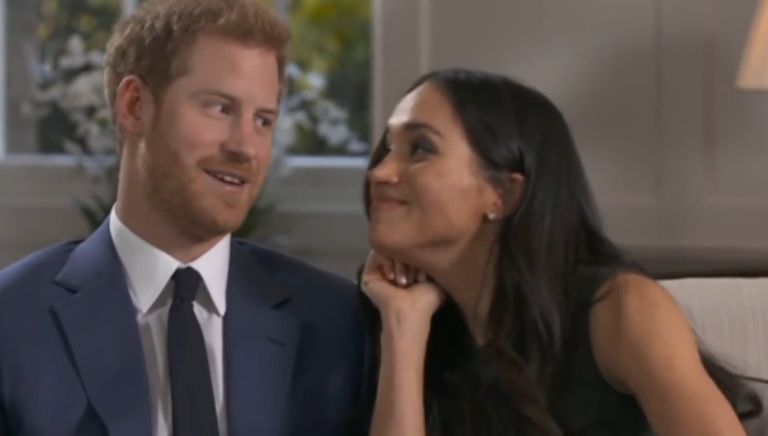 It was the sort of thing that many average couples do when conversing with others, and royal family supporters found it endearing. Numerous individuals expressed their excitement in the comments section underneath the YouTube video of the two with their mics turned off. "Aww, they're so cute," one lady said. "You can tell they are madly in love," another added.
Prince Charles And Princess Diana's Responses
Additionally, the BBC correspondent who interviewed them expressed similar sentiments. "The overall I came away with is clearly they're a couple very much in love," Mishal Husain stated on The One Show on November 28. "You can see the bond between them, it's there in the body language." All of this was in stark contrast to prior royal engagement interviews.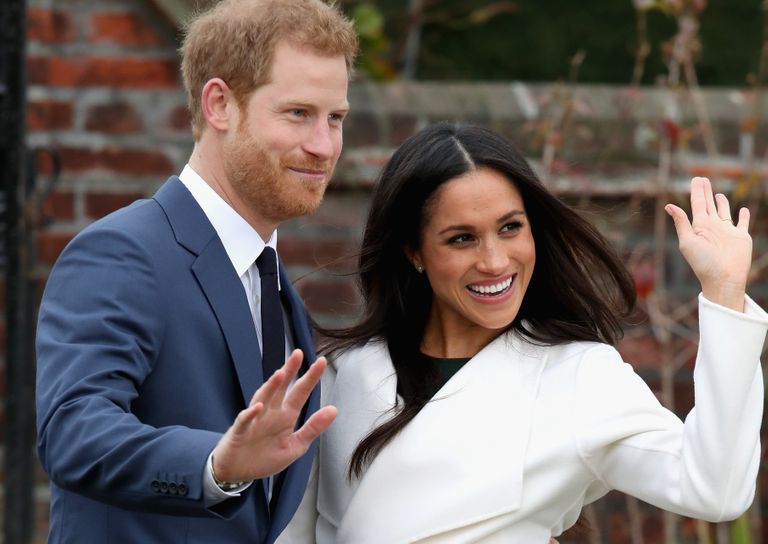 Prince Harry's parents, Prince Charles and Princess Diana were married in 1981. They, too, conducted an interview about it, during which a reporter inquired as to whether they were in love. Diana said swiftly, "Of course." Charles' response was significantly different. "Whatever 'in love' means," he added nervously. As we all know, the marriage did not last.
The "Diana Tapes"
Diana discussed the incident on the "Diana Tapes" recorded between 1992 and 1993. "I thought to myself, 'What a difficult question,' and responded, 'Yes, of course, we are,'" she explained. "Charles turned around and said, 'Whatever in love means,' and that threw me completely. I thought, 'What a strange answer.'" Diana goes on to say that his answer "absolutely traumatized me."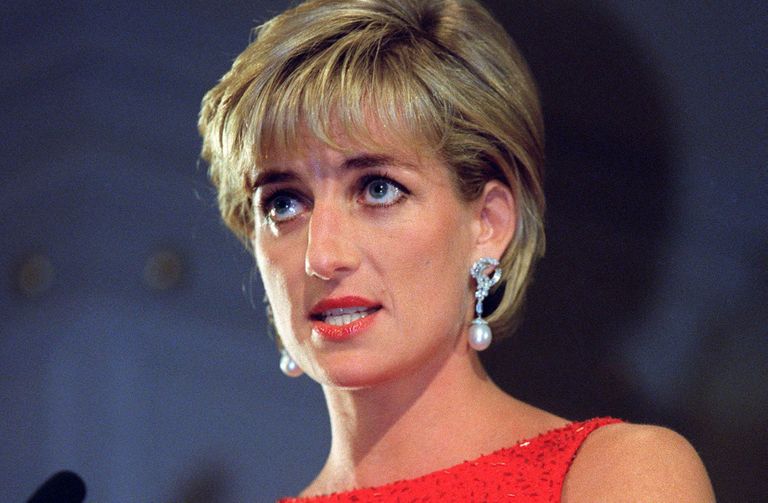 Unfortunately, Diana died in a tragic vehicle accident in 1997. However, she would probably be proud to know that her sons have developed the types of happy relationships she never did. Prince William, her eldest son, is happily married and the father of three young children. And Prince Harry appears to be on the brink of doing the same.
The British Royal Family Stance On Divorce
As you are probably aware, the British royal family is notoriously anti-divorce. Whoever the Monarch is, they are also the leader of the Church of England, which has a strong stance against broken marriages. The divorce issue contributed to the 1936 abdication crisis, in which Queen Elizabeth's Uncle King Edward abdicated the throne. Edward chose to marry Wallis Simpson, a woman who had been divorced twice, rather than retain the throne. That's what we call true love.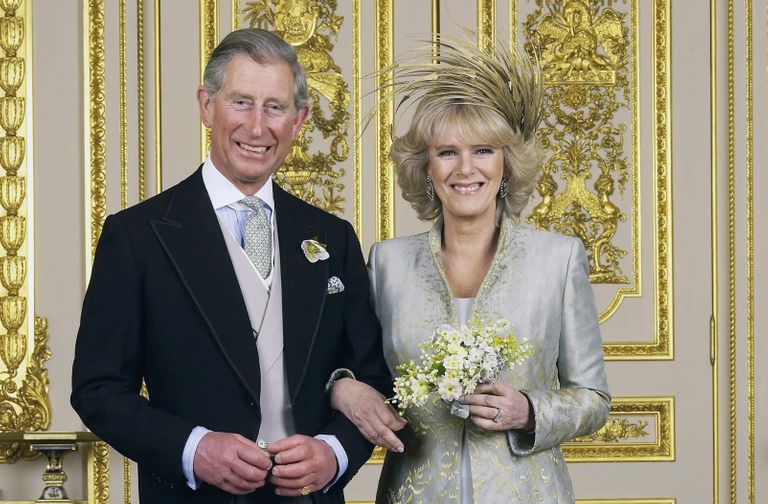 Since then, many royals have divorced from their marriages, including Harry's parents, Prince Charles and the late Princess Diana. Even still, the Queen's official stance is "no divorce." The most notable exception to this rule occurred in 2005 when Prince Charles married the divorcee, Camilla Parker Bowles. However, the Queen did not attend the civil ceremony.
Britain Royals Wedding
The Queen also had the option of not attending Harry and Meghan Markle's wedding. Markle stated that she had met the Queen and hailed her as an "incredible woman" in a post-engagement interview. However, even if their relationship began well, the Queen could have stayed at home if she believed that the wedding was contradictory with Church of England doctrines.
Following the announcement, The Washington Post noted, "The royal family welcomes a divorced, biracial American. That's a huge change." Without a doubt, it was. Thankfully, many people embraced what appeared to be an indicator of a more modern and open royal family. Even Markle's outfit choice for her first official photograph seemed to indicate that times were changing.
Engagement Photography Session At Kensington Palace
Markle wore bare legs for the ceremonial engagement photoshoot at Kensington Palace, which was historically discouraged.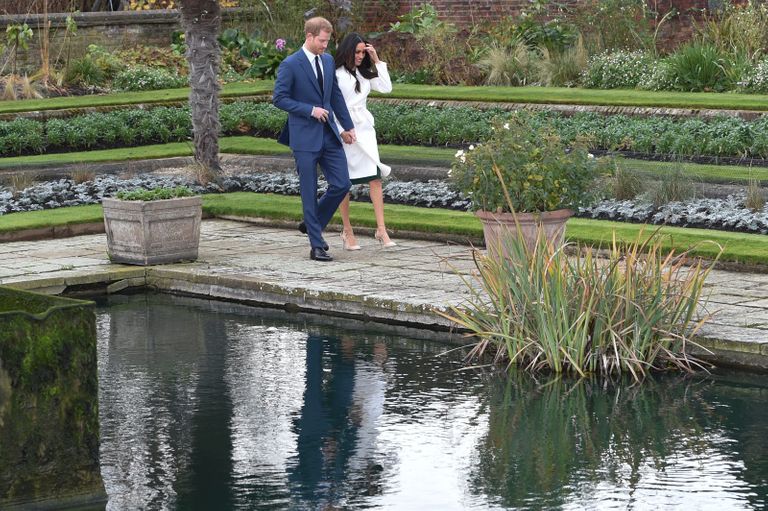 It's reported that the royal family has a clothing code that heavily favors the wearing of tights. After all, fashion is an essential element of how the royal family portrays itself to the world.
Markle's First Public Appearance As An Engaged Lady
As a result, Markle's first public appearance as an engaged lady established her as someone unlikely to be bound by stuffy old traditions.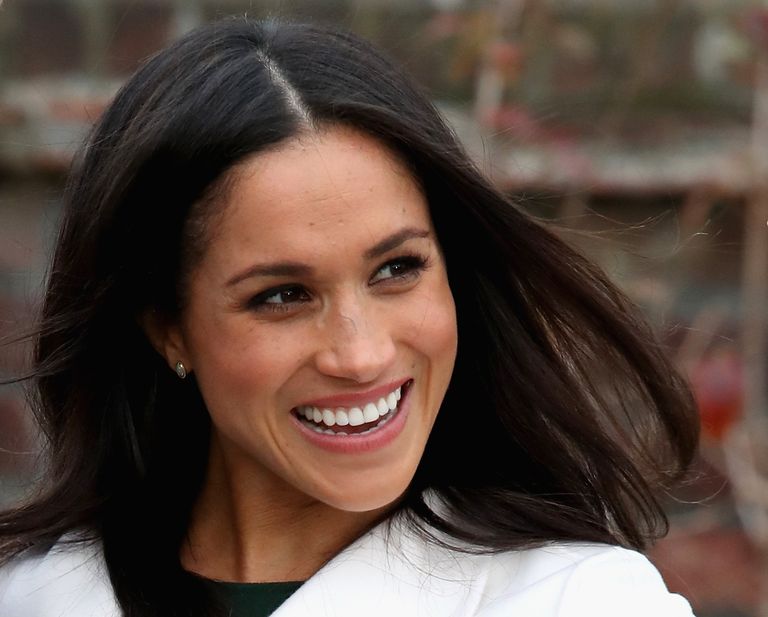 And then, when Christmas came, she bent another. Or, more precisely, the Queen bent the tradition for her. Markle was permitted to do something that Kate Middleton was not.
Markle's Christmas With Her New Fiancé
In 2017, Markle spent Christmas with her new fiancé and his grandparents at the Queen's castle in Norfolk. This was uncommon because she had not yet married into the royal family.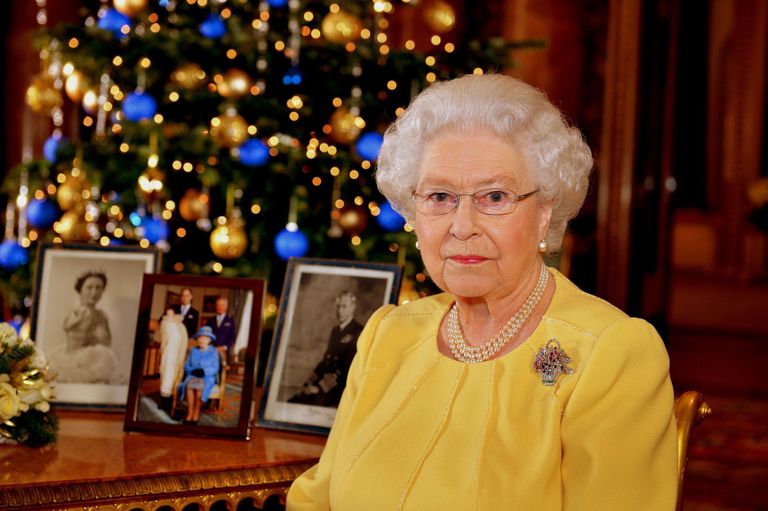 On the other hand, despite her engagement to Prince William in 2010, Kate Middleton wasn't invited. Similarly, Mike Tindall was also not permitted to accompany Zara Phillips to the Queen's castle in Norfolk until they married.
The Royal Protocol's Complexities
This was rather a big deal, given the complexity of the royal protocol. Notably, Markle was not invited to Pippa Middleton's wedding in April 2017, although Prince Harry was.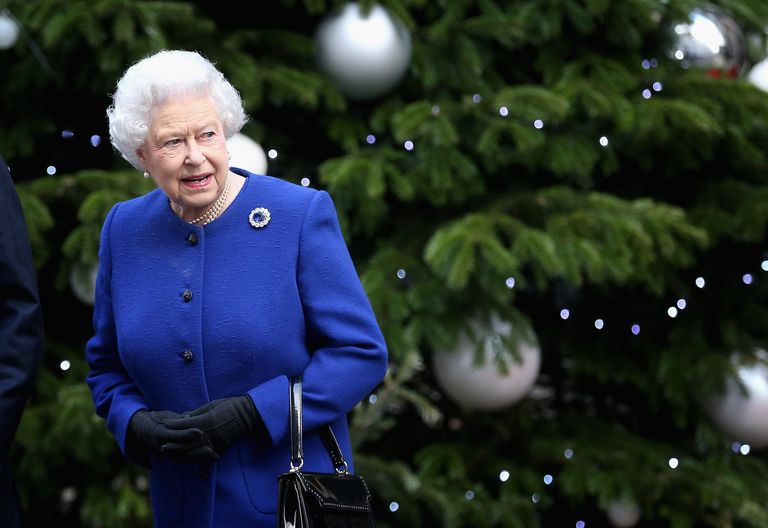 According to one etiquette expert, the unwritten rule amongst the family is "no ring; no bring." As with most things about the royal family, their rules and traditions are all quite distinct from what ordinary people do.
Christmas In Britain, With The Royals
Of course, Markle wore a ring; yet it was only an engagement ring. Richard Fitzwilliams, a royal expert, spoke to the Daily Express in December 2017 about the Christmas arrangements. It is expected Meghan will join Harry and the rest of the Royal Family for Christmas on the Queen's estate in Norfolk this year," he said.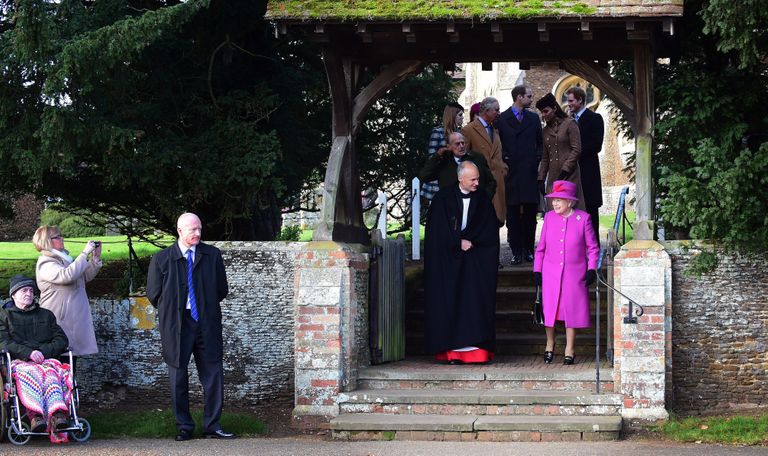 "In 2010, Kate was not invited to do so after her engagement to William," Fitzwilliams continued. "Only spouses and close family are usually invited." The royal Christmas celebration at Sandringham House is more of a ceremonial royal occasion than a family gathering, and it includes a religious service on Christmas Day.
The Monarchy Precedent And Customs
The royal specialist went on to explain why the plans had changed. "However, Harry and Meghan will be living together at Nottingham Cottage at Kensington Palace, and her family are in the United States. The monarchy relies heavily on precedent and tradition but it also makes its own." The monarchy is highly influenced by precedent and custom, but it also creates its own. It was rather kind that they didn't want her to be alone.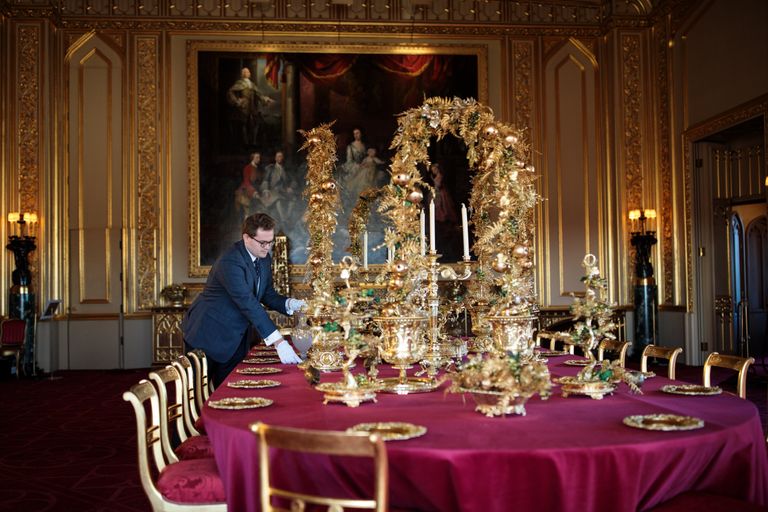 But Christmas in the royal family is a complicated affair, and Markle, who had never experienced it before, would have found it especially so. Everyone arrives at the estate in chronological order, with Prince Charles and Camilla Parker Bowles arriving last. The guests are allegedly given timetables outlining where they need to go and when they need to be there.
The Hierarchy Of Importance
Even between family members, there is a hierarchy of importance. That may seem strange to most of us, but it has long been a part of the royal family's reality.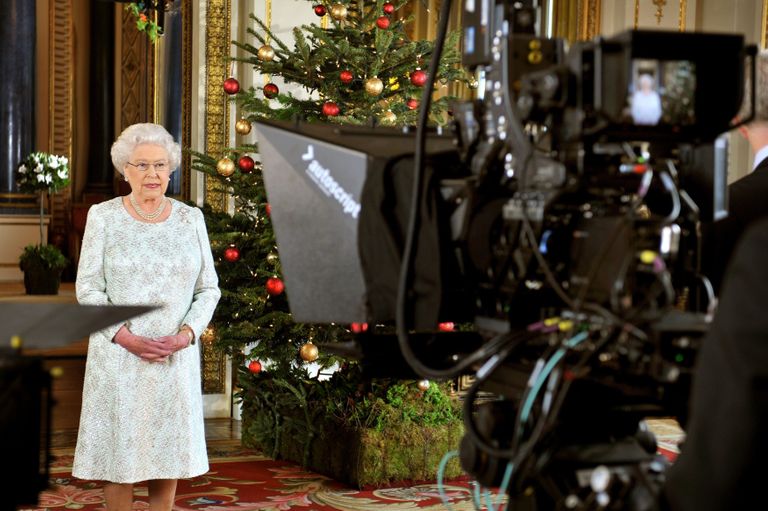 Since Markle was not yet royal, she would have been outranked by most of those she was spending Christmas with. Fortunately, she simply had to give the Queen a curtsy.
The Dress Code
Christmas with The Queen is a great affair, and Markle would have traveled with various clothes and accessories. She would have required evening clothes and jewelry well above what an actress would wear on the red carpet.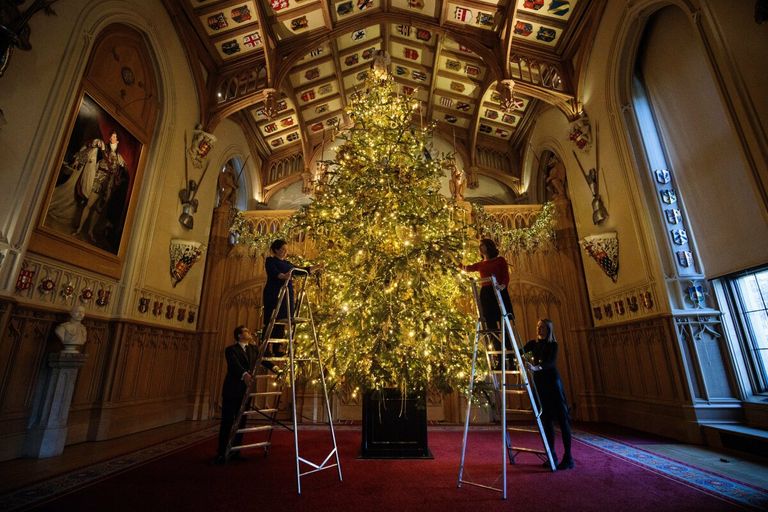 Indeed, Markle would have worn a dress and, most likely, a tiara to dinner when the rest of us prefer to be in our most comfortable pants for a filling Christmas dinner.
The Church Service On Christmas Day
She also needed to look presentable for the church service on Christmas Day. Cameras were everywhere, as all royal family members – except for the Queen – walked to the church rather than being driven.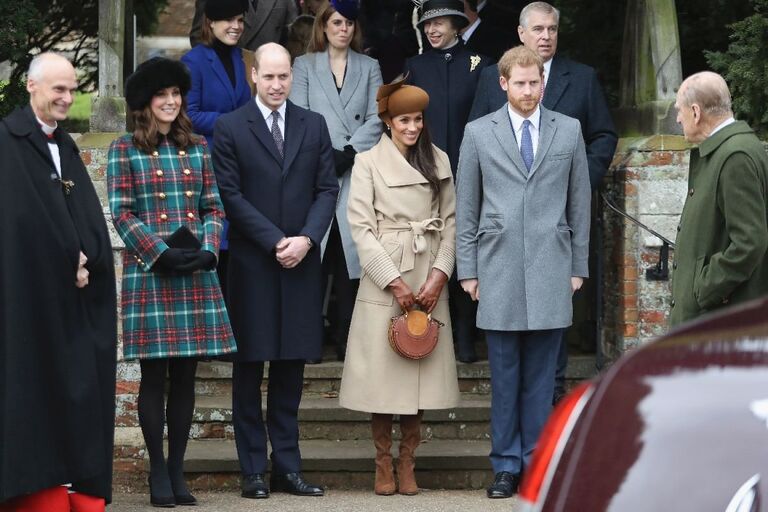 It's typical for women to wear hats on this outing, and Markle did so in this case. Well, sort of. The fashion industry appeared to be split on what exactly the accessory was. Eventually, ELLE.com determined that Markle wore a "fascinator-ish hat."
The "Meghan Effect"
Whatever Markle wore during the Christmas season, one thing was certain: it sparked a lot of interest.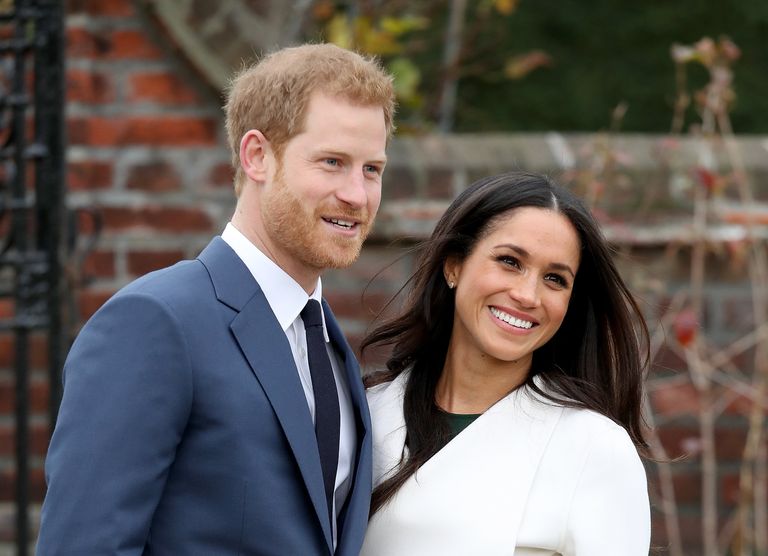 Similar to the "Kate Effect," in which the general public instantly purchased anything Kate wore, a "Meghan Effect" began. Markle donned a Line the Label coat for her formal engagement photos, and the company's website soon crashed due to the traffic.
The Queen's Influence On Royal Marriages
The Queen must tread a careful line between adhering to royal tradition and safeguarding the happiness of everyone, including her own family. And, despite everything that has happened since Christmas 2017, it must be comforting to know that the reigning Queen bent the rules just for her.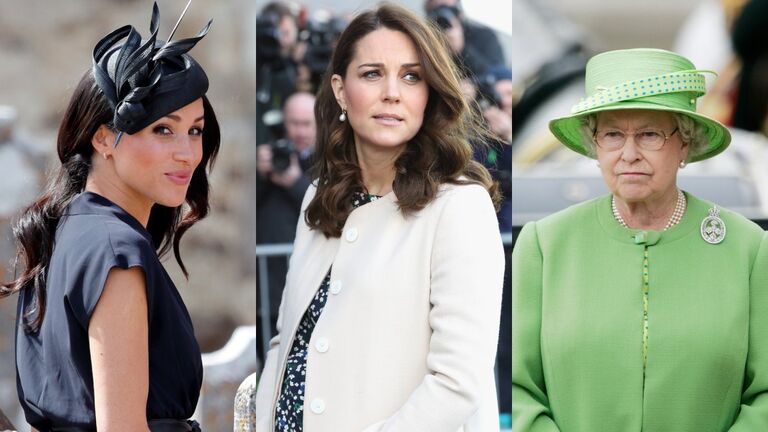 After all, history dictates that those who marry into the royal household should make an effort to preserve a good rapport with the Queen. While you will no longer have your head chopped off for bad behavior, one of her legendary frowns is reputedly equally as awful. Although Kate Middleton and Meghan Markle will never share the most explicit details of their respective ties with the Queen, the public can piece together the puzzle. And it appears as though the head of state has a different relationship with each of the two women.
The Relationships Of The Queens Children And Grandchildren
The Queen is quite interested in her children's and grandchildren's connections. Indeed, her closest descendants require her explicit approval to marry. Since 1772, all royal marriages in the United Kingdom have required the Monarch's approval. This was changed in 2013 to include only the first six heirs.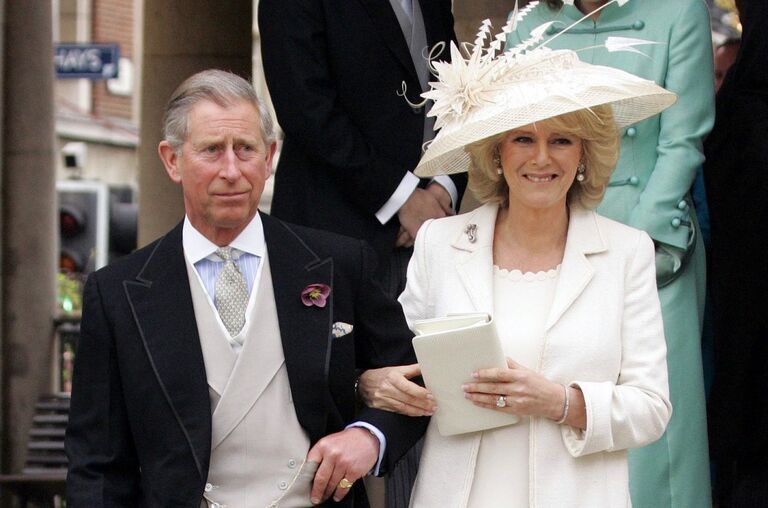 So, if you're one of the six persons in line for the throne, you'd best hope the Queen approves of your intended spouse. Take it from Prince Charles, the Monarch's direct heir. His first marriage was the ill-fated union with Lady Diana. Following her demise, he married Camilla Parker Bowles, the lady with whom he had an affair.
Britain's Prince Charles And Camila's Relationship
It was said that the Queen initially disliked Camilla and was hesitant to bless her relationship with Prince Charles. According to Tom Bower's 2018 book Rebel Prince: The Power, Passion, and Defiance of Prince Charles, the Queen reportedly referred to Camilla in private as a "wicked lady" after a few drinks.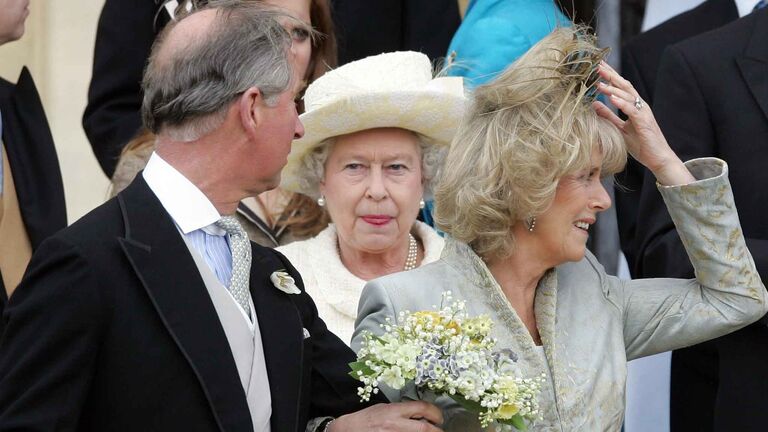 The Queen missed the first bit of her son's wedding to Camilla. Her status as Church of England's head complicated matters, as the faith traditionally opposes divorce. However, she did attend the subsequent blessing ceremony, showing that she favored the marriage.
Other Divorced Members Of The Royal Family
Camilla isn't the only royal to have married twice. Princess Anne, like her brother, has been married twice: first to Captain Mark Phillips and again to Sir Timothy Laurence. Laurence appears to have the Queen's approval, as she appointed him a Knight Commander of the Royal Victorian Order in 2011.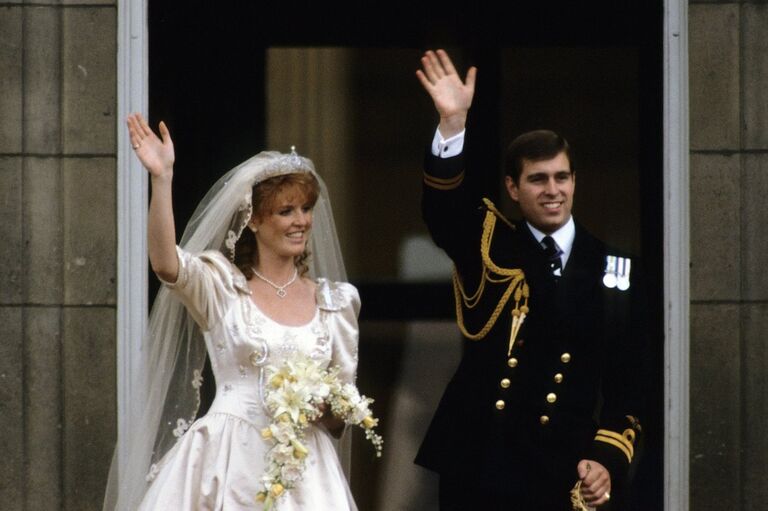 And Prince Andrew, the Queen's second son, is also divorced, having separated from his wife Sarah Ferguson in 1992. Because she had three divorced children, the Queen despaired. Actually, she famously termed those 12 months the annus horribilis. In November of that year, she delivered a speech in which she stated, with characteristic understatement, that it was "not a year I would look back on with unadulterated delight."
The Distinctive Royal Son
Only one of the Queen's sons, Prince Edward, has never been divorced. Sophie, Countess of Wessex, has been his wife since 1999, and she is considered the Queen's preferred daughter-in-law. The two lovebirds appear to have a strong bond, and Sophie is supposedly entrusted with several crucial royal responsibilities.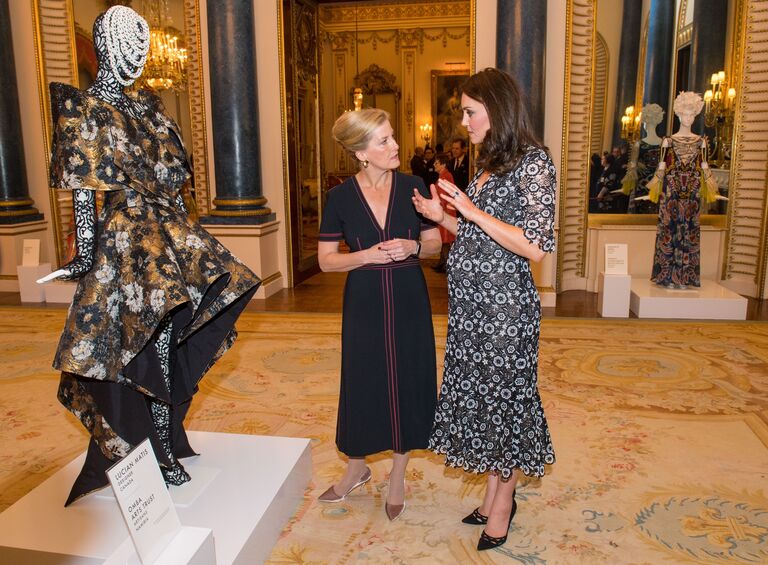 Thus, the best advice for Kate Middleton and Meghan Markle has always been to strive to be more like Countess Sophie. And it appears like Kate is doing just that. According to royal sources, the Duchess of Cambridge has enlisted Sophie's assistance as a mentor and supporter of her various endeavors.
Sophie's Closeness To The Queen
Even though Sophie may still be her generation's favorite commoner-turned-royal, Kate is also quite close to the Queen.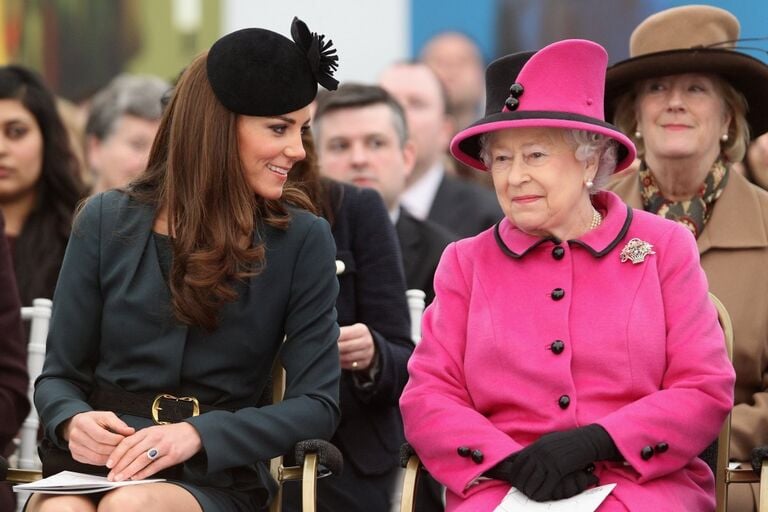 The Monarch met her for the first time in 2008, at Prince William's cousin Peter Phillips' wedding to Autumn Kelly. William remarked that the couple clicked immediately.
The Queens Formal Assent
Following Prince William's announcement of his decision to marry Kate, the Queen was required to provide her formal permission, which she appeared to do gladly.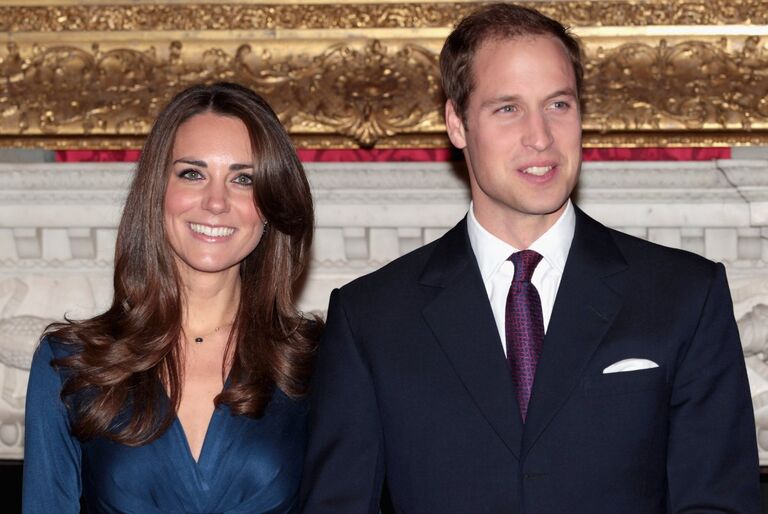 "Our Most Dearly Beloved Grandson Prince William Arthur Philip Louis of Wales, K.G. and Our Trusty and Well-beloved Catherine Elizabeth Middleton," she said in the notice she signed.
Kate And Her New Role
Kate appeared to fit into her new role quite well following the marriage. She appeared alongside the Queen on multiple occasions throughout 2012, and she never faltered. The two women appear to be calm and cheerful in the images shot of them, as one would expect from a grandmother and granddaughter-in-law.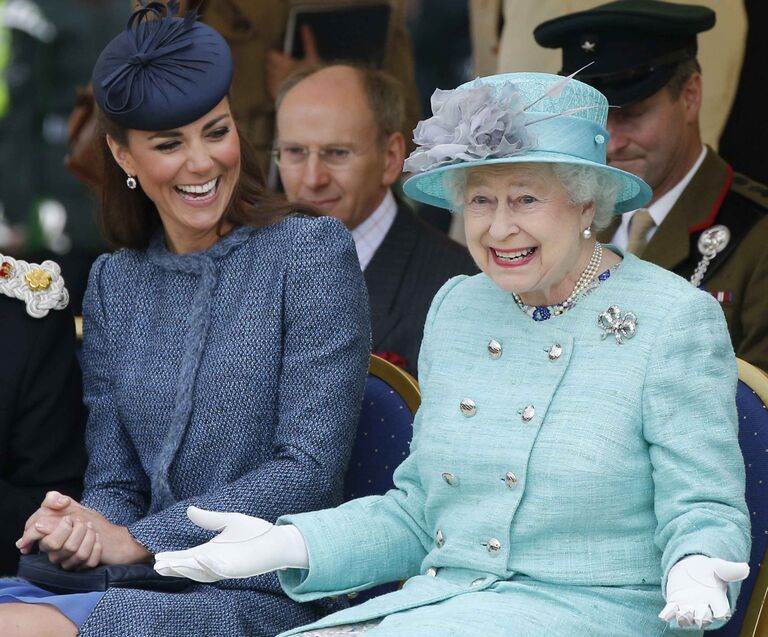 Kate, of course, is the mother of Prince William's children. The Queen is now a great-grandmother, and the Palace has issued a message from the Monarch each time a new Cambridge child is born. The Queen was reportedly "delighted" on each occasion.
Kates Privileges
Kate enjoys an enviable privilege as the Queen's granddaughter-in-law: she is permitted to wear jewels from the Monarch's private collection as long as the Queen approves.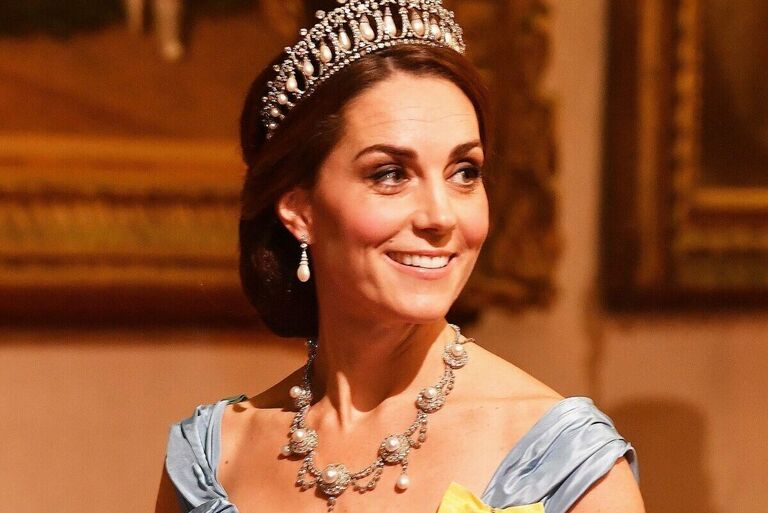 The Duchess has been photographed wearing a variety of amazing outfits that have been passed down through generations in the royal family.
The Queen's Gifts To Kate
Furthermore, the Queen gave Kate the stunning jewelry she wore to her and Prince William's wedding. The piece is known as the Cartier Halo and was presented to the Queen by her parents on her 18th birthday. Thus, even if only for a day, it was significant to turn it over to Kate.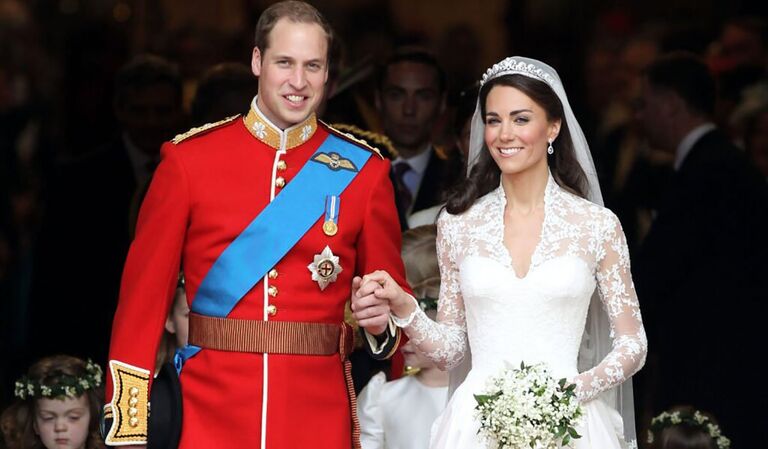 And that is not the only piece of clothing she got from the Queen. Additionally, the Duchess of Cambridge has donned the Monarch's gift of Bahraini earrings, a fern-shaped brooch from 1953, and the Cambridge Lover's Knot tiara, a favorite of Princess Diana's.
Kate's Gift To The Queen
Kate is unable to provide such extravagant gifts at the moment. However, in the 2016 British television series Our Queen at 90, she confessed that she worked tirelessly to get the Monarch a suitable first Christmas present as a newbie to the family.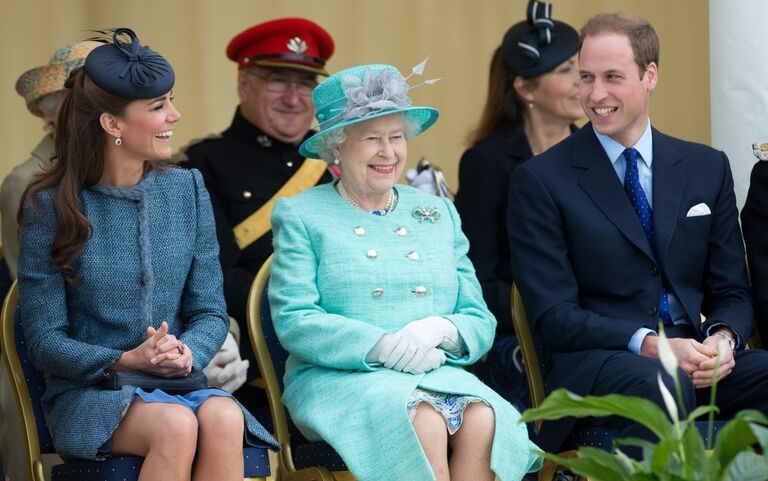 She finally decided to make a handcrafted item as a Christmas present for the Queen.
Chutney
"I thought back to what would I give my own grandparents," Kate said in an interview. "And I thought, 'I'll make her something.' Which could have gone horribly wrong. But I decided to make my granny's recipe of chutney."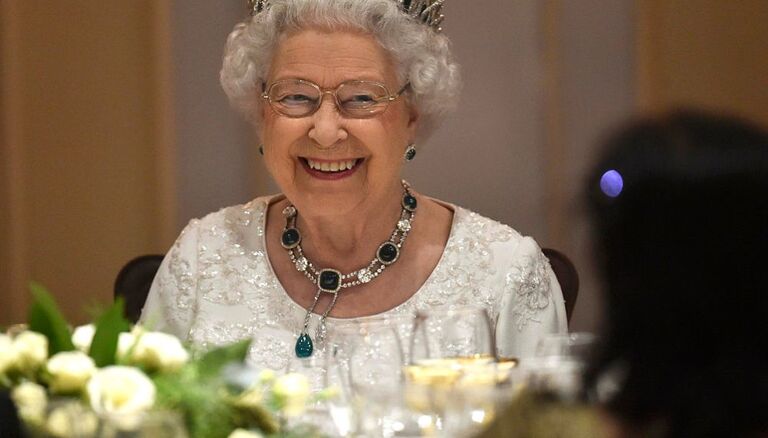 Kate recalls being worried about what the Queen would think of her gift. Luckily, it appeared the Queen had enjoyed it as it was on the table the next day. The Duchess of Cambridge was pleased by the Queen's display of appreciation and went on to say, "I think it just shows her thoughtfulness, really, and her care in looking after everybody."
Kate's Bond With Her Grandmother-In-Law
According to royal insiders, Kate's bond with her grandmother-in-law has only grown stronger over time.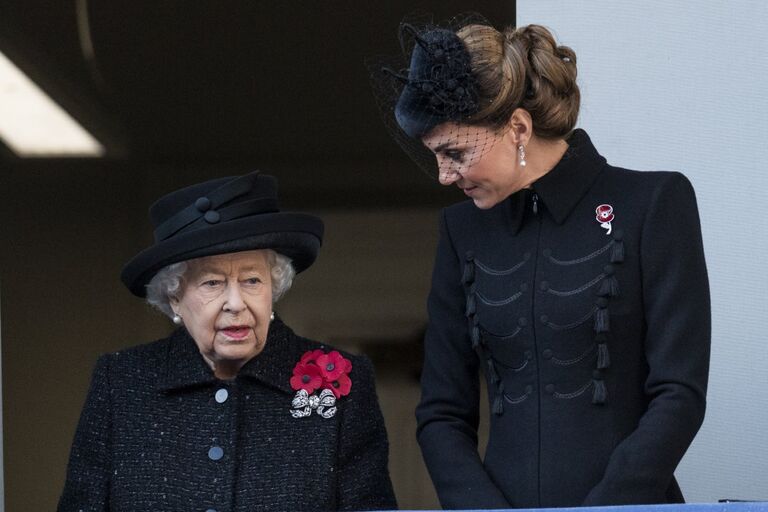 According to a source in April 2019, "Kate and the Queen have always had a special bond, but they developed a deeper friendship after she and William moved from Anmer Hall, Norfolk, to Kensington Palace, which is within walking distance of Buckingham Palace."
Regular Catch Ups
"Sometimes they'll casually catch up over afternoon tea," the unnamed source continued. However, they will have more official sessions at other times, during which the Queen will provide intensive one-on-one training on how to take on the crown.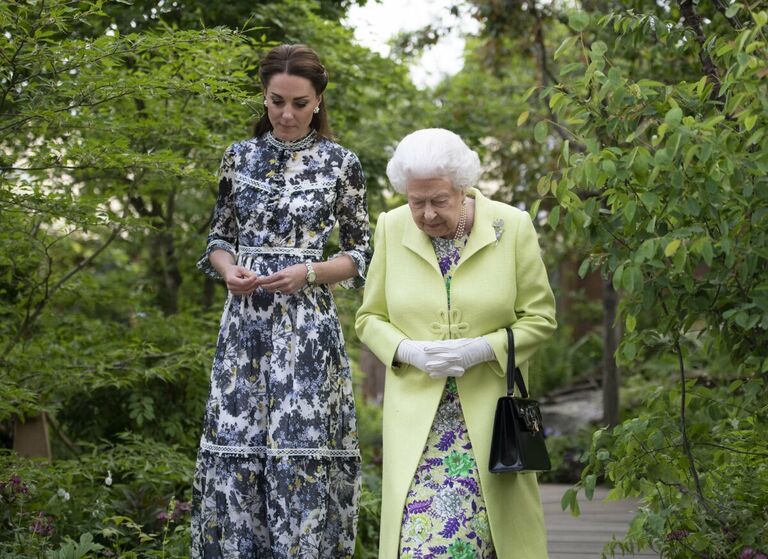 Bear in mind that when William succeeds his grandmother and father on the throne, Kate will become his Queen consort.
The Queen's Reliance On Kate
According to reports, the Queen has grown increasingly reliant on Kate, particularly since the royal family was placed on lockdown in 2020 due to recent global events. Another source told Us Weekly in August, "These are strange times for everyone, senior royals included, and having Kate as her rock has made it so much easier for the Queen to adapt to her new life at Windsor."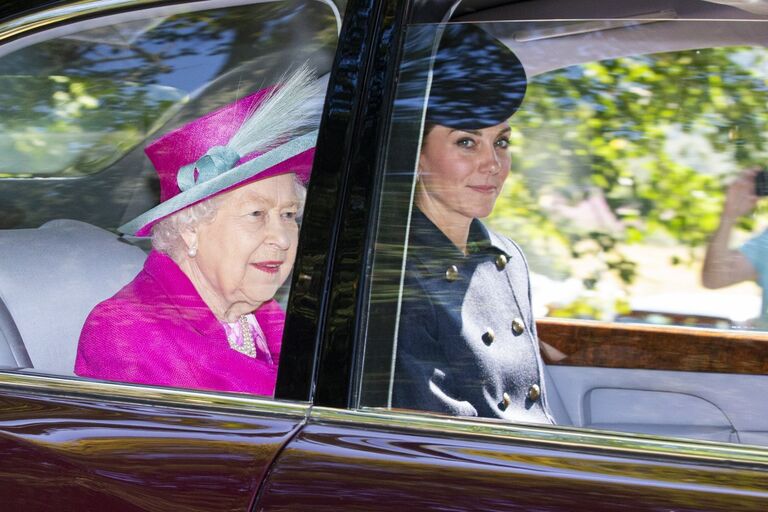 The Queen continuously seems to trust Kate and Prince William's judgements and enjoys offering them her own advice. An inside source states, "Kate asks for advice about speeches she's due to make, whom she can depend on most within the Palace and protocol dos and don'ts. The Queen's more than happy to impart her wisdom – she's proud to be Catherine's go-to adviser about royal life."
The Monarch's Relationship With Ms. Markle
Thus, all is well with Kate. However, how about Meghan? Naturally, the Monarch's relationship with Ms. Markle would be more complicated. Harry's life partner was an American who was divorced, and unlike Kate, she would almost likely never be a queen due to her marriage to a prince who was too far below the line of succession.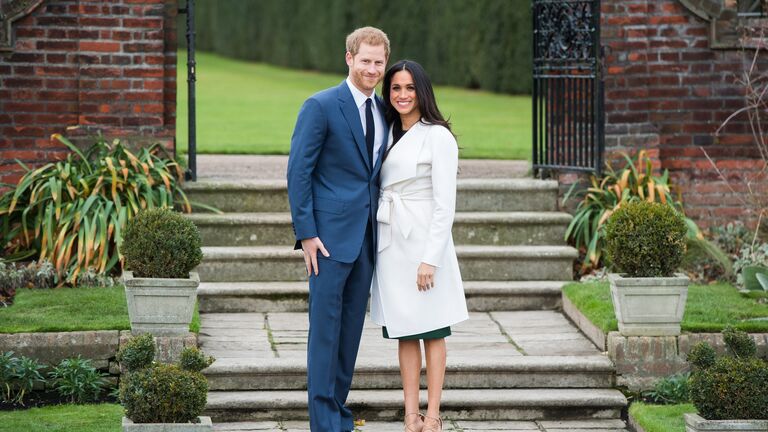 At the time, people noted a big discrepancy between the Queen's consent notices for Kate's marriage and Meghan's. When the Monarch bestowed her formal blessing on William and Kate, she referred to the future bride as "trusty and well-beloved." However, she did not make the same remarks about Meghan.
Why Meghan Is Not Labeled As 'Trusty and Well-Beloved'
Nonetheless, it appeared as though there was a purpose for this. "For anyone wondering why Meghan is not described as 'most trusty and well-beloved' like Kate was, it's because that term is only used for citizens of Britain or the Queen's overseas realms. Meghan is not yet a British citizen," royal reporter Emily Nash explained on Twitter.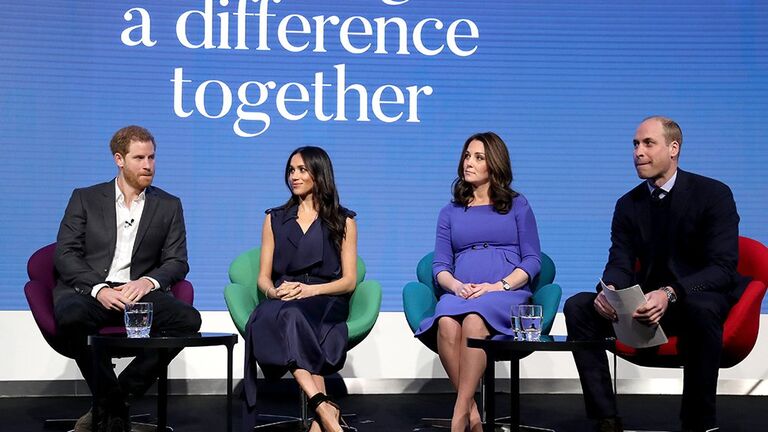 And by all accounts, Meghan did not consider this a snub – she appeared to get along well with the Queen. Meghan referred to the Queen as "an incredible woman" in her and Harry's 2017 post-engagement BBC television interview, while Harry noted that the Monarch's all-important corgis had warmed to Meghan as well.
The Queen And Meghan's Common Bond
Additionally, you do not promise to dog sit for someone you dislike. Indeed, the Queen and Meghan appeared to bond through their common affinity for dogs. Before Meghan and Harry's wedding, the Queen was observed in a car traveling to Windsor with Meghan's dog, a beagle named Guy.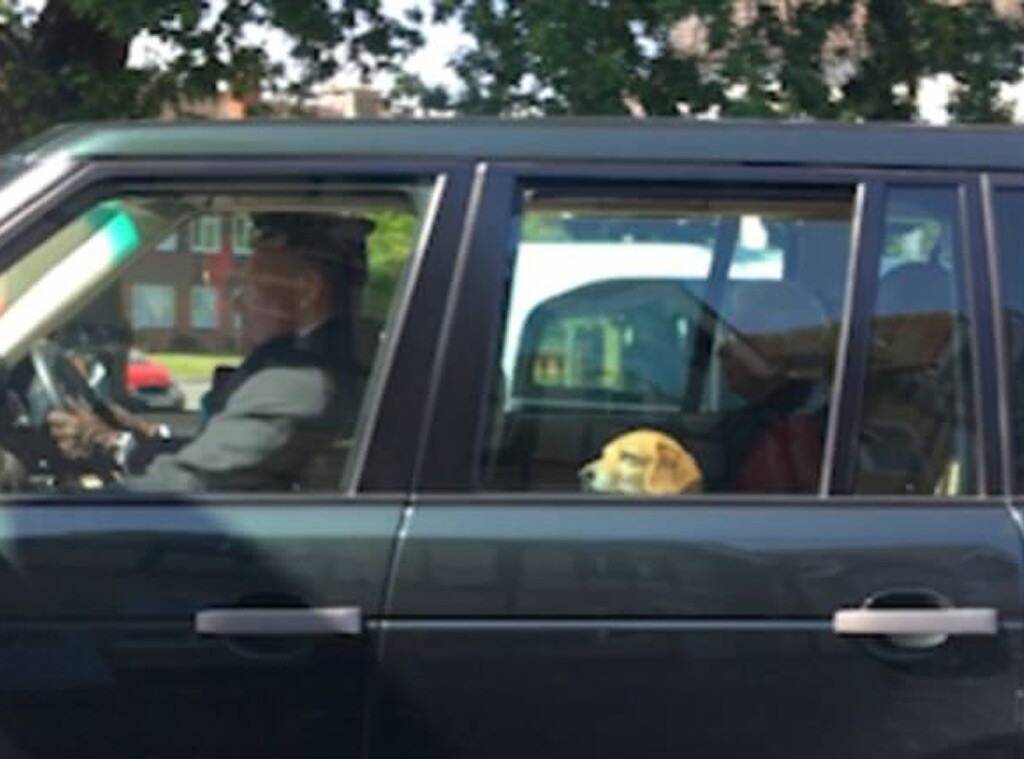 Additionally, Meghan's first private outing with the Monarch following the wedding went well. The new Duchess of Sussex rode on the royal train with her grandmother-in-law — they would have slept on board – to attend celebrations in Chester. They appeared to be having a good time together in every shot of them.
The Royal Household Evolution
The fact that Harry and Meghan Markle are laughing and joking together demonstrates how much the royal household has evolved over the years.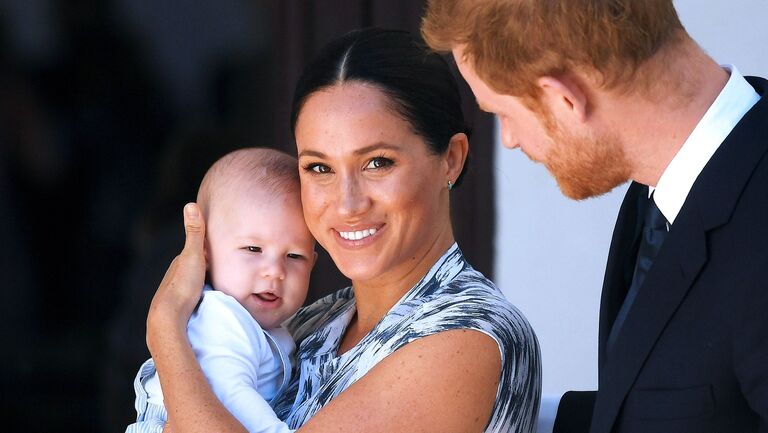 The tight stoicism that Harry's parents and grandparents felt compelled to practice has vanished. Harry and Meghan ushered in a new era for the royals after they got married on May 19, 2018.
The Bond Between The Queen And Meghan
Meghan and the Monarch bonded instantly; a source revealed to Us Weekly in 2018. "[The Queen] has a brilliant sense of humor," the source stated. "That's one of the first things that brought her and Meghan closer. It's that warm side of her that has made Meghan feel so at ease."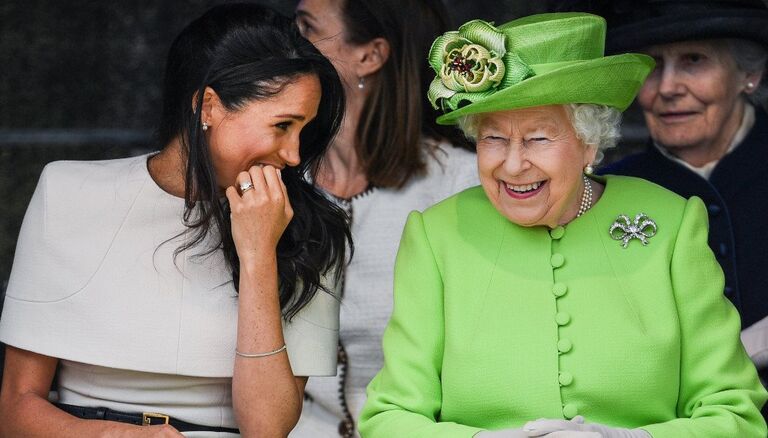 And after Meghan gave birth to her and Harry's son Archie in 2019, the Queen issued the same statement she had issued for Kate's children's births. Again, she was simply described as "delighted with the news." She almost definitely congratulated Meghan privately, but the rest of the world will never know.
And Then The Tables Turned
Unfortunately, the tide soon turned. Prince Harry and Meghan declared on Instagram in January 2020 that they will resign as working royals and pursue financial independence.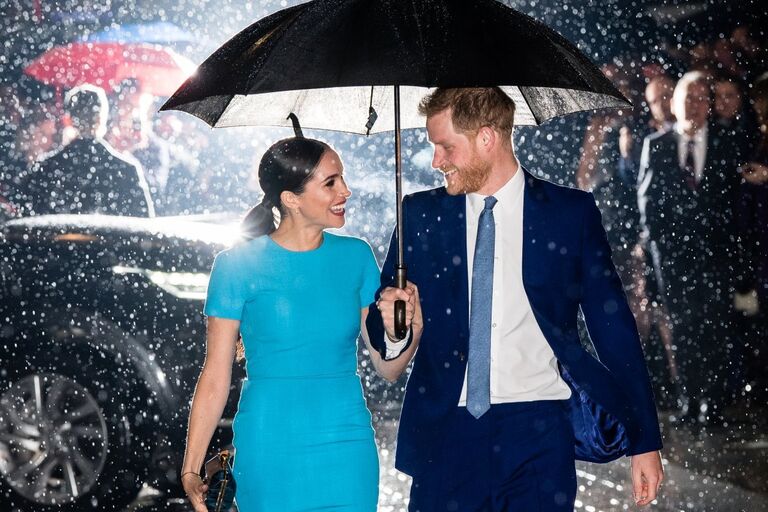 This sparked a firestorm — both in the media and, according to reports, in the Palace as well.
The Queen's Rage
Initially, the Queen issued no public remarks, and the media were forced to rely on insiders to learn what was happening.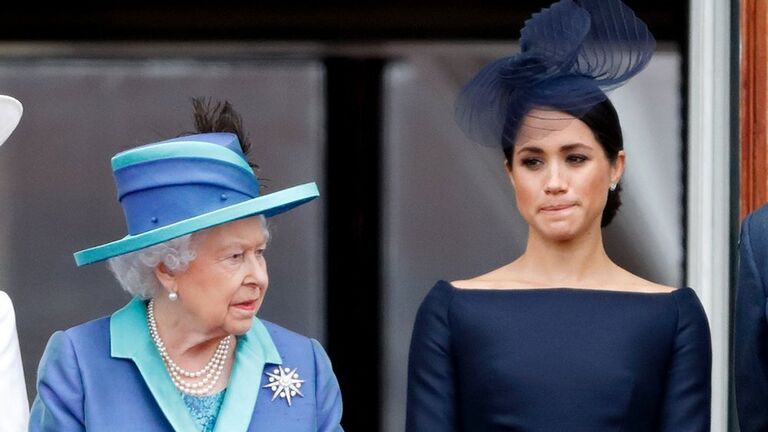 Following the revelation, the Daily Mail created the headline, "Queen's fury as Meghan and Harry say: we quit," while The Daily Telegraph reported the entire royal family was "deeply disappointed."
The Queen's Remarks
Nonetheless, it did not sound outraged when the Queen issued a remark on the subject — an unusual occurrence in any context.
She had been deliberating with Harry and Meghan about the best course of action. "Today my family had very constructive discussions on the future of my grandson and his family," she opened her statement.
The Royal Family's Stand
"My family and I are entirely supportive of Harry and Meghan's desire to create a new life as a young family," the Queen continued.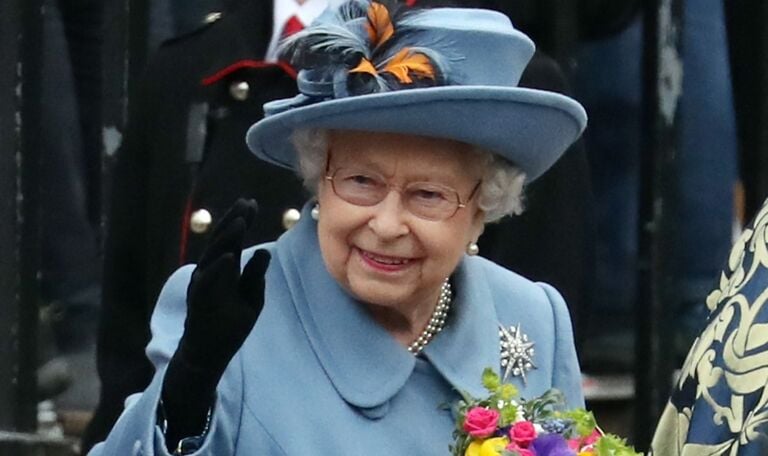 "Although we would have preferred them to remain full-time working members of the royal family, we respect and understand their wish to live a more independent life… while remaining a valued part of my family."
Clearing The Air
A few days later, the Queen issued another statement, indicating that she had no further issues or animosity towards Meghan.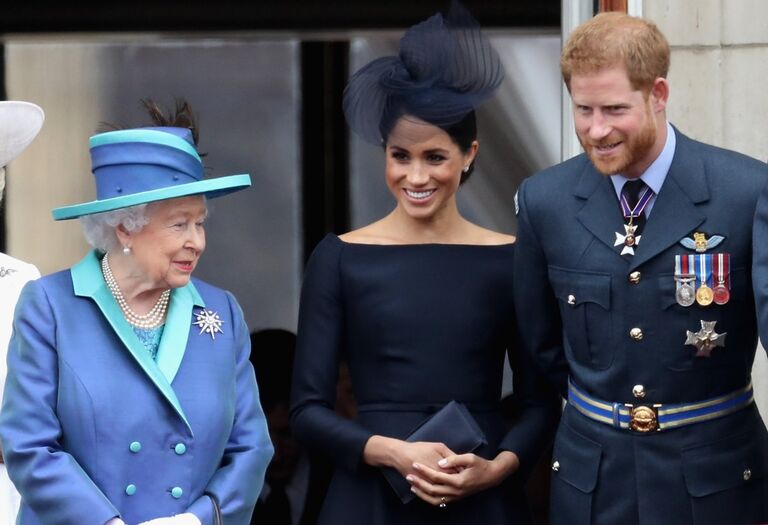 The Monarch expressed she was "particularly proud"of her granddaughter-in-law and how she had "so quickly become one of the family." She wished Meghan and Harry a "happy and peaceful new life."
Harry and Meghan's Final Official Royal Duty
Harry and Meghan attended the Commonwealth Day service at Westminster Abbey in March 2020, their final official royal duty. The Queen, as well as the Duke and Duchess of Cambridge, were present.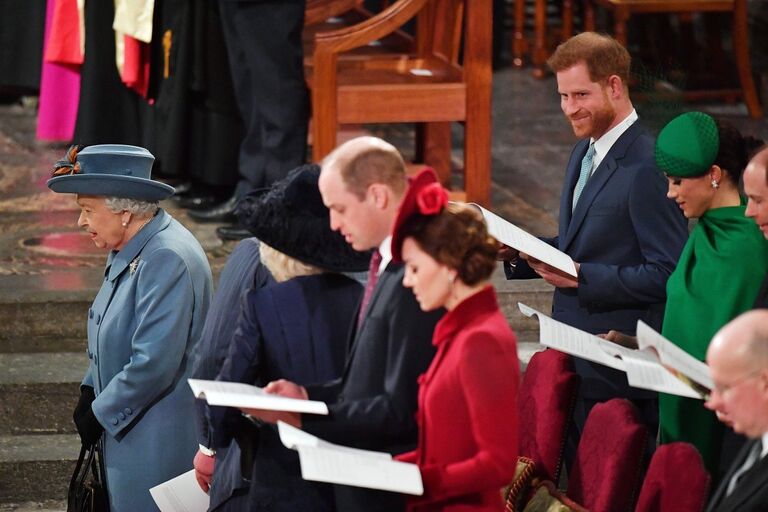 However, once the day's events concluded, Harry and Meghan returned to Canada, where their son was staying. The family appears to be involved in each other's life. In April 2020, the Queen celebrated her 94th birthday, during which she got a video call from Harry, Meghan, and nearly one-year-old Archie. The Sussex family had called in from Los Angeles, where they had relocated.
The Queens Concerned About New Harry And Meghan's Deal
However, the Queen reportedly expressed concern when Harry and Meghan struck a partnership with entertainment behemoth Netflix later that year.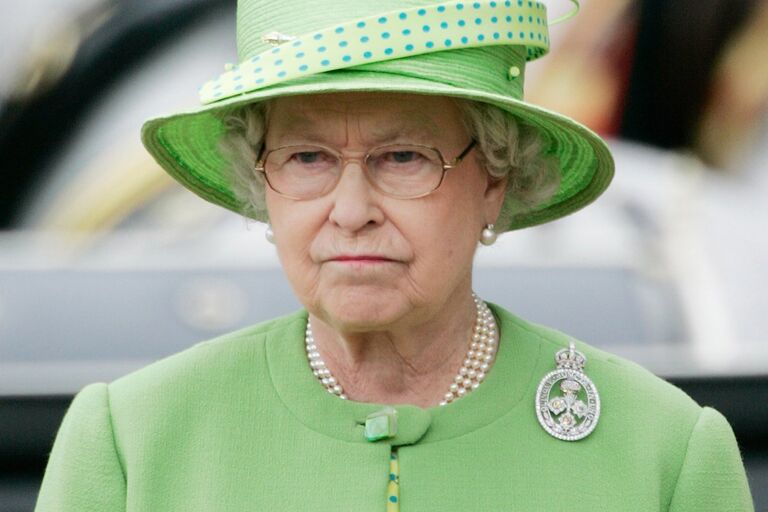 According to an unnamed source cited in The Sun, Harry "did not inform" his grandmother of this, but "the Queen will know there would have been little chance of talking Harry and Meghan out of it."
Dreaming Big
Meghan is also getting increasingly interested in American politics. Royals are not permitted to do so, but some feel the Queen might not mind with Meghan's resignation.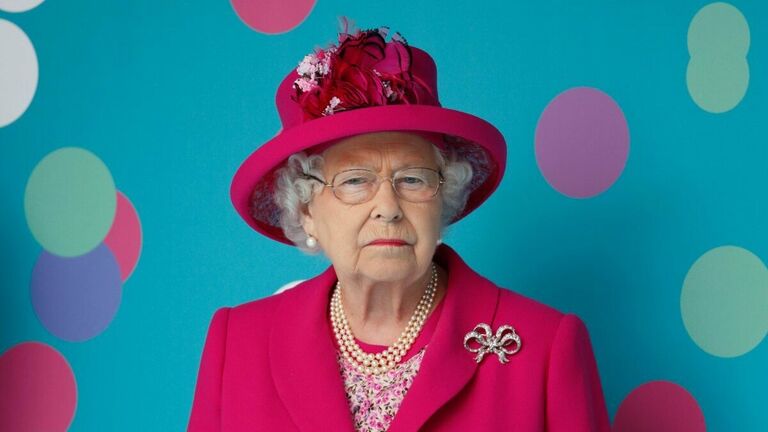 In September, Grant Harrold, a former royal butler, told the Daily Express newspaper that he believed the Monarch would tell Meghan to "do as she pleases." However, the Queen has yet to make an official statement.