A Woman Saves A Calf From An Auction But She Didn't Predict The Remarkable Relationship That Formed
When you love something so dearly, you will see remarkable things happen. Susan Klingenberg has devoted her entire life to rescuing animals and providing them shelter at her farm.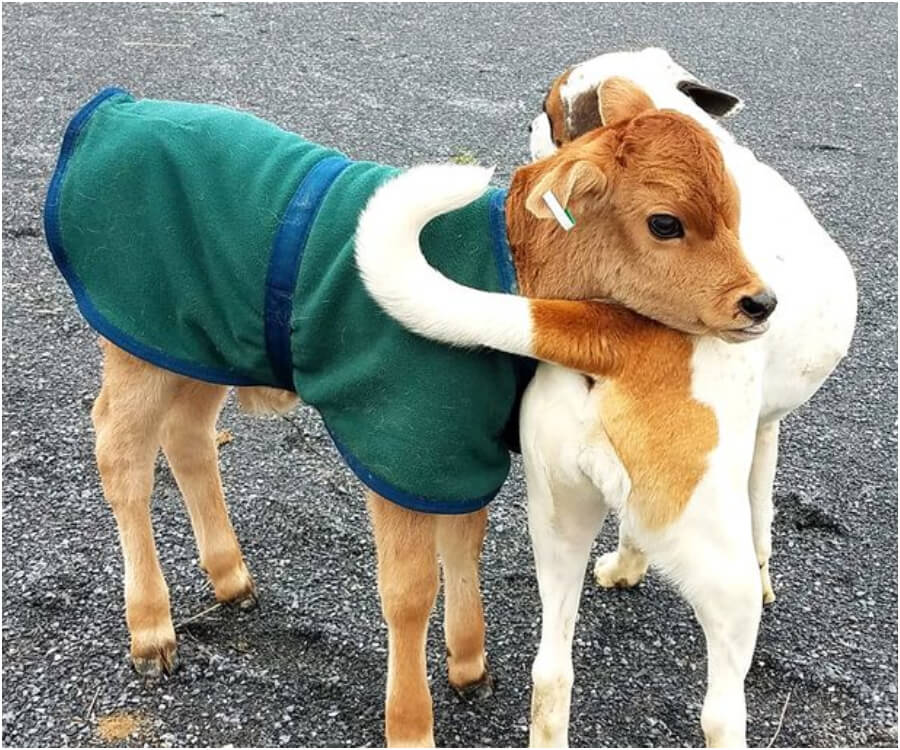 In an endearing turn of events, her small act of kindness, saving the tiniest calf from a livestock auction, rewarded her with one of the most fascinating and heartwarming friendships she had ever seen. We share her story.
A Promise That Changed Her Life Forever
For two decades, Susan had been a full-time business analyst in Maryland. While she felt successful, she knew there was more out there to accomplish. In 2009, life conspired to give her that much-needed push. It happened shortly after her mother passed away, leaving her devastated.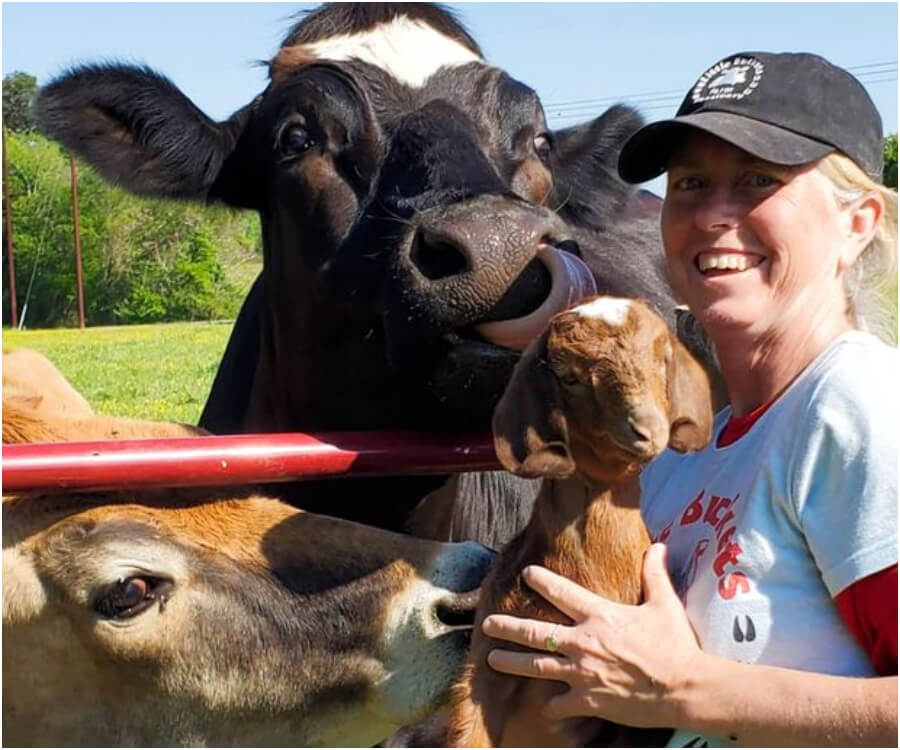 Losing the one she loved most dearly reminded Susan of a promise she made to her mom. They had discussed purchasing a farm for the family, and Susan so desperately wanted to do this in her mother's memory.
Purchasing a Farm Close to Home
Susan made an emotional decision fueled by a passion for tending to animals. To fulfill her vow, she bought a plot of land near her childhood home and spent the next six years rearing various living creatures that needed TLC.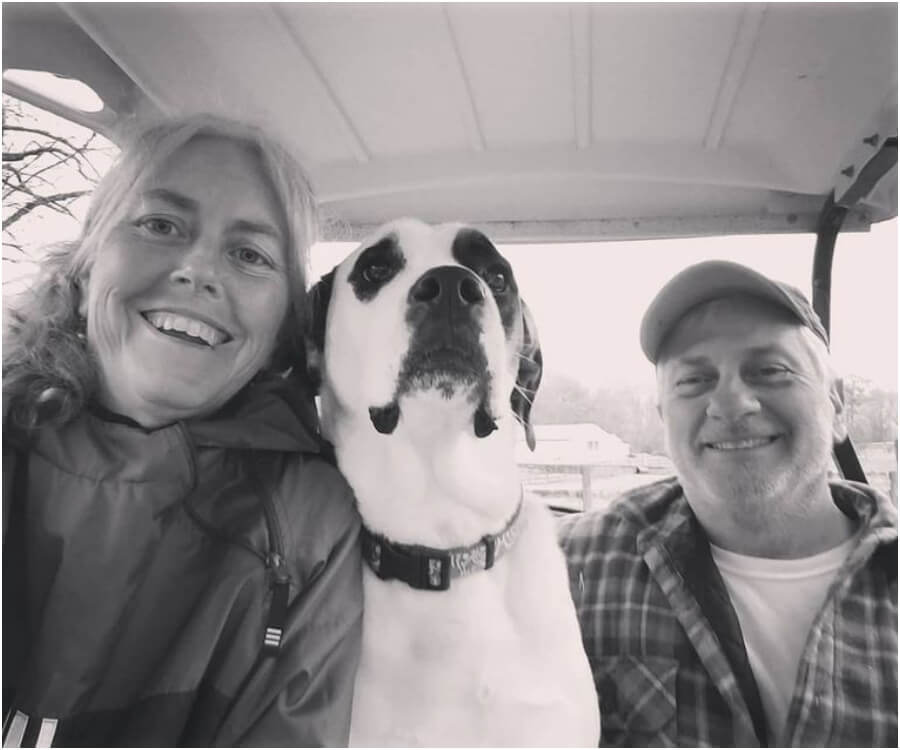 She created a sanctuary for animals that desperately needed help. Soon, she started aspiring for more space to take in than they had room for at the current shelter.
Making the Decision to Move to a Larger Farm
By now, Susan was devoting most of her energy to the refuge, working only part-time as a business analyst. Her search for more space led her to an incredible farm in Virginia, which meant leaving her childhood town in Maryland.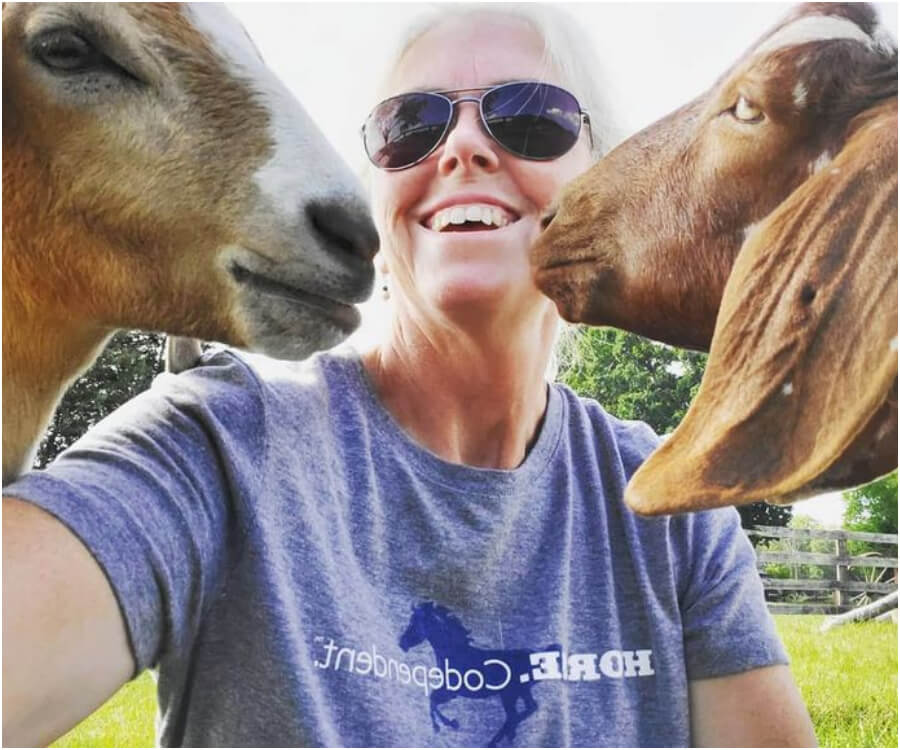 In May 2018, Susan shifted scenery, leaving with her 19 animals to a new farm in Virginia. Her leap of faith paid off in a big way; as they say, good deeds result in good karma.
Susan Moves Onward and Forward
The move to Virginia brought in glad tidings for Susan and her sanctuary. Since the transfer, the place has been brimming with goats, donkeys, cats, horses, and dogs.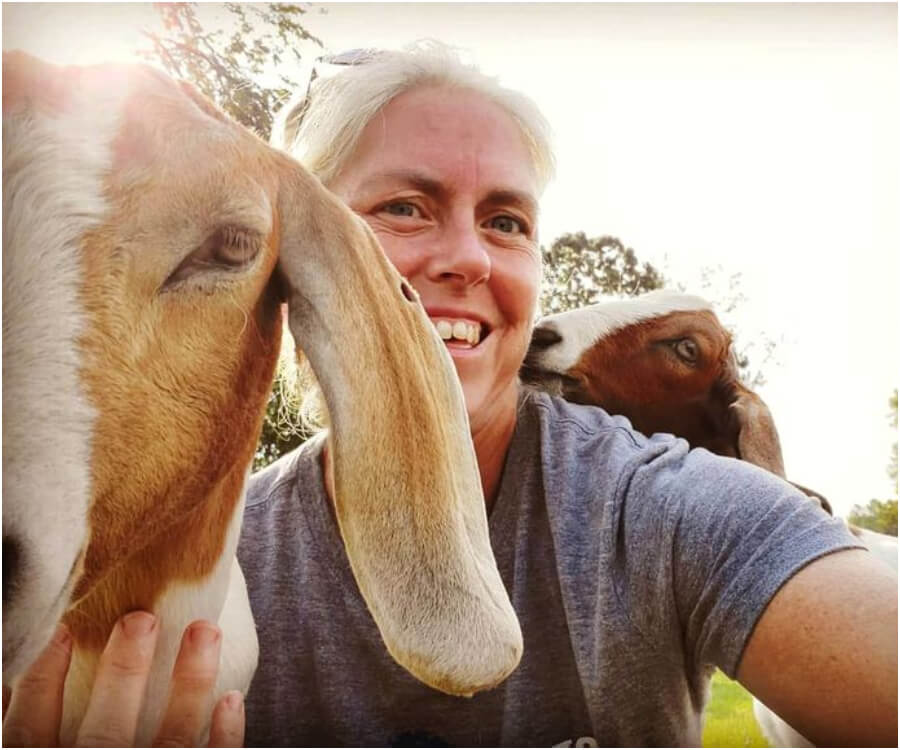 She went all out to ensure they were safe, comfortable, and healthy. Her efforts bore fruit when in December 2018, the animal sanctuary won international recognition and was rewarded a non-profit status. Four years later, she quit her day job, no longer needing the paycheck to support her aspirations.
The Little Bucket Farm Sanctuary
Susan named her perfect haven the Little Bucket Farm Sanctuary, and for a heartwarming reason. The farm gets its name from a little fellow called Bucket, whom she rescued from a livestock auction a year prior to the Virginia move.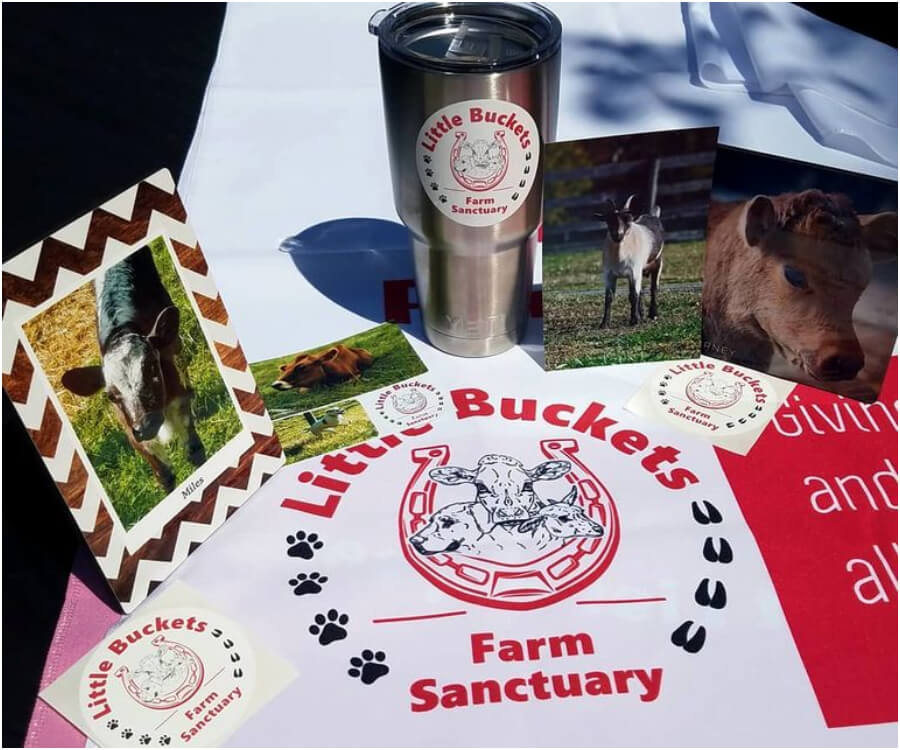 She never knew that one act of kindness in 2017 would have such a significant impact on her life and her dreams. It also catapulted her selfless and thoughtful venture into new heights.
Susan Checks Off a Box on Her Bucket List
One of the things she added to her bucket list in 2017 was her need to save a life at the livestock auction. In March, she had an opportunity to attend one. There, she was moved to tears at the sorry state of the cattle that needed rescuing.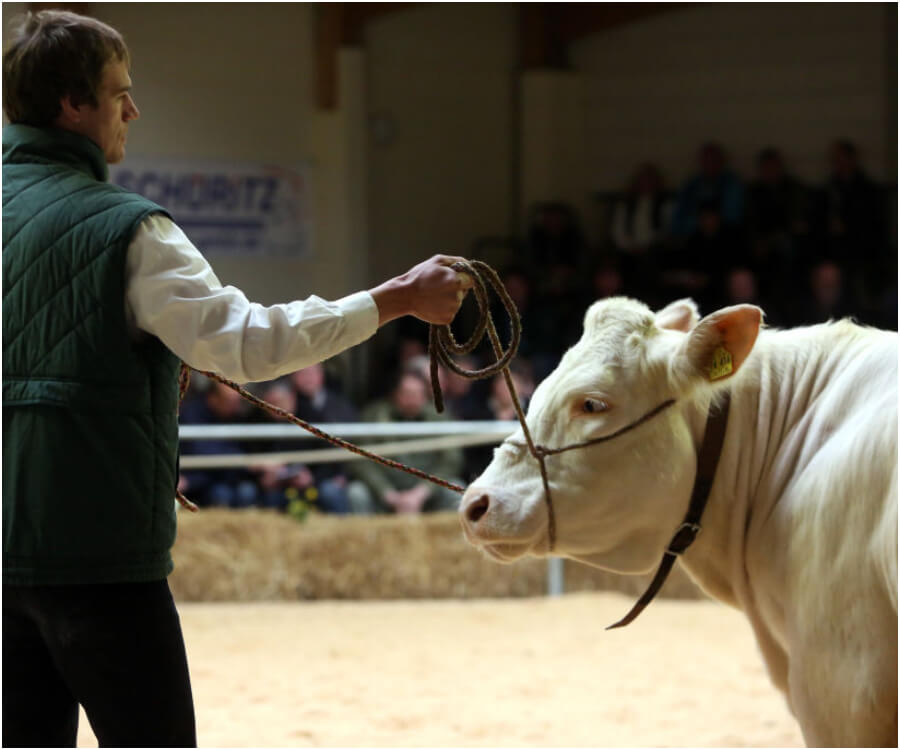 Even though auctions are mainly for trade, you wouldn't believe the abuse and neglect that some animals are subjected to. 
Finding the One She Took to the Farm
Susan was angered when she saw the filthy trunks the cattle were transported in; the animals' depraved state depressed her. Determined to save at least one life, she soon found them auctioning the tiniest calf she had ever seen. He had been ripped apart from his mom the day before and discarded.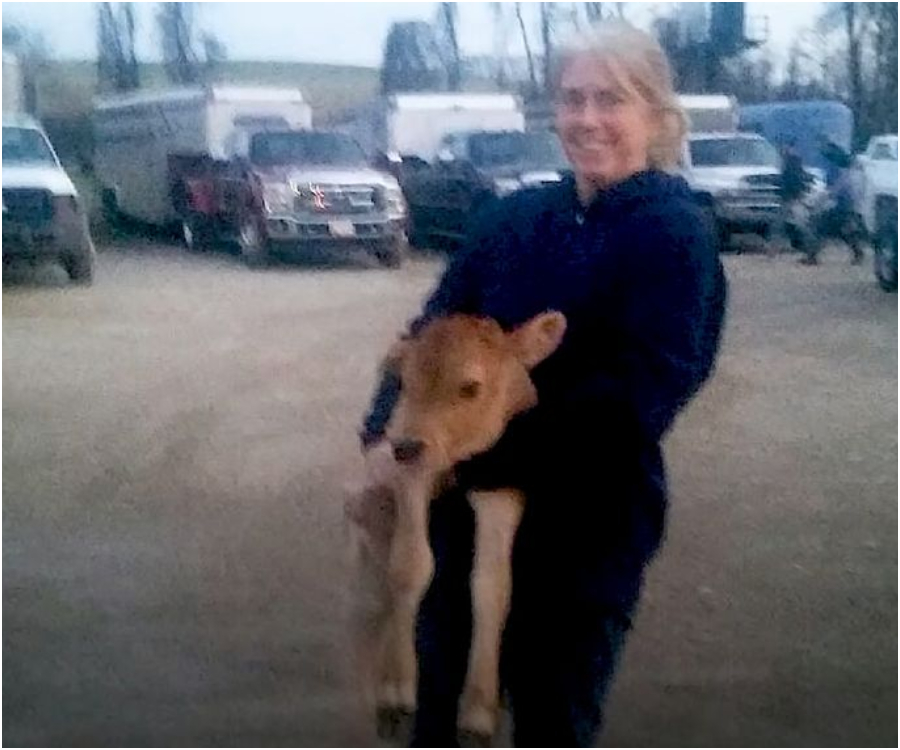 He needed a home, and by the end of the day, she ensured he had one. No one bid for him, so she got him for a mere $10.
Susan Decided to Name the Calf "Bucket"
On March 28, Susan brought the calf home. She adorably named him Bucket after the bucket list that saved his life. He's a reminder there's still good in this harsh world.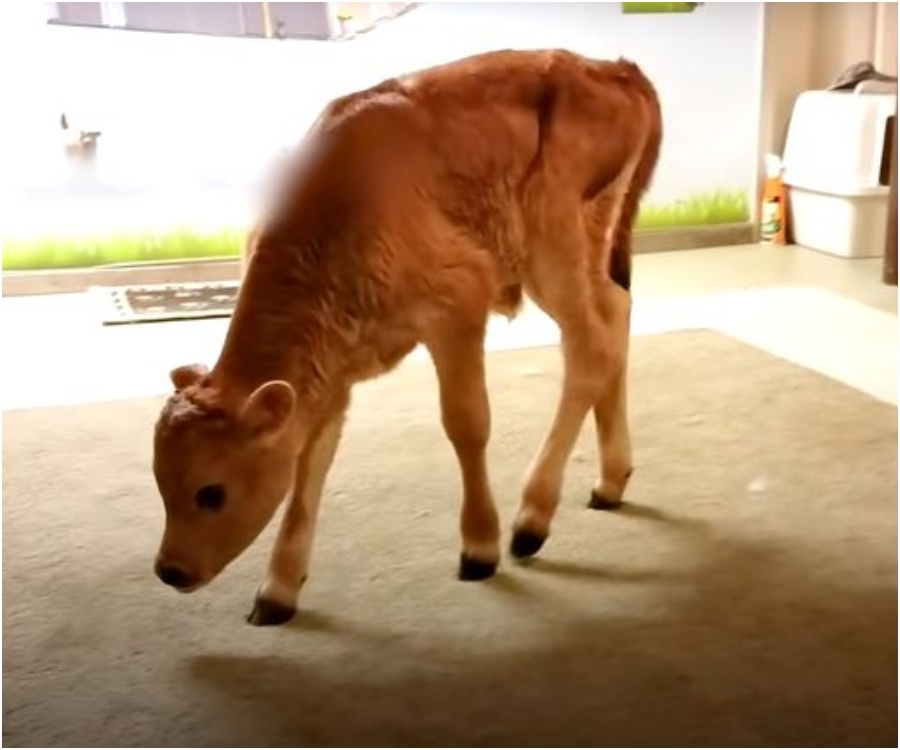 Her heart bled for the way he was ripped apart from his mother. She knew it would be a challenging road ahead for him but was grateful that she had an opportunity to let him live out his life in peace within the safety of the shelter.
Would Bucket Get Along With the Others?
Since Bucket needed personal care, Susan brought him into her home the first night. Stepping inside, he went straight to a bed on the floor and lay down. Whose bed might that be? That was when she began to worry about him getting along with the other animals at the shelter.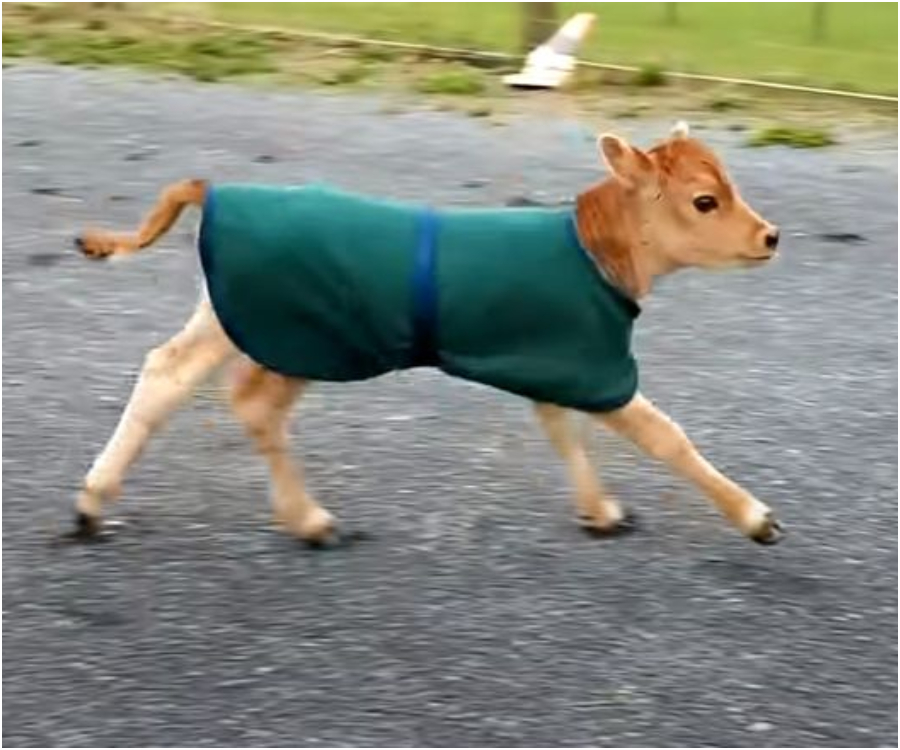 The bed belonged to Colton, a rescue dog. As things later turned out, her anxiety was misplaced. The two livened up the place with their adorable antics.
Bucket's Amazing Presence at the Sanctuary
Bucket appeared as a ray of sunshine in their lives; he positively affected everyone around him, especially Colton. Initially, she had kept them apart by putting up a fence; only their noses touched, but soon that changed.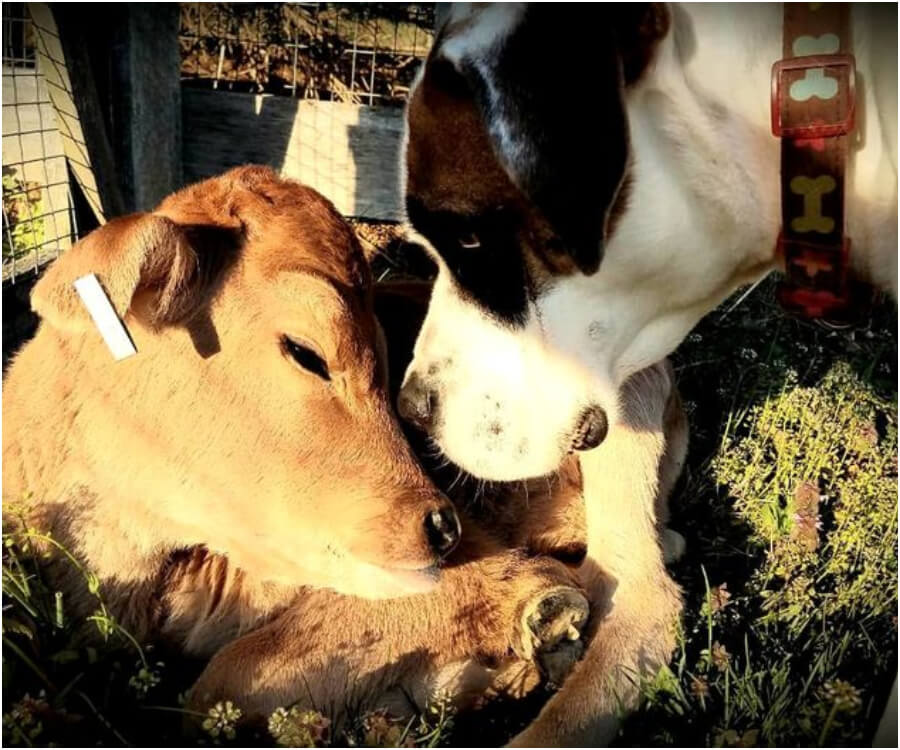 Once the barrier was gone, Bucket and Colton became thick friends. They'd chew on each other's ears playfully and became inseparable over time. Susan was delighted to see her decision impacting more than one life.
Colton and Bucket Develop a Deep Bond
Initially, the two pets walked side by side and often hung out together. When Bucket lay down to rest, Colton would simply sit next to him and wait for him to wake up. Everyone on the farm loved the growing bond between the two.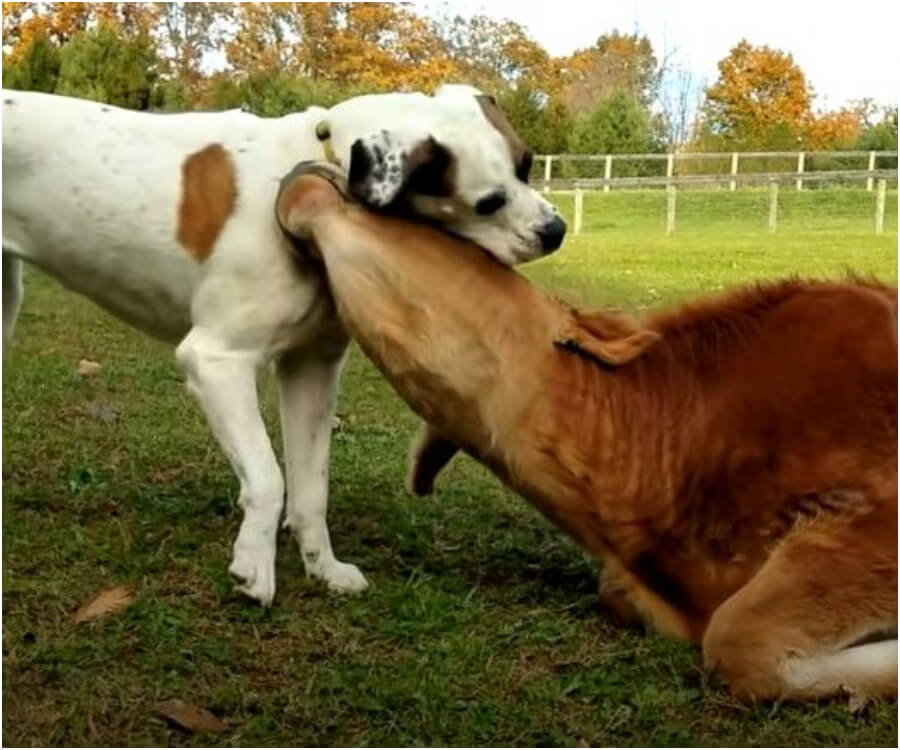 Susan was relieved to find them getting along so well. After the first few days of worrying if they'd despise each other, she could finally be at ease.
So, Why Did Colton and Bucket Click?
Being a dog and a calf makes them an unlikely pairing in a traditional sense. So, how did they manage to click and even form a lasting friendship? What was their magic mantra?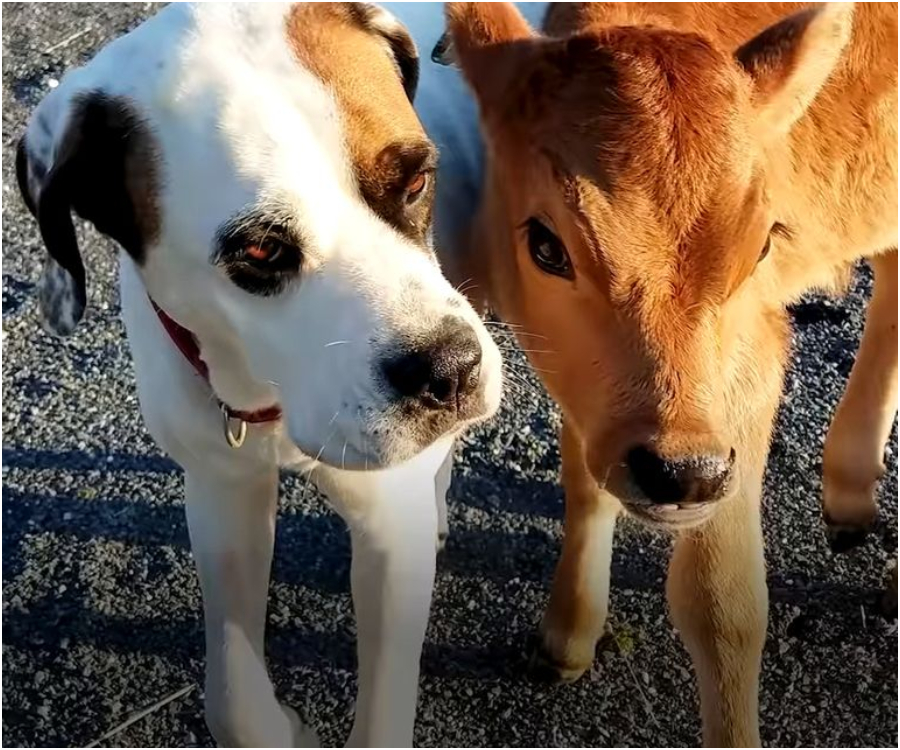 Talking to The Dodo, a channel that spreads awareness and appreciation for animals, Susan shared her fascinating perspective. Instead of behaving like the baby cow that he was, Bucket acted like he was a puppy, especially around Colton.
A Closer Look at Their Bond
Susan's theory made sense because you only had to watch the videos of the calf and the dog playing to realize it looked like two puppies hanging out together and having the time of their lives. It was easy to see them becoming best friends forever, and that's precisely what happened.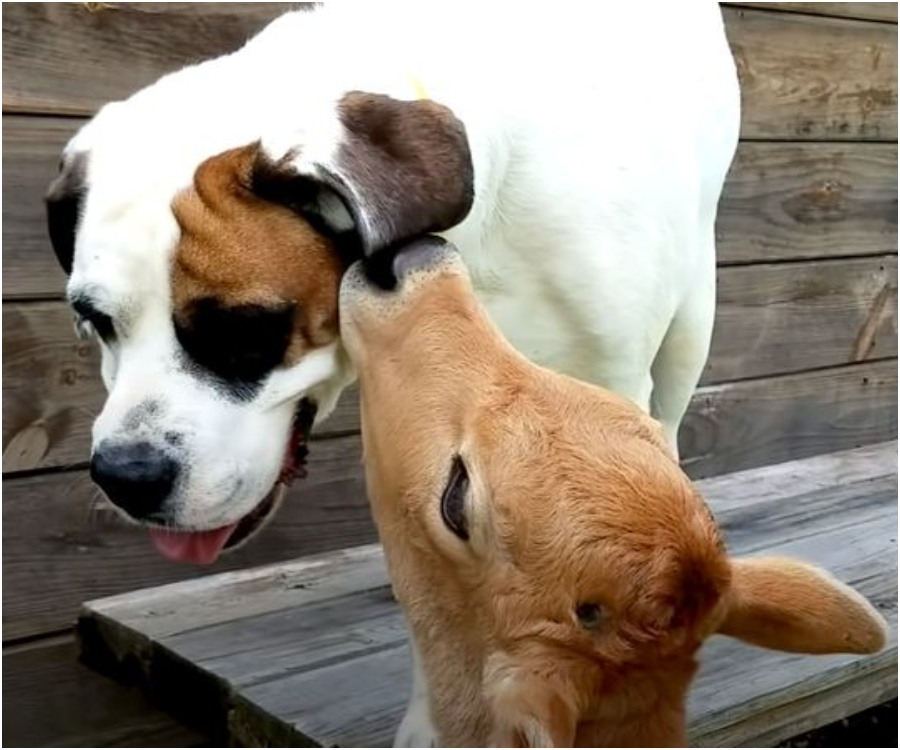 The sanctuary owner only wished to see their bond grow deeper and remain unshakeable.
Susan Just Let The Two Animals Be
Watching them share a close relationship made Susan a happy person. Their presence made her smile every day. She didn't intervene in their regular routine and let them chart their relationship how they wished.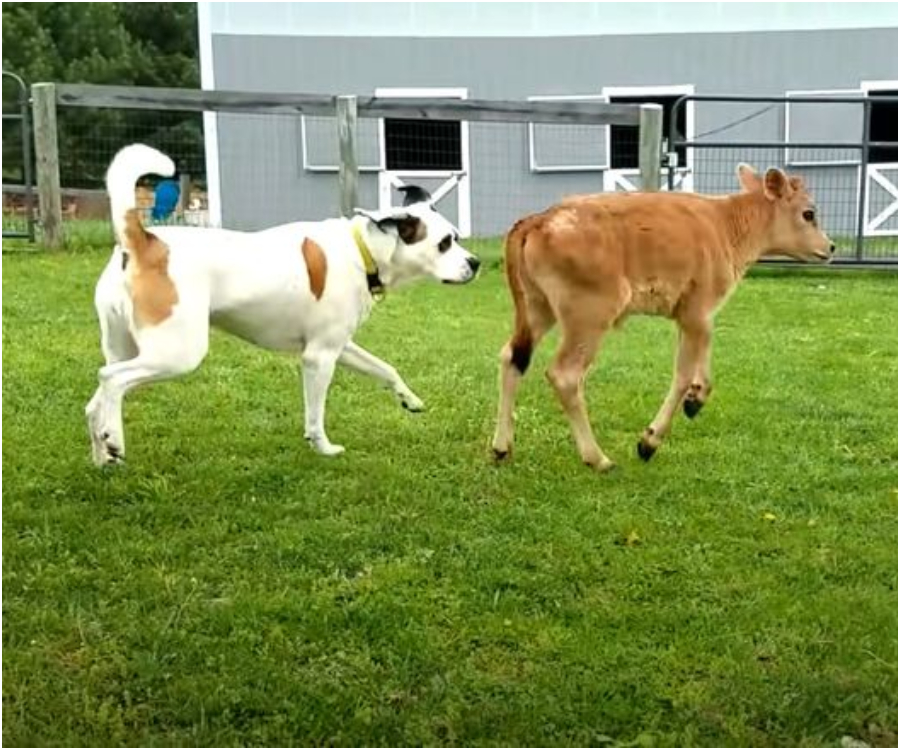 The little fellas were having so much fun together. Yet, would their bond remain the same with the passing years when it was inevitable that Bucket would outgrow Colton? All this could happen because of that one decision to save a life.
Bucket Goes Through a Growth Spurt
Year after year, the tiny calf started filling out and becoming larger. Bucket soon became a giant steer, looming large over the small dog. In a 2021 video on Dodo, Susan shared her concern; Colton wasn't getting any bigger while the calf was growing.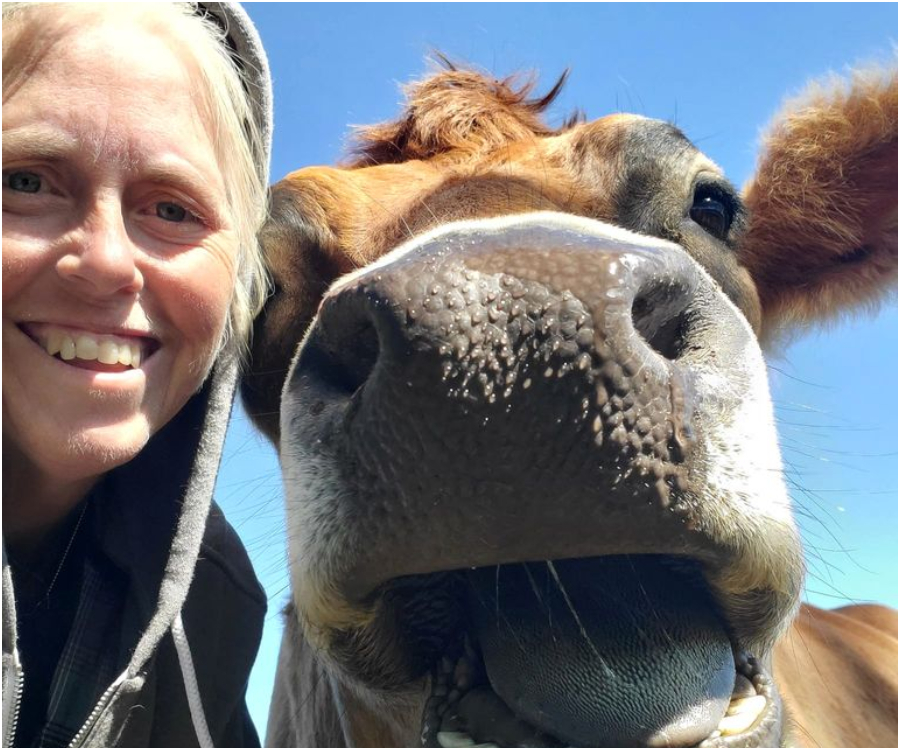 She continually supervised them when they were together to gauge how their size differences impacted their dynamic. Fortunately, it didn't. 
Bucket Was Conscious of His Size With Colton
Whoever watched the interaction between Bucket and Colton was stunned to see how their sizes had little to no impact on how they responded to each other. It was clear that the steer was conscious of his enormous size; he weighed over a thousand pounds, which can be intimidating for someone like Colton.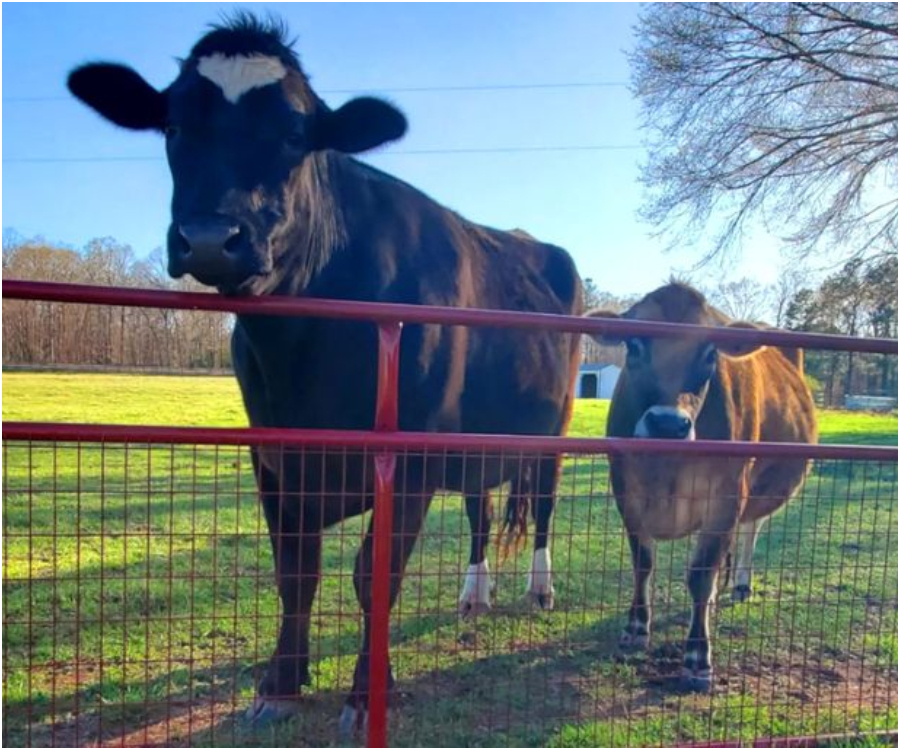 It's a miracle that the massive shift in sizes highlighted their deepening bond, and most of the credit belongs to Bucket.
Colton and Bucket Adjust to their New Size Difference
While the world may believe that large animals can't befriend small ones, Colton and Bucket are disproving that theory. The big boy is often seen adjusting his bulky frame to her size, and it's the most adorable sight ever.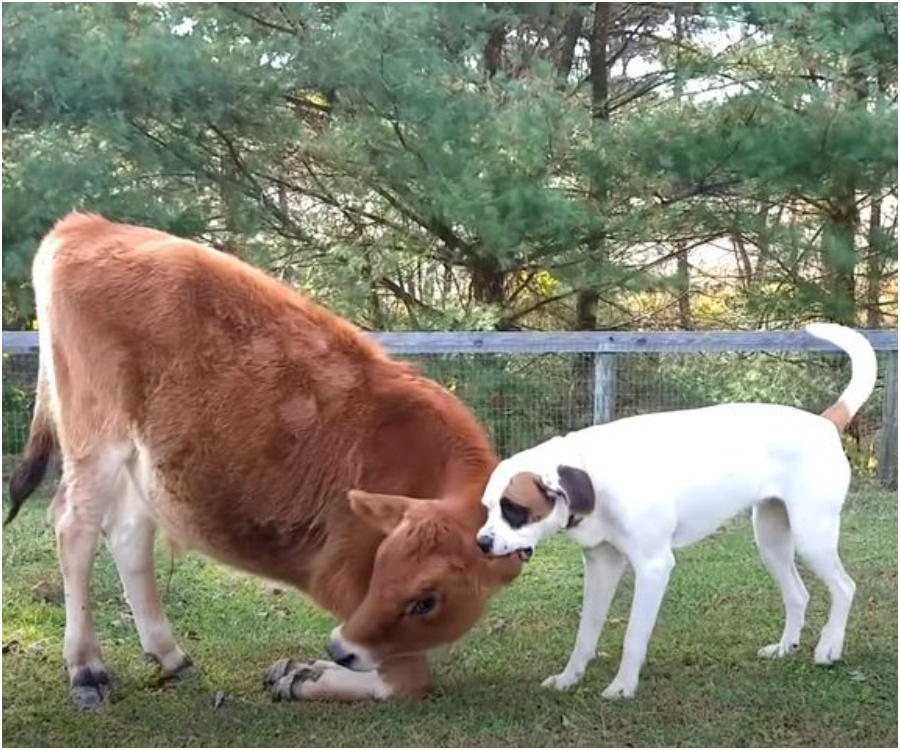 He kneels to get down to her eye level with folded legs and his bushy tail in the air. Interestingly, he has no qualms about doing it as many times as needed to be able to play with her. 
The Two Develop a Bond Unlike Any Other
No matter the changes with age, the two do not want to risk losing their friendship. The two make more than enough effort to ensure they remain buddies for life.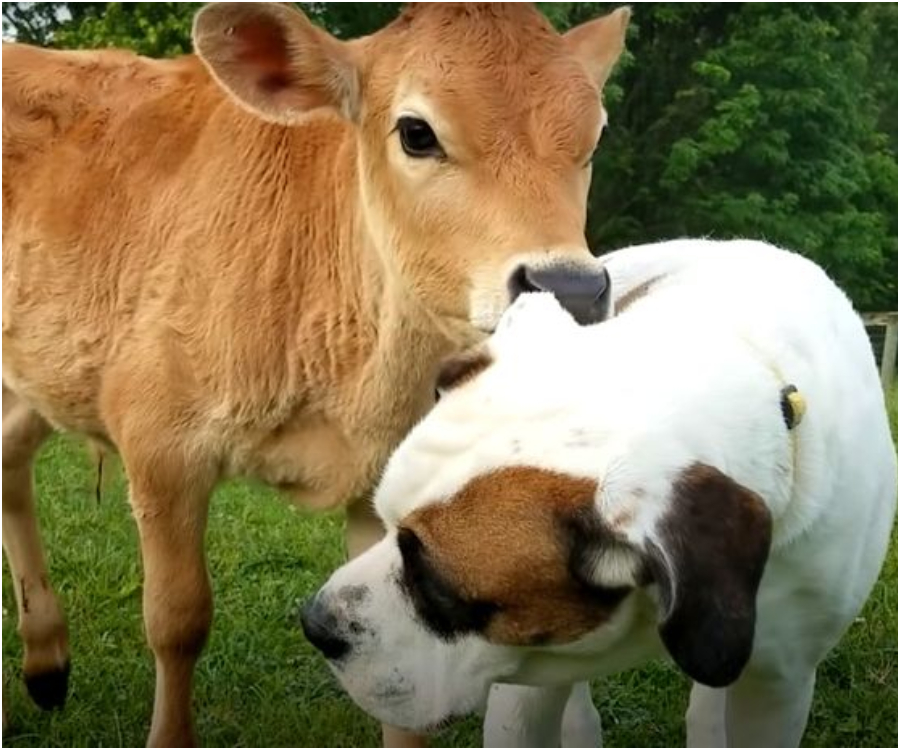 They still zone in on each other's ears to playfully nibble at them. That's one thing that hasn't changed much in all the years they've been together. Disney needs to make a movie about their bond; the world can use some good heartwarming cheer. 
Colton and Bucket Share Similar Personalities
Bucket is similar to Colton in the way he responds to gentle commands. If you call him onto the field, he'd happily come by. It's the same with the dog. Susan shed some light on their matching personalities, probably why they get along like a house on fire.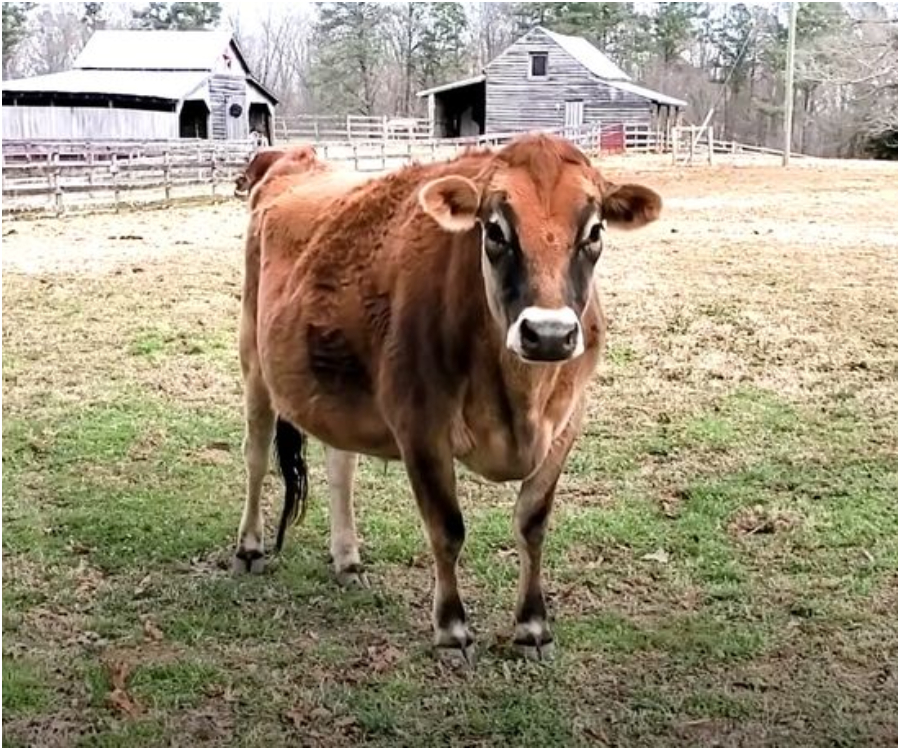 They are both so adorably responsive and share a friendly nature. Bucket is a big sweet boy who loves the grass, the greenery, the hay, and the pears. 
Colton Finds Another Friend
It's not like only the dog and the cow are buddying up; several such sweet interactions exist between the rest of the animals. Often the first one to interact with the new shelter entrants, Colton also befriended Willow, a donkey.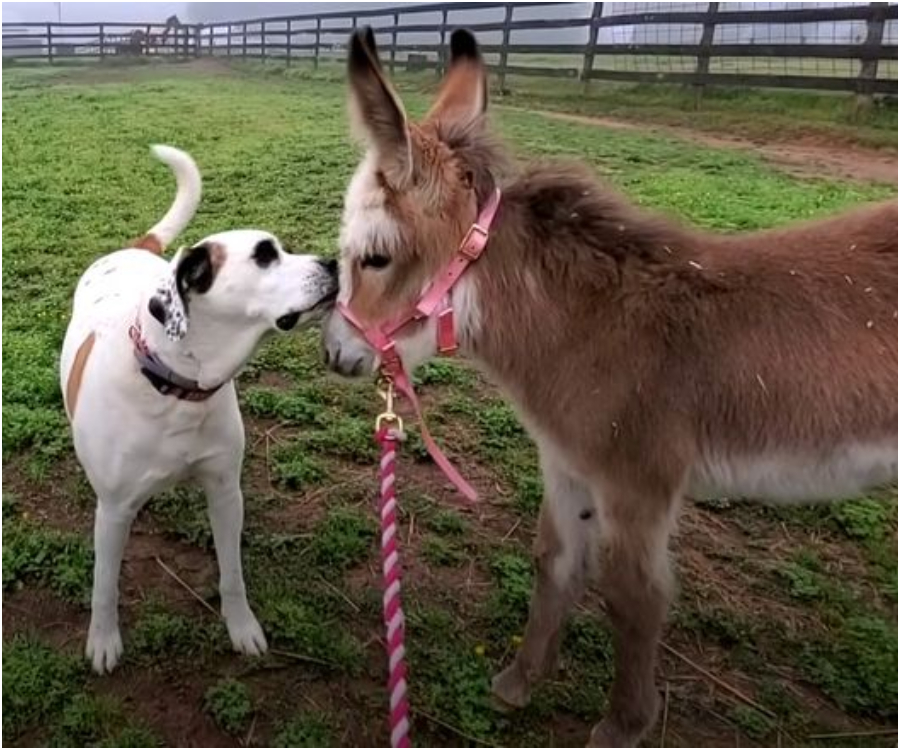 She couldn't take her eyes off her from the moment the foal was born. Willow is cute, fluffy, and absolutely gorgeous, and people are often amazed at her graceful presence in the shelter. 
Bucket Shares a Different Relationship With Willow
You may wonder if Colton shares the same bond with Willow as she does with Bucket. Even though their friendships are equally precious, there is a vast difference in how they bond. While playful and boisterous with Bucket, she's incredibly gentle with Willow.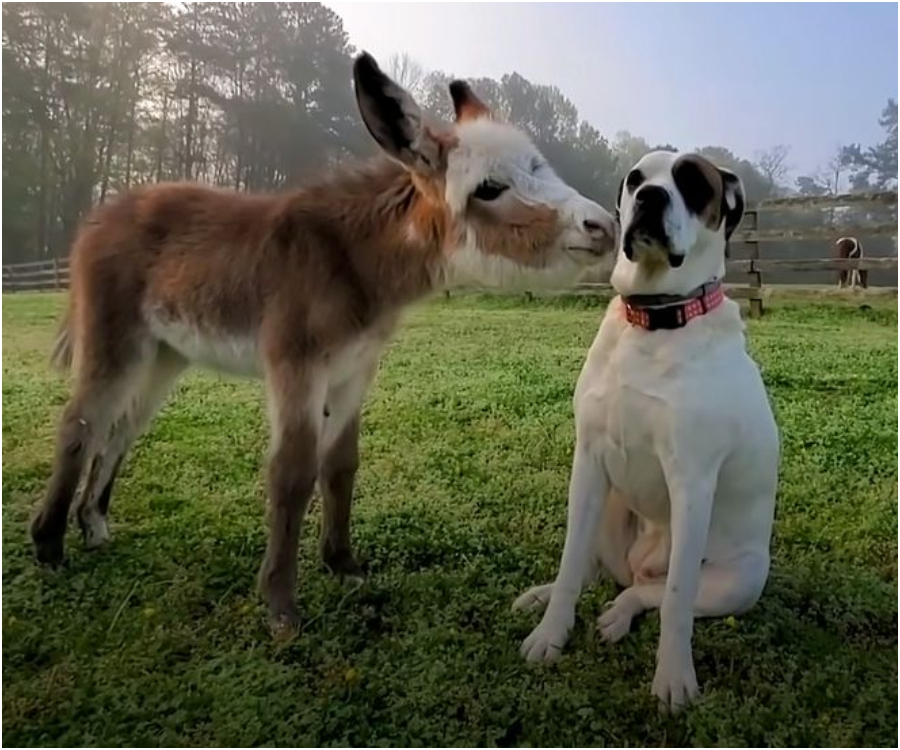 There's definitely no nibbling of ears with Willow. You can see the two taking a leisurely stroll around the sanctuary, chilling together.  
Little Bucket's Animal Whisperer
Colton is known as the Little Bucket Farm Sanctuary's animal whisperer who adores everyone. She was only seven months old, living off the streets, when she was brought into Small Miracles Cat & Dog Rescue. Little Bucket Sanctuary adopted her later, long before Bucket was brought in.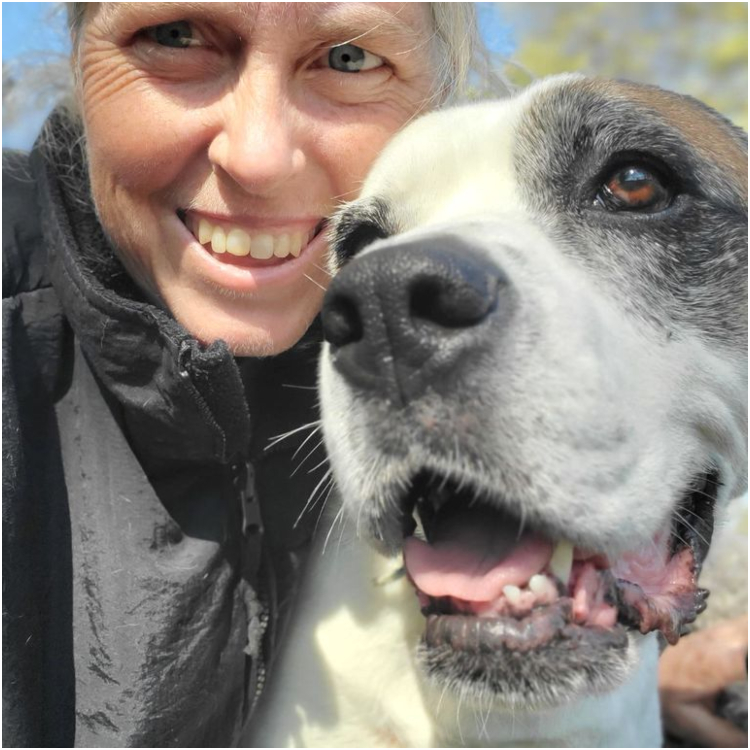 Susan fondly refers to Colton as her guardian angel and sidekick. The cute dog is a precious addition to her sanctuary. She's overjoyed when people scratch her tummy as she rolls over.
Colton Has Proven to Be Amazing With Animals in General
Colton is exceptional; she has this uncanny ability to spot those rescue animals that need love and care. She befriends them immediately, making them comfortable in her presence. Not many dogs have this generosity of spirit and gentle nature.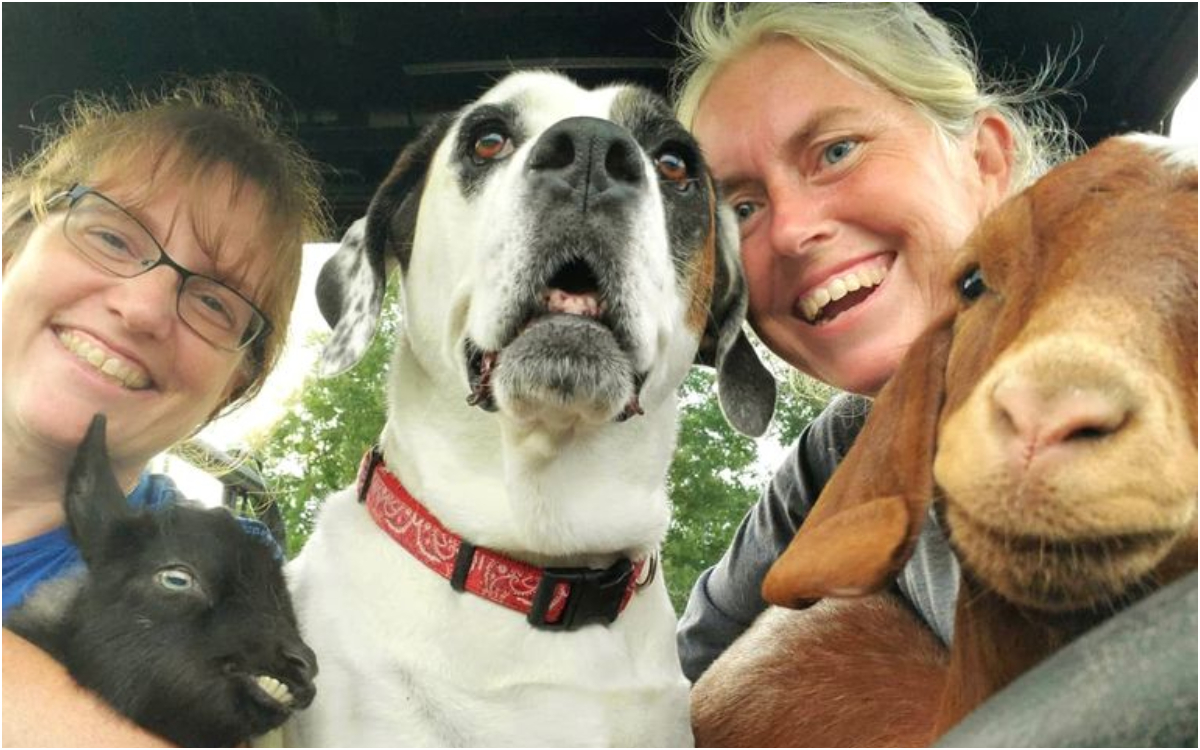 Now we know why Susan considers her an angel. She's like an older sibling to most animals at the center. Maybe Bucket instantly picked up on that vibe and became her best friend. 
Colton and Bucket Are Destined to Be Friends Forever
Bucket and Colton are like two peas in a pod who found each other as if they were meant to be. Their friendship came naturally; the bond deepened on its own accord as if the world conspired to make it happen.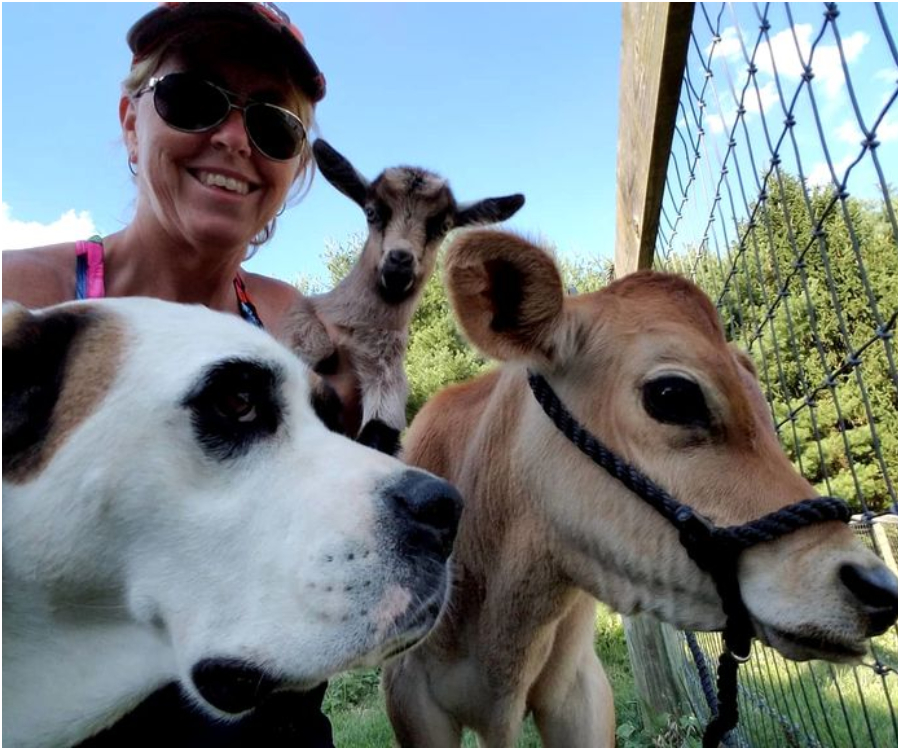 The two unlikely buddies were destined to be best friends forever. They bring glory to the Little Bucket Farm Sanctuary that's given them and other animals a fresh leash of life.