Yummy Food Chefs & Lazy People Can Cook With An Airfryer
The air fryer is a friend to all. Lazy cooks, busy people, and foodies alike can use the air fryer to cook any and everything. Air fryers are a much healthier alternative to cooking in oil because it reduces the amount of fat. While you can get really fancy with air fryer recipes, we've collected a list of beginner-friendly tasty dishes that you can make in your air fryer. Try some of these out at home or use them as inspiration to make your own concoctions. Either way, happy eating!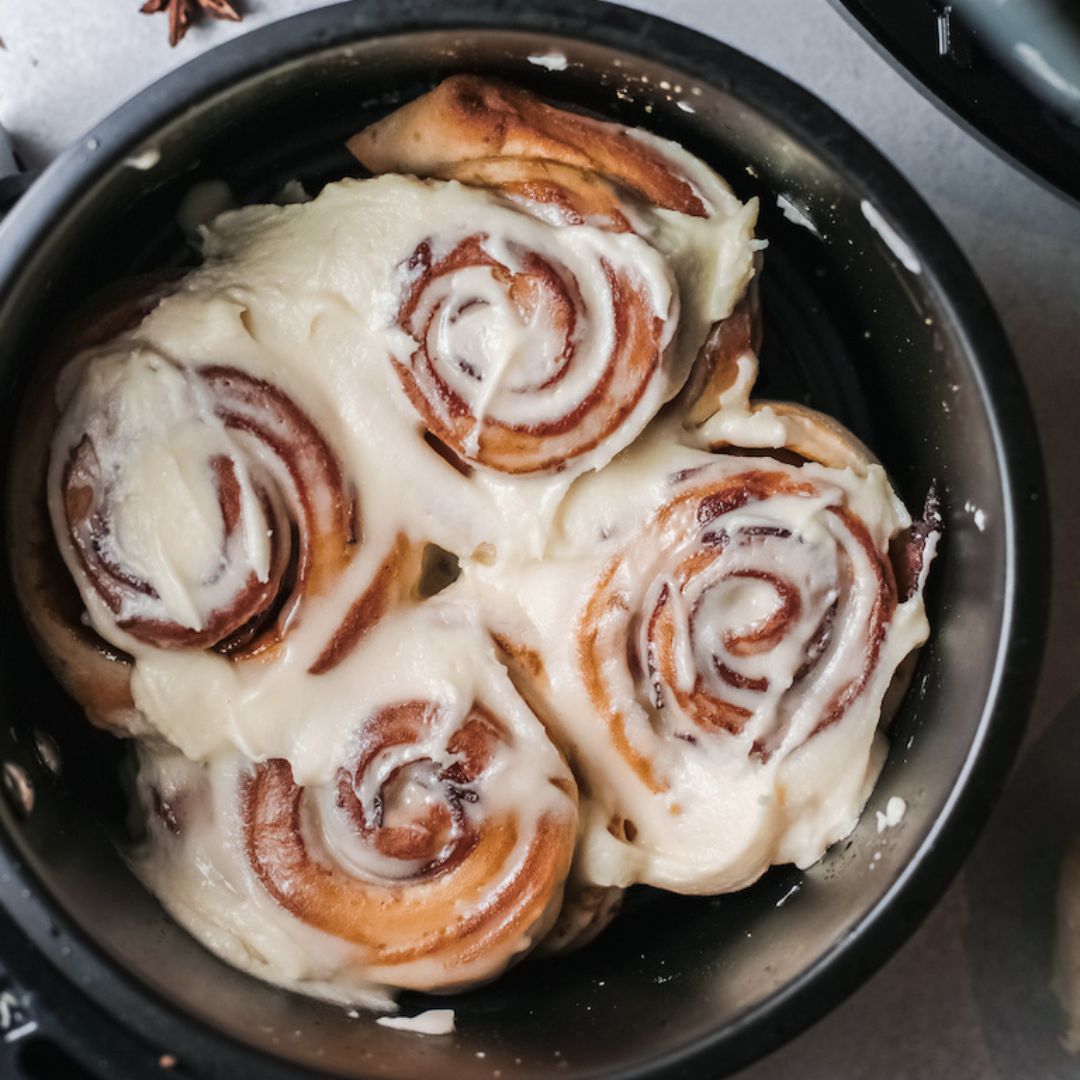 Taco Crunchwrap
No need to wait in the drive thru line at Taco Bell if you're craving a taco. If you have an air fryer, you can make your own crunchwrap right at home. Add all your favorite mix-ins onto a tortilla: beans, cheese, beef, chips, sourcream, lettuce.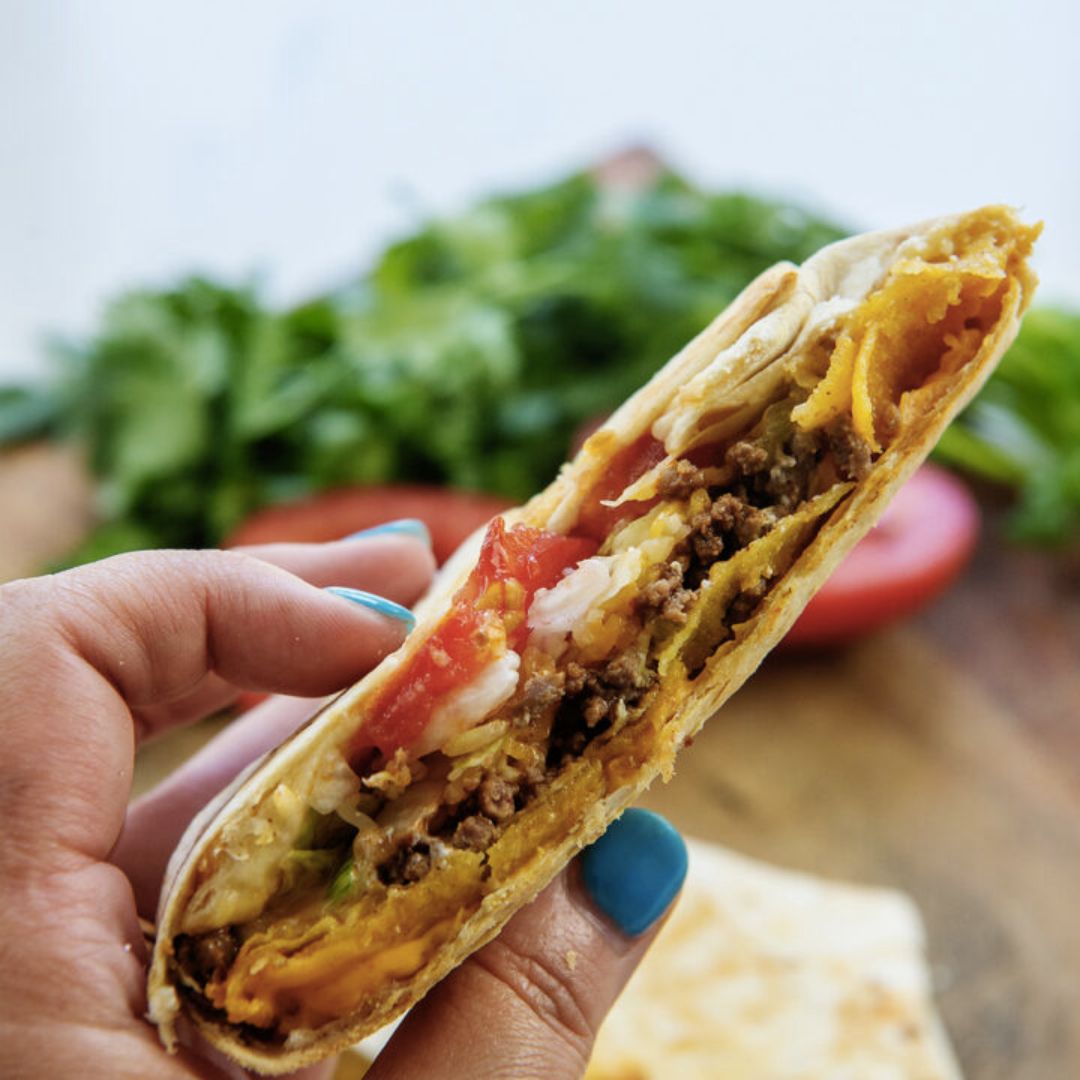 Customize it to your liking and pop it in the airfryer. Fold the tortilla and add your salsa or guacamole on top for a delicious homemade crunchwrap. We hope it compares to the Crunchwrap from Taco Bell you're used to!
Tortilla Chips
If you're craving a crunchy snack and don't have any chips at home, we've got you covered. Cut up some tortillas into triangles (or whatever shape you'd like). Brush the tortilla in olive oil and sprinkle with salt and whatever seasongings you like to use.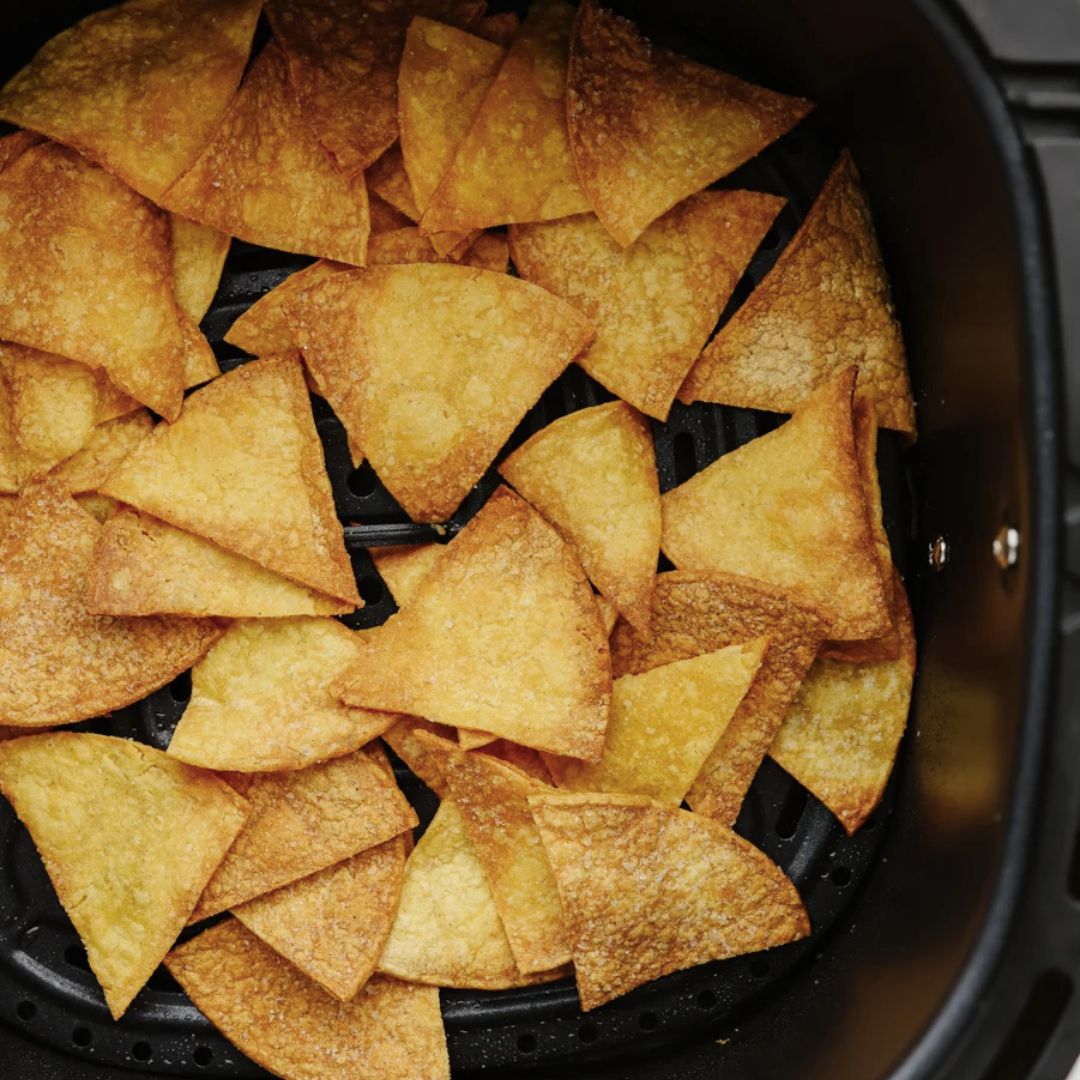 Put those tortillas in the airfryer and you'll have crispy chips to enjoy in minutes. Eat with guacamole, salsa, cheese, or plain.
Glazed Salmon
If you're hesitant to cook fish at home, the air fryer is an excellent starter option for the newbies. It makes it super easy to cook almost any kind of fish. For a honey glazed salmon you only need six ingredients.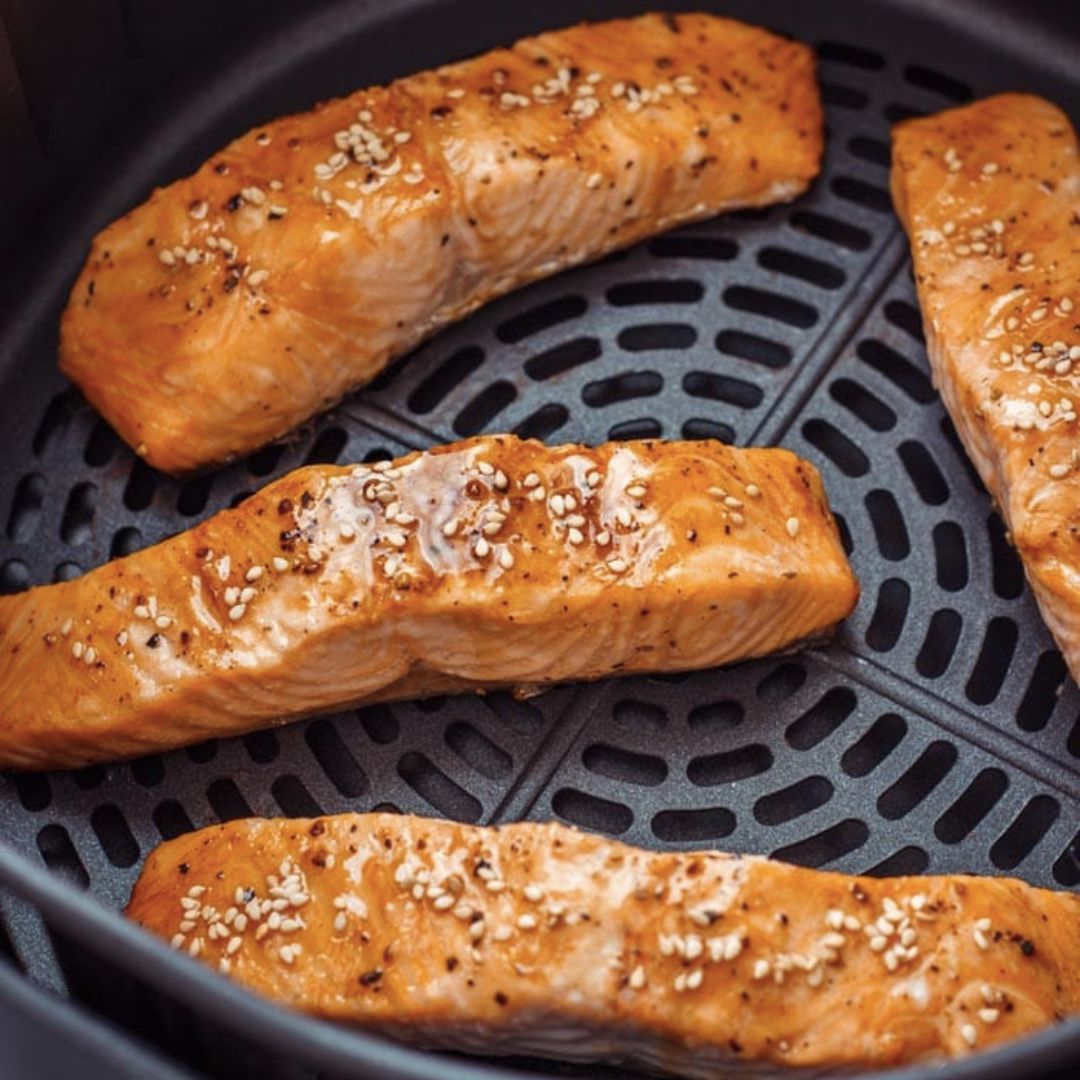 Coat the salmon in a mixture of sesame seeds, black pepper, honey, salt, and soy sauce. Your dinner will be prepared and on the table within 10 minutes, but it will taste like you spent hours preparing it.
Burgers
Not all of us are grill masters, unfortunately. But the air fryer makes it easy for anyone to craft a delicious burger. Your patty will be nice and crispy on the outside with a juicy flavor inside.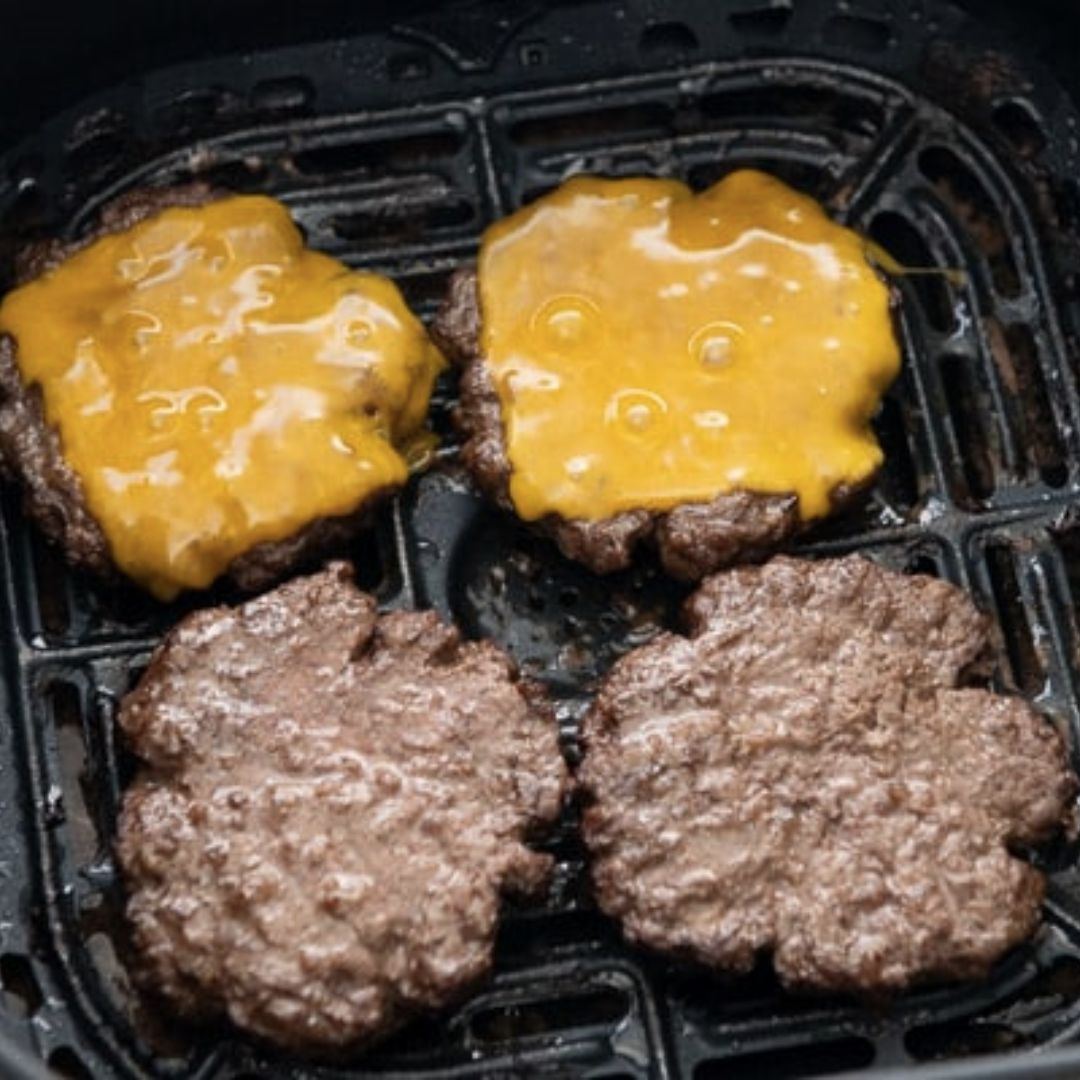 Pile on the condiments and you've got yourself a dish. You can add a slice of cheese to the top if you prefer a cheeseburger. Add some air fried vegetables, potato salad, or a salad to complete the meal.
Stuffed Mushrooms
Stuffed mushrooms are a great way to trick houseguests into thinking you're a world class chef. And they take less than 10 minutes to make. Remove mushroom stems and fill the caps with all the goods: cream cheese, bacon, cheddar cheese, crab, or anything else that sounds appetizing.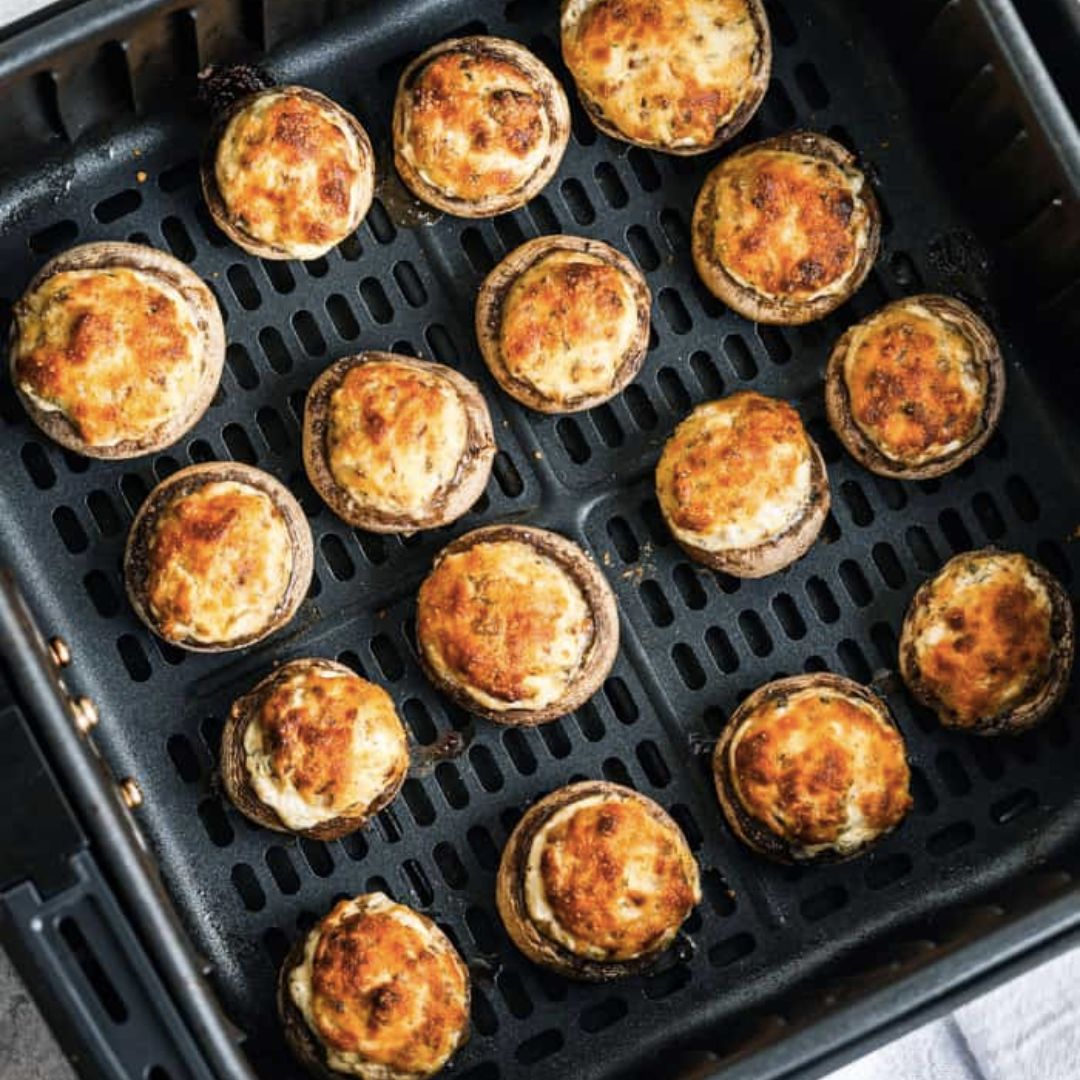 Some other possible stuffing might be chicken, spinach artichoke dip, jalapenos, or sausage. Scoop your mixture into the mushroom caps and place them in the air fryer to cook. Now you're the host with the perfect appetizer!
Coconut Shrimp
You might have thought it would be impossible to achieve that crispy shrimp you order at your favorite restaurant, but you can make tasty coconut shrimp right at home. The longest part of this process is peeling the shrimp.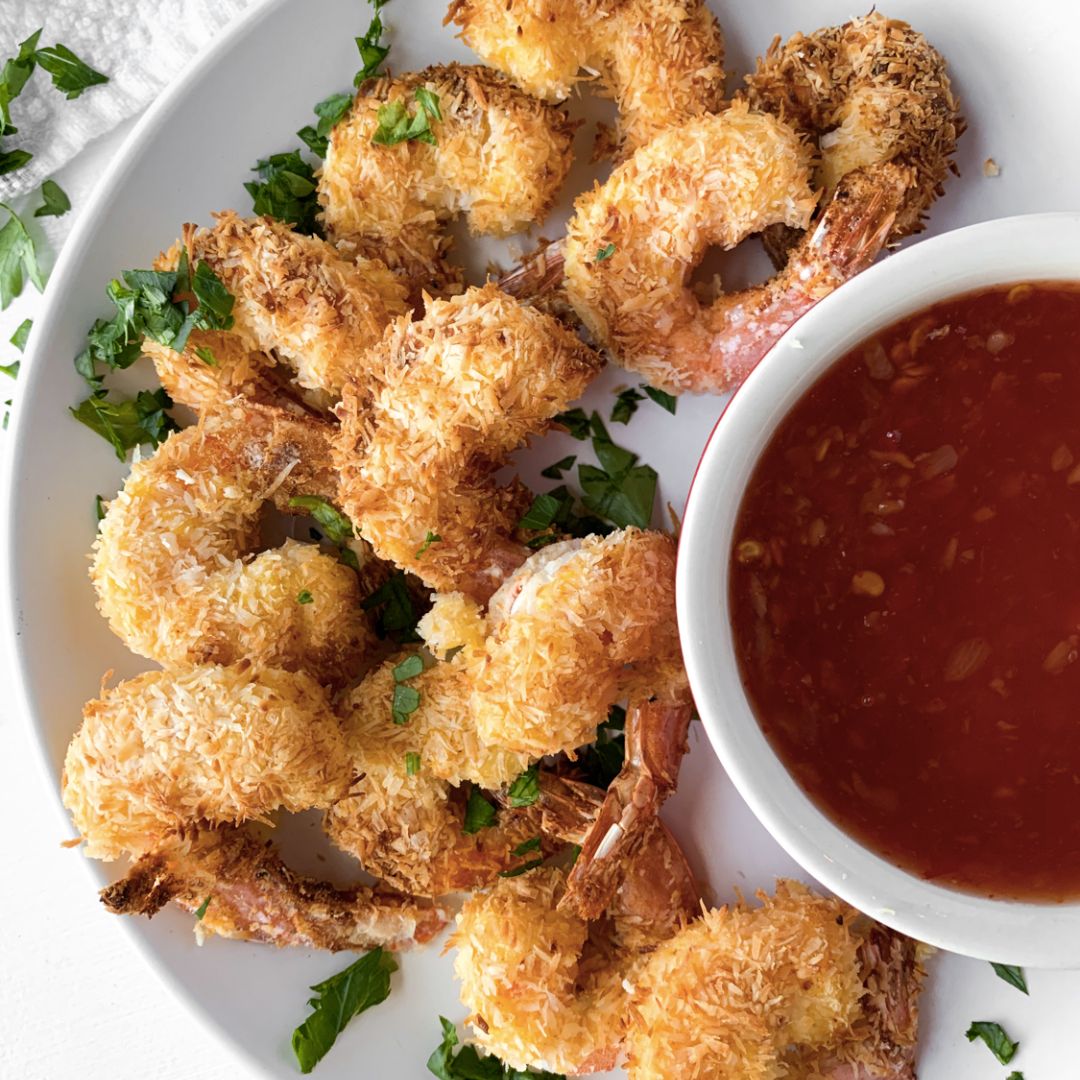 Once you've done that, all you have to do is coat the shrimp in eggs, panko, and shredded coconut. This will give you a super crispy savory and sweet meal that tastes like it was prepared at a restaurant. Enjoy!
Sweet Potato Fries
This simple snack uses only five ingredients: sweet potato, olive oil, salt, pepper, and thyme. Cut up your sweet potato into fries and throw them in your seasoning. You'll have crispy savory sweet potato fries before you know it.
Not to mention, these are a much healthier alternative to regular french fries. We hope you enjoy!
Sesame Chicken
You can make chicken in the air fryer in about a thousand different ways. One of our favorites is sesame chicken because it's fast, easy, and delicious. All you need to do is coat your chicken in some corn starch and toss it in a glaze of soy sauce, orange juice, and sesame seeds.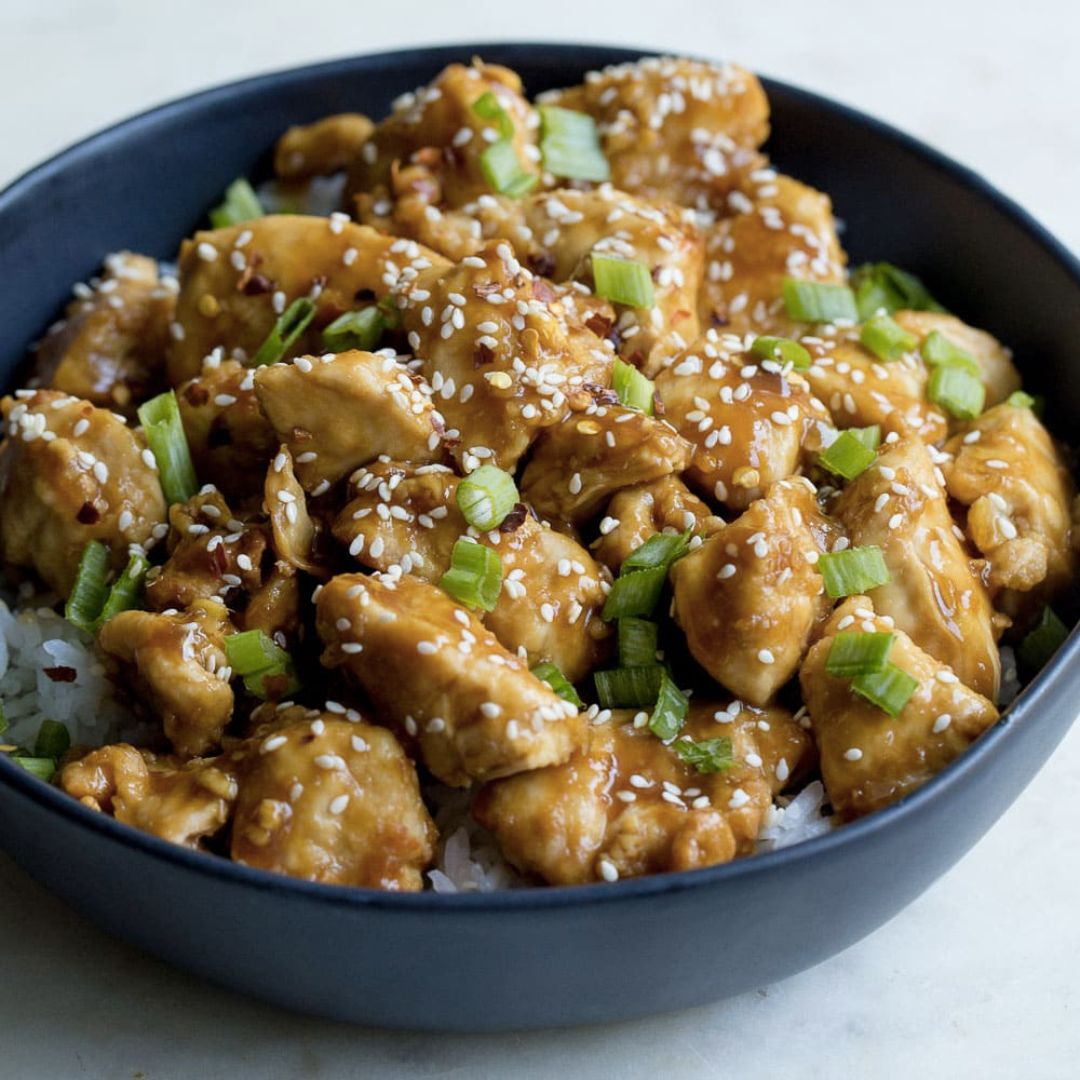 Put the chicken in the air fryer and make some rice to go along with it. This is a great option if you're someone who likes to meal prep because you can make multiple servings at a time and save them in the fridge to reheat later. Simple and delicious!
Pizza Sliders
Who doesn't love pizza? What about a pizza bagel/slider combination? Use Hawaiian rolls or English muffins as the bottom crust and pile what you want on top. We recommend mozzarella cheese, peperoni, peppers, olives, and mushrooms.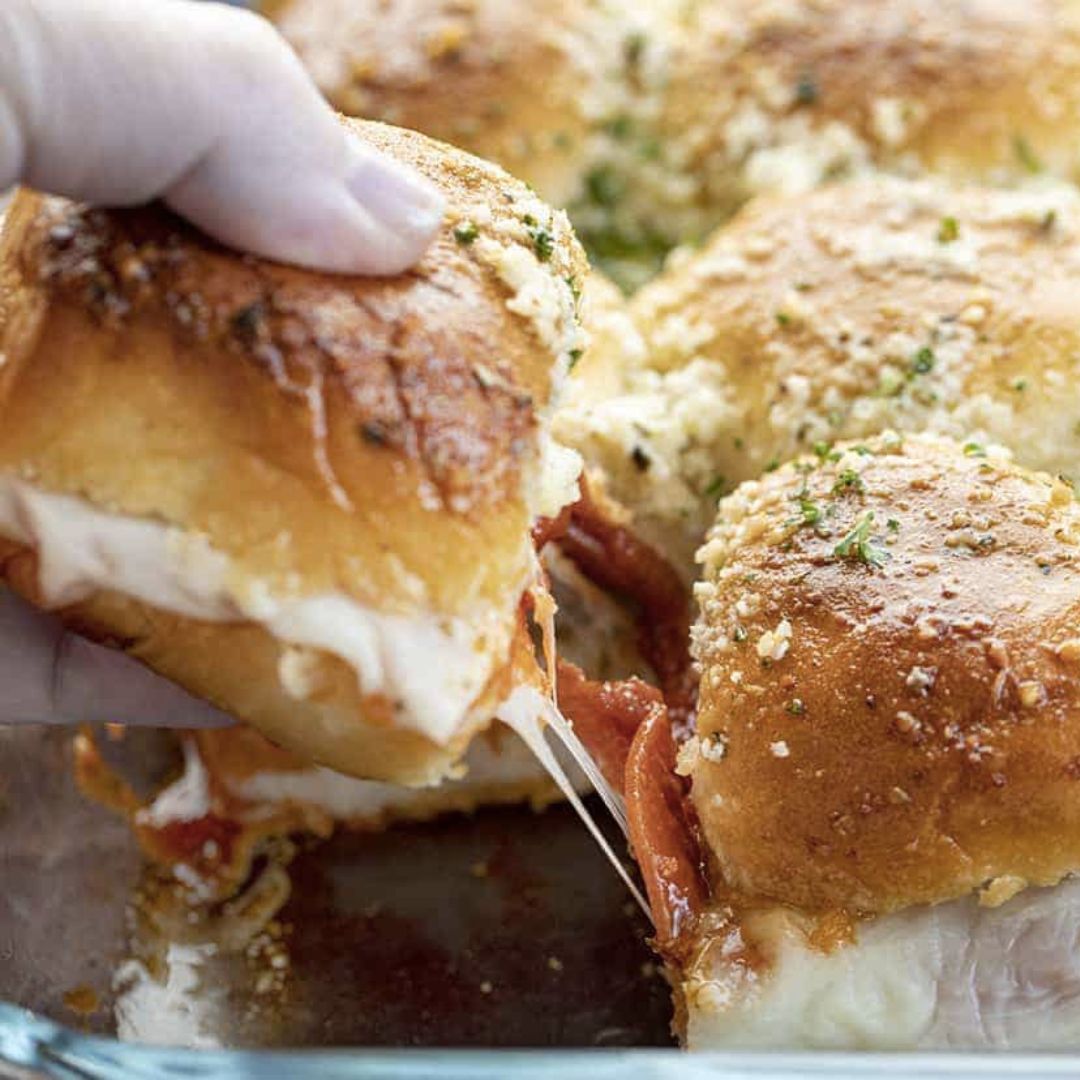 Place the top of the bread on your pizza creation and let the air fryer turn your concoction into a delicious cheesy meal. Make extras to share or reheat later because we think you're going to love this one!
Homemade Croutons
If you have bread that's going to go bad and you don't know what to do with it, give it a renewed purpose! You can turn that bread into delicious crispy croutons for your next salad in 3 easy steps.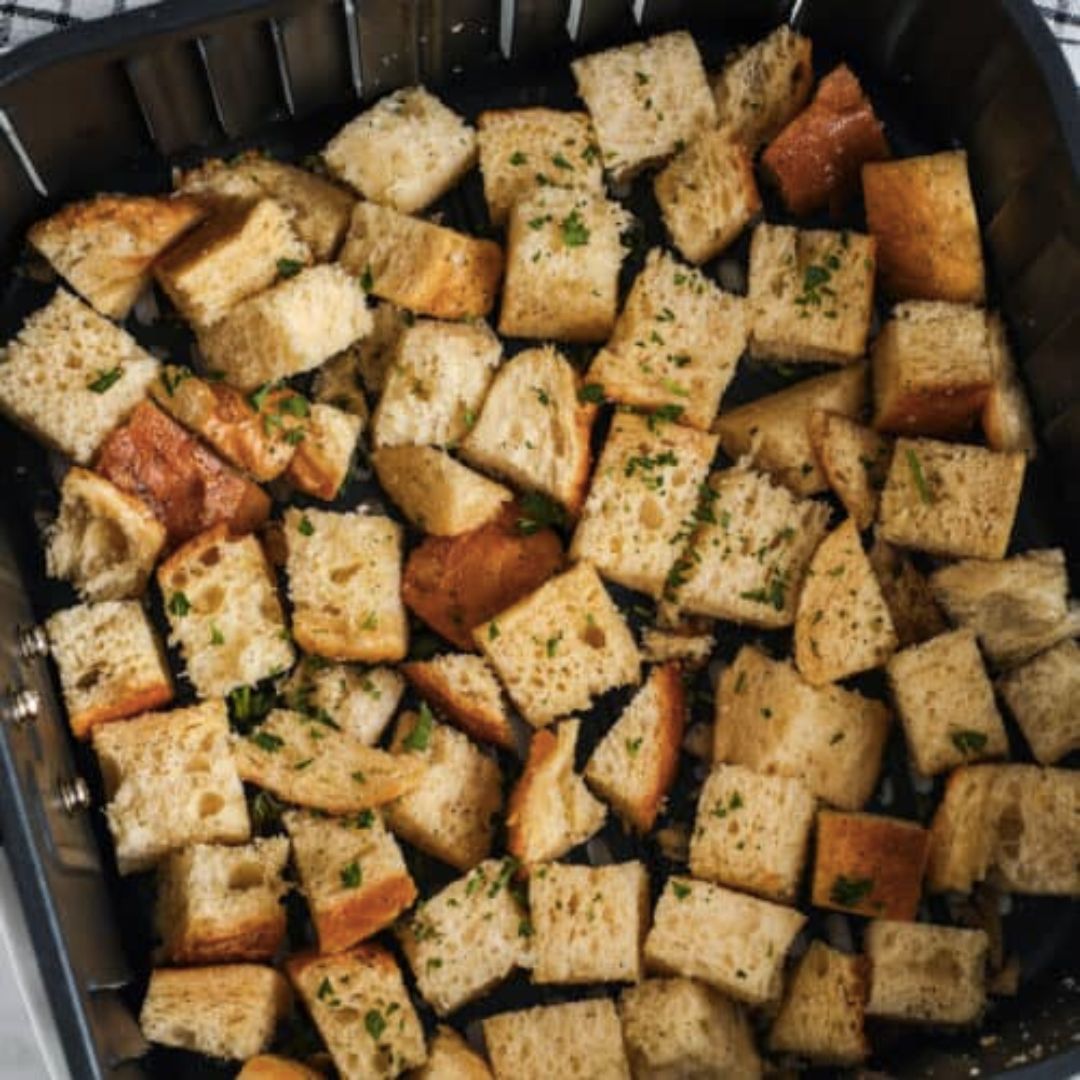 Cut the bread into squares, season it with oil and any seasonings you like, and pile them into the air fryer to do its thing. Now you have a yummy topping to spruce up your salads and add a crunch.
Cinnamon Rolls
We can't forget something sweet! Making cinnamon rolls in the air fryer is almost too easy. Spread a mixture of butter, cinnamon, and sugar over a puff pastry. Roll the puff pastry with your hands and cut it into equal sections. This will allow for the rolls to cook evenly.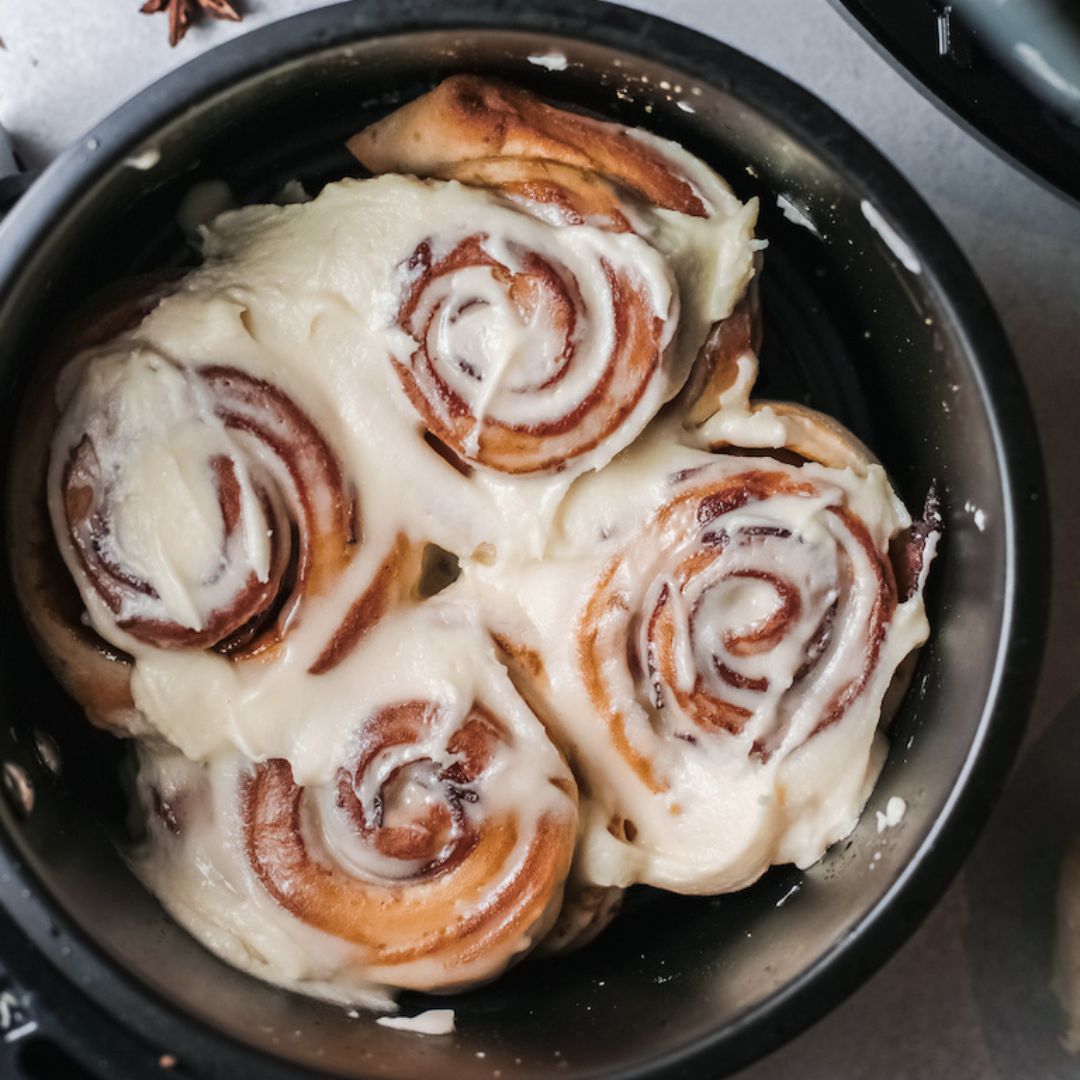 In minutes you've created delectable pull apart cinnamon rolls for any special occasion (or just for when you're craving them).